As Terra Luna Classic (LUNC) approaches its all-time low levels after its rebranding, many buyers are looking for potential buying opportunities.
This article will help beginners who want to know how to buy Luna Classic in the UK. It identifies the best places to buy LUNC, focusing on trading costs, Financial Conduct Authority (FCA) compliance, and ease of use.
How to Buy Luna Classic for Beginners in 4 Easy Steps
Want to know how to buy Luna Classic in the UK? Here's a quick overview of key steps. The following sections also provide a detailed step-by-step guide for beginners.
Before you being you'll need to select a Crypto Broker or Exchange – We suggest using eToro as it is FCA-regulated and has low trading fees.
Step 1: Create an eToro Account

– You can create an eToro account for free. Fill in the basic personal details and verify your phone number and email.

Step 2: Deposit Funds –

Buyers will need at least $10 to begin trading on eToro. You can use debit/credit cards, Skrill, or PayPal for an instant deposit.

Step 3: Search For Luna Classic –

Decide how much you want to invest in Luna Classic. Now, use the 'search bar' on eToro's website, type 'Luna Classic,' and click 'Trade.'

Step 4: Buy Terra Luna Classic – E

nter the amount on LUNC you want to buy on eToro. Confirm the transaction by clicking 'Open Trade.'
Where to Buy Luna Classic in the UK – Best Exchanges Reviewed
The Terra blockchain, now rebranded from 'LUNA' to 'Luna Classic (LUNC),' has shown signs of reversal from its current downtrend.
Consequently, many investors are curious about where to buy Terra Luna Classic in the UK. We have highlighted leading exchanges and brokers to help you identify the most cost-efficient choice.
1. eToro – Overall Best Exchange to Buy Luna Classic With Low Fees
Offering a comprehensive, user-friendly, and secure platform with low fees, eToro has emerged as one of the best day trading platforms in the UK. For investors wondering where to buy Luna Classic, eToro remains the best choice due to several factors. Let's look at eToro's key features:
With the platform regulated by the FCA, it has emerged as a trustworthy choice for trading Luna Classic and other cryptos. This level of compliance extends an added layer of confidence to traders. However, it's worth mentioning that crypto assets are not covered by the Financial Services Compensation Scheme (FSCS).
eToro's fee structure is transparent, with a 1% fee per trade plus the bid/ask spread. The platform's method of charging only the spread, or the difference between the buying and selling price, has drawn many users. These competitive costs add to its appeal as one of the preferred places for trading Luna Classic, among other cryptos in the UK.
With a strong presence across 28 million users worldwide, eToro's reputation goes beyond the borders of the UK. Its global appeal shows its reliability for users worldwide.
Designed for beginners and professional traders, eToro's interface is easy to use. The account creation process is simple, with a minimum deposit requirement of $10. Varied payment options, including debit cards, e-wallets like PayPal, and bank transfers, add to the convenience.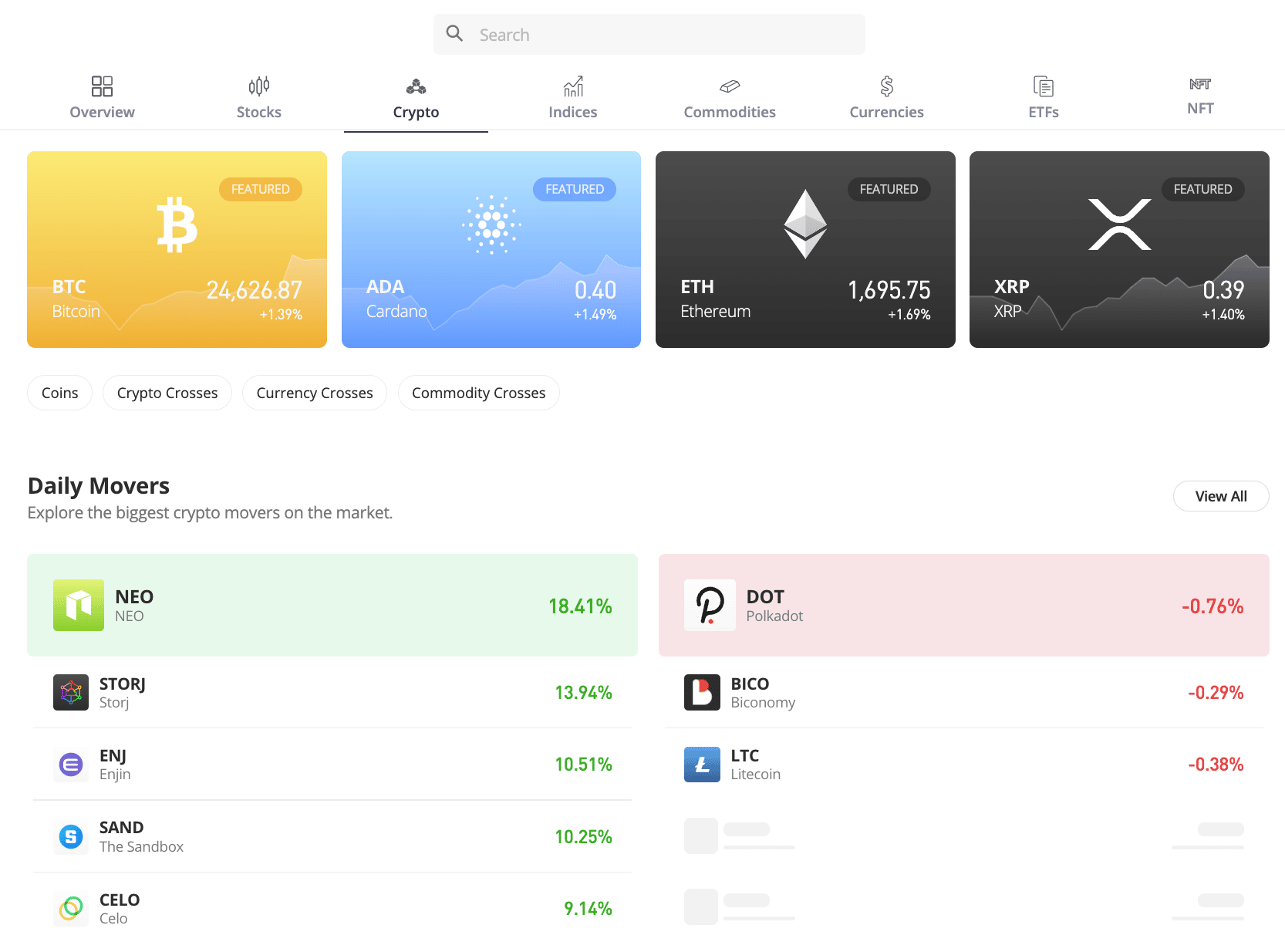 Known for offering one of the best crypto wallets in the UK, eToro ensures that managing and diversifying digital assets like LUNC is simple. Additionally, the responsive support and hassle-free registration process improve overall user satisfaction.
The platform offers unique tools such as copy trading, where one can mimic the trades of successful investors. Moreover, CryptoPortfolio enables diversified investments across multiple crypto assets. These features have attracted beginners and professional traders, making eToro one of the best Bitcoin brokers.
eToro provides extensive investment options beyond Luna Classic. From Bitcoin and Litecoin to traditional stocks and ETFs at 0% commission, the platform allows for easy portfolio diversification.
Pricing Structure
Fee For Buying Luna Classic
FCA Regulated?
Top Features

Tight Spreads

1% fee + spread-only basis approach

Yes

Transparent Fee Structure

: Charges a 1% fee per trade plus the bid/ask spread.

Global Reach

: Extensive presence with 28 million users worldwide.

Innovative Tools

: Unique offerings such as copy trading and CryptoPortfolio enhance the trading experience.

High Regulations

: Ensures a safe and secure trading environment.

User-Friendly Interface

: Easy account creation and varied payment options.
Pros
eToro is suitable for beginners and experienced traders with a minimum deposit of as low as $10.

Adherence to FCA guidelines ensures a trustworthy and secure platform.

Offers tools like copy trading and CryptoPortfolio for a dynamic trading experience.

Its diverse offerings include cryptos, stocks, and ETFs at 0% commission.
Cons
Spread basis pricing structure may not be suitable for all traders.
Crypto assets are highly volatile and unregulated in most EU countries, Australia, and the UK. No consumer protection. Tax on profits may apply. Your capital is at risk.
2. Coinbase – Popular Exchange Used By Over 100 Million People, Coinbase Offers 250+ Cryptos and Learning Rewards
One of the largest cryptocurrency exchanges in the world, Coinbase is used by more than 100 million people. Coinbase allows users to purchase Luna Classic after making a minimum purchase of only £1.
This popular cryptocurrency exchange also provides over 250+ crypto trading options such as Bitcoin, Ethereum, Cardano, and Litecoin. After registering an account with Coinbase, users are required to verify their identity by providing a passport or valid driver's license.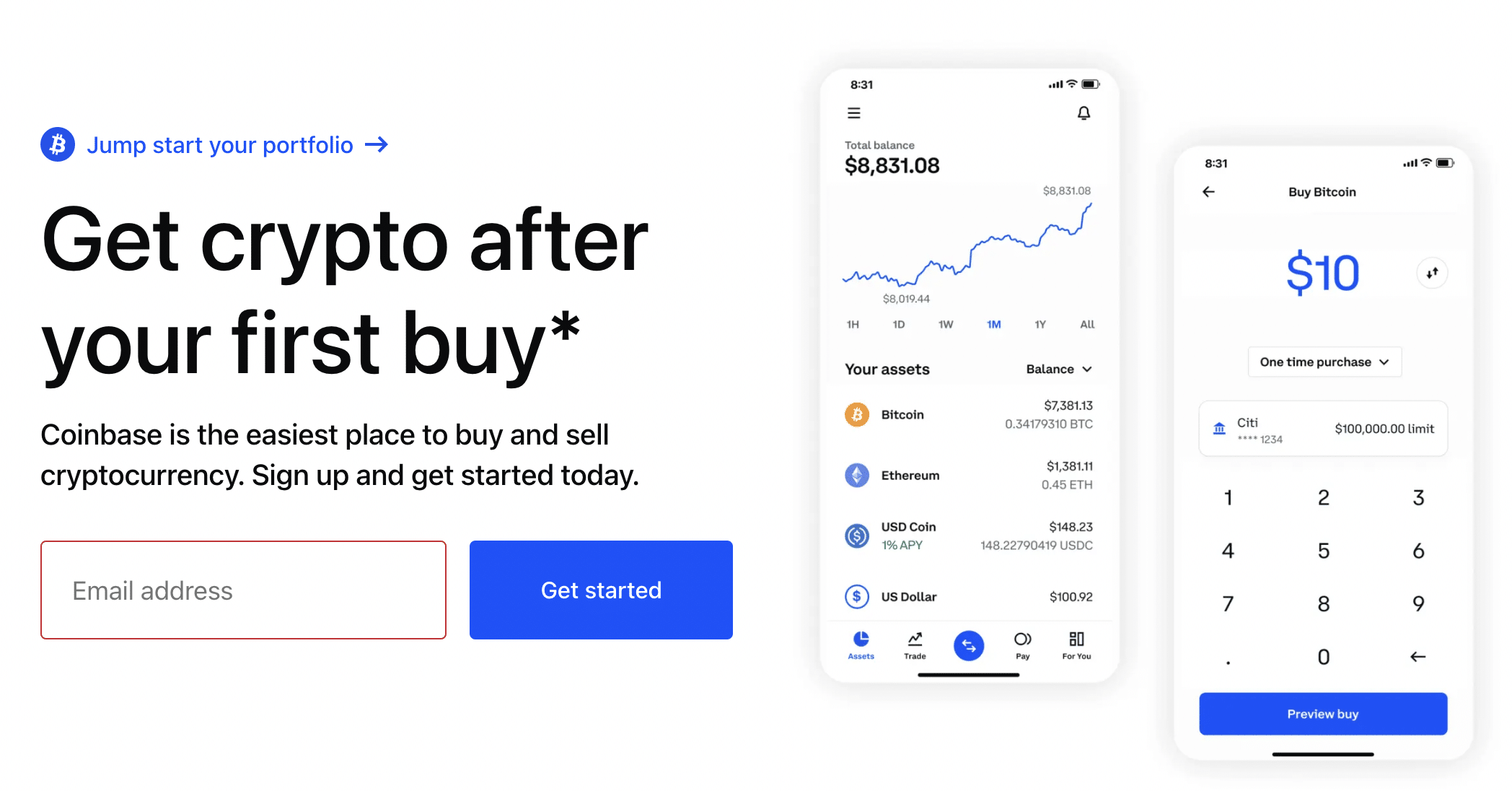 Then, one can make a deposit using the various payment options. One slight drawback is that Coinbase charges high fees for certain payment methods. For example, traders must pay a 3.99% fee on debit/credit transactions.
While there are no deposit fees when making UK bank transfers, an additional fee of 1.49% will be charged. Coinbase charges a 1% fee on all cryptocurrency transactions and a 0.5% spread fee.
Despite the high fees, Coinbase gives users access to features such as the Coinbase Learn and Earn program. Through Coinbase Learn, one can access multiple videos and tutorials on crypto-specific topics. The exchange also offers crypto rewards as you complete tutorials through the Learn program.
Through Coinbase Earn, users can earn staking rewards by locking up their assets. However, the staking rewards are not applicable to Luna Classic. Coinbase also stores 98% of all assets in cold storage to protect users' funds.
Pricing Structure
Fee For Buying Luna Classic
FCA Regulated?
Top Features

Relatively High – 3.99% (debit card); 1.49% (bank transfer)

1% fee on crypto transactions + spread fee

Yes

Offers a Coinbase Learn program through which traders can learn more about trading techniques and earn free crypto
Stores 98% of all assets in cold storage
Coinbase allows users to generate staking APYs through Coinbase Earn
Pros
More than 250 cryptos supported

Start with a low minimum purchase of £1

Learn about cryptos through Coinbase Earn and get rewards

No deposit fees while making UK bank transfers

98% assets stored in cold storage
Cons
3.99% credit/debit card fees

1% crypto fee + 0.5 spread fee added on transactions
Crypto assets are highly volatile and unregulated in most EU countries, Australia, and the UK. No consumer protection. Tax on profits may apply. Your capital is at risk.
3. Crypto.com – Mobile-Friendly Platform With Low Trading Commissions For Buying Luna Classic
Crypto.com is one of the fastest-growing crypto exchanges that offers a cutting-edge mobile app tailored for iOS and Android users. The platform ensures a user-friendly experience with competitive pricing.
Opening an account with Crypto.com is hassle-free, with free GBP deposits through personal bank accounts. Though deposits may take a few days to clear, the process tends to be faster than what's typically experienced with other platforms.
When buying Luna Classic with a UK debit card, a fee of 2.99% is applied, slightly higher than some competitors. However, the trading commission is an attractive 0.075% when exchanging cryptos.
Crypto.com has over 250 cryptos and also has an all-inclusive wallet. This vast selection, including Luna Classic, caters to various investor preferences.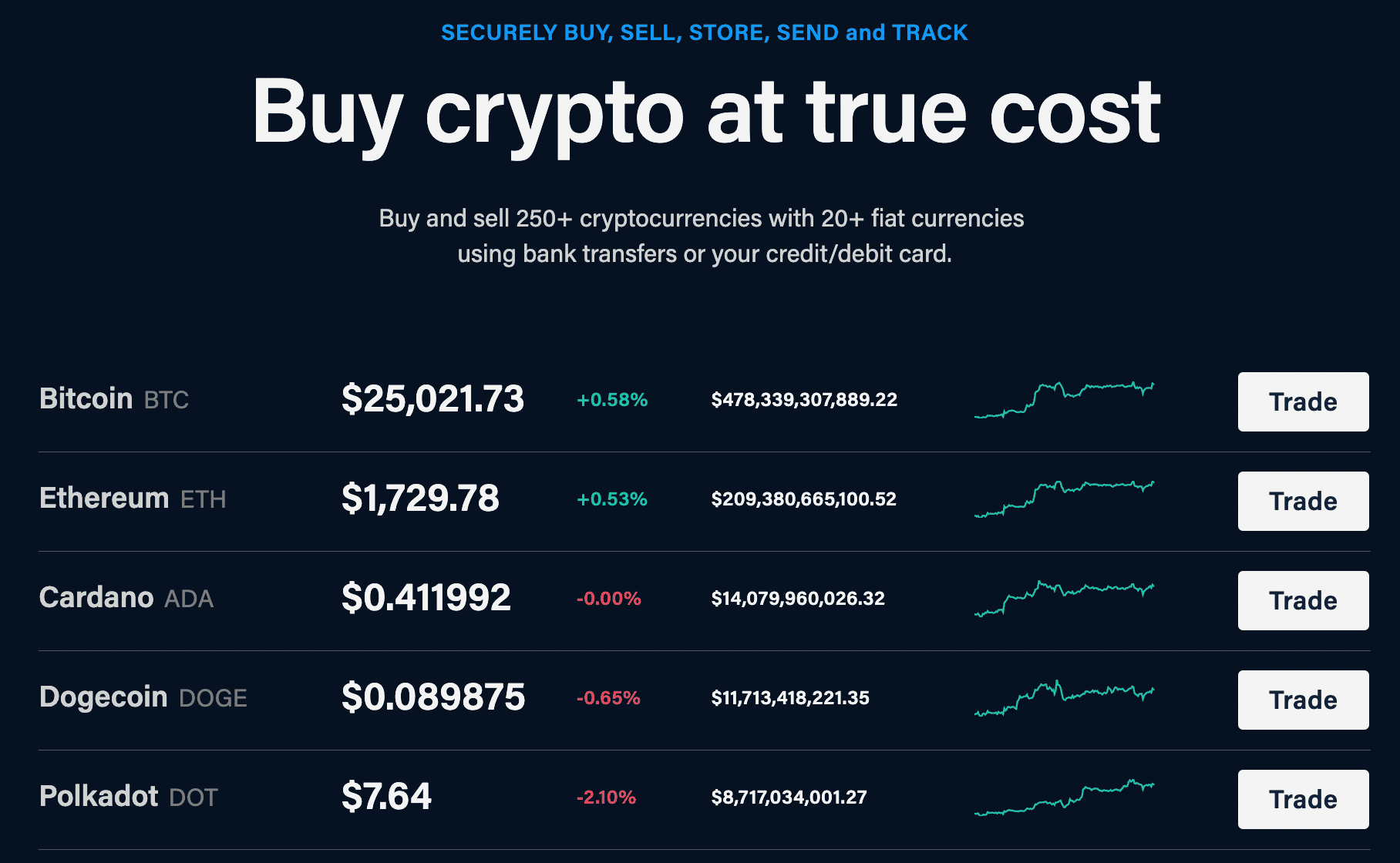 The platform's unique 'Missions' feature enables users to earn Diamonds, redeemable for rewards. Additionally, Crypto.com offers a crypto VISA card that grants up to 8% cashback at selected places.
Security remains paramount with Crypto.com, evidenced by its Class 3 Virtual Financial Assets (VFA) License from the Malta Financial Services Authority (MFSA). It also maintains 100% of user cryptos offline in cold storage, safeguarding user assets. Also, multi-factor authentication (MFA) adds another layer of protection.
Crypto.com is a cost-effective option for purchasing Luna Classic, especially for those prioritizing a mobile experience. The unique features, such as 'Missions,' combined with solid security measures, make it a noteworthy platform. Yet, users should weigh their individual needs and preferences, keeping the fee structure in mind.
Pricing Structure
Fee For Buying Luna Classic
FCA Regulated?
Top Features

2.99% fee for UK debit card

0.075% (For trading)

Yes

Mobile-friendly platform tailored for iOS and Android users.

Competitive trading commission of 0.075% for crypto exchanges.

The unique 'Missions' feature allows users to earn rewards.

Strong security measures, including a Class 3 VFA License and cold storage.
Pros
Strong security measures, including 100% of user cryptos kept offline in cold storage.

Hassle-free account opening with free GBP deposits.

Wide selection of over 250 cryptos catering to various investor preferences.

Offers a crypto VISA card granting up to 8% cashback at selected places.
Cons
Deposits may take a few days to clear.

2.99% fee for buying Luna Classic with a UK debit card, slightly higher than some competitors.
Crypto assets are highly volatile and unregulated in most EU countries, Australia, and the UK. No consumer protection. Tax on profits may apply. Your capital is at risk.
4. OKX – User-Friendly Platform With Competitive Fees, Advanced Trading Tools
OKX is a renowned crypto exchange that offers extensive features and services that cater to traders at various experience levels. With support for hundreds of digital currencies, including Luna Classic, Bitcoin, Ethereum, and many more, OKX's variety caters to a broad audience.
Attracting over 20 million active users, OKX's simple interface allows new investors to start trading within minutes. The platform's trading fees stand at a low 0.1% per trade for buying and selling crypto, with the possibility of lower fees as trading volumes increase.
OKX's integration with TradingView and various technical indicators and tools suits both experienced traders and beginners. The minimum card purchase on OKX is £9.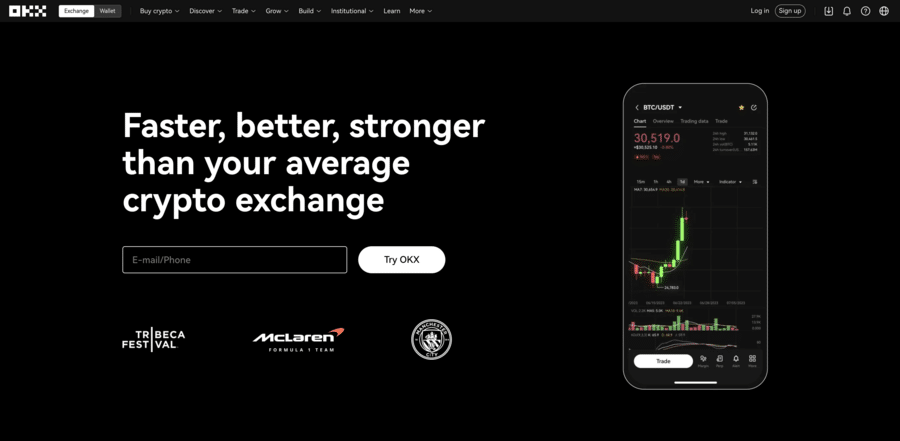 OKX charges different fees for different investment types, such as spot trading, futures contracts, and options fees. Trading costs also decrease with an increase in holdings of OKB, OKX's native crypto.
The platform doesn't just limit itself to centralized exchange services. It also provides access to a decentralized exchange and a non-custodial wallet.
It also offers crypto savings accounts with competitive APYs, such as 10% on Tether and USD Coin. Along with staking, these options present attractive avenues for passive income without locking up assets.
The platform also has a 'learn' section that provides tutorials and industry analysis; features like the leaderboard help beginners learn from top influencers. Notably, the platform's transparency about deposit, withdrawal, and other non-trading fees further boosts its credibility.
Pricing Structure
Fee For Buying Luna Classic
FCA Regulated?
Top Features

Sliding scale

0.1%

No

Simple interface allowing new investors to start trading quickly.

Decentralized exchange and non-custodial wallet access.

Integration with TradingView and technical tools, catering to various experience levels.
Pros
Extensive support for hundreds of digital currencies.

Attractive options for passive income, including crypto savings accounts and staking.

Transparency about various fees, boosting credibility.
Cons
Not regulated by the FCA

Different fees for various investment types may confuse some users.
Crypto assets are highly volatile and unregulated in most EU countries, Australia, and the UK. No consumer protection. Tax on profits may apply. Your capital is at risk.
5. Huobi – Platform With High Liquidity and Security For Crypto Trading
With over 700 assets listed, including small-cap cryptos and newly launched projects, Huobi is a rapidly growing crypto exchange. The commissions at Huobi start at 0.2%. For professional traders, maker and taker fees start at 0.0362% and 0.0462%, respectively, and can decrease based on HT holdings and trading volumes.
However, Using Huobi Tokens (HT) within the exchange reduces trading fees, efficiently saving on transaction costs.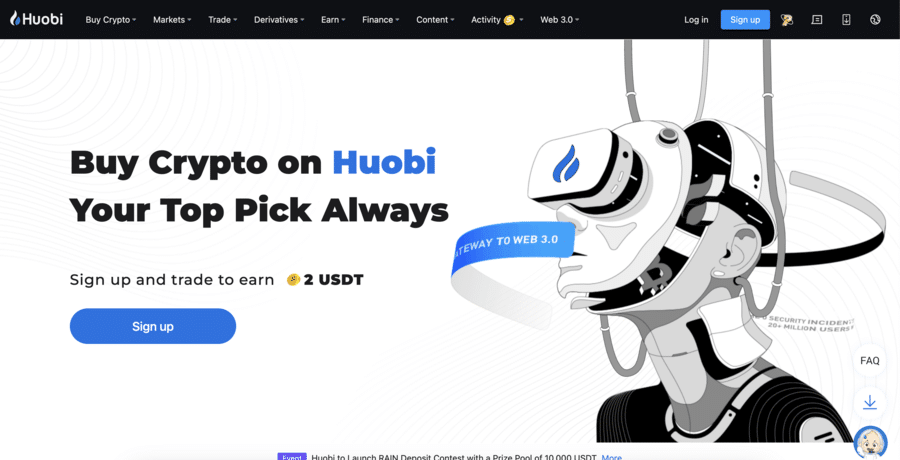 The platform also prioritizes user security by holding client funds in multi-signature cold wallets. The exchange also maintains a 20,000 BTC Security Reserve Fund to handle extreme security scenarios.
UK investors can instantly purchase select crypto assets using a debit card, including Luna Classic, Bitcoin, Ethereum, XRP, and Tether. While the debit card purchase feature is available, it's confined to only a handful of crypto assets, which may be a limitation for some users.
Pricing Structure
Fee For Buying Luna Classic
FCA Regulated?
Top Features

0.2% commissions; Maker: 0.0362%, Taker: 0.0462%, reduced with HT holdings and volumes

0.2% (can be reduced using Huobi Tokens)

No

High liquidity for trading with competitive commissions starting at 0.2%.

Instant purchase of select crypto assets, including Luna Classic, with a debit card for UK investors.

20,000 BTC Security Reserve Fund to ensure robust security measures.
Pros
Over 700 assets are listed, including small-cap cryptos and newly launched projects.

Strong user security measures, including multi-signature cold wallets and a BTC Security Reserve Fund.
Cons
No FCA regulation is in place.

The debit card purchase feature is limited to only a few crypto assets.
Crypto assets are highly volatile and unregulated in most EU countries, Australia, and the UK. No consumer protection. Tax on profits may apply. Your capital is at risk.
What is Luna Classic?
Terra Luna Classic, commonly called 'Luna Classic' or LUNC, is the original blockchain in the Terra ecosystem, which underwent a significant transformation following an unexpected crisis.
Background
Terra emerged as an open-source blockchain protocol founded by Terraform Labs in South Korea in 2018. It aimed to combine the best features of fiat currency with the decentralized strengths of Bitcoin.
Terra was envisioned as a two-token ecosystem comprising a stablecoin (TerraUSD or UST) and its native token (LUNA), now known as Luna Classic. Terra's unique proposition included serving as a dynamic hub for dApps and offering a robust payment platform for an algorithmic stablecoin.
Originally, LUNA (now LUNC) played a vital role in staking and governance within the Terra protocol. By absorbing price fluctuations, it acted as a counterpart to Terra's algorithmic stablecoin, terraUSD or UST. This mechanism allowed UST to maintain its peg to the U.S. Dollar. Terra was valued at over $40 billion, but a crisis led to its downfall.
The Crisis and Its Aftermath
Following an attack that took advantage of a weakness in the blockchain, UST could not correctly mint and burn its tokens to maintain equilibrium between its demand and supply at the $1 peg.
This failure disrupted the stability mechanism intended to keep the stablecoin's value aligned with the USD, leading to significant consequences for the Terra ecosystem. An excessive number of UST and LUNA tokens flooded the market, causing panic and a sudden loss of nearly 100% of its value.
Terra's algorithm, designed to stabilize the UST price through a burn-mint mechanism for LUNA, failed miserably, spiraling into hyperinflation and devaluing both tokens.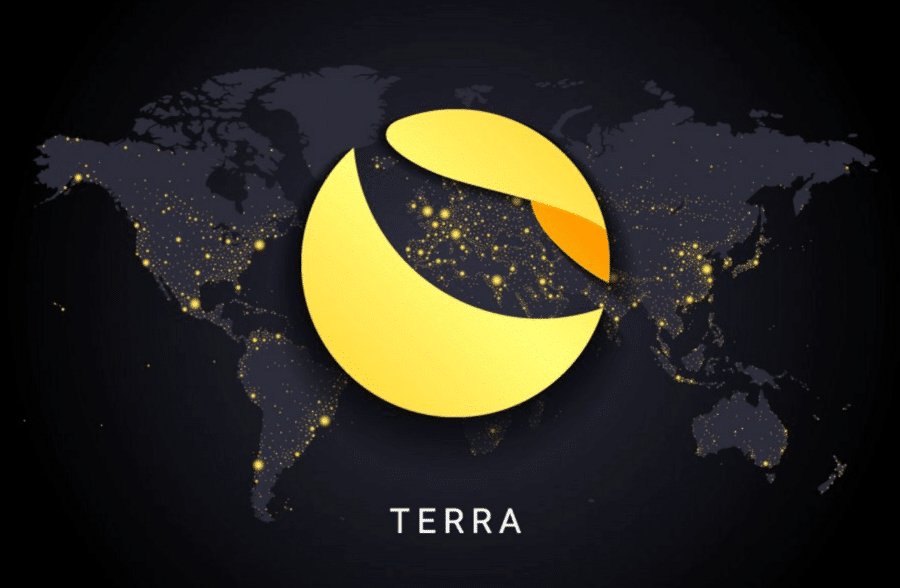 Following this collapse, Terra's founder, Do Kwon, proposed a revival plan that was accepted by the community. The result was the creation of a new blockchain, Terra 2.0, and rebranding the old blockchain as Terra Classic, with its native token renamed to LUNC.
Luna Classic is the rebranded version of the original Terra ecosystem's vision and legacy. It continues to exist parallelly with Terra 2.0, representing the pre-crisis era of Terra's ecosystem.
The future of LUNC remains uncertain. The broader sentiment has shown promising comeback inclinations, with a surge in gains over the past few months. Binance, a major crypto exchange, has shown support by burning billions of LUNC tokens, indicating a possible revival in the long run.
Crypto assets are highly volatile and unregulated in most EU countries, Australia, and the UK. No consumer protection. Tax on profits may apply. Your capital is at risk.
Is Luna Classic a Good Investment? Key Points to Consider
Is Luna Classic a good investment? It's a question that requires consideration of several factors. Introducing a burn tax, support from leading exchanges, and a committed community have built a promising foundation for the coin. However, the potential success of LUNC is still uncertain, with challenges ahead.
Effects Of LUNC's Burn Tax
Luna Classic has introduced a burn tax of 1.2% on all transactions, including buying and selling. The community's motive behind this tax is to reverse damages caused by over-minting.
Reduction in Supply

: The burn tax aims to reduce LUNC's supply from 6.5 trillion to 10 Billion. This reduction in supply could lead to a corresponding increase in demand, setting the stage for potential growth in the token's value.

Potential Value Increase

: The reduction in supply may lead to upward pressure on the token's price, assuming the demand remains consistent or grows. However, the success of this strategy will depend on various market factors.
Support From Exchanges
Major exchanges like Binance and KuCoin have expressed willingness to support LUNC's burn, signaling a potential revival for the coin.
Credibility Boost

: Support from these renowned exchanges could create confidence among investors and traders, possibly attracting more participants in the market.

Possibility of More Exchange Support

: This initial support could pave the way for more

top brokers

and exchanges to back LUNC, potentially increasing its accessibility and liquidity.
Challenges
Developments Don't Guarantee Success

: LUNC is amid major technical upgrades. Implementing these plans and attracting the best dApps and Creators on the blockchain will be challenging, especially with the intense competition in the crypto space.

Investment Risk Profile

: Currently, the investment in Luna Classic is moderate. The burn tax and community support provide a solid foundation, but the successful implementation of technology improvements and differentiation from other tokens will be key factors to consider.
Luna Classic Price History
LUNC's price has witnessed a turbulent journey since its inception. Before you buy Terra Luna Classic, understanding its price history can offer insight into its performance and future potential. Here's a comprehensive look at the timeline and notable events surrounding LUNC's price movement.
Early Days (July 2019 – December 2020)

: When Terra entered the market in July 2019, it opened at around $1.3. This was followed by a quick correction that saw its value fall below a dollar, a threshold it remained under for nearly two years.

Breakout Year (2021)

: 2021 saw an aggressive rally for the coin. Starting in January, the price broke the $1 mark, resulting in a periodic high of nearly $22.2 on March 22. A subsequent decline was followed by a resurgence, reaching an impressive high of $103.3 by 2021 end.

New Peaks and Pitfalls (2022)

: 2022 brought both peaks and substantial dips for LUNC. It

reached an all-time high of $119.18

on April 5, only to crash to an all-time low of $0.00000099 on May 13. The coin's rebirth as LUNC saw its price settle at $0.000095 before the

cancellation of withdrawals by the Celsius crypto-lending platform

pushed it further down to $0.00005— followed by a slight recovery.

Regulatory Impact and Market Reactions (September 2022)

: Introducing a 1.2% transaction tax proposal sent the coin to $0.0005 in early September. After the proposals were accepted, the price dropped to around $0.00018. Events like the contact from South Korean authorities regarding Kwon and Binance's 1.2% burn announcement led to significant volatility, resulting in a spike to $0.00031.

Fluctuations and Recovery (October – December 2022)

: October saw LUNC reach $0.00036 before stabilizing around $0.00029. An unexpected event, the

collapse of the FTX exchange

, caused a dip to $0.000128 in December. The coin recovered to $0.0001658 by the end of the month.

Current Status (2023)

: The coin started 2023 on a positive note after reaching a high of $0.00019 in February 2023 but has been declining ever since. At press time, LUNC traded at nearly $0.00006 and is the 99th largest crypto with a circulating supply of over 5.8 trillion LUNC.
Future Outlook – Luna Classic Price Prediction
Luna Classic has been on a downtrend for quite a year now. Over the last few months, It witnessed a descending channel pattern, affirming a bearish edge in the market. Below is a Terra Luna Classic price prediction based on several key factors and indicators that can affect its price.
Two parallel downward lines form a descending channel. In layman's terms, it resembles a market slump or rut but often signals a cyclical nature in the asset's price. This could imply a potential price reversal in the future.
Currently, LUNC aims to break out from this long-term channel rally. However, the resistance at $0.00007 could present a roadblock for near-term recovery in 2023.
Recent market behavior has also revealed a 'descending triangle,' indicative of bearish domination. This pattern tells us that sellers have been more aggressive than buyers, but LUNC found support at the $0.00006 level, offering some hope to bulls.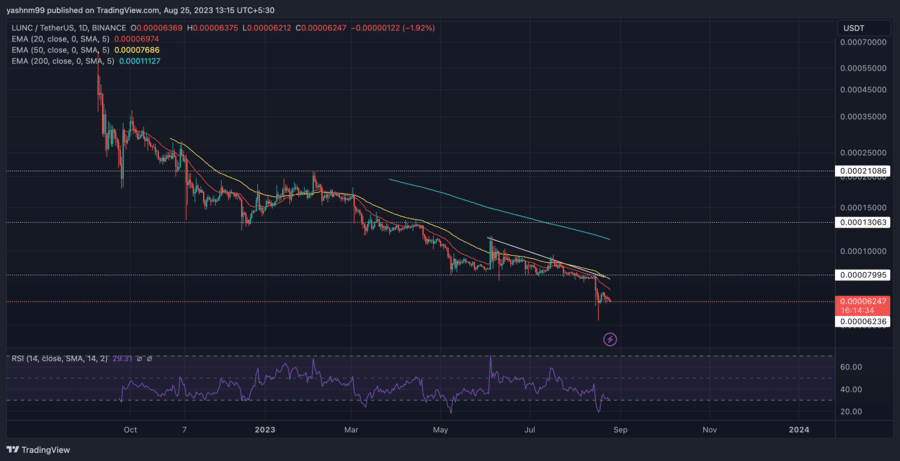 We must also consider market momentum indicators like the Exponential Moving Average (EMA). The EMA acts as a tool to gauge market momentum, and in the case of LUNC, both the 20-day and 200-day EMA are significant. LUNC's price has dropped below these averages, and a bearish crossover has further fueled bearish momentum.
The crypto's price is hovering near these EMA markers and is in a low volatility phase, meaning minor price fluctuations. But this calm could precede a storm of high volatility.
Given this context, a rebound from the $0.0006 support might ignite a near-term price rise. A key turning point for buyers would be a close above the EMAs, which could signal a possible trend shift. The descending channel, EMA markers, and current support levels all paint a picture of a potential recovery, but also with inherent risks.
Should LUNC close above the $0.00007 resistance, it may enable a bullish break, allowing buyers to regain control in the short to medium term. LUNC might reach the $0.00013 level in this optimistic scenario by 2023.
What Do Other Analysts Predict For Luna Classic?
Below are some notable analysts' predictions until 2025 for Terra Luna Classic. While these predictions vary between analysts, all anticipate growth for Luna Classic.
Investors must always approach these forecasts with their research, considering that the crypto markets can be unpredictable, and past trends may not always indicate future results.
Digital Coin Price predicts that Luna Classic could reach up to $0.00121 in the next few years. Their forecast details the following:
For 2023, they propose a minimum price of $0.0000553, an average price of $0.000111, and a maximum price of $0.000137.

By 2024, they foresee a rise to a minimum of $0.000134, an average of $0.000156, and a maximum of $0.000160.

In 2025, the predictions extend to a minimum of $0.000183, an average of $0.000220, and a maximum of $0.000227.
Telegaon's price prediction for Luna Classic (LUNC) paints a slightly different picture:
Their 2023 projection ranges between $0.000095 and $0.00054.

For 2024, their estimates span from a low of $0.00058 to a high of $0.00085.

By 2025, they predict a price range from $0.00086 to $0.0011.
PricePrediction.net has also provided their perspective on Luna Classic's potential trajectory:
In 2023, they predict the price to be between $0.00008843 and $0.00010267.

Their 2024 forecast sets the price from $0.00012684 to $0.00015586.

The most optimistic prediction is set for 2025, where they forecast a minimum price of $0.00018437, an average price of $0.00018959, and a maximum of $0.00021962.
Can You Buy Terra Luna Classic with PayPal in the UK?
Individuals looking to buy crypto in the UK have several options, including PayPal. But to buy Luna Classic with PayPal in the UK, choices are limited.
PayPal allows buying popular cryptos like Bitcoin, Bitcoin Cash, Litecoin, and Ethereum for as low as $1 while offering security and user-friendliness. Luna Classic, however, is unavailable from PayPal's crypto offerings.
As a result, many investors are wondering where to invest in Luna Classic in the UK. Best crypto exchanges in the UK like eToro fill this gap, allowing investors to use PayPal to deposit funds and then buy LUNC in the UK. While this indirect method works, buyers should be aware of potential costs.
For example, using PayPal with eToro is completely free if the account is in US dollars. However, choosing Coinbase for depositing funds with PayPal incurs a 3.99% charge.
Cheapest Way to Invest in Luna Classic in the UK – Exchange Prices Explained
Several factors must be considered when looking for the best place to buy Luna Classic in the UK. Below are a few quick points to remember:
Brokers

like eToro, approved by the FCA, offer a secure way to invest in Luna Classic. eToro requires a minimum of £7 and charges a small fee of 0.5% for debit card use, much less than competitors such as Coinbase, who charge 3.99%.

Centralized exchanges (CEX):

CEXs often allow payment options like bank deposits, usually free but may take a few days to process.

Decentralized exchanges (DEX)

: DEXs are known for better security but might be harder for beginners due to their complexity.

Standard payment methods:

These include debit/credit cards and e-wallets that allow quick transactions. It's essential to understand the fees, as they can vary among providers. Knowing trading and withdrawal fees can help save money.

Hidden Costs

: Be mindful of potential withdrawal fees, which may differ depending on the broker or exchange.
After considering overall costs, including deposit fees and trading commissions, eToro is the top choice for buying Luna Classic in the UK. While other methods may suit different preferences, eToro offers a cost-effective, safe, user-friendly platform, making it ideal for newcomers.
However, always align your investment decisions with your risk tolerance and research to make well-rounded decisions.
Crypto assets are highly volatile and unregulated in most EU countries, Australia, and the UK. No consumer protection. Tax on profits may apply. Your capital is at risk.
Things to Consider Before Investing in Luna Classic
If you're thinking about buying LUNC, it's vital to understand the factors that could shape its future. Here's what potential investors should know:
Competitive Landscape

: Luna Classic faces stiff competition from similar projects within the market. The success of LUNC heavily depends on its differentiation. Evaluating the competitive edge and assessing how LUNC stands out from its rivals is a vital step before investment.

Collaboration and Integration Prospects

: Though LUNC's strategies have sparked interest among various market players, collaboration with established businesses and projects can be both an opportunity and a risk. Any partnership failures integrations could negatively impact LUNC's intrinsic value.

Crisis Management and Recovery

: LUNC's history is marked by a severe crisis that led to nearly 100% loss of value. The aftermath and the strategies for revival must be carefully observed, considering the uncertainties surrounding its future. Binance's support and the surge in gains may signal a revival, but the long-term stability is yet to be seen.

Regulatory Compliance

: Adherence to legal norms is crucial for any crypto, especially Luna Classic. The ongoing

uncertainties around crypto regulations

may impose restrictions or create challenges for LUNC. Investors should be aware of the potential legal hurdles and compliance requirements that may arise.

Technological Stability and Security

: Given the past failures in Terra's algorithm, which spiraled into hyperinflation, prospective investors should closely examine LUNC's current technological framework. Assessing the susceptibility to potential attacks is essential to mitigate future risks.

Market Sentiment and Adoption

: Understanding broader market sentiment and LUNC's potential for mainstream adoption can provide insights into its long-term viability. Collaborations with established businesses can encourage growth but require thorough examination.
How to Buy Luna Classic (LUNC) in the UK Detailed Step-by-Step
If you want to know how to invest in LUNC, here's a simple five-step guide using eToro, a platform regulated by the FCA.
Step 1 – Choose the Right Platform
If you're wondering where to buy LUNC, select an exchange/broker that complies with the UK's regulations. eToro is an FCA-regulated platform that assures safety and legality in trading with low fees.
Step 2 – Create a User Account
To buy LUNC, create an account with eToro for free. Fill out a registration form, providing essential details like your name, email, and mobile number.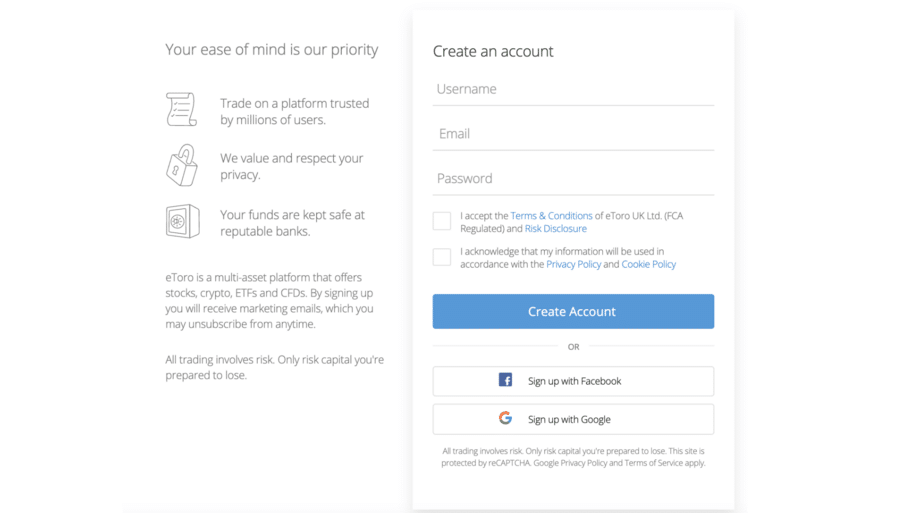 Step 3 – Verification
As part of the KYC procedure, you must submit identification documents like a passport or a driver's license.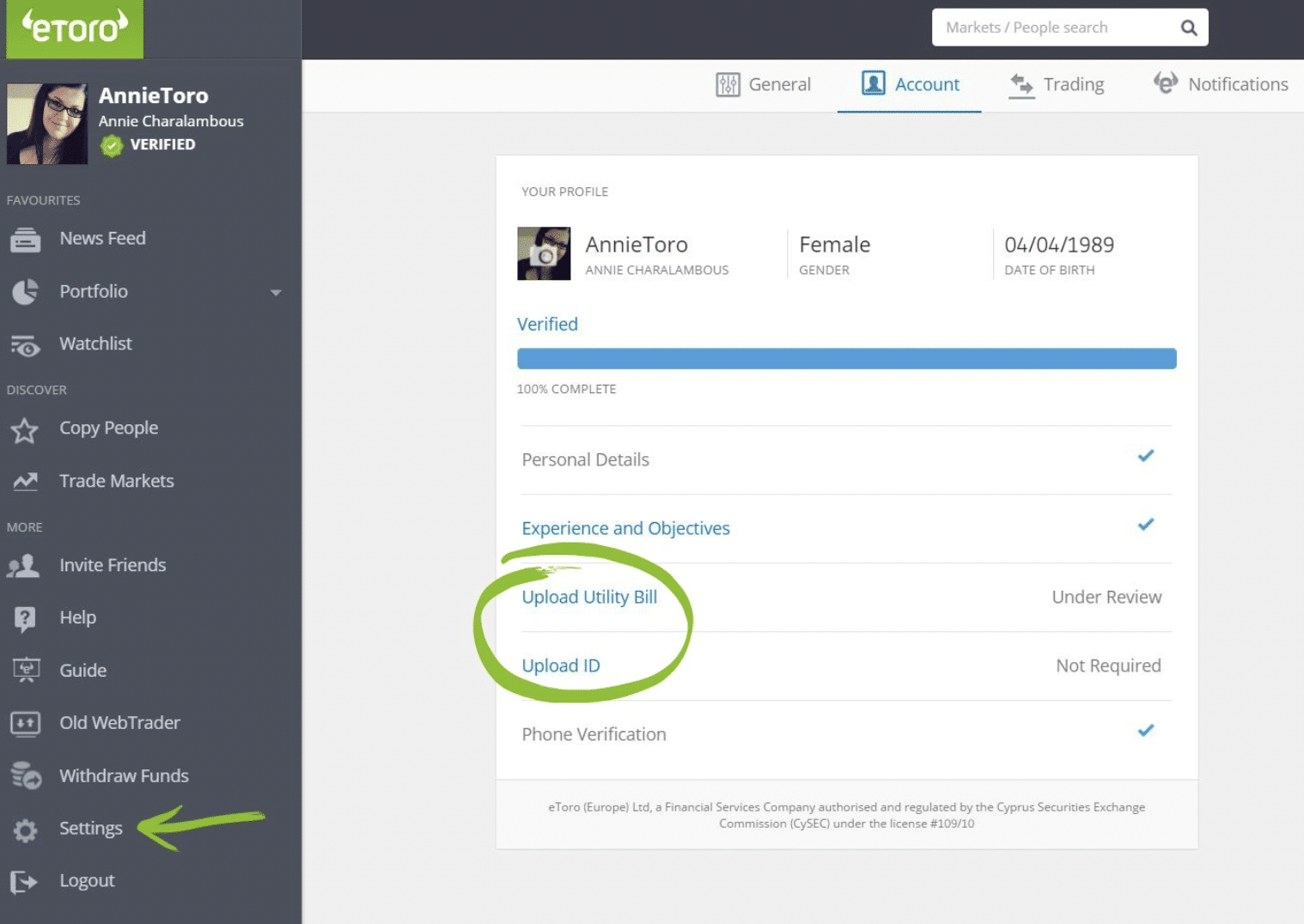 Note that for deposits below £1,600, you can purchase LUNC without immediate verification, but it will be required for any withdrawal transactions.
Step 4 – Deposit Funds
You can invest in LUNC by transferring funds into your account. The minimum first deposit for UK traders is $50.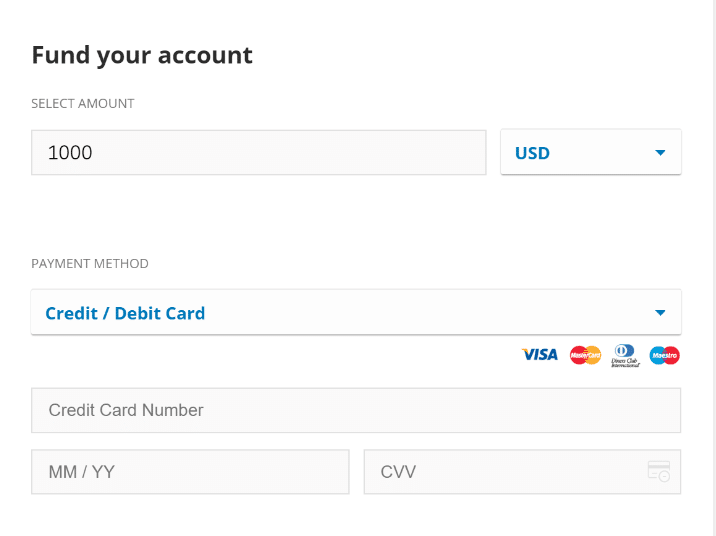 After this it users can start with as little as $10 in the UK, choosing your preferred payment method like a debit/credit card, e-wallet, or bank transfer. In this case, a nominal 0.5% foreign exchange fee might apply.
Step 5 – Buy LUNC
How to buy LUNC? Find Luna Classic by entering 'LUNC' in the search field once funds are deposited.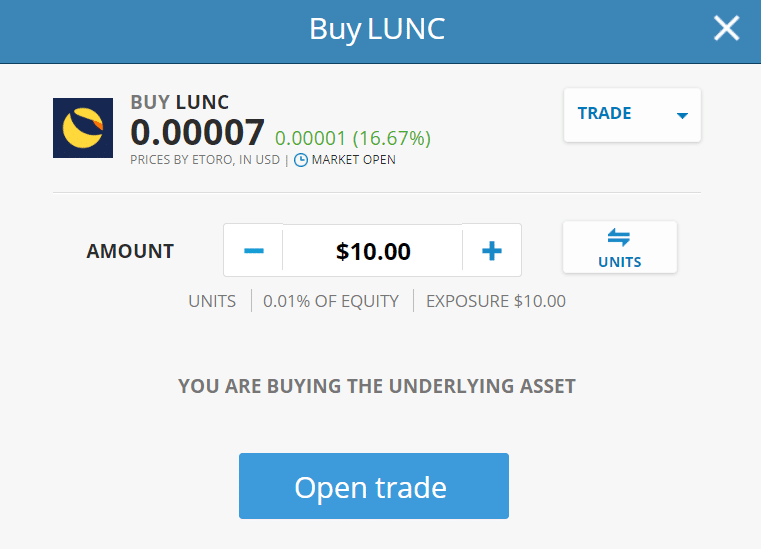 Select the 'trade' option, specify your investment amount (minimum $10), and click 'Open Trade.' This will add LUNC tokens to your portfolio.
Conclusion
In this How to Buy Luna Classic guide, we highlighted safe and budget-friendly methods, focusing on eToro, a platform regulated by the FCA. Buying Luna Classic is easy with the right brokers or platforms. We provided a detailed analysis of these platforms and a step-by-step guide to help you invest in LUNC.
eToro stands out among platforms with an easy-to-use interface. Its low initial deposit, multiple payment options, and spread-only pricing model make trading Luna Classic cost-effective.
Crypto assets are highly volatile and unregulated in most EU countries, Australia, and the UK. No consumer protection. Tax on profits may apply. Your capital is at risk.
References
https://www.coingecko.com/en/coins/terra-luna-classic
https://coinmarketcap.com/currencies/terra-luna/
https://www.statista.com/statistics/1262787/etoro-registered-users/#:~:text=eToro's%20number%20of%20users%20has,largest%20online%20trading%20platforms%20globally.
https://www.globenewswire.com/en/news-release/2022/01/18/2368068/0/en/OKX-overtakes-global-crypto-exchanges-as-2nd-largest-rebrands-as-cross-platform-services-provider.html
https://www.huobi.com/support/en-us/detail/360000060502/
https://www.nytimes.com/2022/05/18/technology/terra-luna-cryptocurrency-do-kwon.html
https://www.cnbc.com/2022/05/13/cryptocurrency-luna-crashes-to-0-as-ust-falls-from-peg-bitcoin-rises.html
https://www.cnbctv18.com/cryptocurrency/explained-how-terra-founder-do-kwon-plans-to-stir-up-blockchain-platform-with-new-hard-fork-13515602.htm
https://www.bbc.com/news/business-64313624
https://digitalcoinprice.com/forecast/terra-luna
https://telegaon.com/terra-luna-price-prediction-2022-2023-2025-2030/
https://priceprediction.net/en/price-prediction/terra-classic
https://www.sciencedirect.com/science/article/abs/pii/S1544612322006912
FAQs
How can I buy Luna Classic in the UK?
Can I buy Luna Classic on eToro in the UK?
What is the best place to buy Luna Classic in the UK?
Is Luna Classic a good investment?