Many people actively search for the best meme coins to buy. This makes sense as meme coins can generate returns faster than other types of cryptocurrency – such as Pepe, which generated a 5,000,000% profit for an anonymous trader. Meme coins can stir up hype very quickly.
Yet along with researching top tokens, potential investors will also want to investigate the safest and best place to buy meme coins or take the risk of falling prey to a crypto scam. These are real threats and safety must be considered along with rewards.
How to Buy Meme Coins – 3 Methods
Buying meme coins is quite straightforward. Below are three of the best places to buy meme coins.
Directly From Presales And ICOs – This will be the official presale/ICO page for the project. This usually means you can get the meme coin token at a discount as compared to buying on an exchange. You simply connect a Web3 wallet (MetaMask, Trust Wallet, etc.) to the page, type in the number of coins you want to exchange, and make the transaction, usually in ETH, BNB, USDT, and/or Credit Card.
From Crypto Brokers & Centralized Exchanges – Meme tokens will list on exchanges such as Coinbase and Binance after the presale finishes, where they can be traded. After you have set up an account with a crypto brokerage or exchange, you can trade on the market.
Through Decentralized Exchanges – Some meme tokens only list on decentralized exchanges such as Uniswap. Decentralized exchanges generally have lower listing requirements as compared to centralized exchanges. To trade through a DEX, you will need to have a Web3 wallet, like the presale option.
Buying Meme Coins Through Presales & ICOs
Buying through presales is probably the best option when it comes to meme tokens. The presale/ICO is where the token is first released to the public to raise funds for project initiatives.
Often, the price is tiered, meaning the initial price might be half the price near the end of the presale, and far less than the price when it gets listed on an exchange. This is a significant advantage, as the tokens can be purchased at a large discount.
To take part in a presale, all that is required is a Web3 wallet, which is connected through the presale page. When making a purchase, the Web3 wallet will require you to confirm that you want to connect to the page. When the purchase is finalized, you can claim your tokens at a later date – the purchase has an associated wallet address that was used to make the transaction.
Be Wary of Rug Pulls As Well As Pump And Dump Schemes
Presales are a great option when it comes to meme token investment. But fraudsters can hold a fake ICO and run off with the funds, known as a rug pull. Smart contract audits, KYC certificates, publicly disclosed identities, and research can help with this.
With the Pump and Dump, a coin can be promoted by insiders who sell all their tokens when the price reaches a certain level. The price subsequently drops sharply and may never recover. So be mindful of a project's intentions prior to investment and always do your own research first.
Another benefit of presale ICOs is that there are usually no KYC requirements and you don't have to go through a frustrating registration process, where you are forced to upload sensitive information. You simply have to make a purchase and can then anonymously hold the meme coins in your wallet.
Another benefit of the presale is that investors can take part in the action at an earlier stage. Provided the project ends up being successful, this means that the earlier people take part, the more rewards are reached, generally speaking. During Ethereum's 2014 ICO, for example, the ETH price was a mere $0.31. It is now priced at around $1,700, a 5,552X multiplier.
Below are a couple of examples of ongoing meme presales that could experience gains, if things go their way.
Wall Street Memes (WSM) is a wildly successful presale that has raised over $25 million in just over 3 months. Few presales make this amount of money. The project has been commented upon by Elon Musk and has some very funny memes to keep people interested and engaged. It also has a 1 million strong social following and an intelligently tiered pricing structure.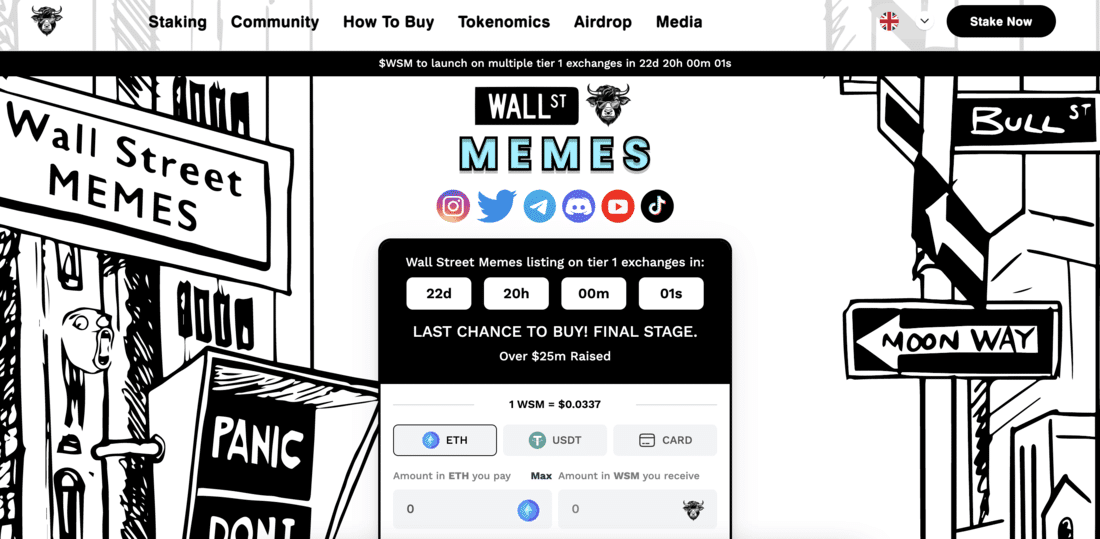 The current price is $0.0337 in its final stage and the theme of this token is that the retail investor can indeed challenge the Wall Street bigwigs – an idea that was proven quite popular in the past.
Wall Street Memes intends to launch on major centralized exchanges and states a colossal $1 billion market capitalization as an aim. The project has also given away $50,000 worth of tokens via airdrop, further promoting its cause. It could be one of the best meme coins to buy right now.
Meme Kombat – Brand New Presale With 112% APY and Betting Options For Meme Warfare
Meme Kombat ($MK) is a new style of presale that brings the world's most famous memes into a single arena for blockchain-facilitated combat.
This is an unconventional offering that could represent a new paradigm in how meme presales are created and marketed.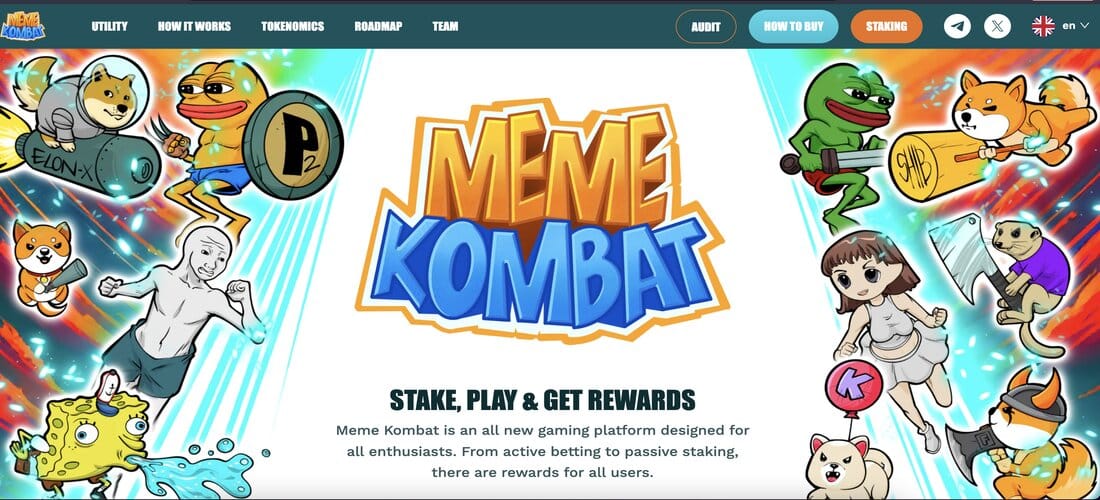 For Season One, the celebrity memes include – Floki, Pepe, Pepe 2, Shiba, Sponge, Wojack, Doge, Baby Doge, Milady, Kishu, and Mong. Spectators can bet on the outcome of the battles, which are automated and selected at random by AI.
Users who wager on the fight have a variety of betting options to select from, including side bets to give the combat a more dynamic and personalized experience. AI-powered graphics allow for a very vivid and detailed visual of the battle, with results processed automatically on the blockchain.
There are a total of 6 million $MK tokens priced at $1.667. The total hard cap is $10 million and no tokens have been allocated to a core team. PoS rewards are 112% at the present time.
Our price prediction guide maps out some possibilities regarding where this token could be headed. We also liked the fact that this project is transparent, with a doxxed founder.
However, please remember to read the Whitepaper and understand that meme tokens are known for high volatility levels. The social accounts – including Telegram and Twitter – are also useful for essential notifications.
How to Buy Meme Coins Through ICOs
Purchasing a meme coin through an ICO is quite straightforward. Remember that first of all, you need to have some cryptocurrency in your wallet to make the transactions. You can purchase this on a crypto exchange and send it to your wallet of choice.
Step 1: Download Crypto Wallet
Provided you have your crypto, the first step is to download a Web3 wallet such as Wallet Connect or MetaMask, where you can transfer your crypto for the presale exchange.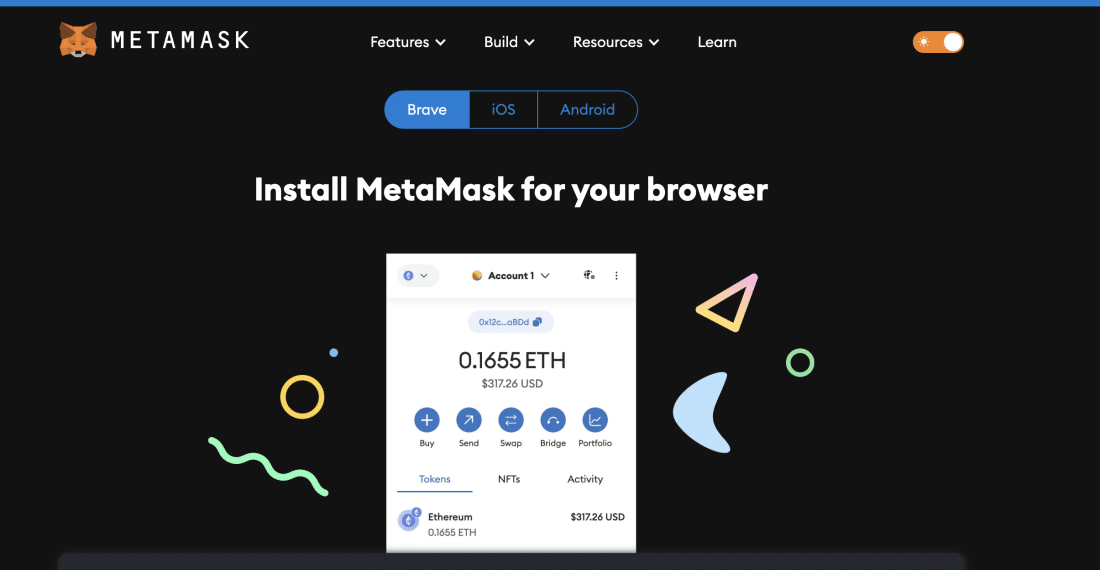 Step 2: Find the Presale Page
The next step is to find your way to the presale page, in this example Wall Street Memes.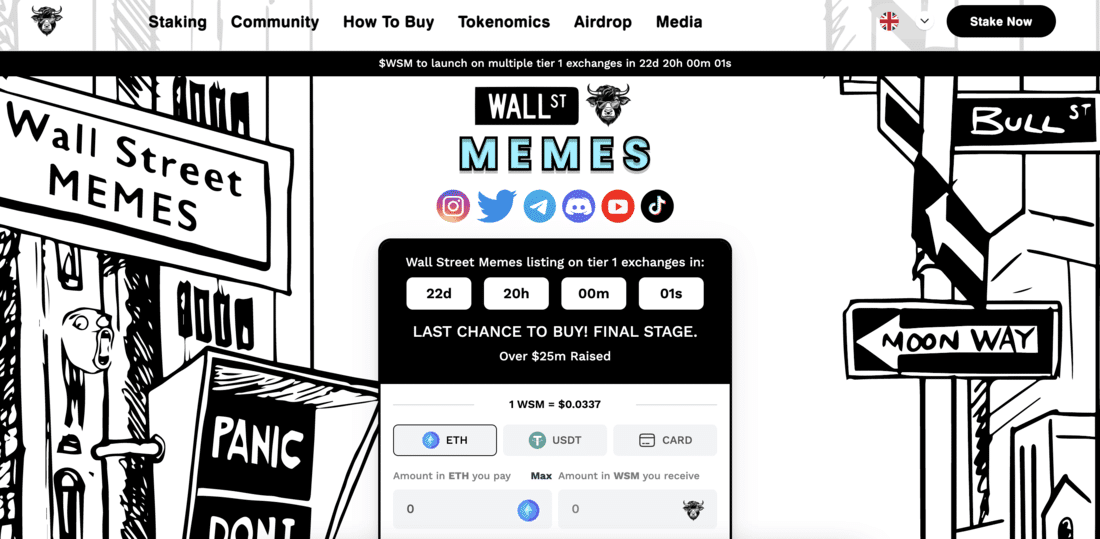 Step 3: Connect Your Web3 Wallet
The third step is to connect your wallet to the presale page. There is a button on the top right of the page to connect the wallet. The two wallet options here are MetaMask and Wallet Connect.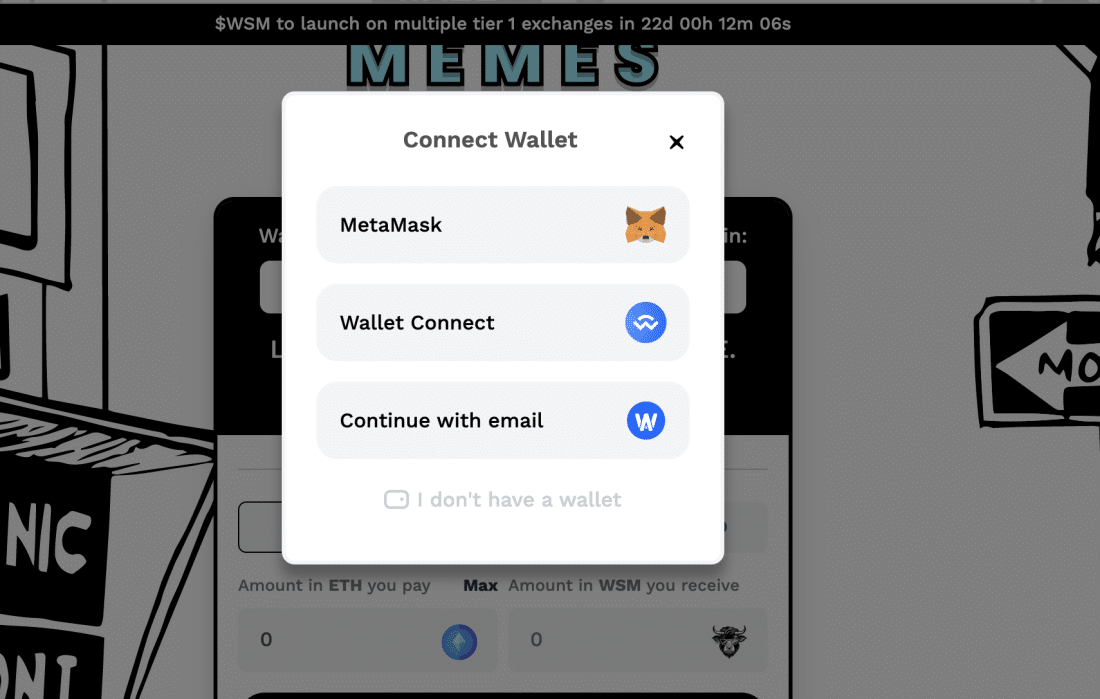 Step 4: Complete the Transaction
Finally, you will want to key in the amount of coins you would like to buy. Once you complete this step, the coins are yours as soon as they become available. Acceptable payment methods are ETH, USDT BNB, and Credit Card for this purchase,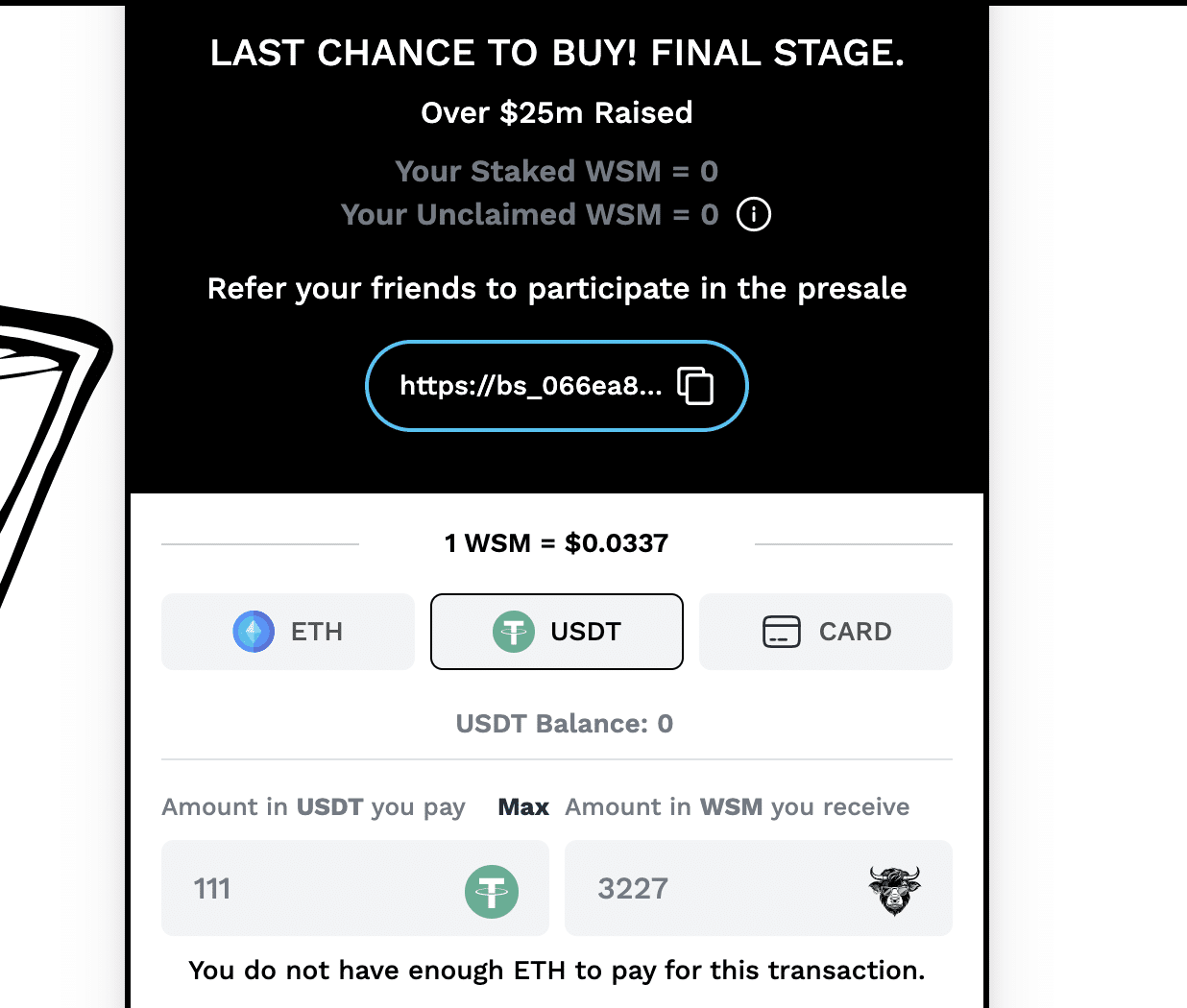 Coins will become available after the presale finishes.
Buying Meme Coins Through Brokers & Centralized Exchanges
Meme coins can also be purchased through either brokers or centralized exchanges (CEX). Generally, this is the safest method of purchase, because these are large entities that ensure that the project is legitimate – otherwise, the meme coin would not get on the platform as it might damage their reputation.
It also allows for vastly increased trade volume and for asset swapping. You can trade over 1,500 currency pairs on Binance, for instance, which also has strict listing guidelines. With eToro, you can trade cryptos for different assets, like stocks and FX. eToro also has a giant range of copy trading features that many investors can find useful.
Risks of Decentralized Exchanges
Decentralized exchanges area easier for projects to get listed on, with fewer KYC checks and requirements. This is advantageous for those who are not in favor of KYC or privacy invasions but also comes with increased risks. It's easier for bad actors to launch fraudulent schemes and to manipulate the price on these decentralized exchanges, and there is far less chance of them getting caught.
These are significant benefits, yet they also have their drawbacks. When buying on an exchange or through a brokerage, you don't get the early bird price from the original ICO. Another disadvantage is that you will have to undergo a KYC registration process, which can take time. Part of the appeal of blockchain is that information remains private from centralized actors, so it's something of a tradeoff.
Centralized exchanges and brokers are useful when it comes to integration with traditional financial products – Foreign Exchange, Commodities, Options, Stocks, Loans, Retirement Accounts, etc. Some investors might find this useful as compared to a decentralized exchange which only caters to Web3 assets.
eToro is one of the largest and most well known brokerages in the world, established in 2007 in Tel Aviv. It has unparalleled copy trading features which make it easy for new traders to copy and paste the strategies of more advanced professionals.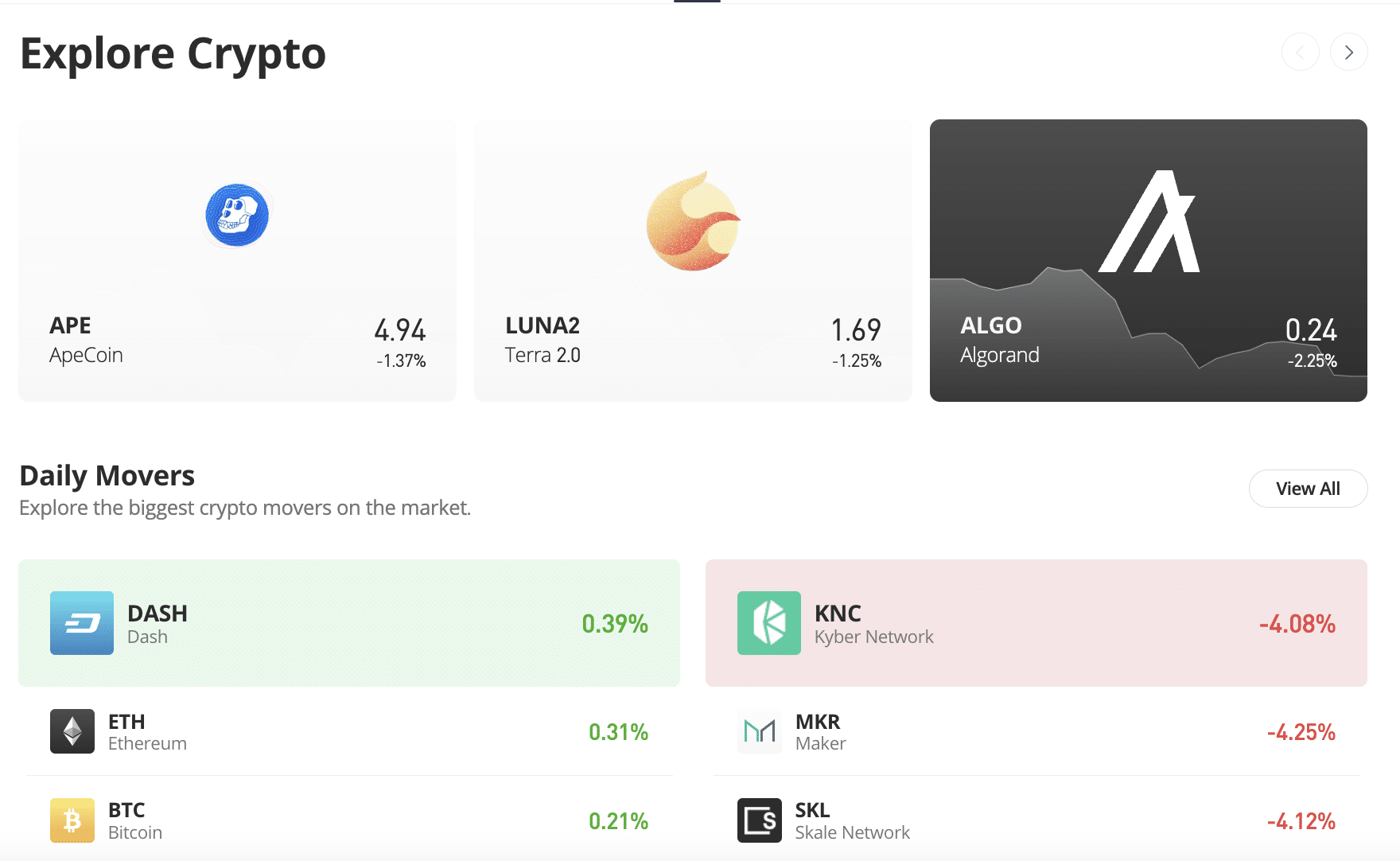 eToro was actually one of the first online firms to offer crypto trading services, incorporating Bitcoin into its ecosystem all the way back in 2013. Today, it provides support for over 80 cryptocurrencies.
eToro has a neat 1% fee on the bid-ask spread when it comes to buying and selling cryptocurrency. It also has a money crypto wallet with an unlosable private key, which is very useful in terms of security. Millions have been lost by people who failed to store their private wallet keys securely.
Binance Centralized Exchange – Worlds Largest Exchange by Trade Volume With Large Array of Services and 150 Digital Assets
Binance is the world's largest exchange. It supports over 150 digital assets and many more trading pairs. Tokens that list on Binance can benefit from a 41% price increase shortly after listing, a phenomenon known as the "Binance Effect". This is because a token that launches on Binance will have far more trade volume and exposure (Binance is the largest exchange in the world by trade volume).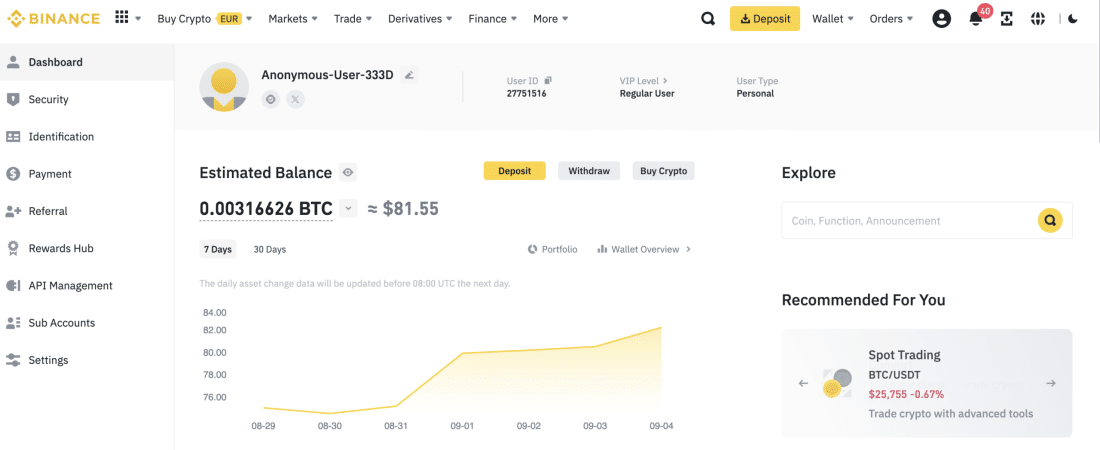 Binance is also a one stop shop for all things crypto related, and many meme tokens and other altcoins will strive to get a listing here. It has its own NFT marketplace, a crypto debit card, advanced trading functionality, centralized and decentralized token protocols, a launchpad, and much more.
The only issue with Binance is some ongoing concerns about regulation, having been targeted by the SEC in the USA.
How to Buy Meme Coins Through a CEX
Signing up through a CEX like eToro is quite straightforward, and can be done in a few minutes.
Step 1: Provide Registration Details
First, you'll need to provide a username, password, and email address.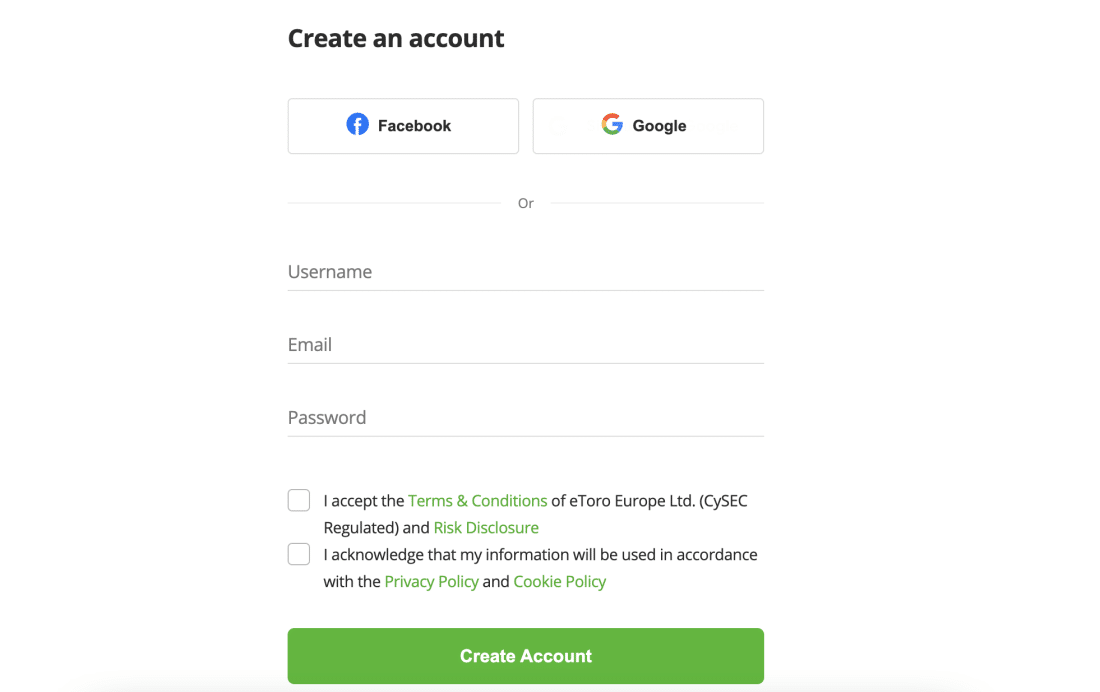 Step 2: Verify Email and Provide Proof of Identification
Next, the email will have to be verified. You will also need to prove your identity, using a government-issued ID (this can take a couple of days). The upload process is straightforward, requiring the user to provide proof of identity and proof of address. Once verification is complete, users are given a notification from eToro.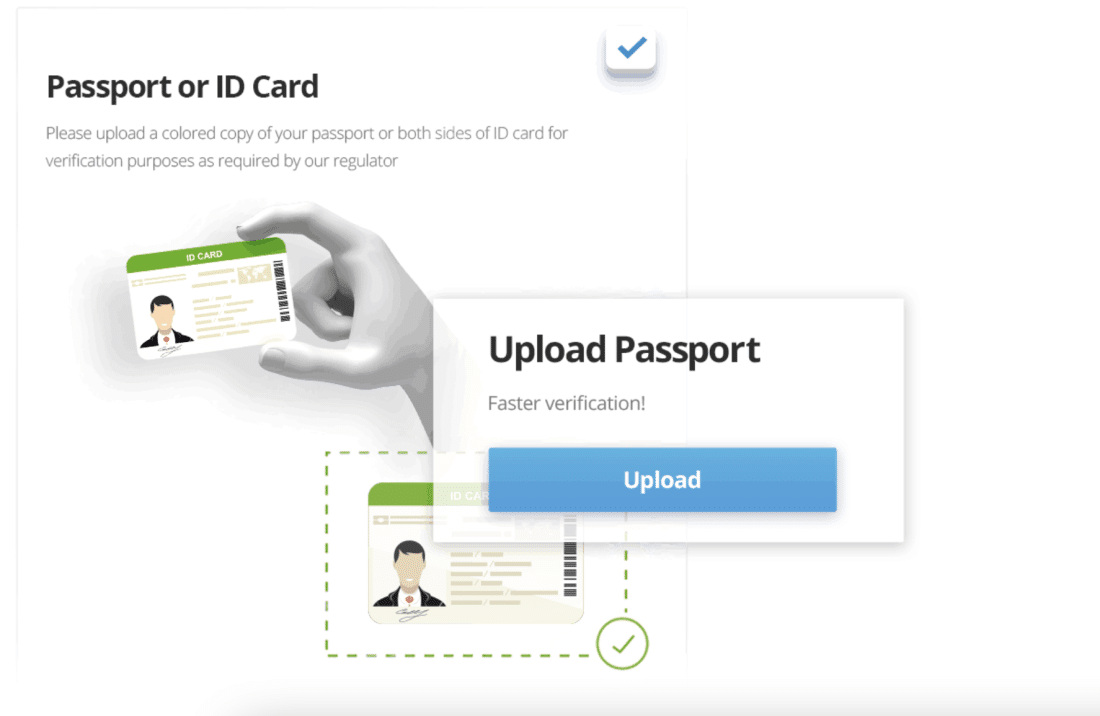 Step 3: Deposit Funds
After this, you can deposit funds into your account. There is a large list of available payment methods here.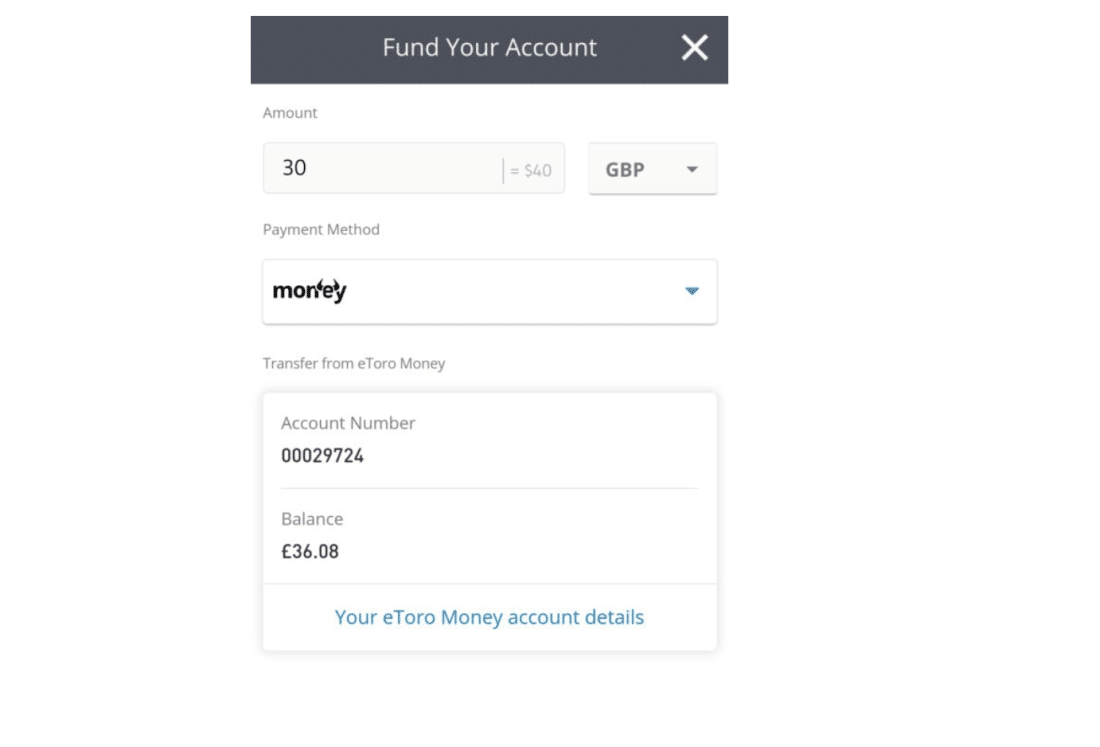 Step 4: Search For Coins, Execute Trade
Finally, you can search for your meme coins and make a trade.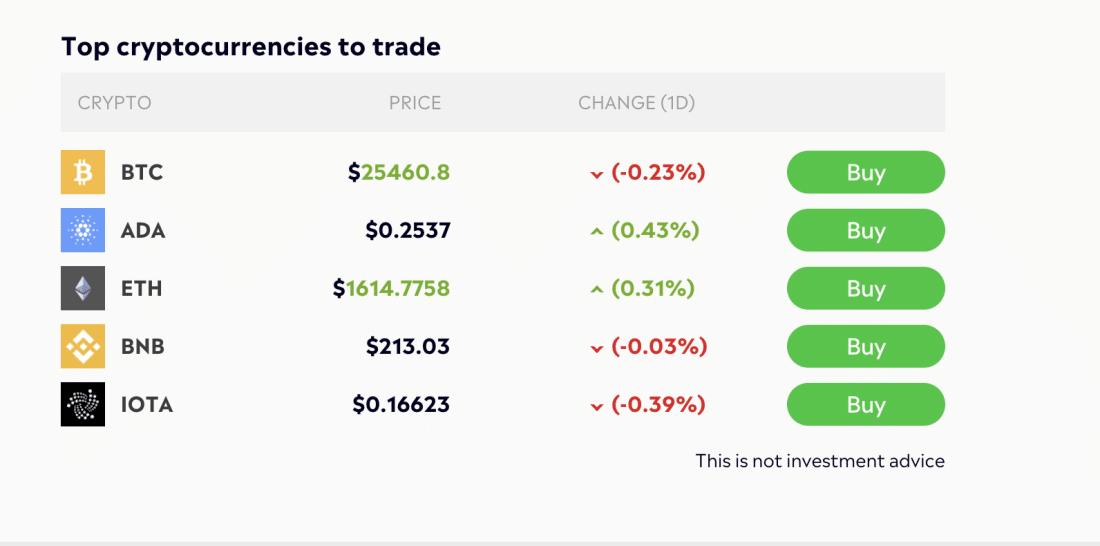 Cryptoassets are a highly volatile unregulated investment product.
The entire process should not take more than a couple of days, depending on how long verification takes.
Buying Meme Coins Through Decentralized Exchanges
When buying meme coins through a decentralized exchange (DEX) such as Uniswap, you will need to use a Web3 wallet like Trust Wallet or MetaMask. This Web3 wallet interfaces with the DEX to facilitate the transaction.
The wallet should have some crypto such as ETH or USDT beforehand to make the transaction. New meme tokens might only trade against major cryptocurrency pairs, so it's best to stick with the more reliable and large cap crypto for making swaps.
The benefit of the DEX is that there is no KYC procedure and you can get up and running immediately after you have purchased your crypto. All you do is click a button on the top of the page such as "connect wallet". Your wallet will then be connected to the DEX and you can swap acceptable cryptocurrencies easily (just make sure you have money for any gas/network fees).
It's easier for a meme coin to get listed on a DEX vs a CEX. However, it also comes with increased risk and less trade volume. A meme token that gets listed on a large major exchange is more likely to increase in value than a DEX. So there is typically a tradeoff between the two, with the CEX listing being a sign of increased legitimacy, having stronger requirements for listing.
Not all decentralized exchanges or presales accept all Web3 wallets. The most common include MetaMask, Trust Wallet, and Wallet Connect, with MetaMask being universally accepted, more or less. It's also possible to make a purchase with a card through a third party Web3 application like MoonPay, Wyre, or Ramp Network, which are compliant Web3 payment providers.
How to Buy Meme Coins Through a DEX
Buying a meme token through a DEX is straightforward, as there is no registration process.
Step 1: Find the DEX Application
To take Uniswap as an example, the first step is to navigate to the official DEX application.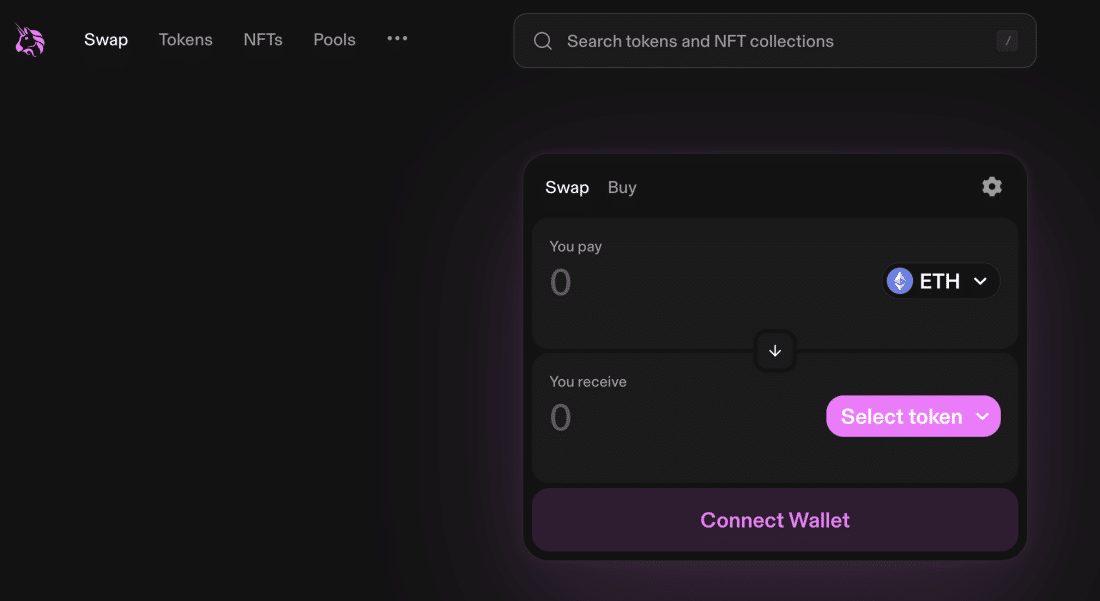 Step 2: Connect Your Web3 Wallet
Next, you want to connect your Web3 wallet by clicking the "connect" button the the top right of the screen.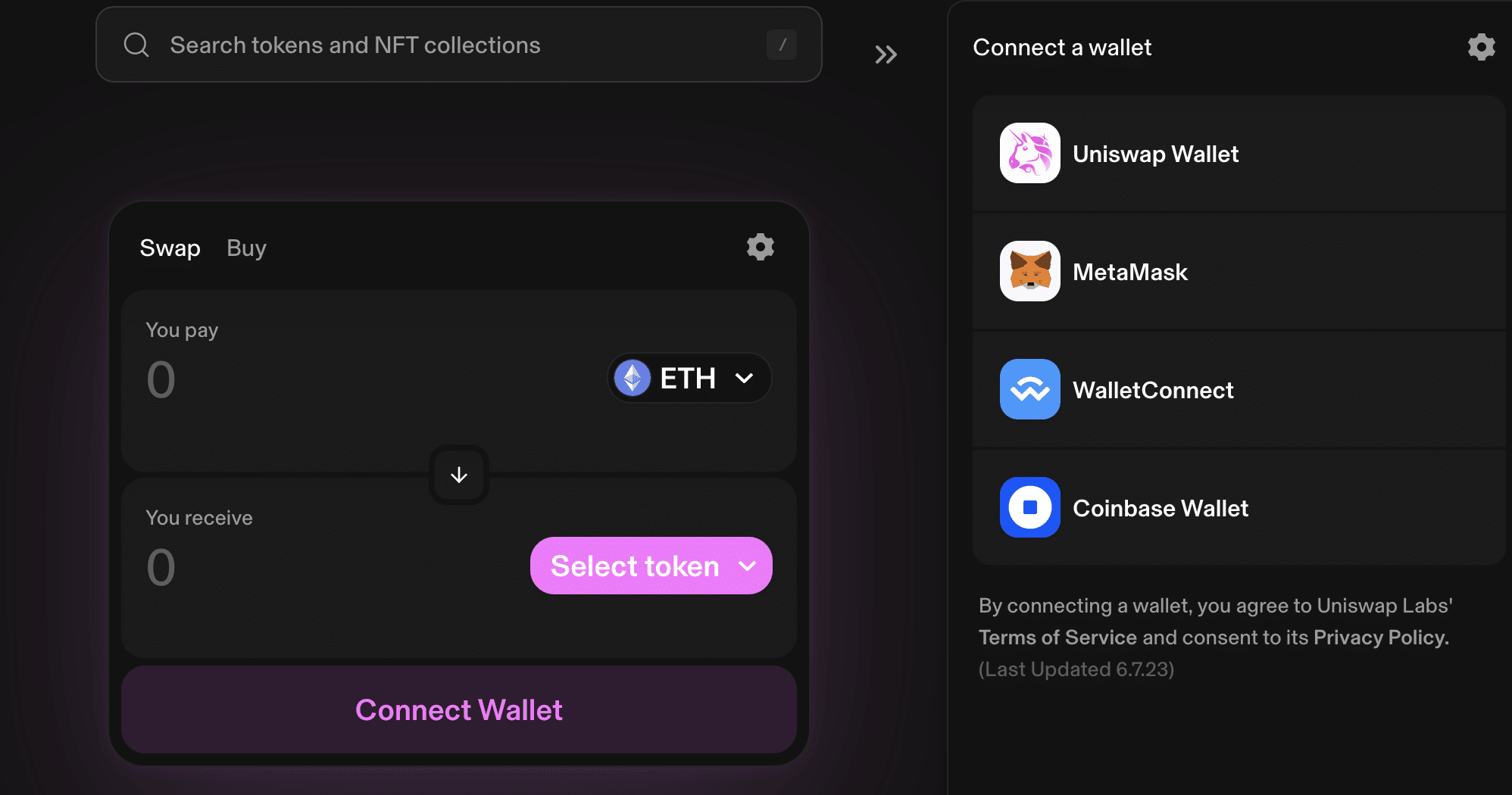 Step 3: Search For Tokens
After your wallet has been connected, you can then just search for your token of choice through the search bar.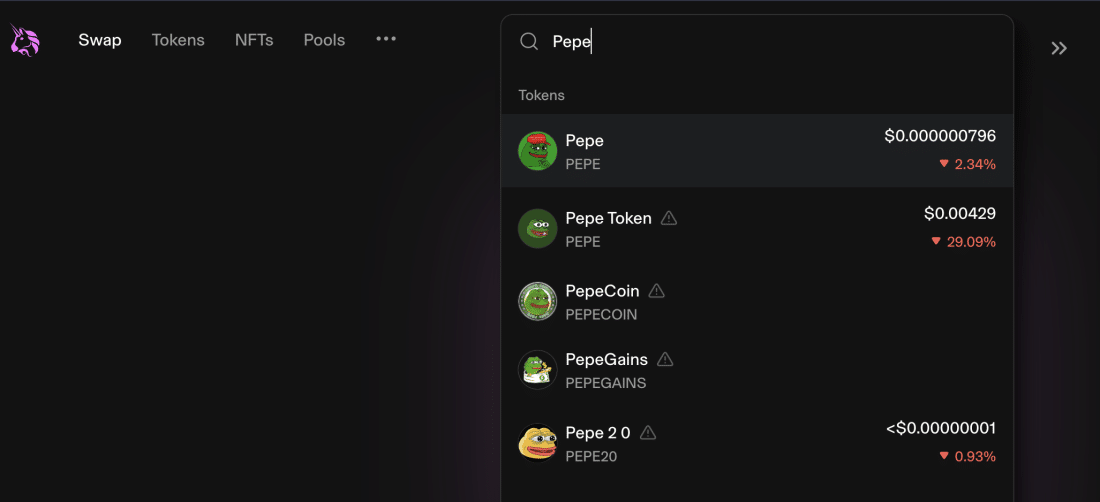 Step 4: Execute Transaction
Finally, you can make the transaction in a cryptocurrency of your choosing and click the swap button.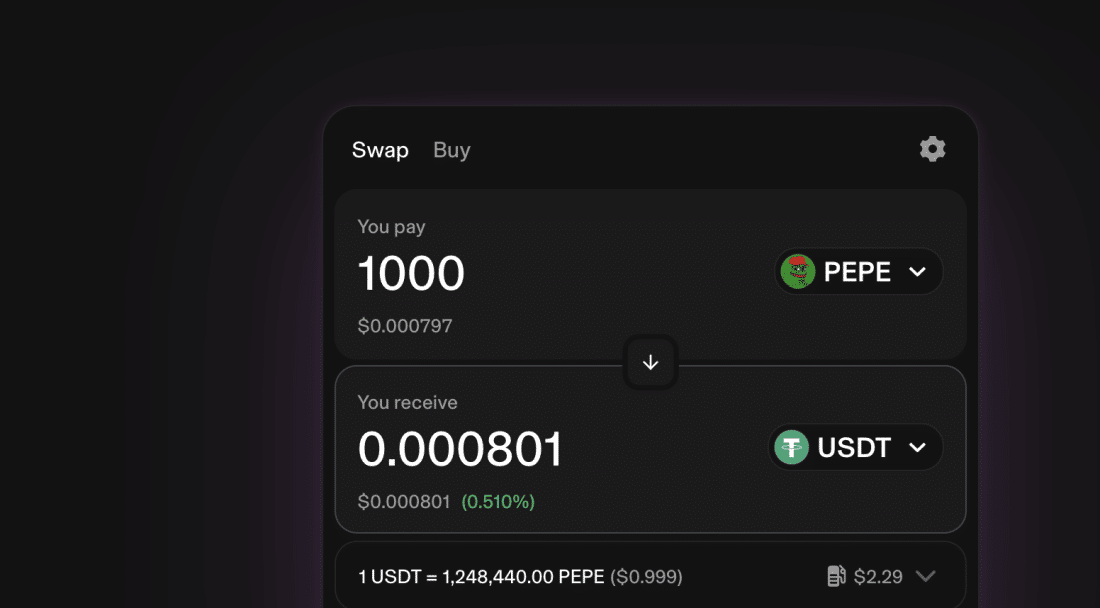 Buying meme coins through a DEX, or through a presale or CEX, is relatively straightforward – connecting the Web3 wallet to the presale or DEX page might sound confusing, but it is literally done with the click of a button.
Conclusion
This guide has explained how and where to buy meme coins from the comfort of your own home. Such coins tend to have explosive price potential even though they come with associated levels of risk – meme tokens are not utility tokens and need to be carefully researched prior to investment.
If you're looking for a good meme coin to buy, Wall Street Memes is probably the best bet on the market. It has raised a huge $25 million in a little over 3 months, has over 1 million followers on social media, as well as benefiting from celebrity interaction from Elon Musk. With this level of activity and endorsement, it could secure listings on major exchanges like Binance and Coinbase.
References
FAQs
What is the best way to buy meme coins?
How do you buy meme coins on Coinbase?
Is it safe to buy meme coins?