Meme Kombat ($MK) is a newly launched crypto presale combining the viral allure of meme coins with the groundbreaking technology of blockchain gaming. The project offers generous community rewards and provides a 477% annual percentage yield (APY) on staking.
The $MK token is available at presale price of $0.205 for a limited time. This guide explains how to buy Meme Kombat in the presale and whether it is worth investing in.
Meme Kombat Presale Key Points
The Meme Kombat presale launched on 21 September 2023, priced at $0.205 per token.
Meme Kombat offers users many ways to earn rewards, ranging from staking to active betting on battles.
The presale has raised over $2 million in a few months and has a hard cap of $10 million.
Users can begin staking and earning a 477% APY immediately after buying the presale.
How to Buy Meme Kombat ($MK) Presale – A Five-Step Beginner's Guide
Investors can now buy the Meme Kombat presale by visiting the project's website. This section will explain how to get started in five easy steps.
Meme Kombat is on Ethereum, but investors can also buy on the Binance Smart Chain (BSC), providing a fast and low-cost solution. Here's how to buy the $MK presale.
Step One: Create a Software Wallet
Create an Ethereum-compatible wallet like MetaMask or Trust Wallet. You will use this to connect to the presale and make the purchase. Both of the wallets mentioned are free and reputable.
Many smartphone users prefer Trust Wallet, whereas desktop users prefer MetaMask. Still, both wallets are available on mobile and desktop.
We will use MetaMask on desktop for the remainder of this tutorial. Visit the MetaMask website and download the browser extension. Then, visit the MetaMask app and create an account, ensuring you store your seed phrase privately and securely.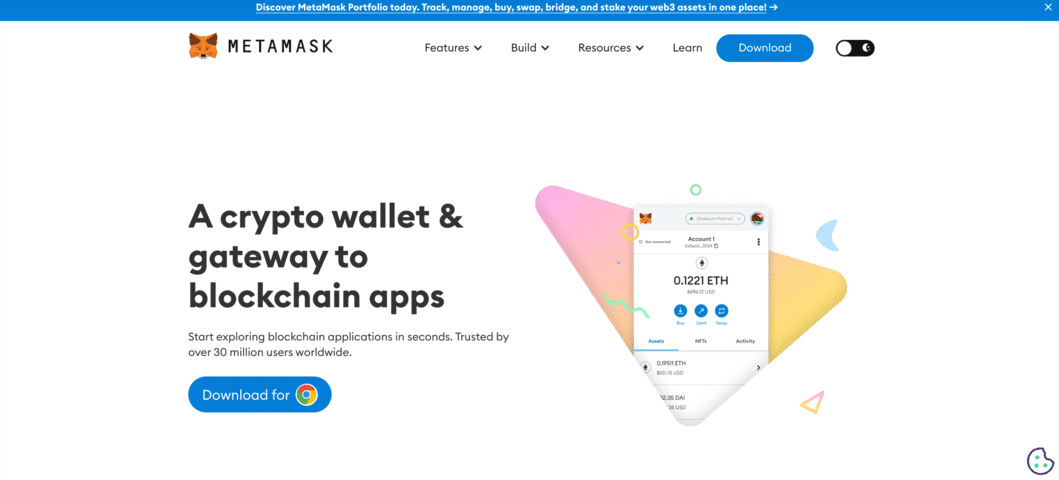 Step Two: Buy ETH, USDT, or BNB to Fund Your Investment
The Meme Kombat presale accepts ETH, USDT, and BNB. Remember that it only accepts BNB via the BSC network and ETH and USDT on the Ethereum network.
You can buy these cryptos directly from your MetaMask account using a bank card or visit a centralized exchange, purchase it, and then deposit it to your MetaMask or Trust Wallet.
Step Three: Connect to the Meme Kombat Presale
Visit the Meme Kombat website and click the Connect Wallet button. Then, follow the instructions prompted by MetaMask to finish connecting.
It is important to ensure that you only visit the Meme Kombat website directly using the web page's URL or from a reputable link like the ones provided in this guide. This helps protect against any malicious phishing exploit attempts.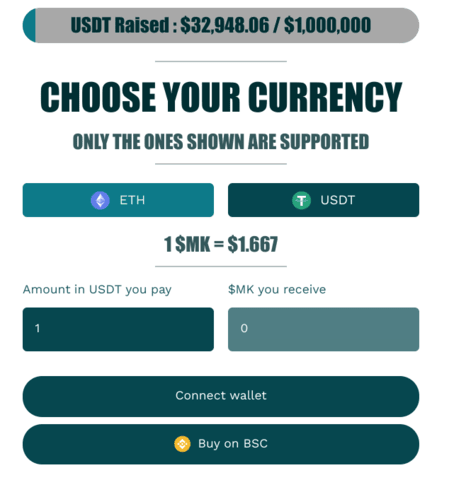 Step Four: Buy $MK Tokens
Choose the amount of $MK you want to buy, denominated in either $MK, ETH, USDT, or BNB. Then, complete the purchase and authorize the transaction from your MetaMask wallet when prompted.
Note that once you have purchased the Meme Kombat presale, you can also immediately begin staking to earn rewards.
Investors can stay updated on the project's latest developments by visiting the Meme Kombat X (Twitter).
Step Five: Claim Your Tokens
At the end of the presale, you can claim your tokens and add them to your wallets. Alternatively, you can leave your staked tokens in the project's staking pool to continue compounding your investment.
What is Meme Kombat?
Meme Kombat is a new crypto presale project that combines the best of meme coin virality with the fun and lucrative nature of Play-to-Earn gaming to create a community-centric and engaging cryptocurrency.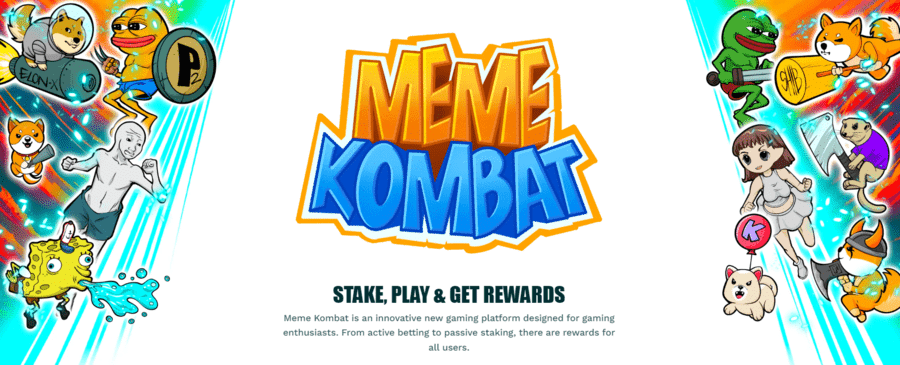 The project has a staking feature, enabling users to earn a whopping 477% APY passively. Presale investors can begin earning on their investment immediately after buying.
Staking incentivizes users to hold $MK tokens long-term, bolstering community engagement and participation while minimizing the token's sell pressure. This has quickly propelled the project to become one of the top cryptos to watch in 2023.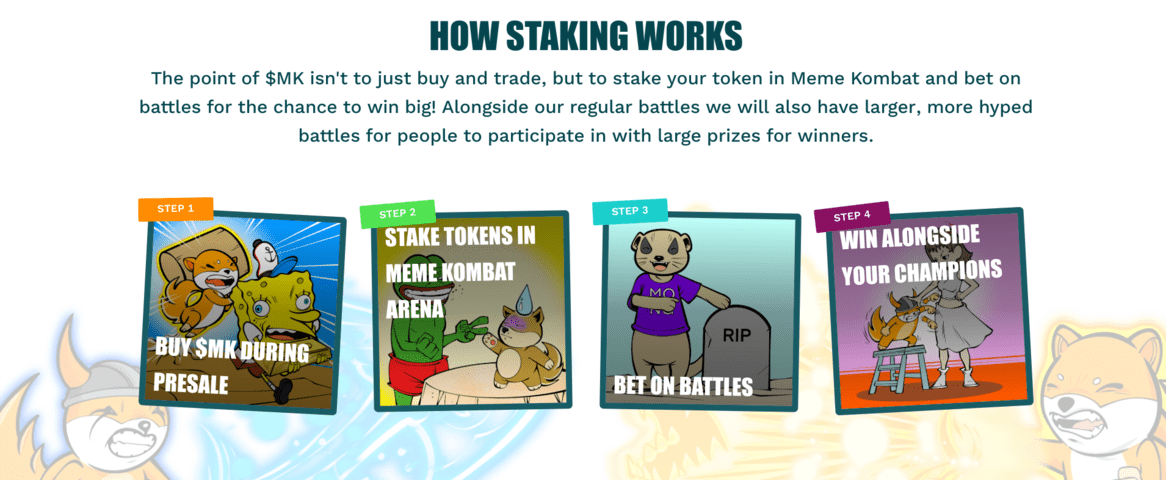 As well as staking, the Meme Kombat crypto enables users to earn rewards through betting on battles. Users can allocate some of their staked tokens to start betting.
According to the Meme Kombat whitepaper, there are four different types of betting:
Player vs. Player (PvP) Betting – Users can wager bets against each other on strategic battles. They can adjust the level of risk in these bets.
Player vs. Game (PvGame) Betting – Enables users to bet against the game itself on the outcome of battles. It uses traditional odds mechanisms to provide a more realistic and compelling betting environment with pre-calculated probabilities.
Direct Betting – A more simplistic form of Player vs. Game betting where users can place bets on specific battles or characters.
Side Action Betting – This feature adds extra complexity to the betting mechanism, enabling users to place side bets on dynamic events in the battles, like the first move or specific outcomes.
To ensure a seamless and beginner-friendly user experience, Meme Kombat will provide a web-based gaming experience. Users will simply connect their software wallet to the Meme Kombat website to begin.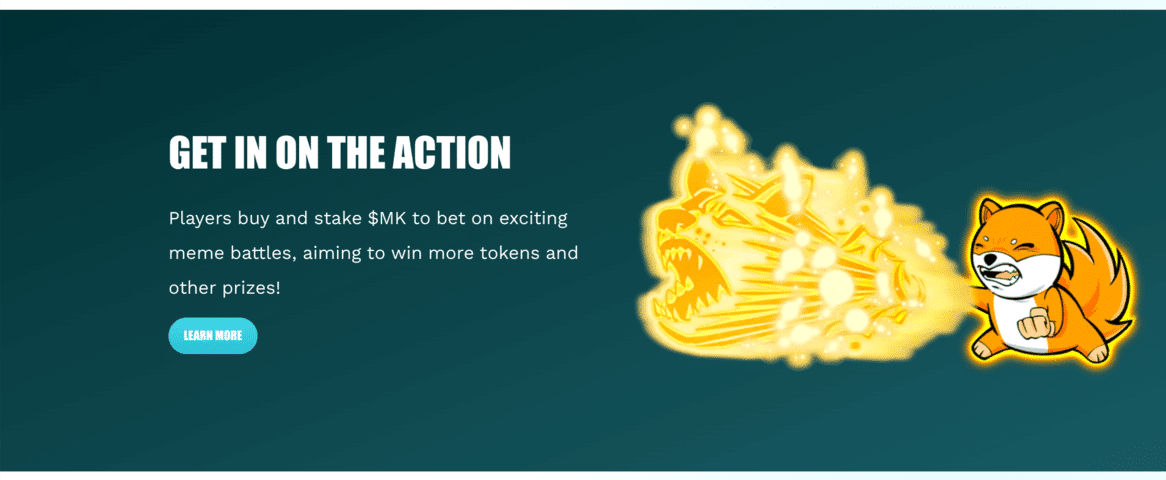 | | |
| --- | --- |
| Presale Started | September 2023 |
| Purchase Methods | ETH, USDT, BNB |
| Chain | Ethereum |
| Hard Cap | $10,000,000 |
| Min Investment | $5 |
| Max Investment | None |
Meme Kombat Tokenomics & Presale
There are 120 million Meme Kombat tokens in total. 50% of those (60 million) will be sold at the presale, 30% (36 million) have been allocated to staking and battle rewards, 10% (12 million) to exchange liquidity, and 10% to community rewards.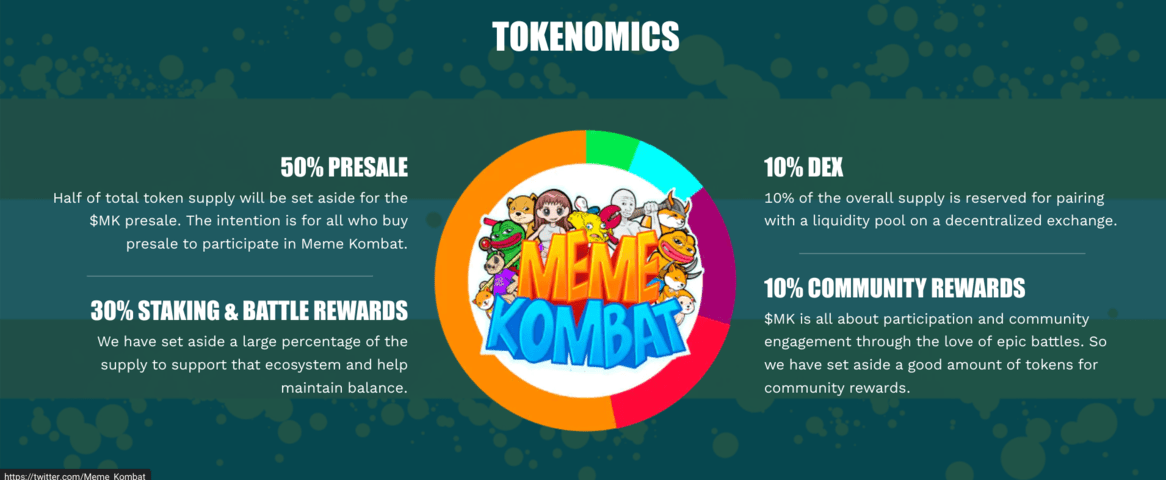 The project's tokenomics are skewed heavily towards incentivizing long-term holdings, bolstering the likelihood of increased project awareness and long-term success.
Furthermore, the 30% of tokens held for staking and battle rewards could help to increase community participation and engagement, ultimately leading to a broader reach which helps the project attract new users.
Meme Kombat's presale is currently prcied at $0.205.
Meme Kombat's Future: The Roadmap
Considering its substantial staking rewards allocation and high APY, Meme Kombat could undoubtedly be one of the best staking tokens for 2023. Furthermore, its token utility of betting on battles and the meme coin allure of the project could provide significant long-term potential.
With that in mind, here is a closer look at the project's planned roadmap.
Presale Launch – September 2023 – The project will sell 50% of its total supply of tokens to kickstart the platform launch.
Platform Launch – October/November 2023 – The Meme Kombat platform will launch, with battles, staking, and other features going live.
Season 1 of Meme Kombat – Immediate Post-Launch – The first season of Meme Kombat will launch immediately after the launch.
Season 2 of Meme Kombat – December 2023 – Meme Kombat season 2 will feature new gameplay, rewards and opportunities.
Following this, the project's whitepaper has committed to further development, mentioning upgrading its platform, gameplay, tokenomics, and more. It also suggests adding new game modes and partnerships when looking beyond 2023.
Why Buy Meme Kombat During the Presale?
Meme Kombat's unique and compelling use case makes it one of the most promising cryptocurrencies. Here are some reasons why buying the presale could prove a good decision.
High upside potential – With a compelling use case and robust tokenomics, Meme Kombat boasts potential for significant capital appreciation. Buying the presale enables investors to get in early and secure a low price. Staking-based cryptos have performed well recently, with Stake-to-Earn BTC20 pumping 7x after its exchange launch.
Passive Rewards – The project offers a generous 477% APY, and presale buyers can begin compounding their purchase immediately. Furthermore, users can also earn rewards through community participation events and betting.
Experienced and doxxed team – Meme Kombat's team comprises numerous highly experienced and doxxed individuals, with links to their social media accounts on its website. This increases the team's accountability and builds trust within the community.
Promising use case – Situated between meme coins, S2E, and online gambling, Meme Kombat enjoys a powerful use case with many possibilities to expand its ecosystem.
Meme Kombat Price Prediction – What is $MKs Potential?
A study by Business Research Insights found that Play-to-Earn gaming will increase almost 5x between 2021 and 2028.
Additionally, Statista found that the online gambling industry's growth will almost double in the same period.
These forecasts illustrate the tremendous growth potential of a project at the cross-section of both industries.
Beyond this, Meme Kombat also enjoys price exposure as a meme coin. We have previously seen many meme coins explode, with Pepe even exploding during the recent bear market. Considering Meme Kombat's additional utility as a P2E game with betting functionality, we could arguably see even more community interest in this project.
With the crypto bull market forecasted to begin in 2024, the S2E gaming narrative has begun heating up again. In the last cycle, Axie Infinity soared to become one of the best-performing cryptos. However, AXIE's lack of utility and technical faults led to its demise.
In the coming cycle, investors will be seeking the next P2E game to explode, with Meme Kombat possibly proving a strong candidate, given its innovative use case.
With this in mind, according to our Meme Kombat price prediction we could see a significant pump moving into 2024, potentially gaining 10x growth by 2024. If correct, this would put the $MK price at $2.05.
Conclusion
This guide explained how to buy the Meme Kombat presale in five steps. The project shows significant potential, and users can buy the token for just $0.205. Furthermore, our guide found that the presale is a buy due to its 477% staking APY and numerous other ways to earn free crypto.
However, with such a strong use case, the presale may be a quick sell-out. This means investors must act quickly to secure their tokens.
References
FAQs
How much is the Meme Kombat presale?
How to buy the Meme Kombat presale?