There's a v2 craze going on in crypto right now, with new versions of old coins launching seemingly every day. One of the v2 coins that's driving the most hype is Pepe 2.0—a successor to PepeCoin, which gained more than 10,000% when it pumped this past spring.
Pepe 2.0 has already jumped more than 3,000% and could be set to make another move higher. In this guide, we'll show investors how to buy Pepe 2.0 and explore whether Pepe 2.0 is a good investment today.
How to Buy Pepe 2.0: Quick Guide
Investors can buy Pepe 2.0 on several centralized exchanges as well as most major decentralized exchanges. We'll explain how to buy Pepe 2.0 on LBank since this exchange accepts a wide range of fiat payments.
Step 1: Register with LBank. Visit LBank's website and create a new exchange account. New investors must verify their identity.
Step 2: Buy USDT. Buy USDT (Tether) using fiat. LBank accepts bank transfers, credit cards, debit cards, Apple Pay, Google Pay, and more.
Step 3: Find PEPE2/USDT. Search for 'Pepe2' and click on the PEPE2/USDT trading pair to open a new trading window.
Step 4: Buy Pepe 2.0. Set up a market order and enter the amount of Pepe 2.0 to buy. Click 'Buy' to complete the purchase.
If you're interested in learning about other hot new cryptos as well as Pepe 2.0, check out our guide to the best new cryptocurrencies.
Pepe 2.0: What Is It and How Does It Work?
Pepe 2.0 is a meme coin based on the Pepe the Frog meme. It takes its name and theme from PepeCoin, which launched in April and became one of the most explosive meme coins since Dogecoin.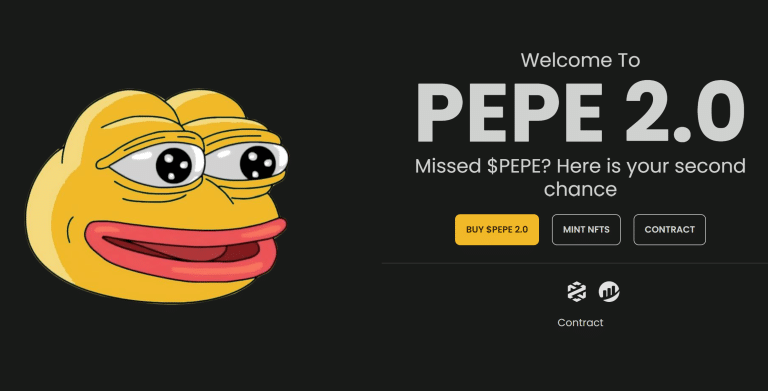 However, Pepe 2.0 is completely distinct from the original PepeCoin. In fact, Pepe 2.0 was created by individuals who were blacklisted by the original PepeCoin project. It's unclear why these individuals were blacklisted or what their motivation is for creating Pepe 2.0.
Pepe 2.0 launched on June 27, around 3 months after the original PepeCoin launched. The new coin currently has a market cap of $57.9 million, far less than PepeCoin's market cap of $627 million.
The total supply of Pepe 2.0 is 420,690,000,000,000 tokens. All of these are in circulation and there is no way to mint additional Pepe 2.0. The project does not support staking and doesn't have any automated burn mechanism to reduce the token supply over time.
Anyone buying or selling Pepe 2.0 will pay a 1% transaction tax. The tax is used by Pepe 2.0's developers for marketing, liquidity, and community development. The stated goal is to make Pepe 2.0 sustainable, even as the project encourages rapid buying to push the token to a $1 billion market cap.


Pepe 2.0 is currently trading on major decentralized exchanges as well as a handful of centralized exchanges. These include LBank, Bybit, BitMart, Bitrue, and Bitget. KuCoin is currently accepting Pepe 2.0 deposits to launch trading in this token soon.
Pepe 2.0 Price
Pepe 2.0 has exploded more than 3,350% since it launched 10 days ago. From a launch price around $0.000000004, Pepe 2.0 is now priced at $0.0000001422.
That's an enormous gain for a meme coin in a very short period of time. Even the original PepeCoin traded for several weeks before pumping to a gain of more than 10,000%.
Pepe 2.0's bullish momentum is continuing unabated. The token is up 60% in the last 24 hours and is now retesting its all-time high, set just a few hours ago. According to CoinMarketCap, trading volume is up to more than $80 million over the past 24 hours and rising.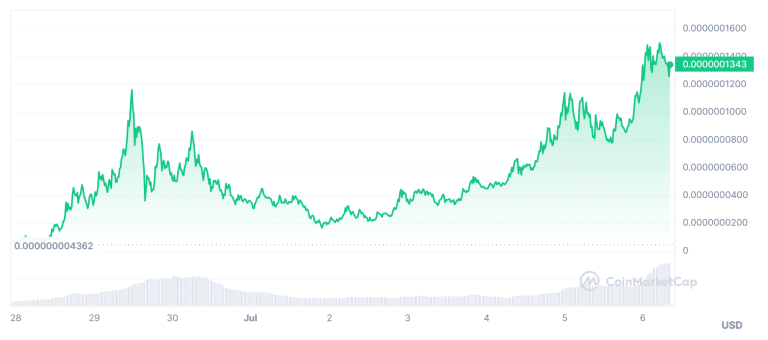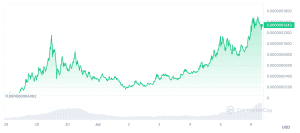 At the current price, Pepe 2.0 has a market cap of $57.9 million. For the token to reach its stated goal of a $1 billion market cap, the price would need to increase nearly 20x. However, it's worth noting that the original PepeCoin reached a market cap of nearly $1.5 billion at its peak.
Why Is Pepe 2.0 Pumping?
Pepe 2.0 is a meme coin, and meme coins have been incredibly hot lately. In fact, CoinCodex data suggests that the meme coin market as a whole is worth an astounding $15.5 billion.
That, combined with the legacy of the original PepeCoin, is all it took to send Pepe 2.0 soaring.
Traders and investors have been eagerly watching for the next meme coin to explode, and many quickly identified Pepe 2.0 as the best candidate. That led to investors piling into Pepe 2.0 as soon as it launched, sending the token's price higher.
The soaring price in turn put Pepe 2.0 on trending token lists and attracted even more traders. The more people who jumped in, the more the price went up and the more new investors saw opportunity in Pepe 2.0.
Should You Buy Pepe 2.0?
Investors looking at Pepe 2.0's pump all have the same question on their mind: can the token go even higher?
Investors who believe it can are buying Pepe 2.0 now in anticipation of potentially huge profits. Investors who believe the current price represents a peak for Pepe 2.0 are steering clear of this meme coin and looking for the next opportunity.
It's hard to know with any certainty what will happen to Pepe 2.0 next. Some explosive meme coins have produced crypto millionaires only to lose nearly all of their value within the span of a few hours. Others have pulled back from a peak for a couple days, then rallied for an even more explosive price movement.
Pepe 2.0 has growing trading volume and the price is on its way up right now, suggesting that investors still have time to get in on the action. However, investors who buy now are at risk of holding the bag if the coin falls.
What does the future hold for Pepe 2.0?
Once Pepe 2.0 loses significant value, it's unlikely that the coin will reach its peak price again. Very few meme coins that have fallen out of the spotlight produce positive returns for investors who bought the top. That's especially likely for Pepe 2.0, since the token has no utility and the supply is fixed.
The Evil Pepe coin is a new community-centric meme coin amid the ongoing market recovery that has been gaining traction.
Evil Pepe Coin: A Bold, Community-Driven Meme Crypto with 90% Presale Tokens, Raised Over $130K
Evil Pepe Coin ($EVILPEPE) is a unique, meme-based digital currency that embraces a bold, non-conventional stance in the crypto world, catering primarily to 'adventurous' investors.
The coin's creators are releasing 90% of tokens during the presale. They believe this step will enable a vibrant, active community. The strategy seems effective, as they've already raised $130k within two days of its launch.
Currently, each $EVILPEPE token is priced at $0.000333 USDT. The presale accepts a variety of top cryptos, including ETH, BNB, USDT, and Cards.
Also, listing on decentralized exchanges (DEX) is part of their plan to increase $EVILPEPE's reach and promote an inclusive, universal approach to digital currencies.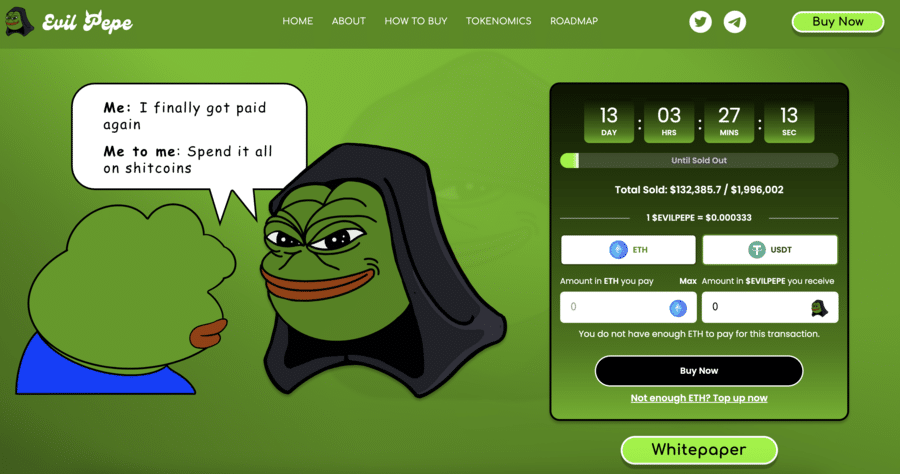 Evil Pepe Coin's whitepaper makes a bold call to action and invites risk-tolerant investors to question established norms. Moreover, the coin's plan includes a lock-up of 10% of its 6.66 billion tokens.
As exciting as $EVILPEPE's journey might be, always remember that such investments require a healthy risk tolerance and careful financial planning. History shows that community-backed platforms can prove successful in the long run.
Stay updated on the project through the Evil Pepe Coin Telegram group for real-time news and discussions.
Is Pepe 2.0 Legit?
Pepe 2.0 is a meme coin, so investors shouldn't expect the project to have a highly formal structure. That said, it's important to understand how this coin works in order to determine whether it's safe to buy.
The development team behind Pepe 2.0 is anonymous. The token was created by wallets that were blacklisted by the original PepeCoin project, but it's not clear why those wallets were blacklisted or what the developers' motivation was for creating Pepe 2.0.
That said, the developers behind most meme coin projects are anonymous, so this shouldn't raise too many eyebrows. In addition, the creators of Pepe 2.0 have renounced ownership over the token's contract, putting the project in the hands of the community.
This is important because it means that the tokenomics of Pepe 2.0 cannot be changed suddenly. Without developer ownership over the token's contract, it's much less likely that investors are walking into a rug pull.
It's also notable that Pepe 2.0 is trading on respected centralized exchanges like LBank, BitMart, and Bybit. These exchanges have listed scammy tokens before and make no guarantees about the legitimacy of Pepe 2.0. Still, many investors consider this to be a promising signal.
Even if Pepe 2.0 is completely legit, investors should keep in mind that the token could lose all of its value at any time. Any money they invest in Pepe 2.0 is at risk.
How to Buy Pepe 2.0: Detailed Guide
Let's take a closer look at how to buy Pepe 2.0 on LBank. The process is similar at other centralized crypto exchanges.
Step 1: Create an LBank Account
Go to LBank's website and click 'Register' to create a new trading account. Users must enter their email or phone number and a password, then verify the email or phone number.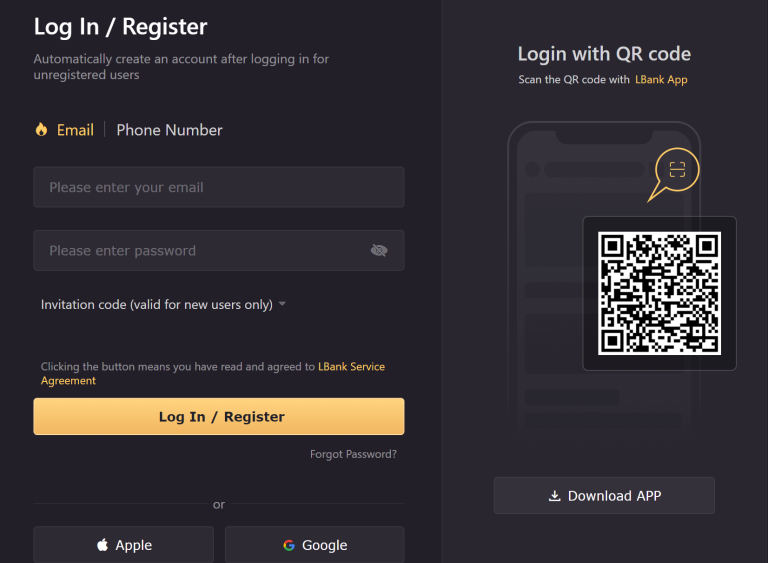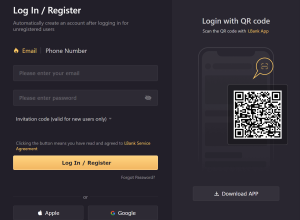 LBank follows Know Your Customer requirements. So, all new users must give their full name, country of residence, address, email, and phone number. LBank also requires investors to submit a photo of their driver's license or passport, plus take a selfie using their device's camera.
Step 2: Buy USDT
Find the menu at the top of the LBank website and click 'Buy Crypto.' Select 'Credit/Debit Card' or 'Bank Transfer.' Then choose USDT (Tether) as the cryptocurrency to buy, enter the amount to purchase, and confirm the payment method.
Click 'Buy USDT,' then enter payment information to complete the purchase.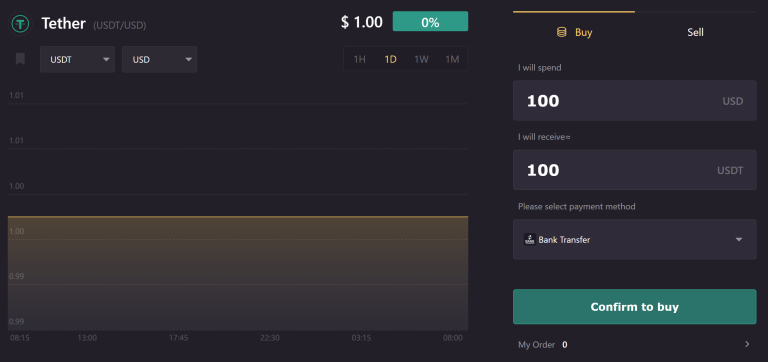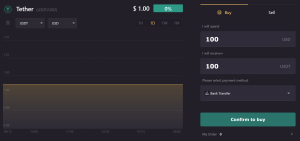 Step 3: Find PEPE2/USDT Trading Pair
Click 'Markets' in the LBank menu at the top of the page. Using the search box, search for 'Pepe2' and then click on the PEPE2/USDT trading pair when it appears. This will open the LBank trading terminal.


Step 4: Buy Pepe 2.0
Beneath the Pepe 2.0 price chart, select 'Market' to enter a market order. Enter the amount of USDT to spend and LBank will automatically calculate the equivalent amount in Pepe 2.0 tokens. Click 'Buy' to execute the swap and purchase Pepe 2.0.


Conclusion
Pepe 2.0 has already gained more than 3,300% since it launched 10 days ago. It's one of the hottest new meme coins and is available to buy on several popular crypto exchanges.
While investors are weighing whether to buy Pepe 2.0 now or not, there are many other new crypto tokens that appear set to pump. Check out our guide to the best new cryptocurrencies to find the top opportunities in the crypto market today.
References:
https://coinmarketcap.com/currencies/pepe/
https://www.coindesk.com/markets/2023/04/18/pepe-the-frog-memecoins-rocket-as-crypto-twitter-moves-over-doge-obsession/
https://coinmarketcap.com/currencies/pepe-2-0/
https://coincodex.com/cryptocurrencies/sector/meme/
FAQs
Are PepeCoin and Pepe 2.0 the same?
Where can I buy Pepe 2.0?
Is Pepe 2.0 a good investment?
Is Pepe 2.0 better than the original Pepe?