Pepe Coin (PEPE) is one of the hottest meme cryptocurrencies in 2023. After launching in April, the token reached a market cap of over $1 billion in just two weeks.
In this how to buy Pepe Coin guide, we will show investors how to buy the popular meme coin. We also cover the Pepe price history and discuss whether Pepe Coin is a valuable investment.
How to Buy Pepe – Quick Step by Step Guide
The sections below offer a quick look at how to buy Pepe Coin right now:
Step 1: Choose a Suitable Exchange – Since $PEPE is available to trade on some of the best crypto exchanges, investors first need to pick a suitable option. The token is available on exchanges such as OKX and Binance.
Step 2: Create a New Account: On exchanges such as OKX, investors can create a new account after entering their full name and email address.
Step 3: Purchase Cryptocurrency: Investors can purchase Tether (USDT), a stablecoin, which can be used to swap with $PEPE.
Step 4: Search for Pepe: On the OKX exchange, one can search for the token through the home screen to continue.
Step 5: Buy Pepe Coin: On OKX, one can enter the number of tokens to purchase and click on 'Buy' to confirm the transaction.
Pepe Coin: Explained
Pepe Coin (PEPE) is a new cryptocurrency token that has taken the meme world by storm in 2023. In the past few years, the crypto markets have been trading sideways, following an increase in interest rates following the coronavirus pandemic.
However, the crypto markets have revived in 2023 with the explosion of new meme tokens such as $PEPE. This new meme cryptocurrency is based on the popular 'Pepe the Frog' meme, which Matt Furie created in the early 2000s.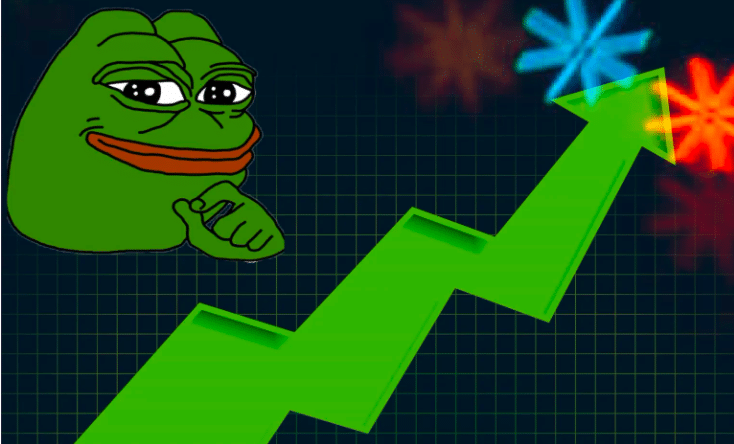 Notably, the Pepe Coin does not offer any utility or intrinsic value to token holders. In fact, the PEPE website states the following, "PEPE is a meme coin with no intrinsic value or expectation of financial return. There is no formal team of roadmap. The coin is completely useless and for entertainment purposes only."
One of the cryptos with the highest potential, Pepe Coin has instantly become one of the top tokens in terms of market capitalization. After launching in April 2023, the token reached a market cap of over $1 billion in just two weeks.
By the end of May, $PEPE reached a market capitalization of more than $5 billion, putting it among the top 20 tokens in the world.
Since this cryptocurrency offers no real value to the investor, the token has only one main goal. Pepe Coin wants to replace the popular meme and doge tokens such as Shiba Inu (SHIB) and Dogecoin (DOGE). At the time of writing, $PEPE has a market capitalization of more than $600 million.
As seen with many meme tokens, the price tends to correct after receiving huge returns. While the token is way below the market cap of top meme coins such as DOGE, it is still a very new cryptocurrency.
PEPE Coin: Price History
Unlike many new meme cryptocurrency tokens, $PEPE did not conduct any initial exchange offering (ICO). The token was listed straight to cryptocurrency exchanges on April 17th, 2023. The initial launch price of $PEPE was around $0.000000001 per token.
This popular cryptocurrency has a total token supply of 420.69 trillion. The price surge of $PEPE started almost instantly, reaching an all-time high (ATH) of $0.00000431 on May 5th, 2023. This equates to a massive price increase of over 430,000% since the token first launched.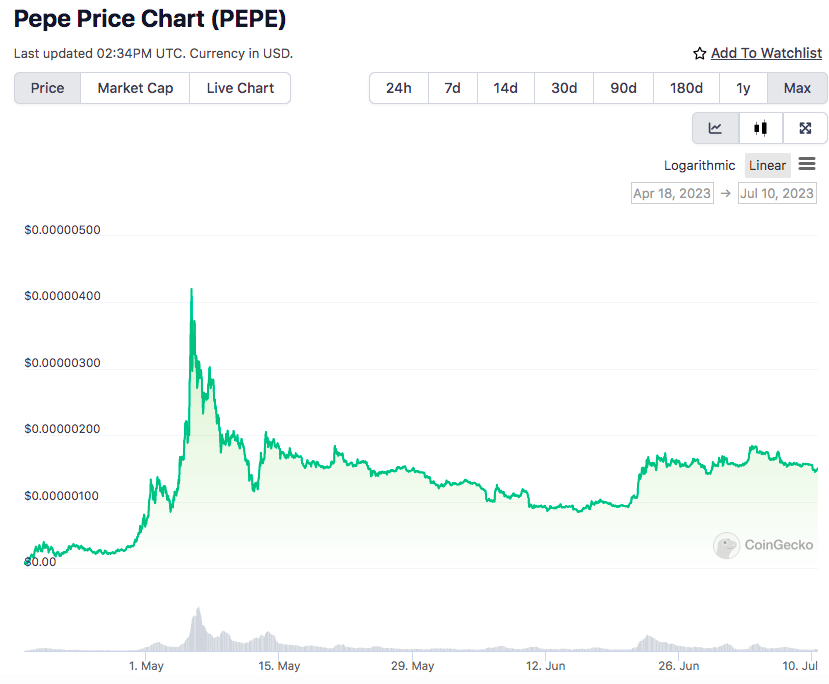 After this instant price jump, the token corrected in the next few weeks. By May 12th, this volatile cryptocurrency was trading in the $0.00000126 range. In the next few months, $PEPE has been trading sideways.
However, the cryptocurrency has once again shown some bullish momentum towards the end of June. From a price of $0.00000095 on June 20th, the token has increased to a live price of $0.00000150. In the last 30 days alone, the token has surged by over 65.5%.
With a market cap of over $630 million, Pepe Coin is the 70th largest cryptocurrency in the world.
Why Has the Price of Pepe Gone Up?
While we have covered the bullish price history of $PEPE, let's take a look at some of the reasons for this price jump:
FOMO
In the past, multiple meme cryptocurrencies have offered staggering returns almost instantly. Similarly with $PEPE, the popularity surged within a few days of the cryptocurrency's launch.
While meme tokens do not offer much utility, they manage to offer huge returns due to their virality and marketing. Similar to Dogecoin, Pepe Coin is named after an old and relatable meme, making it a memorable cryptocurrency.
Once the price started surging, FOMO (Fear of Missing Out) kicked in for most investors. This helped the price to surge by over 400,000% within only a few weeks of release.
Revival of the Crypto Space
Towards the end of 2021 and 2022, meme tokens were offering very inconsistent returns. With Bitcoin (BTC) trading sideways, most of the cryptocurrency space failed to offer returns to investors.
However, as the top cryptocurrency tokens start performing stronger, there is a splurge of funds in the cryptocurrency space. Therefore, meme tokens such as Pepe Coin tend to become strong investments.
By the start of 2023, Bitcoin and Ethereum started pumping, beginning a revival in the cryptocurrency space. In the next few months, $PEPE emerged as one of the top meme tokens.
Is PEPE a Good Investment Right Now?
While this meme cryptocurrency has been soaring since its release earlier in 2023, should investors still buy more $PEPE? Continue reading to learn if Pepe Coin is a good investment to make right now:
Available at a Lower Price
At the time of writing, $PEPE is trading at the $0.0000015 mark. Despite soaring by more than 60% in the last 30 days, Pepe Coin is more than 65% below its all-time high prices. As mentioned above, meme tokens can be among the most risky investments to make in the cryptocurrency space.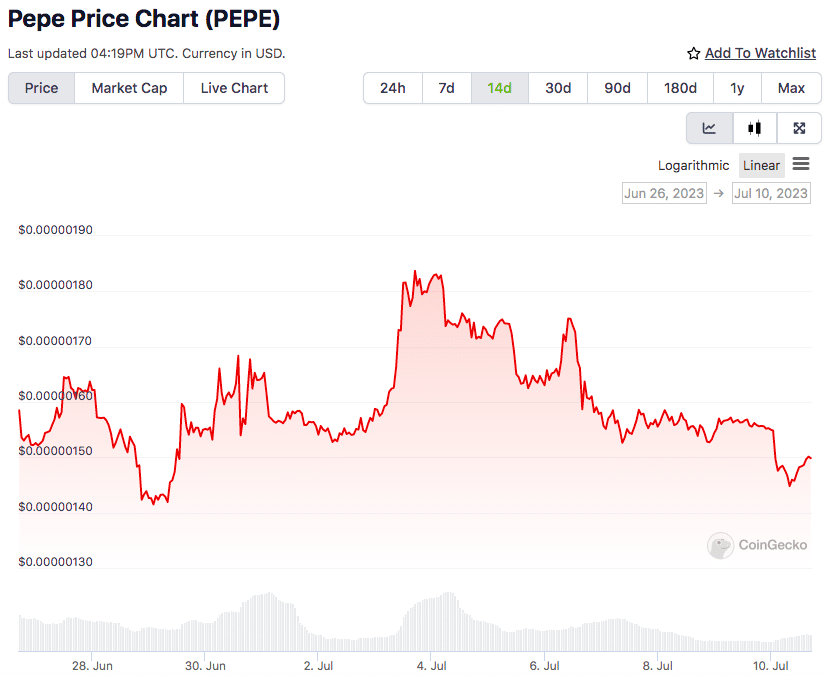 After huge price increases, a price correction like this is not uncommon. Therefore, another price jump in the future is possible. Furthermore, the recent price surge may be a sign of the token's revival following a few months of sideways momentum. Since the token is priced very low, investors with a higher risk appetite may want to diversify their portfolio since $PEPE can be the next crypto to explode.
Before investing in meme tokens, investors should do their own research and only invest in being aware of the risks associated with the investment.
Deflationary Token and No Buying Tax
While $PEPE does not offer many use cases to token holders, the tokenomics ensures that it can become a more valuable asset in the long run. Built on the Ethereum blockchain, $PEPE is an ERC-20 token.
Notably, the creators of Pepe Coin have imposed a no buy or sell tax to ensure that investors do not pay more when conducting transactions. This feature can help attract more investors to the project since many projects tend to charge higher fees to maintain liquidity.
Furthermore, Pepe Coin is also a deflationary token since a small portion of $PEPE coins will be burnt per transaction. Thus, the overall token supply will reduce in the long run.
With a reduced token supply, the token can increase in price since a few number of tokens will be available for a large pot of investors.
Available on Multiple Exchanges
Pepe Coin's availability on multiple cryptocurrency exchanges can help make it a more profitable investment. As of now, Pepe Coin is available to buy on some of the top crypto exchanges, including KuCoin, Huobi Global, and OKX.
The token has also been listed on Binance, one of the largest cryptocurrency exchanges in the world. This helps make the token available around the world, which will help increase the trading volume.
What's the Best 'Pepe Coin Killer' to Buy Now?
Amid the ongoing meme coin boom, the Bitcoin Minetrix is another crypto gaining investor traction for its utility-focused approach and novel concept.
Bitcoin Minetrix – Perfect Pepe Coin Alternative With 77,112% APY, World's First Stake-To-Mine Model
Bitcoin Minetrix ($BTCMTX) is an ideal alternative to Pepe Coin. This is a novel Bitcoin mining solution that removes the need for specialized hardware mining rigs.
The ecosystem is powered by Ethereum, and offers an integrated dashboard for those who want oversight of their own personalized mining operations, including key metrics.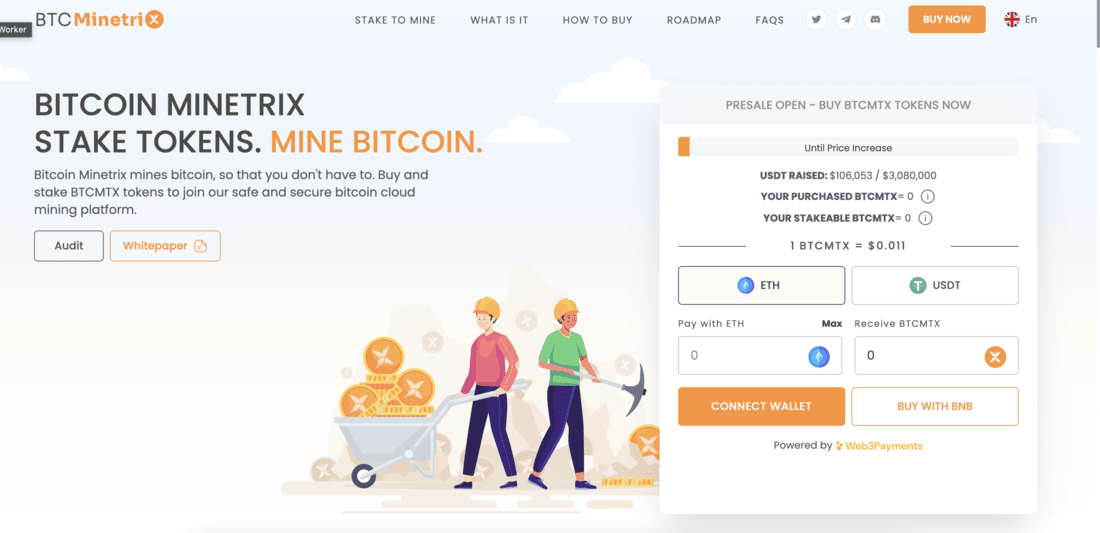 Upon launch, both mobile and desktop solutions will be available, so users can mine BTC 24/7, without worrying about any environmental impact or upfront investment. Traditionally, Bitcoin has been heavily criticized for having a poor carbon footprint.
Its Proof-Of-Work blockchain is maintained by a small group of centralized miners, who keep all the profits and have dominance over the network. Currently, Bitcoin mining is conducted by large corporations running expensive mining operations – buying a hardware mining rig is cost-prohibitive for most individuals.
This is why Bitcoin Minetrix represents an ideal solution. It introduces a stake-to-mine model – by staking tokens, users can earn Bitcoin mining credits. These BTC mining credits are burned in return for tokens. The more a user burns, the more he/she earns. In this way, mining is done as staking. It can be achieved through a few simple clicks on the dashboard.

In other words, $BTCMTX is converted into Bitcoin mining power. But it has a dual purpose, and can also be used to earn staking rewards. $BTCMTX yields sit at 77,112% right now, and a total of 540,000 tokens have been staked. These yields are likely to come down rapidly but remain extremely high for early-bird investors.
2.8 billion of the 4 billion $BTCMTX tokens are available in the presale. The price per token is $0.011 but will rise progressively at each stage of the 10-stage presale.
More information can be found within the Twitter and Telegram accounts, as well as the Bitcoin Minetrix Whitepaper.
| | |
| --- | --- |
| Hard Cap | $32 Million |
| Total Tokens | 4 Billion |
| Tokens available in presale | 2.8 Billion |
| Blockchain | Ethereum Network |
| Token type | ERC-20 |
| Minimum Purchase | $10 |
| Purchase with | USDT, ETH, BNB |
How to Buy Pepe: Full Tutorial
After going through our Pepe Coin guide, you can make an investment decision on this new meme cryptocurrency.
If you want to buy $PEPE right now, follow the steps below to get started.
Step 1: Select a Cryptocurrency Exchange
Since $PEPE is available to buy on multiple cryptocurrency exchanges, the first step is to choose a cryptocurrency exchange of your choice. For instance, $PEPE can be traded on popular exchanges such as Binance, OKX, Huobi Global, and KuCoin.
Depending on your investing needs and requirements, you can go through these options to decide. This guide will show users how to buy $PEPE with OKX exchange.
Step 2: Create a New Account
To get started, visit the OKX exchange website and click 'Sign Up.' Investors can enter their email addresses, full name, and personal details. The platform does not require you to complete a complex KYC (Know Your Customer) process to get started.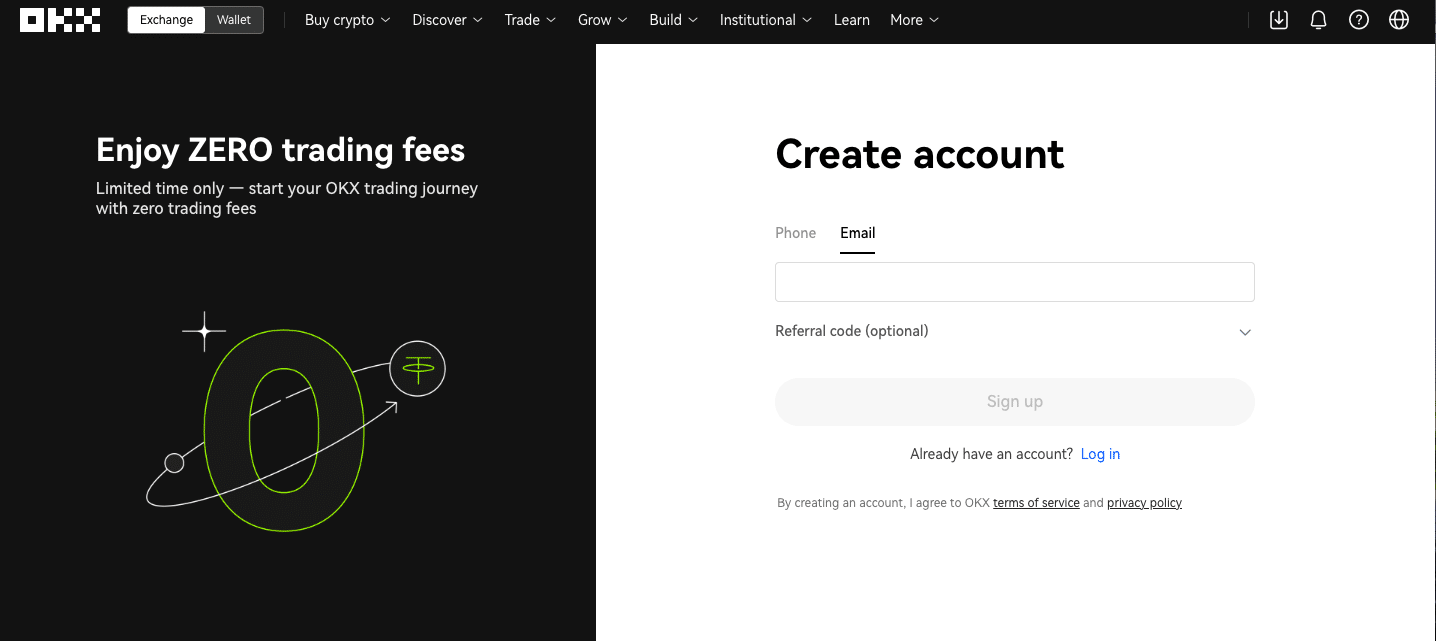 Verify your account through the link that is sent to your email address.
Step 3: Buy USDT
On the OKX exchange, investors can purchase crypto tokens such as Tether (USDT) with over 90 payment options.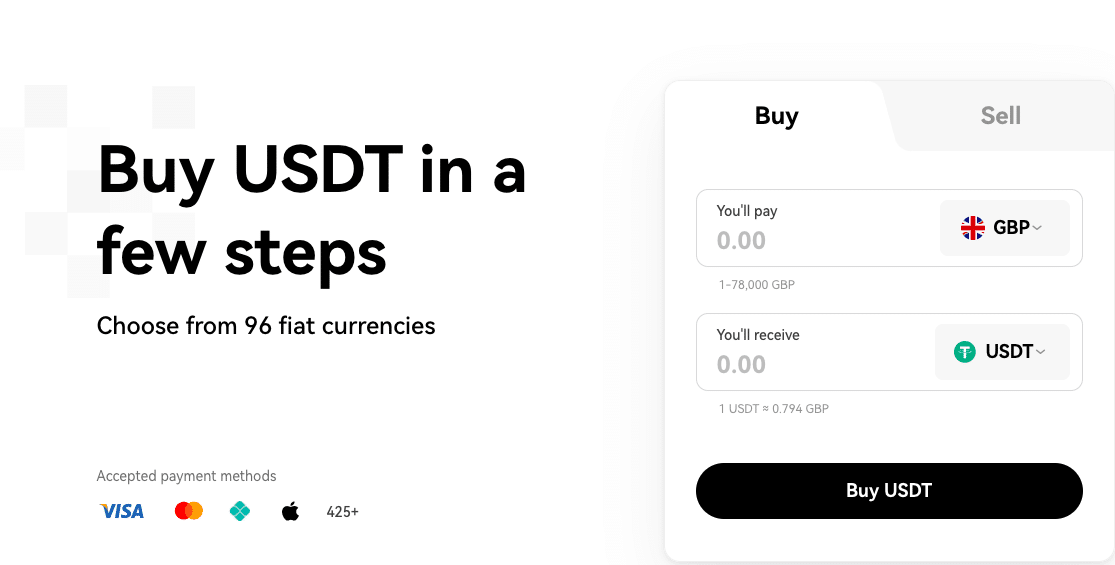 One can purchase USDT with fiat payment methods such as VISA, MasterCard, and other cryptos. USDT can be swapped with $PEPE after it is in your account.
Step 3: Search for Pepe Coin
Once your account has been created, you can see a list of the available cryptocurrencies on the home screen. On the meme tokens tab, click on 'PEPE' to continue. Once you click on the cryptocurrency, you will be redirected to the token's trading chart.
Step 4: Buy $PEPE
On the trading charts, investors can view the latest price momentum.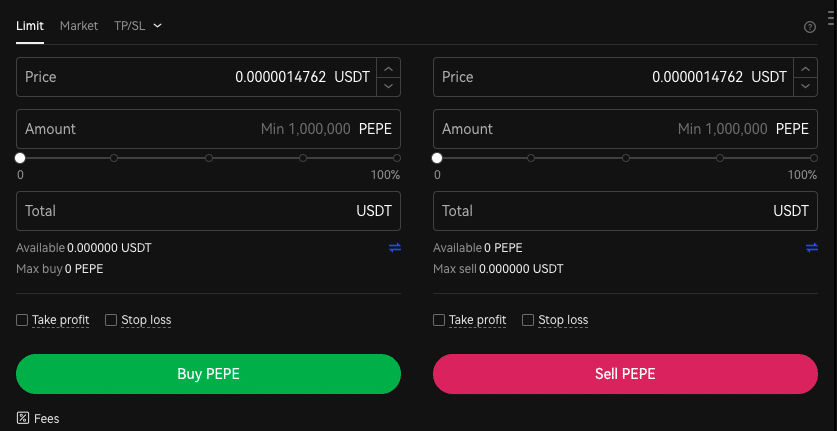 Right below, you can enter the number of PEPE tokens you wish to receive, in exchange for your USDT holdings. To confirm the transaction, click on 'Buy PEPE.'
Conclusion
This how to buy PEPE coin guide has offered a detailed analysis of this new meme cryptocurrency. Despite launching in April 2023, Pepe Coin soared past the $1 billion market cap in a few weeks.
With a total supply of more than 420 trillion, $PEPE imposes no transaction taxes and will reduce in supply over time. Currently, the token is trading at the $0.0000015 level. Thus, Pepe Coin may be one of the best cryptocurrency tokens in 2023.
Another meme coin that has caught investor attention is Bitcoin Minetrix It offers high APY and a new concept to democratize Bitcoin mining, making it accessible to everybody with a just few simple clicks.
References:
FAQs
What is the total token supply of Pepe Coin?
Can Pepe Coin reach $0.01?