Want to know how to buy Shiba Inu? The project has once again piqued the interest of the crypto community following its Shibarium layer 2 blockchain launch.
Find out how to buy it in this article as we uncover the easiest, safest and cheapest way to buy it. Furthermore, we use fundamental and technical analysis to predict how far $SHIB could go in the next bull market.
How to Buy Shiba Inu for Beginners
In case you are short on time, here is our summary of how to buy Shiba Inu.
Step 1 – Choose a crypto exchange or broker
First, you will need to decide which broker to use. We recommend eToro due to its impressive security, fees, features, ease of use, and regulatory compliance. However, if you are to do your own due diligence, be sure to consider these factors.
Step 2 – Open an account
Visit the eToro website and select Join eToro, then proceed to create an account, entering your personal information and verifying your identity.
Step 3 – Decide how much you want to invest
Next, decide how much money you want to invest in Shiba Inu, keeping in mind that the minimum deposit at eToro is just $10.
Step 4 – Deposit Funds
Once logged into eToro, click the Deposit Funds button in the bottom left of the dashboard, then enter your payment details. It's important to note that for UK traders the minimum initial deposit is $50.
Step 5 – Buy Shiba Inu
Finally, search Shiba Inu in the top search bar on the eToro dashboard. When you see Shiba Inu, select Trade, then complete the order for the amount you want to buy.
Where to Buy Shiba Inu in the UK – Best Exchanges Reviewed
With Shiba Inu's ecosystem expanding, SHIB could be one of the best cryptos to buy ahead of the next bull run. With that in mind, here are our top picks for where to buy Shiba Inu.
1. eToro – Best Platform to Buy Shiba Inu for Beginners With Copy Trading and Smart Portfolios

When it comes to the best place to buy Shiba Inu in the UK, eToro is our preferred crypto broker. We like eToro because it offers an intuitive and beginner-friendly user interface while being rich with features designed to provide a competitive edge to its users on over 80 cryptocurrencies.
Moreover, its fee structure is among the clearest and most competitive among all crypto exchanges. The main benefit is that credit/debit card deposits are free on eToro.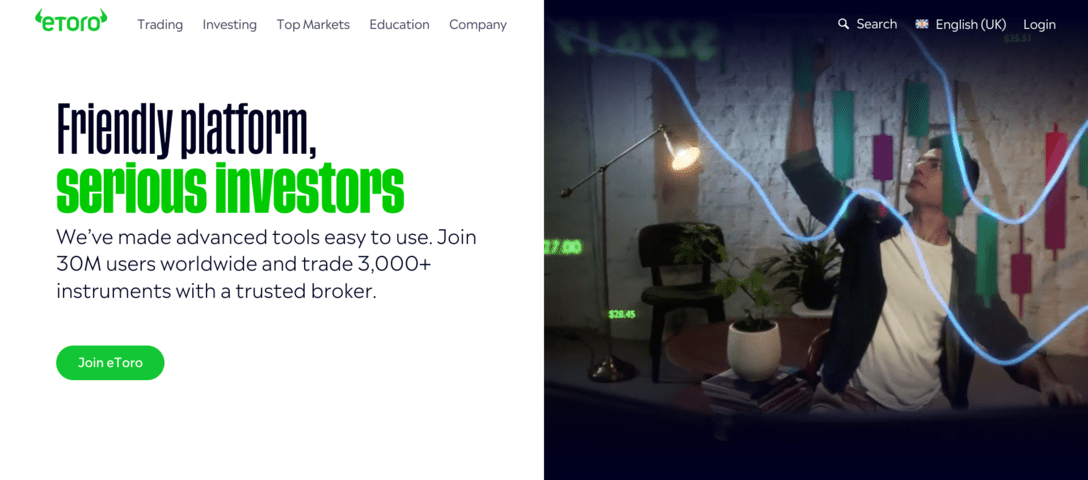 Meanwhile, several other top crypto exchanges (like Coinbase) charge around 4% on card deposits in the UK. On top of that, eToro offers a flat 1% fee on all cryptocurrency trading and a 0.5% conversion fee to exchange your GBP deposit for USD, which the platform is denominated in.
As such, you'll end up paying roughly 1.5% fees in total on eToro, whereas, on a platform like Coinbase, these fees can rack up to over 5%.
Regarding its sign-up process, eToro is easy to start, and you will usually have your account up and running in 10 minutes or less. Then, once you log in, you will be greeted with a unique UI far easier to navigate than other crypto exchanges.
While the eToro UI is seamless and intuitive, the platform also boasts several cutting-edge features.
eToro is famous for its social trading mechanism, enabling users to learn and copy trade from the most successful traders on the platform.

Furthermore, the platform provides "Smart Portfolios," an asset bundle, enabling users to purchase a diversified basket of assets curated by eToro analysts with one click. This is perfect for beginner and passive investors who do not want the hassle of managing multiple investments.
Moreover, eToro also offers "eToro Money Accounts," which entail instant deposits and withdrawals, enabling users to manage their crypto, send payments and avoid foreign exchange fees.
Considering fees, user experience, and features, eToro is the best place to buy SHIB in the UK. However, the platform complies with the UK Financial Conduct Authority (FCA) and boasts top-notch security, also making it one of the safest places to buy Shiba Inu.
| | | | | |
| --- | --- | --- | --- | --- |
| Fee Structure | Fee to Buy SHIB | FCA Regulated | Top Features | Number of Cryptos |
| Free deposits and a 0.5% conversion fee to convert to USD | 1% of the purchase amount | Yes | Social trading and smart portfolios | 80 + |
Pros
Free credit/debit card deposits
Beginner-friendly UI
Social trading
Smart Portfolios
Robust security
FCA Regulated
Cons
It does not offer a non-custodial crypto wallet
Cryptoassets are highly volatile and unregulated in most countries. No consumer protection. Tax on profits may apply. Your capital is at risk.
2. Coinbase – FCA Regulated User-friendly Platform Which Pays Users to Learn about New Cryptocurrencies

As a beginner, Coinbase is a brilliant way to earn free crypto. This is because, as well as selling Shiba Inu and over 150 other cryptos, Coinbase offers a "Learn" platform where users can earn a small amount of rewards for learning about cryptocurrencies.
When buying Shiba Inu, one of Coinbase's main issues is its hefty 3.99% credit/debit card deposit fee. On top of that, users face a further 1.5% fee for buying SHIB, totaling 5.49% altogether.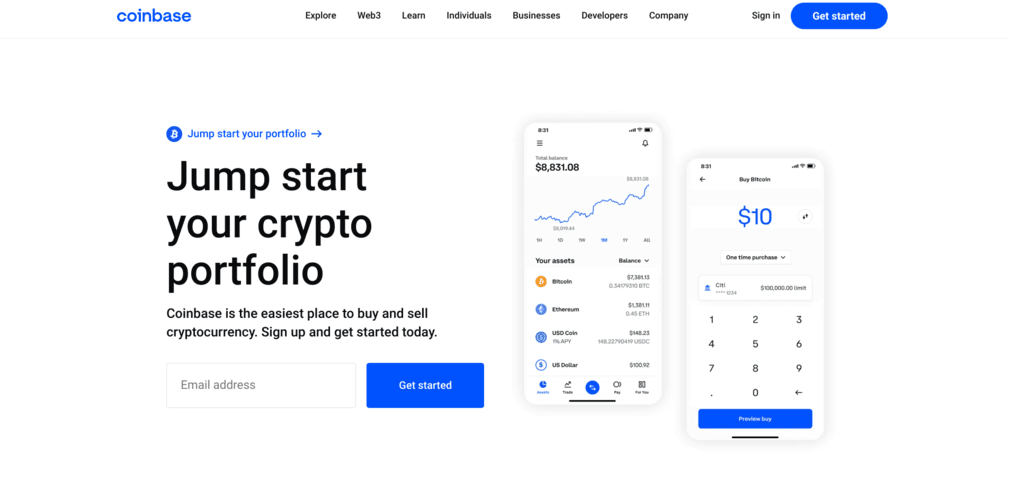 Essentially, this means you will pay £54.90 by depositing £1,000 to buy SHIB on Coinbase.
Regardless, Coinbase has still managed to attract one of the largest user bases in crypto, with over 100 million users recorded in 2022.
The platform offers numerous products like staking, a non-custodial wallet, recurring buys, a mobile app, and much more.
Coinbase recently launched as a public company in the US, cementing its security and reliability. However, it is worth noting that the SEC sued Coinbase recently. While it is unlikely to put customers' funds at risk, it may cause potential disturbances regarding depositing and withdrawing funds if the regulatory crackdown spreads in the UK.
| | | | |
| --- | --- | --- | --- |
| Fee Structure | Fee to Buy SHIB | FCA Regulated | Top Features |
| 3.99% fee on card deposits and 1.49% for bank transfers over £200 | 1.5% of the purchase amount | Yes | Coinbase Learn and Coinbase Earn |
Pros
Earn free crypto
Seamless UI
Well-established, likely making it one of the more secure exchanges
Cons
3.99% card deposit fees
1.5% trading fee
The SEC's lawsuit could cause disruptions on the exchange
3. Crypto.com – One-Stop-Shop for Crypto and NFTs With Competitive Fees and a Crypto Debit Card

Next on our list of Where to buy SHIB is Crypto.com. It offers the best transaction fees at just 0.075% and is one of the best crypto exchanges in the UK.
Moreover, it features a robust security strategy where all crypto is stored offline, and all fiat is stored in a custodian bank account. It also takes the top spot on Cer.live's top crypto exchange ranking based on solvency and security.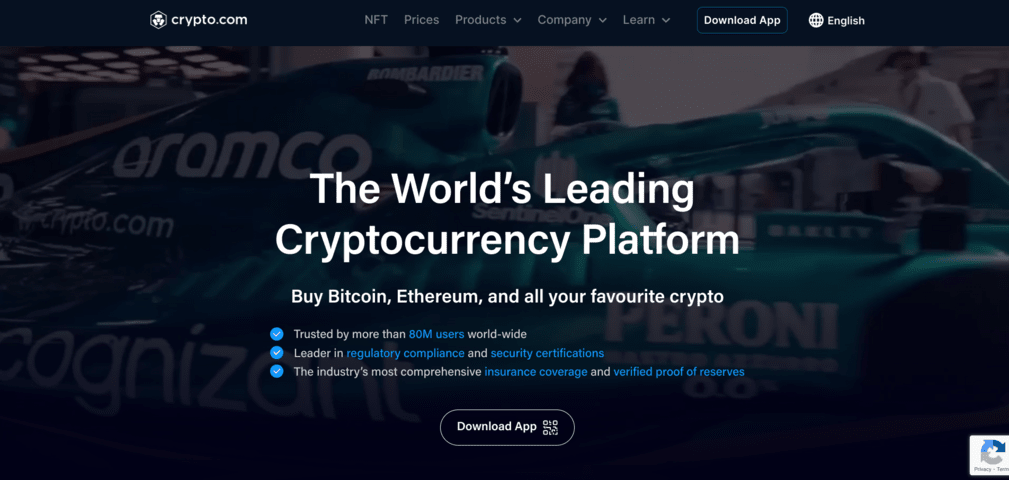 Still, the primary issue for buying SHIB on Crypto.com is that it charges a 2.99% fee on credit/debit card deposits. You can deposit for free using bank transfer, but this can be inconvenient and is often much slower.
The platform offers 250+ cryptocurrencies and a plethora of different features. While this can be overwhelming for newbies, it acts as a one-stop shop for those who have been around the "block".
One of its top features is its crypto debit card, enabling users to pay for day-to-day goods and services with crypto while providing exclusive rewards and cashback.
On top of that, Crypto.com boasts an NFT marketplace, a DeFi wallet, a staking platform, a seamless mobile app, and much more.
Overall, Crypto.com is a secure and cost-efficient way to buy Shiba Inu. Still, its UI is more complex than eToro's, and it is crucial to consider its card deposit fees.
| | | | |
| --- | --- | --- | --- |
| Fee Structure | Fee to Buy SHIB | FCA Regulated | Top Features |
| 2.99% fee on card deposits | 0.075% of the purchase amount | Yes | NFT marketplace, crypto bank card and staking |
Pros
0.075% trading fees
Robust security
Offers a crypto debit card and other features
Cons
2.99% credit/debit card deposit fee
Overwhelming UI for newer users
4. Binance – Feature-packed Platform and the Leading Exchange by Trading Volume

Binance is the number one crypto exchange by trading volume globally. This means it has the deepest liquidity, so buying and selling crypto on the platform is seamless.
It offers unique features like the Binance Launchpad, cloud mining, numerous staking and liquidity-providing solutions, futures trading, options trading, and much more.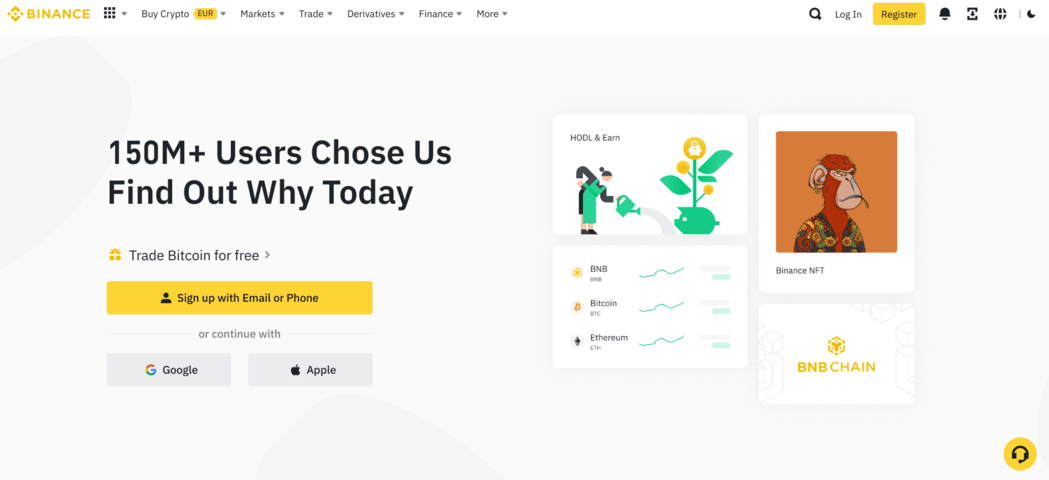 However, due to this, the platform is less beginner-friendly than eToro or Coinbase.
Another potential concern is that Binance is not currently accepting fiat deposits from UK customers. This means that for UK customers to use Binance, they must deposit their fiat currency (GBP) onto another exchange, swap it for crypto, and send it to Binance.
This is probably not worth it for most users, but it may be worth considering if you want to buy SHIB and earn extra yield.
| | | |
| --- | --- | --- |
| Fee Structure | Fee to Buy SHIB | FCA Regulated |
| Fiat deposits are not available from the UK. However, there are no fees on crypto deposits except for network gas fees. | 0.1% of the purchase amount | Yes (partly) |
Pros
Most feature-dense platform
Widest userbase and deepest liquidity
Cons
Less beginner-friendly than eToro and Coinbase
Only supports crypto deposits in the UK
Facing significant legal difficulties worldwide
What is Shiba Inu?
Shiba Inu is a popular meme coin initially viewed as a joke by much of the cryptocurrency community. However, the project quickly exceeded sceptics' expectations, reaching a market cap of over $40 billion in 2021 and implementing several impressive ecosystem developments since.

It features the Shiba Inu hunting dog as its mascot, similar to Dogecoin. In fact, much of its community regards it as the "Dogecoin Killer" due to its extra utility compared to Dogecoin.
In its early days, Shiba Inu was focused on community, with the SHIBArmy becoming a formidable clique that would be seen "raiding" top crypto influencers' social media posts. However, the project has matured recently, and while it has kept its fun and cheerful nature, its latest development puts it at the forefront of crypto innovation.
The Shiba Inu ecosystem comprises several decentralized applications and different tokens. Until recently, its most popular dApps were its ShibaSwap decentralized exchange (DEX), Shiboshis NFT collection, Shib the Metaverse, and a free-to-play game, Shiba Eternity™.

Interestingly, the SHIB token will not be used to settle gas fees and staking on Shibariu, but another Shiba Inu token, Bone ShibaSwap.
Nevertheless, the SHIB token has several other utilities within the ecosystem, and the addition of Shibarium will likely only bolster its network effect.
Is Shiba Inu a Good Investment? Key Points to Consider
While it has already proven itself as one of the best meme coins, several factors are worth considering to decide whether SHIB is a good buy. Let's examine them below.
Strong Tokenomics and Mass Token Burns
Shiba Inu's circulating and total supply are the same at 589.35T SHIB. This means that no more Shiba Inu tokens will come into circulation. As such, a growing demand for Shiba Inu will directly benefit its price.
However, the project also features a burn mechanism, where users can send their Shiba Inu tokens to a burn wallet, making them inaccessible and unrecoverable, reducing the SHIB supply and helping bolster the price of the circulating SHIB.
In return for doing so, users are rewarded with another token, RIYOSHI. So far, the Shib Burn portal has tracked that 410,656,820,996,500 tokens have been burnt, or over 40% of the initial total supply.
The Shiba Inu community's goal is to push the price of SHIB to $0.01, utilizing burning as a primary method to get there. SHIB has room for a 122,179% increase from its current price to reach its target. While this would be a significant increase, the encroaching bull market and the ongoing token burning could provide some support.
The Best Blue Chip Meme Coin
After launching in 2021, Shiba Inu has established itself as one of the top meme coins alongside Dogecoin. Therefore, those looking to experiment with meme coins will naturally be drawn to one of the two.
However, Shiba Inu could prove a more favorable investment, with several advantages over Dogecoin in terms of utility, community and having a market cap roughly 50% lower than Dogecoin's.

Additionally, Shiba Inu frequents the CoinMarketCap trending list and is currently placed third behind CyberConnect and Bitcoin.
There are countless reasons Shiba Inu appears as one of the top cryptos, like its ecosystem developments and growing user base. On the other hand, Dogecoin generally only takes a spot on the list when Elon Musk decides to reignite its hype. For example, Musk changed the Twitter logo to the Dogecoin dog a few months ago, causing Dogecoin to pump. Yet without Musk's help, Dogecoin rarely makes headlines.
This makes Dogecoin more centralised than Shiba Inu since its performance ultimately relies on one person. As such, Shiba Inu is the best blue-chip meme coin, enabling it to attract much new liquidity as meme coin interest grows.
Robust Meme Coin Ecosystem
Another factor bolstering Shiba Inu's case is that it holds the most robust meme coin ecosystem. With numerous dApps and now a layer 2 blockchain to facilitate them, it is undeniable that Shiba Inu is growing beyond the confines of a "meme coin."

However, it retains its viral, fun, and community-centric demeanour, which could help rally its community, putting SHIB and its ecosystem in high demand.
Also, the SHIB token provides significantly more utility than DOGE, thanks to its ecosystem. This adds to its long-term potential since it benefits from hype-driven and utility-driven demand.
Shibarium User Base
The Shibarium test net reported 21 million wallets created and 32 million transactions.

While these are simply test transactions, they still attest to the virality and community strength pushing the Shiba Inu project forward.
On top of that, Shiba Inu already has 1.3 million users; even if just 10% of Shiba Inu's holders used the Shibarium network, it would already rank among the top layer 2 blockchains by active users.
With such a vast community and user base, coupled with its growing ecosystem, Shiba Inu has the potential to become one of the best cryptocurrencies.
Buy the Dip
Finally, taking a long-term outlook, Shiba Inu is trading for a significant discount compared to its all-time high (ATH). With a current price of $0.000008221 and an ATH of $0.00008845, users can buy SHIB at a 90% discount (or get 10x more SHIB for the same price).
Moreover, Shiba Inu's ATH occurred during the last bull run in October 2021, when it had fewer ecosystem developments. The project could present even more upside potential in the next bull run, considering recent advances.
Adding to this is the increasing demand for layer two cryptos during bull runs. As gas fees on Ethereum increase, many users seek cheaper alternatives, often pushing up layer 2 coin prices.
Shiba Inu Price History
Shiba Inu launched in August 2020 and traded under $0.00000001 until February 2021. The price continued to climb, reaching $0.00000006 the next month.
However, an even more explosive run followed, reaching $0.00003043 on 12 May 2021 following its Binance listing. Yet SHIB quickly sold off again and consolidated between $0.000006 and $0.000008 until October 2021.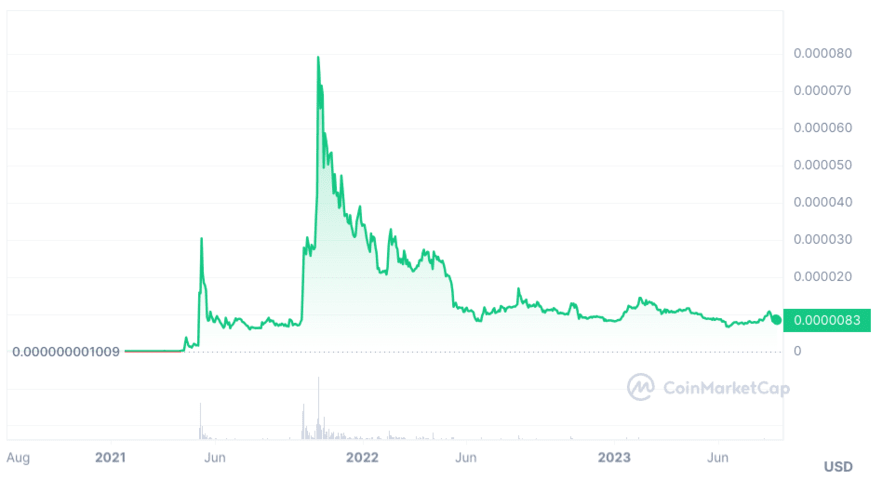 Then, the project soared to $0.00008845 on 28 October 2021.
Subsequently, the price dramatically sold off, plunging to $0.00002115 shortly after. There was then a brief spike in the price before a continuation of the downtrend, which has sustained throughout the bear market, with SHIB currently trading at $0.000008279, down 90% from its ATH.
Shiba Inu has a current market cap of $4.88B, with its peak market cap of over $40 billion in October 2021.
Future Outlook – Shiba Inu Price Prediction
Now that we have analysed the Shiba Inu price and its fundamentals, we will use technical analysis to predict where it could be headed over the next few years.
Firstly, we must consider that our fundamental analysis for Shiba Inu is bullish. Considering its deflationary tokenomics, expanding ecosystem, and vast community, it has everything it needs to succeed. We will apply this bullish bias when predicting the SHIB price.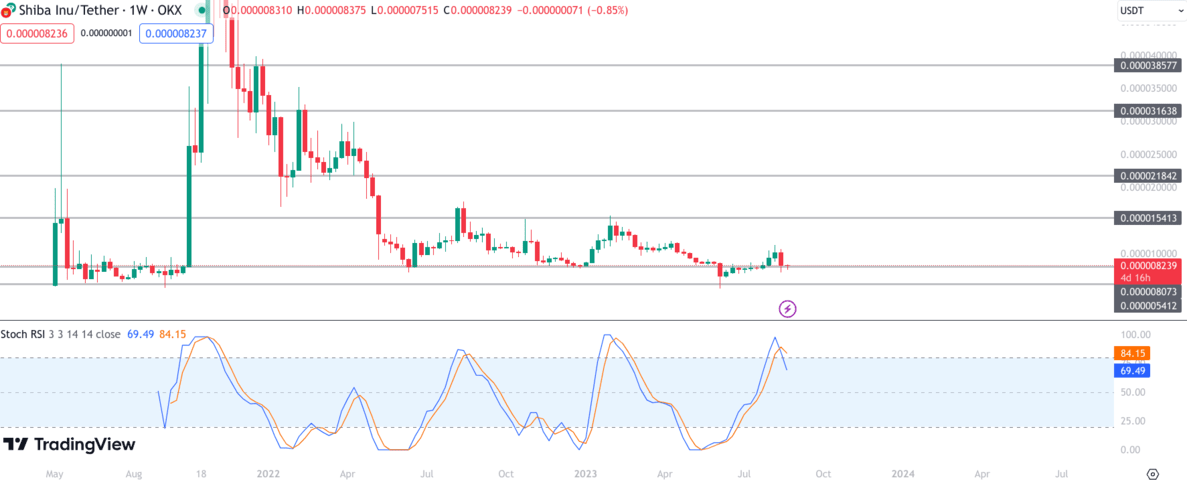 The Shiba Inu price chart shows that the project is currently consolidating between $0.0000008073 and $0.000015413.
However, despite being near the centre of this zone, the RSI indicator shows that SHIB is currently in the overbought region, indicating a loss of bullish momentum.
This means we may see continued sell pressure in the short term, potentially retesting support before bouncing and breaking the zone to the upside.
Our thesis would align with the upcoming Bitcoin halving, set for April 2024, which will likely cause the next crypto bull run. In the meantime, SHIB will trade in an accumulation zone.
However, following the Bitcoin halving, there are three targets that SHIB is likely to hit.
While it has the potential to break its ATH in the next cycle, it is unlikely to trade that high for long. It is more likely to find a range between our price targets, which were key support and resistance levels in the last bull run.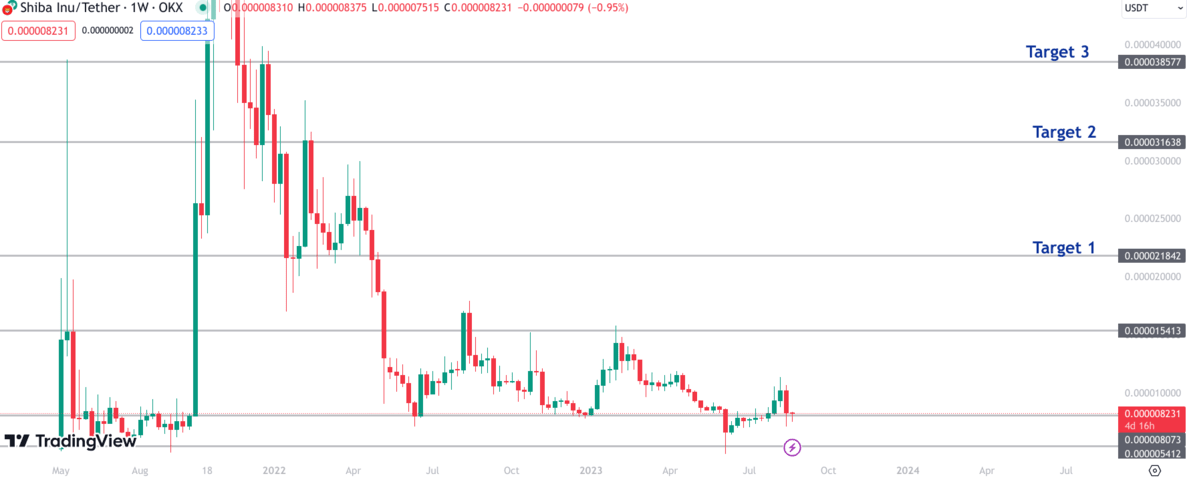 As such, our estimated high for the SHIB price is $0.000038577, and our estimated low is $0.000021842 by the end of 2025.
Other Analysts' Shiba Inu Predictions
Just a few days ago, renowned crypto analyst Michaël van de Poppe predicted a 30% Shiba Inu rally is imminent.
Meanwhile, YouTuber CryptoRUs predicts Shiba Inu has a bright future. The YouTuber is generally sceptical over meme coins, but Shiba Inu's continued ecosystem development and appeal to crypto newcomers are the main factors driving his optimism.
Finally, a TradingView analyst who goes buy MMBTrader forecasts a swing to $0.00001593 soon.
Can You Buy Shiba Inu with PayPal in the UK?
Currently, investors can purchase some cryptocurrencies via the PayPal app. However, PayPal has halted cryptocurrency transacting in the UK until 2024, so users must look elsewhere to Buy Shiba Inu with PayPal.
In other countries, eToro supports PayPal deposits, but this is currently unavailable in the UK. Therefore, the most straightforward way to buy Shiba Inu with PayPal is by withdrawing GBP from PayPal to your bank and then depositing to eToro, benefiting from its low fees.
Cheapest Way to Invest in Shiba Inu in the UK – Exchange Prices Explained
Price is one of the most important factors when deciding where to buy Shiba Inu. You must consider numerous factors like deposit fees, withdrawal fees, transaction fees and any hidden fees like inactivity fees.
The largest fee that users absorb is often the fee for depositing via credit/debit card. Unfortunately, card deposits are often the most convenient way to pay, and these fees go up to around 4% on exchanges like Coinbase.
You can either deposit via bank transfer (often slower and less convenient) or use our preferred exchange, eToro, which boasts free card deposits.
Another consideration is trading fees. The trading fees alone on many exchanges can cost 1.5% of the total transaction. However, with eToro, these fees are just 1%, but the cheapest trading fees can be found on Crypto.com at 0.075%.
Regarding withdrawal and hidden fees, eToro comes out on top, with just a $5 withdrawal fee (or the GBP equivalent) and no management, rollover, or ticket fees.
Another option would be to use a decentralised exchange like Uniswap. While this offers self-custody of funds, it is far from the cheapest way to buy Shiba Inu, with Ethereum gas fees often climbing to £50+ in times of high network congestion.
You could also use the Shibarium network itself, but this has just recently launched and is still facing issues, with its initial launch plagued with significant technical difficulties. Furthermore, it requires managing wallets and using a bridge, which is complex for beginner users.
Therefore, we recommend eToro as the all-around easiest, safest and cheapest way to buy Shiba Inu.
Things to Consider Before Investing in Shiba Inu
When deciding whether Shiba Inu is one of the best coins to buy, it is also essential to consider its potential risks. We have explored the most prominent ones below.
User Experience
While most of the recent hype surrounding Shiba Inu is related to its ecosystem developments, a failure to execute as planned by the Shiba Inu devs could negatively impact SHIB's price.
For example, the team has had to "relaunch" Shibarium due to a botched initial launch. Since the Shibarium launch, the Shiba Inu price has been bearish, with its difficulties at launch likely contributing to it.
Implementing new protocols and technologies into the ecosystem is bound to generate technical issues, opening the door to a potential decrease in the SHIB price.
Price Volatility
Despite adding some utility, Shiba Inu remains one of the most volatile cryptos regardless of its large market cap. While volatility means its price can go up quicker, it also increases the possibility of significant losses, evident in SHIB being down 90% from its ATH.
Cyber Attacks
Continuing with ecosystem developments, like other DeFi cryptos, Shiba Inu must also fend off cyber attacks. DeFi is one of the worst-affected areas for cybercrime in crypto, primarily due to the considerable amounts of crypto locked in smart contracts.
If a Shiba Inu dApp or the Shibarium blockchain is exploited, this would devastate the Shiba Inu price, as we have seen with the likes of Axie Infinity's AXS following the Ronin bridge exploit.
How to Buy Shiba Inu in the UK Detailed Step-by-Step
Now that we have analysed Shiba Inu and the best exchanges let's delve into how to invest in Shiba Inu in the UK. We will use the eToro website for this walkthrough since it provides the best user experience when considering fees, features, ease of use, regulatory compliance, etc.
Step One: Open an eToro Account
Visit the eToro website and select the Join eToro button at the bottom left of the screen. You will be asked to choose a username and password and then input personal details. Alternatively, you can sign up with a Google account or connect your Facebook to eToro.
Following this, you just need to verify your identity on the platform by uploading a copy of a government document like a passport or driver's license. Once verified, you can move to the next step.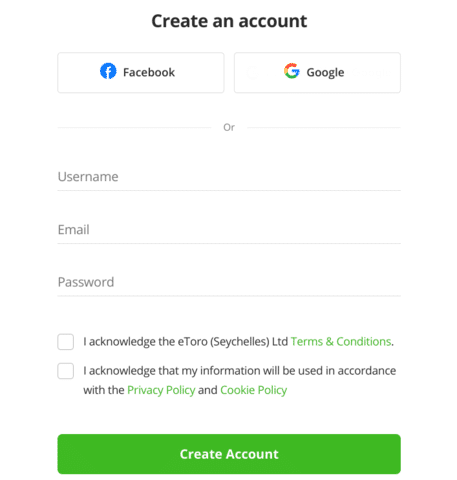 Step Two: Deposit Funds to eToro
When logged into the eToro platform, visit the home page and select the Deposit Funds button at the bottom left of the screen. Choose your preferred payment method (either bank transfer or card deposit if you are a UK resident).
There is a minimum deposit of £8 for card and £500 for bank transfer.
Choose the amount you wish to deposit and complete the deposit as prompted. If you deposit with card, the funds will arrive in your account in a few minutes.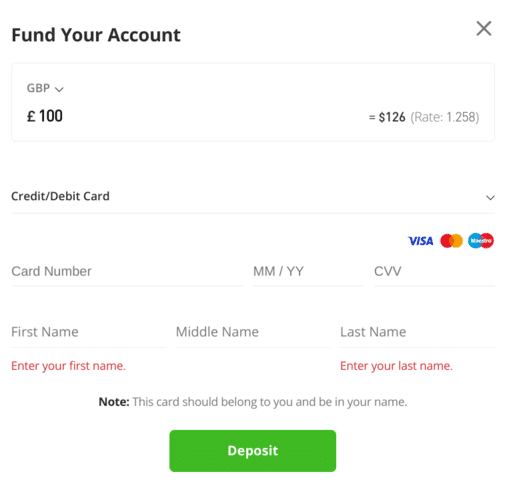 Step Three: Search for Shiba Inu
Head to the search bar at the top of the home page and search for Shiba Inu. Then, an asset called SHIBxM will appear. This is eToro's version of Shiba Inu (in millions), which directly mimics the price of Shiba Inu. Go ahead and select the Trade button next to it.

Step Four: Complete Your SHIB Purchase
Finally, choose the amount of SHIB you want to buy and hit open trade. You can do this in denominated in USD or units of SHIBxM. We recommend doing it in USD as it is easier to understand the quantity you are buying.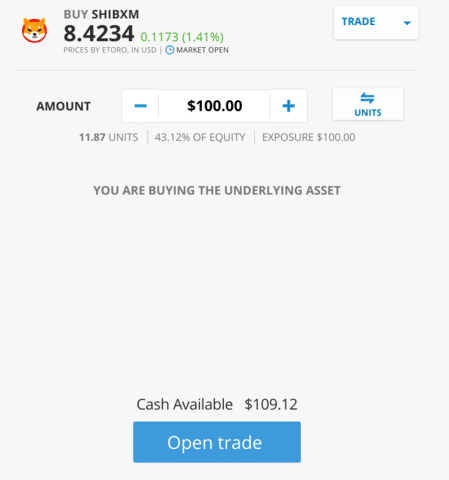 Conclusion
While there are many places to buy Shiba Inu in the UK, our guide found that the best overall crypto broker is eToro. As well as low fees, a simple UI, and robust security, eToro's social trading and Smart Portfolio features can provide a competitive edge to beginners.
Currently, Shiba Inu is trading at a significant discount from its ATH. Yet, with the Bitcoin halving just six months away, the price may begin to recover imminently. As such, investors must be quick to buy SHIB at the best price.
References
FAQs
How can I buy Shiba Inu in the UK?
Can I buy Shiba Inu on eToro in the UK?
What is the best place to buy Shiba Inu in the UK?
Is it worth investing in Shiba Inu?