Solana is a popular blockchain project that offers fast, scalable, and low-cost transactions. Its native cryptocurrency, SOL, is trading 85% below prior all-time highs. Now could be a great time to gain exposure to Solana before the next bull run.
This guide explains how to buy Solana in under five minutes with a regulated broker. We also assess whether Solana is a viable investment, exploring its use cases, upside potential, and risks.
How to Buy Solana in 4 Simple Steps
Let's begin this guide with a quick walkthrough on how to buy Solana in 2023.
Step 1 – Open an Account With eToro: First, select a regulated crypto broker that supports Solana. We like eToro; it's heavily regulated, has low trading requirements, and accepts convenient payment methods like debit/credit cards. It takes just two minutes to register an eToro account.
Step 2 – Deposit Funds: Choose a suitable payment method to make a deposit. Options include Visa, MasterCard, PayPal, Skrill, and bank transfers. The minimum first-time deposit starts from $10 but can be slightly higher depending on your country of residence.
Step 3 – Search for Solana: Next, search for 'Solana'. Click on the 'Trade' button, which will populate an order box.
Step 4 – Buy Solana: Type in your desired investment amount from $10. Review the order form before clicking on 'Open Trade' to complete the purchase.
A more detailed walkthrough can be found further down in this guide.
Where to Buy Solana – Best SOL Exchanges Reviewed
Solana is one of the largest cryptocurrencies by market capitalization – so it's listed by many exchanges and brokers. We'll now discuss the best places to buy Solana in terms of low fees, safety, payments, and other important factors.
1. eToro – Overall Best Place to Buy Solana in 2023

We rate eToro as the best place to invest in Solana. Unlike many cryptocurrency trading platforms, eToro is heavily regulated. In fact, eToro is regulated in the same way as online stock brokers; it holds licenses with FINRA, CySEC, FCA, and ASIC.
eToro is legally mandated to keep client funds in segregated bank accounts. This means it can't use customer money for its own operations, or to pay creditors. This strong licensing framework ensures that you can buy Solana safely. The eToro platform is user-friendly and perfectly suitable for first-time investors. Deposits can be made with many convenient payment methods – including debit/credit cards.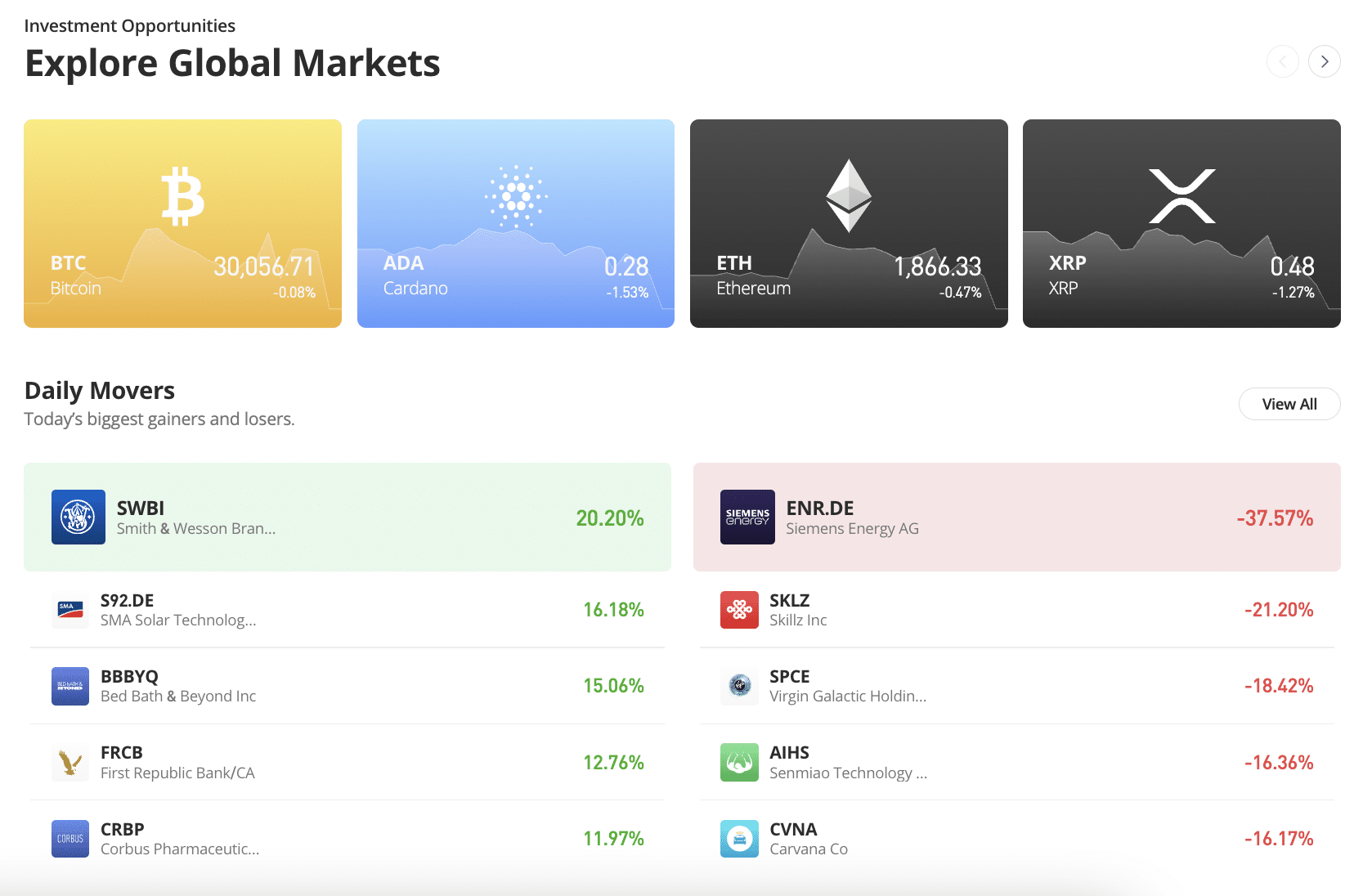 E-wallets and bank transfers are also accepted. The minimum deposit requirement depends on where you're based. For example, while US/UK investors can deposit just $10, this increases to $50 for most other locations. We like that eToro charges just 0.5% on fiat money payments. At many other trading platforms, deposits are charged 3-5%.
Moreover, the deposit fee is removed when payments are made in US dollars. While we are on the subject of fees, eToro charges a trading commission of 1% on all supported cryptocurrencies – including Solana. This is charged on buy and sell orders. This is considered expensive when compared to the industry average, which is usually a small fraction of 1%.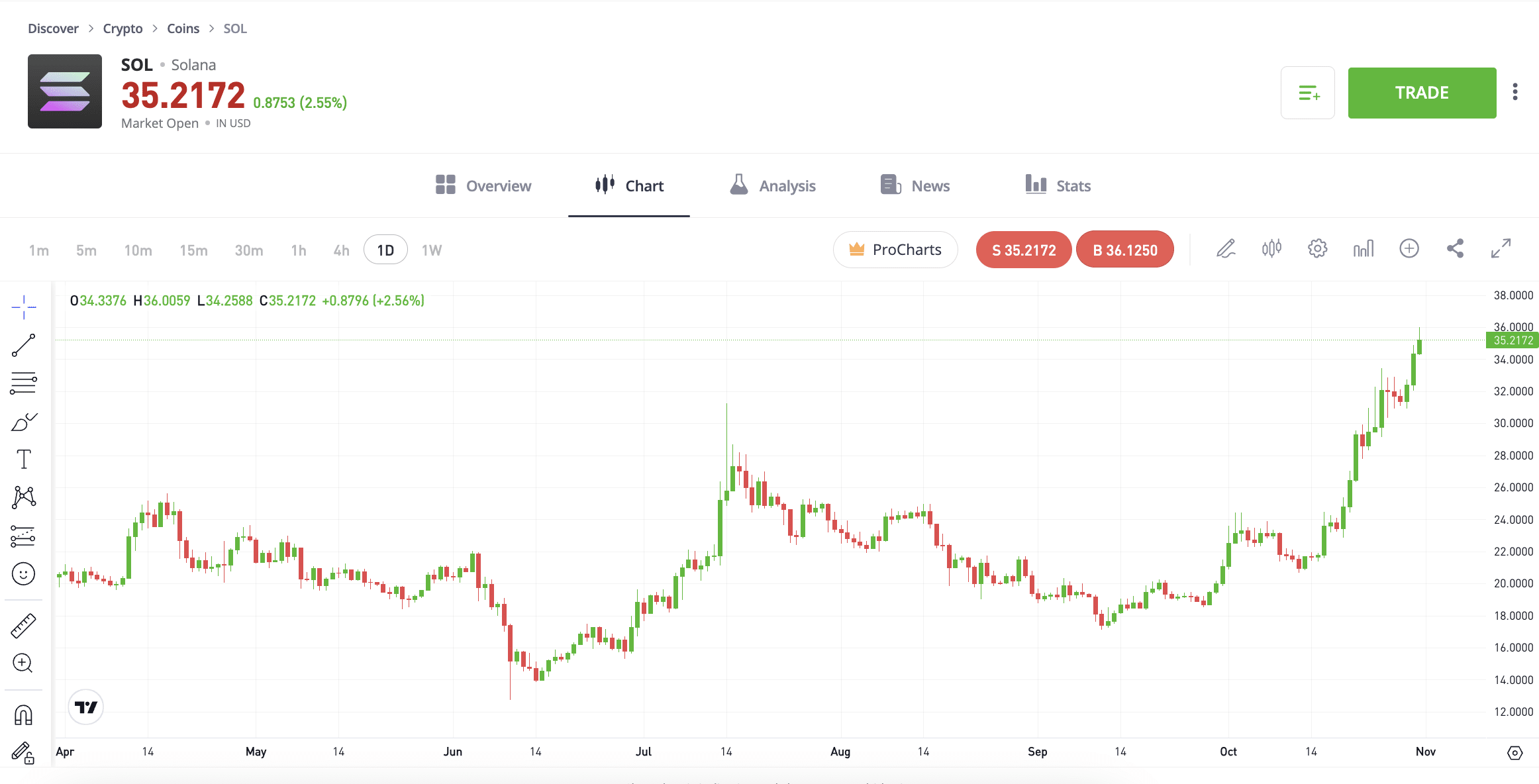 When it comes to storage, eToro offers one of the best crypto wallets for beginners. After buying Solana, the tokens are automatically stored in the eToro web wallet. This is a custodian option, meaning eToro is responsible for keeping the SOL tokens secure. Alternatively, investors can withdraw their Solana to eToro's mobile wallet, available on iOS and Android.
If you're looking to buy Bitcoin and other cryptocurrencies, eToro has you covered. It supports dozens of altcoins, including Dogecoin, XRP, BNB, Cardano, Ethereum, Bitcoin Cash, Litecoin, and Uniswap. The minimum investment on all supported cryptocurrencies – including Solana, is just $10. Another way to diversify is by investing in an eToro smart portfolio.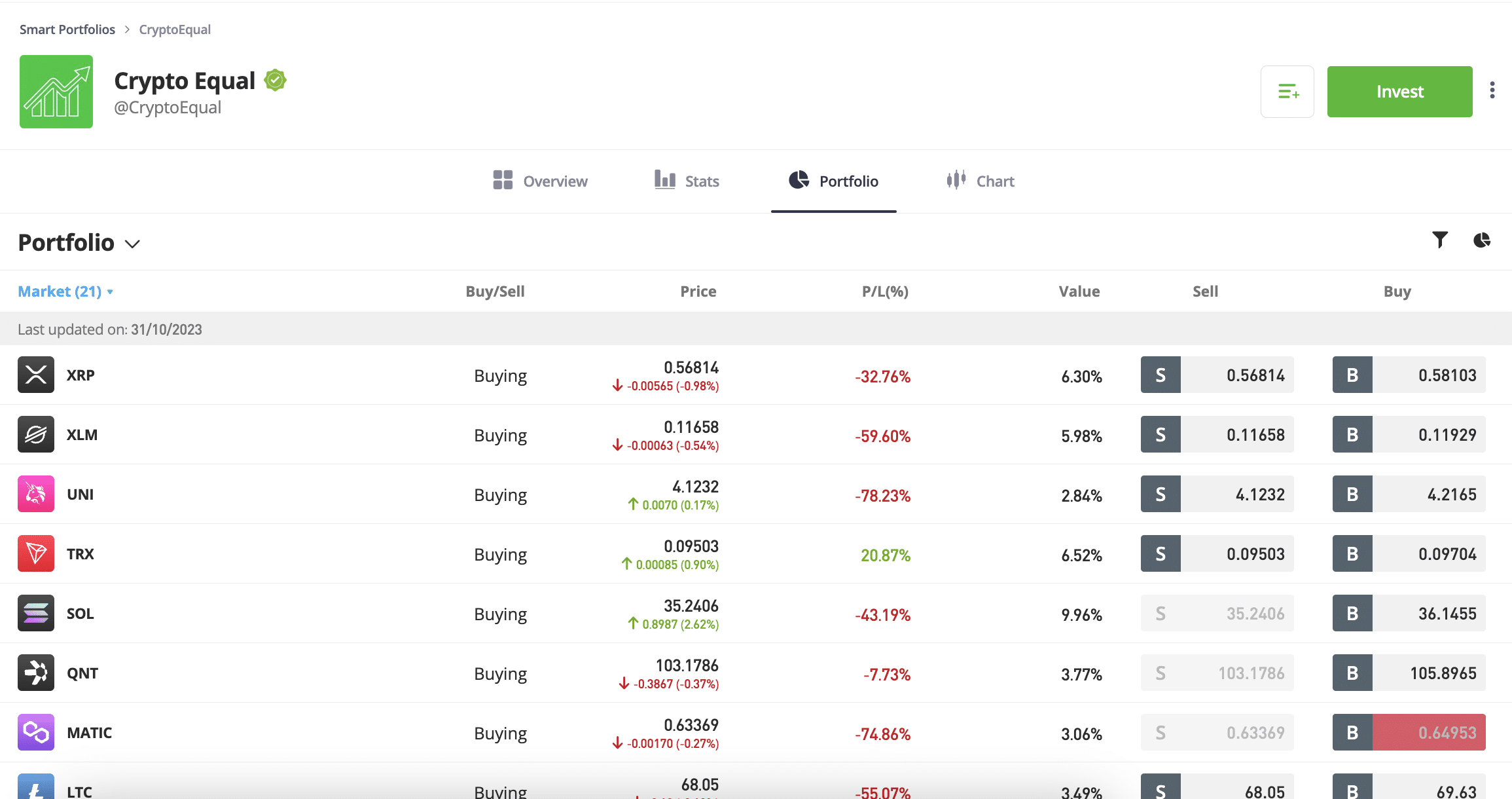 There are more than a dozen related to cryptocurrencies, each with its own strategy and objectives. For example, the Crypto Equal smart portfolio tracks 19 cryptocurrencies at various weights. This includes Solana, TRON, Stellar, Ethereum Classic, ApeCoin, and Cardano. Year-to-date, this smart portfolio is up 32%. All smart portfolios come with a minimum investment of $500.
eToro also enables investors to 'copy' other traders like-for-like. Its copy trading tool offers a passive way to actively trade cryptocurrencies. There are thousands of verified traders to choose from and the minimum investment is $200. We explored the public domain for other eToro reviews and found that the broker has a 4.4/5 rating on TrustPilot. Investing.com rates eToro 4.8/5, while at Investopedia, eToro is rated 4.3/5.
Fee to Buy Solana
Top Features
USD deposits are free. Other currencies are charged a 0.5% FX fee. 1% commission charged when buying and selling Solana

Heavily regulated – including licenses with FINRA, FCA, ASIC, and CySEC
Smart portfolios allow investors to passively invest in cryptocurrencies
Minimum Solana investment of just $10
Pros
Buy Solana in a heavily regulated environment
Just 0.5% charged when using debit/credit cards and e-wallets (no fees on USD payments)
Passive investment tools include copy trading and smart portfolios
Ideal for diversification – also supports other cryptocurrencies, stocks, ETFs, forex, and commodities
Simple and user-friendly investment dashboard is perfect for beginners
Cons
Native wallet is custodian – which might not appeal to some investors
Some nationalities have a much higher minimum deposit requirement
Don't invest unless you're prepared to lose all the money you invest.
2. Coinbase – Established Cryptocurrency Exchange With Robust Security Controls

Coinbase is an established cryptocurrency exchange that was founded in 2012. It has since become one of the largest and most trusted exchanges in the market. Coinbase went public in 2021, which offers increased transparency and accountability. Therefore, we rate Coinbase as one of the best places to buy Solana safely.
Coinbase also offers robust security tools. Two-factor authentication is required when logging in and withdrawing funds. The majority of client cryptocurrencies are kept offline in cold storage, and all customers must go through a KYC process. However, institutional-grade security comes at a price. First, deposits made with debit/credit cards and PayPal cost 3.99%.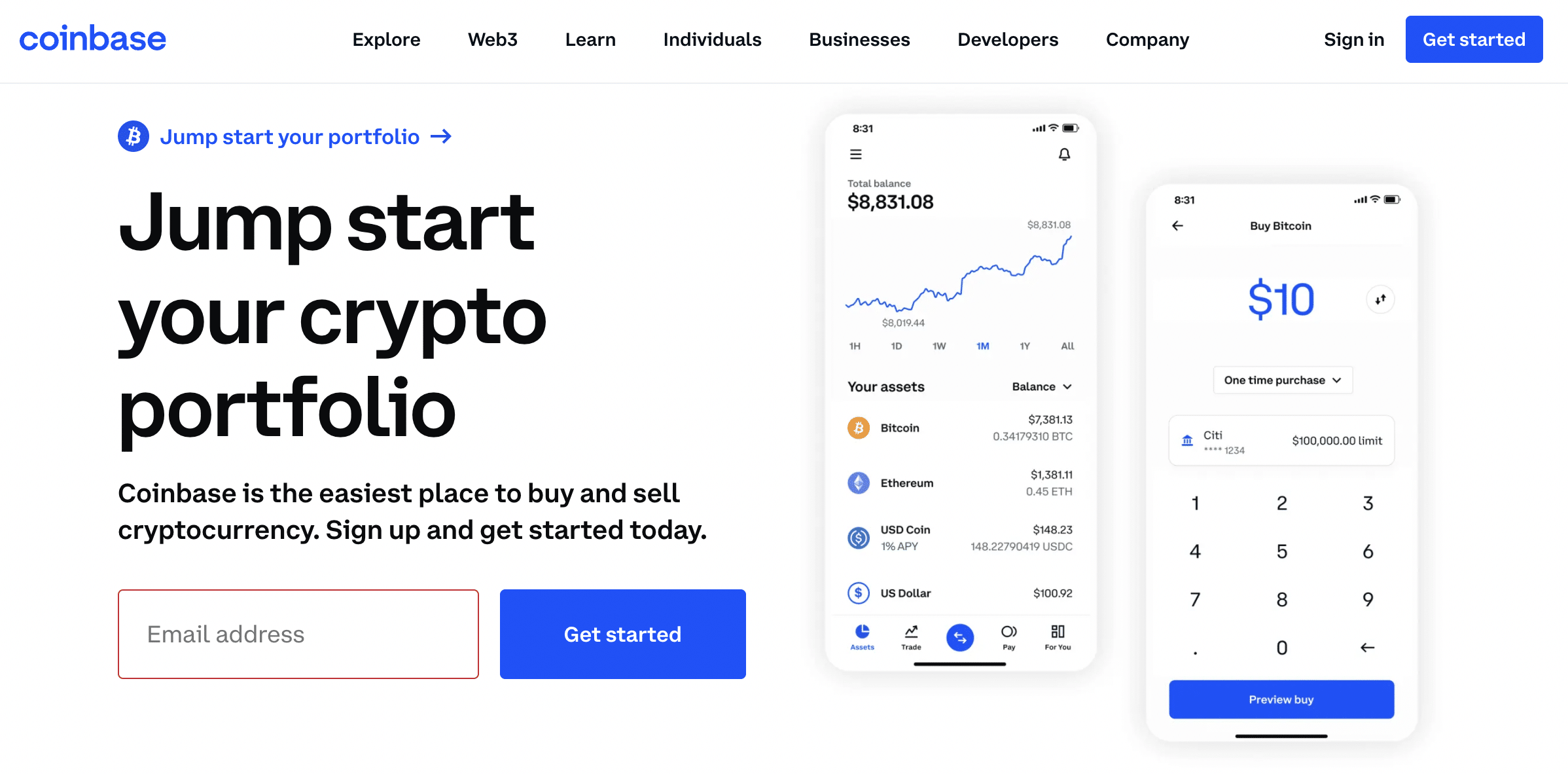 This includes the standard commission of 1.49%. Coinbase also charges an unspecified spread – which will add additional fees to your Solana cost price. Nonetheless, Coinbase is also one of the best crypto exchanges for diversification. It also supports Bitcoin and over 100 altcoins, such as Dogecoin and Shiba Inu. Coinbase also offers staking rewards on selected cryptocurrencies.
Fee to Buy Solana
Top Features
3.99% fee when you buy Solana with a credit card or PayPal, which includes the standard trading commission of 1.49%. Local bank deposits are usually fee-free. Unspecified market spreads also apply

Robust security tools include two-factor authentication and cold storage
Publicly listed on the NASDAQ for increased transparency and accountability
Offers staking rewards on selected cryptocurrencies
Pros
Established crypto exchange with a NASDAQ listing
One of the safest places to buy and sell Solana
Beginner-friendly investment dashboard and mobile app
Also offers one of the best non-custodial wallets for storing Solana
Cons
Exorbitant trading commission of 1.49% per slide
Instant Solana purchases are charged 3.99%
3. Kraken – Trade Solana With Leverage of up to 4x

Kraken is a top-rated cryptocurrency exchange that has been operational since 2011. Its 10 million+ clients have access to over 200 cryptocurrencies – including Solana. There is a low minimum investment requirement of just $10 across all supported markets. This makes Kraken an affordable choice for most investors.
Kraken offers a user-friendly way to buy Solana – it accepts debit/credit cards and bank transfers. That said, Kraken also caters to experienced traders who want more exotic investment tools. For instance, Kraken allows eligible clients to trade Solana with leverage of up to 4x. This amplifies investment stakes to $400 for every $100 traded.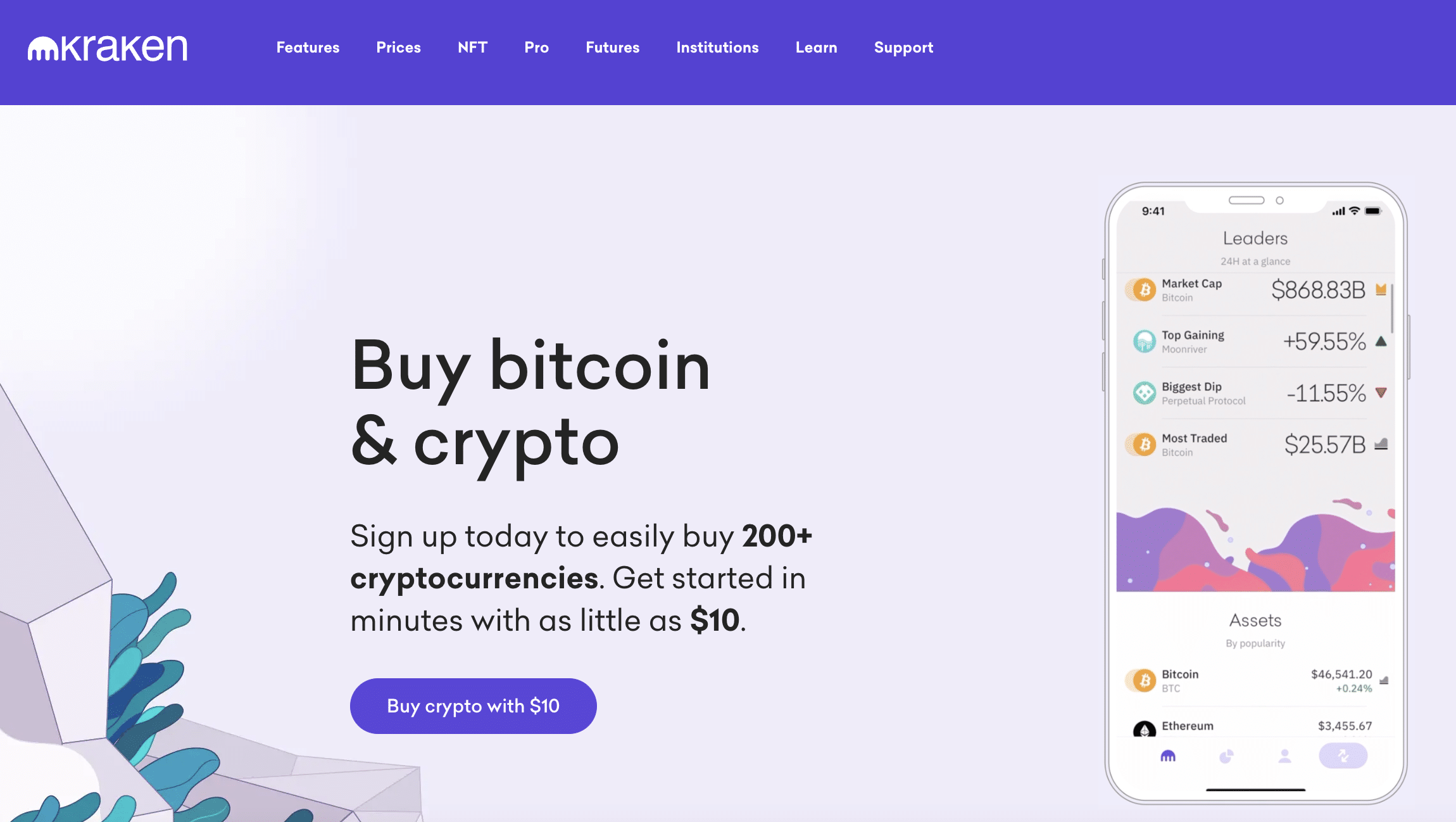 Kraken also offers leveraged Solana futures. These cryptocurrency derivatives support long and short positions for maximum flexibility. Kraken also provides tools for technical traders. This includes indicators, drawing tools, and live pricing charts. Kraken doesn't offer a cryptocurrency wallet, so SOL tokens will need to be withdrawn after making a purchase.
Fee to Buy Solana
Top Features
Direct debit/credit card purchases cost 3.75%. Local banking methods, such as ACH and SEPA, are usually fee-free. Standard trading commissions are 0.26%. Discounts are available on larger monthly volumes.

Offers leverage of up to 4x when trading Solana via a margin account
Access Solana futures that support long and short positions
Great reputation – established in 2011
Pros
Buy Solana with leverage of up to 4x
High-level trading tools including technical indicators and market depth
Operational for over 12 years
Supports more than 200 cryptocurrencies
Cons
Debit/credit card purchases are charged 3.75%
Does not offer a proprietary cryptocurrency wallet
4. Binance – Buy Solana and Earn Annual Interest of 7.9%

Binance is the largest cryptocurrency exchange in the market. It has huge market dominance, with over $8 billion traded in the prior 24 hours. In contrast, just $1.8 billion was traded across Coinbase and Kraken collectively. There are many reasons why Binance is so popular.
For a start, investors can buy Solana at a commission of just 0.1%. This is also the case with hundreds of other cryptocurrencies, including Bitcoin, Ethereum, Litecoin, and Cardano. Binance also offers Solana interest accounts – enabling investors to earn passive income. Right now, Binance is offering APYs of 7.9%.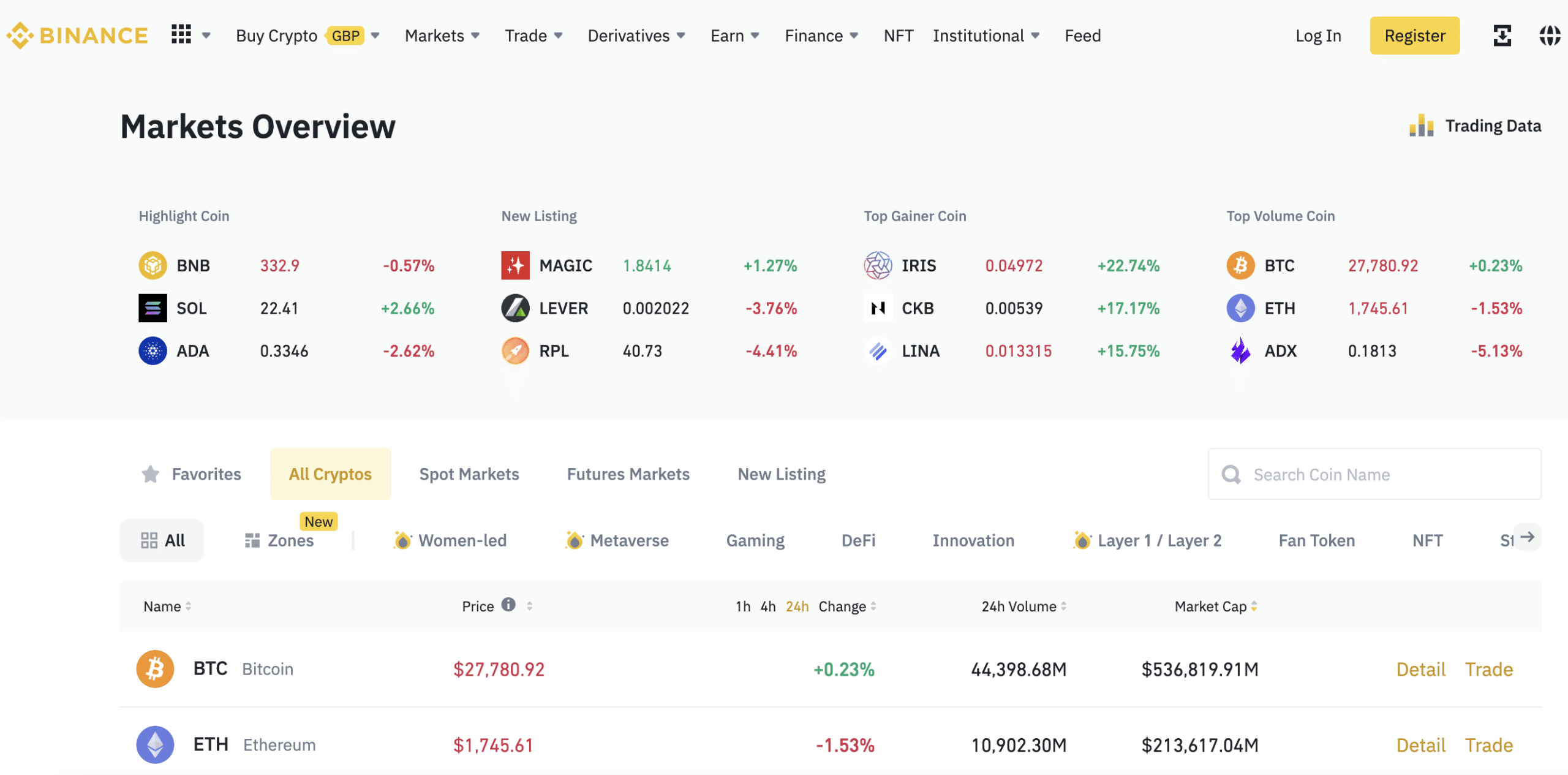 This is based on a 120-day lock-up period. Flexible Solana accounts come with a much lower APY of just 0.81%. Binance also offers cryptocurrency derivatives, including leveraged tokens, futures, and options. Deposits can be made with debit/credit cards and local bank transfers. Binance also has a peer-to-peer exchange, allowing investors to connect with local sellers.
Fee to Buy Solana
Top Features
Standard trading commissions of 0.1%. Lower commissions when paying fees in BNB or trading larger amounts. Debit/credit card and bank transfer fees vary depending on the country of residence.

Largest cryptocurrency exchange by trading volume
Offers APYs of up to 7.9% on Solana savings accounts
Never pay more than 0.1% in trading commissions
Pros
Trade Bitcoin and 350+ other cryptocurrencies from 0.1%
Largest crypto exchange for trading volume and liquidity
Fast withdrawals – usually processed within 10 minutes
Cons
Best-suited for experienced traders seeking advanced crypto products
The exchange was hacked in 2022 for over $570 million
How we Ranked the Best Places to Buy Solana in 2023
We've reviewed the best places to buy Solana based on our own methodology. This includes many important factors, such as safety, fees, payment methods, and the platform's reputation in the broader cryptocurrency community.
Read on for additional guidance when deciding where to invest in Solana.
Safety and Regulation
Cryptocurrencies like Solana still operate in a 'gray' regulatory area. Put otherwise, cryptocurrencies are not legal tender, so exchanges do not follow the same regulatory guidance as traditional investment platforms – such as stock brokers. The result is that most Solana exchanges and brokers are unregulated. Investors should avoid these platforms to ensure they can buy and sell Solana safely.
At the other end of the spectrum, there are platforms like eToro. In a nutshell, eToro is also one of the best online stock brokers – meaning it is heavily regulated. Licenses have been issued by FINRA (US), CySEC (EU), ASIC (Australia), and FCA (UK).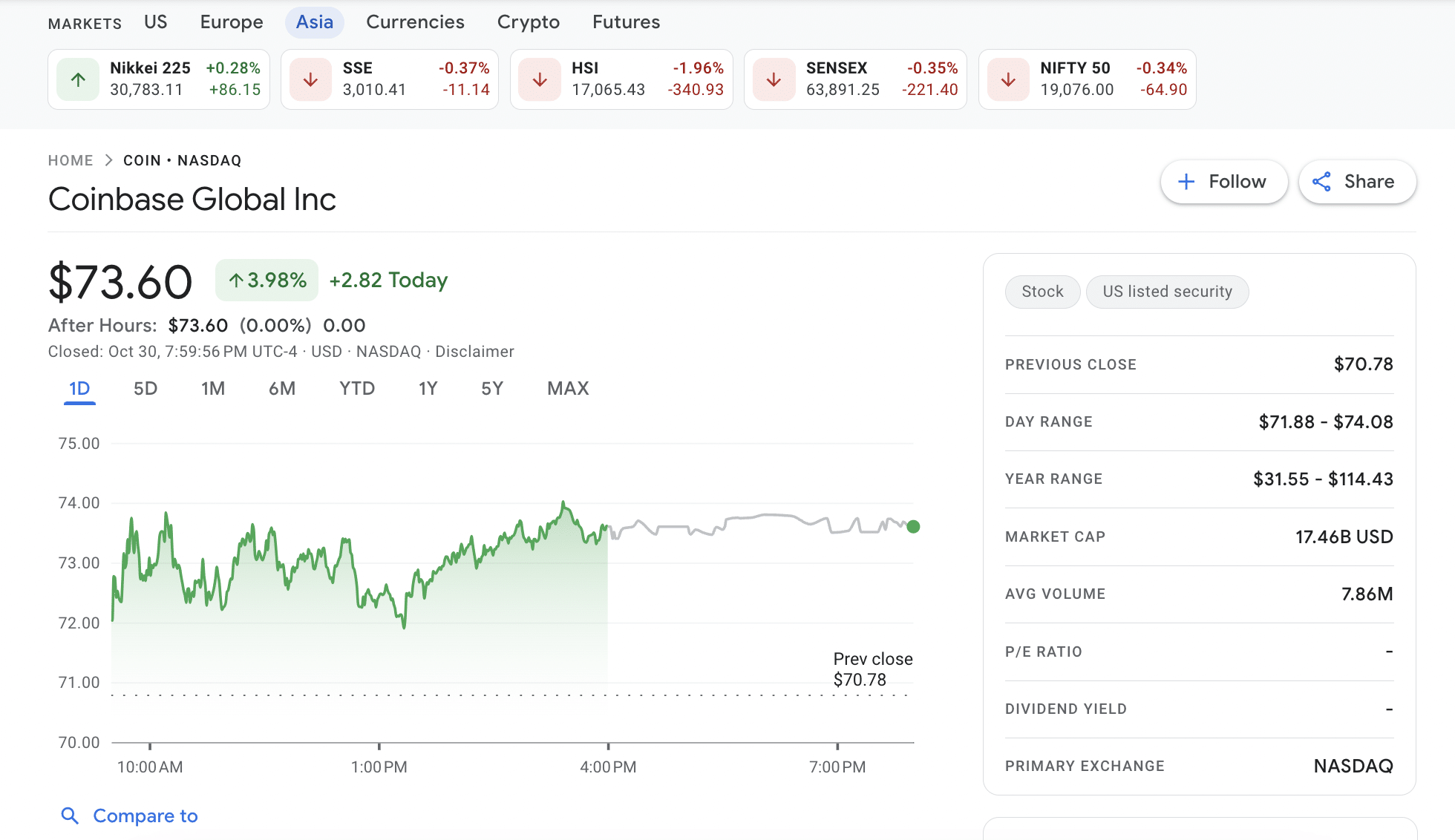 Coinbase is another example of a trusted cryptocurrency platform that takes regulation seriously. Not only is Coinbase licensed in most US states but it is listed on the NASDAQ. This offers investors intimate insights into Coinbase, as it's legally required to release quarterly financial reports.
We found that regulated exchanges and brokers typically have robust security controls. This helps keep accounts safe, not to mention client-owned cryptocurrencies. For example, eToro and Coinbase hold SOL tokens offline in cold storage wallets. Additionally, these platforms have internal risk management teams, two-factor authentication, and other security tools.
Accepted Payment Methods
We also ranked Solana trading platforms based on their accepted payment methods. The likelihood is that first-time investors will need to use traditional payment types, such as debit/credit cards and local bank transfers.
This ensures that people can buy Solana without owning other cryptocurrencies. Some platforms even accept e-wallets like PayPal, offering a secure and convenient way to invest.
Fees
We also took fees into consideration when exploring the best way to buy Solana. Trading commissions and deposit/withdrawal fees vary considerably between exchanges.
For example, we found that eToro's 1% commission is high, but its deposit fees are some of the lowest in the industry.
eToro clients pay just 0.5% to deposit funds with a debit/credit card or e-wallet.
And, if the payment is made in US dollars, the 0.5% fee is waived.
Kraken's pricing model is completely different from eToro. For instance, it charges just 0.26% in trading commissions, which is very competitive. However, Kraken charges 3.75% on debit/credit card payments.
And then there's Coinbase, which has some of the highest deposit fees and trading commissions in the market. Debit/credit card purchases are charged 3.99%. Standard commissions amount to 1.49% – and even more when trading below the $200 threshold.
Supported Cryptocurrencies
Solana is one of the best cryptocurrencies to buy right now, especially when you factor in the 85% discount from its all-time high. However, it wouldn't be wise to invest in Solana alone. On the contrary, seasoned investors will buy a wide range of cryptocurrencies to reduce the risk of financial loss.
With this in mind, we gave preference to Solana exchanges that also offer lots of other cryptocurrencies. For example, Kraken lists more than 200 cryptocurrencies, including Dogecoin, Bitcoin, Litecoin, and Cardano.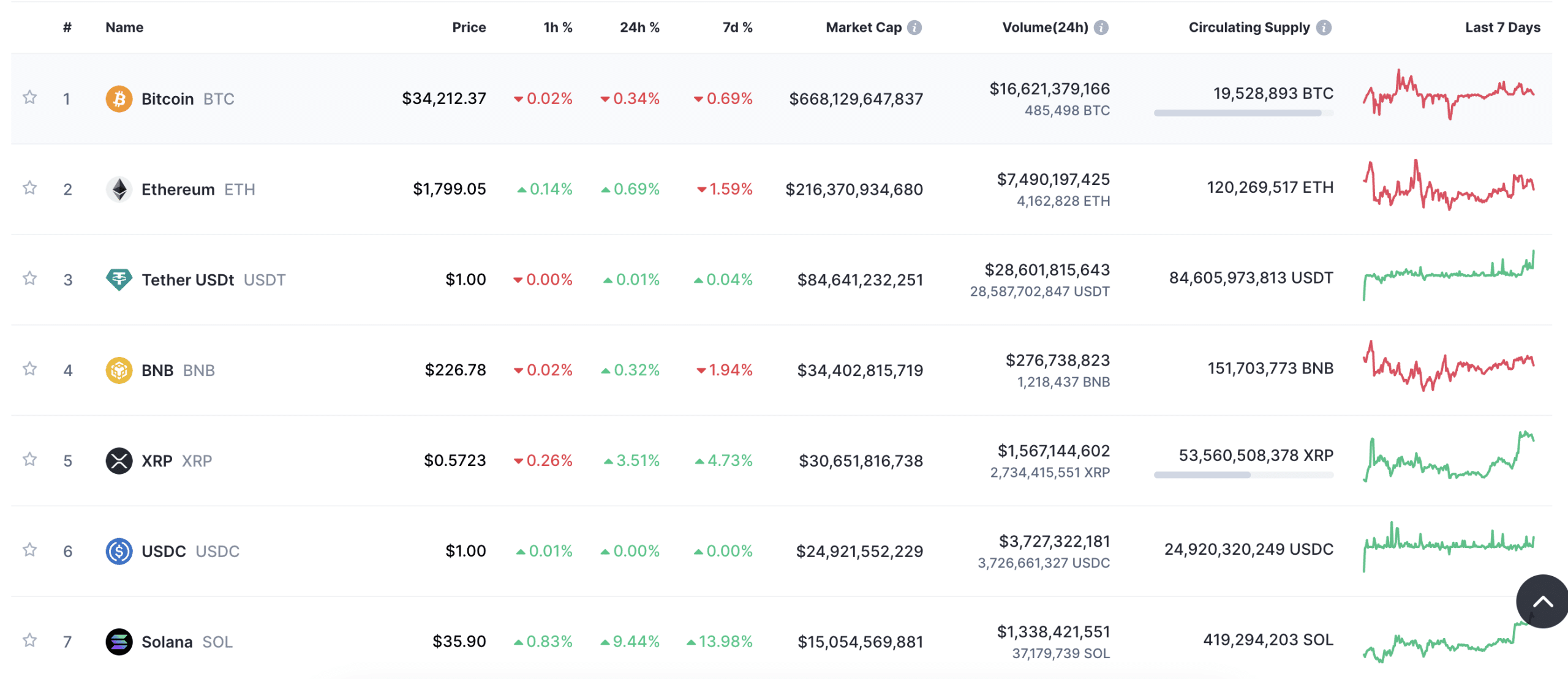 We found that eToro is a great option for up-and-coming cryptocurrencies, such as DeFi coins and Web 3.0 coins. This includes UniSwap, SushiSwap, Decentraland, the Sandbox, and Synthetix.
Best Way to Diversify a Solana Investment
Diversification will prevent you from being overexposed to Solana, should the project fail to meet your expectations.
Best practices for diversification are as follows:
Make sure you have a well-balanced cryptocurrency portfolio. Some investors will allocate the majority of their portfolio in Bitcoin, and the balance split across altcoins like Solana.
Avoid allocating 100% of your investment capital to cryptocurrencies. Reduce the risks by investing in other asset classes, such as stocks, index funds, and commodities.
That said, ensure you avoid becoming too over-diversified. If your portfolio contains too many investments, it can be counterintuitive.
This is because returns on your top-performing assets can be hindered. What's more, trading fees can eat away at your potential gains.
Account Minimums
Some Solana exchanges install account minimums. This can vary depending on the platform, payment type, and country of residence.
For example, eToro enables UK and US investors to deposit just $10.
But those from Israel must meet a $10,000 minimum.
Similarly, while most European residents can deposit just $100, this increases to $500 when opting for a bank wire.
The best approach is to check the minimum deposit for your preferred payment method. Never deposit more than you can realistically afford to lose – especially when investing in volatile cryptocurrencies like Solana.
Investment and Trading Tools
When researching where to buy Solana, we discovered a range of investment and trading tools that could be of interest.
For example, Binance offers Solana savings accounts. Those happy to lock their SOL tokens for 120 days will earn APYs of 7.9%. However, flexible accounts pay just 0.81%.
Experienced traders might like Kraken. It offers Solana margin accounts with leverage of up to 4x. Kraken also lists leveraged Solana futures.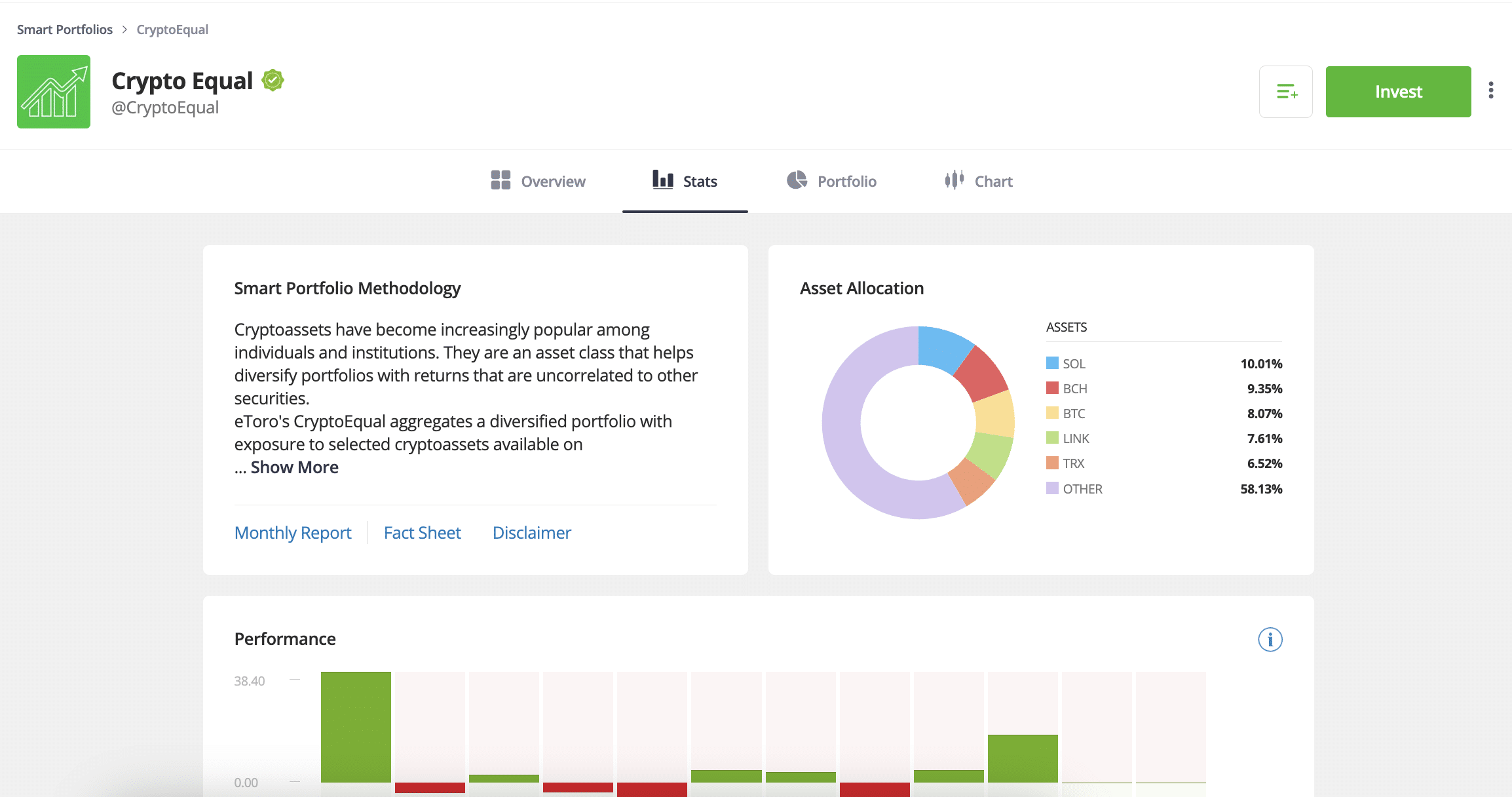 Complete beginners should check out eToro's smart portfolios. This enables you to diversify without needing any prior investment experience.
As we mentioned earlier, the Crypto Equal smart portfolio offers exposure to 19 different cryptocurrencies – including Solana. Smart portfolios are professionally managed and rebalanced on your behalf.
Customer Service
Most Solana exchanges offer customer support around the clock, considering they deal with a global audience. However, not all exchanges offer live chat; some deliver support via email.
This won't be of much use if you have an urgent inquiry that needs solving instantly. Therefore, explore what support channels are available and what hours the customer service team works.
The Basics of Buying Solana
Buying Solana for the first time requires several steps. First, make sure you conduct research on Solana's investment thesis. Explore its unique features, upside potential, and current valuation. When you're ready to invest, you'll need to choose a suitable exchange or broker.
Similar to a traditional stock broker, you'll be required to open an account and complete a quick verification process. This usually means uploading some ID and a proof of address, like a bank or credit card statement. You'll then be able to deposit some funds. Many platforms accept debit/credit cards and bank transfers.
You can then search for Solana, choose the investment amount, and complete the purchase. After you invest, the price of Solana will constantly change. Similar to stocks, its value is determined by market forces, including demand and supply. If you sell Solana at a higher price than you originally paid – you'll make a profit.
In the meantime, you'll need to think about storage. Most beginners keep their SOL tokens with the platform they purchased them from. This is a suitable option when using a regulated provider like eToro or Coinbase. Alternatively, some investors choose to withdraw their SOL tokens to a private, non-custodial wallet. This means taking full control of the tokens – including security.
What is Solana?
Founded in 2017, Solana is a blockchain project that is often compared to Ethereum. Just like Ethereum, Solana allows developers to create and deploy smart contracts. This enables decentralized applications to operate without a centralized third party. However, Solana is a lot more advanced than Ethereum, especially when it comes to transaction performance.
For example, Solana can handle up to 65,000 transactions per second. Ethereum can handle just 30. What's more, Solana transactions take just 400 milliseconds to settle. Ethereum averages 12 seconds. Solana is also cost-effective – transaction fees average just $0.00025. During busy periods, Ethereum fees typically surpass $10.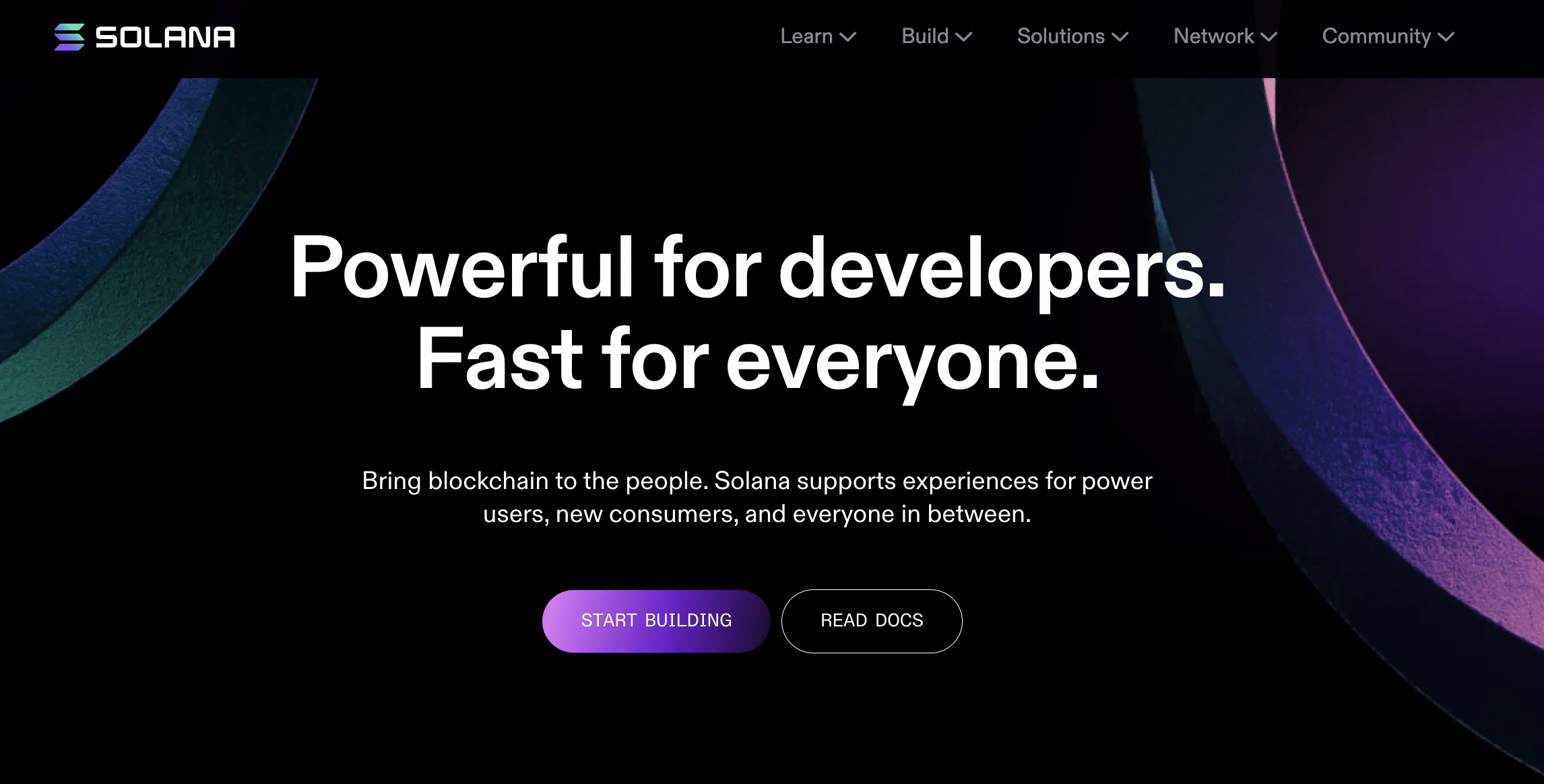 All that being said, the Solana ecosystem is significantly smaller than Ethereum – with just 205 projects operating on its network. In contrast, there are thousands of cryptocurrencies built on the Ethereum blockchain – which is reflected by its valuation. Nonetheless, Solana's native cryptocurrency – SOL, offers an attractive upside potential.
Currently, Solana has a market capitalization of just $15 billion. Ethereum is valued at over $215 billion – meaning Solana has a lot more room for growth. SOL's main use case is as a transactional currency. Developers using the Solana ecosystem must pay fees in SOL. This is also the case when transferring SOL on a wallet-to-wallet basis.
Solana Use Cases
Let's take a closer look at Solana's use cases.
First and foremost, it's important to understand the difference between Solana and SOL. Solana is the blockchain network that facilitates smart contract transactions. SOL is the native cryptocurrency token backing the Solana blockchain. Therefore, when you invest in Solana, you'll be buying SOL tokens.
Solana's blockchain provides a home for decentralized applications.
A good example of this is Raydium – considered one of the best decentralized exchanges on the Solana network.
Raydium allows users to buy and sell Solana-based tokens without needing a third-party operator.
Trades are facilitated via liquidity pools and smart contracts. Every time a trade takes place, this requires a transaction on the Solana network.
In turn, users must pay transaction fees in SOL tokens. Therefore, SOL's main use case is for paying transaction fees.
Raydium is just one example of how Solana could be used. In reality, the possibilities are limitless. For instance, Solana could be used for play-to-earn games, NFT marketplaces, metaverse experiences, and much more.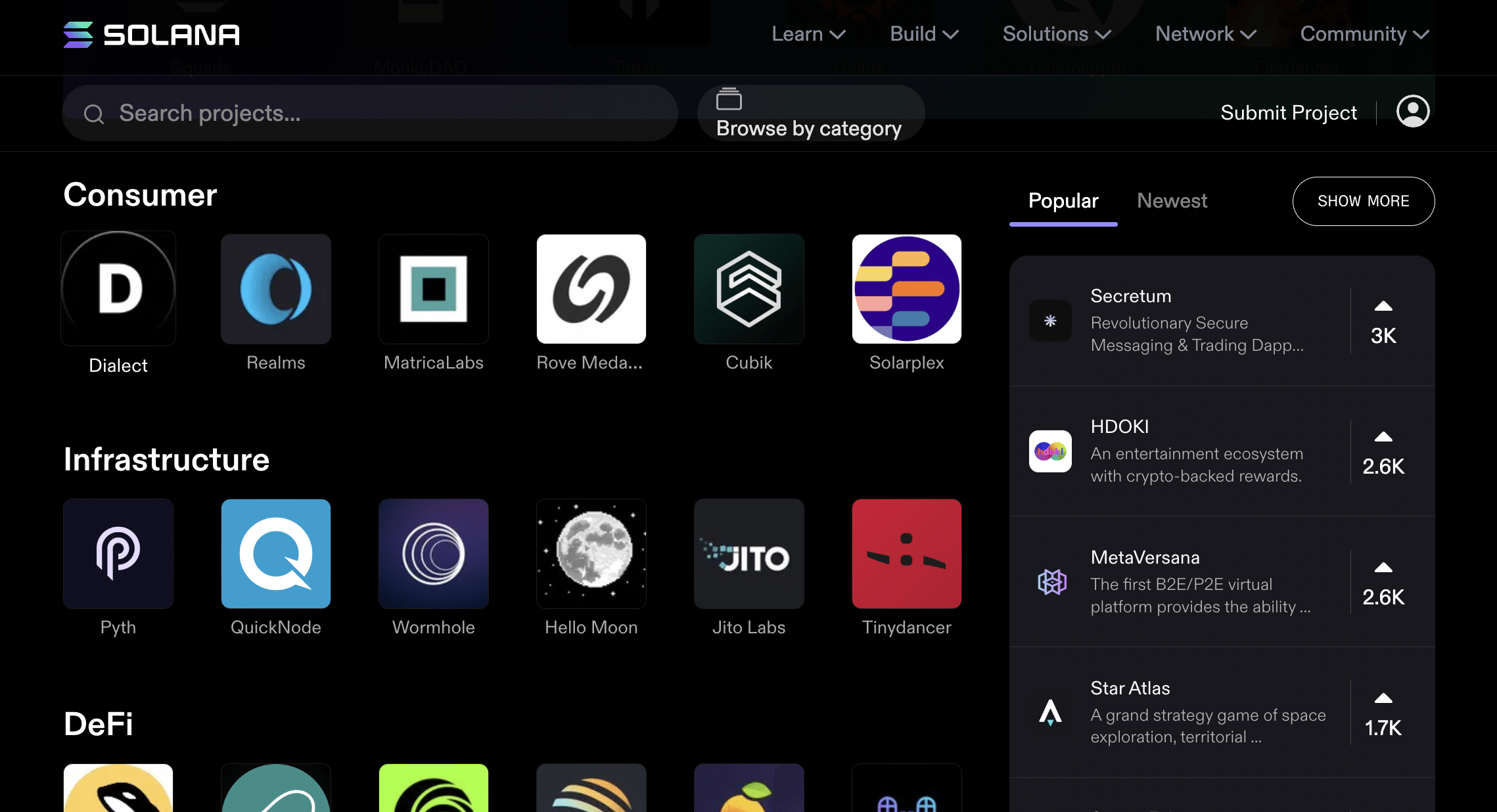 Crucially, Solana has the required scalability, low fees, and transaction speeds to become the de facto network for decentralized applications. However, it has a long way to go before it rivals Ethereum – at least in terms of popularity with developers.
Is Solana a Good Investment?
Solana is just one cryptocurrency out of many thousands. This means you should consider its investment thesis before proceeding.
This section covers the main reasons why Solana could be a good investment to make in 2023.
Significant Growth Since Inception
Solana was first listed on cryptocurrency exchanges in April 2020. According to CoinMarketCap, SOL tokens were initially priced at $0.95. Fast forward to November 2021, and Solana hit an all-time high of $260.06.
This means that in just 19 months of trading, Solana increased in value by over 27,000%. This means an original investment of $1,000 would have been worth over $270,000 at its peak. Although Solana has since declined considerably, it's still up over 3,600% since its inception.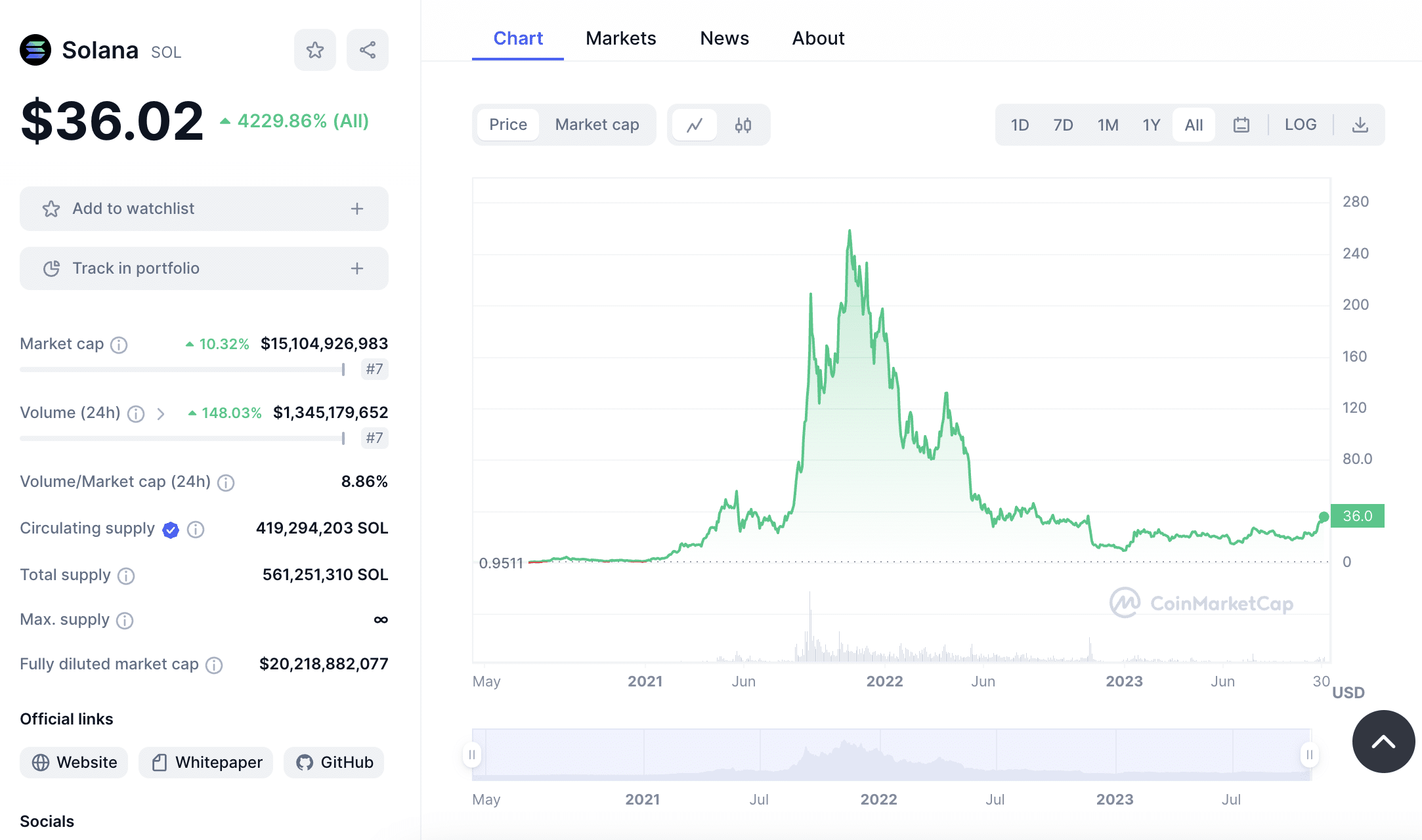 This is why cryptocurrencies like Solana are increasingly becoming popular with investors. Traditional markets, like blue-chip stocks and index funds, are unable to offer similar returns. After all, the S&P 500 averages annualized gains of 10%. This might appeal to most investors, but some wish to target much higher growth.
High-Performance Blockchain Network
Solana is one of the best-performing blockchain networks in this industry. Not only in terms of speed but scalability and cost-effectiveness.
The key stats for Solana are as follows:
Speed: Solana has an average block confirmation time of just 400 milliseconds. Compare this to Bitcoin, which averages 10 minutes. Even Ethereum is much slower, with average confirmation times of about 12 seconds. This makes Solana suitable for many use cases – especially those requiring lightning-fast transaction times.
Fees: Solana is also one of the cheapest blockchain networks. Average transaction fees currently amount to just $0.00025. This is the case irrespective of the transfer size. This means Solana is ideal for cross-border payments, especially micro-transactions and remittances. In comparison, Ethereum fees are currently at $0.83. However, when the network becomes congested, Ethereum fees can exceed $10.
Scalability: One of Solana's strongest selling points is scalability. This refers to the number of transactions Solana can handle at any given time. Solana can handle up to 65,000 transactions per second, considerably more than most blockchain networks. For example, Ethereum can still only handle about 30 transactions per second. Bitcoin is capped at around 7.
Energy Efficient: Solana is one of the most energy-efficient blockchain networks – especially when compared to Bitcoin. Solana transactions have a net carbon impact on the environment. According to Solana, transactions rarely use more energy than a few Google searches. Bitcoin, on the other hand, consumes more energy than entire countries – including Sweden and Malaysia.
Solana's efficient, speedy, scalable, and cost-effective network performs better than most blockchains. This means that Solana has strong fundamentals, a crucial factor that will determine its long-term value.
The Future of Decentralized Finance
Decentralized finance, or DeFi, is one of the fastest-growing industries in the blockchain space. According to the Bank for International Settlements, decentralized finance offers:
"Services such as trading, lending and investing without using a traditional centralised intermediary"
In its current form, the vast majority of DeFi platforms are built on the Ethereum network. But as we've established, Ethereum isn't able to handle the transactional throughout that DeFi demands. Nor is its high fee structure compatible. After all, each DeFi movement requires individual transaction fees.
With this in mind, DeFi projects could begin making the transition to Solana. Not only will they benefit from rock-bottom fees and lightning-fast settlement times, but there are no issues with scalability.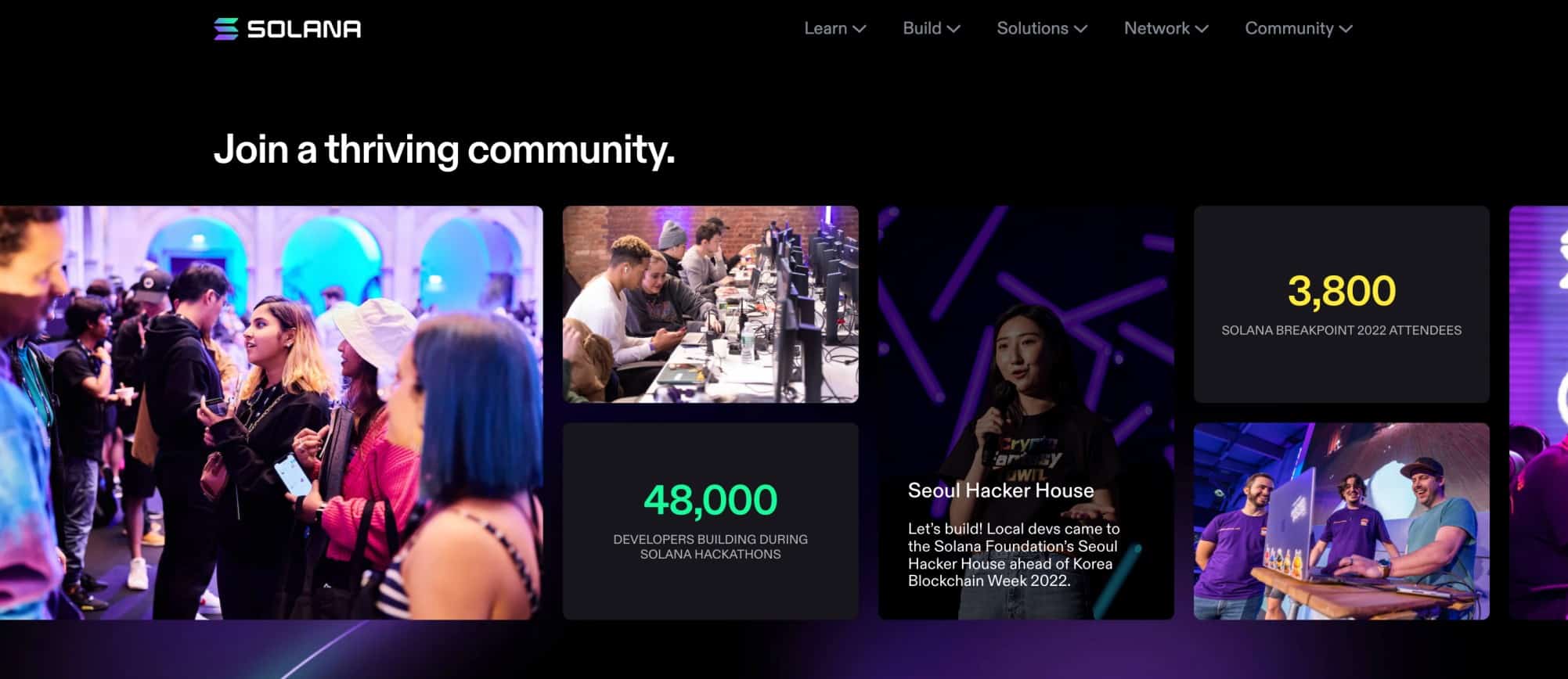 We mentioned that Solana can handle up to 65,000 transactions per second. Visa – the global payments network, can also handle the same throughput. That said, Visa requires just 1,500-2,000 transactions per second on average, even though it serves the global population. As such, Solana has more than enough scalability to serve the DeFi industry.
85% Discount From All-Time Highs
Some investors believe that at current prices, now is the best time to buy Solana. Its value has capitulated since the 2021 bear market, where Solana hit all-time highs of $260.06. Right now, Solana is trading over 85% below its peak.
Let's put these figures into relatable numbers.
Let's say you invested $2,000 in Solana on November 7, 2021. Based on a price of $260,06, you would have got about 7.6 SOL tokens
Now let's say you invest $2,000 at current prices of $36.02. In doing so, you'll get about 55.5 SOL tokens. This is 47 additional SOL tokens than you would have received during the prior bull market.
Solana's current price point offers an attractive upside potential. For example, if Solana regains its former all-time high of $260.06 – that's an upside of over 620% based on current prices.
There's no guarantee that this will happen though. Even if the next bull run attracts unprecedented buying pressure, Solana might not be a beneficiary. This is why diversification is one of the best risk-mitigation strategies you can employ.
What is the Cheapest Way to Buy Solana?
There are several factors that can influence how much you pay when buying Solana online. Fees vary between cryptocurrency exchanges and brokers. While it's wise to shop around for the lowest fees, regulation and safety should also be factored in.
Nonetheless, you'll first need to consider fees related to payments. For example, debit/credit cards and e-wallets often cost a lot more than bank transfers.
At Coinbase, ACH deposits (and similar local banking methods) are free of charge. But when using Visa, MasterCard, or PayPal, Coinbase charges 3.99%. However, bank transfers are much slower than other payment methods, so do bear this in mind.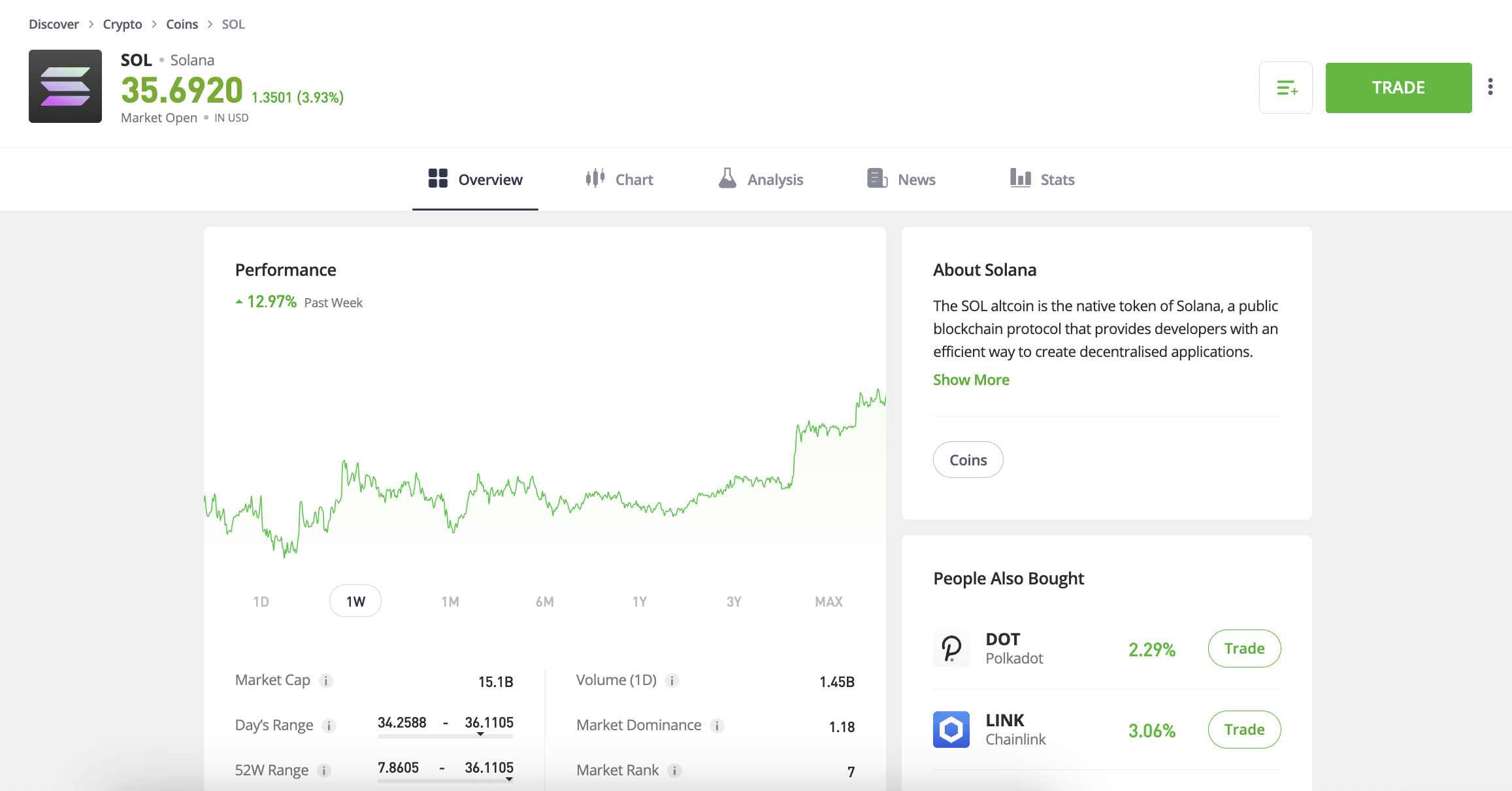 If you're looking to buy SOL instantly with a debit/credit card or e-wallet, eToro is the best option in the market. Although it charges commissions of 1%, USD payments are processed fee-free. Other currencies are charged just 0.5%, which is still very competitive.
Let's say you have $2,000 to invest and want to buy Solana with a debit card.
At Coinbase, you'll pay 3.99% in total – so that's a fee of $79.80.
At eToro, the maximum deposit fee charged is 0.5% – so that's $10.
However, eToro also charges 1% in commission – so that's an extra $20.
All in, you've paid $30 in fees with eToro and $79.80 at Coinbase.
In addition, you also need to consider a 'hidden fee' – the spread. This is the difference between the buy and sell price of Solana. It's essentially a markup charged by trading platforms. eToro, Coinbase, and other Solana platforms are unable to publish their average spreads. This is because they're dictated by market conditions.
For example, when Solana trading volumes and liquidity levels are high, spreads are usually a lot more competitive. But the opposite happens during quiet market periods. It's best to calculate the spread before buying Solana so you know exactly what you're paying.
Don't invest unless you're prepared to lose all the money you invest.
Is Investing in Solana Safe & Legal?
There are no specific restrictions prohibiting people from investing in Solana. However, you'll need to assess cryptocurrency laws in your home country. For example, cryptocurrency investments are banned in China – which would include Solana. As long as cryptocurrencies are legal where you live, you should have no concerns about buying and selling Solana online.
In terms of safety, there are several aspects to consider. First, the exchange or broker you purchase Solana from. Regulated platforms like eToro and Coinbase offer a safe and secure way to invest in Solana. However, this isn't the case when using an unregulated exchange. Or one that's headquartered in a country with weak consumer protection.
There are also risks associated with storage. Had you kept your Solana tokens in FTX when it declared bankruptcy in 2021, you'd likely have lost the entire investment. This is always the risk when keeping cryptocurrencies with a custodial. Some investors prefer withdrawing Solana to a private wallet with self-custody storage. This also carries risks, as the wallet could get hacked.
Which is the Best Solana Wallet?
The section above briefly covered the risks associated with storing Solana. Therefore, it's important to assess which Solana wallet is best for your requirements. Ultimately, it's a choice between a custodial or self-custody wallet, which we explain below.
Custodial Solana Wallet
Custodial wallets are offered by centralized companies – usually cryptocurrency exchanges. Just like a bank, the custodian is required to keep your Solana tokens safe. This means you need to trust that the custodian has robust security practices and that it operates a legitimate business.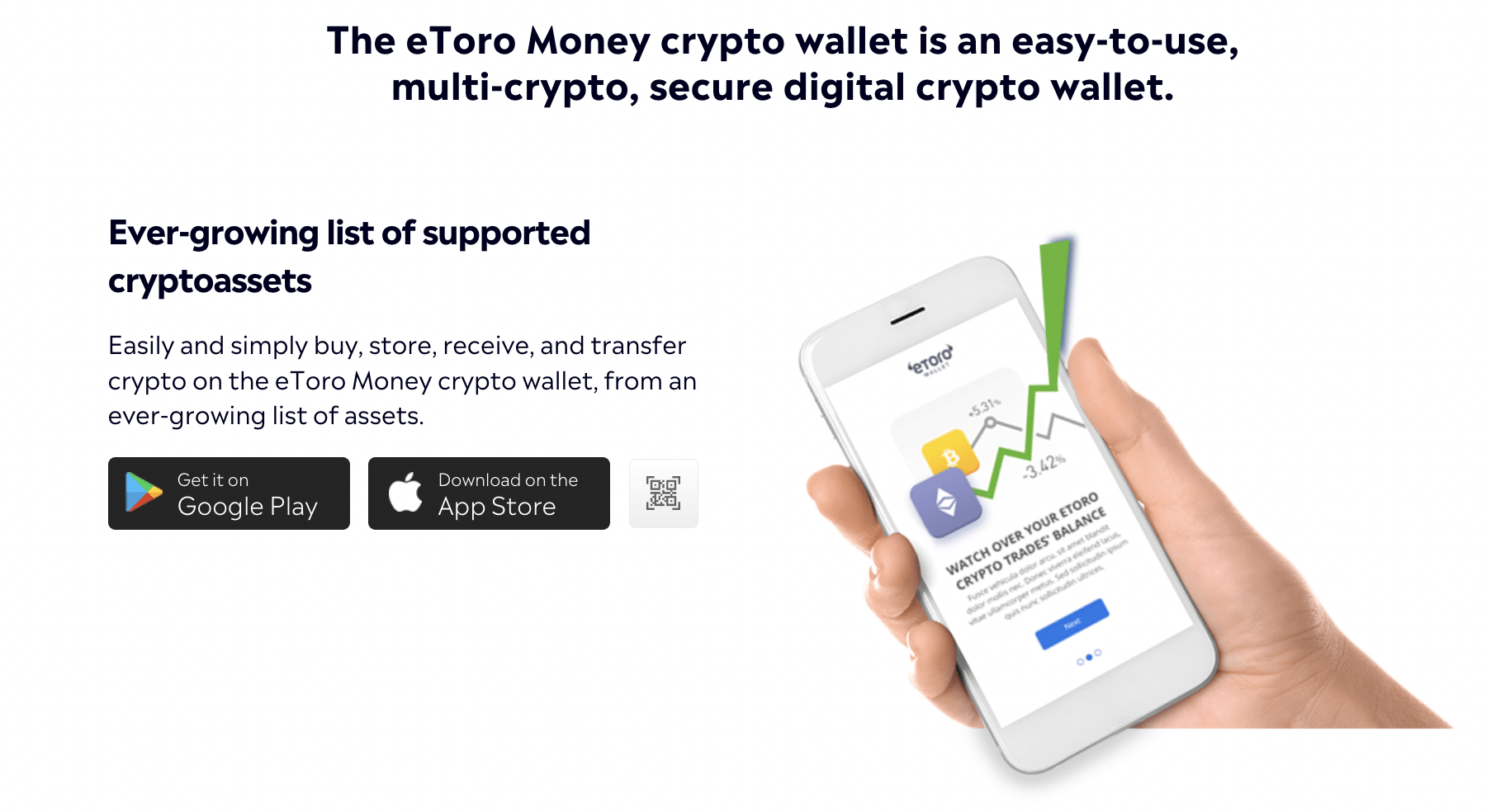 Custodial wallets are best suited for beginners. There is no requirement to have any prior knowledge of wallet security. But it's crucial to stick with regulated custodians with a solid track record. eToro is a good option, considering its tier-one licenses and institutional-grade security controls. What's more, eToro has been in business since 2007 – which is longer than cryptocurrencies themselves.
Coinbase is also a good option for custodian storage. It's regulated in most US states, has been operational since 2012, and is now publicly listed on the NASDAQ.
Don't invest unless you're prepared to lose all the money you invest.
Self-Custody Solana Wallet
If you don't want to rely on a third party to keep your Solana tokens safe – you'll need to choose a self-custody wallet. This is comparable to keeping cash in a safe at home, rather than in a bank account.
The main benefit of self-custody wallets is that nobody has access to your Solana but you. Self-custody wallets are secured by private keys – similar to the PIN combination on a safe. However, you'll be 100% responsible for safeguarding your self-custody wallet.
For example, if you forget your PIN and also lose the private keys, you won't be able to regain access to the wallet.
Or, if your device is compromised and a hacker has access to your private keys, they'll be able to drain your Solana wallet.
Just remember that if something goes wrong, nobody will be able to help. This is because self-custody wallets are decentralized. Not even the wallet provider has access to your funds.
If you choose this option, consider a hardware wallet like Trezor or Ledger. Both are compatible with Solana and always remain offline. Known as 'cold storage', this removes the threat of the wallet being hacked remotely. Read our guide on the best cold wallets for more information.
How to Buy Solana – Detailed Tutorial
We've covered everything there is to know about Solana – from its innovative technology and use cases to its upside potential and storage options. We'll now explain how to invest in Solana in the cheapest and safest way possible.
Our research shows that eToro is the best option – not only in terms of competitive fees and regulation but user-friendliness. Read on to buy Solana with eToro in under five minutes.
Step 1: Open an eToro Account
First, you'll need to visit the eToro website to open an account.
Provide eToro with an email address, username, and password.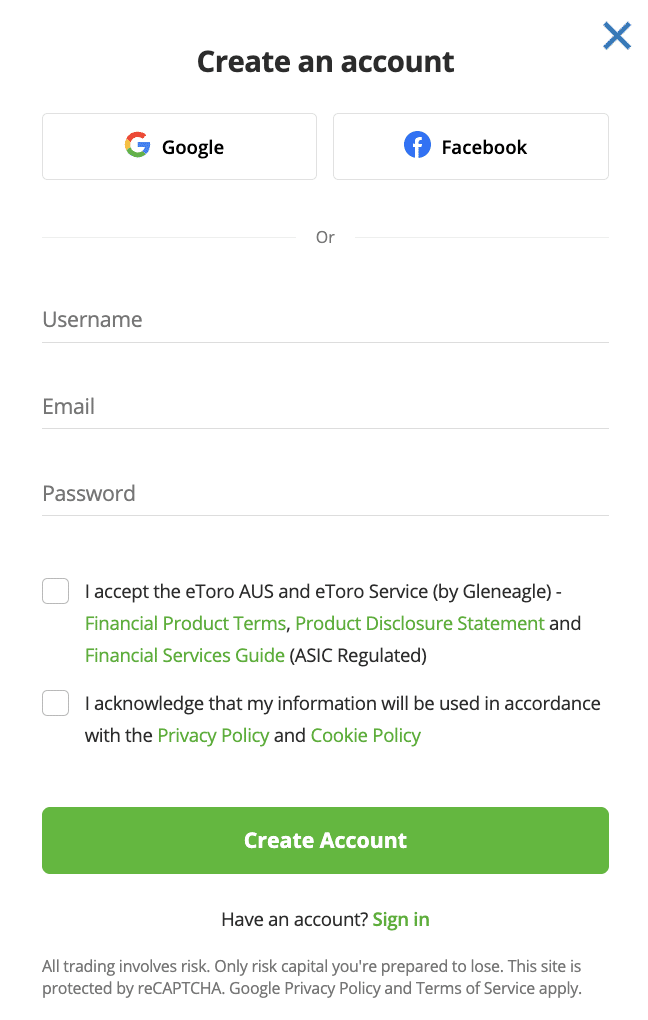 On the next page, type in your full name, home address, tax identification number, and date of birth. Make sure the information is entered correctly, as it needs to be verified in the next step.
Step 2: Get Verified
As a regulated trading platform, all eToro accounts must be verified. Do note that you can skip this step if you're depositing less than $2,250. However, withdrawals will be blocked until verification is complete, so it's best to do this now.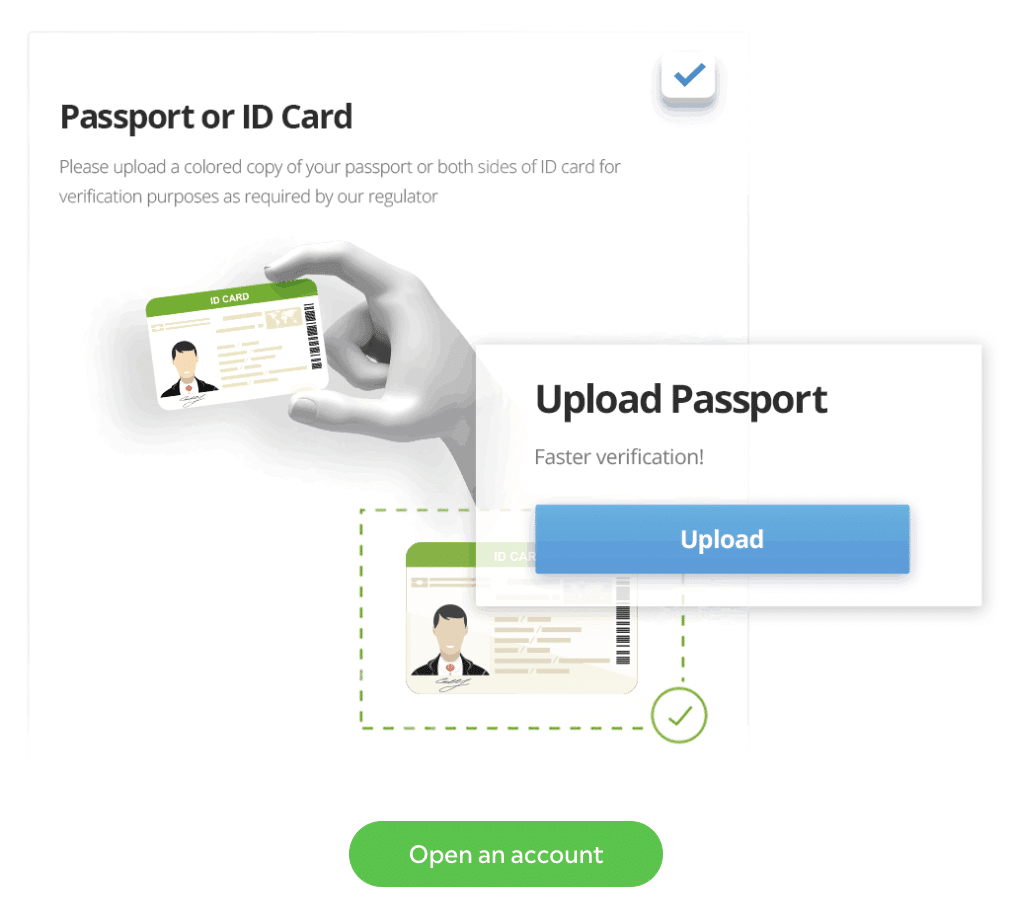 eToro requires a valid government-issued ID. Passports and driver's licenses are accepted. In some regions, national ID cards are also permitted.
A proof of address is also required, issued within the previous three months. Many documents are accepted, including bank and credit card statements, utility bills, and letters from your national tax office.
Step 3: Deposit Funds
The next step is to deposit some funds. First, choose your preferred currency and type in the amount you want to deposit.
USD payments are fee-free; other currencies attract a 0.5% FX charge.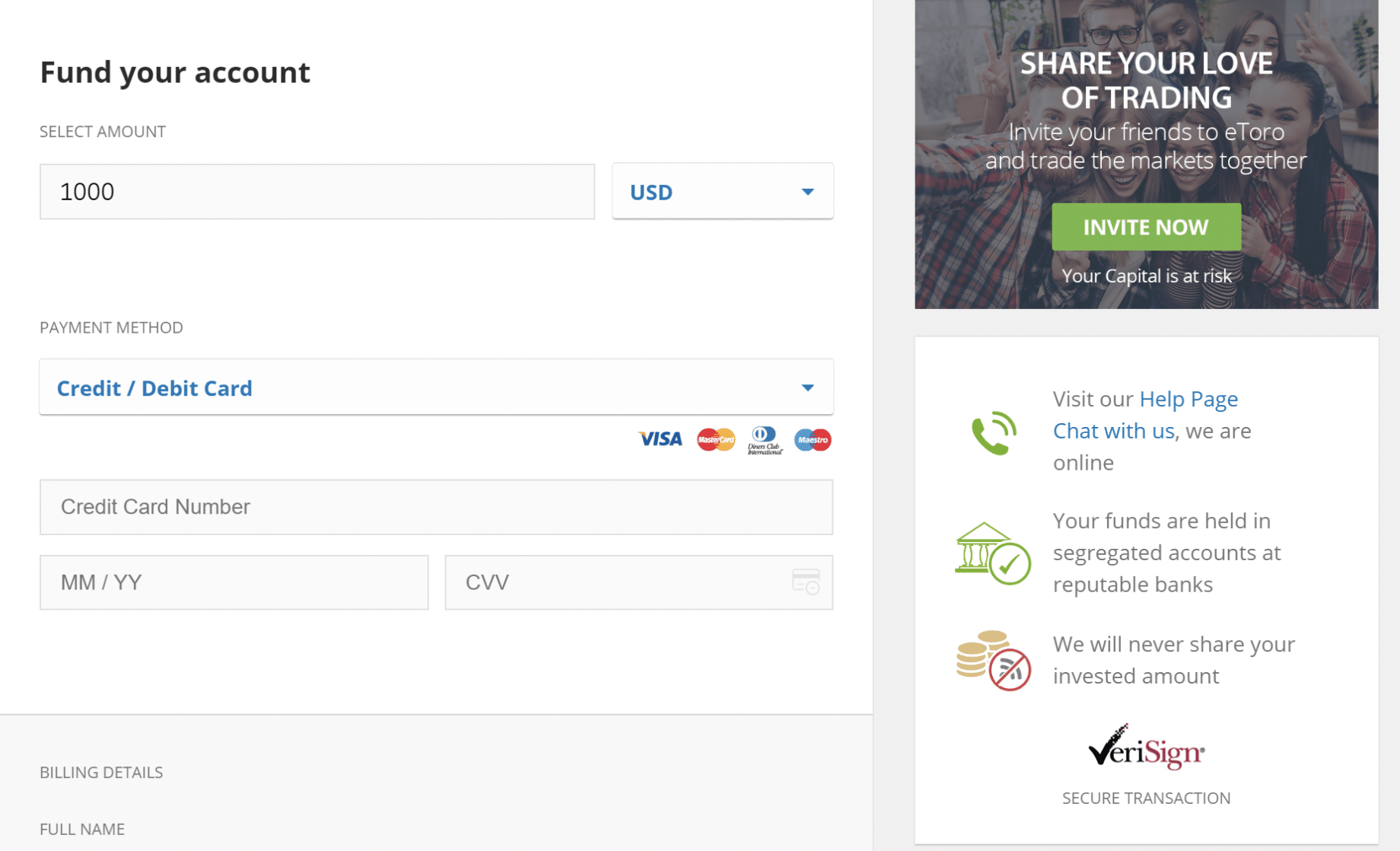 Choose your preferred payment method; options include debit/credit cards, bank transfers, and e-wallets like PayPal and Skrill.
Confirm the deposit to proceed.
Step 4: Search for Solana
Now it's time to buy Solana. In the search box, type in 'Solana' and click on the 'Trade' button.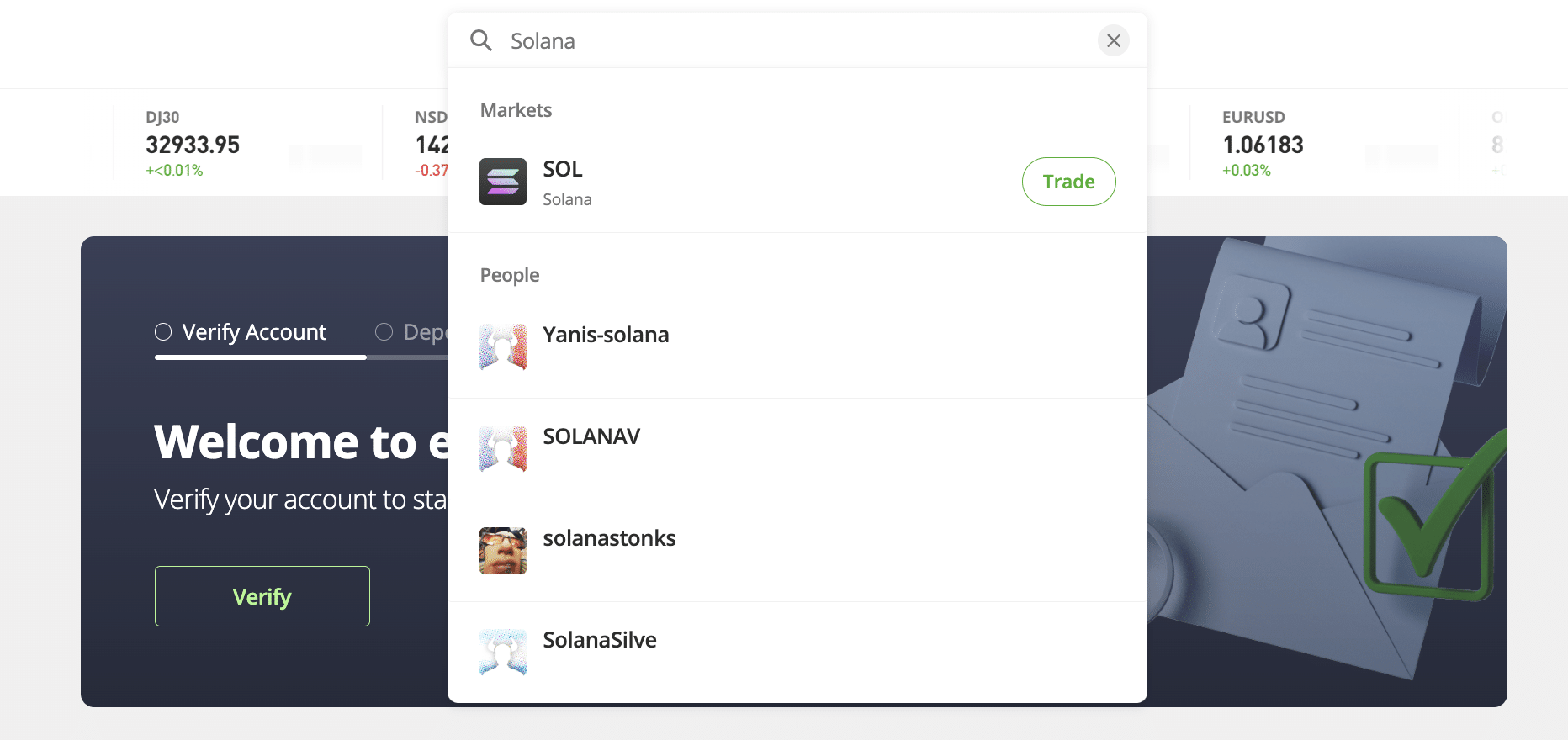 This will populate an order form.
Step 5: Buy Solana
Decide how much money you want to invest in SOL. eToro accepts any dollar amount from $10 upward.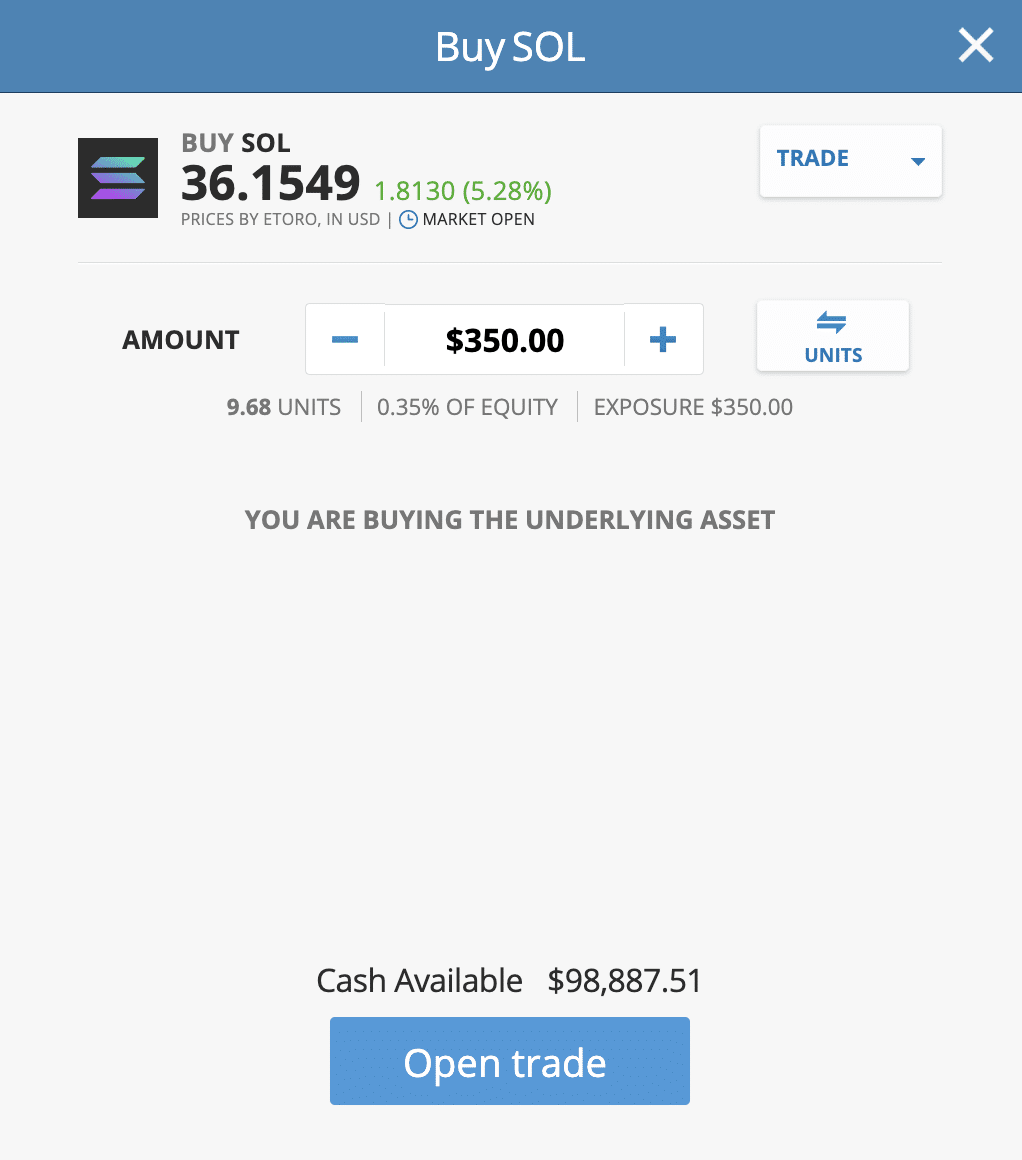 In our example above, we're investing $350. Finally, click on 'Open Trade' to confirm the order.
How to Sell Solana?
Selling Solana is just as straightforward as investing.
Here's what you need to do when it's time to cash out:
Assuming you bought Solana with eToro, the tokens can be accessed in your portfolio.
Click on 'Solana' followed by 'Close All'.
To confirm, click on 'Close All' once more.
eToro will sell Solana at the current market price.
Within a few seconds, you'll find the cash proceeds in your account balance.
Conclusion
We've explained the best ways to buy Solana in 2023. Overall, eToro is the safest and most cost-effective option. Regulated by multiple tier-one bodies, eToro accepts debit/credit cards, e-wallets, and local bank transfers.
The minimum Solana investment is just $10 and eToro also offers a licensed custodial wallet. eToro is also great for diversification – it lists dozens of other popular cryptocurrencies.
Don't invest unless you're prepared to lose all the money you invest.
References
FAQs
Is Solana a good buy right now?
What is the best place to buy Solana?
Can you buy Solana with PayPal?