Surf Reward is an ambitious new cryptocurrency that empowers users to earn crypto from seeing ads on the internet. The token is currently undergoing a presale after swiftly selling out of its private sale. Its presale has a $5 million hard cap and has raised over $200K so far.
Since the $SURF token is in its presale, investors can currently buy it for a discounted price. This guide shows how to buy Surf Reward in its presale and whether it is worth buying.
Surf Reward Presale Key Points
The current Surf Reward price is $0.0265, but this will increase by $0.0005 every seven days until the presale ends.
Users can earn passive rewards by downloading the Surf Reward browser extension.
Advertisers must buy ad space with $SURF, providing utility to the token.
It also features a staking mechanism with up to 5,000% annual percentage yield (APY).
How to Buy Surf Reward Presale – A Five-Step Beginners Guide
Since it is still in its presale, investors can buy Surf Reward from the project's website. This section explains how to buy $SURF in five simple steps.
Surf Reward is a BEP-20 token on the Binance Smart Chain protocol; this means investors must hold a compatible wallet like MetaMask or Trust Wallet. For this tutorial, we will use MetaMask on a PC.
Step One: Create a Software Wallet
You will need a software wallet to connect to the Surf Reward presale. Visit the MetaMask website and download the browser extension to your device. Alternatively, download MetaMask from the App Store if you are using a smartphone.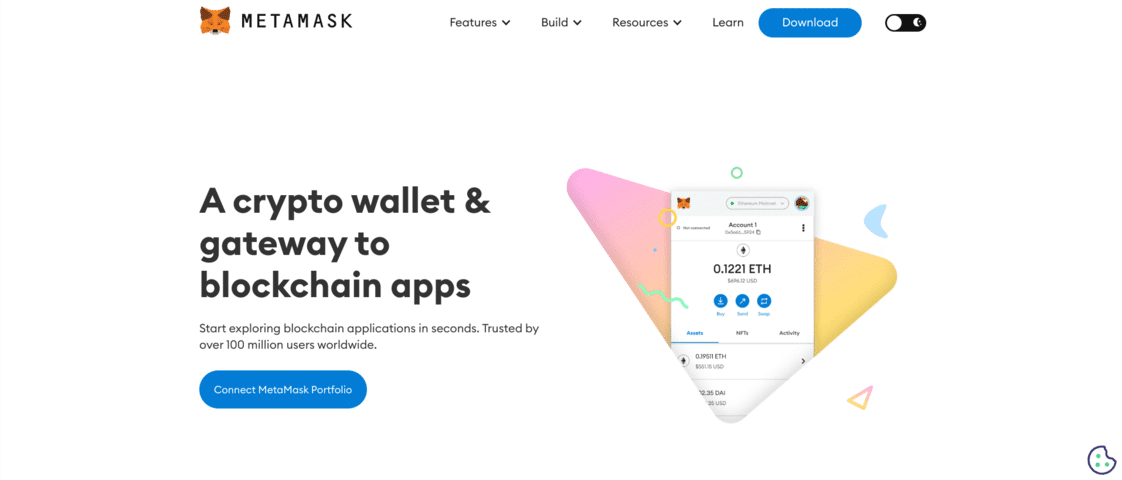 Once you have installed it, follow the account set-up instructions, ensuring you store your seed phrase safely and securely. After you have created an account, you must switch to the Binance Network. Do this by selecting the button in the top left corner of the MetaMask dashboard and selecting Binance.
Step Two: Buy Crypto to Fund Your Investment
You can fund your crypto wallet directly by buying BNB or USDT from your MetaMask with a bank card. Otherwise, purchase one of the abovementioned cryptos on a centralized exchange and send it to your MetaMask wallet.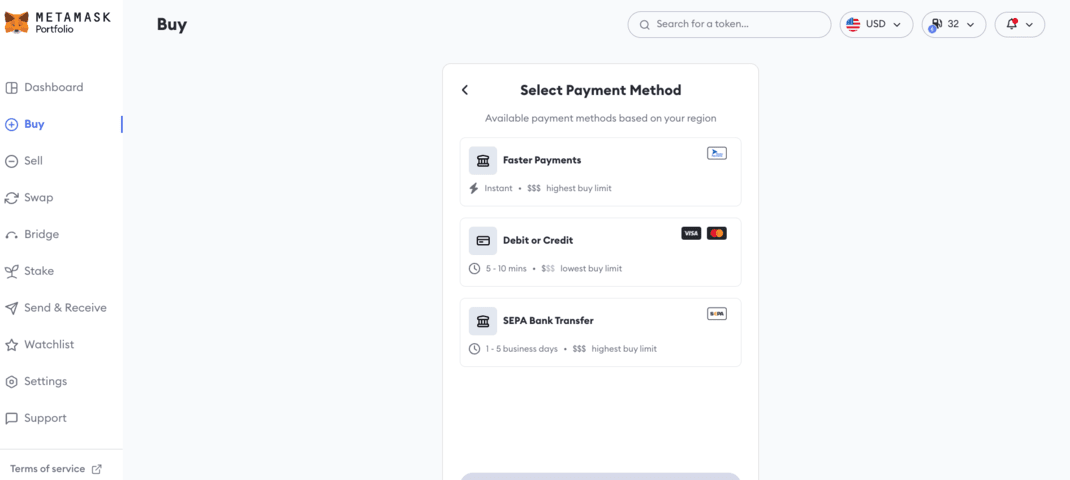 Step Three: Visit the Surf Reward Presale
Visit the Surf Reward presale website, click the Connect Wallet button to get started, and complete the wallet authorization with MetaMask.
Ensure that you only visit the SURF Presale website through a trusted link, like the one in this guide. This will help protect your wallet against phishing exploits.
Step Four: Buy $SURF
Choose the amount of $SURF you want to buy, and then complete the purchase and authorize the transaction.
One of the benefits of buying Surf Reward early is that presale investors can begin staking their tokens right away and get access to the highest yield.
Stage Five: Claim Your Tokens
Following the presale, you can claim your tokens and add them to your wallet. However, you could also leave them in the platform's staking pool to compound your investment.
What is Surf Reward?
Surf Reward is a revolutionary cryptocurrency protocol that decentralizes advertising, returning the revenue to the consumer rather than an intermediary. The project also features carefully engineered tokenomics designed for longevity and upward price movement.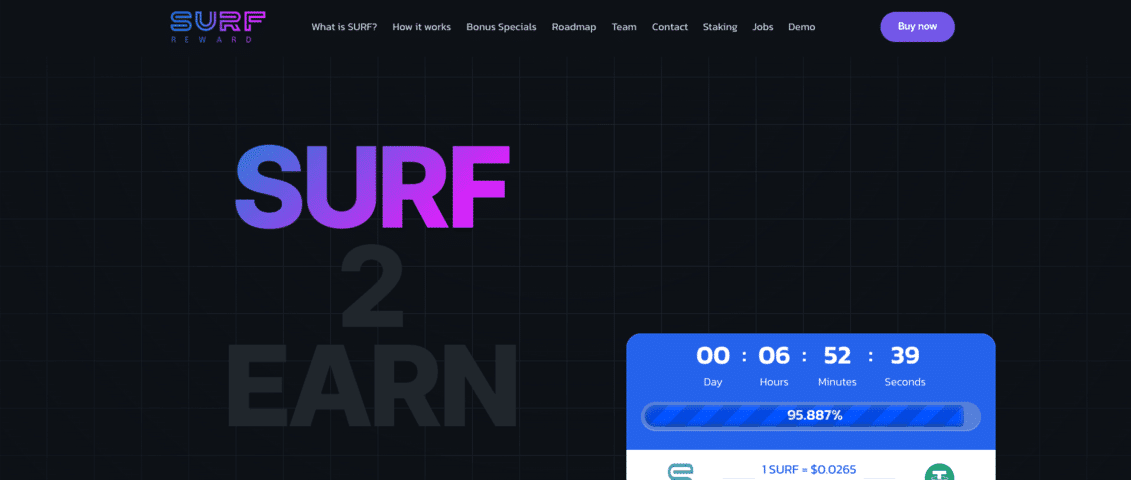 The Surf Reward whitepaper notes that advertising is a primary component of online activity. What's more, advertising is why most websites and applications are free to use. Yet, currently, intermediaries and website owners capture the value from advertising, not the end user. Surf Reward leverages an innovative ad blocker and the decentralized nature of blockchain to return this revenue to consumers.
It does this by blocking native ads and placing ads from its own advertising partnerships. These advertising partners must buy this ad space, of which a portion is redistributed to the community.
$SURF holds significant utility and is the backbone of its groundbreaking protocol.
As mentioned, advertisers will buy ad space with the $SURF token. However, what makes $SURF stand out is how this revenue will be distributed. 30% will be allocated to staking rewards, providing a sustainable and passive income for holders, as they directly benefit from the platform's success. 60% will be added to the project's liquidity pool, ensuring seamless buying and selling of $SURF while bolstering its scarcity. Lastly, 10% will be allocated to development and marketing to help the project grow.
Other Examples of "Real Revenue" Projects
Interestingly, this model of revenue-generating protocols has boomed lately. For instance, we have seen the UniBot price and Rollbit price explode, thanks to their quantifiable results driven by revenue.
UniBot currently holds a $57 million market cap after launching in June 2023, and Rollbit has a $550 million market cap after launching in April 2023.
Regarding its initial supply distribution, Surf Reward has a total supply of 1,000,000 tokens, with 39% allocated to platform rewards, 20% to the presale, 8% to staking, 25% to liquidity & marketing, 6% to development, and 2% to partners & advisors.

The current presale price is $0.0265 and is set to increase by $0.0005 every seven days until the presale ends. Its presale has a soft cap of $1.5 million, which is required to roll out the platform's development, and a hard cap of $5 million.
| | |
| --- | --- |
| Presale Started | October 2023 |
| Purchase Methods | BNB, USDT |
| Chain | Binance Smart Chain |
| Hard Cap | $5,000,000 |
| Min Investment | None |
| Max Investment | None |
Ways to Earn Free Crypto With Surf Reward
Surf Reward offers four ways for users to earn free crypto. The first is downloading the Surf Reward browser extension and then going about your daily internet browsing activity.

Another is through referrals. Users who refer others to the platform can earn a 5% bonus for them and their friends.
It also features a rewards booster, enabling presale customers to earn a bonus on their investment. Users can get boosters between 10-250% depending on their deposit amount. Those looking for the highest rewards bonus must deposit $2,000 or more.
Finally, holders can earn passive rewards by staking their $SURF tokens. The staking mechanism features a variable APY of up to 5,000% and does not require users to lock their tokens for a set period of time.
However, the design of the staking pool means that the rewards will lessen as more users join. Therefore, investors looking to maximize their yield must act quickly.
Why Buy Surf Reward During the Presale?
After exploding past $200K, Surf Reward is already proving itself as one of the best presales. Here are the reasons why buying the presale could be a good idea.
Groundbreaking Use Case – By decentralizing the advertising industry, Surf Reward is tackling one of the most prevalent issues faced on the internet today. This could translate to significant price appreciation for $SURF, with the presale likely presenting the best time to buy.
High Staking APY – With the Surf Reward staking pool offering up to 5,000% APY, users looking to generate a yield are best poised to buy the presale since that is when the APY is highest.
Discounted Price – The current Surf Reward price is $0.0265, with its exchange launch price set to $0.05 – almost a 2x from its current price. Moreover, there could be even more price growth once it launches on exchanges as investors who missed the presale buy it on the open market.
Launched By a Regulated Team With Proven Track Record – Surf Reward was founded by Abelius Capital AG, a public limited company based in Dusseldorf and regulated by German law. The project features a large team with a proven track record and deep experience in investing in real-world business and equities.
Surf Reward Price Prediction – What is $SURF's Potential?
Last year, the advertising industry was worth a staggering $615 billion. Considering the unique value that Surf Reward brings to the market and the rising interest in blockchain from institutional players, we could see notable liquidity inflows to the project in the coming months.
For instance, just a few weeks ago, BlackRock CEO Larry Fink stated that "Crypto is a flight to quality." BlackRock and other institutions have applied for Bitcoin ETFs recently, but other players are looking beyond Bitcoin.
For instance, JP Morgan recently launched its own blockchain. This illustrates the interest of the world's largest money managers in the space. Yet, crypto advertising remains a largely untapped area.
Currently, one of the only tokens focused on advertising is Basic Attention Token, yet the BAT price is limited by its outdated tokenomics. Nevertheless, it still holds a $300 million market cap.
Considering BAT's limitations and the fact we remain in a bear market, this hints at significant upside potential for a more carefully engineered project like Surf Reward. This makes $SURF one of the top cryptos to watch looking ahead.
With this in mind, we forecast a price of $0.13 by the end of 2024. This would equate to a 390% increase from its current presale price.
Conclusion
This guide explained how to buy the Surf Reward presale. Regarding whether it is worth buying, it is an exciting project looking to disrupt a $600 billion industry with an innovative revenue share model and robust tokenomics.
Coupled with its early presale success, this indicates significant long-term potential. Yet, with its presale price increasing every seven days, potential investors must act fast.
References
FAQs
Is the Surf Reward presale worth buying?
How do I buy the Surf Reward presale?