TG.Casino is an upcoming crypto casino that offers players decentralized and anonymous gambling that utilizes the power of the popular messaging app Telegram.
The casino is already live and offers leading slots, a sportsbook, and classic casino games, with no fees and an enticing welcome bonus.
$TGC tokens can now be purchased during its presale and are used to earn staking rewards – currently over 200% – and as part of a profit-sharing scheme through a token buyback.
This guide will explain how to buy $TGC tokens during the ongoing presale and analyze whether they are a good investment.
TG.Casino Token Presale Key Points


Here are the key things investors need to know about the TG.Casino Token presale:
TG.Casino is an upcoming crypto casino powered by Telegram.
$TGC is a stake-to-earn Ethereum-based token and is offering 200% APY at the time of writing.
$TGC can also be used to earn a share of profits from the casino through a buy-back, with 60% of the purchased tokens shared among stakers.
The remaining 40% is sent to a burn address, making $TGC a deflationary asset.
$TGC tokens are available for $0.165 through one presale round with a $5 million hard cap.
How To Buy TG.Casino ($TGC) Tokens – Five-Step Beginner's Guide
The steps below will outline, in detail, how to purchase $TGC tokens during the ongoing presale.
Step 1: Create a Crypto Wallet
Investors first need to have a crypto wallet that's compatible with ERC-20 tokens like $TGC – the most popular options include MetaMask and Trust Wallet, both of which are free and offer strong security features. For the purpose of this guide, we will use MetaMask as an example.
MetaMask is available either as a mobile app, on iOS and Android, or as a desktop extension. Either head to the app/play store or the MetaMask website and download it.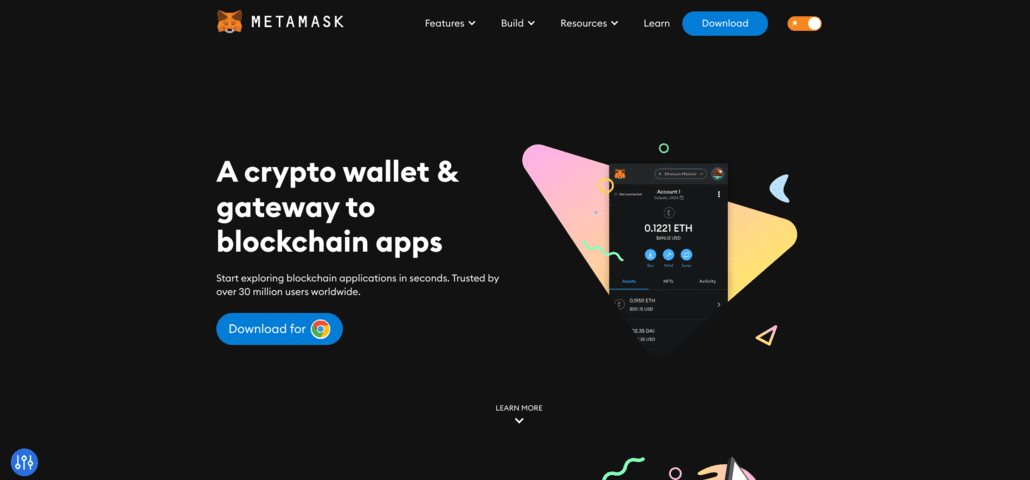 Step 2: Buy BNB, ETH, or USDT
To purchase $TGC tokens, the wallet needs to be loaded with one of ETH, USDT or BNB to then convert into $TGC.
This can be done by transferring one of those tokens from an exchange into the wallet. Carefully copy and paste the wallet address into the exchange and deposit.
Alternatively, MetaMask and most other leading Web3 wallets allow users to purchase ETH and other tokens directly on their platform, via trusted third-party apps such as MoonPay or Transak.
It should be noted that because $TGC is an Ethereum-based token, some ETH will be needed in the wallet to cover gas (transaction/network) fees.
Step 3: Connect to the TG.Casino Token Presale Site
Next, users will need to connect their crypto wallet to the TG.Casino Token presale platform. Click the orange 'Connect Wallet' and select the wallet to connect, in our example MetaMask.
Input your password and continue the steps on screen to authorize and confirm the connection. Once complete, the TG.Casino Token website will show different options than before.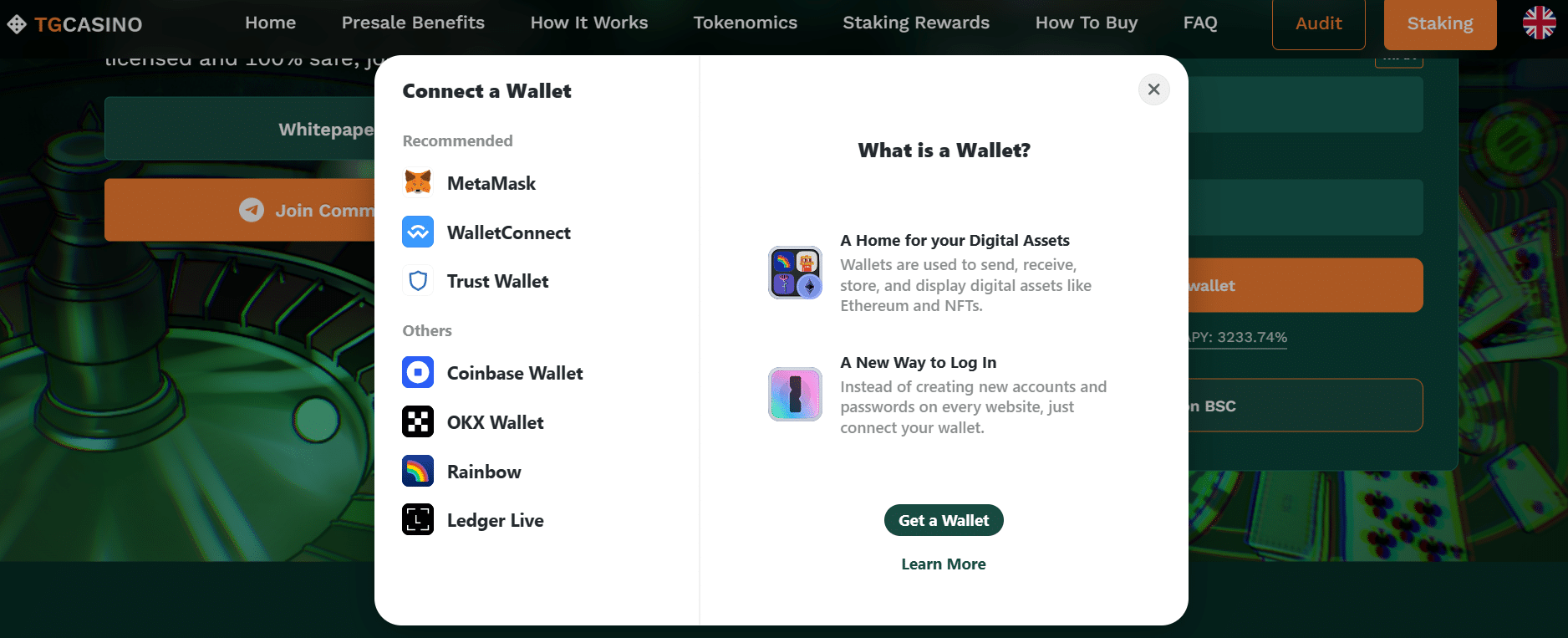 Step 4: Purchase $TGC
Users are now able to purchase $TGC tokens and can select one of the three tokens to convert as well as either input the amount to spend or the amount of $TGC to purchase.
Investors should note there is a minimum purchase of 100 $TGC (approx. $12.50) and some ETH will need to be reserved to cover gas fees.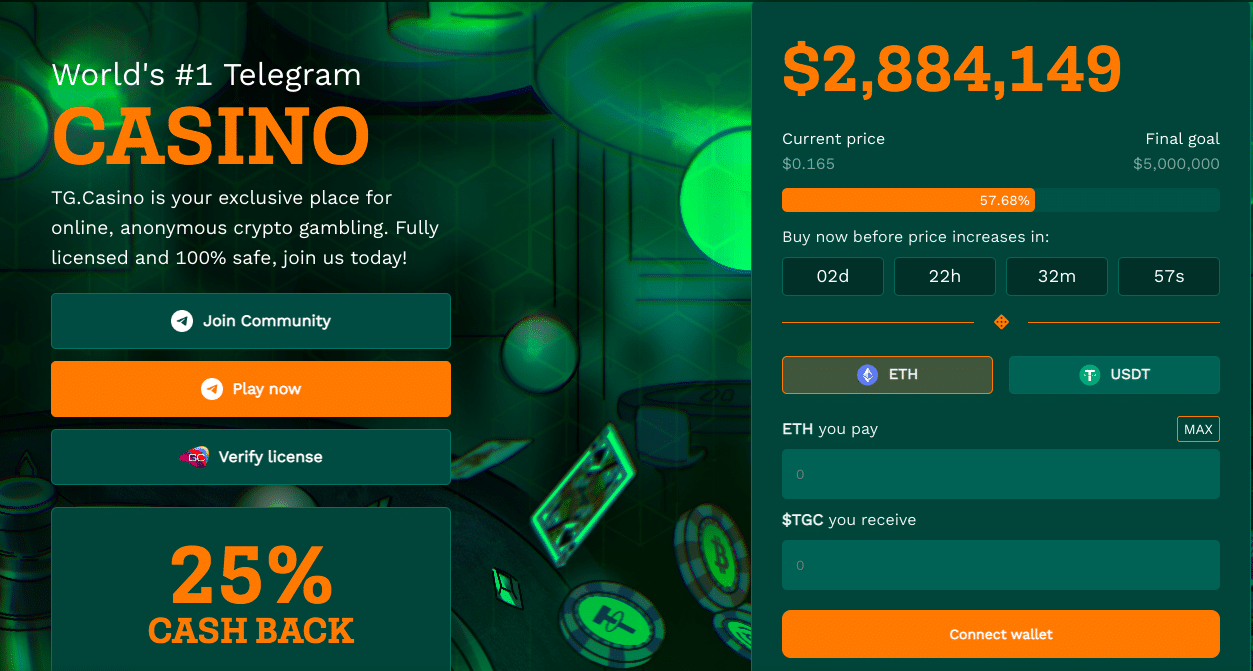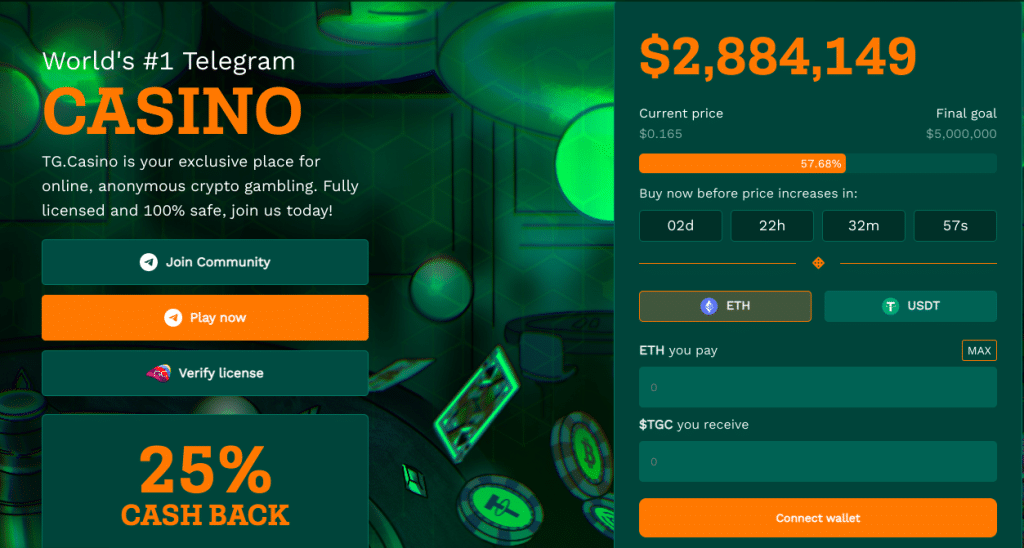 Step 5: Stake $TGC Tokens
There is an option to 'Buy & Stake' tokens which means they will immediately be locked into the staking pool, which has a current estimated annual percentage yield (APY) over 200%, and accrue rewards throughout the length of the presale.
Alternatively, there is an option not to stake tokens and instead they will be securely stored until the presale is complete.
Claim 6: Stake $TGC Tokens
Once the presale is ended then investors will be able to claim there tokens – this will be done directly on the website with a claiming button to appear when the time comes.
Follow the TG.Casino Telegram group to keep up to date with the project and to get full details on the claiming process.
What is TG.Casino Token?
TG.Casino Token ($TGC) is an upcoming decentralized crypto casino that allows users to earn incredible staking rewards and share in casino profits through its buy-back scheme.
The casino, which is launching soon, utilizes the power of Telegram to provide an enhanced user experience and offer fully secure, instant and anonymous gambling.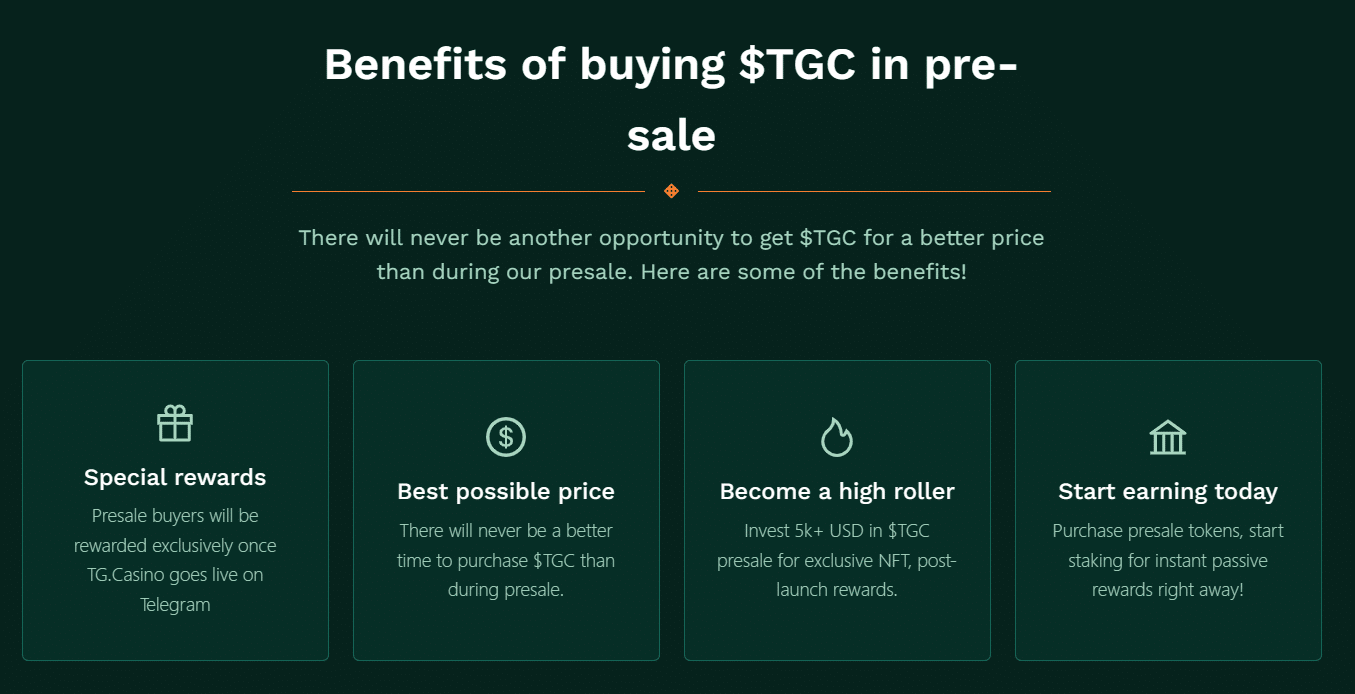 We already rate $TGC tokens as one of the best cryptos to buy due to its potential growth, incredible staking rewards, burn mechanism and buyback system.
The project has also taken steps to ensure security and ease any concerns by requesting that respected blockchain security firm Coinsult conduct an audit of the token smart contract.
Potential investors should look through the full TG.Casino whitepaper to get a full picture of the project.
Telegram-Powered Casino
Through Telegram, players are able to instantly create a new account without the need for any Know Your Customer (KYC) verification, with the unique phone number associated with the messaging app enough to verify individual users.
Telegram will also allow for instant and anonymous deposits and withdrawals – via WalletConnect, which links with leading Web3 wallets such as MetaMask and Coinbase – as well as offer instant feedback and 24/7 customer support.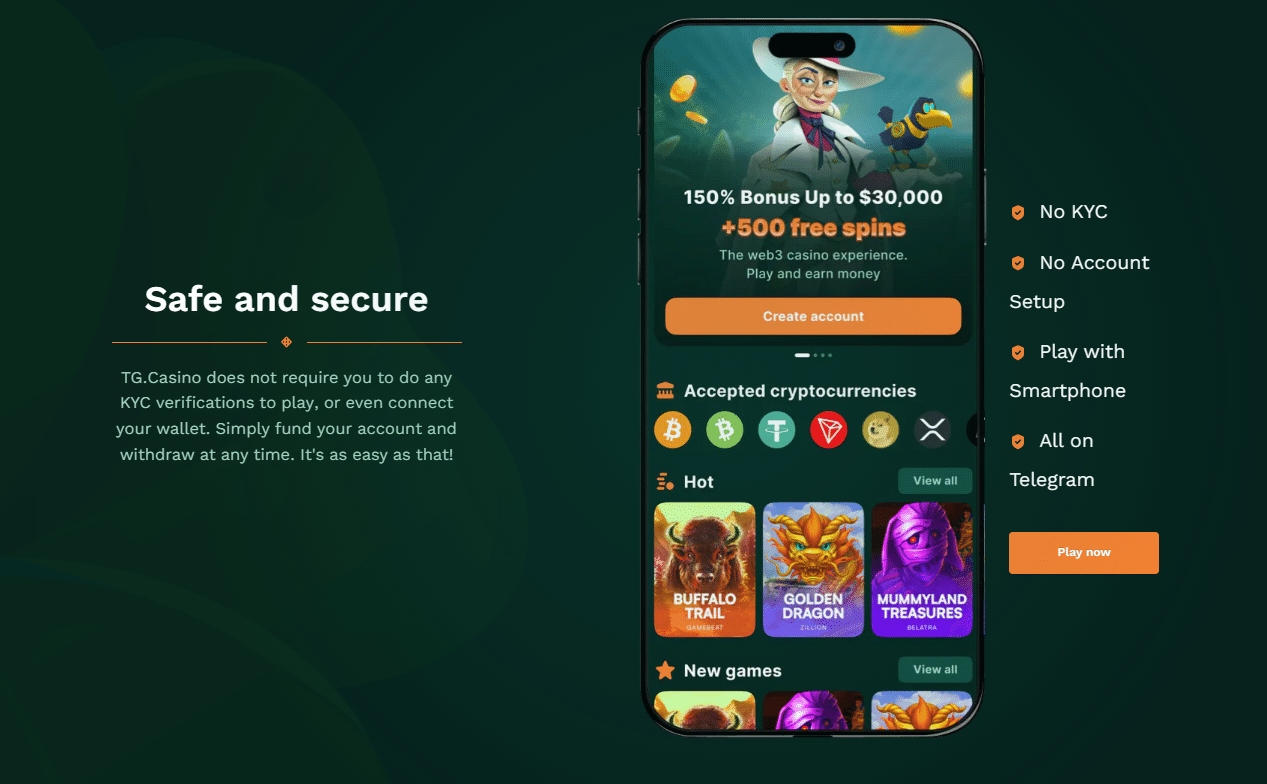 The casino itself will eventually house thousands of provably fair games from some of the leading developers in the space, as well as offer virtual and live tables for casino classics such as poker, blackjack and roulette.
TG.Casino will also offer a sportsbook, with thousands of pre-game and in-play markets on some of the top sporting competitions around, with players able to gamble with a variety of cryptos. Deposits and withdrawals will be near-instant and come with no fees, with just a $1 minimum.
New players can also take advantage of an enticing welcome bonus of 200% up to 10 ETH.
The casino has a license from the Curacao eGaming Commission and follows responsible gambling and Anti-Money Laundering Policies. It will not be immediately available in some countries, although can be accessed via a VPN.
| | |
| --- | --- |
| Presale Started | 21 September 2023 |
| Purchase Methods | BNB, ETH, USDT |
| Chain | Ethereum |
| Hard Cap | $5 million |
| Min Investment | 100 $TGC tokens |
| Max Investment | None |
Staking and Profit-Sharing
$TGC tokens have excellent utility within the ecosystem and not just because they are stake-to-earn and allow holders to generate a huge annual percentage yield – which currently sits over 200%.
As one of the best crypto staking platforms, TG.Casino incentivizes holding and can help tokens keep their value over the long term.

As well as the incredible APY, stakers will also further benefit from the profit-sharing system.
TG.Casino will periodically and systematically use casino profits to buy back $TGC tokens and then distribute tokens to those who are staking.
60% of purchased tokens will be distributed to those staking as part of a profit-sharing rewards system
40% will be sent to a burn address that makes the supply deflationary.
As has been seen with other deflationary coins such as Maker, which has soared in price since its own token buyback was announced, token burns can have a huge effect on the value of a token and a project.
As the supply is decreased, individual tokens become more scarce and, therefore, more valuable.
TG.Casino Tokenomics & Presale
TG.Casino Token has a max supply of 100 million tokens, with 40 million of those available during the presale for a live price of $0.165.
A further 20% has been reserved for the liquidity pool on decentralized exchanges and another 20% is earmarked for staking rewards.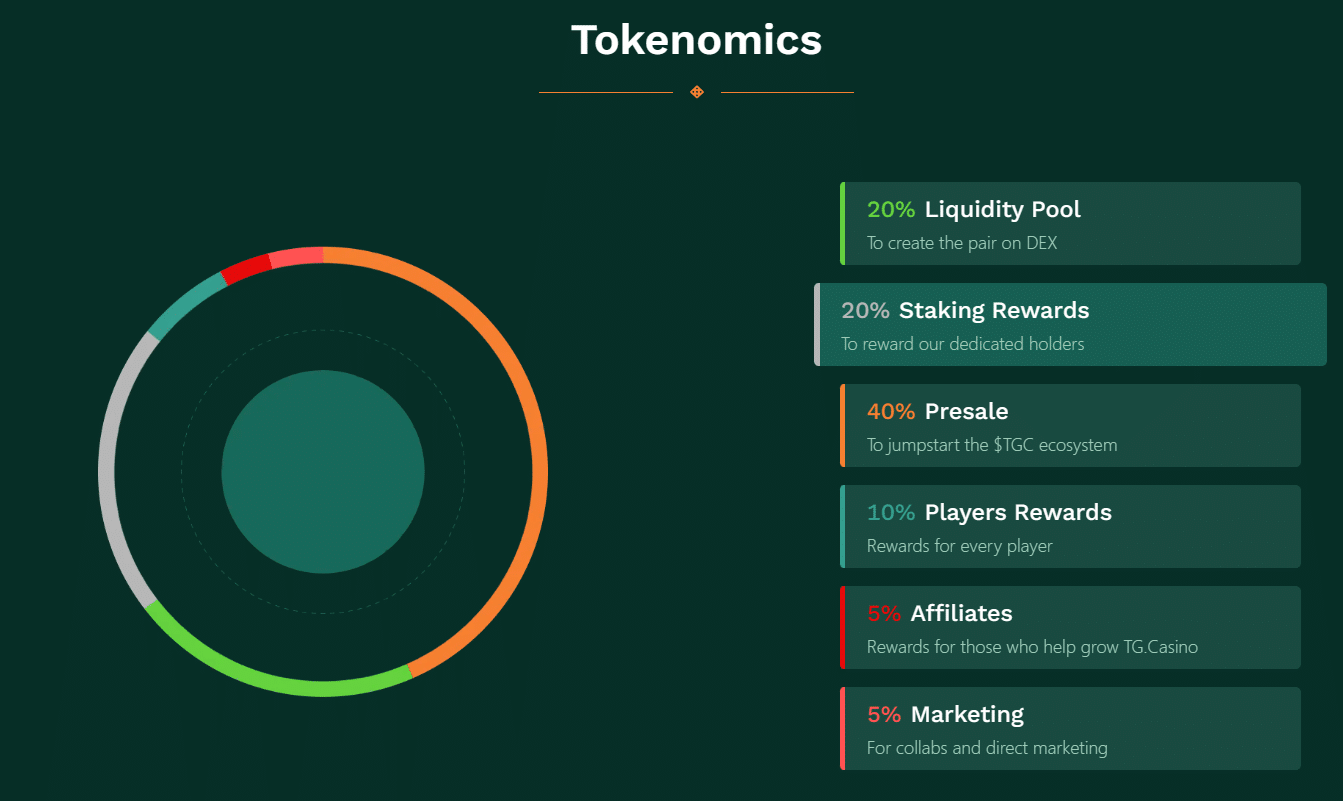 A further 10% is set to be allocated for player rewards and a final 10% is split between affiliates (5%) and the marketing budget (5%).
Why Buy TG.Casino Token During the Presale?
TG.Casino Token quickly caught the attention of whales after its launch, raising $2.88 million in just a few months.
We rate $TGC tokens as among the best crypto presales to buy for the following reasons, which have been outlined in more detail above:
Staking Rewards: At the time of writing, presale investors can purchase and immediately stake tokens and earn an APY over 200%. Staking incentivizes holding and also allows users to generate tokens on a daily basis.
Profit Sharing: Those staking can also earn a share of daily casino profits as part of a profit-sharing rewards system that will see the casino buy back tokens and then distribute them. This further incentivizes holding and reduces selling pressure.
Token Burn: Tokens that have been purchased back will also be sent to a burn wallet making the project deflationary. Token burns can have a huge impact on price action as the supply decreases and the individual value of each token increases.
Whale Attention: TG.Casino Token has already caught the attention of several crypto whales, which is usually a sign that more are on the way.
TG.Casino Token Price Prediction – What is $TGC's Potential?
TG.Casino is an exciting upcoming crypto casino that is joining one of the fastest-growing corners of Web3.
Crypto gambling has exploded in 2023, with the likes of Rollbit and Hamsters leading the charge.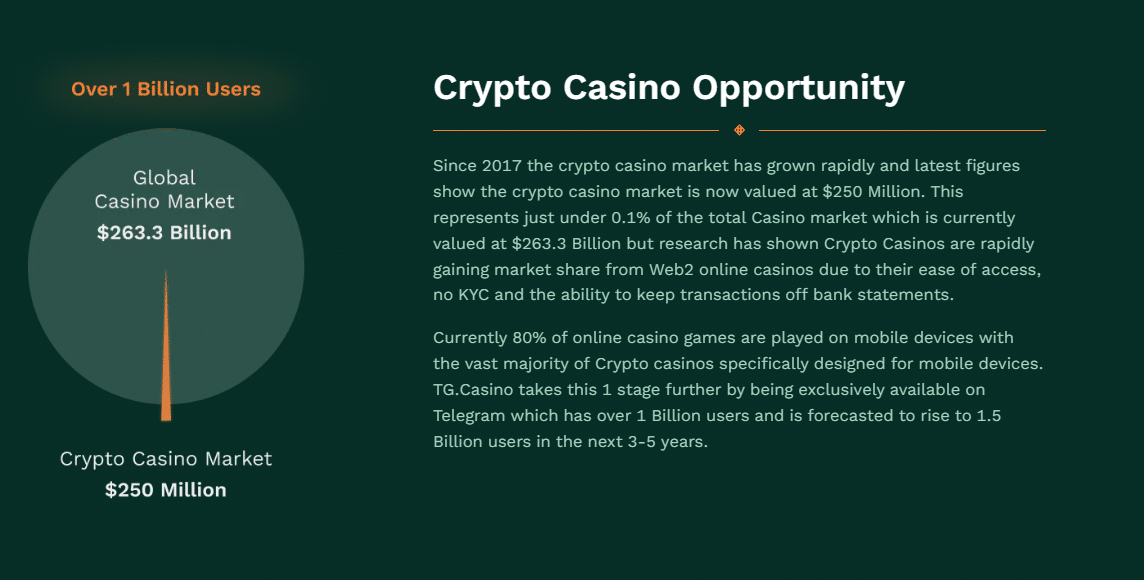 However, despite the explosion in activitity, it is still minute compared to the overall gambling market – with the crypto casino scene estimated to be worth about $250 million of a $260 billion industry, or less than 0.1% of the market.
That is expected to drastically change in the next five years with the player pool predicted to grow from 1 billion to 1.5 billion. TG.Casino has put itself at the forefront of that growth with its innovative use of Telegram, which enhances decentralization, security and anonymity for players.
$TGC tokens also have several major benefits because of its utility as a stake-to-earn coin, profit-sharing system and deflationary tokenomics.
All those features encourage and incentivize holding onto the token in the long-term and they reward those who purchase and stake the token.
Therefore, $TGC could become one of the next cryptos to explode over the coming years.
The token is currently priced at $0.165 during the presale but according to most TG.Casino token price predictions within five years that could drastically improve – a conservative prediction would see $TGC reaching 10x gains, or $1.25 in five years.
Interested parties should join the TG.Casino Telegram group for more info and the latest news on the project.
Conclusion
TG.Casino is an exciting upcoming crypto casino that harnesses the power of Telegram to deliver secure, fast and anonymous crypto gambling and an enhanced user experience over its rivals.
TGC tokens are a huge part of the project and will allow users to earn more tokens not only through a robust staking system – which is currently offering over 200% APY – but through its profit-sharing system that will further reward those who stake tokens and incentivize staking. TG.Casino Token also has a deflationary mechanism through its token burn that should help the price increase further.
The casino itself will also offer a huge array of slots, classic casino games and a sportsbook, as well as no fees, low deposit and withdrawal amounts and an enticing welcome bonus of 200% up to 10 ETH.
References
FAQs
What is the market cap of $TGC?