Looking to invest in the crypto market but not sure where to start? There are thousands of tokens to choose from, ranging from new projects with a small market cap to large-scale cryptos like Bitcoin and Dogecoin.
In this guide, we explain how to buy tokens in 2023. We also provide beginners with the required knowledge to choose the best tokens for long-term gains.
How to Buy Tokens – Quick Guide
To get the ball rolling, check out the quick guide below on how to buy tokens:
Step 1: Decide which tokens to buy – First, choose which tokens to buy for the crypto investment portfolio. AiDoge ($AI) is a trending crypto token with huge upside potential. This project is running a presale campaign offering its $AI tokens at a discount.
Step 2: Set up a crypto wallet – Next, get a crypto wallet. This is required to safely store crypto and buy tokens like AiDoge. The best crypto wallet for beginners is Metamask – which is available as a browser extension and mobile app.
Step 3: Obtain crypto to exchange the tokens for $AI – Presales like AiDoge accept popular tokens like Ethereum, Binance Coin, or USDT. As such, the next step is to buy Ethereum/BNB/USDT to swap the tokens for AiDoge tokens. The best crypto exchange for this purpose is eToro. After buying any of those cryptos, transfer the tokens to the Metamask wallet. Alternatively, using your bank card, you can buy the $AI tokens directly from the presale website.
Step 4: Buy and claim AiDoge tokens: Now visit the AiDoge website to access the presale. Click on the relevant tab depending on your crypto (BNB/ETH/USDT). Then click on 'Buy Now' to connect your wallet. Once the AiDoge presale has finished, return to the website to claim the tokens.
First-time investors can read on for a more detailed guide on how to buy tokens in 2023.
How to Buy ICO Tokens – Step-by-Step Tutorial
When learning how to buy tokens, beginners should know that the process depends on whether the crypto is currently listed on an exchange.
If it is, then the investor will open an account with a crypto exchange to complete the investment process.
Alternatively, new cryptocurrencies like AiDoge will hold a presale campaign before being listed.
This enables investors to buy tokens at the lowest price possible before they are sold to the public.
This is otherwise known as an ICO (initial coin offering) and is similar to an IPO (initial public offering).
This section explains how to buy ICO tokens via one of the best crypto ICOs of 2023 – AiDoge.
Step 1: Get a Crypto Wallet
Before buying tokens, investors will need to get a crypto wallet. The best crypto wallets are free to download and are compatible with multiple device types.
We find that the best option for beginners is MetaMask. While MetaMask can be downloaded onto smartphones via an app, we prefer using the browser extension for Chrome, Firefox, or Edge.
This enables beginners to buy tokens on a laptop or desktop computer – which is more seamless than a smartphone.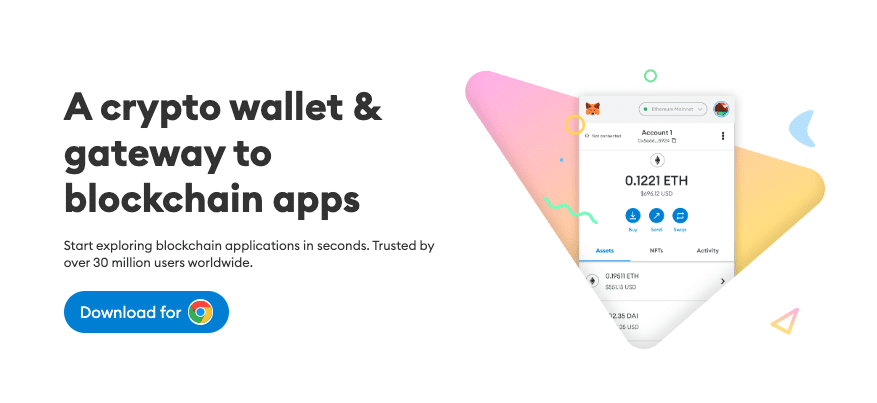 Go to the MetaMask website, choose the preferred device type, and download the wallet. Next, open MetaMask and choose a strong password.
Finally, write down the 12-word security phrase that MetaMask displays. This needs to be written down in the correct order. Never share this with anyone; it provides access to the wallet from any device and location.
Step 2: Get Tokens
We mentioned above that the best crypto presales accept popular tokens like Ethereum as payment. As such, the next step is to buy Ethereum from a regulated crypto exchange.
Not sure where to buy tokens? eToro is the best crypto exchange in the market. Not only is the exchange user-friendly but it is regulated by the FCA, FINRA, ASIC, and CySEC. Moreover, eToro accepts multiple payment methods, including debit/credit cards and PayPal.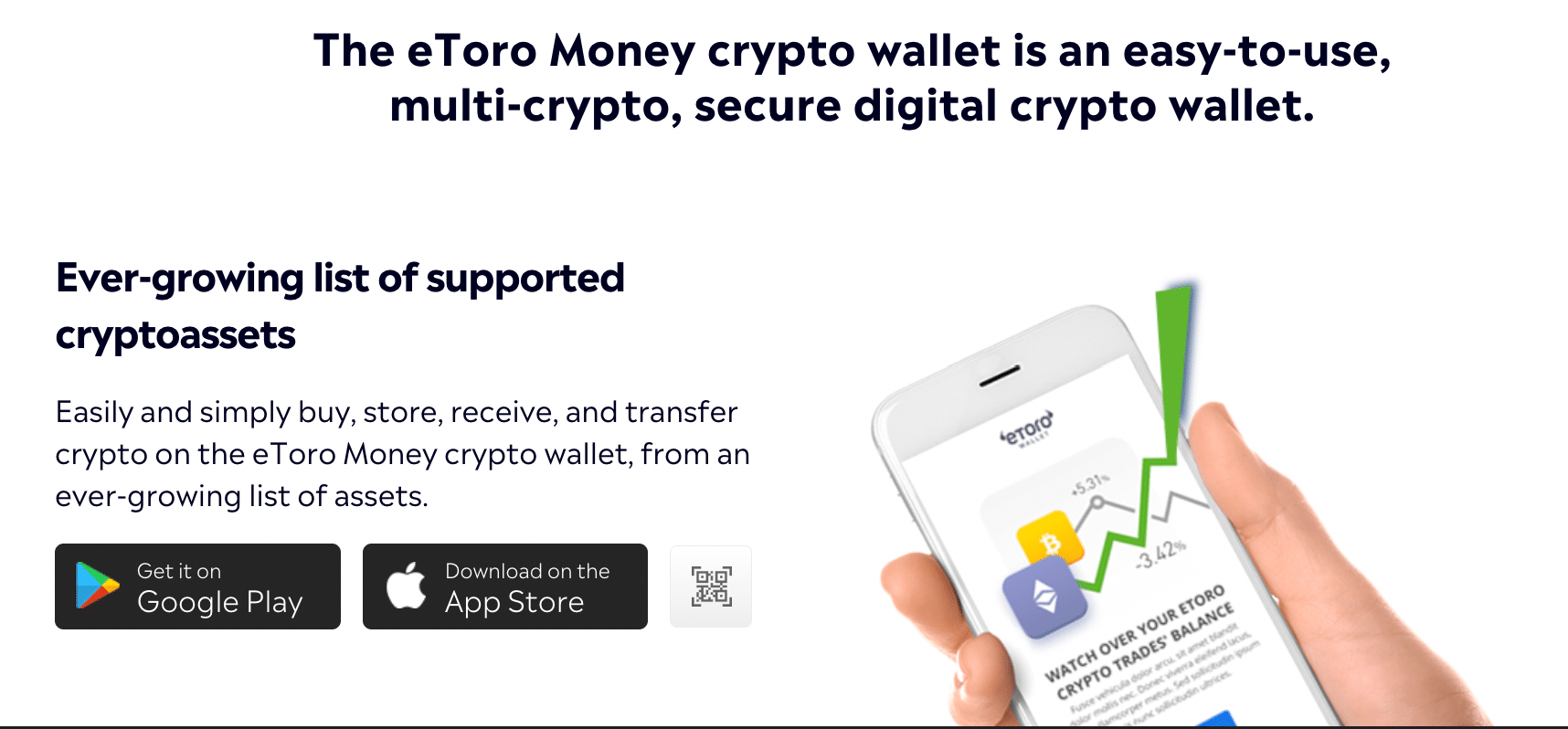 Visit eToro, open an account, and make a deposit of $10 or more. Then, search for 'Ethereum', and complete the purchase.
Cryptoassets are a highly volatile unregulated investment product.
Step 3: Transfer Ethereum to Metamask
Next, transfer Ethereum tokens to the MetaMask wallet.
eToro will ask for the wallet address to know where to send the tokens.
Open MetaMask and click on the 'Assets' button.
At the top of the screen, copy the wallet address listed below 'Account 1'.
Then paste the address into eToro and complete the transfer.
Wait for the Ethereum tokens to arrive in the MetaMask wallet, which usually takes 2-3 minutes.
Step 4: Connect MetaMask to AiDoge
The investor should now have Ethereum/BNB/USDT tokens in their MetaMask wallet. The next step is to visit the AiDoge presale website.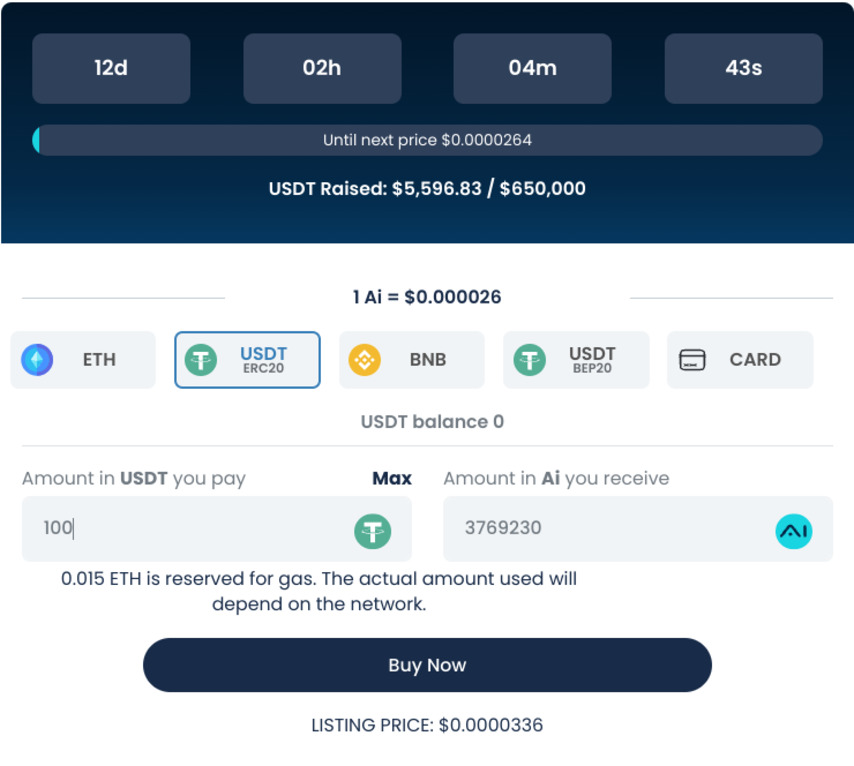 Then, click on the 'Buy Now' button and select 'MetaMask.' Look out for a notification that pops up from the MetaMask browser extension or mobile app. This will ask for authorization to connect to the AiDoge presale.
Step 5: Exchange Tokens for AiDoge
The final part of the process is to buy the AiDoge tokens with Ethereum. Type in the number of Ethereum/BNB/USDT tokens to use for the purchase. The equivalent number of AiDoge tokens will update.
Confirm the order and then open the MetaMask wallet to authorize the transfer. MetaMask will then send ETH/BNB/USDT to the AiDoge presale wallet.
After the presale finishes, return to the AiDoge website and claim the tokens. The tokens will then be sent to MetaMask for safekeeping.
How to Buy Tokens on an Exchange
Now that we have explained how to buy tokens via a presale like AiDoge, we will turn our attention to exchange-listed cryptocurrencies.
Put simply, being listed on an exchange allows buyers and sellers to trade the respective token. This is where the best cryptos to buy experience the greatest profit potential.
In this section, we will explain how to buy tokens on an exchange – using Tamadoge (TAMA) as an example. Tamadoge is one of the best crypto games in the market, and its native TAMA token has huge upside potential.
Step 1: Open a Crypto Exchange Account
The first step is to open an account with a crypto exchange that lists Tamadoge. Although Tamadoge is one of the best emerging cryptos, it is already listed on over a dozen exchanges.
Overall, OKX is the best exchange to buy Tamadoge. Not only is it a reputable exchange with huge levels of liquidity but it also accepts traditional payment methods. This includes debit/credit cards and e-wallets, making the deposit process seamless for beginners.
Visit the OKX website and open an account. This requires some basic personal information and contact details. OKX will ask for a copy of a government-issued ID, such as a driver's license or passport. This is to ensure OKX complies with anti-money laundering regulations.
Step 2: Make a Deposit
Now that the OKX account has been opened and verified, the next step is to make a deposit. The easiest option is to buy Tether with a debit/credit card.
This is because the payment will be processed instantly and Tamadoge trades against Tether. Moreover, debit/credit card payments can be made in 94 different currencies, and limits range from $1 to $100,000.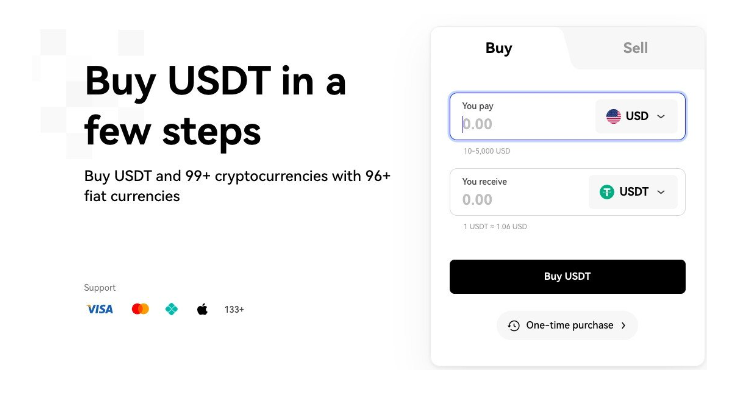 This means the investor can easily instantly swap Tether for Tamadoge after completing the payment.
Investors can also deposit funds via the P2P section of OKX. This supports even more payments, including bank transfers and e-wallets.
Step 3: Search for Tamadoge
The investor should have Tether in their verified OKX account at this stage. The next step is to find Tamadoge on the OKX platform.
Hover over the 'Trade' button at the top of the page and click on 'Basic Trading'. Then, on the left-hand side of the screen, type in 'Tamadoge'. Click on 'TAMA/USDT' to proceed.
Step 4: Swap Tether for Tamadoge
The final step is to swap Tether for Tamadoge. Scroll down and look for the order box beneath the pricing chart. Then, change the order to a 'Market' from 'Limit'. This means that the Tether to Tamadoge trade will be executed instantly at the next available price.
In the 'Amount' box, move the slider to 100%. This will swap 100% of the Tether balance for Tamadoge. Finally, confirm the order, and OKX will complete the trade. The Tamadoge tokens can then be found in the OKX wallet.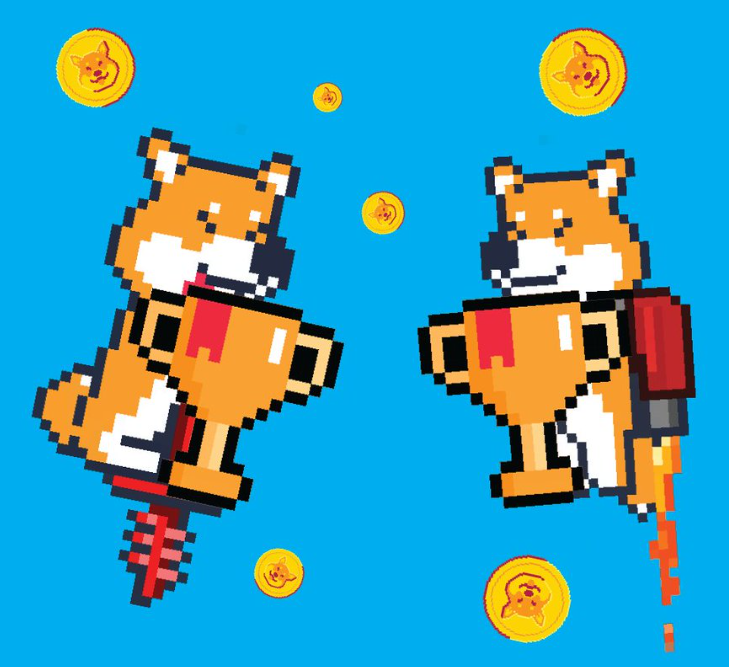 Some investors prefer to store tokens in a private wallet for added security. A great option in this regard is to transfer the tokens to Metamask. Tamadoge is built on top of the Ethereum network, so they can be transferred to the primary Metamask wallet address.
What are Crypto Tokens?
Crypto tokens are digital assets that are built on top of a blockchain network. For example, Ethereum is the name of the blockchain while ETH is its native token. That said, Ethereum and ETH are used interchangeably.
This is the case with most other cryptos. For example, while Ripple is the blockchain and XRP is the token, both terms are used when describing the project.
Crypto tokens usually serve a purpose within the blockchain network or ecosystem.
In another example, TAMA is the utility token of the Tamadoge ecosystem, which runs play-to-earn games with tokenized rewards. Some tokens, however, serve no purpose other than for financial speculation. These tokens are known as 'meme coins' or 'shit coins'.
Nonetheless, tokens will trade on crypto exchanges, enabling people to buy and sell them. The value of tokens will rise and fall just like stocks and ETFs. This means that the best crypto tokens can witness unprecedented growth, rewarding early investors.
Are Tokens the Same as Cryptocurrencies?
The terms cryptocurrencies, coins, and tokens are typically used interchangeably. But there is a key distinction between these terms, which we will explain below.
Cryptocurrencies
Cryptocurrencies are the native digital asset of a blockchain ecosystem. This can comprise both coins and tokens, which we cover shortly.
Cryptocurrencies are intangible, meaning they only exist in digital form. The first cryptocurrency to enter the market was Bitcoin in 2009. Bitcoin remains the largest and most popular cryptocurrency of choice.
Cryptocurrencies trade on exchanges just like stocks. This means that the value of cryptocurrencies will rise and fall based on market forces.
Coins
Coins refer to cryptocurrencies that operate on their own native blockchain network. Common examples include Bitcoin (BTC), Ethereum (ETH), Cardano (ADA), Solana (SOL), and Polygon (MATIC).
These are generally the most valuable cryptocurrencies as they have proprietary blockchains.
Tokens
Unlike coins, tokens do not operate on their own blockchain network. Instead, they are built on top of the other blockchain standards.
For example, AiDoge and Tamadoge function on the Ethereum network. This means that both cryptocurrencies are tokens rather than coins.
There are thousands of other cryptocurrencies built on Ethereum, all of which are known as ERC-20 tokens.
Should You Buy Tokens?
Cryptocurrency tokens are not for the faint-hearted, nor those that do not have a tolerance for risk. That said, while tokens are risky, the upside potential can be unprecedented.
For example, Shiba Inu tokens – which were built on the Ethereum network in 2020, become a multi-billion dollar project in the space of a year.
It subsequently generated gains of many millions of percent for early investors.
However, the best approach when investing in crypto tokens is to diversify. This means buying many different tokens and spreading the investment funds sensibly. After all, not all crypto tokens are a success. On the contrary, some fail miserably.
Another thing to note is that crypto tokens generally perform well during a bull market. This happens when Bitcoin and most other coins witness high demand for investors. This invariably pushes the value of the broader crypto market up.
As such, with the next crypto bull run imminent, seasoned investors are now turning their attention to presales like AiDoge.
What are the Top Tokens to Buy Now?
In this section, we discuss some of the best crypto tokens to buy in today's market, according to analysts.
1. AiDoge – Meme Project that Uses Generative AI
AiDoge is a promising crypto that combines the power of artificial intelligence with the widespread appeal of memes. As an AI-powered meme generator, AiDoge crafts entertaining and context-sensitive content based on user prompts.
At press time, the starting price for a single $AI token is $0.0010000268 in stage 3, with the price to increase through 20 stages – almost $1.5 million has been raised in just 10 days since it launched.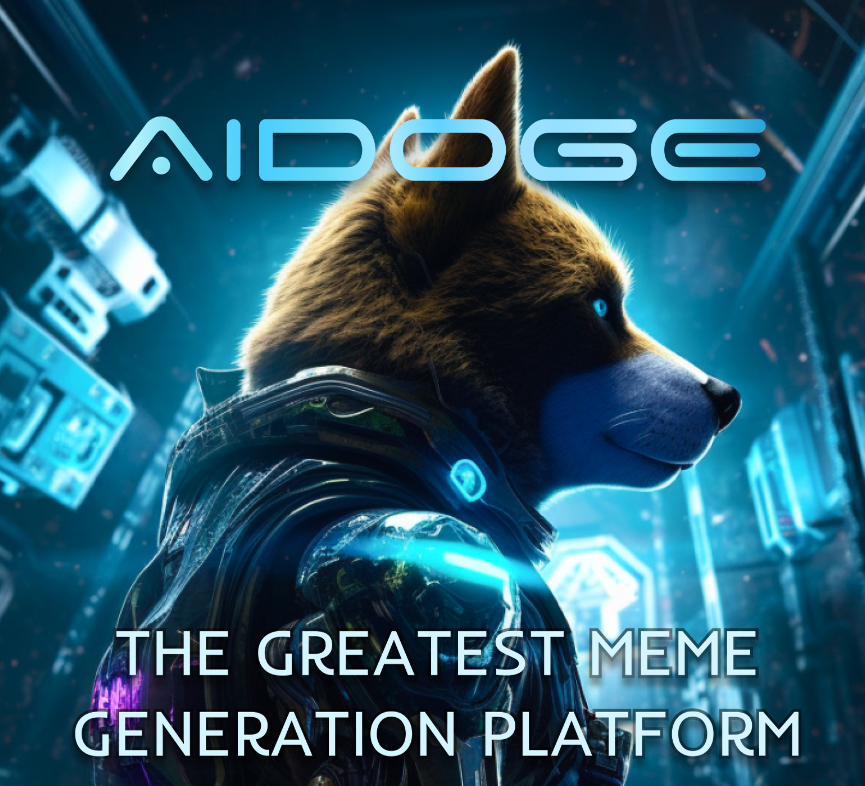 Key components of the AiDoge platform include the AI-driven meme generator, text-based prompts, and the native AI token. Leveraging advanced AI algorithms, the meme generator assesses user input and creates amusing and relevant memes. This approach eliminates the need for prior design knowledge or creativity, making meme creation accessible to all.
As the AiDoge whitepaper outlines, the $AI token is a primary currency within the platform and plays a crucial role in its ecosystem. Users can contribute to the platform's long-term success by purchasing meme-generation credits using AI tokens. Furthermore, the AI tokens foster community engagement through staking rewards, voting privileges, and incentives for content creation.
Due to the lack of price history of AiDoge and other presale tokens, investing in them is riskier than investing in a more established crypto. They also have the potential for substantial gains, as was shown by earlier presale tokens like Tamadoge, which yielded massive returns for some initial investors. It is crucial to research presale tokens thoroughly to determine if they are a suitable addition to your investment portfolio.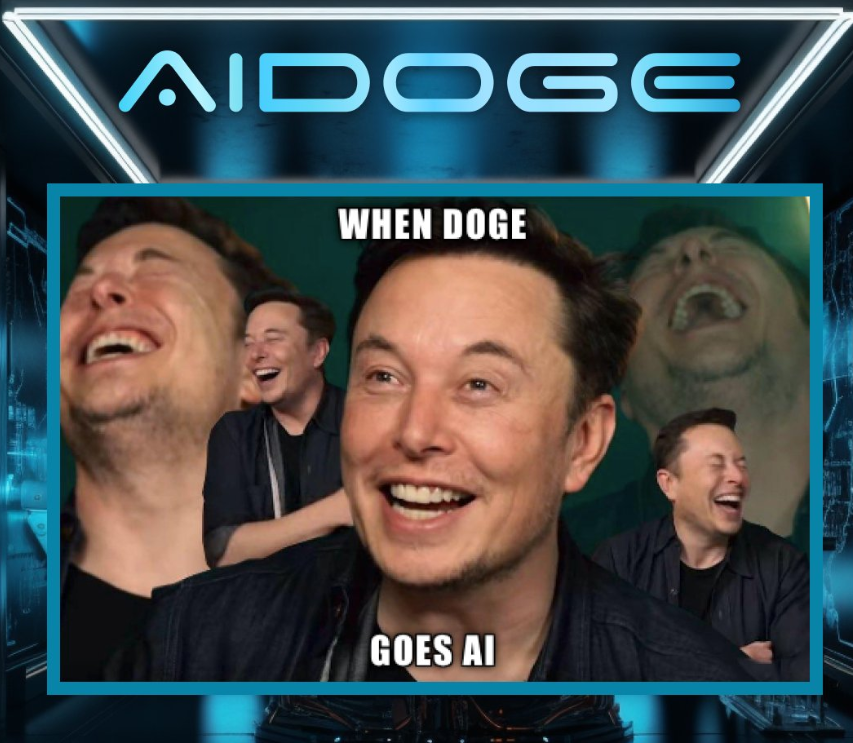 Staking AI tokens are a vital aspect of the AiDoge ecosystem, enabling users to receive daily credit rewards proportional to the number of staked tokens. Stakers also have a say in the platform's governance and gain early access to new and experimental features. AiDoge employs audited, secure staking contracts to protect staked tokens and minimize the risk of fraud.
The AiDoge platform also features a public wall where users can share their memes. Users can help promote viral memes and increase the platform's visibility by upvoting or downvoting content. The platform rewards users with AI tokens for creating popular memes, encouraging them to contribute to the community and showcase their creations.
To stay updated with the latest information, users can join the AiDoge Telegram Group.
| | |
| --- | --- |
| Hard Cap | $14,900,000 |
| Total Tokens | 1 trillion |
| Tokens available in presale | 500 billion |
| Blockchain | Ethereum Network |
| Token type | ERC-20 |
| Minimum Purchase | 100 $AI tokens |
| Purchase with | USDT, ETH, BNB, Card |
2. Launchpad XYZ – Portal to Drive Mass Adoption of Web3
Launchpad XYZ aims to help investors navigate the dynamic Web3 environment and make well-informed decisions. It features a sophisticated dashboard offering unique insights such as crypto market sentiment.
The LPX token's presale price on Launchpad XYZ is $0.035 USDT, with an expected listing price of $0.07 USDT. Investors interested in acquiring Launchpad XYZ tokens can refer to a detailed guide that explains the process.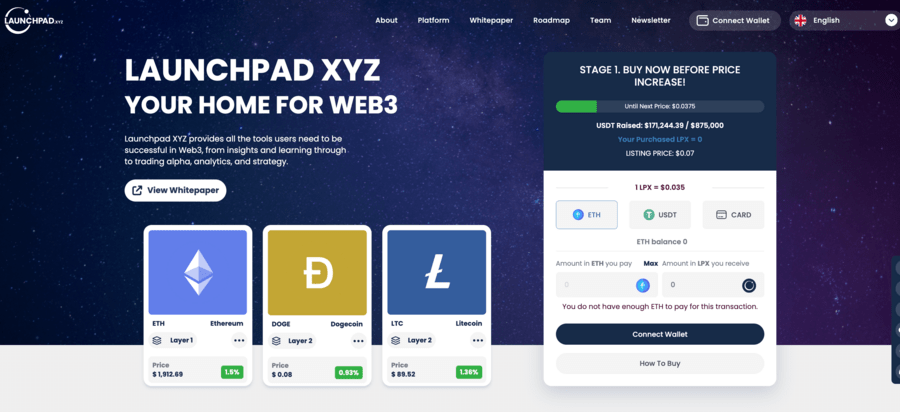 As per the Launchpad XYZ whitepaper, the project streamlines Web 3.0 investments for novice and seasoned investors by providing the trustworthy information, insights, and market sentiment. The platform promotes self-reliance in users, encouraging them to trust their judgment rather than solely relying on others' opinions when making financial investments.
A notable feature of Launchpad XYZ that aids investors in making well-informed decisions is a notification system that alerts users about forthcoming crypto projects, NFT launches, play-to-earn game releases, and essential project details.
Before LPX tokens become available on public DEXs and CEXs, they can be purchased at a discount on the platform itself. While there is no assurance of profit when investing in a crypto platform, certain altcoins, such as Tamadoge, have exhibited impressive returns.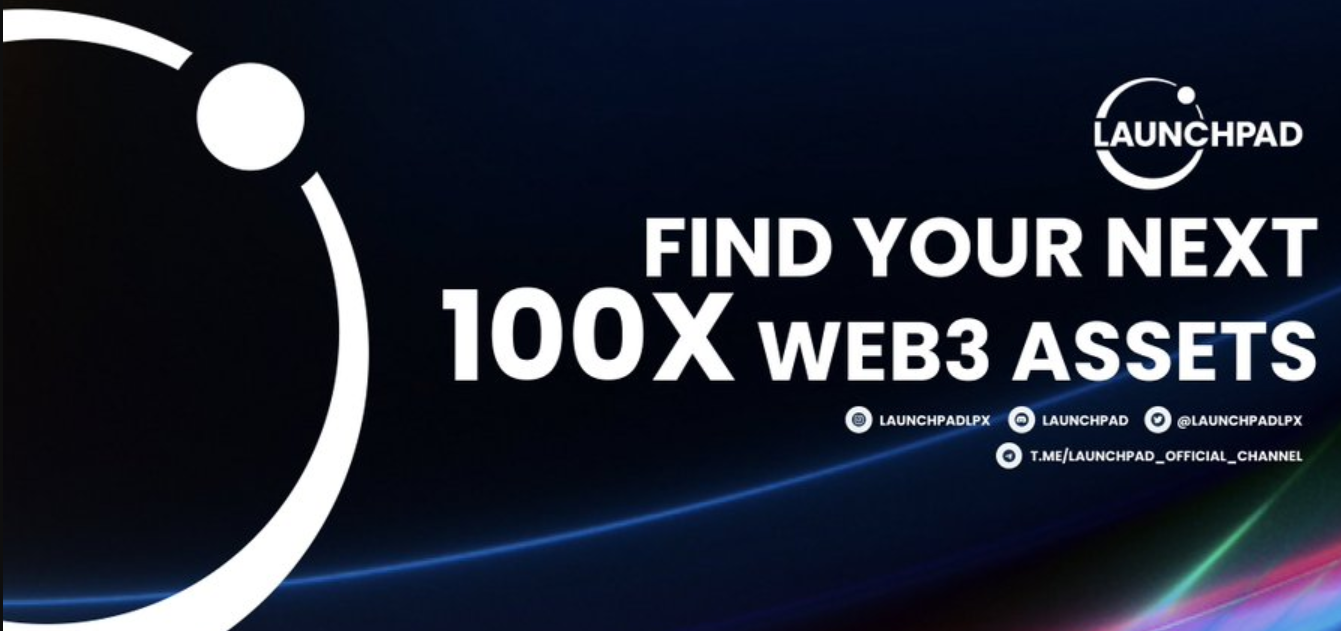 The native LPX token on Launchpad XYZ can be utilized in various ways. Staking at least 10,000 LPX grants users early access to beta versions of top P2E games, discounts on products and services from Launchpad XYZ's partners, and other benefits. To access these premium features, users must stake at least 10,000 LPX for a 90-day period, showcasing the token's utility.
The platform offers essential metrics such as liquidity, analyst opinions, custom indicators, and arbitrage opportunities for numerous utility tokens.
Additionally, Launchpad XYZ provides real-time data on Web 3.0 investments, helping users discover unannounced opportunities.
For those interested in staying updated, joining the Launchpad XYZ Telegram channel is the best way to receive the latest information.
| | |
| --- | --- |
| Hard Cap | $12,500,000 |
| Total Tokens | 1 billion |
| Tokens available in presale | 250 million |
| Blockchain | Ethereum Network |
| Token type | ERC-20 |
| Minimum Purchase | 100 tokens |
| Purchase with | USDT, ETH, BNB, Card |
3. Ecoterra – Project that Offers Recycle-to-Earn Rewards
Ecoterra is also one of the best tokens to consider buying. This is another new cryptocurrency project that is offering its native token, ECOTERRA, via a presale launch. The project is developing an app that will promote recycling.
This Recycle2Earn concept will reward people for recycling their unwanted goods. This includes bottles, cans, packages, papers, clothing, electronics, and more. Here's how it works; users will open the Ecoterra app to find their nearest reverse vending machines (RVM).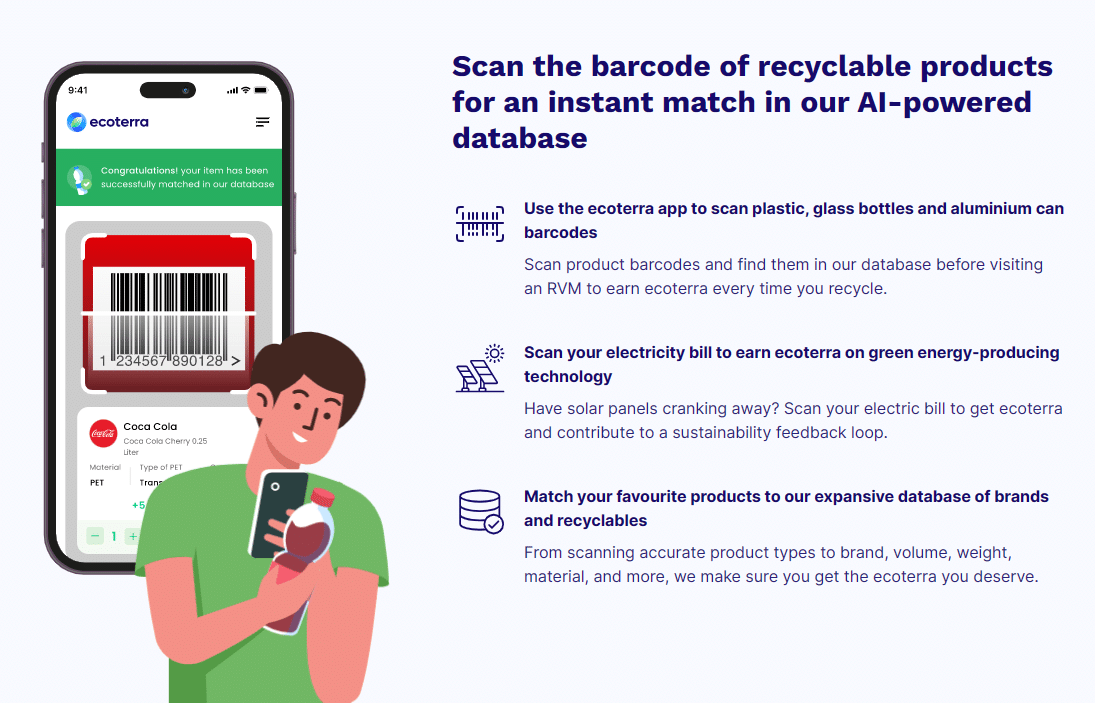 The user will then scan the recycled items with the Ecoterra app and deposit them into the RVM. The user will then be rewarded with ECOTERRA tokens. ECOTERRA tokens are selling fast, with the presale already raising nearly $3 million. Discounted prices are still available, so investors will need to hurry to get the best price possible.
| | |
| --- | --- |
| Hard Cap | $6.7 million |
| Total Tokens | 2 billion |
| Tokens available in presale | 1 billion |
| Blockchain | Ethereum Network |
| Token type | ERC-20 |
| Minimum Purchase | $10 |
| Purchase with | USDT, ETH, Card |
4. yPredict – AI-Powered Platform to Help Crypto Traders
yPredict is a forthcoming project offering advanced crypto analytics, research solutions, and a streamlined trading interface. The platform leverages AI technologies such as Natural Language Processing (NLP) and works with AI experts to deliver predictive models.
During the presale stage, a $YPRED token is available for $0.05 USDT. In the upcoming phase, tokens will be sold for $0.07 USDT. Moreover, the listing price is $0.12 USDT, making it lucrative for buyers to buy it at the current presale price.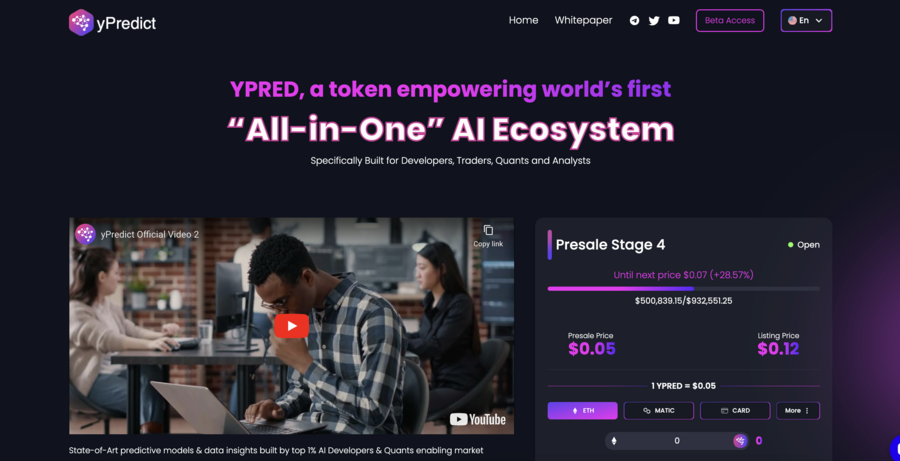 Financial mathematicians and AI specialists have joined forces to develop yPredict's predictive models, catering to the rapidly expanding algorithmic trading market, anticipated to grow by over 12% annually until 2030.
These models are utilized to predict market directions and the future prices of various cryptos.
yPredict streamlines the process of analyzing multiple tokens' sentiment simultaneously, while users can benefit from the platform's automated trading signals and technical analysis. yPredict's unique pattern recognition algorithm identifies rising and falling trends when applied to charts.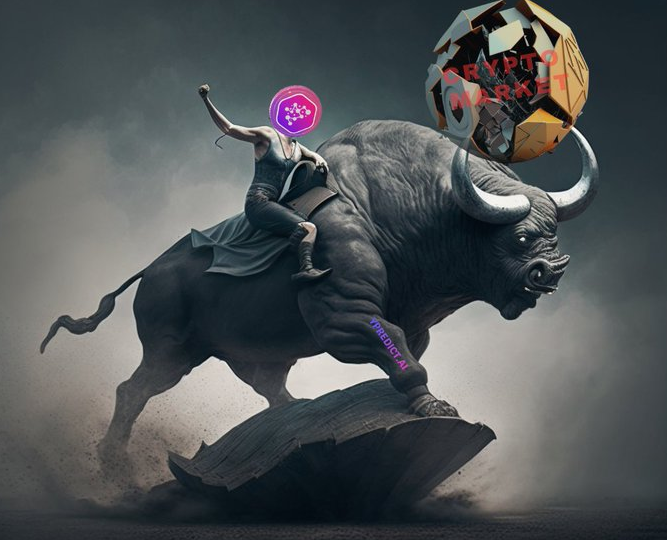 The yPredict whitepaper states that $YPRED tokens can be staked to generate passive income. Presently, token holders receive 10% of all subscription revenues.
Presale participants have access to 80% of the available tokens (up to a maximum of 1 billion) with a $6.5 million hard cap and a 50% TGE unlock on tokens purchased during the presale.
yPredict is developed on the fast and efficient Polygon blockchain by a doxxed and KYC-verified team, and Coinsult has audited the token smart contract.
To stay informed on the latest developments, you can join the yPredict Telegram channel.
| | |
| --- | --- |
| Hard Cap | $6.5 million |
| Total Tokens | 100 million |
| Tokens available in presale | 80 million |
| Blockchain | Polygon |
| Token type | ERC-20 |
| Minimum Purchase | 200 YPRED |
| Purchase with | MATIC, USDT, ETH, Card |
5. DeeLance – Platform to Transform the Freelance Economy
DeeLance is also worth considering when searching for the next crypto to explode. This project is building a peer-to-peer freelancing platform. It will connect clients and workers directly, removing the need for a middleman.
This will benefit mean lower fees for both clients and workers. Moreover, workers will benefit from faster and lower-cost payments, as remuneration is made in crypto tokens. We also like DeeLance for its metaverse ambitions.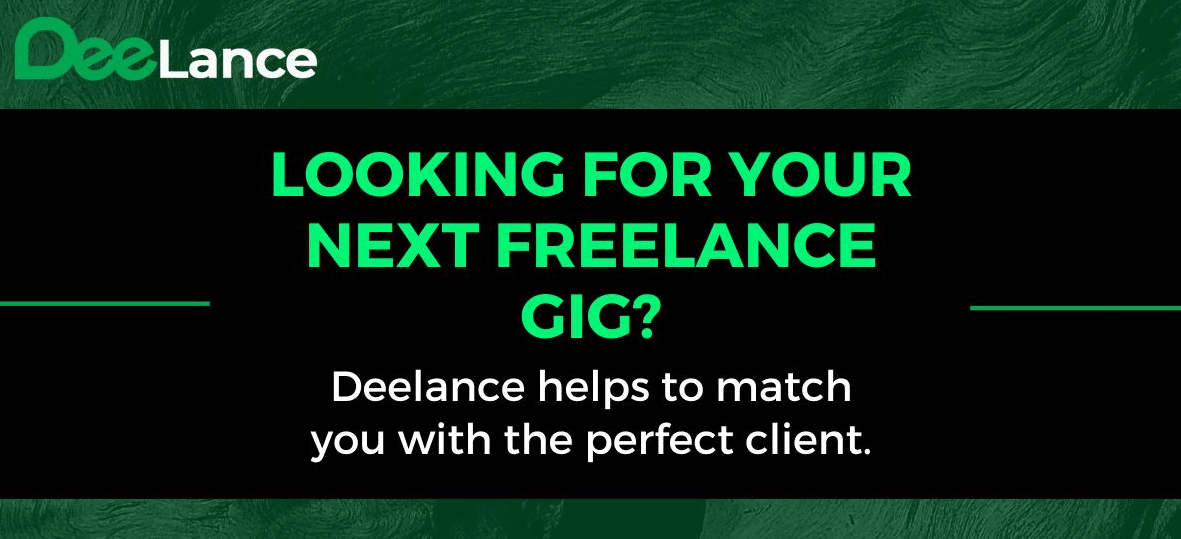 The DeeLance metaverse will allow clients and workers to connect virtually. Freelancers can even buy their own plots of land and build a virtual office. All purchases on the DeeLance platform and metaverse are made in DLANCE, the native token of the project.
DeeLance recently launched its presale campaign, enabling investors to buy DLANCE tokens at a discount. The presale is only in stage two of six, with early investors paying just $0.029 per token. By stage six, DLANCE will sell for $0.048. As such, stage one investors can lock in a 65% upside.
| | |
| --- | --- |
| Hard Cap | $6.8 million |
| Total Tokens | 1 billion |
| Tokens available in presale | 300 million |
| Blockchain | Ethereum Network |
| Token type | ERC-20 |
| Minimum Purchase | 100 tokens |
| Purchase with | USDT, ETH, BNB, Card |
6. Tamadoge – High-Utility Meme Coin and Crypto Gaming Project
Tamadoge completed its presale in late 2022. Its native token, TAMA, now trades on over a dozen exchanges. This includes tier-one exchanges like Gate.io and OKX. Tamadoge has developed a play-to-earn ecosystem that rewards gamers with TAMA tokens.
Its primary game requires players to mint and look after a virtual pet. Virtual pets can be trained and fed to improve their characteristics. The pet can then be entered into battle, enabling players to earn additional TAMA tokens.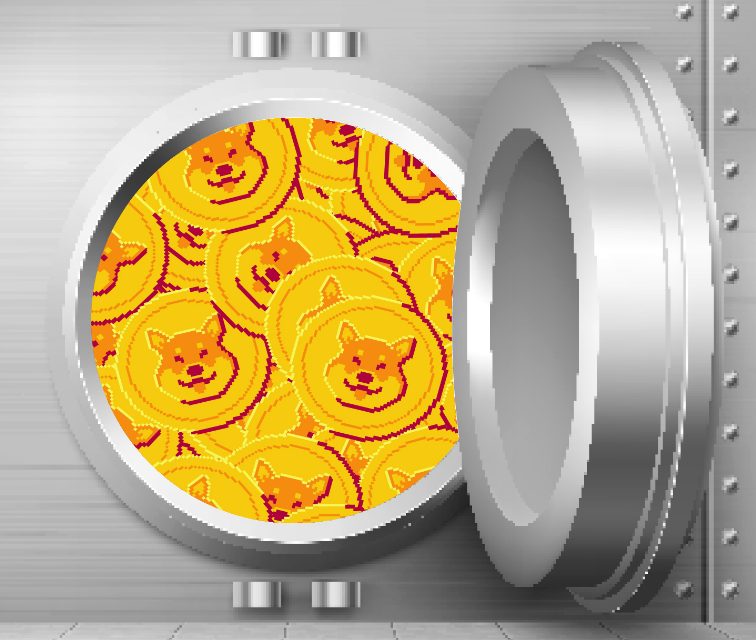 Players can also breed their virtual pets and in the future, play games in an augmented reality environment. Tamadoge has also built its own metaverse called the Tamaverse. Additionally, Tamadoge has also released a series of arcade games.
These are simple and fun to play, enabling players to earn further rewards. TAMA currently has a market cap of just $25 million. As such, it's one of the best micro-cap cryptocurrencies to buy in 2023.
7. The Sandbox – Leading Metaverse with Institutional Investment
The Sandbox is a popular metaverse project with its own native token, SAND. There are many worlds within the Sandbox metaverse, enabling users to explore and socialize. Users can also buy virtual plots of land in the Sandbox.
All land purchases are backed by NFTs. This ensures that users own the land that they buy. Users can also construct buildings on their land. There are no limitations, so users can build anything from a house and villa to a casino or hotel.

Due to its rising popularity, some plots of land in the Sandbox have sold for over a million dollars. A wave of celebrities have also purchased land. This includes Snoop Dogg, who owns a mansion in the Sandbox metaverse.
All land purchases made in the Sandbox are made in SAND tokens. The project currently has a market cap of just under $1 billion. During the previous bull market, SAND tokens hit highs of over $7. The tokens have since dropped in value by over 90%.
Cryptoassets are a highly volatile unregulated investment product.
How to Find the Best Tokens to Buy
There are more than 24,000 tokens listed on CoinMarketCap. This makes it increasingly difficult to know which tokens to buy.
Here are some considerations to make when learning how to buy crypto tokens:
Presales: Investors seeking the largest long-term gains will often target presales. As noted earlier, these new projects offer their native token to early investors – usually at a discount. The best crypto presales include AiDoge, Launchpad XYZ, Ecoterra, and Deelance.
Micro-Cap Tokens: Growth investors will also search for micro-cap tokens. This is because they offer a much higher upside than large-cap cryptos like Dogecoin, Ethereum, and Cardano. One of the best micro-cap tokens to consider is Tamadoge.
Utility: The best crypto tokens have real-world utility, meaning an actual use case.
Roadmap: Another way to find the best crypto tokens is to check the project's roadmap. This outlines its core goals and when it aims to achieve them. A project that consistently meets its roadmap objectives has a great chance of long-term success.
In addition to the above, it is important to be well-diversified when investing in crypto tokens. This means spreading the risk by investing in a wide range of projects.
How to Buy Tokens Safely
The crypto investment scene often resembles the Wild West, with hackers and scammers always looking for their next victim. Therefore, it is important to stay safe when buying crypto tokens.
When exploring how to buy ICO tokens, it is important to research the project extensively. Be sure to read the whitepaper and roadmap targets.
Moreover, ensure the crypto presale has been audited by a reputable third party.
When learning how to invest in tokens that are already listed, choosing a regulated crypto exchange is paramount.
One of the best options in this regard is eToro. As noted earlier, eToro is regulated by several tier-one licensing bodies. It was first launched in 2007 and is now used by over 30 million investors.
Cryptoassets are a highly volatile unregulated investment product.
Conclusion
This beginner's guide has covered everything there is to know when buying tokens for the first time.
Building a diversified portfolio and performing in-depth due diligence are important to reduce the risks. Focusing on quality presales is another strategy to consider, especially for those targeting above-average returns.
Overall, crypto analysts believe that AiDoge could be the next token to explode. The Ai-based meme platform is offering $AI tokens at a huge discount and has already raised almost $1.5 million in just ten days since it launched.
FAQs
What is the best place to buy tokens?
How do I get digital tokens?