Looking to invest in the crypto market but not sure where to start? There are thousands of tokens to choose from, ranging from new projects with a small market cap to large-scale cryptos like Bitcoin and Dogecoin.
In this guide, we explain how to buy ICO tokens in 2023. We also provide beginners with the required knowledge to choose the best tokens for long-term gains.
How to Buy ICO Tokens – Quick Guide
To get the ball rolling, check out the quick guide below on how to buy tokens:
Step 1: Decide which tokens to buy – First, choose which tokens to buy for the crypto investment portfolio. Bitcoin ETF Token ($BTCETF) is a trending crypto token with huge upside potential. This project is running a presale campaign offering its $BTCETF tokens at a discount.
Step 2: Set up a crypto wallet – Next, get a crypto wallet. This is required to safely store crypto and buy tokens like Bitcoin ETF Token. The best crypto wallet for beginners is Metamask – which is available as a browser extension and mobile app.
Step 3: Obtain crypto to exchange the tokens for $BTCMTX – Presales like Bitcoin ETF Token accept popular tokens like ETH, BNB, MATIC, or USDT. As such, the next step is to buy one of these to swap the tokens for $BTCETF. The best crypto exchange for this purpose is eToro. After buying any of those cryptos, transfer the tokens to the Metamask wallet.
Step 4: Buy and claim $BTCETF tokens: Now visit the Bitcoin ETF Token website to access the presale. Then click on 'Buy With ETH' or similar to connect your wallet. Once the Bitcoin ETF Token presale has finished, return to the website to claim the tokens.
First-time investors can read on for a more detailed guide on how to buy tokens in 2023.
How to Buy ICO Tokens – Step-by-Step Tutorial
When learning how to buy tokens, beginners should know that the process depends on whether the crypto is currently listed on an exchange.
If it is, then the investor will open an account with a crypto exchange to complete the investment process.
Alternatively, new cryptocurrencies like Bitcoin ETF Token will hold a presale campaign before being listed.
This enables investors to buy tokens at the lowest price possible before they are sold to the public.
This is otherwise known as an ICO (initial coin offering) and is similar to an IPO (initial public offering).
This section explains how to buy ICO tokens via one of the best crypto ICOs of 2023 – Bitcoin ETF Token. We'll use ETH as the crypto of choice for this demonstration.
Step 1: Get a Crypto Wallet
Before buying tokens, investors will need to get a crypto wallet. The best crypto wallets are free to download and are compatible with multiple device types.
We find that the best option for beginners is MetaMask. While MetaMask can be downloaded onto smartphones via an app, we prefer using the browser extension for Chrome, Firefox, or Edge.
This enables beginners to buy tokens on a laptop or desktop computer – which is more seamless than a smartphone.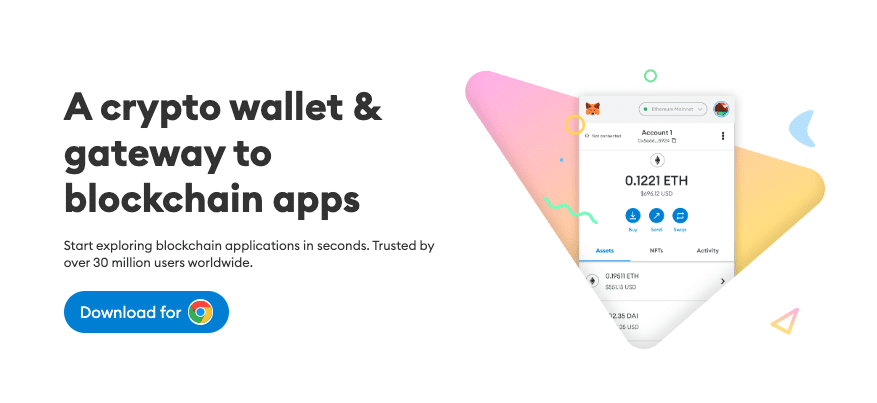 Go to the MetaMask website, choose the preferred device type, and download the wallet. Next, open MetaMask and choose a strong password.
Finally, write down the 12-word security phrase that MetaMask displays. This needs to be written down in the correct order. Never share this with anyone; it provides access to the wallet from any device and location.
Step 2: Get Tokens
We mentioned above that the best crypto presales accept popular tokens like Ethereum as payment. As such, the next step is to buy Ethereum from a regulated crypto exchange. Ethereum is the most commonly accepted crypto among presales.
Not sure where to buy tokens? eToro is the best crypto exchange in the market. Not only is the exchange user-friendly but it is regulated by the FCA, FINRA, ASIC, and CySEC. Moreover, eToro accepts multiple payment methods, including debit/credit cards and PayPal.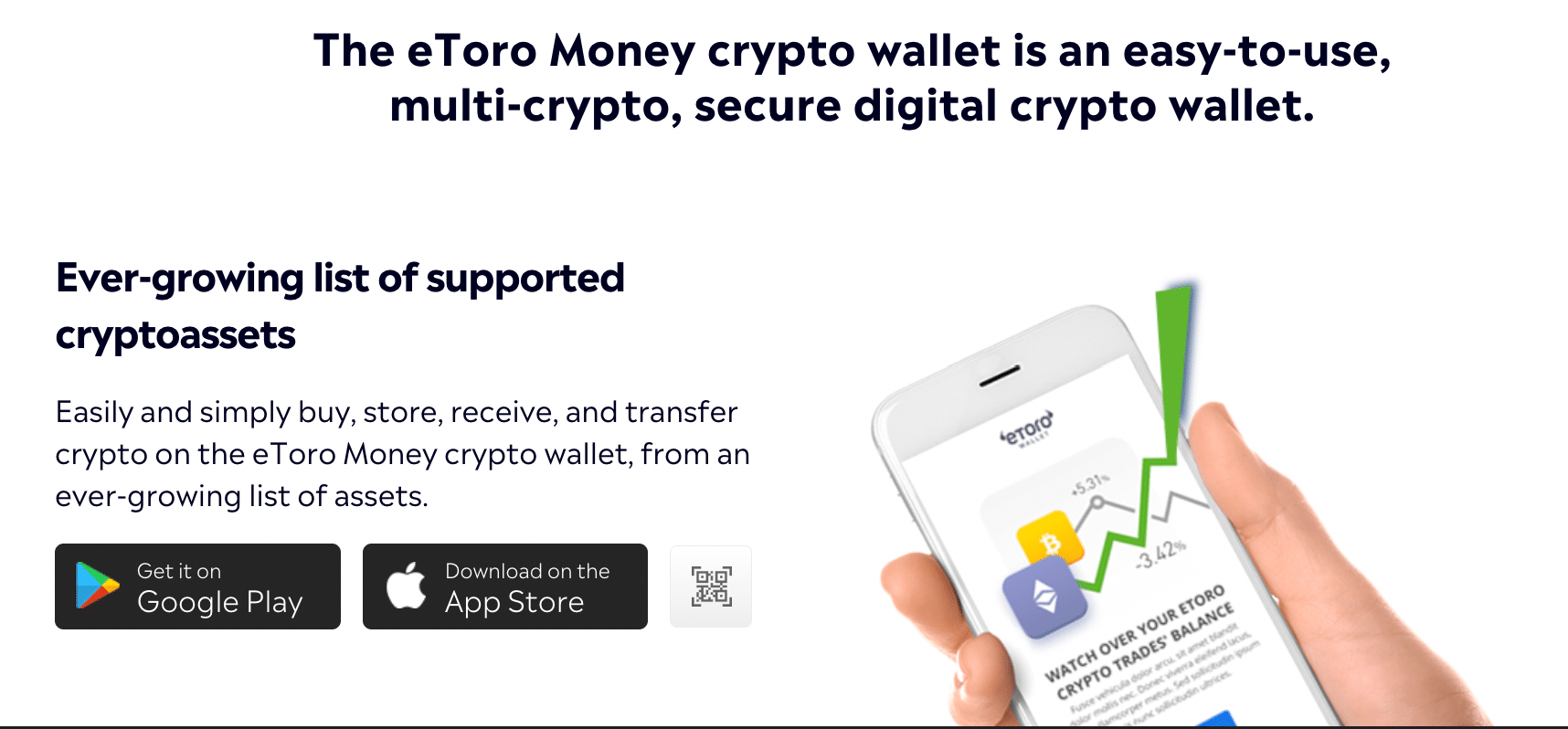 Visit eToro, open an account, and make a deposit of $10 or more. Then, search for 'Ethereum', and complete the purchase.
Cryptoassets are a highly volatile unregulated investment product.
Step 3: Transfer Ethereum to Metamask
Next, transfer Ethereum tokens to the MetaMask wallet.
eToro will ask for the wallet address to know where to send the tokens.
Open MetaMask and click on the 'Assets' button.
At the top of the screen, copy the wallet address listed below 'Account 1'.
Then paste the address into eToro and complete the transfer.
Wait for the Ethereum tokens to arrive in the MetaMask wallet, which usually takes 2-3 minutes.
Step 4: Connect MetaMask to Bitcoin ETF Token
The investor should now have ETH tokens in their MetaMask wallet. The next step is to visit the Bitcoin ETF Token presale page.
Then, click on the 'Buy With ETH' button and select 'MetaMask.' Look out for a notification that pops up from the MetaMask browser extension or mobile app. This will ask for authorization to connect to the Bitcoin ETF Token presale.
Step 5: Exchange Tokens for Bitcoin ETF Token
The final part of the process is to buy the Bitcoin ETF Token coin with Ethereum. Type in the number of ETH tokens to use for the purchase. The equivalent number of Bitcoin ETF Token coins will update.
Confirm the order and then open the MetaMask wallet to authorize the transfer. MetaMask will then send ETH to the Bitcoin ETF Token presale wallet.
After the presale finishes, return to the Bitcoin ETF Token website and claim the tokens. The tokens will then be sent to MetaMask for safekeeping.
How to Buy Tokens on an Exchange
Now that we have explained how to buy tokens via a presale like Bitcoin ETF Token, we will turn our attention to exchange-listed cryptocurrencies.
Put simply, being listed on an exchange allows buyers and sellers to trade the respective token. This is where the best cryptos to buy experience the greatest profit potential.
In this section, we will explain how to buy tokens on an exchange – using Tamadoge (TAMA) as an example. Tamadoge is one of the best crypto games in the market, and its native TAMA token has huge upside potential.
Step 1: Open a Crypto Exchange Account
The first step is to open an account with a crypto exchange that lists Tamadoge. Although Tamadoge is one of the best emerging cryptos, it is already listed on over a dozen exchanges.
Overall, OKX is the best exchange to buy Tamadoge. Not only is it a reputable exchange with huge levels of liquidity but it also accepts traditional payment methods. This includes debit/credit cards and e-wallets, making the deposit process seamless for beginners.
Visit the OKX website and open an account. This requires some basic personal information and contact details. OKX will ask for a copy of a government-issued ID, such as a driver's license or passport. This is to ensure OKX complies with anti-money laundering regulations.
Step 2: Make a Deposit
Now that the OKX account has been opened and verified, the next step is to make a deposit. The easiest option is to buy Tether with a debit/credit card.
This is because the payment will be processed instantly and Tamadoge trades against Tether. Moreover, debit/credit card payments can be made in 94 different currencies, and limits range from $1 to $100,000.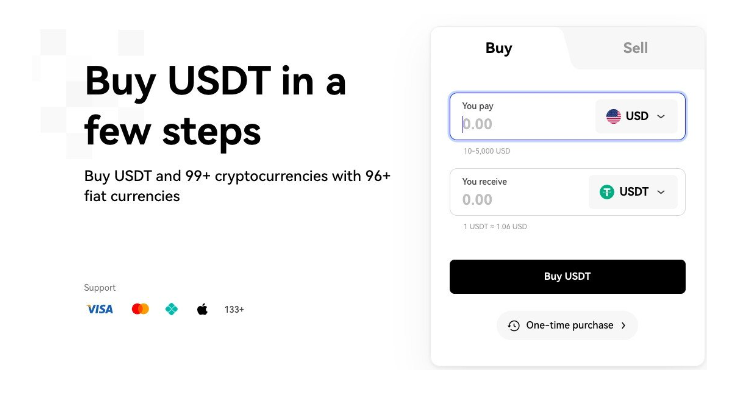 This means the investor can easily instantly swap Tether for Tamadoge after completing the payment.
Investors can also deposit funds via the P2P section of OKX. This supports even more payments, including bank transfers and e-wallets.
Step 3: Search for Tamadoge
The investor should have Tether in their verified OKX account at this stage. The next step is to find Tamadoge on the OKX platform.
Hover over the 'Trade' button at the top of the page and click on 'Basic Trading'. Then, on the left-hand side of the screen, type in 'Tamadoge'. Click on 'TAMA/USDT' to proceed.
Step 4: Swap Tether for Tamadoge
The final step is to swap Tether for Tamadoge. Scroll down and look for the order box beneath the pricing chart. Then, change the order to a 'Market' from 'Limit'. This means that the Tether to Tamadoge trade will be executed instantly at the next available price.
In the 'Amount' box, move the slider to 100%. This will swap 100% of the Tether balance for Tamadoge. Finally, confirm the order, and OKX will complete the trade. The Tamadoge tokens can then be found in the OKX wallet.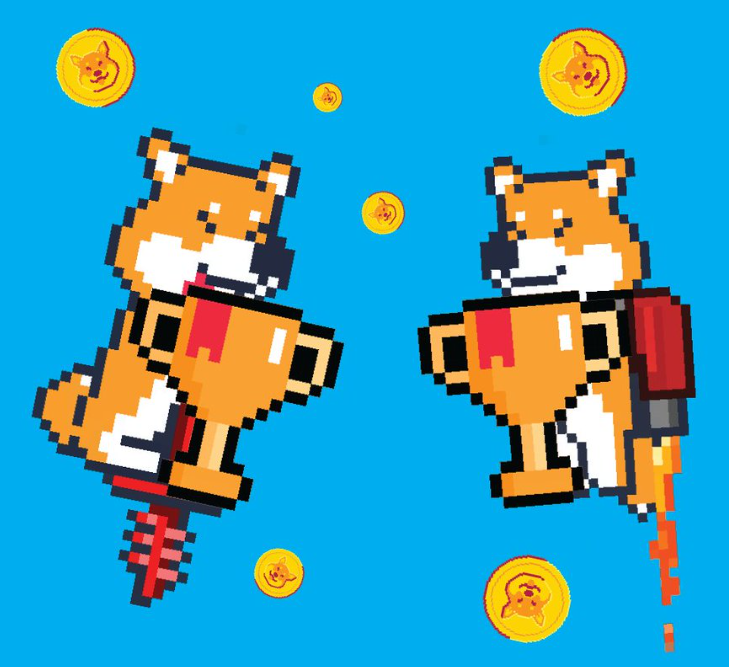 Some investors prefer to store tokens in a private wallet for added security. A great option in this regard is to transfer the tokens to Metamask. Tamadoge is built on top of the Ethereum network, so they can be transferred to the primary Metamask wallet address.
What are Crypto Tokens?
Crypto tokens are digital assets that are built on top of a blockchain network. For example, Ethereum is the name of the blockchain while ETH is its native token. That said, Ethereum and ETH are used interchangeably.
This is the case with most other cryptos. For example, while Ripple is the blockchain and XRP is the token, both terms are used when describing the project.
Crypto tokens usually serve a purpose within the blockchain network or ecosystem.
In another example, TAMA is the utility token of the Tamadoge ecosystem, which runs play-to-earn games with tokenized rewards. Some tokens, however, serve no purpose other than for financial speculation. These tokens are known as 'meme coins' or 'shit coins'.
Nonetheless, tokens will trade on crypto exchanges, enabling people to buy and sell them. The value of tokens will rise and fall just like stocks and ETFs. This means that the best crypto tokens can witness unprecedented growth, rewarding early investors.
Are Tokens the Same as Cryptocurrencies?
The terms cryptocurrencies, coins, and tokens are typically used interchangeably. But there is a key distinction between these terms, which we will explain below.
Cryptocurrencies
Cryptocurrencies are the native digital asset of a blockchain ecosystem. This can comprise both coins and tokens, which we cover shortly.
Cryptocurrencies are intangible, meaning they only exist in digital form. The first cryptocurrency to enter the market was Bitcoin in 2009. Bitcoin remains the largest and most popular cryptocurrency of choice.
Cryptocurrencies trade on exchanges just like stocks. This means that the value of cryptocurrencies will rise and fall based on market forces.
Coins
Coins refer to cryptocurrencies that operate on their own native blockchain network. Common examples include Bitcoin (BTC), Ethereum (ETH), Cardano (ADA), Solana (SOL), and Polygon (MATIC).
These are generally the most valuable cryptocurrencies as they have proprietary blockchains.
Tokens
Unlike coins, tokens do not operate on their own blockchain network. Instead, they are built on top of the other blockchain standards.
For example, Bitcoin ETF Token and Tamadoge function on the Ethereum network. This means that both cryptocurrencies are tokens rather than coins.
There are thousands of other cryptocurrencies built on Ethereum, all of which are known as ERC-20 tokens.
Should You Buy Tokens?
Cryptocurrency tokens are not for the faint-hearted, nor those that do not have a tolerance for risk. That said, while tokens are risky, the upside potential can be unprecedented.
For example, Shiba Inu tokens – which were built on the Ethereum network in 2020, become a multi-billion dollar project in the space of a year.
It subsequently generated gains of many millions of percent for early investors.
However, the best approach when investing in crypto tokens is to diversify. This means buying many different tokens and spreading the investment funds sensibly. After all, not all crypto tokens are a success. On the contrary, some fail miserably.
Another thing to note is that crypto tokens generally perform well during a bull market. This happens when Bitcoin and most other coins witness high demand for investors. This invariably pushes the value of the broader crypto market up.
As such, with the next crypto bull run imminent, seasoned investors are now turning their attention to presales like Bitcoin Minetrix.
What are the Top Tokens to Buy Now?
In this section, we discuss some of the best crypto tokens to buy in today's market, according to analysts.
1. Bitcoin ETF Token – ERC-20 ICO With 5,500% APY Tied in With BTC ETF Approval
Bitcoin ETF Token ($BTCETF) is an Ethereum-based presale with a fate that ties in with the approval of Bitcoin ETFs by the Securities and Exchange Commission.
Should approval happen, this token could skyrocket, as the campaign is based around this event occurring.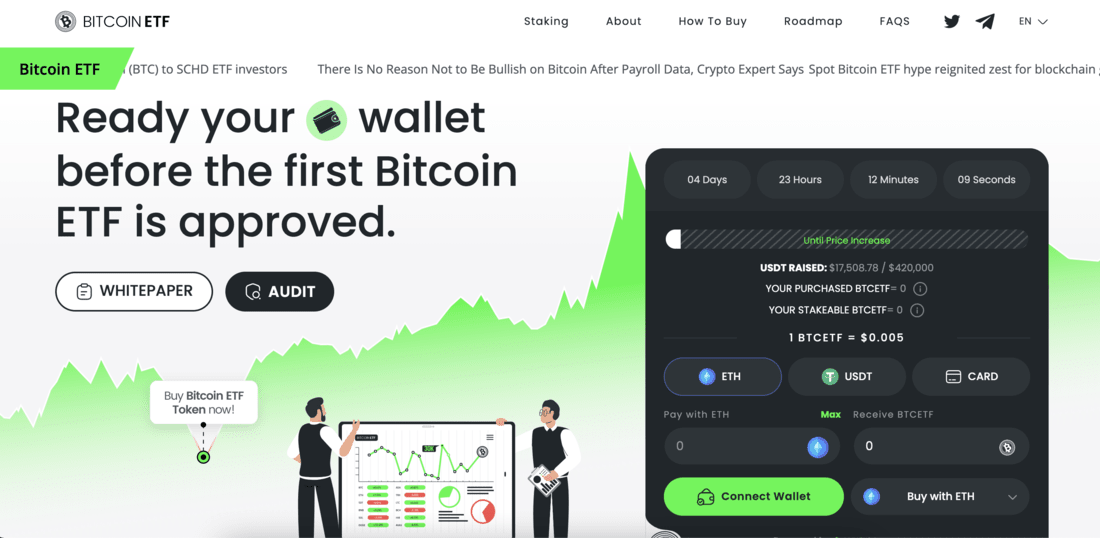 There are five major milestones within the Bitcoin ETF token roadmap, mainly related to real-world happenings. These are the trade volume of the native coin reaching $100M, Bitcoin ETF approval, Bitcoin ETF launch on exchanges, the global Bitcoin ETF market surpassing $1 billion, and the price of Bitcoin breaking past $100,000.
At each of these milestones, 5% of the token supply is burned and the 5% token burn tax is reduced by 1%. Many of these milestones might not happen in order – BTC might hit $100,000 before the ETF is approved, for instance.
The total token allocation is 2.1 billion with 840 million available in the presale at a cost of $0.005. This will rise to $0.0068 by the end of the presale. Each stage has 84 million tokens with a price increase at each stage. 40% of the allocation goes to the presale, 25% to staking, 25% to token burning, and 10% to DEX liquidity.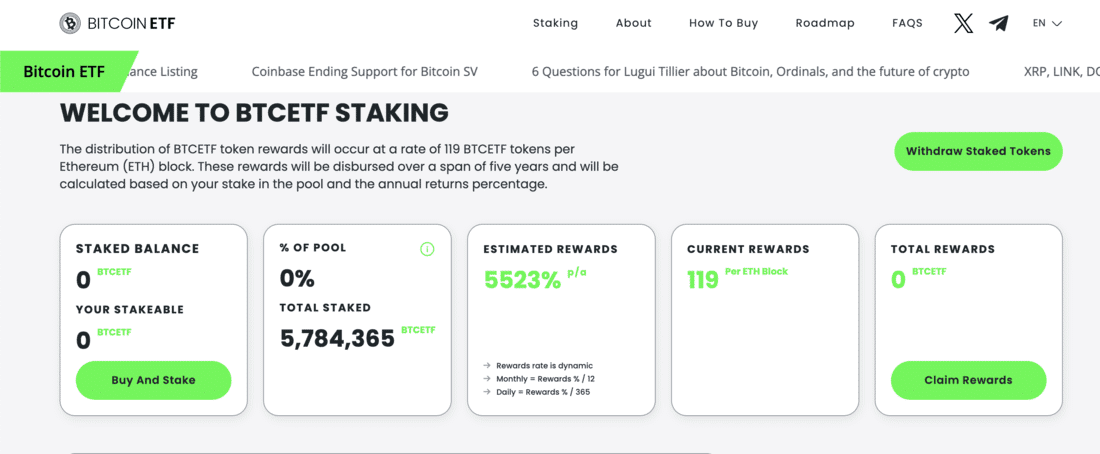 This presale provides a huge 5,500% PoS APY at the present time, a figure that will go down with time. So early stage investment confers additional benefits in terms of both yields and price entry.
The campaign has also undertaken an advanced manual third party smart contract audit from Coinsult. Only a single low risk issue was found within the entire codebase.
Key information pertaining to BTC ETF approval and other BTC-related affairs can be found within the social accounts – Twitter and Telegram.
All the details in relation to this new presale offering is contained within the Bitcoin ETF Token Whitepaper, which should be read prior to investment.
| | |
| --- | --- |
| Hard Cap | $4.956 Million |
| Total Tokens | 2.1 Billion |
| Tokens available in presale | 840 Million |
| Blockchain | Ethereum Network |
| Token type | ERC-20 |
| Minimum Purchase | NA |
| Purchase with | USDT, ETH, BNB, MATIC, Card |
2. Bitcoin Minetrix – Innovative PoS Crypto Offering Cloud Mining Credits Through its Staking Mechanism, Just Launched on Presale
One of the cryptocurrency tokens investors can analyze is Bitcoin Minetrix ($BTCMTX). This revolutionary project allows individuals and beginner crypto investors to earn revenue through cloud mining.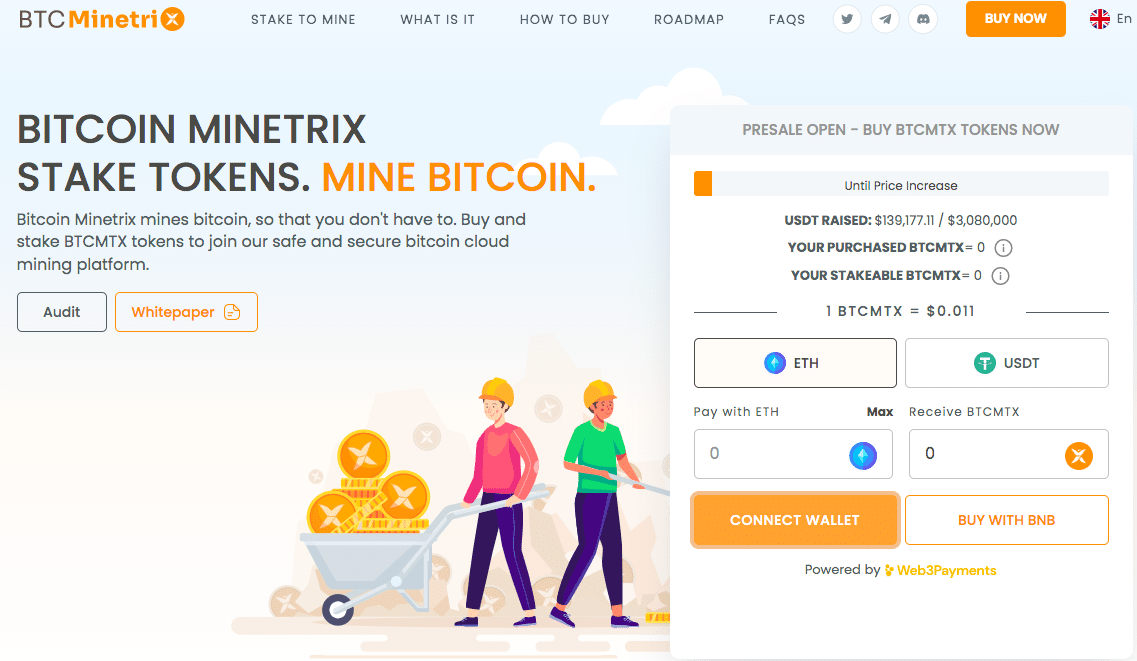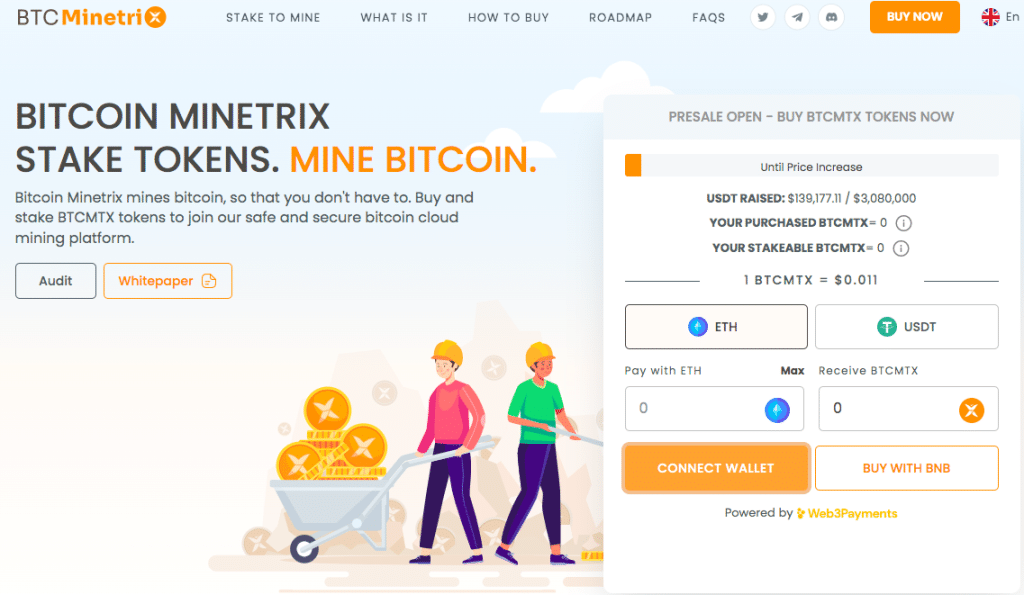 While cloud mining corporations rent out mining power to individuals, these third-party companies often engage in dubious activities to scam investors. To safeguard this process, Bitcoin Minetrix will tokenize the cloud mining process.
Bitcoin Minetrix leverages $BTCMTX, the native cryptocurrency, to offer Bitcoin mining power to individuals. Thus, the platform will offer more autonomy to individuals by giving them tokenized cloud mining credits. All one needs to do is buy and stake the $BTCMTX token on Bitcoin Minetrix's Ethereum-powered smart contract.
After staking the tokens, you will collect cloud mining credits. These credits are non-tradable ERC-20 tokens that must be burned on the ecosystem to earn Bitcoin mining power. The mining power can then be used to earn a part of the mining revenue. The platform also states that staked token holders can enjoy huge staking rewards.
The current focus of Bitcoin Minetrix is the $BTCMTX presale. From a total supply of 4 billion, 2.8 billion tokens have been allocated equally across ten presale rounds. Currently, on the first presale round, $BTCMTX is priced at $0.011 per token. By the final round, the price will surge by 8.1% to $0.0119.
Afterward, Bitcoin Minetrix will focus on the stake-to-mine operation and develop the project. The final phase involves launching the staking mechanism on a mobile app and dashboard, allowing users to earn Bitcoin mining power.
Read the Bitcoin Minetrix whitepaper and join the Telegram channel to stay updated with this revolutionary cryptocurrency project.
| | |
| --- | --- |
| Hard Cap | $32 Million |
| Total Tokens | 4 Billion |
| Tokens available in presale | 2.8 Billion |
| Blockchain | Ethereum Network |
| Token type | ERC-20 |
| Minimum Purchase | $10 |
| Purchase with | USDT, ETH, BNB |
3. Meme Kombat – Wager Tokens on an AI-Ehanced Battle Arena and Enjoy Staking Rewards with this New Meme Crypto Presale
Meme Kombat ($MK) is a new meme cryptocurrency platform offering staking rewards and wagering opportunities on its battle arena.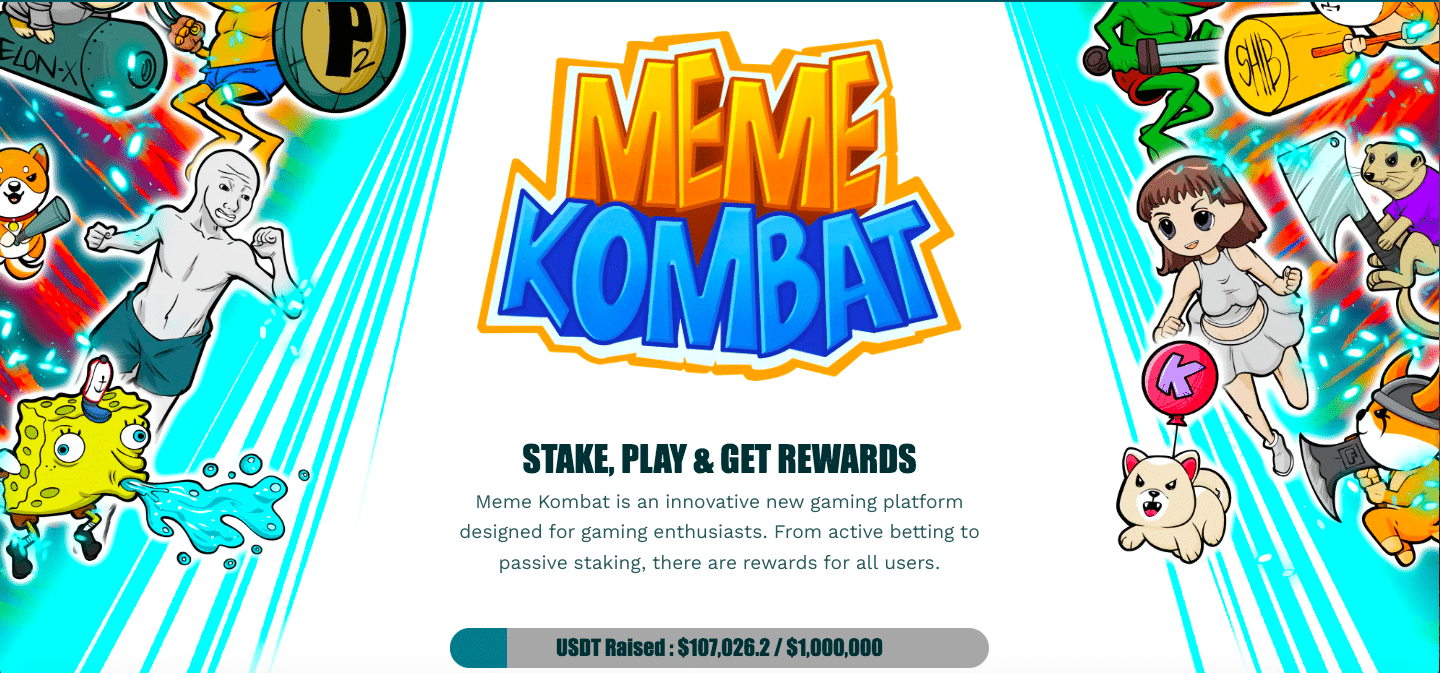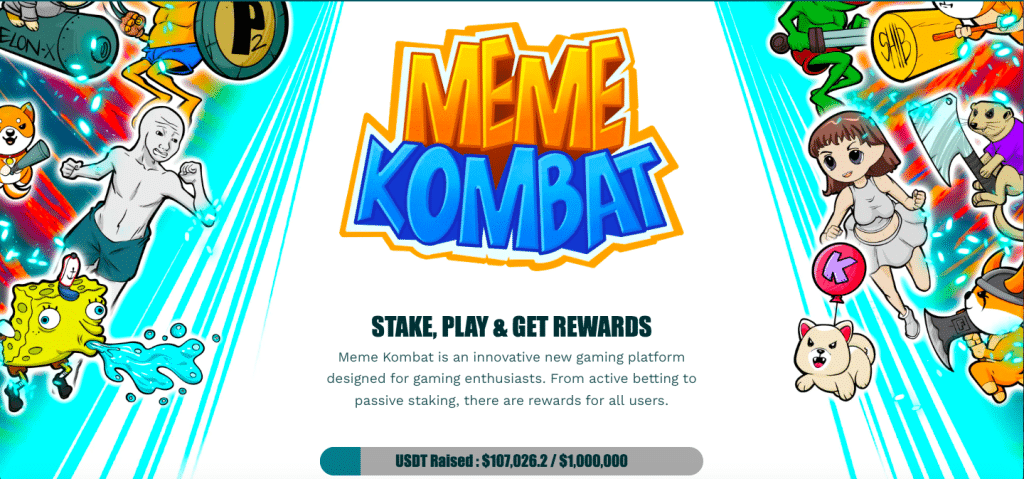 Currently on presale, the $MK token is priced at just $1.667. The token has a low supply of only 12 million, half of which has been allocated for the presale. Once the presale ends, Meme Kombat plans to launch the Battle Arena – built leveraging blockchain technology and artificial intelligence.
The battle arena will be released in seasons, each featuring new gaming and earning opportunities. On this arena, users can pick and engage in battle with other meme coin avatars. The first season will feature 11 meme coin avatars such as Pepe Coin and Spongebob. You can engage in Player vs Player battles and Player vs Game modes to earn rewards.
$MK plays an integral role in the battle arena. Meme Kombat will introduce a wagering option through which users can stake their tokens and bet on the outcome of various live battles. Therefore, you can earn more by wagering on the outcome of battles and predicting first moves and other strategies.

Once you buy $MK on presale, your holdings are automatically staked on a staking contract. Thus, you will be able to earn a daily passive income. To earn the presale APYs (Annual Percentage Yields), you must re-stake your holdings at least one time after the presale ends. The minimum lock-up period on Meme Kombat is only 14 days.
At the time of writing, Meme Kombat is offering a 112% staking APY to token holders. 30% of the 12 million token supply will be allocated through staking and battle rewards. For all these reasons, Meme Kombat can be a valuable investment. Since the presale launched, Meme Kombat has raised more than $100K.
Read the Meme Kombat whitepaper and join the Telegram channel to learn more about this project.
| | |
| --- | --- |
| Hard Cap | $10,000,000 |
| Total Tokens | 12,000,000, |
| Tokens available in presale | 6,000,000 |
| Blockchain | Ethereum Network |
| Token type | ERC-20 |
| Minimum Purchase | $5 |
| Purchase with | USDT, ETH, BNB |
How to Find the Best Tokens to Buy
There are more than 24,000 tokens listed on CoinMarketCap. This makes it increasingly difficult to know which tokens to buy.
Here are some considerations to make when learning how to buy crypto tokens:
Presales: Investors seeking the largest long-term gains will often target presales. As noted earlier, these new projects offer their native token to early investors – usually at a discount. The best crypto presales include Bitcoin ETF Token, Bitcoin Minetrix, and Meme Kombat.
Micro-Cap Tokens: Growth investors will also search for micro-cap tokens. This is because they offer a much higher upside than large-cap cryptos like Dogecoin, Ethereum, and Cardano. One of the best micro-cap tokens to consider is Tamadoge.
Utility: The best crypto tokens have real-world utility, meaning an actual use case.
Roadmap: Another way to find the best crypto tokens is to check the project's roadmap. This outlines its core goals and when it aims to achieve them. A project that consistently meets its roadmap objectives has a great chance of long-term success.
In addition to the above, it is important to be well-diversified when investing in crypto tokens. This means spreading the risk by investing in a wide range of projects.
How to Buy Tokens Safely
The crypto investment scene often resembles the Wild West, with hackers and scammers always looking for their next victim. Therefore, it is important to stay safe when buying crypto tokens.
When exploring how to buy ICO tokens, it is important to research the project extensively. Be sure to read the whitepaper and roadmap targets.
Moreover, ensure the crypto presale has been audited by a reputable third party.
When learning how to invest in tokens that are already listed, choosing a regulated crypto exchange is paramount.
One of the best options in this regard is eToro. As noted earlier, eToro is regulated by several tier-one licensing bodies. It was first launched in 2007 and is now used by over 30 million investors.
Cryptoassets are a highly volatile unregulated investment product.
Conclusion
This beginner's guide has covered everything there is to know when buying tokens for the first time.
Building a diversified portfolio and performing in-depth due diligence are important to reduce the risks. Focusing on quality presales is another strategy to consider, especially for those targeting above-average returns.
Overall, one of the top cryptos to look at is Bitcoin ETF Token. It trades at a sharp discount in its early presale stages, offers great APY, and is tied in with real-world crypto financial events that could have major implications for the entire market.
It could be one of the best coins to hold in your wallet, if BTC ETF approval finally takes place.
FAQs
What is the best place to buy tokens?
How do I get digital tokens?