XRP, the native cryptocurrency of the Ripple payments network, is the 5th-largest crypto by market cap and one of the hottest tokens of 2023.
The token soared recently after a major court decision in the US found that XRP is not a security, as alleged by the US Securities and Exchange Commission (SEC). Investors are now flocking to XRP and analysts are calling for huge price increases.
In this guide, we'll explain how to buy XRP and take a closer look at whether this token is a good investment right now.
How to Buy XRP – Quick Step by Step Guide
We'll explain how to buy XRP in five easy steps.
Step 1: Choose a Crypto Exchange: XRP is available to purchase on most centralized crypto exchanges, such as eToro.
Step 2: Create an Account: Create a new crypto exchange account. Most centralized exchanges will require an investor's name and email to get started.
Step 3: Deposit Funds: Use a debit card or bank account to deposit funds to eToro.
Step 4: Search for XRP: Use the search bar at the top of the eToro homepage to search for 'XRP.'
Step 5: Buy XRP: Enter the amount of XRP to purchase and click 'Buy' to complete the transaction.
What is XRP?
XRP is the native crypto token of the Ripple payments network, which was created by San Francisco-based Ripple Labs in 2012.
The Ripple payments network is designed to move money around the world quickly and cheaply. Banks can use it to convert one currency for another, using XRP tokens as an intermediary store of value while funds cross borders.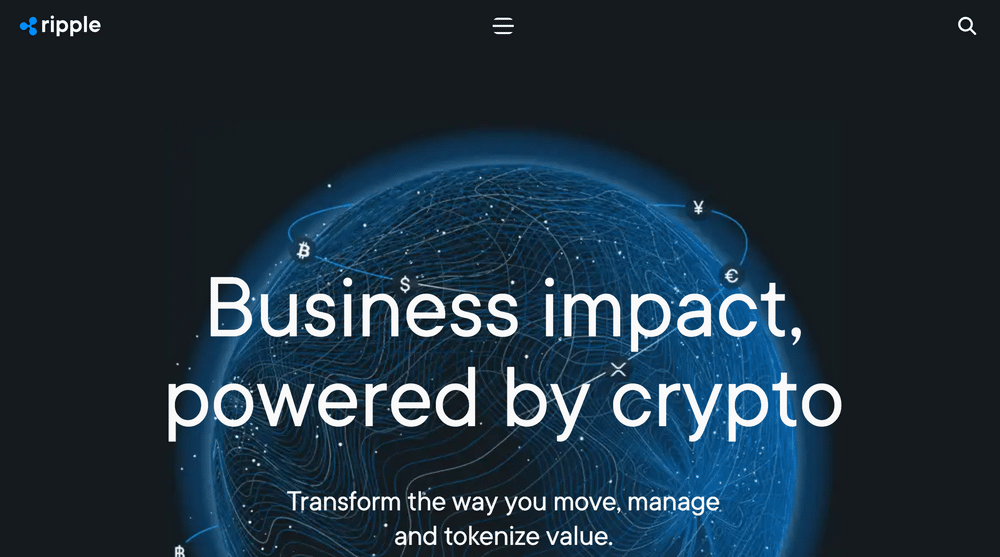 While the payments system is complex, its design means that XRP demand is closely linked to the volume of cross-border transactions taking place over the Ripple network. While individual investors can buy and sell XRP, the Ripple network itself is meant for use by banks and financial institutions.
XRP has a total supply of 100 billion tokens, all of which were pre-mined before launch and controlled by Ripple Labs. Ripple Labs locked 55 billion tokens in an escrow account and gave 20 billion to its founding team. The remaining 25 billion tokens were made available to the public.
Today, the total circulating supply of XRP is 52.5 billion and the token has a market cap of $36.38 billion.
The SEC Lawsuit Against Ripple
In December 2020, the US SEC filed a lawsuit against Ripple Labs claiming that XRP was an unregistered security rather than a truly decentralized cryptocurrency like Bitcoin. The case has hung over Ripple for the last several years and prevented banks in the US from adopting the Ripple payments network.
Ripple decided to fight the case in court rather than settle with the SEC. A judgment announced in July 2023 decided that XRP sold on exchanges is not a security.
XRP Price History
XRP is one of the oldest cryptocurrencies, predating the ICO boom of 2017. For most of its early history, XRP was priced between $0.005 and $0.01.
In 2017, as the price of Bitcoin soared, XRP also exploded higher. The token reached an all-time high of $3.84 on January 4, 2018—a 60,000% gain in the span of 12 months.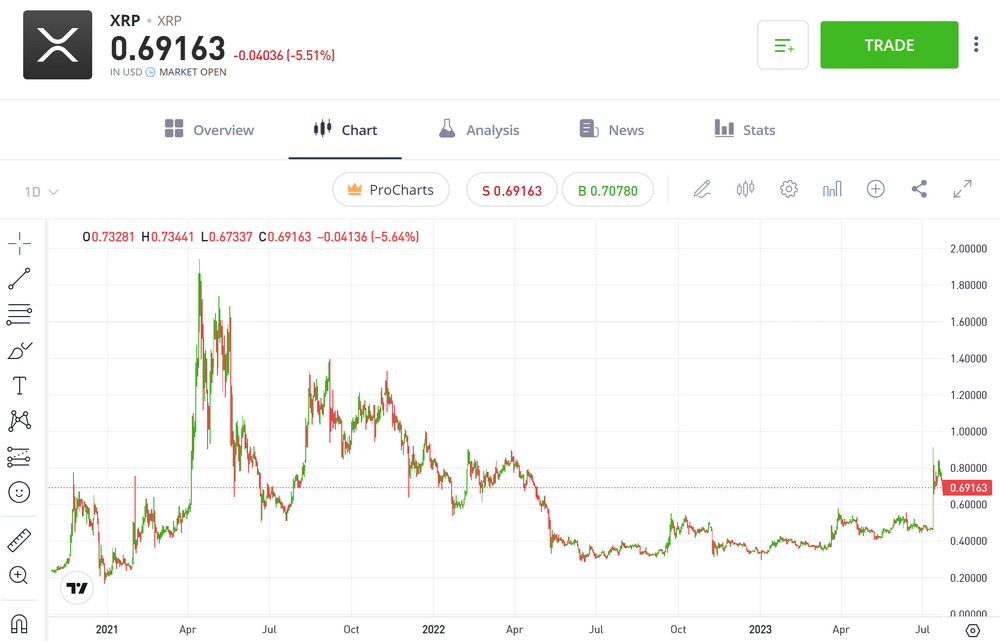 However, XRP fell rapidly as the crypto boom collapsed. In early 2020, it was priced below $0.15. The token climbed to $0.60 by December 2020, but fell sharply when the SEC filed its lawsuit against Ripple Labs on December 22, 2020.
Despite the lawsuit, XRP climbed over $1.55 by May 2021 as the prices of altcoins were spiking across the crypto market. However, the lawsuit loomed over the token and the price dropped to $0.31 during the crypto winter of 2022.
Because the SEC vs. Ripple court case was expected to conclude this year, XRP was one of the top cryptos to watch in 2023. A US court decided on July 13, 2023, that XRP sold on exchanges should not be considered a security. The token jumped 75% on the news and today is priced at $0.69.
Why Has the Price of XRP Gone Up?
The price of XRP has shot up recently thanks to a court decision that XRP sold on exchanges is not a security as the SEC alleged. The SEC won a partial victory, as the court decided that XRP sold directly to investment firms was sold as unregistered security.
Broadly, the decision was seen as a win for Ripple and for the crypto market as a whole. Many cryptocurrencies that have faced lawsuits from the SEC could now see those suits dropped.
The decision alleviated a black cloud of legal jeopardy that has hung over Ripple for more than 2 years and prevented wider adoption of the Ripple payments network by US banks. However, there is still uncertainty around XRP since the SEC has the option to appeal the decision.
XRP jumped 75% within a few hours of the court decision and trading volume spiked to more than $14 billion. 10 days after the court decision, XRP has given up some gains but remains up 47%.
Is XRP a Good Investment Right Now?
Despite XRP's pullback in the past few days, investors and analysts are broadly bullish about the token. Here are the key reasons why.
Lawsuit's Conclusion Allows for Wider Adoption
One of the most important outcomes of the Ripple lawsuit is that the court found that XRP purchased through exchanges is not a security. This has huge implications for adoption of the Ripple payment network and for use of XRP by investors.
First, now that the legal cloud is lifting, banks can potentially use XRP and the Ripple payment network to move money around without worrying about legal issues. Ripple Labs CEO Brad Garlinghouse predicted after the lawsuit that many major banks will soon adopt Ripple.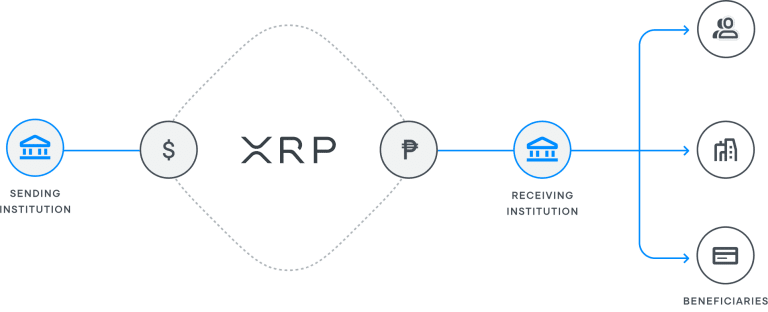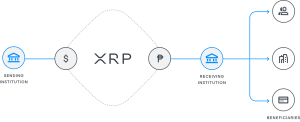 If that happens as Garlinghouse predicted, it would not only significantly drive up XRP demand but also make Ripple a staple of the international financial ecosystem. The impact on XRP's value could be enormous as banks using the token for international payments would likely need to hold billions of dollars worth of it.
The close of the legal case also makes XRP more attractive to investment firms and everyday investors. Buying XRP is no longer a bet on what the court system will do, but rather an investment based on the merits of the token. As more individuals and firms buy XRP, the price is expected to rise.
Analysts Predict Huge Gains for XRP
Analysts are extraordinarily bullish about XRP in the wake of the court decision. Many analyses predict that XRP could reach $1 in the next 12 months, and some suggest XRP could move much higher.
Some of the most notable price predictions for XRP include:
Crypto influencer CoinsKid predicted that XRP could hit $6 based on a bullish ascending triangle price pattern.
Crypto analyst Tolberti suggested that XRP will rise to a technical resistance level at $1.30, then could break through to resistance at $3.28.
Thomas Kralow, manager of Kralow Capital, predicted XRP will reach $10 in the short-term and could ultimately be worth as much as $30 per token.
Crypto influencer Ben 'BitBoy' Armstrong predicted XRP could hit $15 within 18 months and eventually reach a price of $35.
Anton Kharitonov, an analyst at Traders Union, predicted XRP will reach $1.27 by the end of 2023.
Our own XRP price prediction suggests that the token could reach $1.80 by the end of 2024.
All of these bullish predictions represent significant upside for investors at today's XRP price of $0.69, making XRP one of the best cryptocurrencies to buy today.
Crypto Bull Market Could Provide Tailwind
The court decision lifting XRP comes at a positive moment for the crypto market as a whole. Market watchers and crypto project CEOs are increasingly calling an end to the crypto winter and forecasting several years of strong growth for the industry.
What's good for the crypto market as a whole has generally been good for XRP as well. The token soared in 2017 alongside Bitcoin, and again in 2021. A crypto bull market could provide a tailwind for XRP, especially if more investors get into the crypto market and add XRP to their new portfolios.
How to Buy XRP: Full Tutorial
With so much enthusiasm around XRP, many investors want to know how they can get in on this token before it hits $1. We'll explain the steps to buy XRP through a centralized crypto exchange like eToro.
Step 1: Choose a Cryptocurrency Exchange
XRP is available on most major centralized and decentralized crypto exchanges. It can be bought through eToro, Binance, OKX, KuCoin, and more. Coinbase, Crypto.com, and Kraken recently relisted XRP after the court decision.
We recommend using eToro to buy XRP because it offers zero deposit fees, low trading fees, and a wide range of cryptocurrencies to choose from. eToro also has its own crypto wallet app and is highly secure.
The steps below will cover how to buy XRP with eToro. The process is similar at most other centralized exchanges.
Step 2: Create an Account
Head to the eToro website and click 'Start Investing' to sign up. Investors must enter their email and create a username and password to get started. They can also sign up with Google, Apple, or Facebook.
eToro follows Know Your Customer requirements, so new users must submit proof of ID. A photo of a driver's license or passport is all that's needed to complete this process.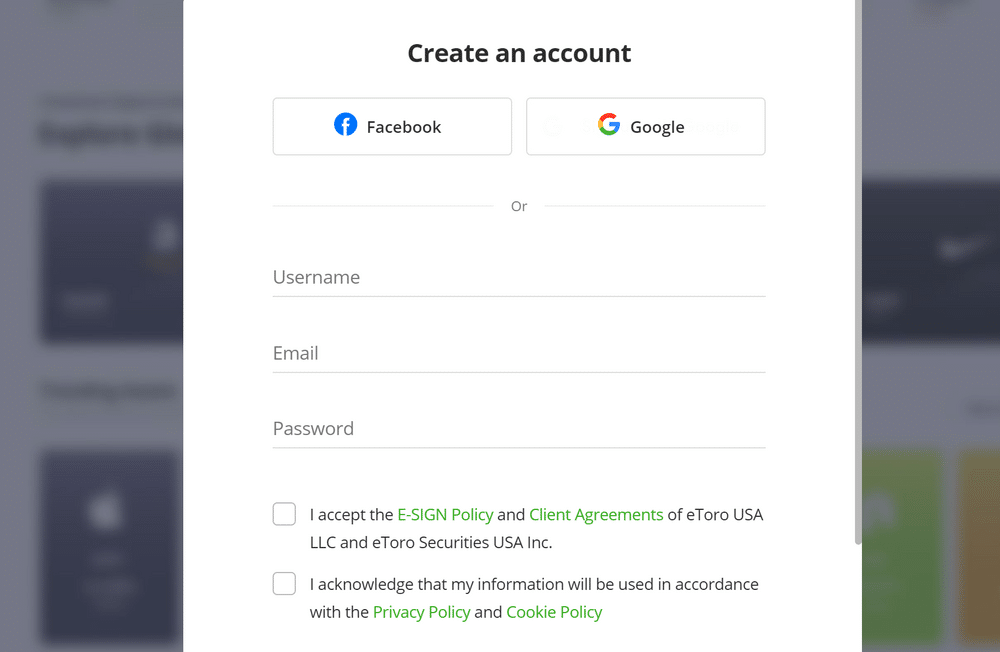 Step 3: Deposit Funds
Once the account is established, the next step is to deposit funds. eToro accepts deposits with no fee by debit card, bank account, PayPal, or wire transfer. The minimum deposit is $10 and payments are available instantly (except for wire transfers).
Click 'Deposit Funds' in the left-hand menu, then choose a payment method and the amount to deposit.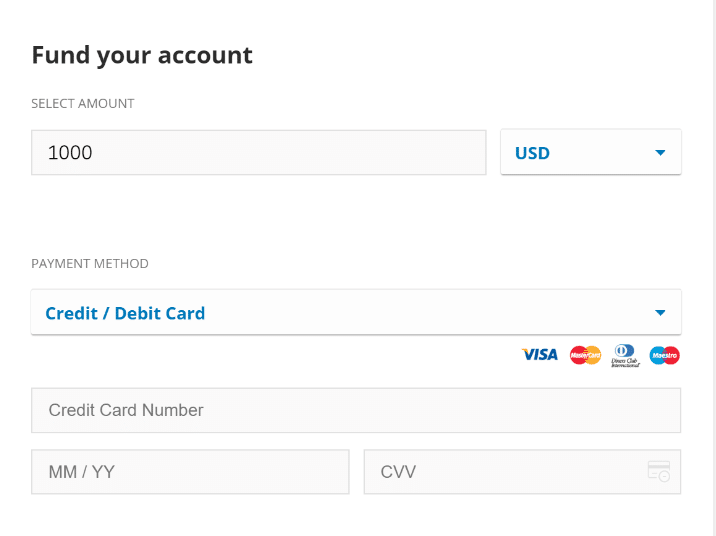 Step 4: Search for XRP
Navigate to the eToro dashboard and find the search bar at the top of the page. Enter 'XRP' and click on the token when it appears in the drop-down menu. This will take investors to eToro's XRP page, where they can enter a new order.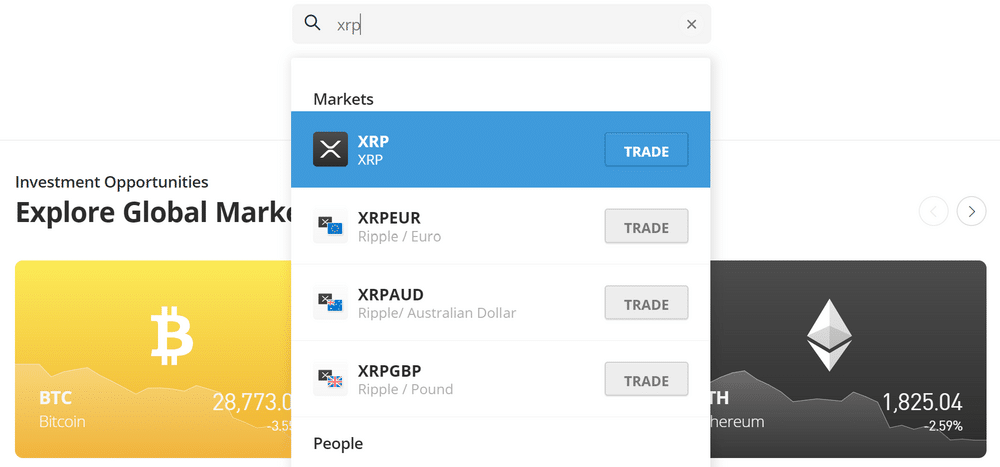 Step 5: Buy XRP
Click 'Trade' to open a new XRP order form. Enter the amount of XRP to purchase in USD. When the trade is ready, click 'Buy' to purchase XRP.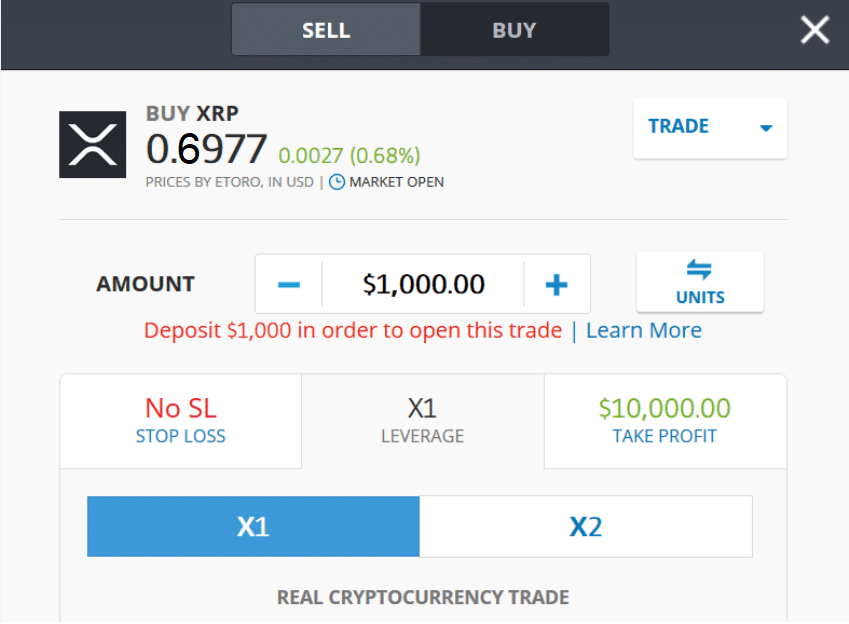 Purchased XRP will be stored in the investor's eToro account. It can be transferred to an external crypto wallet for a small transfer fee.
Conclusion
Our guide to how to buy XRP covers everything investors need to know about this payments token. While there are no guarantees, crypto analysts are very bullish about XRP in the wake of the SEC vs. Ripple court decision. Some analysts are predicting 10x gains or more from today's price.
Investors can buy XRP at eToro with no deposit fees and low trading fees. Sign up for an eToro account to buy XRP today.
References
https://coinmarketcap.com/currencies/xrp/
https://www.sec.gov/news/press-release/2020-338
https://www.coindesk.com/learn/what-is-ripple-and-the-xrp-cryptocurrency/
https://www.reuters.com/legal/us-judge-says-sec-lawsuit-vs-ripple-labs-can-proceed-trial-some-claims-2023-07-13/
https://www.wsj.com/livecoverage/stock-market-today-dow-jones-07-21-2023/card/sec-says-xrp-ruling-was-wrong-signals-it-will-appeal-oCqi2N05kHNT7MqOkDev
https://www.pymnts.com/cryptocurrency/2023/ripple-ceo-xrp-ruling-gives-company-freedom-to-grow/
https://www.tradingview.com/chart/XRPUSDT/rIXayjBw-XRP-Another-83-350-pump-is-very-likely-must-see/
https://www.youtube.com/watch?v=_8CpHemQbzM&t=5s
https://www.youtube.com/watch?v=GbkDHSnadq4
https://tradersunion.com/currencies/forecast/xrp-usd/
FAQs
What is the total supply of XRP?