With projects like Dogecoin, Shiba Inu and Pepe becoming some of the best-performing assets in recent years, knowing how to find new meme coins early can be one of the most lucrative skills for investors.
However, it is no easy task. There are over 20,000 cryptos in circulation, so finding the next Pepe or Dogecoin requires more than luck. This article runs through the top methods to help you find the next big meme coin before the masses.
The Best Way to Find New Meme Coins Early
If you are short on time, here is a quick summary of the top ways to discover new meme coins early.
Look for high-potential presales – Identifying popular presales quickly selling out is one of the best ways to find high-potential meme coins early.
Join crypto discords and other social channels – Meme coins are socially driven, so it is important to be social when hunting for the next high-potential project.
Use tools like DEXTools and CoinCodex – Analytics tools and data provider websites can prove invaluable in quickly aggregating data on the latest and greatest projects to one dashboard.
Track blockchain activity – By "following the money" and watching the wallets of successful meme coin traders and whales, you can sometimes discover the next meme coin to explode.
A Closer Look at How to Find Meme Coins Early
Next, let's dive deeper into each method to find new meme coins early.
Look for High Potential Presales
A crypto presale is an event where a crypto project sells tokens before it goes live for trading. Presales are typically used to fund the project. For example, funds can support the smart contract development or fuel the project's marketing.
However, presales can present high risk since their tokens are yet to launch. Therefore, understanding how to spot the best presales is crucial.
There are several things to look for in high-potential meme coin presales. Firstly, factors like a large social media following, media coverage, or the ability to quickly raise funds indicate community interest, which is crucial for the success of new meme coins.
Additionally, a project's ability to secure centralized exchange listings proves its team's ability to take action and increases its upside potential.
Another factor to look out for is solid tokenomics. Top ICOs often allocate significant portions of tokens to the community. This increases the project's decentralization, mitigating the risk of the team dumping tokens and enabling more organic price action.
Also, meme coins that act as staking coins or provide community rewards to incentivize long-term holders increase the project's potential.
Finally, projects that bring something new to the crypto market generally have the best chances of success. This is because so many new meme coins are released daily that not doing so makes it hard to stand out.
Generally speaking, the best meme coins relate to a popular trend but provide a unique spin, making it distinctive but memorable and recognizable. Here are a couple of examples of projects which do this well.
Wall Street Memes – Leading Meme Coin with Over $25M Raised via Presale, Has Even Gained Elon Musk's Attention on Twitter
Wall Street Memes is a presale meme coin that has raised over $25 million in four months and is widely touted as the next big meme coin.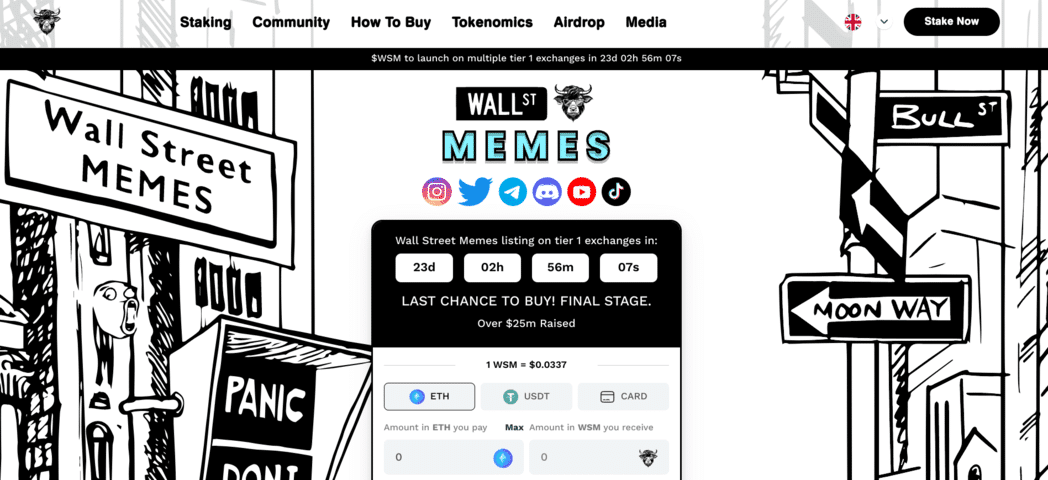 Regarding the factors mentioned above, Wall Street Memes largely meets each.
The project launched as part of an already successful brand with over one million followers. Even Elon Musk has engaged with Wall Street Memes on Twitter several times.
The project's social accolades have proved a significant driver of its presale success.
Moreover, Wall Street Memes has recently secured multiple tier-one exchange listings, which will go live in less than 30 days. As mentioned, this could legitimize the project and drive a flurry of new investors its way.
Currently, Wall Street Memes is running an airdrop worth $50K to be split between five winners. Participants get up to seven entries by completing easy tasks like joining the Wall Street Memes Telegram.
Meme Kombat – Recently Launched Presale To Revolutionize Meme Industry, Combat Arena Offers 112% APY Rewards
Meme Kombat ($MK) is a recently launched presale with a new take on meme coins. It gathers all of the world's most successful meme tokens together, under one roof.
For Season One, this includes Pepe, Pepe 2, Milady, Kishu, Mong, Shiba, Sponge, Wojack, Doge, Floki, and Baby Doge. More memes and battle features will be incorporated after Season One is completed.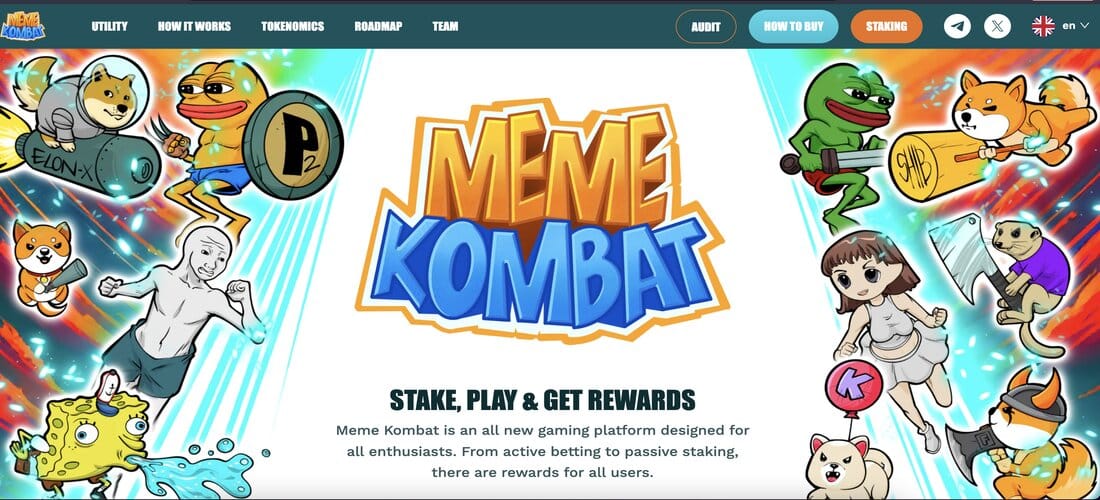 There are three ways to bet on Meme Kombat – P v P, P v Game, and Direct. There are also side bets on more niche outcomes. The fights and outcomes are processed on the blockchain and the founder of this project has been doxxed, meaning he is publicly available to view on LinkedIn.
Aside from active income from live bets, it also provides passive income in the form of APY, which currently sits at 112%. This presale offers 6 million $MK tokens, at a price of $1.667. The total hard cap is $10 million. Our $MK price guide outlines certain price trajectories that are possible for this campaign.
This is a completely unique style of presale, bringing memes together under one architecture with multiple betting opportunities. This is opposed to the classical style of single-meme presales, and it could see traffic from some of the enormous followers of the world's most famous memes.
More information can be found within the Telegram and Twitter social channels, as well as the Whitepaper.
Join Crypto Discords and Other Social Channels
The next method of how to find high-potential meme coins is joining social channels.
Cypto is a high-paced industry. However, meme coins take this to a new level, with new trending projects sometimes releasing hourly. One of the top ways to sift through the noise and identify new emerging projects is by joining the best crypto Discord groups and utilizing other social channels.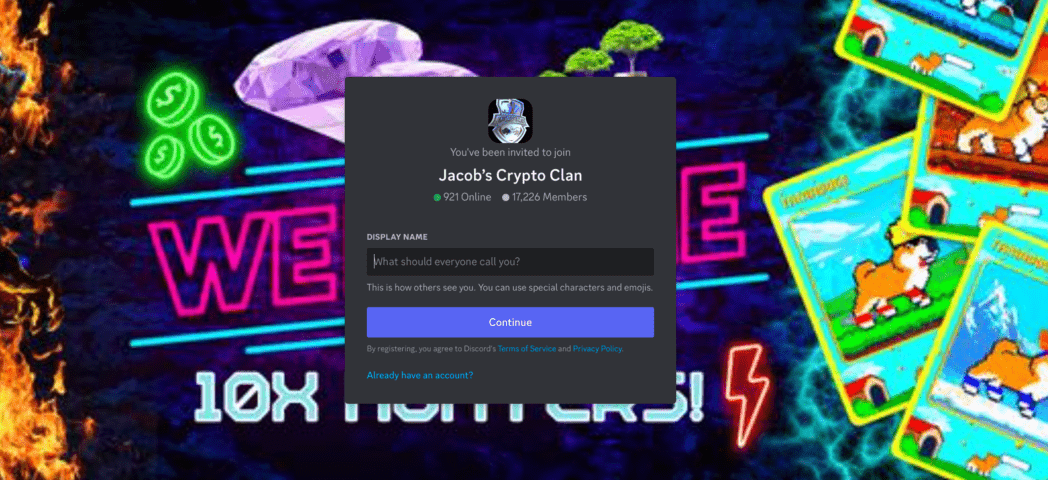 There are many types of channels, ranging from mainstream crypto news alerts to groups dedicated to ultra-degen low-cap plays.
The Jacob Bury Discord channel is the best group that provides a blend of high-potential projects while minimizing risk. As well as giving alpha on new emerging meme coins, Bury also delivers deep market analysis, combining crypto fundamental and technical analysis to help the community understand his decision-making process. At the time of writing this, the group has over 17,000 members.
Another good Discord group for beginners is Cryptohub, which provides fundamental analysis and boasts over 28,000 members. The group also provides trading signals at a monthly premium of $15.
You can also find alerts on new high-potential meme coins in some of the top crypto Telegram groups.
One of the best groups is B2C Crypto Calls & News. The group provides a unique blend of mainstream crypto news and degen meme coin plays, providing ample opportunity to buy new projects early while staying current on broader market conditions.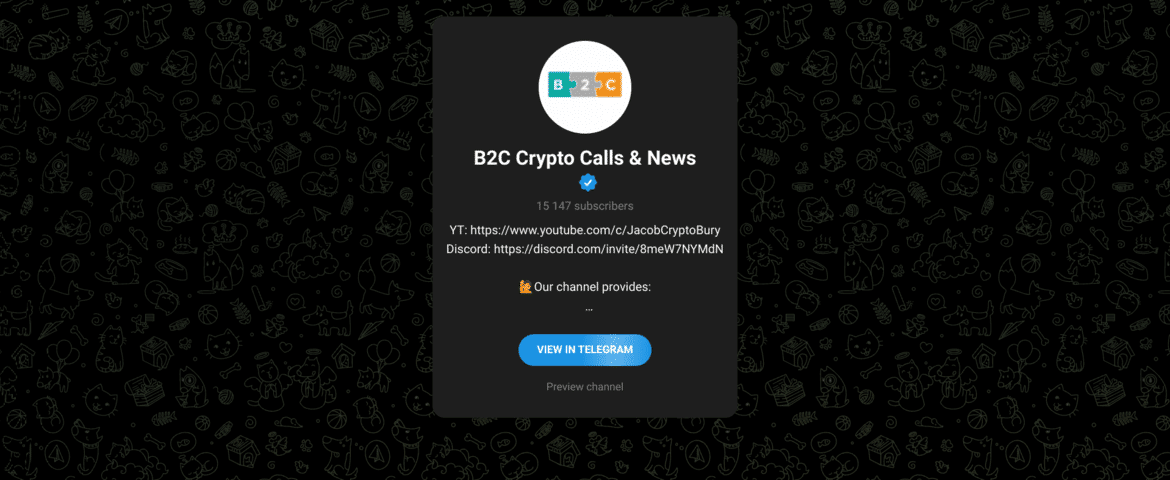 Finally, YouTube can be a brilliant resource regarding where to find new meme coins. There are many channels, but some of the best for new meme coins are Jacob Bury's YouTube channel, BitBoy Crypto's channel, and Crypto Banter.
However, we found the best is Jacob Bury's channel since it mostly focuses on early-stage projects with higher upside potential. Meanwhile, the BitBoy and Crypto Banter YouTubes cater to a broader audience, so they generally post meme coins later than Bury.
Use Tools Like DEXTools and CoinCodex
Besides identifying high-potential presales and joining social channels, one of the best ways how to find high-potential meme coins is by using data and analytics tools that allow you to scan the blockchain at the click of a button.
Data and analytics software like DEXTools and CoinCodex provide insight into countless different data points. For example, you can browse the highest daily gainers, top trending cryptos, and much more on DEXTools. It also provides project-specific data like market cap, trading volume, locked liquidity, the amount of holders, etc.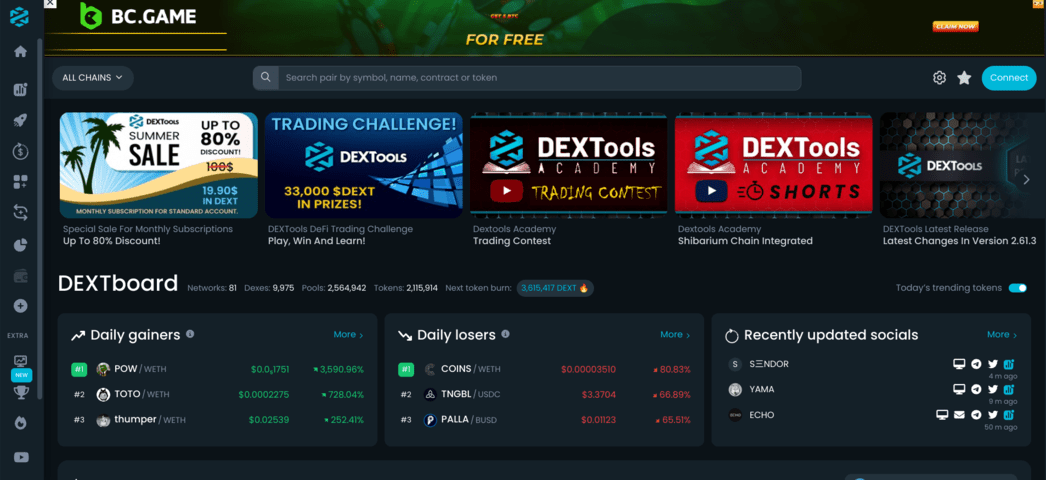 Meanwhile, CoinCodex provides even more extensive data sets. For instance, you can browse new ICOs, IEOs, and IDOs.
On top of that, CoinCodex's newly listed page provides real-time data regarding the most recent cryptos.
Another tool currently attracting attention is Launchpad XYZ, a platform providing users with 10x trades every month. According to its website, Launchpad XYZ has recently delivered three predictions of 10x gains or more. Following one of its calls, the token (ELON 2.0) shot up a whopping 29x.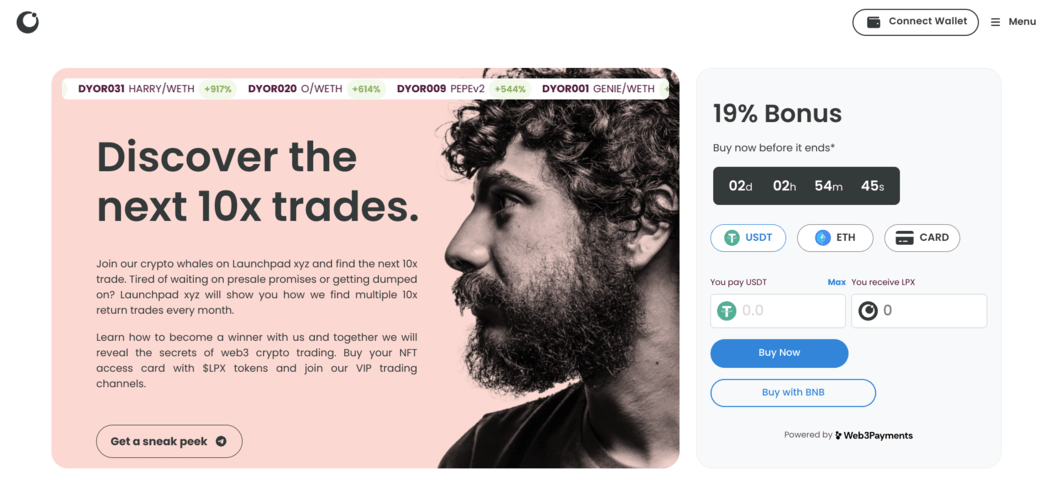 Unlike CoinCodex and DEXTools, Launchpad XYZ is highly beginner-friendly. It has an intuitive user experience and caters to all levels, providing countless sophisticated tools for a trading edge.
It offers professional trading features like a trading terminal and even an AI language model to assist users with their trade decisions.
The project is currently raising funds through a token presale to expand its platform's services.
Other notable platforms include CoinMarketCap and CoinGecko, which are highly trusted providers of crypto data for metrics like market cap, price history, and markets to buy the token. This means you can filter to find low market cap cryptos, which could present better upside potential.
However, it is worth mentioning that only relatively established cryptos (with $1 million or higher market caps) get listed on these platforms.
Track Blockchain Activity
Finally, thanks to blockchain's transparent and auditable nature, users can track wallets and see the new coins that successful traders or whales are buying.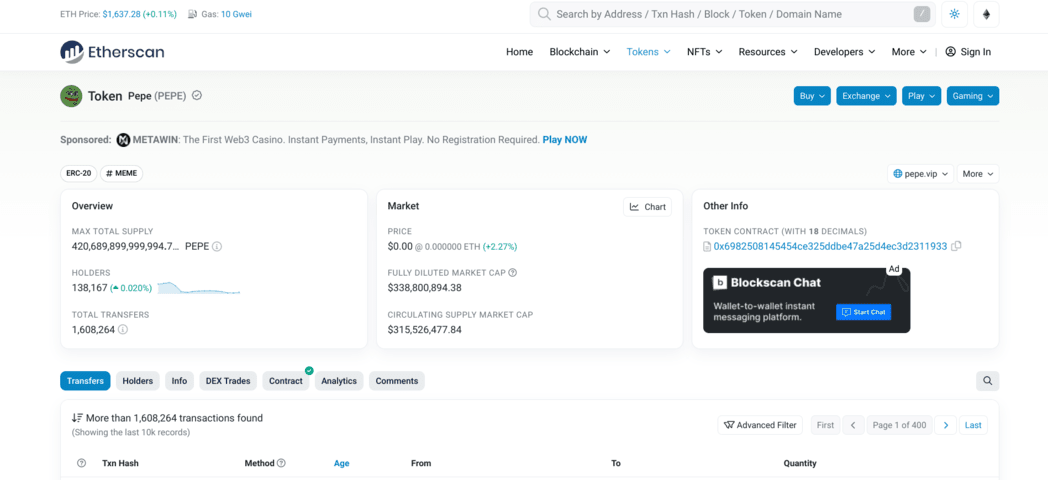 There are several ways to do this. Firstly, you can visit a popular blockchain explorer like Etherscan, filter one of the top meme coins like Pepe or Shiba Inu by the largest holders and sift through the wallets, manually tracking their activity.
While this method is slow, blockchain explorers are powerful tools that provide much flexibility in hunting for new meme coins.
You can also speed the process up with notification alerts. For example, the Twitter account Lookonchain provides daily updates on blockchain activity, mainly tracking whales and providing a blend of new meme coin trading and insights into more prominent cryptos.
However, wallet-tracking software could be helpful if you want deeper data insights.
There are countless wallet trackers that enable users to track and analyze whale transaction data, but one of the most powerful is Nansen.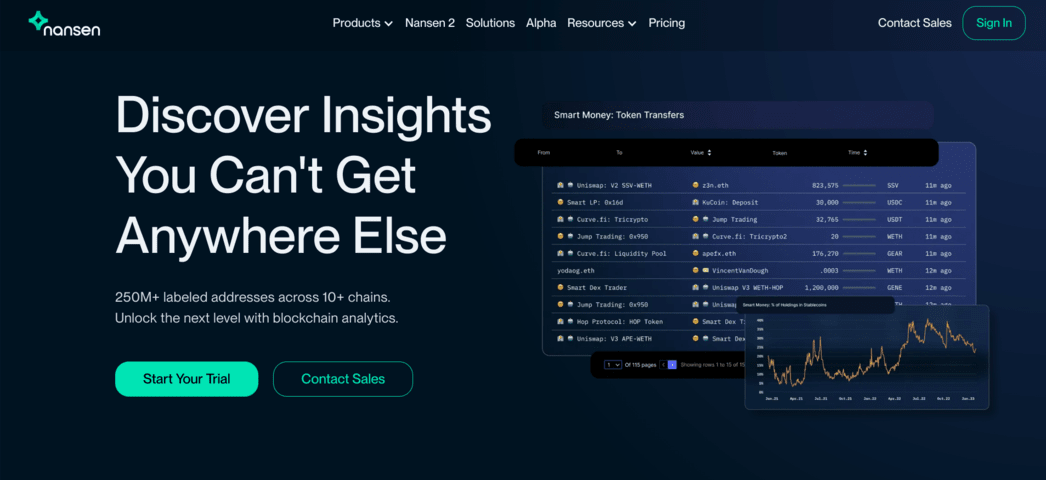 Nansen tracks and labels over 250 million wallets across 10+ blockchains, making it faster and easier to understand each wallet. As such, Nansen is more beginner-friendly than using Etherscan or an equivalent. However, the main trade-off is that Nansen's best features require a premium account, costing $100+ monthly.
Another option is to use an exchange that facilitates copy trading. The best exchange to track and copy trades is eToro, which also offers free deposits and low trading fees on 80+ cryptocurrencies.
While eToro usually lists more established projects, many offerings still hold significant long-term potential, particularly if you make the correct picks.
The platform provides several other powerful features, like Smart Portfolios, enabling users to buy a diversified basket of cryptocurrencies with one click.
Overall, eToro is one of the best crypto exchanges to track trading activity, providing a top-notch user experience ideal for beginners.
Cryptoassets are highly volatile and unregulated in most countries. No consumer protection. Tax on profits may apply. Your capital is at risk.
Why It Is Important to Find New Meme Coins Early
Since Dogecoin exploded in 2021, prudent traders have been trying to find the next Dogecoin early.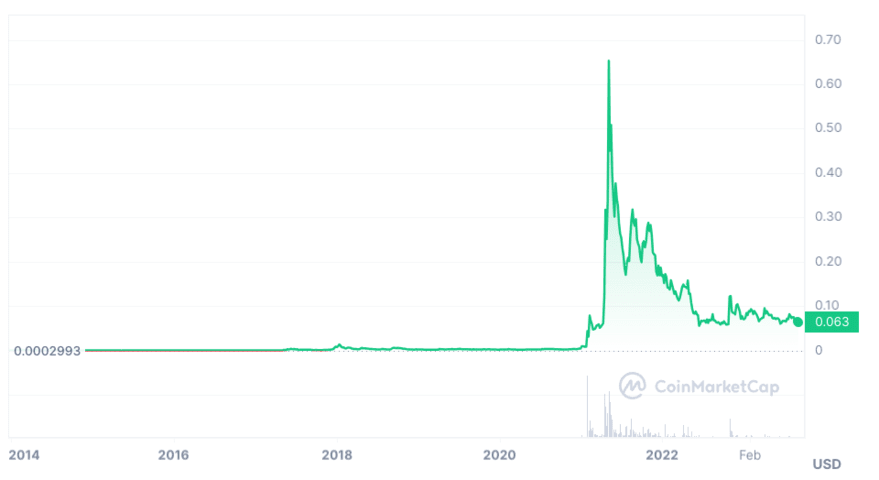 The Growth of Pepe
There are countless benefits to becoming an early investor in top meme coins, the most obvious being significant upside potential. For example, Pepe Coin grew 5,000,000% in just over a month following its launch.
Pepe launched in April 2023 and reached a staggering $1.1 billion market cap less than one month later. However, what's more impressive is that it did this without a real use case, doxxed team, and roadmap. Instead, it relied solely on hype, community, and centralized exchange listings to boost its growth.
One of the main contributing factors to its success was that its price exploded following a Binance listing. Within one day of the announcement, Pepe attracted hundreds of millions of dollars in investments due to the added legitimacy the Binance listing provided.
Besides the potential for monumental gains, another benefit of buying meme coins early is the social clout that early investors enjoy. For example, many of the early Dogecoin investors were able to build online brands and generate other streams of revenue.
News outlets often pick up these early investors, which provides significant attention. One example is a Dogecoin millionaire who racked up a massive net worth from a meager investment and was published by Yahoo Finance.
Finding meme coins early can also enable access to a vibrant and tight-knit community. Many new projects have Discord channels where the community chat about project-related events, organize social media raids, and much more.
One of the best new meme coin groups is the Wall Street Memes Discord, which has begun attracting attention as its presale advances.
The last benefit to buying meme coins early is that you may get better access to the ecosystem, more voting rights, or increased potential to earn through staking since getting in early can tokens for their money.
How to Identify High Potential Meme Coins and Avoid Duds and Scams
One of the most challenging issues new meme coin investors face is separating the high potential projects from duds and scams. Ultimately, all investments carry risk, so you will never be able to guarantee a project is risk-free. For example, even one of the most prominent meme coins, Pepe, has been accused of orchestrating a rug pull recently.
However, you can take several steps to reduce the risk, ensuring you buy only the most high-potential projects.
Smart Contract Audits
Firstly, projects with smart contract audits are generally safer than those without. For example, the German smart contract auditing firm SolidProof audited Wall Street Memes. The findings identified no low, medium, or high-risk issues regarding its smart contract, meaning the project is less at risk of a rug pull than some other meme coins.
Another way to check a project's smart contract security is via DEXTools, which considers factors like a verified smart contract, the potential for a honey pot scam, and buy and sell tax. The platform gives each project a rating out of 100, known as its DEXTscore.
However, it is important to note that DEXTools only audits projects already launched. For presale projects, you must manually search for the audit on the presale or auditor's website.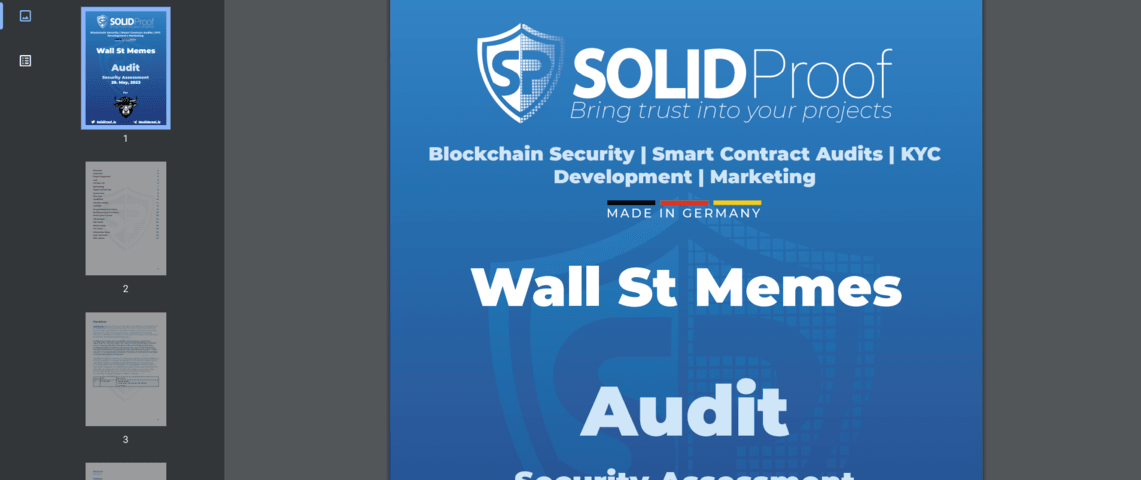 Another factor is robust tokenomics. Projects that dedicate a significant portion of tokens to the team or anyone besides the community could pose a risk to the community by dumping their tokens.
Finally, a thriving and engaged community is another sign of a high-potential meme coin. This is because the project can benefit from a network effect, as we have seen with Shiba Inu and the launch of Shibarium recently. On top of that, a thriving community provides more liquidity, which incentivizes the project's team to continue building the project.
Conclusion
After exploring how to find high potential meme coins, we established numerous techniques to identify projects with high potential. As a result, we found that Wall Street Memes is a solid example of an early-stage meme coin boasting significant potential.
However, the Wall Street Memes presale end is looming, having raised over $25 million and announcing its upcoming tier-one exchange listings. This leaves investors little time to buy at a fixed price.
References
FAQs
How do I find out about new meme coins early?
What is the next meme coin to explode?