Bitcoin is largely purchased for investment gains. But due to its ever-increasing popularity, Bitcoin can also be used to buy products and services online.
In this guide, we explore how to pay with Bitcoin in the real world and also discuss the best online stores to buy goods and items with Bitcoin and other cryptos.
How to Pay with Bitcoin & Cryptocurrency Online
Before diving into this comprehensive guide on how to pay with Bitcoin – here's a quick overview of the process.
Step 1

:

Get Bitcoin: Those without any Bitcoin will first need to obtain some. eToro is the best place to buy Bitcoin and other cryptocurrencies. Not only is eToro regulated, but it offers low fees.
Step 2

:

Transfer Bitcoin to a Wallet

: Next, transfer Bitcoin to a mobile wallet, which offers more control when buying products online and in the real world. eToro offers a licensed and user-friendly mobile wallet for Android and iOS.

Step 3

:

Choose a Store That Accepts Bitcoin: Next, select an online store that takes Bitcoin payments. Crypto Emporium is the stand-out option here. Crypto Emporium sells everything from electronics, luxury watches, and cars to real estate, fine art, and online courses.
Step 4

:

Add Product to Shopping Card

: Next, add the chosen product to the shopping card. Review details surrounding delivery times and shipping charges. The online merchant will then display the wallet address to send the Bitcoin tokens.

Step 5

:

Pay With Bitcoin

: Finally, transfer the Bitcoin tokens to the wallet address provided by the merchant. Once the transaction is confirmed by the blockchain (usually 10 minutes), the merchant will send an email confirming the order. The merchant will then ship the product.
Cryptoasset investing is highly volatile and unregulated in some EU countries. No consumer protection. Tax on profits may apply.
The above is just a quick overview of the process. Still wondering how do you pay with crypto? Read on for more information.
Step 1: Acquire Bitcoin or Another Crypto That Can be Used as Payment
Now let's get straight into our detailed guide on how to pay with Bitcoin.
The first step is to ensure that the buyer has sufficient Bitcoin tokens. If not, the best crypto exchange for this purpose is eToro, because the broker is regulated and authorized by multiple tier-one bodies.
This includes FINRA (US), CySEC (Cyprus), FCA (UK), and ASIC (Australia) – having such a strong regulatory framework also means that eToro can accept fiat money deposits, including debit/credit cards and e-wallets, such as Paypal.
If the deposit is made in US dollars, there are no payment fees, while if the deposit is made in another currency, eToro charges just 0.5%. On top of being a top broker to buy Bitcoin, eToro is also the best place to buy other cryptos.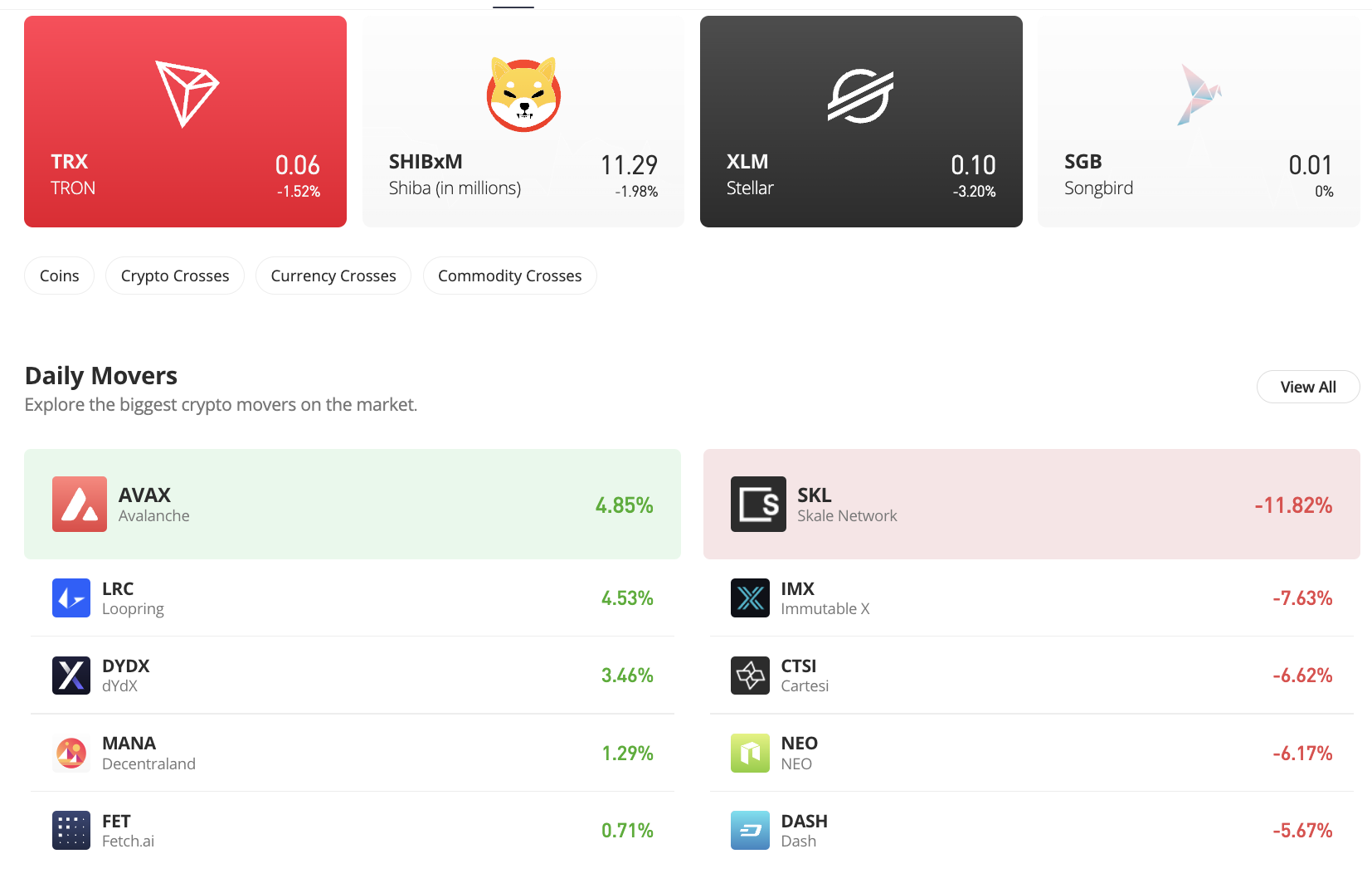 This includes 90+ of the best altcoins, such as Ethereum, Dogecoin, XRP, Bitcoin Cash, and Litecoin. As we cover in more detail shortly, Crypto Emporium accepts each of these cryptocurrencies on its online marketplace.
To buy crypto on eToro, here's a quick overview of the steps:
Open an account by providing some personal information

Make a deposit of at least $10

Search for the preferred cryptos

Type in the investment amount from $10 upwards

Confirm the order
Crypto purchases on eToro can be made 24/7.
Cryptoasset investing is highly volatile and unregulated in some EU countries. No consumer protection. Tax on profits may apply.
Step 2: Get a Crypto Wallet
Another thing to consider when learning how to pay with Bitcoin online is that a crypto wallet is paramount – wallets enable users to send and receive crypto.
In other words, the buyer will send crypto on a wallet-to-wallet basis to their preferred merchant.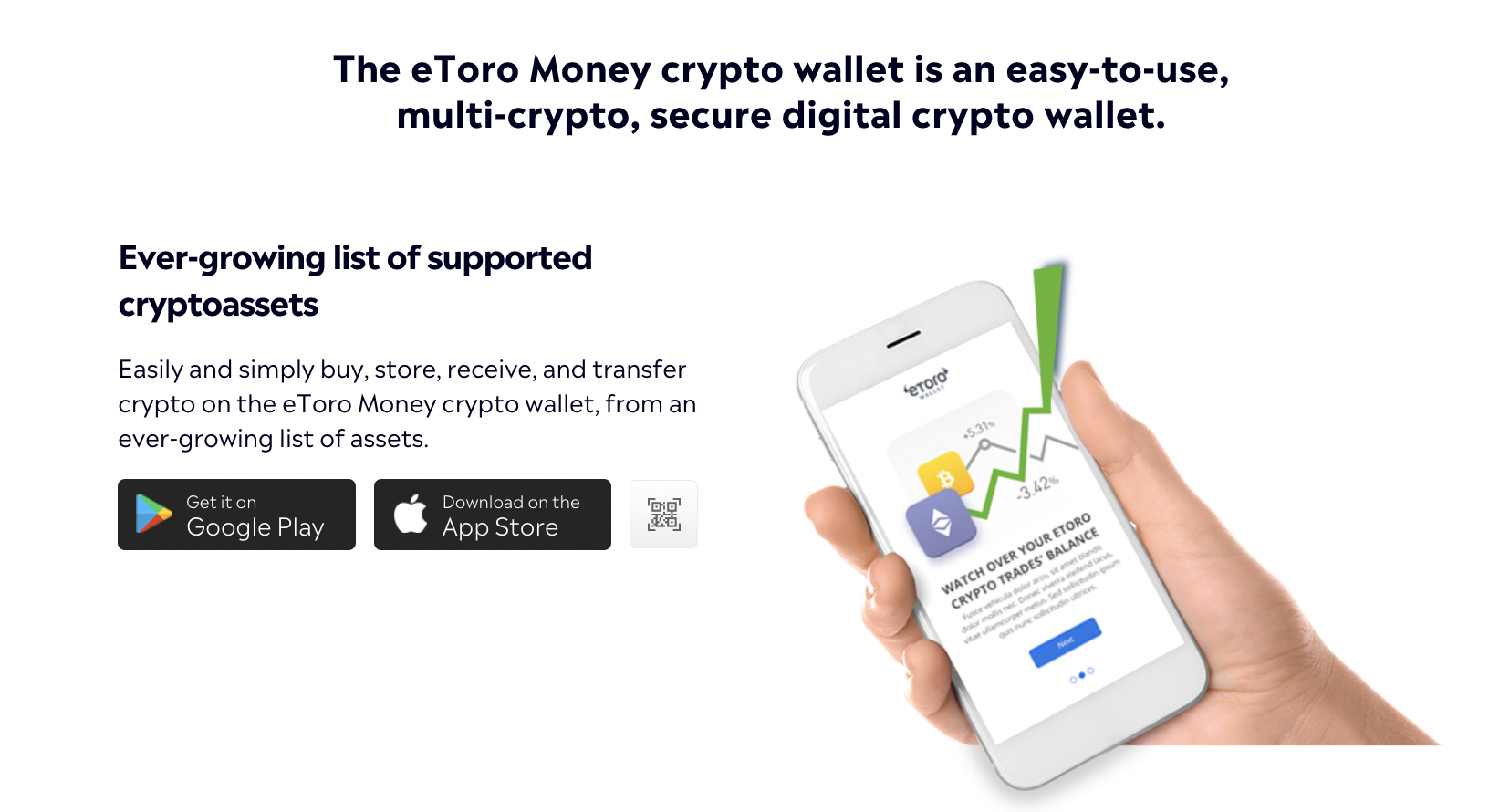 While eToro is the best place to buy crypto, it also offers a top-rated crypto wallet app which is free to download on both Android and iOS phones. This makes it a breeze to buy products online and in the real world.
The eToro wallet also removes the need to manually paste crypto addresses. Instead, users can scan the wallet address via their smartphone.
Step 3: Find a Store That Accepts Crypto for What You Want to Buy
At this stage, the buyer will have a wallet that is funded with Bitcoin or other cryptocurrencies. Next, the buyer will need to find a store that not only accepts crypto but sells their preferred product.
Overall, Crypto Emporium offers the most diverse range of product categories while also allowing users to avoid crypto taxes. In the electronics department, for instance, buyers will find headphones, TVs, smartphones, laptops, and much more.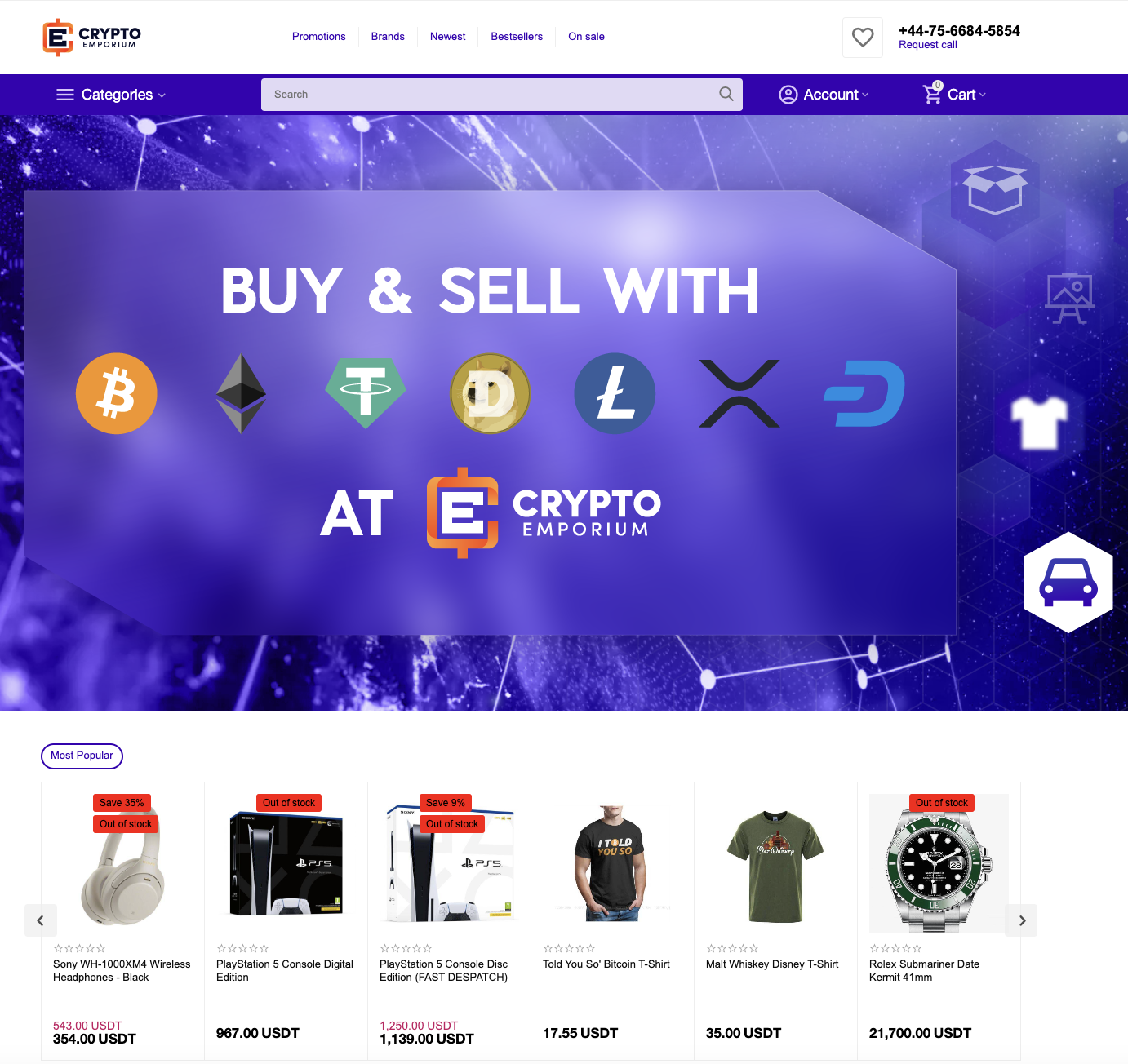 Other categories include real estate, cars, luxury watches, designer clothing, online courses, and artwork.
Step 4: Open a Retailer Account
After browsing the many products available at Crypto Emporium, the next step is to register an account.
This requires some basic information, such as the buyer's full name, shipping address, email, contact number, and a strong password.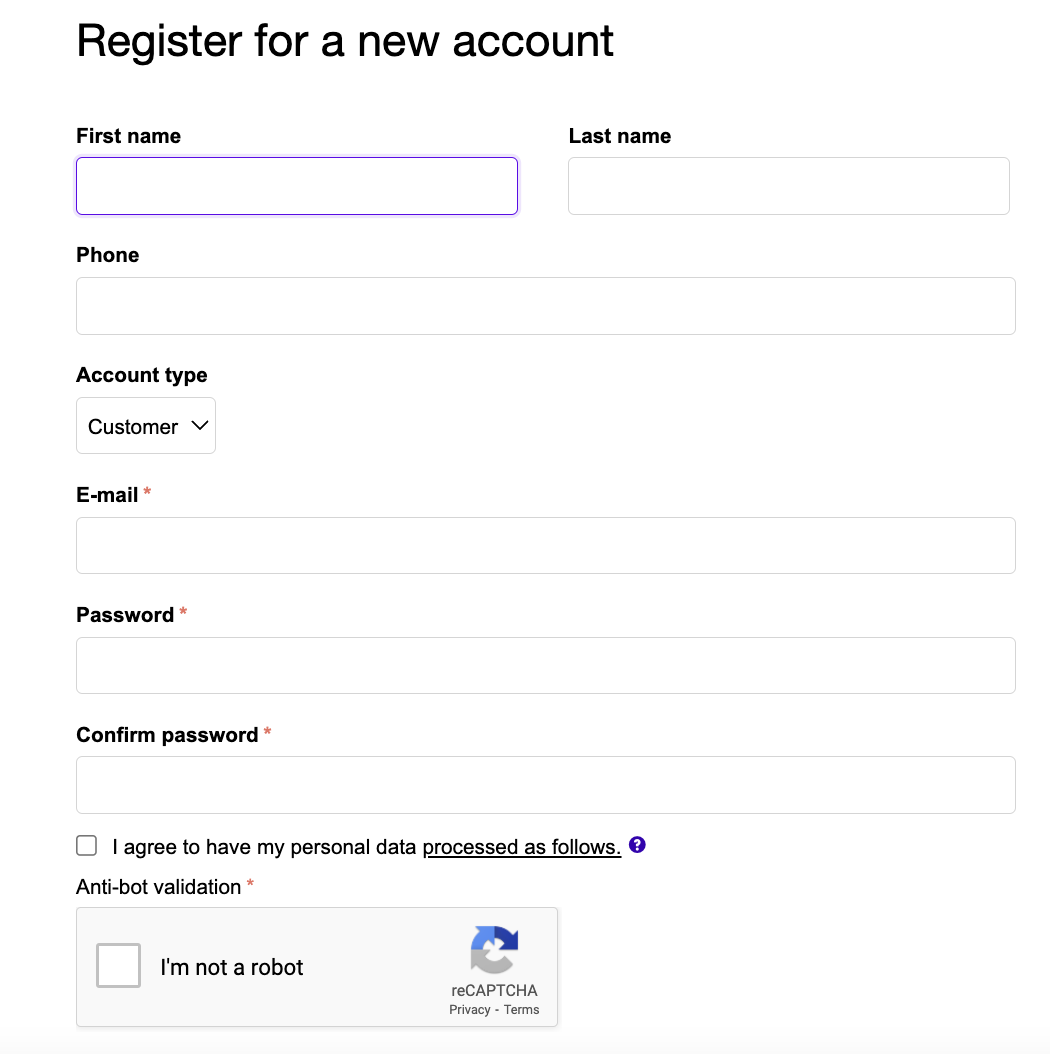 Open the email that Crypto Emporium sends and click the confirmation link.
Step 5: Add the Product to Shopping Cart and Review the Payment Details
The next step is for the buyer to add the chosen product to their shopping cart. Go to the checkout page to review all details surrounding the desired purchase.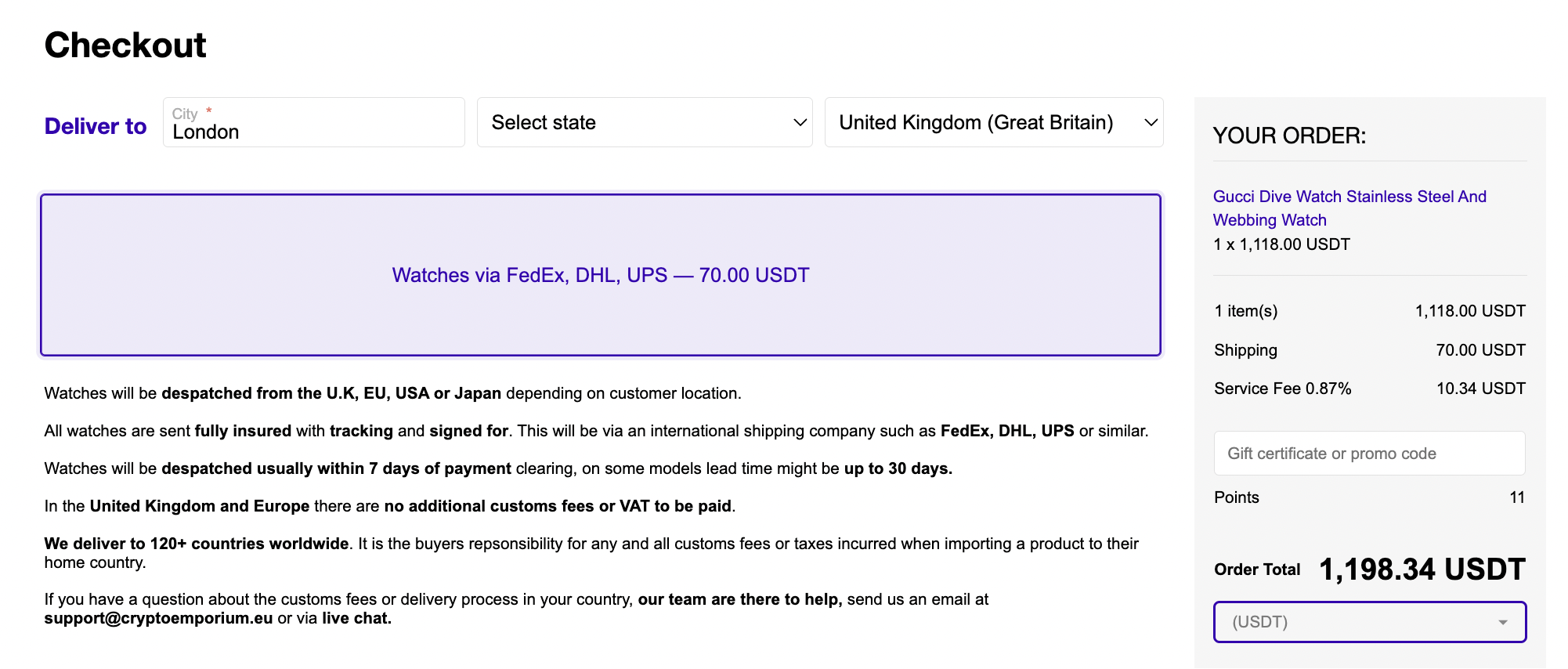 This should include information surrounding shipping, both in terms of the estimated delivery date and fees. Crypto Emporium clearly displays shipping fees in the preferred cryptocurrency.
Step 6: Transfer Crypto to the Merchant
After reviewing the order details, it's time to complete the crypto payment. If paying with Bitcoin, Crypto Emporium will display a unique BTC wallet address. Otherwise, the merchant will display the wallet address for the selected altcoin.
Either way, the buyer will then need to open their mobile wallet and scan the QR address displayed by Crypto Emporium – this will import the address into the wallet.
Then, type in the exact amount of crypto to cover the full value of the purchase and ensure that transaction fees are not deducted from this amount. Finally, transfer the tokens to Crypto Emporium.
Step 7: Track Delivery Updates
Crypto Emporium will automatically send an email once it receives payment. The specific timeframe will depend on the crypto being used.
For example, Bitcoin usually takes 10 minutes to confirm a transaction. While altcoins like Ethereum and Tether are often much faster.
Crypto Emporium allows buyers to track the location of their shipment. Simply log into the account to see a real-time update on the order.
Where Can You Buy Things with Bitcoin Online?
We found that there are hundreds of popular online stores that now accept Bitcoin payments.
Here's an overview of the best places that accept Bitcoin and other cryptocurrencies.
1. Crypto Emporium
We have already mentioned Crypto Emporium throughout this guide on how to spend Bitcoin – and for good reason. This established marketplace offers a one-stop shop for thousands of items across every product imaginable.
For example, those wondering how to buy watches with Bitcoin will find dozens of luxury brands to suit all budgets. If money is no option, the likes of Rolex, Patek Philippe, and Richard Mille will likely be of interest.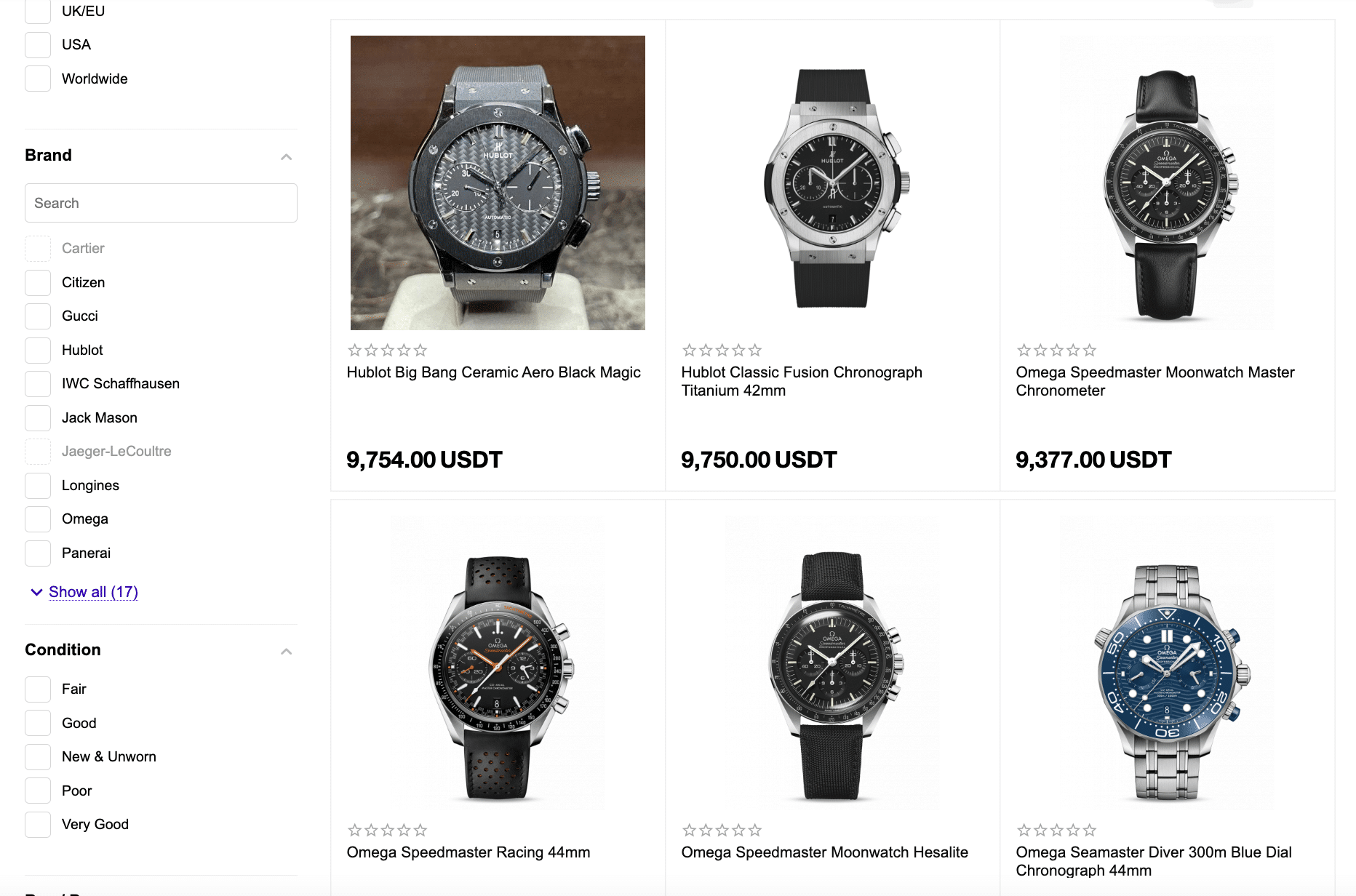 Examples include a Richard Mille 67-02 Van Niekerk, which is listed at almost $332,000. Looking for an affordable Rolex? Consider a Custom Rolex Datejust II Nero at $24,700 – this is a brand-new Rolex that comes with the original box and papers.
In addition to watches, Crypto Emporium also has a huge range of electronics. This covers everything from audio equipment, TVs, and smartphones to tablets, laptops, and cameras. Buyers will also find fully-fledged mining rigs and hardware devices, including the latest models by ASIC.
Crypto Emporium also lists a full range of designer clothing brands, covering both men and women, with bags, jeans, shirts, dresses, and activewear all available.
Other popular categories include artwork, sporting goods, toys, online courses, and travel accessories- what's more, Crypto Emporium even allows users to buy cars with Bitcoin.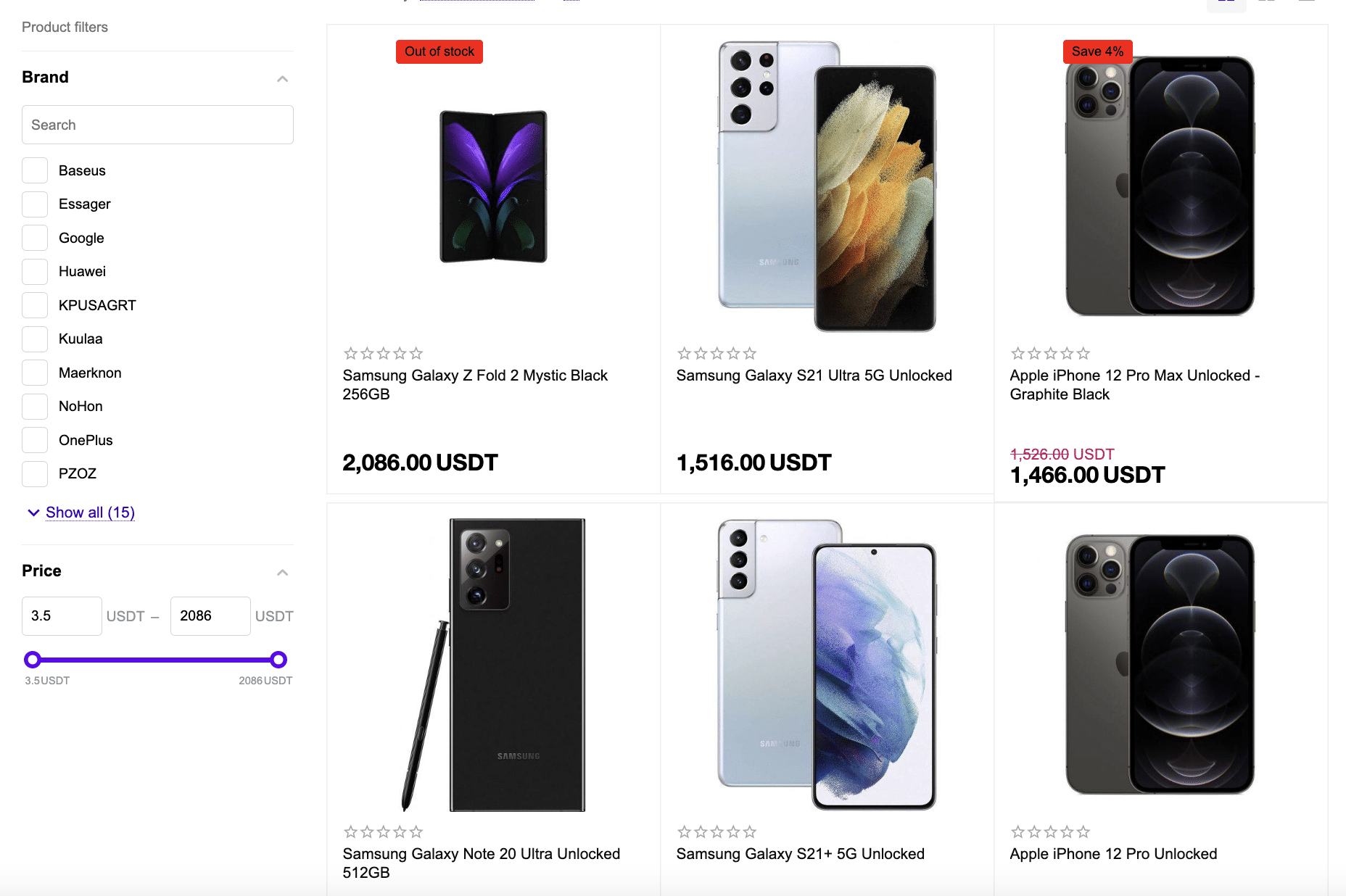 This covers both new and used cars, and once again, all budgets are catered for.
Buyers can find vehicles from BMW, Honda, Tesla, Ford, Fiat, and many others, as well as high-end luxury car brands including Lamborghini, McLaren, Ferrari, and Bugatti. Put simply, cars range from a few thousand dollars to several million.
We also found that Crypto Emporium allows buyers to invest in real estate with Bitcoin – there are houses and condos in every corner of the world, from Cambodia and the UK to Australia and Dubai.
This offers a great way to diversify away from cryptocurrencies and into properties.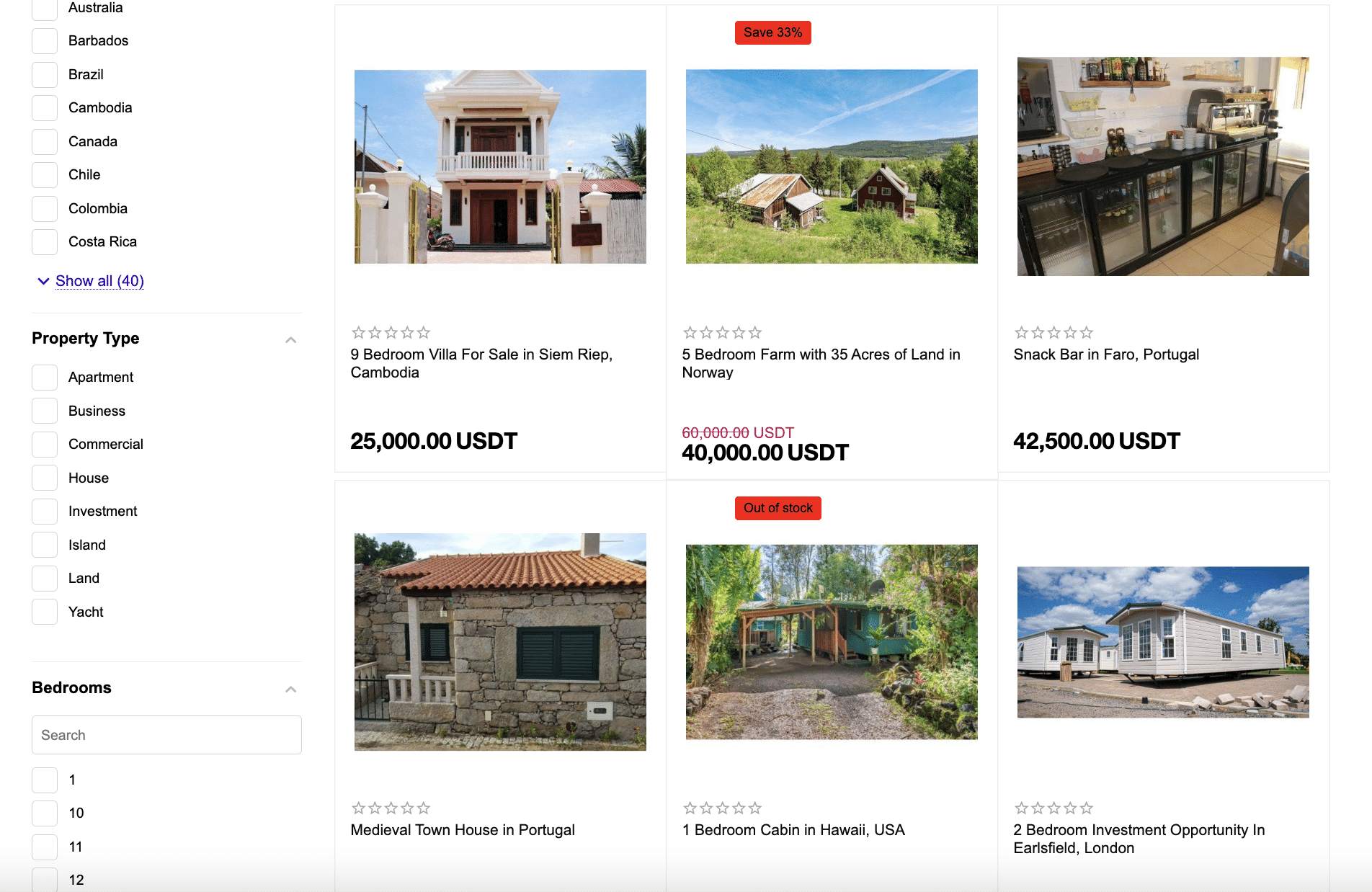 In terms of how to buy with crypto, the process is very simple at Crypto Emporium.
After opening an account and choosing a product to buy, Crypto Emporium will display the shipping times and fees.
The buyer can then copy the crypto wallet address provided by the merchant and complete the transfer. Each stage of the delivery process is trackable via the buyer's Crypto Emporium account.
2. ExpressVPN
Those with a specific need for VPN services might consider ExpressVPN. Not only is this one of the best VPNs on the market but it accepts digital currency – including Bitcoin and some of the best long-term cryptocurrency investments, like XRP and Ethereum.
ExpressVPN offers unrivaled service coverage to ensure users are protected from internet threats at all times. In addition to offering a safe browsing experience, ExpressVPN is also ideal for watching geo-restricted media.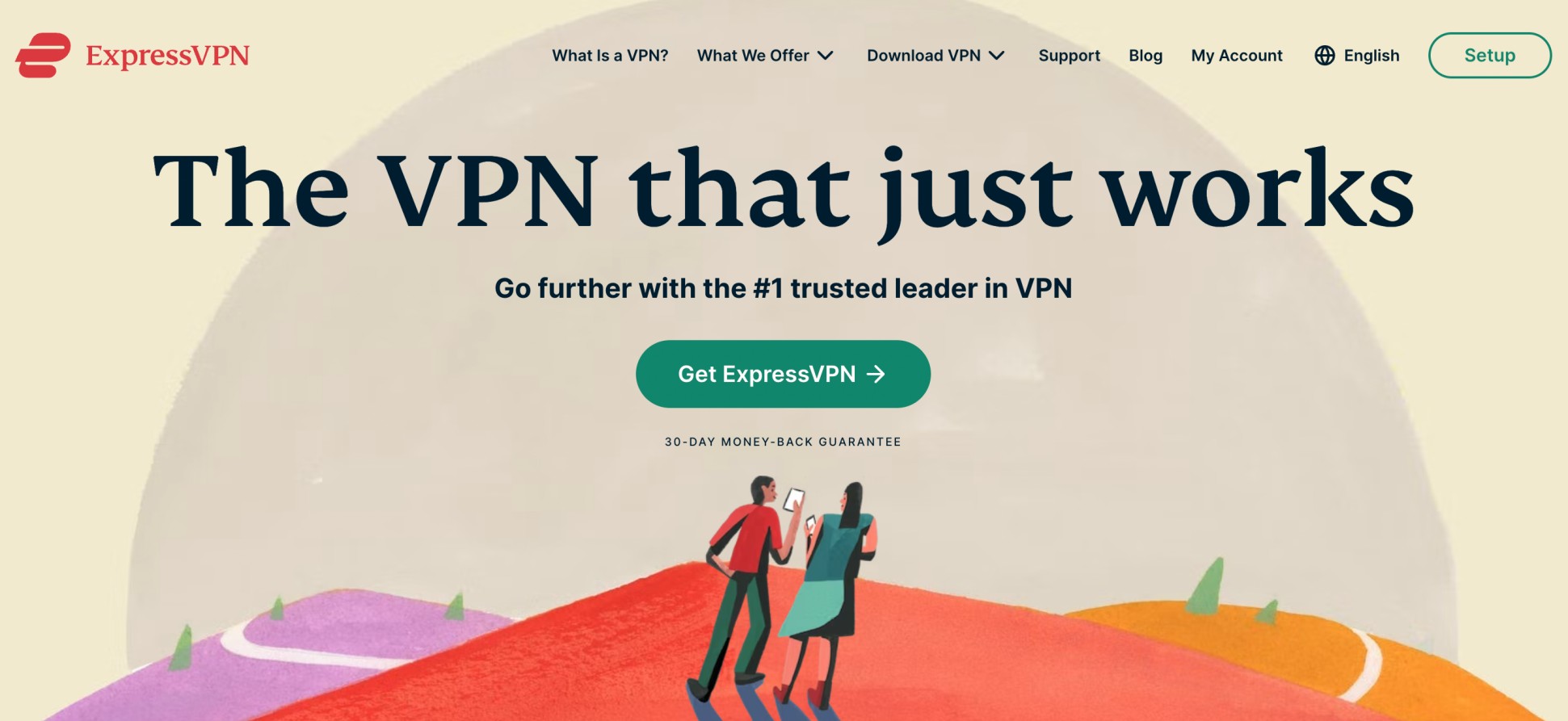 This means users can watch BBC iPlayer outside of the UK and access US Netflix content from overseas. Achieving these goals with ExpressVPN is seamless as users can choose from servers in 94 countries, including Asia Pacific, Europe, North and South America, and more. The most popular locations – such as the US and the UK, have multiple servers to choose from.
This will come in handy when searching for the fastest server for high-demand internet services, like streaming or gaming. We also found that ExpressVPN offers plenty of advanced tools for extra security, including private DNS, VPN split tunneling, AES-256 encryption, and TrustServer technology.
Crucially, unlike other VPN providers, ExpressVPN does not keep a log of browsing data. As such, ExpressVPN users remain anonymous at all times. We also like ExpressVPN for its multi-device support.
This includes desktop software for Mac and Windows, an app for iOS and Android, and browser extensions. Prices vary depending on the length of the plan.
While a flexible one-month plan costs $12.95, this can be reduced to just $6.67 per month by paying annually. To complete the payment, simply select the preferred cryptocurrency and send the funds to the wallet address provided by ExpressVPN.
3. Newegg
Newegg is another popular online store that accepts allows shoppers to buy a range of products with Bitcoin and other cryptocurrencies. Its primary product line is focused on electronics, with a huge selection of laptops and desktop computers at competitive prices.
Brands in this department include Asus, Lenovo, HP, Hasee, MSI, and many others. Newegg also lists thousands of other products, ranging from gaming consoles and appliances to office solutions and home security.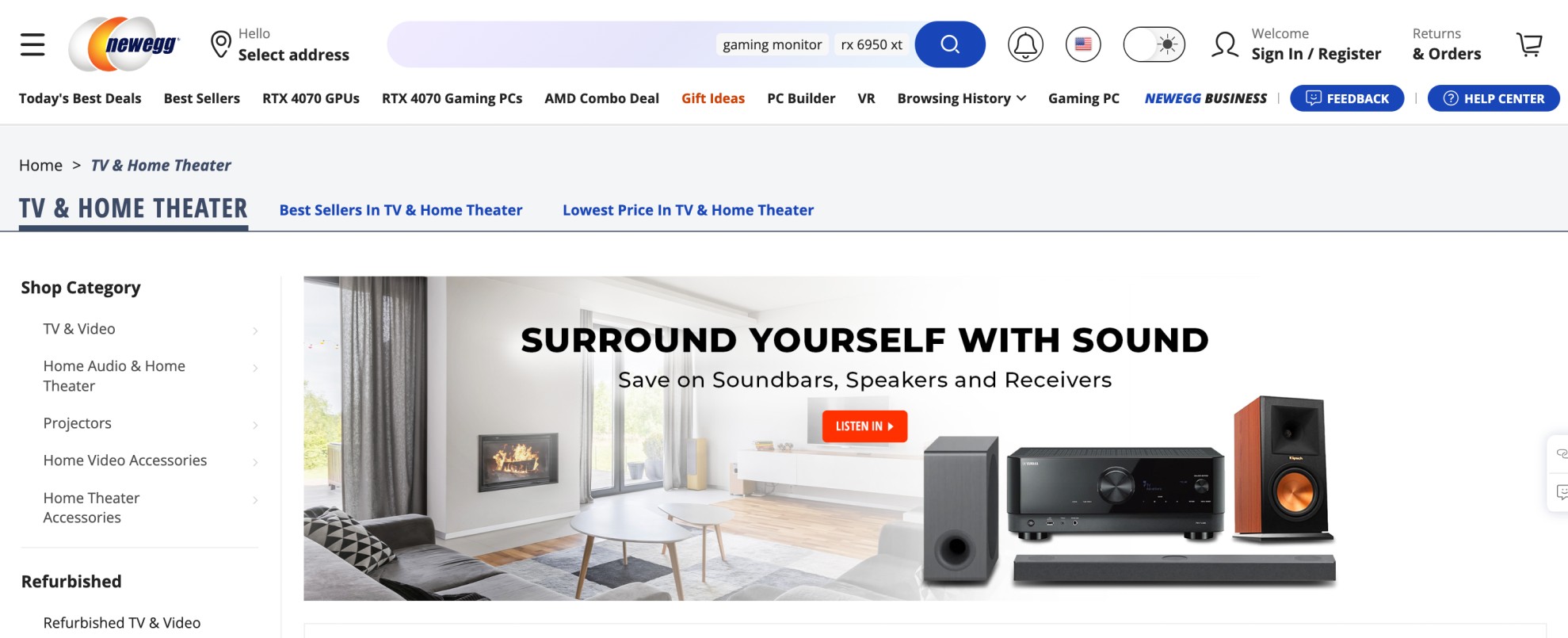 Newegg is also popular for its cost-effective home cinema products with TVs, projectors, speakers, and accessories like remote controls available. While Newegg is a US-based retailer that is popular with American customers, it also ships internationally, supporting deliveries in selected countries in Asia, Europe, the Middle East, and Oceania.
Shipping fees will depend on the product and the delivery location. To buy products on Newegg with crypto, the process works much the same as using any other payment type. Simply add the product to the shipping cart, enter the delivery address, and choose the preferred cryptocurrency.
Newegg has partnered with BitPay for crypto payments, so multiple digital assets are supported. This includes Bitcoin, Ethereum, Polygon, BUSD, Bitcoin Cash, and some of the best meme coins – also accepting Dogecoin and Shiba Inu as payment.
4. CheapAir
Wondering how to pay with Bitcoin when booking a flight? We found that CheapAir is a great option that is one of the most popular US-based travel agencies that has since made the transition from brick-and-mortar to online. It has excellent reviews in the public domain, including a 4.6 rating with TrustPilot and Americans favor CheapAir for its US-based customer service team – CheapAir is also popular for its competitive prices.
Its network covers hundreds of airlines, so CheapAir often has the lowest prices, especially when a journey begins at a US airport. In addition to cheap flights, this popular travel agency also allows customers to book hotel rooms either on their own or as a package deal.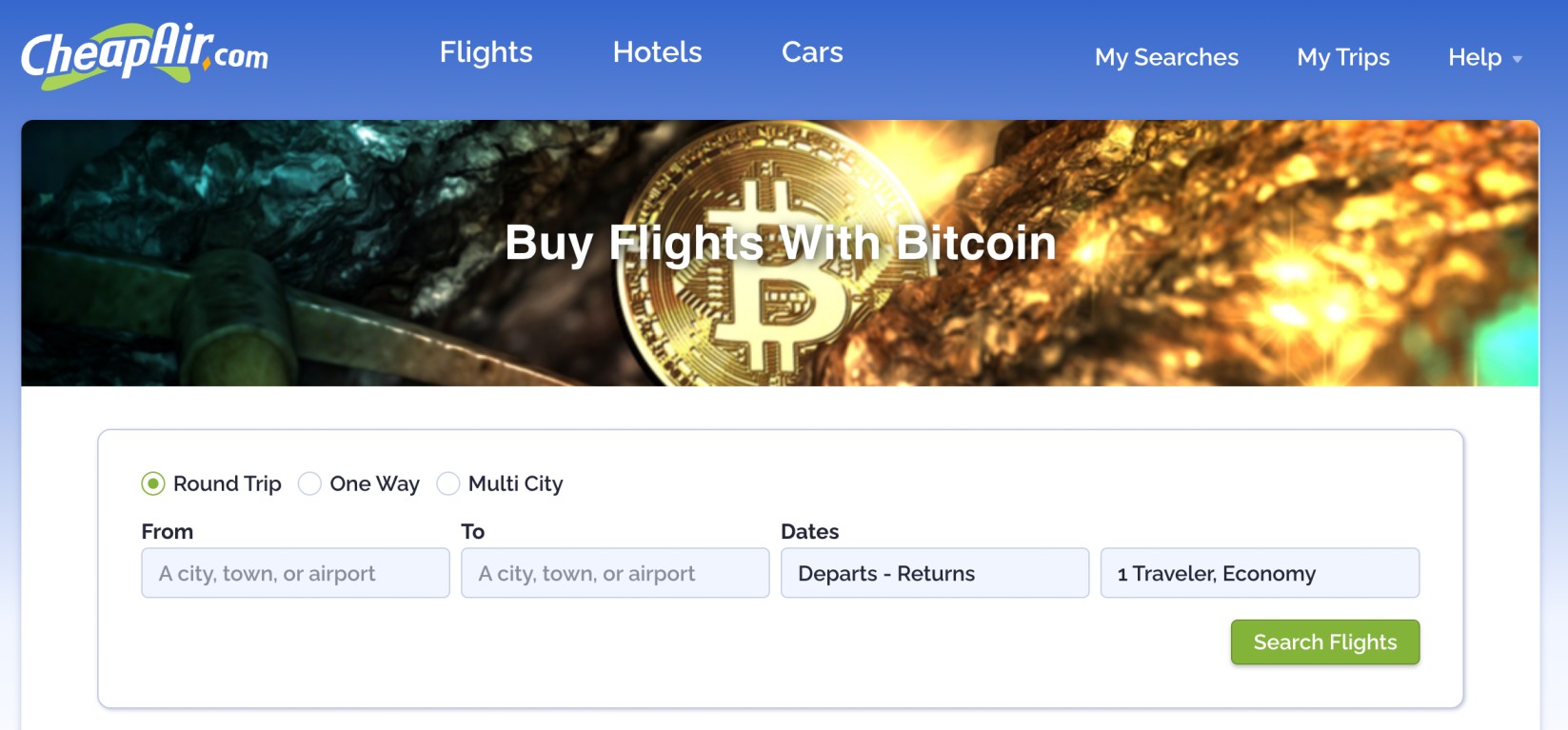 CheapAir also offers car rentals to suit all budgets. Another reason that CheapAir is so popular with budget travelers is that it also offers finance options.
Depending on the credit rating of the traveler, financing rates start from 0%, with terms of up to 12 months are available, enabling travelers to spread out the cost of a holiday package.
To pay for flights, hotels, or car rentals with Bitcoin, add the chosen package to the shopping cart as usual. Then select 'Bitcoin & Cryptocurrency' and choose the preferred digital asset. CheapAir will then display the wallet address to send the funds.
5. Bitgild
Another option to consider when exploring how to spend Bitcoin is to diversify into commodities, with marketplaces like Bitgild specializing in precious metals like gold and silver.
More specifically, Bitgild offers access to physical bars and coins, which will appeal to those that want to store their own precious metals at home rather than trusting a third party. After all, many gold and silver brokers only provide ownership through a 'certificate'.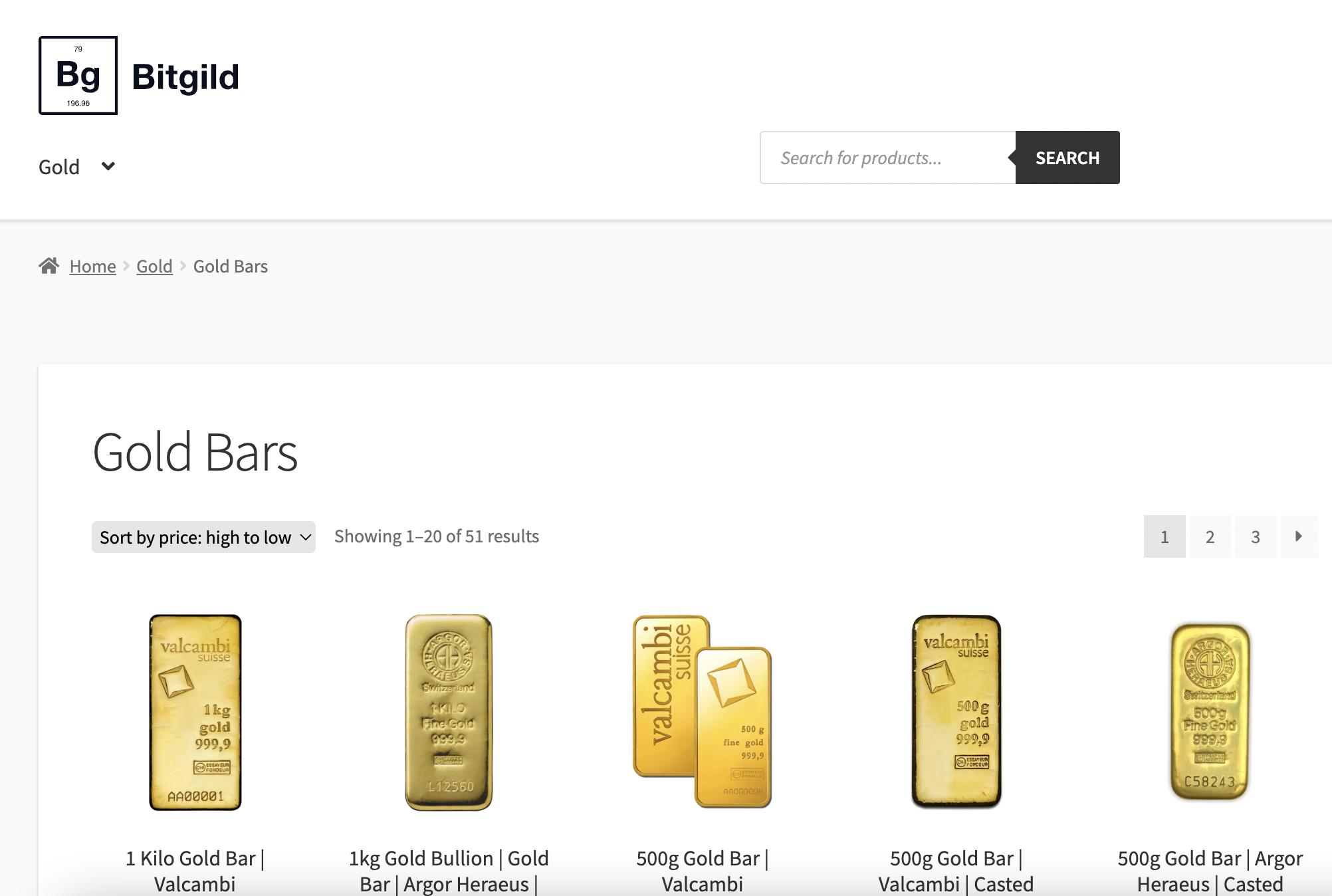 At Bitgild, there are precious metals to suit all budgets – for instance, it's possible to buy a 1 kg gold bar in full, with other denominations including 500g, 250g, 100g, 50g, and more. There are multiple purities of gold too. Investors can click on the previous metals product they are interested in for a full product specification. When ordering more than €1,000 worth of precious metals at Bitgild, delivery is free. In most cases, the bars or coins will be dispatched within one day.
We also like that Bitgild offers a loyalty program. On each purchase, the buyer will earn points that can be converted into cash discounts. When setting up an order, Bitgild takes the current exchange rate for BTC/USD and adds it to the invoice.
This will update every three minutes. While Bitgild offers anonymous crypto payments, this won't be possible if the order value is above €10,000. This is in line with EU money laundering regulations. In addition to Bitcoin, Bitgild also accepts a range of altcoins.
Benefits of Paying With Crypto
When the Bitcoin whitepaper was released in 2008, Satoshi Nakamoto made it clear that digital currency would make an ideal payment system.
Here are some of the reasons why Bitcoin and other cryptocurrencies are useful for buying things online and in the real world.
Decentralized
Bitcoin payments solve the issue of centralization as payments made via the Bitcoin network do not require a third-party intermediary. This means that people are free to buy products and services on a peer-to-peer basis.
Now compare this to traditional fiat payments, which always require a middleman. For example, using a credit card to buy something online requires authorization from the respective bank. This means that financial institutions can control which payments are approved and which aren't.
Fast Payments
There is often a debate about whether to not Bitcoin is suitable for payments, considering that it takes 10 minutes for transactions to confirm on the blockchain.
However, it is important to note that the Bitcoin Lightning Network processes payments in seconds. Moreover, the legacy Bitcoin network is considerably faster and more efficient when transferring funds internationally. In comparison, payments via SWIFT can often take three days to process.
Cheap Payments
While Bitcoin is still not suitable for micro-payments, its fee system offers a significant advantage to those making larger transfers. This is especially the case when transacting on a cross-border basis.
For example, those remitting funds to their families in emerging markets are often hit with unethical transfer fees, usually based on the size of the transfer. For instance, the larger the transfer, the higher the fees.
With Bitcoin, however, fees are based on network demand and not the size of the transaction. As such, larger transactions will benefit from hugely competitive fees.
Earn Extra Crypto
Many crypto shopping sites also offer affiliate programs where shoppers can earn rewards for referring new customers.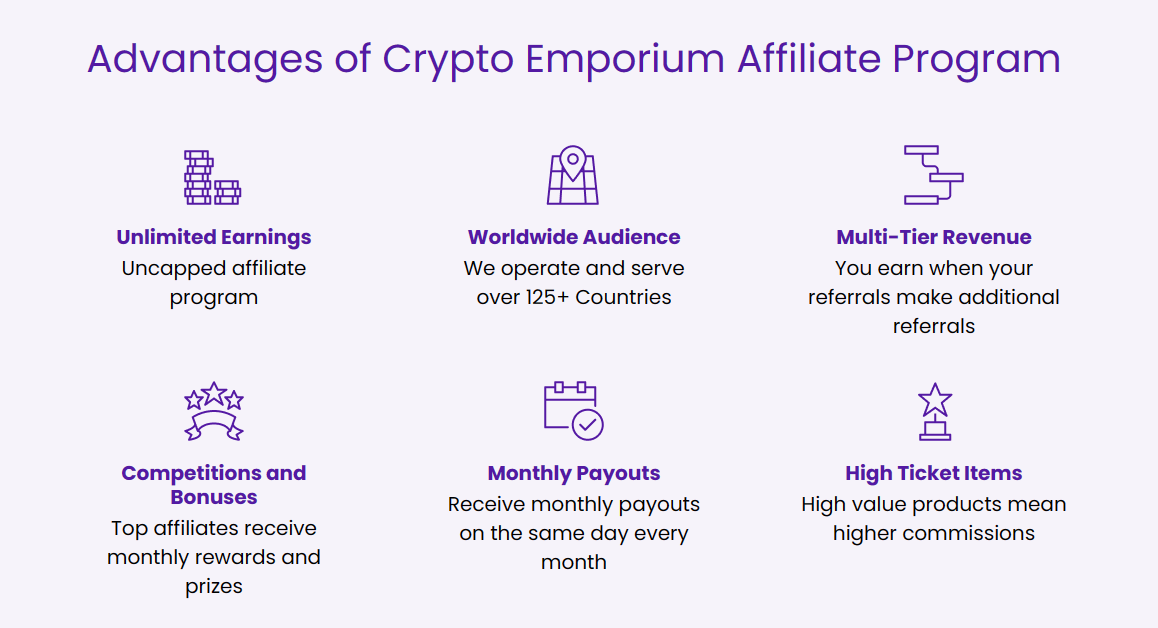 Crypto Emporium, for example, allows it and has uncapped earnings as well as a multi-tiered system that means if customers refer more customers, the original referrer gets earnings also. The site also has monthly rewards for the top affiliates
Anonymity
Bitcoin and other cryptocurrencies promote privacy between senders and receivers because transactions are not tied to the transacting parties. Instead, transactions are represented by crypto wallet addresses.
This means that some online merchants and retailers accept anonymous purchases.
Avoid Cashing Out With Third Parties
Some investors will look to buy things with Bitcoin as an alternative to cashing out. This enables investors to avoid using a third-party, such as a crypto exchange.
Moreover, when cashing out larger amounts to a bank account, this can trigger an anti-money laundering investigation. And while the investigation is ongoing, the investor might not have access to their money.
With this in mind, retailers like Crypto Emporium are becoming increasingly popular with those holding Bitcoin. The platform not only offers everyday products like electronics and clothing, but a way to diversify into cars and real estate.
Is it Safe to Pay for Things with Bitcoin?
The simple answer is yes – it is safe to pay for things with Bitcoin. But just like buying things with fiat money, safety considerations still need to be taken into account.
For example, when learning how to buy things with Bitcoin for the first time, it's important to do some research on the chosen marketplace – ensure that the marketplace is established and has great reviews online.
Additionally, consider that the payment requires a wallet-to-wallet transaction. This means that the buyer will need to personally transfer Bitcoin to the merchant's wallet and while this is relatively simple, a mistake can result in a permanent loss of funds.
It is also important to be aware of the exchange rate given by the chosen merchant. If there is a noticeable difference between the rates given by the merchant and global spot prices, this will result in additional fees.
Overall, it is safe to buy things with Bitcoin when using a reputable and established platform like Crypto Emporium.
Conclusion
This guide has cleared the mist on how to buy things with crypto. The process is fast, burden-free, and cost-effective – especially when using Crypto Emporium. Unlike most retailers accepting Bitcoin, Crypto Emporium does not use a third-party processor like BitPay.
Instead, it accepts payments directly into its secure crypto wallets. Crypto Emporium sells thousands of products – ranging from smart TVs, mobile phones, and gaming consoles to luxury watches, designer clothing, and real estate.
Simply head over to Crypto Emporium, choose a product, and complete the payment in Bitcoin, Ethereum, Dogecoin, or one of many other supported coins.
FAQs
How do I pay for things with Bitcoin?
Can you actually pay with Bitcoin?
How do you pay with crypto in stores?