Soon after its Binance debut, Internet Computer (ICP) reached its all-time high in mid-2021. Since then, the long-term bearish trend kicked in, and at press time, it is trading at nearly 99% below its ATH. 
Consequently, many buyers are interested in the ICP price prediction while its price hits an all-time low. This article outlines ICP's price trajectory thus far and forecasts its future potential until 2030. It also gathers several expert analysts' predictions on the ICP price.
ICP Price Prediction 2023 to 2030 – Summary
Below is a quick summary of the ICP price forecast from 2023 to 2030:
End of 2023: ICP's price is expected to range between a low of $2.7 and a high of $6.8 by the close of 2023. This variation is largely influenced by market factors like a potential falling wedge breakout, the $3.4 support level, and the current 'Fear' sentiment in the Crypto Fear and Greed Index.
End of 2024: With key developments like direct Bitcoin integration and in-house performance tuning, ICP could reach a price of $9.5 by the end of 2024. These features aim to make the Internet Computer an accessible platform for DeFi applications.
End of 2025: ICP could touch $14 by the end of 2025, driven by planned upgrades like State Manager Efficiency and Chain-Key Tokens. These improvements aim to scale the platform and make it compatible with popular Ethereum-based tokens, thereby attracting a larger user base.
End of 2030: Given its long-term strategies, including Direct Ethereum Integration, ICP could escalate to $37 by 2030. This projection factors in the blockchain market's expected CAGR of nearly 60%, emphasizing ICP's potential to capitalize on this growth.
| | | | |
| --- | --- | --- | --- |
| Year | Potential Low | Average Price | Potential High |
| 2023 | $2.7 | $4 | $6.8 |
| 2024 | $4.5 | $7.3 | $9.5 |
| 2025 | $7.6 | $11 | $14 |
| 2030 | $20 | $30 | $37 |
ICP Price History
Monitoring broader market trends is crucial to help investors understand ICP's future direction. ICP token debuted on Binance, one of the best crypto exchanges, in mid-2021 and quickly ascended post-listing.
Key Points & Events:
Initial Spike & ATH in 2021

: ICP saw a steep spike rise right after its launch,

reaching a market cap of $35.8 billion

, hitting an all-time high (ATH) of over $750 on May 11, 2021. The initial hype was short-lived, and the price

started its downtrend

.

A Bearish 2022

: The token has been in a bearish cycle since the beginning of 2022. EMAs, or Exponential Moving Averages, indicated this trend. EMA is a moving average that prioritizes recent prices more than older ones. Reacting to price changes is quicker than a Simple Moving Average (SMA). Traders use EMA to identify trends and make buy or sell decisions. The token experienced a drastic drop from $23.5 to nearly $6 within a matter of days in May 2022. The coin settled at around $3.9 by 2022 end, further reaffirming the bearish influence.

Falling Wedge & All-time Low in 2023

: It started 2023 with an uptrend, but the broader market slump propelled a downtrend. Consequently, it chalked out a "falling wedge" pattern on the daily chart, often seen as a signal that a trend reversal might be near. A falling wedge is formed when the asset's price makes lower highs and lower lows, but the lines converge. As a result, on August 22, 2023, ICP hit its all-time low.

$3.4 Support & Near-term Pullback

: A $3.4 baseline support recently triggered a pullback, where buyers came into play to slow the price decline. A breach below this level could confirm a stronger bearish trend.
Quick Bullet Point Summary of ICP's Price Action History:
Initial price surge to over $750 in May 2021.

As the bearish trend kicked in, ICP fell to $4 by 2022.

In 2023, the falling wedge pattern suggests a possible reversal.

The all-time low was reached on August 22, 2023.

$3.4 support leads to a minor pullback, a critical level for future price action.
ICP Price Prediction 2023
Based on current market analysis and trends, ICP's performance for the latter half of 2023 depends on multiple factors. If buyers seize the opportunity presented by a falling wedge breakout, the coin could witness an upswing soon.
However, the coin's recent pivot, where $4 support turned into resistance, could be a hurdle for its price recovery.
A convincing bounce from the $3.4 support could trigger an upward movement. For more certainty, buyers could wait for the price to close above the 20/50 EMA before deciding on their next steps. If this occurs, they may aim to retest the $4.8 resistance level.
Despite these factors, the Crypto Fear and Greed Index remains in the 'Fear' zone, which suggests a general market hesitancy to invest.
Moreover, a dip below the $3.4 support could lead to further losses for ICP. According to this evaluation, ICP's price could vary by year-end from a low of $2.7 to a high of $6.8.
Here's a quick month-on-month price prediction for the rest of 2023.
| | | | |
| --- | --- | --- | --- |
| Month | Potential Low | Average Price | Potential High |
| September 2023 | $2.7 | $3 | $3.5 |
| October 2023 | $2.9 | $3.5 | $4.8 |
| November 2023 | $3.5 | $4 | $5.4 |
| December 2023 | $4 | $5.2 | $6.8 |
ICP Price Prediction 2024
Investors are searching for the best cryptos to trade, particularly as the broader market aims to recover from recent downturns. Several factors come into play in assessing the prospects for the ICP token for 2024.
Launched in May 2021 by the Zurich-based nonprofit Dfinity, the Internet Computer aims to facilitate the deployment of smart contracts and DApps without intermediaries.
Considering these key drivers below, ICP could see a price of $9.5 by the end of 2024. 
Direct Bitcoin Integration

:

A Game-Changer

– One of the significant developments is the

ICP protocol's integration with Bitcoin

. This integration means that smart contracts on the Internet Computer can directly interact with Bitcoin, bypassing the need for third-party bridges. This could be revolutionary for Decentralized Finance (DeFi) projects that rely on Bitcoin, as it offers a secure and trustless foundation.

In-House Upgrades

:

Tuning Performance

– After the successful integration of Bitcoin, the team behind the Internet Computer is now directing its attention towards internal system improvements. By doing so, the platform aims to enhance its DeFi offerings, making it more appealing to potential users.

Attracting More Users

– The direct Bitcoin integration and the ongoing system upgrades make the Internet Computer a more desirable platform for DeFi applications. Users are likely to be attracted to a system that simplifies complex processes, and the Internet Computer aims to do just that by allowing DeFi apps to manage and spend Bitcoin and other cryptos securely.
ICP Price Prediction 2025
The broader crypto market's health can impact ICP's price in the coming years. A bullish or bearish market can respectively drive the price up or down. Let's examine some factors that can affect the ICO price by 2025:
State Manager Efficiency

: One planned update aims to enhance I/O handling within the State Manager. Simply put, this is like tuning a car's engine for better performance. The State Manager helps the ICP's platform interact with computer storage. By making this interaction faster and more efficient, the platform can handle more tasks at the same time without slowing down. This is critical for scalability, meaning the platform can grow and support more users and applications.

Chain-Key Tokens

: Think of ckERC-20 tokens as 'guest stars' coming from Ethereum's popular platform to perform on ICP's stage. These tokens, especially well-known stablecoins like USDC and USDT, are like magnets for investors and traders. They bring in more money and activity into the ICP ecosystem. By adopting these Ethereum-based tokens, ICP makes it easier for users familiar with Ethereum to use the Internet Computer. This cross-chain compatibility could attract a larger user base, potentially increasing demand and, consequently, the token's price.
Given these factors, projections for ICP's price in 2025 are optimistic, as the token could reach $14 by 2025's close. Nonetheless, a lot would depend on how many users use the network.
ICP Price Forecast 2030
In 2022, the worldwide blockchain stood at $11.14 billion. By 2030, that number is estimated to skyrocket to $469.49 billion.
The market is expected to grow at a Compound Annual Growth Rate (CAGR) of almost 60% during this period. ICP aims to tap into this potential growth by improving its utility features and attracting more users.
A significant milestone for ICP will be its "Direct Ethereum Integration." This feature allows seamless communication between smart contracts on ICP and Ethereum's blockchain. It eliminates the need for intermediaries, providing a more efficient and secure way to execute smart contracts. 
Additionally, the Internet Computer will support Ethereum's programming environment (EVM), allowing it to execute Solidity-based smart contracts.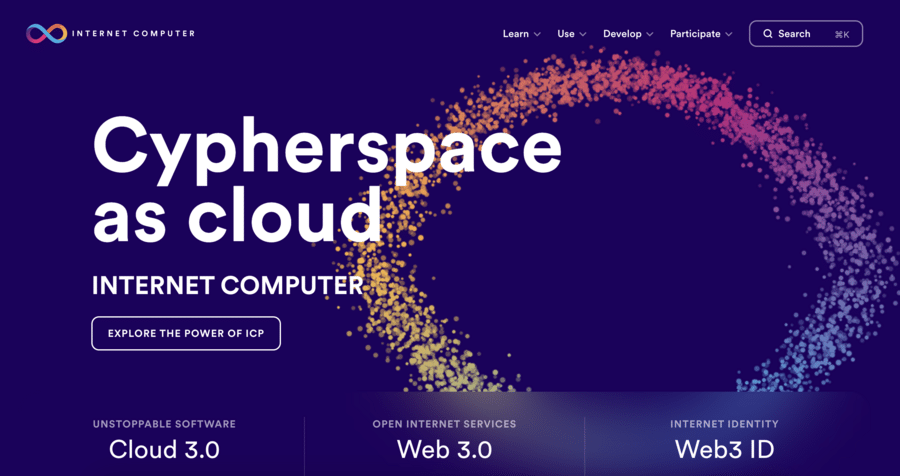 Another feature that could attract everyday users to ICP is "Virtual People Parties." Think of this as an online get-together where users confirm they are real people, not bots or fake accounts.
Retail users would like this because they get extra benefits in dApps and have a more secure and fair experience online.
Considering all these points, ICP could continue attracting more users and reach up to $37 by 2030. When evaluating the best long-term investment potential, looking at broader economic factors and sentiments toward Bitcoin is essential. These factors can impact the long-term value of ICP.
Potential Highs & Lows of ICP Price
Below is a quick overview of the ICP price forecast from 2023 to 2030:
| | | | |
| --- | --- | --- | --- |
| Year | Potential Low | Average Price | Potential High |
| 2023 | $2.7 | $4 | $6.8 |
| 2024 | $4.5 | $7.3 | $9.5 |
| 2025 | $7.6 | $11 | $14 |
| 2030 | $20 | $30 | $37 |
What Do Other Analysts Predict For ICP?
When looking at expert views, remember that these are educated guesses based on ICP's past performance and not guaranteed outcomes.
While the experts generally agree on ICP's potential for growth, it's crucial to remember that the crypto market is inherently volatile and unpredictable.
Digital Coin Price anticipates modest but consistent growth for ICP:
For 2023, the minimum, average, and maximum prices are estimated to be $3.08, $7.10, and $7.54, respectively.

The year 2024 could see prices ranging between $7.36 and $8.78, averaging at $8.64.

The trend continues upward, with 2030 projections suggesting a minimum price of $33.52, an average of $35.34, and a maximum of $35.98.
CoinCodex offers a more variable perspective:
Their 2023 prediction ranges from $3.44 to $6.94, indicating a potential 102.13% growth if it hits the upper target.

By 2024, they project a price range from $3.44 to a high of $27.00, suggesting a possible 685.82% increase.

For 2030, their upper price target is $24.10, which would represent a 601.58% gain.
Telegaon takes a more bullish stance:
In 2023, they predict a minimum of $6.13, an average of $9.63, and a maximum of $12.29.

For 2024, their numbers climb to $12.95 at the low end, $13.02 on average, and $14.17 at the high end.

The 2030 forecast is optimistic, with a low of $59.18, an average of $67.34, and a maximum of $75.41.
PricePrediction.net also shares an optimistic view:
For 2023, they have forecasted a range from $4.70 to $5.35.

The projection for 2024 moves to between $7.08 and $8.25.

Their long-term 2030 forecast predicts a range from $66.46 to $81.89.
What is ICP?
Internet Computer Protocol aims to improve the Internet's existing architecture. While traditional blockchain projects like Ethereum focus on creating a "world computer" for dApps, ICP sets its sights on a broader horizon.
At its core, ICP seeks to create an environment where dApps are scalable and simple to build, deploy, and manage. It achieves this through 'canister' smart contracts, a next-gen evolution of the traditional smart contract architecture.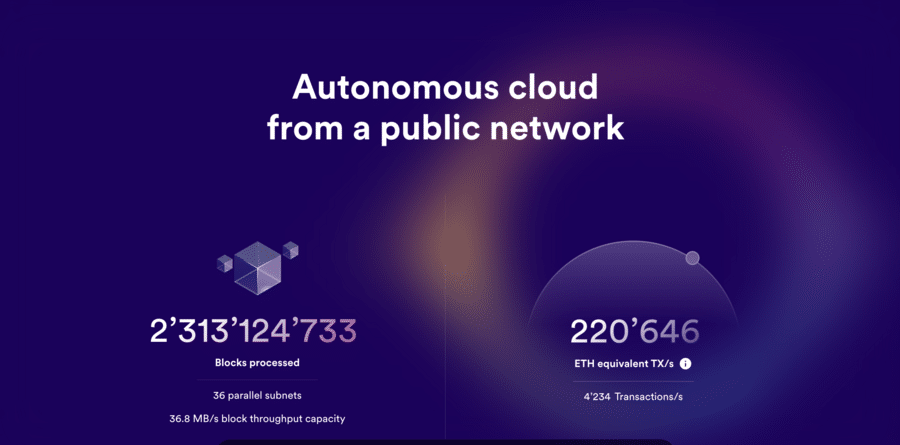 It aims to decentralize the entire internet by offering a scalable, secure, and less restrictive alternative to the current internet infrastructure, ICP can potentially disrupt the digital world in a way that could make it more accessible, promote innovation, and dismantle existing monopolies.
This platform wants to tackle the centralized nature of the internet dominated by Big Tech entities like Google and Facebook, making it one of the top cryptos to watch for developers and investors. 
How Does It Work?
ICP is a unique blockchain that allows different mini-blockchains, called subnets, to work together. These subnets talk to each other securely thanks to chain key cryptography. This setup lets developers build complex apps, known as dApps, easily.
It makes the developer's life easier. They don't need to worry about complex network setups; they can focus on coding. This boosts innovation. Also, it's secure for users and allows apps to work together, offering a better and cost-effective experience.
Technical Framework
Global Network

: Run by a network of independent data centers worldwide, ICP promises scalability and redundancy. These centers host nodes that power the Internet Computer, enabling it to manage extensive data and computations.

Chain-Key Technology

: This engine forms the core of ICP's innovation. It enables rapid transaction processing and ensures various devices can authenticate artifacts, creating a more secure ecosystem.

Autonomous Software

: ICP offers an environment that supports the creation of self-reliant software that doesn't necessitate backups and firewalls. This aligns with its goal to cut the cost and complexity of IT services.
Objectives
Decentralize the Internet

: ICP seeks to break the monopolies of Big Tech companies over the Internet. Its platform intends to create a decentralized alternative for hosting data, executing computations, and managing user interactions.

Innovation

: By offering a less restrictive platform, ICP aims to lower "platform risk," allowing developers to bring new products and services to the market faster and with fewer constraints.

Expand Functionality

: Unlike conventional blockchains that primarily serve as immutable ledgers, ICP's vision is to host backend software and databases directly on the internet.
Potential Impact
Web 3.0

: If successful, ICP could catalyze the transition to a more "open and free" internet, enabling the development of decentralized applications that could operate at web speed.

Data Sovereignty

: The project has the potential to return control of data to users, thereby upending the data dominance that current tech giants hold.

Inclusive Growth

: By decentralizing the internet, ICP could facilitate a fairer distribution of tech resources and opportunities.
ICP Overview
| | |
| --- | --- |
| Cryptocurrency | Internet Computer |
| Ticker Symbol | ICP |
| Price | $3.652 |
| Price Change 24H | +4.8% |
| Market Cap | $1,575,889,458 |
| Circulating Supply | 442,098,063 |
| Trading Volume | $20,301,597 |
| All-Time High | $750 |
| All-Time Low | $3.30 |
What Factors Influence the Price of ICP?
Understanding the factors influencing a crypto's value is crucial for informed investment decisions. Here are some factors that can affect the ICP price:
Technical Innovations

: Features like 'canister' smart contracts and chain-key technology offer ICP an edge in scalability and security. Advances or setbacks in these technologies can directly influence the token's price.

Regulatory Landscape

: Any

changes in global crypto regulations can affect ICP

, mainly if countries impose restrictions on blockchain that seek to decentralize the internet.

Market Adoption

: As ICP aims to serve as a backbone for dApps and to break the hold of the traditional internet infrastructure, its adoption rate among developers and businesses will be crucial in determining its price.

Developer Adoption

: The ease with which developers can build, deploy, and manage dApps on ICP influences its adoption rate. Higher adoption can lead to an increase in token demand and, subsequently, its price.

Sentiment Toward Decentralization

: ICP's core objective to decentralize the internet pits it directly against Big Tech. Any shifts in public sentiment or policy towards decentralization can affect ICP's market value.

Economic Indicators

: External factors such as inflation rates, currency fluctuations, and overall market sentiment can influence the coin's price.
Conclusion
ICP's price journey has been a rollercoaster, reaching all-time highs in 2021 and descending into a bearish trend. While 2023 kicked off with promise, the bears quickly stepped in to create a potential turnaround.
The coin's potential drivers, like its integration with Bitcoin and upcoming upgrades on its network, offer some optimism as it aims to attract more users in the coming years.
The broader market is uncertain and volatile, so betting solely on ICP's growth could be risky. As a result, diversification is crucial. Investors should consider adding other high-potential cryptos to their portfolio to balance the overall risk.
However, there are over 10,000 cryptos in the market at press time, making it difficult to spot these high-potential cryptos. You can find detailed reviews of these cryptos on our best cryptos to buy page below.
References
https://alternative.me/crypto/fear-and-greed-index/
https://messari.io/asset/internet-computer/profile
https://www.cnbc.com/2021/05/12/new-cryptocurrency-internet-computer-hit-billions-in-value-after-debut.html
https://www.nytimes.com/2021/06/28/business/dealbook/icp-cryptocurrency-crash.html
https://www.bloomberg.com/news/articles/2021-05-12/crypto-s-overnight-sensation-is-taking-on-the-web-as-we-know-it
https://finance.yahoo.com/news/icp-2022-roadmap-includes-bitcoin-101728791.html
https://internetcomputer.org/roadmap
https://www.fortunebusinessinsights.com/industry-reports/blockchain-market-100072
https://priceprediction.net/en/price-prediction/internet-computer
https://digitalcoinprice.com/forecast/internet-computer
https://telegaon.com/internet-computer-price-prediction-2021-2022-2025-2030/
https://coincodex.com/crypto/internet-computer/price-prediction/
https://money.usnews.com/investing/cryptocurrency/articles/will-cryptocurrency-regulation-affect-crypto-prices
FAQs
How much will the ICP coin cost in 2025?
Is ICP a good investment?