IOTA is a distributed ledger focused on developing the "Internet of Things". It was one of the most hyped projects in 2017 but could not reclaim its all-time high in the 2021 bull run. However, the resilient team has continued to build, making some notable developments recently.
This IOTA price prediction examines whether the project could reclaim its ATH in the next bull run and where it could be headed long-term.
IOTA Price Prediction Summary
IOTA launched in 2017 after a 2015 initial coin offering (ICO) priced at $0.00059.
The project reached an ATH of $5.69 in 2017.
Currently, $MIOTA is down 96.95% from its ATH, priced at $0.1735.
Our IOTA price prediction forecasts an average price of $0.17 by the end of 2023.
According to our 2025 IOTA price prediction, the project could reach $0.85.
| | | | |
| --- | --- | --- | --- |
| Year | Minimum Price | Average Price | Maximum Price |
| 2023 | $0.12 | $0.17 | $0.22 |
| 2024 | $0.2 | $0.325 | $0.45 |
| 2025 | $0.6 | $0.85 | $1.1 |
| 2030 | $1.4 | $1.95 | $2.5 |
IOTA Price History
The project was founded in 2015 and launched an ICO the same year to fund its development. The ICO raised approximately $590K, selling 1,000,000,000 IOTA coins for $0.00059 each.
The earliest recorded IOTA price on CoinMarketCap was $0.5923 on 18 June 2017. At the time, the market cap was $1.17 billion.
Following this, IOTA entered a parabolic phase, climbing to $5.69 with a $14.12 billion market cap on 19 December 2017.
Yet soon after, the price firmly rejected, falling to lows of $0.2131 by December 2018. Over the next two years, IOTA traded under $0.5 until the beginning of the last bull market in Q1 2021.
IOTA shot up in February 2021 but disappointed many investors as it failed to reach its ATH, finding resistance at $2.5142. The price then dumped before briefly recovering to $1.8 but has since fallen further.
Currently, IOTA is trading at $0.1729, a 96.95% decrease from its ATH. It has continually made lower lows throughout the bear market, as seen on the IOTA price chart below.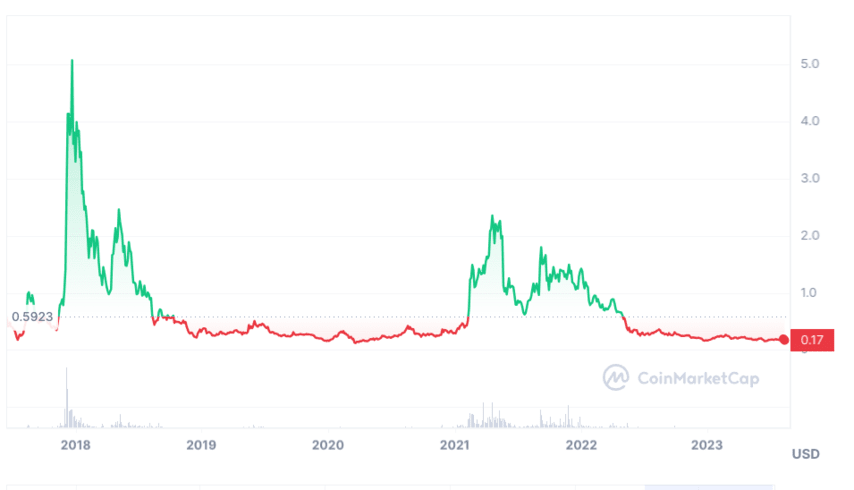 IOTA price history key points:
IOTA's ICO launched in 2015, raising $590K.
The price reached an ATH of $5.69 with a $14.12 billion market cap in 2017.
It could not reclaim its ATH in the 2021 bull run, peaking at $2.5142.
Currently, IOTA is down 96.95% from its ATH, priced at $0.1729.
IOTA Price Prediction 2023
With the IOTA price making lower lows and lower highs throughout 2023, it is difficult to predict exactly where the bottom will be. That said, the 2020 IOTA bottom occurred on 9 March 2020, just two months before the Bitcoin halving.
However, this was due to a cascading effect caused by the COVID-19 pandemic. If it were not for that, the bottom would have likely been in around December 2019, six months before the halving.
With this in mind, the IOTA bottom may occur around October 2023, roughly six months before the next Bitcoin halving.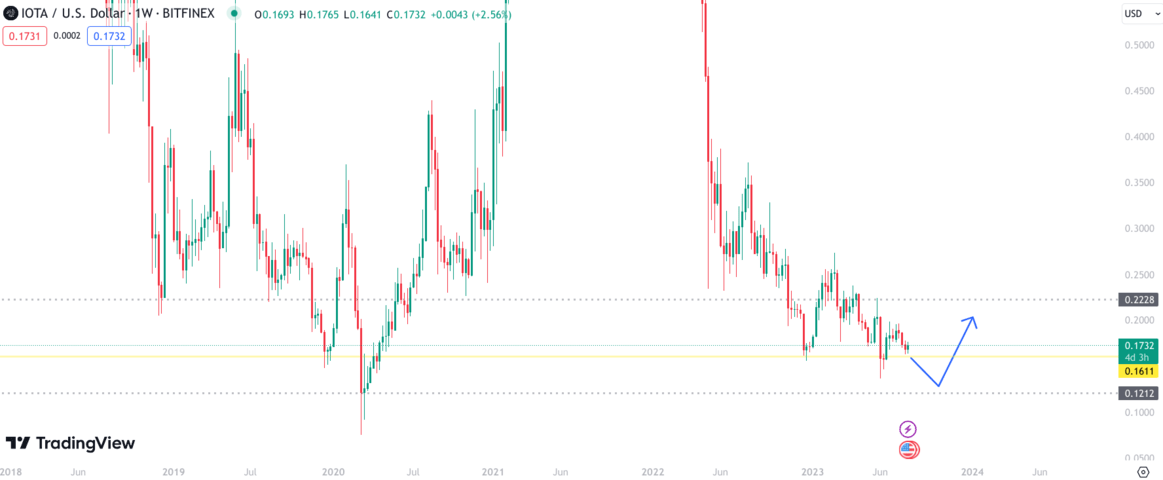 Despite the recent bearish price action, IOTA's fundamentals have remained solid. Swiss asset manager SwissOne Capital AG launched a fund focused on IOTA's "Shimmer" and the IOTA ecosystem in the past month.
Shimmer is a staging and validation layer one network developers use to test, experiment and innovate before deploying their decentralised applications (dApps) to the IOTA mainnet.
There have been several other bullish announcements for the project in the past months too. In a recent announcement, IOTA Co-Founder Dominik Schiener hinted at a potential Cardano partnership.
Cardano's market cap is $10.4 billion, so increasing interoperability between the two networks could lead to lots of new liquidity entering the IOTA ecosystem.
Considering these fundamental and technical factors, IOTA will likely find its bottom in the coming weeks before commencing an upwards trajectory ahead of the Bitcoin halving. Therefore, our IOTA price prediction estimates a possible low of $0.12, a high of $0.22 and an average price of $0.17 by the end of 2023.
| | | | |
| --- | --- | --- | --- |
| Month | Potential Low | Average Price | Potential High |
| September 2023 | $0.1 | $0.14 | $0.18 |
| October 2023 | $0.105 | $0.155 | $0.205 |
| November 2023 | $0.11 | $0.16 | $0.21 |
| December 2023 | $0.12 | $0.17 | $0.22 |
Cryptoassets are highly volatile and unregulated in most EU countries, Australia and the UK. No consumer protection. Tax on profits may apply. Your capital is at risk.
IOTA Price Prediction 2024
As mentioned, IOTA focuses on facilitating the "Internet of Things". The Internet of Things can be considered similar to smart devices because they are "things" brought online. However, the potential use cases span far beyond smart home devices, and IOTA does it in a verifiable, secure, interoperable and, best of all, free way.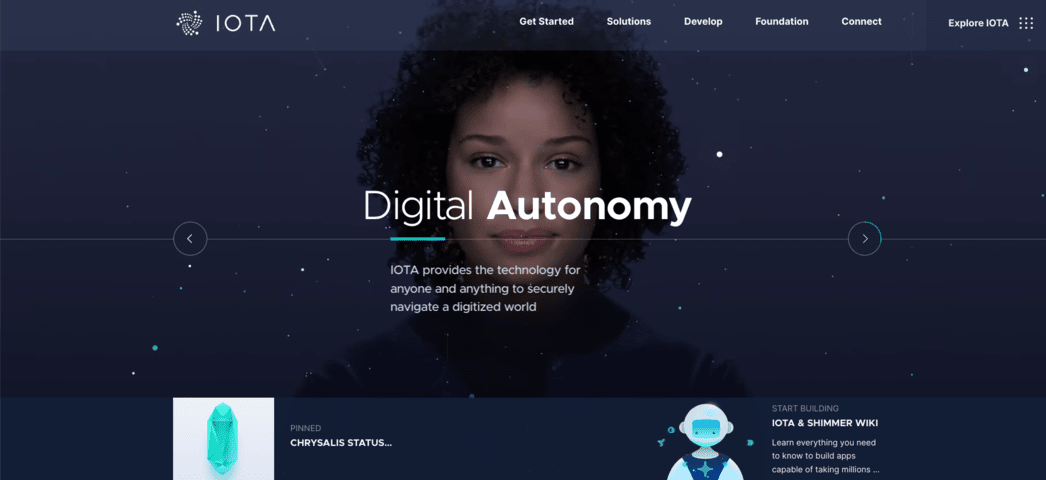 Unlike its competitors like Ethereum, IOTA is not a blockchain. Instead, it uses a consensus mechanism known as DAG or Directed acyclic graph, which does not require miners, meaning users do not have to pay transaction gas fees.
Furthermore, the DAG technology means that the more network participants there are, the quicker transactions will process.
IOTA's technology is revolutionary, and while it can be a little complex to understand, it offers many use cases beyond the crypto norms.
IOTA's scalable and immutable nature means it can theoretically compute data for any purpose. As such, IOTA published a use case paper comprising numerous ideas spanning supply chain management, health, smart energy and much more.
Furthermore, IOTA's vast scalability could help mitigate the risks of AI. Many skeptics doubted that AI and blockchain could intertwine due to the scarcity-driven properties of blockchain and the abundant nature of AI. However, IOTA's scalability could allow developers to train AI on IOTA data, reducing some associated ethical and privacy risks.
On top of that, since transactions are free on IOTA, this means voting, trading and minting NFTs are all free on the network.
Overall, IOTA's use case is invaluable but often complex and misunderstood. However, with the IOTA ecosystem further developing, investors will begin to see the value it provides.
This leads our IOTA price prediction to estimate lows of $0.2, highs of $0.45 and an average price of $0.325 by the end of 2024.
IOTA Price Prediction 2025
Beyond its use cases, IOTA has already gained considerable ground in attaining partnerships. So far, IOTA's most successful partnership is achieving ISO 20022 compliance.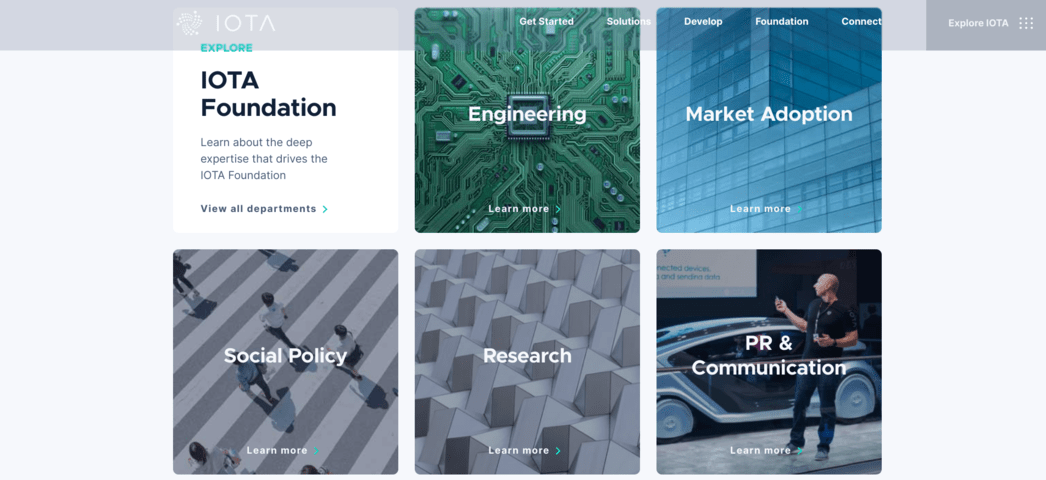 ISO 20022 is a financial unified messaging standard for electronic data exchange between institutions. Only seven crypto projects are compliant; the others are XRP, Quant, Algorand, Stellar, Hedera HashGraph and XDC Network.
The standard provides interoperability between these projects, and some of the world's most prominent financial institutions, with Forbes reporting 63% of banks will be ISO 20022 compliant by 2025.
Ultimately, this puts IOTA in a unique position, where it can effectively bring any process or system to the blockchain while also accessing the global traditional finance network.
On the other hand, it is also essential to consider how this would benefit the $MIOTA price. Since transactions are free, it seems there would be no real demand driver for the coin.
IOTA uses a technology called "micropayments" to transfer value between humans and machines on its network, and the easiest and most liquid way to do this is with the IOTA token. Furthermore, as layer twos are built on IOTA, they can charge fixed transaction fees denominated in IOTA.
Consequently, demand for IOTA will significantly grow as the network gains adoption.
With this in mind, our IOTA price prediction forecasts a possible low of $0.6, a high of $1.1 and an average price of $0.85 by the end of 2025.
IOTA Price Prediction 2030
One of the main concerns relating to IOTA is that rather than validators or miners, it uses a "Coordinator" to compute transactions, which the IOTA Foundation controls.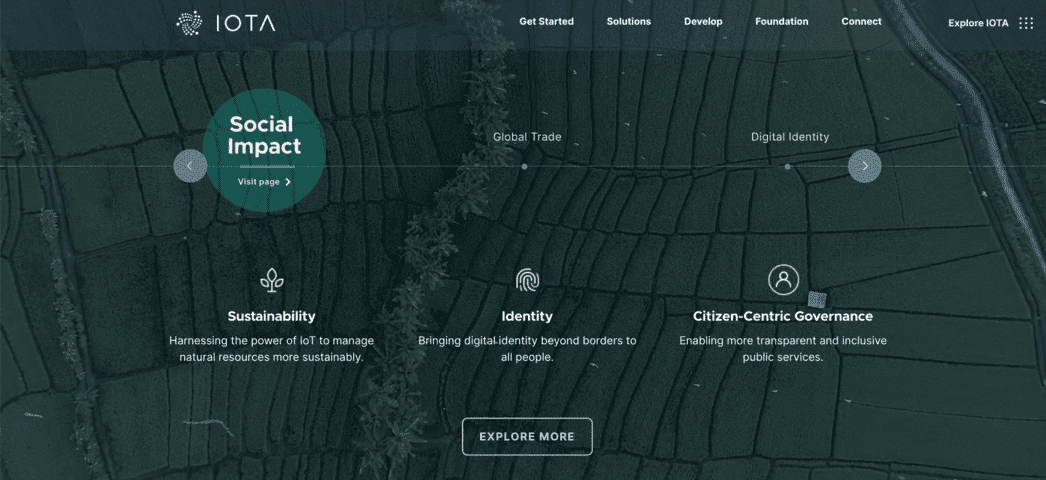 This makes the project centralised in its current form, which could lead to censorship issues in the future. Nevertheless, the IOTA Foundation is currently working on decentralising the network by removing the Coordinator in an upgrade known as IOTA 2.0 or Coordicide.
Following IOTA 2.0, IOTA may move towards sharding. This is because while IOTA's DAG network design theoretically has unlimited scalability, the hardware resources to facilitate it are limited.
However, sharding would allow transactions to be grouped into smaller chunks, reducing hardware requirements and increasing the network's throughput.
Ultimately, this could lead to IOTA's Internet of Things gaining significant adoption as it provides any device with a secure, interoperable and immutable network to transfer data and value with other devices. This could involve anything from a global supply chain or ID system to something as simple as a microwave or fridge.
As a result, IOTA is one of the most promising cryptos, and its current low market cap means it has significant long-term potential.
Therefore, our 2030 IOTA price prediction estimates a possible low of $1.4, a high of $2.5 and an average price of $1.95.
Possible Lows and Highs of IOTA Price
Our IOTA price forecast found the project one of the top altcoins to buy. We have listed our predictions below. While IOTA could climb higher than our estimates, these are the ranges we expect the coin can trade in sustainably.
| | | |
| --- | --- | --- |
| Year | Minimum Price | Maximum Price |
| 2023 | $0.12 | $0.22 |
| 2024 | $0.2 | $0.45 |
| 2025 | $0.6 | $1.1 |
| 2030 | $1.4 | $2.5 |
What Do Other Analysts Predict for IOTA?
We have summarized other analysts' predictions below to better understand the overall market sentiment on where IOTA could be headed.
According to Changelly, the average price of IOTA for 2023 will be $0.294. The prediction also estimates a price of $0.28 for 2024 and $0.4 for 2025.
The CryptoNewZ $MIOTA price forecast estimates a minimum price of $0.16 and a maximum of $0.39 by the end of 2023. It also forecasts an average 2025 price of $0.46.
Based on the BitcoinWisdom IOTA forecast, the average price for 2023 will be $0.239851. Meanwhile, it also predicts a 2024 price of $0.376893 and a 2025 price of $0.548208.
Bitnation's IOTA forecast predicts an average 2023 price of $0.256894, a 2024 price of $0.428157 and a 2025 price of $0.599419.
According to Priceprediction.net's forecast, MIOTA could reach an average of $0.2 in 2023. The prediction also forecasts an average 2024 price of $0.28 and a 2025 price of $0.4.
What Is IOTA and What Is It Used For?
IOTA is a distributed ledger that serves the "Internet of Things". Essentially, this means it aims to connect machines and humans to transfer data and value in a secure, immutable and interoperable way.
The core concept of IOTA is a direct acyclic graph (DAG), known as "Tangle". IOTA's consensus mechanism works by each node validating two transactions to have their own transaction validated. This opposes a traditional blockchain, where nodes must store the entire blockchain ledger to secure the network.
However, an attacker could control IOTA's consensus if they control most of the network's hashing power. This is why IOTA implemented its Coordinator, which essentially validates and finalizes transactions on the network.
Currently, the Coordinator is a centralized mechanism controlled by the IOTA Foundation, but IOTA 2.0 will remove the Coordinator while maintaining high network security.
Within the IOTA ecosystem, value is transferred between machines and humans using the $MIOTA coin.
IOTA Overview
| | |
| --- | --- |
| Cryptocurrency | IOTA |
| Ticker Symbol | MIOTA |
| Rank | 77 |
| Price | $0.1723 |
| Price Change 24H | -1.48% |
| Market Cap | $477,531,554 |
| Circulating Supply | $477,531,554 |
| Trading Volume 24H | $5.5M |
| All Time High | $5.69 |
| All Time Low | $0.07962 |
What Factors Affect the IOTA Price?
There are numerous factors which can affect the IOTA price. However, one of the main ones is tokenomics. As mentioned, $MIOTA is used for value transfer on the network, providing a consistent demand stream for the coin.
When it comes to the IOTA supply, 100% is already in circulation, meaning growing demand could directly contribute to an increasing price.
Another factor which could affect its price is the ISO 20022 compliancy. As financial institutions adopt blockchain technology, IOTA could provide an invaluable way for them to access the Internet of Things, pushing significant liquidity into the IOTA ecosystem.
Finally, IOTA is known as a "lightweight" network since all participants only need to store a small amount of data. This makes the network highly energy efficient, potentially increasing its allure amid the rising institutional investment in ESG-compliant assets.
Is IOTA a Buy?
IOTA presents a groundbreaking use case and a solid set of tokenomics. Furthermore, its current low price could make it one of the best coins to buy ahead of the next bull run.
While the project is complex and features novel technologies, IOTA's recent ISO 20022 compliance and IOTA2.0 development look to set it up for an explosive future.
How to Buy IOTA
There are numerous exchanges that you can buy IOTA from. However, one of the most straightforward, with excellent security and low fees, is eToro. Besides IOTA, eToro also offers many other of the best altcoins, as well as stocks, commodities and much more.
The four steps below show you how to buy IOTA on eToro in minutes.
Step One: Create an eToro Account
Visit the eToro website and click "Join eToro", then complete the sign-up instructions provided.
Step Two: Deposit Funds to eToro
Once you have signed up, click "Deposit Funds" from the eToro dashboard and complete the payment with one of the options provided.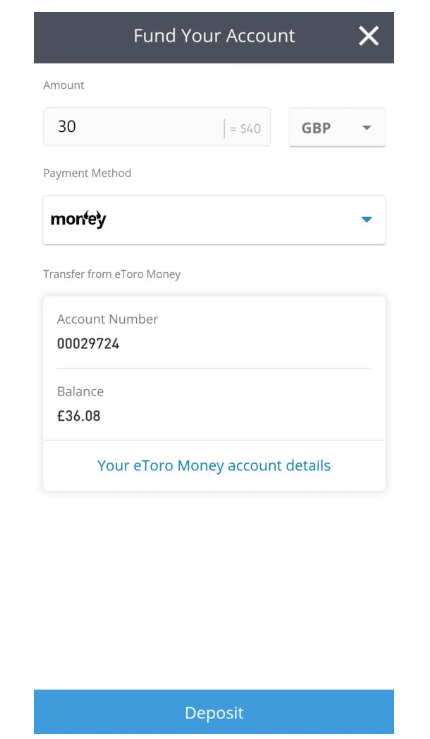 Step Three: Search for IOTA
Then click the search bar at the top of the eToro dashboard and search for IOTA.

Step Four: Complete Your Purchase
Select IOTA and tap on trade. Then enter the amount of MIOTA tokens you'd like to invest in and tap on Open Trade to complete your purchase.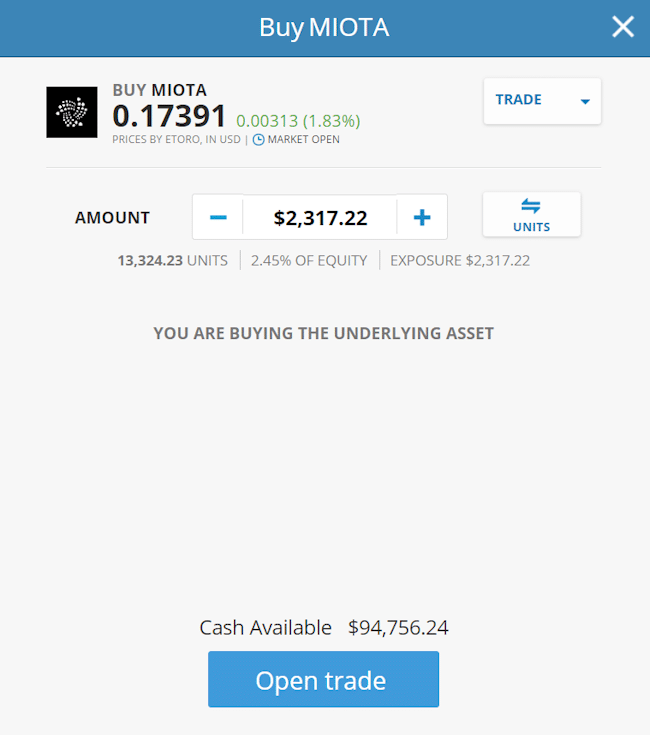 You can then monitor your investment via the portfolio tab on the left navigation bar. Alternatively you could move your cryptos to the eToro Money crypto wallet for safe storage.
Conclusion
While not without risk, IOTA looks set to rise again over the coming years. Our IOTA forecast predicts an average price of $1.95 by the end of 2030, but it also has the potential to climb much higher.
However, with the bull market encroaching, IOTA's current low price may not last long. Visit eToro to buy IOTA today.
Cryptoassets are highly volatile and unregulated in most EU countries, Australia and the UK. No consumer protection. Tax on profits may apply. Your capital is at risk.
References
https://finance.yahoo.com/news/swissone-launches-first-ever-fund-120000615.html
https://files.iota.org/comms/IOTA_Use_Cases.pdf
https://hbr.org/2023/06/managing-the-risks-of-generative-ai
https://www.swift.com/news-events/news/iso-20022-coexistence-begins-opening-new-possibilities-cross-border-payments
https://www.pwc.com/gx/en/news-room/press-releases/2022/awm-revolution-2022-report.html
FAQs
What will IOTA be worth in 2030?