Dogecoin – the original meme coin, remains one of the most popular tokens in the whole space with a huge market cap of almost $10 billion and one of the largest figures for token holders of any crypto.
It remains in the top 10 tokens by market cap and with only the likes of Bitcoin, Ethereum, several stable coins, XRP and Cardano ahead of it.
But all of that begs the question – is Dogecoin a good investment?
In this guide, we explore the investment thesis of Dogecoin, including its fundamentals and future price potential.
Is Dogecoin a Good Investment? Expert Summary
Dogecoin is a prime example of how a cryptocurrency with few use cases can witness unprecedented demand – after all, at its peak, Dogecoin was valued at over $80 billion. While the value of Dogecoin has since declined due to bear market conditions, it is still a $10 billion project, according to CoinMarketCap data.
What's more, Dogecoin has one of the largest communities of followers in the cryptocurrency space and has over four million token holders, showcasing that investors have an appetite for meme coins. Over on Reddit, the r/dogecoin subreddit group is home to more than 2.4 million subscribers.
Then there's the wave of celebrities and public figures that have openly endorsed Dogecoin – in addition to Elon Musk, who famously helped pump the coin in 2021, this includes Gene Simmons and Snoop Dogg.
So, is Dogecoin worth buying?
The simple investment thesis is that currently, Dogecoin is trading at a huge discount when compared to its former highs. Right now, Dogecoin can be snapped up for under $0.10 per token a stark contrast to when $DOGE was valued at $0.74 at its peak in 2021.
This represents a discount of over 85% and should Dogecoin return to its former highs during the next crypto bull run, this would result in an upside of over 640%.
So is now a good time to buy Dogecoin? Dogecoin is a risky asset class, like most cryptocurrencies, but unlike many other projects it has only limited utility. It remains to be seen if Dogecoin will ever get back to its prior peak. That said, buying the dip can be an effective long-term strategy alongside diversification and dollar-cost averaging.
What is Dogecoin?
Dogecoin is considered by many as the de-facto, biggest and best meme coin. This means that it doesn't have any identifiable use cases or utility. Instead, most people buy Dogecoin purely in the hope of making money.
Launched in 2013, Dogecoin is a cryptocurrency and was the world's first meme coin project. It was created by Jackson Palmer and Billy Markus as a satirical cryptocurrency without any long-term ambitions or goals – Dogecoin uses an image of a Shiba Inu as its logo, a Japanese dog breed and a popular internet meme.
Although Dogecoin was initially created as a joke, it does operate more efficiently than legacy blockchains like Bitcoin. For example, Dogecoin supports wallet-to-wallet transfers with a block time of just one minute, with Bitcoin having a block time of 10 minutes in comparison.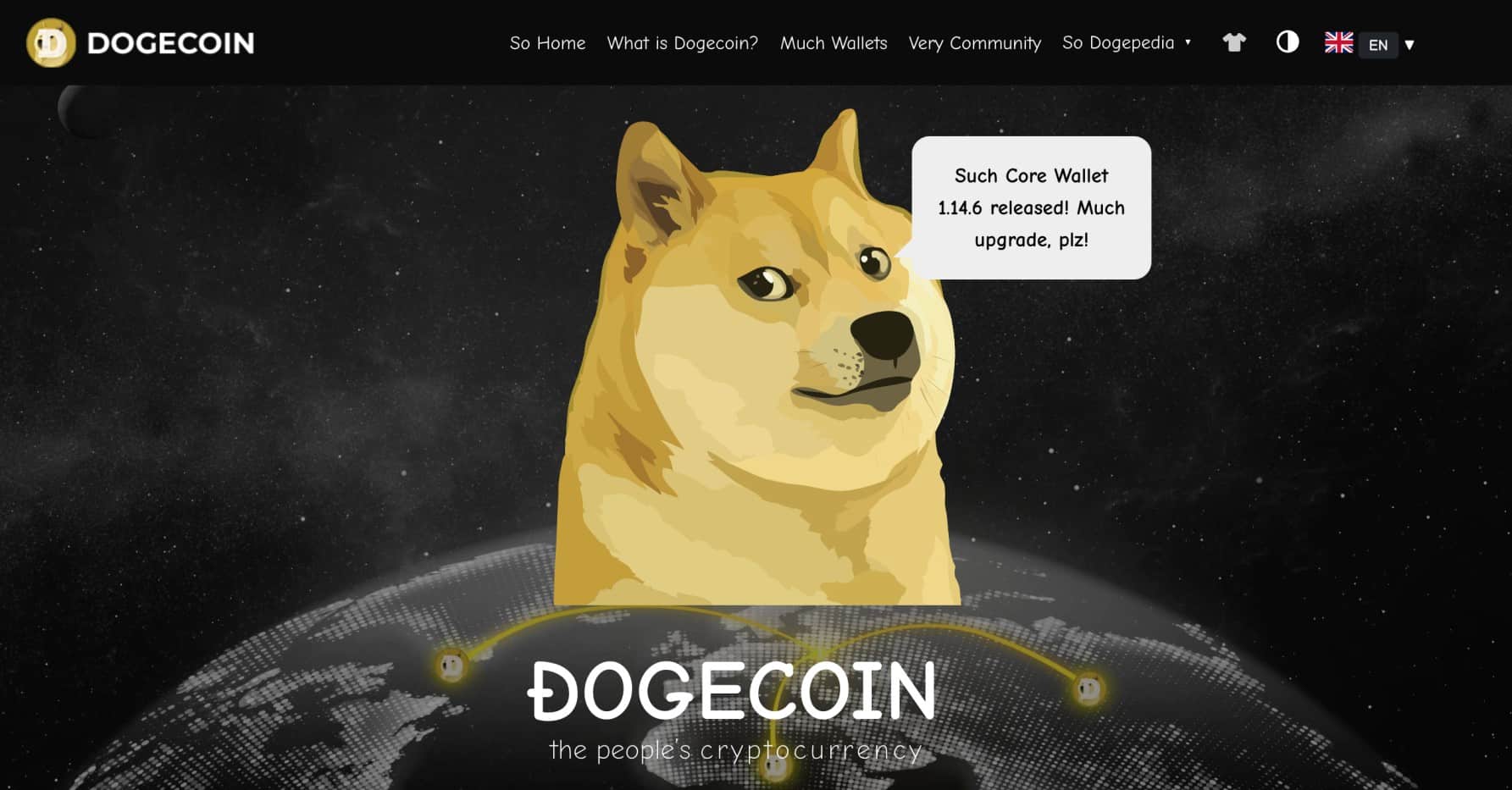 Moreover, Dogecoin transactions are also much cheaper than Bitcoin. For instance, Dogecoin has a standard transaction fee of 0.0025 DOGE. Based on current prices, this converts to a tiny fraction of a cent – Bitcoin, on the other hand, is currently averaging $3.80 per transaction, although this has surpassed $30 in previous years.
Dogecoin is, therefore, considered more suitable as a currency for payments than BTC, but the vast majority of people buy Dogecoin for speculative reasons. Like all cryptocurrencies, its value rises and falls based on market sentiment, with meme coins more prone to volatility than other crypto asset classes.
Due to its ever-rising popularity, Dogecoin is now supported by the best crypto exchanges. In fact, some of the leading brokerages now support Dogecoin, including eToro, Webull, and Robinhood. This makes Dogecoin more accessible than ever – especially for complete beginners.
Dogecoin History
Dogecoin is one of the most established cryptocurrencies in the market and, at the time of writing, is ranked at eight by market capitalization by both CoinMarketCap and CoinGecko. Launched in 2013, Dogecoin has a longer track record than most top 10 cryptocurrencies by market capitalization, including Ethereum, BNB, USD Coin, Cardano, Polygon, and Solana.
During its initial few years, Dogecoin had little value. This meant that people could mine huge quantities of Dogecoin with basic GPUs. Moreover, due to its micro-value, Dogecoin was used as a tipping currency on Reddit.
While Dogecoin remained on the sidelines for the years to follow, the project came to life in early 2021, coinciding with one of Dogecoin's biggest supporters, Elon Musk, endorsing the meme coin on Twitter. This was huge news for the Dogecoin community, considering Musk's huge celebrity profile as Tesla's billionaire CEO and the world's richest man.
To put the rapid growth of Dogecoin into perspective, the cryptocurrency was valued at $500 million at the close of 2020. By May 2021, Dogecoin had a market capitalization of over $80 billion, an increase of more than 15,000%.
Dogecoin Timeline:
Here's a quick overview of Dogecoin's historical timeline:
December 2013: Dogecoin is officially launched as the world's first meme coin. Created as a joke, Dogecoin used the Shiba Inu dog breed as its primary logo.
June 2014: Dogecoin witnessed its first major hack, with 500 million DOGE maliciously mined. At the time, the hack was valued at over $200,000.
May 2017: For the first time since its launch in 2013, Dogecoin surpassed a market capitalization of $100 million.
December 2017: In line with the 2017 bull market, Dogecoin closes the year with a market capitalization of over $1 billion.
September 2019: After a prolonged bear cycle, Dogecoin hits lows of $230 million. This represents a decline of over 75%.
December 2020: After a slight recovery, Dogecoin closes 2020 with a market capitalization of just over $500 million
January 2021: At the turn of 2021, 'Dogecoin Mania' began. In addition to endorsements from Elon Musk, more and more tier-one exchanges and brokers began listing Dogecoin.
May 2021: After five months of unprecedented FOMO (Fear of Missing Out), Dogecoin peaked with a market capitalization of over $80 billion. Hitting an all-time high of $0.74, Dogecoin witnessed growth of over 15,000% from its 2020 closing price.
June 2022: After prolonged declines amid a crypto winter, Dogecoin hits lows of $0.05. This converts to a downfall of over 90% from its May 2021 highs.
October 2022: DOGE triples in price within a week of Elon Musk taking over as Twitter CEO, with many speculating he will use the token as a currency on the social media site.
Still asking yourself, 'Should I buy Dogecoin now?' Further down, we provide a full breakdown of Dogecoin's price history and where this meme coin could be in the coming months and years.
What is Dogecoin Used for?
At its core, Dogecoin is one of the best meme coins – also known as shitcoins – in the market, at least in terms of performance. However, the key debate on Dogecoin is whether or not it actually has any utility, or worth beyond being used for financial speculation.
First and foremost, Dogecoin's primary function is as a payment system. Those holding Dogecoin can transfer tokens to another wallet without going through a third party. This is because Dogecoin is a decentralized cryptocurrency and no single person or authority owns the network.
As noted earlier, Dogecoin transactions take just one minute to process. While much slower than other networks – such as Solana, Cardano, and BNB – it is still more efficient than Bitcoin, not only in terms of speed but fees and scalability.
Dogecoin also has a growing number of use cases in the real world. Wondering who accepts Dogecoin as payment? Well, some of the biggest companies accepting Dogecoin include Tesla, AMC, Microsoft, Twitch, and Newegg.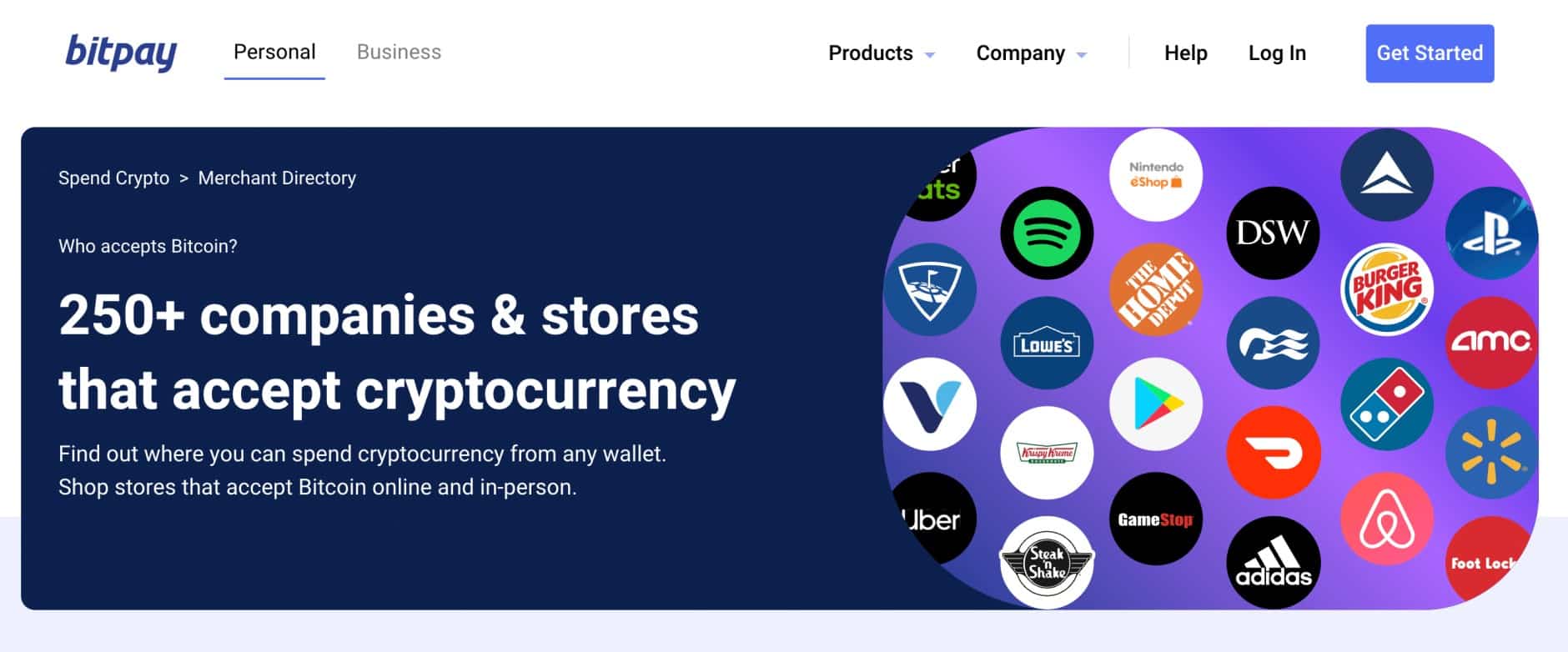 In fact, Dogecoin is also supported by BitPay. The firm enables traditional companies to accept cryptocurrency payments with fiat money. Some of the best-known brands supporting BitPay – and subsequently Dogecoin include Burger King, Google Play, Adidas, Airbnb, Dominos Pizza, Playstation, Spotify, and hundreds more.
All that being said, the reality is that the vast bulk of people buying and holding Dogecoin do so for investment reasons. Many believe that Dogecoin is the best cryptocurrency to buy for investment gains, especially considering its 2021 performance. After all, Dogecoin grew by over 15,000% in just five months.
So is investing in Dogecoin a good idea? As we cover shortly, those with an interest in Dogecoin will appreciate the current discount on offer. Many investors are buying Dogecoin for this purpose in anticipation of the next bull run.
Dogecoin Price History
Analyzing the price history of Dogecoin can be a great way to evaluate important trends and levels of support and resistance. However, just remember that previous returns are not indicative of Dogecoin's future potential.
When asking the question – 'is Dogecoin a good investment?', it is important to have a grasp of the meme coin's price history. This will enable investors to assess whether the price trajectory and volatility of Dogecoin are suitable for their goals and risk tolerance.
First and foremost, unlike many cryptocurrencies, Dogecoin did not have an initial coin offering – instead, when the project was launched in 2013, Dogecoin opted for a fair distribution method through mining. Put simply, people could accumulate DOGE tokens by connecting a GPU to their computer.
This helps verify transactions, keeps the network safe, and enables Dogecoin to operate as a decentralized blockchain. As very few people were mining Dogecoin at the time, the mining process required very basic hardware and consumed little energy.
In terms of pricing, the earliest data supplied by CoinMarketCap is in November 2014. Back then, Dogecoin was priced at $0.0002993 per token. This means that a small investment of just $100 would have yielded over 330,000 DOGE. Consider that at its peak in 2021, the same $100 would have been worth over $23,000.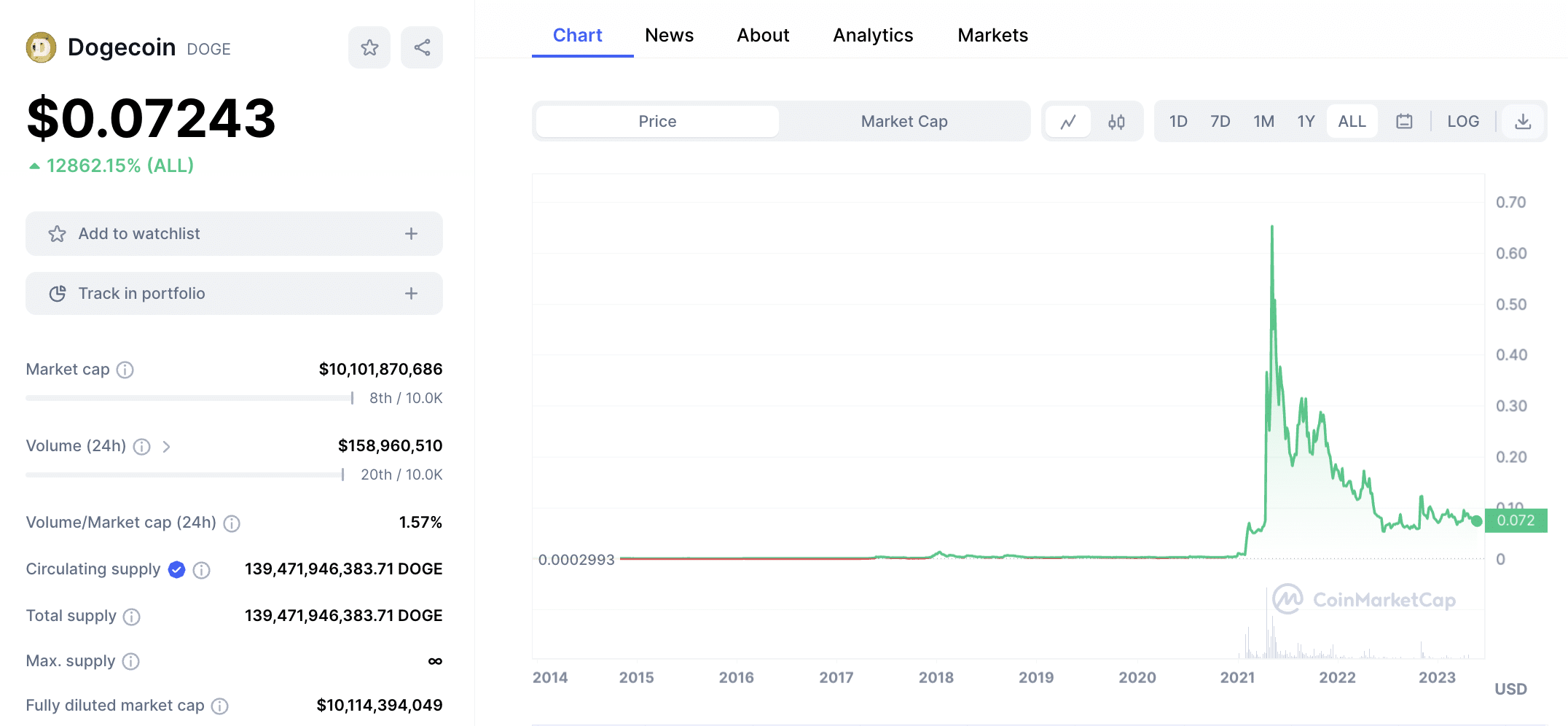 Nonetheless, in the years to follow, Dogecoin gradually increased its value. The meme coin hit a market capitalization of $100 million for the time in May 2017 and by the end of the year, Dogecoin surpassed a market capitalization of $1 billion. This was also the first time that Dogecoin hit a market price of $0.01.
However, when Bitcoin peaked at a then all-time high of $20,000 in December 2017, the bull market was over. In turn, Dogecoin, and the vast majority of other cryptocurrencies, witnessed a prolonged decline.
By September 2019, Dogecoin had declined to lows of $0.002 per token. This represents a downfall of over 75%. During this bearish period, some investors began to snap up cheap tokens while prices remained low. This turned out to be a smart move, considering that the crypto markets entered 2021 in a hugely bullish cycle.
For example, Dogecoin was priced at $0.003 in December 2020. By January 2021, Dogecoin was valued at $0.03. That's gains of 10x in just one month of trading. In turn, many investors experienced FOMO, leading to extreme buying pressure in the months to follow. By May 2021, Dogecoin hit an all-time high of $0.74. That's gains of 15,000% over the first five months of 2021.
Dogecoin has since failed to regain its peak value of $0.74. For some, this signals a red flag. After all, the vast majority of the crypto markets peaked in late 2021. This means that, unlike the broader market, Dogecoin did not witness parabolic growth in the second half of the year.
Since peaking in May 2021, Dogecoin has been on a prolonged decline. The project hit lows of $0.05 in June 2022 and although it briefly returned above $0.14 in October 2022, following news Elon Musk had taken over Twitter, the recovery was extremely short-lived.
On the other hand, the decline of Dogecoin has since stabilized. For instance, in the prior 12 months of trading, Dogecoin has declined by just 13%. In comparison, fellow meme project Shiba Inu has declined by 23% over the same prior.
Key Dogecoin Price Points:
Here's a quick summary of Dogecoin's price history:
November 2014: The first recorded price of Dogecoin on CoinMarketCap was in November 2014, with the meme coin valued at $0.0002993
May 2017: Dogecoin enjoys a prolonged bull run, hitting a market capitalization of $100 million. This converts to $0.002 per DOGE.
December 2017: By the end of the 2017 bull run, Dogecoin peaked at over $1 billion. In doing so, Dogecoin hit $0.01 per token for the first time.
December 2020: Interest in Dogecoin begins to increase rapidly. By December 2020, Dogecoin hits $0.003.
January 2020: One month later, Dogecoin has increased by 10x, hitting $0.03.
May 2021: Dogecoin hit its all-time high in May 2021, peaking at $0.74. Dogecoin is yet to regain this price.
June 2022: The crypto bear market sees a prolonged drop in price with DOGE hitting lows of $0.05 – 90% down from its peak.
October 2022: Elon Musk takes over as Twitter CEO and prices almost triple, to $0.014, although the rise and fall of the coin takes only around 10 days.
Dogecoin Price Performance in 2023
Wondering is it a good time to buy Dogecoin? To answer this question, let's look at the price performance of Dogecoin in 2023.
On January 1st, 2023, Dogecoin was trading at $0.07. Just two months prior, the meme coin was valued at $0.14, representing a decline of 50%. That said, on January 12th, 2023, Dogecoin hit highs of $0.10. This converts to gains of over 40% in just 12 days of trading.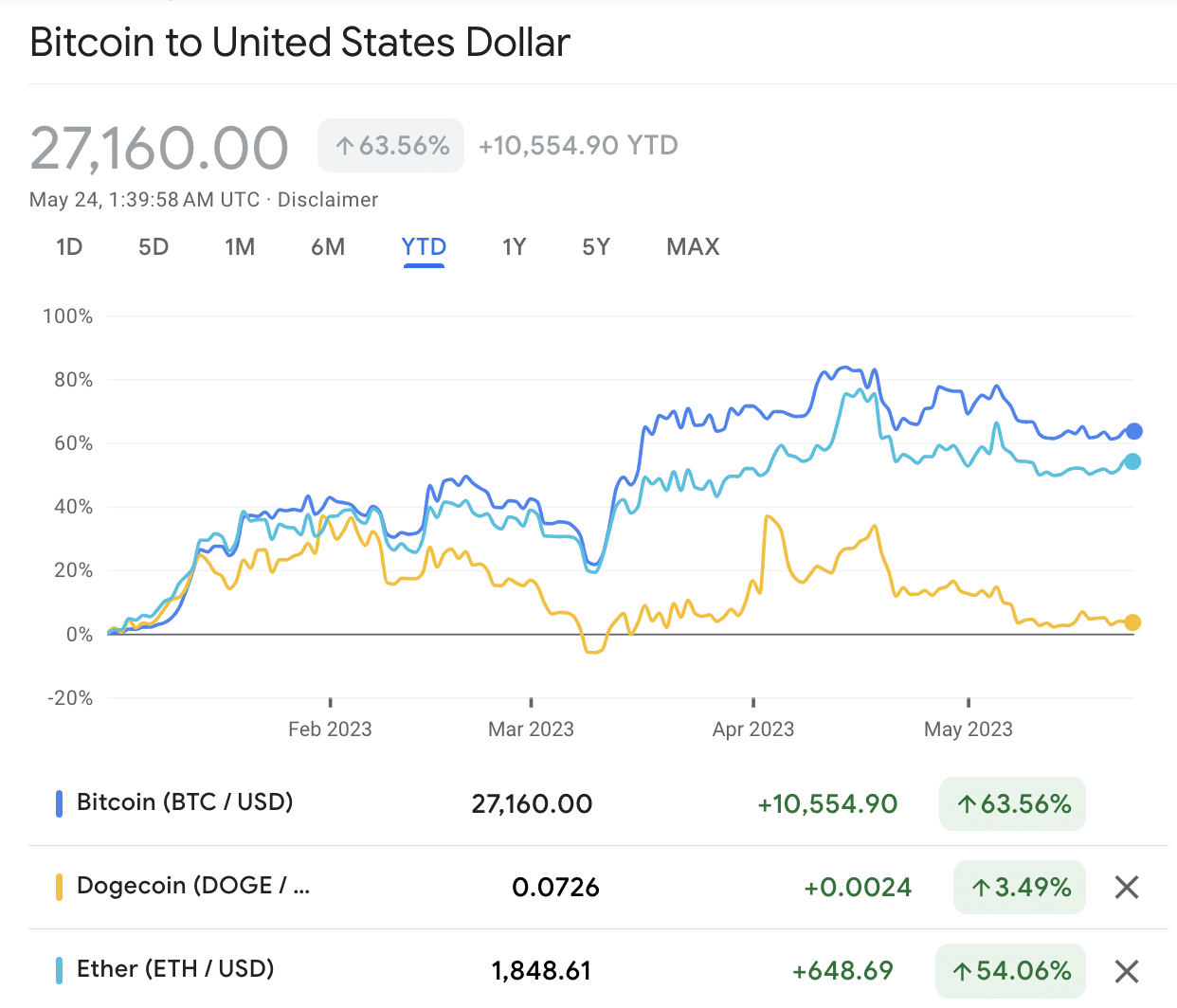 Since then, Dogecoin has remained in a consolidation period of between $0.07 and $0.09. Crucially, this is in contrast to broader market conditions, with many cryptocurrencies witnessing a bullish 2023.
For example, Bitcoin was priced at just over $16,000 at the start of the year. Bitcoin has since surpassed $30,000 – representing gains of over 85%. Similarly, Ethereum has witnessed growth of over 75% in the first half of 2023.
This highlights that investors are favoring cryptocurrencies with greater utility.
DOGE did see a brief surge in price in price back to $0.10 in April, with Elon Musk again responsible for the pump.
The Twitter CEO changed the logo of the social media site from the blue bird to the Shiba Inu doge, sparking gossip that the network was finally ready to accept DOGE payments.
However, the billionaire quickly changed it back and later revealed the stunt was an April Fool's joke.
Dogecoin Price Prediction
As we look to the future of this meme coin, many investors are asking the question: Is Dogecoin still a good investment?
First and foremost, it is important to remember that price predictions should be taken with a grain of salt. Price predictions are the subjective views of an individual. So while one analyst might believe that the outlook on Dogecoin is bullish, another might argue for the complete opposite.
Nonetheless, here's an overview of some Dogecoin price predictions for the coming months and years:
2023 – According to Changelly, a leading exchange with trading volumes of over $360 million in the prior 24 hours, Dogecoin could end 2023 at $0.09999. This suggests Dogecoin will remain in its consolidation period throughout 2023. CoinPriceForecast is slightly less bullish, predicting Dogecoin will close 2023 at $0.0802.
2024 – In 2024, Changelly believes that Dogecoin could peak at $0.159984. This is just over 100% above the current price of Dogecoin. CoinPriceForecast is once again less bullish, predicting Dogecoin will fail to surpass $0.0880 in 2024.
2025 – In 2025, Changelly predicts an average Dogecoin price of $0.19998. The exchange believes Dogecoin could peak at $0.229977. That said, this is still well below Dogecoin's all-time high of $0.74. DigitalCoinPrice is more bullish, predicting a maximum Dogecoin price of $0.26 in 2025.
2030 – 2030 could be one of Dogecoin's best periods, with Changelly forecasting a maximum price of $1.58. Compared to current prices, this would represent growth of over 2,000%. That said, DigitalCoinPrice believes that Dogecoin will be worth $0.75 in 2030 – just $0.01 above its all-time high of 2021.
It goes without saying that the above Dogecoin price predictions carry little value as market sentiment can rapidly change and price is affected by numerous factors. There are also thousands of other predictions in the public domain, all of which vary considerably.
Instead, when assessing the question – 'Will Dogecoin go up?', it's best to conduct independent research. As the cryptocurrency markets are volatile, dollar-cost averaging Dogecoin could also be the smarter move – this means investing small amounts into Dogecoin at the end of each week or month, slowly building an allocation.
Elon Musk & Dogecoin
Elon Musk, the CEO of Tesla and SpaceX and one of the world's most influential people is a strong proponent of Dogecoin. Starting in early 2021, Musk has made multiple Tweets about the benefits of Dogecoin. Crucially, Musk has over 140 million followers on Twitter, which is an unprecedented audience.
For example, in January 2021, Musk tweeted: "One word: Doge". Another notable tweet was made in May 2021, where Musk asked his followers if Tesla should accept Dogecoin. The results of the poll were overwhelmingly in favor of Musk's suggestion. Over 78% of the nearly four million votes opted for 'Yes'.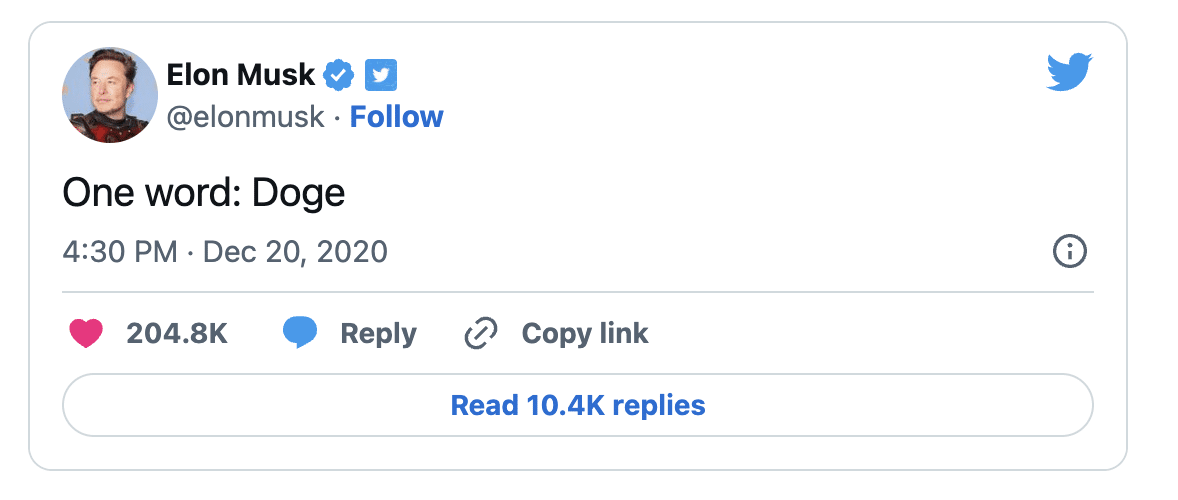 Musk respected the poll's outcome, quickly announcing that Tesla would accept Dogecoin for merchandise payments. What's more, Musk also noted that SpaceX would soon follow suit. Musk made several more tweets throughout 2021, once again highlighting his bullishness on the world's largest meme coin.
That said, the tweets have since stopped, largely because of a $258 billion lawsuit against Musk. The lawsuit claimed that Musk was running a pyramid scheme by promoting Dogecoin to his 140 million+ followers.
Nonetheless, it is important to note that Elon Musk has since purchased Twitter, taking the social media platform private and, as mentioned above, this had a huge effect on the price in October 2022, as did an April Fool's Day joke when he changed the Twitter logo.
Segments of the Dogecoin community continue to believe that Dogecoin could one day be an accepted payment method for the Twitter Blue service. This would add a solid use case for Dogecoin, albeit nothing has been confirmed or even hinted at to date.
What Does the Future Hold for Dogecoin?
Still asking the question – Should I invest in Dogecoin? It remains to be seen what the future holds for this cryptocurrency.
On the one hand, Dogecoin has a huge following, including over 4 million token holders and 2.4 million subscribers in the r/dogecoin subreddit group. What's more, Dogecoin has plenty of high-profile holders, including Elon Musk and Snoop Dogg.
Another thing to note is that while the value of Dogecoin has declined considerably since its 2021 peak, it is still a top-10 cryptocurrency by market capitalization. Valued at just over $10 billion, Dogecoin continues to hold strong.
All that being said, the reality is that Dogecoin is a meme coin at heart. It is one of the most speculative cryptocurrencies in the market. Oftentimes, a single tweet from Elon Musk can amplify the value of Dogecoin rapidly. While this will appeal to short-term speculators, this isn't a solid foundation for long-term success.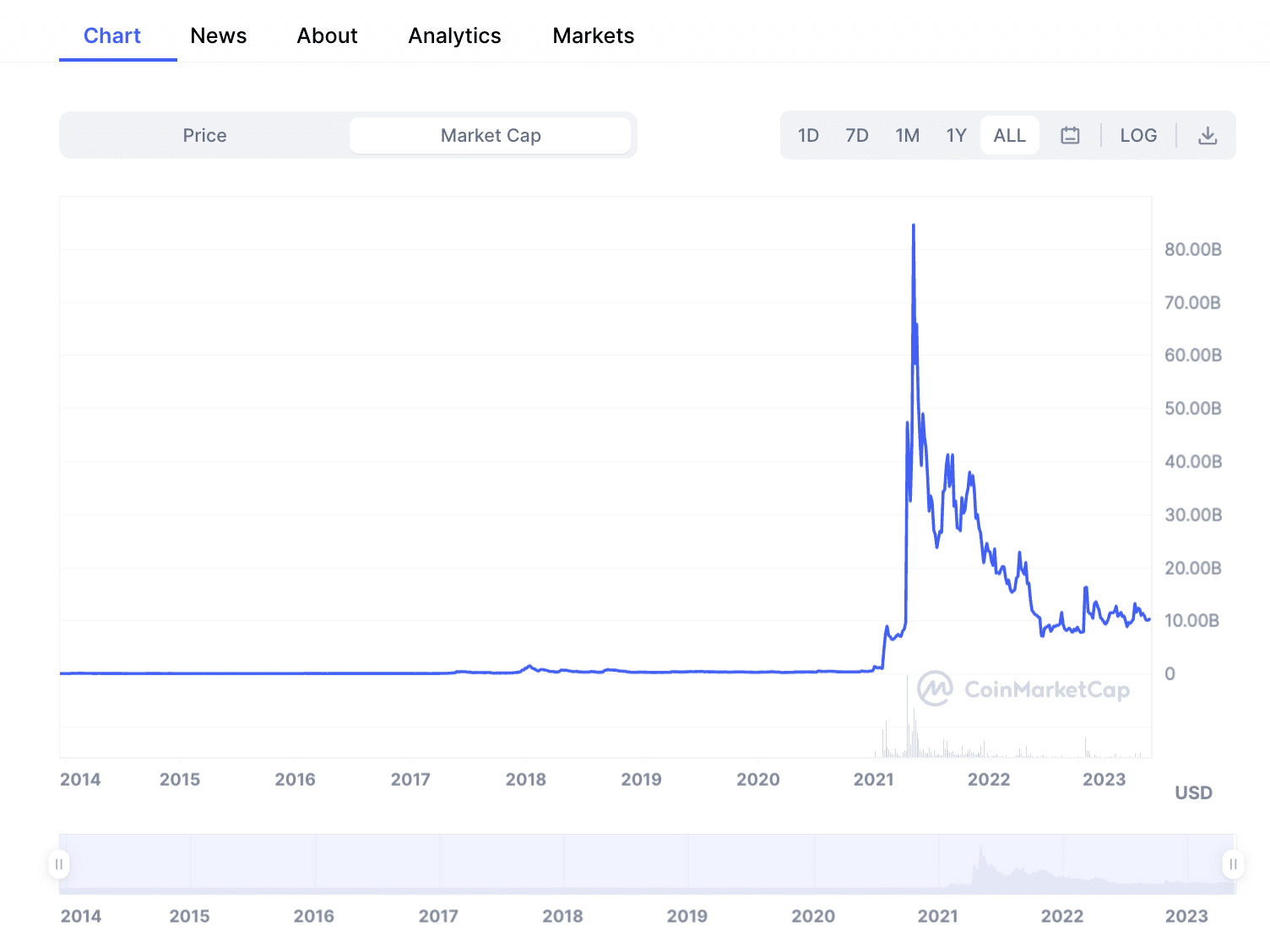 Let's put it another way. Consider that the best utility tokens in the market have actual use cases. For example, ETH is used by thousands of ERC20 projects to pay fees. While BNB fuels the Binance ecosystem, including its proprietary blockchain network. Similarly, XRP is used by banks as a bridge of liquidity when conducting cross-border transfers.
But in the case of Dogecoin, the only reason to purchase DOGE is for speculative reasons. Sure, an increasing number of merchants are accepting Dogecoin as payment. But this in itself doesn't warrant a legitimate use case.
On the flip side, this isn't to say that Dogecoin won't witness another parabolic run. The cryptocurrency markets are unpredictable and irrational, especially when it comes to meme coins like Dogecoin. Ultimately, Dogecoin has every chance of rapid growth if and when the next bull market arrives. This was the case both in the 2017 and 2021 bull cycles. So if history repeats itself again, speculative investors might consider buying Dogecoin while it remains cheap.
Is Dogecoin a Better Long-Term Investment or Short-Term Investment?
Dogecoin appeals to both short and long-term investors.
For example, those buying Dogecoin in 2014 would have paid just over $0.0002 per token. Those holding onto their Dogecoin until May 2021 would have witnessed gains of almost 370,000%. This means the portfolio would have been worth $370,000 for every $100 invested.
Even in today's market, Dogecoin is worth almost 13,000% more than its 2014 value. These metrics suggest that Dogecoin is an attractive long-term investment. However, Dogecoin averaged a market capitalization of just $10 million in 2014. As such, those entering the market at this price point had a significant amount of upside to target. Considering that Dogecoin is now valued at $10 billion, the long-term upside is a lot more limited.
As such, some investors prefer to trade Dogecoin on a short-term basis. This means entering and exiting the market in line with broader trends. For instance, buying Dogecoin in early 2021 when hype and FOMO kicked in. And then cashing out several weeks or months after the investment.
Some Dogecoin investors will take an even short-term approach. For example, one popular strategy in 2021 was to buy Dogecoin when Elon Musk made a tweet. This often resulted in a near-instant upside, enabling traders to secure attractive short-term gains.
Ultimately, whether investors should opt for a short or long-term strategy will depend on their financial goals and risk tolerance.
What Experts Say on Whether DOGE is a Good Investment
Still wondering is Dogecoin a good investment?
Here are some examples of what prominent figures and market experts have to say:
Elon Musk was recently quoted as saying: "Lots of people I talked to on the production lines at Tesla or building rockets at SpaceX own Doge"
Billionaire Mark Cuban and owner of the Dallas Cowboys is also a proponent of Dogecoin. He was quoted as saying: "It's a medium that can be used for the acquisition of goods and services. The community for DOGE is the strongest when it comes to using it as a medium of exchange."
Eric Berman from Thomson Reuters Practical Law also had his say on Dogecoin: "The sentiment seems to be: Bitcoin is for the wealthy, Ethereum for the middle class, and Dogecoin is for the people."
As per the quotes above, the common denominator is that Dogecoin is often considered the 'People's Cryptocurrency'. What's more, there is a belief that Dogecoin is more suitable as a medium of exchange when compared to Bitcoin.
As noted earlier, Dogecoin and Bitcoin have block confirmation times of one minute and 10 minutes, respectively. Therefore, Dogecoin can process transactions 10 times faster than Bitcoin. Moreover, Dogecoin transactions cost just a small fraction when compared to Bitcoin.
That said, there are other blockchain networks that are considerably faster, cheaper, and more scalable. But none have even a fraction of Dogecoin's community size, especially when it comes to token holders.
Why AiDoge Could Be a Better Investment Than Dogecoin
There is no denying that Dogecoin is one of the most popular cryptocurrencies in the market. Not only in terms of token holders, community following, and mass awareness – but it has a market capitalization of over $10 billion.
However, the long-term investment thesis on Dogecoin isn't overly strong. First and foremost, it remains to be seen how much of an upside potential is available. After all, Dogecoin is already a multi-billion dollar project. This makes it extremely unlikely that Dogecoin will replicate its 2021 gains of over 15,000%. In doing so, this would value Dogecoin at over $1.5 trillion based on current prices.
In other words, gains of this nature are only feasible on small-cap cryptocurrencies. Moreover, as we have established, Dogecoin is a speculative meme coin with very few use cases. In light of this, we prefer emerging cryptocurrencies with a unique concept, solid use case, small market capitalization, and an attractive entry price.
And in this regard, we found that AiDoge could be the next crypto to explode.
So what is AiDoge? Put simply, AiDoge is a new cryptocurrency project that has developed a 'meme generation' tool. Users can enter a simple text prompt explaining what meme they wish to create. And then AiDoge will generate one instantly. AiDoge is able to do this autonomously as its tool is backed by artificial intelligence. This also means that each meme is unique from the next.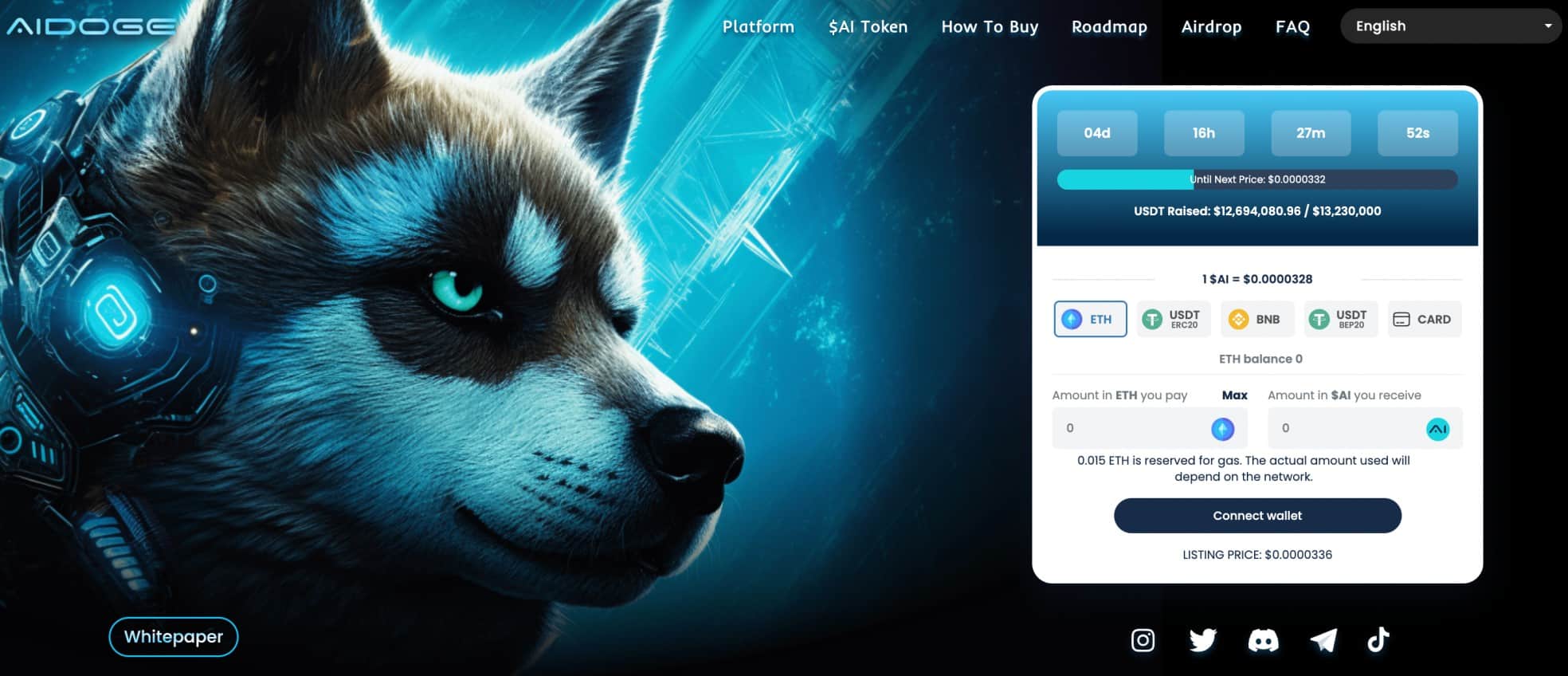 Moreover, after creating a meme, users can secure ownership by minting an NFT. This also enables users to sell their memes on NFT marketplaces. AiDoge has its own utility token, $AI. The primary use case for $AI tokens is to buy credits. This is because credits are required to create memes – crucially, $AI is the only payment method accepted, ensuring the tokens have an actual use case.
As noted earlier, this is in contrast to Dogecoin. Another attractive aspect of AiDoge is that the tokens are yet to launch on crypto exchanges. Instead, early investors are buying $AI tokens via the AiDoge presale. This offers preferential pricing, giving investors a first-mover advantage.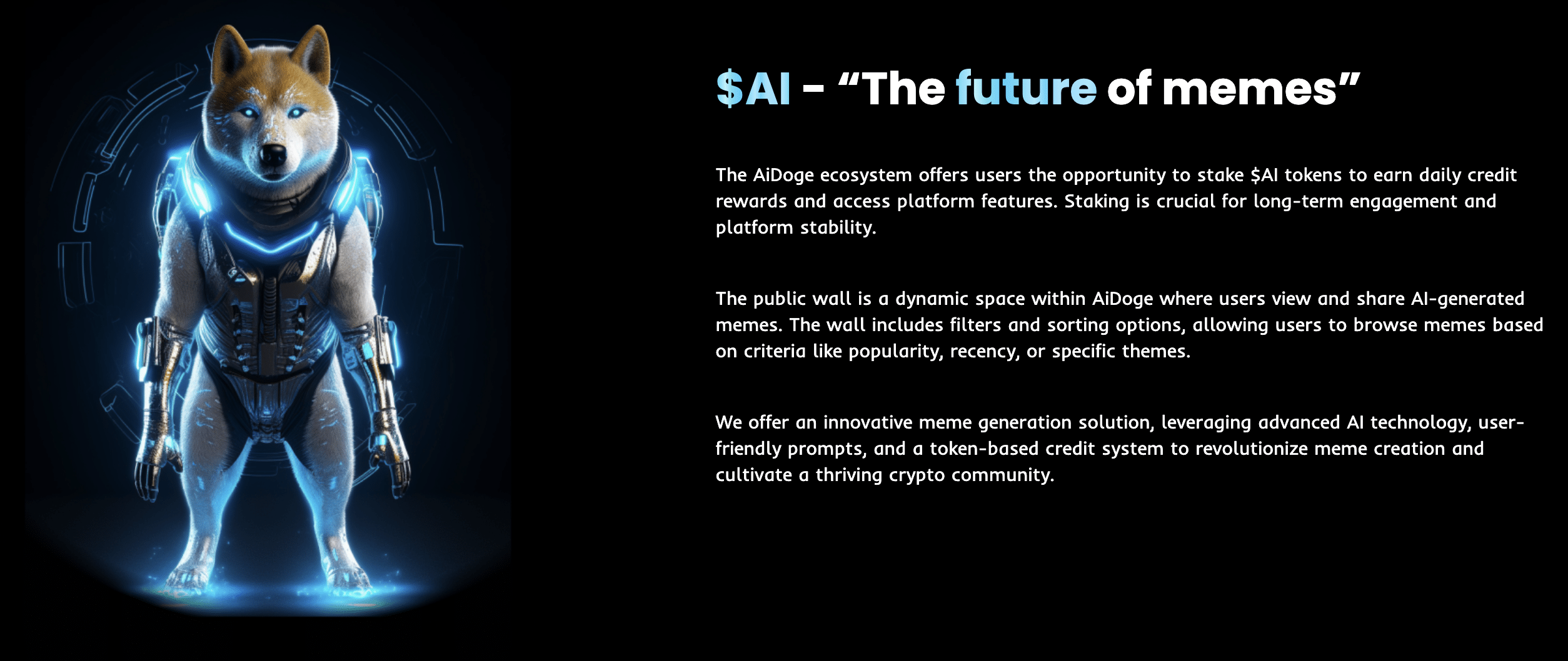 What's more, the AiDoge presale has already raised over $13 million in just four weeks, more than 80% of its $14.9 million hard cap. As such, those interested in $AI tokens will need to move fast should they wish to secure a presale discount. After the presale finishes, AiDoge will have a starting market capitalization of just $29.8 million.
This aligns with the valuation of Dogecoin during its first few years of existence. Therefore, AiDoge offers significant upside potential. However, just like Dogecoin, AiDoge is a risky investment. In fact, AiDoge is unproven in the market, so there is no pricing history or proof-of-concept. Moreover, AiDoge will likely witness extreme volatility once it is listed on exchanges, considering its small market capitalization.
On the flip side, those seeking similar returns to Dogecoin will find that AiDoge carries many similar characteristics – including a huge community following. But do consider the risks before proceeding and ensure that in-depth research is conducted.
Here's some information about the ongoing AiDoge presale:
| | |
| --- | --- |
| Hard Cap | $14.9 million |
| Total Tokens | 1 trillion |
| Tokens Available in Presale | 500 billion (50%) |
| Blockchain | Ethereum Network [Bridged to Arbitrum] |
| Token Type | ERC-20 |
| Minimum Purchase | 100 $AI |
| Pay With | USDT, ETH, BNB, Bank Card |
Our Verdict on Whether You Should Buy Dogecoin Now
Make no mistake about it – Dogecoin remains the most popular meme coin and one of the largest cryptocurrencies for market capitalization. With over four million token holders and a peak valuation of over $80 billion – there is clearly an appetite for Dogecoin from the broader markets.
However, whether or not investing in Dogecoin is a good idea remains to be seen. In our view, there is too much emphasis on speculative factors, such as Elon Musk tweeting about the project, rather than actual use cases, with Dogecoin having limited utility, even as a payment method. Crucially, Dogecoin is already a multi-billion dollar project, so there is limited upside for growth investors.
This is why AiDoge could offer a greater value proposition. This cryptocurrency has a solid use case, as $AI tokens are required to generate AI-backed memes and, just like Dogecoin, AiDoge already has a huge community of followers, supported by the fact that more than $13 million of presale funding has been raised in just four weeks so far.
$AI tokens will be listed on exchanges after the presale with a market capitalization of just $29.8 million. From a value perspective, this will appeal to investors seeking sizable long-term gains – that said, AiDoge should be considered high-risk, so only those with suitable tolerance levels should proceed.
Check out the AiDoge presale today to secure a pre-exchange discount.
FAQs
Is it a good idea to invest in Dogecoin?
Does Dogecoin have a future?
Will Dogecoin make any money?
Should I sell my Dogecoin?