Dogelon Mars (ELON) is a meme coin with a vast community thanks to its viral blend of inspirations from Dogeoin and multi–billionaire business mogul Elon Musk. Down 99% from its all-time high (ATH), many investors may ask, "Is Dogelon Mars a good investment?"
Indeed, reclaiming its peak price would result in massive profits for investors who buy today. However, several conditions must be met for that to happen. This guide covers what drives the ELON price, our Dogelon Mars price predictions, and whether you should buy it.
Should You Buy Dogelon Mars?
After reaching a $1.2 billion market cap in 2021, the Dogelon Mars valuation is currently at just $71 million. While meme coins are known for their volatility, Dogelon Mars has fared among the most explosive.
With that in mind, bullish market conditions and an increased risk appetite for meme coins could see its price boom. Furthermore, the project's relation to Dogecoin and Elon Musk also provides exposure and relevance each time either is in the crypto headlines.
Another prevalent factor is that the project has massive awareness and a notably strong community. Currently, the Dogelon Twitter has 447K followers. In comparison, Dogecoin's Twitter has 3.8 million followers but a market cap over 100x greater than Dogelon Mars'. This could enable drastic growth if ELON gathers bullish momentum.
Nevertheless, it is a high-risk, high-reward crypto, primarily geared towards more risk-averse investors. While it does hold upside potential, its significant sell-off from its ATH indicates a loss of community interests, which may be challenging to rekindle given the constant emergence of new meme coins.
Ultimately, deciding whether to buy Dogelon Mars or any other crypto must be the choice of the individual investor. Although there is significant upside potential, it is crucial that investors understand the risk and only invest what they can afford to lose.
How Dogelon Mars Has Performed Since Launch & This Year
Dogelon Mars launched in April 2021 and almost immediately rose to stardom amid Elon Musk's relentless and controversial proponing of Dogecoin, ultimately leading to Musk being sued.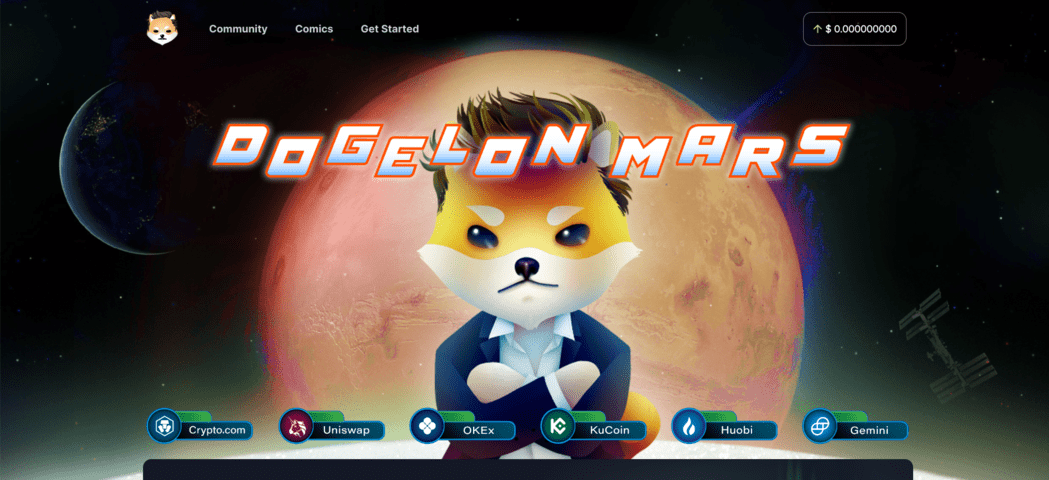 Why Was Dogelon Mars Created?
Dogelon Mars was created aiming to replicate the success of Dogecoin, capitalizing on Elon Musk's infamous endorsement of the project in 2021.
50% of ELON tokens were sent to a Uniswap liquidity pool, and the other 50% were sent to Ethereum Founder Vitalik Buterin. Vitalik then donated his tokens to various DAOs and foundations, including the Methuselah Foundation. His donation would have equated to over $500 million at ELON's peak price.
Within a month of launching, Dogelon Mars did something many projects can never do: hit a $1 billion market cap.
However, the pump was brief, with its price peaking at $0.00003263 and then dramatically crashing to lows of $0.00000005 in September 2021.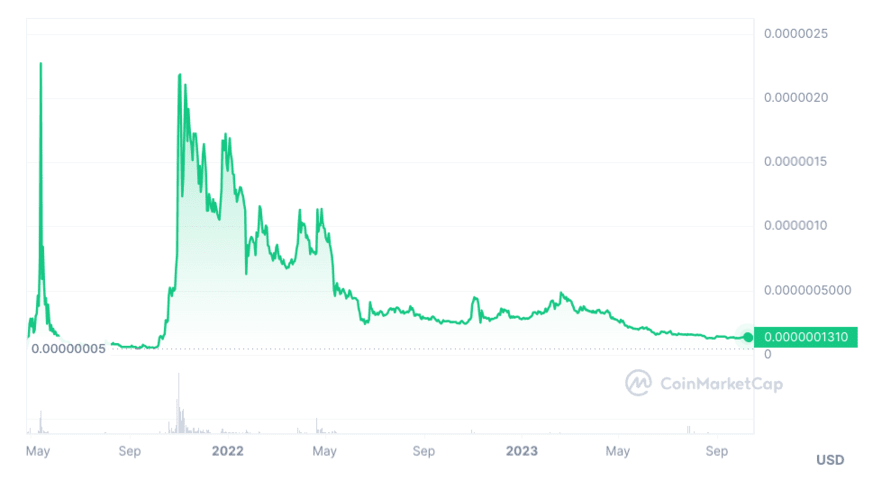 Following this, the price took a second run, hitting $0.000002174 in November 2021, but could not reclaim its ATH. That said, its market cap did reach an ATH, touching $1.23 billion.
Since peaking in November 2021, the Dogelon Mars price has followed a continuous downtrend, regularly making lower lows and lower highs. However, its price reached its lowest price in August and has since found some support and begun forming a wedge.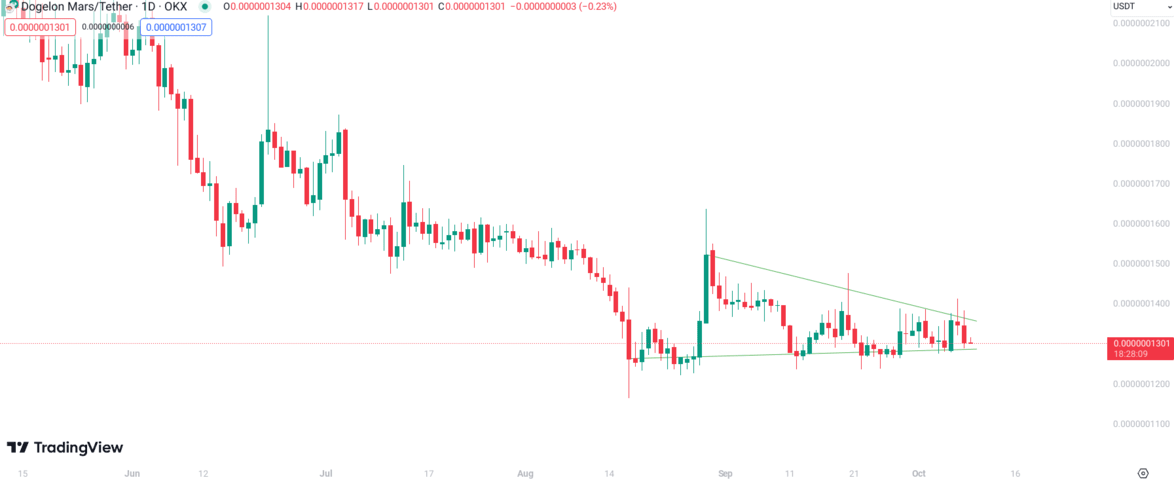 Due to its bear market downtrend, the wedge represents a shift in momentum and indicates a possible reversal in the coming months.
Currently, Dogelon Mars is priced at $0.0000001311, down 99.6% from its ATH. This presents significant upside potential but also highlights the project's risk and volatility.
Dogelon Mars Price Performance Key Points:
Dogelon Mars launched in April 2021 and quickly exploded to a $1 billion market cap.
The project is inspired by Elon Musk and Dogecoin, and half of its tokens were gifted to Vitalik Buterin after it launched.
It reached its ATH of $0.00003263 in May 2021.
Since its second bull market peak in 2021, ELON has trended downwards, currently -99.6% from its ATH, currently priced at $0.0000001311.
What Factors Determine the Price of Dogelon Mars & Its Potential?
As such a volatile crypto, many factors influence Dogelon Mars' price and help answer the question, "Is Dogelon Mars worth buying." These factors rendered it one of the best meme coins in 2021 but also caused its meteoric downfall.
Hype and FOMO
Such monumental price rises seen by Dogelon Mars and other prominent meme coins are ultimately driven by hype and fear of missing out (FOMO). This is especially true in bull markets where projects can surge 10-100x within a few days.
The Pepe Hype
One of the most recent examples of investors "FOMOing" to buy an emerging meme coin is Pepe during the recent bear market. The project launched in April and surged to a $2 billion market cap within one month when Binance announced it would list it.
Investors raced to buy PEPE immediately following the news, hoping to sell for massive profits once it launched on the world's largest exchange. The price soared, but the momentum was short-lived as the price swiftly corrected.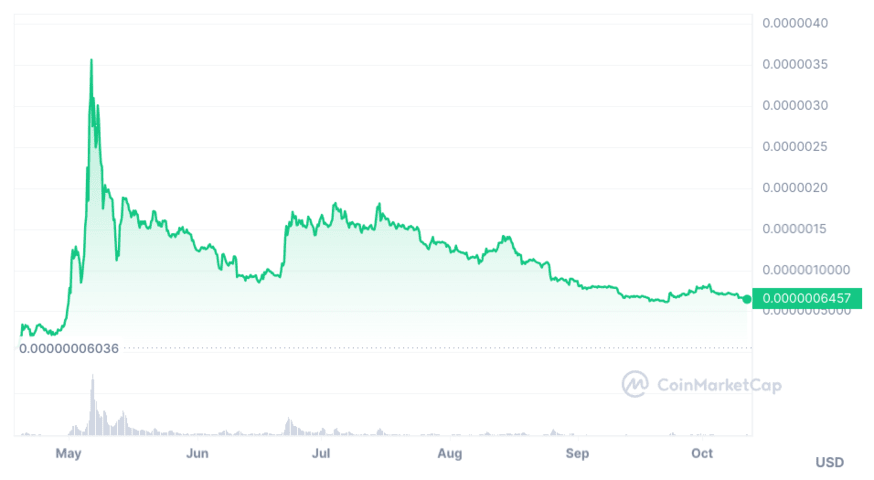 Essentially, investors rush to buy projects amid price rises or significant news events to avoid missing out on lucrative gains.
Adding to this, factors like market sentiment can significantly drive prices. For example, suppose investors believe that Dogelon Mars will pump due to a certain narrative or project-specific characteristic. In that case, the hype will build, attracting new investors and liquidity and increasing its price.
Some other examples include if it is listed on a high-profile exchange, like Binance. We saw Pepe pump in recent months following its Binance listing, and we also saw Wall Street Memes undergo one of the year's best ICOs after announcing it would be listed on multiple tier-one exchanges following its presale.
Dogecoin, Musk, and Meme Coin Sentiment
Dogelon Mars' Dogecoin and Elon Musk inspirations mean that news surrounding either will affect its price. For instance, the ELON price pumped when Elon Musk bought Twitter on 27 October 2022.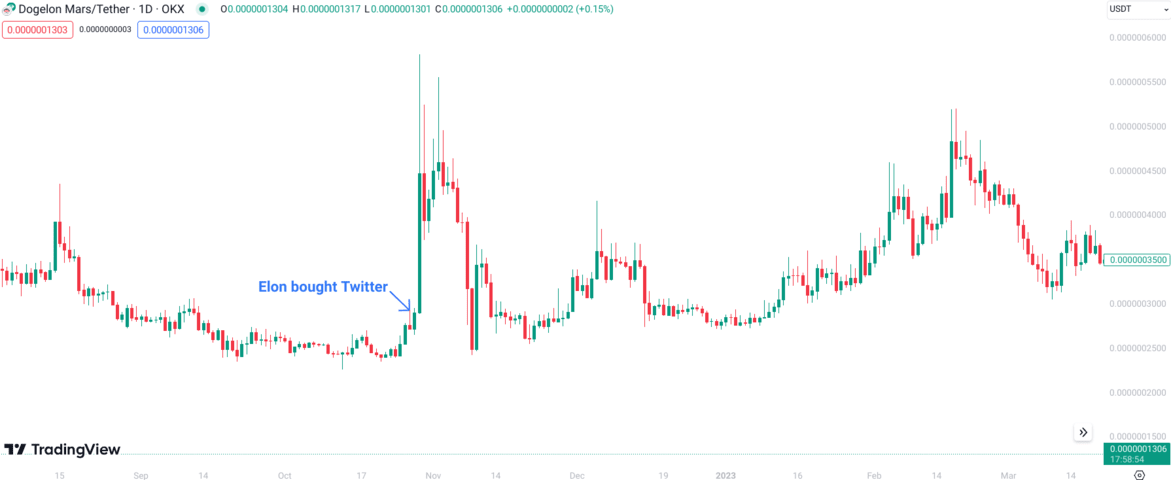 Moreover, bullish (or bearish) sentiment regarding the broader meme coin market can heavily impact the price of Dogelon Mars and other individual meme coins.
If meme coins begin to outperform the broader market, then liquidity often spreads among all meme coins as investors seek to generate more profits. Dogelon Mars will particularly benefit if it fits into the narrative. For example, ELON could benefit significantly if Dogecoin or AI-related meme coins pump.
We mention AI-related meme coins because Dogelon Mars recently issued a new feature called Dogelon AI, which enables users to mint AI-generated NFTs in seconds.
Broader Crypto Market Performance
With the upcoming Bitcoin halving in April 2024, many analysts predict that the crypto bull run will begin at the end of 2024.
If this occurs, massive amounts of new liquidity will enter the market, and Dogelon Mars could capture some of it, helping bolster its price. This will only occur if the project remains relevant and retains some of its community and hype. Initiatives like its Dogelon AI feature could help with this.
Conversely, challenging market conditions often prove devastating for meme coins. This was seen through the recent bear market, where meme coins were some of the worst-affected cryptos. This is because their prices are often hype-driven, with investors holding little conviction in their investments, so they are happy to dump at the first sign of trouble.
Supply
CoinMarketCap data shows that just 54.97% of ELON tokens are circulating. On the surface, this indicates that a significant token unlock is on the horizon. However, the remaining tokens were burned, and the supply is now deflating over time.
As such, growing demand will better impact the ELON price since no new tokens will be unlocked.
This is especially important considering the project's initiatives and ecosystem developments, like its Dogelon AI feature, which could enhance demand.
Utility and Ecosystem Expansions
While investors initially rally behind meme coins due to their fun and jovial nature, the ultimate factor pushing them to part ways with their hard-earned cash is the hopes of generating a profit later.
This is why we often see utility-focused narratives driving meme coin prices. For instance, much of the optimism behind Elon Musk being a Dogeoin advocate is due to hopes that he integrates DOGE into his conglomerate of companies. Investors also hope that DOGE will be used for everyday payments internationally.
Meanwhile, much of Shiba Inu's hype is based on the project's aim to become an all-in-one cryptocurrency ecosystem.
Indeed, the initial draw to meme coins might be their funny images or viral social media raids, but holders soon shift their attention to real-world utility. Regarding Dogelon Mars, ecosystem expansions (like Dogelon AI) might enhance investors' optimism and confidence, opening the door to more steady, utility-driven demand in the future.
Dogelon Mars Price Forecast for 2023, 2024, 2025, 2030
Regarding our Dogelon Mars price forecast, we have considered all the factors above to predict its price between 2023-2030.
However, with its price down over 99% from the peak of the last bull run, it is clear that momentum has died out for Dogelon Mars. Therefore, it remains to be seen whether its hype will reignite when the market conditions improve. Indeed, it is an exciting project, but many other emerging cryptos are backed by significant bullish momentum.
It is crucial that Dogelon Mars restablishes itself through new utility and narratives. The team is trying to expand its community through a "Dogelon Comicon." The campaign will reward users for contributing new comic ideas to the project.
Dogelon Mars' comic book concept is unique and helps differentiate it from other projects, adding upside potential.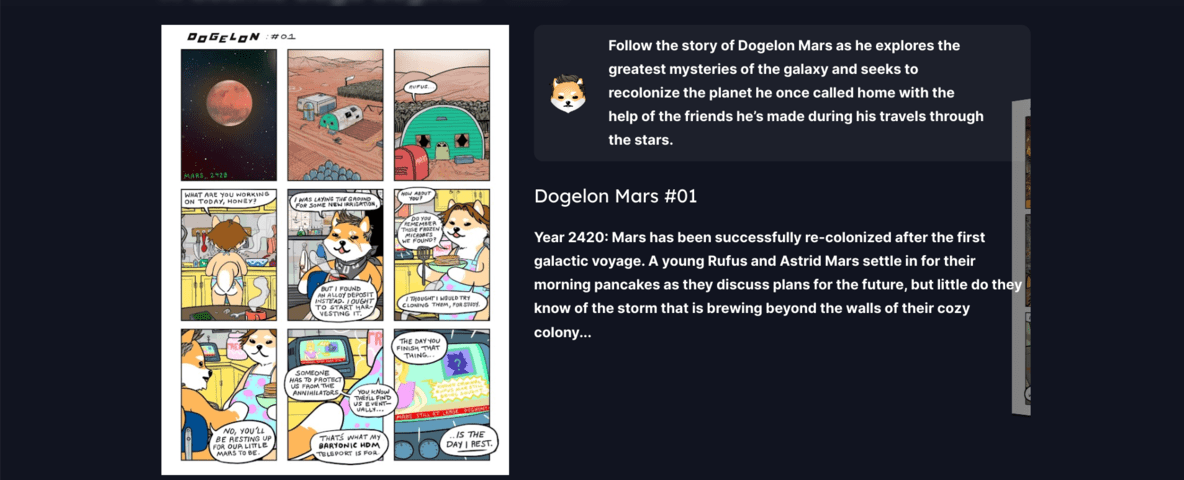 Dogelon Mars Price Prediction 2023
With Dogelon Mars seemingly finding support and forming a wedge on the price chart discussed earlier, our ELON technical analysis edges towards a reversal towards the end of 2023. As such, many market participants may wonder, "Is it a good time to buy Dogelon Mars?"
Some of the most promising factors that could help reignite hype this year are its new AI NFT tool and focus on community initiatives.
Furthermore, a recent Martixport report predicts that Bitcoin could rally to $37K by the end of 2023. As mentioned, strengthening market conditions could bolster the Dogelon Mars price. While there remains potential that the buzz may bypass Dogelon Mars, its recent innovations look promising.
With that in mind, our forecast predicts a price of $0.0000001541 by the end of 2023. This would move ELON to its local resistance and equate to a 20% increase from its current price.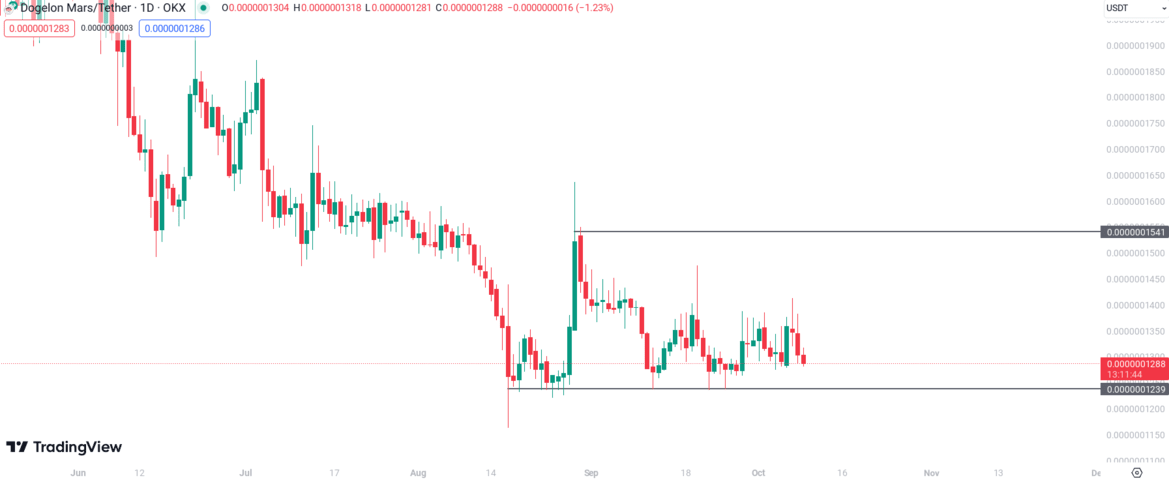 Dogelon Mars Price Prediction 2024
Provided ELON finishes the year strong in 2023, we could see a more significant reversal in 2024. The Bitcoin halving could spur it on, which is expected to kickstart the next bull run.
Furthermore, with speculation brewing that Elon Musk will integrate Dogecoin into X, we could see the Dogecoin price pump significantly. This would undoubtedly cause the price to pump, considering Dogelon Mars' connection to both entities.
However, it is also essential to consider the significant losses the project has already endured. Its poor performance means many holders may be happy to sell as the price increases, even for a loss. This will ensure they get some of their investment back but will stunt ELON's upside potential in the next bull run.
New investors may also be less compelled to buy Dogelon Mars due to its turbulent price history, potentially opting for more recent and promising projects instead.
Still, our analysis finds ELON holds upside potential, estimating a price of $0.00000018 by the end of 2024. If correct, this equates to a 37% increase.
Dogelon Mars Price Prediction 2025
While many critics believed that meme coin hype would be a short-lived FAD, the rise of new projects like Pepe, Wall St Memes, HarryPotterObamaSonic10Inu, and others shows that the meme coin market is very much thriving.
Furthermore, CoinMarketCap data shows the meme coin market currently holds a combined $13 billion market cap. This will likely drastically grow, looking ahead to 2025. With Dogelon Mars' massive community comprising 650K Twitter followers and 90K Telegram subs, the project is well-positioned to capture some of this growth.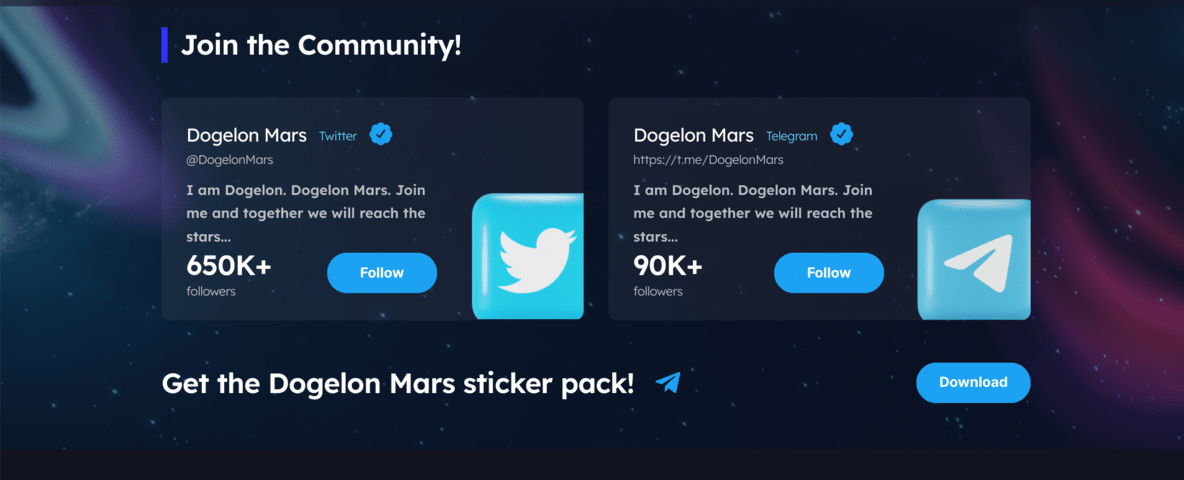 If this occurs, we could see the price hit $0.00000035 by the end of 2025, equaling a 166% gain from its current price.
Dogelon Mars Price Prediction 2030
Long-term predictions are challenging, especially for highly volatile meme coins like Dogelon Mars. Nevertheless, the project's team has recently shown deep interest in expanding its ecosystem and integrating cutting-edge technology.
If the team keeps innovating, ELON can climb to become one of the most prominent meme coins. Still, with its price down over 99%, we must consider that the project also holds significant risk.
Yet if the community embraces its ecosystem developments and the project continues to grow, we could see possible highs of $0.0000006 by the end of 2030. This would equate to a 357% gain.
Dogelon Mars' Utility – How Could it be Used in the Future?
Meme coins are widely criticized for lacking utility and being purely driven by hype and speculation. While Dogelon Mars has fit this narrative for a long time, its recent integration of Dogelon AI presents a new degree of utility to the ELON token.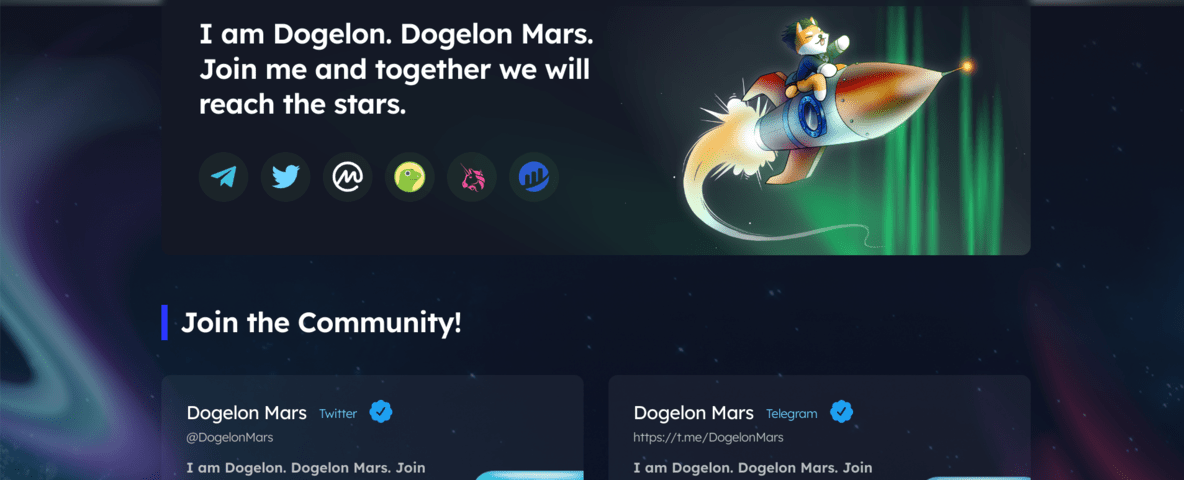 While its price is still driven mainly by hype, Dogelon AI enables users to create NFTs with AI and mint them. Then, they can burn ELON to re-generate the image associated with their NFT. This provides a form of token utility and will also reduce the supply over time.
According to a recent update by the team, Dogelon AI has fared in high demand, with over 130,000 AI images generated and 2K NFT mints in a 24-hour period.
Provided such interest continues, this would equate to a growing demand for ELON based outside of speculation and hype. While it has fared a highly volatile crypto since its launch, a predictable and steady stream of utility-based demand could help stabilize its price.
Despite this, its $72 million market cap is mainly based on investors buying with hopes of selling at a higher price, not to use to mint Dogelon AI NFTs. While this may change in the future if its ecosystem continues to expand, it is still worth noting that its price remains driven by speculation.
Is Dogelon Mars a Better Short-Term or Long-Term Investment?
Although we have established that the project could succeed long-term, our analysis was based on the premise that the ecosystem expands. Currently, Dogelon Mars does not offer any utility that provides long-term potential.
As mentioned, its price remains driven primarily by hype, speculation, and FOMO. This is not a good indicator of long-term potential, so there are likely better options for long-term investments than Dogelon Mars.
What Makes a Good Long-Term Crypto?
Generally, the best long-term cryptos boast features like real-world utility or solve a prevalent problem in the industry.
We have seen other meme coins attempt similar feats. For example, Shiba Inu launched its Shibarium Ethereum layer 2 scaling solution, helping tackle Ethereum's prominent scalability issue. This could attract new liquidity into its ecosystem, helping bolster the token's price.
Meanwhile, the newly launched Meme Kombat provides a fun crypto gambling experience while integrating a viral meme coin allure and high-staking APY. Users require $MK for staking and betting, providing a predictable demand stream, which could help boost its price.
Dogelon Mars is moving towards this approach, but its current lack of utility means it currently fares best as a short-term investment.
What's more, with its price down over 99%, investors must remain aware there is a significant possibility that Dogelon Mars has run out of momentum and will be unable to recover in the next bull run.
Now, when taking a short-term outlook, it is important to consider is now a good time to buy Dogelon Mars.
Ultimately, its strong bearish price action means potential investors must await a trend reversal confirmation before buying. Otherwise, it would be like "trying to catch a falling knife."
Since we have identified ELON would likely fare better as a short-term investment, those looking to buy the project may be best suited to selling within 12-18 months as the bull market peaks.
What Expert Traders Say on Whether You Should Buy Dogelon Mars
Due to its poor performance recently, much of the community has seemingly lost interest in Dogelon Mars, and that means price predictions are less common than at the peak of its bull run.
Nevertheless, several prominent traders have weighed in on its potential, with varying opinions regarding "Will Dogelon Mars go up?"
In May, a popular TradingView analysis by a prominent trader, Arash Banakar, speculated that its $0.00000025 level would hold as strong support, and the price would bounce and begin to move upwards. However, it has decreased roughly 50% since then, currently priced at $0.0000001324.
The trader later updated the analysis, stating that it is not a good time to buy and buyers should await a reversal confirmation before pulling the trigger.
YouTuber Crypto Millie recently published a video considering is investing in Dogelon Mars a good idea. The breakdown factored in events like Dogelon Mars' explosive rise in popularity, links to prominent industry figures, and its recent ecosystem expansions.
The analysts concluded that Dogelon Mars holds tremendous upside potential, forecasting a potential $5 billion market cap in the next bull run.
Meanwhile, one of the most prevalent Dogelon Mars Twitter community members, Ace Crypto, has published multiple tweets recently speculating on its future. The account first noted its recent strong performance, highlighting a 6.43% increase at the end of September.
Then, in a subsequent tweet, the Dogelon Mars community member speculated it is only a matter of time before ELON is listed on Binance. Considering the hype and attention this would provide, it would likely also bolster the Dogelon Mars price.
Finally, trader Cecko TheCryptoFish recently put out a short-term price analysis, pointing out that its overarching trend remains bearish, but a move above $0.00000014 may signify a short-term reversal.
However, analysts and community members have been quiet on Dogelon Mars' future for the most part. This signifies diminishing interest and presents a significant long-term risk.
To put it into perspective, the latest Dogelon Mars analysis update on TradingView occurred on 16 August 2023, almost two months ago. Meanwhile, newer trending projects receive price analyses daily on TradingView. For instance, Pepe has received three price analyses' in the last 24 hours alone.
Where to Buy Dogelon Mars
While not without risk, Dogelon Mars investors could experience monumental gains if the project regains its previous bull market hype.
With that in mind, many potential investors may wonder about the best place to buy Dogelon Mars. Our two top picks are eToro and Coinbase, both serving a brilliant user experience and competitive fees. We have explored both below, considering factors like security, regulatory compliance, fees, features, and usability to help you decide the most suitable one.

For new crypto investors looking for a no-fuss, beginner-friendly platform with all the necessary features and more, eToro is the best place to go.
The platform boasts some of the most innovative features on the market while maintaining an intuitive user experience. You can get started buying ELON on the platform for as little as $10, and there are fee-free card deposits and a flat 1% trading fee on all purchases.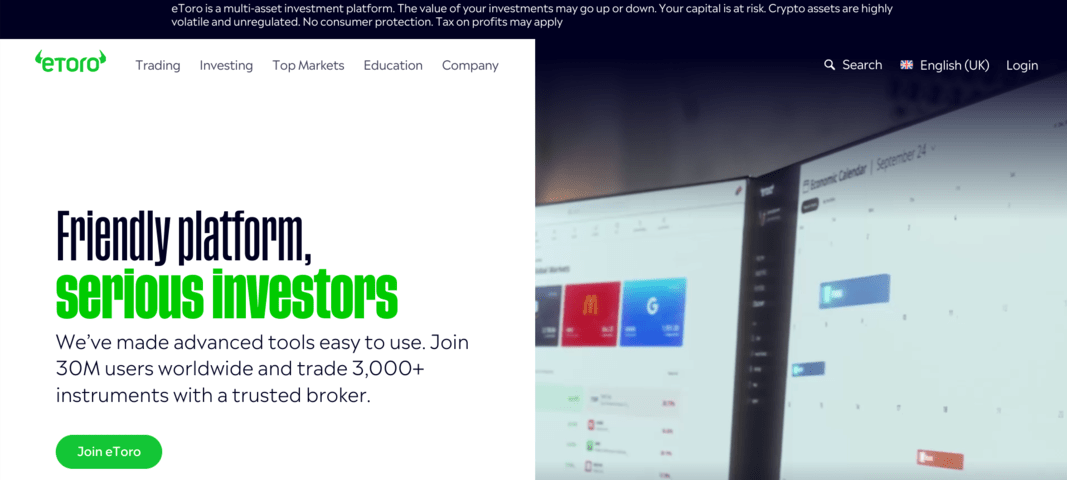 As such, eToro provides one of the most transparent and competitive fee structures of all crypto exchanges, which is a significant drawdown of some competitors. What's more, investors can enjoy numerous ways to deposit to eToro, including debit or credit card, bank transfer, and e-wallet (like PayPal, Skrill, and Neteller).
The platform has been around since 2007 and is one of the most secure cryptocurrency exchanges, regulated by entities like FINRA, FCA, CySEC, and ASIC. It is trusted by over 30 million users worldwide and incorporates features like 2-factor authentication to protect users' funds.
Knowing when to buy Dogelon Mars can be difficult, but eToro's social trading feature lets you learn and share ideas with other users and even copy-trade the platform's top performers. This is ideal for passive investors or beginners looking to buy cryptos at the best possible time.
Furthermore, it boasts a feature called Smart Portfolios, which allows users to invest in a diversified basket of cryptocurrencies at the click of a button. Yet users looking for further diversification look no further since eToro also offers stocks, ETFs, and CFDs for Forex, commodities, and indices.
Coinbase – User-Friendly Exchange With Robust Security and 250+ Cryptocurrencies

Another great option for where to buy Dogelon Mars is Coinbase. It offers notably more cryptocurrencies than eToro, with 250+ currently on offer. Furthermore, it also delivers a market-leading user experience, innovative features, and strong security mechanics.
However, the one place we find room for improvement is its fees. The platform charges a 3.99% fee on bank/credit card deposits. This is a significant issue for many users since card deposits are often the most convenient means of payment.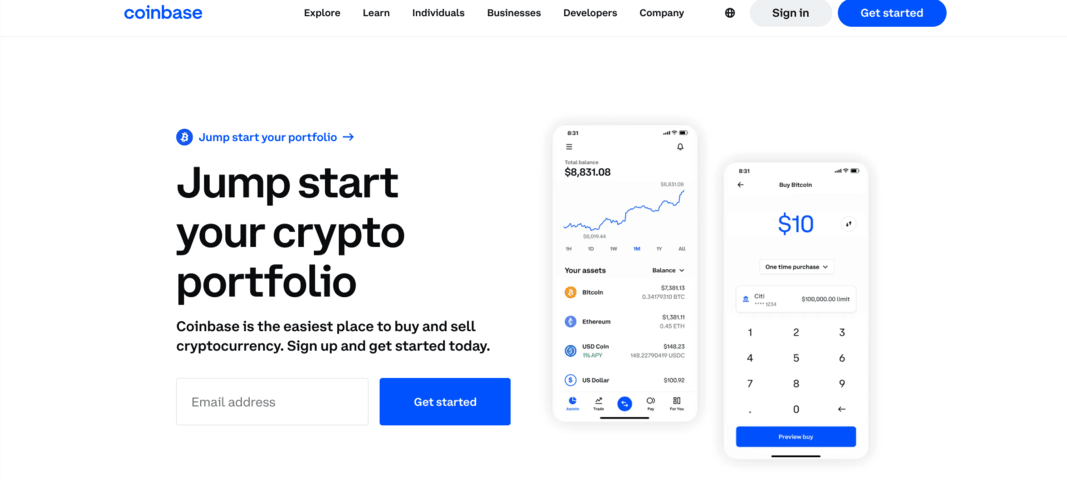 The platform also charges a 1.5% trading fee, putting its total fees to 4.49%. This is a long way from eToro's flat 1% fee.
Coinbase is the most reputable cryptocurrency exchange, launching as a public company in the United States in 2021 and being highly regulatory compliant worldwide. It also boasts robust security, with 98% of customers' funds stored offline, and utilizes 2-factor authentication. Moreover, Coinbase holds insurance to protect against theft or loss.
Another feature we like about Coinbase is that, like eToro, it boasts a seamless and intuitive user interface. Therefore, even the least versed crypto users can effortlessly visit the site, set up an account, and buy ELON in minutes.
For users looking to do more than merely buy and hold Dogelon Mars, Coinbase offers a plethora of compelling features like a "Learn" platform where users get paid a small amount of crypto to discover new projects, staking, a crypto bank card, a self-hosted crypto wallet and much more.
That said, users are limited to buying crypto on Coinbase, unlike on eToro.
Is Dogelon Mars a Good Investment? Our Conclusion
Dogelon Mars proved a formidable force in the 2021 bull rally, able to climb to the top of the ultra-competitive meme coin market, reaching a $1 billion market cap in under a month of launching. Its meteoric beginnings brought massive hype, but this has since faded away, with the project down 99.6%.
While we could see it explode again, the community's diminishing interest indicates that other emerging projects could hold more potential. Therefore, we have compiled a list of the best cryptos to buy now – click below to discover them before the next bull run.
Explore the Best Cryptos in 2023
References
https://twitter.com/dogelonmars
https://www.reuters.com/legal/transactional/elon-musk-sued-258-billion-over-alleged-dogecoin-pyramid-scheme-2022-06-16/
https://www.nytimes.com/2022/10/27/technology/elon-musk-twitter-deal-complete.html
https://ai.dogelonmars.com/
https://coinmarketcap.com/currencies/dogelon/
https://www.coindesk.com/markets/2023/09/20/bitcoin-price-may-boom-in-october-could-hit-37k-by-year-end-matrixport/
https://www.tradingview.com/chart/ELONUSDT/svBXQLuH-DOGELON-Wait-to-trigger-ELONUSDT/
https://www.youtube.com/watch?v=Gygl3vSjnWQ
https://twitter.com/Ace403919
https://x.com/Ace403919/status/1709559314598236415?s=20
https://www.youtube.com/watch?v=7LuKtZf-j6Q&pp=ygUXZG9nZWxvbiBtYXJzIHByZWRpY3Rpb24%3D
https://www.tradingview.com/symbols/PEPEUSDT/ideas/
https://help.coinbase.com/en/coinbase/other-topics/legal-policies/how-is-coinbase-insured
https://www.coindesk.com/markets/2023/07/25/dogecoin-bumps-10-on-x-payments-speculation-doge-futures-traders-lose-10m/
https://coinmarketcap.com/view/memes/
https://coinmarketcap.com/community/post/331162967/
FAQs
Is Dogelon Mars a good investment today?
Does Dogelon Mars have a future?
Will Dogelon Mars reach $1?
What will Dogelon Mars be worth in 2023?