MetaWin is an online gambling platform that supports classic casino games, instant-win competitions, and NFT collectibles. Players benefit from anonymous accounts, instant payouts, and high RTP (return-to-player).
But that begs the question: Is MetaWin legit? In this MetaWin review, we cover everything from safety and legitimacy to available games, payments, user experience, and much more.
What is MetaWin?
MetaWin is a popular gambling site that operates on the Ethereum blockchain. As a decentralized platform, MetaWin allows players to gamble online without revealing their identity. In fact, players are not required to open an account – let alone upload KYC documents. Instead, players simply need to connect their wallet to the MetaWin website to begin gambling.
So what games does MetaWin offer?
There are three core divisions on the MetaWin platform. First, there are MetaWin competitions. These are similar to online lotteries but with a core difference – results are determined by smart contract technology. In other words, competition outcomes are guaranteed for their randomness and fairness. Best of all, many MetaWin competitions are free to enter. But to increase the chances of winning, players can purchase additional tickets.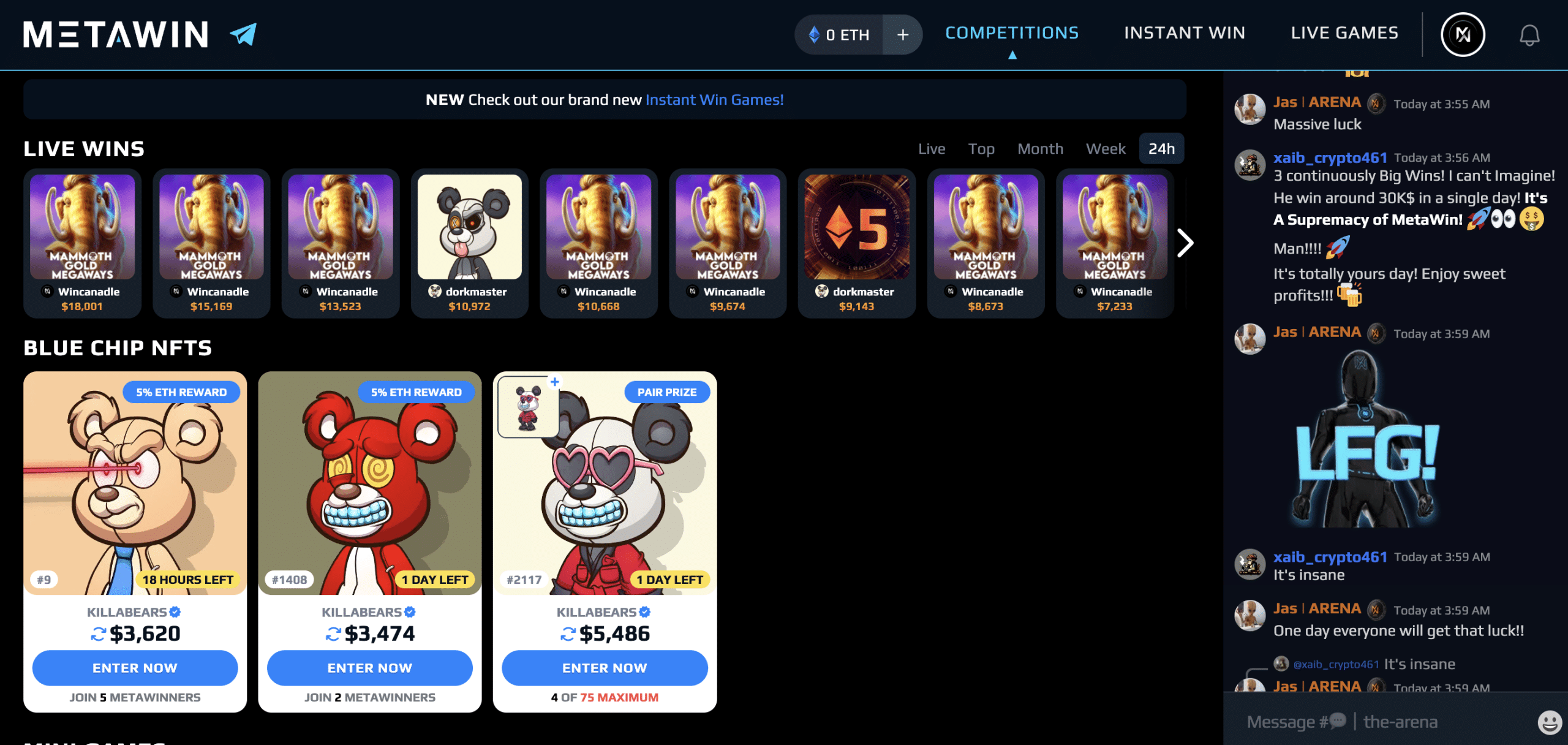 Another segment of the MetaWin platform is instant-win games. This covers a wide range of classic and new-age casino games. This includes popular table games, including baccarat, roulette, and blackjack. These games are backed by regulated software providers like Pragmatic Play. MetaWin also allows players to access live dealer table games. This offers a real-world casino experience but with cryptocurrencies.
What's more, MetaWin also offers a wide range of slot games, including plenty of megaways and jackpots. Our MetaWin review also found that the platform allows players to win NFTs. These are popular NFTs that trade on OpenSea and can be won via a lottery-style competition.
Not only does MetaWin offer a broad selection of gambling products alongside anonymous accounts, but payouts are instant. Players can move funds between their wallets and the MetaWin platform at the click of a button. MetaWin supports some of the best crypto wallets, including MetaMask. That said, those looking for a Bitcoin casino will be disappointed – as MetaWin only accepts Ethereum.
MetaWin Pros and Cons
Still exploring the question: Is MetaWin legit? Below, we summarize our MetaWin review with the platform's best and worst features:
Pros
One of the best Ethereum casinos for 2023
No account required – gamble anonymously by connecting a crypto wallet
Instant payouts
Supports slots, table games, and live dealers
Lottery-style competitions backed by Ethereum smart contracts
Cons
One of the newest crypto casinos in town – so has a limited track record
Only supports Ethereum
Is MetaWin Regulated & Licensed?
MetaWin is a blockchain-based casino that allows players to gamble anonymously. The main caveat here is that, unlike traditional gambling sites, MetaWin is not regulated. This isn't a huge surprise considering the anonymous nature of cryptocurrencies in general.
Crucially, players will need to assess the risks of using an unlicensed casino when gambling online. If privacy and anonymity are important factors, then a compromise on regulation needs to be had. That said, many of the games available on MetaWin are backed by Pragmatic Play.
For those unaware, Pragmatic Play is one of the most reputable casino software providers in the market. What's more, Pragmatic Play is regulated by the UK's Gambling Commission. This ensures that instant-win casino games on MetaWin are true, fair, and 100% random.
Is MetaWin Secure?
While some players might feel uncomfortable using an unlicensed casino, our MetaWin review found that the platform offers a safe gaming experience.
First and foremost, there is no requirement to enter any personal information or contact details when registering. Nor do players need to upload a government-issued ID or proof of address. This ensures that players avoid being a victim of identity theft and fraud.
Another safeguard is that players do not need to enter sensitive financial information into the MetaWin website. On the contrary, players only need to link their wallets via an encrypted connection. For example, many MetaWin players opt for MetaMask. Before the wallet is connected, MetaMask will ask for authorization. This ensures that only the wallet owner can transfer funds to and from MetaWin.
The Transparency of Blockchain-Based Gambling Transactions
We also found that the blockchain-based nature of MetaWin is a great safety net. For instance, consider that all Ethereum transactions are posted to the blockchain. This means that players have undeniable proof of deposits and withdrawals. While there should be any issues in this regard, this is a handy safeguard if a payment doesn't arrive on time. That said, MetaWin payments are almost always credited instantly.
Is MetaWin Fair?
One of the most important metrics to explore when gambling online is the fairness of gaming outcomes.
There are two segments to this discussion. First, MetaWin competitions are backed by smart contracts. While instant-win casino games like blackjack and slots are provided by third parties.
Let's explore the fairness of MetaWin games in more detail.
Smart Contract-Backed Competitions
As we cover in more detail shortly, one of the most popular gambling products on MetaWin is its competition. For example, an ongoing MetaWin competition is offering a 5 ETH prize pot. Based on current ETH/USD prices, the competition is valued at over $9,000.
But is MetaWin legit? And are its competitions fair?
First and foremost, MetaWin competitions are blockchain-based. Winners are determined randomly via a smart contract agreement. This ensures that MetaWin competitions are 100% true, fair, and random.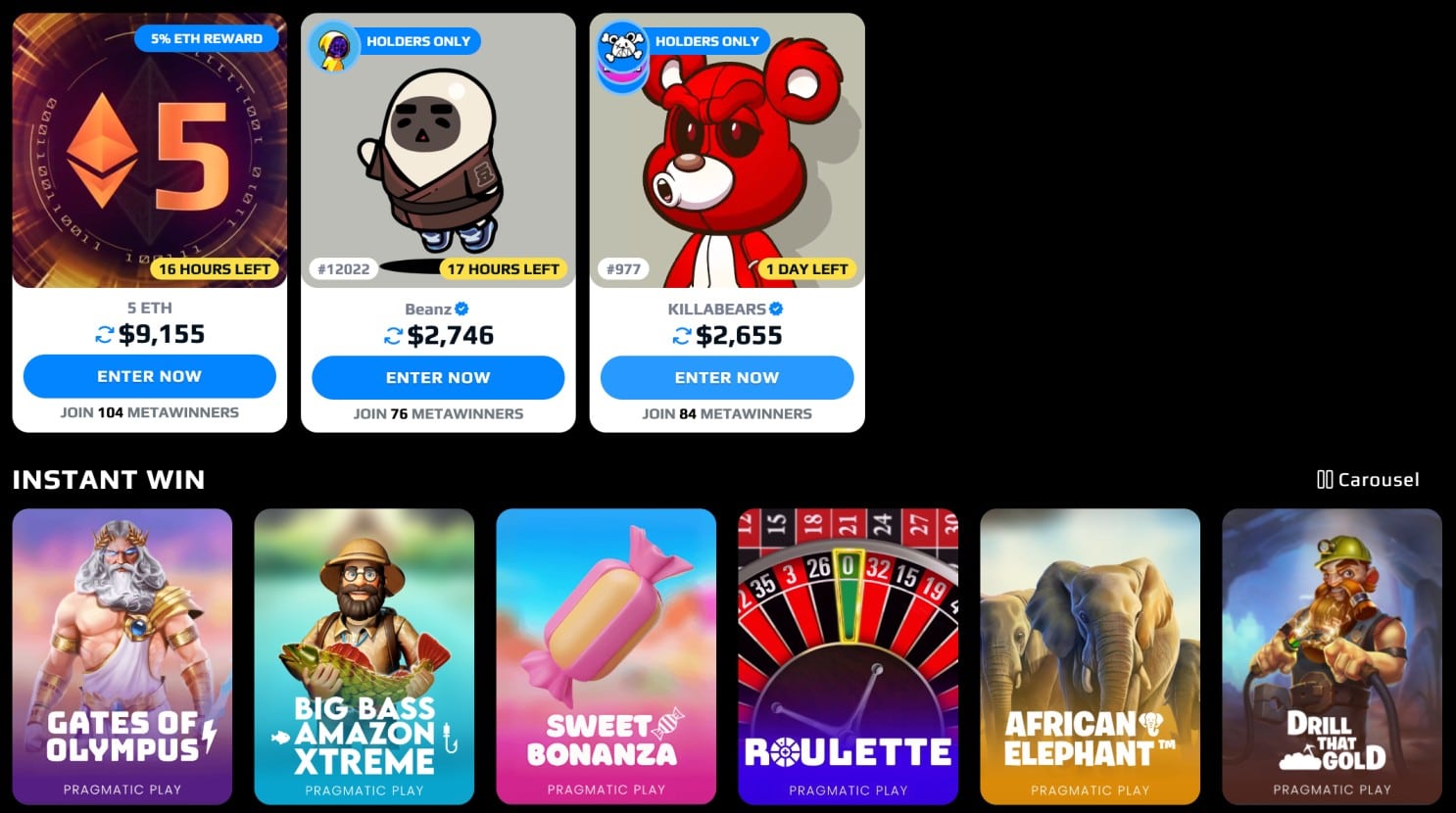 But why? Well, smart contracts are executed via the Ethereum blockchain. More importantly, Ethereum smart contracts are open source. This means that the underlying smart contract code is publicly available, meaning anyone can view and audit it. This ensures that MetaWin competition outcomes are transparent.
Moreover, smart contracts ensure that competition outcomes are completely random. This gives everyone a fair chance of winning. At any time, players can check the smart contract transaction to verify this. Not only will this show the randomness of the smart contract but the winning wallet address.
Instant-Win Casino Games Backed by Regulated Software
The vast majority of online casino sites have their games supplied by software providers. MetaWin is no different in this regard. However, MetaWin is a brand-new platform, so it has only secured a deal with one software provider to date – Pragmatic Play.
As noted earlier, Pragmatic Play is a regulated software provider with a long-standing track record. And, as Pragmatic Play is regulated by the UK's Gambling Commission, its games come with a full host of safeguards that ensure fairness and integrity.
For example, one of the key requirements stipulated by the Gambling Commission is that new casino games must go through a testing house process. Put simply, this means that the casino game must be tested and audited before it is licensed to platforms like MetaWin. This means that all of the slots, table games, and other gambling products on MetaWin are random and fair.
Not only that but the UK Gambling Commission also requires security audit reports from the software providers it licenses. Once again, this ensures that MetaWin casino games are legitimate and credible.
What Games can you Play at MetaWin?
Now that we've covered the safety and security of MetaWin, we will now take a closer look at its gaming suite.
We'll break down each gambling product so players know what to expect before proceeding.
Slots
MetaWin offers a broad range of slot titles to suit all tastes. Some of the most popular slots available are Gates of Olympus, Sweet Bonanza, African Elephant, and Rock Vegas.
MetaWin also offers a huge selection of Megaways slots. These are slots that often come with over 100,000 active paylines. When a player lands a winning combination, the respective reels will 'refresh', meaning new symbols will drop. This allows players to land multiple wins on the same spin.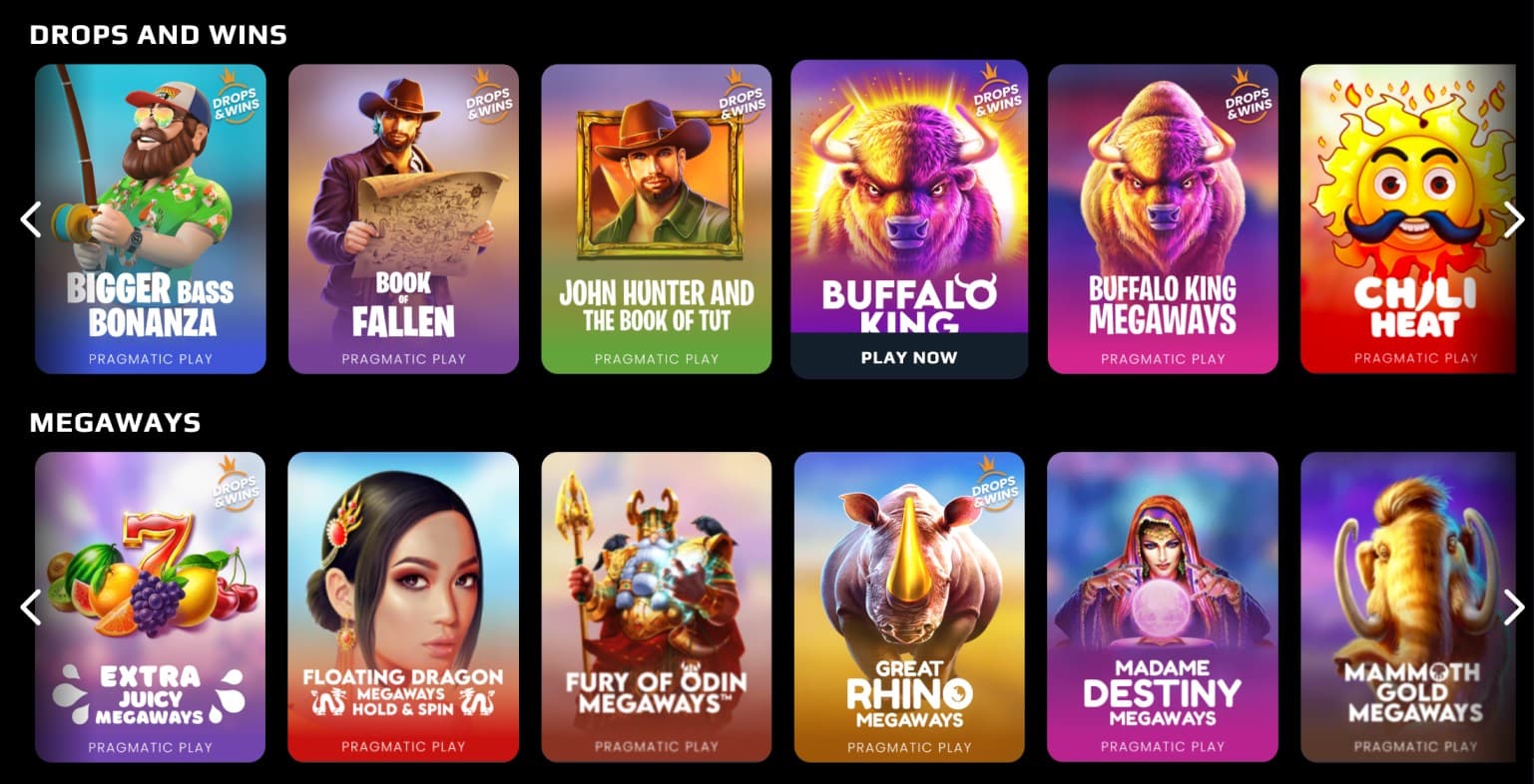 Some of the best Megaways slots available on MetaWin include 5 Lions, Big Bass, Buffalo King, and Curse of the Werewolf. Other popular titles include Great Rhino, Madame Destiny, Fury of Odin, and Floating Dragon.
We also found that MetaWin is popular for Drop & Win slots. These are slot games that randomly trigger bonuses and features – adding to the excitement. Some of the most popular Drop & Win slots on MetaWin include 3 Dancing Monkeys, Big Bass Splash, Book of Fallen, and Chili Heat.
MetaWin Slot Filters
We like that the MetaWin slots department comes with additional features.
For example:
Players can easily find a suitable slot by using the filters.
Players can filter by the slot type, such as Megaways, classic, and cluster.
Players can also search for their favorite features, including multipliers, free spins, and bonus buys.
Alternatively, players can find suitable slots by the theme. This includes everything from Asian and fishing to fruits, money, and holidays.
We also like that slots on MetaWin can be played in demo mode. This allows players to take the slot game for a test drive before risking any money. Players can seamlessly switch between real and demo modes at any time.
Table Games
In addition to slots, MetaWin also offers a wide range of table games.
For example, players can access European roulette, which comes with a lower house edge than its American counterpart. After all, there is only one green zero to contend with. The RTP on MetaWin roulette is 97.30%. That said, we were disappointed not to see French roulette or any other popular variations.
Nonetheless, MetaWin also supports blackjack games. There are many blackjack variations to choose from, including Speed, Azure, and The Club. Each offers a slight twist on the classic variation of blackjack, so check the rules and RTP before selecting a title.
Additionally, MetaWin also offers classic baccarat. This will appeal to players seeking casino games with the lowest house edges. For example, the RTP on banker and player bets is 98.94% and 98.76%, respectively.
Live Dealer Tables
Our MetaWin review also found that the platform supports live casino dealers. Just like its software games, tables are backed by the regulated provider Pragmatic Play.
Supported live dealer tables include blackjack, roulette, and baccarat. The table is beamed to the player's screen via an HD camera. Players make their hand decisions virtually, and then the dealer will action it in real life. This allows MetaWin players to enjoy a real casino experience without leaving home.

Another feature of MetaWin live dealer games is they support casual players and high rollers. For example, some tables come with a minimum bet size of just $0.10. While VIP tables allow bets of up to $5,000 per round.
MetaWin also supports Mega Wheel. This is a live game show that spins a wheel containing various multipliers. For example, if the player gambles $50 worth of ETH and the wheel lands on 100x, they will win $5,000.
Competitions
Another popular gambling product on MetaWin is its competition. As we briefly mentioned earlier, competitions are not too dissimilar to a traditional lottery. But unlike traditional lottery games, winners are determined by smart contracts. This ensures a transparent and fair gambling experience.
So how do MetaWin competitions work?
First, players will need to obtain a ticket to enter the competition draw. MetaWin offers one free ticket to all players. However, the password to unlock the free ticket must be claimed via the MetaWin Telegram group.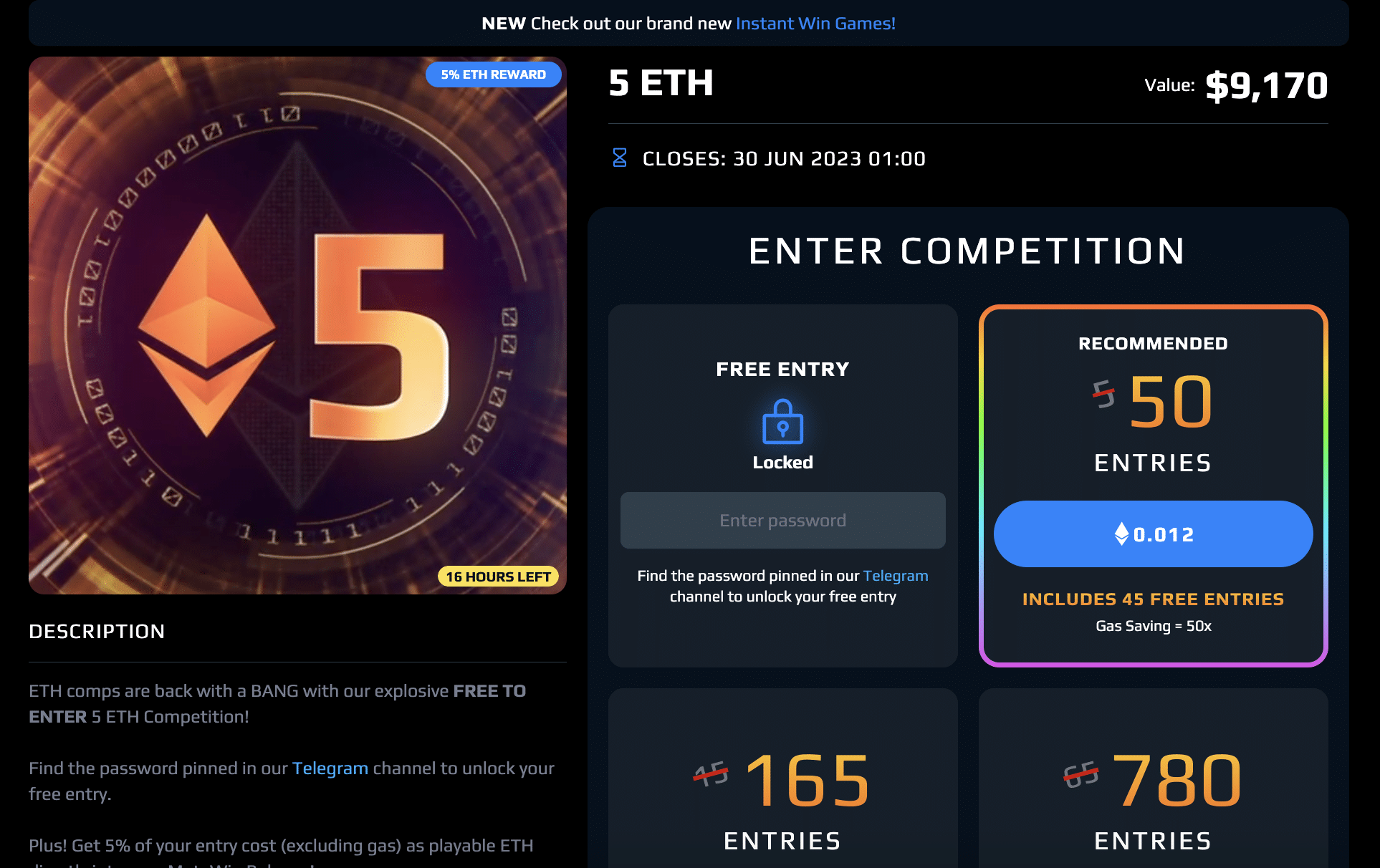 That said, to stand the best chance of winning, players can also purchase additional tickets.
There are four options in this regard:
50 entries: 0.012 ETH
165 entries: 0.036 ETH
780 entries: 0.156 ETH
2,000 entries:0.36 ETH
As per the above, the more tickets that are bought, the lower the cost price. For example, 2,000 tickets can be purchased for 0.36 ETH. This translates to 0.00018 ETH per ticket.
Purchasing 50 tickets, however, costs 0.012 ETH. This brings the average ticket price up to 0.00024 ETH. An ongoing MetaWin competition is offering a total prize pot of 5 ETH. There are currently 105 participants, each with varying numbers of entries.
MetaWin Wallet Connect & Accepted Deposit Methods
MetaWin offers a simple, anonymous, and fast payment process. The only way to deposit funds is by connecting a wallet to the MetaWin website.
Players can choose from MetaMask or the Coinbase Wallet. MetaWin also supports Wallet Connect. This means that more than 300 additional crypto wallets are supported. If opting for Wallet Connect, MetaWin will display a unique QR code. The player will need to scan the QR with their mobile wallet app. Those using a desktop wallet can copy the QR code in text format and proceed to make the payment.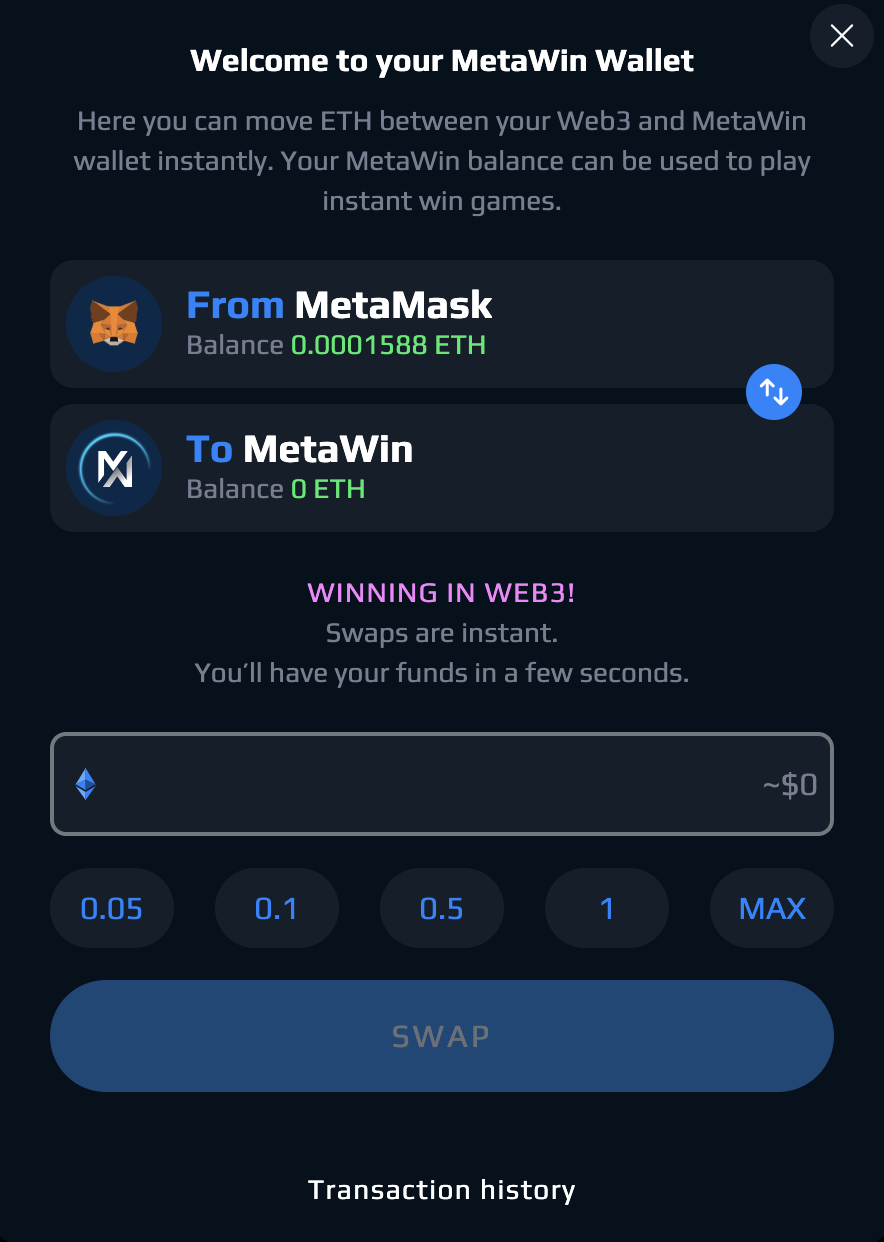 Payments with MetaMask are even more seamless. After clicking on the 'Connect Wallet' button and selecting 'MetaMask', a pop-up notification will appear. MetaMask will ask for confirmation of the connection, and that's it – the player can deposit funds.
Irrespective of the wallet used, it is important to remember that MetaWin only supports Ethereum. No other ERC20 tokens will be supported. Moreover, there is no minimum deposit requirement on MetaWin. However, players will need to consider GAS fees.
How do MetaWin Withdrawals Work?
Withdrawing Ethereum from MetaWin is very simple.
Players simply need to click on the 'Wallet' button and type in the amount they wish to cash out.
The wallet will already be connected to the MetaWin website, so there is no requirement to enter the receiving address.
After confirming the withdrawal, MetaWin will release the payment instantly.
Therefore, the Ethereum tokens should appear in the player's wallet in seconds.
MetaWin NFTs
Another popular feature of MetaWin is it allows players to win NFTs. Currently, there are three NFTs available, and both trade on OpenSea.
First, is the 'Beanz' NFT, #12022. MetaWin states that this NFT is currently worth $2,755. While there are lower floor prices on the OpenSea website, #12022 comes with rarer traits. In order to stand a chance of winning this NFT, players must hold at least two 'Reepz' NFTs. These currently have a floor price of 0.07 ETH on OpenSea, or about $130.
MetaWin is also hosting NFT competitions on the 'Killabears' collection. There are currently two individual collections. #9 is currently valued at $3,637. While #2117 is valued at $5,511. These figures are provided by MetaWin, so be sure to check the floor prices on OpenSea before proceeding.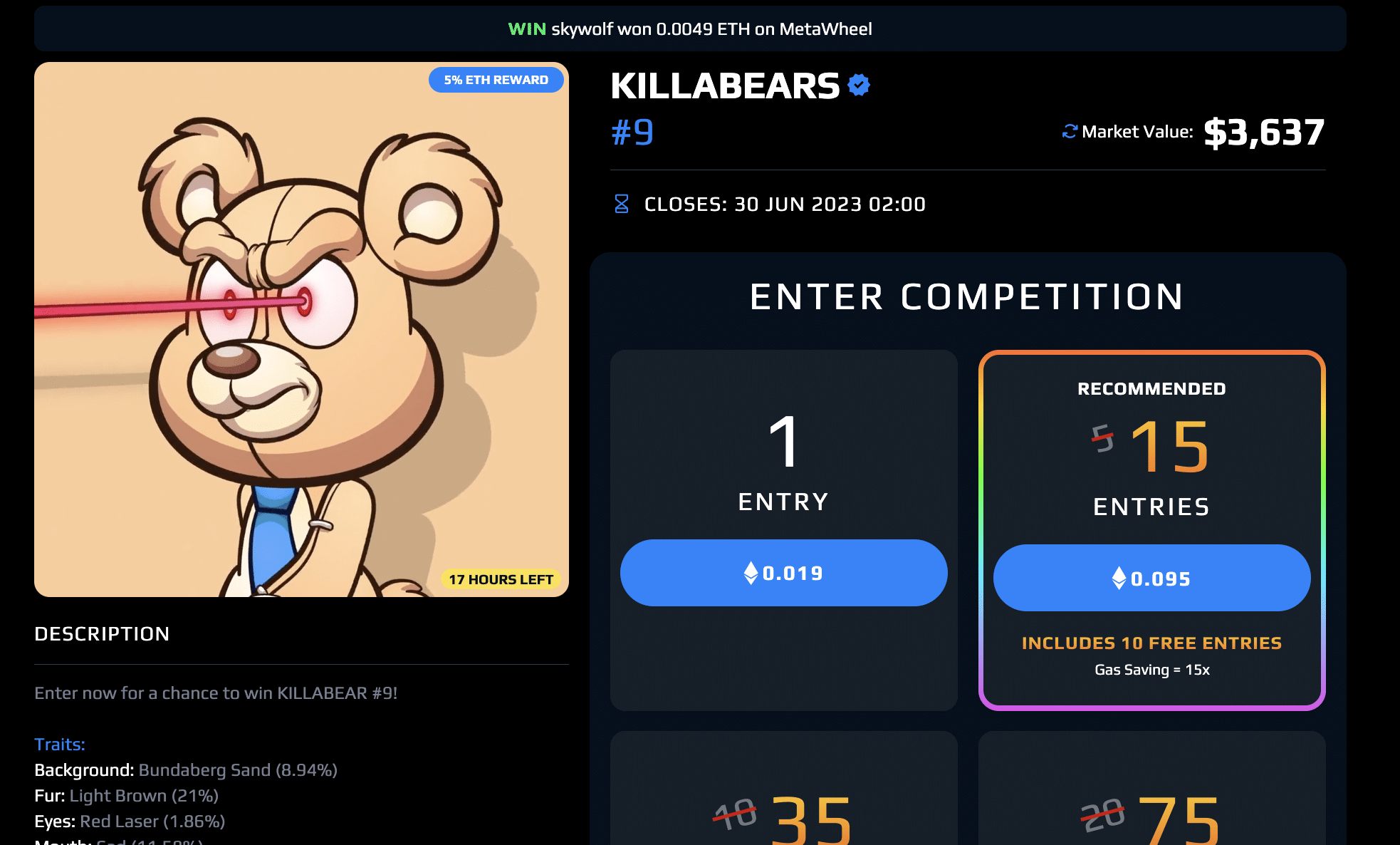 Unlike the Beanze NFT competition, there is no requirement to hold another NFT to enter. Instead, players can buy tickets. 1 ticket costs 0.019 ETH. But lower cost prices are available when buying a larger quantity of tickets.
MetaWin Bonuses
One of the main drawbacks of MetaWin is that it does not offer a welcome package to new players. Nor does it offer any regular promotions for existing players.
Those looking for generous welcome packages and promotions can check out our guide on the best Bitcoin casinos for 2023.
Is MetaWin Legit?
Now that we have explored the platform from top to bottom, let's evaluate the question: Is Metawin legit?
On the one hand, MetaWin is a new casino site with a limited track record. Moreover, MetaWin operates without a casino license. That said, this is standard practice in the blockchain gambling space. After all, operating away from traditional gambling bodies allows players to gamble anonymously and privately.
Furthermore, MetaWin instant-win games are backed by Pragmatic Play. This is a reputable and regulated software provider with a great reputation. All of the Pragmatic Play games supplied to MetaWin have gone through a testing and auditing process, enduring fairness. Its lottery and NFT competitions are also legit. As mentioned, these are backed by open-source smart contracts. Gaming outcomes are guaranteed for their fairness, and the underlying code can be checked at any time.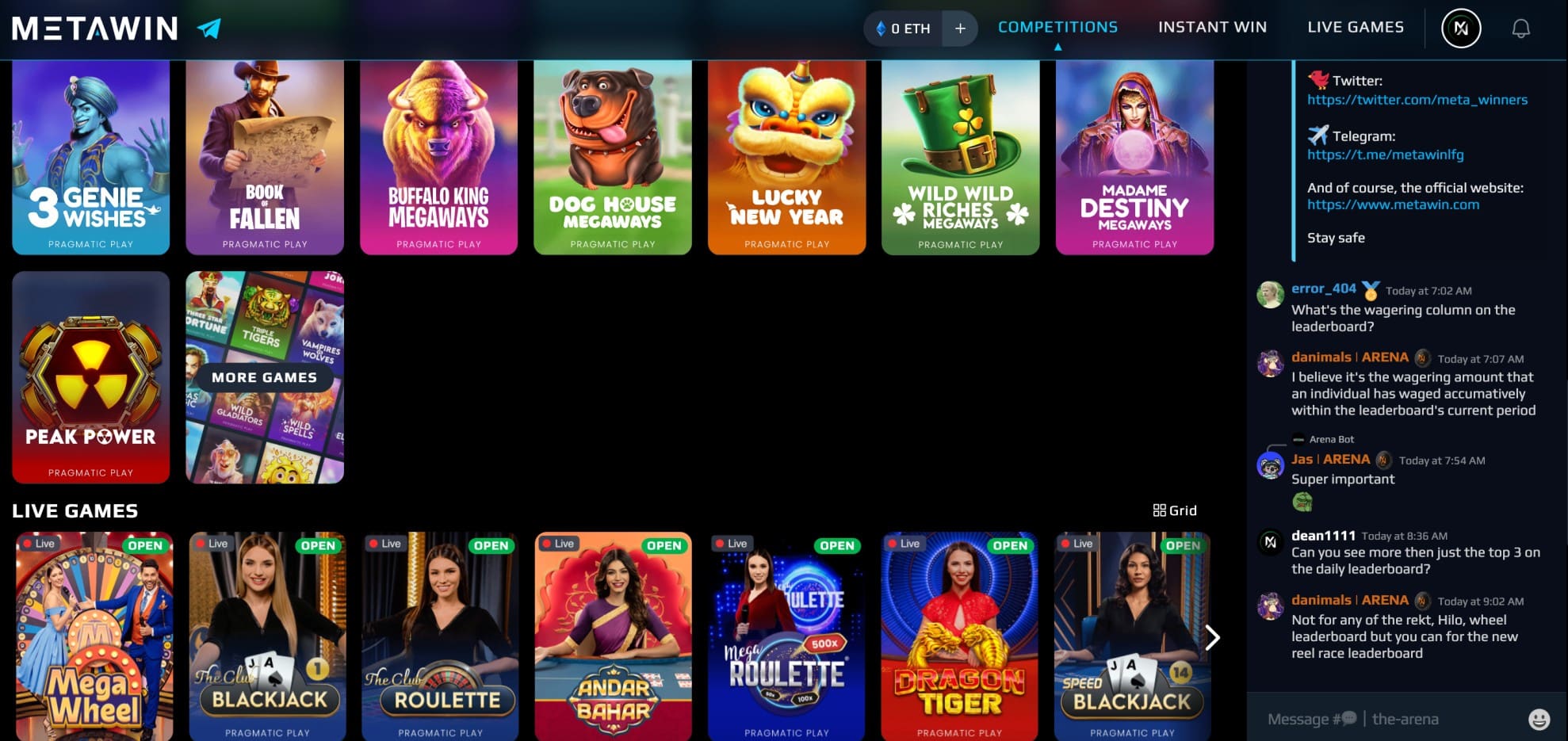 All that being said, MetaWin does come with its drawbacks. For example, its gaming suite is limited when compared to other crypto casinos. While it covers the most popular gambling products, the number of available titles is small. This will likely increase once MetaWin forms partnerships with additional software providers.
Another drawback is that MetaWin does not offer any casino bonuses. This means that players are not incentivized to open an account and remain on the platform long-term. We were also disappointed to see that MetaWin only supports Ethereum payments. Those looking to deposit Bitcoin and other cryptocurrencies will need to look elsewhere.
Alternatives to MetaWin
While MetaWin is a legit gambling site, there are many alternatives in the market.
To enable players to make an informed decision, we will now review two of the best MetaWin alternatives for 2023.
1. Lucky Block – Overall Best MetaWin Alternative
Overall, we found that Lucky Block is one of the best Bitcoin gambling sites in the market. Just like MetaWin, Lucky Block allows players to gamble anonymously – meaning no personal information or KYC process. However, unlike MetaWin, Lucky Block supports a huge range of cryptocurrencies. In addition to Ethereum, this includes everything from Bitcoin, Dogecoin, and Tether to Litecoin, Bitcoin Cash, and XRP.
What's more, while MetaWin doesn't offer any promotions, Lucky Block is home to one of the best welcome packages in the industry. Put simply, Lucky Block will match the player's first deposit by 200% up to €10,000. The minimum deposit to qualify is €20 and wagering conditions apply. The Lucky Block welcome package also includes 50 free spins. We also like that Lucky Block offers a considerable gaming suite that covers thousands of titles.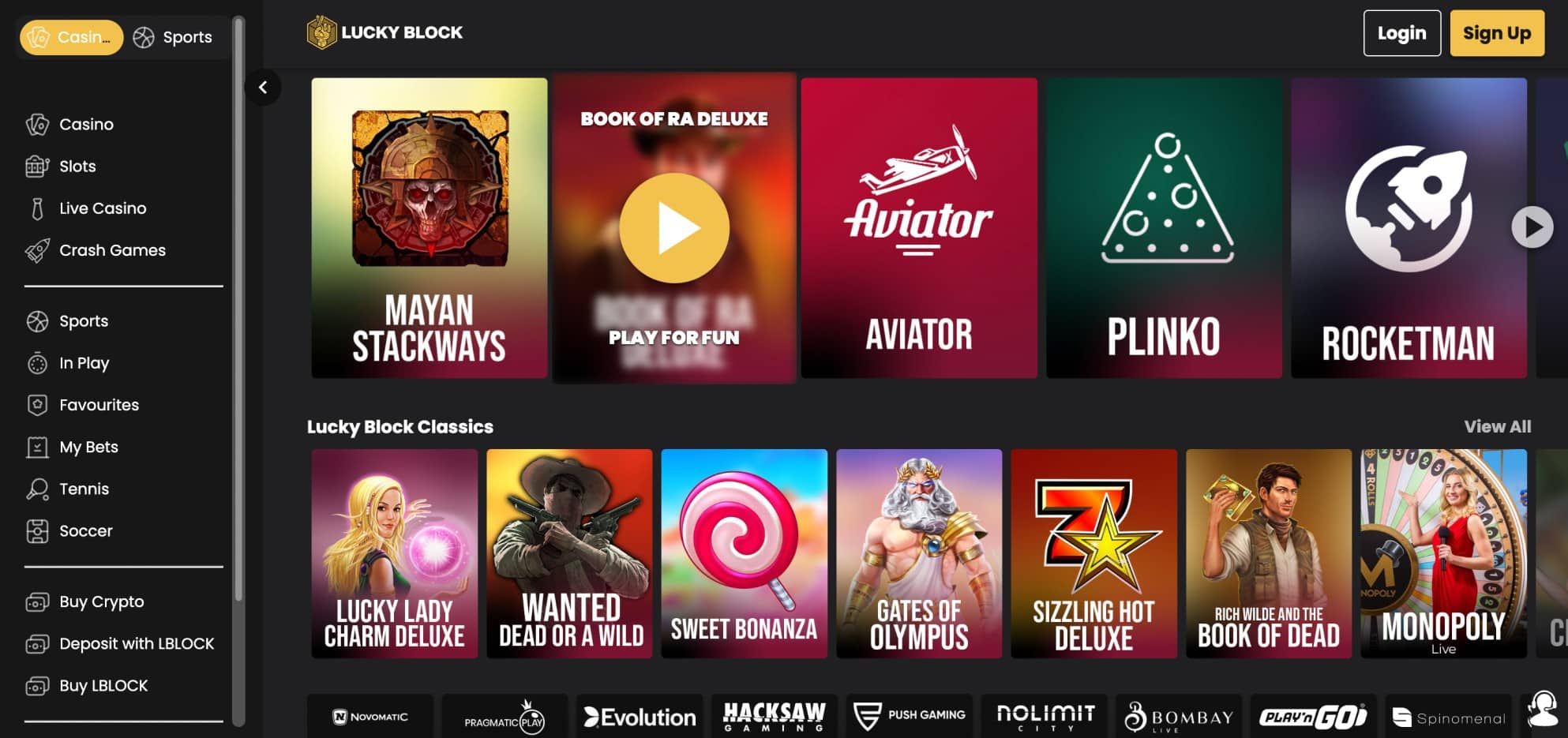 This includes dozens of table games, ranging from blackjack and roulette to craps and baccarat. Table games can be played via software or live dealers. Lucky Block is also one of the best Bitcoin slots sites, with over 4,000 titles. This is in addition to video poker and provably fair titles. Not to mention a fully-fledged sportsbook. Lucky Block players can bet on tennis, soccer, baseball, cricket, and dozens of other sports. It also offers live odds on esports games.
We mentioned in our MetaWin review that the platform only supports one software provider – Pragmatic Play. In contrast, Lucky Block supports dozens of reputable providers, including NetEnt, Playtech, Hacksaw Gaming, and Microgaming. We also like that Lucky Block holds a Curaçao eGaming license, ensuring player safety. Finally, Lucky Block offers instant withdrawals on all supported cryptocurrencies, fee-free and without limits.
Here's our full Lucky Block Casino review.
2. Mega Dice – 200% Deposit Bonus of up to 1 BTC – Plus 50 Free Spins
Mega Dice is also one of the best alternatives to MetaWin. This is another new crypto-centric casino that offers a huge range of games and bonuses. For instance, those joining Mega Dice today will receive a 200% matched deposit bonus. The maximum bonus is 1 BTC, and the wagering requirements are 40x. This is in addition to 50 free spins on the Wanted Dead or a Wild slot game.
In terms of gambling products, Mega Dice has a comprehensive casino suite and a sportsbook. The latter includes dozens of sports, from tennis and baseball to soccer, rugby, and American football. Bets can be placed before the sporting event starts or in-play. On the casino side, Mega Dice offers thousands of games. This includes plenty of table games, including blackjack, roulette, and baccarat.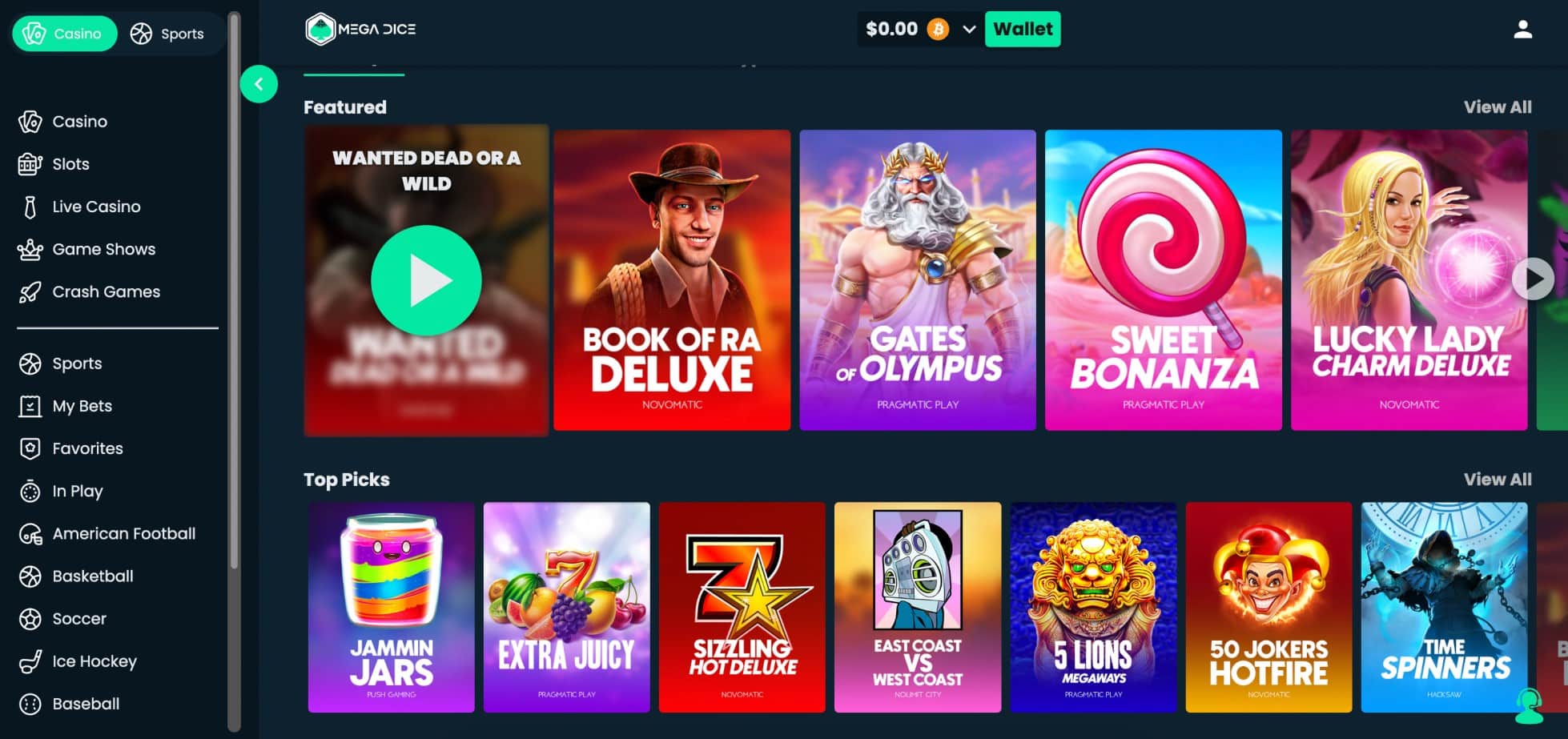 Mega Dice also offers live dealer tables, not to mention crypto crash games. This casino also supports slot games. These are backed by leading developers like Nolimit City, Pragmatic Play, Novomatic, and Hacksaw Gaming. We also like Mega Dice for its wide range of supported cryptocurrencies. This includes everything from Bitcoin, BNB, XRP, and Ethereum to Cardano, Litecoin, Tron, and Dogecoin.
Those that like to gamble on the move will appreciate that Mega Dice offers a fully-optimized mobile website. There is no requirement to download or install an app; simply visit the Mega Dice website and log in. Payments are made on a wallet-to-wallet basis for enhanced security.
Conclusion
In summary, we found that MetaWin is a legit casino that offers a broad selection of games, generous competition payouts, and anonymous accounts. That said, there are certainly better options in the market.
Lucky Block is the overall best alternative to MetaWin. It supports plenty of cryptocurrencies, instant payments, and thousands of casino games and sportsbook markets. Lucky Block also offers a 200% matched deposit bonus and 50 free spins.
References
https://www.gamblingcommission.gov.uk/public-register/business/detail/46683
https://www.gamblingcommission.gov.uk/authorities/guide/page/identity-theft-and-fraud
https://ethereum.org/en/developers/docs/smart-contracts/libraries/
https://www.gamblingcommission.gov.uk/licensees-and-businesses/page/test-houses
https://www.gamblingcommission.gov.uk/licensees-and-businesses/guide/security-audit-advice
https://www.pragmaticplay.com/en/#
https://ethereum.org/en/developers/docs/gas/
https://opensea.io/collection/beanzofficial
https://opensea.io/collection/reepz
https://www.swift.com/your-needs/financial-crime-cyber-security/know-your-customer-kyc/kyc-process
https://www.curacao-egaming.com/
FAQs
Does MetaWin offer a bonus?