Launchpad XYZ is a pioneering Web3 ecosystem that aims to foster mass adoption of exciting new technologies like NFTs, crypto, fractionalized assets, and more. By becoming the central portal for all these technologies, Launchpad XYZ will empower new and experienced investors to make more informed decisions about how to operate in this new world.
This article presents our in-depth Launchpad XYZ price prediction, covering where the project's value could go in the coming years. We'll also explore the intricacies of the Launchpad XYZ use cases before providing a quick walkthrough showing how investors can participate in the project's presale today.
Launchpad XYZ Price Prediction – Quick Overview
Before we present our Launchpad XYZ price prediction for the years ahead, here's a brief overview of our key estimations:
End of 2023: Launchpad XYZ presale phase began in late April and raised over $100,000 in the first few minutes of being live. Assuming this demand can continue throughout the year, we estimate that LPX tokens could be valued at $0.09 by the end of 2023.
End of 2025: The world of Web3 will likely become increasingly prominent as more people adopt technologies like crypto and NFTs. As such, we estimate that the LPX token price could hit $0.21 by the end of 2025.
End of 2030: Looking even further ahead, our Launchpad XYZ price forecast for 2030 sees the token reach $0.50. If this occurred, it would represent a 1,300%+ return for Stage 1 presale investors.
Launchpad XYZ Price History
Launchpad XYZ is the latest entry into the Web3 scene and could reshape how all stakeholders operate going forward. Put simply, Launchpad is an Ethereum-based platform that provides a suite of tools to help empower investors and enable them to make effective capital allocation decisions.
This platform will have many compelling features, including an NFT decentralized exchange (DEX) and a fractionalized assets marketplace, creating a true "all-in-one" ecosystem for Web3 participants. Having everything in one place is a cornerstone of Launchpad's vision since the current Web3 space is still disorganized relative to "traditional" business sectors.

What is Web3?
Web3 is considered the next stage in the internet's development, focusing on decentralization and blockchain technologies. In Web3, users have more control over content, which comes from creative assets like NFTs and cryptos.
As noted in the Launchpad XYZ whitepaper, the project will have a native ERC-20 token called LPX token. Launchpad XYZ users can buy and stake LPX tokens to gain access to valuable features, like selling NFTs and participating in new crypto presales. LPX tokens will also be used to pay trading fees on Launchpad's custom-built DEX.
Ultimately, Launchpad XYZ's team aims to become a "hub" for onboarding the next 10 million users to the world of Web3. Not only that, but Launchpad will provide the tools and educational materials to ensure these users can maximize their profit-making opportunities in the safest way possible.
Launchpad XYZ has just kicked off its presale phase at the time of writing. Like all of the best crypto presales, Launchpad XYZ will allow investors to buy its utility token, LPX, at a low price point. Launchpad's presale will have ten stages, each seeing the LPX token price increase gradually – meaning those who invest the earliest will receive the lowest entry point.

Interested investors looking to keep tabs on Launchpad XYZ's presale can join the project's Telegram channel.
Launchpad XYZ Price History – Key Points
Before diving into our Launchpad XYZ price prediction, here's a brief overview of the key points to bear in mind:
The total supply of Launchpad XYZ tokens (LPX) is one billion – 25% of these tokens (250 million) will be set aside for presale investors.
The presale will be divided into ten stages, each with its own allocation of 25 million LPX tokens.
Launchpad XYZ's team has stated that the eventual listing price for LPX tokens will be $0.07.
The Launchpad XYZ presale will have a soft cap of $5,000,000 and a hard cap of $12,500,000.
| | |
| --- | --- |
| Presale Start Date | 25 April 2023 |
| Purchase Methods | ETH, USDT, Credit/Debit Card |
| Blockchain | Ethereum |
| Hard Cap | $12,500,000 |
| Minimum Investment | N/A |
| Maximum Investment | N/A |
Launchpad XYZ Price Prediction 2023
Many of the most profitable crypto projects start their lifecycle through a presale phase – and early investors will hope this is the case for Launchpad XYZ . As we've highlighted above, Launchpad XYZ's main aim is to streamline the transition into Web3 for millions of people globally that are yet to experience the intricacies of the sector.
According to the market research company Market.us, the Web3 market was valued at around $3.2 billion in 2021. However, the term "Web3" has not even been heard by 54% of US consumers – and only 13% of the people who have heard the word think they understand it.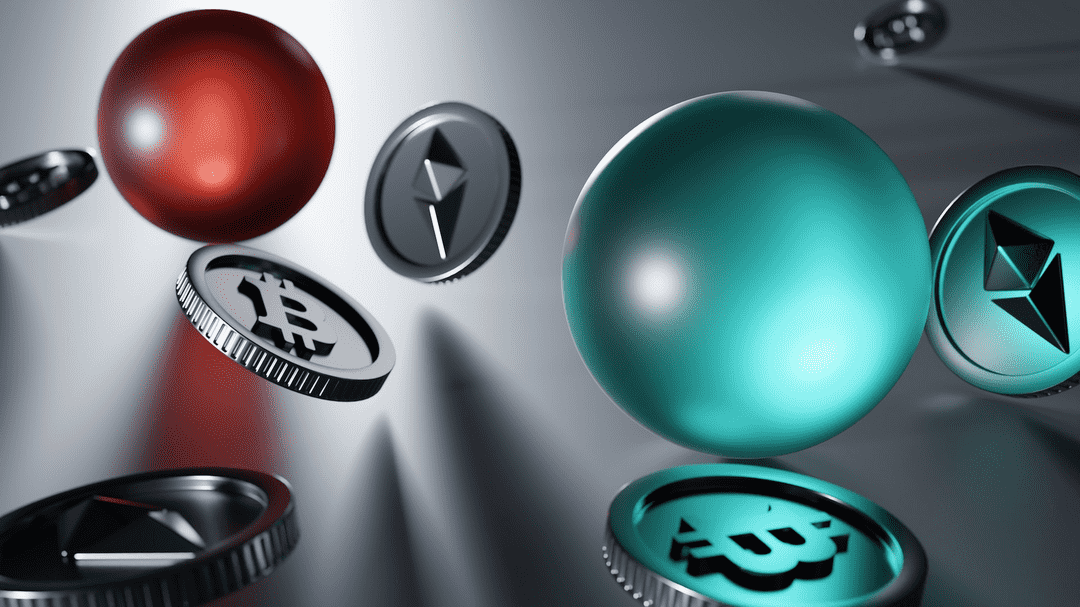 These statistics highlight two things – that the Web3 market is remarkably vast and that many people still don't know what Web3 is or how it works. This is excellent news for Launchpad XYZ since it means the platform's use cases will likely be in high demand going forward.
As such, our Launchpad XYZ price prediction for 2023 estimates that the token could be valued at $0.09 by the end of the year – which would represent a return of 157% for Stage 1 presale investors.
LPX Token Price Prediction 2025
In the years ahead, Launchpad XYZ's popularity will likely be driven by the resurgence of cryptocurrencies and NFTS. There's no doubt that 2022 was a disappointing year for these digital assets – yet there have already been signs of recovery throughout the first quarter of 2023.
For example, CoinMarketCap notes that Bitcoin has now hit a market capitalization of over $560 billion after a gradual rise since early January. In addition, NFT trading volumes appear to be bouncing back, with CoinGecko reporting that nearly $2 billion worth of NFTs were traded in February 2023 – the highest figure since May 2022.

This is positive news for Launchpad XYZ since the platform's features revolve around cryptocurrencies and NFTs. The more popular these assets become, the greater the need for practical analytical tools and expert insights – two things that Launchpad XYZ aims to specialize in.
Assuming the digital asset market can continue rebounding as it currently is, our LPX crypto price prediction estimates the token could be valued at $0.21 by the end of 2025.
Launchpad XYZ Price Prediction 2030
Looking even further ahead, how does our Launchpad XYZ price prediction shape up over the longer term? Although the best AI crypto coins are currently all the rage, Launchpad XYZ plans to offer several features that have yet to be widely adopted in the crypto market.
One of the most exciting features that will likely drive Launchpad XYZ's growth is the planned "fractionalized assets" marketplace. This marketplace will work by allowing users to buy and sell portions of real-world assets. For example, investors could invest in "parts" of a car, house, or painting.
This setup has immense potential since it makes luxury assets more accessible to the investment community. Once an asset has been fractionalized, investors can trade these "pieces" on Launchpad XYZ's marketplace. This also provides another use case for the LPX token since sellers must use tokens to fractionalize their assets.
At present, no other platform has cracked the limitless potential of these fractionalized assets. If Launchpad XYZ can capitalize on this situation, we could see the LPX token price reach $0.50 by the end of 2030.
Potential Highs & Lows for Launchpad XYZ
As with most of the best crypto ICOs, Launchpad XYZ's potential will remain unknown until LPX tokens are publicly listed – which is scheduled for Q3 2023. However, here's a brief overview of some potential highs and lows that LPX token could reach once it's made available on exchanges:
| | | |
| --- | --- | --- |
| Year | Potential High | Potential Low |
| 2023 | $0.09 | $0.035 |
| 2025 | $0.21 | $0.12 |
| 2030 | $0.50 | $0.25 |
What is Launchpad XYZ?
Now that we've covered our Launchpad XYZ price prediction, let's take a closer look at what the project actually is. As we've touched on, Launchpad XYZ is an Ethereum-based platform that aims to help individuals (and businesses) transition into Web3.
Launchpad XYZ aims to do this by offering an array of valuable features. These features include:
Fractionalized assets marketplace
Custom-built DEX
First-of-its-kind NFT DEX
Crypto presale marketplace
Metaverse experience library
Play-to-Earn (P2E) game hub
Web3-compatible wallet
Trading terminal
The "Launchpad Quotient" (LQ) will be underpinning all of these features. In simple terms, the LQ is a ranking system Launchpad XYZ uses to evaluate the quality of the assets listed on the platform. Asset rankings are based on numerous factors, such as historical performance, demand, and investor sentiment.
Using the LQ, investors can identify the top new cryptocurrencies in the market before anyone else. The higher the LQ score, the more likely that an asset will perform well in the future. Excitingly, this score isn't just for cryptocurrencies but also for NFTs and fractionalized assets.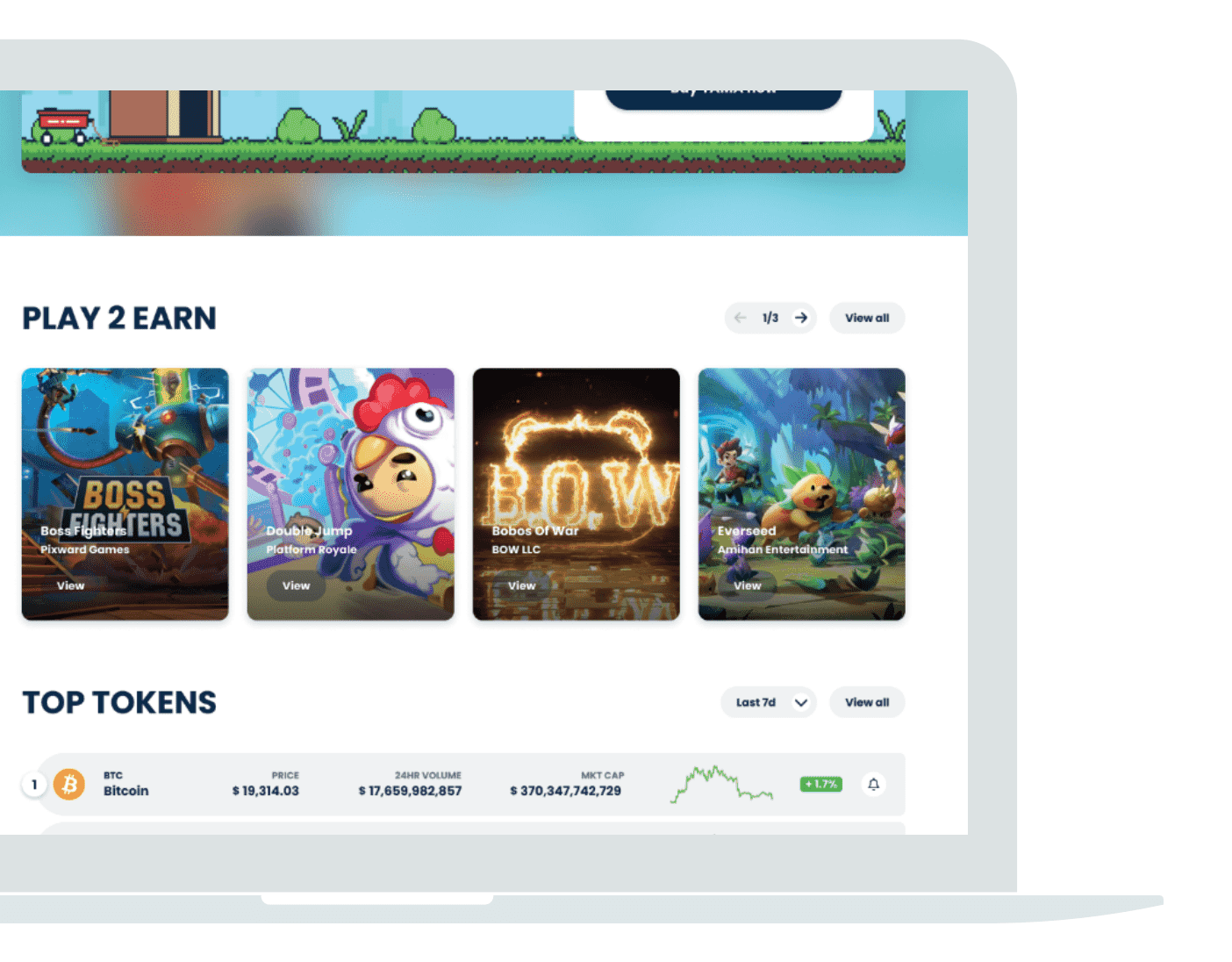 Although the LQ score isn't foolproof, it'll provide an easy way for investors to scan through hundreds of projects and pick out the ones with the highest potential. Investors can then search for these projects on Launchpad XYZ's trading terminal, presale marketplace, or NFT DEX and buy them instantly.
Since the LPX token is used throughout this process, it could be the best crypto to invest in for exposure to the ecosystem's growth. Aside from being used to pay fees, LPX tokens can also be staked by holders to receive numerous benefits, such as fee discounts, guaranteed access to presales/whitelists, and community prestige badges.
Ultimately, these use cases simply scratch the surface of what Launchpad XYZ is truly capable of. The developers have extensive experience in many Web3-related fields, which adds even more credibility to the project's prospects.
Factors Affecting the Price of Launchpad XYZ
Many factors could determine whether Launchpad XYZ will become the next cryptocurrency to explode – although detailed below are three of the most prominent that investors must keep in mind:
In-Demand Use Cases
The most significant factor that will affect demand for Launchpad XYZ tokens is the project's use cases. LPX tokens are involved in almost every feature Launchpad XYZ has, meaning users must buy and hold tokens to make the most of the platform.
Exchange fees will be paid in LPX tokens, meaning the more a user trades, the more LPX tokens they'll require. LPX tokens will also be necessary to NFT creators since these tokens are used to pay listing fees – thereby boosting their demand.
Another vital factor in Launchpad XYZ's growth will be social media hype. As seen with the best Reddit cryptos, hype from social media platforms can be a crucial contributor to price increases.

If Launchpad XYZ can tap into this aspect, it'll likely play a massive role in the token's growth. Platforms like Twitter and Reddit are often the most suitable in this regard, although Instagram and TikTok have also become "go-to's" for crypto project developers.
Interest Rate Decreases
Finally, although not directly related to Launchpad XYZ , the project's growth will undoubtedly be affected by what the US Federal Reserve (the Fed) does next. At the time of writing, interest rates are still extremely high, which weigh on the crypto market.
Why do high interest rates impact cryptos negatively?
High interest rates increase the cost of borrowing money, making assets like bonds more appealing to investors. As a result, this reduces demand for cryptocurrencies, causing their price to fall.
However, once interest rates decrease, it'll likely prompt more investors to consider "riskier" assets like cryptocurrencies and NFTs. This is excellent news for Launchpad XYZ since there will be more demand for the platform's tools and features.
Is Launchpad XYZ the Best Crypto to Buy in 2023?
Putting everything together – can Launchpad XYZ be considered the best crypto to buy in 2023? It's impossible to give a yes or no answer to this, given that Launchpad XYZ has just entered its presale phase, although we can look at some other factors that may provide clues as to the project's prospects.
Bear in mind that Launchpad XYZ is a crypto presale token and therefore allows investors to get their hands on LPX tokens at a discounted price before the ensuing CEX and DEX public listings. But crypto presales are not risk-free and require research into aspects such as the development team, tokenomics, distribution and so on.
Having said this, there are some crypto presales in the past which have generated big ROIs for investors such as Tamadoge which now has a market cap of $28.5M. As such, some crypto presales are worth considering when it comes to adding new altcoins to a well-balanced portfolio.
The first is that a report from Fortune Business Insights predicts that the crypto market will grow at a compound annual growth rate (CAGR) of 11.1% between now and 2028. This growth will naturally increase the accessibility of cryptocurrencies to retail investors – which is positive news for presale projects like Launchpad XYZ .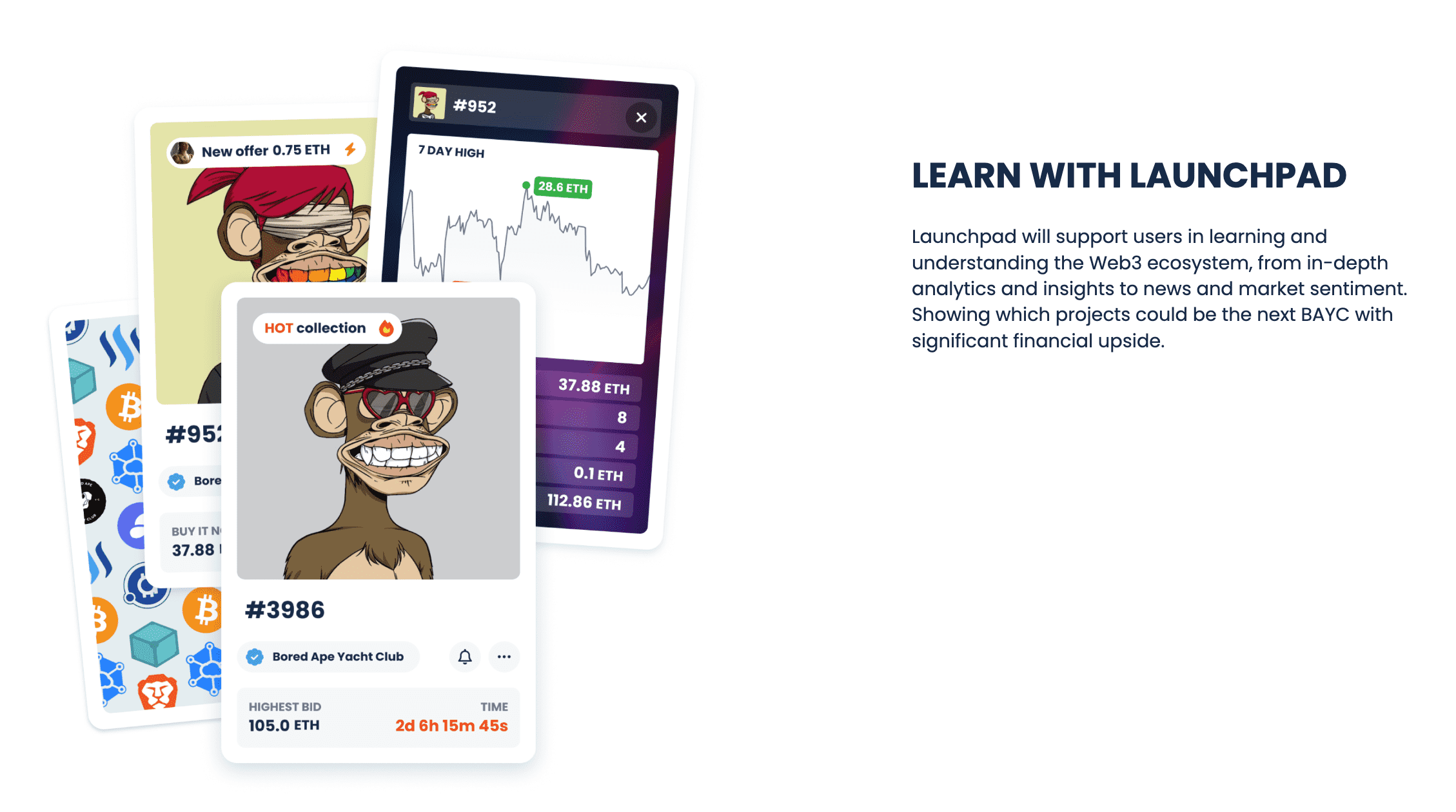 The second is that Launchpad XYZ has started in the same way as previously-successful presale projects like Tamadoge and Lucky Block. Both of these presale projects started small and gradually gathered momentum over months before producing enormous returns for investors once listed on CEXs and DEXs.
Although there's no guarantee that Launchpad XYZ will follow suit, this does hint at the potential that presale cryptos can have. If the development team can provide the features presented on the project's roadmap and macroeconomic factors continue moving in a positive direction, then there's undoubtedly scope for Launchpad XYZ to be a hit.
How to Buy Launchpad XYZ Crypto – Quick-Step Guide
Before we conclude this Launchpad XYZ crypto price prediction, here's an easy-to-follow walkthrough showing how investors can buy Launchpad XYZ tokens through the project's presale using ETH, BNB, or a credit/debit card:
Step 1 – Set Up a Compatible Crypto Wallet
To invest in the Launchpad XYZ presale, investors must set up a compatible crypto wallet that supports ERC-20 tokens. There are many popular crypto wallets, although two widely-used providers are MetaMask and Trust Wallet – both of which are accepted by the Launchpad XYZ presale dashboard.

Step 2 – Buy ETH or USDT
Next, investors must purchase Ethereum (ETH) or Tether (USDT) using a cryptocurrency exchange. Most crypto exchanges allow investors to buy these assets using a credit/debit card or a bank transfer.
Alternatively, investors can buy LPX tokens through the project's website using a credit/debit card. This removes the need to buy ETH or USDT beforehand.
Step 3 – Link Crypto Wallet to Launchpad XYZ Presale
After acquiring some ETH or USDT, investors must link their crypto wallet to the presale dashboard. This involves heading to Launchpad XYZ website, clicking "Connect Wallet," and following the on-screen instructions.
Step 4 – Buy LPX Tokens
Investors can now select their preferred purchase method (ETH or USDT) and enter their desired investment amount. Once everything has been double-checked, all that's left to do is confirm the transaction and pay any network resulting network fees.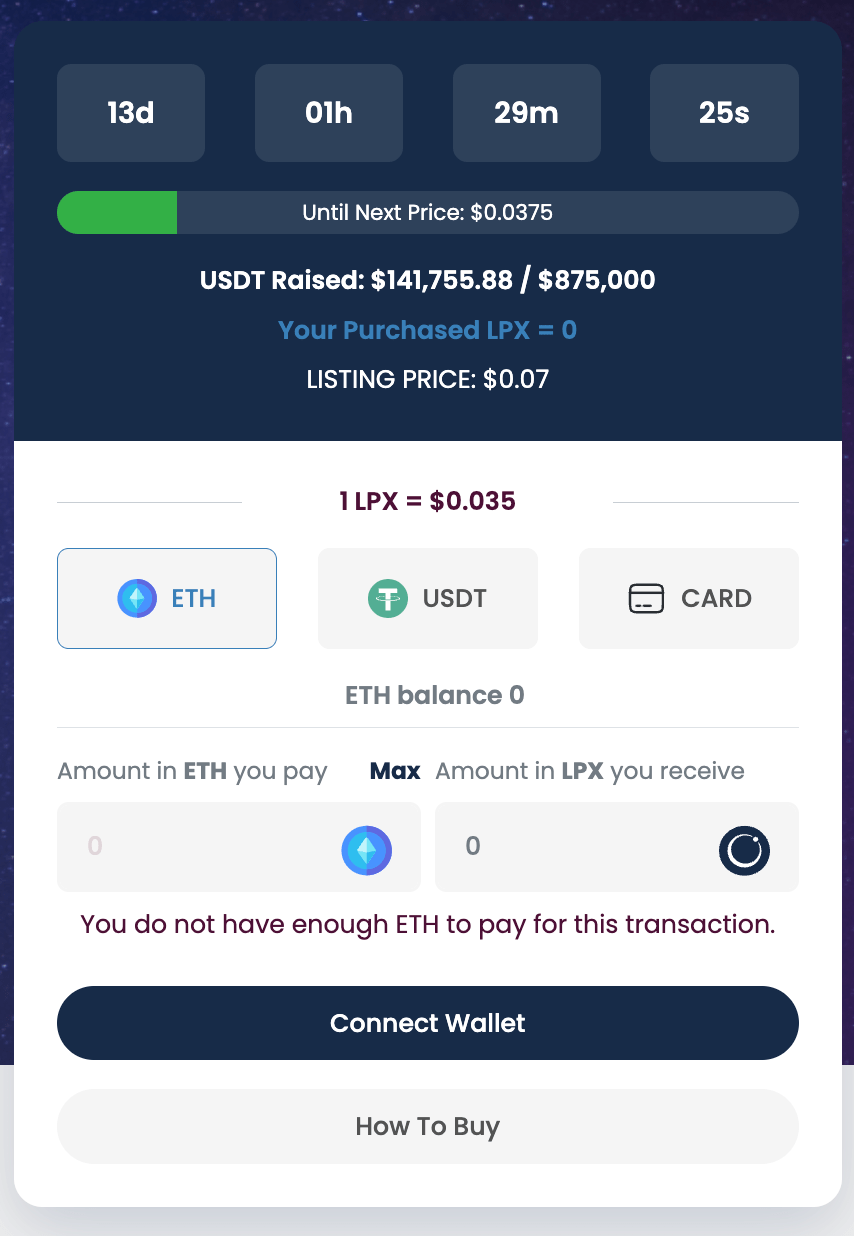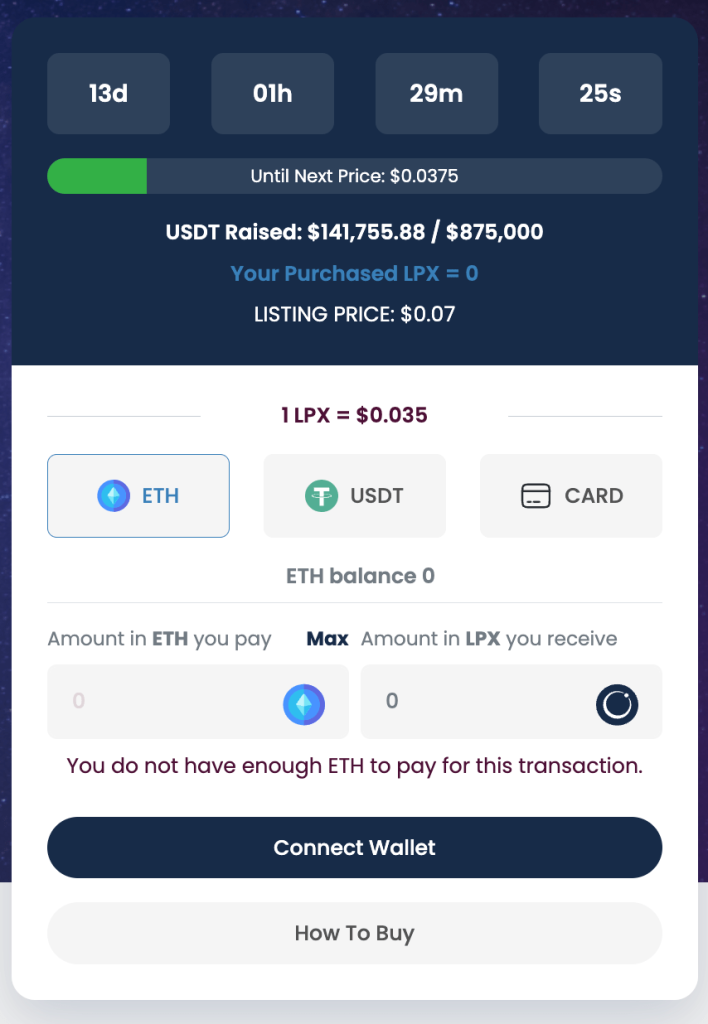 Step 5 – Claim LPX Tokens Once Presale Ends
After the Launchpad XYZ presale ends, investors can claim their purchased tokens. This involves going to the Launchpad XYZ website, clicking the "Claim" button, and following the instructions on-screen.
Launchpad XYZ Price Prediction – Final Thoughts
In conclusion, this Launchpad XYZ price prediction has explored what the project is, how it works, and where the LPX token price could go in the coming years.
Given that the Launchpad XYZ presale phase generated over $100,000 in funding in the first few hours of going live, it's fair to say that the investment community is buzzed over the project's prospects.
Early investors can buy LPX tokens through the ongoing presale for just $0.035 during Stage 1 – a 50% discount on the intended exchange listing price.
FAQs
What will the Launchpad XYZ price be in 2025?
Is Launchpad XYZ a good investment opportunity?
How much is Launchpad XYZ currently worth?