As investors eagerly wait to gauge the impact of Litecoin's upcoming halving on its price, this article outlines a Litecoin price prediction from 2023 to 2030.
Offering valuable insights into possible highs and lows, we will explore the impact of macroeconomic factors and strategic partnerships on Litecoin's future trajectory. We also discuss the coin's use cases in the future while gathering price predictions from several prominent analysts.
Litecoin Price Prediction 2023 – 2030
In light of recent developments and market trends, here are the key points in our Litecoin price forecast for the years 2023 through 2030:
The coin's performance for the rest of 2023 largely depends on the broader market recovery, with potential highs of nearly $165 and lows of around $55.

By 2024, considering the upcoming Litecoin halving event and the resultant scarcity over time, we could see highs of approximately $215, provided bullish market conditions prevail.

Moving forward into 2025, assuming the bullish momentum continues, the price of Litecoin could break the $200 barrier and set its sights on the $270 mark.

The long-term outlook for 2030 projects LTC to oscillate in a price range between $790 and $860, factoring in the projected growth in the global peer-to-peer (P2P) payment industry and the potential positive impact of strategic partnerships such as the one with Mastercard.
| | | | |
| --- | --- | --- | --- |
| Year | Potential Low | Average Price | Potential High |
| 2023 | $55 | $122.15 | $165 |
| 2024 | $150 | $182 | $215 |
| 2025 | $195 | $202 | $270 |
| 2030 | $791 | $827 | $863 |
Litecoin Price History
Litecoin has witnessed various stages of growth and corrections since its creation in 2011. Invented by Charlie Lee, a former Google engineer, Litecoin operates as a global peer-to-peer payment system on an open-source platform.
It was developed with a maximum supply cap of 84 million tokens. As of now, over 73.1 million are in circulation. The coin's journey has been marked by significant bullish activity, particularly in 2017 and 2021, when it achieved notable price levels.
In 2017, Litecoin experienced a significant surge, pushing its price to around $366. But, the greatest peak in the Litecoin price chart was in 2021, when it reached an all-time high of around $413.

Post this milestone, Litecoin experienced a general downtrend, marking newer lows. This downturn was reversed when Litecoin hit the $39 mark in June last year. This low point ignited an upward trend, forming an 'ascending channel' (yellow).
Simply put, an ascending channel is a pattern on a price chart indicating upward price movement, characterized by a rising upper and lower trendline. However, the market is always volatile, and a reversal could break this pattern.
Over the last four months, Litecoin has grappled with resistance in the $89-$94 zone. This resistance level converged with the coin's two-year trendline resistance (white, dashed), forming a strong hurdle for any bullish activity.
As a result, it saw an expected up-channel breakout that led to a subsequent dip in the price toward the $72 zone. However, bulls have managed to uphold above the 20-day Exponential Moving Average (EMA), an important indicator often used by traders to track price trends over specific periods.
Year by year, Litecoin's user base and popularity have been growing steadily, making it one of the promising cryptos to watch in the coming years.
Here are some key points on Litecoin's price history:
Litecoin was created in 2011 by Charlie Lee, a former Google engineer.

The coin experienced notable bull runs in 2017 and 2021, reaching its all-time high of $413 in 2021.

After its peak, the coin hit a low of $39 in June last year, triggering an uptrend and forming an ascending channel.

Litecoin faced resistance in the $89-$94 price range over the last four months.

Despite experiencing a dip toward the $72 zone recently, it has managed to maintain above the 20-day EMA.
LTC Price Prediction 2023
During market downturns, investors often look for the next crypto to explode in their search for potential opportunities. At the time of writing, Litecoin is trading nearly 80% below its all-time high. However, the rest of the year's performance depends on various market factors and trends.
Should there be persistent buying pressure, the price of Litecoin might escalate, negating the recent up-channel breakdown. In other words, buyers could rally to increase prices and avert the negative trend. This could provide promising short-term prospects for Litecoin.
However, the coin's two-year trendline has created a strong psychological resistance point, challenging near-term recovery. Adding to the hurdles is the so-called "death cross," – where the 20-day and 50-day Exponential Moving Averages (EMAs) fall below the 200-day EMA. This event often indicates potential long-term price declines, potentially delaying Litecoin's recovery.
For a reversal to occur, a sustained rebound from the $68-$72 support range is required. This could then challenge the resistance, bringing about a price increase. To anticipate such an upswing, buyers should look for the 20-day EMA to rise above the 50-day- and 200-day EMAs. Should this happen, the coin might be set to retest the $120 resistance level before a significant rally can occur.
However, the current market uncertainty has dulled the buying power. So, Litecoin might face further losses if it dips below the $72 support level. Considering these factors, Litecoin's price could surpass $122.15 in 2023. It could hit a low of $55 and a high of nearly $165 by the end of the year.
Below is a month-by-month LTC crypto price prediction for 2023:
| | | | |
| --- | --- | --- | --- |
| Month | Potential Low | Average Price | Potential High |
| July 2023 | $55.54 | $92.04 | $129.64 |
| August 2023 | $57.36 | $96.48 | $134.30 |
| September 2023 | $60.42 | $100.64 | $139.32 |
| October 2023 | $62.25 | $104.03 | $145.97 |
| November 2023 | $65.83 | $108.35 | $151.43 |
| December 2023 | $70.24 | $122.15 | $165.99 |
Cryptoassets are highly volatile and unregulated in most EU countries, Australia and the UK. No consumer protection. Tax on profits may apply. Your capital is at risk.
Litecoin Price Prediction 2024
Buyers are searching for the best cryptos to trade, especially given the prevailing market downturn leaving room for a huge upside. As we look into Litecoin's future, we must consider an interplay of multiple market factors.
One major occurrence is Litecoin's upcoming halving event. This operation happens approximately every four years or after 840,000 blocks have been mined. From its inception, Litecoin has seen its mining reward decrease from 50 LTC per block down to the current 12.5 LTC. This forthcoming halving event will reduce the mining reward to 6.25 LTC per block.
What does this mean in practice? As the mining reward lessens, fewer Litecoins enter circulation, which imposes scarcity on the supply side. If demand remains constant or increases, this scarcity could propel the coin's price.
However, Litecoin's price response to past halving events hasn't been as enthusiastic as expected. Despite the reduced supply after the 2015 and 2019 halvings, LTC prices didn't significantly rally and even continued a downtrend following the 2019 event.
Therefore, while the halving process can potentially drive up Litecoin's price, it's essential to recognize other influential factors. The sentiment around Bitcoin and broader macroeconomic conditions should also be factored into any price projection before choosing the best long-term investment.
Toward the end of 2024, LTC could see highs of approximately $215 if bullish conditions prevail. On the other hand, any bearish pulldowns could see a decline toward the $150 level.
LTC Price Prediction 2025
As we move forward into 2025, a range of factors could shape the performance of Litecoin. Assuming the market recovers and bullish momentum builds, the price of LTC could break the $200 barrier, setting its sights on the $270 mark. Such an upward trend would depend heavily on market sentiment and investor confidence, which are challenging to quantify.
Moreover, data from a recent Messari report highlights notable network growth for Litecoin. On 10 May, the coin witnessed an ATH in transactions and active addresses, totaling 580,000 and nearly 830,000, respectively. These metrics suggest a robust and active network, hinting towards positive growth potential for the coin.
But we must also consider Litecoin's correlation with Bitcoin. Litecoin's correlation with Bitcoin was at 57% over the last month, implying that Bitcoin's market performance could substantially influence Litecoin's price trajectory.
Thus, broad market trends, regulatory developments, and macroeconomic factors are crucial when forecasting the 2025 Litecoin price prediction. Consequently, Litecoin may see a retest to the $195 lows in a less favorable scenario.
2030 Litecoin Price Prediction
Looking forward to 2030, the global P2P payment industry, of which cryptos like Litecoin is a part, is projected to increase to $9.87 trillion. Even though this market comprises centralized and decentralized systems, its impressive expected compound annual growth rate (CAGR) of 20% highlights the growing need for P2P payment solutions.
Further, LTC's rising social influence, evidenced by its increasing Reddit active user base, mirrors its growing popularity. The network recently saw a spike in its Reddit active users and almost matched the levels it saw in 2021 just before hitting its ATH.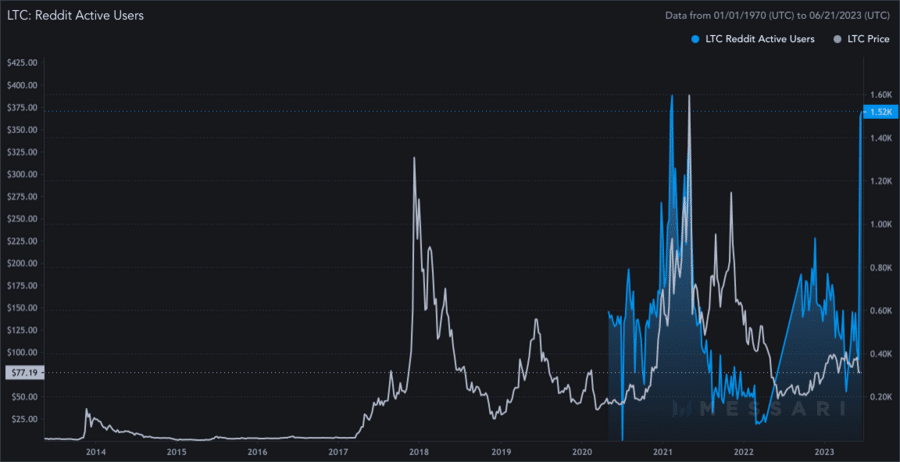 Strategic partnerships also hold the potential to influence LTC's future trajectory. For instance, Litecoin's collaboration with Mastercard to launch the Litecoin Mastercard in the UK and Europe could substantially boost the coin's adoption rate. This card, accepted anywhere Mastercard is permitted in the EU, integrates Litecoin more seamlessly into everyday transactions.
The network's activities show further signs of LTC's growth. Recently, Litecoin processed its 144 millionth transaction, a landmark achievement showcasing the network's high utility. Moreover, the network's new all-time high hashrate signifies its consistent growth and maturity.
Finally, the Litecoin community is also planning for the future. With an upgrade to the latest version of the Litecoin protocol on the horizon, LTC's speed and security features are set to be enhanced. Plans to create more user-friendly wallets and improve the overall user experience aim to make Litecoin more accessible, potentially attracting even more users to the network.
Thus, many analysts are bullish on LTC's future. Although predictions can vary based on changing market trends, LTC price prediction 2030 suggests that it could oscillate in a price range between $790 and $860.
Potential Highs & Lows of Litecoin Price
The following table provides an estimated range for Litecoin forecast from 2023 to 2030.
| | | | |
| --- | --- | --- | --- |
| Year | Potential Low | Average Price | Potential High |
| 2023 | $55 | $122.15 | $165 |
| 2024 | $150 | $182 | $215 |
| 2025 | $195 | $202 | $270 |
| 2030 | $791 | $827 | $863 |
What Do Other Analysts Predict for Litecoin?
While gauging the highest Litecoin price in the coming years, it's important to consider a range of predictions from various reputable sources.
Digital Coin Price, a renowned crypto prediction platform, shares an optimistic view of Litecoin's growth over the next few years. Their projections for Litecoin are:
In 2023, they predict a minimum price of $74.47, an average price of $169.17, and a maximum price of $185.11.

By 2024, their prediction sees Litecoin's minimum price reaching $180.45, averaging $214.41, and potentially climbing to $218.22.

The prediction suggests a continued upward trend, with 2030 estimates at a minimum of $819.98, an average price of $854.68, and a peak price of $883.49.
Changelly has also offered its outlook on Litecoin's future. Its predictions are slightly different but still portray a promising trajectory:
For 2023, they predict prices will range between $91.29 and $108.87.

The forecast for 2024 places Litecoin's price between $128.12 and $157.33.

In 2030, their predictions reach a high of $1,427.73, indicating substantial growth potential in the long term.
PricePrediction.net, a platform specializing in deep AI-assisted technical analysis, has also offered a Litecoin forecast. They foresee:
A price range between $91.31 and $108.89 in 2023.

An increase to between $128.14 and $157.37 in 2024.

A sharp rise to a high of $1,428.01 by 2030, illustrating a bright future for Litecoin.
Finally, CoinCodex, known for its tech sector growth predictions, has high expectations for Litecoin, projecting a rise of up to 1,590.69% by 2027:
Their 2024 prediction places Litecoin's price between $96.88 and $290.93.

By 2025, they expect LTC to fall between $124.02 and $645.37.

The peak prediction comes in 2026, with a high value of $1,431.61.
What is Litecoin & What is it Used For?
Litecoin, often called the "silver to Bitcoin's gold," is a decentralized crypto operating on a peer-to-peer network. Created in 2011 by Charlie Lee, a former Google engineer and MIT graduate, it stands as one of the first spinoffs of Bitcoin, often referred to as 'altcoins.'
Its creation was inspired by the Bitcoin protocol, but it's not just a clone. Litecoin introduced several key differences. Firstly, it has a faster block generation time of just 2.5 minutes, significantly less than Bitcoin's 10 minutes, which results in quicker transaction confirmation. Secondly, it has a higher maximum coin limit of 84 million, quadrupling Bitcoin's 21 million cap.
Lastly, it utilizes a different hashing algorithm called Scrypt instead of Bitcoin's SHA-256. This Scrypt algorithm was designed to be less susceptible to custom hardware solutions like Application-Specific Integrated Circuits (ASICs), making the mining process more accessible to individual miners.
In terms of its function, Litecoin serves as a digital medium of exchange, allowing users to make transactions or store value without involving traditional financial intermediaries like banks. This allows for high privacy and control over one's funds.
Litecoin can be used to purchase goods and services where it's accepted, transfer funds across borders without high transaction fees, or as an investment asset. Its quick transaction processing times and comparatively low fees make it an ideal crypto for microtransactions and daily use.
Moreover, many see it as a testing ground for new blockchain technologies due to its technical similarities to Bitcoin. This makes Litecoin a valuable digital currency and an important player in the ongoing development of blockchain.
Litecoin Overview
| | |
| --- | --- |
| Cryptocurrency | Litecoin |
| Ticker Symbol | LTC |
| Rank | 13 |
| Price | $87.03 |
| Price Change 24H | +3.8% |
| Market Cap | $6,365,715,463 |
| Circulating Supply | 73,199,583 |
| Trading Volume | $728,285,933 |
| All-Time High | $413 |
| All-Time Low | $1.15 |
What Influences the Price of Litecoin?
The price of Litecoin, like any crypto, is influenced by various factors. Understanding these can provide insight into Litecoin's potential price movements.
Supply and Demand

: Litecoin has a capped supply of 84 million coins. As more coins are mined, and the total supply nears this cap, scarcity can drive prices up if demand remains strong. Conversely, if demand decreases, prices can fall.

Market Sentiment

: Crypto prices are heavily influenced by public sentiment. News events, positive or negative, can trigger price swings. For instance, if a major retailer announces that they'll accept Litecoin, this could boost prices.

Technological Developments

: Innovations and updates to Litecoin's underlying technology can impact its price. For instance, upgrades affecting scalability, security, or usability can draw in more users and increase demand, potentially leading to price increases.

Regulatory News

: Any news related to

crypto regulation can affect LTC's price

. Positive regulation news can boost investor confidence and increase price, while negative regulation news can do the opposite.

Bitcoin's Influence

: Litecoin's price often follows Bitcoin's trend because they share similar technology, and Litecoin is often seen as a complement to Bitcoin. If Bitcoin's price rises or falls significantly, Litecoin's often does too.

Market Manipulation

: Large holders of Litecoin, often called 'whales,' can influence its price. If a 'whale' decides to sell a large portion of their holdings, it could cause a significant price drop.
Conclusion
Litecoin's future price trajectory depends on various influences, from technological developments to market sentiment. Its established presence and technological similarities to Bitcoin offer stability, yet the future are always uncertain in the volatile crypto market. Thus, potential investors should stay informed and approach with caution.
Navigating the crypto world can be challenging, especially when identifying promising projects. We have curated a list of the best cryptos to simplify this task. To explore our best cryptos for 2023, follow the link below.
Cryptoassets are highly volatile and unregulated in most EU countries, Australia and the UK. No consumer protection. Tax on profits may apply. Your capital is at risk.
References
https://in.tradingview.com/symbols/LTCUSD/
https://www.coingecko.com/en/coins/litecoin
https://coinmarketcap.com/currencies/litecoin/
https://www.cnbctv18.com/cryptocurrency/litecoin-halving-event-crypto-bitcoin-everything-you-need-to-know-15847121.htm
https://www.precedenceresearch.com/p2p-payment-market
https://messari.io/report/sector-brief-extra-ordinary?referrer=asset:litecoin
https://changelly.com/blog/litecoin-price-prediction/
https://digitalcoinprice.com/forecast/litecoin
https://priceprediction.net/en/price-prediction/litecoin
https://coincodex.com/crypto/litecoin/price-prediction/
https://app.intotheblock.com/coin/LTC
https://money.usnews.com/investing/cryptocurrency/articles/will-cryptocurrency-regulation-affect-crypto-prices
FAQs
What will Litecoin be worth in 2023?
How much will 1 Litecoin be worth in 2025?
What will Litecoin be worth in 2030?
Will Litecoin reach $1000?
Is LTC a good investment?