The extreme volatility of the crypto market is a huge source of potential for some – especially traders – with rapid and significant price changes sometimes allowing for huge gains, whether a position is long or short.
For many others, however, it can be a huge source of anxiety if their hard-earned investment takes a sudden and dramatic dip. Some investors prefer to focus exclusively on crypto projects from a long-term perspective. This is a great way to avoid short-term volatility and maximize the profit potential of top-quality cryptocurrencies.
However, not all projects were built to be successful over the long term and need certain traits – such as unique concepts, dedicated teams and realistic roadmaps – to succeed.
This guide aims to provide a selection of the best investments for investors who want to ignore their short-term volatility and price action. If this sounds appealing, read on to find our full analysis of the best long-term crypto investments for 2023.
The 13 Best Long term crypto projects for 2023

First up in this guide is a list of the best long term crypto investment options for 2023 – a full analysis will follow.
Wall Street Memes (WSM) – This large meme movement has amassed an organic following of over 400K people. By allocating 100% of the $WSM token supply to the community, the project aims to distribute wealth to its members.
AiDoge (AI) – Newly launched long term crypto project that uses generative AI to create shareable memes, with more than $1 million raised in its presale in just a week.
Launchpad XYZ (LPX) – All-encompassing crypto portal that aims to help drive mass adoption into Web3 by providing a simple and efficient one-stop shop for users. $170k raised.
Ecoterra (ECOTERRA) – Eco-friendly crypto project that allows users to earn tokens for recycling household waste and fund other green projects. $2.85m raised in presale.
yPredict (YPRED) – AI-powered project that provides data, insights and metrics to help crypto trader make better decisions and maximize profit-making potential. $485k raised.
DeeLance (DLANCE) – Web3 solution for jobseekers and recruiters that will make freelance economy more efficient, transparent and secure. $585k raised in presale.
Love Hate Inu (LHINU) – Vote-to-earn platform that sold out its $10 million presale hard cap in just eight weeks and is now heading for an imminent IEO on a tier-one CEX.
RobotEra (TARO) – Metaverse and play-to-earn project that allows users to rebuild a world and monetize it in a variety of ways. $1.2 million raised in its presale.
Tamadoge (TAMA) – Utility-driven play-to-earn gaming ecosystem and meme project that has an augmented reality app releasing later this year.
Lucky Block (LBLOCK) – Leading destination in the rapidly-growing crypto casino and sportsbook world with thousands of provably fair games and 200% welcome bonus for new players.
Chainlink (LINK) – Blockchain protocol that can be used across any other blockchain and has a wide variety of applications in business, finance, gaming, insurance and more.
Cardano (ADA) – Hugely scalable and sustainable blockchain that allows developers to build dApps and uses a peer-reviewed system to ensure long-term sustainability.
Uniswap (UNI) – One of the largest decentralized finance protocols, Uniswap is an automated market maker that allows trading to be totally automated and open to anyone.
Full Analysis of The Best Long Term Crypto Investments for 2023
Below, investors will see our full analysis of the best long term crypto investments for 2023. This includes a range of presale projects that are entering the Web3 economy, as well as pre-existing tokens with high utility.
1. Wall Street Memes (WSM) – Meme Platform Looking to Raise over $30 Million through its Presale
One of the top crypto tokens to purchase for long-term growth is $WSM – which is an extension of the Wall Street Memes cryptocurrency platform.
Wall Street Memes is a popular meme-based platform which managed to amass an organic following of more than 400K people across Twitter and Instagram. Dating back to 2019, Wall Street Memes has influential people such as Elon Musk interact on its socials.
Now, this large meme movement has attracted a community of over 1 million people. In 2021, Wall Street Memes released its NFT project, Wall St Bulls. The first NFT collection consisted of 10,000 Ethereum NFTs and was sold out in only 32 minutes.
The next step to help spread the wealth among the community has been the release of the $WSM token. While this token has no utility, the large following can help the cryptocurrency presale to be successful.
Wall Street Memes has already taken the decision of making $WSM a 100% community token. Boasting a total supply of 2 billion, 50% will be allocated across the presale. A further 20% will be used for CEX and DEX liquidity. The remaining 30% will be allocated as community rewards on the ecosystem.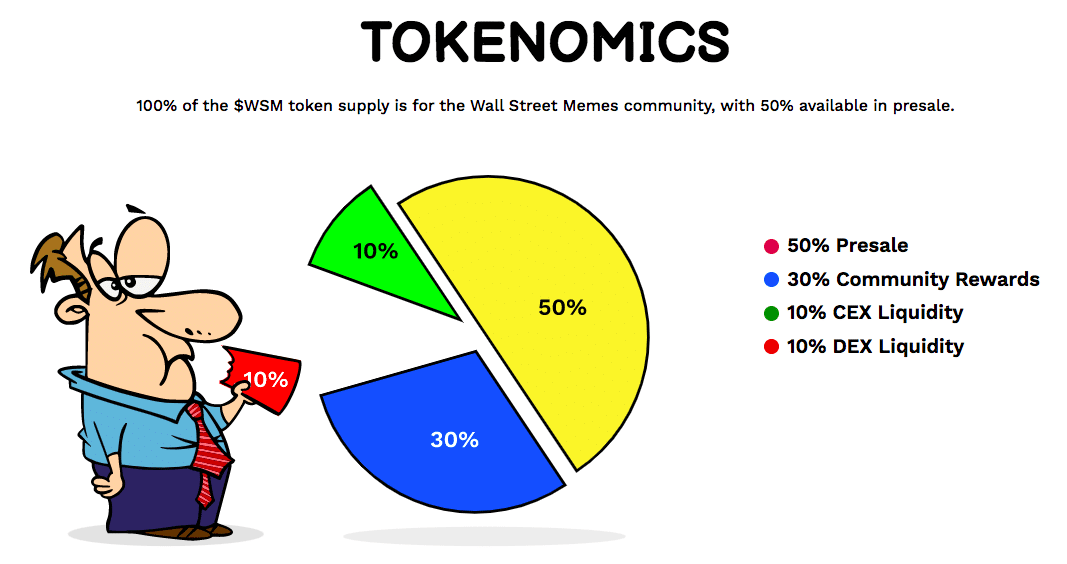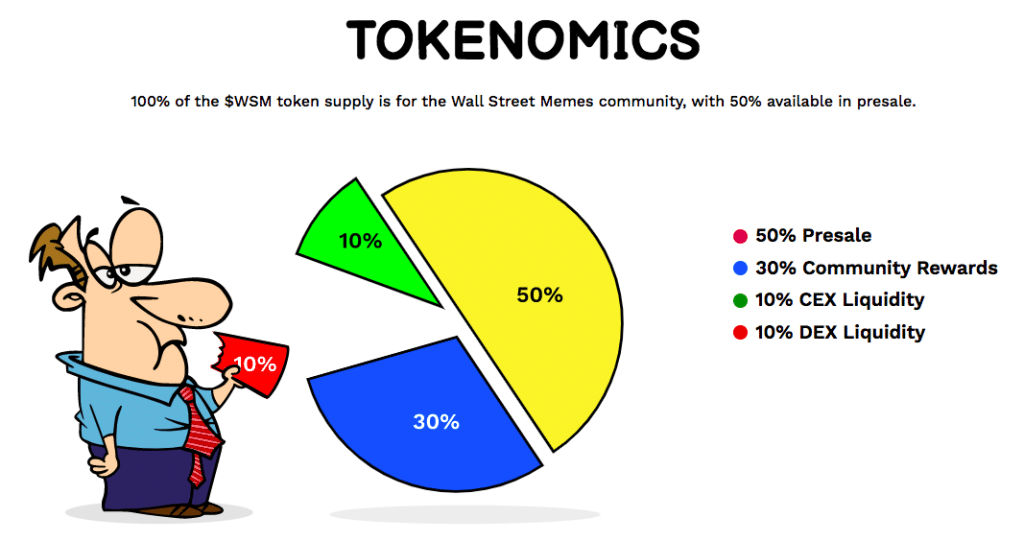 The ongoing presale will consist of 30 stages. During the first stage, $WSM was priced at $0.025 per token. This first stage was sold out in two days, as Wall Street Memes managed to raise half a million.
Currently, the token is priced at $0.0262 and has raised more than $2.3 million since the presale started. Investors who purchase the token now will be able to benefit in the long run. By the final stage, the price will soar to $0.0337 per token.
Throughout the presale, Wall Street Memes aims to raise over $30.57 million. Join the
Wall Street Memes Telegram group to learn more about this meme cryptocurrency project.
| | |
| --- | --- |
| Hard cap | $30,577,000 |
| Total tokens | 2,000,000,000 |
| Tokens available in presale | 1,000,000,000 |
| Blockchain | Ethereum Network |
| Token type | ERC-20 |
| Minimum purchase | 100 tokens |
| Purchase methods | USDT, ETH, BNB, Bank Card |
2. AiDoge (AI) – Exciting New Presale that has Raised $1 Million in One Week
AiDoge is our top pick for the best long crypto to buy as it is developing a project that combines two niches that are not going anywhere any time soon.
The project crosses artificial intelligence with memes, with the protocol using generative AI to create memes that can be shared across Web2 and Web3 – with users also earning further rewards for the best creations.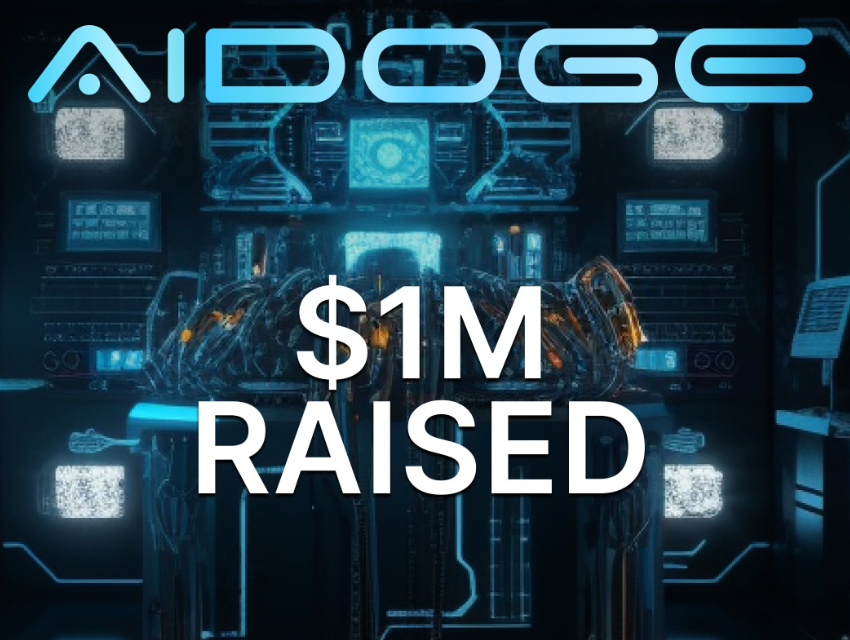 Artificial intelligence is set to become one of the biggest growth areas of the next decade and Big Four accounting firm PwC predicts it will be worth more than $15 trillion by the end of the decade.
Big Tech firms such as Amazon, Apple, Google, Microsoft and Meta are currently in the middle of an AI 'arms race' following the runaway success of OpenAI's ChatGPT and the knock-on effect has seen some of the best AI crypto coins gain more than 500% in 2023 so far.
With AiDoge, generative AI creates memes from text-based prompts that can then be shared – in turn helping the project reach a further audience and grow. Users also upvote or downvote the best memes with the winners then receiving native $AI tokens as a reward.
The tokens, which can also be staked to generate a passive revenue stream, are currently in the middle of a wildly successful crypto ICO.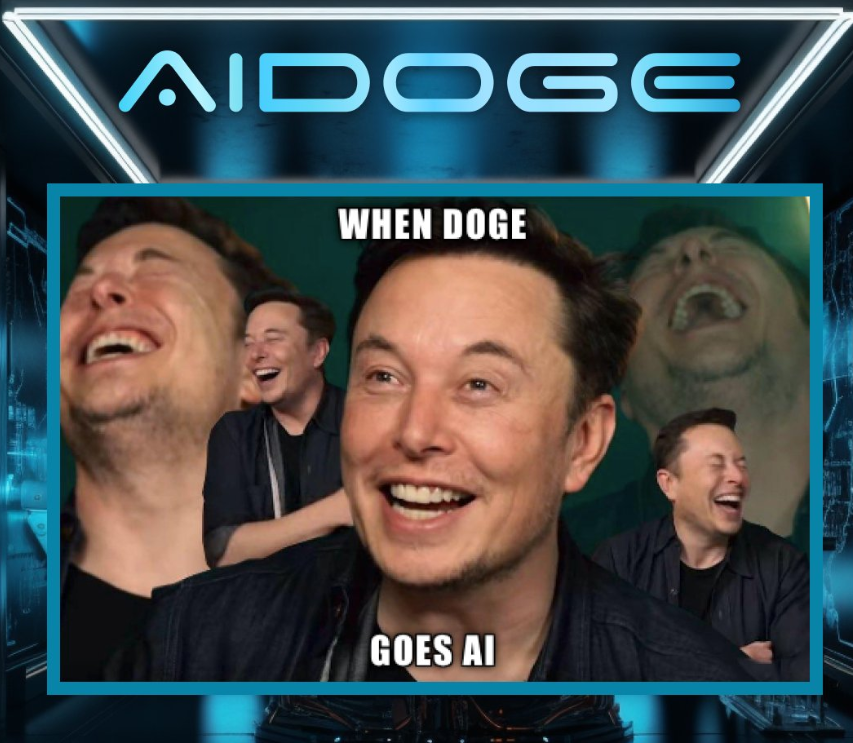 More than $1 million has been raised in just seven days since launch, with tokens currently in stage 2 of 20.
They cost $0.0000264 at the time of writing but will rise by 27% to $0.0000336 in the final stage before being listed on exchanges. The project has an anonymous team, which should usually be considered a red flag but is quite often the case with meme projects, including Dogecoin and Shiba Inu.
Furthermore, 25% of the 1 trillion token supply has been reserved for the team but has a 10-year vesting period, underlining their long-term commitment to the project, while respected security firm Certik have audited the smart contract – 500 billion tokens (50%) are available to purchase during the presale, with no vesting period.
More information can be found in the AiDoge whitepaper or on the Telegram group.
| | |
| --- | --- |
| Presale Started | 25 April 2023 |
| Purchase Methods | ETH, USDT, BNB, Card |
| Chain | Ethereum |
| Hard Cap | $14,900,000 |
| Min Investment | 100 $AI |
| Max Investment | None |
3. Launchpad XYZ (LPX) – One-Stop Shop for Web3 Users to Drive Mass Adoption
Launchpad XYZ is another leading pick for the best long term crypto as it is helping to solve Web3's ultimate aim – mass adoption.
While the number of crypto and Web3 users has significantly increased in the last couple of years, it still represents a small minority of the global population and mainstream adoption is still a little way off.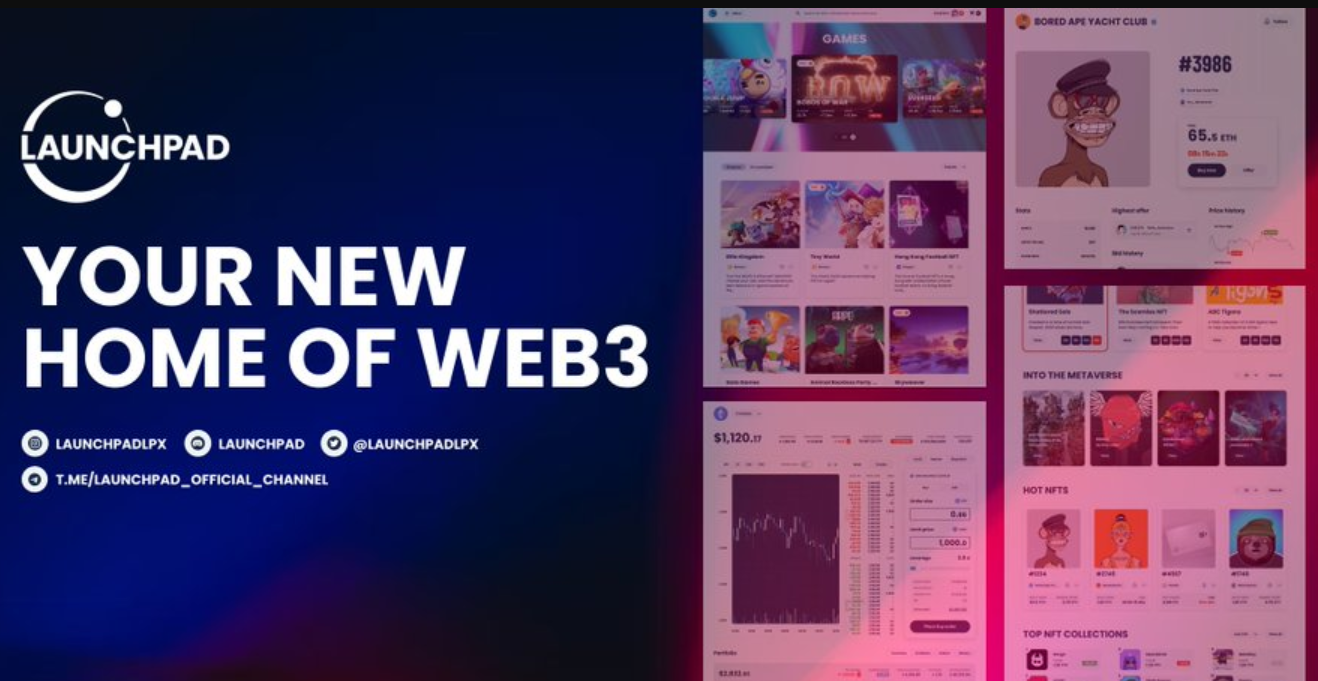 One recurring problem new users – and crypto natives – find is the over-complication of navigating the space, with numerous dApps, protocols, platforms, exchanges, markets and wallets needed to use Web3 effectively.
Launchpad XYZ has identified that issue and has created an all-encompassing gateway portal that will help new and existing users navigate Web3 much more efficiently and help drive users into the space.
Its one-stop-shop will comprise of the following features:
Web3 crypto wallet
Decentralized exchange
Trading terminal
NFT marketplace
P2E gaming hub
Metaverse experience library
Fractionalized assets
Whitelist spots to crypto presales
Launchpad Quotient
AI-powered search function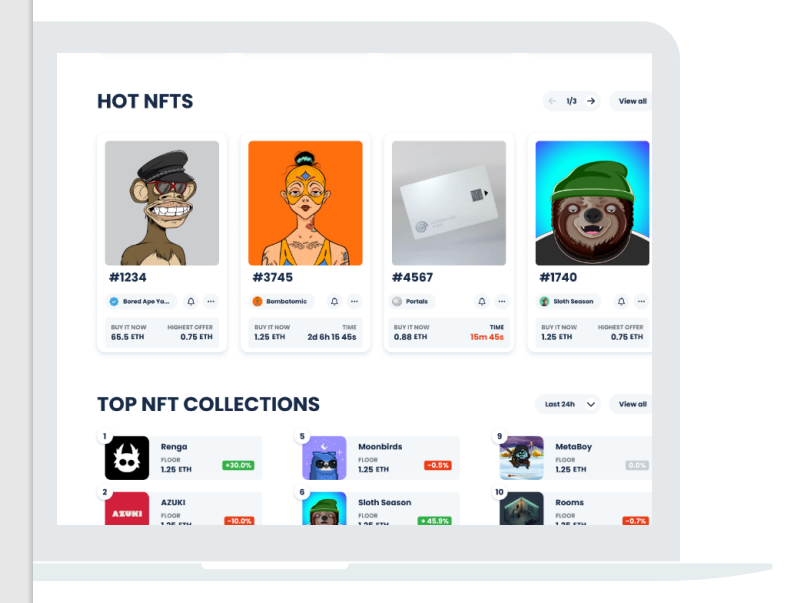 Launchpad XYZ is a leading crypto ICO as it wants to act as a bridge between Web2 and Web3, allowing users to find everything they need via one portal, as well as offering tutorials, technical information and live data to provide an unbiased view of the latest NFT projects or crypto tokens, for example.
The project has experienced, doxxed and KYC-verified developers, with the native LPX token available to buy during the presale now.
Tokens currently cost $0.035 during stage 1 and will increase by 100% to $0.07 by the final round. There is a hard cap of $12.5 million and no vesting period, although one small downside is the relatively small presale allocation of 250 million – 25% of the 1 billion max supply.
Full information on the remaining token allocation – which is largely to fund development of the project – and other information can be found in the Launchpad XYZ whitepaper or on the Telegram group.
| | |
| --- | --- |
| Presale Started | 26 April 2023 |
| Purchase Methods | ETH, USDT, BNB, Card |
| Chain | Ethereum |
| Hard Cap | $12,500,000 |
| Min Investment | 100 LPX |
| Max Investment | None |
4. Ecoterra (ECOTERRA) – Long-Term Crypto Project Helping Fight Climate Crisis
Ecoterra is utilizing blockchain technology to help fight one of the biggest issues of the modern world – climate change.
The project is shaping up to be a long-term favorite and one of the best crypto presales because it has introduced a fun and unique concept, Recycle-to-Earn, to help slow global warming.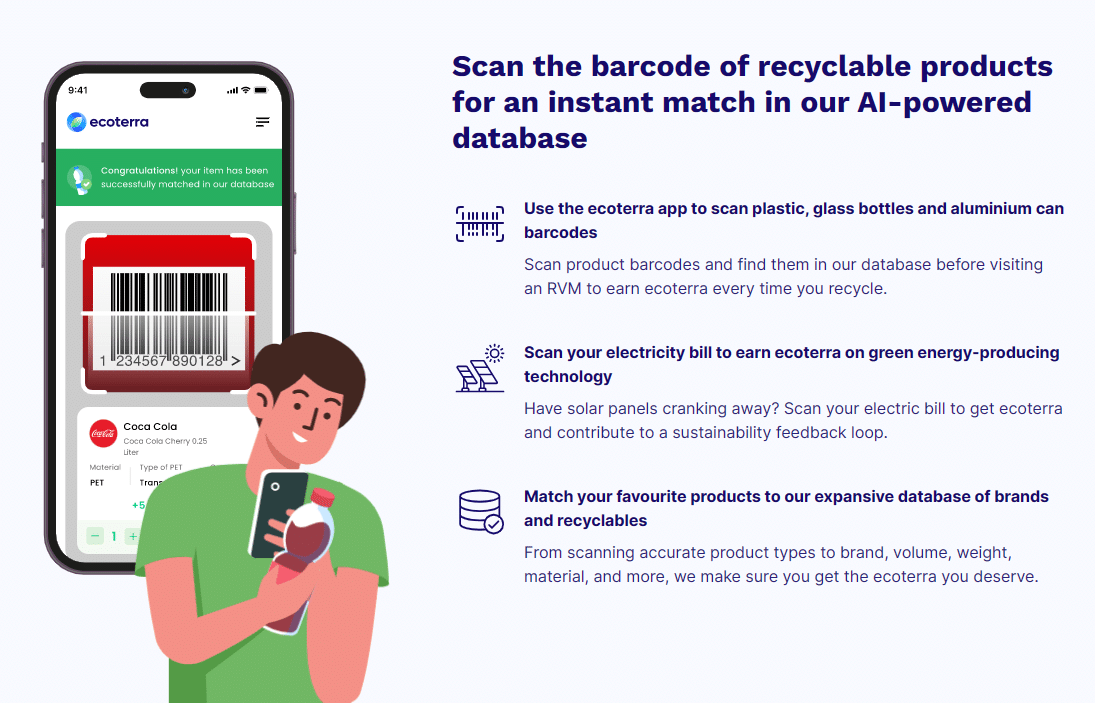 The ecoterra mobile app allows users to earn ECOTERRA tokens just by depositing recyclable materials. The tokens can then be sold, held as an investment or staked to generate passive rewards.
ECOTERRA tokens can also be spent to further fight the climate crisis, either by funding projects such as ocean clean-up or tree planting or by purchasing carbon credits – which remove CO2 from the atmosphere.
The project has already partnered with global supermarket conglomerate Ahold Delhaize – which operates more than 2,000 stores in the US, including Food Lion – and is affiliated with brands such as Dr Peppe, Vittel, Heineken and San Pellegrino.
To earn rewards, users take recyclable items such as plastic bottles or cardboard boxes to Reverse Vending Machines (RVMs), which can be found in supermarkets all over the world.

They then scan the item, which has a preset value, on the mobile app and deposit it into the RVM to receive their tokens. Once certain milestones are reached, the project will also hand out rewards – such as NFTs – to encourage recycling further.
Along with its Recycle-to-Earn mechanic, Ecoterra also has a recycled materials marketplace – connecting individuals and businesses with recyclers.
The ECOTERRA presale has already raised more than $2.85 million with tokens on sale for $0.007 at the time of writing.
The price of tokens will increase by 43% to $0.01 by the final stage and 50% of the max supply of 2 billion tokens has been made available during the presale with no vesting period. Presale buyers can also utilize a 5% USDT affiliate program.
The ecoterra whitepaper has more information while the latest news can be found in the Telegram group.
| | |
| --- | --- |
| Hard Cap | $6,700,000 |
| Total Tokens | 2,000,000,000 |
| Tokens available in presale | 1,000,000,000 |
| Blockchain | Ethereum Network |
| Token type | ERC-20 |
| Minimum Purchase | $10 |
| Purchase with | USDT, ETH, Bank Card |
5. yPredict (YPRED) – Trading Platform that Utilizes AI Technology to Improve Decisions
Crypto traders often act with short-term gains in mind but must have a long-term strategy and analysis in mind to execute successful trades.
Due to the extreme volatility of cryptos, plus the sheer number of tokens in the market and all the news that surrounds them, it's almost impossible for individual traders to act without help.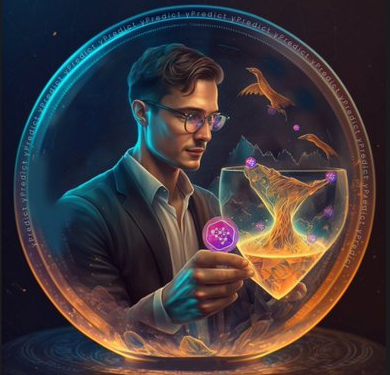 In fact, it was revealed in 2019 that more than 80% of traders across all markets use algorithms to execute their trades – this is where yPredict comes in.
The protocol is an AI-powered platform that uses complex machine learning to offer traders a wide range of data, analytics and insights to help them make better decisions and increase their profit-making potential.
Developed by a doxxed and KYC-verifed team of experienced machine learning experts, software developers and financial quants and traders, yPredict wants to help users stay a step ahead of the rest of the market.
As well as using AI to build predictive models, other features include AI-powered pattern recognition, indicator analysis, transaction analysis and sentiment analysis.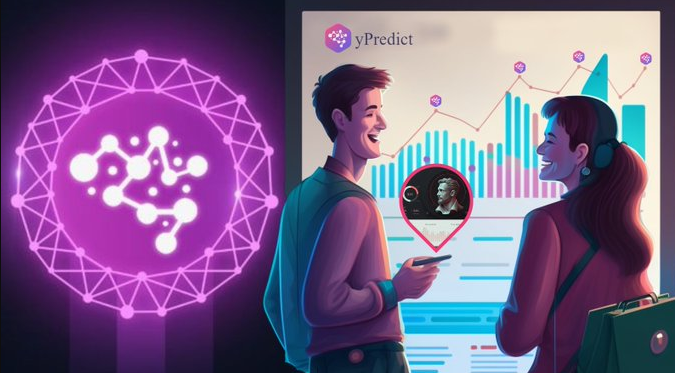 yPredict users can also build their own predictive models and allow others to use them, earning rewards depending on the success of the model. The protocol is built on super-fast and efficient layer-2 network Polygon.
The platfom works off a freemium model with three tiers (free, active, pro) offering different levels of features for users. The native $YPRED token is used to pay for the membership as well as utilized for the rewards system.
The project is currently in its fourth presale phase with more than $500,000 raised so far. Tokens cost $0.05 at the time of writing but will increase 140% to $0.012 for the listing, with a listing on leading exchange BitMart already confirmed.
The yPredict presale has a hard cap of $6.5 million, with 50% of presale tokens unlocked at the token generation event. Read through the yPredict whitepaper for more information, or join the Telegram group.
| | |
| --- | --- |
| Presale Started | Q1 2023 |
| Purchase Methods | MATIC, ETH, USDT, BNB, Card |
| Chain | Polygon |
| Hard Cap | $6,500,000 |
| Min Investment | 200 YPRED |
| Max Investment | None |
6. DeeLance (DLANCE) – New Project to Transform Recruitment and Freelancing World
DeeLance is a top pick for the best long-term cryptos because it will revolutionize the freelance and recruitment economy, making it quicker and more efficient for both employers and potential employees.
The project has just launched the first stage of it DLANCE presale, with tokens on sale for $0.029 in stage 2 and rising to $0.048 in stage 6 – more than $585k has been raised in the presale so far and presale buyers can take advantage of a referral program.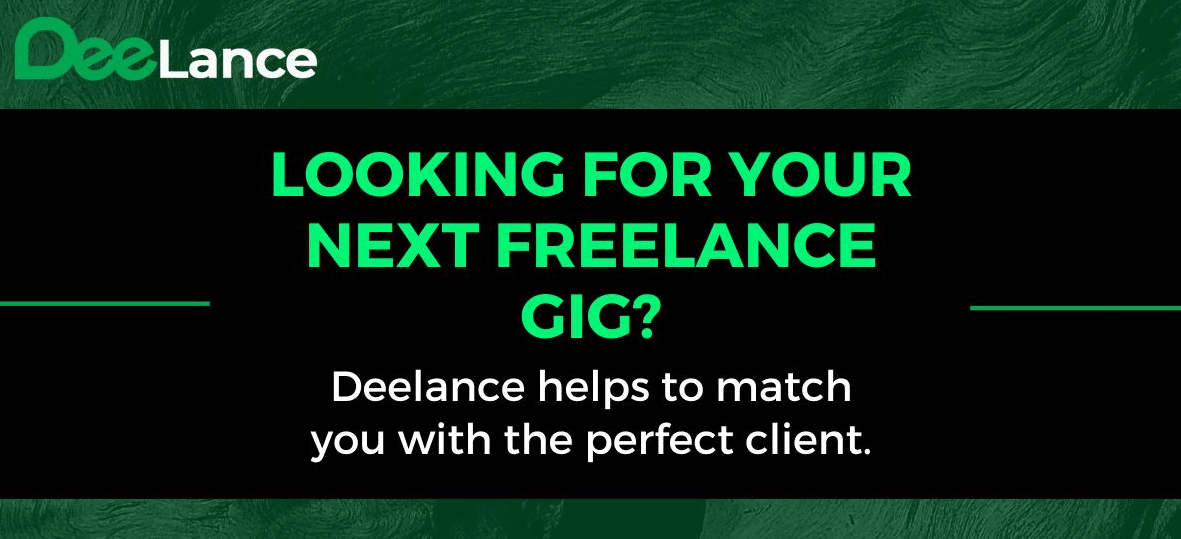 DLANCE tokens will be used as payment for completed work on the platform, as well as a currency in the DeeLance metaverse – where users can network and collaborate, advertise their services and even hold meetings in office space.
DeeLance will utilize blockchain technology to cut out intermediaries and middlemen, which can reduce earning potential, and make chasing payment a thing of the past.
The project is promising lower fees and commissions than its Web2 rivals – as well as doing away with withdrawal charges – and will also utilize secure escrows for payment.
That means funds are held and guaranteed to be paid promptly once work is completed to the agreed specification, with crypto payments being near-instant and eliminating other issues such as paying currency exchange commissions.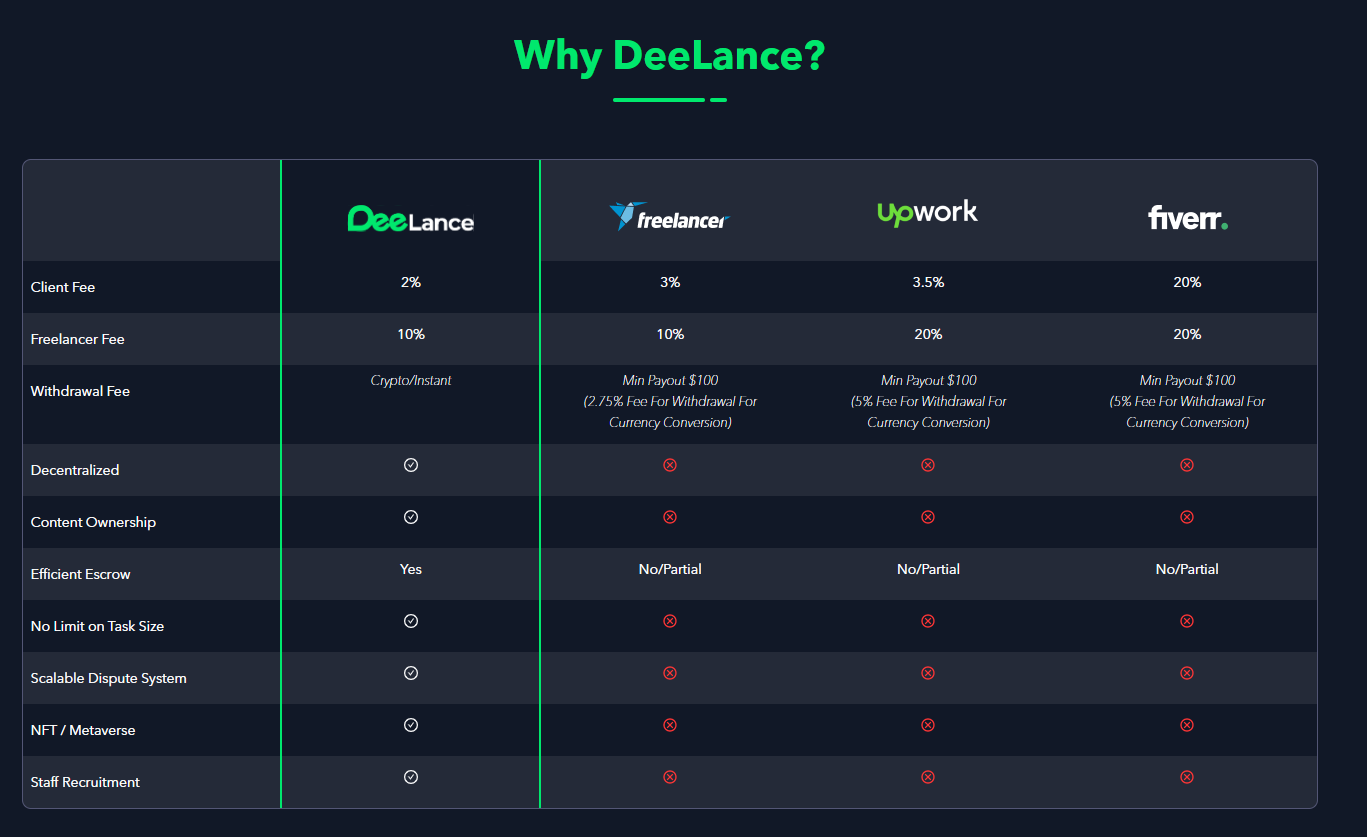 Once work is completed, it will be converted into an NFT and housed on the blockchain, taking away any potential issues over payment fraud or copyright violations.
Finally, DeeLance uses a visible feedback system to help recruiters easily identify and connect with high-quality candidates and freelancers to avoid bad actors, while it has a leading AI crypto because of its chatbot to help with customer service.
The developers, who are doxxed and KYC-verified, have made 30% of the 1 billion supply of DLANCE available during the presale with no vesting period.
Join the DeeLance Telegram group for more information.
| | |
| --- | --- |
| Hard Cap | $6,800,000 |
| Total Tokens | 1,000,000,000 |
| Tokens available in presale | 300,000,000 |
| Blockchain | Ethereum Network |
| Token type | ERC-20 |
| Minimum Purchase | $10 |
| Purchase with | USDT, ETH, Card |
7. Love Hate Inu (LHINU) – Vote-to-Earn Meme Project Heading for IEO After $10m Presale
For long-term investments, choosing coins with practical applications is crucial – that's where Love Hate Inu comes into play.
As a blockchain-based voting platform that combines meme appeal, Love Hate Inu offers its native tokens, $LHINU, to users engaging in staking and voting activities.

Love Hate Inu's initial presale has made a significant impression on the crypto community and sold out its $10 million hard cap in just eight weeks.
The project is now heading for its IEO – with a tier-one CEX listing to be announced soon – but a limited number of tokens can still be purchased for $0.000145 each, the same as the list price.
What is Love Hate Inu?
Love Hate Inu encourages user participation in meme-based polls through its voting platform and has developed a unique Web3 concept dubbed 'vote-to-earn'.
Its real-world applications, such as promoting polls on socially relevant topics, have led to widespread recognition on social media platforms.
The presale has generated huge hype – similar to meme coins like Dogecoin, Shiba Inu and Tamadoge – and is expected to have a bright future as it changes the way the $3 billion online polling industry operates.
The Love Hate Inu Voting System
Love Hate Inu's blockchain voting system and distributed ledger technology guarantee the accuracy of poll results, revolutionizing the online survey landscape. Its secure, anonymous Ethereum-based voting and engaging character illustrations create a fun and interactive discussion environment.
The Love Hate Inu whitepaper outlines a user-friendly platform with a straightforward interface, submission process, and management dashboard. The platform's revenue can be distributed among the community through polls managed by the dashboard.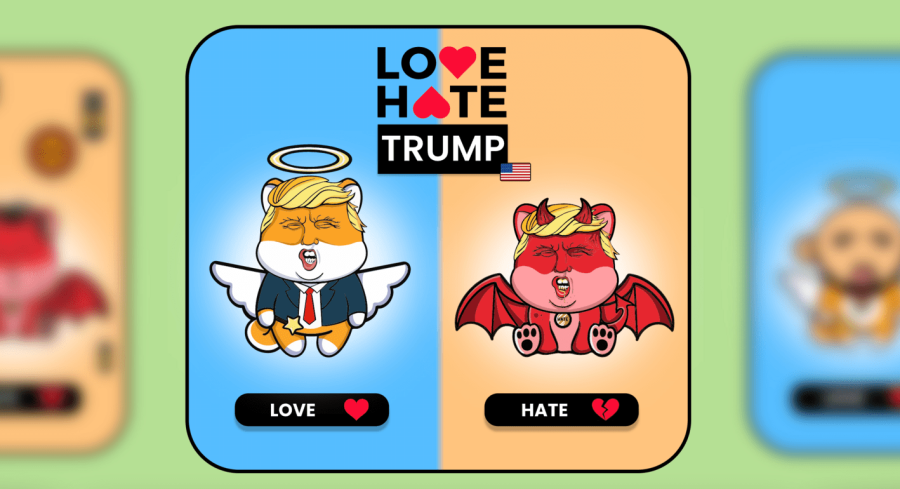 Via staking tokens, you can anonymously vote in polls without the risk of spam or manipulation, with users needing to stake for at least 30 days before they can participate. This process also allows users to earn tokens.
Your voting power increases with the amount and duration of your stake, making $LHINU one of the best meme coins with utility.
Love Hate Inu is pioneering the industry as the first-ever blockchain-enabled voting platform that employs distributed ledger technology to record immutable results.
The platform blends crypto memes with social involvement, providing a unique polling experience that makes it one of the best altcoins.
Despite an anonymous team – which is common for meme projects – 900 million of the total 100 billion tokens was allocated for presale, meaning the project will be totally in the hands of the community. The remaining 10% will be utilized for exchange listings, community incentives, and token liquidity.
For the latest platform updates, users can join the Love Hate Inu Telegram group.
| | |
| --- | --- |
| Presale Started | 8 March 2023 |
| Purchase Methods | ETH, USDT, Credit Card |
| Chain | Ethereum |
| Hard Cap | $10,068,750 |
| Min Investment | 10 $LHINU |
| Max Investment | None |
8. RobotEra (TARO) – Metaverse Rebuilding P2E Sandbox Game With Tradable Robots
RobotEra may be the best crypto to hold long-term for investors who appreciate Sandbox, the well-known metaverse game.
The background story in this metaverse is that the planet Taro was destroyed during a conflict. Players need to rebuild it and bring back prosperity and peace.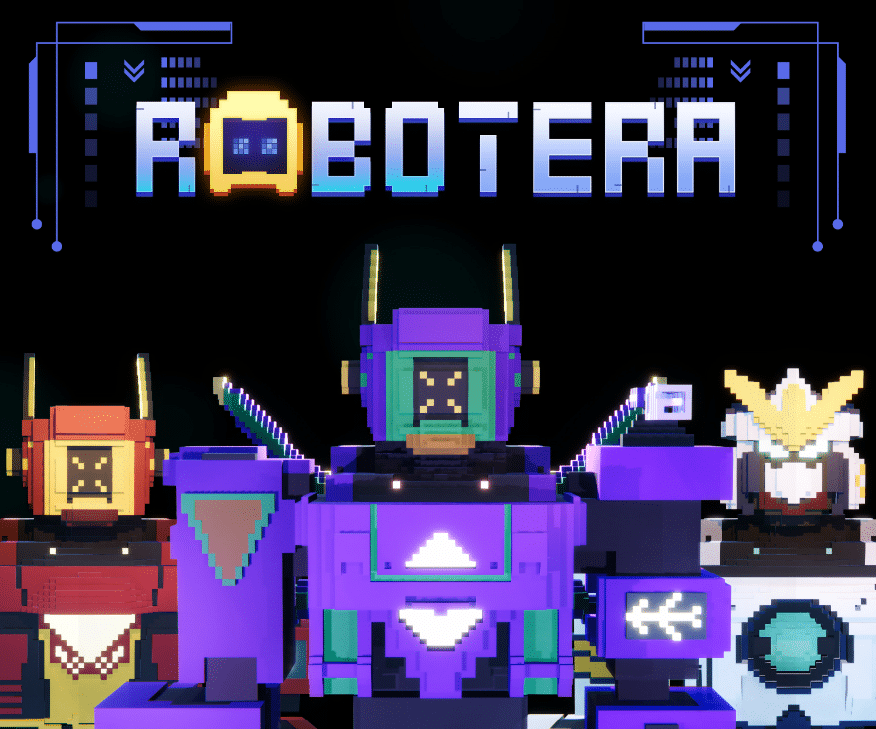 Players will be able to purchase digital land that may be mined, rented out, or sold. Furthermore, gamers can build their own robot companions to help reconstruct the planet. The in-game NFTs can be traded or sold as the payers see fit. They will also earn and find crypto rewards.
TARO tokens will be utilized to buy in-game assets. As of writing, those who think this is one of the best long term crypto investments for 2023 can lock in the price of $0.02 per token during stage one of the presale. In phase two, tokens will increase to $0.025, a rise of 25%.
More than $1.2 million has been raised in the presale so far.
| | |
| --- | --- |
| Presale Started | Q4 2022 |
| Purchase Methods | ETH, USDT |
| Chain | Ethereum |
| Min Investment | 1,000 TARO |
| Max Investment | None |
9. Tamadoge (TAMA) – Crypto-Centric Arcade Style Games With Rewards and NFT Pets
Tamadoge is a doge-themed P2E and NFT gaming platform that has wide utility compared to its meme coin rivals.
The project quickly reached its $19 million hard cap during its presale campaign at the end of 2022, with TAMA then pumping almost 2,000% during a bear market.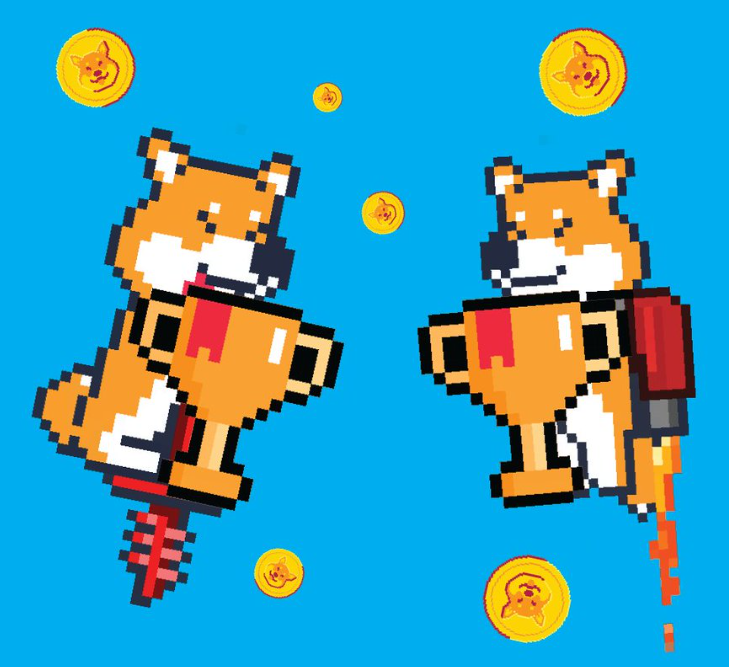 Although the prices have since retraced, the tokens have enjoyed a strong start to 2023 – up 33% at the time of writing – due to a raft of utility in its ecosystem being released.
The Tamadoge Arcade, which comprises of five retro-style platform games where players can earn TAMA or play for free, is now totally live and already attracting more monthly players (25,000) than Decentraland and The Sandbox combined (19,000).
TAMA tokens have recently been listed on tier-one CEX Bybit – sending the price soaring by nearly 300% in a week – and will also be listed on two more tier-one CEXs in June and July.
The tokens can also now be used as a payment method with leading crypto casino BC.GAME, while the jewel in its crown – the augmented reality mobile app – is set for release later this year.
That app will see players breed and grow their Tamadoge NFT pets and take them out into the real world to explore and earn rewards.
It will also see TAMA – which already has a small supply for a meme coin of just 2 billion – become deflationary with purchases in the Pet Store (where players buy food and treats) seeing a 10% burn on all transactions. In time that should drive up scarcity and price.
10. Lucky Block (LBLOCK) – Instant Payout Casino With Support for Multiple Cryptocurrencies
Lucky Block has the potential to be the best crypto for long term growth in the online casino space. The token that backs the Lucky Block sportsbook and casino, LBLOCK, had an extremely successful presale and ICO. The allocated number of LBLOCK tokens sold out during the presale campaign.
According to CoinMarketCap data, once live on an exchange, LBLOCK increased by about 430% in less than a month. Lucky Block's catalog of games includes table games, slots, dice, and live dealers that are all provably fair.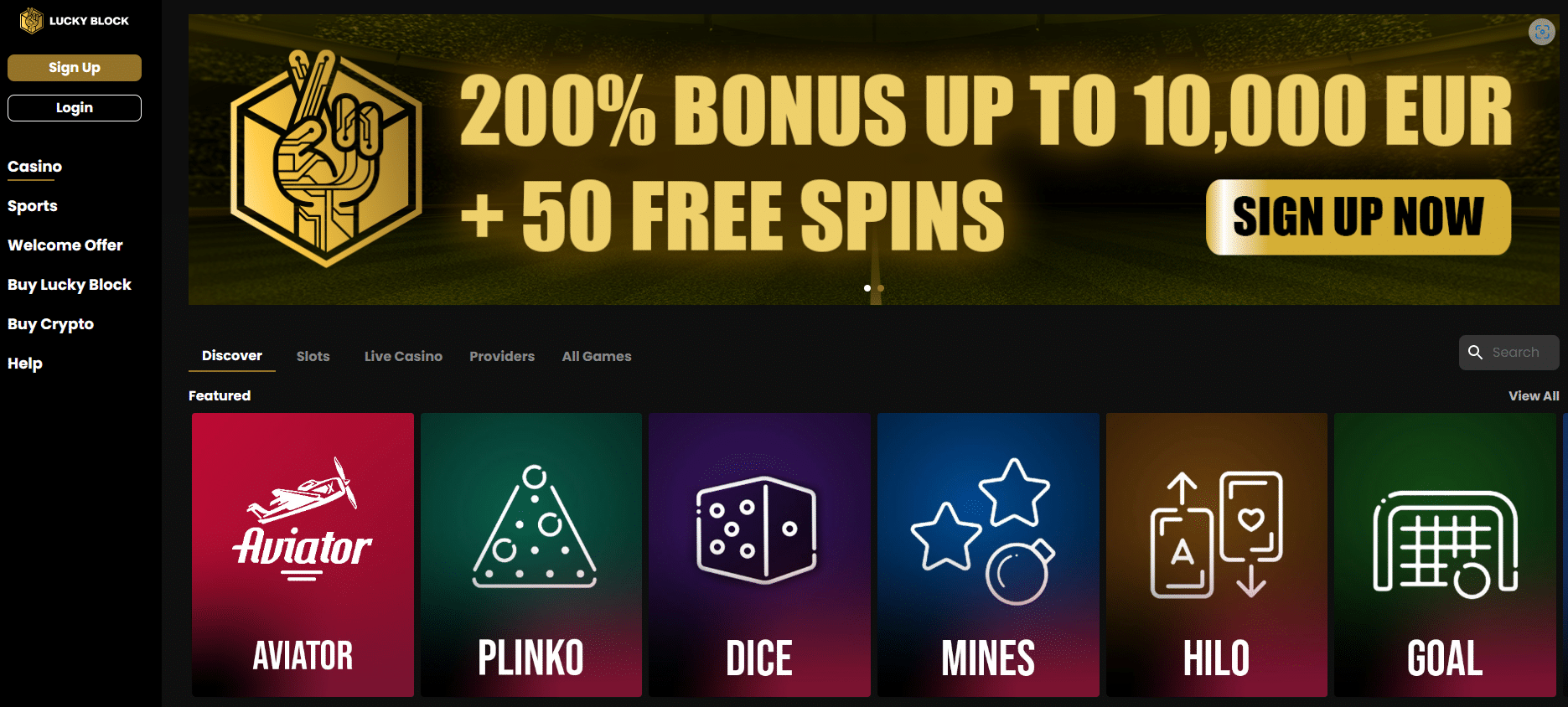 There are also odds on the most popular sports globally, such as the Premier League, NBA and NFL, in addition to lesser-known ones and even eSports.
Those who fund their casino account with €20 or more, can claim a 200% match deposit welcome bonus after registering. Additionally, the same player will find their account credited with 50 free spins on the popular slot title Wanted Dead or Wild. US and UK players can access this casino via a VPN. The market cap of LBLOCK is just over $4.5 million as of writing.
11. Chainlink (LINK) – Ethereum-Based Decentralized Platform Facilitating Smart Contracts
Chainlink (LINK) is a blockchain protocol. This is one of the best long term crypto investments for 2023. It has applications in the business, finance, gaming, insurance markets, social impact sectors, and more.
In order to bridge the divide between on and off-chain systems, the platform runs a decentralized oracle network (DON). Because Chainlink is blockchain agnostic, it may be used with any blockchain network.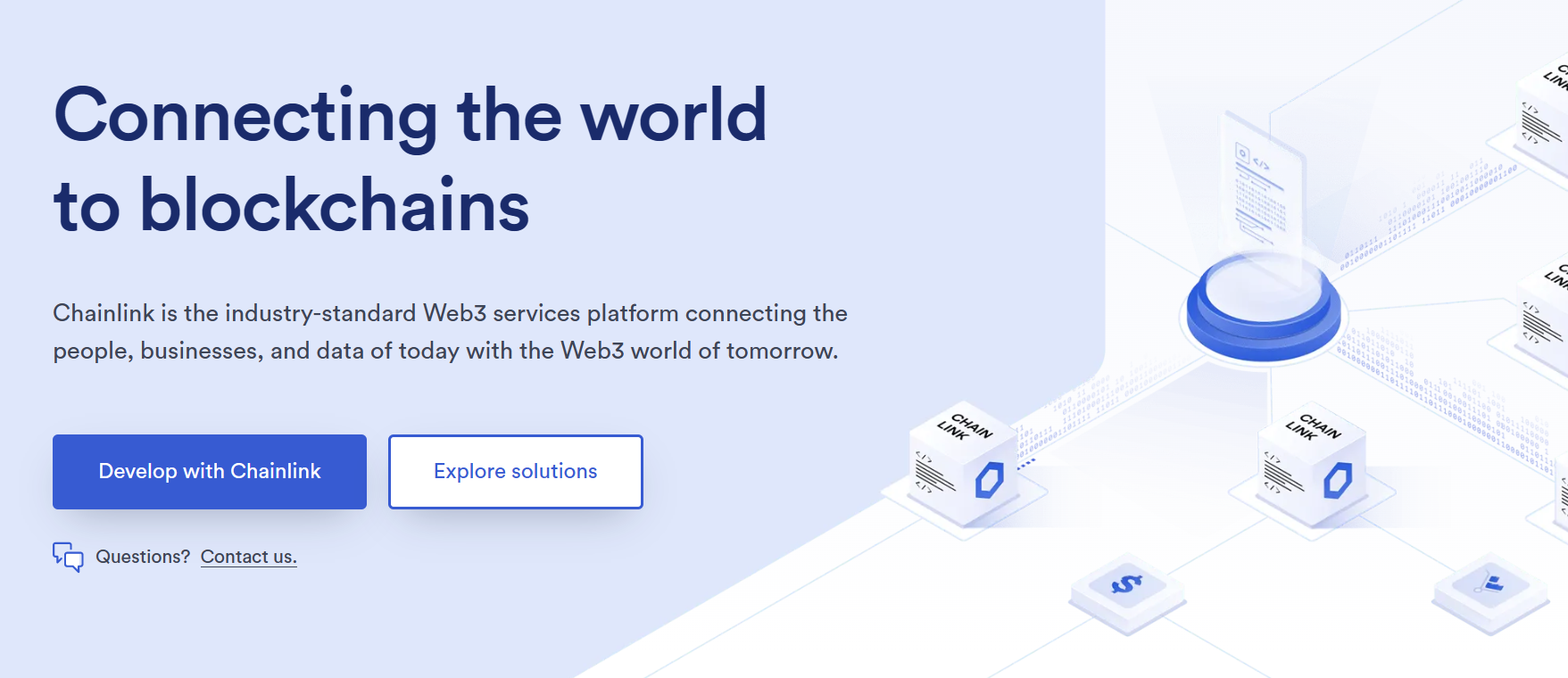 Some of the most well-known DeFi protocols make advantage of this established Oracle network. This includes Paxos, AAVE, Compound, Synthetic, ENS, Nexus, Mutual, and others. In December 2022, Chainlink introduced staking. This merges implicit and explicit staking. The market cap of LINK is $3.6 billion as of writing.
12. Cardano (ADA) – Reputable and Sustainable Proof of Stake Blockchain Platform
Cardano (ADA) is a large-scale blockchain project that puts a strong emphasis on sustainability and scalability. Cardano allows for the capability of smart contracts, enabling programmers to create decentralized apps. The initiative is striving to bring up practical applications, and the network can provide corporate-level solutions.
In recent news, a new version of the Cardano blockchain with enhanced security and interoperability capabilities was introduced. The so-called 'Valentine' patch will improve cross-chain capabilities for apps utilizing decentralized finance (DeFi) that are being developed on the network.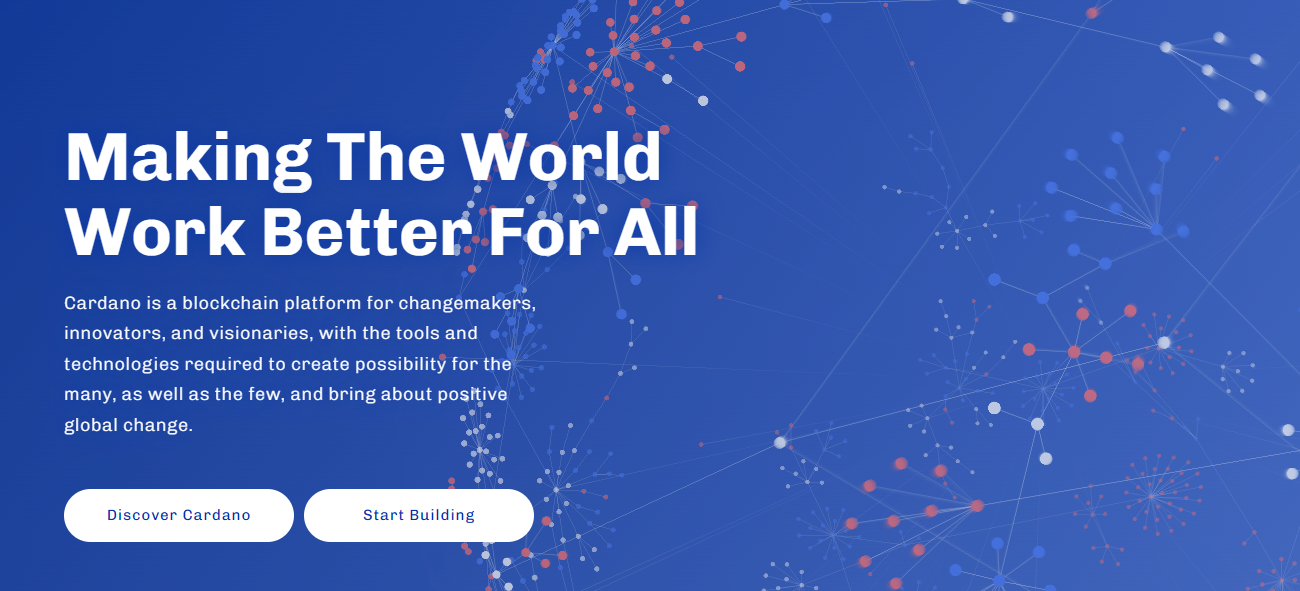 Cardano has also introduced the Djed, a stablecoin that might enable the network to better position itself to compete with other DeFi protocols. According to some long term cryptocurrency predictions from Cardano bulls, ADA could reach highs of between $3.94 and $4.96 by 2029. That said, all crypto predictions should be taken as speculation.
The market capitalization of ADA is over $13.5 billion at the time of writing.
13. Uniswap (UNI) – Token backs One of the Biggest Decentralized Exchanges Globally
According to CoinMarketCap data, Uniswap is the largest DEX (decentralized exchange) based on trading volumes. As of writing, the exchange has almost $1 billion of 24-hour trading volume – way ahead of nearest rival PancakeSwap (approx. $300 million).
One of the top long-term cryptocurrency investments for 2023 is UNI. The 2018-launched DEX Uniswap stands out as one of the few exchanges that provide true pseudonymity to crypto traders and investors. Hundreds of dApps and DeFi projects have included Uniswap on their platforms.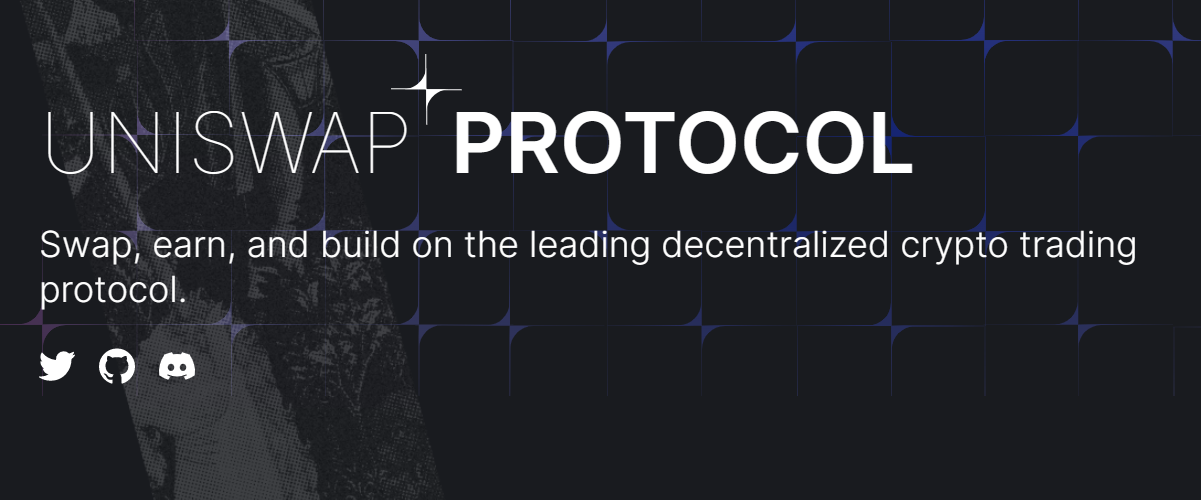 UNI tokens can be used for voting on the future of the platform. For instance, 80% of UNI token owners recently voted in favor of moving the DEX's V3 protocol to the BNB Chain.
Uniswap has officially announced its launch on the BNB Chain, expanding its presence and offering users increased accessibility and functionality in the DeFi ecosystem.
Long Term Crypto Projects Vs Short
Before choosing between the short or long-term approaches, investors should familiarize themselves with their differences.
Trading is essentially short-term crypto investing, with traders partaking in price speculation and trying to profit from short-term price differences.
Meanwhile, long-term crypto investing entails buying and storing digital assets – this is known as HODLing.
The investor may hold onto their crypto tokens for months, or even years, before selling when the asset has reached its maximum profit potential. These are known as cryptocurrencies with the most potential to 10x in the foreseeable future.
Below are some of the benefits and drawbacks to consider when exploring the best crypto to hold long term:
The major advantage of a long term crypto project is that it allows the investor to have a more relaxed state of mind and ignore short-term price
This is due to the fact that they do not need to continually check the fluctuating values of their volatile digital investments
Instead, all that has to be monitored is the project's progress and (hopefully) growth
Meanwhile, the main drawback of long term crypto projects is that investors will have to endure downturns and crypto winters, while some investments may never be profitable
We've also included the pros and cons of short-term crypto projects:
The primary benefit of using a short-term investing plan is that it can help shield traders from broader crypto market declines
Some investors that trade on a short-term basis opt to have strategic stop losses in place
This allows them to exit the market if prices start to decline or turn against them
The high-frequency nature of short-term strategies is one of the main drawbacks
Short-term crypto trading requires constant tracking of the markets
This can include checking indicators and price charts, which requires a solid grasp of technical analysis
Investors will need to first carefully choose which strategy best suits them and research each project in full.
Finding the Best Crypto to Invest in Long Term
Still wondering how to find the best crypto for HODLing in 2023? While some investors search for long term cryptocurrency predictions, it is best to carry out plenty of independent research and due diligence.
Read on for some key considerations when researching the best long term crypto projects.
Does the Crypto Token Have Real-World Utility?
Those deciding on the best cryptocurrency to invest in 2023 for long term growth can look at basic metrics, such as the token's use case or utility.
As of writing, there are well over 20,000 cryptocurrencies in the market, which makes pinpointing the best future crypto projects from the crowd a real challenge.
The best long-term crypto portfolio will include at least some tokens with practical applications, such as many of the projects in this guide.
Considering a crypto token's real-world utility – whether it solves any real-world issue – before making a final decision will give investors a clearer understanding of its potential.
That is to say, generally, having tokens with a use case considerably boosts the likelihood of a project increasing in demand and seeing steady value growth in the long term.
However, investors should understand that not all crypto projects will be profitable or live up to their promise, even if they have high potential and solid fundamentals.
Is the Project's Roadmap Strong?
When researching the best crypto for long term investment, it's wise to evaluate the project's primary goals and the ways in which it will action them.
For instance, this guide has analyzed some of the best long term crypto investments for 2023, and they all have a defined set of goals and a clear plan of how to get there.
Here are some examples of projects that might be included in the best long term crypto portfolio:
Our top project is AiDoge, which allows users to utilize generative AI to create memes – two of the largest growth areas in crypto.
Another pick is Launchpad XYZ, which will drive mainstream adoption into Web3 by providing a gateway portal to the rest of the space.
Ecoterra is leading the fight against climate change by allowing users to earn tokens by simply recycling household waste.
It's clear that these projects have the tools and roadmap necessary for long term growth in their perspective blockchain markets. Investors can find more information in the whitepaper of each long term crypto project.
Making the Decision to Sell or to HODL a Cryptocurrency
As noted, HODLers keep their coins in their possession while ignoring the extra noise and exaggerated price forecasts. As such, many investors looking for the best crypto to HODL in 2023 will wonder when they should make the decision to sell.
The reality is that it's very difficult for even the most experienced investors to predict what the market will do. As such, instead of adjusting their mentality to HODL until a certain time, many investors keep a cautious eye on the markets.
This can include being mindful of any news or events affecting the wider market, and assets like Bitcoin, as well as long-term cryptocurrency predictions.
Conclusion
The case for digital currencies as a long-term investment alternative is getting stronger and can also be a successful strategy for investors who are anxious about short-term price action and volatility. This is despite the fact that it is frequently linked with the speculation and market timing used with short-term strategies.
Today, we've analyzed the best cryptocurrency to invest in 2023 for long term growth. Long term cryptocurrency predictions can't always be relied upon, as such it's important to research and analyze each project in full prior to investing and understand that not all projects guarantee strong ROI.
Our top pick for the best long-term crypto is Wall Street Memes, an established meme platform with over 1 million followers across different mediums. In just a few days since the presale went live, Wall Street Memes has raised over $2.2 million through the $WSM token. The project aims to raise over $30.57 million before it conducts its exchange listing.
FAQs
What crypto has the best future for 2023
Are cryptocurrencies a good long-term investment?
What cryptocurrency has growth potential?
What crypto will boom in 2025?
What cryptocurrency will explode in 2023?