Loom Network (LOOM) is a multi-chain platform that allows developers to build and scale high-performance dApps. This is especially true for applications that require a fast user interface for seamless user onboarding to crypto.
LOOM has a market cap of $206 million and it's a proof-of-stake token that can be used to secure the network via staking or used by developers to pay for dApp hosting on the Loom network.
Our Loom Network price prediction takes several aspects into consideration that are likely to affect the price, including its macroeconomics, token utility and price movements.
Loom Network Price Prediction Summary
Loom Network (LOOM) appeared on the scene in April 2018 at a price of $0.1.
The token reached an all-time high during the same month at a price of $0.7.
An all-time low price of $0.00039 was reached in September 2020.
Our Loom Network price predictions point to $0.30 by the end of 2023.
Based on our 2025 Loom Network price forecast, LOOM is likely to trade at an average price of $0.25.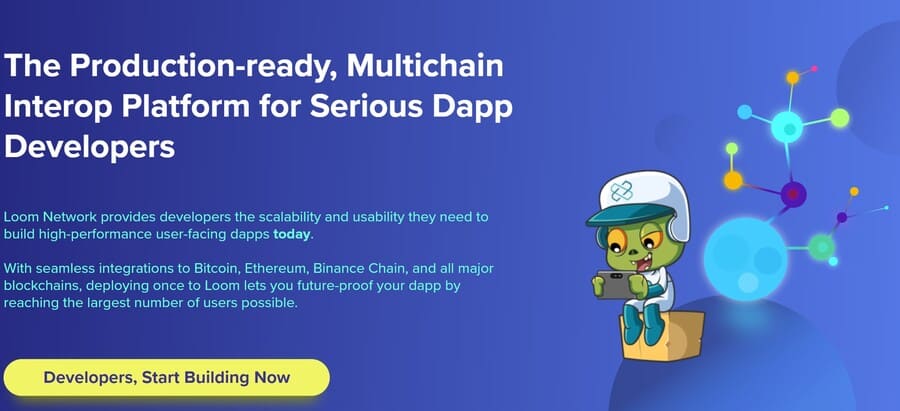 Loom Network Price Prediction 2023-2030
Our Loom Network crypto price shows an average price of $0.18 for 2023.

According to our Loom Network price prediction, the price could peak at $0.30 by the end of 2023.

Technical analysis shows Loom Network token price could exchange hands between $0.18 and $0.33 in 2025.

Loom Network coin forecast aims at $0.47 top during 2030.
| | | | |
| --- | --- | --- | --- |
| Year | Potential Low | Average Price | Potential High |
| 2023 | $0.06 | $0.18 | $0.30 |
| 2024 | $0.11 | $0.14 | $0.17 |
| 2025 | $0.18 | $0.25 | $0.33 |
| 2030 | $0.22 | $0.34 | $0.47 |
Loom Network Price History
Loom Network is a multi-chain platform that has integrated Bitcoin, Ethereum, BNB Smart Chain and Tron blockchains to allow developers to build decentralized apps that work on these blockchains simultaneously.
Their LOOM token was listed on exchanges in April 2018 at the price of $0.1. It quickly jumped to $0.7 within the same month, making impressive returns to early investors. Unfortunately, this price has never been reached in the following years, not even during the bull run of 2021.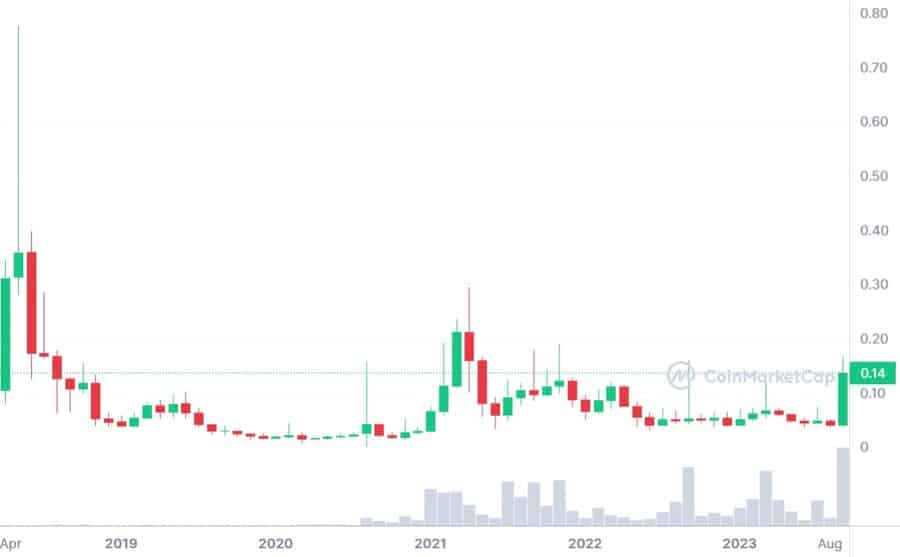 LOOM traded at $0.294 in 2021, and it has continued to trade lower until reaching a low of $0.031 in June 2022.
On October 15, 2023, LOOM peaked again at $0.5, a price point that hasn't been seen in over five years. One of the reasons for this is likely the case of mistaken identity as Atlassian announced it would acquire Loom for $975 million. However, this isn't the Loom Network but an async video messaging tool.
Previously in September, Gate.io announced it would list Loom Network on its platform, which has started the LOOM rally in the first place. Unfortunately, the price has already pulled back to $0.16 days after reaching the peak, likely caused by profit-taking and realizing that Atlassian acquired a different Loom company.
Loom Network price history key points:
Loom Network started trading in April 2018 at a price of $0.1

It peaked in April 2018 at a price of $0.7

The lowest price of $0.00039 was reached in September 2020

LOOM has a market cap of $206 million from a circulating supply of 1.2 billion tokens
Loom Network Price Prediction 2023
Even though LOOM didn't enjoy an all-time high during November 2021 as a lot of cryptocurrencies did, it was still trading at a decent price compared to previous years.
The low interest rates environment, which helped cryptocurrencies reach their peak came to a stop when the Federal Reserve raised interest rates 11 interest times to fight inflation. This made borrowing money expensive, especially since investors could utilize the high-interest rates to invest in "risk-free" bonds.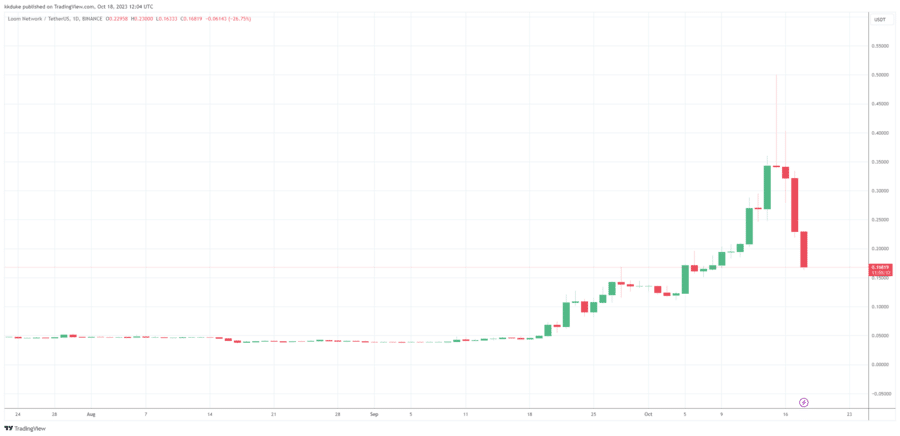 If we only take interest rates in consideration, LOOM is likely to trade between $0.09 and $0.16 for the remainder of 2023. However, one catalyst that could change this is the SEC's approval of Blackrock's spot Bitcoin ETF.
If such an ETF is approved, financial institutions will have to buy Bitcoin, which will drive demand. This is likely to cause a spike in demand, bringing new liquidity into the crypto market, benefiting most cryptocurrencies, including Loom Network.
Meanwhile, Loom Network tokens continue to be listed on major exchanges, including Gate.io, where LOOM was listed in September 2023.
Experts at Binance forecast LOOM token to trade at $0.124039 by the end of 2023, while DigitalCoinPrice sees a maximum price of $0.27 for the Loom Network token during the same period.
| | | | |
| --- | --- | --- | --- |
| Month | Potential Low | Average Price | Potential High |
| October 2023 | $0.14 | $0.18 | $0.22 |
| November 2023 | $0.09 | $0.10 | $0.11 |
| December 2023 | $0.11 | $0.13 | $0.16 |
Loom Network Price Prediction 2024
In 2024, the strongest catalyst to start a new bull cycle is likely to be Bitcoin's halving, which is estimated to happen in April 2024. Historically, this has helped elevate the Bitcoin price after each halving; When Bitcoin goes up, most cryptocurrencies follow.
Loom Network's token could be a winner in the next bull run because as new liquidity enters the crypto space, the demand for crypto developers will increase. Since crypto developers who use the Loom Network will need to acquire LOOM tokens to pay the network fees, the demand for the token will grow.
There's no official roadmap for 2024, but the team is likely to expand the CryptoZombies Live events, which are online classes for blockchain programming on Ethereum and EVM. There is likely to be an overhaul in the UX and an update to the courses.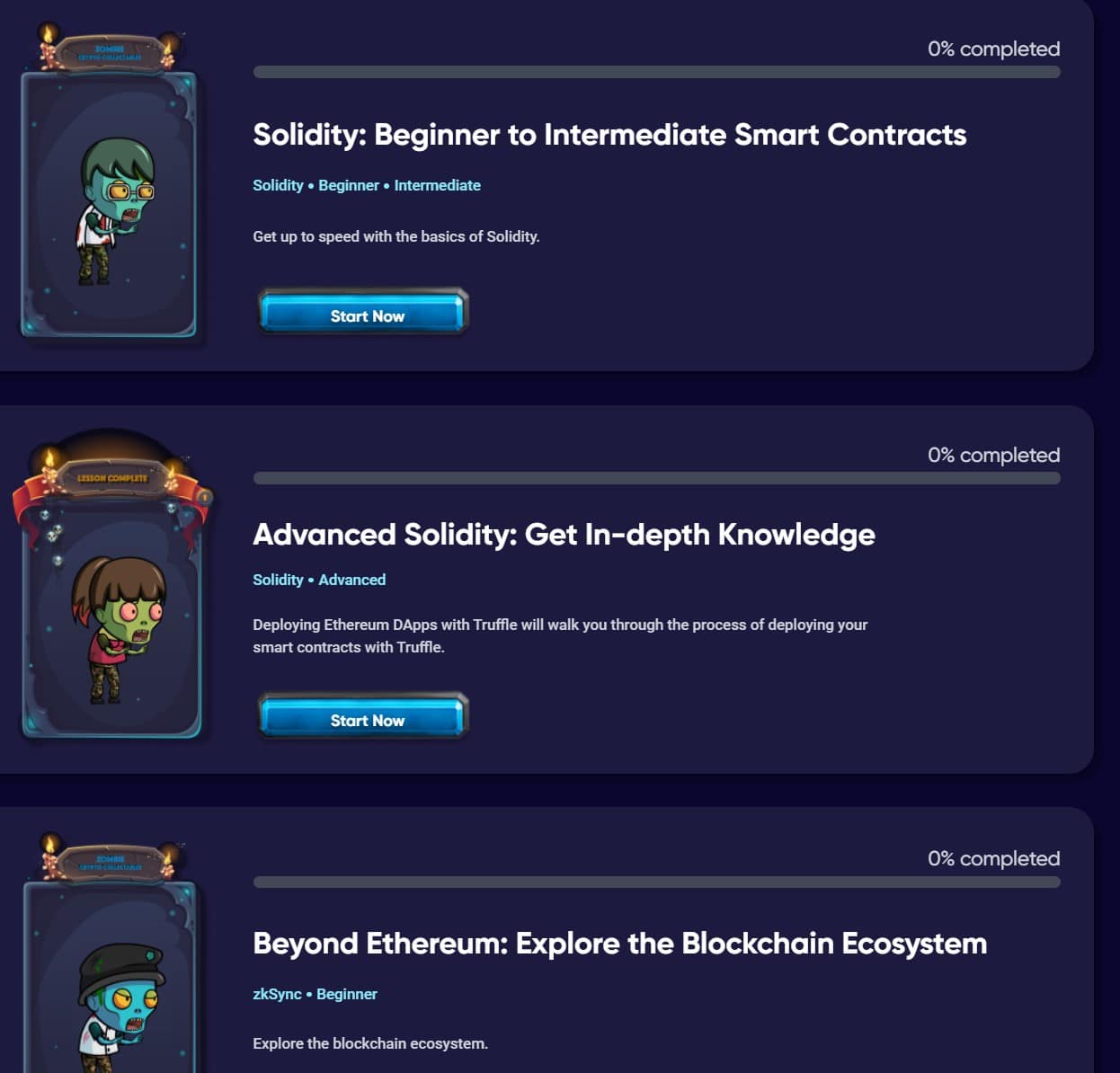 Moreover, the team is likely to continue building the zkRollup on testnet, as well as to utilize AI for resolving issues on mainnet and testnet.
The combination of crypto market catalysts and demand for Loom Network tools is likely to put LOOM's price in 2024 between $0.11 and $0.17.
CoinCodex experts see LOOM exchanging hands between $ 0.082412 and $ 0.296682 in 2024, while Bitnation sees LOOM at an average price of $0.187752 in 2024.
Loom Network Price Forecast Long Term Outlook – 2025-2030 Predictions
Between 2025 and 2030, the crypto market is likely to pass through another bull/bear cycle. This time, the major catalysts will likely be crypto regulation as well as another Bitcoin halving in 2028.
While there is no project roadmap for this period, the Loom Network is likely to expand its CryptoZombies online courses to other blockchains that are growing, including Solana, which uses different programing language than Ethereum.
If Loom Network expands to more blockchains and if Ethereum-based blockchains continue to grow in the coming years, we could see further increase in the demand for Loom Network's platform for developers, helping the LOOM price go up to $0.33 by 2025 and over $0.47 by 2030.
Bitnation has a more optimistic outlook on the price, seeing LOOM trade up to $1.10 by 2030 up from $0.400538 in 2025. CoinCodex, on the other hand, doesn't see LOOM breaking $1 even between 2025 and 2030. Their experts forecast LOOM to be worth between $ 0.079199 and $ 0.232032 during this period.
Potential Highs & Lows of the Loom Network Price
Unlike many cryptocurrencies that have nothing but pure speculative value, the LOOM token has actual utility. With the token, you can secure the Loom's network via staking, or if you're a developer, you pay LOOM tokens to run dApps on the Loom's Network.
Depending on macroeconomic factors, such as inflation and interest rates, as well as crypto news and regulation, LOOM's price can fluctuate between the following prices in the years to come:
| | | | |
| --- | --- | --- | --- |
| Year | Potential Low | Average Price | Potential High |
| 2023 | $0.06 | $0.18 | $0.30 |
| 2024 | $0.11 | $0.14 | $0.17 |
| 2025 | $0.18 | $0.25 | $0.33 |
| 2030 | $0.22 | $0.34 | $0.47 |
What do Other Analysts Predict for Loom Network?
Loom Network price predictions vary in the crypto space, which is why we gathered some of the most prominent experts to see what they believe the future price of LOOM is likely to be.
CoinCodex experts see Loom Network trading between $0.11 and $0.28 in 2025 and peaking at around $0.49 in 2030.
On the other hand, BitNation forecasts a more optimistic price move for the LOOM token. By 2025, the price could trade between $0.5 and $0.6, while by 2030, the price is likely to go past $1.3.
A similar forecast comes from DigitalCoinPrice which sees Loom Network's token trading around $0.54 in 2025 and peaking at $1.67 by 2030.
PricePrediction sees a slower advance by LOOM, starting from $0.11 by 2025 and reaching a maximum of $0.77 by 2030.
LOOM is likely to trade between $0.25 and $0.34 in 2025, according to AMBCrypto's forecast, which is one of the more conservative outlooks for the token.
What is Loom Network and What is it Used For?
Loom Network is a developer-focused platform that provides tools, education and resources to developers to build their blockchain dApps. The Loom Network has built a layer 2 solution on the Ethereum blockchain, called Basechain, that helps developers scale their products and connect to multiple blockchains including Ethereum, BNB, Bitcoin and Tron, with EOS and Cosmos coming in the future.
The LOOM token is a proof-of-stake token, which you can stake to validate the network and earn staking rewards, or you can use LOOM tokens if you're a developer to pay for the Loom Network's services.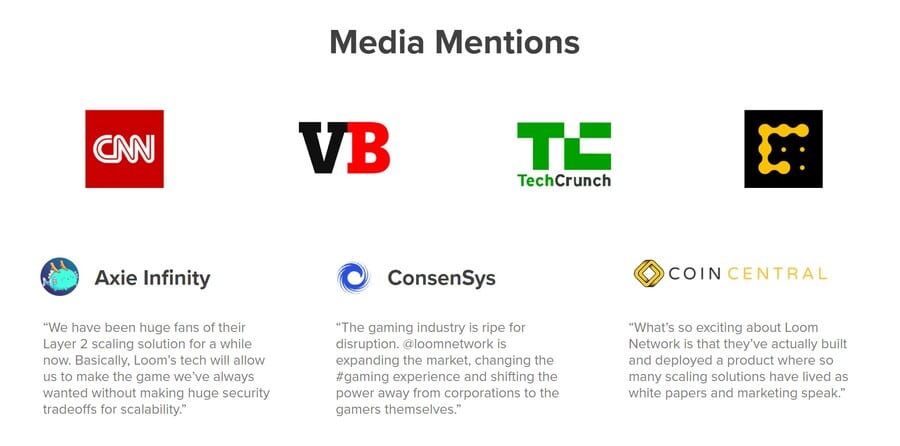 The interesting thing about this project is that developers can build their dApp and users from all the supported blockchains can easily access the dApp via their native crypto wallets. This can massively increase the target audience for any crypto developer.
The team behind the Loom Network has also created CryptoZombies, which is a free crypto coding school where students can learn to build Ethereum dApps on Solidity. Over 400,000 students have used the CryptoZombies learning resources.
LOOM is also available for trading on leading crypto exchanges like Binance and KuCoin, meaning day traders and speculators could use the token to take advantage of short-term price moves via professional trading platforms.
Loom Network Coin Overview
| | |
| --- | --- |
| Cryptocurrency | Loom Network |
| Ticker Symbol | LOOM |
| Rank | 127 |
| Price change 24H | -14% |
| Market cap | $206,201,251 |
| Circulating supply | 1,219,425,698 |
| Trading volume 24h | $416,083,572 |
| All-time high | $0.7 |
| All-time low | $0.00039 |
What Influences the Price of Loom Network?
Similar to all cryptocurrencies, Loom Network's token price is influenced by multiple factors including inflation and interest rates, crypto news, hype, regulations and features of the Loom Network itself.
The current market conditions don't allow for LOOM to make new highs, even though the LOOM token was up 242% in September and another 250% in October after the Atlassian acquisition news of a company with a similar name.
The LOOM's price, however, has already started to pull back. Unless we see interest rates going down, a spot Bitcoin ETF being approved by the SEC and a Bitcoin halving event, there's no catalyst to push LOOM's price higher along with other cryptocurrencies.
Upgrades of the Loom Network platform can also influence the token's price. However, there's nothing spectacular coming in the near future.
Is Loom Network a Buy?
Loom Network helps developers quickly scale their applications on the Ethereum blockchain. This is a major use case that is likely to be in high demand when the crypto space grows. This could make Loom Network a buy if you think more and more dApps will be built using Loom's service.
However, Bitcoin and the top altcoins like Ethereum, Solana and Cardano are likely to benefit more in the next bull run. It may take some time before liquidity moves to less popular cryptocurrencies and tokens to push them higher.
Best Place to Buy Loom Network
Loom Network token is listed on major exchanges, including Binance. You can buy LOOM either with a card or on the spot market.
Buying it with a card is the fastest way but it will cost you around 4% in fees. Open an account on Binance and verify it. This should take a few minutes. After that, select "Deposit" and "Buy crypto with USD". Add your card. You will have to purchase USDT, which you can instantly convert to LOOM.
As an alternative, deposit funds via bank transfer and purchase LOOM on the spot market at a 0.1% fee.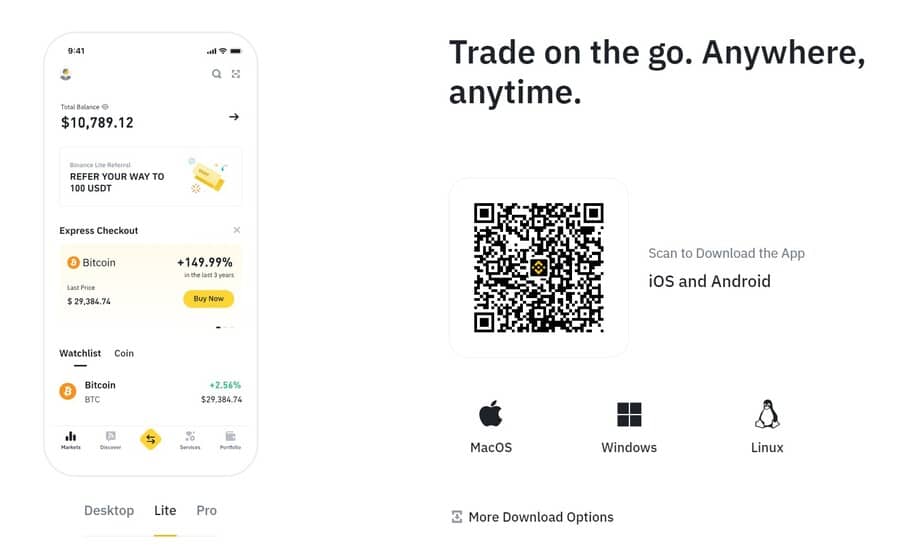 If you want to speculate on LOOM's price, Binance offers up to 5x leverage. Alternatively, you can lock your LOOM tokens with Binance Earn and get 0.87% APR with a flexible lock.
As a Binance user, you also get access to trading bots and copy trading, access to the Binance Launchpad where you can get coins before their listing, or you can borrow against your cryptocurrencies.
Make sure to check out Binance and use its features to grow your crypto portfolio.
Don't invest unless you're prepared to lose all the money you invest. This is a high-risk investment and you should not expect to be protected if something goes wrong.
Conclusion
Loom Network is a multi-chain platform for developers who want to build decentralized applications. Supported blockchains include Ethereum, BNB, Bitcoin and Tron with more to come.
But if you're not sure whether Loom Network is worth investing in at the moment, compare the best cryptocurrencies to buy. Keep in mind, cryptocurrencies are volatile, so make sure to never invest more than you are willing to lose.
References
FAQs
What will Loom Network be worth in 2025?
How much will the Loom Network price be in 2030?