While it might have a generic name, Memecoin kicked up a storm upon arriving in the crypto markets thanks to its association with the Memeland project, a web3 venture studio from the people at 9GAG. While it is frequently stated that Memecoin has no utility, functionality, or intrinsic value, value persists to exist.
In this Memecoin price prediction, we look at the factors affecting the Memecoin price and provide price predictions for the coming years based on these factors.
Memecoin Coin Price Prediction 2023-2030
Memecoin, $MEME, is a part of the Memeland ecosystem, developed by the team from the popular social website 9GAG.
Memecoin is described in its whitepaper as having "no functions, no utility and no intrinsic value."
Memecoin was launched in late October 2023, and in early November, it hit a high of $0.1 on its first hour of trading on Binance. A 9900% increase from its starting price of $0.001.
Since this crazy hour, the price has settled into a range between support and resistance of $0.019 and $0.028, respectively.
Our Memecoin price prediction has MEME hitting highs of $0.036400 in 2024 and $0.082000 in 2030.
| | | | |
| --- | --- | --- | --- |
| Year | Low Price | Average Price | High Price |
| 2023 | $0.017800 | $0.023200 | $0.030350 |
| 2024 | $0.017800 | $0.026800 | $0.036400 |
| 2025 | $0.020000 | $0.035000 | $0.095000 |
| 2030 | $0.035000 | $0.064000 | $0.082000 |
Memecoin Price History
In its first hour of trading on the Binance exchange, November 3rd, 2023, Memecoin saw a 9900% price increase, from $0.001 to $0.1. It closed that hour at $0.026208, a 2500% increase from its opening price.
Since this first chaotic hour, Memecoin has been trading between $0.029402 and $0.018408. Memecoin seems to have found early price support at $0.019, and resistance at $0.028.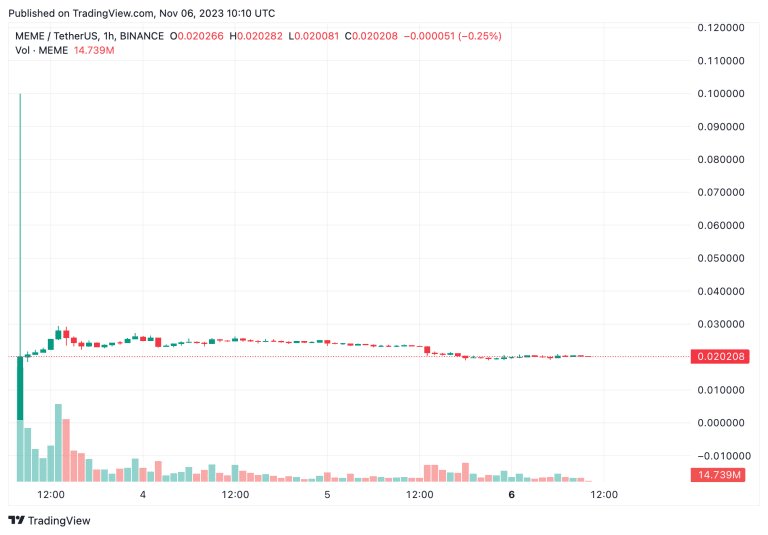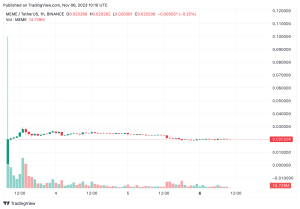 Memecoin Price History Summary
Memecoin, $MEME, launched on Binance at $0.001.
Within the first hour of trading, it hit $0.1, a 9900% price increase, before closing that hour at $0.026208, still a 2500% increase.
Memecoin has been trading in a range between $0.018408 and $0.029402.
Memecoin's early support level seems to be $0.019.
Memecoin's early resistance level seems to be $0.028.
Memecoin Price Prediction 2023
Being recently released with little chart data available for analysis, technical information for a Memecoin price prediction for 2023 is relatively thin on the ground. The Memcoin whitepaper, also purports that "Meme is completely useless". It does, however, add that it is "for entertainment purposes only".
As we know from the history of Doge and its monumental and record-breaking rise in 2021, utility is not required to underpin success in the price charts.
All that said, it is unlikely that Memecoin will be making any big moves in 2023. At the time of writing, Memecoin is finding its feet in the market and has found an early range between $0.018408 and $0.029402 on the hourly chart—although it has not traded for enough days to set up a pattern on the day candlestick chart.
We expect it to stay in this range until the end of the year, briefly climbing upwards of the resistance and below the support when larger market swings occur. That's why our Memecoin price forecast for 2023 is a high of $0.030350, a low of $0.017800, with an average price of $0.023200.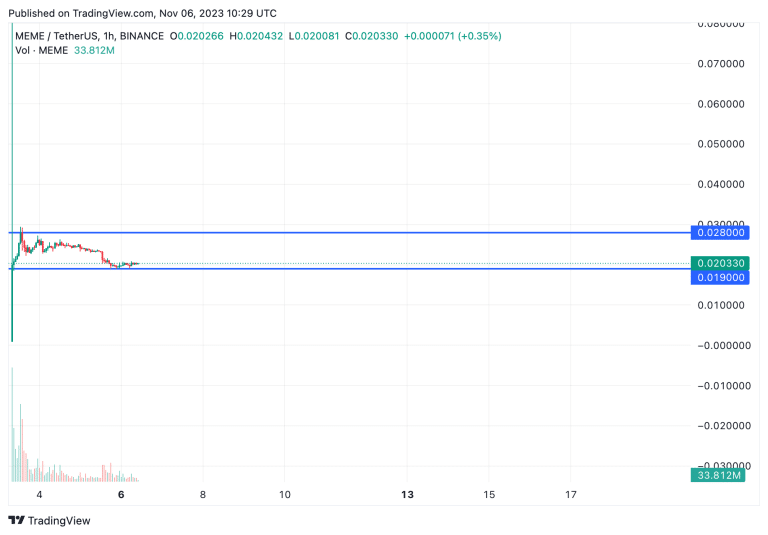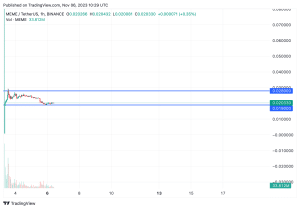 | | |
| --- | --- |
| 2023 | Price Prediction |
| Low | $0.017800 |
| Average | $0.023200 |
| High | $0.030350 |
Memecoin Price Prediction 2024
The price of any meme coin is often not based on the development of a protocol for which it serves utility. Instead, its price is typically swayed (greatly) by community sentiment, hype, and news, which all increases and decreases demand for the token.
With this in mind, and the fact that it is explicitly stated that "MEME has no functions, no utility and no intrinsic value," the above unpredictable community metrics are what we must base our Memecoin coin forecast on.
With a large quantity (25%) of tokens being released via airdrops to holders of the Memeland NFT collections and another 30% assigned to an ecosystem fund, it is expected that this strong community will keep the Memecoin token price relatively stable.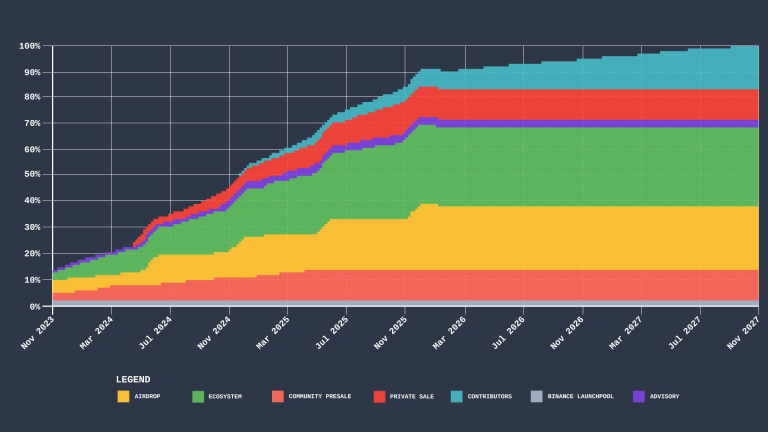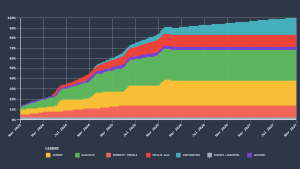 We do have the Bitcoin Halving event in early 2024—but history shows us that the effects of this don't start until 12–18 months after the event. In 2023, external factors that influenced the price of the crypto markets were the SEC lawsuits against some of the biggest crypto exchanges and the approval and rejection of Bitcoin ETFs.
Since it was ordered by court at the end of 2023, to reconsider Greyscale's application for an ETF, it has been noted that there are 8–10 Bitcoin ETF applications already filed with the SEC. If any of these are approved, something many think is likely, then we are likely to see Bitcoin's price get a considerable boost—and it is normal for the rest of the crypto market to follow, and Memecoin is now a part of that market.
With all that said, for 2024, we expect Memecoin to post moderate gains on 2023, with a high price of $0.036400, a low of $0.017800, and an average price of $0.026800.
Memecoin Price Forecast Long Term Outlook – 2025-2030 Predictions
Trying to make long-term price predictions for a coin launched very recently is a difficult task at the best of times. Trying to do so for a meme coin with no utility and no function might seem to be a lost cause. However, meme coins have become an integral part of the cryptocurrency ecosystem, with all meme coins collectively valued at over $17bn at the time of writing, totaling 1.29% of the overall cryptocurrency market.
Looking forward then, for Memecoin, what can we predict? In 2025, we are likely to see the market results of the Bitcoin Halving, which typically comes 12–18 months after the actual halving itself. If historical trends are followed, then the price of Memecoin will get a significant boost from this move.
With 9GAG's track record of success until now, multiple successful Memeland NFT collections, and the successful launch and wide acceptance of Memecoin in 2023, we can expect Memecoin to have a substantial and steadfast following that supports the price into the long term.
Our Memecoin price prediction for 2025 is a high of $0.095000, a low of $0.020000, and an average price of $0.035000. Looking further ahead to 2030, trying to predict the Memecoin token price becomes difficult. In 2030, we could be coming off the back of the fallout from new ATHs achieved after the 2028 Bitcoin Halving event.
While the Memecoin token states that it has no utility, it is described on CoinMarketCap as the "native ecosystem token of Memeland … the web3 venture studio by 9GAG."
With that all being said, we do expect several use cases to arise from Memecoin as the 9GAG web3 ecosystem continues to evolve. Will it become popular? Only time will tell that. This is why our Memecoin price prediction for 2030 is a high of $0.082000, a low of $0.035000, and a median price of $0.064000.
Potential Highs & Lows of Memecoin Coin Price
The future price of Memecoin is, currently, pure speculation thanks to the outright denial of any existence of utility or function for the coin—thus making it a true meme coin. However, this doesn't stop—and might even increase the number of—people trading and speculating on its price. Here, we've collected our high and low price predictions for Memecoin, MEME.
| | | | |
| --- | --- | --- | --- |
| Year | Low Price | Average Price | High Price |
| 2023 | $0.017800 | $0.023200 | $0.030350 |
| 2024 | $0.017800 | $0.026800 | $0.036400 |
| 2025 | $0.020000 | $0.035000 | $0.095000 |
| 2030 | $0.035000 | $0.064000 | $0.082000 |
What do Other Analysts Predict for Memecoin Coin?
Memecoin's immediate popularity and meme nature have multiple analysts speculating on where Memecoin may land in the charts in any given year.
The website CoinCodex predicts that Memecoin will hit highs of over five cents in 2025, with a high prediction of $0.057215. However, its high's for 2030 are similar, at just $0.062324.
CoinCodex
"Harnessing the power of meme culture could see MEME ride the expected bullish sentiment to target $0.1."
CoinJournal
The website Investing.com, states, without citing a source, that "the token is predicted to reach $0.1 from a firesale price of $0.001."
Investing.com
Memecoin Coin Overview
Here are Memecoin's leading and need-to-know stats.
| | |
| --- | --- |
| Cryptocurrency | Memecoin |
| Ticker Symbol | MEME |
| Rank | #164 |
| Price | $0.0204 |
| Price Change 24H | -13% |
| Market Cap | $179,469,922 |
| Circulating Supply | 8,797,500,000 MEME |
| Trading Volume 24H | $210,451,937 |
| All Time High | $0.1 |
| All Time Low | $0.01813 |
What Influences the Price of Memecoin?
The Memecoin crypto price is influenced by numerous factors. But probably the most important factor that it is influenced by is one that's not meant to influence it at all: the development of the Memeland ecosystem.
Memecoin is a pure meme token, described as having "no functions, no utility, and no intrinsic value." It is, however, a part of the Memeland ecosystem, and, as a consequence, it will be influenced by development updates or news relating to this ecosystem.
Outside of this, Memecoin will be heavily influenced by news relating to all meme coins, especially the other coins out there that are also called Memecoin, as investors, especially new ones, could panic buy or sell the wrong coin in a frenzy.
Finally, Memecoin will also be influenced by the goings-on in the wider crypto markets. This includes the Bitcoin Halving, as well as any regulatory announcements that affect crypto as a whole and those announcements that focus on the leading cryptocurrencies, especially Bitcoin.
It is not often that regulators or the media make announcements or pay a lot of attention to meme coins, but we can expect the Memecoin price to react when they suddenly do begin to.
What is Memecoin Coin and What is it Used for?
Memecoin introduced itself to the world on Twitter on April 19th, 2023, with a simple Tweet "One $meme to rule them all." Memecoin is the native ecosystem token of Memeland, a web3 venture studio from 9GAG.
Memecoin, ticker $MEME, is an ERC-20 token built on top of the Ethereum network, and, according to its website and the very short Memecoin whitepaper, there is no utility, no roadmap, no promises, it is "literally a meme coin."
Who Are 9GAG?
9GAG is a meme-focused social media website that started life in 2008 as a platform for collections of memes. It has since expanded and grown in popularity across some of the biggest social media platforms.
The 9GAG platform has been through two large accelerator and incubator programs, 500 Startups and Y Combinator, respectively, and now boasts a social media audience of over 200 million users.
Now, 9GAG creates successful community-based products helping, influencers, brands, and creators build connections with millions of fans.
Memecoin was launched in various way, including an ongoing airdrop, distributing 25% of tokens to holders of the various series of Memeland NFTs that have been released since June 2022. There was also a private sale, a community presale, and participation in Binance's Launchpool. Despite its lack of promises and value, the launch of Memecoin was a success.
Users can also farm Memecoin on the Memecoin website by completing quests to get Memepoint and then harvesting those.
What is Memecoin Used For?
Memecoin has no stated use case or utility; in fact, it describes itself as "just 100% memes." However, it is also described on the Memecoin page on CoinMarketCap as the "native ecosystem token of Memeland".
Memeland is a web3 venture studio from 9GAG, and currently has numerous NFT collections, complete with treasure hunting games. The name Memeland suggests a metaverse of sorts, potentially one to do with social connections and community building—as that is the company's focus. However, as of yet, there is no stated utility for Memecoin.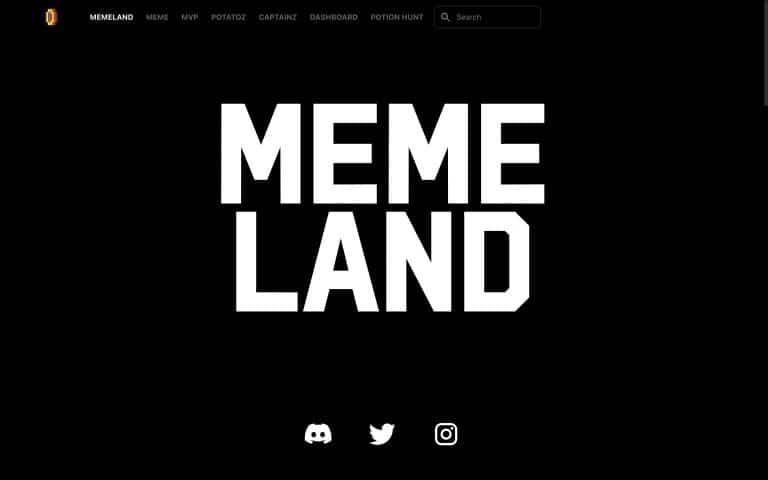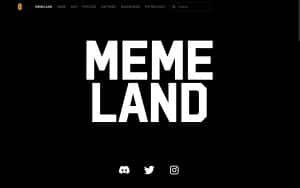 Is Memecoin a Buy?
Utility, function, and popularity are often the factors that define a coin's buy and sell demand. Memecoin only has one of these: popularity, and it is already working on gaining this and forming what is widely expected to be an incredibly loyal fan base.
Even though it is "Just 100% memes," Memecoin held a private sale. Meaning that, somewhere, they raised funds for a particular purpose. They also have well-planned and thought-out tokenomics, with differing locking schedules for the different token release formats. Collectively, this all signals that there might be more to Memecoin's future than the team is currently letting on.
That team is from the popular social website 9GAG, and they have already released 3 successful NFT collections through their web3 venture studio Memeland—of which CoinMarketCap states Memecoin is the native ecosystem token.
With almost 300,000 members on the Memeland Discord server and 2.8 million followers of the Memeland Twitter account (2.5 million for Memecoin's), there's the potential for a lot of interest and a lot of future buyers for Memecoin if it does obtain that all-but-elusive meme coin trait—utility.
Best Place to Buy Memcoin
Memecoin is listed on Binance where you can buy it on the spot market with 0.1% fees or lower, or you can buy it with a card by first purchasing USDT and then converting it to MEME. The latter is the fastest method but it comes with higher fees.
Seasoned traders can speculate with MEME's price with up to 5x leverage, while those who want to increase their number of MEME tokens in a low-risk environment can use Binance Earn where MEME currently has a 0.41% APR on a flexible lock. This means you can unlock your tokens whenever you want, no strings attached.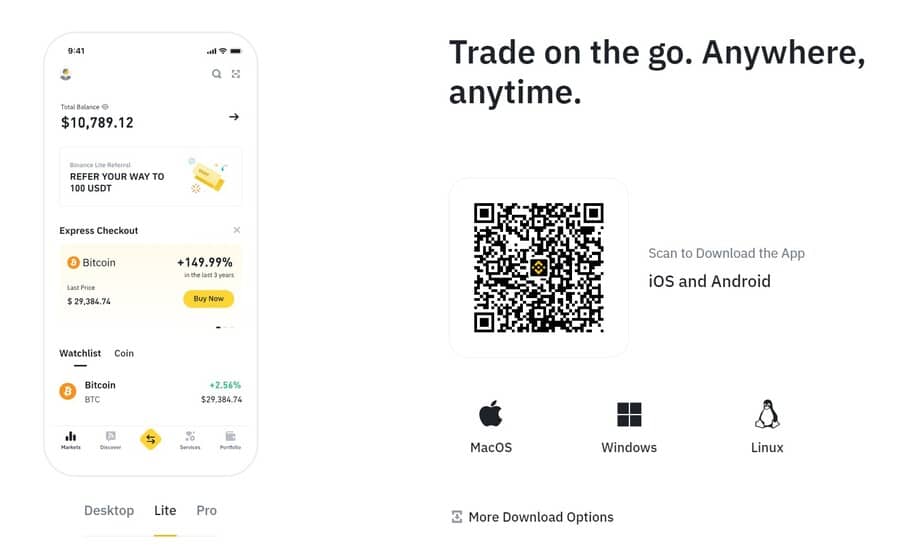 If you're looking to buy new coins before they are listed, Binance Launchpad is the way to go. Typically, you can earn new tokens by staking other cryptocurrencies such as BNB and you'll get the new tokens airdropped to your Binance wallet.
Aside from these features, Binance also offers Binance Lend where you can use your assets as collateral to borrow funds, you can also automate your trading with trading bots and copy trading, and more. Make sure to check out Binance and enjoy these perks and features.
Don't invest unless you're prepared to lose all the money you invest. This is a high-risk investment and you should not expect to be protected if something goes wrong.
Conclusion
Memecoin might be a new member of the cryptocurrency market, but it already boasts strong credentials as a member of the Memeland ecosystem from the people behind the very popular website that is 9GAG.
However, only time will tell whether or not such a meme coin with no prescribed functionality or utility will make our list of the top cryptocurrencies to buy today.
References
FAQs
How much will Memecoin be in 2024?
What will Memecoin be worth in 2025?
How much will the Memecoin price be in 2030?