Those seeking a promising early-stage meme coin might be pleased to find Memeinator (MMTR), a presale project based on a dystopian cartoon Terminator, ridding the world of sub-par meme coins.
The presale has fared in high demand so far, raising over $500K since launching on 27 September – but can its momentum continue? This Memeinator price prediction considers market trends, its tokenomics, community, viral potential, and more.
Memeinator Price Prediction Summary
Memeinator is a meme coin aiming to become the top meme coin by market cap.
Its roadmap seeks to add utility through ecosystem expansion.
The presale has 29 stages, currently priced at $0.0112.
Based on our Memeinator price prediction, MMTR could reach a price of $0.0225 by the end of 2023.
Our 2025 Memeinator price prediction estimates a price of $0.035.
| | | | |
| --- | --- | --- | --- |
| Year | Minimum Price | Average Price | Maximum Price |
| 2023 | $0.015 | $0.0225 | $0.03 |
| 2024 | $0.02 | $0.029 | $0.038 |
| 2025 | $0.025 | $0.035 | $0.045 |
| 2030 | $0.034 | $0.042 | $0.06 |
Memeinator Price History
According to its website, Memeinator aims to be "the meme coin to rule them all," joking that it will "rid the world of all sub-par meme coins." The project is a new presale meme coin that launched at the end of September.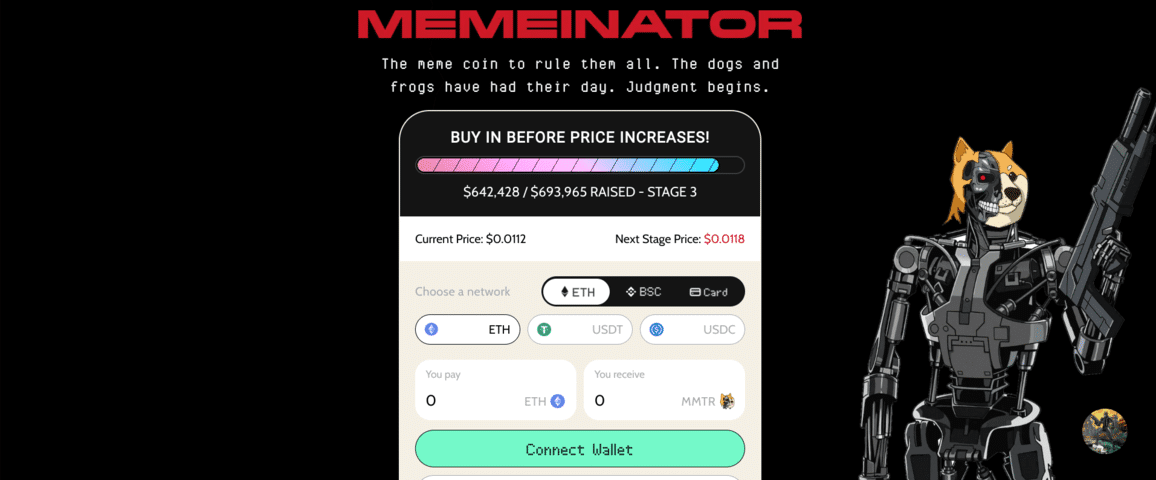 The MMTR token does not currently hold any utility besides making holders a part of the Memeinator community. However, its website alludes that there will be more utility in the future through initiatives like a game and the "Memescanner."
Despite not holding any utility, Memeinator has already enjoyed a successful presale, raising over $600K in under two weeks.
Its presale is currently in stage two with a price of $0.0112, but it will rise to $0.0118 in the next stage.
There are 29 presale stages in total, and 62.5% of MMTR tokens have been allocated to it.
The team has also allocated 15% of tokens to marketing and exchange listings, 10% to ecosystem development, 5% to exchange liquidity, and 7.5% to the competition pool.
According to the Memeinator whitepaper, these tokenomics reflect the team's intention for Memeinator to "drive sustainable growth, reward participation, and the project's enduring success."
Memeinator Price Prediction 2023
Currently, meme coins are among the most promising cryptocurrencies, with many investors understanding this asset class's monumental price potential. This is evident in cryptos like Pepe, which pumped past a $1 billion market cap in the depths of the crypto bear market.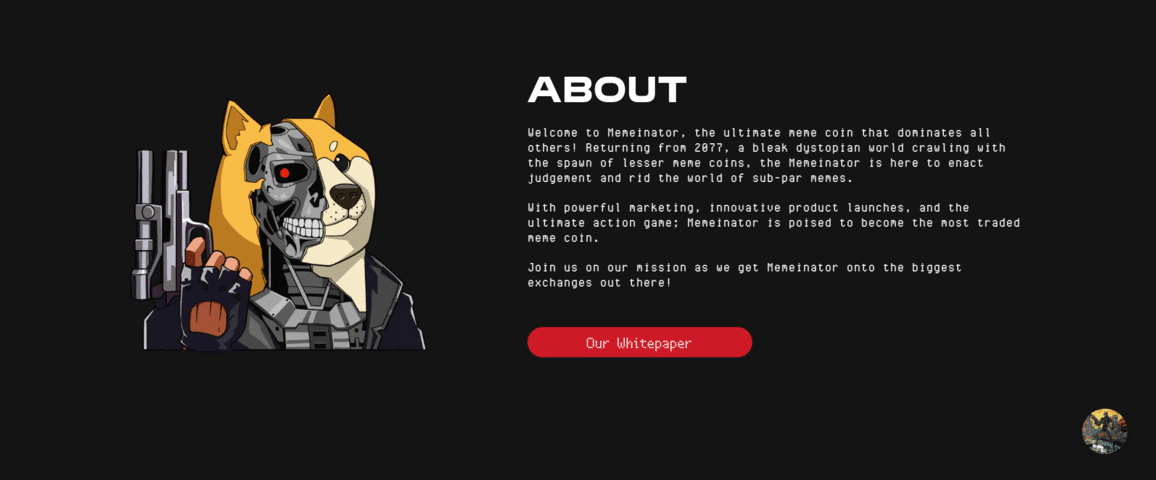 Yet, not all meme coins can reach such heights. Several factors impact whether or not meme coins can become sensations. The most important is hype and community.
In Memeinator's case, the project has proved it can amass hype, with a massive presale fostering over $600K in under two weeks.
Furthermore, it has established a strong social presence, with over 22K Twitter followers and over 7K Telegram subscribers.
This shows considerable community interest, but the project must retain the community's interest to succeed following its presale.
Although Memeinator's market sentiment and social metrics look bullish, the project's combination of hype and lack of utility could present a risk – particularly given there are 29 presale stages, with the final presale price reaching $0.049.
As such, the price may not explode in 2023 but possibly fall and stabilize at an earlier presale price.
While it could climb higher if the community interest continues to grow, our Memeinator price prediction estimates a possible low of $0.015, a high of $0.03, and an average price of $0.0225 by the end of 2023.
Memeinator Price Prediction 2024
One of the most anticipated events in 2024 is the preempted crypto bull run.
Generally, bull runs provide massive liquidity, enabling many top cryptocurrencies to flourish. Whether Memeinator can benefit from the upcoming liquidity inflow depends on whether it can retain its community's interest.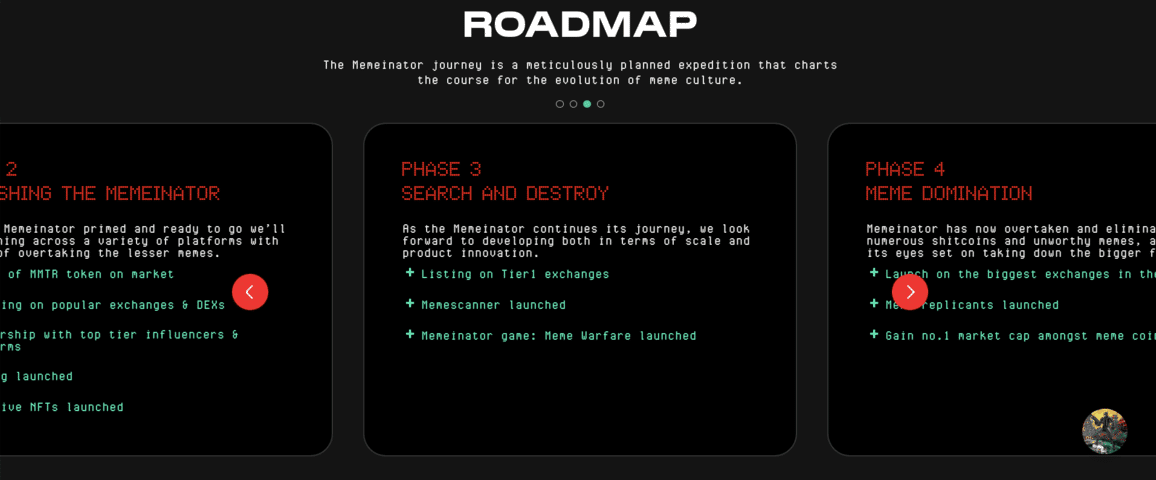 Its roadmap hints at promising developments like launching on the biggest crypto exchanges, a Memeinator game, and "Memescanner," a proprietary technology enabling users to scan any meme in the world and gain more information about it.
These innovations would undoubtedly set it apart from other meme coins, providing significant price potential. Memeinator aims to grow into something more than a simple meme coin, potentially following a similar path to Shiba Inu.
In recent months, we have seen Shiba Inu's Shibarium launch, helping bolster the Bone ShibaSwap price thanks to the added utility.
With this in mind, we could see the Memeinator price pump in 2024. However, it is also important to consider that its community is only a fraction of Shiba Inu's, and it is uncertain whether the products it develops will be well received by the community.
Therefore, we retain a balanced view of where the project could be headed in 2024. While it holds more utility than the average meme coin, it is not necessarily capitalizing on market trends or solving problems; instead, it is carving out a new path.
Considering this, our Memeinator price prediction forecasts a possible low of $0.02, a high of $0.038, and an average price of $0.029 by the end of 2024.
Memeinator Price Prediction 2025
If our Memeinator analysis for 2024 is correct, we will likely see momentum continue into 2025. This is due to the average crypto bull market lasting around 18 months. Therefore, we could see the Memeinator price peak around Q4 2025.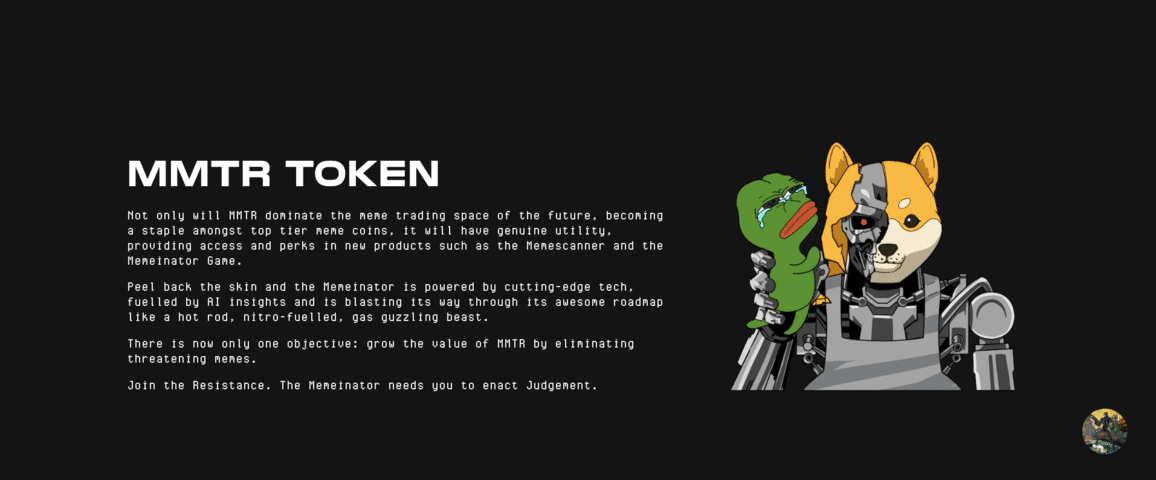 During the last bull market, P2E gaming became one of the most lucrative investment classes, with Axie Infinity reaching a $9.8 billion market cap and other P2E projects surging massively too.
Despite this, the P2E market hype has died down, with critics alleging that projects have tackled the P2E model wrong. Whether P2E (including the Memeinator game) can rise in the next bull run depends on whether it can become more gamer-friendly.
Still, its meme coin allure and intentions to expand its ecosystem are enough to notch more upside potential in 2025. Therefore, our Memeinator price prediction estimates a low of $0.025, a high of $0.045, and an average price of $0.035 by the end of 2025.
Memeinator Price Prediction 2030
Long-term price predictions are challenging, particularly for newly launched meme coins. That said, projects on the cusp of crypto culture and innovation can prove lucrative long-term investments.
This is evident with the Dogecoin price up massively since its launch in 2014, even outperforming Bitcoin. Following Dogecoin, Shiba Inu launched in 2020 and has outperformed Dogecoin since, showing that these opportunities are present every couple of years. Both of these projects have made some holders millionaires from modest investments under $100.
While gains of this magnitude are rare, it displays the potential for pioneering projects like Dogecoin and Shiba Inu.
However, it seems unlikely that Memeinator could be the next Shiba Inu or Dogecoin, considering the information we have so far.
Another factor worth considering is that 25% of tokens will be split between marketing and development. As these tokens are unlocked, they will likely be sold on the open market, creating sell pressure that may limit its upside potential.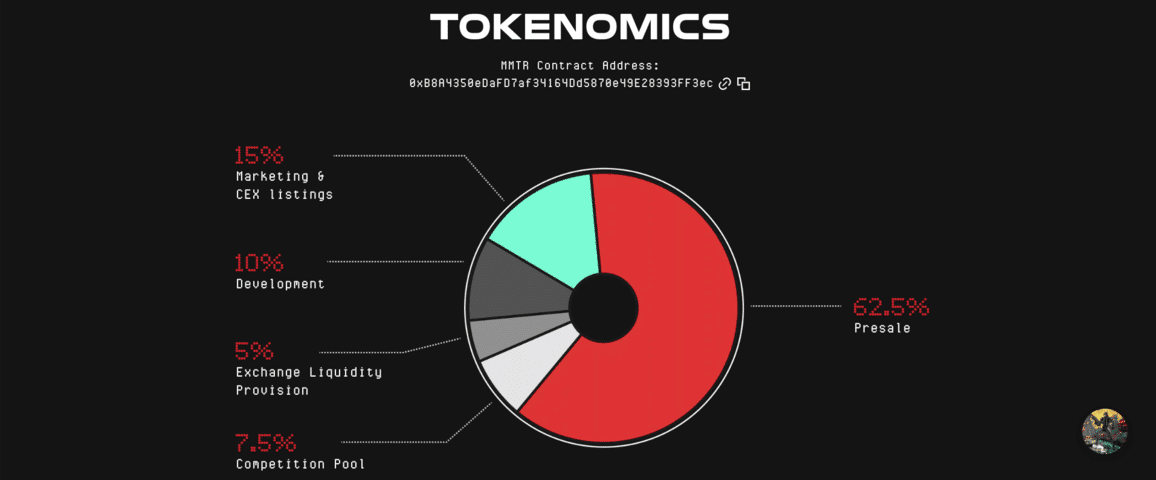 Nevertheless, Memeinator's presale performance, roadmap, and doxxed team hint at long-term potential.
With this in mind, our 2030 Memeinator price prediction estimates possible lows of $0.034, highs of $0.06, and an average price of $0.042. Still, it is important to consider that Memeinator holds risk, and there remains potential for its price to collapse long-term.
Possible Lows and Highs of Memeinator Price
Our Memeinator price forecast has identified that the project holds upside potential. However, it remains to be seen if it can become one of the best meme coins. We have summarized our predicted prices below.
| | | |
| --- | --- | --- |
| Year | Minimum Price | Maximum Price |
| 2023 | $0.015 | $0.03 |
| 2024 | $0.02 | $0.038 |
| 2025 | $0.025 | $0.045 |
| 2030 | $0.034 | $0.06 |
What Do Other Analysts Predict for Memeinator?
With the project being newly launched, not many analysts have weighed in on the project's price potential. However, we have compiled some of the top predictions so far below.
Bankless Times' Memeinator price prediction forecasts that a $1 price (equating to a $1 billion market cap) is possible by the end of 2025.
YouTuber Fintech Channel also analyzed the project, agreeing with Bankless Times' bullish sentiment and alluding to 100x growth potential for Memeinator.
Due to the project's newness, not many other analysts have forecasted the project's price so far. However, it has received significant press coverage, with many outlets highlighting its strong potential. This indicates that investors are interested and that the project could become one of the top trending cryptos.
What Is Memeinator and What Is It Used For?
Memeinator is a new meme coin currently in presale.
The project aims to "rid the world of all sub-par meme coins" and reach a $1 billion market cap.
Its roadmap targets a new game, a meme scanner, and tier-one exchange listings in the future.
Memeinator is a new trending meme coin aiming to become the leading meme coin by market cap, with its website jokingly stating it wants to "rid the world of all sub-par meme coins." It is currently in presale stage 2 of a total of 29 stages.
The MMTR token holds no utility, but the whitepaper mentions that utility will come as its ecosystem expands.
Its initial focus is on viral marketing campaigns and a successful presale. The project will then develop a Memeinator action game and a meme scanner.
Ultimately, the Memeinator website highlights the overarching objective is to "grow the value of MMTR by eliminating threatening memes."
What Factors Influence the Memeinator Price?
Meme coins are often some of the most volatile cryptos. There are numerous factors that can drive their prices. Still, regarding Memeinator, one of the most impactful will be its hype and presale success.
If it continues to gather momentum, the presale could sell out quickly, generating a sense of fear of missing out (FOMO) amongst the community, which could drive its price. However, its vast presale could mean momentum dies down, leading to an underwhelming exchange launch.
Another factor that will affect its price is its ecosystem expansion. If its developments are popular with the community, we will likely see MMTR's price boom due to its extra utility.
The final prominent factor that could affect its price is broader market conditions. For instance, a surge in meme coin popularity could spill over and bolster the Memeinator price. Also, it will likely follow the general direction of the broader crypto market, potentially rising following the Bitcoin halving in April 2024.
Is Memeinator a Buy?
We have established that Memeinator is a promising project with a unique roadmap and popular presale. While this undoubtedly provides growth potential, we also find that there could be better alternatives on the market.
The reason is that Memeinator is launching only as a meme coin, with developments and utility planned later. Generally, this leads to too much hype and speculation in the beginning stages, which later turns into a "sell the news event." We saw a similar thing with Bone ShibaSwap, which soared in the run-up to the Shibarium launch but crashed straight after it was released.
However, another potential meme coin presale to consider is Meme Kombat. It follows a similar premise to Memeinator except with a few crucial advantages.
Why Meme Kombat Could be a Better Investment Than Memeinator
Meme Kombat ($MK) is a P2E staking coin that lets users bet on the outcome of battles between their favorite meme characters. The platform provides compelling and realistic battles between infamous meme characters, providing users numerous ways to gamble, like player vs. player and player vs. game mode.
The project is in its presale, having raised over $300K in just over a week. Yet, as well as becoming popular with investors, Meme Kombat has grabbed prominent crypto analysts' attention.
Among many others, YouTuber Michael Wrubel showed excitement for Meme Kombat, noting it could be the next meme coin to explode. The analyst has over 300K subscribers and was one of the earliest proponents of Wall Street Memes, which did a 3x from its presale price.
Meme Kombat boasts several advantages over Memeinator. First, it captures the rising trend of crypto gambling and blends it with the viral nature of meme coins. This could provide significant upside potential and is likely why it has proved so captivating.
Another advantage is its robust tokenomics and staking feature. Holders can stake Meme Kombat tokens for a generous 112% annual percentage yield (APY), something which is unavailable with Memeinator.
Also, $MK holds substantial utility since users require it to wager on battles. As such, provided there is a demand to use the platform, $MK will have a steady and predictable demand stream, providing long-term price potential.
Our Meme Kombat price prediction also found the project holds significantly more upside potential than Memeinator.
Best Place To Buy Cryptos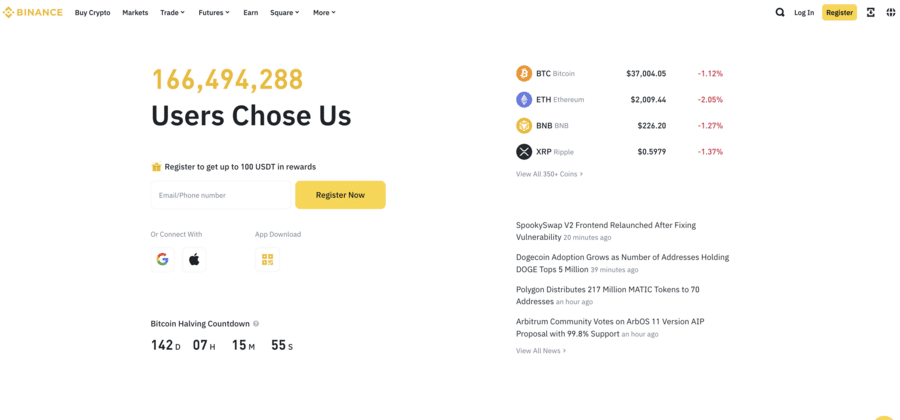 Binance is one of the world's largest and most popular crypto trading platforms with a massive user base. It stands out for several reasons, making it a top choice for crypto enthusiasts and traders.
Vast Crypto Options: Binance offers an exceptionally wide range of cryptos, with over 500 coins for trading. This includes major cryptos like Bitcoin, ETH, and many other altcoins.
Competitive Fees: Binance is known for its competitive fee structure. The trading fees are among the lowest in the industry at 0.1% per trade, and users can further reduce these fees by holding Binance Coin (BNB) or reaching certain monthly trade volumes.
Mobile App: Binance's mobile app is highly rated, offering the full functionality of the desktop platform. It's user-friendly and intuitive and allows for trading on the go, making it convenient for users to manage their portfolios from anywhere.
High Liquidity: Binance also has high liquidity, ensuring that users can easily trade large volumes of cryptos without significantly affecting market prices. This is particularly beneficial for large-scale traders and institutional investors.
Educational Resources: Binance offers extensive educational resources through Binance Academy. These resources cater to beginners and advanced users, providing valuable insights into crypto and blockchain technology.
Crypto assets are highly volatile and unregulated in most EU countries, Australia and the UK. No consumer protection. Tax on profits may apply. Your capital is at risk.
Conclusion
Overall, Memeinator is a promising project enjoying a massively popular presale. Nevertheless, our Memeinator price prediction has identified numerous issues with the project.
With that in mind, Meme Kombat presale may prove a better project since it is based on a similar premise to Memeinator but boasts a more robust use case, better tokenomics, and passive rewards.
References
https://memeinator.com/pdf/Memeinator_whitepaper.pdf
https://twitter.com/TheMemeinator_
https://t.me/MemeinatorOfficial
https://www.cnbc.com/2022/02/21/bitcoin-btc-bull-market-may-not-return-until-2024-huobi-co-founder.html
https://www.coindesk.com/tech/2023/08/28/shiba-inus-highly-anticipated-shibarium-bridge-is-now-fully-functional/
https://coinmarketcap.com/currencies/axie-infinity/
https://finance.yahoo.com/news/blockchain-gaming-level-opinion-090100439.html
https://www.youtube.com/watch?app=desktop&v=9-jpsXzaYFU
https://www.youtube.com/watch?v=J33NeLWR8D4&t=1s&pp=ygULbWVtZSBrb21iYXQ%3D
FAQs
Is Memeinator worth buying?
How much is the Memeinator presale?
What will the Memeinator price be in 2025?