In late October 2023, as the crypto market pumped on the back of positive Bitcoin news, one alt coin stood out amongst the crowd: Mina. This exposure, at such a crucial time, has led many to search for more information about Mina, the Mina protocol, and its price
In this Mina price prediction, we dive into the factors that could impact Mina's price in the near and long-term future and explain exactly what Mina is and what it offers users of the Mina protocol.
Mina Price Prediction Summary
Mina launched on exchanges in June 2021 for a price of $9.9013. It is currently trading 93% down from that price.
Mina is built on the novel technology of zk-snark, which is just starting to gain attention and understanding in the crypto world. The Mina blockchain can also be verified on almost any device, with a lightweight proof that is just 22kb in size (equal to just a few tweets).
After a late October pump, fueled by a rise in the Bitcoin price and the release of Mina on the UPbit exchange, Mina has gained more widespread attention.
Mina's highest trading price is $5.9554 and is currently trading at an 88% discount from this price.
While new to the ecosystem and built on novel technology, the Mina protocol has a lot of opportunity for adoption, putting it in a good position for the future.
| | | | |
| --- | --- | --- | --- |
| Year | Potential Low Price | Average Price | Potential High Price |
| 2023 | $0.40 | $1.00 | $1.20 |
| 2024 | $1.00 | $1.75 | $3.00 |
| 2025 | $2.00 | $3.00 | $4.50 |
| 2030 | $3.50 | $4.80 | $6.50 |
Mina Price History
The Mina token was initially sold through multiple rounds of private sale to raise funds for the development of the protocol. These tokens were sold at $0.07, $0.15, and $0.25.
According to CoinMarketCap data, Mina debuted on the markets on June 1st, 2021, with a price of $9.9013. From there, it dropped to a low of $0.944 on July 21st, 2021.
After that, it has pretty much followed the moves of the wider crypto market, pumping until late 2021, when it hit a high of $5.9554 on September 16th, 2021, before steadily declining over 2022 to trade between $0.45 and $1.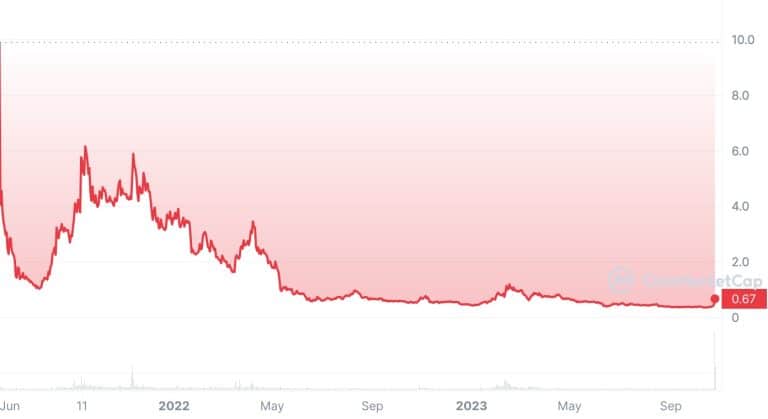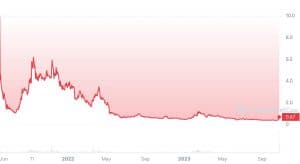 In February of 2023, it pumped to a brief high of $1.1928 before coming back down again, this time to a lower point than before, hitting its all-time-low of $0.3520 on October 11th 2023, an incredible 96.44% off the ATH of $9.9013 that it launched with in June 2021.
Recently, as Bitcoin and the wider crypto market pumped due to Greyscale's court victory over the SEC in their Spot Bitcoin ETF case, the Mina price has pumped too. This coincided with the announcement and release of Mina on the South Korean UPbit exchange on October 24th. These events combined to lift Mina from around its all-time low to a daily high of $0.9648 on October 24th.
Key Points in Mina's Price History
Mina debuted on the markets on June 1st, 2021, with a price of $9.9013, its ATH.
After falling to a $0.9044 low on July 21st, Mina rallied to a trading high of $5.9554 on September 16th, 2021, a 558% rise.
From there, Mina has steadily fallen, reaching its all-time low of $0.3520 on October 11th, 2023, 96.44% down from its debut price.
On October 24th, the South Korean exchange UPbit announced the listing of the Mina coin. This coincided with a market-wide price pump off the back of Bitcoin ETF news and resulted in a 1-day price rise of over 60% for Mina.
Mina Price Prediction for 2023
After its exchange listing pump on October 24th, the Mina token price will undoubtedly see a correction. However, there are a lot of potential positive influences on the Mina price for the end of 2023.
Firstly, if the Bitcoin rally is sustained through the approval of a Bitcoin ETF in the near future, which many think is a high possibility, then the rest of the alt coin market will follow in its wake—including Mina.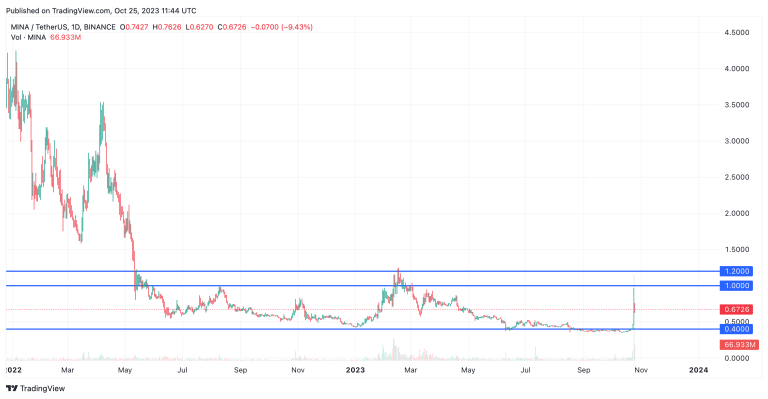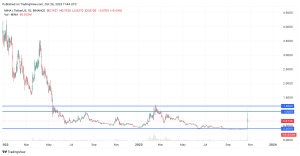 The development of Mina Protocol is also running at full steam, with 6M in MINA grants recently being announced, and the network is currently going through performance testing for a network upgrade that will enhance security, make it easier to program network apps, and remove a staking incentive that was designed for increasing adoption. These upgrades could launch by the end of the year, if not in the first half of 2024.
Overall, there doesn't seem to be too much downward pressure on the price of Mina for the rest of 2023, and the recent rise has helped to break the downtrend that its been in for a long while. So everything is looking positive for a mina price forecast. However, this is crypto, and anything can still happen by the end of the year.
As a result of all this, our Mina price prediction for 2023 is a low of $0.40 (should the Bitcoin ETF fail or not materialize), an average price of $1, and a high of $1.20.
| | |
| --- | --- |
| 2023 | Price Prediction |
| Low | $0.40 |
| Average | $1.00 |
| High | $1.20 |
Mina Price Prediction for 2024
For 2024 several things could impact the price of Mina and affect any mina coin forecast throughout the year.
The first of these is the release of smart contract upgrades that might come at the end of 2023, but could also be released in 2024. Next is any future exchange listings. As we saw in October 2023, being listed on new exchanges can significantly boost a coin's price.
Finally, we have the Bitcoin Halving event that is going to occur in April 2024. Historically, these events have been followed by extended bull runs where Bitcoin and many alt coins have hit their all-time highs (ATH). Mina was launched after the last Bitcoin Halving event, which was in 2018, so there is no history of Mina's specific price action during these events. But alt coin history tells us that it is likely to rise.
While things are looking good for Mina next year, we don't expect it to hit new ATHs. This is because its ATH was its opening market price, and, at most, it has only ever traded at a high of $5.9554, which is 40% lower than its ATH of $9.9013. Our price prediction for Mina for 2024, is a high of $3, a low of $1, and an average price of $1.75.
Mina Price Forecast Long Term Outlook – 2025-2030 Predictions
Looking ahead, 2025 is when we could be seeing coins peaking as the bull run resulting from the Bitcoin Halving event hits it top, which has historically come about 18 months after the actual halving has occurred. As a result, we could see Mina climbing higher than it did in 2024. Our Mina price prediction for 2025 is a high of $4.50, a low of $2, and an average price of $3.
Predicting prices in the emerging and volatile crypto market is a difficult business. However, looking out to 2030, there are a few things that seem to be in Mina's favor.
The first is that another Bitcoin Halving event will happen in 2028, and, should history be anything to go by, 2030 will be when coins, again, hit their peak. There is also the fact that the Mina Protocol is currently being built on the novel and little-known technology of zk-proofs and zk-snarks. By 2030, there will be a much wider understanding of these technologies, and possibly a much higher level of adoption of decentralized blockchain technology, and, therefore, a much greater demand for privacy-focused protocols like Mina. All of which could propel Mina's coin price into the stratosphere.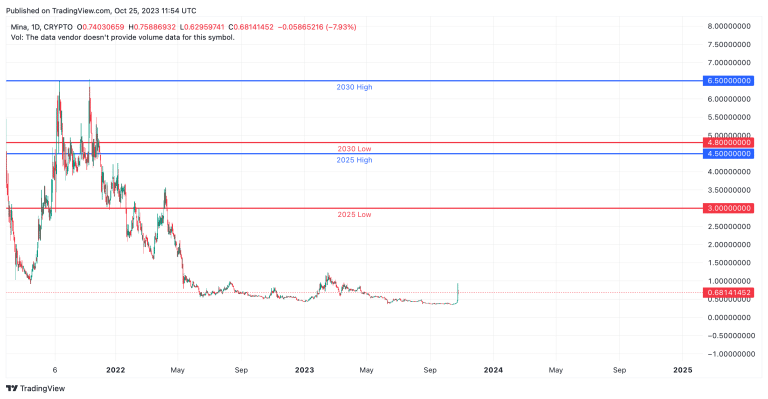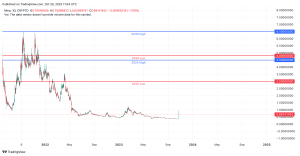 On the other hand, if blockchain adoption doesn't take off, or even if it does, zk-snark technology may not be in high demand and might even be beaten out by another technology that comes behind it. Both of these could be bad for Mina protocol. In the case of the latter, Mina has a very active team of core developers, who are likely to keep up with and adapt to technological change. However, this is crypto and anything can happen.
This is all why our Mina price prediction for 2030 is a high of $6.50 (a new ATH) and a low of $3.50, with a median price of $4.80.
Potential Highs & Lows of the Mina Token Price
Mina's future value hinges on many things. The biggest one is common across all coins, the overall adoption of cryptocurrencies and blockchain technology. The second factor that will be most impactful for the future price of Mina is the adoption of the novel technology, zk-snarks, that Mina is built on. If there is little to no demand for this, then there will be little to no demand for the Mina protocol and, de facto, the Mina coin.
It is very difficult to tell how adoption and technology will evolve. We predict these highs and lows for Mina in the years to come:
| | | | |
| --- | --- | --- | --- |
| Year | Potential Low Price | Average Price | Potential High Price |
| 2023 | $0.40 | $1.00 | $1.20 |
| 2024 | $1.00 | $1.75 | $3.00 |
| 2025 | $2.00 | $3.00 | $4.50 |
| 2030 | $3.50 | $4.80 | $6.50 |
What do Other Analysts Predict for Mina Coin?
The CoinCodex website predicts that, in 2025, Mina will come close to its ATH, with a high of $5.42 and a low of $1.36.
CoinCodex
On the Changelly Blog, we can find price predictions for every month of the next few years. Next year, Changelly expects Mina to hit a high of $0.692, and don't predict it to pass $1 until July 2025.

Changelly
The website CryptoNewZ predicts that Mina will hit a high of $2.35 in 2024 and a high of $7 in 2030.
CryptoNewZ
On AMBCrypto, Mina is expected to hit a high price of $1.30 in 2025, and to range between $2.75 and $4.13 in 2030.
AMBCrypto
According to the DigitalCoinPrice website, Mina is targeting a maximum price of $2.41 in 2025, along with lows of $1.98.
DigitalCoinPrice
What is Mina Coin and What is it Used for?
Mina, rebranded from Coda in September 2020, is breaking new technological ground. It is a layer 1, proof-of-stake blockchain based on zero-knowledge proofs. It is unique because the blockchain is always 22kb in size (just a few tweets) and a node can be run on devices like your mobile phone, to allowing each user to verify the blockchain. The Mina coin is the base currency of this protocol.
The Mina Foundation helps to support and grow the Mina protocol, developed by O(1) Labs, by supporting network health and security, working with ecosystem partners, and enhancing the ecosystem through grant programs.
What Are Zero-Knowledge Proofs?
In a zero-knowledge proof, one person proves that they know something to another person, without giving them information about the context or content of what they're proving.
As a result, the second person can verify that the information the first person is giving them is correct (or valid), without the first person ever having to reveal more than the fact that they know the information they are claiming to be true is true.
Mina offers up this video simply explaining the basis of Zero Knowledge technology on which their blockchain is based. Importantly, when incorporated into Mina's smart contracts, this allows users to share private information through a public blockchain without any worries of the information being revealed.

How Does the Mina Blockchain Stay So Small?
The zero-knowledge technology, called "Pickles", used in the Mina protocol is recursive, meaning that it can refer to itself over and over again without increasing the size of the actual proof—meaning that the Mina blockchain won't grow from its tiny of just 22kb. For reference, at the time of writing, the Ethereum blockchain is 772GB in size.
While the blockchain can be verified with just a 22kb proof, historical transaction data also needs to be stored. It is often stored by those running an archive node and using it to provide a services like a block explorers. The fact that the Mina blockchain can be verified on a device as simple as a mobile phone means that users don't have to delegate the trust of verifying the protocol to other participants, and can have their wallet do it for them.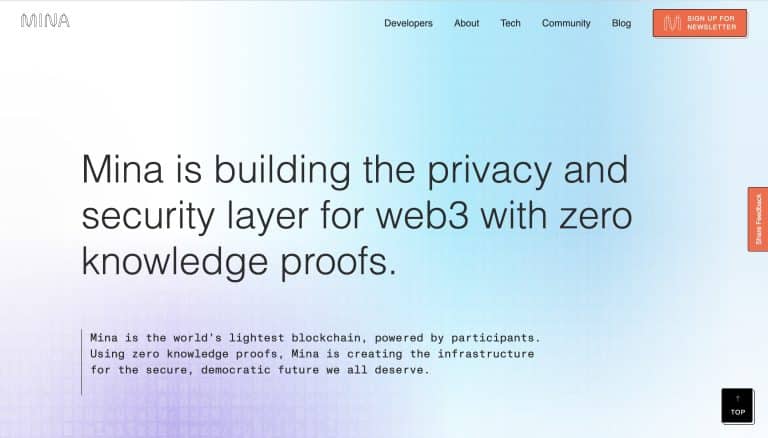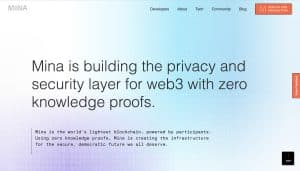 dApp and Smart Contracts
The Mina blockchain also features zero-knowledge smart contracts written in Typescript, the 5th most popular programing language, used by 40.08% of developers, per a Stack Overflow survey in 2022—up from 30.19% the year before.
The zkApps website, displaying the zkApps (Mina's term for dApps) running on Mina, is currently under constriction. If you want to keep up with Mina updates there is an unofficial community run site, alongside the official Mina X account and Mina Protocol website.
Using MINA Coin
The Mina coin is the native currency of the Mina protocol, and it is used to pay fees on the network and as a form of payment incentive for network participants.
Interestingly, because new Mina tokens are distributed to those who stake their coins to secure the network, those who simply hold the coin and do not stake it are effectively penalized by inflation as they have no chance of receiving block rewards. So it is recommended that, if you plan to own the coin for an extended length of time, you stake it.
Mina Coin Overview
| | |
| --- | --- |
| Cryptocurrency | Mina |
| Ticker Symbol | MINA |
| Rank | #57 |
| Price | $0.6737 |
| Price Change 24H | -24.77% |
| Market Cap | $667,769,836 |
| Circulating Supply | 990,686,606 MINA |
| Trading Volume 24H | $714,569,311 |
| All Time High | $9.9013 |
| All Time Low | $0.3520 |
What Influences the Price of Mina?
As the Mina protocol is at the cutting edge of combining of two new types of technology, blockchain technology and zk proofs, we can expect that people will be tentative about the protocol until they know more, or are more sure, of the underlying technology. If zk-proofs and zk-snark technology, the understanding of them, and the desire for blockchain privacy become mainstream, then it is highly possible that MINA will grow in popularity.
Other factors affecting the Mina token price include.
Rise in the Crypto Market
As Bitcoin pumped 21% over five days in late October, Mina saw a rise of 158%. This was, however, assisted by the news mentioned below.
It must be remembered that as almost every alt coin is affected by rises in the price of Bitcoin, it is equally, if not more so, affected by falls in the price of Bitcoin and the rest of the crypto market.
MINA listing on Exchanges
As Bitcoin pumped in late October, the South Korean exchange UPbit announced that it would be listing the MINA token on the same day, October 24th, as its announcement. Both of these activities combined to send Mina soaring up the charts and into the news, with a one-day pump topping out at 108%. Mina finished that day 60% up.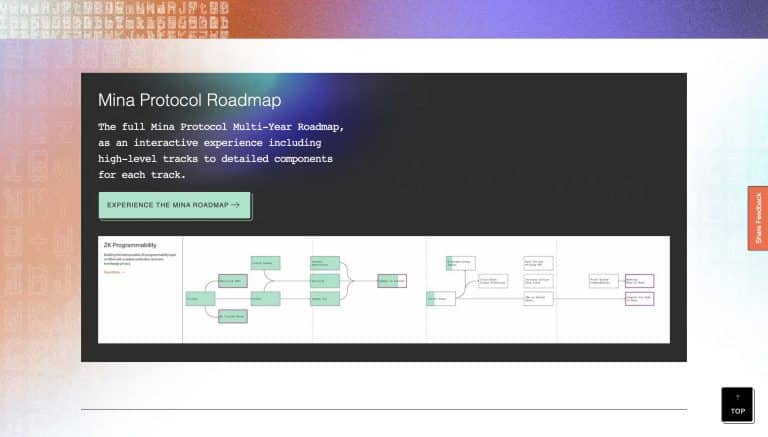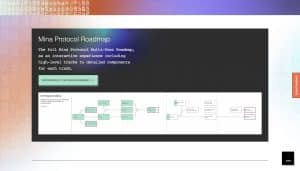 Ecosystem Developments and Increased Usage
The Mina protocol is just starting to emerge as a blockchain protocol. As the first dApps, or kzApps as they're called on Mina, are launched and upgrades are made to the protocol, we can expect the price to react. Whether or not it will attract users, which will increase Mina token demand and, potentially, its price, remains to be seen.
Even though it is an emerging protocol, Mina has a multi-year, multi-stage roadmap already laid out, showing that the team has a good knowledge of where they're going and how they're going to get there.
Will There be a Future Blockchain Size Crisis?
While not an issue now, blockchain size issues are on the horizon. Some of the most popular blockchains are large; Ethereum is currently 772GB in size. Soon, blockchain size will make it more difficult for people to run nodes, more expensive to run cloud nodes, and decentralization might be called into question.
As these larger blockchains have no way for individual users to validate the chain, as Mina does, we might see the decentralization movement move toward Mina in the future, increasing token demand and resulting in an increase in the Mina crypto price.
Is Mina a Buy?
In a blockchain world where every transaction is public and transparent, Mina offers a privacy-focused solution that allows individuals to selectively share specific pieces of their personal information with parties whom they need to, without over-sharing and providing other, unnecessary personal information. In this sense Mina has a long term potential use case.
On the technical side, Mina's small size and current development plans help to build a solid foundation for the adoption of their protocol by those who want or need it. It is yet to be seen whether there will be a wider call for zk-focused technology in a world where blockchain technology is adopted.
In the short term, Mina and the technology it is built on, are relatively unknown, and this can hinder its growth. But it also offer investors who are in-the-know opportunities to get in before zk-proofs and other zero-knowledge technologies gain traction.
As a final note, Mina is not the only zk-focused protocol under development, and some competitors are being built directly on the second most popular crypto currency, Ethereum. This competition could mean that Mina gets beaten to the post and, in the future, isn't a well-utilized zero knowledge focused protocol.
All that said, zero-knowledge does seem to be one of the next steps down the blockchain technology path, and the future looks bright for the technology and any protocols building on it.


Best Place to Buy Mina Protocol
Mina Protocol is listed on some of the largest crypto exchanges including Binance. On Binance, you can buy MINA either on the spot market with fees of 0.1% or lower, or you can buy it with a card.
Technically, with a card you would buy USDT first and then automatically convert it to MINA. This is probably the fastest way to get your hands on these coins, but it comes with around 4% fees.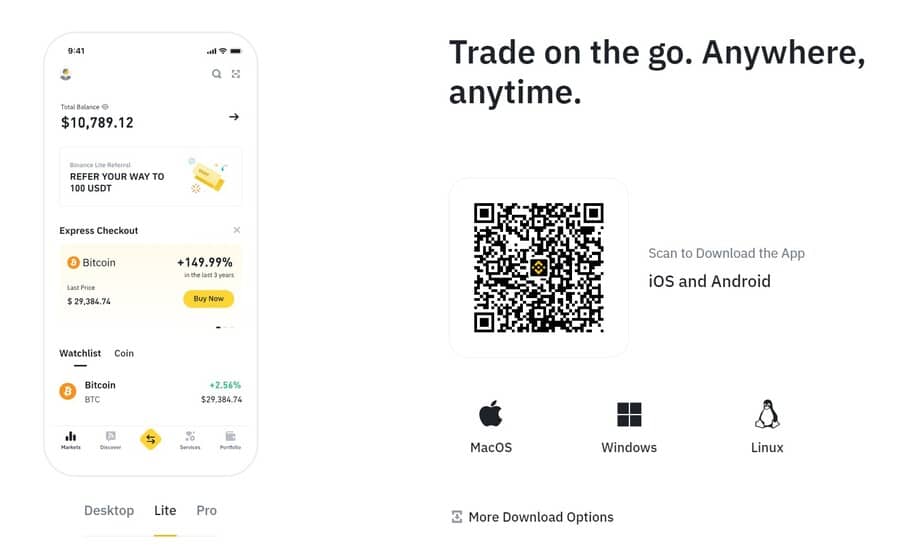 You can speculate on MINA's price with up to 5x leverage or you can lock it up for up to 120 days and earn up to 10.9% APR with Binance earn.
Binance also comes with additional features such as Binance Lend where you borrow against your crypto assets, it comes with trading bots and copy trading to automate your investments, and it also offers auto-invest feature where you can set up investment amount and time frame, say days or weeks, to dollar-cost average your MINA position.
Don't invest unless you're prepared to lose all the money you invest. This is a high-risk investment and you should not expect to be protected if something goes wrong.
Conclusion
Mina and the technology that underpins the Mina protocol are very new to many people, even some of the more seasoned market traders. However, this novelty should not be taken as Mina being just a novelty itself, as real and necessary use cases can be applied to the zk-proof technology on which Mina is built.
Its novelty means it still has to find a price in the market as it gains popularity. But, upcoming releases and events in the crypto market could positively impact the price of Mina, while its long-term future depends on the adoption of the underlying technology and the adoption of Mina as one of the solutions used.
However, does all of this make it one of our best cryptos for 2023, click the button below to find out.
References
FAQs
How much will Mina be in 2024?
What will Mina be worth in 2025?
What is the price prediction for Mina in 2030?