MongCoin is a popular meme coin launched in April by an experienced team with over 80K Twitter followers. After getting off to an explosive start, the coin has plunged and is now approaching a key level on the price charts. The question is, can MongCoin reverse the trend and eventually retake its all-time high (ATH), or is it destined for $0?
This article gives you our MongCoin price prediction, exploring its charts, community, hype and ecosystem.
MongCoin Price Prediction Summary
MongCoin's price currently sits at $0.00000001148 and has a $7M market cap.
Its price is down 96.79% from its 0.0000003547 ATH.
Although MongCoin is on a long-term downtrend, our MongCoin price prediction forecasts the token could make a reversal, potentially reclaiming its $0.0000000651 price by the end of 2023.
The project has a thriving community with over 80K Twitter followers, regularly receiving hundreds of likes on new posts.
$MONG is still up 1876.51% from its launch price of $0.0000000007509.
| | | | |
| --- | --- | --- | --- |
| Year | Minimum Price | Average Price | Maximum Price |
| 2023 | $0.000000008395 | $0.00000003695 | $0.0000000651 |
| 2024 | $0.0000000065 | $0.0000001855 | $0.0000003547 |
| 2025 | $0.000000004 | $0.000000252 | $0.00000005 |
| 2030 | $0.000000001 | $0.0000007505 | $0.00000015 |
MongCoin Price History
Despite launching on 28 April 2023, MongCoin has already had many ups and downs. The project did a 10X within its first seven days, rising from its launch price of $0.0000000007509 to $0.00000009657 by 4 May. Shortly after, the price soared even more, reaching its ATH of $0.0000003547 on 6 May.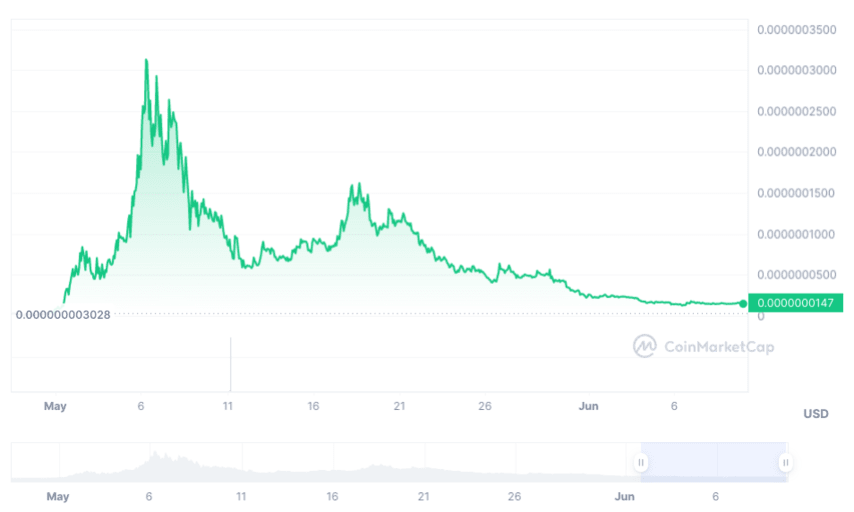 However, the chart above shows that the price quickly plummeted after its ATH. Although it began to bounce on 18 May, this was to no avail, with $MONG continuing to establish lower lows.
Recently, volatility has slowed down for MongCoin. This could be because traders are focused on the SEC suing Coinbase and Binance, or it could be a sign a reversal is about to occur.
Currently, MongCoin's price is $0.00000001468, with a $10,128,417 market cap.
As seen on the chart below, the price has held relatively well in June compared to May. This could be a sign that sellers are exhausted and the price is establishing a support level.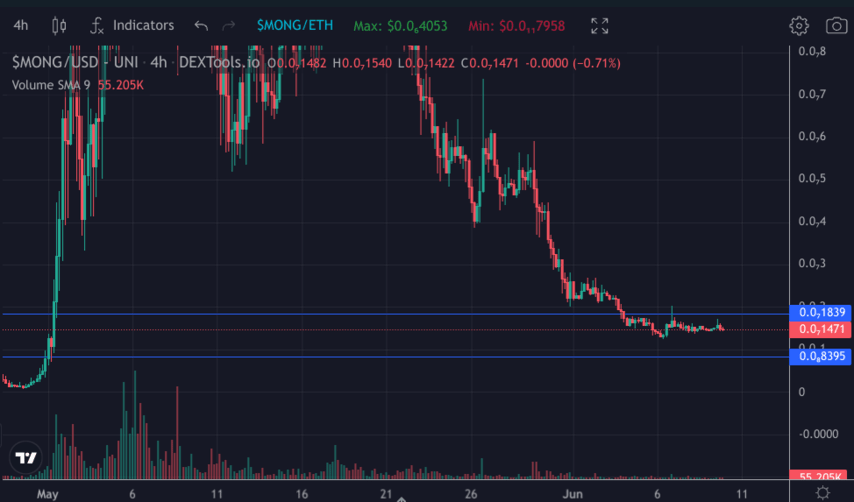 MongCoin Price History – Key Points
MongCoin did a 10X within its first seven days of launch.
On 6 May, $MONG reached its ATH of $0.0000003547.
Interest in MongCoin and other meme coins has slowed down recently.
MongCoin's current price is $0.00000001468, down 95.82% from its ATH.
MongCoin Price Prediction 2023
The MongCoin token price is currently headed towards its first resistance level following its launch of $0.000000008395. Since the level holds historical importance, it may provide the final chance for the MongCoin crypto price to recover.
However, failure to bounce at that level could further cause the price to plummet, potentially heading towards a $1 million market cap in the coming months.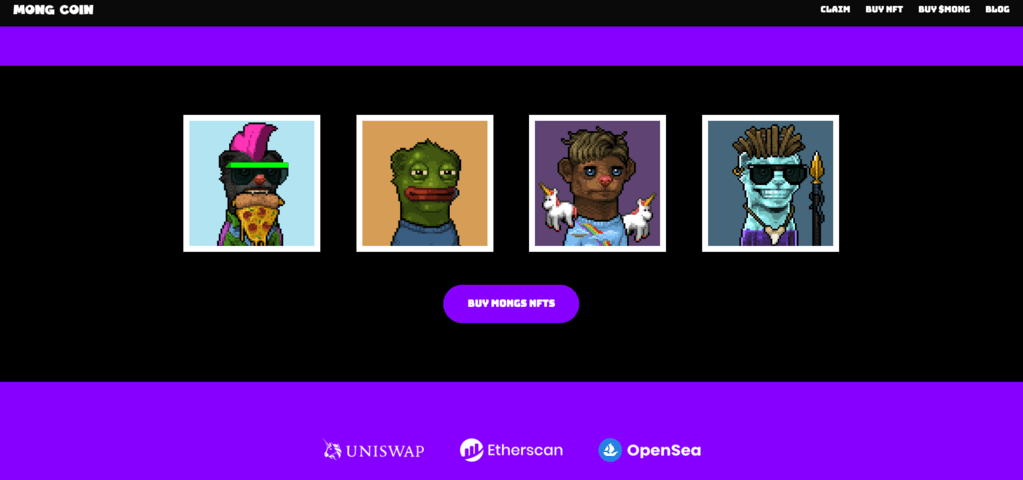 As well as its meme coin token, MongCoin also has an NFT collection, MONGS NFT, which has generated 2,200 ETH in trading volume and has a 0.09 ETH floor price with 6,943 items in total.
The collection was launched in January 2022, over a year before MongCoin was released. While the collection may have played a role in the initial MongCoin success, NFT popularity has drastically reduced since the start of 2022.
Interestingly, 6.9% of MongCoin tokens have been allocated to Mong NFT holds and will be unlocked as the price hits certain targets. An additional 6.9% of tokens are allocated to marketing, and the rest to liquidity.

The concern with allocating tokens to NFT holders is that the recipients may dump them as quickly as possible since it is essentially "free money" for them. This could cause sudden drops in price, which could be why MongCoin has capitulated so much.
In total, there are 690,000,000,000,000 $MONG, and according to CoinMarketCap, 84% are circulating.
With $MONG's current low price and its vast community of 80K Twitter followers, the token certainly has the potential to become one of the best meme coins.
According to Forbes' market prediction for 2023, the S&P 500 will rebound in the second half of 2023. Usually, the crypto markets climb with the stock market; therefore, we could see new liquidity trickle into MongCoin and other meme coins by the end of 2023.
With all this in mind, although MongCoin is currently at risk of further capitulation, there is a bull case, too. Considering the broader markets could be ready to reverse, coupled with MongCoin being an established meme coin with a significant community, $MONG undoubtedly holds upside potential.
Therefore, our MongCoin price prediction estimates Mong could reach a potential high of $0.0000000651 by the end of 2023. However, MongCoin would still be a very high-risk buy since we are yet to see a reversal confirmation.
| | | | |
| --- | --- | --- | --- |
| Month | Potential Low | Average Price | Potential High |
| July 2023 | $0.0000000075 | $0.00000001375 | $0.00000002 |
| August 2023 | $0.0000000079 | $0.0000000164 | $0.000000025 |
| September 2023 | $0.000000008 | $0.000000021 | $0.000000034 |
| October 2023 | $0.0000000082 | $0.0000000251 | $0.000000042 |
| November 2023 | $0.000000008395 | $0.000000029495 | $0.000000055 |
| December 2023 | $0.000000008395 | $0.00000003619 | $0.0000000651 |
MongCoin Price Prediction 2024
With the Bitcoin bull market expected for 2024, many investors expect all coins to pump and reclaim their ATHs. However, this is often not the case. We saw this with XRP in the last bull market, as it was unable to regain its 2018 ATH.
For MongCoin to regain its May 2023 ATH, it must retain the communities interest going into 2024. To do so, MongCoin must show signs of a reversal soon. Otherwise, holders will continue dumping their tokens, and the community may evaporate.
One of the things which could cause a price reversal is the team implementing improvements to the project.
Looking at the MongCoin roadmap, the team is focused on exchange listings, community, and potentially adding value or utility to the ecosystem. The roadmap shows MongCoin's team aim for the project to become a long-term crypto.
One thing worth noting, however, is that the US Securities Exchange Commission (SEC) has begun targetting cryptocurrencies it deems securities. This has led the broker Robinhood to delist several cryptos recently. Therefore, new meme coins may have difficulty attaining exchange listings looking ahead.
Despite its exchange listing situation, MongCoin still holds upside potential for 2024. However, a reversal in 2023 is paramount, or the meme coin will likely get left behind.
Considering this, our bull case MongCoin price prediction forecasts MongCoin could retake its 2023 ATH of $0.0000003547 by the end of 2024.
MongCoin Price Forecast Long Term Outlook – 2025-2030 Predictions
Meme coins are often the most high-risk cryptos with high upside potential. However, determining which ones will last long-term is difficult.
As we saw with the rise of Dogecoin in 2021, meme coins can be long-term investments. Nevertheless, they present a significant risk since they offer no intrinsic value to holders. This means demand is usually speculative and hype based, causing them to be more volatile than other assets.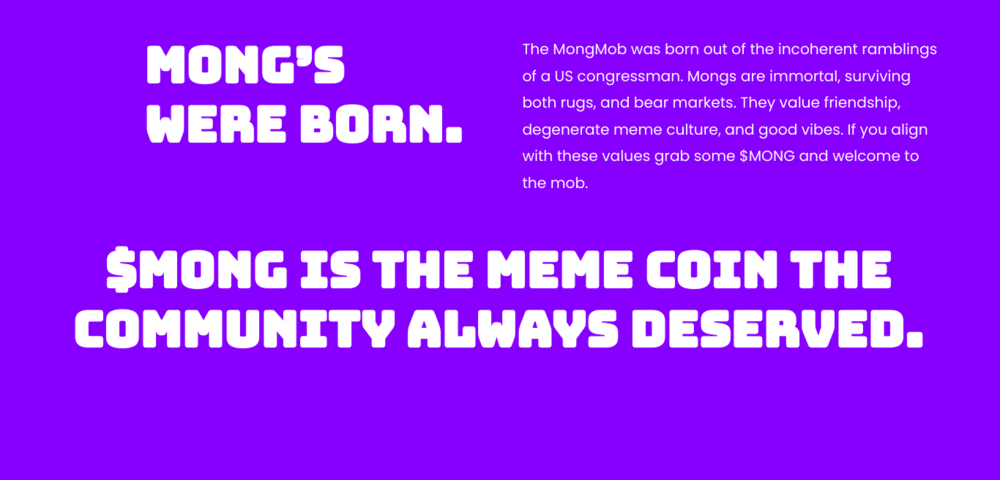 Dogecoin, Shiba Inu and several other high-profile meme coins have established themselves long-term by providing value to holders. For MongCoin to be successful between 2025-2030, the devs will need to implement some form of utility to its ecosystem.
As mentioned, MongCoin's roadmap says the project aims to "expand product offerings". While we do not know exactly what this entails, it could be a sign it aims to build out an ecosystem similar to Shiba Inu. Considering its strong community, this could give the project significant potential.
The creator of the Bored Ape Yacht Club NFT collection, Yuga Labs, followed a similar path, offering Mutant Ape Yacht Club NFTs, followed by its Otherside metaverse land release. Offering multiple products can increase adoption and attract more people to the community who may have found the original product undesirable or unattainable.
With this in mind, according to our MongCoin price prediction, the $MONG price could reach $0.0000005 by the end of 2025.
Looking further ahead, it is unlikely that MongCoin could stand the test of time. However, if it does prevail, it would likely cement itself as one of the best blue chip meme coins, potentially leading to a price of $0.0000015 by the end of 2030.
Potential Highs & Lows of MongCoin Price
Overall, MongCoin presents lots of risk, but its established community and interesting roadmap could cause it to pump again. Although it may not be not one of the best altcoins, $MONG still has a lot of potential. We have listed our potential lows and highs for MongCoin below.
| | | |
| --- | --- | --- |
| Year | Minimum Price | Maximum Price |
| 2023 | $0.000000008395 | $0.0000000651 |
| 2024 | $0.0000000065 | $0.0000003547 |
| 2025 | $0.000000004 | $0.0000005 |
| 2030 | $0.000000001 | $0.0000015 |
What do Other Analysts Forecast for MongCoin?
To better understand where MongCoin could be headed, we have summarised MongCoin price predictions from other analysts and media outlets below.
Bitnation's MongCoin price prediction estimates the price could have potential lows of $0.00000001194692 and highs of $0.00000001792039 by the end of 2023.
According to PricePrediction.net, the MongCoin price could reach highs of $0.00000002 and lows of $0.00000002 by the end of 2023.
Based on the DigitalCoinPrice MongCoin forecast, the token will have a minimum price of $0.00000000897 and a maximum price of $0.0000000218 by the end of 2023.
Swapspace predicts that traders should sell MongCoin at the moment. However, according to its MongCoin forecast, investors could gain a 20% return on investment (ROI) by the end of 2023.
The Telagon MongCoin price forecast estimates potential highs of $0.000000195 and lows of $0.0000000746 by the end of 2023.
According to CoinArbitrageBot, MongCoin could reach a maximum high of $0.00000002316 by the end of 2023.
What is MongCoin?
MongCoin is a meme coin launched in May 2023 by the creators of the MONG NFT collection. According to its website, MongCoin's values are "friendship, degenerate meme culture, and good vibes".
Currently, there is no real utility to the MongCoin crypto, with most of its demand being hype and speculation driven. However, the MongCoin team have already announced there will be further product offerings, which will likely benefit $MONG holders.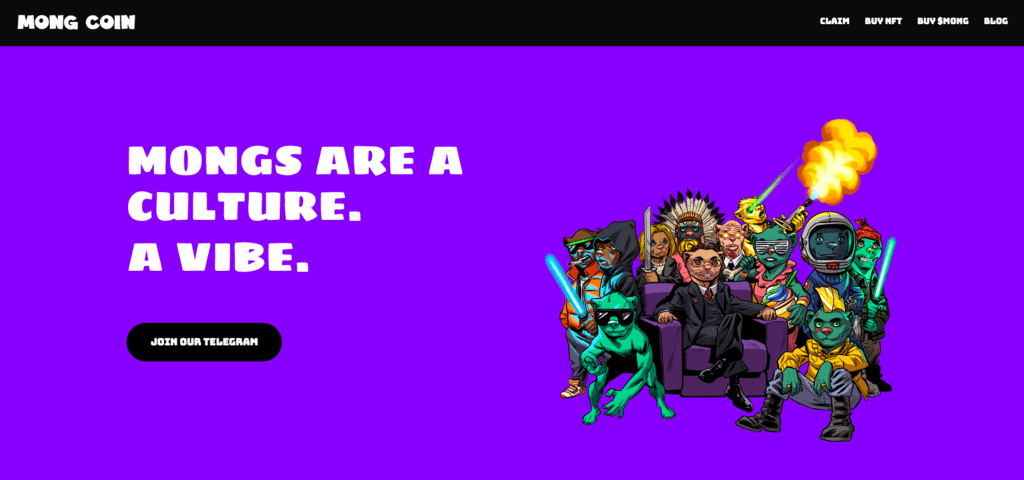 One of these developments occurred recently, with the MongCoin team releasing a new token called Hamster Coin. $HAMSTR was designed to be a trading pair to the $MONG token.
A recent introductory blog post about Hamster Coin by the MongCoin team said that 6.9% of the $HAMSTR token supply would be allocated to $MONG holders. This adds value to the MongCoin ecosystem and could incentivise more users to buy MongCoin.
MongCoin Token Overview
Below, we have listed the key statistics relating to the MongCoin crypto price.
| | |
| --- | --- |
| Cryptocurrency | MongCoin |
| Ticker Symbol | MONG |
| Rank | 876 |
| Price | $0.00000001129 |
| Price Change 24H | -25% |
| Market Cap | $7,792,496 |
| Circulating Supply | 690,000,000,000,000 MONG |
| Trading Volume 24H | $3m |
| All Time High | $0.0000003547 |
| All Time Low | $0.0000000007509 |
What Influences the MongCoin Price?
Meme coins are known for being the most volatile cryptos. This means there are many factors that can influence their prices. However, MongCoin has seen one of the most turbulent runs of recent meme coins, generating massive hype and then quickly plummeting.
With this in mind, we have listed the most significant influences on the MongCoin price below.
Sell Pressure
The leading factor attributing to MongCoin's poor performance recently is the excess sell pressure. Despite having a relatively high trading volume (3m in the last 24 hours), the coin almost constantly traded downwards. This shows many holders want to unload their tokens as quickly as possible.
Community Sentiment and Hype
Another factor recently impacting the MongCoin price is hype and community sentiment changing. Following its launch, the project's hype was soaring, with those who did not own $MONG buying it due to FOMO.
However, with no utility or intrinsic value, and newer and "hotter" meme coins entering the market, the community soon lost focus of MongCoin.
Broader Market Conditions
Provided MongCoin recovers from its current level, we could see the broader market conditions benefit MongCoin over the next 18 months. With the equities and crypto markets expected to pick up, liquidity could trickle down to meme coins like MongCoin, helping boost its price.
Ecosystem Developments
New additions to the MongCoin ecosystem could help shift community sentiment and attract new users to the token. However, it is important that the developments provide real value, or the newfound hype could quickly fade.
Conclusion
Despite being in a strong downtrend, MongCoin still has the potential to recover. However, buying crypto in a downtrend is known as "trying to catch a falling knife" since it comes with much more risk.
With that in mind, we have compiled a list of the best cryptos to buy today that could provide better risk-to-reward than MongCoin. Click below to check it out.
References
https://www.reuters.com/business/finance/us-sec-coinbase-binance-crackdown-puts-crypto-exchanges-notice-2023-06-08/
https://www.statista.com/statistics/1265353/nft-sales-value/
https://www.forbes.com/advisor/investing/stock-market-outlook-and-forecast/
https://www.cnbc.com/2022/02/21/bitcoin-btc-bull-market-may-not-return-until-2024-huobi-co-founder.html
https://www.reuters.com/technology/binanceus-suspends-usd-deposits-pausing-fiat-withdrawal-channels-2023-06-09/
https://www.bbc.co.uk/news/business-55939854
FAQs
What is the 2023 MongCoin price prediction?
Does MongCoin crypto have a future?
What is the price prediction for the MongCoin token in 2025?