Mooky (MOOKY) is a hot new green crypto blending meme coins' fun and upside potential with its vision for a sustainable future. Bridging blockchain's potential with a mission to plant trees worldwide, Mooky debuted on Uniswap in July 2023.
With the latest trends favoring the transition to green cryptos, many investors are looking for a Mooky price prediction. This article offers a MOOKY price forecast until 2030 while expanding on its utility and practical use cases.
Mooky Price Prediction 2023 to 2030 – Summary
Key points:
Mooky focuses on eco-friendly actions while aiming to plant trees globally, blending meme coins' appeal with tangible, positive global impact.

For 2023, Mooky is predicted to have an average price of $0.00000012, with a potential low at $0.0000000057 and a high of $0.00000025.

Despite facing a significant decline in its initial days, dropping by over 85% in a few days and falling below the 20 EMA, Mooky still shows signs of recovery if it holds its current ground.

External factors, including regulatory changes, overall market sentiment, and the broader acceptance of meme coins, will play a crucial role in Mooky's price trajectory in the coming years.

By 2030, considering Mooky's eco-driven vision and community-centric approach, it's anticipated to rise to $0.0000113.
| | | | |
| --- | --- | --- | --- |
| Year | Potential Low | Average Price | Potential High |
| 2023 | $0.0000000057 | $0.00000012 | $0.00000025 |
| 2024 | $0.0000000086 | $0.00000031 | $0.00000062 |
| 2025 | $0.000000013 | 0.00000081 | $0.0000016 |
| 2030 | $0.000008 | $0.000009 | $0.000011 |
Mooky Price History
Since its inception, Mooky has captured attention for its unique, sustainable approach. Unlike many other coins, it's got an eco-friendly mission: to plant trees across the globe. The main goal? Combining the appeal of popular meme coins with a real-world positive impact.
In late July 2023, it debuted on Uniswap, one of the best decentralized exchanges where you can swap various cryptos. Soon after its listing, it saw an exponential rally. On the 31st of July, Mooky's price skyrocketed, reaching highs beyond $0.00000065. But the price soon reversed as Mooky dipped below the $0.000000216 resistance.
Mooky continued its bearish trend in August after losing over 80% in just four days. As a result, Mooky's price sank below its 20 EMA.
The EMA, or Exponential Moving Average, is like a trend indicator. It helps traders get a sense of a token's momentum over time. In this context, falling below the 20 EMA meant the sellers had momentum.
This decline formed a 'falling wedge setup' on its price chart. To break it down, a falling wedge emerges when the price moves between two converging declining lines. From a market scenario, it often means an edge for bears but also indicates the possibility of a reversal.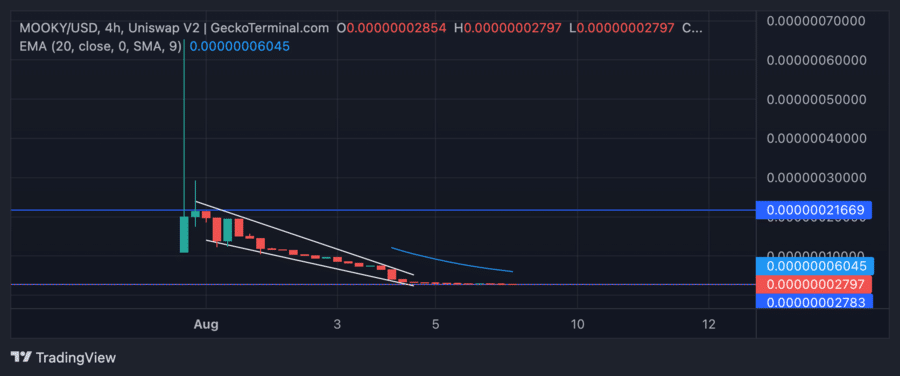 Lately, Mooky's price slid to its all-time low. However, if it maintains its current ground, a revival is plausible. But, if it drops below the immediate support, the recovery could see more delays.
Historically, new tokens with eco-activist missions often observe an initial surge due to increased interest and positive media coverage, only to face price corrections as market dynamics evolve.
Does Mooky's price drop reflect general market behavior or indicate investors' skepticism toward its long-term viability? External factors like regulatory scrutiny, sentiment around meme coins, and overall market conditions also play a pivotal role. 
It's essential to remember that the crypto market is highly volatile. Yet, Mooky's genuine vision for a green future can help it stand out. While short-term fluctuations are inevitable, its unique eco-friendly approach might be a game-changer in the long run, making it one of the top cryptos to watch.
Key Price Action Points:
Debuted on Uniswap in late July 2023.

Reached a high of $0.00000065 on 31st July but then declined below $0.000000216.

Entered a bearish trend in August, falling below the 20 EMA.

Formed a 'falling wedge setup,' suggesting potential for a reversal.

It faced an all-time low recently, but with chances of a near-term recovery if it can maintain its current support level.
Mooky Price Prediction for 2023
Investors often look for the next crypto to explode when markets bounce back. Mooky has declined by over 85% in just a few days. Still, MOOK's near-term future largely depends on various market factors throughout 2023.
The $0.0000000278 level is crucial to gauge Mooky's near-term recovery. Buyers stepping up here can shield MOOKY from further drops, hinting at a promising trajectory. But, should MOOKY slide below this support, its recovery may be delayed even further.
If the coin rebounds off this level, the next key milestone is surpassing the 20 EMA, which would be a reliable sign of a healthy recovery. Then buyers will aim to breach the $0.0000001388 barrier, setting the stage for a strong upswing.
But, failing to sustain above the $0.0000000278 support may push MOOKY into an extended downturn. Considering these factors, by 2023's close, MOOKY might settle near $0.00000000576 or, in a bullish scenario, approach $0.00000025.
For a detailed month-on-month Mooky price prediction, refer to the table below:
| | | | |
| --- | --- | --- | --- |
| Month | Potential Low | Average Price | Potential High |
| September 2023 | $0.00000000576 | $0.000000012 | $0.000000017 |
| October 2023 | $0.000000009 | $0.000000015 | $0.000000021 |
| November 2023 | $0.000000011 | $0.000000019 | $0.00000023 |
| December 2023 | $0.000000013 | $0.00000015 | $0.00000025 |
Mooky Price Prediction 2024
Buyers hunt for the best cryptos to trade, mainly when the market aims to bounce back from its prolonged lows. MOOK's growth prospects depend on several market factors and its ability to execute its growth plans.
Mooky's witnessed a successful presale that secured over $1M in a relatively short period, highlighting strong community support. Moreover, MOOKY aims to list on more exchanges next year. This move could amplify its visibility, drawing in more users and raising its price.
The platform has already hit important goals, boosting its credibility. It has a user-friendly website for its users, a transparent contract, and a detailed whitepaper that outlines its future growth plans.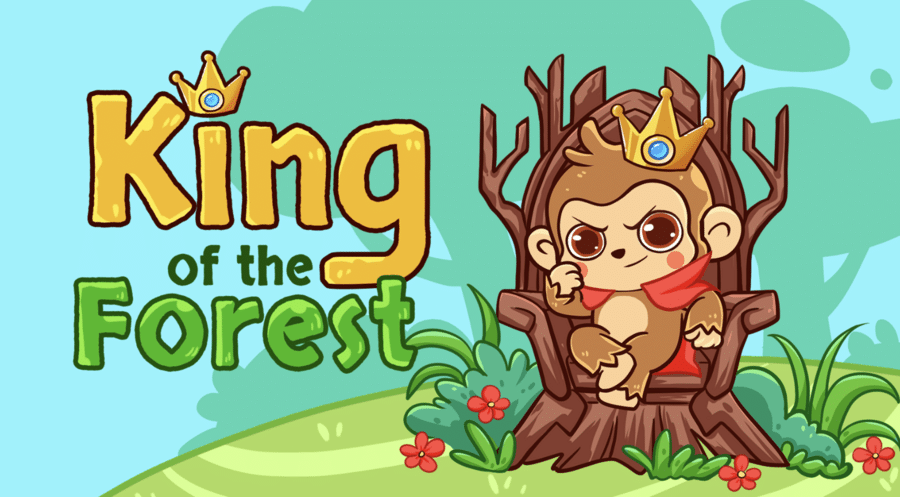 As per the Mooky whitepaper, the Q4 plan for Mooky involves a listing on a central exchange (CEX) and the launch of the Mooky Venture Club, likely offering member perks. 
The upcoming Mooky Governance Portal promotes decentralized decision-making, giving users a say in the platform's activities.
Also, the planned collaborations and airdrops will further solidify its DeFi status. With charity actions like a $25,000 gift and over 1,000 trees planted, Mooky further reaffirms its keen sense of social duty.
Given its achievements and plans, rising interest in MOOKY is anticipated. Tokens that blend community engagement with real-world impacts often gain traction among investors. Consequently, MOOKY's price rise to $0.000000625 by 2024's end seems plausible.
MOOKY Price Prediction 2025
Mooky is a DeFi token aiming to merge crypto benefits with eco-friendly goals. Upcoming key milestones that can impact its price:
More CEX Listings

: Offers increased liquidity, making Mooky more accessible to investors.

Eco & Charity Focus

: Allocating $30,000 for charity and planting over 5,000 trees fits Mooky's eco-vision, appealing to investors who prefer sustainable cryptos.

Media Coverage

: Visibility in top news outlets can expand its potential investor base.

Community Building

: A merchandise shop and official meet-ups can further strengthen its user community.

Tech upgrades: Any tech upgrades in Mooky can boost its growth. The platform's NFT integration plans will resonate especially with tech-inclined investors. 
Given these plans, Mooky's growth seems likely. Its dual focus on charity and global visibility uniquely targets sustainable and financial interests.
As crypto becomes mainstream and sustainability gains traction, Mooky can see a substantial uptick in its user base. It's plausible that MOOKY could hit $0.00000162 by 2025's end.
MOOKY Price Prediction 2030
In 2022, the global blockchain market stood at $11.14 billion. By 2030 it is anticipated to rise to $469.49 billion, indicating a yearly growth of roughly 60%. As more industries adopt blockchains, green crypto tokens like MOOKY stand to benefit from this widespread adoption.
Mooky focuses on community-building. The project plans to have more community events in the coming times. More community events mean deeper trust and increased activity. Together, this can uplift a token's worth.
Also, social media is pivotal for crypto visibility. A top-tier campaign over the years can introduce Mooky to millions globally, mainly drawing newcomers.
Moreover, collaborations with DeFi platforms can boost Mooky's usability. Through staking and farming options, token holders might be more inclined to hold, curbing supply and potentially increasing demand.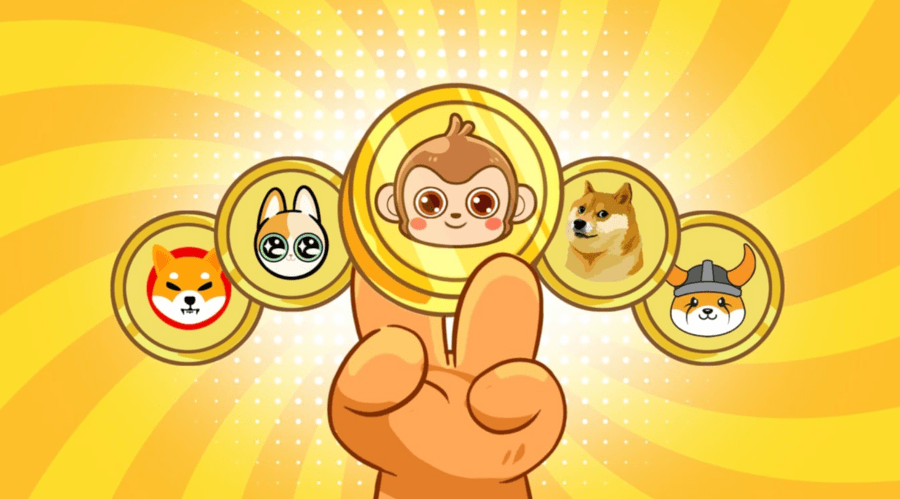 Also, eye-catching promotions, like car rewards, can attract new users and highlight Mooky's dedication to its user base.
Mooky's tree-planting initiative isn't just philanthropy; it reinforces its vision for a greener world. This green vision can attract more investors, particularly in an eco-alert world. Consequently, it could also get a Global Environmental Award to boost its brand value.
Considering these developments and Mooky's community-centric approach, a 2030 value of $0.0000113 for MOOKY appears conceivable. However, when evaluating options for the best long-term investments, it's vital to factor in the sentiment around Bitcoin and major economic changes globally.
Potential Highs & Lows of Mooky Price
Here's an overview of the MOOKY price prediction until 2030;
| | | | |
| --- | --- | --- | --- |
| Year | Potential Low | Average Price | Potential High |
| 2023 | $0.0000000057 | $0.00000012 | $0.00000025 |
| 2024 | $0.0000000086 | $0.00000031 | $0.00000062 |
| 2025 | $0.000000013 | 0.00000081 | $0.0000016 |
| 2030 | $0.000008 | $0.000009 | $0.000011 |
What is Mooky?
Mooky is a unique meme coin focused on environmental preservation, combining DeFi features, meme culture, and eco-awareness.
Mooky's mission is to help plant more trees around the world in an effort to improve sustainability and combat climate change. Holders of the MOOKY token get to decide how operations are run via DAO votes.
Mooky's Origin
Pygmy, a previously untouched western region rich in biodiversity, was exploited by settlers. The environmental downfall led to a leadership change by a monkey, Mooky, now known as the "Guardian of Nature." Mooky advocated harmony with nature, teaching settlers about respect for the environment.
Token Features
Mooky is a community-driven DeFi token. 95% of its total supply, amounting to 500,000,000,000 tokens, was made available at launch, highlighting community ownership. 
One of the distinguishing features of Mooky is its commitment to the environment. Unlike many tokens that incorporate a tax system, Mooky is tax-free and ensures no carbon footprint, and stays true to its eco-friendly vision.
NFT Aspect
Mooky steps further into the crypto space with its unique NFT collection, classified into tiers ranging from common to legendary.
These NFTs aren't mere digital collectibles. Holders of the super rare or legendary NFTs gain membership to the exclusive Mooky Ventures Club, unlocking special benefits like airdrops, merchandise, and more.
Community First Approach
Central to Mooky's vision is a strong community. It thrives on genuine community engagement rather than paid promotions. 
While many cryptos are known for inorganic growth strategies like botting, Mooky focuses on real engagement, valuing holders who resonate with its goals.
Environmental Outreach
In keeping with its commitment to the environment, Mooky operates a visible charity wallet. A portion of its proceeds goes to planting trees globally, linking the growth of wealth to environmental enrichment.
Mooky is more than a meme coin; it's a movement. Drawing strength from its community, it seeks to merge crypto with the age-old message of nature conservation. With a blend of financial upside, fun, and eco-friendly objectives, Mooky aims to be at the forefront of the green crypto revolution.
What Factors Influence the Price of Mooky?
Investors must gauge the factors that can affect MOOKY to make informed decisions. The following are some of the key points that can impact the Mooky price.
Community Engagement

: Mooky emphasizes community-driven growth and values. The level of active participation, word of mouth, and genuine enthusiasm from the community can significantly influence the token's price.

NFT Integration and Value

: The utility and scarcity of the Mooky NFTs, particularly those related to the Mooky Ventures Club, can drive demand. High utility and demand for these NFTs could push the price of Mooky higher.

Charity and Environmental Initiatives

: Mooky's commitment to planting trees and making charitable donations creates an appeal for socially-conscious investors. Achieving milestones like planting significant numbers of trees or making notable charitable contributions can improve the project's reputation and potentially influence Mooky's price.

Partnerships and Listings

: Collaborations with other projects, listings on Tier 1 centralized exchanges, and DeFi partnerships for staking and farming can boost the token's credibility and accessibility, influencing its market price.

Regulatory Changes and Scrutiny

: Positive

regulatory changes in crypto

can provide legitimacy and encourage more institutional and mainstream investments, potentially driving the adoption. On the other hand, unclear regulations may discourage potential investors, putting downward pressure on the token's price.
Conclusion
Mooky combines the appeal of meme coins with a mission for a greener future. While it's experienced market ups and downs, its focus on sustainability and community helps it stand out from its competition.
Like other cryptos, Mooky's path is influenced by market trends, regulations, and external events. Its past performance and planned growth hint at a bright future, but uncertainties persist. Thus, investors should assess their risk tolerance and gauge the broader market conditions before making investment decisions.
If you're keen on green projects with the unexciting unpredictability of meme coins, Mooky can be worth considering. But it's vital to diversify your crypto portfolio to minimize the chances of any sudden losses. But hunting for high-potential cryptos in a market with over 10,000 active cryptos can be challenging.
You can check out our 'Best Cryptos' page, which offers detailed insights and helps you navigate the market to spot such cryptos. Explore more on the page below.
References
https://www.fortunebusinessinsights.com/industry-reports/blockchain-market-100072
https://money.usnews.com/investing/cryptocurrency/articles/will-cryptocurrency-regulation-affect-crypto-prices
https://www.worldbank.org/en/news/podcast/2021/12/22/how-crypto-technologies-could-revolutionize-development-the-development-podcast
https://www.geckoterminal.com/eth/pools/0x163cd24ef23882839111425a3dbccd966d1d5920?utm_source=coingecko&utm_medium=referral&utm_campaign=searchresults
https://coinmarketcap.com/dexscan/ethereum/0x163cd24ef23882839111425a3dbccd966d1d5920/
FAQs
Is Mooky a good investment?