Over the past few years, the crypto market has grown at an unprecedented pace, generating significant returns for early investors.
Unlike traditional investment markets, cryptocurrency markets offer unique opportunities for those willing to take a calculated risk. Investors wondering how to trade cryptocurrency for profit need to consider various factors that affect the broader market sentiment before making a decision.
With this in mind, we've compiled a comprehensive guide to the most profitable cryptocurrency to invest in to help you navigate this exciting and fast-paced market.
The Most Profitable Cryptocurrency to Buy Today
After considering a range of factors, including market trends, project fundamentals, and growth potential, we have identified 12 projects that stand out as the most lucrative investment opportunities in the crypto space today.
Bitcoin ETF Token – High upside token with multiple investment incentives and a roadmap that correlates to some of the biggest events in crypto financial history. Presale offers a 25% token burn and 500% PoS APY, raising nearly $500,000 in a little over a week.
Bitcoin Minetrix – Utility-driven presale offers BTC mining rewards using Ethereum smart contracts, with 1,500% APY and world-first stake-to-mine. Generated over $100k within hours of its launch and offers 3 ROI verticals.
Wall Street Memes – A popular meme crypto with renowned developers. The project has been endorsed by Elon Musk, and it has been able to raise more than $25 million within 12 weeks of its presale. Presale complete, now listed on OKX.
Launchpad XYZ

– All-in-one Web3 ecosystem that's easy to access and use. It hand-picks Web3 projects and offers its native token, a Web3 wallet, a DEX, and NFT support.

eTukTuk – Cryptocurrency promoting the switch to electric vehicles for TukTuk drivers in developing nations. Hold $TUK to get staking rewards and join the token whitelist.
Chimpzee – ERC20 token that could yield profits for those concerned about the environment. Raised over $1.2 Million in its presale and already planted 22,000 trees to prevent deforestation.
Scorp Token – Access hundreds of casino games with this new presale token. Buy the $SCORP token on presale before the price increases by more than 230%.
yPredict

– Profitable coin for traders and trading analysts offering large staking rewards. Holders can receive up to 45% quarterly staking rewards.

Lucky Block

– Crypto Casino With An Exciting Opportunity to Earn up to 200% Bonus

Bitcoin

– Coin With the Potential to Become one of the Most Profitable Crypto

Ethereum

– Smart Contracts Platform that can Become one of the Most Profitable Cryptocurrency To Trade

XRP

– Unique Remittance Network with High Upside Potential
An In-Depth Look at the Most Profitable Cryptos to Invest in
Buying and selling cryptocurrency for profit requires a strong understanding of the project's fundamentals. Moreover, the current status of the crypto market has made it possible to add potentially lucrative assets to investment portfolios. Buyers on the hunt for the most profitable cryptocurrency to buy should consider capitalizing on the current sentiment.
Since the 2022 market downturn, cryptocurrencies have been experiencing a persistent downward trend. However, this has also created an opportunity to buy cryptocurrencies at prices much below their prior highs. In light of this, in the following sections, we have listed the 12 most profitable cryptocurrencies to trade in 2023.
1. Bitcoin ETF Token – ERC20 Crypto With Huge Upside Potential And Automatic Presale Price Increases
Bitcoin ETF Token ($BTCETF) is our #1 choice as the crypto with the most upside potential. This campaign is revolves around a central theme – Bitcoin ETF approval by the SEC.
Should this occur, the token could easily go parabolic. After all, the presale has been created with this exact scenario in mind, and is positioning itself accordingly.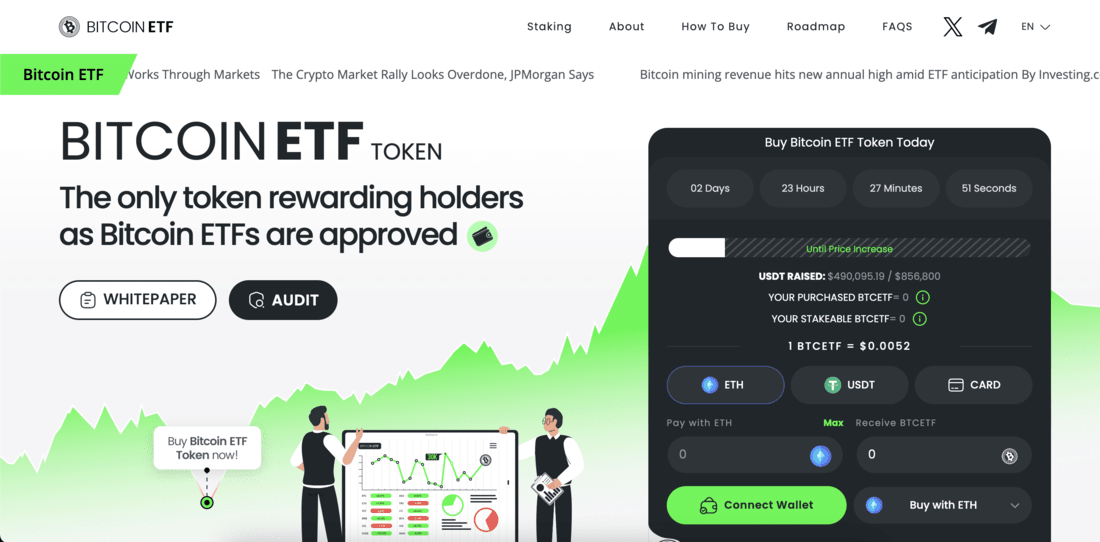 It is widely expected that the SEC will pass the Bitcoin ETFs over the coming months, though nothing is guaranteed. If passed, it could open the floodgates for crypto investment, with a major increase in price and trade volume for the wider market.
There are ten presale rounds with 84 million tokens available in each round. Currently, in round two, the price per token is $0.0052. This will rise to $0.0068 by the final round. Between round one and round ten, the native coin will have risen by nearly 40%, which is quite a strong level of appreciation.
The token also yields a dynamic APY above 500% at the present time, and will burn a total of 25% of the overall supply. Token burning will take place in five sets of 5%. For example, when Bitcoin reaches $100,000, 5% will be burned. And when (or if) the SEC passes Bitcoin ETFs, 5% will be burned.
In this way, the presale ecosystem is tied in with real-world events that have a deep impact in the wider market. So it's not just a self-contained ecosystem but is intimately linked with important market phenomena.
In sum, this is an ERC20 crypto with huge upside potential. It offers three massive investment incentives – a 25% token burn, an APY above 500%, and an automatic presale price increase of nearly 40%.
Plus, it's tied in with real-world events and is positioning itself for what could be one of the biggest events in crypto history – SEC approval of Bitcoin ETFs in the USA.
For more information, interested investors should consult the Bitcoin ETF Token Whitepaper and join the Telegram account.
| | |
| --- | --- |
| Hard Cap | $4.956 Million |
| Total Tokens | 2.1 Billion |
| Tokens available in presale | 840 Million |
| Blockchain | Ethereum Network |
| Token type | ERC-20 |
| Minimum Purchase | NA |
| Purchase with | USDT, ETH, BNB, MATIC, Card |
2. Bitcoin Minetrix – High Upside Crypto Coin With Three ROI Vectors & Stake-To-Earn Design
Bitcoin Minetrix ($BTCMTX) is our second pick as the best coin with a high potential for price appreciation. We like it for many solid reasons.
Bitcoin Minetrix is the world's first stake-to-mine design, using Ethereum smart contracts to offer BTC mining rewards. This is important because the existing Bitcoin mining ecosystem is environmentally damaging, very expensive, and complicated.
It is not possible for ordinary individuals to compete, so Bitcoin Minetrix provides a solution that opens up the market.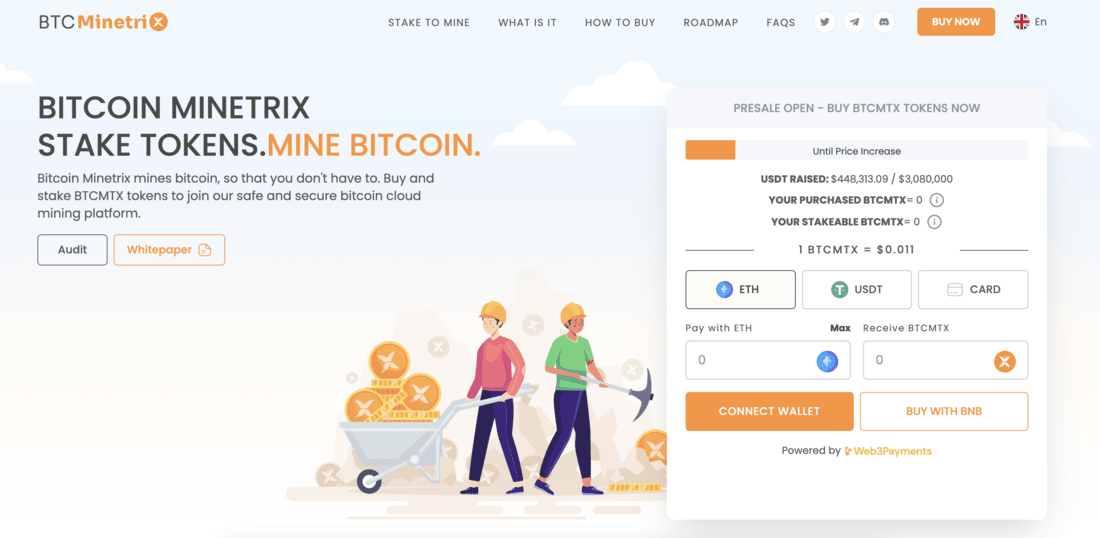 Users stake their ERC20 token, earn BTC cloud mining credits, and burn them for BTC – all through one easy dashboard. The project also offers high yields of 1,500%, with a mobile application in the works for even more accessibility and convenience.
The upfront cost is $10 (as opposed to paying $10k or more for a traditional mining rig) and users retain full control over their mining operations.
The BTC cloud mining ecosystem is known for many shady providers that do not pay out holders, with ever-changing terms and conditions. Bitcoin Minetrix does away with this through its transparent model.
It further scored perfectly well in its smart contract audit and trades at a discount in its early vs. its final presale stage – $0.011 as opposed to $0.0119. There are 10 stages in the presale with 2.8 billion of the 4 billion supply being made available.
Users can benefit from price appreciation, staking rewards, and BTC mining with this framework – three means of ROI.
This is our top pick for reasons that are self-evident – it trades at a discount, offers high yields, has a $10 upfront investment, has scored excellently in its smart contract audit, and is a utility token in a billion-dollar field.
In other words, it has a real-world application to solve the issue of Bitcoin mining, using eco-friendly Ethereum.
Investors should consider reading the Whitepaper for a comprehensive understanding of this high-potential ERC20 token.
Twitter and Telegram are also useful for additional context.
| | |
| --- | --- |
| Presale Started | September 2023 |
| Purchase Methods | USDT, ETH, BNB |
| Chain | Ethereum |
| Hard Cap | $32 Million |
| Min Investment | $10 |
| Max Investment | None |
3. Wall Street Memes – Fastest-Selling Meme Crypto in 2023 With a Huge Growth Potential, Now Live on OKX
Wall Street Memes is a new addition to the cryptocurrency market. The project was inspired by the popular subculture associated with WallStreetBets on Reddit, which became popular after the events of the GameStop saga on Wall Street in 2021.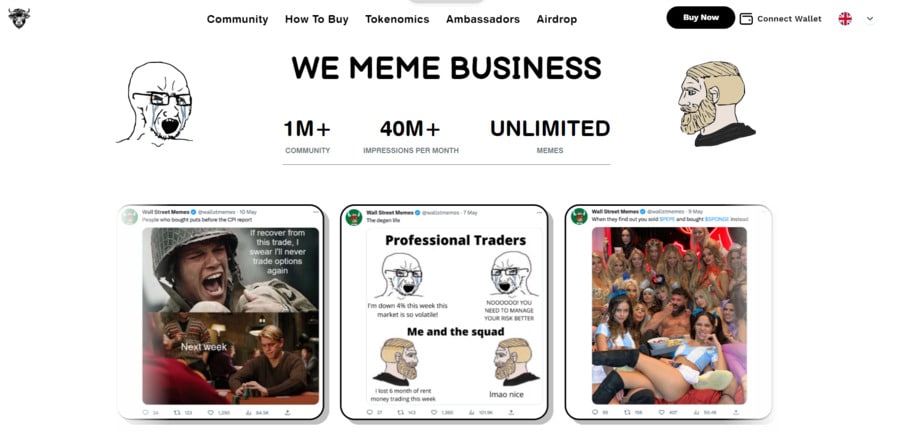 The goal of Wall Street Memes is to empower holders through the steady growth of its community, which has already reached more than 1.1 million. This large following is partly due to the fact that Wall Street Memes' developers had enormous success with their previous venture, debuting in 2021.
They launched a collection of 10,000 NFTs called Wall Street Bulls, which sold out for $2.5 million in only half an hour. Therefore, it's not surprising that WMS has also been very successful during its presale. It managed to raise over $25 million in only 12 weeks since putting its native token, $WSM, on the market, making it one of the most profitable cryptos to invest in this year.
Endorsements from popular crypto influencers and public figures have also contributed to the growth of the platform. For instance, Elon Musk has interacted with WSM developers via Twitter several times, indicating his support for the project. In addition to that, popular crypto YouTuber My Financial Friend has recently said that he believes $WSM could be the next meme coin to increase its value tenfold.
According to the whitepaper, the WSM team is also very dedicated to promoting the project. It even decided to reward five of its community members with a total of $50,000 in $WSM.
You can get more information about pricing and other project features on the official website or via the official Telegram channel.
| | |
| --- | --- |
| Presale Started | May 26, 2023 |
| Purchase Methods | ETH, USDT, BNB, credit card |
| Chain | Ethereum |
| Hard Cap | $30,577,000 |
| Min Investment | 100 $WSM |
| Max Investment | None |
4. Launchpad XYZ – All-in-One Web3 Ecosystem That's Easy to Get Into and Use
Launchpad XYZ is a unique crypto project designed to help individuals enter and become successful in the Web3 sphere.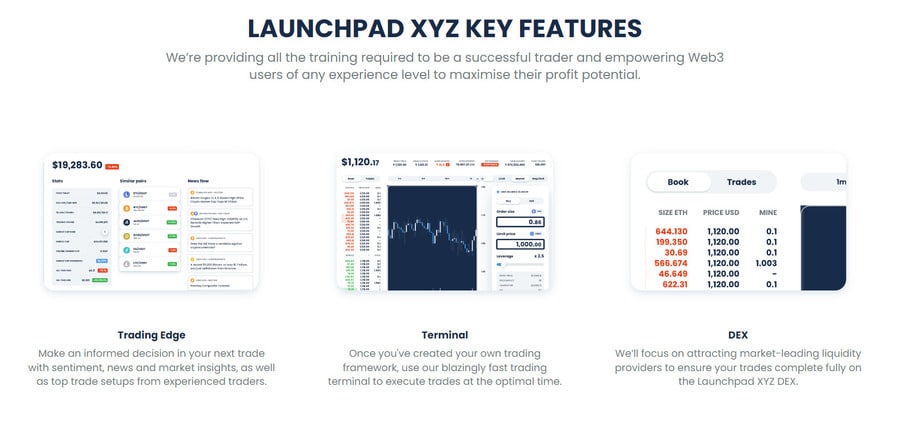 Currently, the concept of the new internet is unconsolidated, which is why Launchpad XYZ wants to make it easier for everyone, regardless of their level of expertise. It provides seamless consumption and an analysis platform for everything Web3, making transactions frictionless.
Launchpad XYZ comes with NFT support, a new DEX, and a unique Web3 wallet that lets users swap tokens and interact with various dApps. It also offers utility token analysis, access to Web3 presales, P2E games, metaverses, and even a proprietary trading terminal.
You can learn more about the platform's wide range of features in the official whitepaper. All of this is yet to come, so the roadmap is quite lengthy. As a result, it's essential to read the whitepaper carefully before deciding to invest.
If you choose to support the project and invest, you can buy the platform's native token called $LPX. It's currently in the presale phase, managing to raise almost $1.2 million.
The token is offered at a discount price of $0.0445, the lowest price it will ever have. That's because the price with each stage, and after ten stages, will reach a listing price of $0.07. In other words, if you get in now, you can double your investment by the time $LPX enters various decentralized exchanges.
In the meantime, join the official Telegram channel to get the latest news on the project.
| | |
| --- | --- |
| Presale Started | April 2023 |
| Purchase Methods | USDT, ETH, Transak |
| Chain | Polygon |
| Hard Cap | $12.5 million |
| Min Investment | None |
| Max Investment | None |
5. eTukTuk – Sustainable Cryptocurrency Promoting the switch to EVs for TukTuk Drivers
eTukTuk (TUK) is a new crypto token that will help in providing wealth to its internal ecosystem. By setting up charging stations and Electric Vehicle Supply Equipment (EVSE), eTukTuk will help TukTuk drivers save 75% of costs through efficient charging.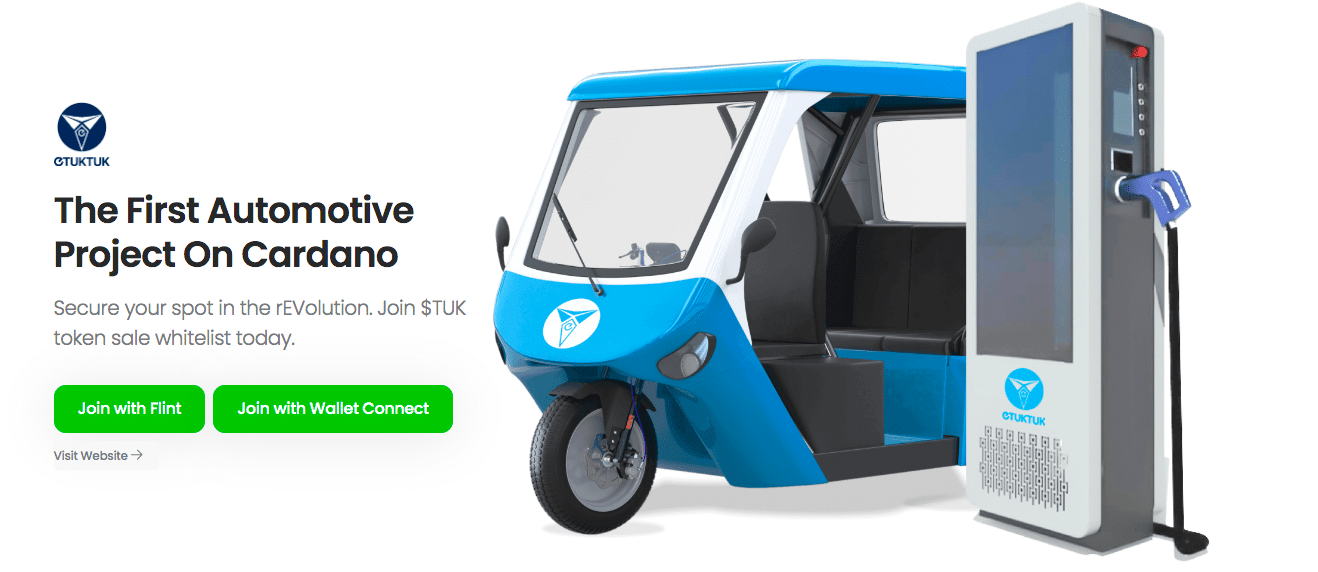 The platform has been built on the Cardano blockchain, which can process high transactions, and charges lower costs than other blockchains such as Ethereum. Furthermore, eTukTuk will take the help of territory partners, who will play a vital role in installing essential equipment and services.
Once the charging stations are set up, TukTuk drivers can make payments through the driver app using $TUK. Rewards will be offered to the territory partners every time a payment is made at the charging station.
Finally, $TUK holders can earn passive income via power staking. This process requires holders to stake their tokens to power nodes, which will help power the ecosystem.
They will earn an APY (Annual Percentage Yield), which will be a portion of the total revenue generated on the ecosystem. Moreover, eTukTuk will also offer inflationary rewards through a staking pool over the course of 15 years.
Ultimately, the main goal of eTukTuk is to help TukTuk drivers make the switch from unsustainable forms of transportation, such as Internal Combustion Engines (ICEs), to zero-emission vehicles.
This whole switch and the usage of local manufacturing will allow TukTuk drivers to take home 400% more in revenue. Currently, interested investors can join the $TUK whitelist and wait for the token presale to begin.
The presale will allocate 12.5% of its 2 billion token supply, after which the token will be listed on crypto exchanges.
For more information on this new crypto project, read the eTukTuk whitepaper and join the Telegram channel.
6. Chimpzee – Sustainability Token With Potential For Profit and 20% Staking APY, $1.2 Million Raised Throughout Presale
Chimpzee (CHMPZ) is a token focused on environmental sustainability. Thus far, it has raised over $1.2 million from those looking to tackle climate change and animal conservation concerns. It has also donated $15,000 to protect elephants and planted over 22,000 trees to help deal with global deforestation.
Environmentalism is a huge concern at present, and projects that are involved with such initiatives could generate significant profits for investors while also helping to generate an income. This is the main aim of Chimpzee, to generate rewards for people while also dealing with a real problem area.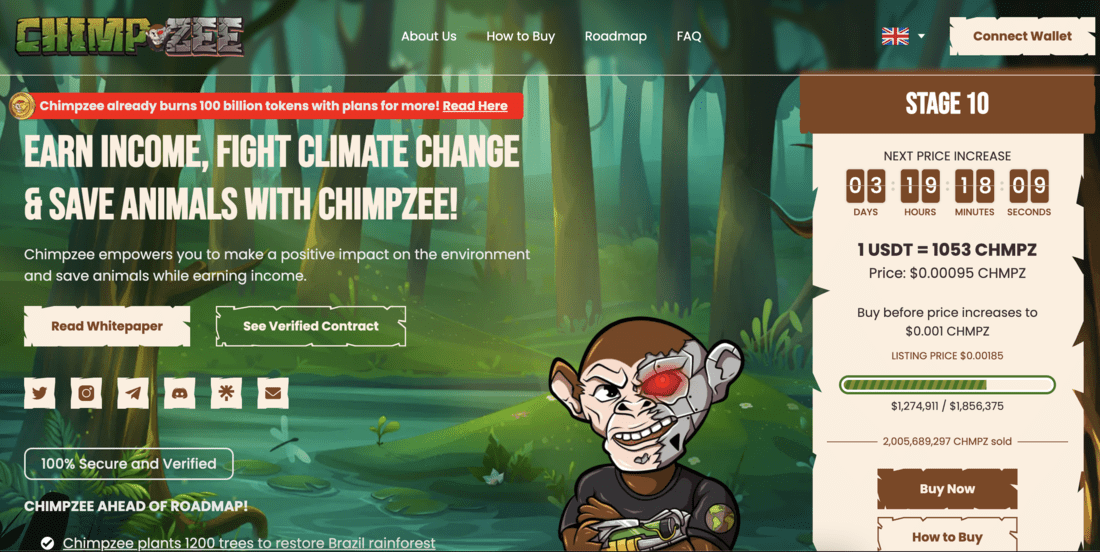 Chimpzee offers three primary ways for people to earn an income through its ecosystem. The first is the Chimpzee Shop (Shop-To-Earn). The second is through the NFT marketplace (Trade-To-Earn). And the third is through the Zero Tolerance Game (Play-To-Earn). NFTs can be staked to earn an impressive 20% APY yield.
The best way to earn an income through Chimpzee is via the NFT passports. In total, there are 4 NFT Passports – Diamond, Gold, Silver and Bronze. NFT passport holders have more privileges and earn more than those who do not hold one. The Diamond and Gold NFT passports have the most privileges within the Chimpzee ecosystem.
There are a total of 100 billion CHMPZ tokens, and this figure is set to be reduced to 60 billion. 45% of tokens are allocated to the presale, 15% to marketing, 10% to exchange liquidity, 10% to charity, 10% to development, 5% to community rewards, and 5% to the team. This 5% to the team is locked for 2 years. Additionally, the project has undergone a smart contract audit and has a KYC Certification from Coinscope.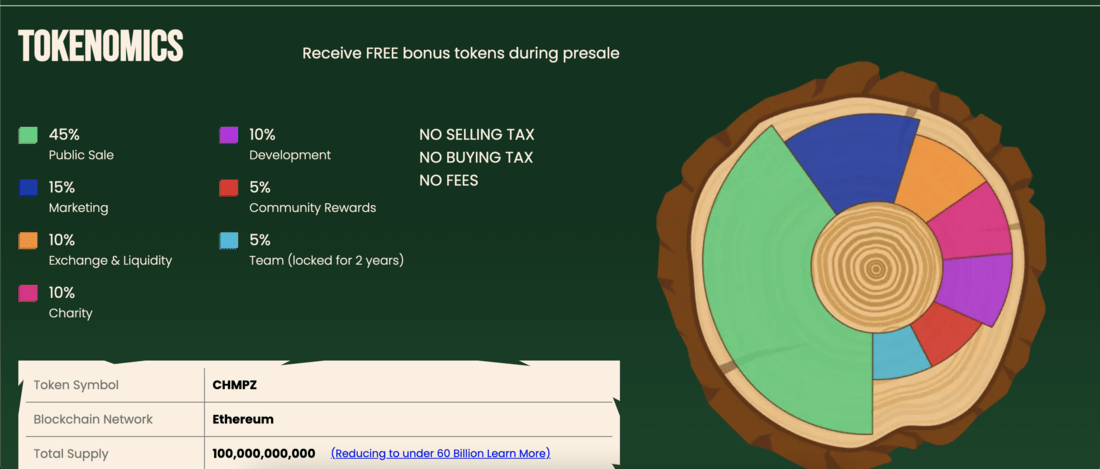 To take part in this potentially profitable presale, users will need either MetaMask or Trust Wallet, with payment made in ETH, USDT, or Card. The whitepaper should be read prior to investment and the social channels – Twitter, Discord, Telegram, Link Tree, and Instagram – should be joined for alerts and updates.
The presale price is just $0.00095 while the listing price is set at $0.00185 – so more profits can be made the earlier the entry.
| | |
| --- | --- |
| Hard Cap | $1,856,375 |
| Total Tokens | 100 billion |
| Tokens available in presale | 45 billion |
| Blockchain | Ethereum Network |
| Token type | ERC-20 |
| Minimum Purchase | NA |
| Purchase with | ETH, USDT, Bank Card |
7. Scorp Token – Native Token of a Crypto & Sports Betting Platform
Scorp Token (SCORP) is the native cryptocurrency of Scorpion Casino's casino and sports betting platform. The token offers several use cases, including staking benefits, entry to affiliate programs, and the chance to win free bonuses.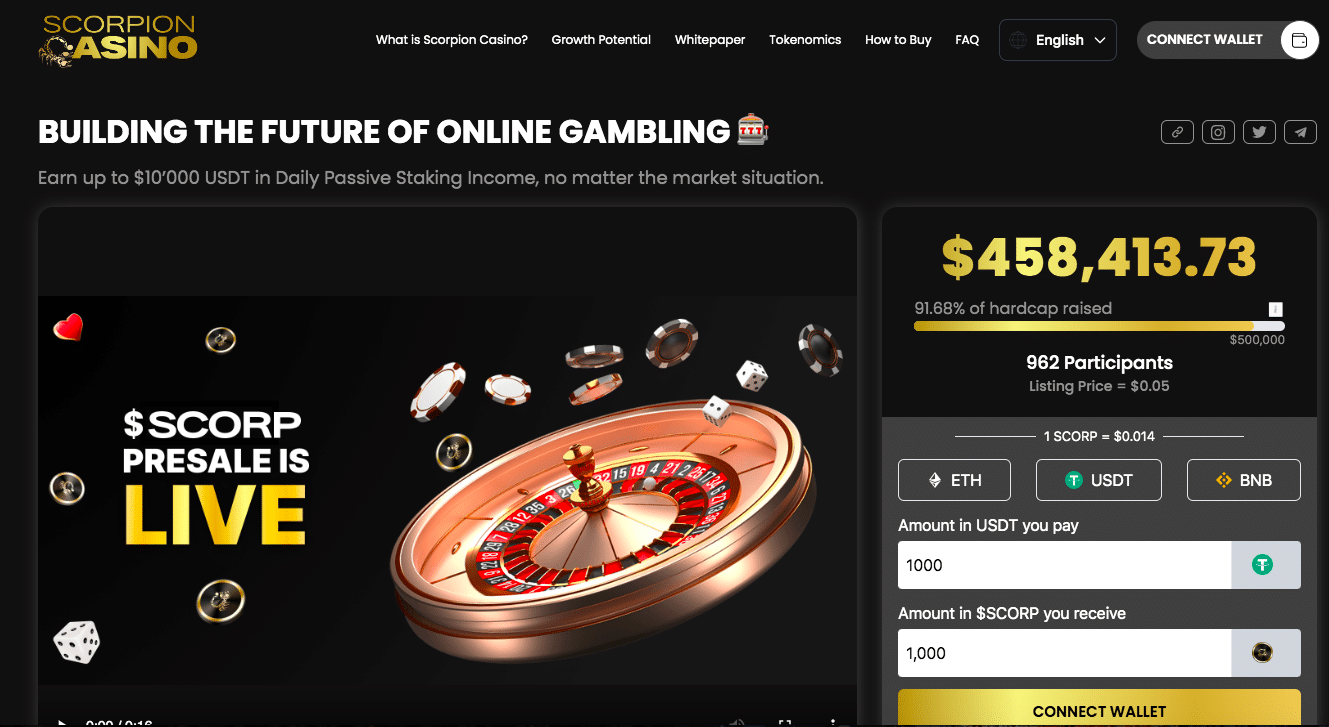 A BEP-20 token, $SCORP, has a total supply of 1 billion. Currently, investors still have the chance to buy $SCORP on presale before the exchange listing takes place. The token is priced at $0.014 and has already raised over $450K. The presale target is set at $500K.
During the exchange listing, the price of $SCORP will jump to $0.05, a 237% price jump from current levels. While 48% of the token supply has been allocated for the presale, another 20% will be sent to the liquidity pool.
200 million tokens will also be offered as staking rewards. Those who stake $SCORP can earn daily passive income from the fees generated within the ecosystem. On the casino platform, token holders can also benefit from weekly bonuses and free games.
Over 200 casino games are available at the Scorpion Casino, including Poker, Live casino options, Blackjack, Crash, and slot machines. Through the platform's sports betting markets, one can bet on live games such as Football, Soccer, Basketball, and MMA.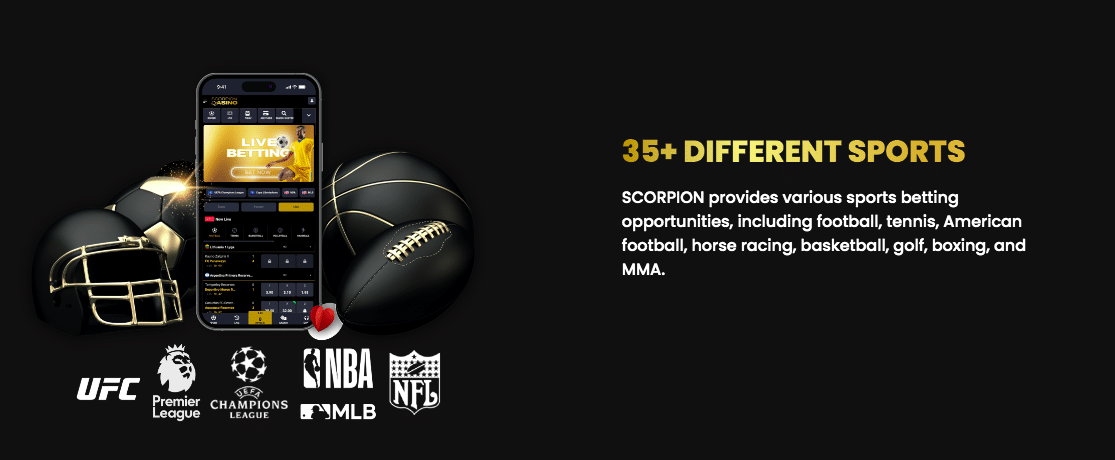 20% of all the operating profits generated from the sportsbook are used to buy back $SCORP tokens. 5% of the buyback will be burnt within the ecosystem. The platform also charges a 10% selling tax, 1% of which is burnt. The diminishing supply can help make $SCORP a more valuable token in the coming years.
To learn more about this exciting new cryptocurrency project, read the Scorpion casino whitepaper and joining the Telegram channel.
| | |
| --- | --- |
| Token symbol | SCORP |
| Presale supply | 200,000,000 SCORP |
| Token type | BEP-20 |
| Payment methods | ETH, USDT, BNB |
| Listing price | $0.05 |
8. yPredict – Profitable Coin for Traders and Trading Analysts Offering Large Staking Rewards
yPredict is a new crypto project offering trading tools, analyses, research, and much more.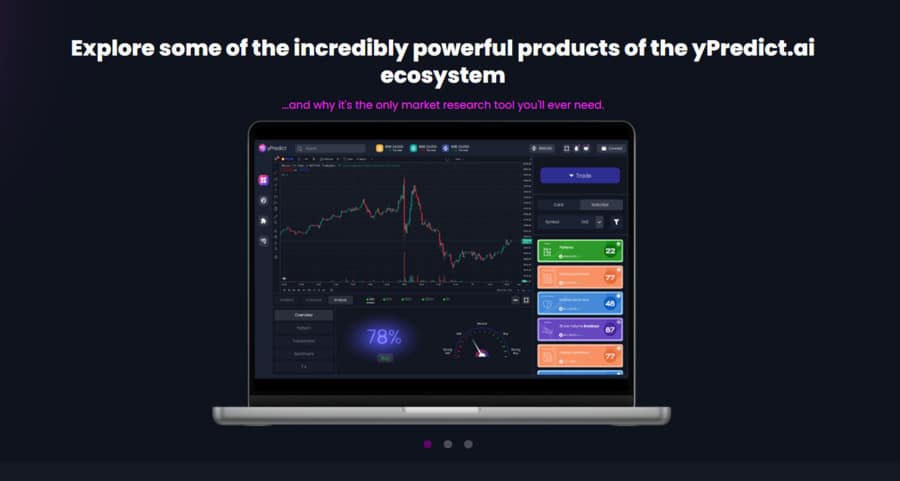 While it is not the first to offer such a wide range of valuable insights, the project's whitepaper explains that the founders want to offer data-driven insights, predictions, and analytical metrics to everyone willing to pay a monthly subscription.
Moreover, yPredict is more than just a home for traders. Other expert analysts wishing to sell their predictions and insights as a service can make the most of it, too. In other words, the project will strive to connect them with those who need their services while also providing analyses and insights curated by in-house experts.
The system will operate on the $YPRED token, the project's native cryptocurrency that will be used for all transactions on the site.
The main reason we think it's one of the most profitable cryptocurrencies is the dynamic staking pools that source their liquidity from the platform. More specifically, they take 10% of the project's revenues that primarily come from subscriptions. This makes staking APY consistent and highly lucrative, offering up to 45% quarterly returns.
The platform's crypto is still in the presale stage, with a discounted price of $0.07 per token, which will increase with each new presale stage. The hard cap is set at $6,507,511, and the project has already garnered around $1 million.
You can join any time — the earlier you do it, the bigger the returns will be. Make sure to check the official Telegram announcements channel and the community to learn more before investing.
| | |
| --- | --- |
| Presale Started | February 2023 |
| Purchase Methods | ETH, MATIC, USDT, BNB, Card |
| Chain | Polygon |
| Hard Cap | $6,507,511 |
| Min Investment | 200 $YPRED |
| Max Investment | None |
9. Lucky Block – Crypto Casino With An Exciting Opportunity to Earn up to 200% Bonus
Lucky Block is an upcoming project that has garnered much attention in the crypto community. This project completed its presale campaign last year, making it one of the most profitable tokens. In fact, within just one month of launching, Lucky Block generated gains of over 6,000%, which is a testament to its potential.
Although Lucky Block has since experienced a market correction along with the rest of the crypto market, it remains a project worth keeping an eye on.
Additionally, if you make your first deposit at Lucky Block, you'll be eligible for a 200% welcome bonus, which is a great way to get started. The bonus is paid in 10 installments, and you can receive up to 10,000 EUR if you deposit 5,000 EUR. At the time of writing, LBLOCK traded at nearly $0.00016.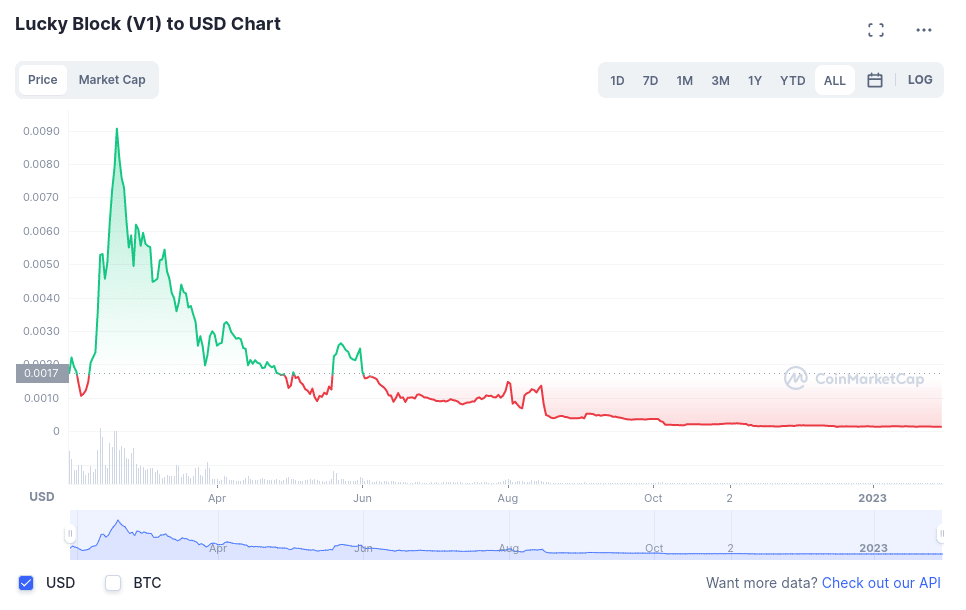 Lucky Block Casino offers a variety of traditional casino games, exciting slot games, and a live casino with popular games such as Blackjack and poker. The casino also features unique games such as Monopoly Big Baller, Deal or No Deal, etc.

Moreover, the platform's native cryptocurrency, LBLOCK, has had a market capitalization of around $1 billion at its peak. In summary, Lucky Block offers a number of attractive benefits to players, and it's an excellent opportunity to take advantage of while it lasts.
10. Bitcoin – Coin With the Potential to Become one of the Most Profitable Crypto
Bitcoin was the first digital asset to come into existence in the crypto space. In fact, for its early investors, BTC has been the most profitable cryptocurrency to invest in.
In the early days of Bitcoin's launch in 2009, the concept of blockchain technology was largely unknown to most people, and mining Bitcoin was relatively easy.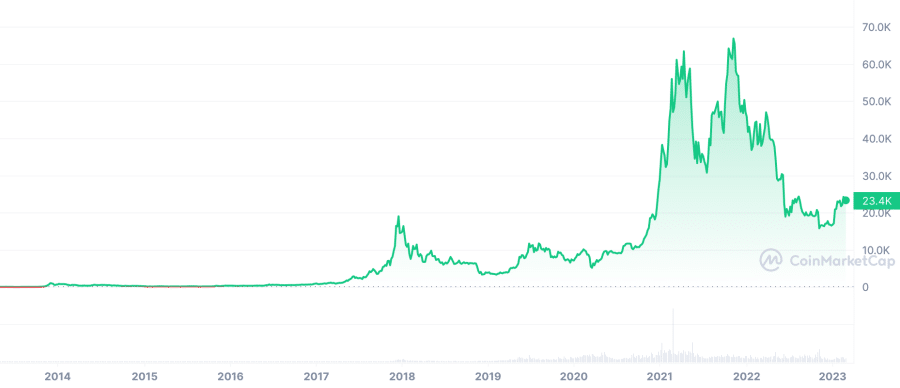 However, Bitcoin's value took several years to climb to just $1 per token. Yet, in a relatively short time, it skyrocketed to over $68,000 in late 2021. This means its value has increased by a staggering number of percentage points. While the cryptocurrency has since dropped to just over $24,000, it still offers a compelling investment opportunity for those who plan to hold it long-term.
For investors who purchase Bitcoin at the current price, there is significant upside potential if it surpasses $68,000 again in the near future. Some analysts even predict that Bitcoin will eventually exceed $100,000, and it may never look back.
11. Ethereum – Smart Contracts Platform that can Become one of the Most Profitable Cryptocurrency To Trade
Ethereum has been a popular cryptocurrency for a long time, and its market capitalization is now worth several billion dollars. Despite its established status, Ethereum's prospects for an upside remain significant, potentially making it one of the most profitable cryptocurrency to buy.
In 2014, Ethereum conducted an initial coin offering (ICO), selling its ETH token for just over $0.30. Since then, Ethereum's value has soared, reaching an all-time high of nearly $5,000 in late 2021. Although duplicating those returns is unlikely, Ethereum's upside potential is still relatively high.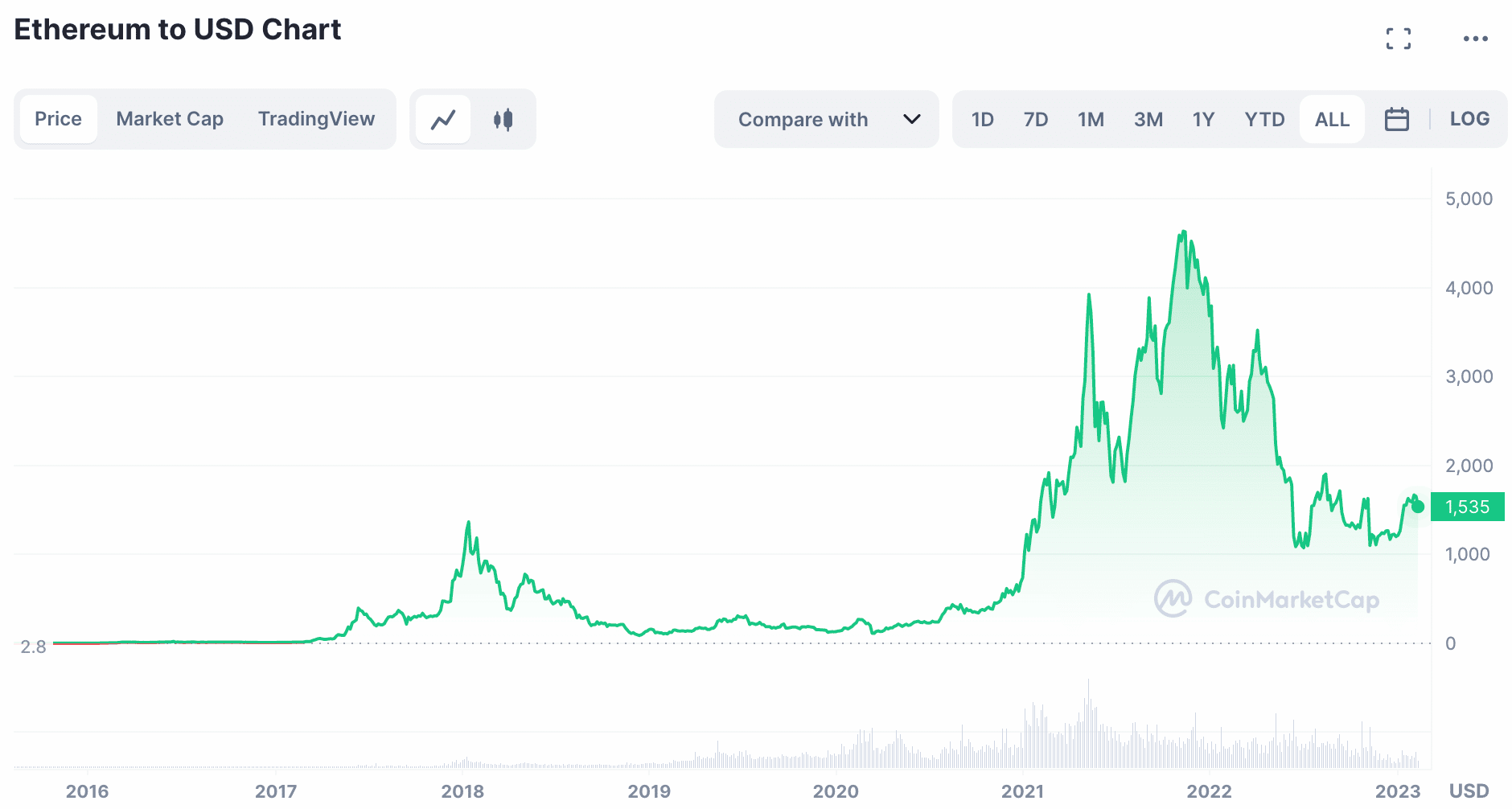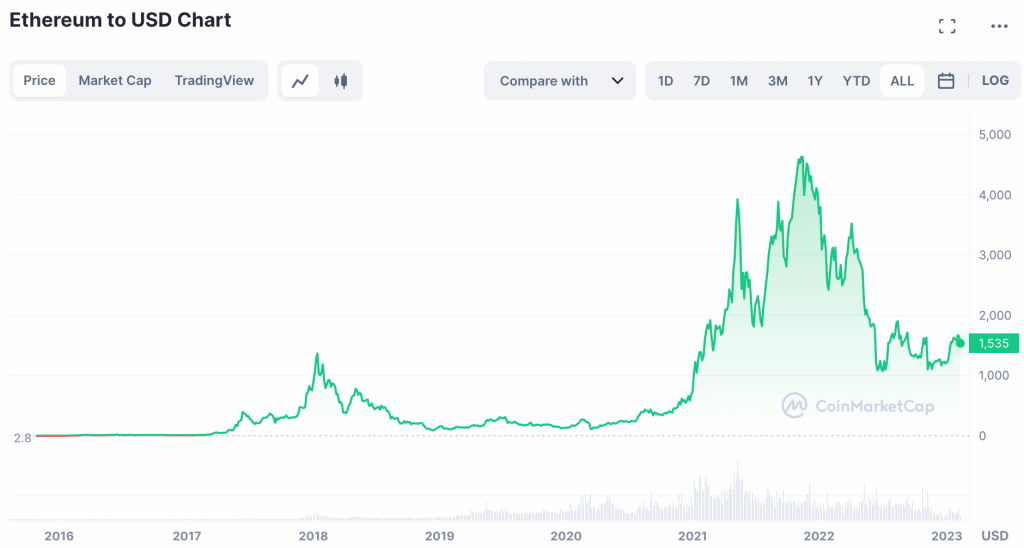 One reason Ethereum continues to be a promising cryptocurrency is the sheer number of ERC-20 tokens it has spawned. These tokens are crypto assets built on top of the Ethereum blockchain. This shows that Ethereum is still the preferred blockchain for creating new tokens.
Also, the potential of Ethereum's Merge on the market could bring new opportunities and challenges in the rapidly evolving blockchain landscape.
Ethereum switched to a proof-of-stake consensus mechanism, which is expected to cut transaction fees by a significant amount and make it even more attractive to new projects. The proof-of-stake upgrade will also improve Ethereum's scalability, allowing it to process up to 100,000 transactions per second, significantly improving the current limits.
12. XRP – Unique Remittance Network with High Upside Potential
XRP stands out from other cryptocurrencies due to its unique consensus protocol, which ensures that most validators verify transactions. This allows transactions to be processed in mere seconds with minimal energy consumption, making it an undervalued asset at its current price point. This feature gives XRP the potential to become one of the most profitable tokens on the market.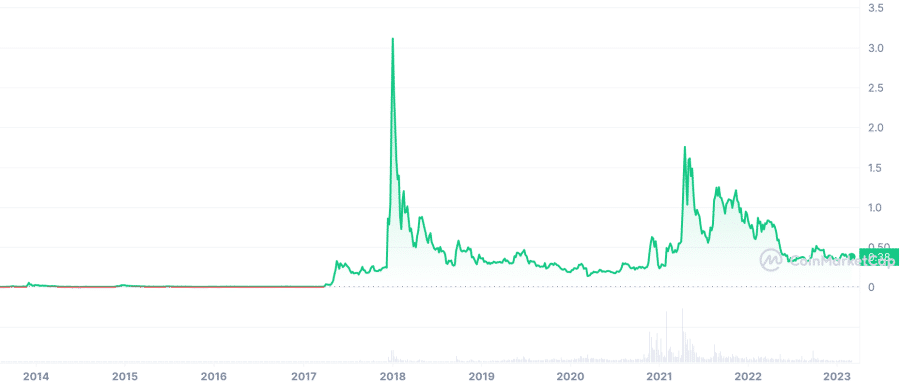 Besides being one of the highest profit crypto, XRP has the potential to revolutionize the outdated and inefficient international money transfer system. With connections to over 200 financial institutions, including major banks, XRP's adoption rate is promising. Additionally, any positive changes in its legal status could lead to significant price appreciation.
Even after the recent drop, XRP has still secured a spot in the top 10 cryptocurrencies by market cap. With some price predictions suggesting a potential $4 price point by 2025, XRP may still have significant room for growth in the coming years.
Moreover, Ripple has signed a second wave of creators, aiming to bring entertainment and media NFT projects to the XRP Ledger, further expanding the platform's capabilities and attracting diverse talent.
How to Find Profitable Crypto Investments
Trading cryptocurrency for profit is highly risky, but it can also be profitable for those who invest wisely. With hundreds of cryptos available, it can be challenging to determine the most profitable cryptocurrency to invest in. This section will guide investors to spot the highest profit cryptocurrency while managing their risk levels.
Do Your Research
Before investing in any cryptocurrency, it is essential to conduct thorough research. This includes studying the coin's white paper, analyzing the team behind the project, reviewing the technology used, and assessing the competition. By conducting due diligence, you will be able to make an informed decision about whether to invest or not.
Check the Market Cap
Market cap is calculated by multiplying the coin's price by the total number of coins in circulation. The market cap can provide insight into the potential growth of a cryptocurrency. Coins with a small market cap have more potential for growth, while coins with a large market cap may have limited growth potential.
Look for Real-World Applications & Community Support
Cryptocurrencies with real-world applications are more likely to succeed in the long run. Look for projects that solve real-world problems or have partnerships with established companies.
Moreover, the community behind a cryptocurrency can provide valuable insight into the potential success of a project. Look for coins with an active community that is enthusiastic about the project.
Things to Bear in Mind When Looking for Profitable Crypto
Finding a profitable crypto investment requires research, risk management, and staying informed about market trends.
Diversification
A crucial aspect of investing in cryptocurrencies is diversifying your portfolio. Investing in multiple assets helps spread the risk, mitigating potential losses due to a single coin's poor performance. Instead of focusing solely on popular coins like Bitcoin or Ethereum, consider exploring emerging tokens for the next altcoin season and DeFi projects with strong fundamentals and growth potential.
Risk Tolerance
Understanding your risk tolerance is essential when investing in the volatile crypto market. Assess your financial goals, investment horizon, and risk appetite before making decisions. A conservative investor may prefer established coins, while a risk-tolerant investor might explore high-risk, high-reward opportunities in newer projects.
Utilize Tools to Limit Losses
Tools like stop-loss orders and trailing stops can help protect your investments from significant losses. These tools allow you to set predetermined levels at which your assets will be sold, effectively reducing your exposure to market downturns.
Thorough Research
Before investing in any cryptocurrency, it's vital to conduct thorough research. Examine the project's whitepaper, development team, use cases, and market potential. Keep track of news, developments, and social media sentiment surrounding the project, as these can influence the coin's value.
Long-term vs. Short-term Investment Strategy
Determine whether you're interested in long-term holding or short-term trading. Long-term investors focus on projects with strong fundamentals and growth potential, whereas short-term traders capitalize on market volatility by buying and selling assets frequently.
Stay Updated on Market Trends
Stay informed about market trends and developments in the blockchain and cryptocurrency space. Understanding the latest technological advancements, regulatory changes, and industry news can help you make better-informed investment decisions.
What is the Best Time to Buy Crypto for the Highest Profit?
Finding the most profitable asset is just one part of the equation when buying and selling cryptocurrency for profit. It's equally important to consider the timing of your investment, as this can significantly impact your potential gains.
Investors wondering how to trade cryptocurrency for profit can consider the following points to make a decision and try and maximize their profits in the next crypto bull run.
Presales
One way to get in on a cryptocurrency project early and potentially score a good deal is by participating in a presale. Many new projects offer presales to raise capital, and those who invest during this time may be able to buy the token at a preferential price.
For instance, early investors in Ethereum could purchase ETH for just $0.30 per token. However, it's essential to do your due diligence and research the project thoroughly before investing.
Presales can offer early investors highly favorable prices for newly launched cryptocurrency projects, as seen with Lucky Block and Tamadoge. Lucky Block, for instance, saw a presale price of $0.00015 skyrocket to over $0.009 in just a few weeks after being listed on Pancakeswap.
If you miss out on a presale, don't worry. You can still enter the market early by purchasing the token as soon as it becomes available through an ICO or exchange listing. This can be an excellent opportunity to get in on a promising project before it gains widespread attention and potentially experiences significant price increases.
Market Scenario
Another good time to buy cryptocurrency is during a bear market. Even high-quality projects with solid fundamentals may experience significant price drops when the overall market is down. This can create an opportunity to build a portfolio of quality tokens at a discount.
To find one of the most profitable cryptos, market corrections can also present a good buying opportunity. When a cryptocurrency experiences a temporary dip in price, it is an excellent time to buy in and benefit from the subsequent bullish trend. However, it's essential to be careful not to invest more than you can afford to lose, as corrections can sometimes turn into prolonged bear markets.
Conclusion
In this guide, we explored the most profitable cryptocurrency to trade. In doing so, we have considered several aspects like project fundamentals, community support, real-life use cases, etc.
We recommend Bitcoin ETF Token as the most profitable crypto you can buy. The 25% token burn, automatic presale price increase, and high PoS APY are three powerful investment incentives.
If SEC approval of BTC ETFs does take place, it will be interesting to see where the price of this coin goes – it has been created and pushed forward with this approval in mind.
FAQs
Which crypto makes the most money?
What is the most profitable crypto to buy?