While the broader markets continue to trade at bearish levels, seasoned crypto investors are taking advantage of discounted prices.
With this in mind, this guide examines the 10 most promising cryptocurrency to buy in 2023. Each cryptocurrency we discuss has a promising future, especially once the next bull market begins.
The 10 Most Promising Cryptos to Buy for 2023
Here's a quick overview of the 10 most promising cryptocurrency to invest in 2023:
AiDoge – This is the best new promising crypto to consider today. Through artificial intelligence and natural language processing, AiDoge enables users to instantly create unique memes. Each meme requires a simple text prompt and comes with a suitable image and phrase. Ai tokens, which fuel the AiDoge ecosystem, are being sold to early investors at a discount via a limited presale campaign.
Launchpad XYZ – One of the most promising projects of 2023, Launchpad XYZ has bridged the gap between consumers and Web 3.0 investments. Whether it's exclusive access to the best crypto private presales and NFT mints, fractional ownership of real estate, or cutting-edge analytics – Launchpad XYZ provides the tools to navigate the Web 3.0 investment sphere seamlessly.
Ecoterra – Green investors with a focus on sustainable projects might consider Ecoterra. This blockchain startup has developed a recycle-to-earn framework – rewarding consumers for their contribution to the environment. Rewards are paid in ECOTERRA tokens after depositing recycled goods in a reverse vending machine. Ecoterra is also building a raw materials marketplace, enabling businesses to buy recycled goods in bulk.
Deelance – This promising crypto startup is creating a sea-change in the gig economy. Its decentralized ecosystem connects workers and clients in a safe and frictionless environment. Via blockchain technology and its native DLANCE token, freelancing transactions are cost-effective, fast, and highly secure. Deelance is also building a metaverse, supporting virtual meetups and the chance to own NFT-backed offices.
yPredict – This cutting-edge platform has developed an ecosystem for developers, traders, quants, and analysts to connect and collaborate. Backed by artificial intelligence and machine learning, yPredict enables users to make consistent crypto gains through predictive models and data sets. yPredict's native token, YPRED, is required to access its innovative tools.
Love Hate Inu – Another promising cryptocurrency in 2023 is LHINU; the native token of Love Hate Inu. This project has created a stake-to-earn and vote-to-earn framework, ensuring that votes are conducted safely, legitimately, and free of fraud and manipulation. After staking LHINU, users can earn additional tokens when casting votes.
Tamadoge – Those looking to invest in the most promising play-to-earn ecosystem might consider Tamadoge. Players can mint and look after a virtual pet, with ownership backed by NFTs. Tokenized rewards – paid in TAMA, are earned when feeding, caring for, and battling Tamadoge pets. Tamadoge is also incorporating augmented reality into its ecosystem, providing players with an immersive gaming experience.
Aave – This project was established in 2017 and was one of the first pioneers of decentralized finance. Aave supports cross-chain earning and lending without requiring third parties. For instance, investors can deposit tokens into a liquidity pool to fund collateralized loans. Borrowers pay interest, most of which goes to investors providing the funds.
Stellar – Stellar is an established cryptocurrency project with its own native blockchain. Its unique selling point is that Stellar facilitates cross-border payments at near-zero cost. Stellar transactions take seconds to process, and the network supports both crypto and fiat transfers. Its utility token, XLM, provides liquidity to transacting parties.
Decentraland – This project has developed a popular metaverse world, enabling users to explore, socialize, and play games across endless universes. Decentraland is best known for its real estate ecosystem. This enables users to buy metaverse land and build projects, with transactions processed in MANA tokens.
Reviewing the Most Promising Cryptocurrency to Invest in 2023
Now let's take a much closer look at the 10 most promising cryptocurrency to buy in 2023. This will enable investors to make informed decisions by analyzing each cryptocurrency token – covering its core features, utility, risks, and long-term potential.
1. AiDoge – Overall Most Promising Crypto With the Best Future Ahead
Our research suggests that AiDoge could be the most promising cryptocurrency to buy right now. This is a brand-new project that is currently offering its native Ai tokens via presale – so investors should consider the added risks. Nonetheless, we like that AiDoge is developing a unique concept – a meme generation tool backed by artificial intelligence.
In a nutshell, users will log into their AiDoge account, buy credits, and instantly create memes through text prompts. For instance, users can ask AiDoge to "create a meme showing the benefits of investing in cryptocurrency". AiDoge will then create a high-quality and unique image alongside the meme slogan.

This removes the need for users to create their own memes manually, saving countless hours of legwork. Not only are AiDoge memes unique, but they are backed by NFTs. In turn, this enables AiDoge users to prove they created the meme. This is a necessity in a world where the same memes are shared, viewed, and liked millions of times.
Moreover, AiDoge users can even sell the ownership rights on their memes, simply by transferring the respective NFT. Another core feature being developed by AiDoge is its public wallet. This highlights the most liked AiDoge memes of the month, enabling creations to go viral. Plus, those behind memes that make the public wall will earn tokenized rewards.
Analysts note that while AiDoge isn't without its risks, the project's revenue model has great potential. This is because AiDoge charges users 'credits' each time a new meme is created. Most importantly, credits are only obtainable with Ai tokens. Therefore, Ai tokens have solid utility and an actual use case.

To capitalize on this, AiDoge will need to ensure its meme-generation tool is marketed to the masses. After all, as more people create and share memes, this will increase demand for Ai tokens. Another way to acquire credits is to stake Ai tokens. Free credits will be accumulated for as long as the tokens are locked.
From an investment perspective, the AiDoge presale will suit high-risk, high-reward investors. For instance, the presale is selling 50% of the total Ai token supply, translating to a hard cap of $14.9 million. This means that Ai tokens will have a market capitalization of just $29.8 million after the presale.
As such, this will appeal to those in the market for low-cap gems. Furthermore, the AiDoge presale offers a discounted price to early investors. The presale is split across 20 stages, and each increases the price. For instance, investing in the AiDoge presale today nets an upside of 30%. This is based on the exchange listing price after the presale ends.
2. Launchpad XYZ – Consumer-Focused Dashboard That Streamlines the Web 3.0 Investment Journey
Next up is Launchpad XYZ – a brand-new presale project revolutionizing how consumers invest in Web 3.0. Whether it's cryptocurrencies, NFTs, presales, or play-to-earn games – Launchpad XYZ guides investors through the complex world of Web 3.0 products. For example, Launchpad XYZ has developed a cutting-edge analysis tool called 'Launchpad XYZ Quotient'.
This analyzes up to 400 data points in real-time via artificial intelligence, creating a single risk-reward value. Launchpad XYZ can then use this value to assess whether a cryptocurrency is worth investing in. This is in addition to consumer-friendly data analytics, insights, and market trends. The result – an all-in-one platform for making smart Web 3.0 investment decisions.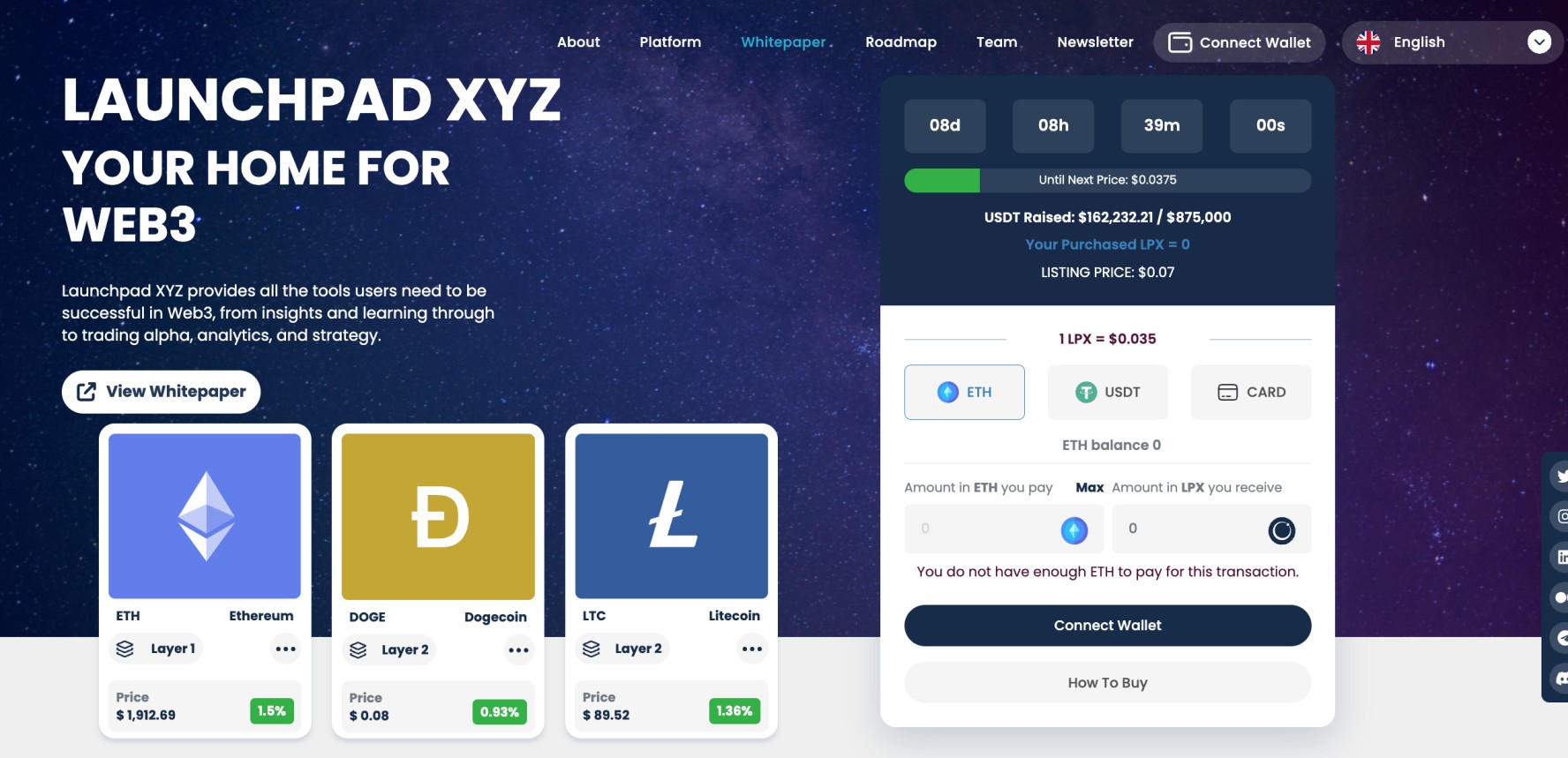 Not only that, but Launchpad XYZ also offers premium tools that are available to LPX holders. LPX sits at the core of the Launchpad XYZ ecosystem and provides unparalleled utility. For example, those staking LPX tokens will have access to Launchpad XYZ's allocation on private round presales and 'hot' NFT mints.
For every 25,000 LPX staked, the user will receive a $500 allocation in each private presale. The same amount will also yield one ticket to private NFT mints. What's more, staking LPX also offers access to play-to-earn games that are in 'beta mode'. This means the game hasn't been launched to the public, enabling Launchpad XYZ users to get in early.
Launchpad XYZ has plenty of other features that are worth exploring. For example, it will provide access to stores of value, such as luxury watches, real estate, and supercars through tokenized assets. Not only will this appeal to casual investors seeking diversification but the fractionized assets can be traded on the Launchpad XYZ exchange.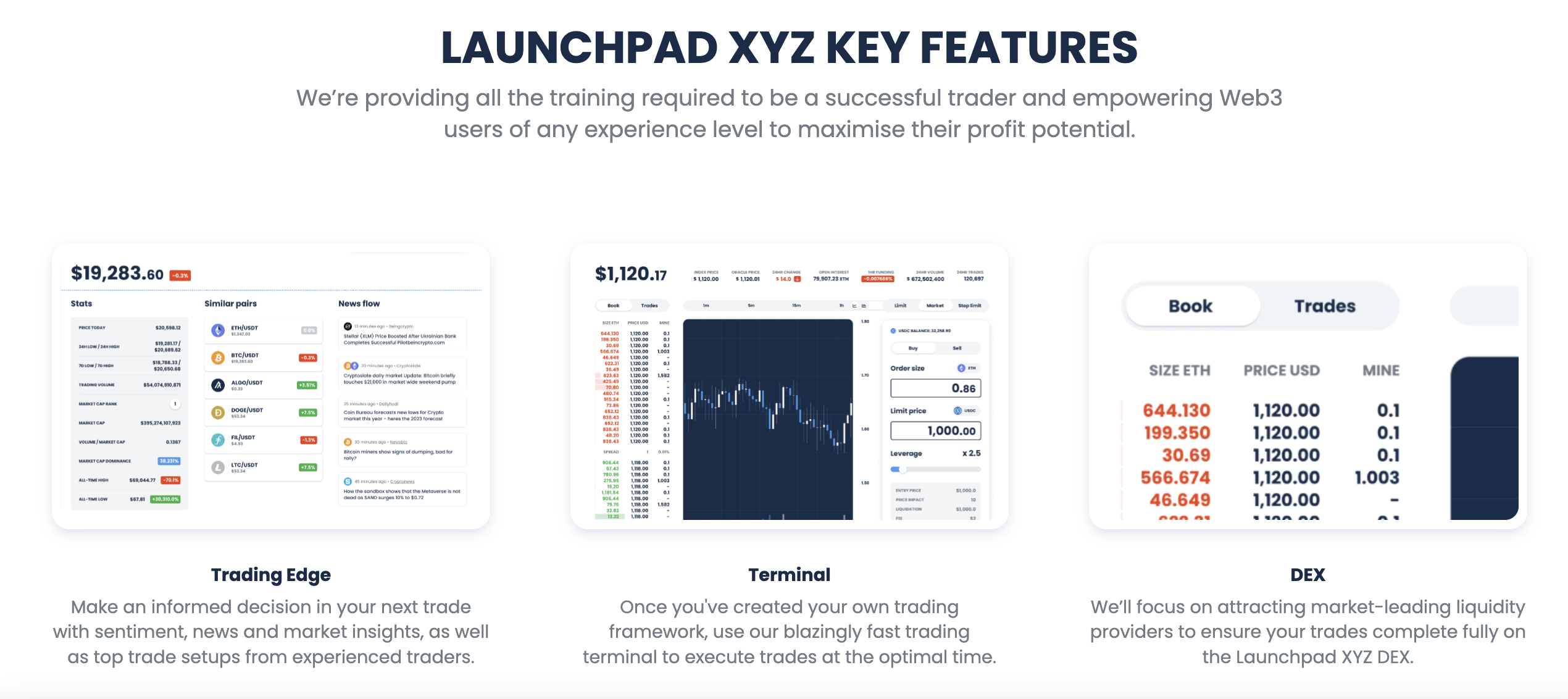 This is a decentralized exchange that also supports cryptocurrencies and NFTs. Launchpad XYZ is also building a decentralized wallet and an AI search protocol. The latter – which runs alongside natural language processing, allows Launchpad XYZ users to find the next big opportunity in the Web 3.0 space.
For instance, users can ask the AI tool to list the "Best Dogecoin killers" or "When will the next crypto bull market begin?". The possibilities are endless, and all AI responses are based on real-time datasets. That said, Launchpad XYZ is newly founded, so many of its features are still being developed.
This is reflected in the risk-reward ratio, with the Launchpad XYZ presale selling LPX tokens at a discount. For instance, current prices amount to just $0.035 per LPX. After the presale, LPX will be listed on the Launchpad XYZ exchange at $0.07. This offers presale investors a 50% discount – providing a great entry point.
3. Ecoterra – Blockchain Ecosystem Building a Green Future Through a Recycle-to-Earn App
One of the most promising cryptocurrency to buy for environmentally-focused investors is Ecoterra. This project is building a recycle-to-earn infrastructure that rewards users for recycling unwanted items. This includes items like cardboard, paper, plastic, clothing cans, and glass.
Its infrastructure consists of reverse vending machines (RVMs). Here's how it works. First, users will install the Ecoterra app and create an account. Based on the user's location, the app will highlight the nearest RVMs and which recycled items they accept. The user will then visit their preferred RVM and scan the items they wish to recycle.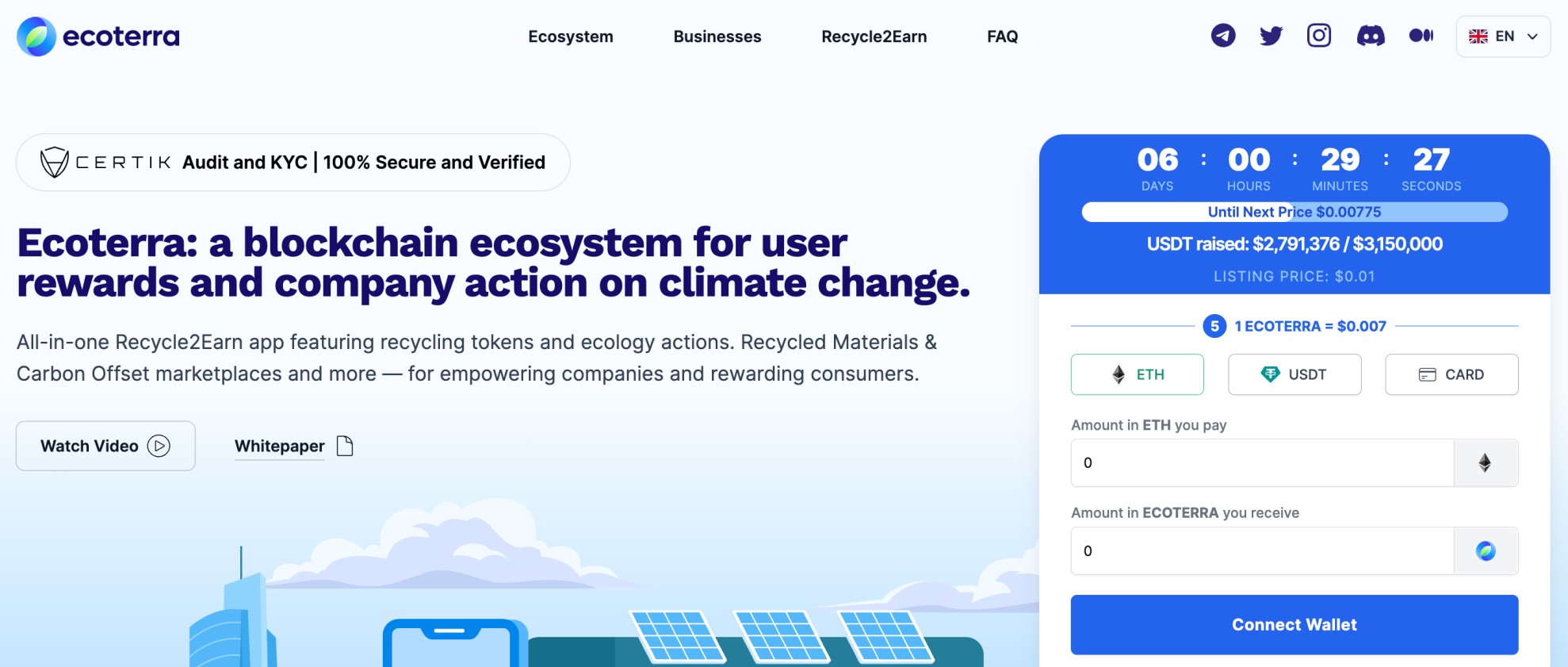 Next, the items are deposited in the RVM, and Ecoterra rewards the user with its native tokens, ECOTERRA. Therefore, green investors will appreciate that Ecoterra is combating climate change, while still offering potential investment gains. Additionally, Ecoterra is developing a portal that enables companies to source recycled raw materials.
Its network will cover suppliers globally, providing competitive pricing and key specifications. The recycled raw materials can be ordered via the Ecoterra portal and paid for in ECOTERRA and other cryptocurrencies. We also like Ecoterra's carbon offsetting program. This enables users to purchase tokenized carbon credits that are then removed from circulation.
Users can pay for their carbon-offsetting requirements with ECOTERRA tokens. Moreover, Ecoterra has also developed an 'Impact Profile'. This can be used by both consumers and companies, enabling them to share their green contributions. Those wishing to gain exposure to these innovative features can invest in the Ecoterra presale.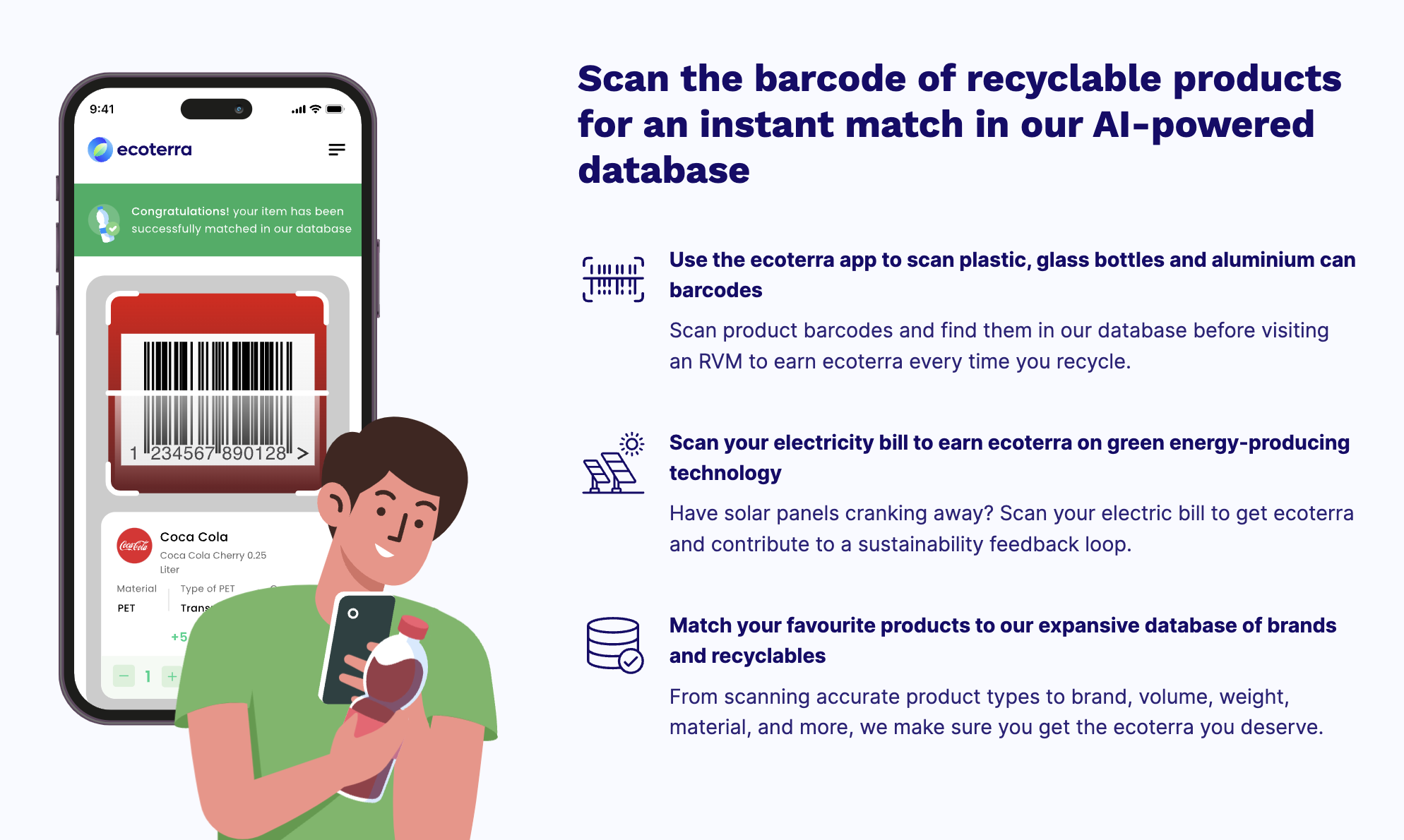 The presale has already attracted nearly $2.8 million in funding. This highlights that Ecoterra could be the most promising crypto to buy today. The Ecoterra presale is now in stage four. Each ECOTERRA token can be purchased for just $0.007. Those that miss out on the presale will pay $0.01 once ECOTERRA is listed on an exchange.
This means presale investors will secure a 30% discount. Do remember that it will take time for Ecoterra to build its network of RVMs and raw material suppliers, and there is no guarantee it will achieve its goals. Therefore, investors should consider the risks before proceeding.
4. Deelance – Creating a Fair and Frictionless Ecosystem for Freelancers and Recruiters
Deelance is a promising new cryptocurrency project building a freelancing ecosystem. Unlike other freelancing platforms in the market, Deelance is building its ecosystem on the blockchain. This presents many benefits for both freelancers and recruiters working in the gig economy.
First and foremost, recruiters will have access to a huge pool of talent. Freelancers are ranked based on their skills, prior experience, and client ratings. These metrics are stored on the blockchain, so recruiters can trust the information provided by Deelance. Once a suitable freelancer is sourced, the recruiter will cover the contract value in DLANCE tokens.
This is the transactional and utility token of the Deelance ecosystem. The DLANCE tokens are held in escrow via smart contracts and automatically released after the work is completed. In turn, freelancers receive their earnings instantly and with minimal fees. While we are on the subject of fees, Deelance is very cost-effective.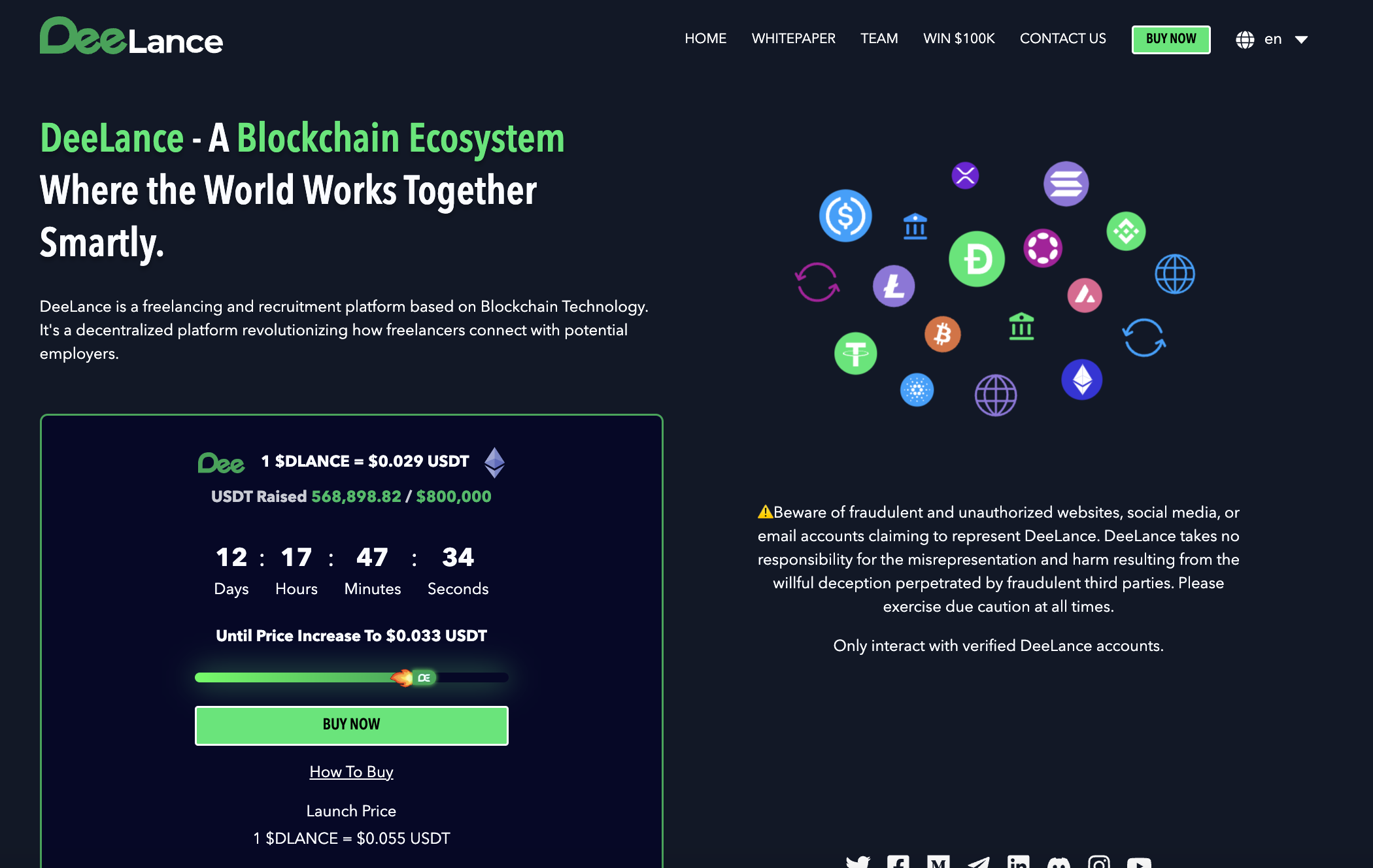 For example, it charges recruiters just 2% when using freelancers on its platform. According to Deelance – platforms like Freelancer, Upwork, and Fiverr charge 3%, 3.5%, and 5.5% for the same service. Another feature being developed by Deelance is its metaverse. This can be accessed by both recruiters and freelancers, promoting immersive working experiences.
What's more, the Deelance metaverse also enables users to invest in virtual plots of land. In turn, users can build co-working spaces and offices. Ownership of metaverse real estate is backed by NFTs and payments are made in DLANCE tokens. It is wise to remember that the metaverse real estate industry is becoming oversaturated, so consider the added risks.
That said, the Deelance metaverse is focused on the gig economy niche, which is a unique concept. Looking to buy DLANCE tokens to secure a presale discount? The good news is that the Deelance presale has only just launched. This means investing today secures the best price possible, at $0.033 per DLANCE. After the presale, investors will pay a 66% premium, at $0.055.
5. yPredict – The Future of Predictive Models and Trading Datasets for Crypto Investors
yPredict is another innovative project that is leveraging artificial intelligence for the Web 3.0 era. In simple terms, yPredict provides users with data-driven insights. This enables beginners and experienced traders alike to make frictionless and informed decisions.
Its ecosystem is not only aimed at investors but experts from the quant, big data, and blockchain development spaces. The result is a cutting-edge platform that enables users to capitalize on artificial intelligence and machine learning. For instance, quant traders with proven expertise can develop predictive models on cryptocurrency prices.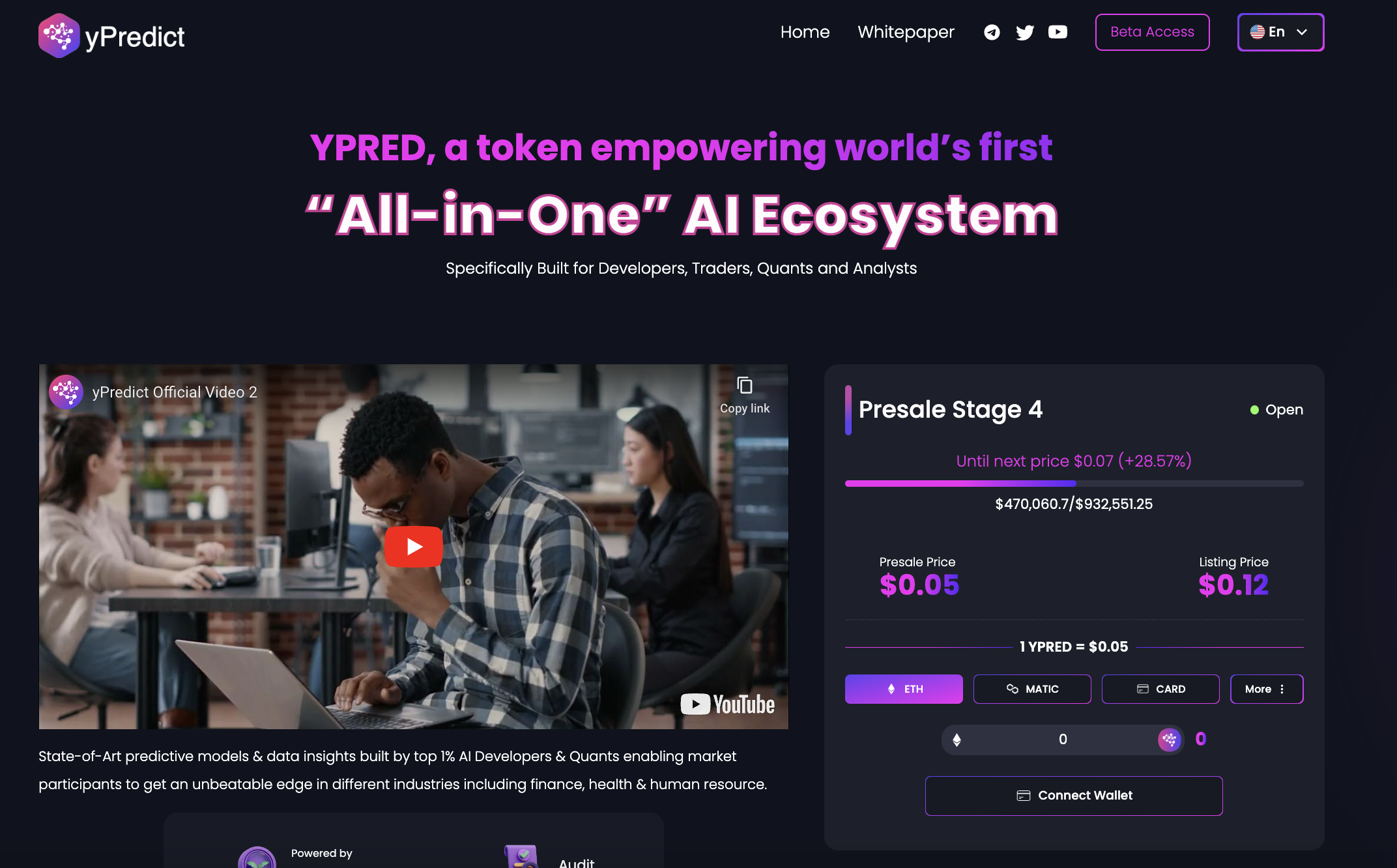 Models can automate the technical analysis and chart pattern recognition processes. In turn, quant traders can package their predictive models into a user-friendly output and be sold to the yPredict community. Some of the predictive models on yPredict yield trading signals.
This informs users of which cryptocurrency to buy and which price to execute the order. Crucially, all predictive models and datasets must first be vetted by the yPredict DAO. This ensures that trading results are transparent, with the data stored on the blockchain. All products bought and sold on yPredict are transacted in YPRED.
This is the utility token fueling yPredict and it is also available to buy at presale prices. More than $470,000 has been raised so far, and the current presale price is just $0.05 per YPRED. There are eight presale stages in total. By the final stage, YPRED will be priced at $0.011. After the presale, YPRED will be listed on exchanges at $0.12.
6. Love Hate Inu – Blockchain Startup Creating a Rewards-Based Voting Ecosystem
Another new project to consider when exploring the most promising cryptocurrency to invest in is Love Hate Inu. In a nutshell, Love Hate Inu is revolutionizing how people vote. It has developed an ecosystem on the Ethereum blockchain that supports tamper-proof and anonymous voting, protecting the integrity of its online polls.
Its framework initially relies on a stake-to-vote concept. Users will need to stake their LHINU tokens before earning voting power. LHINU is the utility token fueling the Love Hate Inu project. Once the tokens are staked, users can vote on a range of social issues, such as politics. Polls will also cover more light-hearted topics, such as who will win the next Super Bowl.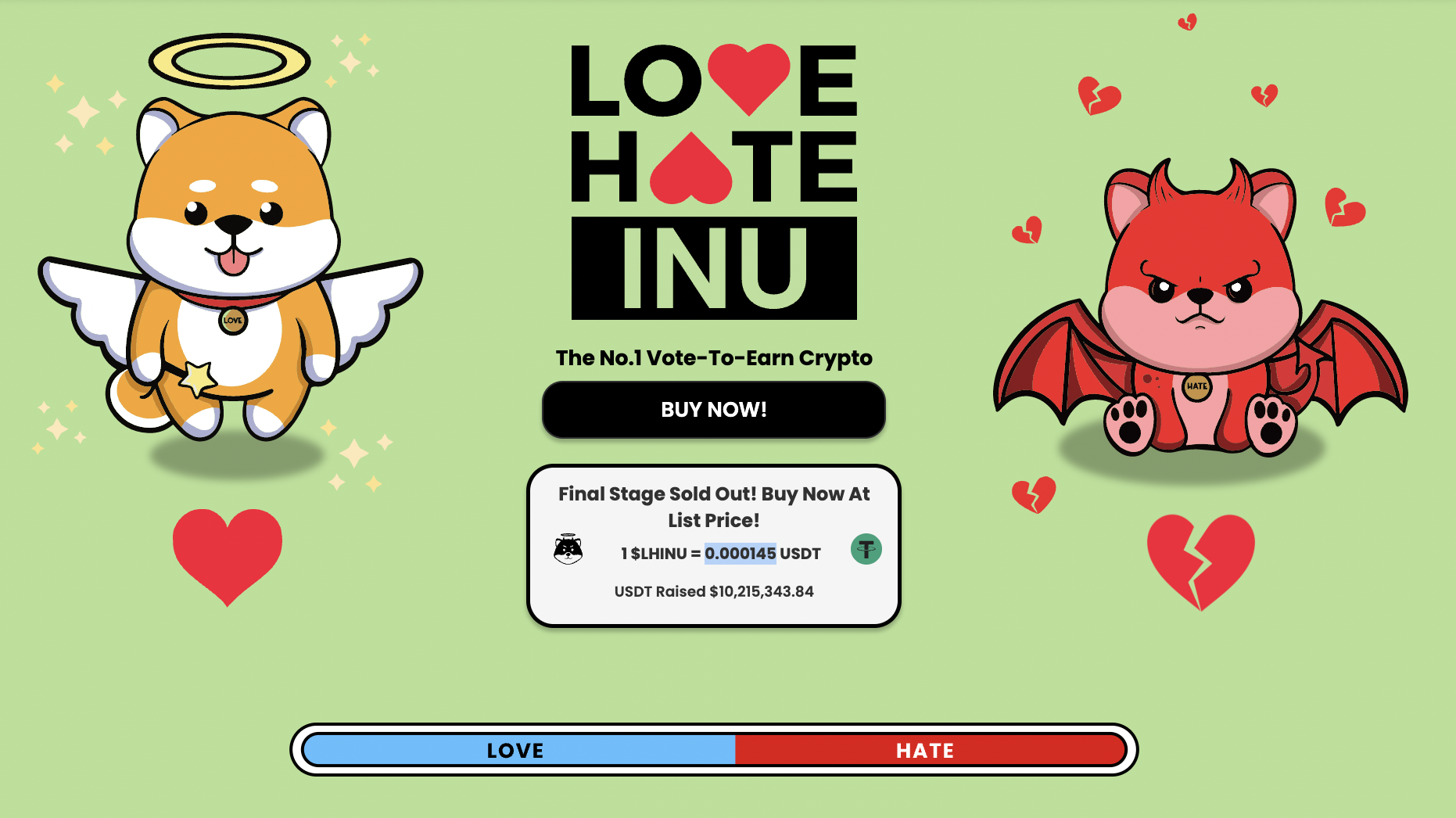 Either way, Love Hate Inu rewards voters with LHINU tokens. Back to the technology itself, Love Hate Inu ensures that votes are cast anonymously, protecting the user's identity. This is because votes are made via the blockchain and smart contracts. Its stake-to-earn framework also ensures that votes are immutable and secure.
It is also beyond the realm of possibility for fraudulent votes to occur in its ecosystem. The transparent nature of Love Hate Inu also protects the ecosystem against bots and double-counting. Anyone staking LHINU tokens can create their own polls. Love Hate Inu also enables companies to create polls, chargeable in LHINU tokens.
Love Hate Inu launched its presale in Q1 2023, and it has been a huge success. It raised over $10 million, reaching its hard cap target with ease. The good news for those missing out is LHINU tokens can still be purchased at the exchange listing price of $0.000145. This enables investors to secure an allocation of LHINU before trading begins.
7. Tamadoge – Early-Stage Play-to-Earn Ecosystem With Rewards and Immersive Experiences
Looking to gain exposure to the future of gaming? Tamadoge is the most promising cryptocurrency to buy from this niche market. Founded in mid-2022, Tamadoge has developed a pet-themed game on the blockchain. New players will initially mint a Tamadoge pet, backed by an NFT to verify ownership.
The characteristics and appearance of the pet will be generated randomly via a smart contract. Once the pet has been minted, players will need to care for it. Players will also need to train their pets to improve their traits. This is in preparation for Tamadoge battles, where virtual pets fight in an immersive setting.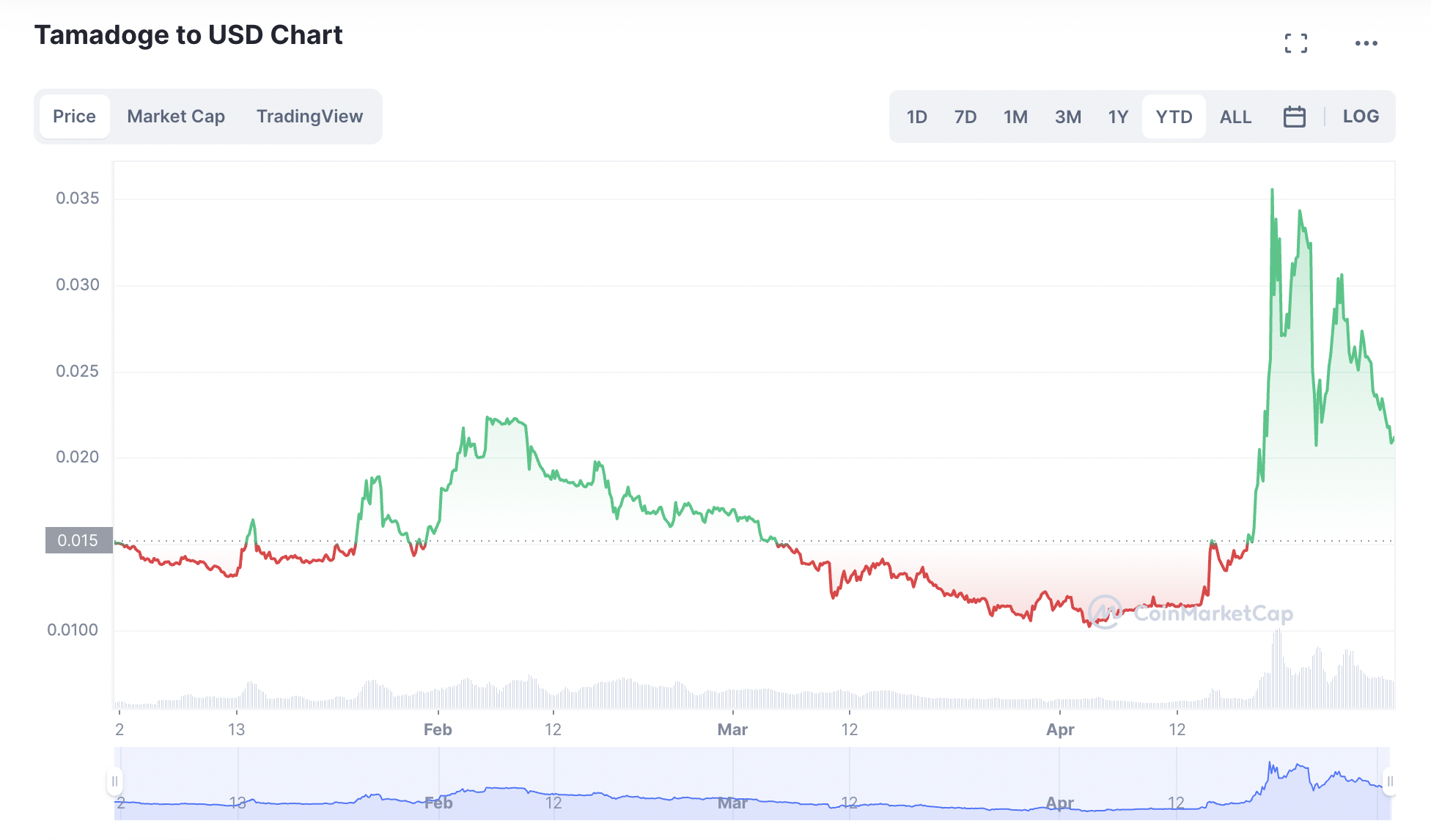 Victorious players will earn crypto rewards, paid in TAMA. This is the in-game rewards currency that also enables investors to gain exposure to the project. More on this shortly. Another feature of this play-to-earn game is that players can breed their Tamadoge pets. The traits of a newly bred offspring are generated by smart contracts and based on its two creators.
Breeding improves the player's earning capabilities, as more pets can enter battles and win rewards. Those wishing to fast-track their pet's development can buy in-game NFTs. This can boost the pet's speed, strength, stamina, and more. Tamadoge completed its presale in Q4 2022, raising over $19 million. TAMA tokens now trade on exchanges, including OKX, BitMart, and ByBit.
8. Aave – Pioneer of Decentralized Finance Protocols for Earning and Borrowing Crypto
Aave is a decentralized finance protocol that was founded in 2017. Its ecosystem supports both investors and borrowers. Regarding the former, investors can deposit their idle crypto tokens into an Aave liquidity pool. This provides liquidity for borrowers and enables investors to earn interest. In turn, borrowers can obtain secured loans, using crypto as collateral.
The borrower will pay interest, which covers the investor's yield. While Aave was first deployed on the Ethereum blockchain, it now supports cross-chain functionality. Supported networks include Avalanche, Arbitrum, Polygon, and Optimism. Aave operates as a DAO, so the community votes on core decisions.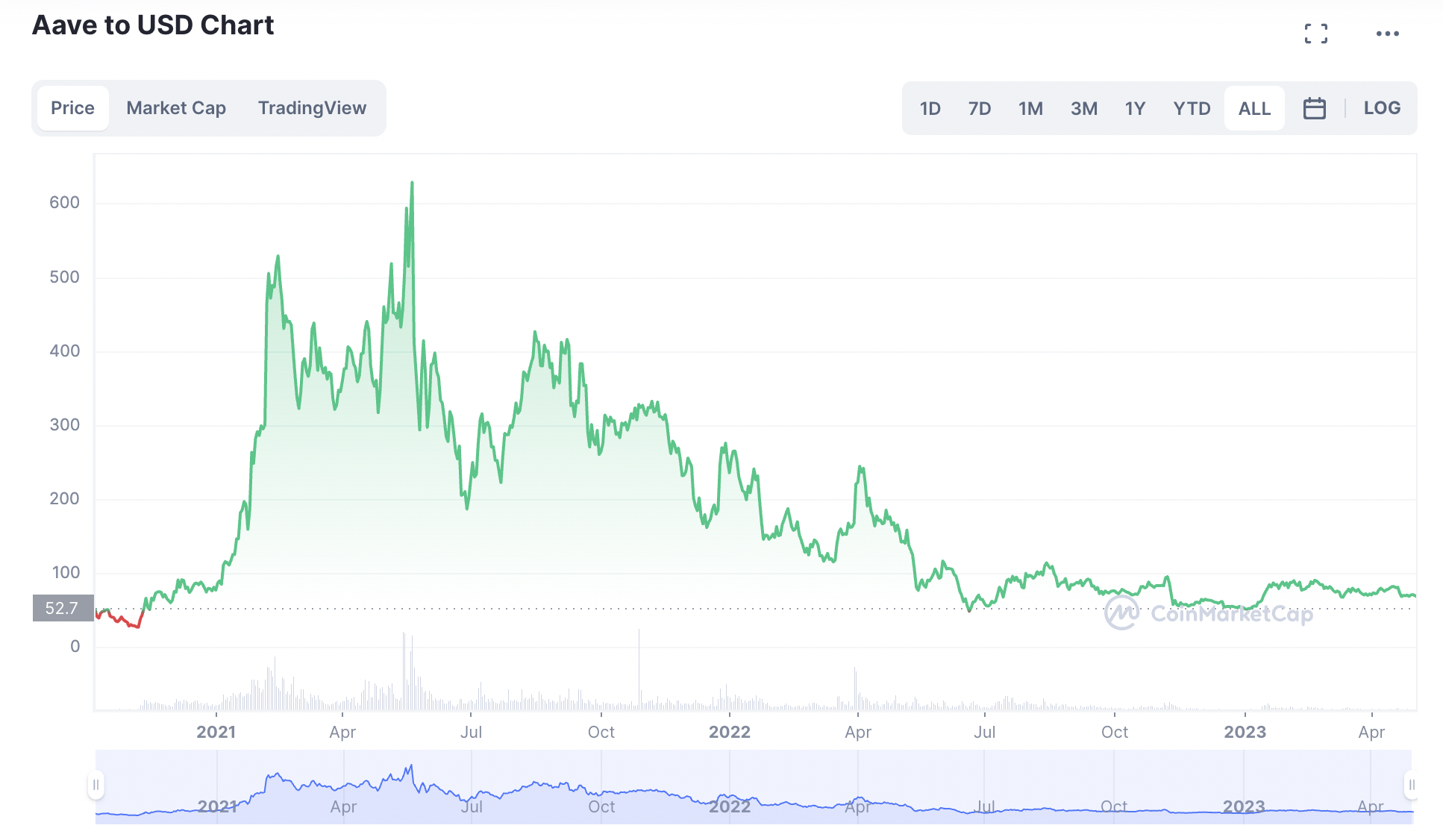 Only those holding its governance token, AAVE, can vote. AAVE is also the investment token that offers exposure to the project's growth. Aave currently has a market capitalization of almost $1 billion, down from $8 billion in late 2021. This offers a bear market discount of over 85%.
9. Stellar – Cross-Border Blockchain Network Supporting Near-Free and Instant Payments
Founded in 2014, Stellar is another established project that has great potential once the next bull run begins. Stellar has developed a fully-fledged payments network that supports cross-border transactions. Irrespective of where the sender and receiver are based, transactions cost just 0.00001 XLM.
XLM, Stellar's native token, trades at under $0.10. This means Stellar payments are virtually free. What's more, transactions average processing times of 4-5 seconds. Another feature of Stellar is that its blockchain can handle fiat payments. In this instance, XLM tokens provide liquidity, ensuring that transactions are processed quickly and cheaply.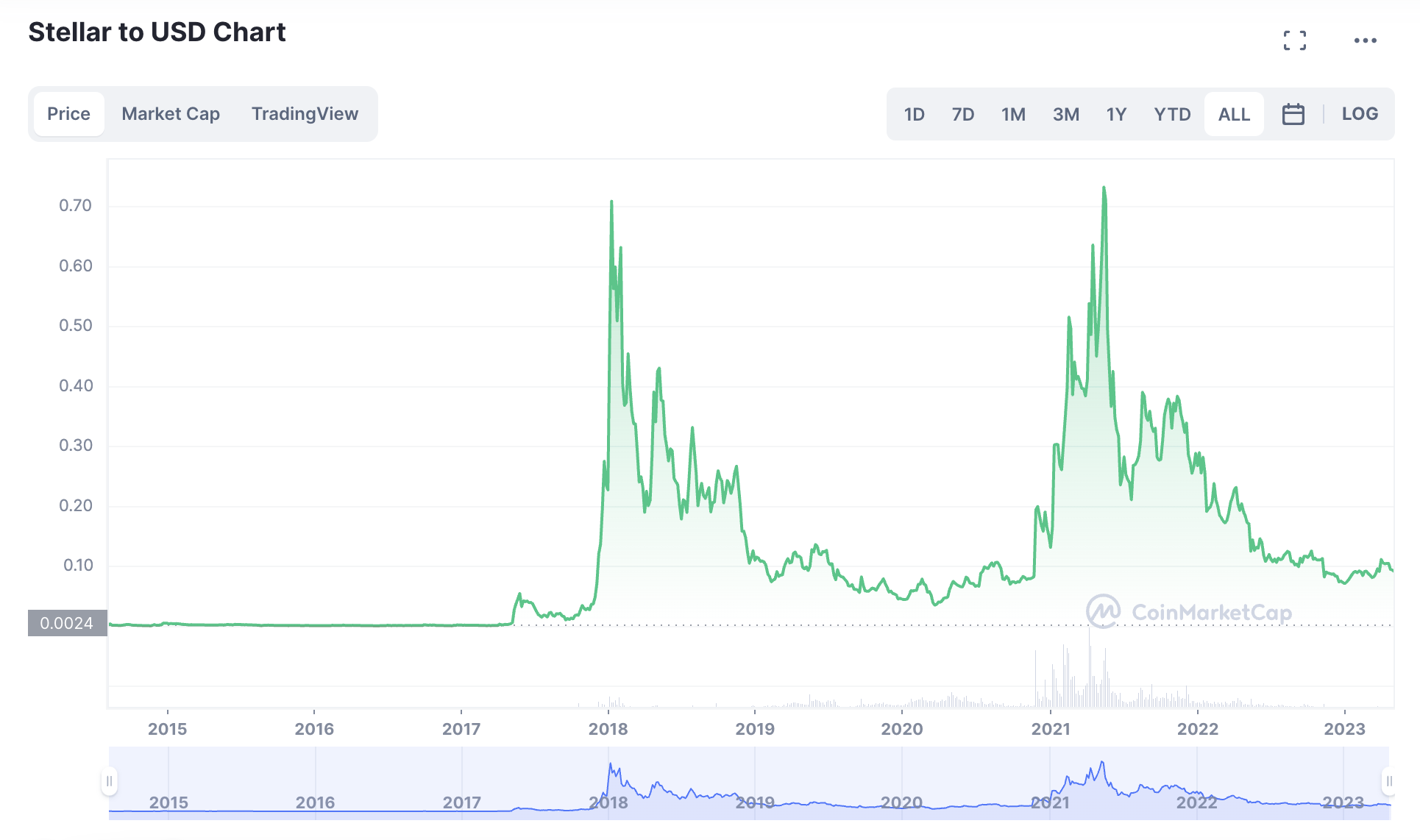 While Stellar has formed many partnerships, the most notable is IBM. In a nutshell, Stellar enables IBM to make inter-company payments across borders. Stellar has also formed a partnership with MoneyGram. This enables people to deposit and withdraw money without needing a bank account. XLM currently trades with a market capitalization of $2.5 billion.
10. Decentraland – Leading Metaverse Project With Virtual Real Estate Selling for Seven Figures
Decentraland is a popular metaverse project built on the Ethereum blockchain. Users can explore many digital worlds, socializing and playing games along the way. Decentraland has its own metaverse currency, MANA. This is required to buy plots of land in the metaverse. Users can then build their own virtual real estate projects.
For instance, their dream home or a hotel. Either way, Decentraland real estate went through a major boom during the prior bull market. One land plot alone sold for over $2.4 million. However, in line with the bear market, Decentraland land prices have since plummeted.
On the flip side, this enables new investors to buy land at an affordable price. Additionally, the value of MANA tokens has also gone through a rollercoaster ride. For instance, MANA was priced at $0.025 in 2017 and peaked at almost $5 in 2021. This represents growth of nearly 20,000%. Currently, MANA is trading at just over $0.50 – a 90% decline from its peak.
How to Find Promising Crypto Projects
Finding the most promising cryptocurrency projects is like looking for a needle in a haystack. This is due to the sheer number of projects in the market, not to mention new entrants appearing every day. As such, investors need to do their own due diligence, exploring everything from the project's whitepaper and roadmap to market capitalization and tokenomics.
In this section, we help navigate this complex market so that investors can find the most promising cryptocurrency projects.
Whitepaper and Concept
The first step is to create a short list of projects that have interesting concepts. For instance, consider if the project is building something new and whether it solves any real-world issues.
Regarding the former, AiDoge is building a text-based tool that instantly creates memes. There is nothing similar in this market, so AiDoge makes our shortlist. Similarly, Ecoterra has developed the recycle-to-earn concept. As discussed, this rewards people with ECOTERRA tokens when depositing recyclables in reverse vending machines.
Crucially, investors should read the project's whitepaper to take a dive deep into its objectives. The whitepaper should also have a roadmap. This highlights its core objectives and when it anticipates completing them. Overall, knowing the project inside-out will help determine if it's worth investing in.
Tokenomics and Utility
Next, investors should spend some time researching the tokenomics of the project. For instance, explore how many crypto tokens the project has created and what percentage are in circulation.
If the vast majority of tokens created are held by the project's core team – this is a major red flag. After all, the team can dump their tokens at any time.
In contrast, the best crypto to invest in are often those with a high circulating supply. For example, Love Hate Inu is selling 90% of its total supply via its presale. This leaves just 10% in the hands of the development team.
Another metric to explore is the utility of the crypto token being purchased.
For example, LPX tokens offer access to premium Launchpad features. This includes access to exclusive NFT mints, unreleased play-to-earn games, and the best crypto presales.
Similarly, Ai tokens are required to create AiDoge memes.
In the case of Ecoterra, its ECOTERRA tokens are the reward currency paid to those recycling.
If a crypto token does not have any identifiable use cases within its ecosystem, this should be viewed as a red flag.
Upside Potential
Investors searching for the most promising cryptocurrency to buy are looking to maximize investment gains. Therefore, it is also important to consider the upside potential of the project.
This can be tricky, but a good starting point is to assess the current market capitalization. This offers insight into how much growth is on the table.
For example, we mentioned earlier that AiDoge is one of the best crypto ICOs to watch.
After the AiDoge ICO, Ai tokens will have a maximum market capitalization of $29.8 million.
Considering that cryptocurrencies operate in a trillion-dollar market, this is insignificant.
In other words, as AiDoge memes become popular and people buy credits with Ai tokens, there is plenty of growth potential.
In contrast, there is less growth potential with larger-cap projects, like Stellar. This is because Stellar already has a market capitalization of $2.5 billion. Nonetheless, Stellar still represents one of the most promising cryptocurrency to trade. After all, Stellar is trading at a fraction of its former highs.
What Differentiates Promising Crypto From Unpromising Crypto?
It can be challenging to differentiate promising cryptocurrencies from those that are worth avoiding. This is because many cryptocurrency projects make bold claims about new solutions to age-old problems. However, this doesn't always materialize. In addition to conducting research and due diligence, investors should ensure they are well-diversified.
The crypto investing scene is a complex and unpredictable battlefield. While history suggests that quality projects provide investors with the best gains, this isn't always the case.
For instance, the jury is still out on the use case of meme coins like Shiba Inu. While Shiba Inu is working on holder benefits like a metaverse and decentralized exchange, it reached a multi-billion dollar valuation without any utility.
That said, the most successful crypto projects add value to the blockchain ecosystem through unique concepts. As noted, AiDoge has developed a unique AI-backed tool that creates memes based on prompts. The use case of its token, Ai, is that it is only the accepted currency to buy credits. And credits are needed to create memes.
Similarly, Deelance is revolutionizing the gig economy through decentralization. Its native token, DLANCE, is the transactional currency for recruiters to pay freelancers.
While there is no guarantee that these use cases will result in investment gains, most analysts would argue that utility tokens will always supersede meme coins in the long run.
Conclusion
Finding the most promising crypto projects for 2023 is a challenging undertaking. Investors should focus on quality projects with a strong roadmap, unique concepts, and sustainable tokenomics.
We found that AiDoge best fits this criterion. AiDoge has developed a tool that creates unique memes through text instructions. The tool functions via artificial intelligence and memes are backed by NFTs.
AiDoge's utility token, Ai, offers exposure to this project. Investors can buy Ai tokens today via the AiDoge presale, offering a discounted entry price and early access to its meme generation tool.
FAQs
What are the most promising cryptocurrencies?
Which crypto coins have the best future?