For many investors, cryptocurrencies have become an increasingly attractive asset class due to their prospects for high returns, alongside the ability to diversify easily.
One way to identify potentially profitable investments is by looking at the trending cryptocurrencies. This guide provides a comprehensive overview of the most searched cryptos of 2023 – outlining their key features and investment prospects.
The 12 Most Searched Cryptocurrencies Right Now
Here is a list of the most searched crypto coins right now:
AiDoge – The most searched cryptocurrency for meme creation. Offering real utility, dynamic staking capabilities, and tantalizing early investment potential, it's set to redefine the crypto landscape.
yPredict – A platform that offers AI-powered predictive models for informed trading decisions. With its native token YPRED and enticing staking opportunities, yPredict has become one of the most searched cryptocurrencies in 2023.
Ecoterra – An innovative green crypto platform that promotes a sustainable lifestyle and rewards eco-conscious actions. With its unique Recycle2Earn ecosystem and rewarding presale opportunities, Ecoterra is a trailblazer in promoting eco-friendly practices.
DeeLance – A revolutionary Web 3 freelancing platform utilizing blockchain to streamline recruitment processes and secure project ownership. Offering unique features like a metaverse for business interactions, DeeLance is the future of decentralized work.
Launchpad XYZ – One of the most searched crypto platforms aiming to become the gateway to all Web 3 functionalities. Its all-in-one platform allows seamless access to NFTs, a decentralized crypto exchange, analytics, and more, making Web 3 accessible to everyone.
RobotEra – Upcoming P2E Metaverse Rebuilding Game
Tamadoge – Play-to-Earn Crypto Gaming Platform With NFTs
XRP – Digital Currency Used by Ripple for Facilitating Cross-Border Payments
Fetch.ai – Blockchain Network Utilizing Artificial Intelligence and Machine Learning
Dogecoin – Meme Coin With Strong Community Support and Growing Mainstream Adoption
Ethereum – Gain Exposure to the Growth of the DeFi Sector
Bitcoin – The Most Popular Cryptocurrency With First Mover Advantage
Analysis of The Most Searched Cryptocurrencies
The most searched cryptocurrencies are those that have captured the attention of investors and enthusiasts alike. Understanding which cryptocurrencies are the most searched can provide investors with valuable insights into social sentiment and the evolving preferences of the wider market.
However, with so many different digital assets in the market, it can be difficult to know where to start.
Therefore, we have researched some of the most searched cryptos to provide investors with accurate and reliable information about trending digital assets. Take a look below to learn more about the trending cryptocurrencies of this year.
1. AiDoge – The Most Searched Meme-Creation Cryptocurrency Platform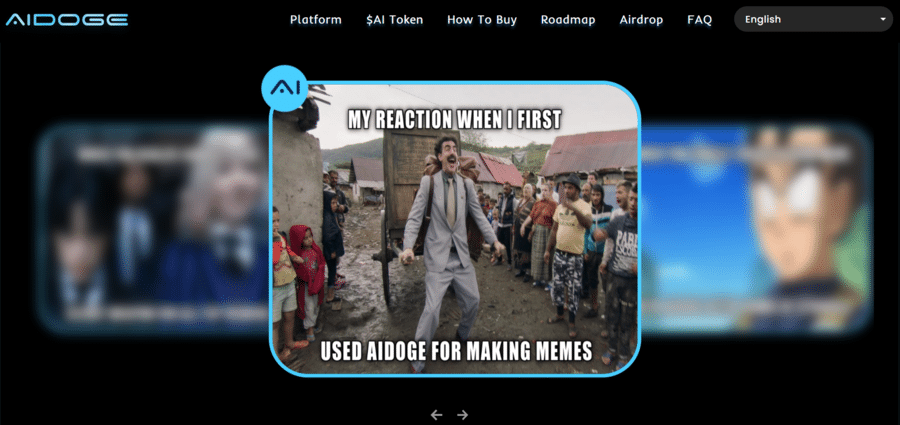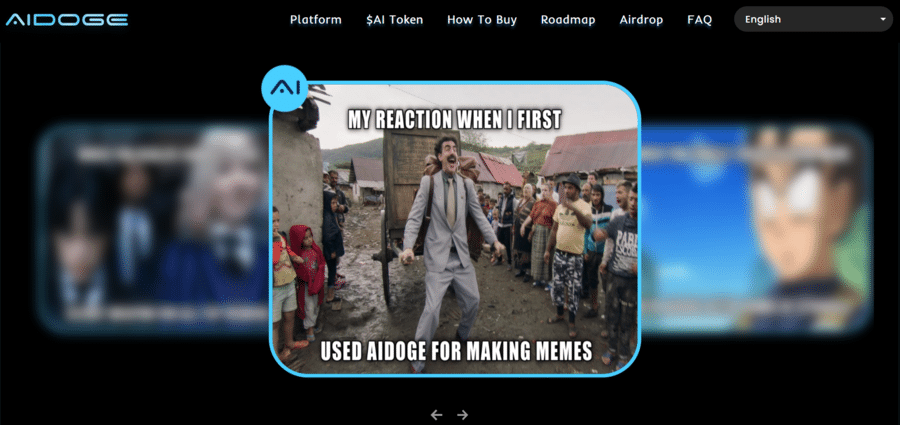 One of the most searched cryptocurrencies of 2023 is definitely AiDoge. This popular crypto platform stands at the unique intersection of cryptocurrency and social media, specifically the realm of memes. It's the first AI-integrated meme platform, using AI to generate high-quality, timely, and relevant memes, potentially attracting a large user base.
A key component of the AiDoge ecosystem is its native $AI token, a multifaceted digital asset that serves multiple purposes within the platform. Users can use it to buy credits which are then used to create memes. This adds a layer of interaction and utility to the token, extending beyond just speculative trading.
Users can also stake the tokens, securing them in a contract to receive daily credit rewards, which also helps promote the platform's long-term stability. In addition to that, the project incentivizes community engagement by awarding tokens for creating popular memes and voting on them. You can find out more about the product's features from its whitepaper.
Considering the enormous popularity of meme coins like Conflux and Pepe Coins, it's no wonder AiDoge has become so in demand. There are other similar products in the market, such as Arb Doge AI, but AiDoge goes a step further by offering a platform with tangible practicality.
However, as one of the newest additions to the crypto market, AiDoge doesn't provide any price history on which to base your token analysis, making it a potentially high-risk investment. On the flip side, similar crypto projects have been known to blow up after the presale. Some examples include Shiba Inu and Dogecoin, which have, at certain points, yielded as much as 37,000% in profits for investors.
While the developers have chosen to remain anonymous, this is reasonably common among meme crypto projects. It is even possible that the team behind the platform has also participated in creating other popular meme cryptos. If the creators do decide to reveal their identities, you can be the first to know about that if you join AiDoge's official Telegram channel.
Despite the anonymity, the platform has managed to instill enough trust to generate more than $8.9 million in profits at the time of writing. You can currently snatch its tokens for $0.0000308 apiece.
| | |
| --- | --- |
| Presale Started | April 2023 |
| Purchase Methods | ETH, USDT, BNB, Credit card |
| Chain | Ethereum |
| Hard Cap | $14,900,000 |
| Min Investment | 38,461 $AI |
| Max Investment | None |
2. yPredict – The Most Trending Crypto Project for Making Accurate Predictions of Financial Market Moves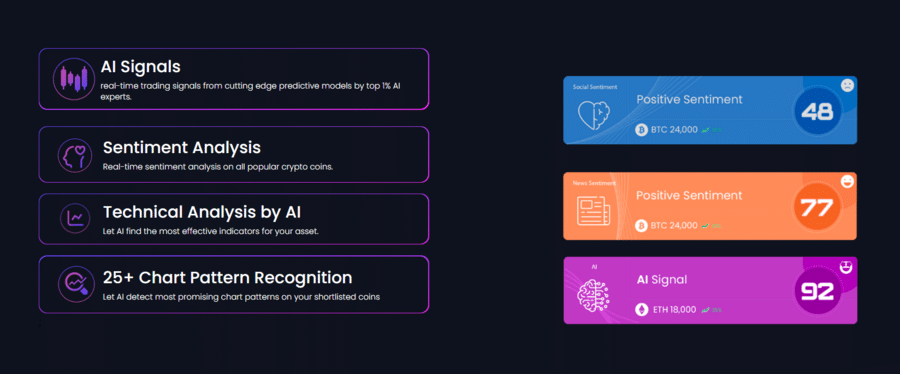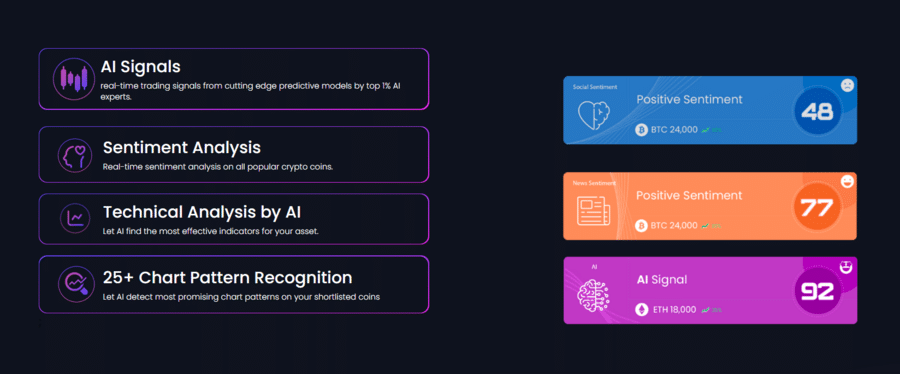 In a world increasingly dominated by sophisticated trading algorithms, traditional methods of financial market predictions are losing their effectiveness. This is a problem yPredict has set out to tackle using the latest AI technology and machine learning to provide traders with a data-driven edge.
yPredict is one of the most searched cryptos worldwide because it offers an ecosystem integrating live financial data with state-of-the-art metrics and methodologies. This forms the backbone of yPredict's advanced analytics, providing an environment where data scientists can create predictive models with reliable trading signals and sell monthly subscriptions to their products.
The primary currency of the yPredict platform is $YPRED, which mainly serves as a form of subscription to predictive models. What's more, by holding the $YPRED tokens, users can also get unlimited access to the platform. Due to their limited total supply and price growth potential, these tokens also provide an attractive investment opportunity.
In addition to that, staking $YPRED tokens can also yield significant returns. According to the whitepaper, the platform's liquidity source will be 10% of its earnings from subscriptions, and this can create a stable environment and reliable annual percentage yield for investors.
Despite that, it is wise to research the token thoroughly before investing. If you do decide to jump on the bandwagon, you'll be able to get $YPRED for only $0.07. However, keep in mind that its price will increase as the presale advances.
The project has already raised over $1.2 million, and its profits are steadily rising. To keep up with the latest developments, join yPredict's Telegram group.
| | |
| --- | --- |
| Presale Started | February 2023 |
| Purchase Methods | ETH, MATIC, USDT, BNB, Card |
| Chain | Polygon |
| Hard Cap | $6,507,511 |
| Min Investment | 200 $YPRED |
| Max Investment | None |
3. Ecoterra – Green Crypto Promoting Eco-Conscious Choices Through Recycle2Earn System
Ecoterra is a green crypto that motivates individuals to make eco-conscious decisions. Due to its unique Recycle2Earn system, this cutting-edge platform has quickly become a searched crypto amongst users and investors.
The platform promotes the recycling of various items, thereby increasing the probability of users adopting environmentally friendly practices.
Ecoterra tokens can be obtained during the presale for as low as $0.00625 USDT. With the listing price set at $0.01 USDT, the presale offers a substantial price advantage to early investors.
By using the Ecoterra app to scan recyclable items, users can earn $ECOTERRA tokens. These tokens can be donated, spent, staked, or held by users.
The app comprises several features, including a carbon offset marketplace, a platform for tracking environmental impact, and a recycled goods market. These user-driven additions are part of an all-encompassing strategy to encourage global eco-friendly habits.

Ecoterra's whitepaper states that the app incorporates an AI-powered database, enabling users to scan products to determine their recyclability swiftly.
The app then directs users to the closest recycling vending machine for proper disposal of the item. After recycling, users can submit a photo of their receipt via the app to claim their rewards.
The platform's versatility allows it to cater to a diverse range of industries, such as consumer goods, technology, fashion, and hospitality.
Individuals interested in supporting Ecoterra and its unique approach to incentivizing sustainable practices through financial rewards are encouraged to join the Ecoterra Telegram group.
| | |
| --- | --- |
| Hard Cap | $6,700,000 |
| Total Tokens | 2,000,000,000 |
| Tokens available in presale | 1,000,000,000 |
| Blockchain | Ethereum Network |
| Token type | ERC-20 |
| Minimum Purchase | $10 |
| Purchase with | USDT, ETH, Bank Card |
4. DeeLance – Decentralized Freelance Marketplace Fusing Blockchain, NFTs, And Metaverse
DeeLance is a decentralized freelancing platform quickly becoming one of the most searched cryptos on the market. The project aims to enhance operational efficiency and minimize risks by leveraging blockchains. This approach makes the recruitment process more user-centric, transparent, effective, and self-governed.
Built on the Ethereum blockchain, the platform's native digital currency, $DLANCE, undergoes a six-phase presale, with its current price at $0.029 USDT. Upon its official listing, the presale page indicates that the token will be priced at $0.055 USDT.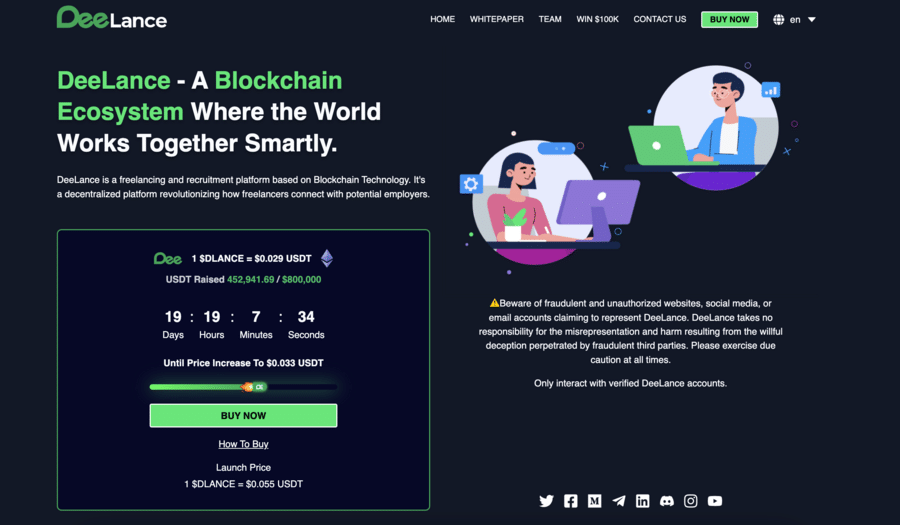 The value of $DLANCE lies in its exclusivity as the sole currency facilitating transactions in the NFT marketplace. Furthermore, users can leverage this digital asset to rent office spaces, promote their services, and access various offerings within the ecosystem.
DeeLance's whitepaper outlines the platform's ambitious plan to transform the job-seeking landscape by integrating decentralized networks, NFTs, and the metaverse.
Both freelancers and employers can enjoy peace of mind, knowing that their funds are securely held in escrow and payments are processed efficiently through the platform. NFTs offer added benefits to clients and freelancers by providing clear, indisputable ownership of digital work.
The DeeLance Advantage
With reasonable fees of 2% for clients and 10% for freelancers, DeeLance offers a competitive edge. The platform eliminates waiting times and hidden fees when withdrawing crypto earnings. There are no restrictions on task sizes, and users can also take advantage of streamlined escrow services, content ownership verification, and talent acquisition tools.
DeeLance's innovative integration of NFTs and the metaverse enables new commerce opportunities. NFTs serve to authenticate ownership and grant avatars access to the virtual world.
Within the DeeLance metaverse, businesses and freelancers can interact, conduct transactions, and establish their virtual presence in unprecedented ways. To stay updated, users can join the DeeLance Telegram group.
| | |
| --- | --- |
| Hard Cap | $6,800,000 |
| Total Tokens | 1,000,000,000 |
| Tokens available in presale | 300,000,000 |
| Blockchain | Ethereum Network |
| Token type | ERC-20 |
| Minimum Purchase | $10 |
| Purchase with | USDT, ETH, Card |
5. Launchpad XYZ – A Popular New Crypto Platform Revolutionizing the Web 3 Realm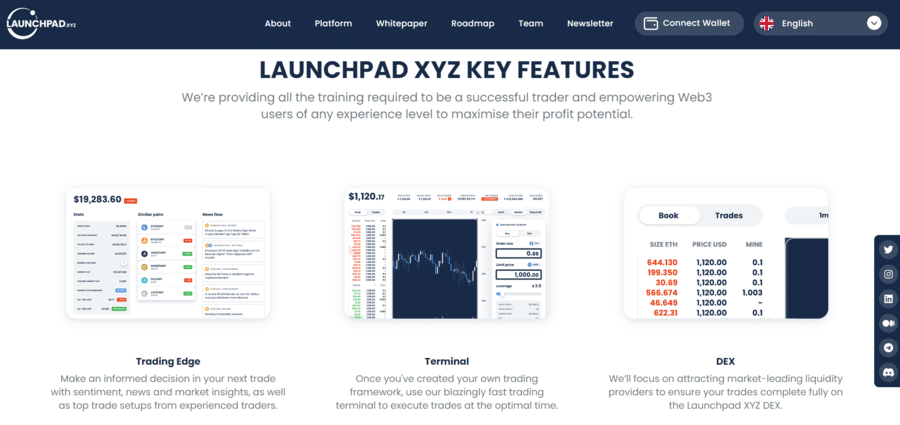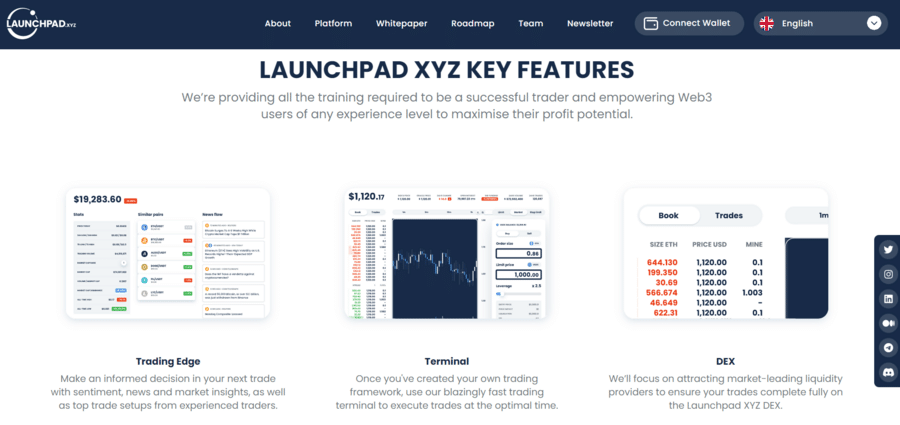 Launchpad XYZ is an innovative crypto platform designed to be a unique gateway into Web 3. It tackles the existing complexities of Web 3 by offering a user-friendly and humanized interface, making it accessible to those previously intimidated by its complexity.
Launchpad XYZ has become one of the most searched cryptocurrencies, with good reason. As we learned from the whitepaper, its goal is to become the central portal for discovering and engaging with the Web 3 ecosystem. This ambition is also matched with a practical roadmap to onboard ten million users by 2025 and achieve a whopping $10 billion market cap.
The platform's unique features cater to a variety of user needs — from an extensive NFT marketplace to a decentralized exchange and a standalone Web 3 wallet. The ecosystem also provides in-depth data on various utility tokens, a treasure trove for those looking to invest in other digital assets.
However, Launchpad XYZ may face some challenges. The market's illiquidity and the project's ambitious roadmap indicate that patience will be key for users looking to capitalize on the platform's offerings fully.
On the flip side, Launchpad XYZ has no viable competitors as it's the only crypto platform encompassing such a varied array of Web 3 features. Moreover, the project is committed to educating users and facilitating their profit in the Web 3 market through weekly trade insights.
You can join the project's Telegram channel to get more information before investing. If you think Launchpad XYZ matches your needs, you should know that its native token, $LPX, is in presale now. You can grab it for $0.0445. The project has already raised more than $490,000, and its earnings keep increasing.
| | |
| --- | --- |
| Presale Started | April 2023 |
| Purchase Methods | USDT, ETH, Transak |
| Chain | Polygon |
| Hard Cap | $12.5 million |
| Min Investment | None |
| Max Investment | None |
6. RobotEra – Upcoming Metaverse Rebuilding Game
RobotEra's metaverse game is set on a futuristic planet that has undergone a catastrophic event, leaving behind only a group of robots with human minds. In this crypto game, players can create their own robot avatars and join in the reconstruction of the Taro planet.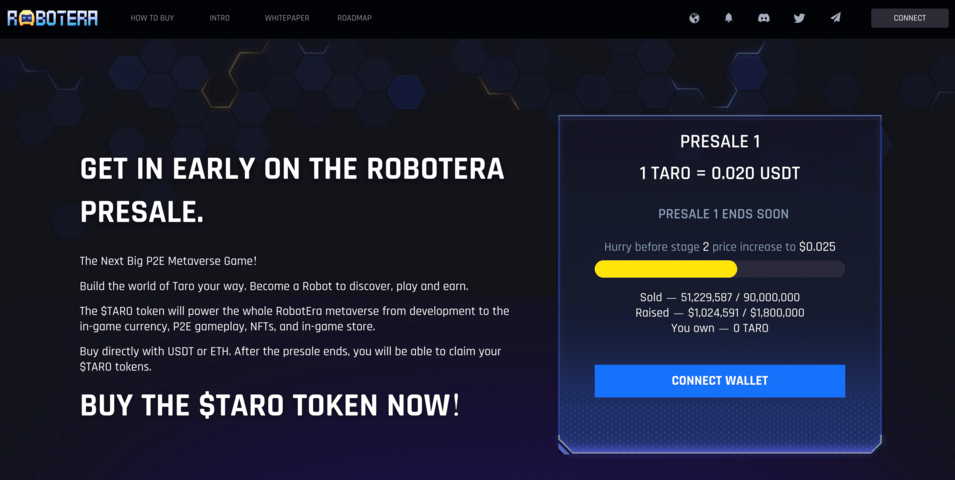 Players can achieve this by gathering resources from the Taro metaverse, managing their virtual lands, and constructing robot companions, among other activities. Although metaverse building is not a new concept in the play-to-earn industry, RobotEra has managed to bring its own unique twist.
As we noted above, RobotEra has incorporated an engaging backstory, which can guide players during gameplay. Moreover, the game also comes with various monetization opportunities. To begin with, all digital assets in the RobotEra metaverse game will be minted as NFTs.
This means that players can trade their creations, such as virtual land, buildings, trees, or practically any asset, as NFTs. Moreover, players can also invite others to explore their mini-worlds, sell advertisement spaces, or even host events by selling tickets.
All transactions on the RobotEra metaverse will be handled using the platform's native token, TARO. Investors can also stake their TARO tokens to generate passive income.
The RobotEra presale is currently ongoing as of writing and has raised over $900,000 in stage one. During this stage, TARO tokens are available for purchase at just $0.02 per coin, and prices will gradually increase throughout the subsequent presale phases.
According to RobotEra's roadmap, the platform will begin launching its NFT collections by Q2 2023 and release its metaverse game by the end of this year. With the numerous monetization opportunities of RobotEra and its interesting gameplay, RobotEra has caught the eye of gamers as well as investors and is one of the most searched crypto coins of this year.
| | |
| --- | --- |
| Presale Started | Q4 2022 |
| Purchase Methods | ETH, USDT |
| Chain | Ethereum |
| Min Investment | 1,000 TARO |
| Max Investment | None |
7. Tamadoge – Play-to-Earn Crypto Gaming Platform With NFTs
Tamadoge is a newly launched play-to-earn and meme coin project that experienced a massively successful presale launch in 2022. Despite the bearish market conditions of last year, Tamadoge managed to raise an incredible $19 million from early investors.
For this reason, Tamadoge was a cryptocurrency widely discussed across reputed platforms such as Yahoo Finance and the Economic Times of India, as well as crypto subReddits. Tamadoge is in the process of creating an engaging P2E platform centered around NFT games. On this platform, players can mint unique virtual pet NFTs and use them to play games.
Players will be offered points when participating in these games, and by the end of every month, those who top the leaderboard are offered rewards.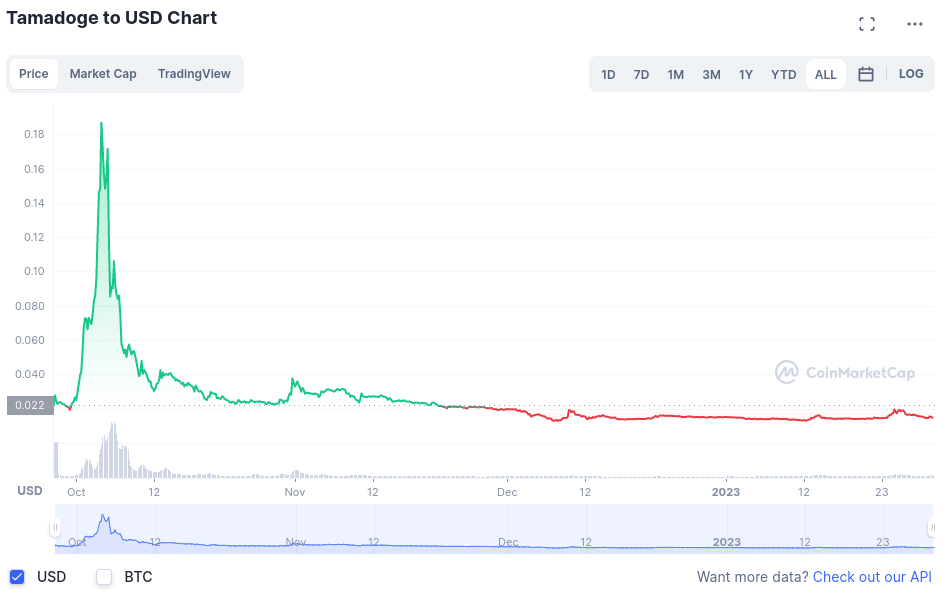 Tamadoge has developed a new digital token, TAMA, to function as the main transactional currency of this ecosystem. TAMA can be used to purchase upgrades within the game. Moreover, rewards will also be offered in this digital token. To try these games in the play-to-earn mode, players will first need to acquire both TAMA tokens and NFTs.
Although a free game mode is available, in this option, players won't have the opportunity to earn any crypto rewards. Tamadoge has already released its NFT collections in 2022 – which are available in common, rare, and ultra-rare formats. In February 2023, Tamadoge launched three arcade games – which were well received by the crypto community.
In fact, soon after the launch of its first game, Super Doge, the price of TAMA tokens increased by around 50% within a few days. Tamadoge plans to launch more games in the coming months, which can help motivate an increased price of TAMA tokens.
8. XRP – Bridge Currency Used by Ripple for Facilitating Cross-Border Payments
Ripple was one of the most searched cryptocurrencies last year, especially due to its ongoing legal battle with the SEC. For those unaware, Ripple is a digital payment protocol that was created in 2012 to facilitate fast and secure transactions between financial institutions and banks around the world.
Unlike traditional payment systems that rely on centralized intermediaries, Ripple uses a decentralized network of nodes to verify and process transactions. This allows for near-instant settlement times and low transaction fees, making it an attractive option for institutions looking to transfer funds quickly and efficiently.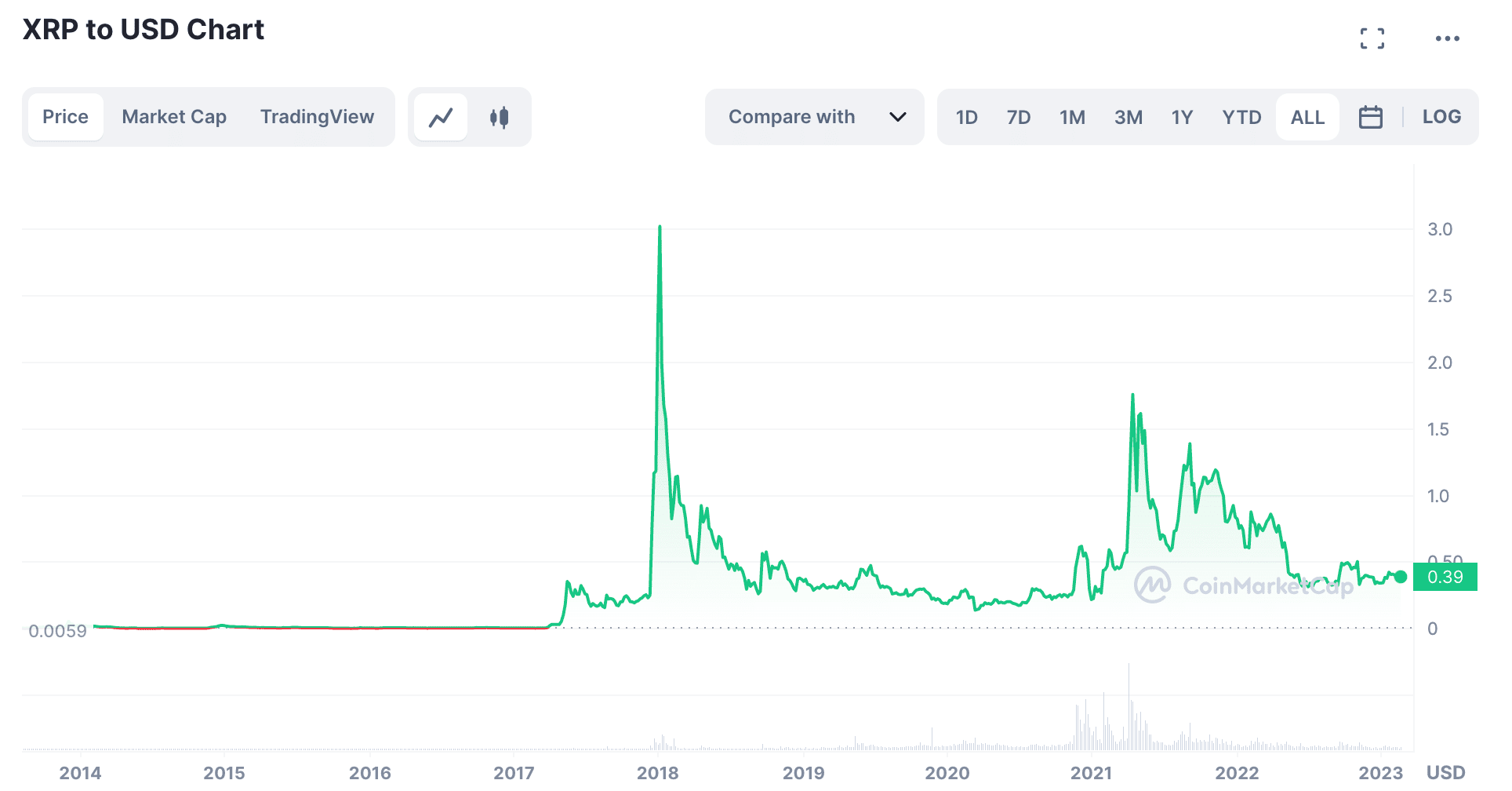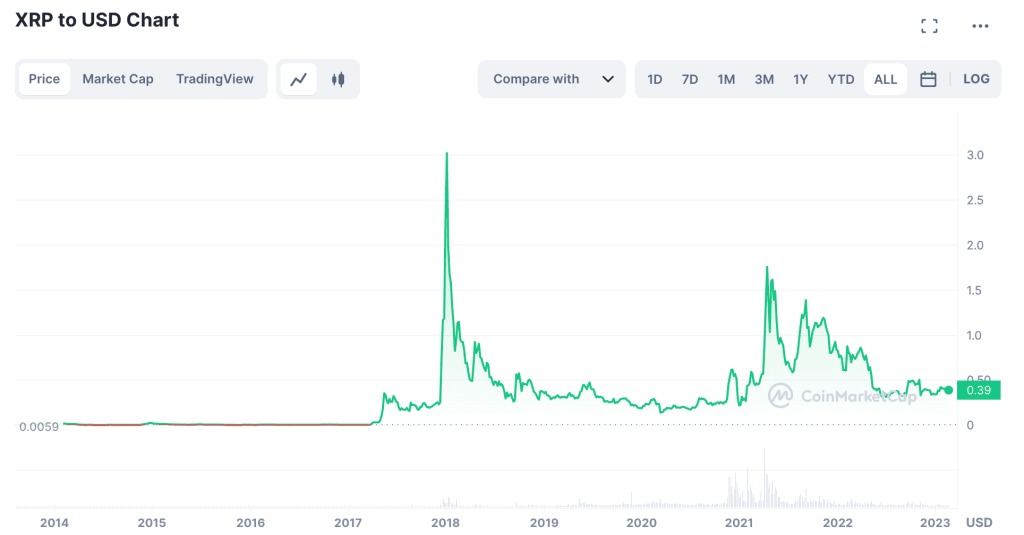 Ripple's services use XRP as a bridge currency to facilitate cross-border transactions. This platform has already forged partnerships with some of the world's largest banks and financial institutions, including American Express, Santander, and Standard Chartered and make it one of the best crypto winter tokens to buy.
Now, despite the allegations by the SEC, Ripple has managed to gain substantial interest from investors and is one of the trending cryptocurrencies on social media platforms. Moreover, according to crypto experts, if Ripple wins the case, the price of XRP tokens has every chance of increasing significantly in the coming years.
Over the years, Ripple's XRP token has gone through high volatility making it one of the most volatile cryptos to buy right now. Nevertheless, at the time of writing, XRP tokens are trading at around $0.40, which represents a remarkable increase of approximately 6,500% from its debut price of $0.006. XRP tokens are available to purchase via some of the leading crypto exchanges, such as eToro.
Your capital is at risk. Crypto asset investments are highly volatile and speculative.
9. Fetch.ai – Blockchain Network Utilizing Artificial Intelligence and Machine Learning
With the growing popularity of artificial intelligence bots, the term 'AI cryptos' continues to trend on the internet. One of the most searched cryptos in the AI category is Fetch.ai. This crypto project has gained popularity due to its innovative approach to blockchain technology with the integration of artificial intelligence.
Fetch.ai is building a decentralized network of autonomous economic agents (AEAs) that can perform complex tasks without any manual intervention. These agents can be used for a variety of purposes, including prediction markets, supply chain optimization, and energy management.
Moreover, Fetch.ai uses machine learning algorithms to enable these AEAs to learn from their environment, data, and other agents to become more effective over time.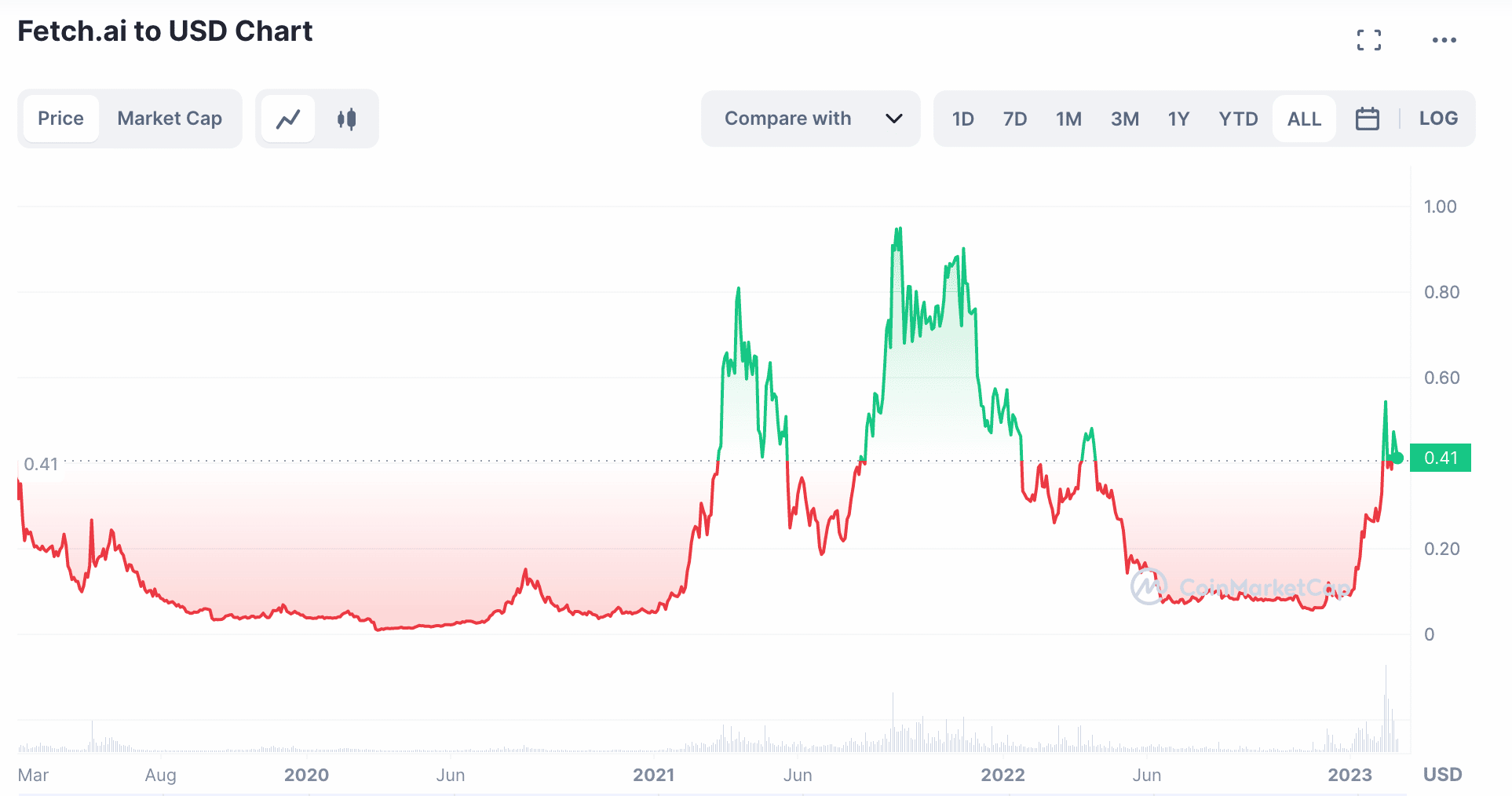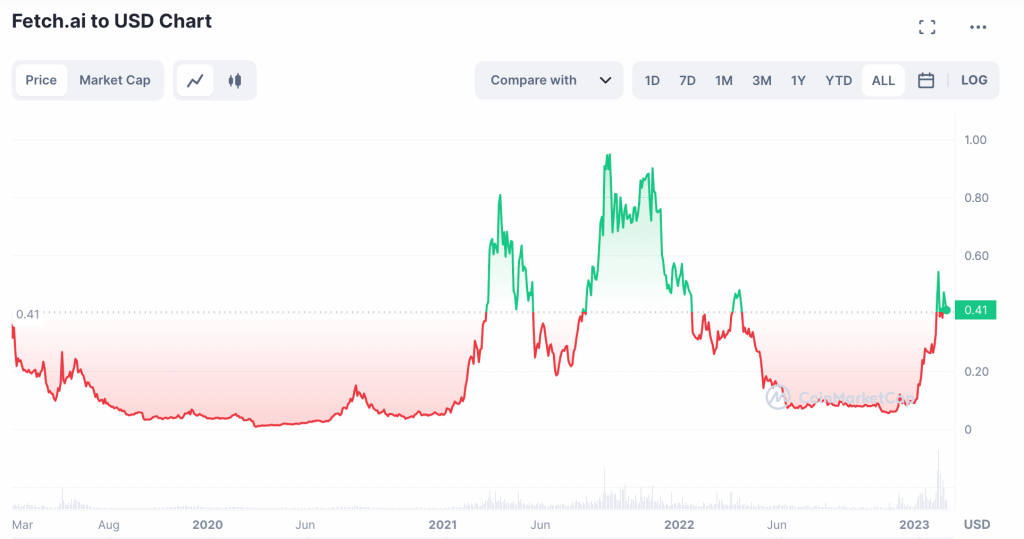 Fetch.ai has already received attention from investors for its partnerships with various companies and organizations, including Bosch, Deutsche Telekom, and the International Air Transport Association. These partnerships showcase the potential use cases of the platform and demonstrate its real-world applications.
Fetch.ai's native token, FET, has several use cases within the network, such as paying for the use of autonomous agents or participating in consensus mechanisms. FET tokens have also benefited from the increasing demand for AI crypto coins. Since the beginning of 2023, the price of FET tokens has gone up by more than 350%.
Your capital is at risk. Crypto asset investments are highly volatile and speculative.
10. Dogecoin – Meme Coin With Strong Community Support and Growing Mainstream Adoption
According to Google, Dogecoin recorded over 28 million searches last year, making it the most searched cryptocurrency in 2022. Demand for this best shitcoin stems from its strong community and celebrity endorsements. In fact, the price of Dogecoin increased by over 180% in October 2022, when Elon Musk completed his acquisition of Twitter.
For a while now, Musk has been a supporter of Dogecoin and has frequently posted about the cryptocurrency on social media. These posts have caused Dogecoin to experience pricing spikes at different times. According to some crypto investors, the fact that Musk owns Twitter might have a positive impact on Dogecoin's value in the future.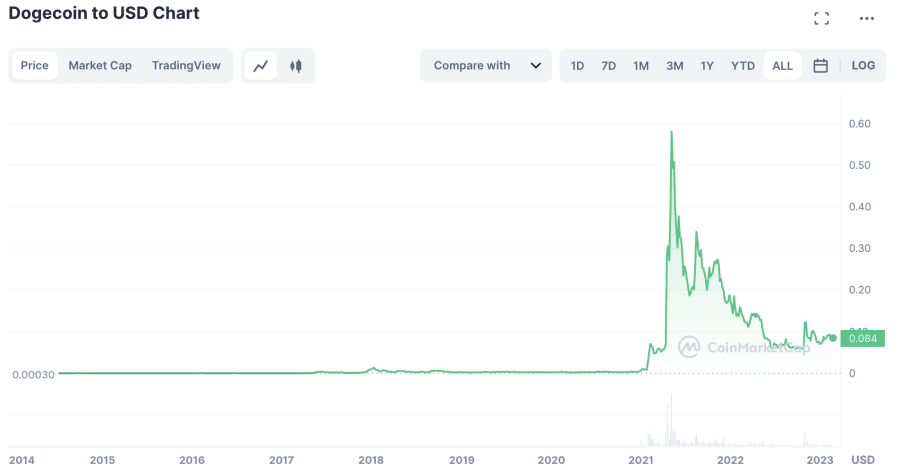 Since October 2022, Dogecoin has lost 40% of its value – in line with the broader crypto market. However, the price of Dogecoin has increased slightly since the onset of 2023. Moreover, over the years, Dogecoin has witnessed increased adoption as a payment option – which could be another reason why investors are searching for this token online.
Your capital is at risk. Crypto asset investments are highly volatile and speculative.
11. Ethereum – Gain Exposure to the Growth of the DeFi Sector
The technology of smart contracts is supported by the Ethereum blockchain, which is used by numerous digital currencies in competition with one another. For instance, some of the most searched cryptos that we discussed here, including AiDoge, DeeLance, Tamadoge, and Fetch.ai, are built on the ERC-20 standard on the Ethereum network.
This has resulted in a large and active community of developers and investors who support the platform. From the standpoint of ETH investors, the more projects choosing to operate on the Ethereum blockchain – the better. Moreover, buying Ethereum gives investors exposure to multiple sectors within the crypto industry – including DeFi, NFTs, and more.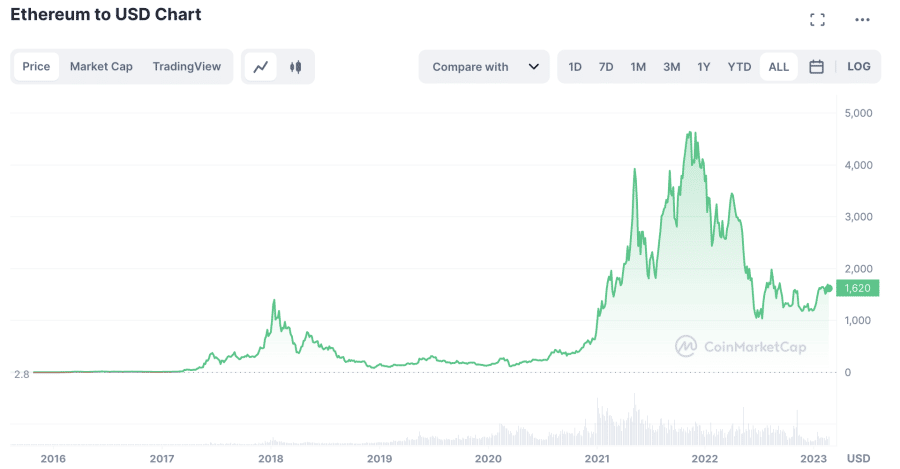 And as such, not so surprisingly, Ethereum continues to be one of the most searched crypto coins.
Moreover, despite its popularity, the Ethereum network is constantly being improved and upgraded with new features like the Merge.
By transitioning from Proof-of-Work to Proof-of-Stake, Ethereum's Merge has played a pivotal role in making the energy-intensive process of crypto mining more sustainable.
Your capital is at risk. Crypto asset investments are highly volatile and speculative.
12. Bitcoin – The Most Popular Cryptocurrency With First Mover Advantage
Since the beginning of 2023, things have started looking up for the crypto market. And with this bullish sentiment, Bitcoin, once again, has become one of the most searched crypto coins. As the first digital asset launched in 2009, Bitcoin has established a strong reputation and brand recognition in the crypto market.
Furthermore, over the years, Bitcoin has gained widespread acceptance as a form of payment. Many businesses and merchants are now accepting BTC tokens as a way to pay for goods and services. Additionally, there will only ever be 21 million BTC tokens in existence, and according to industry experts, this fixed supply can help boost the value of this cryptocurrency. If you've bought BTC and are looking to avoid crypto taxes then our guide has you covered.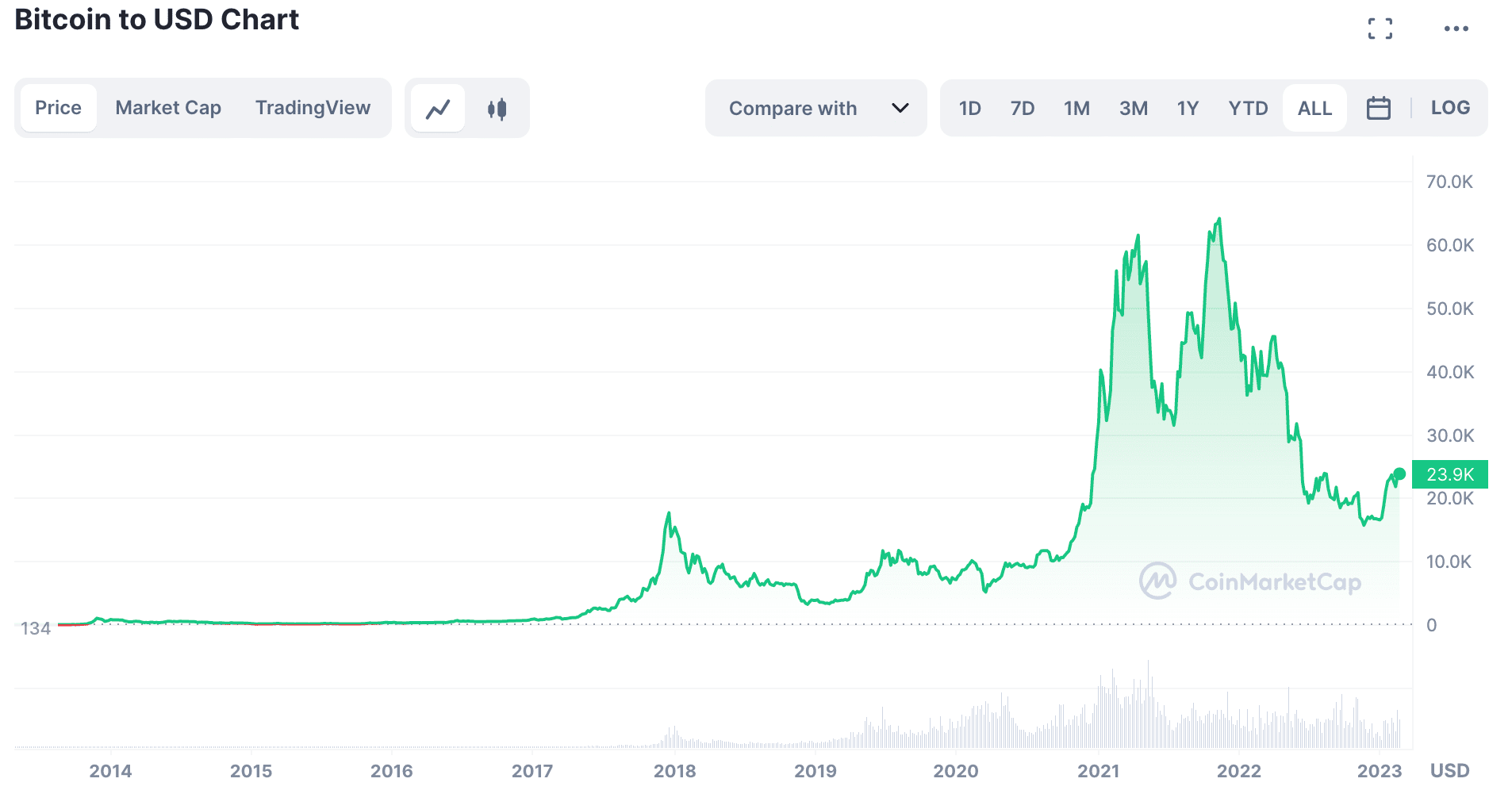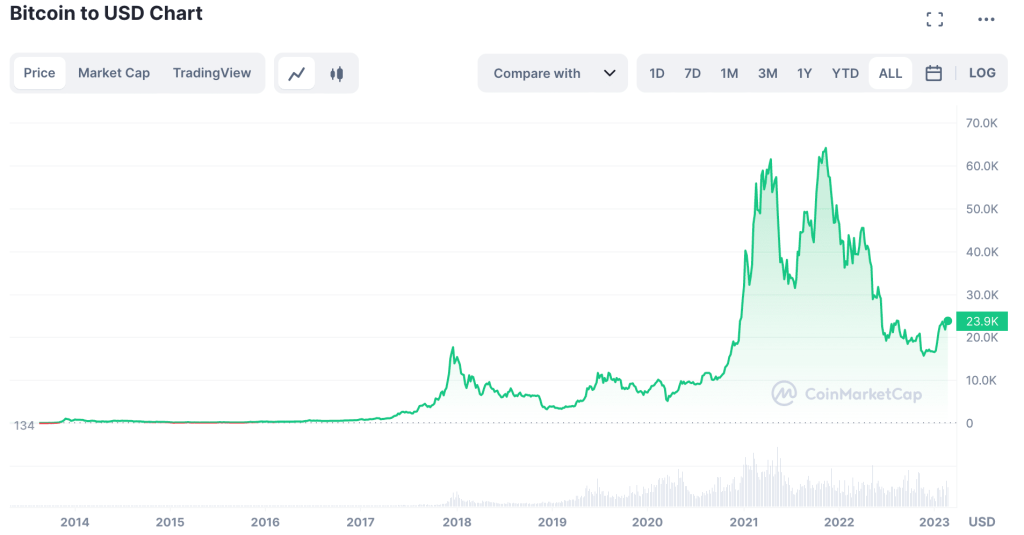 Since launching in 2009, the price of Bitcoin has increased exponentially. In 2021, Bitcoin hit its all-time high value of around $68,000. As of writing, BTC tokens are trading at around $24,000 – about 60% less than their peak value back in 2021.
Your capital is at risk. Crypto asset investments are highly volatile and speculative.
Conclusion
While well-established cryptocurrencies such as Bitcoin and Ethereum continue to dominate the market, there are a number of up-and-coming digital assets that are generating a lot of buzz among investors.
Our research suggests that some of the most searched crypto coins of recent months are presale tokens. Early-stage projects such as AiDoge offer investors the ability to purchase tokens at a discounted price, and they also come with high upside potential.
AiDoge utilizes AI to let users create engaging memes and earn credits and tokens by voting on the best creations and creating top-rated meme content. The platform's token $AI is currently in presale, and its total earnings have already surpassed $8.90 million.
FAQs
What is the most Googled crypto?
What was the most searched crypto in 2022?
Which is the most trending crypto to buy now?