One of the biggest cryptocurrency exchanges in the digital assets space, Coinbase, has over 100 million verified users. This guide reviews some potential new Coinbase listings in 2023.
We will also discuss the benefits of investing in tokens before they get listed on Coinbase and review the available bonuses and rewards that some top presale projects offer.
The Best New Coinbase Listings to Watch Out for
The table below shows a list of the top new cryptos on Coinbase for 2023:
Bitcoin ETF Token – This could be a top Coinbase listing if SEC approval of BTC ETFs takes place, prompting increases in token demand. The presale further provides high PoS APY and a 25% token burn to promote scarcity, as well as a market-oriented roadmap.
Bitcoin Minetrix – Strong ERC20 Coinbase candidate with excellent smart contract audit results, clear roadmap, powerful utility-driven token, and high APY yields for customers. This presale targets the BTC cloud mining industry in a new way, and could prove popular among investors.
Meme Kombat – Possible Coinbase listing with doxxed founder, audited campaign, and a new concept that offers blockchain-enhanced meme vs. meme combat and live wagering on the outcome, as well as PoS APY of 112%.
Wall Street Memes – This trending new meme token has raised over $25 million on presale within 12 weeks. An established platform, Wall Street Memes, has a following of more than 1 million people on social media. Presale complete.
Launchpad XYZ

–

Upcoming Coinbase listing

for user-friendly W3 platform integration. Its unique LQ feed keeps all the latest Web 3 projects and their risk-reward scores at your fingertips.

eTukTuk – Earn Multiple Staking Rewards with this Revolutionary Cryptocurrency that aims to Reduce Air Pollution by Promoting Electric Vehicles among TukTuk Drivers.
Chimpzee – Top environment-token, contributing to animal charities and offering multiple earning opportunities for $CHMPZ token holders.
Scorp Token – New Presale Token Powering a Crypto Casino and Sports Betting Platform. Hold $SCORP to earn daily rewards, credits, and much more.
yPredict

– Exclusive

upcoming Coinbase listing

that strives to harness the power of AI in trading analysis. The platform promises all holders a 10% share of its subscription revenue.

Audius –

Decentralized Music Streaming Platform available on Coinbase

Battle Infinity –

Fantasy Sports and P2E Gaming Cryptocurrency

NEAR Protocol –

Layer-One Blockchain Offering Quick Transaction Speed

Hedera –

Popular Cryptocurrency used for Building Decentralized Applications

Livepeer

– Decentralized Video Streaming Cryptocurrency
An Up Close Look at the New Coins Coming to Coinbase
In the sections below, we will closely examine some of the top new cryptocurrencies and the potential new Coinbase listings to watch out for in 2023.
1. Bitcoin ETF Token – Top Potential Coinbase Listing With Phenomenal Growth Potential And 25% Token Burn
Bitcoin ETF Token ($BTCETF) is a top contender for a potential Coinbase listing, due to its innovative concept, clear roadmap, and many incentives for investors.
This is a new presale that centers around the approval and subsequent launch of Bitcoin ETFs in the USA.
While approved in other jurisdictions, they have not been approved in the USA by the Securities and Exchange Commission.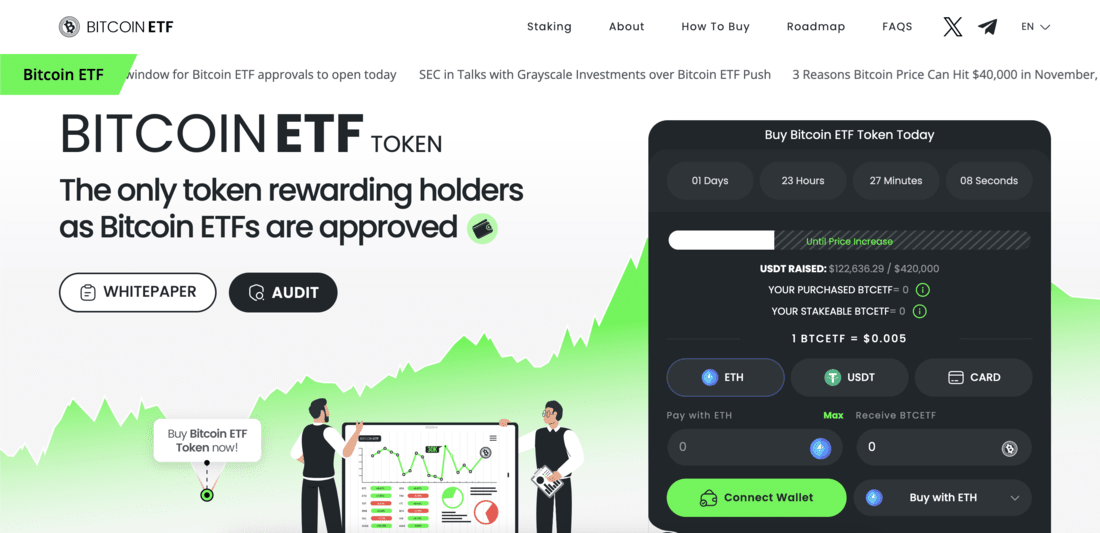 Approval could have massive effects on the entire cryptocurrency industry, potentially helping to increase the price of Bitcoin and altcoins. But Bitcoin ETF Token could benefit more than other tokens, as it seems to be based entirely around this regulatory green light taking place.
There are 2.1 billion tokens within the ecosystem, with 840 million available in the presale for $0.005. This will increase to $0.0068 by stage ten, the final stage. The token also offers a 25% token burn allocation as well as a dynamic PoS APY that is presently above 1,800%.
The campaign has further undertaken a smart contract audit with no serious issues revealed, and no tokens have been kept by the founding team. 40% is allocated to the presale, 25% to staking, 25% to burn allocation, and 10% to DEX liquidity. Both the audit and token allocation are strong signs of overall project transparency.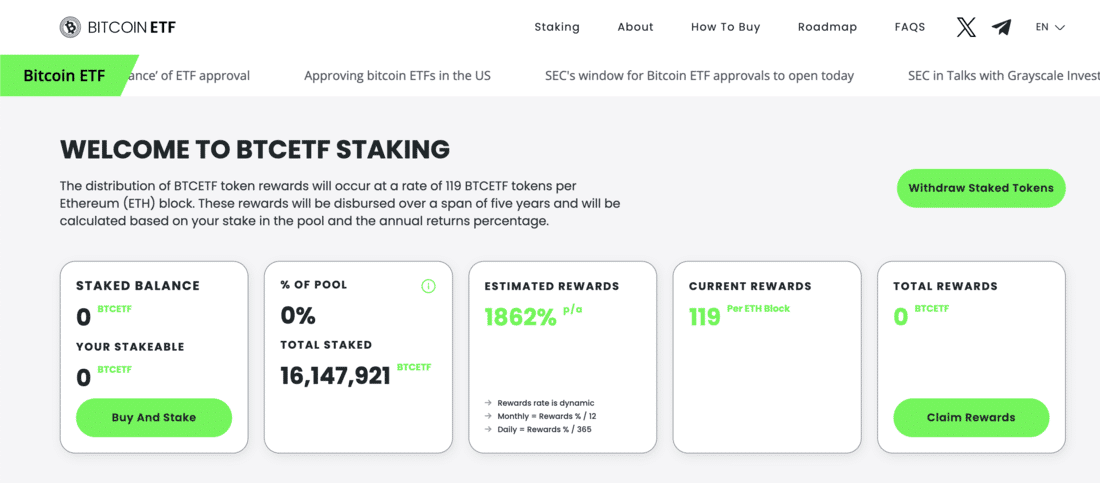 Coinbase might look favorably on all the items above. Most notably, if Bitcoin ETF approval takes place, the tier 1 exchange may be forced to list the coin, due to major surges in price and trade volume.
Approval could occur as soon as December 2023, and this is likely to push demand for this token considerably – after all, it has been created with this specific event in mind.
The presale offers a dedicated section on its website to stay abreast of BTC ETF news, as well as social accounts (Twitter and Telegram) for essential information.
Further details can be extracted from the Bitcoin ETF Token Whitepaper.
| | |
| --- | --- |
| Hard Cap | $4.956 Million |
| Total Tokens | 2.1 Billion |
| Tokens available in presale | 840 Million |
| Blockchain | Ethereum Network |
| Token type | ERC-20 |
| Minimum Purchase | NA |
| Purchase with | USDT, ETH, BNB, MATIC, Card |
2. Bitcoin Minetrix – High-Quality Campaign With World's First Stake-To-Mine Ecosystem
Bitcoin Minetrix ($BTCMTX) is a new concept that allows for BTC cloud mining over an eco-friendly and cost-effective Ethereum architecture, with a $10 upfront cost.
The project has been audited by Coinsult, with no issues found within the codebase, a fact that could add legitimacy to the project in the eyes of the Coinbase review panel.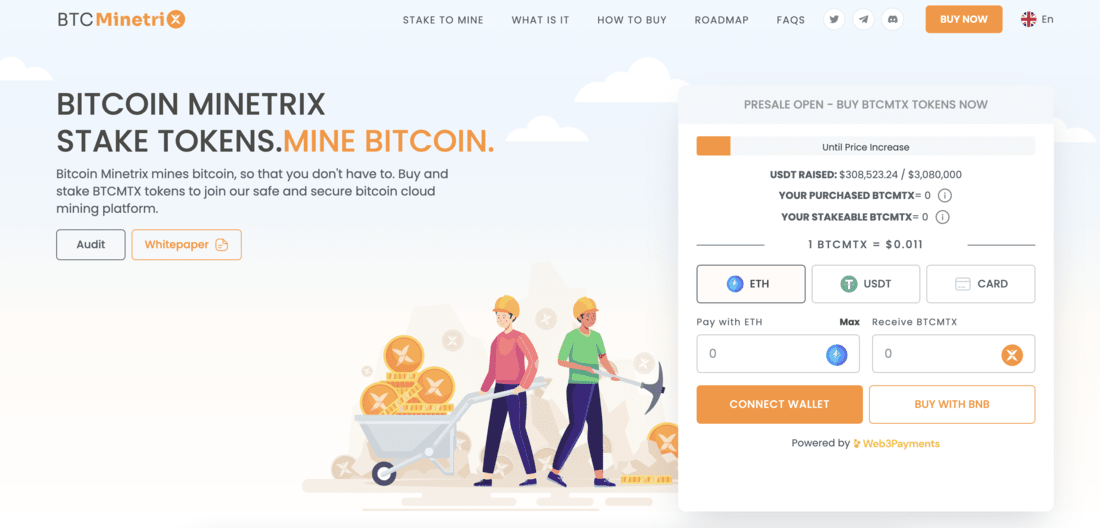 Bitcoin Minetrix offers a new stake-to-mine model which enables laypeople to access BTC rewards, with the ease of Ethereum staking.
Users merely stake their tokens, are awarded cloud mining credits, and then proceed to burn these credits in return for BTC. All of this is done through an integrated dashboard, to oversee mining operations.
This is simply not possible with the existing PoW Bitcoin mining ecosystem. It requires expensive, noisy, and electricity-draining hardware that further mandates cooling expenditure.
It is not possible for an individual without large funds and significant engineering expertise to mine Bitcoin profitability.
This is where the utility value of Bitcoin Minetrix comes into play, offering a much-enhanced means of market accessibility. This is done without needing to purchase hardware or even to download any software, aside from using MetaMask to purchase the ERC20 token using ETH, BNB, or USDT.
Additionally, Bitcoin-themed tokens have performed very well this year in terms of price appreciation and trade volume, two other factors that might be taken into account in terms of a potential Coinbase listing.
Bitcoin Minetrix provides more utility than Bitcoin replicas, opening up access to the centralized cloud mining market as opposed to simply copying supply and demand, at a previous point in history.
This has strong potential for a Coinbase listing, as it is audited, with strong utility value, in a clearly defined industry.
The token currently costs $0.011, though this will rise to $0.0119 by stage 10 of the presale, the final stage.
For additional context, investors can connect with the project socials (Twitter and Telegram) and explore the Whitepaper.
| | |
| --- | --- |
| Presale Started | September 2023 |
| Purchase Methods | USDT, ETH, BNB |
| Chain | Ethereum |
| Hard Cap | $32 Million |
| Min Investment | $10 |
| Max Investment | None |
3. Meme Kombat – Exciting New Battle Arena for Memes With Doxxed Founder and Live Betting
Meme Kombat ($MK) could be an upcoming Coinbase listing for multiple reasons.
The founder of this project has released his credentials to the public, and the campaign has further undertaken a third-party advanced manual smart contract audit, with no severe issues found within the code.
Both of these could be looked upon favorably by the Coinbase review team, as they imply healthy levels of transparency and honesty. It's rare that presale owners release their identities.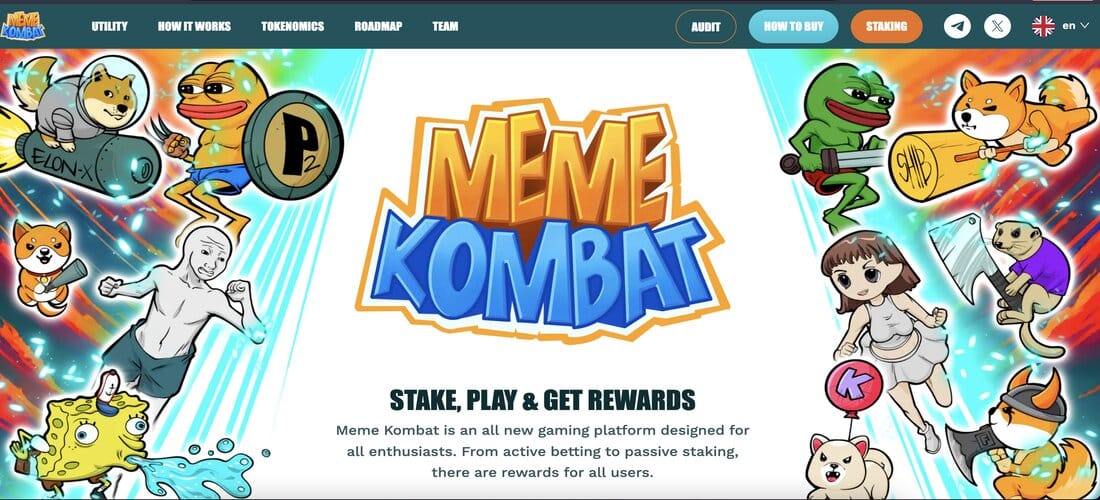 But the actual project itself is what really stands out.
Meme Kombat is a revolutionary campaign that takes the world's most loved meme coins – Pepe, Pepe 2, Milady, Kishu, Mong, Shiba, Sponge, Wojack, Doge, Floki, Baby Doge – and faces them off against one another in combat, with AI-enhanced visuals and blockchain-assisted fight selection.
Users can research their favorite memes and bet on the outcomes. There are three primary means of betting – P v P, P v Game, and Direct. There are also side bets, which offer a much more nuanced and interesting way to bet on miniature aspects of combat. The betting options are likely to evolve and develop with time.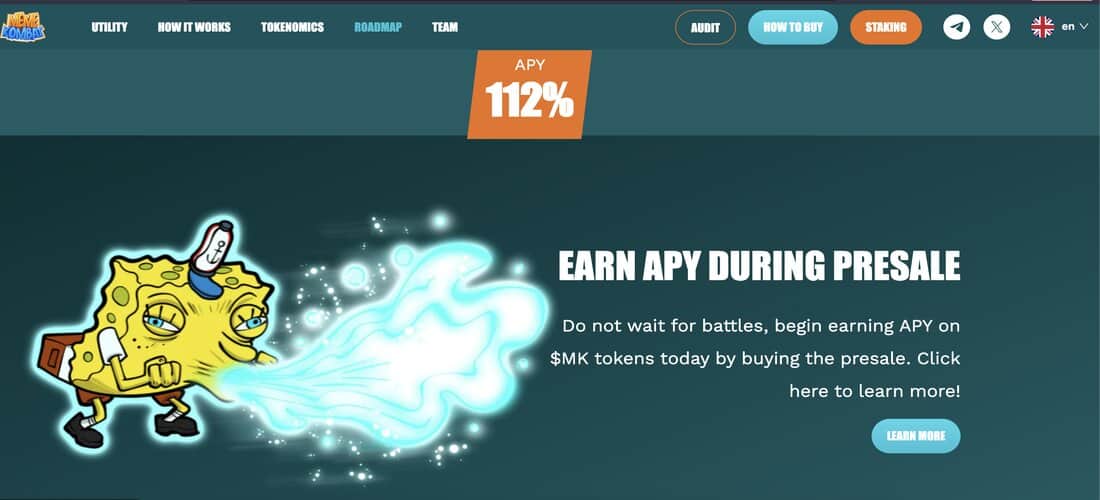 Aside from active income generation through betting on the outcome of fights, Meme Kombat allows for passive PoS rewards, which are currently set at 112% APY.
50% of the token supply, 6 million $MK, is available in the presale, at a price of $1.667, for a total hard cap of $10 million. 30% of the supply goes to the staking pool, 10% to DEX liquidity, and 10% to player rewards.
This presale accepts a large variety of Web3 wallets, and ETH, BNB, or USDT are required to purchase the token.
With a new concept, passive and active income opportunities, and an audited and doxxed campaign, this could well be a future Coinbase listing, and it could also experience upside potential if it gets some momentum behind it.
Connect to the Telegram and Twitter for further alerts and updates, and remember to read the Whitepaper, for a more well-rounded understanding of whats on offer.
| | |
| --- | --- |
| Hard Cap | $10,000,000 |
| Total Tokens | 12,000,000 |
| Tokens available in presale | 6,000,000 |
| Blockchain | Ethereum Network |
| Token type | ERC-20 |
| Minimum Purchase | $5 |
| Purchase with | USDT, ETH, BNB |
4. Wall Street Memes – Overall Best Meme Cryptocurrency with the Potential to be Listed on Coinbase, Already Listed on OKX/Huboi
Wall Street Memes (WSM) is a new cryptocurrency meme token that has been soaring on presale. The Wall Street Memes brand has been established since 2019 and has a following of over 1 million on popular mediums such as Instagram and Twitter.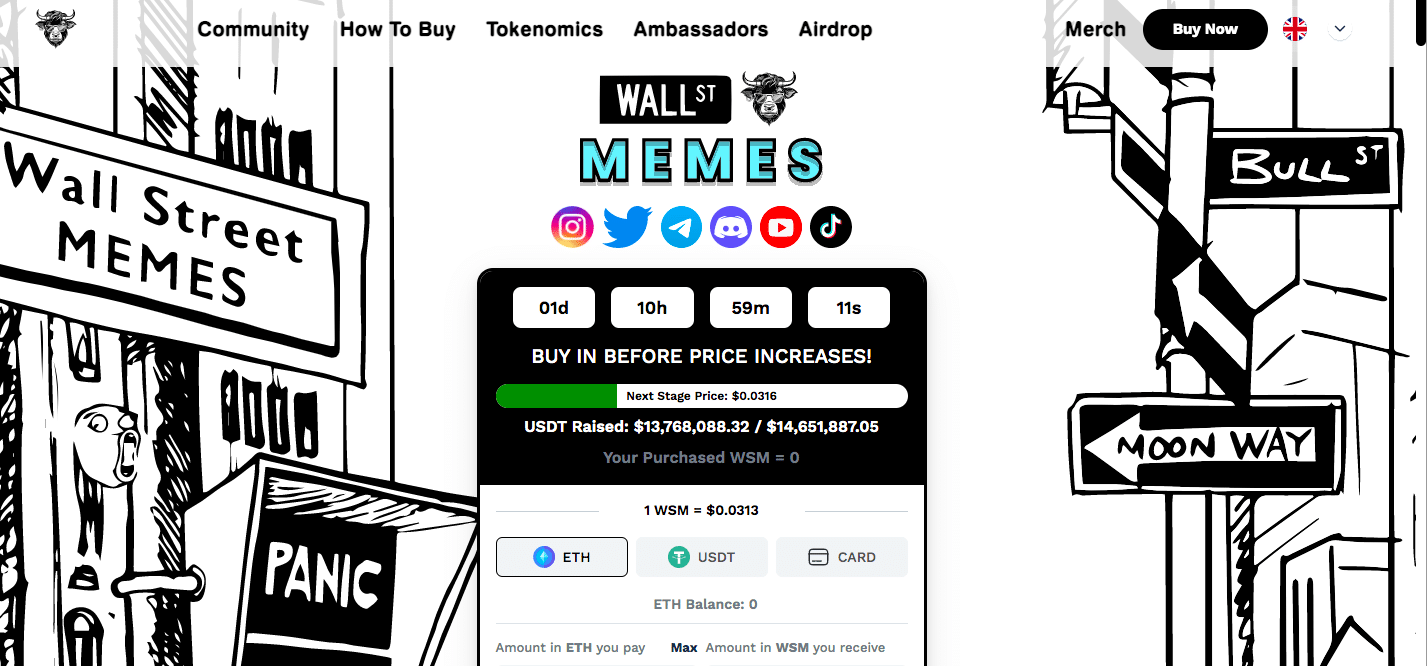 Currently, meme tokens such as Pepe (PEPE) have been among the most profitable assets in the cryptocurrency space. While they have been offering huge returns, Wall Street Memes already has the added benefit of an established loyal community.
Thus, it is possible that the $WSM token can soar after the exchange listing takes place. In 2021, the creators of Wall Street Memes launched their own legacy NFT project, Wall St Bulls.
The first NFT collection consisted of 10,000 Ethereum-based NFTs and was sold out in 32 minutes. Similarly, the token presale has attracted a lot of attention. From a 2 billion token supply, 1 billion has been allocated for the presale.
The presale will consist of 30 rounds, as the price will jump from $0.025 to $0.0337 per token. Currently, the presale has already raised over $25 million. The token is priced at $0.0337 USDT.
By the end of the presale, Wall Street Memes aims to raise over $30.57 million. This community-driven token will also offer 30% of its token supply as community rewards. The remaining will be set aside for DEX and CEX exchange listings.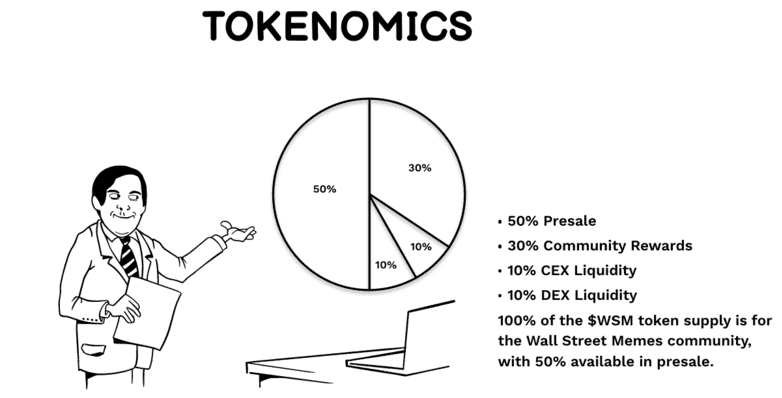 Due to the popularity of the project, it is possible that $WSM gets listed on top-tier exchanges such as Coinbase. To stay updated with the presale, join the Wall Street Memes Telegram channel.
| | |
| --- | --- |
| Presale started | May 26, 2023 |
| Purchase methods | Credit card, ETH, USDT, BNB |
| Hard cap | $30,577,000 |
| Chain | Ethereum |
| Min investment | 100 $WSM |
| Max investment | N/A |
5. Launchpad XYZ – Best Upcoming Coinbase Listing Bridging the Gap Between Users and W3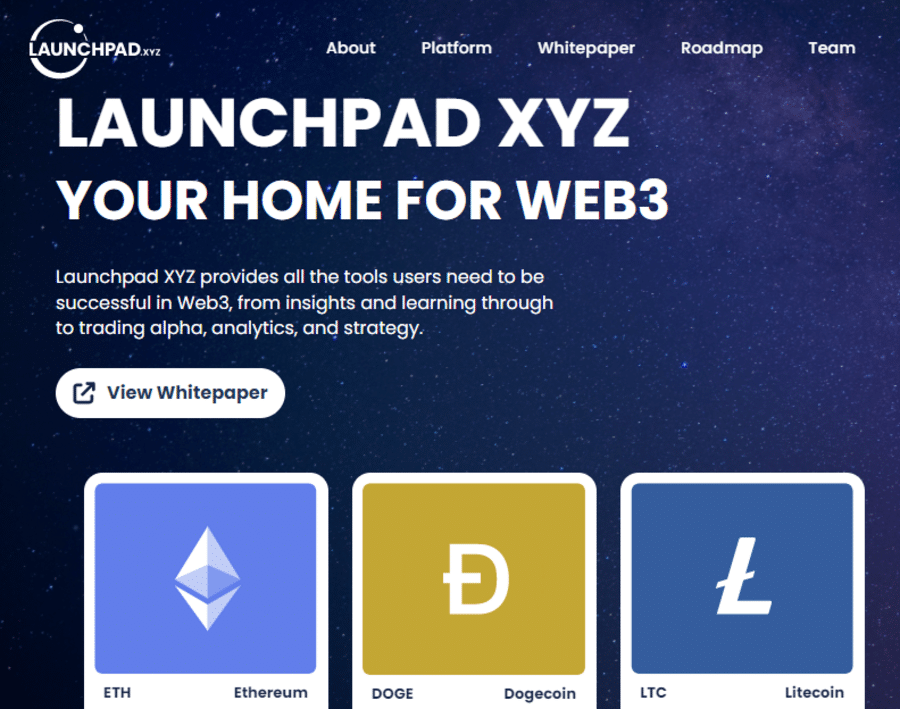 Next in our top upcoming Coinbase listings is Launchpad XYZ, a crypto project focused on Web 3 and its capabilities. The solution debuted in late April 2023, midway through the crypto winter and has also become one of the leading Uniswap listings. Nevertheless, slow market conditions didn't prevent it from gaining momentum. In only two weeks, Launchpad XYZ raised over $300,000 through its presale. With its current growth rate, it is on track to become one of the world's top 10 cryptos by 2025.
Launchpad XYZ's creators intend to build a platform that would make the complex Web 3 ecosystem more comprehensible and accessible to the general public. To do so, they've used blockchain technology to develop the tools necessary for easy access to all parts of the Web 3 space and its content.
These tools and Launchpad XYZ's in-house education materials enable users to explore the next generation of the internet through a range of verticals. They can interact with various utility, non-fungible, and DeFi tokens, as well as DApps, P2E games, and many other W3 products and services.
Launchpad allows them to buy, store, sell, create, and curate any of these projects as individuals or brands. It even helps users research and assess the projects' profitability through a specialized feature called Launchpad Quotient (LQ).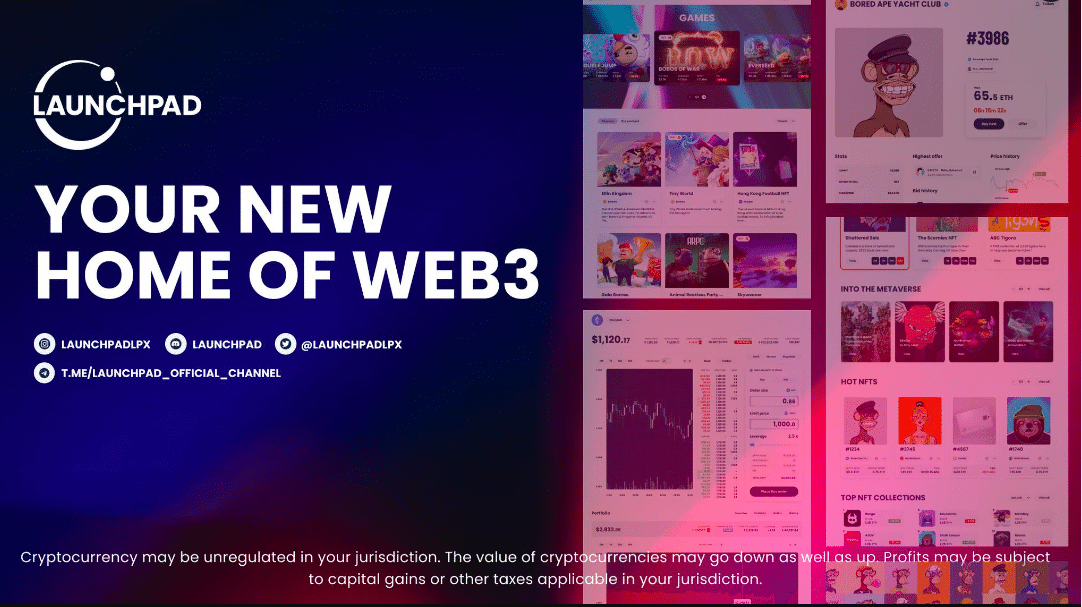 For access to these functions, you must hold the project's native crypto token, LXP, as its whitepaper explains. These coins will help you unlock Launchpad XYZ's premium tools, allow you to pay for the platform's services, give you early access to ICOs and NTF launches, and so on. They are currently available for a 50% discounted price — $0.0375.
If you'd like to learn more before you commit to an investment, you should check out Launchpad XYZ's socials. Its Telegram channel and similar digital platforms will update you on its presale progress, program launches, partnerships, and other related news.
| | |
| --- | --- |
| Presale Started | April 2023 |
| Purchase Methods | USDT, ETH, Transak |
| Chain | Polygon |
| Hard Cap | $12.5 million |
| Min Investment | None |
| Max Investment | None |
6. eTukTuk – Earn Multiple Staking Benefits with this CO2 Reducing Cryptocurrency
Before tokens can get listed on top exchanges such as Coinbase, they must offer the potential for high trading volume or boast multiple use cases which will make it a profitable coin in the long-term.
eTukTuk (TUK) is a revolutionary cryptocurrency since it offers revenue-earning opportunities to TukTuk drivers and token holders. With the rising air pollution and increase in energy costs due to non-renewable vehicles such as Internal Combustion Engines (ICEs), eTukTuk is promoting the adoption of zero-emission vehicles (ZEVs).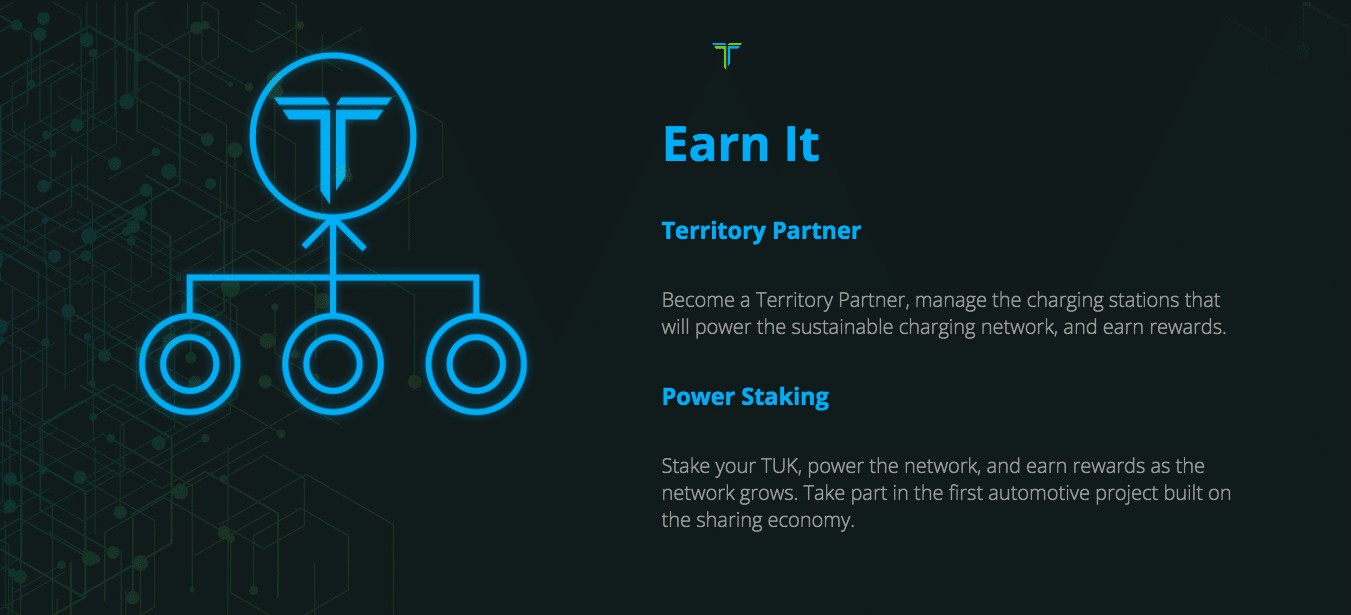 The platform will build charging stations and set up Electric Vehicle Supply Equipment (EVSE) in various developing nations, starting with Sri Lanka.
Through a drivers app, TukTuk drivers can make payments at EV charging stations with $TUK. Members of the ecosystem can stake $TUK and earn a high APY (Annual Percentage Yield) as the number of plants and revenue rises.
Furthermore, eTukTuk also offers inflationary rewards to staked token holders over a 15-year period. These rewards will be released in decreasing quantities through the platform's reward staking pool.
To set up the EVSEs and charging stations, eTukTuk will take the help of territory partners. These partners will also earn a portion of the transaction revenue. It is estimated that TukTuk drivers will take home 400% increased income by using EVs, and making payments with eTukTuk.
This is due to eTukTuk's usage of the Cardano blockchain, which reduces costs and allows token holders to stake to power nodes and efficiently manage the ecosystem.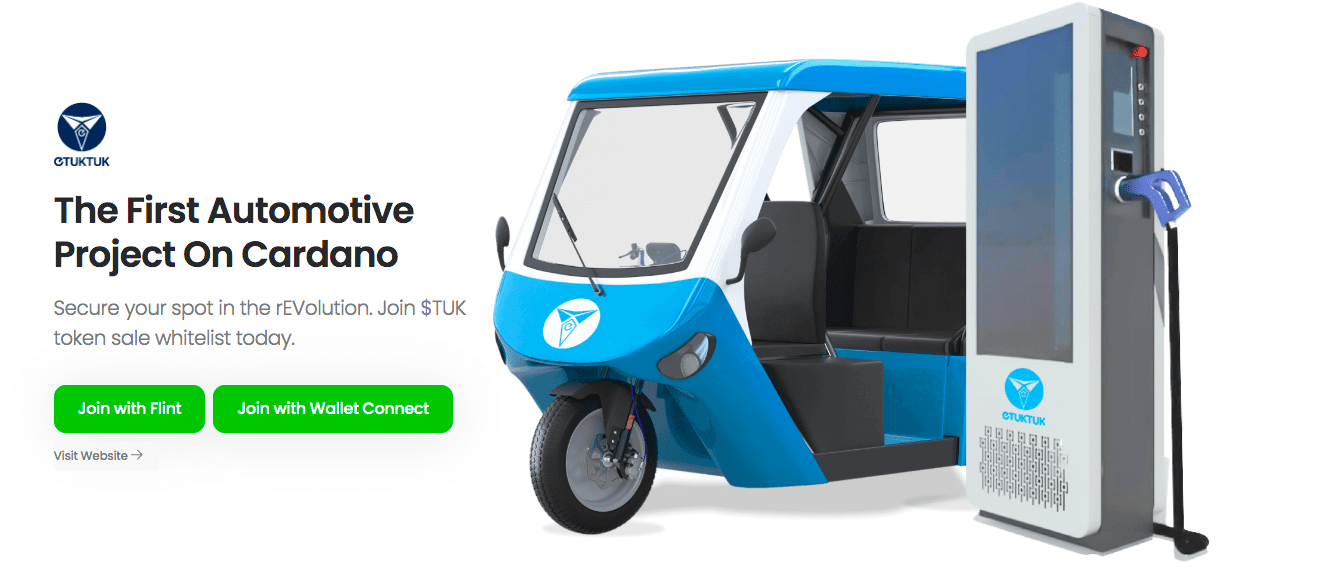 Right now, users can sign-up for the $TUK token whitelist before the presale starts. $TUK has a 2 billion token supply, 12.5% of which will be allocated for the presale.
To stay updated with exchange listing announcements and other developments, read the eTukTuk whitepaper and join the Telegram channel.
7. Chimpzee – Revolutionary Cryptocurrency Using 10% of its Token Supply as a Charity Wallet
Chimpzee (CHMPZ) is offering three ecosystems – a play-to-earn (P2E) environment, an NFT marketplace, and an online store to purchase merchandise and in-game gear.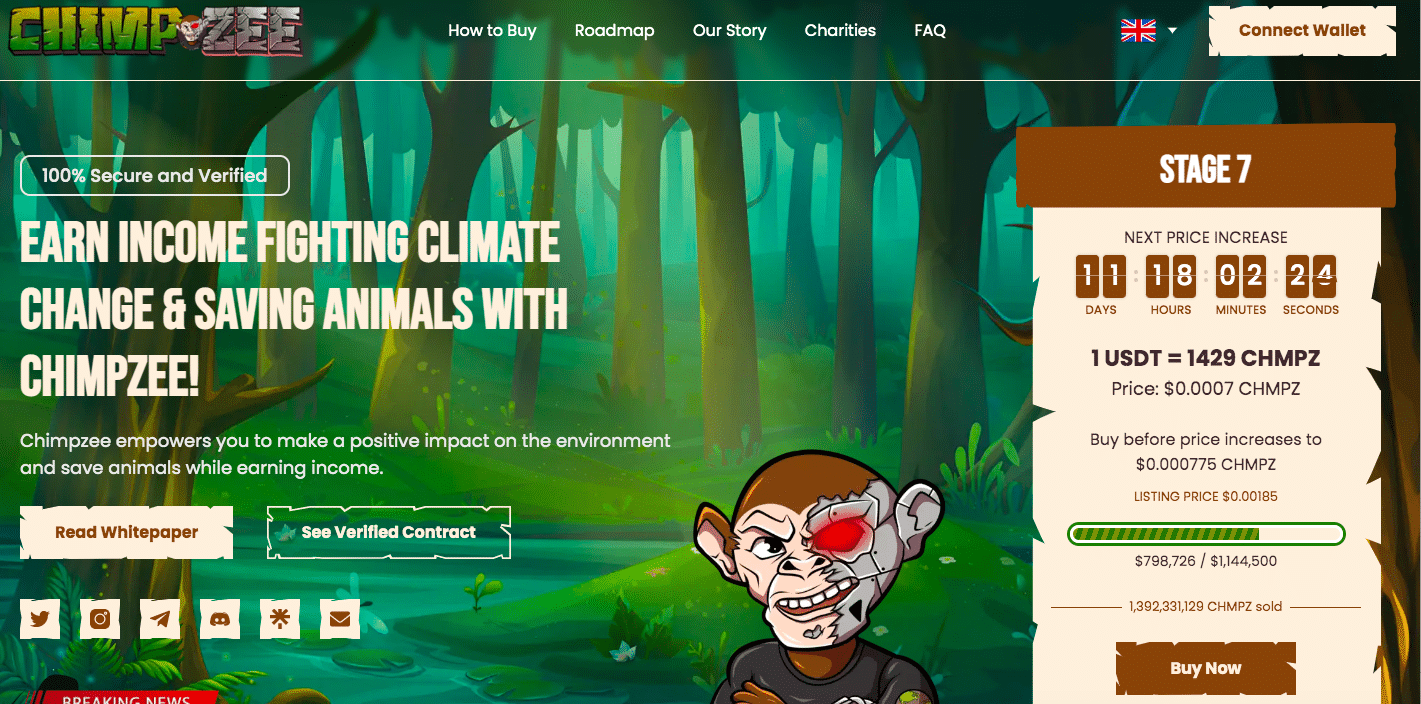 All three ecosystems will be powered by $CHMPZ, the native cryptocurrency. Ultimately, Chimpzee aims to offer 10% of its token supply as a charity wallet for various animal and wildlife foundations it will partner with.
From the profits generated in the Chimpzee online store, a portion will be sent to these charities. Moreover, the platform has already helped plant over 20,000 trees in Guatemala and donated to protect elephants.
Investors can generate a passive income by purchasing and staking NFT passports on the ecosystem. The rarest NFT passport can be staked to earn up to 20% in APY (Annual Percentage Yield).
The NFTs can also be used in the play-to-earn 'zero-tolerance game.' This game will allow you to enter the virtual world as a forest protector. You will earn $CHMPZ tokens and rewards for fighting off forest poachers.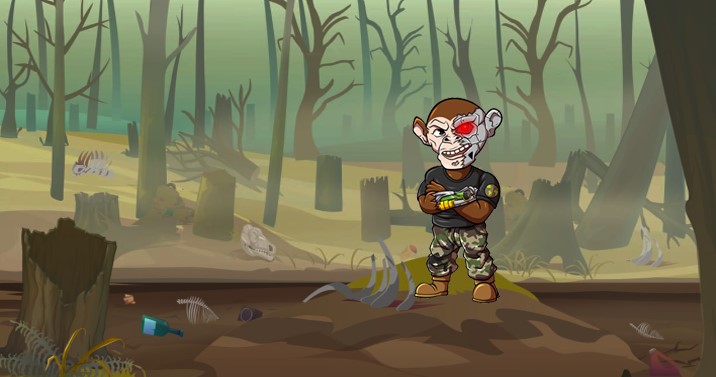 Passive income can also be generated through the NFT trade-to-earn marketplace. From the trading fees that the platform generates, a portion will be sent to traders and NFT passport holders.
Currently, $CHMPZ is available to purchase for $0.0007 per token on presale. Since the presale launched, Chimpzee has collected nearly $800K. The token price will increase to $0.00185 once the exchange listing takes place.
Go through the Chimpzee whitepaper and join the Telegram channel to find out more about this crypto project.
| | |
| --- | --- |
| Token symbol | CHMPZ |
| Total supply | 200 Billion |
| Presale supply | 40 Billion |
| Network | Ethereum (ERC20) |
| Purchase methods | ETH, USDT, Credit Card |
8. Scorp Token – Ongoing Presale of a Crypto-Based Casino Platform
Scorp Token (SCORP) is a multi-utility token allowing token holders to earn passive income, join affiliate programs and access a casino and sports betting platform.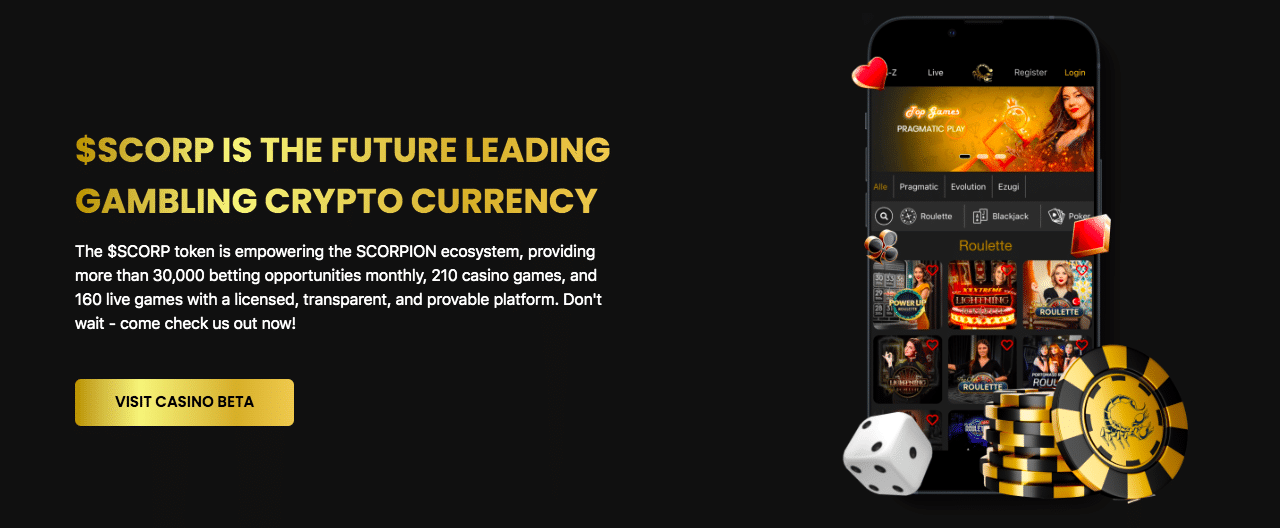 The $SCORP token is undergoing its presale round and has already collected more than $450K. $SCORP has a total supply of 1 billion, 40% of which has been allocated for the presale. Another 8% of the supply will be offered as presale bonuses.
By the end of the presale, the Scorpion Casino aims to raise a hard cap of $500K. The token will be used to power the betting ecosystem, which offers a variety of live casino and dealer games. One can play slots, crash games, Poker, Blackjack, and Baccarat.
The platform also offers a sports betting market to bet on 35+ cryptocurrency games. Notably, the Scorpion Casino is regulated and licensed by the Curacao EGaming Licensing entity. The platform has also been KYC verified by Assure DeFi and audited by SolidProof.

The token can be staked on the ecosystem to generate daily passive income. This is distributed through a staking pool. To earn more income, the token can be leveraged to join the affiliate rewards program. Users can spend more than $1,000 on the casino to be a part of the Elite Scorpion Members Club.
This entitles users to benefits such as VIP support, staking rewards, and free credits. By holding the token, users will also be entitled to weekly bonuses and free games. After the presale ends, this utility token has the potential to be listed on top exchanges such as Coinbase.
Stay updated by reading the Scorpion casino whitepaper and joining the Telegram channel.
| | |
| --- | --- |
| Token symbol | SCORP |
| Presale supply | 200,000,000 SCORP |
| Token type | BEP-20 |
| Payment methods | ETH, USDT, BNB |
| Listing price | $0.05 |
9. yPredict – Top Crypto Market Prognosis Upcoming Coinbase Listing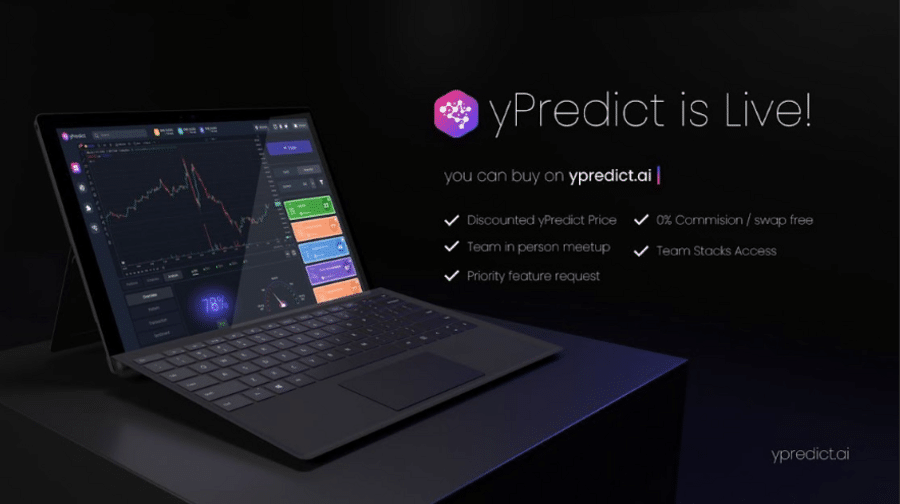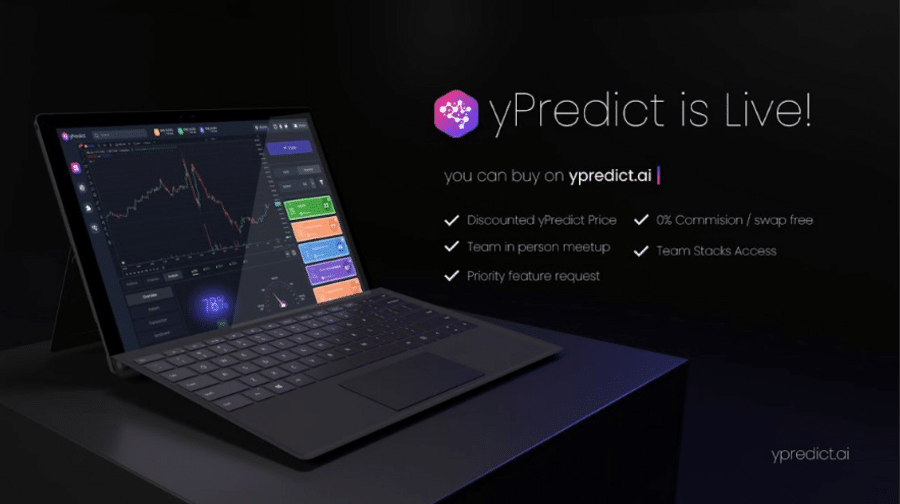 Another blockchain project making waves in the crypto community these days is yPredict. The platform sprouted as a response to the increasingly unpredictable trading market. The network's AI and machine learning-based tools are designed to analyze the dynamics of crypto price structure formations and generate valuable information. Its $900,000+ presale stage 4 funding fares well for the upcoming Coinbase listing.
Being part of a sector as crowded as the AI-driven trading and analysis blockchain, yPredict has plenty of competition. However, its financial prognosis methodology makes it an obvious standout. The platform brings AI/ML experts, financial quants, and traders together, offering each a chance to turn a profit.
PhD-level developers use blockchain technology to equip the system with robust AI solutions that identify bullish and bearish crypto patterns. Financial specialists use these tools to analyze billions of data points and create real-time research and analytics models. Traders subscribe to these models using their yPredict native token reserves and gain data-driven insights about various top crypto to buy, NTFs, and other blockchain projects. This information helps them and other users that follow their asset allocation strategies make educated investment decisions.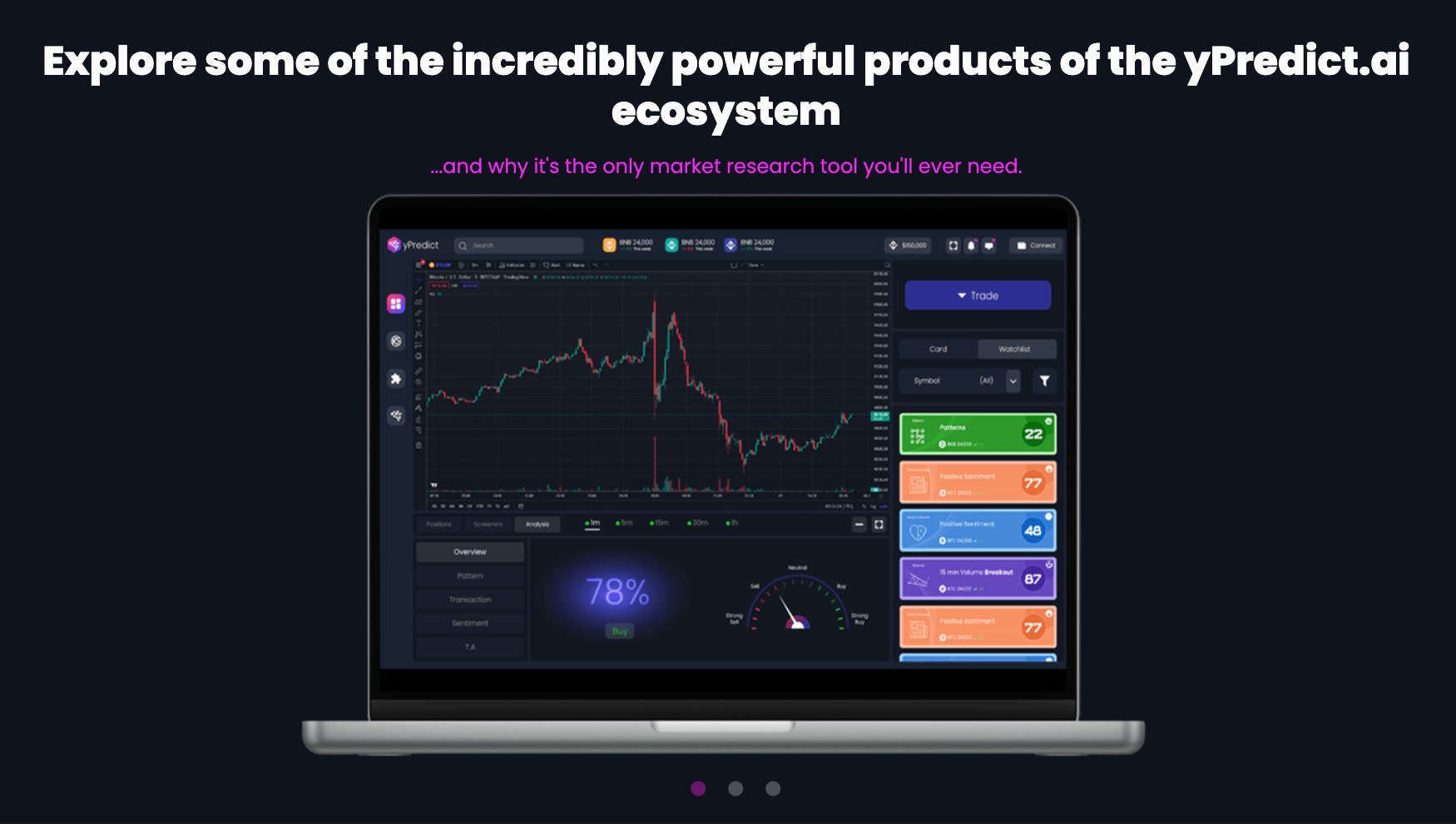 According to its whitepaper, yPredict rewards each participant for contributing to the ecosystem. Developers get 70% and existing YPRED holders 10% of the platform's revenue from subscription payments. Traders and other yPredict users yield incentives by voting on the in-house marketplace, joining loyalty programs, staking their tokens, completing educational modules and quizzes, and so on.
If you're worried about YPRED token prices' volatility due to the limited total supply of tokens, you're not alone. However, the 50 million unlocked coins and the $6 million market cap indicate that the project has a great deal of potential to grow. You can join its Telegram channel community to follow its progress.
| | |
| --- | --- |
| Presale Started | February 2023 |
| Purchase Methods | ETH, MATIC, USDT, BNB, Card |
| Chain | Polygon |
| Hard Cap | $6,507,511 |
| Min Investment | 200 $YPRED |
| Max Investment | None |
10. Audius – Decentralized Music Streaming Platform available on Coinbase
Audius is a decentralized music streaming platform that incorporates blockchain technology to give a larger cut to content creators. On Audius, any music creator can easily share their work, and market and publish the product to monetize their content.
To access the Audius network, content creators are required to stake AUDIO, the native cryptocurrency. One of the new listings on Coinbase, AUDIO, also gives users access to governance features on the blockchain through a voting mechanism.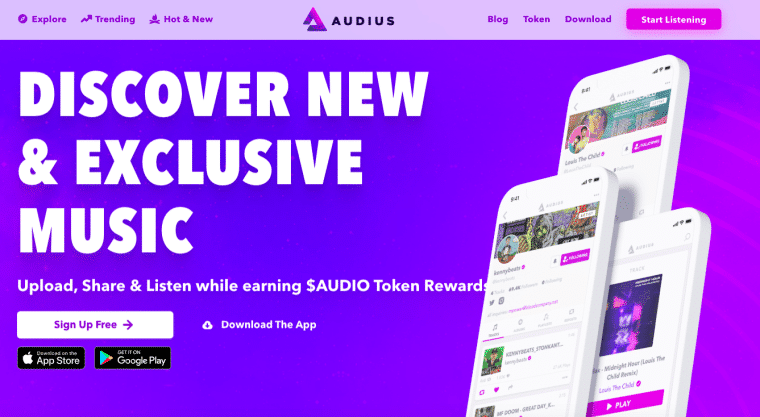 The creators of Audius believe that the traditional music streaming world creates issues with licenses and takes a large cut from the music makers. Thus, this cryptocurrency platform decentralizes the process by allowing listeners to directly connect with their favorite artists.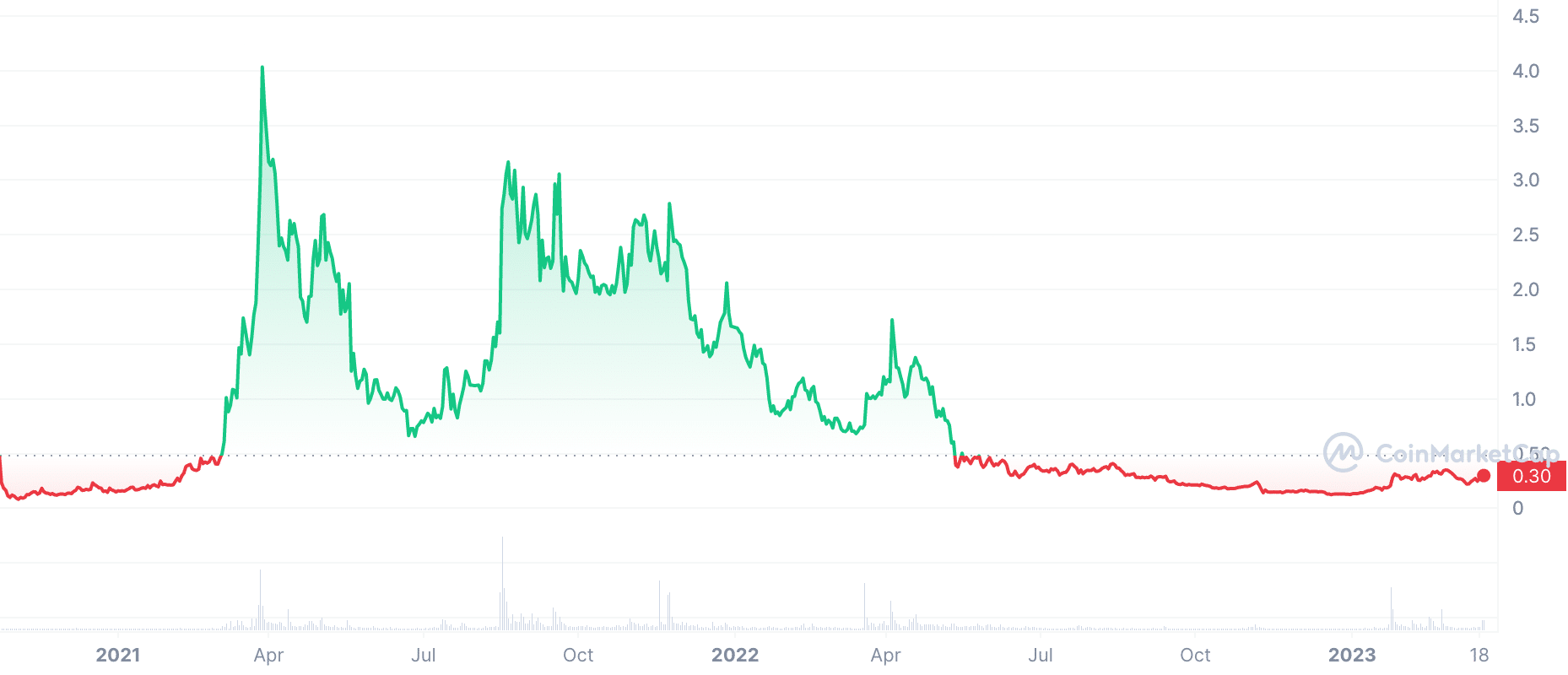 To keep a check of the content being created on the network, the Audius node operators are required to stake AUDIO tokens as collateral. New on Coinbase, AUDIO is benefitting from an increase in trading volume. The token recently surged from a price of $0.26 on February 1st to $0.38 in a few weeks.
11. Battle Infinity – Fantasy Sports and P2E Gaming Cryptocurrency
Battle Infinity is a new play-to-earn gaming platform where players can earn rewards by taking part in multiple fantasy sports games and accessing other passive-income earning protocols. IBAT is the token used to power this ecosystem and earn rewards.
All the earning opportunities are available on the Battle Arena, the metaverse of Battle Infinity. On the Battle Arena, users can compete in the IBAT Premier League, the first-ever NFT-based fantasy sports betting competition. The platform also features its own decentralized exchange through which IBAT tokens can be swapped with other popular altcoins.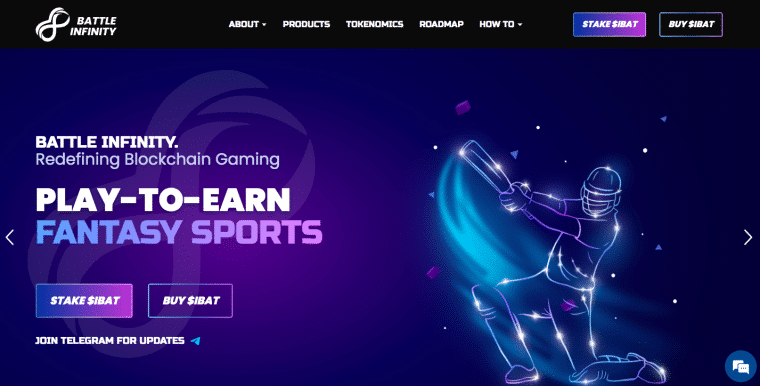 Other use cases include a staking feature called 'Battle Staking,' where $IBAT can be locked to accumulate an annual percentage yield. One of the upcoming projects Battle Infinity is working on is a Battle Market, where all in-game tokenized assets can be traded easily.
After raising more than $1 million in its presale, IBAT was launched on popular exchanges such as PancakeSwap and LBank. Due to its multiple use cases, Battle Infinity's IBAT can become one of the Coinbase new listing coins in 2023.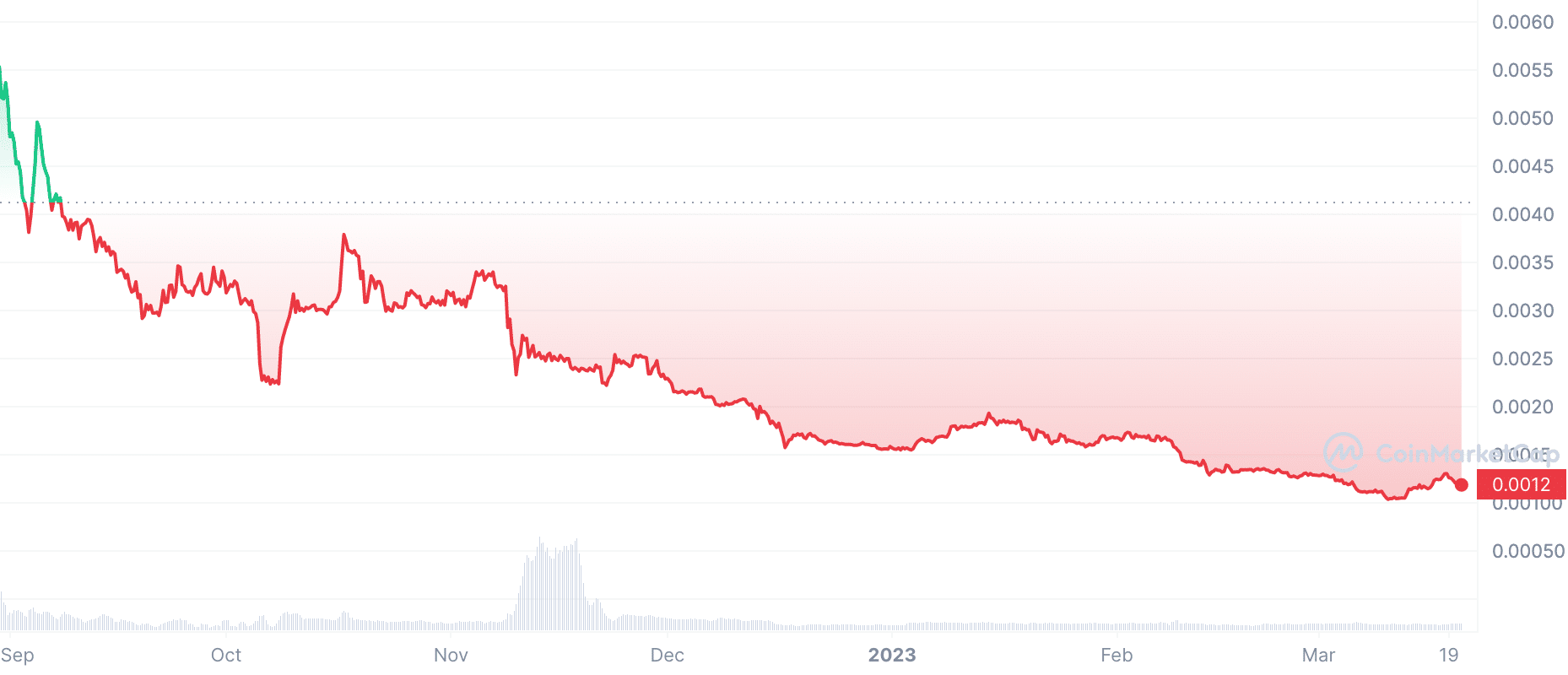 12. NEAR Protocol – Layer-One Blockchain Offering Quick Transaction Speed
A popular layer-one blockchain network, NEAR Protocol, has solved some long-term issues among the top blockchain networks. It eliminates issues such as low transaction speed by using sharding to allow users to conduct transactions almost instantaneously. This user-friendly blockchain can conduct up to 100,000 transactions per second (TPS).
Due to its unique features and focus on decentralization, NEAR took the spotlight at the ETH Denver 2023 event.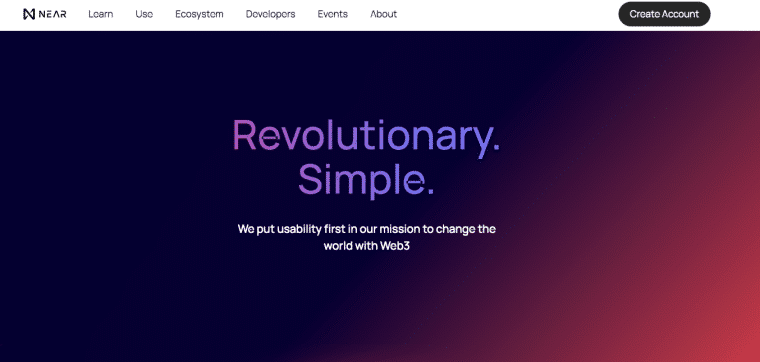 Offering high interoperability, NEAR protocol allows users to easily transition between different blockchains. Thus, all these features make NEAR Protocol a developer-friendly app for creating multiple DApps (Decentralized Applications). All these activities are possible due to its central currency – NEAR. When using this token for transactions, 30% of the fees are used to pay for rebates, while the remaining 70% is burnt.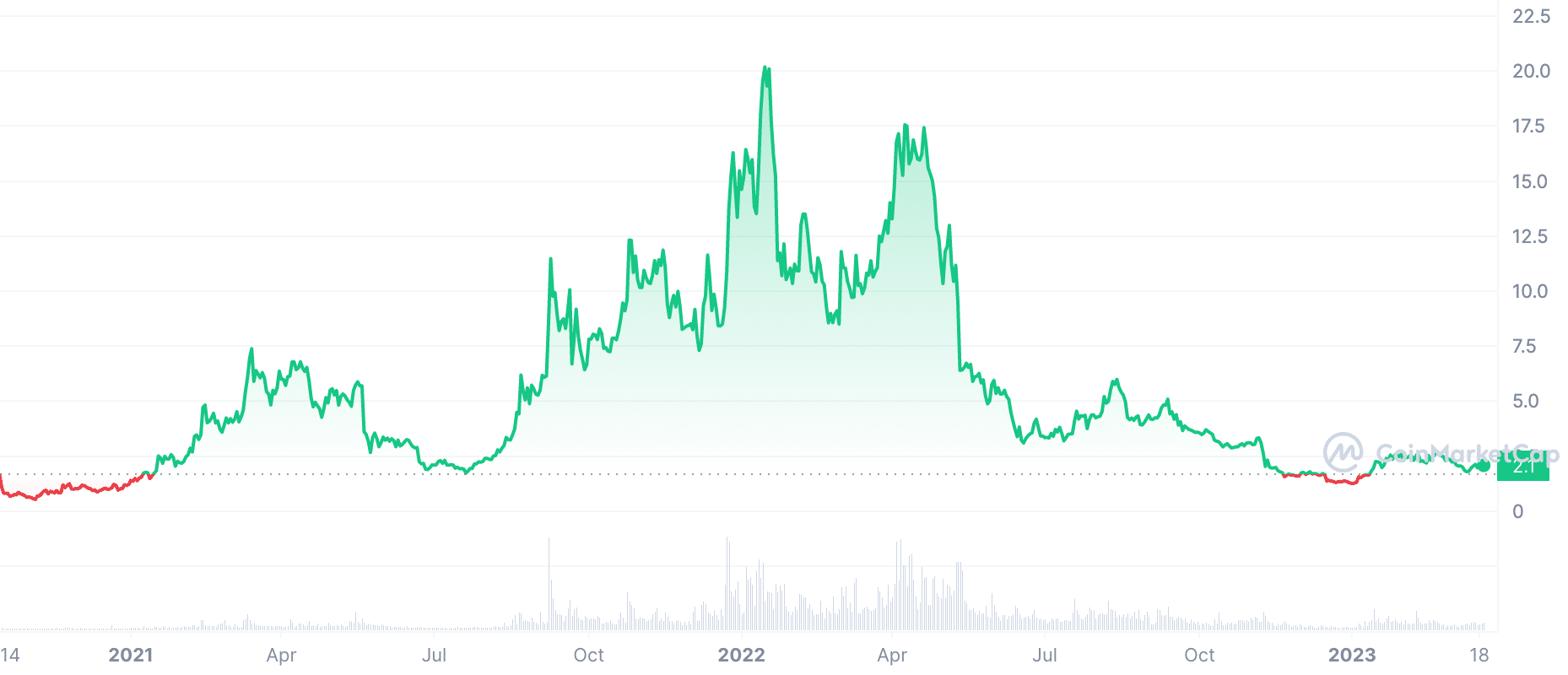 The token is also used to process transactions, run validator nodes, and for governance. One of the top new coins on Coinbase, NEAR, has a market cap of nearly $2 billion.
13. Hedera – Popular Cryptocurrency used for Building Decentralized Applications
Hedera is a sustainable and decentralized network that enables businesses to build secure, fair, and lightning-fast decentralized applications.
Apart from building DApps, this open-source platform is used for creating smart contracts by leveraging HBAR, its native cryptocurrency.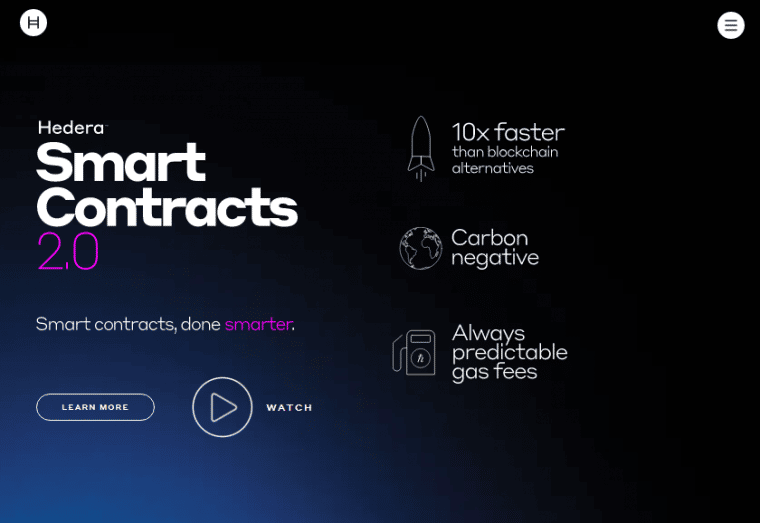 The native token has multiple use cases on the Hedera network. Firstly, the token is used to power all the platform's activities, such as smart contract creation, processing transactions, and file storage. Moreover, the token can be used to protect the network. HBAR can be staked by those looking to validate the network.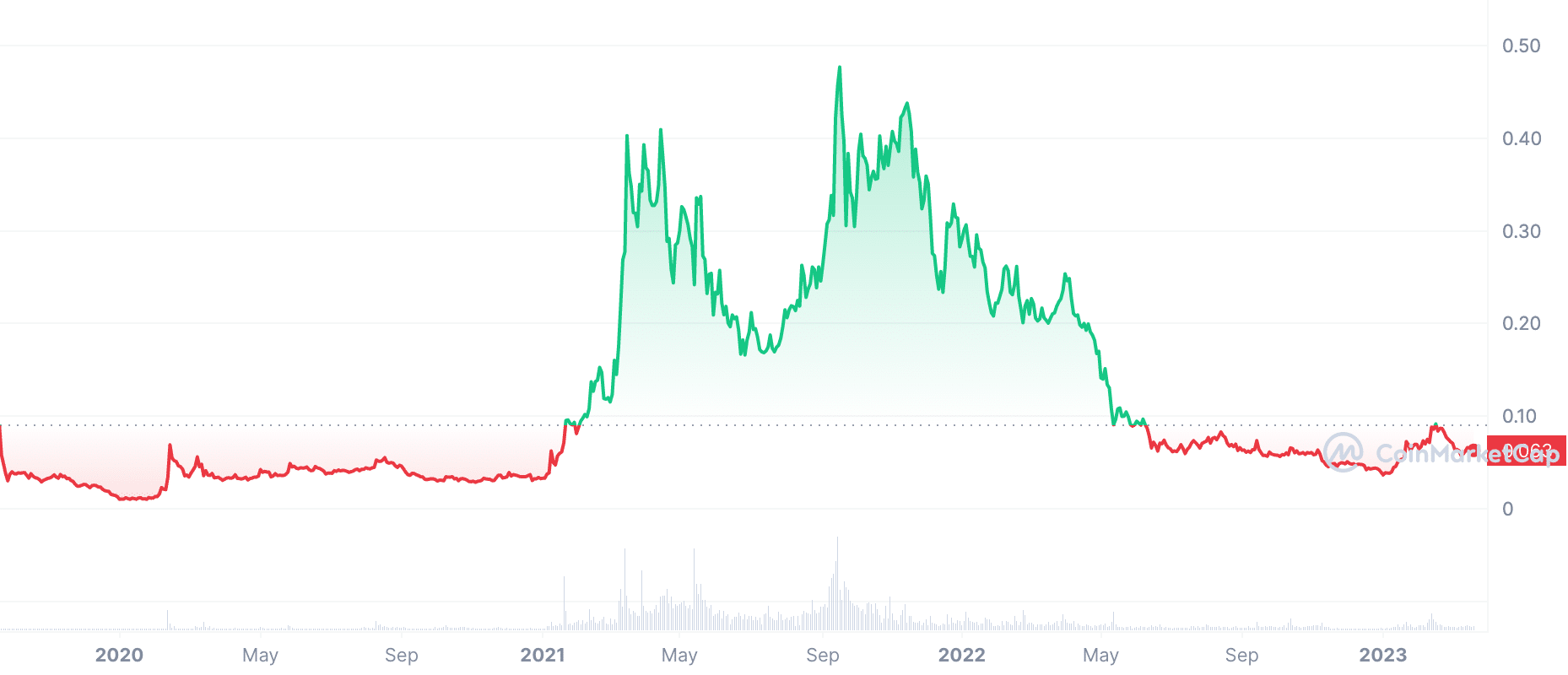 One of the top new Coinbase listings, HBAR, is already the 35th largest cryptocurrency, with a market capitalization of $1.8 billion. With the new Coinbase listing, HBAR has the potential to offer even greater returns in the future. Could HBAR become the best future crypto project to invest in? Currently, the token is trading at $0.071.
Your capital is at risk. Crypto asset investments are highly volatile and speculative.
14. Livepeer – Decentralized Video Streaming Cryptocurrency
Aiming to become an alternative to centralized video streaming services, Livepeer is a decentralized video streaming network. This open-source platform offers pay-as-you-go content options, video enabled DApps, and much more.

A cost-friendly alternative to centralized broadcasting, Livepeer claims to reduce costs by up to 50 times compared to its competitors. This platform conducts all its operations and transactions with the Livepeer Token (LPT). The LPT cryptocurrency can be used for staking and even for the overall governance of the platform.
In the latest Messari's State of Livepeer report, the platform has witnessed an increased demand from apps and developers in the last quarter.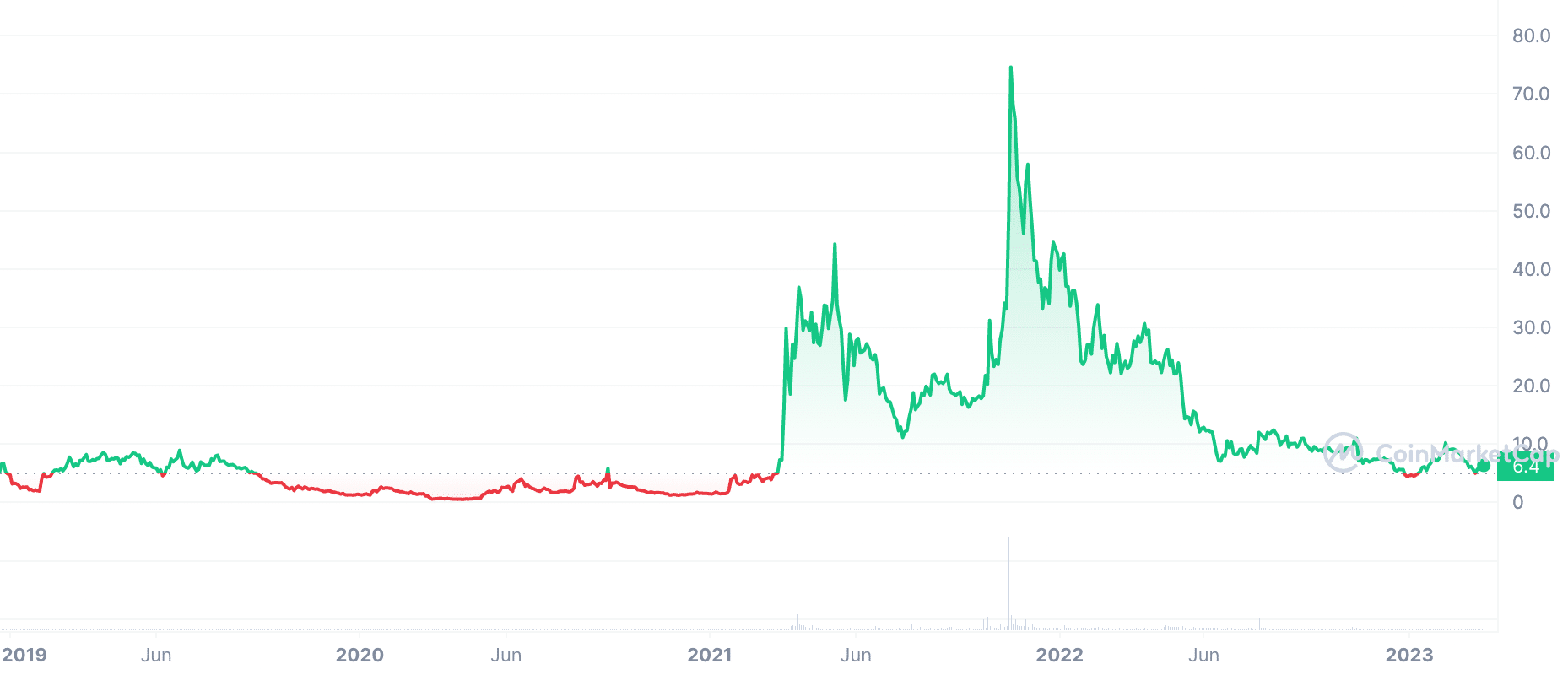 LPT can potentially be one of the new cryptos coming to Coinbase, as it is revolutionizing the video streaming industry. With a market cap of more than $200 million, LPT is currently trading at $7.42 per token.
Your capital is at risk. Crypto asset investments are highly volatile and speculative.
How Does Coinbase Select New Coins to List?
All the upcoming coins on Coinbase are selected based on certain criteria. Let's take a look at some factors that may lead Coinbase to list certain cryptocurrencies on their exchange:
Market Demand
Firstly, cryptocurrency exchanges usually list new tokens that are already in high demand. As more investors are interested in purchasing a particular token, the greater the likelihood of them purchasing it from a top cryptocurrency exchange such as Coinbase.
Use Cases
While market demand is an important factor for the short term, it may not be enough of a reason to onboard a new project. Top cryptocurrency exchanges such as Coinbase may evaluate new projects depending on their use cases.
In the last few years, we have witnessed an increase in the number of Web3-based applications that aim to offer exciting use cases. Cryptocurrencies like Audius and Livepeer aim to decentralize content creation by offering lower costs and faster transaction speed.
Similarly, other projects offer multiple opportunities to earn free crypto by allowing members to take part in its metaverse. Thus, Coinbase may look to add these types of cryptocurrencies to their exchange.
Tokenomics
Coinbase may wish to list new cryptocurrencies which present competitive tokenomics. For instance, many tokens with a low supply tend to generate high demand due to their limited availability.
After the presale comes to an end, Coinbase may look to incorporate such tokens which may attract high trading volumes in the long run.
How Often Does Coinbase Add New Crypto Coins?
Unfortunately, Coinbase does not abide by any schedule when it comes to listing new tokens. Currently, the cryptocurrency exchange has listed more than 200 of the biggest tokens in the world. Since Coinbase aims to list the best available assets, it only lists new tokens after conducting a strict vetting process. So for Coinbase upcoming listings users have to keep a keen eye open.
While Coinbase used to be much more secretive and offered little information about new crypto projects, they have become more transparent. Coinbase will sometimes announce a new coin listing beforehand by updating customers through its socials.
For instance, the Coinbase Assets Twitter page recently announced the listing of Euro Coin on its centralized exchange.
It is important to closely follow the Coinbase exchange to ensure that you are aware of any new coin listings. Since Coinbase is one of the biggest crypto exchanges in the space, a new listing could instantly affect the token price.
Why You Should Invest in Cryptos Before They List on Coinbase
The sections below will discuss some of the reasons why investors may prefer investing in cryptocurrencies before they get listed on top exchanges such as Coinbase:
Lower Prices
Before a token is listed on Coinbase and other global exchanges, investors can invest in the token presales. The presale is the first time a token is made available to the general public. Thus, it is also available to purchase at the lowest price possible.
For instance, $WSM is currently priced at $0.0334 but will jump to $0.0337 in the next presale stage.
Potential Bonuses
Many presale projects offer bonuses to their early investors.
This project will also allow users to lock the tokens for a staking period to earn further bonuses on their investments. Therefore, one can extract additional tokens by the time the cryptocurrency is listed on major exchanges.
Conclusion
Our guide has discussed some of the new coins coming to Coinbase. Due to Coinbase's popularity, new listings will tend to attract a rapid increase in trading volume which can help boost an asset's price.
One of the top cryptocurrencies we reviewed in this guide is Bitcoin ETF token. This is a value driven project that is banking on regulatory approval of Bitcoin ETFs in the USA.
With an excellent smart contract audit, a good use case, and a clear roadmap to success, it could be a strong contender as a possible Coinbase listing, in the near future.
FAQs
What new coin is coming to Coinbase?
Where can I find new coin listings?