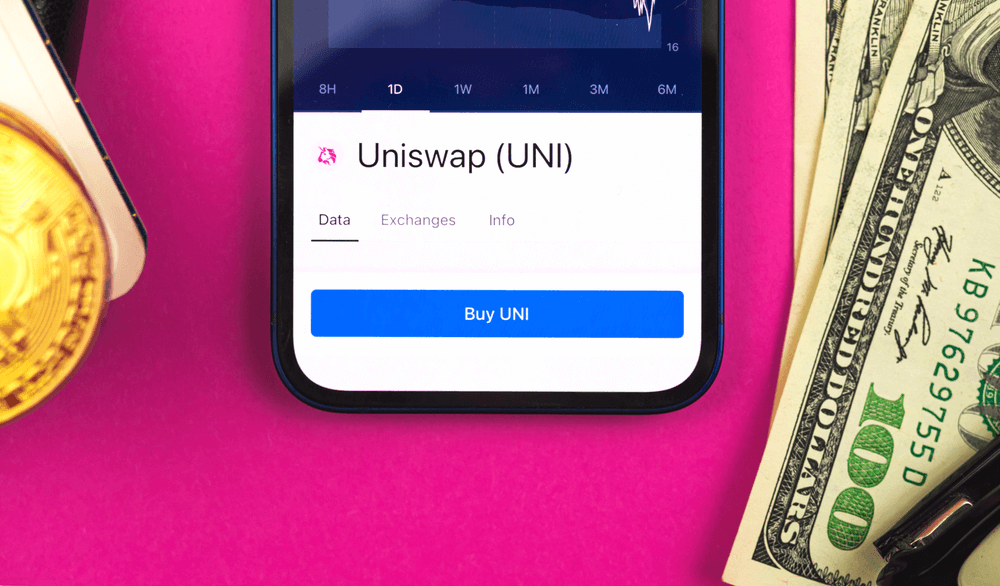 Uniswap is the largest decentralized crypto exchange and the first place that many new cryptocurrencies list. Traders and investors alike monitor Uniswap to find the latest token listings and buy the most promising tokens before they explode in value.
In order to use Uniswap effectively, crypto traders need to know what coins to look for on the exchange. In this guide, we'll highlight 10 of the best new Uniswap listings to keep an eye on in 2023.
Top 10 New Uniswap Coins to Buy
There are dozens of new tokens listing on Uniswap every month, but we've picked out the most promising tokens for traders to watch. Here are the 10 best new Uniswap listings to follow now:
Bitcoin ETF Token – Top new crypto on Uniswap with 5% token burns linked to milestones in the first Bitcoin ETF rollout. Raised $500,000 in first week of presale.
Bitcoin Minetrix – Stake-to-mine token enabling seamless and safe Bitcoin mining in the cloud. Raised $4 million in presale, readying for explosive Uniswap launch.
Meme Kombat – Play-to-earn crypto game pitting popular memes against one another in virtual fights. Offers 805% staking APY and a chance to bet on top memes.
TG.Casino – New Telegram casino and sportsbook offering 25% cash back on bets using $TGC token and 267% staking APY. Plans to use revenue to buy back and burn $TGC.
Launchpad XYZ – Crypto trading and analytics platform with profitable trading signals, custom market indicators, and more. Raised $2 million in presale, offering 9% purchase bonus for limited time.
Grok 2.0 – Popular meme coin based on Elon Musk's new Grok AI. Gained 1,000% within 24 hours of listing on Uniswap.
OTSea – Peer-to-peer trading platform designed to eliminate liquidity pools and enable smoother trading. Up 30,000% since launching on Uniswap a month ago.
Cybertruck – Meme coin celebrating the production of Tesla's all-electric Cybertruck. $TRUCK is up 8,300% in the past week of trading on Uniswap.
Nebula – Decentralized cloud computing network that requires no technical skills to get started. Gained 8,400% since Uniswap launch on October 31.
Bypass – Centralized exchange aggregator built on Telegram. Offers ability to trade tokens with no KYC and no wallet connection.
A Closer Look at the Best New Uniswap Listings
Let's dive deeper into these new and upcoming Uniswap listings to help traders decide which tokens have the most potential to surge higher.
1. Bitcoin ETF Token – Best New Crypto on Uniswap for 2023. $BTCETF Token Burns Linked to Bitcoin ETF Rollout, Raised $500,000 in First Week of Presale.
Bitcoin ETF Token ($BTCETF) is one of the hottest new crypto presales and our pick as the most exciting upcoming Uniswap listing. The project offers traders a chance to profit from the launch of the first spot Bitcoin ETF in the US without owning Bitcoin directly.
The project is unique in that it offers a series of 5 $BTCETF token burns that are linked to real-world milestones.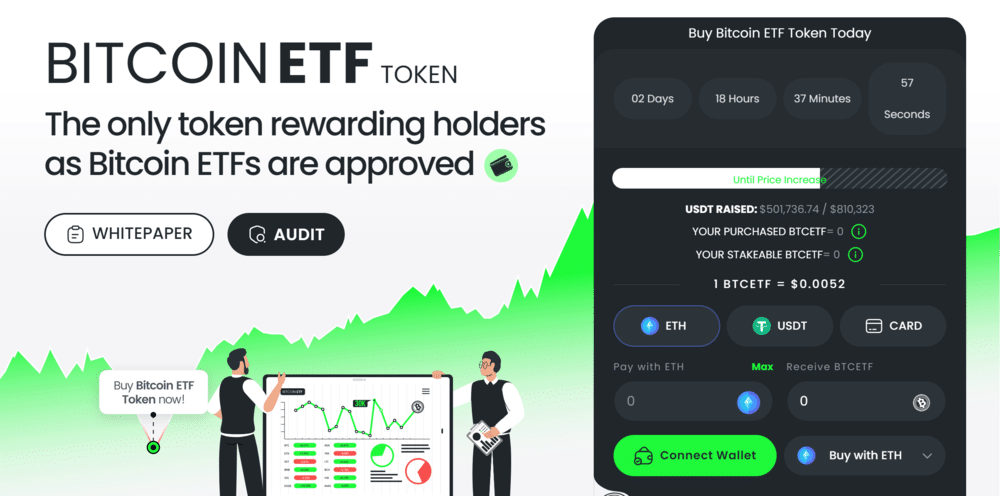 Bitcoin ETF Token will burn 5% of its total supply when each of the following milestones is reached:
$BTCETF reaches $100 million in daily trading volume
The SEC approves the first spot Bitcoin ETF
The first spot Bitcoin ETF launches
Bitcoin ETFs reach $1 billion in assets under management
The price of Bitcoin reaches $100,000
Once all 5 milestones have been reached, 25% of the total $BTCETF token supply will have been burned. To encourage holding in the meantime, the project has a sell tax that starts at 5% and decreases by 1% with each milestone.
Analysts think that the SEC could approve the first spot Bitcoin ETF as soon as December, which is fueling huge demand for $BTCETF. The presale raised more than $500,000 in its first week and the token could list on Uniswap before the month is out.
Right now, early investors can lock in $BTCETF at a price of $0.0052—a 24% discount to the planned list price on Uniswap.
2. Bitcoin Minetrix – Stake-to-Mine Token Streamlining Cloud BTC Mining. Raised $4 Million in Explosive Presale as Uniswap Launch Approaches.
Bitcoin Minetrix ($BTCMTX) is an innovative token that promises to revolutionize cloud Bitcoin mining. The project introduces a new stake-to-mine ecosystem in which investors can stake their $BTCMTX tokens and earn rewards in mined Bitcoin.
When investors stake their $BTCMTX, they receive non-transferrable mining credits. They can then redeem these credits to purchase hashpower in the cloud and use advanced ASIC processors to mine Bitcoin. Mined Bitcoin is redistributed to investors in the form of staking rewards.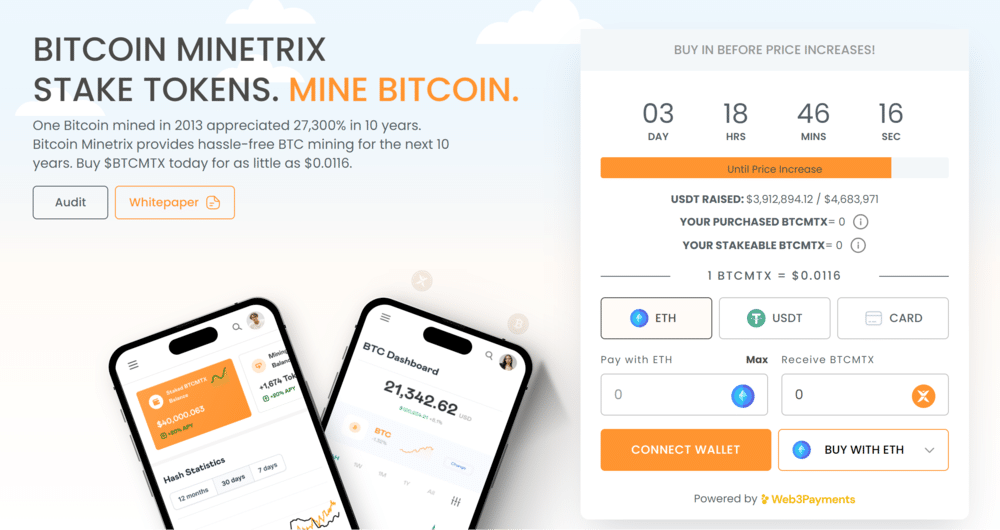 This system means that miners never have to send their hard-earned tokens to a third-party miner who they don't know or trust. It also enables miners to leverage an economy of scale, as Bitcoin Minetrix can negotiate advantageous deals for hashpower with existing data centers.
This stake-to-earn model has proven immensely popular, with investors buying up nearly $4 million worth of $BTCMTX tokens during the Bitcoin Minetrix presale. We expect Bitcoin Minetrix to become even more valuable as the price of Bitcoin increases, which could happen fast now that it's topped the key $35,000 price level.
The presale has a hard cap of $32 million, so there's still time for investors to join Bitcoin Minetrix before it lists on Uniswap.
3. Meme Kombat – Play-to-Earn Crypto Game Setting Up Fights Between Popular Memes. Presale Investors Earn 805% APY on Staked $MK.
Meme Kombat ($MK) is the newest meme coin to prepare for a Uniswap listing. But it's also much more than just another meme coin. Meme Kombat is a play-to-earn game that can attract meme lovers, video gamers, sports bettors, and more.
The project pits popular memes like Shiba Inu, Pepe, Spongebob, Milady Maker, and more against one another in a fighting tournament. Each meme has its own fighting stats, and fights play out randomly thanks to an algorithm on the blockchain.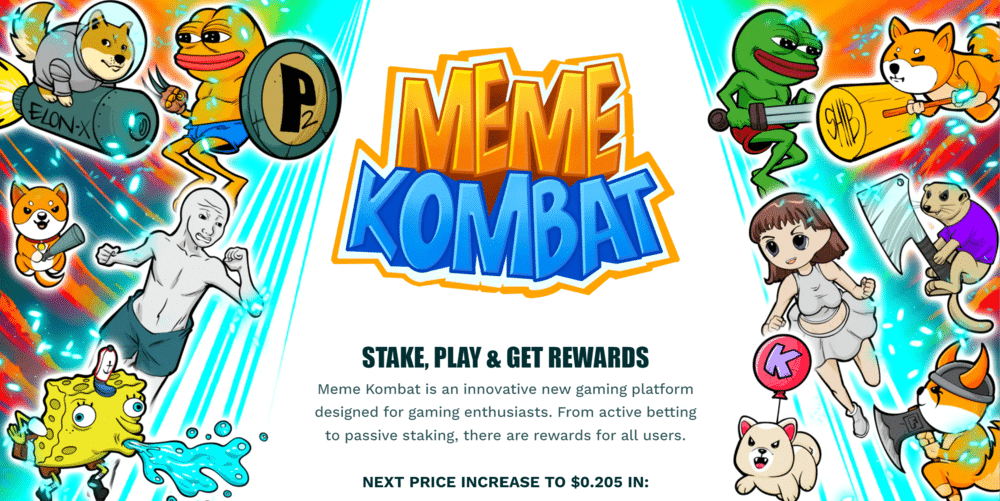 Investors who hold $MK tokens can stake their coins and bet on the outcomes of these fights. It's a lot like sports betting, but with memes. Winning bets earn additional $MK, which players can then cash out or roll into a bet on the next round of the tournament.
$MK investors can also stake their tokens to secure the platform and earn token rewards. Staking starts during the presale, enabling investors who buy $MK right now to earn an astounding 805% APY before the token hits Uniswap.
The Meme Kombat presale has raised more than $1.6 million. Right now, investors can buy $MK at a price of $0.189, but the next price increase is just around the corner.
4. TG.Casino – New Telegram Casino and Sportsbook with No KYC and 25% Cash Back on Losses. Offers 267% APY for Staking $TGC.
TG.Casino ($TGC) is a new Telegram casino and sportsbook that players all over the world can access using the Telegram messaging app. It doesn't require ID verification, making it incredibly simple for players to join in seconds and bet anonymously.
Anyone can join TG.Casino without owning its $TGC token. However, players who bet with $TGC earn 25% cash back on all of their losses. That provides a huge incentive for players to own $TGC and could significantly push up the token's price.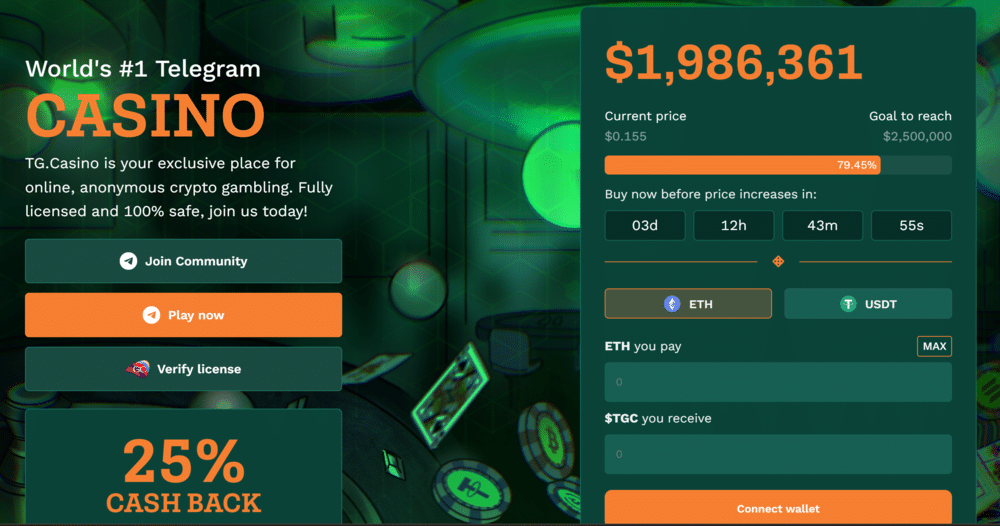 On top of that, TG.Casino is offering investors 269.99% APY in $TGC when they stake their tokens. Early investors can start earning rewards during the presale. So, it pays to buy $TGC as soon as possible instead of waiting for its Uniswap listing.
The platform also plans to reward investors by using its revenue to buy back $TGC on the open market. Half of the repurchased $TGC tokens will be burned, while the other half will be distributed to investors as a staking reward.
The TG.Casino presale has raised nearly $2 million and offers investors a chance to buy $TGC at a price of $0.155. The next price increase is just a few days away, so investors have to hurry to lock in the lowest price for their tokens.
Launchpad XYZ ($LPX) is a crypto analytics dashboard built by and for traders. The platform's goal is to help traders uncover the next 10x opportunity in the crypto market before it happens.
Traders on Launchpad XYZ get access to a wide range of tools to help them succeed. The platform includes customizable technical charts, social sentiment analysis, and proprietary indicators. One of these, the Launchpad Quotient, offers a single rating for each new crypto token to let traders know at a glance if it's hot or not.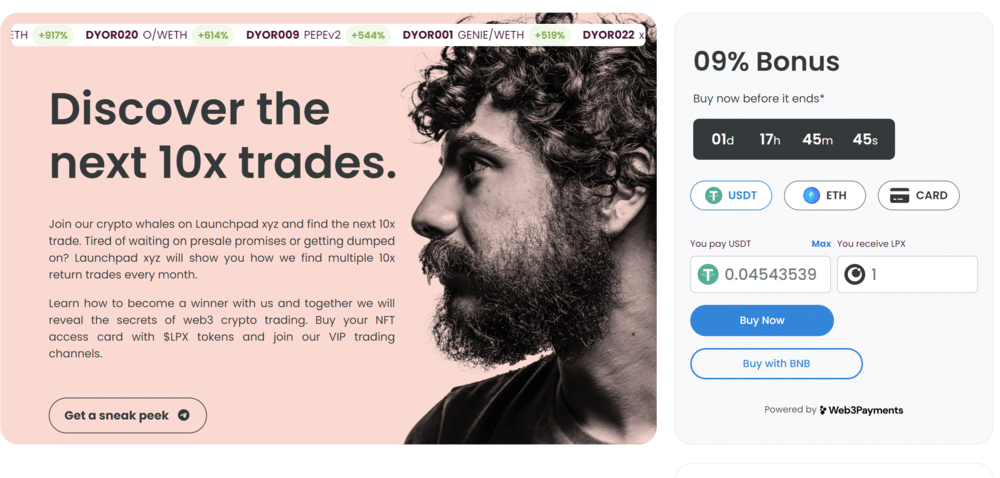 The project also runs a Telegram crypto signals group that delivers multiple actionable trade ideas each week. The channel is free to access while the Launchpad XYZ presale is going on and it's already closed a number of profitable trades.
Traders need Launchpad XYZ's $LPX token in order to access many of the benefits of the token. By staking $LPX, they can access Telegram signals, invest early in new presales incubated on Launchpad XYZ, and trade directly through the platform's terminal.
$LPX is currently available to buy on presale for only $0.0445. For a limited time, investors who buy $LPX receive a 9% bonus on their purchase. That's like receiving 9% in unrealized gains just for joining the presale.
Launchpad XYZ has raised more than $2 million and its Uniswap listing is just around the corner.
6. Grok 2.0 – Meme Coin Based on Elon Musk's New Grok AI. Gained 1,000% in First 24 Hours on Uniswap.
Grok 2.0 ($GROK2.0) is a new meme coin that just launched on Uniswap. Within its first 24 hours of trading, the token is up a whopping 1,000% and it's one of the hottest tokens on Dextools.
Grok 2.0 is built around the newly launched Grok AI, which Elon Musk's company xAI released as a competitor to ChatGPT. Grok AI is sarcastic and humorous, making it the ideal topic for a meme coin.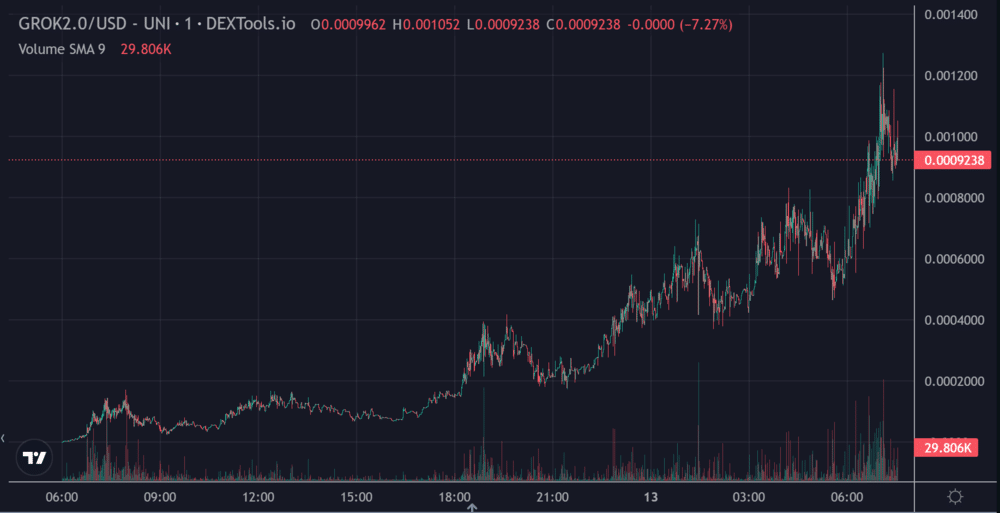 The connection to Musk, who is widely revered among meme traders, has undoubtedly contributed to the new token's meteoric rise. Now, any tweet by Musk or tweaks to Grok AI could send $GROK2.0 shooting higher.
According to Dextools, Grok 2.0 has a market cap of $6.79 million and more than 1,700 token holders. The token is only available to buy on Uniswap and other decentralized exchanges, but it plans to seek listings on centralized exchanges like MEXC in the near future.
7. OTSea – Peer-to-Peer Trading Platform Eliminating Liquidity Pools. Gained 30,000% Since Uniswap Listing.
OTSea ($OTSEA) is a peer-to-peer trading platform that enables users to buy and sell crypto tokens directly to and from one another. The platform eliminates the need to buy and sell into liquidity pools, which can cause choppy and volatile trading when liquidity is low.
OTSea has special appeal for well-funded crypto whales, who can trade large tranches of tokens with other users quietly and without moving a coin's price. OTSea also enables whales to break up large sales and spread their tokens across many smaller traders.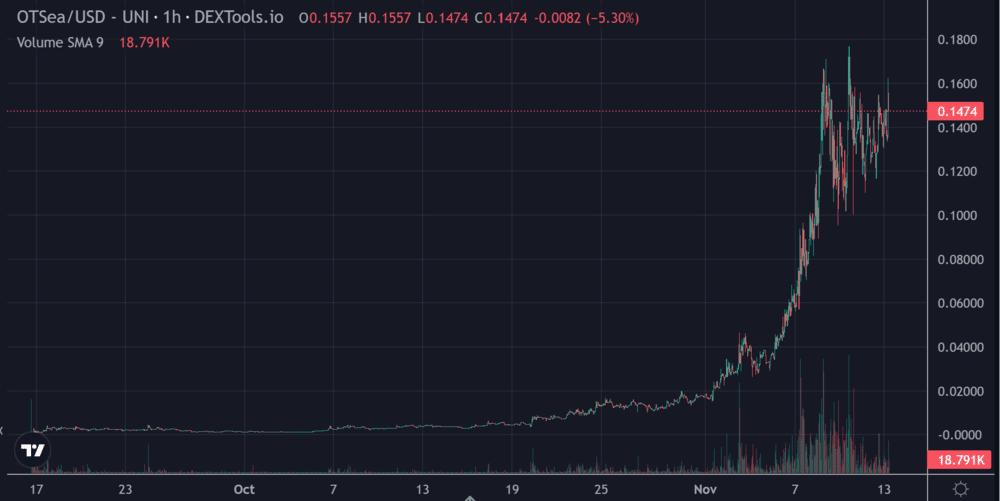 The platform supports trading on all ERC-20 tokens, meaning it lets traders buy and sell most of the same tokens available on Uniswap. The platform plans to distribute 75% of its revenue to users who stake the $OTSEA token as a reward.
The $OTSEA token has gained 30,000% since listing on Uniswap a month ago and it's still the #5 hottest token on Dextools.
8. Cybertruck – Meme Coin Celebrating Tesla's Cybertruck Rollout. Up 8,300% in the Past Week of Trading.
Cybertruck ($TRUCK) is another Elon Musk-related meme coin taking the crypto market by storm in the past week. This token is up more than 8,300% in the last 7 days and is the #6 hottest token on Dextools.
Cybertruck has no utility, but it offers a way to build community around Tesla's new Cybertruck. The first Cybertruck was put into production in July 2023 and the all-electric vehicle is expected to begin reaching customers later this month.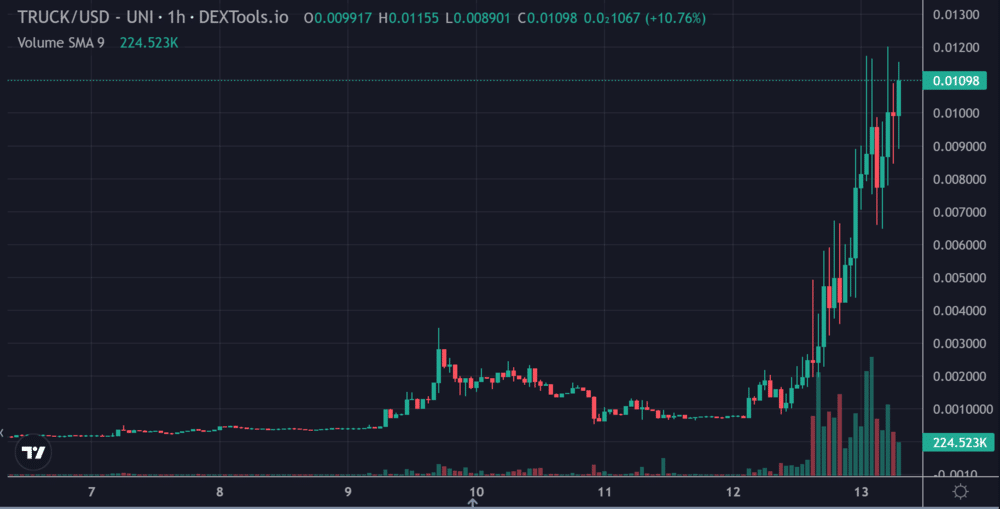 The $TRUCK token now has an impressive $8.57 million market cap and a community of more than 1,700 token holders. In the last 24 hours alone, the token has seen more than $7.5 million in trading volume.
The $TRUCK price is still headed upwards and is likely to see another bump when Cybertruck deliveries officially begin.
9. Nebula – Decentralized Cloud Computing Network Open to Anyone. Gained 8,400% in First 2 Weeks Since Launch.
Nebula ($NEBULA) is a decentralized cloud computing project that aims to make powerful servers available to anyone. With Nebula, advanced technologies like AI and profitable endeavors like Bitcoin mining are easily within reach.
One huge advantage to Nebula over existing cloud computing systems is that Nebula doesn't require any technical skills. Users can get started right away with preconfigured machines for crypto mining, node management, and more, all with no coding.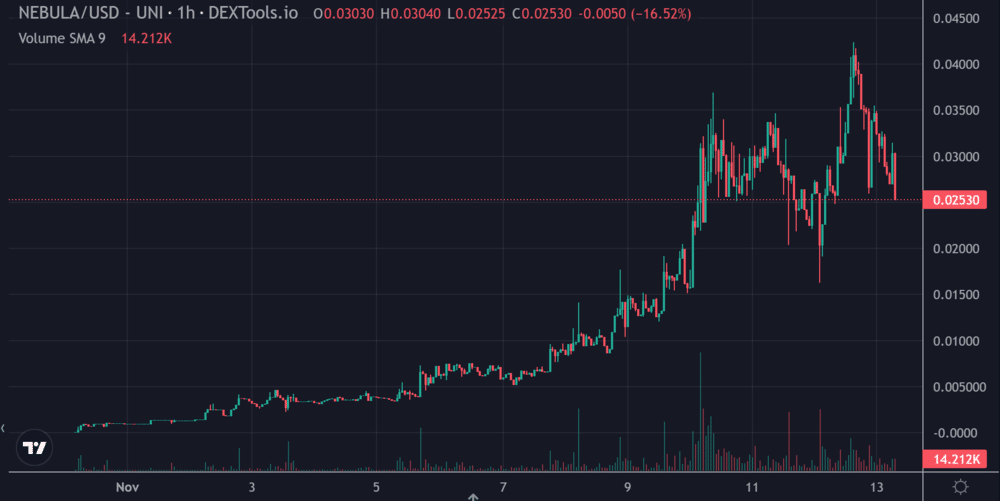 Nebula also offers decentralized cloud storage that's free from meddling by any government entity. It's a safe place for users to keep all of their most sensitive information.
The $NEBULA governance token has been in high demand since it listed on Uniswap on October 31. The token is up more than 8,400% in the past 2 weeks and now has a market cap of more than $2.5 million.
10. Bypass – Centralized Exchange Aggregator Giving Trades the Ability to Buy and Sell Crypto Anonymously. Gained 1,700% Since Uniswap Listing.
Bypass ($BYPASS) is a unique platform that enables traders to buy and sell crypto across multiple centralized exchanges. What makes Bypass so unique is that traders can access these exchanges completely anonymously, with no KYC or wallet connections.
This gives traders a way to buy and sell tokens without giving up their identity. It's a sorely needed app at a time when governments around the world are cracking down on KYC requirements at major exchanges.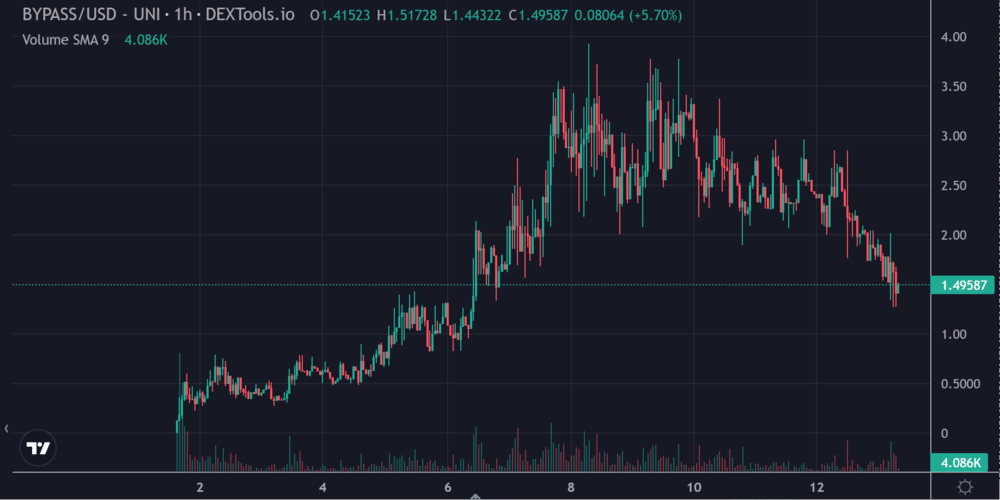 Users can compete prices across Coinbase, Binance, Kraken, MEXC, and others, then trade at the exchange that offers the best price. Everything is coordinated through a Telegram bot, so traders never interface with the exchanges directly.
The $BYPASS token is required to pay trading fees, so its price is tightly linked to demand for Bypass's platform. The token is up 1,700% since listing on Uniswap 2 weeks ago.
Why Invest in New Uniswap Listings?
Investors who haven't used Uniswap before might be wondering what the benefits are to buying new token on Uniswap. In this part of our guide, we'll explain why so many investors follow new Uniswap listings.
First Chance to Buy New Tokens
While a growing number of crypto projects hold presales prior to listing, many go straight to decentralized exchanges like Uniswap. That means that for many tokens, the first chance investors have to buy them is when they list on Uniswap.
So, if an investor wants to buy the best new meme coin—because they think it's primed to explode, because they simply like the meme, or for any other reason—they need to go to Uniswap to be among the first to get it.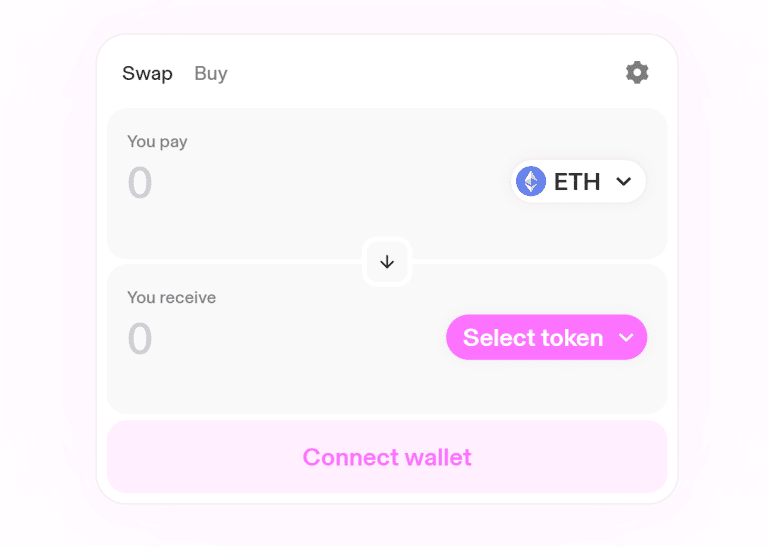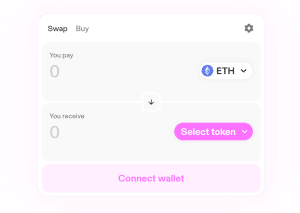 Explosive Price Gains
Many of the best new coins on Uniswap experience massive price gains in the first hours or days after trading begins. That's because many projects release only a limited number of tokens onto the exchange at first. As traders compete to buy this limited supply of tokens, demand outstrips supply and the price shoots upwards.
It's not uncommon to see tokens gain 10x or more in their first 24 hours of trading on Uniswap. This is the kind of return that crypto traders dream about.
The decentralized nature of Uniswap also means that anyone can buy and sell crypto on the platform, no matter where they are in the world. That isn't true for most centralized exchanges, which have country restrictions, and it means that there are more traders on Uniswap to drive up demand.
Staking Rewards
Many new tokens that list on Uniswap offer rewards to investors who stake their tokens for a specific period of time. These staking rewards are often highest in the days immediately after a new token lists because projects want to encourage investors to hold onto tokens rather than trade them.
Investors can still earn staking rewards for many tokens long after they list. However, the biggest potential returns are often for Uniswap new listings.
Participate in Governance
Some tokens that list on Uniswap give their owners a say in a project's direction. These tokens, known as governance tokens, have more proportional voting power when a project is small and there are fewer tokens in circulation.
Projects are generally smallest when they first list, so early investors in a Uniswap new coin listing have the most voting power per coin. It's also early in the life of a project, so votes on a project's direction can have a bigger impact on its future.
Uniswap vs. Other Decentralized Exchanges
Uniswap isn't the only decentralized exchange (DEX) where investors can find new tokens. However, it's the most popular DEX and offers the biggest liquidity pools. This ensures that traders and investors can buy a token at their specific price without overly volatile price swings.
The popularity of Uniswap also means that it's the first DEX where new tokens choose to list. The token may become available for trading on other DEXs shortly after listing on Uniswap, but early investors need to go to Uniswap if they want to be the first to own a new coin.
How to Find the Best Upcoming Coins to List on Uniswap
In order to profit from new tokens on Uniswap, investors need to be able to find the hottest coins early. Here are some of the best ways to monitor upcoming Uniswap listings.
Crypto Presales
Cryptocurrency projects that hold presales often list on Uniswap once the presale ends. While some projects go straight to centralized exchanges, the vast majority hold their launches on Uniswap.
So, simply monitoring hot presales is a great way to find out about what the next Uniswap listings will be.
How to Find Hot Crypto Presales
Check out our guide to the best crypto presales to find all the hottest tokens to watch. We also explain how to find top presales and how to buy presale tokens before they list on Uniswap.
Social media is a great source for finding out about new coins on Uniswap. Most crypto projects that are about to list on Uniswap make an announcement on Twitter and Telegram. Reddit also has several threads for traders who want to discuss new listings.
One helpful tool to check out is Discobot, a Uniswap new listings alert bot for Twitter. The bot posts every time there's a new listing on Uniswap and includes the token's name, price, and number of holders.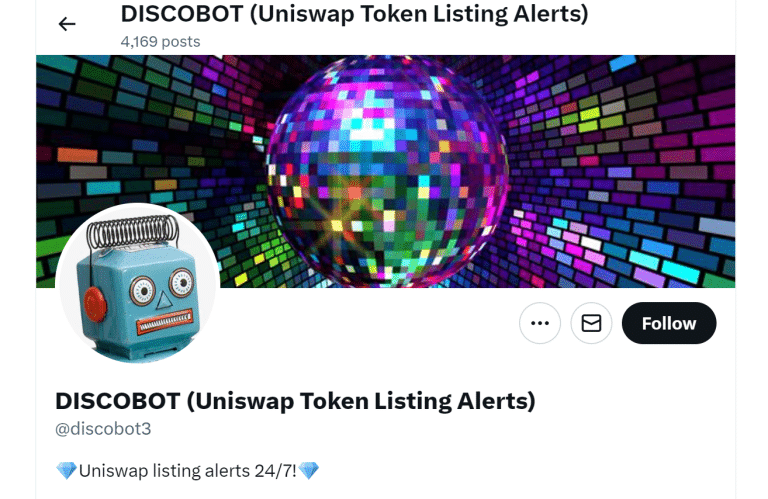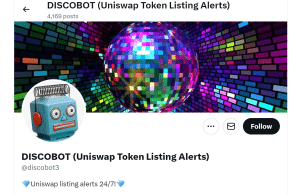 Crypto Influencers
Crypto influencers frequently highlight presale cryptos and tokens that are about to list on Uniswap. While influencers aren't always right, many have strong track records of picking explosive coins that vastly outperform the broader crypto market.
So, following influencers is a good way to stay up to date on the most exciting new Uniswap listings.
Dextools
Dextools is a crypto analysis platform that monitors new tokens on decentralized exchanges, including Uniswap. It typically doesn't cover upcoming Uniswap listings, but it's a great resource for finding out about Uniswap live new pairs.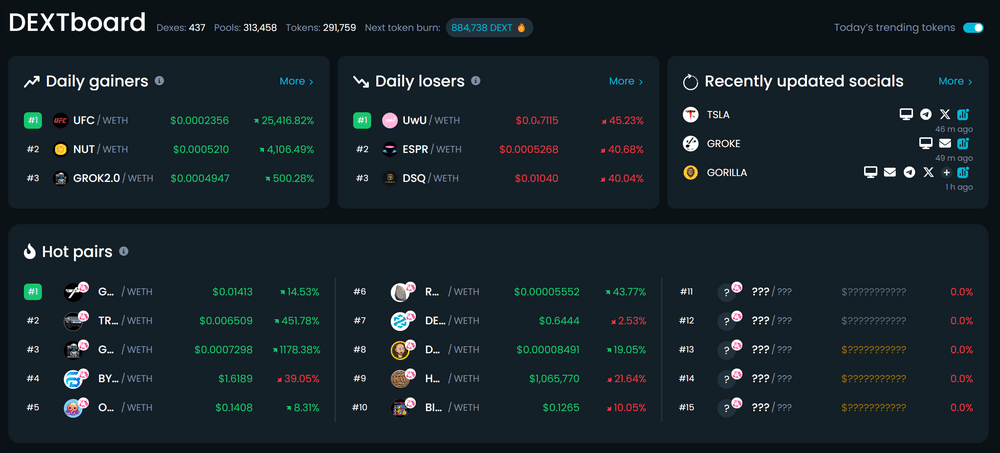 Dextools has a list of the top trending tokens on Uniswap, which investors can use to see which new listings are experiencing explosive price action.
Conclusion
Uniswap is the first place that many hot new cryptocurrencies list for trading. As a result, it's a popular exchange for investors and traders looking for the next big opportunity.
We think Bitcoin ETF Token is the best new Uniswap listing on the horizon. This exciting project has already raised more than $500,000 in its ongoing presale and plans to burn up to 25% of its token supply as the first US spot Bitcoin ETF rolls out. Bitcoin ETF Token's Uniswap listing is coming up fast, so investors need to hurry to lock in their $BTCETF coins before the launch.
References
FAQs
Which new coins are coming to Uniswap?
How do I find new tokens on Uniswap?
How many coins are listing on Uniswap?
How often does Uniswap add new cryptocurrencies?