The next altcoin season is possibly just around the corner, and it promises to be an exciting time for investors. Everyone wants to get ahead and make the most of the opportunities. But with so many different coins, deciding which ones to invest in can be overwhelming.
This article has compiled 11 coins to help you spot promising projects in the upcoming altcoin season. These coins can deliver big rewards from established coins to up-and-coming projects. So read on to determine which coins you should have in your portfolio before the next altcoin season.
Top 11 Coins to Buy for the Next Alt Season
Several market analysts believe that the next altcoin season is on the horizon. As such, here are nine projects to keep a close eye on to be fully prepared:
AiDoge – Overall best crypto to invest in for the next altcoin season. Combining two hot trends, memes and AI, this crypto allows users to create memes using an AI platform and get rewarded for voting.
Ecoterra – Pioneering green altcoin and crypto platform with the unique Recycle2Earn system. It allows you to join and fund various green projects worldwide.
yPredict – Top altcoin to invest in if you're a developer or trader. It offers a comprehensive trading analytics and prediction ecosystem through a subscription-based model.
DeeLance – Revolutionizing freelancing through crypto payments and low fees. It incorporates smart contracts and escrow payments to make transactions fast and secure.
Launchpad XYZ – Unique all-in-one Web3 ecosystem and coin to invest in for the next altcoin season. It comes with a native token, NFT support, a Web3 wallet, and a DEX.
RobotEra – Emerging Crypto With High P2E Benefits and Upside Potential
Tamadoge – NFTs and Blockchain Technology Combined With Virtual Pets
Ethereum – Highly Programmable Smart Contracts Platform
Binance coin – Utility Coin Witnessing a Spike In User Base
XRP – Thriving Crypto With a Payments Network and Real-world Use Cases
Cardano – Scalable and Secure Smart Contracts Platform
Full Analysis of the Best Next Altcoin Season Coins
To identify top projects in the crypto alt season, it's crucial to research essential metrics like the project's goals, utility, user base, past price performance, market sentiment, and other relevant factors.
Having compiled a list of the top altcoins for the altcoin season 2023, we can now delve into why we anticipate each project to experience significant growth during the next bullish market.
1. AiDoge – Overall Best Crypto to Invest in for the Next Altcoin Season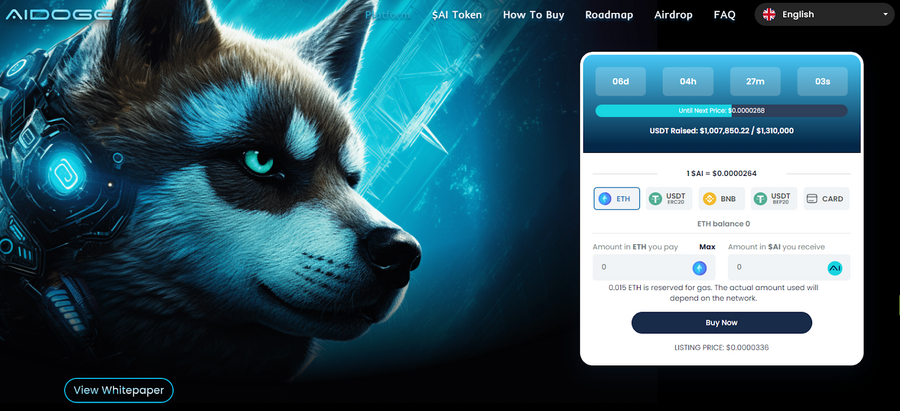 AiDoge is a novel altcoin and AI-driven meme generation platform that allows users to create and vote on memes that other users have made. All of this requires the usage of the native crypto, $AI, but it also yields more $AI in the form of rewards. Moreover, the memes with the most monthly votes gain much higher prizes.
The system uses multiple layers of security, including staking contracts to minimize risk and keep staked tokens safe. That's another thing that AiDoge offers – staking. As with other proof-of-stake coins, you need to lock in your tokens to keep the platform running, gaining daily rewards as an incentive.
You can learn about all of this in the project's whitepaper. It's essential to read a crypto project's whitepaper before deciding to invest, as it explains how the technology works and what it's trying to do.
The founders of AiDoge have chosen to remain anonymous, just like most other founders of meme coins. However, they might decide to reveal their identities in the future, so it's worth following the project's Telegram.
Why Is AiDoge More Interesting Than Other Similar Altcoins?
The main reason why AiDoge is better than many other cryptos is that it's the first to successfully combine two hot niches in the crypto sphere — AI and memes. Most other coins have done either one or the other, and many of them have proven successful (Pepe Coin, SingularityNET, The Graph), further showing the potential of both of these niches.
With such high promise, AiDoge can be the solution for many investors who've missed famous pumps in the meme sphere, like those of Wojak, Pepe Coin, and ArbDoge AI. The last one is quite similar to AiDoge but lacks real utility. Despite that, it's pretty popular and has risen in price significantly since its launch, which further increases the likelihood of AiDoge's success.
Tokenomics
The total supply of $AI tokens is set at one trillion. Half of that is available in the presale, and the hard cap is set at $14,900,000. The presale has 20 stages, each lasting a couple of days and each new one increasing the token's price, meaning that early investors can secure a profit by the time the altcoin launches.
The initial price was set at $0.00002600, while the listing price will be $0.00003360, which is almost a 30% rise.
Even though the hard cap is around $15 million, the project has already earned over $2.1 million. At this point, the project is only in stage 4, with 16 more to go, so if you're interested, you should get in on the action while there are still tokens left to buy.
| | |
| --- | --- |
| Presale Started | April 2023 |
| Purchase Methods | ETH, USDT, BNB, credit card |
| Chain | Ethereum |
| Hard Cap | $14,900,000 |
| Min Investment | 38,461 $AI |
| Max Investment | None |
2. Ecoterra – Pioneering Green Cryptocurrency Solutions With Recycle2Earn System
Ecoterra is an emerging crypto for the next altcoin season, emphasizing ecological sustainability. The platform's inventive Recycle2Earn system addresses environmental issues by offering substantial rewards for recycling various materials and inspiring individuals to adopt eco-friendly choices.
Presently, the platform's tokens are available in a presale at a competitive rate of $0.00625 USDT each.
The presale site features a listing price of $ECOTERRA at $0.01 USDT, assuring participants a certain increase in value from the initial investment.
Users can use the Ecoterra app to earn $ECOTERRA by scanning recyclable items. They can retain, stake, or contribute the earnings to environmentally conscious projects.
Within the app, users can purchase carbon credits, share details about their eco-friendly activities, and browse items made from recycled materials. This comprehensive approach supports green initiatives worldwide.
Ecoterra's whitepaper elaborates on the platform's AI-powered database, simplifying the identification of recyclable objects by quickly scanning them.

The app guides users to a Reverse Vending Machine to ensure appropriate disposal. After recycling the items, users can obtain their rewards by uploading their receipts to the app.
Ecoterra's adaptable design accommodates RVM users from diverse retail, technology, manufacturing, and services industries.
To stay updated on Ecoterra's pioneering efforts to foster environmentally responsible behavior through financial incentives, join the Ecoterra Telegram group.
| | |
| --- | --- |
| Hard Cap | $6,700,000 |
| Total Tokens | 2,000,000,000 |
| Tokens available in presale | 1,000,000,000 |
| Blockchain | Ethereum Network |
| Token type | ERC-20 |
| Minimum Purchase | $10 |
| Purchase with | USDT, ETH, Bank Card |
3. yPredict – Top Altcoin to Invest in for Developers and Traders
yPredict is a next-generation AI-based trading analysis platform developed by AI and trading experts. It offers real-time trading signals and sentiment analysis on leading coins. Meanwhile, the native token, $YPRED, offers unique staking capabilities and up to 45% quarterly rewards.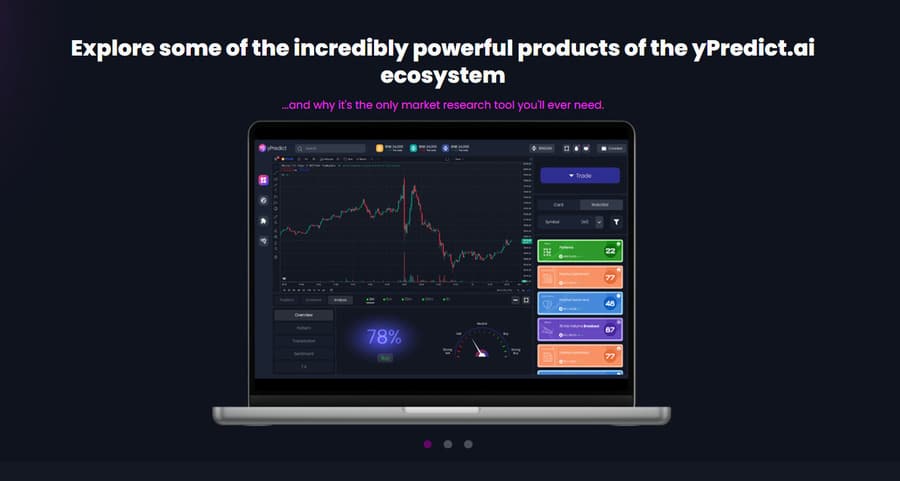 Buying and staking $YPRED tokens gives you full access to the yPredict platform and its predictive models. The system works on a subscription model for regular users, and a portion is used to allow larger staking rewards for investors.
As the whitepaper explains, the predictions are completely public, unlike what most businesses are doing. Nevertheless, more detailed analysis and other premium features are reserved for paid subscribers.
The native crypto is a Polygon-based token with a low hard cap of 100 million, with as much as 80% allocated to the ongoing presale, which is open to any interested investor. If you want to join the fold, you can make a minimum purchase of 200 $YPRED or more. At the time of writing, one token was valued at $0.05, but the price will continue increasing in stages until it reaches $0.12, the project's listing price. After that, the token is supposed to gain listings on various major exchanges, with a Bitmart listing already confirmed.
The presale has already raised more than $920,000, reaching the soft cap in the earliest stages, while the hard cap is set at $6,507,511. Follow the Telegram channel to keep up with the project.
| | |
| --- | --- |
| Presale Started | February 2023 |
| Purchase Methods | ETH, MATIC, USDT, BNB, Card |
| Chain | Polygon |
| Hard Cap | $6,507,511 |
| Min Investment | 200 $YPRED |
| Max Investment | None |
4. DeeLance – Revolutionizing Freelancing Through Crypto Payments & Low Fees
DeeLance is a groundbreaking metaverse-compatible decentralized freelancing platform that could be a good choice for the upcoming altcoin season. The project seamlessly connects businesses with skilled freelancers and job seekers.
Currently, investors can participate in the $DLANCE crypto presale at a low price of $0.029 USDT, with the listing price set at $0.055 USDT. After collecting $6.8 million USDT through the presale, DeeLance aims to launch its $DLANCE token on various crypto exchanges in Q2 2023.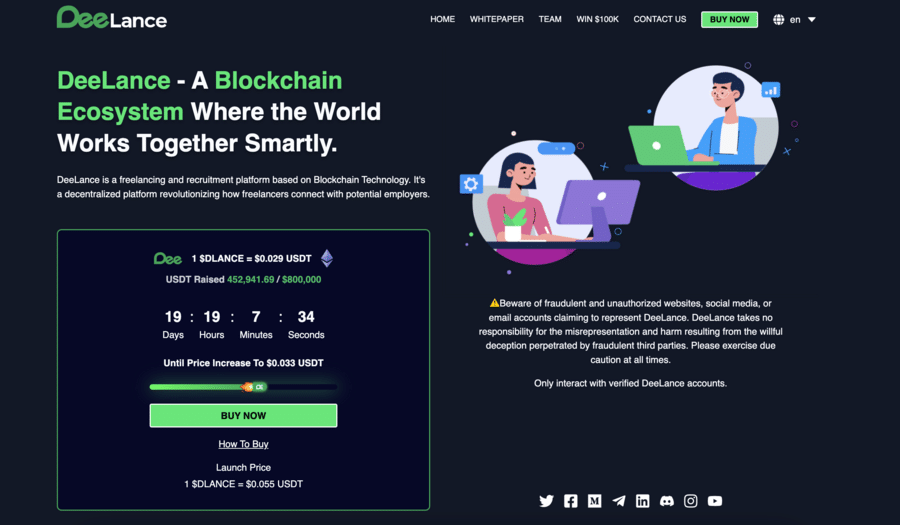 Within the DeeLance ecosystem, $DLANCE tokens serve multiple purposes, such as enabling NFT exchanges on the marketplace. By converting projects into NFTs, freelancers can simplify employers' process of claiming ownership. The blockchain securely logs all transactions, ensuring a transparent environment.
The platform relies on smart contracts and integrates escrow payment services to ensure transaction security and enable freelancers to receive timely payments, as outlined in the DeeLance whitepaper.
The metaverse offers digital meeting spaces and work environments where freelancers and employers can connect. Users can utilize $DLANCE tokens to rent workspaces, promote their services, and make marketplace purchases.
Why is DeeLance worth your attention?
DeeLance is developing a platform that connects top-notch talent with outstanding job prospects. Their objectives include identifying exceptional individuals, expanding the talent pool, and fostering long-term career growth.
The platform's approach also features ambassador and affiliate programs, social media outreach for increased visibility, and educational resources. The platform's acceptance of crypto accelerates transactions, and with a modest 2% client fee, DeeLance offers a more competitive rate than many leading freelance platforms.
To learn more about this pioneering project, join the DeeLance Telegram channel and stay informed on the latest developments.
| | |
| --- | --- |
| Hard Cap | $6,800,000 |
| Total Tokens | 1,000,000,000 |
| Tokens available in presale | 300,000,000 |
| Blockchain | Ethereum Network |
| Token type | ERC-20 |
| Minimum Purchase | $10 |
| Purchase with | USDT, ETH, Card |
5. Launchpad XYZ – Unique All-in-One Web3 Ecosystem With Tools and Insights
Launchpad XYZ is a novel cryptocurrency and Web3 project that wants to empower everyone to join the Web 3 ecosystem. A beginner can use it along with developers and traders who are already within the Web3 sphere.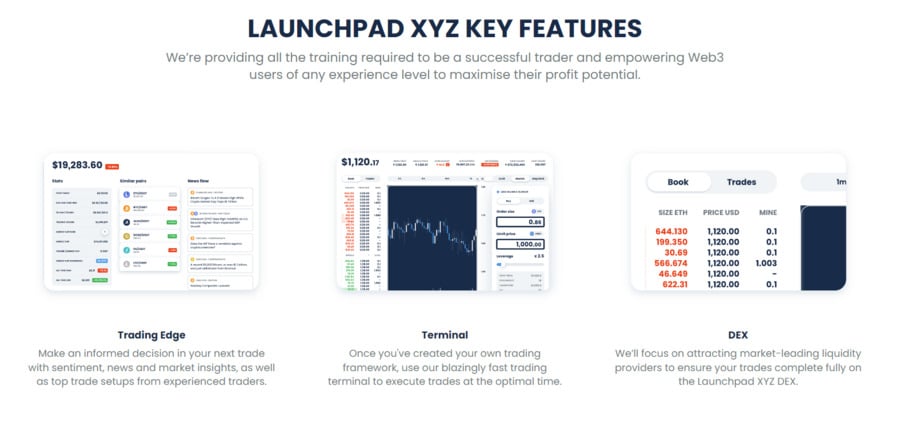 As the project's whitepaper explains, the current Web3 market is fractured and may come off as intimidating. Moreover, you typically need technical knowledge to get started, which is why Launchpad XYZ wants to solve this with a user-friendly curated platform featuring the best Web3 projects, including NFTs, Play2Earn games, and more.
Moreover, Launchpad XYZ wants to bring brands from Web2 to Web3, so it aims to be both a B2C and B2B project.
The possibility of it achieving this lofty goal is unclear for now, as it has a long roadmap ahead. However, its presale is showing a lot of promise, which is why we think it's one of the best coins to invest in ahead of the next altcoin season.
At the time of writing, it was still in the initial stage of the presale even though it already garnered more than $310,000. The coin price was $0.035, and the next stage will increase it to $0.0375. The listing price is $0.07, with the hard cap set firm at $12.5 million.
There are nine more stages to go, and since the soft cap is $5 million, the project is more than likely to achieve it. If you're interested, you can buy any token amount, as there is no minimum investment. You can use ETH, USDT, and a regular credit card. If you're interested but not yet ready to invest, join the Telegram community to learn more about the project from the developers and other investors.
| | |
| --- | --- |
| Presale Started | April 2023 |
| Purchase Methods | USDT, ETH, Transak |
| Chain | Polygon |
| Hard Cap | $12.5 million |
| Min Investment | None |
| Max Investment | None |
6. RobotEra – Emerging Crypto With High P2E Benefits and Upside Potential
RobotEra is a recently launched P2E and metaverse venture offering its players various opportunities to generate active and passive income within its ecosystem.
The initial coin offering (ICO) for its native currency, $TARO, was introduced in mid-November and has already attracted more than $1 million in investment. The first stage of token sales is priced at $0.02 per token.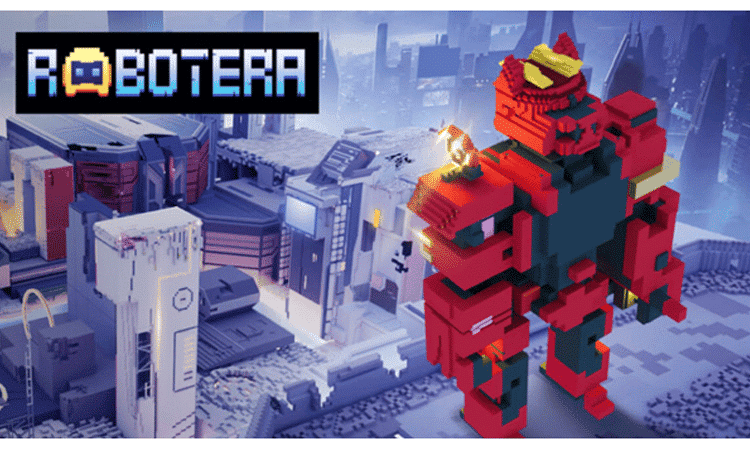 Labeled as the best crypto game of 2023 by LBank Labs, RobotEra provides gamers with diverse earning possibilities. Players begin by acquiring robot NFTs to enter the game and rebuild Taro, a planet devastated by a catastrophic event.
After buying a metaverse plot, a player can use it for things like mining resources, building infrastructure, hosting events, charging for admission, or selling ad space to sponsors.
Furthermore, robot companions can be customized, upgraded, and sold on the open market as NFTs, creating new revenue streams for the players. The developers, who have disclosed their identities and undergone KYC verification, anticipate numerous utility and earning options will emerge with time without needing prior coding knowledge.
RobotEra is currently in the first phase of its three-stage presale, with the tokens set to increase in price from $0.02 to $0.025 and then $0.032. The most that can be raised in the presale is about $7 million. 270 million tokens, or 15%, can be bought, and there is no vesting period.
Those interested in investing are advised to read the RobotEra whitepaper and join the Telegram community for more information.
| | |
| --- | --- |
| Presale Started | Q4 2022 |
| Purchase Methods | ETH, USDT |
| Chain | Ethereum |
| Min Investment | 1,000 TARO |
| Max Investment | None |
7. Tamadoge – NFTs and Blockchain Technology Combined With Virtual Pets
Tamadoge (TAMA) offers play-to-earn (P2E) features, NFT ownership, and rewards. Its impressive launch and future potential make it among the most promising altcoins to invest in this alt season.
Super Doge, Rocket Doge, To The Moon, and Tama Blast mini-games have also become increasingly popular in recent weeks, with the fun platform games offering rewards and weekly and monthly leaderboard prizes.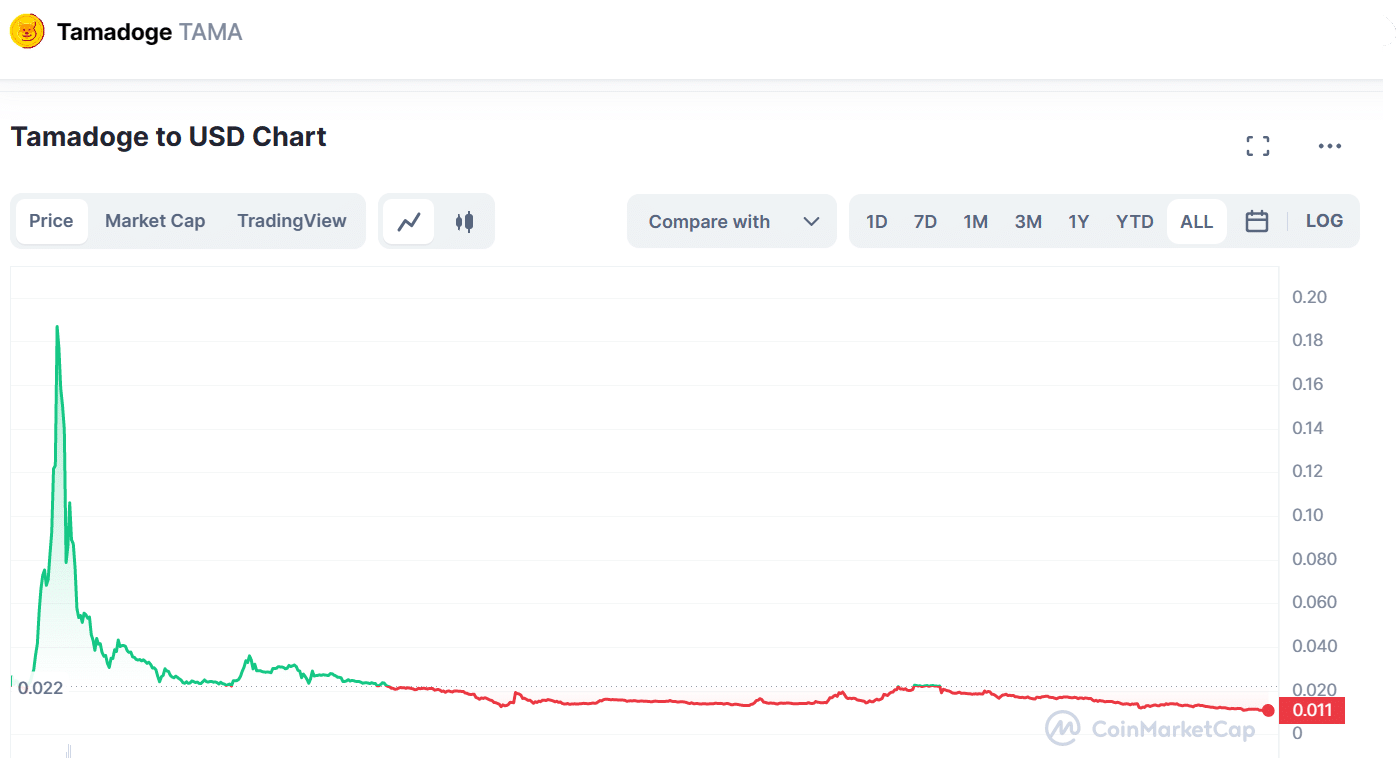 In addition to those games, another Tamadoge Arcade game – Tamadoge Run – is set to release this year, along with the main Tamadoge game, which is expected to be one of the best crypto games, and an augmented reality app.
Dog-themed P2E game Tamaverse uses TAMA as its cryptocurrency. Unlike other social media-backed cryptocurrencies, TAMA is a multi-utility token with many uses for investors. At press time, TAMA is selling for $0.011 per token.
Tamadoge pets, smart contract-minted NFTs, are P2E's main feature. TAMA is used for settling transactions, trading NFTs, and rewarding users on the Tamaverse. The Tama store sells these pets for TAMA tokens, each with strengths and weaknesses.
Users can breed Tamadoge pets and compete for 'dogepool' tokens in monthly competitions. Due to the successful presale and IEO, TAMA is an attractive investment despite the 2022 bear market and price retracement. TAMA's deflationary asset nature and limited supply of 2 billion tokens ensure its long-term value.
Buying and selling TAMA coins is tax-free. Tamadoge only makes money when tokens are spent on TAMA store pet NFTs.
Moreover, CoinSniper and Solid Proof have audited the Metaverse game. Players can also follow the Telegram Channel for Tamadoge news.
8. Ethereum – Highly Programmable Smart Contracts Platform
Ethereum is considered a favorable choice for the next alt season due to several reasons. Firstly, it is the largest altcoin in the market, with widespread ownership and a robust network. Additionally, many altcoins are built on the Ethereum blockchain, which further drives up the demand for Ethereum during the altcoin season. At the time of writing, ETH's selling price was nearly $1,653.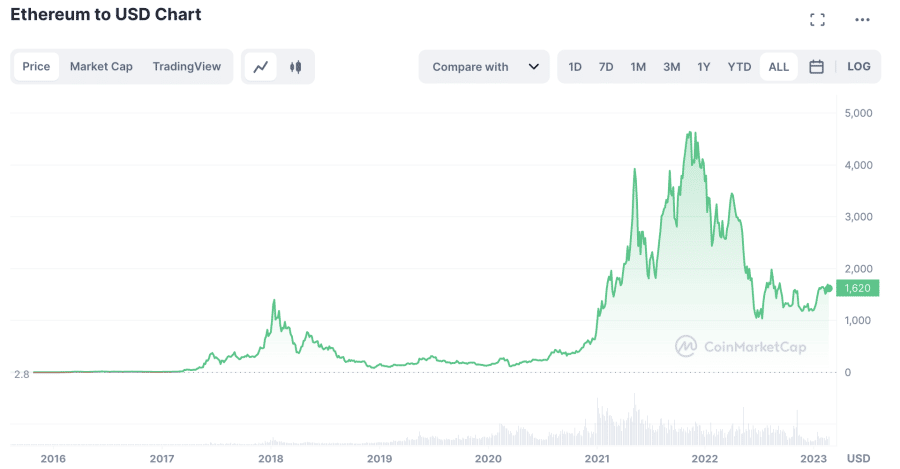 Furthermore, Ethereum's prices are trading at a significant discount compared to its previous all-time high, making it an attractive investment opportunity. Despite undergoing multiple bear markets, Ethereum has consistently recovered, which is a testament to its resilience and potential for future growth and place as one of the best crypto winter tokens.
Investors can also benefit from Ethereum's continued development and upgrades, including the upcoming Ethereum 2.0 update, which promises to enhance the network's scalability and security. Overall, Ethereum's market dominance, growing ecosystem, and strong fundamentals make it an excellent choice for investors looking to capitalize on the potential growth of the crypto alt season.
9. Binance Coin – Utility Coin Witnessing a Spike In User Base
There are several reasons why Binance Coin (BNB) is a strong contender for the next altcoin season. First of all, BNB is the native token of Binance, one of the world's largest and best-known cryptocurrency exchanges. This gives BNB a solid use case and utility within the Binance ecosystem.
Binance users can utilize BNB to pay for transaction, listing, and trading fees, which leads to a constant demand for BNB and strengthens its foundation for growth. Currently, BNB is trading at around $304, striving to mark higher highs and lows on its price chart.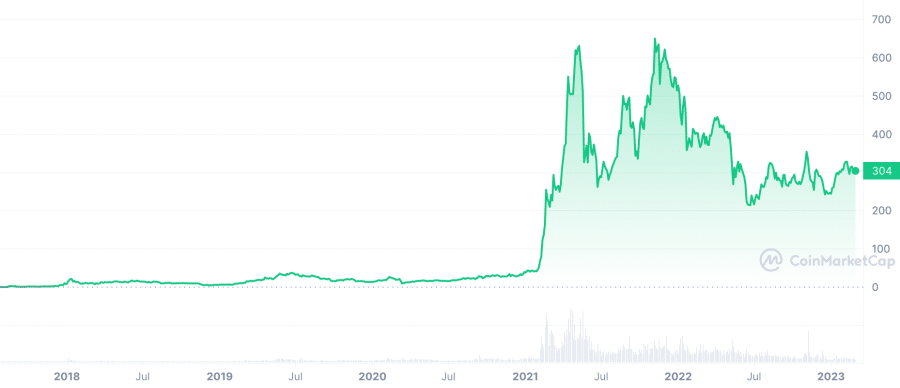 Binance has expanded its services and offerings, increasing demand for BNB. Binance has launched several new products and services, including the Binance Smart Chain, Binance Launchpad, and Binance NFT Marketplace, all of which have boosted the usage and demand for BNB.
Lastly, Binance has a history of innovation and growth, which is promising for the future of BNB. Binance has demonstrated an ability to adapt and evolve alongside the cryptocurrency market, enabling it to stay ahead of its competitors.
10. XRP – Thriving Crypto With a Payments Network and Real-world Use Cases
Ever wondered what the most volatile crypto is? Ripple's XRP is a popular altcoin with great potential for the next alt season. There are several reasons why XRP is an attractive investment option for traders and investors.
Firstly, XRP is one of the crypto world's fastest and most cost-effective payment networks. The platform allows cross-border transactions with low transaction fees and quick processing times. This feature makes XRP a preferred choice for businesses and financial institutions. This can lead to increased adoption of XRP in the future.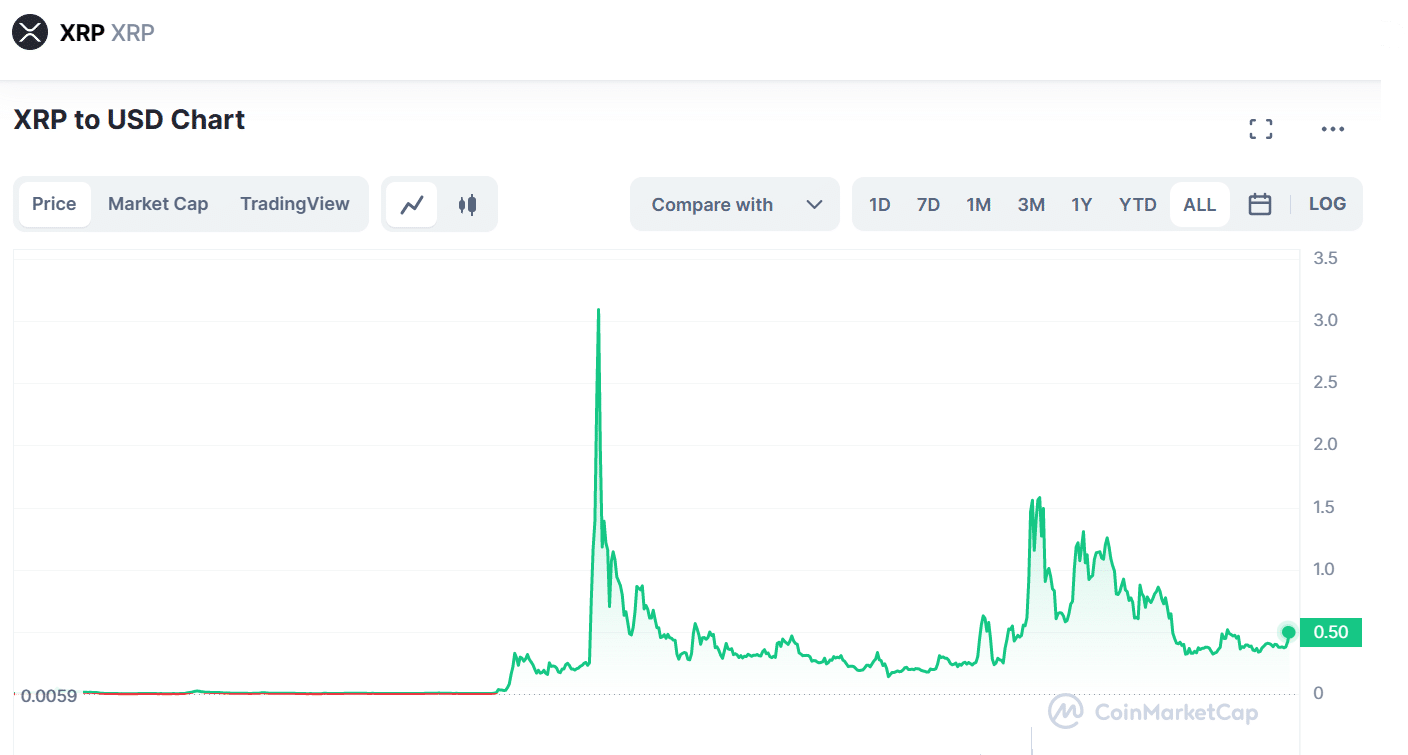 Ripple has strategically partnered with several organizations, such as banks and payment providers, making XRP even more useful. This integration with traditional financial institutions could lead to a surge in demand for XRP, which would positively impact its price.
Finally, the ongoing SEC lawsuit against Ripple has made the market uncertain, which has caused XRP's value to drop.
Still, XRP's potential for growth and adoption makes it a top altcoin to consider in the coming altcoin season, as well as one of the most searched cryptos.
11. Cardano – Scalable and Secure Smart Contracts Platform
Cardano's ADA is a top altcoin for several fundamental reasons to consider for the next altcoin season. Firstly, Cardano is an open-source blockchain that uses the Ouroboros proof-of-stake model, making it a more efficient, scalable, and secure platform than traditional proof-of-work blockchains.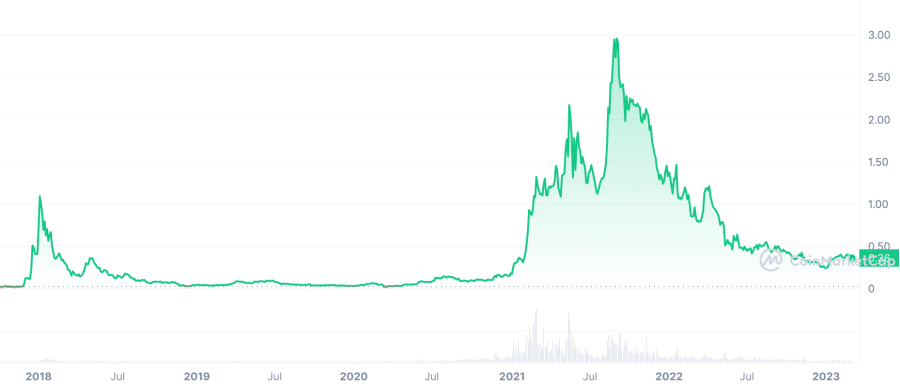 Additionally, Cardano seeks to address several issues other cryptocurrencies face. These problems include scalability, adherence to rules, voter fraud, and interoperability.
Furthermore, Cardano's peer-reviewed technology gives it legitimacy and a technical edge over its competitors, making it hugely popular in the run-up to the crypto altcoin season. Cardano's focus on efficiency, security, and innovation makes it one of the top choices for the altcoin season 2023.
What is the Altcoin Season?
During an altcoin season, investors often shift their focus away from Bitcoin and towards other cryptocurrencies with high potential for growth and profit.
Insights on identifying alt season on time are essential, as this period often yields significant opportunities for crypto investors.
Various factors drive the altcoin season, including market sentiment, new product releases, upgrades to existing blockchain technology, and increased adoption by businesses and financial institutions.
The surge in demand for altcoins during an altcoin season can lead to significant price increases, making it an attractive time for traders. But altcoin seasons can also be times of high risk and volatility, so investors should be careful and do their research before investing.
Are we in an Alt Season Now?
The altcoin season index is currently at 35, which shows a slight edge in favor of Bitcoin. However, as the value of altcoins has increased over the last month, BTC's market share has decreased. Nonetheless, we are yet to see an altcoin season, while the alt season index still needs to recover.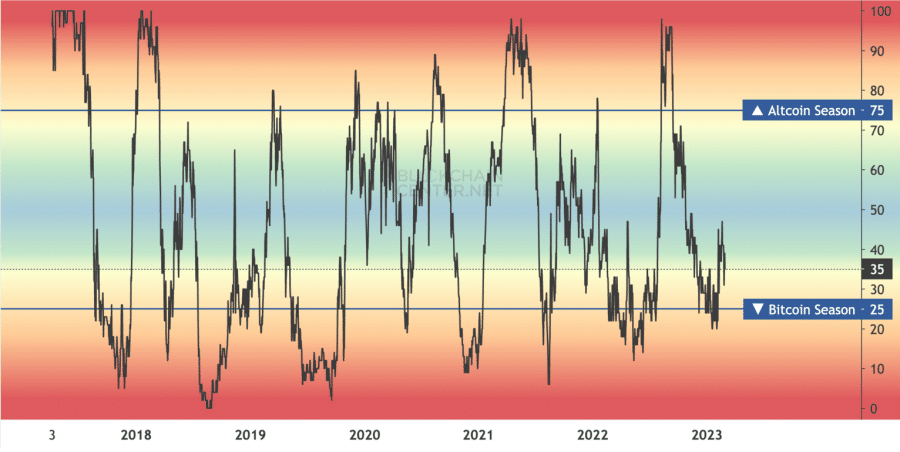 The cyclical movement suggests an uptrend in the alt season index is due after the massive dip since August 2022. But the Crypto Fear and Greed Index is now at 59, meaning the altcoin season has yet to reach its full potential but crypto traders and investors are feeling more confident.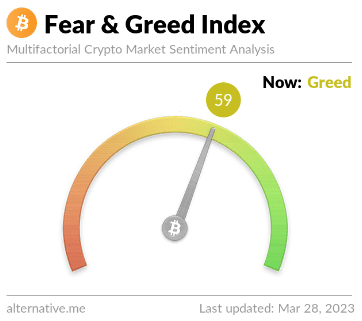 After a prolonged bear market, the overall sentiment surrounding cryptocurrency has started to shift towards a more positive outlook.
Although a bull market is yet to be confirmed, several altcoins have displayed promising indications of recovery and are making a case to be the best tokens in the next crypto bull run.
Will There be Another Altcoin Season?
Like other financial markets, the cryptocurrency market works in cycles, with prices fluctuating over time. As such, it is reasonable to assume that another alt season will occur at some point in the future.
While predicting the exact timing and duration of an altcoin season may be challenging, investors can closely monitor market trends and indicators to gauge its likelihood.
For instance, when the cryptocurrency market shows bullish signals for Bitcoin, it is generally a sign that an alt season is on the horizon. During these times, investors who can't afford to buy Bitcoin often buy cheaper altcoins. As a result, the altcoins witness a surge in demand and prices.
When Is the Next Altcoin Season Going to Be?
As observed previously, the cyclical nature of the alt season index hints at a possible altcoin rally. However, the crypto market is highly uncertain, and many factors affect its recovery.
As a result, investors can use various tools to forecast the next altcoin season. The altcoin season index indicator is a valuable tool for predicting when the market is in 'Bitcoin season' or 'altcoin season.' Also, the Fear and Greed Index and the altcoin market capitalization chart can help determine when the altcoin season will start.
Investors can look for a few key indicators to gauge the likelihood of an altcoin season. Some of these indicators include the following:
Impact of Whales: Crypto whales can significantly affect the altcoin season by buying or selling large amounts. If whales start buying a particular altcoin, it can create a buying loop, driving the coin's price upwards. Conversely, if they start selling, it can trigger a sell-off and cause the price to drop.
Trending Altcoins: Investors who sell their BTC for trending altcoins can also impact the altcoin season. If many investors start buying a particular altcoin, it can create a demand-supply imbalance and increase the price. Similarly, if investors start selling their altcoins, it can trigger a sell-off and cause the price to drop.
Popular Trends: Trends like NFTs and DeFi can also affect the altcoin season. If a particular altcoin is used as the primary currency for NFTs or DeFi applications, it can increase demand for that altcoin, driving up its price. Additionally, the success or failure of NFTs or DeFi projects can affect investor sentiment toward the altcoin market, impacting the altcoin season.
Why Investing Before Altcoin Season Can Be Advantageous
Here are the advantages of investing before an altcoin season in a point format:
Potential price appreciation

: Altcoin prices tend to rise significantly during an altcoin season, allowing investors to maximize their profits if they have already invested before the season starts.

Diversification

: Investing before the altcoin season begins will enable you to diversify your portfolio before the market becomes too crowded. This can help you spread your risk and increase your chances of success.

Long-Term Potential

: Many altcoins have long-term potential, but it can take time for their value to be realized. By investing before the altcoin season, you give yourself time to hold onto your investments and potentially see significant gains in the future.

Timing advantage:

Investing before an altcoin season allows investors to time their investments better, potentially capitalizing on market trends and avoiding buying at higher prices.
Conclusion
This article looked at the best cryptocurrencies to buy before the next altcoin season starts. Among these are some alternatives to Bitcoin that can help investors diversify their portfolios and minimize overall risk.
The leading altcoin you should consider is AiDoge. It's a one-of-a-kind AI meme generation platform that lets users create viral memes with written prompts. The native crypto of the project, $AI, is currently in the presale phase, allowing potential investors to buy tokens at a discounted price using ETH, USDT, BNB, and fiat currency.
FAQs
Will there be an altcoin season in 2023?
What are the next big altcoins?
How long is the altcoin season?