There are many opportunities available to investors in the current market landscape, but knowing which crypto to buy can be challenging.
With this in mind, this market insight speculates on the next cryptocurrency to explode in 2023, in addition to some upcoming projects for investors to consider.
The Most Likely Crypto to Explode Next
Before we dive deeper, see a breakdown of the next cryptocurrencies to explode in 2023:
Wall Street Memes (WSM)

– Newly launched presale meme coin with one million followers and a proven crypto track record. The presale has raised $1 million in four days and is running a $50K airdrop alongside the presale.

AiDoge (AI) – New project leveraging AI to create memes from text prompts. Raised $100,000 within minutes of presale launch.
Ecoterra (ECOTERRA) – Green recycle-to-earn platform encouraging businesses to be more sustainable.
LaunchPad XYZ (LPX) – All-in-one dashboard to stay up-to-date on the crypto market, trade tokens, and more.
DeeLance (DLANCE) – Decentralized marketplace for companies to hire freelancers.
Copium (COPIUM)– Since launching on the Uniswap DEX, this new meme token has exploded by more than 5x in 24 hours.
Sponge (SPONGE) – New meme cryptocurrency, which has exploded by over 600% in the last 24 hours. $SPONGE is currently priced at $0.00042 per token.
Love Hate Inu (LHINU) – Vote-to-earn platform rewards users for voting 'love' or 'hate' on viral issues.
Swords of Blood (SWDTKN) – Hack-and-slash RPG game with play-to-earn rewards.
Chimpzee (CHMPZ)

– Saving the World's Fauna With Crypto and Earn Income

The Conglomerate Capital – Raising Already Over USD 5 Million, With Outstanding Leadership and Staking Platform Already Launched, TCC is an Investment Platform of the Future
RobotEra (TARO) – Build-your-world game set in a sandbox-like metaverse.
Lucky Block (LBLOCK) – Vast crypto casino with instant payouts and a huge sportsbook
Pikamoon (PIKA) –

A play-to-earn Pokemon-inspired blockchain project. The 10,000+ whitelist signups and over 15,000 social media followers indicate it will be one of the

next cryptocurrencies to explode in 2023

.

Tamadoge (TAMA) – Growing metaverse with popular arcade games and NFT pets
Gala (GALA) – P2E crypto game where players can earn NFTs and crypto during gameplay
Loopring (LRC) – Open-source and incentivized crypto exchange protocol
dYdX (DYDX) – Low-cost decentralized crypto exchange with perpetual contract trading platform
Axie Infinity (AXS) – NFT monster-battling game with multiple P2E opportunities
This isn't going to be enough information to decide which is the most promising cryptocurrency. As such, we analyze each project in full next to give investors the bigger picture of each emerging crypto coin.
An in-Depth Look at the Most Likely Next Cryptos to Explode
Investors looking for the next crypto to explode can check out an in-depth analysis of the projects we mentioned above.
We've included a wide range of different crypto projects for investors with varying interests and goals.
1. Wall Street Memes ($WSM) – Newly Launched Presale Meme Coin With Proven Crypto Track Record
The popular social media brand Wall Street Memes recently launched a presale for its new meme coin. The $WSM presale has raised an impressive $1 million in less than four days, attesting to the strength of its one million follower community.
The Wall Street Memes Twitter has been tweeted to by Elon Musk several times before, which bears a lot of weight in the meme coin industry.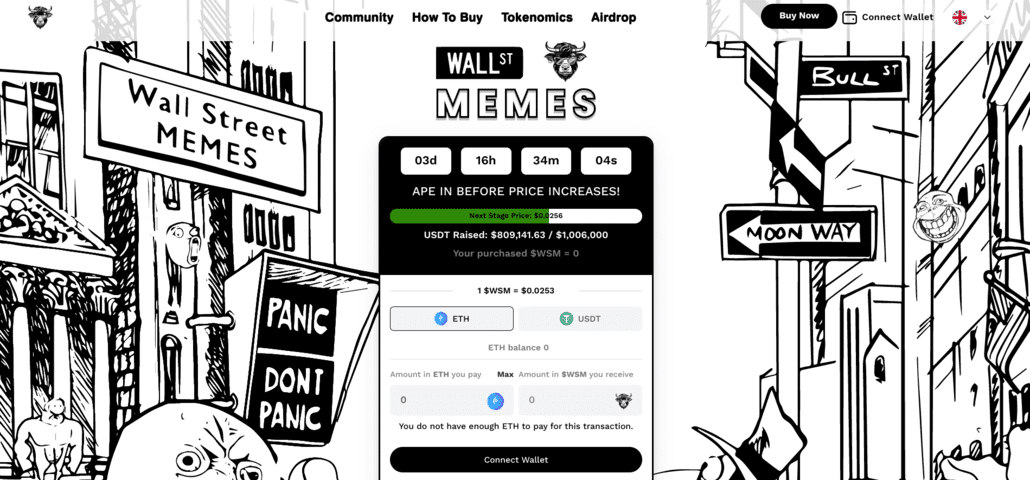 Moreover, the project's founders have already launched a highly successful NFT project in 2021, Wall St Bulls. The Wall St Bulls collection sold out in 32 minutes, netting the creators $2.5 million. When it comes to the next crypto to explode, the team's track record is a strong indicator of the project's future.
Although all presales come with risk, Wall Street Memes experiencing unprecedented hype, carrying out a $50K airdrop and releasing an exclusive Bitcoin Ordinals NFT collection with 420 pieces available.
These events will run alongside the meme coin presale launch and could increase demand for $WSM. Incorporating NFTs into the Bitcoin network also shows that the team is versatile and able to keep up with current trends.
There are two billion Wall Street Memes tokens in total; one billion are available at presale, 600 million are allocated to community rewards, and the remaining 400 million are towards exchange liquidity. This means the creators do not hold any $WSM, making it a truly community-driven project.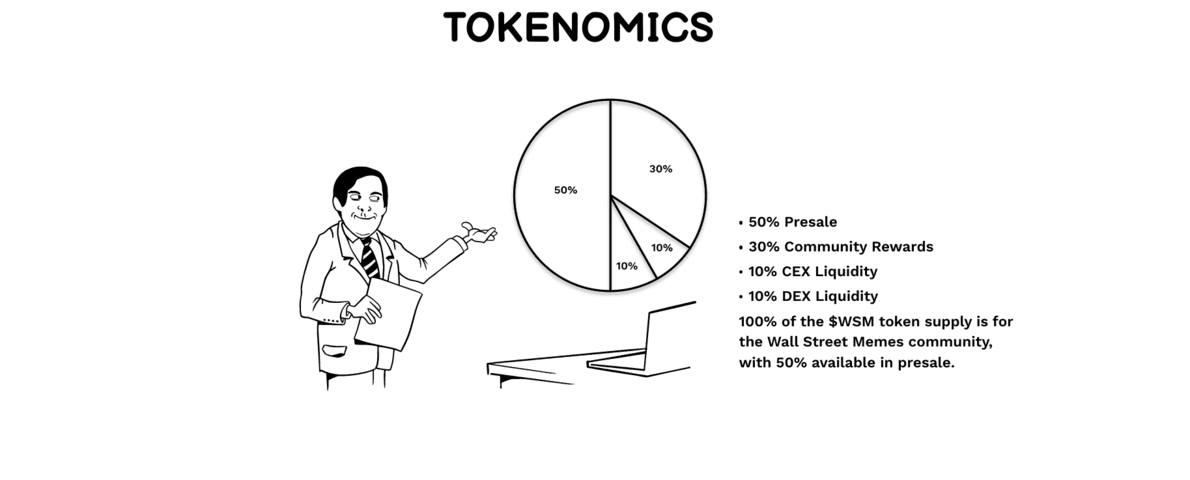 Currently, the presale is in stage two, priced at $0.0253. The price is set to rise to $0.0256 once the total raise hits $1,006,000.
There are 30 rounds in total, and the final round is priced at $0.0337. The presale has a hard cap of $30,577,000; while this is on the higher end, the project's strong community means it will likely reach this with ease.
Wall Street Memes was created in 2021 with its roots in the Wall Streets Bets movement. The movement began on Reddit and aimed to fight against traditional finance, enabling average investors to profit from the stock market. The Wall Street Memes project seeks to do the same but with meme coins instead of stocks.
​
| | |
| --- | --- |
| Hard Cap | $30,577,000 |
| Total Tokens | 2,000,000,000 |
| Tokens Available in Presale | 1,000,000,000 |
| Blockchain | Ethereum |
| Token Type | ERC-20 |
| Minimum Purchase | 100 $WSM |
| Accepted Purchase Methods | ETH, USDT |
2. AiDoge (AI) – Next Meme Crypto to Explode in 2023
AiDoge is the latest meme crypto project based around the ultra-popular shiba inu meme. It's taking advantage of the latest advances in AI technology to make meme generation easier and better than ever before.
With AiDoge, users just need to enter a text prompt. The platform's AI-driven algorithm will automatically generate a meme based on that prompt, complete with image and text. Users can tweak the result or turn it into an NFT and share it across the internet.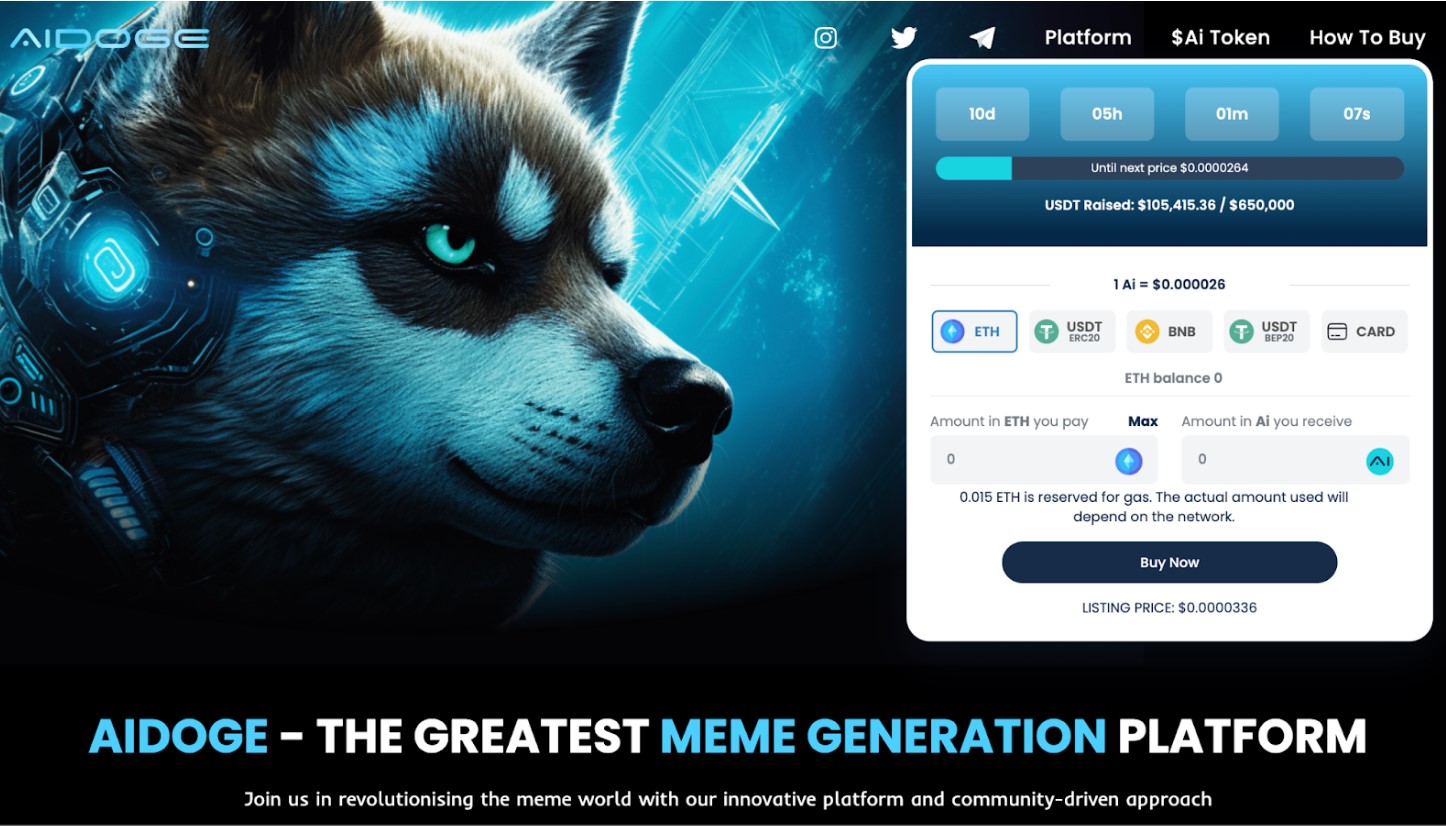 The upshot is that it's incredibly simple for both new users and experienced memesters to create viral memes that take creativity to the next level.
Even better, AiDoge offers its own public wall where users can share the memes they create using the platform. Users can vote on their favorite memes on the wall, and top creators earn rewards in the form of AiDoge's native $Ai token at the end of each month. Vote counts reset monthly, so new meme creators always have a chance to break into the leaderboards.
The $Ai token can be used to buy credits to create memes using AiDoge. Alternatively, $Ai investors can stake their tokens and earn daily credit rewards that they can use to generate new memes.
The $Ai token is available for purchase now through the AiDoge presale. The presale has gotten off to a fiery start, raising more than $100,000 within minutes of launching.
The team behind this token remains anonymous, but that's normal for new meme coin projects. For example, the creators behind explosive meme coins like Tamadoge and Shiba Inu also choose to remain anonymous.
Check out the AiDoge whitepaper for more details or follow the project's Telegram channel to get the latest updates on the AiDoge presale.
| | |
| --- | --- |
| Presale Started | 26 April 2023 |
| Purchase Methods | ETH, USDT, BNB, Credit Card |
| Chain | Ethereum |
| Hard Cap | $14,900,000 |
| Min Investment | None |
| Max Investment | None |
3. Ecoterra (ECOTERRA) – Green Crypto Offering Recycling Rewards
Ecoterra has recently launched its unique Recycle2Earn (R2E) rewards initiative, taking cues from the Play-to-Earn (P2E) crypto gaming trend.
The R2E system enables users to earn tokens by participating in recycling activities, similar to how P2E players gather and exchange tokens on the blockchain. This innovative R2E system has significant potential in the eco-friendly crypto space.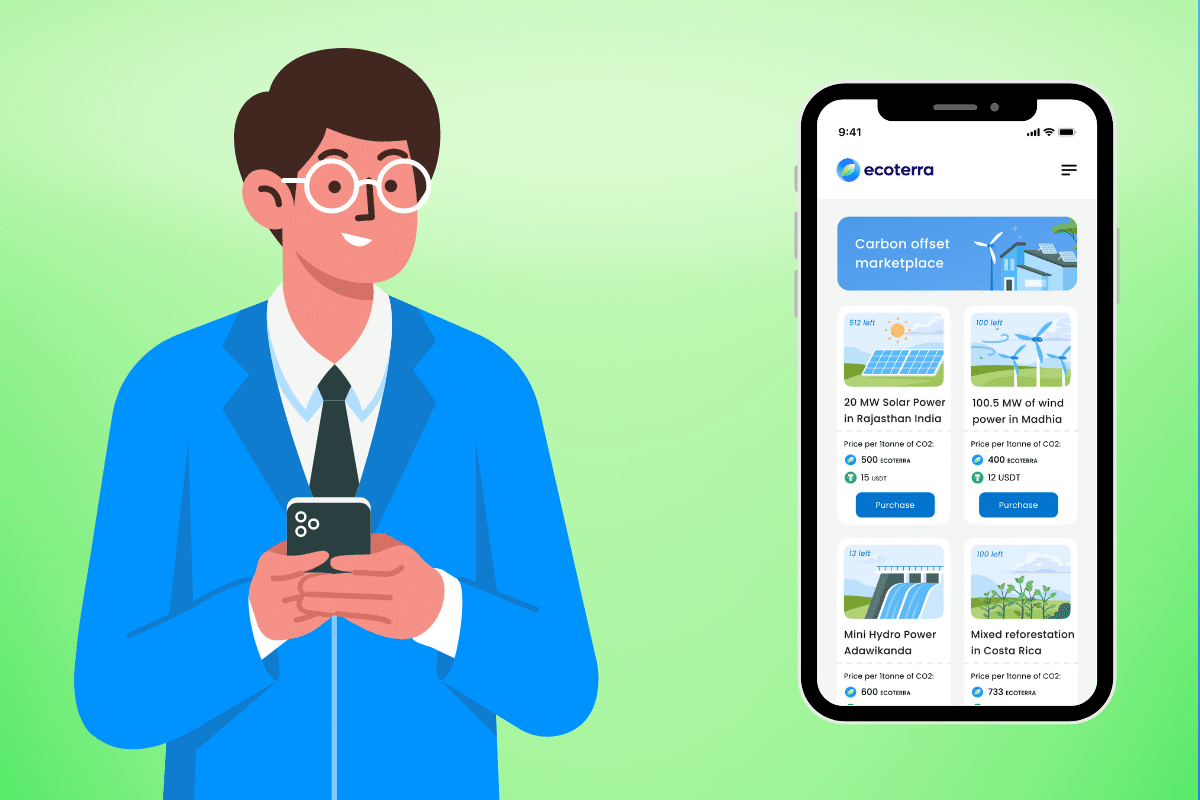 Investors have been raising to buy $ECOTERRA tokens, with more than $2.5 million raised in less than a month. The project also has a 5% USDT referral program for presale buyers.
Interested investors can buy $ECOTERRA tokens during the presale using Ethereum, USDT, or credit cards as payment methods. The token's price is expected to increase to $0.01 USDT at the time of listing – a 43% increase from the current price.
Ecoterra's main goal is to encourage recycling and foster a more sustainable future for the planet. Users can earn rewards for recycling by following the steps mentioned in the Ecoterra app.
To participate, users must first scan the barcode of the item they intend to recycle, as explained in the Ecoterra whitepaper. The app then checks its database to determine the potential earnings associated with that specific item.

Then users are directed to a Reverse Vending Machine (RVM), where they receive Ecoterra tokens after submitting a receipt photo. These tokens serve as the native crypto that drives the entire ecosystem.
The Ecoterra platform also includes a Recycled Materials Marketplace, where businesses can buy recycled plastics, glass, and aluminum using Ecoterra tokens. Furthermore, the Carbon Offset Marketplace enables users to purchase certified carbon offsets, reducing their carbon footprint.
With the Impact Trackable Social Profile, users can see the outcomes of their contributions within the Ecoterra ecosystem. To keep informed about the latest news, users are advised to join the Ecoterra Telegram group.
| | |
| --- | --- |
| Hard Cap | $6,700,000 |
| Total Tokens | 2,000,000,000 |
| Tokens available in presale | 1,000,000,000 |
| Blockchain | Ethereum Network |
| Token type | ERC-20 |
| Minimum Purchase | $10 |
| Purchase with | USDT, ETH, Bank Card |
4. Launchpad XYZ (LPX) – All-in-one Web 3 Dashboard
Launchpad XYZ is an all-in-one Web3 dashboard that puts everything users need to know about the crypto market in one place. The platform's goal is to make it easier for crypto traders and investors to identify the best opportunities in the market with less work.
On Launchpad XYZ, users can see everything from token prices to hot new presales to trending NFT collections and more. Launchpad XYZ assigns its own unique Launchpad Quotient (LQ) to each token. The LQ cuts through the noise of the crypto market and enables investors to know at a glance if an asset is hot or not.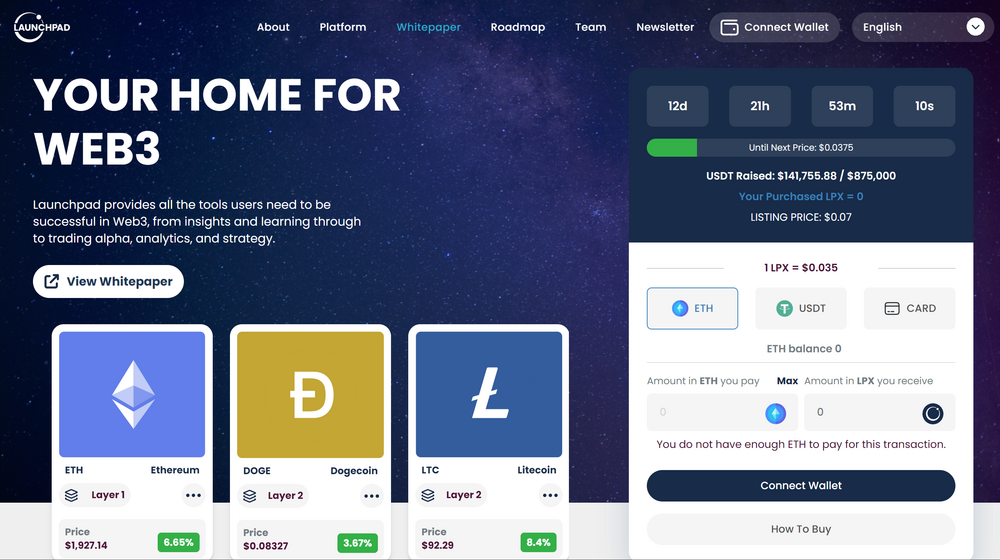 Launchpad XYZ is more than just a monitoring dashboard, too. The platform offers a Web3 wallet with tons of capabilities. Presale investors can claim their presale tokens directly to their Launchpad XYZ wallet. They can also swap tokens and take full self-custody of their assets.
Launchpad XYZ is also launching its own decentralized exchange and a peer-to-peer NFT marketplace to enable trading directly through the platform. This is a huge advantage since traders can go straight from using Launchpad's analysis tools to taking action on fast-moving opportunities.
At the heart of Launchpad XYZ's ecosystem is the $LPX token. Users can stake $LPX for reduced fees in the Launchpad DEX, access to new NFT mints, and access to limited presales. Check out the Launchpad XYZ whitepaper for more details.
There's no way to know how $LPX will fare once it hits the market, since there's no utility token exactly like this out there to compare it to. However, the first day of the Launchpad XYZ presale could be a good indication of what's to come for this token.
Within a few hours of launching its presale, Launchpad XYZ raised more than $140,000. Clearly, investors are excited about this project – and it doesn't hurt that early investors in $LPX stand to earn paper gains of 100% by the time the token lists on exchanges.
Join the Launchpad XYZ Telegram channel to get all the latest updates on this project.
| | |
| --- | --- |
| Presale Started | 27 April 2023 |
| Purchase Methods | ETH, USDT, Credit Card |
| Chain | Ethereum |
| Hard Cap | $15,000,000 |
| Min Investment | None |
| Max Investment | None |
5. DeeLance (DLANCE) – Decentralized Platform for Freelancers and Recruiters
DeeLance is poised to be the next crypto to explode in the Web3-based freelancing and recruitment industry. This decentralized platform transforms how freelancers and employers interact by facilitating a user-controlled environment where freelancers are compensated using crypto.
Investors can grab the $DLANCE tokens during the ongoing presale phase for a relatively low price of only $0.029 USDT. The presale has raised more than $475,000 so far.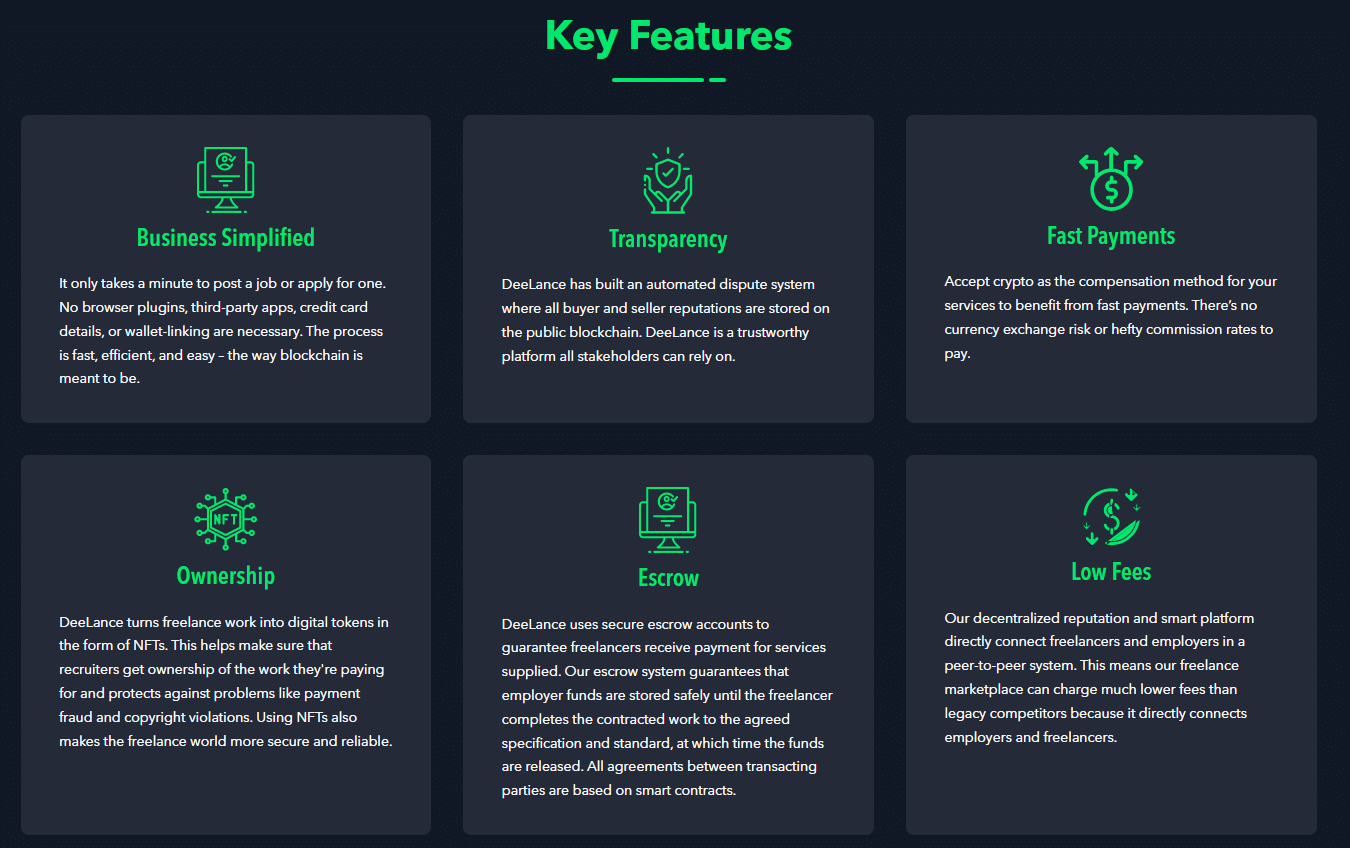 According to the DeeLance whitepaper, the platform's ecosystem has three principal foundations: a state-of-the-art NFT marketplace, a new-age metaverse, and a pioneering recruitment platform. These components offer a comprehensive array of tools and services, making the freelance experience more efficient while ensuring transparency and digital ownership of work.
DeeLance boasts numerous advantages, such as streamlined business processes, an automated dispute resolution system for increased transparency, secure escrow services, swift cryptocurrency payments, minimal fees, and NFTs as digital tokens representing work ownership.
Moreover, the platform provides access to prime job opportunities and top professionals on a globally accessible, fully decentralized platform.
However, investors should note that it's entering a competitive space. DeeLance is going up against the likes of established marketplaces like Upwork, Freelancer, and Fiverr.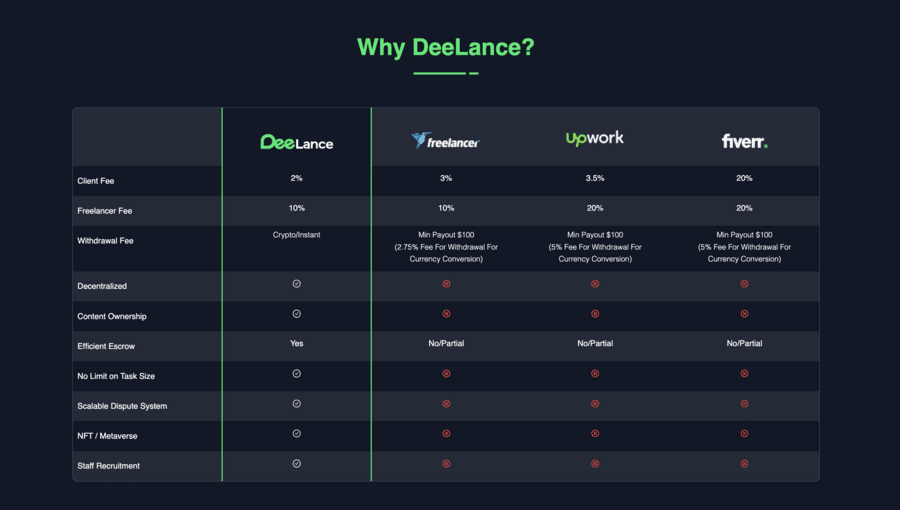 $DLANCE tokens can be utilized within the ecosystem to purchase NFTs, acquire lands and offices in the Metaverse, and more. Users must install the Metamask wallet, connect to the ERC20 network, and exchange USDT/ ETH or a fiat currency using a card for $DLANCE tokens to participate.
DeeLance's NFTs function as digital certificates of authenticity, safeguarded by blockchain technology, and are distinctive. This method enables the secure and dependable transfer of work ownership, addressing issues such as copyright violations and payment fraud. Furthermore, DeeLance is creating a new concept centered on Metaverse technology, emphasizing metaverse lobby arenas, offices, and meeting rooms.
DeeLance is celebrating its presale launch by hosting a $100k $DLANCE token giveaway. Buyers can also join the DeeLance Telegram group to get the latest updates on the project.
| | |
| --- | --- |
| Hard Cap | $6,000,000 |
| Total Tokens | 1,000,000,000 |
| Tokens available in presale | 300,000,000 |
| Blockchain | Ethereum Network |
| Token type | ERC-20 |
| Minimum Purchase | $10 |
| Purchase with | USDT, ETH, Card |
6. Copium – Meme Token which is Exploding since its Exchange Listing
Many investors tend to look at meme cryptocurrencies when looking for the next token to explode. In the past few months itself, meme coins such as Pepe ($PEPE) and Milady ($LADYS) have been some of the top-growing tokens.
Copium ($COPIUM), a new community-driven project, aims to be the next biggest meme token in the market. The name of this project is based on the concept of coping with your cryptocurrency losses. Copium's project wants to attract a community of light-hearted individuals looking to share memes, laughs, and earn crypto-based rewards.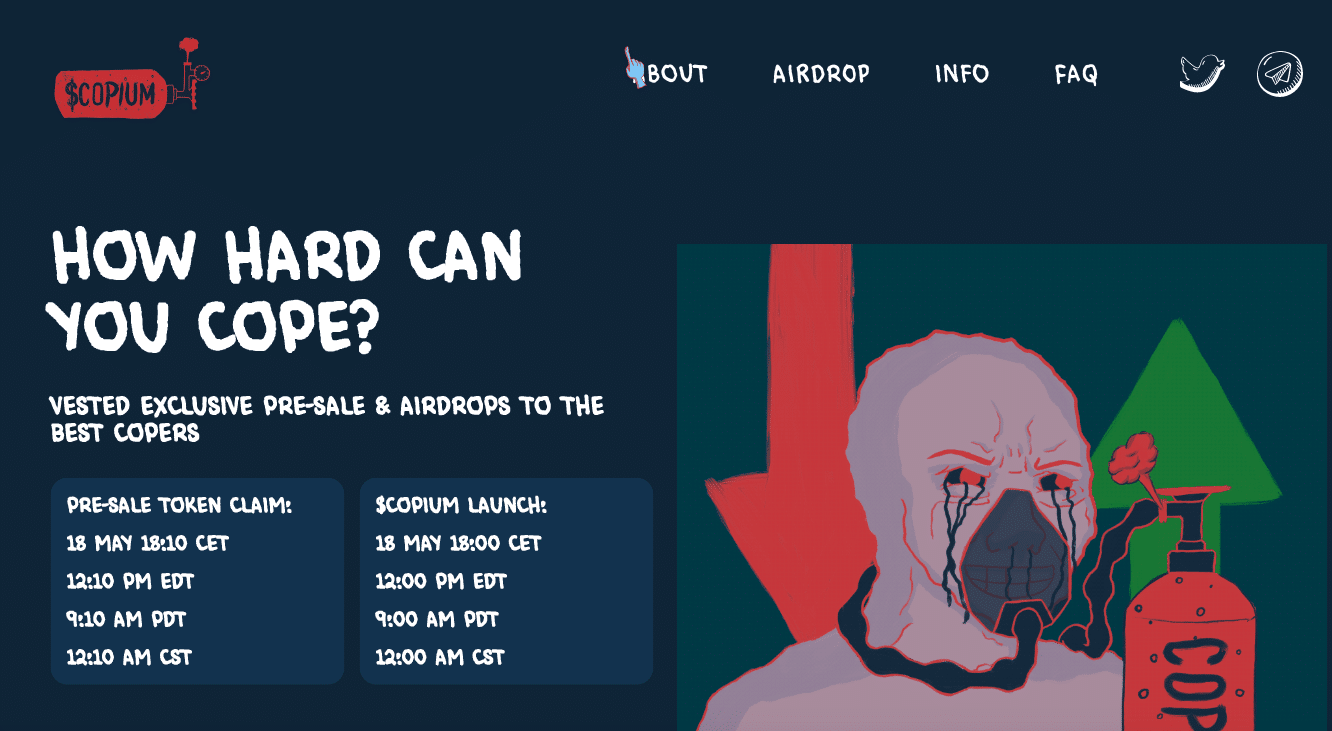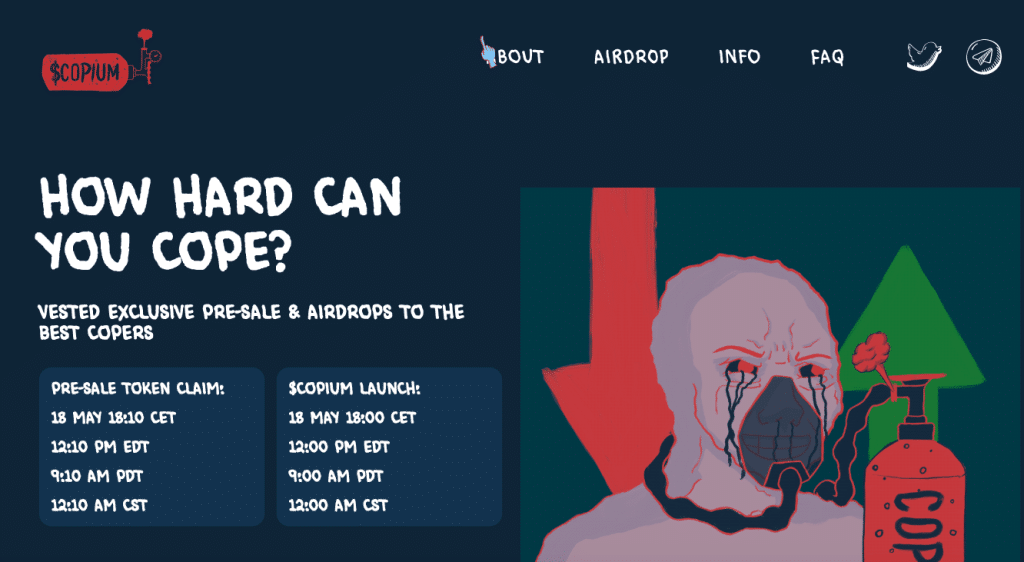 One of the main elements of Copium's marketing strategy was its invitation-only based presale round. Through this stage, Copium attracted popular social media personalities who can help build the token's reputation. Copium awarded the 200 largest presale holders NFT airdrops and token giveaways to attract such influencers.
Copium has also avoided short-term volatility by setting up a mandatory vesting period for the presale tokens. 10% of the tokens purchased during the presale can be unlocked straight away. However, the remaining 90% of the tokens will be unlocked linearly over the course of three weeks.
Copium has a limited supply of 1 billion, 300 million of which were set aside for the presale. This low supply could help the cryptocurrency in the long-term since it could increase as the demand accelerates.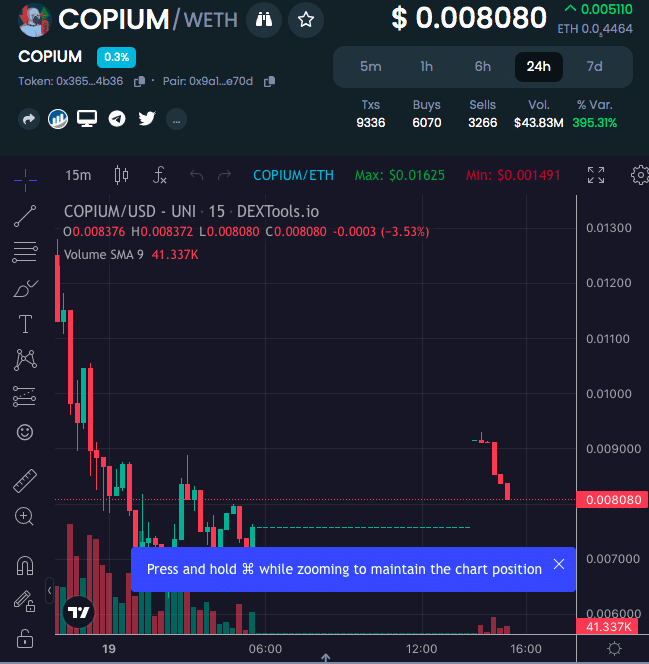 Copium enjoyed a good exchange listing on Uniswap after it soared from its listing price of $0.001213 to a live price of $0.08. This equates to a price rally of nearly 560%. To get more information on the token's price, look at DEXTools.
Stay updated with the updates and latest developments of the project by joining the Copium Telegram channel.
7. Sponge – Meme Token Exploding After Uniswap Listing
Our next cryptocurrency which can explode and already has begun to is $SPONGE, the native token of Sponge. This meme cryptocurrency has been named after the popular television series, 'Spongebob Squarepants,' which ran for 12 seasons.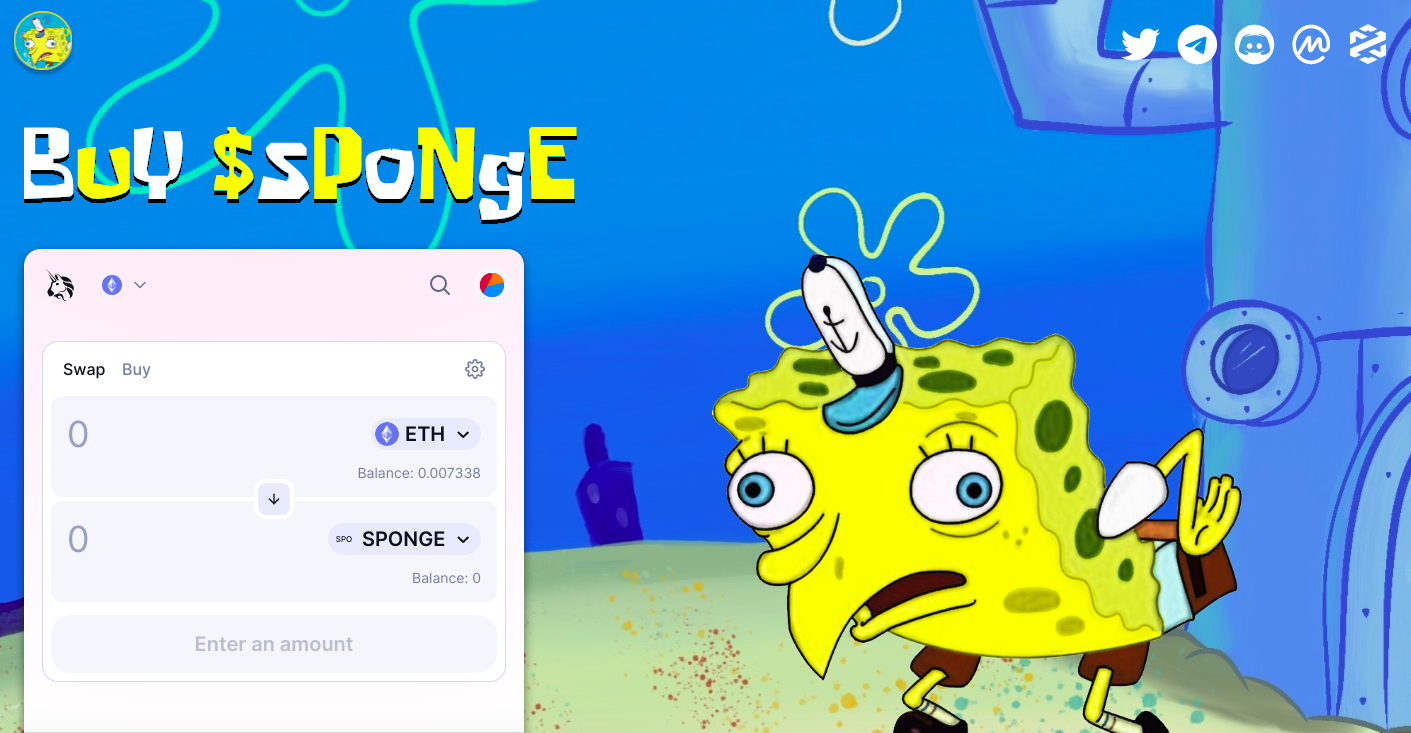 The platform describes itself as the 'Krabby Patty of meme coins' and aims to become one of the most popular cryptos in the long run. In the future, Sponge aims to explode to a market cap of over $1 billion.
So far, $SPONGE is off to a good start, as the market cap is up several hundred percent so far. On May 4th, 2023, the token was listed on Uniswap DEX at a price of $0.00005844. Within 24 hours, the price soared to $0.00042, a 620% price jump.
As per DEXTools, $SPONGE has a total supply of 40.4 billion tokens. It also has a 24-hour trading volume of over $8 million. Spongebob aims to replicate the success of top cryptos such as Pepe (PEPE) which exploded by over 1,000% in the past week and reached a huge market cap of $1.2 billion.
Interested readers can buy Spongebob now before the price potentially explodes even further.
Join the Telegram group to stay up to date and join the fast growing community.
8. Love Hate Inu (LHINU) – Vote-to-earn Crypto with High Potential
Considering the market's highly volatile nature and the dynamic regulatory environment, spotting the next crypto to explode could be challenging.
As a result, it's crucial to select a platform with utility and potential for virality. This is where Love Hate Inu steps in.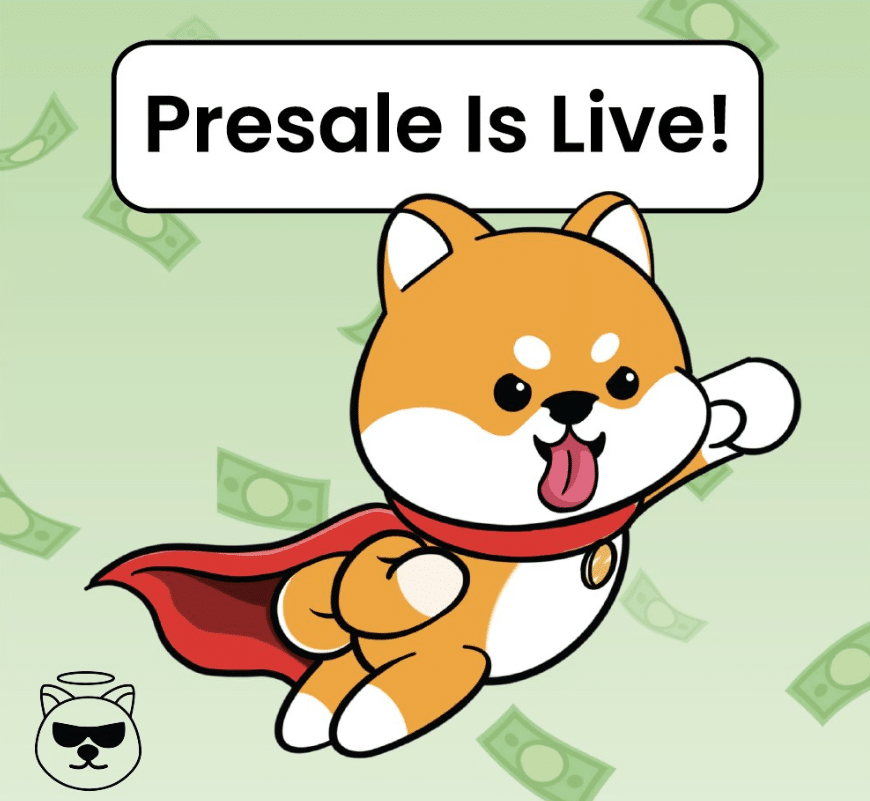 As one of the best altcoins in 2023 Love Hate Inu is a unique project that merges meme culture and blockchain tech. It's the world's first vote-to-earn platform, meaning you can earn rewards by voting on important decisions.
We've rated $LHINU as one of the best cryptos under $1 to invest in. Each $LHINU is currently valued at $0.000135 USDT, with a price rise to $0.000145 USDT anticipated before the presale comes to a close.
What is Love Hate Inu?
Love Hate Inu's one-of-a-kind voting system allows anyone to voice their opinions on topics ranging from politics to entertainment. With its unique user reward system, the platform's popularity has soared, making it one of the best crypto presales out there.
By blending blockchain incentives with polling, Love Hate Inu is set to transform the vote-to-earn industry. Some analysts predict that this project will become one of the best meme cryptocurrency projects, akin to Dogecoin, Tamadoge, or even Shiba Inu.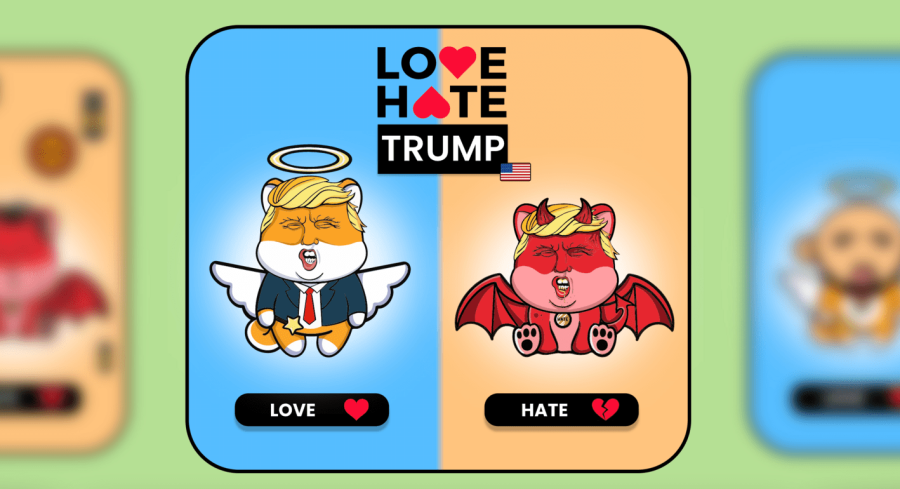 Stake-to-Vote
As per the Love Hate Inu whitepaper, staking tokens for 30 days or longer will enable users to vote in polls while remaining anonymous. The longer users hold onto their $LHINU tokens, the more influence they'll have in voting.
This system also prevents spamming and bots from intruding on the voting process. All this while earning $LHINU tokens by participating in the stake and vote program.
Should You Invest in Love Hate Inu?
Deciding whether to invest in $LHINU can be tricky. We think this meme coin could be the next Coinbase listing in 2023, but there's no way to be sure.
Love Hate Inu's use of an anonymous and secure voting system makes it a top contender in the Web3 space. With such real-world utility, $LHINU could be the best shitcoin to buy right now for high ROIs.
The project aims to sell 90% of its 100 billion tokens, while the remaining 10% will be utilized for potential listings and community rewards. This approach reduces the likelihood of a rug pull.
Get the latest information on the platform's progress by joining the Love Hate Inu Telegram channel.
| | |
| --- | --- |
| Presale Started | 8 March 2023 |
| Purchase Methods | ETH, USDT, Credit Card |
| Chain | Ethereum |
| Hard Cap | $10,068,750 |
| Min Investment | 10 $LHINU |
| Max Investment | None |
9. Swords of Blood (SWDTKN) – Exciting Hack-and-Slash RPG Game
Swords of Blood is a newly launched crypto gaming project that promises to bring AAA-quality to the space as well as offer investors the chance to purchase a high-potential token.
The project's SWDTKN presale has only just launched but has already raised more than $1.2 million and is into stage 2 – tokens are currently on sale for $0.07 but will rise to $0.1, a 48% increase.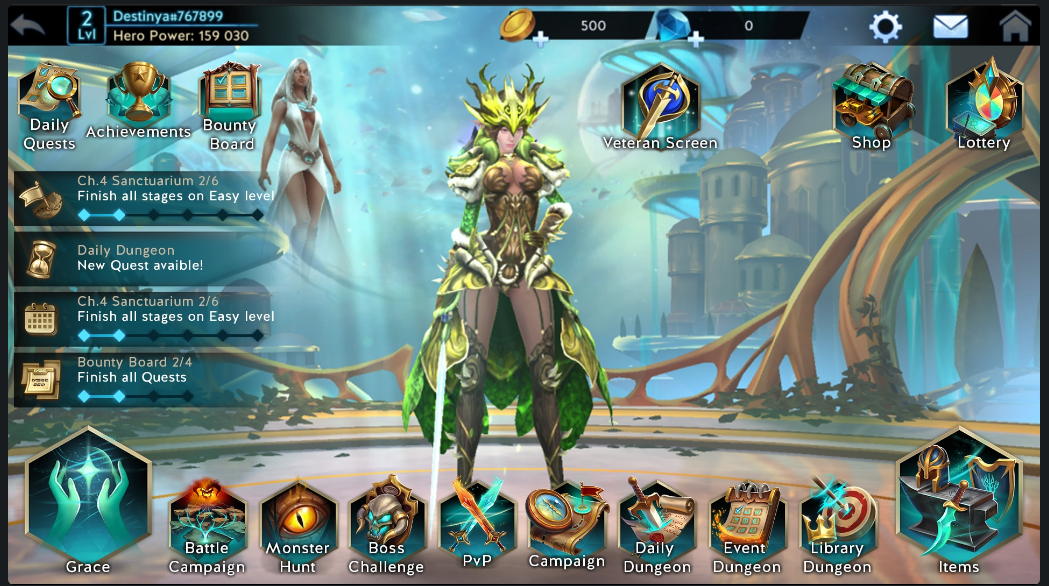 Launching on super-fast layer-2 solution Polygon, Swords of Blood is a cross-play mobile and PC game that has been built upon the framework of award-winning 2019 game Artifex Mundi but is now bringing it several steps forward.
Hitbox Games – who have several Artifex team members on board – have acquired unlimited rights to reimagine the game and add major features such as the ability to accept payments from multiple networks and fiat currencies, a play-to-own model, new free-to-play mechanics and 16-player PVP modes.
The game also has a 150-hour expansion pack with narratives written from team members who have previously worked on The Witcher, Cyberbunk and Command & Conquer. There will also be eSports tournaments in Swords of Blood's future as well as the potential for VR functionality.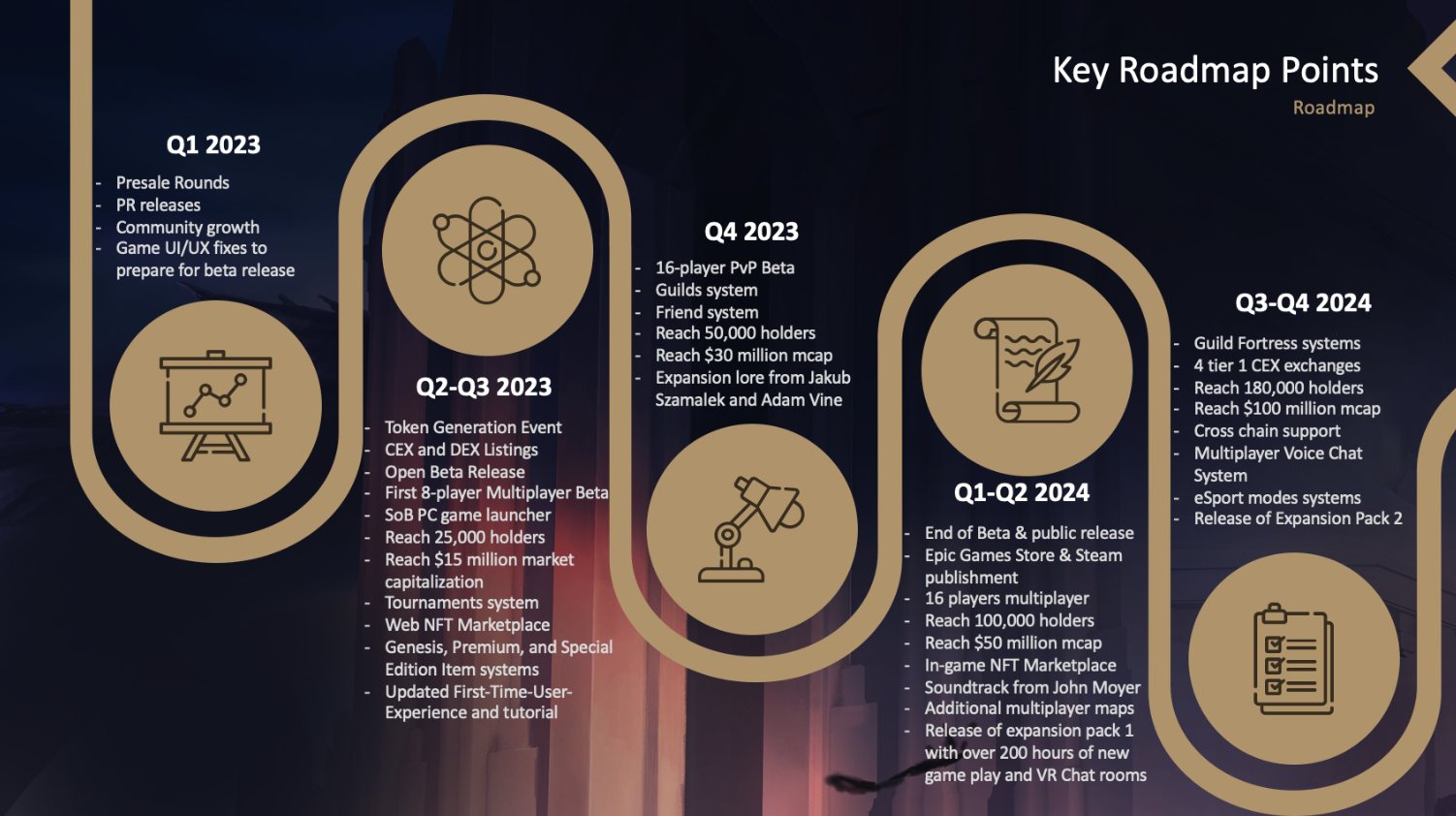 The game is themed around the collapse of the world of Ezura and the new features will bridge the gap between Web2 and Web3 – it is free-to-play and rather than being play-to-earn features concepts dubbed play-to-win and play-to-own.
Read the Swords of Blood whitepaper for more info or join the Telegram group for the latest news.
| | |
| --- | --- |
| Presale Started | Q1 2023 |
| Purchase Methods | ETH, USDT, USDC, DAI |
| Chain | Polygon |
| Min Investment | None |
| Max Investment | None |
The crypto market has seen many projects developing innovative financial solutions, but few have been successful in addressing environmental and social issues. Fortunately, a new trend is emerging, and some projects are leading the way in this area.
10. Chimpzee – Saving the World's Fauna With Crypto
The crypto market has seen many projects developing innovative financial solutions, but few have been successful in addressing environmental and social issues. Fortunately, a new trend is emerging, and some projects are leading the way in this area.
Chimpzee is one of these projects, which is focused on preserving the planet and its wildlife. The platform offers several features that allow users to earn passive income while supporting environmental causes.

These features include Shop-to-Earn, Trade-to-Earn and Play-to-Earn, which can be accessed through the Chimpzee shop, NFT marketplace, and the Zero Tolerance Game. The team has allocated 10% of the token supply and a portion of the profits to organizations working towards these causes.
Earning passive income is most lucrative for users who hold a Chimpzee passport, allowing them to interact with various elements of the ecosystem and earn more CHMPZ tokens. The Chimpzee project will develop a mobile app that leverages AI technology to create personalized chimpanzee avatars for users. These avatars can be utilized to create a customized Chimpzee NFT passport with the same benefits of a Diamond NFT Passport.
To participate in the Chimpzee presale, receive free bonus coins and secure these exclusive passports, 40 billion CHMPZ tokens will be available across four stages. In the first stage, 1 CHMPZ is priced starting at 0.0005 USDT, increasing to the second phase price of 0.0007 USDT.

The Chimpzee Diamond NFT passport provides the most lucrative rewards for users who purchase it during the presale, but there is only a limited supply available. Those who fail to secure a passport during the presale will have to purchase it at a higher price and wait until after the whitelist NFT passport prelaunch, which is only available to presale investors.
Only participants in the first round of the presale will be eligible to buy the Chimpzee Diamond NFT passport before its public release. Chimpzee has the potential to make a significant impact in the field of environmental projects, and it is a project that should be monitored closely. The benefits of participating in the presale early on are too good to ignore.
11. The Conglomerate Capital – An Investment Platform of the Future
The Conglomerate Capital is an investment and funding platform based on the BEP-20 standard that will be managed by a DAO. The platform will enable small and medium-sized enterprises (SMEs) and startups to raise funds from interested investors, while the latter will have easy access to some fantastic private equity and venture capital opportunities. What sets The Conglomerate Capital apart is that it is the first and only platform to offer governance and investing features that guide and safeguard investors.
The company has set out its aspirations, which are to capture 5% of the crowdfunding/ICO markets in terms of GMV (Gross Merchandise Volume) within five years. The platform will feature other attractive functions for investors, such as the staking platform, which was recently launched. From it, investors can benefit from up to 59% APY or even more, if investors compound rewards.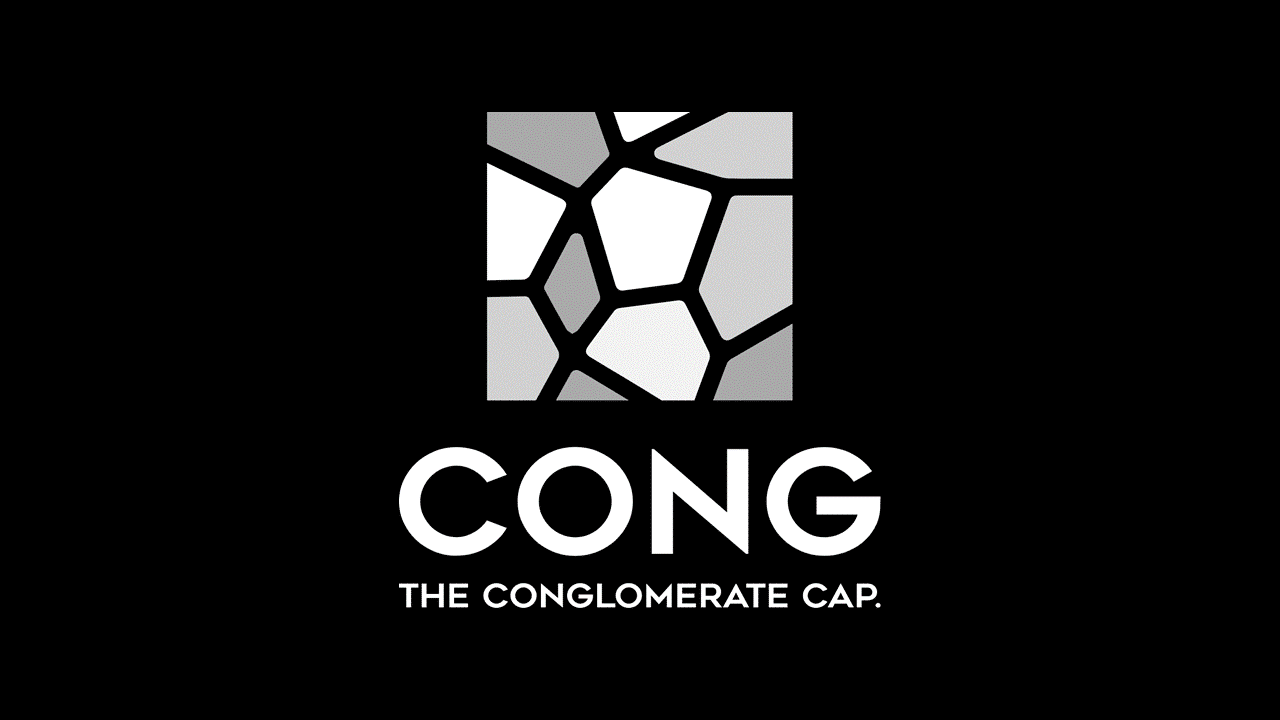 The main advantage of The Conglomerate Capital is that it aims to eliminate obstacles to investing in private equity and venture capital, making opportunities accessible to both accredited and non-accredited investors. However, there will still be rigorous screening and due diligence processes.
Token holders will enjoy various benefits, including token dividends, staking, income generation, and profits from portfolio company sales. All of these ecosystem functionalities are powered by the CONG token, which has a maximum supply of 10 billion tokens, and its issuance is subject to DAO determination.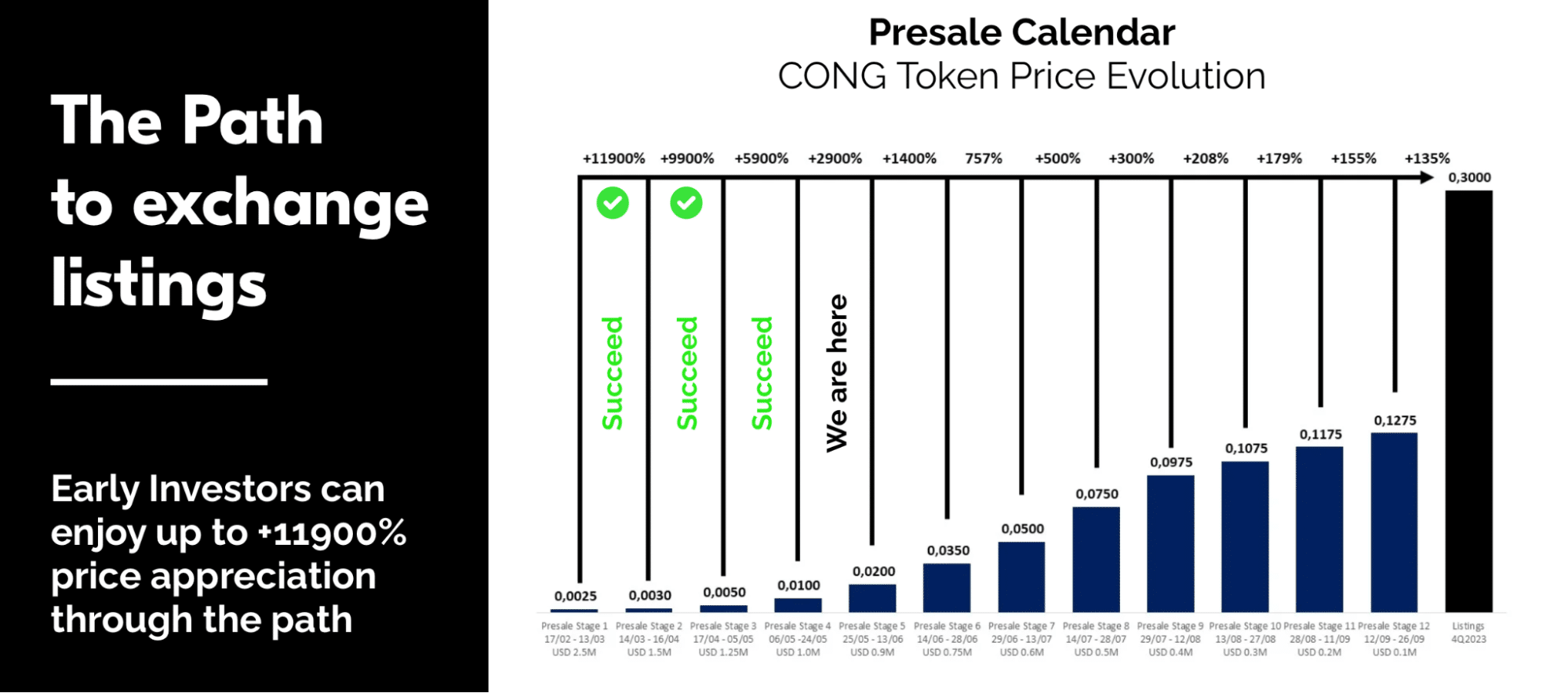 The native crypto CONG will power all payments within the TCC ecosystem, which includes the facilitation of fundraising events and the distribution of grants. In other words, CONG is the only crypto of the TCC ecosystem. This means funded projects will raise capital using CONG, thus eliminating competition among them for investors' capital allocation. It also goes a long way in driving consistent demand for CONG.
The presale for CONG tokens commenced on January 16 with a hard cap of 50 million tokens. In the current stage, the price is $0.0100. Considering the 4 Presale Stages already gone, the project has raised more than USD 5 million by now. However, it's important to note that the presale uses a rising pricing mechanism, meaning that the price for CONG will increase by 100% in the next stage.
The team behind The Conglomerate Capital has provided two roadmaps, a long-term macro roadmap and a more detailed short-term one, which offer insight into the platform's future development plans. This will enable investors to make informed decisions and benefit from good liquidity exits.
12. RobotEra (TARO) – Rebuild the Metaverse in a Sandbox-Like P2E World
In RobotEra, every player is a robot on planet Taro. All of the original robots and aborigines were eradicated in a war that destroyed the planet. This is where gamers come in, as robot avatars with human brains need to bring it back from ruin. RobotEra is like The Sandbox, another popular crypto game. That is to say, players can explore the metaverse, modify it, and find resources.
The P2E multiverse is powered by TARO tokens, which are on presale. Early investors can lock in TARO tokens for $0.020 throughout stage one of the presale. When the second phase of this campaign comes around, investors will pay $0.025 (25% more).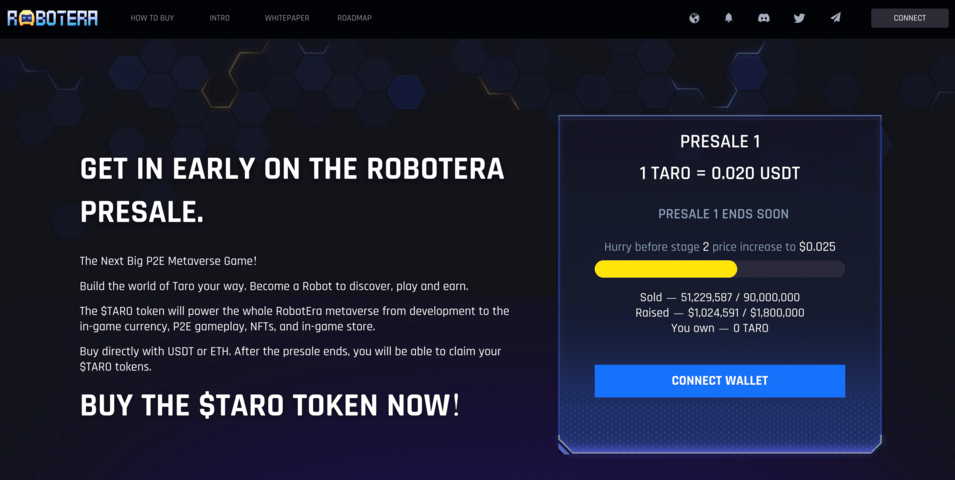 As with all of the most promising cryptocurrency projects, the presale is going to go up in increments to give early investors the benefit of discounted tokens. RobotEra enables players a level of flexibility, in that it gives them tools to customize their avatar, experience, and surroundings.
This allows gamers to mine, in addition to being able to build their own helpers known as 'robot companions'. Land parcels are available as NFTs. Each player can create their own landscape, and build whatever they want. Gamers can even rent out their land and robot companions to other players if they wish.
| | |
| --- | --- |
| Presale Started | Q4 2022 |
| Purchase Methods | ETH, USDT |
| Chain | Ethereum |
| Min Investment | 1,000 TARO |
| Max Investment | None |
13. Lucky Block (LBLOCK) – Crypto Casino with Instant Payouts and Sportsbook
In the casino space, some analysts believe that the next cryptocurrency to explode in 2023 will be Lucky Block (LBLOCK). Unlike traditional online casinos, Lucky Block cuts out the need to complete the KYC process. Instead, players can sign up in a matter of seconds by entering an email address and password.
Lucky Block also accepts a range of different digital tokens, including BTC, ETH, USDT, and more. Crypto deposits and payouts on the platform are almost instantaneous, meaning there's no waiting around. The platform has collaborated with nearly 90 of the best software providers in the online casino industry. This gives players a huge library of games to choose from.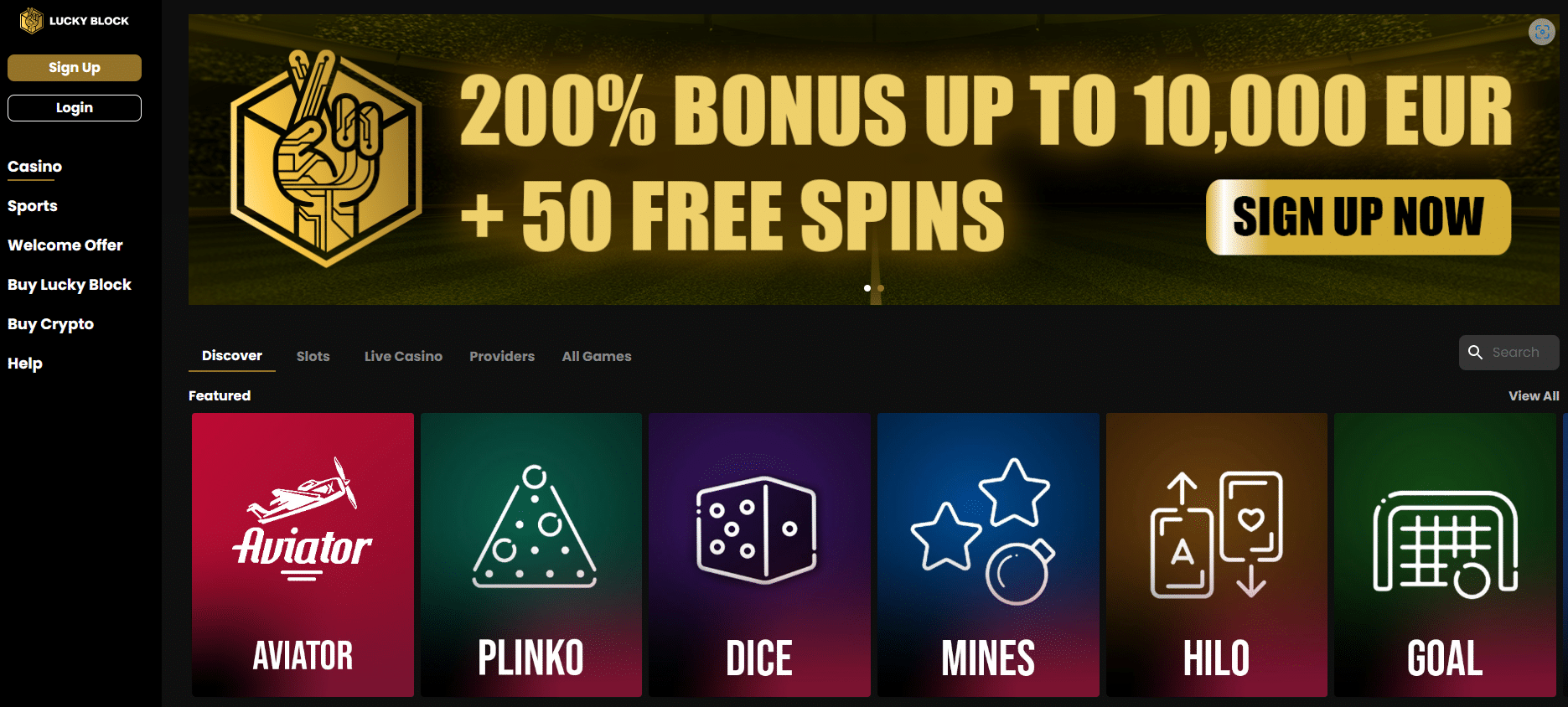 There are thousands of slot games, including over a hundred Megaways games. There's also a selection of some of the most popular Mega Moolah titles, in addition to Starburst games, and many others. Gamers can experience the fully immersive casino experience at Lucky Block as more than 570 titles on the platform have live dealers.
Table game options are also plentiful, so players can access variations of baccarat, video poker, and blackjack, for example. We rated $LBLOCK as the best new cryptocurrency of 2022 in part because it was the fastest to hit a market capitalization of $1 billion upon its release. Lucky Block also offers competitive odds on an impressive range of sports and has a QuickBet widget for convenience.
14. Pikamoon – Premium P2E Cryptocurrency Poised to Explode in 2023
Launched in mid-April 2023, Pikamoon is another strong player on our next cryptocurrency to explode in 2023 list. Although the project has only completed the first of three presale stages, it already has over $1.5 million in funding and 10,000 whitelist signups. The main draw of Pikamoon is its vibrant Pokemon-inspired gaming metaverse.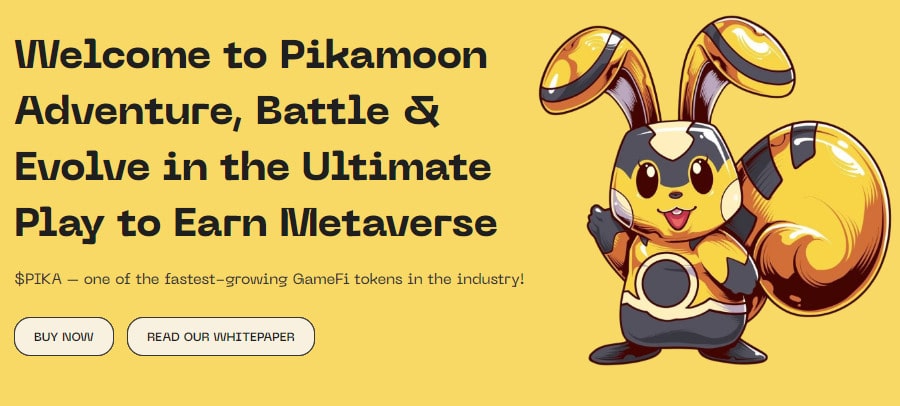 This play-to-earn gaming platform introduces users to Dreva, the mystical continent of Pikamoons. Players explore its four regions: Earth Region, Water Kingdom, Thunder Collective and Flame Empire. They go on adventures, complete missions, battle other users, and collect Pikamoons until they reach the 13th god, Pikaverse's antihero.
This elaborate storyline isn't Pikamoon's only impressive feature. The game also boasts striking visuals, crisp audio, and a robust rewarding system. According to its whitepaper, Pikamoon celebrates players' gaming triumphs by awarding them native crypto tokens, PIKA. These coins grant free access to Pikamoon's first-generation NFTs and enable users to buy many items in the in-house marketplace.
Players can utilize their coin reserves for game advancement and the ability to purchase health points, weapons, spells, and poisons. However, they're also free to use their PIKA like regular crypto tokens — they can sell and trade them on an exchange. The coin's current price is discounted, giving investors a cheap entry point therefore making it one of the cheapest cryptos to buy. If you're ready to invest now, you may earn up to 100% ROI by the end of presale stage three.
Pikamoon's Telegram community and official website offer more information about its roadmap and future plans. The team behind the project keeps the pages transparent and up-to-date, so it's easy to stay on top of things.
| | |
| --- | --- |
| Presale Started | April 2023 |
| Purchase Methods | USDT and ETH |
| Chain | Ethereum |
| Min investment | None |
| Max investment | None |
15. Tamadoge (TAMA) – Arcade Games on the Blockchain
Investors looking for the best cryptocurrency game to buy in 2023 may want to check out Tamadoge (TAMA). It's much more user-friendly than the games we've mentioned thus far and it's rapidly developing a portfolio of arcade titles on the blockchain.
Some of the games available include To the Moon, Rocket Doge, Super Doge, and Tama Run. The Tamaverse is where players can find these games as well as explore and mint NFT pets.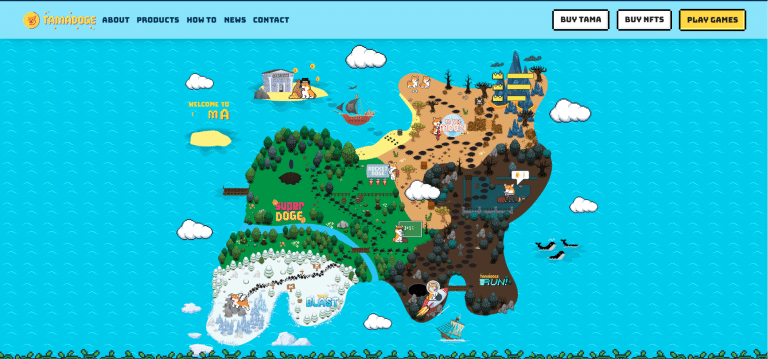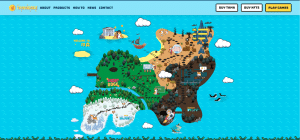 Every NFT pet has its own unique abilities, which makes the arcade games feel a little different every time. Tamadoge has released a collection of NFTs that are available to buy via OpenSea. They include thousands with varying strength, speed, vision, awareness, stamina, agility, and more, to enhance gameplay.
The Tamadoge team plans to eventually incorporate augmented reality and further opportunities to earn $TAMA tokens during gameplay.
$TAMA is currently available on OKX, the #6 exchange in the world according to CoinMarketCap.
16. Gala (GALA) – Earn NFTs and Crypto During Gameplay
Gala is another promising project for those who would like to join a community of gaming enthusiasts. GALA tokens power a platform that has been specifically designed for blockchain gaming. Players using the platform can exchange in-game assets that have been tokenized as and when they please in the Gala marketplace.
This is because Gala games are playable via NFTs. Furthermore, through stake-based voting, Gala Games' distinctive governance model enables users to support the creation of titles that they find most appealing.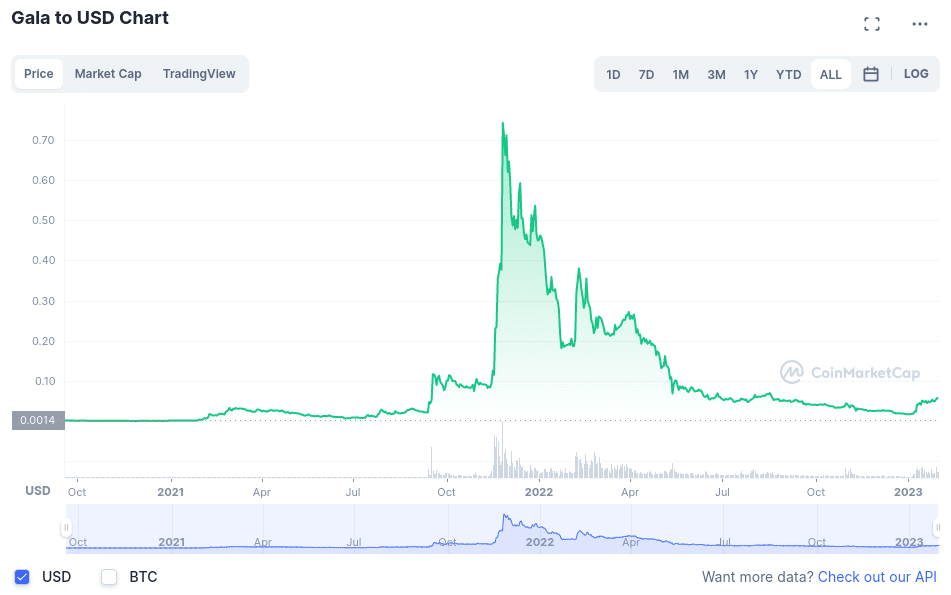 The player-owned Node network is the foundation of the Gala Games ecosystem. Users run Gala Nodes from their personal computers and all games are tested among the crypto Discord community. GALA tokens can be used to purchase in-game items, exchange for other currencies, and staking.
All in-game items are owned by the player. Furthermore, the Gala platform has a metaverse, in addition to sections dedicated to film and music. If you're wondering where to buy GALA in 2023 eToro has a wide range of cryptos on offer and it's also considered to be one of the best yield farming crypto platforms.
17. Loopring (LRC) – Open-Source and Incentivized Exchange Protocol
The Loopring platform develops user-facing solutions, infrastructure, and protocols. The goal of Loopring is to create the best-in-class zkRollup exchange and payment protocol on Ethereum. This project offers products to users all over the world.
According to the whitepaper, scalability is resolved by Loopring without sacrificing security. The project's zkRollup throughput can reach up to 2,025 transactions per second. To put this into perspective, it's about 1,000 times the Ethereum throughput.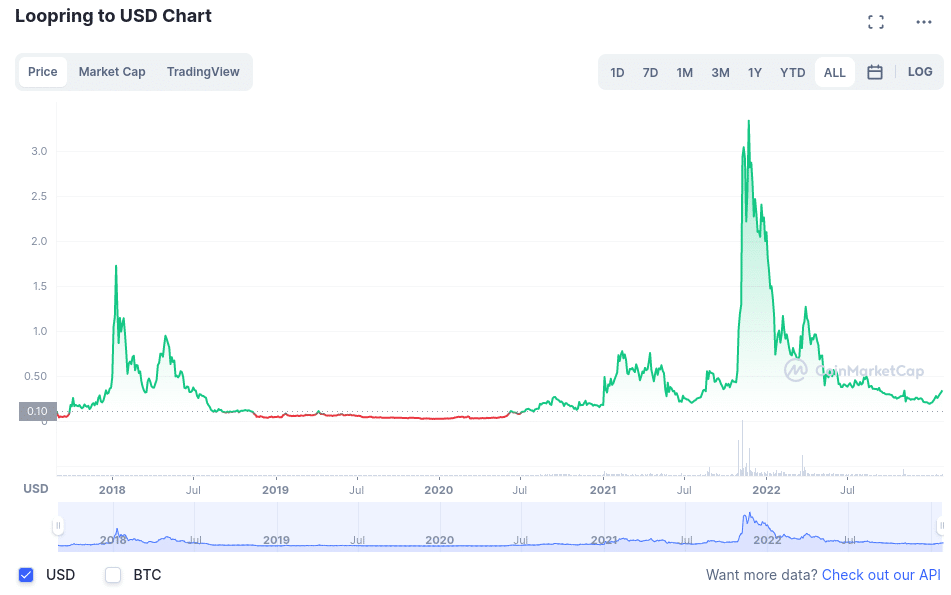 The Loopring protocol is powered by LRC tokens. Investors who stake their LRC tokens will receive 70% of the fees collected. An additional 20% is given to the Loopring DAO. The remaining 10% of fees are destroyed.
Loopring's most recent partnership is with ProtocolGemini, a crypto development studio. The latter will use the Loopring protocol for its web3 games, inclusive of the metaverse and playable NFTs.
18. dYdX (DYDX) – Inexpensive DEX Perpetual Options Trading Platform
DYdX (DYDX) is among the best new cryptocurrencies for investors who are interested in perpetual options trading on the blockchain. The dYdX exchange is an OTC marketplace that facilitates perpetual trading and uses smart contracts.
This non-custodial exchange also supports margin trading. The dYdX platform supports numerous cryptocurrencies and charges no fees for the aforementioned trading options. The minimum deposit is just $10 and there is no need to complete the KYC process.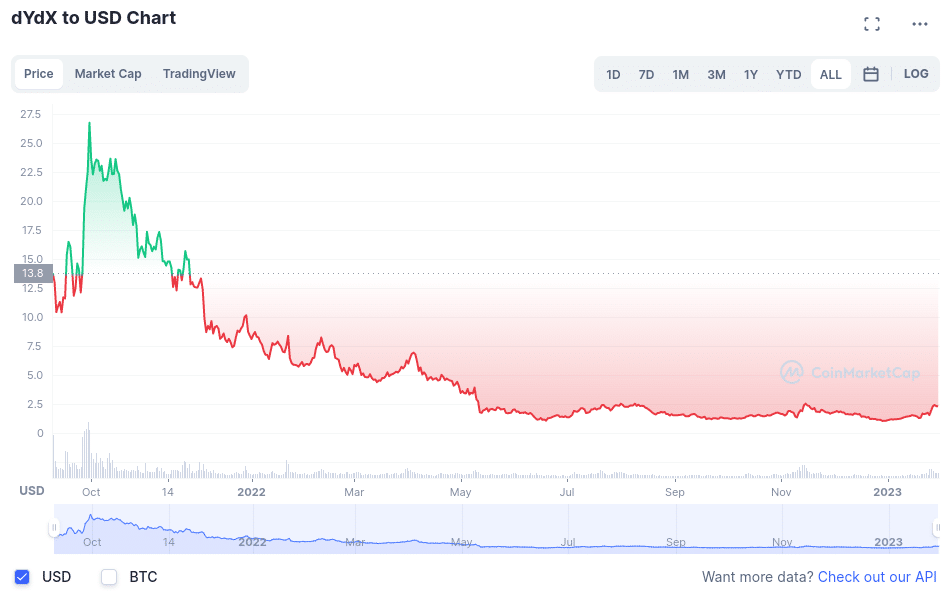 To enable the community to control its layer 2 protocol, the governance token DYDX was created. The dYdX community can collaborate and manage the protocol thanks to the shared control, which includes partners, traders, and liquidity providers. The goal of the dYdX exchange is to give traders the safety aspects of a DEX, with the speed and convenience of CEX platforms.
19. Axie Infinity (AXS) – NFT Monster-Battling Game With Multiple P2E Opportunities
When researching the next cryptocurrency to explode in 2023, investors may have come across Axie Infinity (AXS). This is a popular P2E game with cute monsters that are represented as Axie NFTs. The game is operated on the Ethereum blockchain.
The majority of the action takes place during turn-based fights, either online or against real opponents. Gamers can also play against Axie teams controlled by computers. Axie Infinity is a player-owned real money economy.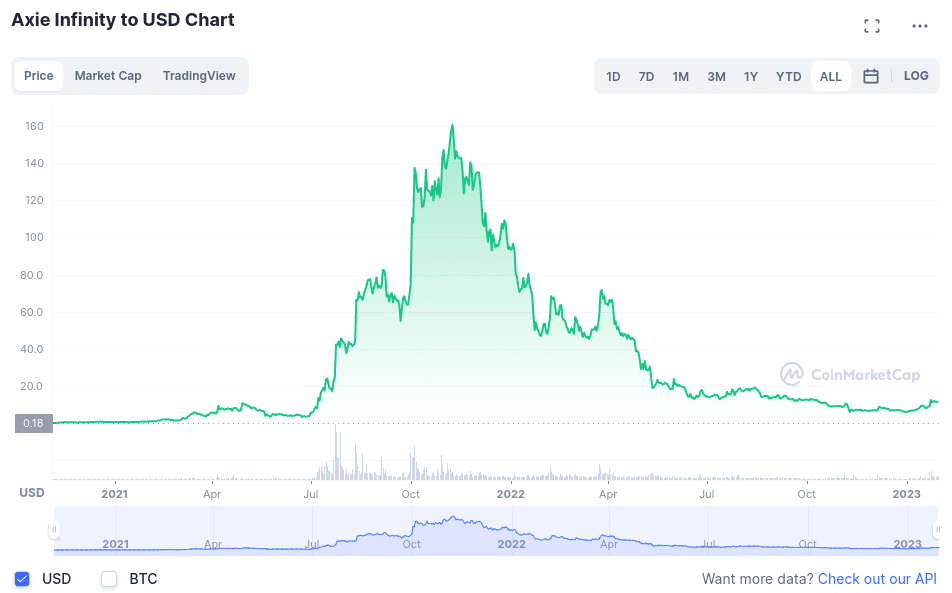 The community treasury in this ecosystem is funded by marketplace fees, and AXS holders will decide how to use it. By possessing AXS tokens, the developers generate income. A player's ability to stake AXS coins is another factor making the Axie Infinity coin one of the most promising cryptocurrency projects for 2023.
Furthermore, players of Axie Infinity will acquire cryptocurrencies as they advance through the game and start staking their coins.
Key Factors to Consider When Looking for the Next Big Cryptocurrency
Ever wondered what the next Ethereum will be? Next, investors will see some important factors they can take into consideration when searching for the next cryptocurrency to explode in 2023.
Low Entry Price
When searching for the next cryptocurrencies to explode in 2023, it's advantageous to find those with a low entry price. One way to do this is by finding projects that are still in the midst of their presale campaign.
The best new cryptocurrency projects go through various presale stages. This helps them raise funds for the project, as well as generate awareness.
Read the Whitepaper
Users can refer to several resources online to understand what a cryptocurrency paper is.
Always look at the whitepaper when researching the best future crypto projects to buy.
The whitepaper will cover a range of topics such as its plans for the future, tokenomics, use cases, and more. This will help investors decide whether the project is likely to be a good fit for them.
Follow Socials Media Channels
Many emerging crypto projects have a strong presence on social media. Channels to watch include Twitter, Reddit, Telegram, and Discord.
Many investors check social media channels when searching for the best cryptos to buy and add to their portfolios.
If a cryptocurrency is trending it will probably be mentioned on either Twitter or Reddit, both of which are popular within the crypto community.
The latter has many informative subreddits too, such as r/CryptoMarkets and r/Cryptocurrency for instance. These subreddits also help investors find the best cryptos on Reddit with the highest upside potential.
This is where investors congregate to talk about things like when the next crypto bull run might be, what's trending, technical analysis, and more. YouTube can also be very insightful for finding the next cryptocurrency to explode in 2023.
The Jacob Bury YouTube channel, for instance, is dedicated to finding the most profitable cryptos and unique trading opportunities in the cryptocurrency market. He also talks about presales and crypto news in general. As of writing, Jacob Bury's channel has 10.6k subscribers.
Use Cases and Long-Term Potential
What factors should we consider when looking for the best long-term cryptocurrency investments? As we touched on earlier, the whitepaper is a useful tool when finding the next crypto to explode. It will tell the investor about the use cases and roadmap of the project.
What Causes a Crypto's Price to Explode?
Cryptocurrencies can explode in price for a few reasons. It's typically because demand is much higher than supply, especially around short-term catalysts like an exchange listing or new feature release. Be cautious about tokens that are currently moving higher since the price move could be due to speculation.
The cryptocurrency market is known for its volatility, where prices can skyrocket or plummet in a matter of hours. Investors and traders alike are constantly on the lookout for the most searched crypto assets that could potentially explode in price, resulting in significant gains. But what causes a crypto's price to explode?
Adoption and Use Cases
One of the biggest drivers of a cryptocurrency's price explosion is its adoption and use cases.
As more people begin to use a cryptocurrency for its intended purpose, its value can increase significantly. For example, the adoption of Bitcoin as a means of payment by major companies like PayPal and Tesla has helped increase its value.
Market Sentiment
Market sentiment can also significantly affect a cryptocurrency's price explosion.
Positive news, such as announcing a major partnership or regulatory approval, can boost investors' confidence and increase demand and prices. On the other hand, negative news, such as a major hack or regulatory crackdown, can cause prices to plummet.
Limited Supply
Another factor that can cause a cryptocurrency's price to explode is its limited supply. When the supply of a cryptocurrency is limited and demand increases, prices can increase dramatically.
This is seen in the case of Bitcoin, which has a maximum supply of 21 million coins, leading to scarcity and increased demand.
Speculation and Hype
Finally, speculation and hype can also drive a cryptocurrency's price explosion. This is often seen in the case of newly launched coins, where investors may buy in based on hype and speculation of future potential, driving prices up rapidly.
Conclusion
That concludes this guide on the next cryptocurrency to explode in 2023. We looked at a range of different projects and liked Wall Street Memes the best. The project has an already established community which provides inherent value when it comes to meme coins.
The Wall Street Memes presale is off to a very strong start, raising more than $1 million within four days of launch. Follow the link below to lock in $WSM tokens before their price starts to go up.
FAQs
What is the next cryptocurrency to explode in 2023?
Which crypto will blow up this year?