Ethereum was priced at just $0.31 when it held its presale ICO in 2014. The second-largest cryptocurrency by market cap has since hit highs of almost $5,000 – translating into gains of 1.6 million percent.
This guide explores which cryptocurrencies could become the next Ethereum success story in 2023.
9 Cryptos That Could be the Next Ethereum in 2023
According to crypto analysts, the eight projects listed below could become the next Ethereum.
Bitcoin Minetrix – Offering Bitcoin cloud mining over Ethereum, this presale raised over $100k within hours of its launch and provides an APY above 10,000%, at the present time. It could be a top coin in 2023 as it makes BTC mining accessible to the masses.
Wall Street Memes – An exciting new meme token with utility that offers staking rewards with an APY of over 60%. It could be the next Ethereum, given that over a million supporters back it and has already raised over $25 million in its presale. Presale complete.
Tamadoge – P2E Games in the Metaverse via NFT-Backed Pets
Solana – A More Scalable and Efficient Alternative to Ethereum
Avalanche – Environmentally-Friendly Blockchain That Consumes 35,000x Less Energy Than Ethereum
Cardano – Academic-Driven Smart Contract Ecosystem With a Capped Token Supply
Neo – Established Blockchain Network With Two Native Utility Tokens
BNB – Proprietary Smart Contract Blockchain Backed by Binance
Chainlink – Bridging the Gap Between Smart Contracts and Real-World Data
A Closer Look at the Possible Next Ethereum Cryptos
To become the next Ethereum, the respective project must generate significant growth. This is in addition to a unique value proposition, in terms of real-world use cases.
Read on to discover which eight cryptocurrencies could become the next Ethereum by the end of 2023.
1. Bitcoin Minetrix – BTC Cloud Mining Thorough Ethereum With Rocket Yields and Inventive Design
Bitcoin Minetrix ($BTCMTX) is a brand new presale that utilizes the Ethereum smart contract network to mine Bitcoin, through a system of mining credits.
The concept is simple. Users stake their tokens and are rewarded with Bitcoin cloud mining credits. These credits are burned in return for rewards.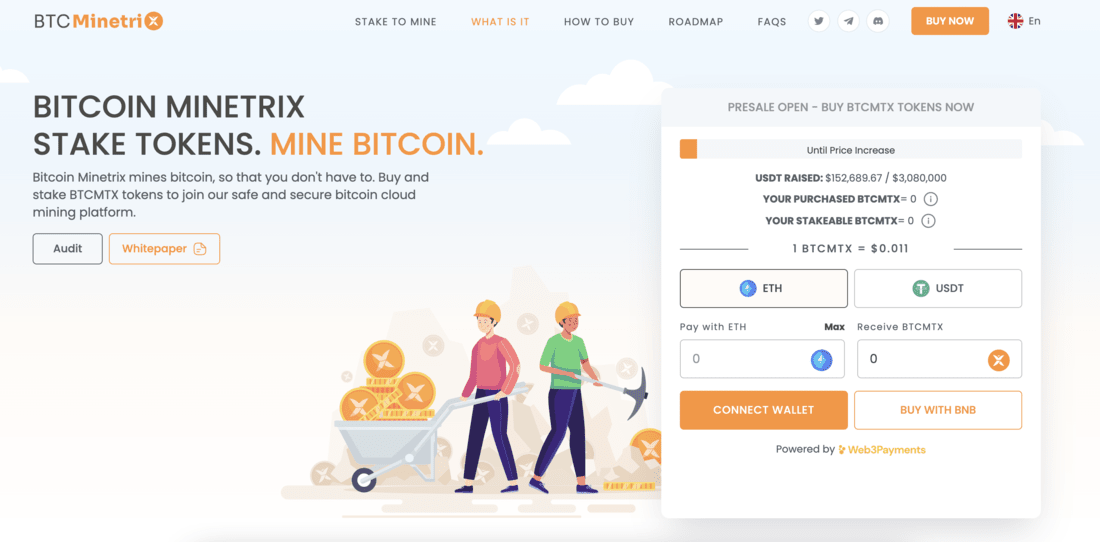 This is quite an intelligent concept in the context of the heavily centralized PoW mining model associated with Bitcoin. It is practically impossible for ordinary individuals to purchase their own mining rig (which costs thousands of dollars) and maintain it profitably. It takes technical expertise and huge financial resources.
Through Bitcoin Minetrix, a new paradigm has been created in the world's first stake-to-mine model. Staking is linked to mining, all through a unified dashboard. Users can have an overview of their entire mining operation with the option to burn, stake, or withdraw. They can also see key metrics including 'mining credits earned' and 'mining power bought'.
This removes all of the complexity of Bitcoin mining, democrarizing the market, through an Ethereum-powered campaign. A mobile option will complement the desktop interface for even better convenience.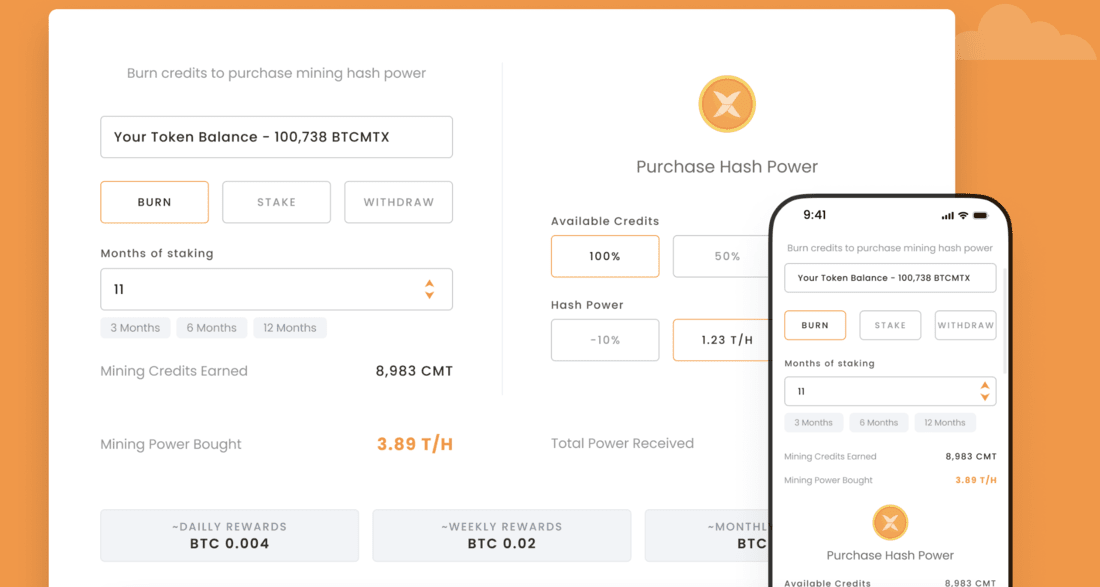 Users need only an Ethereum-compatible wallet (like MetaMask) to buy and stake tokens, making things very simple. Staking $BTCMTX earns non-tradable cloud credits that must be burned in exchange for BTC cloud mining power.
There is a total of 4 billion $BTCMTX tokens with 2.8 billion available in the presale, at a price of just $0.011. However, the price goes up at every step of the 10-stage presale, so it's better to get in early. The yields, currently above 10,000%, will also decrease with time, another reason for early bird investment.
For more information, be sure to join the Twitter and Telegram socials, and read the Whitepaper in detail.
| | |
| --- | --- |
| Presale Started | September 2023 |
| Purchase Methods | USDT, ETH, BNB |
| Chain | Ethereum |
| Hard Cap | $32 Million |
| Min Investment | $10 |
| Max Investment | None |
2. Wall Street Memes – Presale Complete After Raising $25M
Emerging from Wall St Bulls, a prominent Ethereum NFT collection, Wall Street Memes (WSM) is a trending new meme crypto with utility that could be the next Ethereum.
The meme token's creators have a history of successful projects, including an NFT collection sold in less than 30 minutes. They've also ventured into the Bitcoin NFT sector, keeping pace with current market dynamics.
With quick payouts, Wall Street Memes token holders can stake their $WSM tokens to get a high Annual Percentage Yield (APY).
The platform offers an APY of over 60% at press time, and the current reward rate is 75 $WSM per processed block.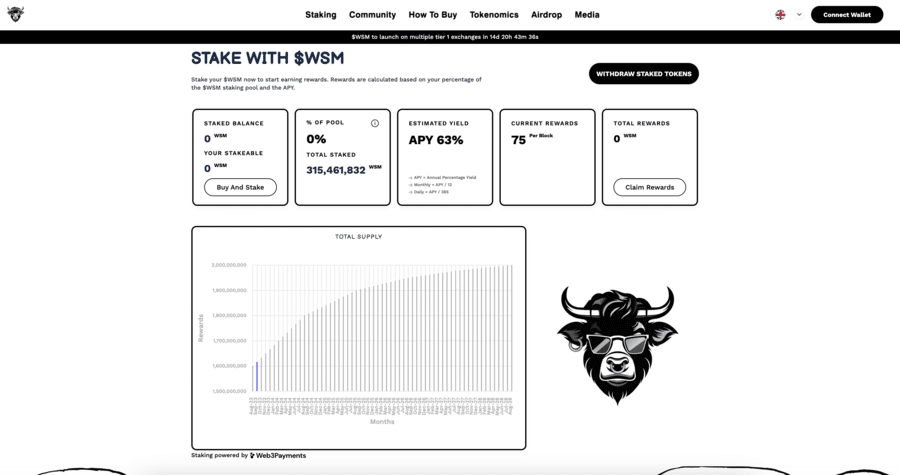 Even high-profile personalities like Elon Musk have taken notice, interacting with the project's social media posts.
The coin is gathering momentum: over 315 million $WSM tokens are staked to date, a clear sign of the community's faith and engagement with the project's mission.
Currently in its presale stage, the token is priced at $0.0337 USDT. Over $25 million has already been raised in the presale in just a few months of its official launch.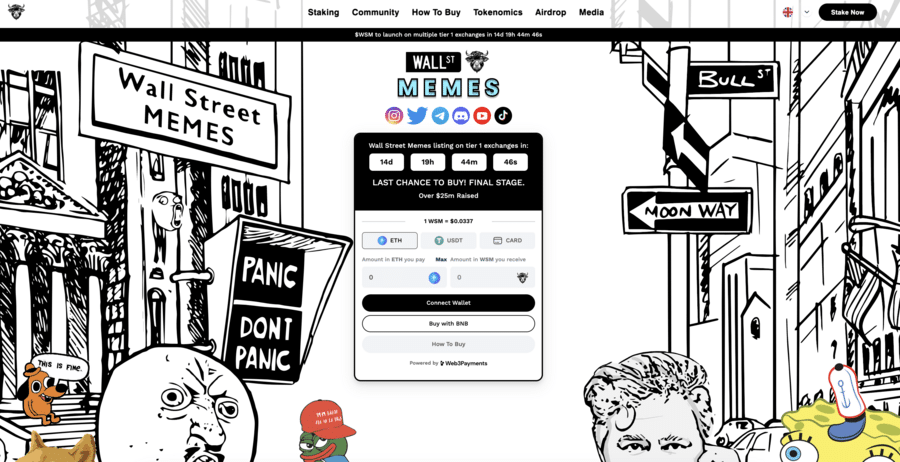 Per the Wall Street Memes whitepaper, the token's supply is planned to increase community interaction. 30% is set aside for community rewards, while 50% is allocated for marketing efforts.
The rest is set aside for liquidity. Notably, there are no team tokens, minimizing the risk of market saturation and reinforcing trust.
A $50,000 airdrop is also planned to reward those actively participating on social platforms. Most importantly, the project has the support of over a million social media followers across several platforms.
For the latest updates, join the Wall Street Memes Telegram channel.
| | |
| --- | --- |
| Hard Cap | $30,577,000 |
| Total Tokens | 2,000,000,000 |
| Tokens available in presale | 1,000,000,000 |
| Blockchain | Ethereum Network |
| Token type | ERC-20 |
| Minimum Purchase | 100 WSM |
| Purchase with | USDT, ETH, BNB, Bank Card |
3. Tamadoge – P2E Games in the Metaverse via NFT-Backed Pets
Tamadoge is also a strong contender as the next Ethereum success story. In this instance, its native token, TAMA, has the potential to generate unprecedented gains in the coming months and years. In a nutshell, Tamadoge is developing a play-to-earn ecosystem in its own metaverse – the Tamaverse.
Players are represented by their own virtual pets that are minted via NFTs. Each pet is randomly generated with its own traits, strengths, and weaknesses. This determines how successful the virtual pet will be when entering battles with other players. Crucially, battles enable Tamadoge players to earn rewards, paid in TAMA. The Tamaverse will enable players to train their virtual pets.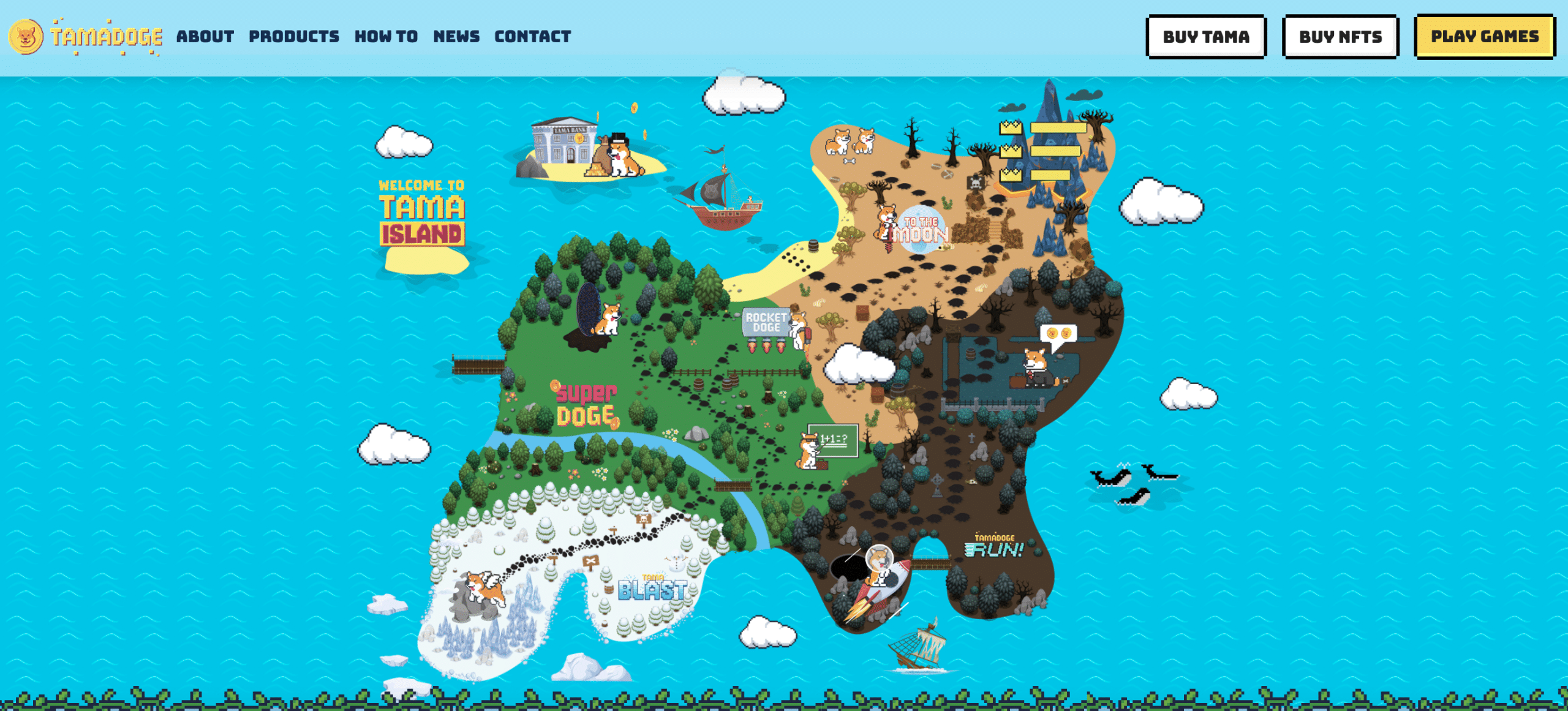 This will improve the individual traits of the pet and enhance its chances of winning battles. Players can also purchase in-game NFTs to boost the pet's traits. The Tamaverse is also being developed to facilitate augmented reality experiences. This will connect the Tamadoge gaming ecosystem to the real-world, via an iOS and Android app.
Tamadoge has also developed mini-games within its metaverse. Four games are already available, with further releases expected in due course. Nonetheless, each mini-game enables Tamadoge players to earn further TAMA rewards. Players can also stake their TAMA tokens to earn passive income. Alternatively, TAMA can be swapped for ETH and other cryptocurrencies via exchanges.
In terms of the upside potential, Tamadoge is trading with a market cap of just $12 million as of writing. Considering the expected growth of this niche market, Tamadoge has every chance of generating gains of 100x. As such, now could be a great time to gain exposure to the future of play-to-earn gaming. TAMA tokens can be purchased on OKX, Uniswap, Gate.io, LBank, and plenty of other exchanges.
4. Solana – A More Scalable and Efficient Alternative to Ethereum
Solana is also considered the next Ethereum in many crypto circles. This is due to the sheer efficiency of Solana when compared to Ethereum. For example, although Ethereum has completed its proof-of-stake merge, fees are often very high. During busy network periods, it is still common for users to pay over $10.
This is the case regardless of how much ETH is being transferred, which makes micro-transfers unviable. In comparison, Solana fees average just $0.00025 per transaction. This means that for every $1 paid in fees, 4,000 transactions can be executed. Additionally, Solana is a lot more scalable than Ethereum. In fact, it is estimated that Solana can handle over 65,000 transactions per second.
Ethereum can handle between 15-30 transactions in the same time frame. Solana transactions are also super-fast, with an average confirmation time of just 400 milliseconds. In terms of the upside, the market cap of Solana and Ethereum is $8.5 billion and $210 billion as of writing. Therefore, if Solana is to become the next Ethereum, it would require growth of over 2,300%.
81% of retail investor accounts lose money when trading CFDs with this provider.
5. Avalanche – Environmentally-Friendly Blockchain That Consumes 35,000x Less Energy Than Ethereum
Many crypto analysts believe that Avalanche could be the next Ethereum. This is because Avalanche is one of the best blockchain networks for the environment. Crucially, a study by the Crypto Carbon Ratings Institute (CCRI) found that Avalanche consumes 35,000x less energy than Ethereum. When compared to Bitcoin, this number is amplified to 200,000x.
With society becoming more environmentally conscious, green blockchains like Avalanche have every chance of becoming the next Ethereum. Moreover, Avalanche is a lot more efficient than Ethereum when it comes to transaction throughput. In fact, Avalanche claims that its blockchain can handle an unlimited number of transactions at any given time.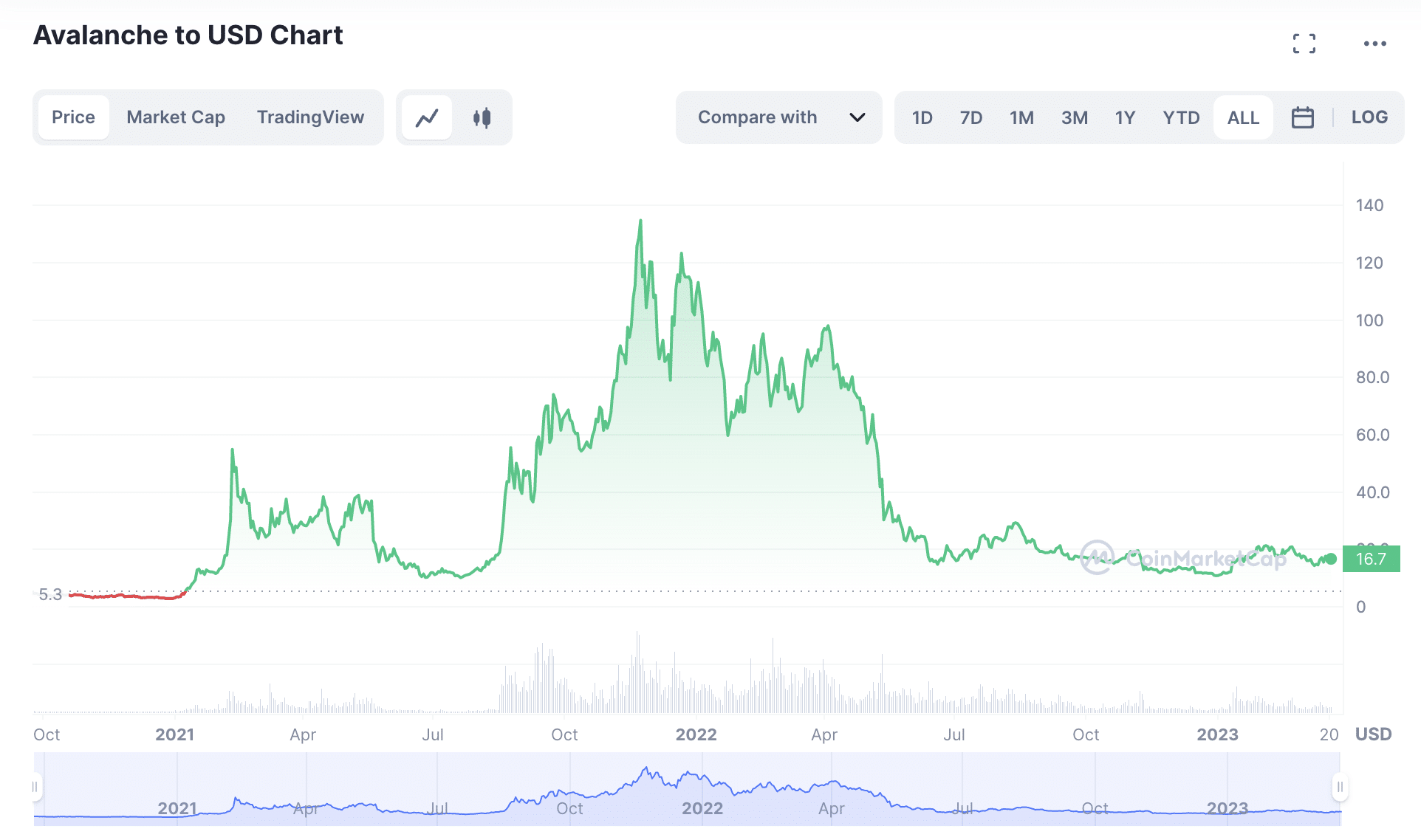 Furthermore, Avalanche transactions take less than two seconds to confirm and fees are burned by the network. This reduces the long-term supply of its native token, AVAX. As of writing, AVAX has a market cap of $5.5 billion. During the previous bull market, AVAX was trading at highs of nearly $30 billion. A return to this market cap will provide investors with an upside of over 440%.
81% of retail investor accounts lose money when trading CFDs with this provider.
6. Cardano – Academic-Driven Smart Contract Ecosystem With a Capped Token Supply
Cardano is another top-rated project that many believe could become the next Ethereum. Launched in 2017, Cardano was developed to improve on Ethereum's shortcomings. Most notably, high transaction fees and an inability to scale. Charles Hoskinson – who runs Cardano, also co-founded Ethereum.
Hoskinson is a firm believer in following peer-reviewed, academic processes when developing the Cardano blockchain. Fast forward to 2023 and Cardano is one of the most efficient blockchain networks in this industry. Not only does Cardano support smart contract agreements but it does so in a considerably more scalable way. Cardano transaction fees are also much cheaper than Ethereum.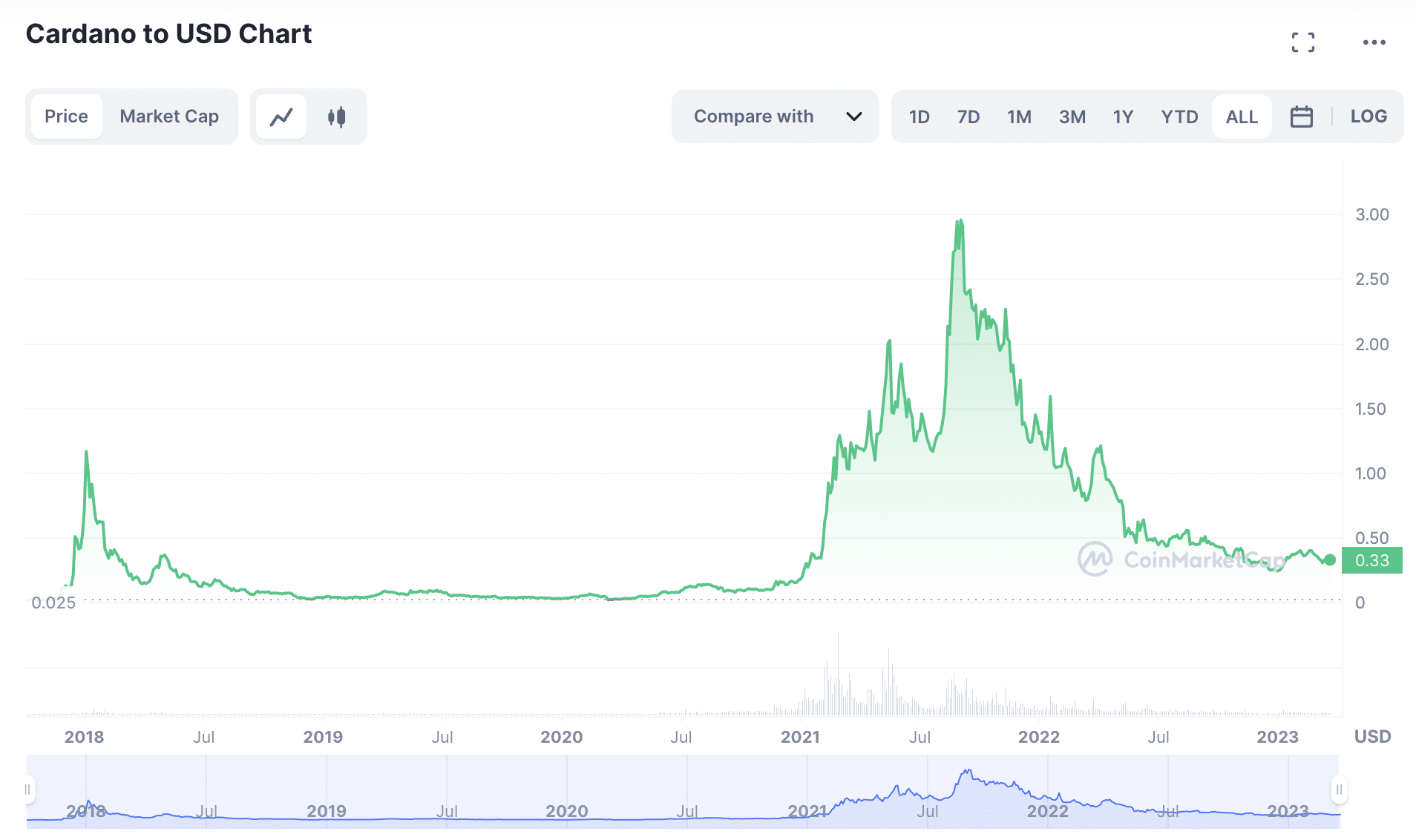 The Cardano ecosystem is backed by ADA tokens. According to CoinMarketCap, ADA was priced at $0.025 when hitting the markets in late 2017. ADA has since hit highs of over $3. As of writing, however, ADA is trading at almost 90% below its all-time peak. As such, some investors believe that buying ADA at current pricing levels offers an unprecedented discount.
81% of retail investor accounts lose money when trading CFDs with this provider.
7. Neo – Established Blockchain Network With Two Native Utility Tokens
Founded in 2014, Neo is an established blockchain project that facilitates efficient smart contract agreements. Neo is also capable of hosting native oracles and storing data in a decentralized manner. Crucially, the Neo blockchain has two native crypto tokens – NEO and GAS. NEO is the project's primary investment token. It also enables holders to cast votes on the Neo blockchain.
GAS, on the other hand, is the project's transactional currency. Interestingly, the blockchain distributes free GAS tokens to those holding NEO. The number of GAS received is dependent on how many NEO tokens are held in an eligible wallet. GAS is also required when developers wish to launch decentralized applications on the Neo blockchain.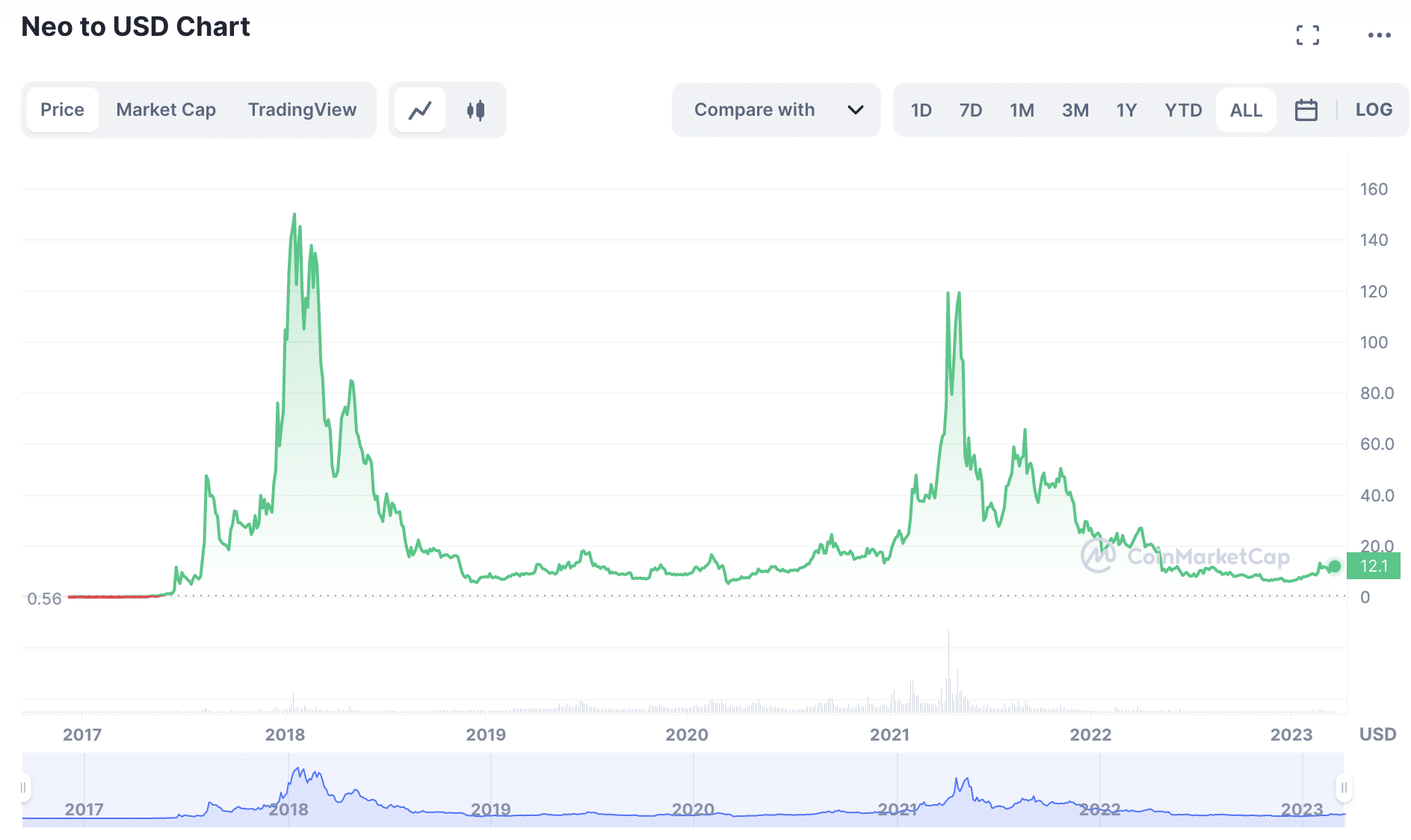 This ensures that both NEO and GAS have real-world utility. As of writing, NEO is trading at just $12 with a market cap of under $900 million. Compared to the crypto market peak of late November 2021, NEO was trading at $120. This means that investors buying NEO today can secure a discount of over 90%.
81% of retail investor accounts lose money when trading CFDs with this provider.
8. BNB – Proprietary Smart Contract Blockchain Backed by Binance
Binance Smart Chain is the blockchain network backed by the exchange of the same name. The token that fuels transactions on the network is BNB, which currently has a market cap of over $50 billion. Just like Ethereum, the Binance Smart Chain supports both smart contracts and decentralized applications. Moreover, thousands of crypto projects have developed their framework on the Binance Smart Chain.
Known as BSC tokens, these projects usually trade against BNB. This means that BNB tokens are required to provide traders with sufficient levels of liquidity. BNB is also required when transferring BSC tokens – just like ETH is with ERC-20 projects. As such, some argue that BNB could be the next Ethereum. Being backed by the world's largest exchange is also set to work in BNB's favor.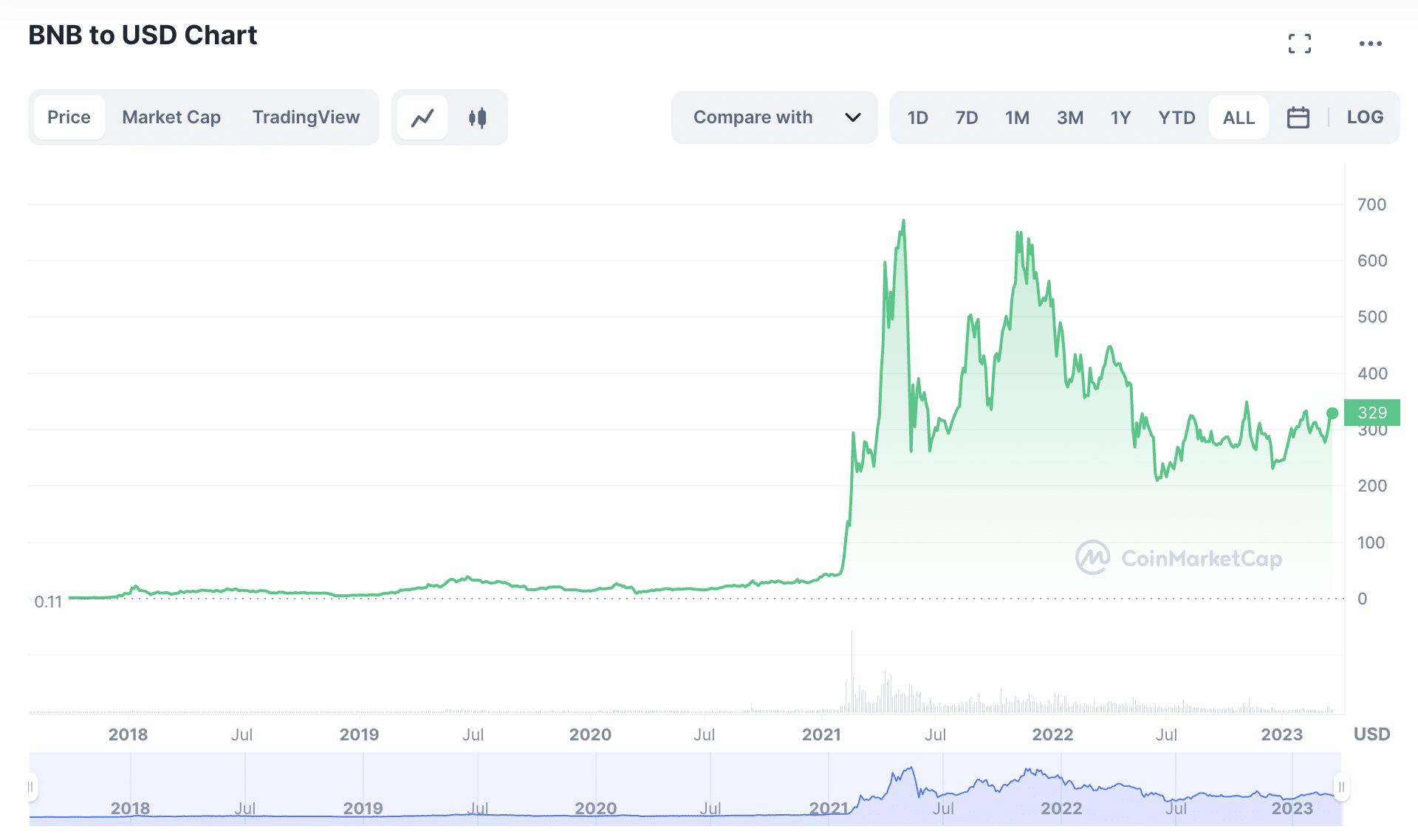 After all, Binance dominates the crypto trading industry in terms of volume. Additionally, BNB is trading at bear market levels right now, offering new investors an attractive entry price. For instance, while BNB is carrying a 52-week high of $459, it is currently trading at a 28% discount. Finally, the circulating supply of BNB is regularly reduced by Binance. This can be highly beneficial to the value of BNB, assuming that demand remains strong.
81% of retail investor accounts lose money when trading CFDs with this provider.
9. Chainlink – Bridging the Gap Between Smart Contracts and Real-World Data
One of the biggest challenges for smart contract networks like Ethereum is recognizing data that operates outside of the blockchain. This is where Chainlink comes in – an innovative project that bridges the gap between the blockchain and real-worlds. Put simply, Chainlink specializes in 'oracles'. This provides smart contracts with real-time data through a consensus model.
For example, let's say that a decentralized application on Ethereum offers sports betting. The application needs to verify the result of a soccer game. Via a Chainlink oracle, the protocol will extract data from millions of data sources to determine the winner of the match. This will then execute the smart contract, which can pay winning bettors accordingly.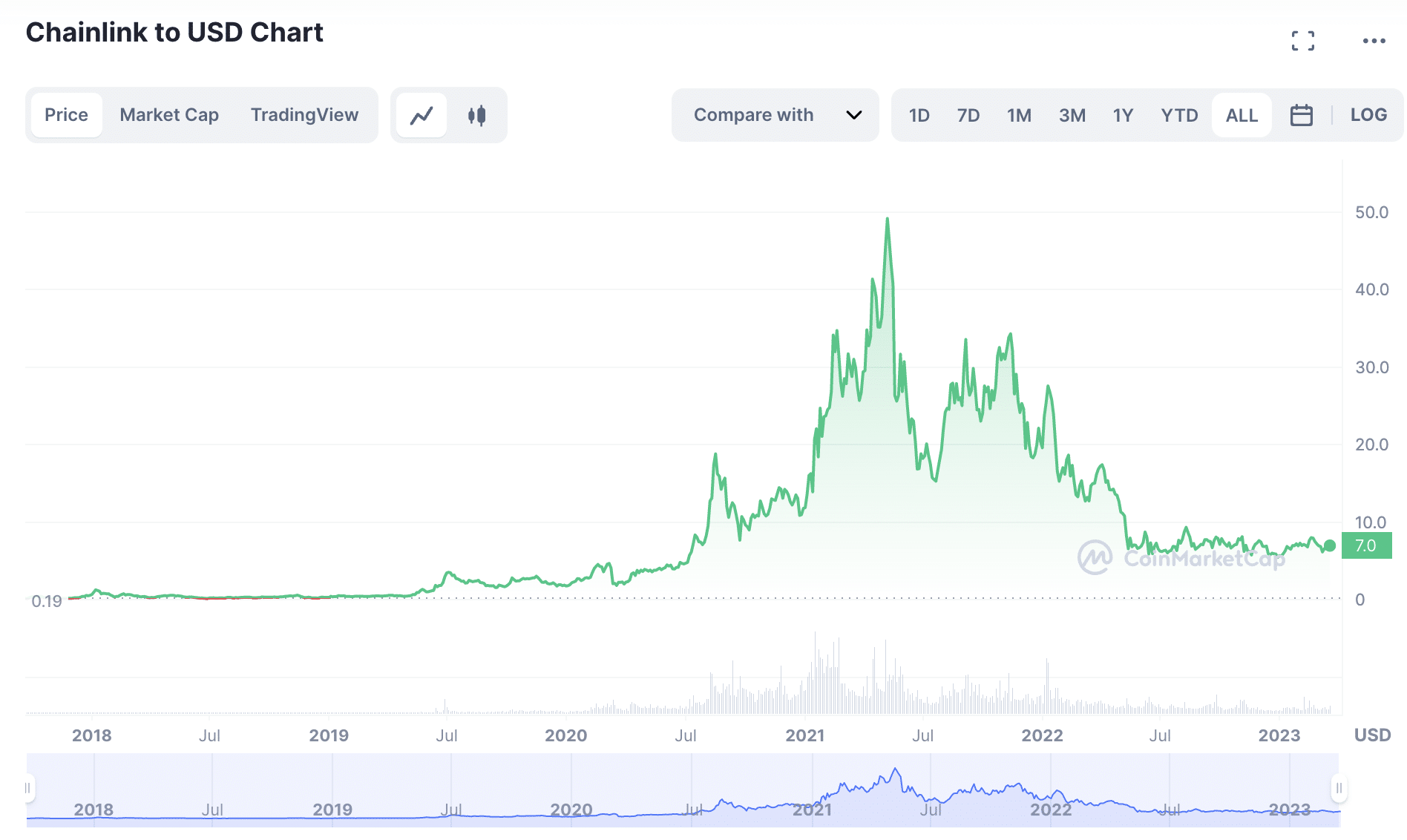 Some crypto analysts believe that Chainlink's native token, LINK, could witness huge returns in the next bull run. As of writing, LINK is trading below $7. This is 85% below LINK's all-time high of $49, which was achieved in 2021. If the next bull run enables LINK to get back to $49, this would amount to gains of 600%.
81% of retail investor accounts lose money when trading CFDs with this provider.
Why do People Look for the Next Ethereum?
Many crypto investors wonder what's next after Ethereum. After all, Ethereum is one of the best cryptocurrencies of all time.
Ethereum is about to undergo a major software upgrade that could make it even more attractive to investors and developers. This highly anticipated upgrade is set to take place on or around April 12
For example, when the Ethereum whitepaper was released to the public in 2014, its ICO offered ETH tokens at just $0.31 each.
This means that a $200 investment would have yielded approximately 645 ETH
Now let's fast forward to late 2021 – when ETH hit almost $5,000
At this time, the original $200 investment made in 2014 would have been worth more than $3 million
The above example highlights so many investors are looking for the next Ethereum. With so many cryptocurrencies in this market, however, knowing which projects to back can be challenging.
For instance, some investors will focus on Ethereum alternatives that offer smart contracts but in a more efficient way. Solana, Cardano, and Avalanche are great examples here, each of which offers faster, cheaper, and more scalable transactions.
However, the aforementioned projects already hold a market cap of several billion dollars.
This means in reality, the upside is somewhat limited.
Instead, to target similar returns to Ethereum, it makes sense to focus on newly launched cryptocurrencies.
New tokens are often accessed via a presale ICO. Just like Ethereum in 2014, presales offer the respective crypto token at the lowest price possible.
Once the presale sells out, the tokens are usually listed on exchanges. This drives up demand, as those that missed out on the presale enter a state of FOMO.
As we mentioned earlier, Wall Street Memes is currently offering its WSM token via a presale. And just like Ethereum's presale in 2014, Wall Street Memes is expected to sell out very quickly. In fact, more than $25 million has been raised in just a few months of its launch.
How to Find the Next Ethereum
Still wondering what will be the next Ethereum? If so, read on to discover how crypto analysts find 100x tokens.
Social media platforms are one of the most under-utilized sources for finding the next Ethereum. But they also offer real-time insight into trending tokens and thus – can suggest which projects are about to moon.
Low Token Price
Even though Ethereum is trading 65% below its all-time high, a single ETH token still costs more than $1,700.
On the one hand, it is true that investors can buy a small fraction of an ETH token. But fractional ownership isn't for everyone.
For example, investing $100 in Ethereum today would yield approximately 0.05 ETH.
High Potential Presales
The Ethereum presale in 2014 offered access to ETH tokens at just $0.31 each. Those investing in Ethereum during its presale have since witnessed returns of over 1.6 million percent.
Considering that Ethereum already has a market cap of over $200 billion, similar growth is near-impossible.
Utility and Use Cases
One of the key reasons why the Ethereum presale was so popular was because it introduced a new concept – smart contracts. As such, to find the next Ethereum, look for projects that are developing a unique product or service.
Tamadoge, for example, has created the best crypto gaming coin that offers play-to-earn rewards. Moreover, players own all of the in-game assets that they earn, including virtual pet NFTs. This is why TAMA tokens continue to trend in the crypto community.
Conclusion
Many investors continue searching for the next Ethereum in the hope to achieve life-changing gains. In reality, to achieve similar growth, investors need to focus on new crypto projects with a micro-market cap.
Presales are the best option here. Just like Ethereum's presale, this offers investors the chance to buy a newly launched token at a hugely discounted price.
We found that the best presale right now is Bitcoin Minetrix. It opens up the Bitcoin mining market in an inventive way, has high yields, and raised over $100k within hours of launching.
FAQs
Which is the next Ethereum?
What is the next Ethereum according to Reddit?