NiceHash is a cloud crypto mining platform and hashpower marketplace. Miners can easily buy time on CPU, GPU, and ASIC mining rigs to start earning crypto. Alternatively, they can sell their existing mining capacity to other miners to earn income.
It's a powerful platform for miners who want to get into Bitcoin mining without setting up their own data center. In our NiceHash review, we'll cover everything miners need to know about using NiceHash.
NiceHash Review: Pros & Cons
Pros
Start mining cryptocurrencies with as little as 0.001 BTC
Supports dozens of mining algorithms and pools
QuickMiner automated mining software is easy to use
Enables anyone to sell hashpower for mining
Offers short-term mining contracts (less than one day)
Cons
Only accepts payment in Bitcoin
Bid pricing can fluctuate widely
What is NiceHash?
NiceHash is a crypto mining hashpower marketplace founded in 2014. It's grown into the largest mining marketplace on the planet, supporting more than 250,000 daily active miners and more than 1 million total users across 190 countries.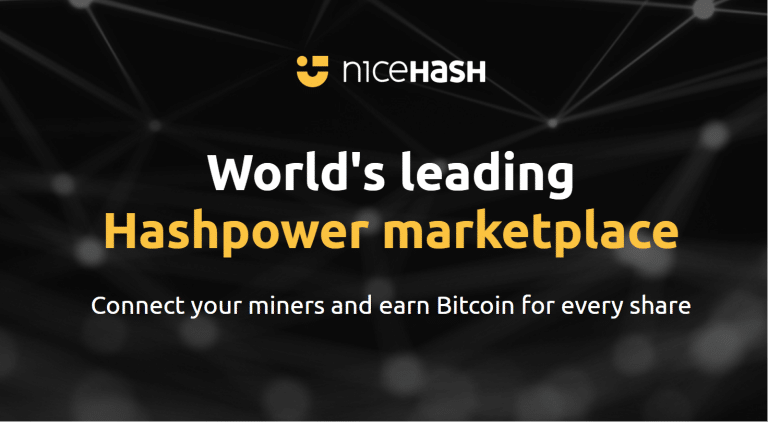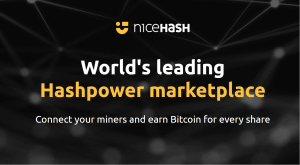 After nearly a decade in business, NiceHash has paid out more than 181,000 BTC to users. Our guide to Bitcoin mining statistics found that NiceHash is one of the largest crypto mining operations in the world.
NiceHash is a two-sided marketplace.
On one side of the marketplace are miners. Miners can purchase computing power, also known as hashpower, from other users on NiceHash. Contracts vary in duration, but they can be as short as a few hours.
On the other side of the marketplace are sellers who want to make their excess computing power available for mining. Sellers can list the hashpower they have available, which ranges from unused gaming consoles to ASIC mining rigs.
NiceHash coordinates between these two types of users, managing orders for hashpower and ensuring that sellers are paid. NiceHash also handles the process of running mining algorithms on purchased hashpower and sending mined cryptocurrencies to mining pools.
How Does NiceHash Work?
We'll break down how NiceHash works according to whether users are buying hashpower or selling it. Note that a single user can act as a miner sometimes and a hashpower seller at other times.
NiceHash for Miners
Miners must register for NiceHash in accordance with Know Your Customer requirements. This means that new users must provide ID in order to sign up for the platform.
After sign-up, miners can choose what coin they want to mine and what mining algorithm to use. NiceHash supports more than 34 mining algorithms, including popular algorithms like SHA-256, Equihash, X11, Scrypt, and X15.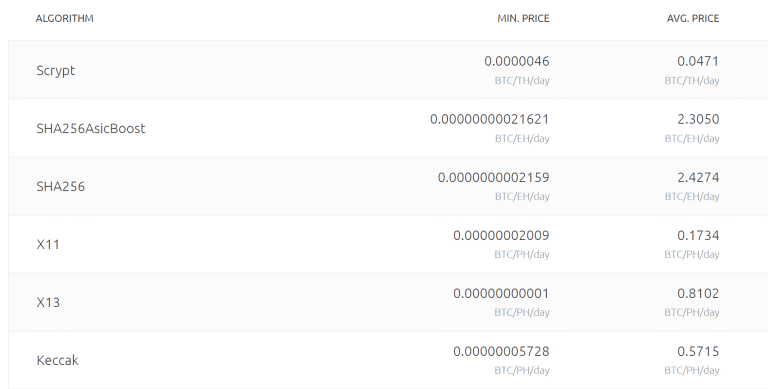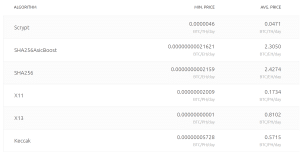 Each of these algorithms supports different tokens, meaning that miners can use hashpower to mine hundreds of unique cryptocurrencies with NiceHash.
Miners also get to choose what mining pool they want their mined tokens to be sent to. NiceHash currently works with 23 different mining pools.
One thing to note is that all payouts to miners are in Bitcoin. So, even if a miner uses their hashpower to mine Litecoin or another token, they'll receive payment in Bitcoin. This can be a slight drawback for miners who want to earn altcoins instead of Bitcoin.
Once a miner has chosen their mining algorithm and pool, they can purchase hashpower from the NiceHash marketplace. NiceHash offers bid-based or fixed pricing, which we'll cover in more detail below. All prices are quoted in Bitcoin/day, but miners can purchase mining power for as little as a few hours at a time.
NiceHash for Sellers
Sellers can make their excess hashpower available on NiceHash for miners to use. Sellers simply need to register for NiceHash and connect their available mining rigs. These can be CPUs, GPUs, or ASICs.
The NiceHash profitability calculator to help miners determine what algorithm to use for mining to maximize their return. Sellers are responsible for mining using NiceHash's software when fulfilling an order. NiceHash can be configured to only run when a computer is idle.
Sellers receive payout for their hashpower from NiceHash in Bitcoin.
NiceHash Features
NiceHash is loaded with features for miners and sellers. Our NiceHash review will take a closer look at some of the platform's highlights.
Hashpower Marketplace
The hashpower marketplace is at the heart of NiceHash mining. This is where miners and hashpower providers come together.
Prices in the marketplace are automatically updated every 10 seconds in response to changing crypto prices, varying hashpower availability, and changing demand from miners.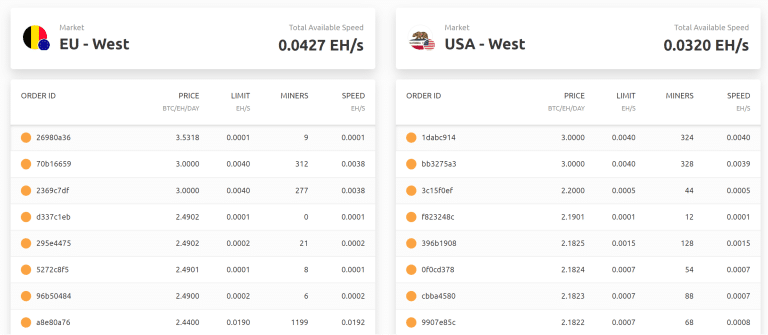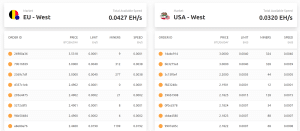 The marketplace is broken down according to mining algorithm. For each algorithm, there is one market for Europe and another for the US. Miners are able to make bids across both markets no matter where they're located.
Miners can see the current order book for hashpower, enabling them to determine what to bid for the hashpower they need.
CPU, GPU, and ASIC Mining
Notably, the hashpower marketplace supports CPU, GPU, and ASIC mining. Different Bitcoin mining rigs are suitable for mining different tokens, so this enables miners to focus on whatever mining algorithm and token combination is most profitable at any time.
NiceHash currently supports 34 different mining algorithms and dozens of cryptocurrencies.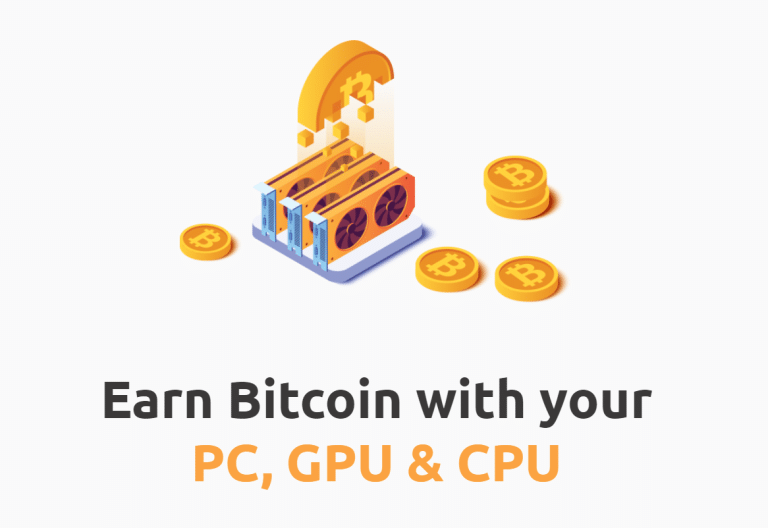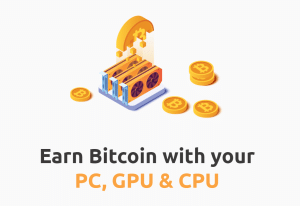 Profitability Calculator
The NiceHash profitability calculator is designed for hashpower sellers. It enables you to enter details about a mining rig and associated electricity costs, then determine potential daily profits from mining.
This is an easy way to find out if Bitcoin mining is profitable for a given mining rig. Not all mining rigs will be profitable on all algorithms—that depends on token prices and mining difficulty. However, mining equipment that isn't profitable today may be in the future if coin prices rise.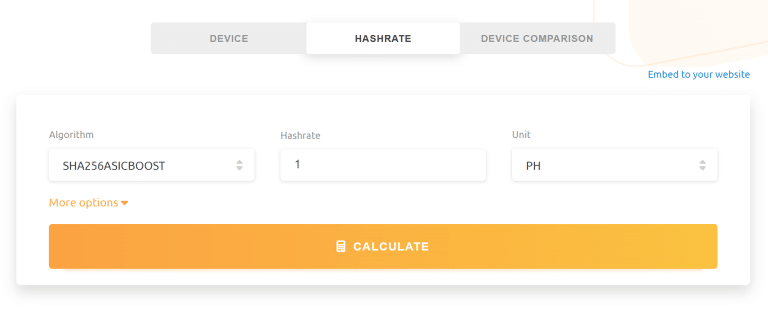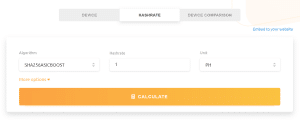 The NiceHash mining calculator works for CPU, GPU, and ASIC mining rigs.
QuickMiner
QuickMiner is an easy-to-use Bitcoin mining software developed by NiceHash specifically for NiceHash users. It's fully secure and enables miners to start mining on their own computer or on rented hashpower within seconds.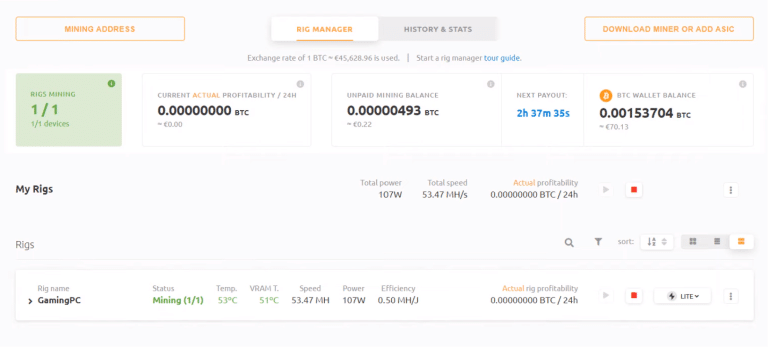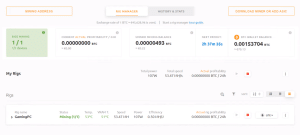 Almost everything about the software is automated. NiceHash QuickMiner can automatically reduce power consumption, optimize GPU mining, and manage overclocking. The software also has built-in recovery tools to ensure QuickMiner keeps working even after a system crash.
QuickMiner uses NiceHash's Excavator mining algorithm, which was developed in-house. The platform doesn't use any third-party mining software, which can expose miners to security risks.
Miner
NiceHash Miner is an alternative desktop mining software to the QuickMiner platform. It offers more customization options, including the ability to monitor and control multiple remote mining rigs. It also gives miners the option to use any supported mining algorithm.
The benefit of this is that miners can connect to more pools and mine more cryptocurrencies. However, since Miner depends on third-party code and mining algorithms, NiceHash warns that the platform is not liable for any security flaws in those algorithms.
NiceHash Miner also supports third-party plug-ins that can help with automation and mining efficiency for larger operations.
NiceHash OS
NiceHash OS is an enterprise-scale mining software built for data centers and professional mining operators. It enables miners to connect an unlimited number of mining rigs and manage them from a single dashboard.
With NiceHash OS, miners get remote monitoring and overclocking as well as automatic algorithm switching. It's a powerful, user-friendly, and free software for managing a mining farm.
Private Endpoint Solution
NiceHash's Private Endpoint Solution is a low-latency network interface for connecting to NiceHash's stratum mining servers. It's a powerful solution for improving mining performance for medium and large-scale mining enterprises.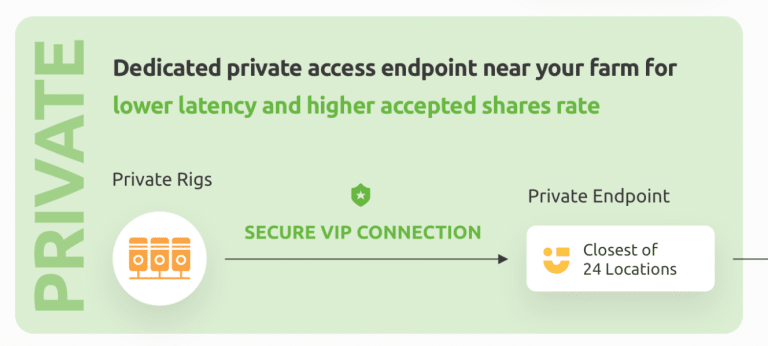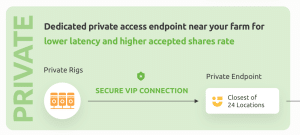 What makes the Private Endpoint Solution different from standard NiceHash connections is that it eliminates the need for a firewall and distributed denial-of-service (DDoS) attack protection. These security measures typically slow down connections and reduce mining efficiency.
With the Private Endpoint Solution, miners can connect directly to the nearest NiceHash server location using a private IP address. There are 24 global server locations.
NiceHash Fees
NiceHash offers very low fees compared to other cloud mining sites. However, there are some charges for using the marketplace that we'll explain.
Buying Mining Hashpower
There are two ways that miners can buy hashpower on NiceHash: bidding or paying a fixed price.
Bidding enables miners to bid on available hashpower in the NiceHash marketplace. The highest bid wins.
The advantage to bidding is that when there's excess hashpower available, miners can bid low and still win contracts. However, when hashpower is in high demand, miners could be outbid. In that case, they either need to raise their price or potentially miss out on mining.
Miners who want to ensure they get hashpower can pay a fixed price. This is typically higher than the current bid price for the same hashpower, but a miner's fixed price offer is instantly accepted.
Fixed price orders are limited to contracts for 24 hours or less. In addition, fixed price orders are limited to buying 50% of the available hashpower in the NiceHash marketplace. This ensures that there is always hashpower available for auction.
Service Fees
NiceHash charges a fee of 3% + 0.00001 BTC for every hashpower order by a miner. The minimum order size is 0.001 BTC.
NiceHash also charges a service fee of 2% to hashpower sellers.
Pool Fees
Different mining pools have different service fees. When using NiceHash QuickMiner, tokens are sent to a pool run by NiceHash that charges a 1% fee on payouts to miners. Other mining pools typically charge 2-3% on payouts.
Deposit and Withdrawal Fees
NiceHash doesn't charge deposit fees for Bitcoin deposits of 0.0005 BTC or greater. Deposits less than this amount incur a 0.00001 BTC fee.
Bitcoin withdrawals are subject to a fee of 0.00003 BTC (may increase during periods of blockchain congestion).
All Bitcoin deposits and withdrawals are free when using NiceHash's node on the Bitcoin Lightning Network.
The minimum payout for NiceHash miners and sellers is 0.00001 BTC.
User Experience
NiceHash does a good job of keeping the crypto mining experience as beginner-friendly as possible. The online platform and marketplace is straightforward to navigate, while NiceHash's desktop QuickMiner and Miner software programs offer intuitive graphical user interfaces (GUIs).
Getting started with QuickMiner is incredibly simple. Once the software is installed, users simply need to click to start mining on their device. A toggle lets them activate GPU mining if their device has a GPU installed.
NiceHash Miner is slightly more complex, but also more customizable. Users can monitor multiple mining devices and enable or disable them with a toggle. Miners can also set which algorithm to use for mining on each device.
Once miners configure NiceHash Miner, they can simply click a start button to begin mining. The Miner software will automatically benchmark devices to optimize their mining activity, saving users from managing complex overclocking settings.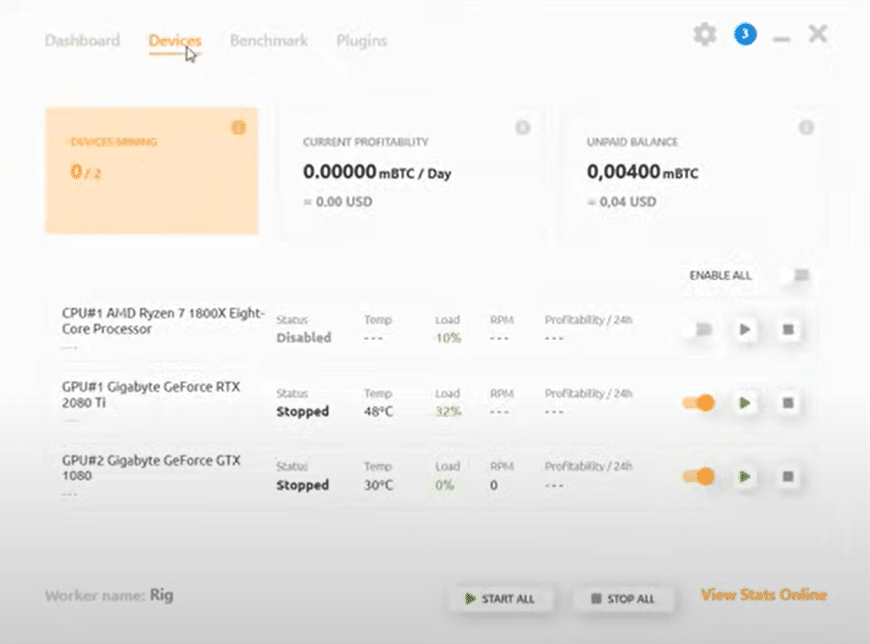 The hashpower marketplace offers a detailed list of mining contracts available and gives miners a simple order form to bid for hashpower. They simply need to submit the amount they're willing to pay for a given pool and NiceHash will display the approximate length of the resulting mining contract.
There is a small learning curve to using the NiceHash marketplace effectively, but NiceHash offers a detailed guide to help users get started. It's very easy to get used to after placing a few small hashpower orders.
NiceHash Mobile App
NiceHash offers a mobile app for iOS and Android devices that enables miners to manage their activities on the go.
The app offers a slimmed-down version of the NiceHash interface, giving users access to 3 key features: the NiceHash wallet, the NiceHash marketplace, and a rig manager.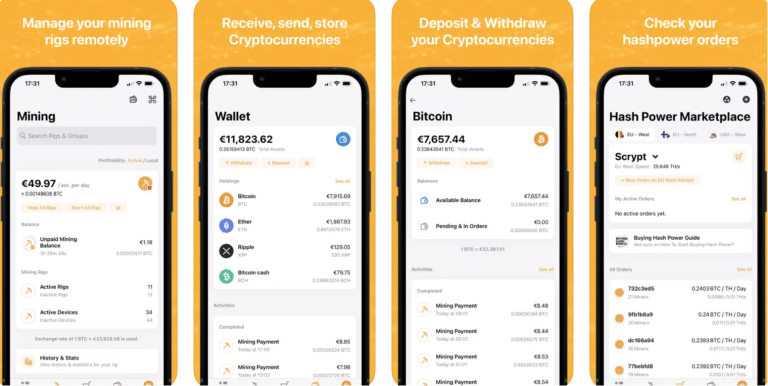 The wallet is NiceHash's custodial wallet, into which mining earnings are paid out. This is a custodial wallet from which NiceHash miners can withdraw their funds or pay for hashpower in the marketplace.
The marketplace view lets miners manage their current hashpower orders on the NiceHash marketplace and initiate new orders. Just like on NiceHash's online dashboard, miners can see all available hashpower contracts by region and algorithm.
The rig manager shows miners all of the machines that are currently connected to their NiceHash account. This includes any devices they own that run NiceHash QuickMiner as well as any leased hashpower in the cloud.
Importantly, the NiceHash app is not itself a mining app. That is, the app does not enable CPU mining on a user's smartphone.
Overall, the NiceHash app is easy to use and very beginner-friendly. It offers all the features that miners need to manage their mining activity from anywhere. However, it doesn't offer features for hashpower sellers.
Is NiceHash Safe?
NiceHash has been operating since 2014, making it one of the oldest platforms for cloud crypto mining in the world. It supports more than 1 million miners across 190 countries.
The platform has a number of safety measures in place to protect users' accounts and funds. These include SSL encryption, 2-factor authentication, and email alerts about all activity on a user's account.
NiceHash's QuickMiner algorithm was developed fully in-house and doesn't rely on any third-party software. This ensures that miners aren't susceptible to security failures due to buggy code or a bad update.
The team behind NiceHash also monitors all withdrawal activity on the platform and pauses suspicious transfers to protect users' funds. All of the platform's data is stored on secure servers and backed up on multiple continents.
Finally, NiceHash has real reserves for all of the customer deposits it holds. NiceHash doesn't lend or trade with users' funds.
NiceHash Customer Support
NiceHash offers 24/7 multilingual customer support over the phone.
The platform's website also has a very detailed help center that explains how to get started with NiceHash, how to manage hashpower, and how to withdraw funds or close an account. The help center is fully searchable, making it easy to find answers to questions.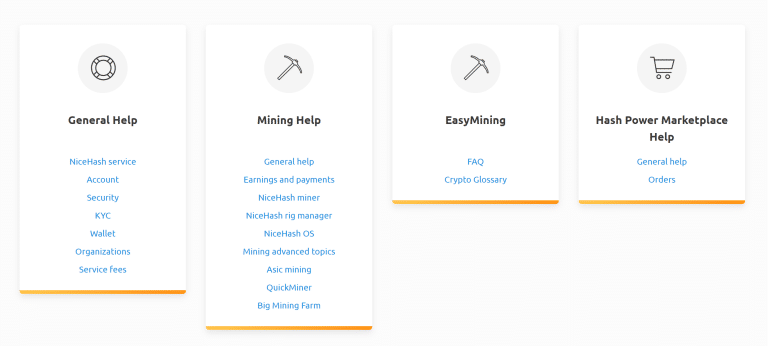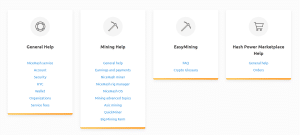 The platform has a 3.3-star rating on Trustpilot after more than 400 NiceHash reviews. While this might seem low, many of the negative reviews come from users who didn't understand how NiceHash's service works. Positive reviews highlight NiceHash's customer service, ease of withdrawals, and overall usability.
One thing that most reviewers agree on is that NiceHash is a legit mining platform. That puts the marketplace in a league of its own, since many competing mining platforms operate outside regulations and have failed to return users' funds when requested.
NiceHash vs Bitcoin Minetrix
Miners considering buying hashpower through NiceHash should also check out Bitcoin Minetrix, a new crypto project that plans to transform how cloud mining works.
With Bitcoin Minetrix, miners can stake the project's $BTCMTX token and earn mining credits. These are non-transferable credits that can be redeemed for hashpower.


When Bitcoin Minetrix miners burn their mining credits, they receive hashpower from the project's central hashpower pool. As Bitcoin is mined, the miner receives their portion of the Bitcoin sent to the Bitcoin Minetrix pool.
The result is a stake-to-mine ecosystem where miners can stake $BTCMTX and earn Bitcoin. Importantly, miners never have to send crypto somewhere in order to buy hashpower. They simply need to stake $BTCMTX, so they never give up control over their funds or get locked into a long-term contract.
This is an advantage over NiceHash. Even though NiceHash has a strong safety record, there's always a chance that funds could be intercepted in the marketplace. With Bitcoin Minetrix, this possibility is eliminated entirely.
Bitcoin Minetrix plans to launch its own desktop and mobile apps to make mining as simple as possible. That's a plus for miners who are overwhelmed by NiceHash's marketplace or find themselves repeatedly outbid for hashpower.
Bitcoin Minetrix plans to use funds from the presale to build its own mining farm as well as rent hashpower from major datacenters. In other words, miners don't need to compete for hashpower or build their own mining rigs.
Right now, miners have a chance to buy $BTCMTX at a discounted price during the Bitcoin Minetrix presale. During the first stage of the presale, $BTCMTX is available to purchase at a price of only $0.0110.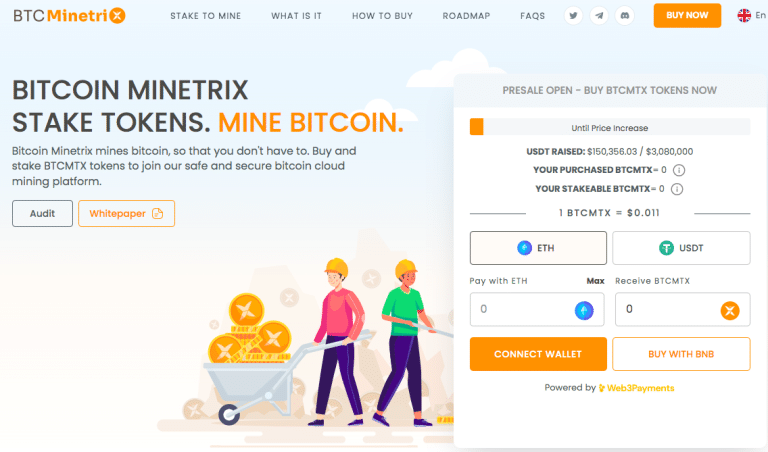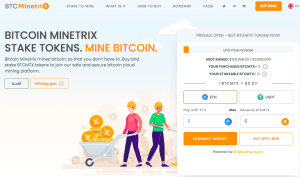 That's 8% below the planned launch price for $BTCMTX, meaning that early investors stand to earn unrealized gains even before mining begins. In addition, Bitcoin Minetrix is offering staking rewards in $BTCMTX during the presale while it brings mining rigs online.
Follow Bitcoin Minetrix on Twitter and Telegram and read the whitepaper to get all the latest updates on this revolutionary cloud mining project.
| | |
| --- | --- |
| Total Supply | 4 billion tokens |
| Presale Supply | 70% |
| Presale Start Date | 26/09/2023 |
| Network | Ethereum |
| Token Type | ERC-20 |
| Token Ticker | $BTCMTX |
| Minimum Purchase | $10 |
Conclusion
Our NiceHash review found this platform is an established cloud mining marketplace where users can buy and sell hashpower. It offers a reliable solution for miners who want to increase their hashpower and get access to advanced ASIC miners in the cloud. However, NiceHash isn't straightforward to use and the marketplace requires miners to send crypto upfront to purchase mining power.
In contrast, Bitcoin Minetrix offers a streamlined solution for cloud Bitcoin mining that enables users to stake $BTCMTX tokens and earn mining hashpower credits. This stake-to-mine ecosystem promises to revolutionize cloud mining while making it easier for new miners to get into mining Bitcoin.
Check out the Bitcoin Minetrix presale today to buy $BTCMTX at the lowest possible price.
References
FAQs
Can you actually make money with NiceHash?
Is NiceHash legit and safe?
How much can I mine with NiceHash?
Is NiceHash more profitable than Pool?
Why does NiceHash pay so low?