In early November 2023, ORDI, the first BRC-20 token to ever be created on the Bitcoin blockchain, gained 93% in a day as its trading volume jumped 2,450%. This was a result of Binance listing the coin on their marketplace. This not only brought the coin to lots of new traders but also brought the concept of tokens on the Bitcoin network to them too.
In this ORDI price prediction, we discuss what affects the price of ORDI, now and in the future, and use this information to forecast the ORDI price for 2023 and beyond to 2030.
ORDI Coin Price Prediction 2023-2030
ORDI was the first BRC20 token deployed to the Bitcoin network on March 8th, 2023.
ORDI's all-time high (ATH) is $29.16, achieved on May 8th, 2023.
ORDI has spent much of 2023 trading between $3 and $8, but on November 7th, on the back of listing on the Binance exchange, ORDI gained 93% to hit a daily high of $14.06. On the same day, ORDI trading volume increased by 2,450%.
Our ORDI price prediction forecasts that ORDI will reach a new ATH of $55 in 2025, as the bull run resulting from the Bitcoin Halving in 2024 peaks.
Our price prediction for 2030, when we'll be coming down off the highs from the 2029 bull run from the 2028 Halving, is more moderate and has the coin stabilizing around $25 for the year.
| | | | |
| --- | --- | --- | --- |
| Year | Low Price | Average Price | High Price |
| 2023 | $3.21 | $10.63 | $15.52 |
| 2024 | $5 | $12 | $20 |
| 2025 | $8 | $30 | $55 |
| 2030 | $15 | $25 | $36 |
ORDI Price History
ORDI was deployed to the Bitcoin network on March 8th, 2023, and within 18 hours, all the ORDI tokens had been minted. While they could be tracked using explorers, they were yet to be on a recognized market, centralized or decentralized.
According to the ORDI token page on CoinMarketCap, ORDI started trading on May 8th, 2023, with an opening price of $25.54. It hit its ATH of $29.16 on this day. From there, the price of ORDI rapidly declined to $7.683 on May 12th, before bouncing to $16.54 on May 15th. It then declined steadily to settle under the $8 mark in mid-June.
Since mid-June, ORDI has traded between $8 and $3, hitting its all-time low of $2.86 on September 11th, an 89% decline from its opening price. Since this September low, ORDI chugged along between $3–4, until mid-October when it started climbing the chart. On November 7th ORDI's price increased from $7.2667 to $14.06, a 93% gain! These gains came off the back of Binance's announcement and subsequent listing of ORDI on November 7th. On this day, the trading volume of ORDI increased by 2,450%.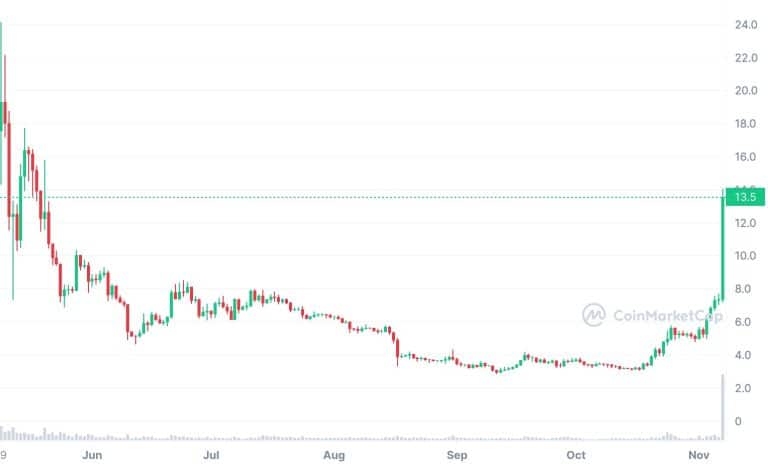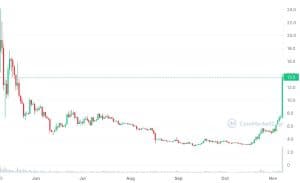 Key Points in ORDI Price History
ORDI's ATH of $29.16 came on its first day of market trading, May 8th, 2023.
ORDI's all-time low of $2.86 came on September 11th, 2023.
The ORDI token has spent most of its time trading between $8 and $3.
ORDI broke out of this range on October 21st and has been climbing since.
On November 7th, on the back of Binance announcing the listing of ORDI, ORDI's price increased by 93%, and trading volume grew by 2,450%.
ORDI Price Prediction 2023
The biggest driver of ORDI's price to date has been its listing on Binance, the biggest exchange, when measured by 24hr trading volume. Because the ORDI token has no utility yet, these events are what will drive speculation of the ORDI price. Coinbase is the only one of the most popular exchanges that is yet to list ORDI; if it does, we can expect another boost in the price of the token.
As you can see from the chart below, the price of ORDI does not correlate with the price of Bitcoin, meaning that any future rises in the Bitcoin price this year are unlikely to affect the price of ORDI.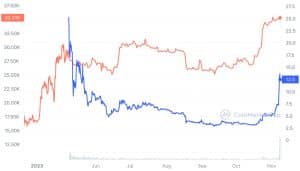 With speculation and hype being the main drivers of the ORDI token price, along with the fact that it is not a very well-known token, our ORDI price prediction for 2023 is a low of $3.21, a high of $15.52, and a median price of $10.63.
| | |
| --- | --- |
| 2023 | Price Prediction |
| Low | $3.21 |
| Average | $10.63 |
| High | $15.52 |
ORDI Price Prediction 2024
Looking forward to 2024 brings the exciting prospect of the Bitcoin Halving event, although the price impact of this is not usually felt until 12–18 months after the Halving occurs. Despite this, there is a chance that ORDI could see its price impacted by this event because of its close association with Bitcoin.
Ordinals and BRC-20 tokens are new this year and have not existed during a Bitcoin Halving, so it's hard to say what, or if anything at all, will happen. On the topic of ORDI's loose association with Bitcoin, we could also see ORDI pump if a Bitcoin ETF is approved, which many believe is highly likely after the SEC's rejection of Greyscale's proposed Bitcoin ETF was overturned by a federal appeals court.
As said, BRC-20 tokens and ORDI, which was the first BRC-20 token, are new this year. This means they have a lot of room for growth and recognition in all corners of the crypto-verse. There is no doubt that many have heard of ORDI, especially since Binance's impactful listing of the token in November 2023, but there are still many more people who have yet to hear of it.
Coinbase is the only large exchange that has not yet listed ORDI. If it were to list it, we could see a large spike in both token price and trading volume, again.
Finally, because ORDI has no utility, there is little solid ground on which to speculate on its price. Because it was the first BRC-20, it will derive some value from being the first one. However, if the BRC-20 concept flops, the ORDI price will flop with it. Conversely, if the BRC-20 concept takes off, ORDI is almost sure to gain or retain value for being the first.
As a result, our ORDI coin forecast for 2024 is neutral, with a high of $20, a low of $5, and a median price of $12.
ORDI Price Forecast Long Term Outlook – 2025-2030 Predictions
Making an ORDI price forecast more than a year in advance—a year is a long time in the world of crypto— increases the unpredictability factor in that prediction. But there are some factors we can look at that can help us to make a more accurate ORDI price prediction.
Looking toward 2025, the biggest price impactor for all altcoins is the expected bull run induced by the Bitcoin Halving event in 2024. If this follows historical trends, we can expect most coins, including new ones like ORDI, to hit new ATHs. Will ORDI fare better because it is on the Bitcoin network, or will this not impact its price? Only time will tell.
The second biggest factors in our ORDI price prediction for 2025 are adoption and utility. Hype can only drive a coin so far, and by 2025, ORDI and the idea of BRC-20 tokens will likely have reached the large majority of those who would be interested in them. Additionally, utility drives adoption, and if ORDI has a use case, fewer people are likely to want to hold it.
Our ORDI price prediction for 2025 is a high of $36, a low of $8, and a Median price of $30.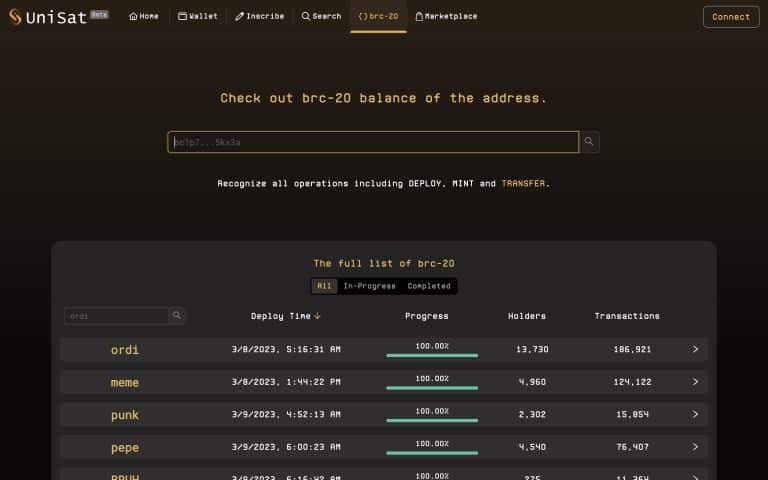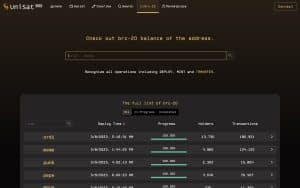 Looking further out to 2030, there are two directions ORDI can go in. If BRC-20 tokens have not been widely adopted, and ORDI has still not gained any utility, we can expect its price to have sunk to near zero.
However, if the BRC-20 ecosystem and ORDI and other BRC-20 tokens have found utility, we can expect ORDI to potentially have some value, if not just because it was the first BRC-20 token.
Finally, when making a price prediction for 2030, we must remember that we'll likely be coming down off the highs of 2029's bull run resulting from the Bitcoin Halving Event in 2028. So, our ORDI price prediction for 2030 is a low of $15, a high of $54, and an average price of $25.
Potential Highs & Lows of ORDI Coin Price
As with all tokens, the ORDI token price will ebb and flow throughout each year, and it is possible for us to predict a part of these ebbs and flows based on past market data and upcoming events. Here is a summary of our maximum, minimum, and average ORDI price predictions for the coming years.
| | | | |
| --- | --- | --- | --- |
| Year | Low Price | Average Price | High Price |
| 2023 | $3.21 | $10.63 | $15.52 |
| 2024 | $5 | $12 | $20 |
| 2025 | $8 | $30 | $55 |
| 2030 | $15 | $25 | $36 |
What do Other Analysts Predict for ORDI Coin?
The ORDI token might be based on a novel concept and relatively new to the market, but that doesn't stop people's desire to speculate on it and its price. Here are some predictions for the ORDI token.
The CoinCodex website offers up long term price predictions for ORDI, predicting a high of $47.24 for 2030, with a low of $37.32.
CoinCodex
On CoinDataFlow, as a result of the Bitcoin halving in 2024, a high of $94.22 is predicted for the ORDI price in 2025, with a low of $22.23 in the same year.
CoinDataFlow
The Crowd Wisdom platform aggregated data from numerous price predictions found on the web and has a 2025 ORDI price prediction of $32.40 and a 2030 price prediction of $121.
Crowd Wisdom
Through a post on CoinMarketCap, the OvenAdd website predicts that ORDI will hit a high of $105.99 by 2025.
OvenAdd
PricePrediction.Net predicts that ORDI will hit a high of $16.74 in 2025, with a tremendous growth rate to hit $215.49 in 2032.
PricePrediction.Net
What is ORDI Coin and What is it Used For?
ORDI is a BRC-20 token standard built on top of the Bitcoin network by taking advantage of inscriptions through the Ordinals protocol. To understand this, we must first look at Bitcoin, then Ordinals and inscriptions, followed by the BRC-20 Standard.
Bitcoin: A First Generation Blockchain
Bitcoin, the Grandfather of the cryptocurrency movement and the most popular cryptocurrency, is typically referred to as a first generation blockchain. This is not just because it was the first but also because of its computational simplicity.
Bitcoin is a peer-to-peer network made up of users who have balances and send transactions to each other, transferring and adjusting these balances. These transactions and balance adjustments are recorded in blocks created by miners. The Bitcoin network is simply a decentralized method of sending and recording the transfer of Bitcoins, the network's currency that holds the same name as the network.
Ethereum, for example, is a second generation blockchain that, in addition to the functionalities of first generation blockchains, supports an execution environment, the Ethereum Virtual Machine (EVM). This allows for the creation and execution of smart contracts on the blockchain. These smart contracts open up the blockchain for much more complex uses than a simple system for recording transactions and balances. These smart contracts can be, and have been, used to build whole ecosystems, including creating tokens on these blockchains.
What are Ordinals and the Ordinal Protocol?
Ordinals were developed by Casey Rodarmor and introduced with the Ordinal Theory blog post. Ordinals work by using the existing infrastructure of the Bitcoin network, and to use Ordinals, a user needs only a wallet for making Ordinal-aware transactions (and a block explorer designed for Ordinals). Ordinals can be described as so:
There are 21 million Bitcoin.
Each Bitcoin has eight decimal places and can be divided into 100 million Satoshis (the cent to the Bitcoin dollar).
There are a total of 2.1 quadrillion (2,100,000,000,000,000) Satoshis.
The Ordinals Theory Protocol (an open source project) assigns each Satoshi a number in the order that it was created.
The number given to each Satoshi can then be used to track that Satoshi as it is transferred through the blockchain.
Once given a unique identifying number, a Satoshi can be assigned or inscribed with information using an existing function of the Bitcoin protocol.
This inscription is permanent and unchangeable (even by the creator) once made, and the Satoshi it was inscribed to can be tracked through the network using the unique numbering system of the Ordinal Theory Protocol.
An Ordinal's inscription is stored in the witness element of a Bitcoin transaction and turns previously nondescript and fungible Satoshis into uniquely identifiable assets, referred to as digital artifacts by their creator. Unlike when tokens are created on other blockchains, Ordinals are not new tokens; they're just a way of assigning a specific meaning to an already existing token.
Ordinals were initially used to create NFTs, but people are now using them to create fungible tokens.
What is The BRC-20 Standard?
The BRC-20 token standard is an experimental token standard for building simple token contracts on Bitcoin that allow you to create off-chain fungible tokens with Ordinal inscriptions and then hold balances of those tokens in your Bitcoin wallet. The word off-chain is important here, as the token balance doesn't actually exist on Bitcoin as it would other on chains.
BRC-20 takes its name from the ERC-20 token standard that is used to create fungible tokens on the Ethereum blockchain—however, BRC-20 is just a play on the term ERC-20, it does not create similar contracts as its scope is limited by the functionality of the Bitcoin blockchain. It was first created by @domodata, and involves writing JSON data to a Satoshi in an inscription. This JSON data describes the attributes of the token, i.e., its ticker, maximum supply, and maximum minting capacity. @Domodata deployed ORDI as the first BRC-20 token.
What Are ORDI Tokens Used For?
ORDI was the first BRC-20 token to be deployed to the Bitcoin network and was deployed by the creator of the BRC-20 token standard. The ORDI token and BRC-20 standard are not associated with the ordinals project or its creator, Casey Rodarmor.
The ORDI token and BRC-20 standard were created as a "fun experimental standard demonstrating that you can create off-chain balance states with inscriptions." It is yet to find or to be assigned any utility. Many BRC-20 tokens have been inscribed on Bitcoin since ORDI's creation, and these tokens are viewable on the UniSat BRC-20 explorer.
Being the first BRC-20 token, much like Bitcoin was the first cryptocurrency, means that those buying ORDI are speculating on ORDI's future value or utility should the concept of BRC-20 tokens take hold.
ORDI Coin Overview
| | |
| --- | --- |
| Cryptocurrency | ORDI |
| Ticker Symbol | ORDI |
| Rank | #131 |
| Price | $12.39 |
| Price Change 24H | 12.91% |
| Market Cap | $260,094,777 |
| Circulating Supply | 21,000,000 ORDI |
| Trading Volume 24H | $558,937,536 |
| All Time High | $29.16 |
| All Time Low | $2.86 |
What Influences the Price of ORDI?
The ORDI crypto price is, at the time of writing, mainly based on speculation, as the token has no utility. In 2023, the only price catalyst for ORDI was the token's listing on the Binance exchange. The only large exchange that hasn't listed ORDI is Coinbase, and the announcement of a listing there will have the same positive price effect as the Binance listing.
Speculation might be the current ORDI price driver, but if someone finds a use case for ORDI and it gains a valuation related to that utility, we could see ORDI's price rise or fall, depending on the utility assigned to it.
On the back of this, ORDI is a BRC-20 token, and the existence of Ordinals and BRC-20 tokens is not something many prominent members of the Bitcoin community are passionate about. Some of these individuals have considerable sway in the crypto community, and others are involved in the development of Bitcoin; the influence of both could weigh heavily on the popularity and price of ORDI in the future.
Is ORDI a Buy?
Speculation is the main driver of ORDI's price at the moment, and to buy it would be to speculate on it. ORDI is built on the relatively new, but not complex, technology that is Bitcoin Ordinals. If these and the BRC-20 tokens associated with them garner widespread adoption and attention, ORDI could be an in-demand coin, especially as it was the first BRC-20 token.
There is also the case that, as with the Binance listing, when or if Coinbase decides to list ORDI, a similar price pump can be expected to happen. Outside of these two reasons for buying ORDI, the only other reason is future utility, which, as of yet, it doesn't seem like anyone is working on.
Best Place to Buy ORDI
ORDI is listed on Binance, which is the largest crypto exchange with over 160 million users and with the highest spot and derivatives trading volume compared to all other exchanges.
Buy ORDI on Binance's spot market with fees of 0.1% or lower, or buy it with a card. The latter is a faster way to get your ORDI tokens, but it comes with higher fees of around 4%.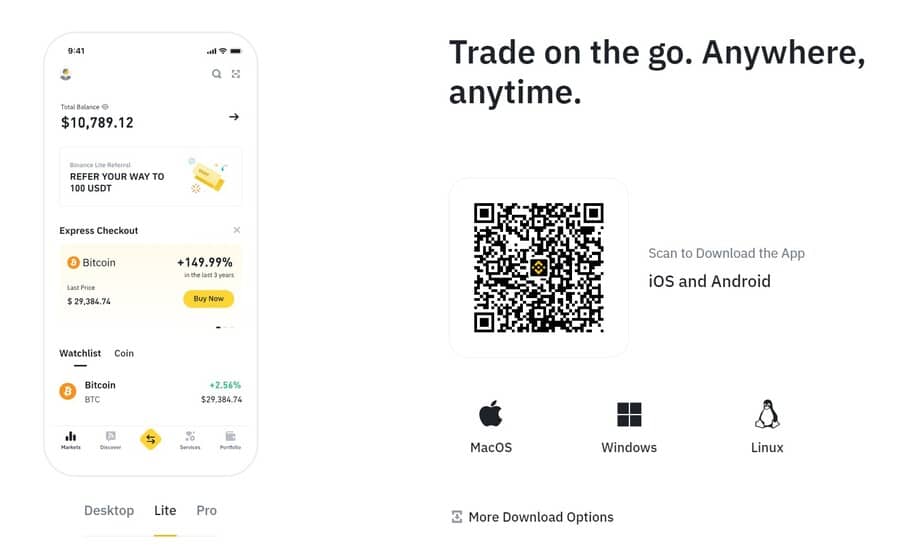 With Binance auto-invest, you can dollar-cost average your ORDI position. This means you can set up your investment amount and time frame, say each Monday at 11:00, and Binance will buy ORDI tokens on your behalf.
You can also lock your ORDI tokens with Binance earn and get an annual percentage return on your position. Alternatively, use your ORDI tokens as a collateral to borrow funds against it.
Enjoy these features and many more with Binance.
Don't invest unless you're prepared to lose all the money you invest. This is a high-risk investment and you should not expect to be protected if something goes wrong.
Conclusion
ORDI was the token that brought tokens to the Bitcoin network, and there are now thousands of BRC-20 tokens built on Bitcoin, all trading with speculation based on their future price. With ORDI being the first and one of the most popular when ranked by holders, it could, like Bitcoin, have a bright future.
However, it remains to be seen whether ORDI will get hot enough to make our list of top cryptos to buy.
References
FAQS
How much will ORDI be in 2024?
What will ORDI be worth in 2025?
How much will the ORDI price be in 2030?