Live since 2016, Paybis is a multi-crypto exchange and wallet. On this platform, users can buy and sell more than 89 cryptocurrencies by accessing multiple fiat payment options. A very popular global platform, Paybis is available in over 180 countries and has made a name for itself by offering low commissions and a transparent fee structure.
Paybis also provides quick KYC verification processes, instant payouts, and an intuitive mobile application. This review will thoroughly discuss the available payment options on Paybis, along with the customer service options, affiliate programs, and the licensing and registration of the platform.
What is Paybis?
In simple terms, Paybis is a cryptocurrency exchange that facilitates the buying and selling of various digital currencies. Launched in 2014, Paybis is accessible in more than 180 countries. This includes 48 states in the United States of America. Thus, this is a global multi-cryptocurrency exchange platform.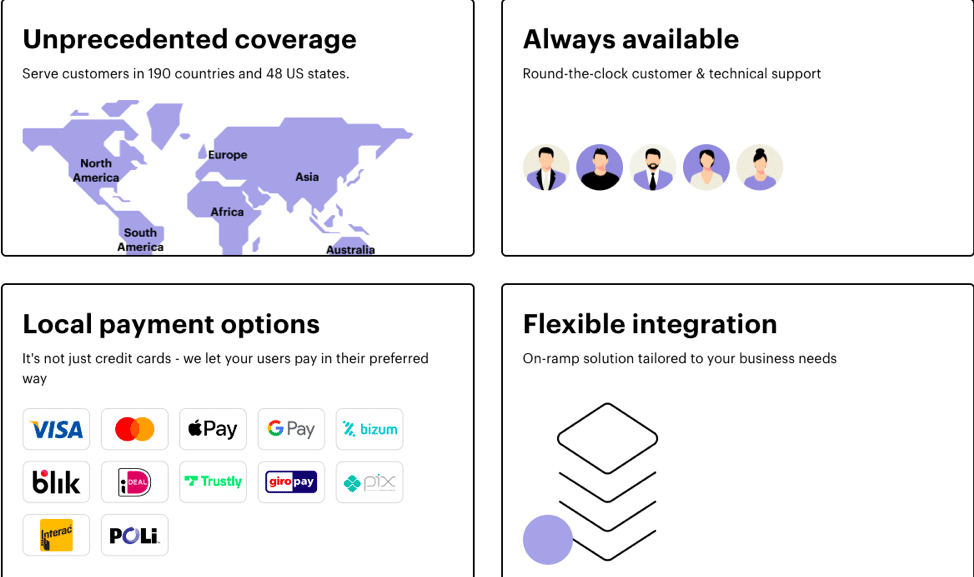 The main job is to ensure that the financial markets are fraud-free and promote honest and fair competition. Paybis is licensed by the FinCEN (Financial Crimes Enforcement Network) Department of the Treasury in the USA and FinTRAC (Canada). Thus, this platform is safe to use across the world.
Paybis has among the highest permitted limits for purchasing cryptos, which can be processed in just a few minutes. These transactions attract very low commissions, which is attractive from a customer's standpoint. No Paybis fees are charged on your first transaction with the online platform. As a transparent exchange, Paybis clearly lists down the fees before you can process the transaction.
Payments can be made in USD, GBP, or EUR, along with multiple local currencies. The platform supports fiat payment options such as Credit, Debit cards, AstroPay, Instant Bank transfers (Available for U.S. clients), Apple Pay, Google Pay and e-wallet options such as Neteller and Skrill. Over 80 crypto payment methods, including some of the best cryptocurrency assets such as Bitcoin, Ethereum, and Tether.
Unlike other crypto exchanges, Paybis offers a straightforward account opening process, which can be completed within 5 minutes. The KYC (Know Your Customer) form is also processed in just a few minutes. However, depending on the customer's location and payment method, they will be able to purchase crypto instantly without going through the KYC process.
Paybis offers high customer satisfaction levels, as the support team is available 24/7 via live chat. Users can also earn passive income by joining the affiliate program and accessing designated account managers.
More than $2 billion worth of processing volume has been processed on Paybis. In the last 24 hours (As of August 22nd, 2023), more than 1.16 million transactions have been processed.
What Cryptocurrencies can you Buy on Paybis?
Paybis offers one of the most extensive selections for digital assets. Account holders can buy and sell over 89 cryptocurrency tokens on the Paybis exchange.
With Paybis, you can access some of the best long term crypto tokens, such as –
Bitcoin (BTC)

Ethereum (ETH)

Tether (USDT)

Binance Coin (BNB)

Ripple (XRP)

Cardano (XRP)

Polygon (MATIC)

Solana (SOL)

Polkadot (DOT)
Apart from these high market cap tokens, Paybis offers some of the best meme coins and new cryptocurrency assets one can trade. Some of these include:
Dogecoin (DOGE)

Tron (TRX)

Shiba Inu (SHIB)

Ocean Protocol (OCEAN)

ApeCoin (APE)
To learn more about the other cryptocurrency tokens, visit the Paybis website and browse the supported cryptos list.
Paybis Fees Structure
Our Paybis review has discovered that this platform claims to charge some of the lowest commissions in the market. During your first transaction (Credit Card only), users are not required to pay the Paybis fee, while other charges will still be applied.
Let's learn a little more about the other applicable fees in the sections below.
Standard Fee
After making your second payment with a credit/debit card, Paybis takes a 2.49% fee on all transactions. This is the standard fee that the platform charges. This is a low fee compared to several other exchange platforms.
Processing Fee
The processing fee differs on Paybis, depending on the payment method. For example, as you can see in the screenshot below, Paybis is charging a 4.5% processing fee on purchasing 100 EUR worth of Bitcoin. The total processing fee is coming to €4.5.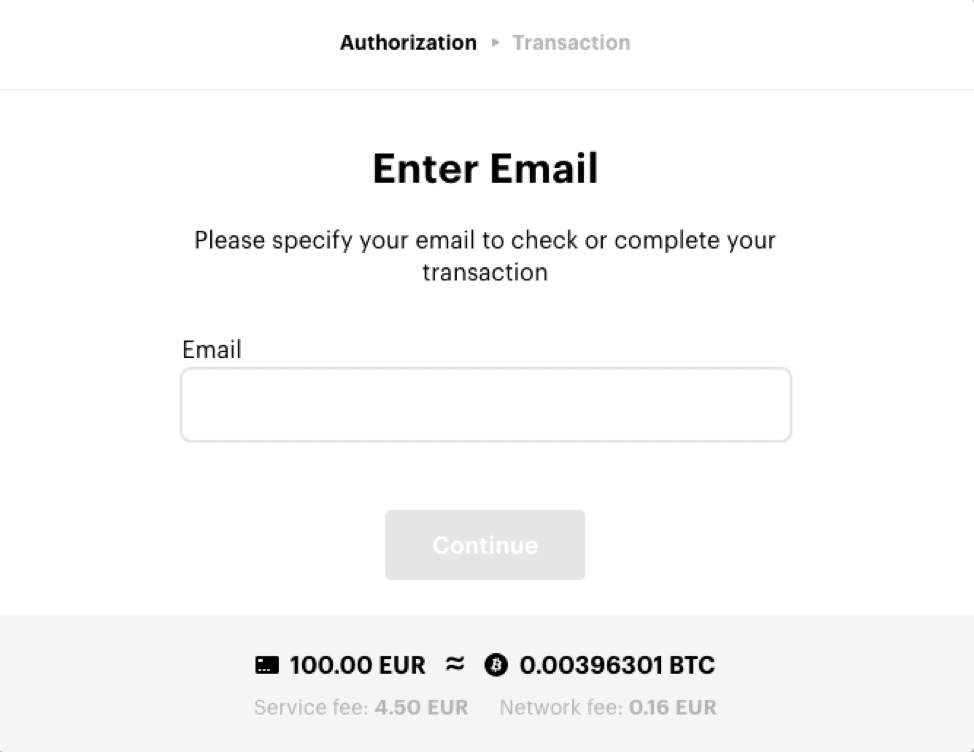 The platform charges a lower processing fee on credit/debit card transactions and bank transfers. However, the fee may increase for e-wallet options such as Skril and AstroPay.
For the same transaction of 100 EUR with Skrill, Paybis is taking a €7.28 (7.28%) processing fee. Since Paybis offers transparent pricing, users can see the exact processing fee before going through with the transaction.
While this is the standard rate when making transactions using EUR, USD, or GBP, the rate can go as high as 8.99% when using local currencies.
Network Fee
All trading platforms take network fees, as miners charge these for confirming the transactions on the blockchain. There is no standard network fee since these can change depending on the demand for certain digital currencies. Importantly, the network fee charged per transaction is not dependent on your trade amount.
Currently, Paybis is charging a low network fee of just 0.14 EUR per BTC transaction.
Cash Advance Fee
Certain payment carriers such as VISA and Mastercard deem cryptocurrency transactions as cash advance transactions.
The particular bank may add a certain fee to the transaction. Paybis has no control over these fees when the transaction is being processed.
Paybis Features & Tools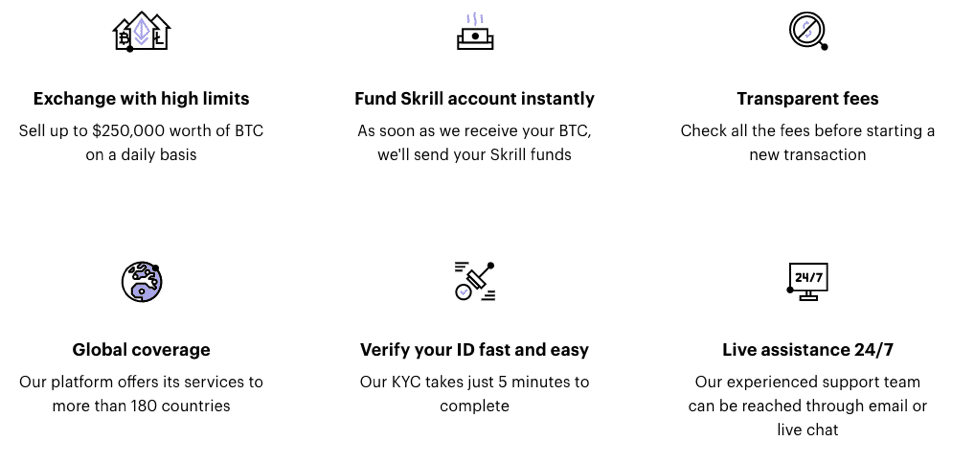 Before buying and selling some of the top crypto with Paybis, it is important to review the available tools and features the platform offers. Here are some of the main attributes of this online cryptocurrency exchange:
Exchange Offering High Limits
One of the main reasons to use Paybis is for the high limits it offers customers on a daily basis. When using Paybis, users can sell up to $100K worth of BTC. Thus, this cryptocurrency exchange may be suitable for investors with a huge portfolio.
Transparent Fee & Pricing
As covered above, Paybis offers a very transparent fee structure. Once you visit the website, you can simply select the fiat payment option, the crypto you wish to receive/sell and see the fees below.
The platform does not take any hidden fees and charges some of the lowest commissions compared to other crypto exchanges.
Cryptocurrency Prices
One of the accessible tools on Paybis is the crypto price chart. With the click of a button, users can take a look at the live prices of the top cryptocurrencies in the space.
The price chart offers information about the token's price change in the last 24 hours and the live market capitalization.

Users can also see the trading volume and the 1-week trend of the crypto tokens through the price chart.
Affiliate Program
Looking to earn passive income when trading cryptocurrencies? With the Paybis affiliate program, users can receive a 20% commission on every purchase their referral makes.
The affiliate program comes with a dedicated account manager who will assist you as needed. Users will be able to receive monthly commissions in Bitcoin or via bank transfers.
Fast KYC Process
The account creation and KYC process is instant on Paybis. Firstly, Paybis requires users to confirm their phone number and email address. Afterward, the platform will complete the KYC process by asking for the user's full name, address, and country of origin.
Paybis verifies users' accounts by asking for some ID verification, such as a passport, driver's license, or residence permit to confirm their identity. This entire process will take up to 5 minutes.
Crypto Price Calculator
The crypto price calculator is a handy feature that allows you to view the crypto price equivalent in the fiat value. On the fiat payment tab, one can select their preferred payment currency, whether it be USD, GBP, EUR, or less adopted-known currencies such as BGN, CZK, or DOP.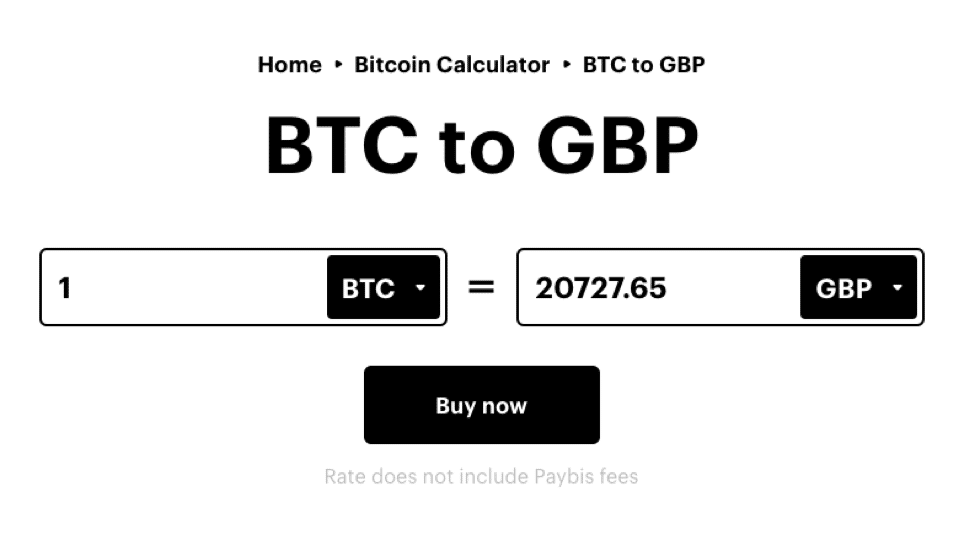 You can then select the crypto you choose and see the amount you will receive (without fees). For instance, at the time of writing, 1 BTC = 20,727.11 GBP.
Paybis Accepted Payment Methods
On Paybis, users can start buying some of the best altcoins with several payment methods. Here are a few of them:
Credit/Debit Card

Skrill

Giropay

AstroPay

Bank Transfer (Instant for U.S. clients)

Neteller

ACH Wire transfer

And many more!
User Experience & Mobile App
To start off, Paybis offers a straightforward and easy-to-use application, allowing users to buy and sell cryptocurrencies in no time. Once you head to the Paybis home page, you can select and browse through the payment options, along with the cryptos you wish to receive.
As discussed earlier, Paybis offers high levels of transparency in its fee structure. By entering the amount you wish to receive, you will be able to see all the attached costs and the total payment amount you will receive.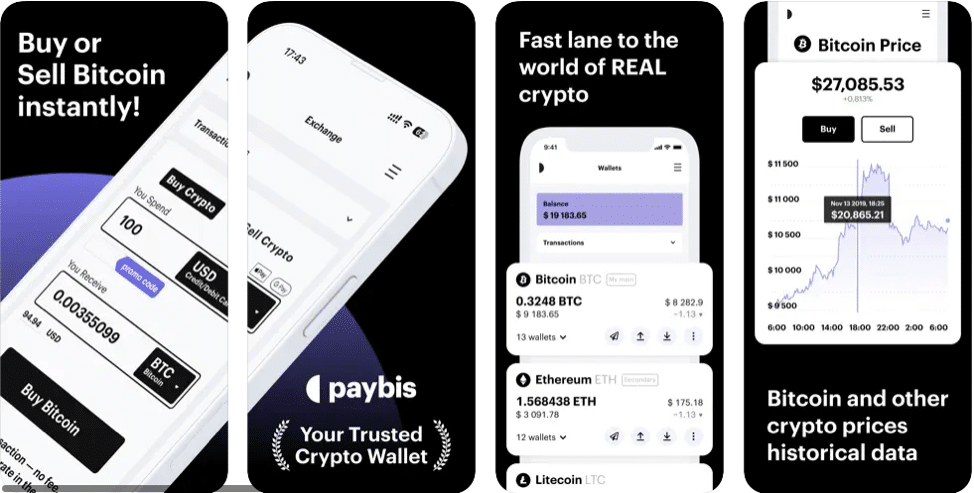 Due to Paybis' favorable account opening and KYC process, new customers can start accessing the exchange within a few minutes. There is no complex registration process as long as you have documentation and an identity card. All these features make it a favorable trading platform for users with little to no trading experience.
However, through the business section, many Fintech companies can leverage this platform to cater to their large customer base.
This platform can be accessed through a desktop or laptop. Those looking for a simpler way to access Paybis can download the Paybis Crypto & Bitcoin wallet application. Through the app, users can make secure cryptocurrency transactions. This app has an above-average rating of 4.2 stars on the app store.
The app offers the convenience of purchasing cryptos at any time, and it comes with all of the same features and tools as the desktop version. Furthermore, the app can be used to review the transaction history instantly. Users can also check and stay updated with the current market prices with the app.
Paybis Customer Service
On Paybis, users can access 24/7 customer service if they have any queries or doubts. The customer service department can be contacted via live chat options on the website. This will help new and existing customers to solve any account-related issues.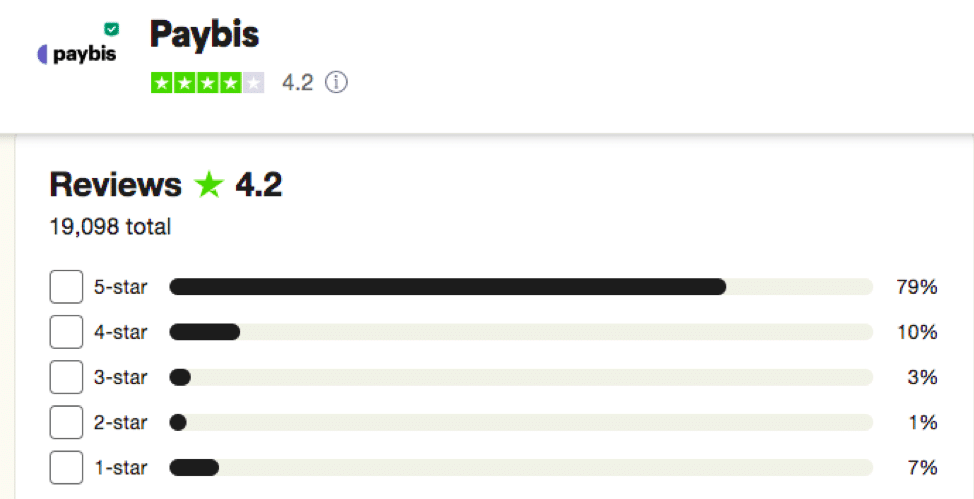 On the website, users are also free to access the Paybis support portal. Through this link, users can get support on account verification problems. The portal also provides information on the affiliate program, payment methods, and transactions.
On Trustpilot, Paybis has secured a favorable rating of 4.2. More than 19,000 people have rated the platform.
Is Paybis Safe?
A trusted cryptocurrency exchange to use, Paybis adheres to the rules and regulations of some of the top global regulators. In the United Kingdom, Paybis is regulated by the FCA (Financial Conduct Authority).
We have mentioned this above, but Paybis is enforced by the FinCEN (Financial Crimes Enforcement Network) Department of the Treasury, USA. Paybis is also a non-custodial exchange, which are crypto exchanges that facilitate the trading of cryptos without holding any private keys.
Non-custodial exchanges provide greater freedom, since users have 100% control over all their assets. Paybis uses on-chain wallets, which promote secure asset storage. This means that the user's funds will be safely stored on a dedicated address, which can be verified on any blockchain explorer.
The exchange also uses MPC (Multi-Party Technology) for enhanced security and convenience. Thus, Paybis manages to provide the security of a non-custodial exchange, combined with the convenience of a custodial wallet.