Pepe coin (PEPE) is the latest in a long line of "meme coins" designed to shake up the crypto market. However, this particular project has generated substantial momentum since launching in April 2023, producing gains of over 1,170% for investors in its first two weeks of going live.
This article will discuss our Pepe coin price prediction for the months and years ahead. We'll take a deep dive into what Pepe coin is, how it works, and where investors can buy PEPE today – before presenting an alternative coin that could be the next to make its mark on the crypto community.
Pepe Coin Price Prediction 2023
Like many new cryptocurrency projects with a meme coin aesthetic, the Pepe token has become an instant hit with investors – leading to quadruple-digit returns for many. With that in mind, here's a brief overview of our PEPE price prediction for the coming years:
End of 2023: Pepe (PEPE) has already established itself as one of the hottest projects to launch in 2023. If investors continue buying PEPE at the current rate, we could see the coin's price hit $0.0000027.
End of 2024: Our Pepe coin price forecast for 2024 predicts that the coin could hit $0.0000065 – an increase of 527% from the current price.
End of 2025: For PEPE to be considered the best cryptocurrency to invest in, it would need to debut on major centralized exchanges (CEXs) as soon as possible. Assuming this occurs, our Pepe coin price prediction estimates the coin could be worth $0.0000089 by the end of 2025.
End of 2030: Pepe coin's long-term prospects will likely be driven by increased utility – a vital component when it comes to investor demand. As such, our PEPE price forecast estimates the coin could be worth $0.000054 by the end of 2030.
End of 2040: Looking further ahead, we estimate that Pepe coin's price could hit $0.00012 by the end of 2040. Should this scenario play out, it would equate to a return of 11,483% from today's price point.
Pepe Coin (PEPE) Price History
Pepe (PEPE) has emerged as one of the top cryptos to watch this year, leveraging the incredible power of retail trader demand to launch itself into the stratosphere. But what is Pepe token, and how did the PEPE price reach this point?
Put simply, Pepe is a brand-new meme coin hosted on the Ethereum blockchain. Pepe coin's basis is as a tribute to the "Pepe the Frog" internet meme, which has existed since the early 2000s. However, this crypto project has no connection to the meme's creator, Matt Furie.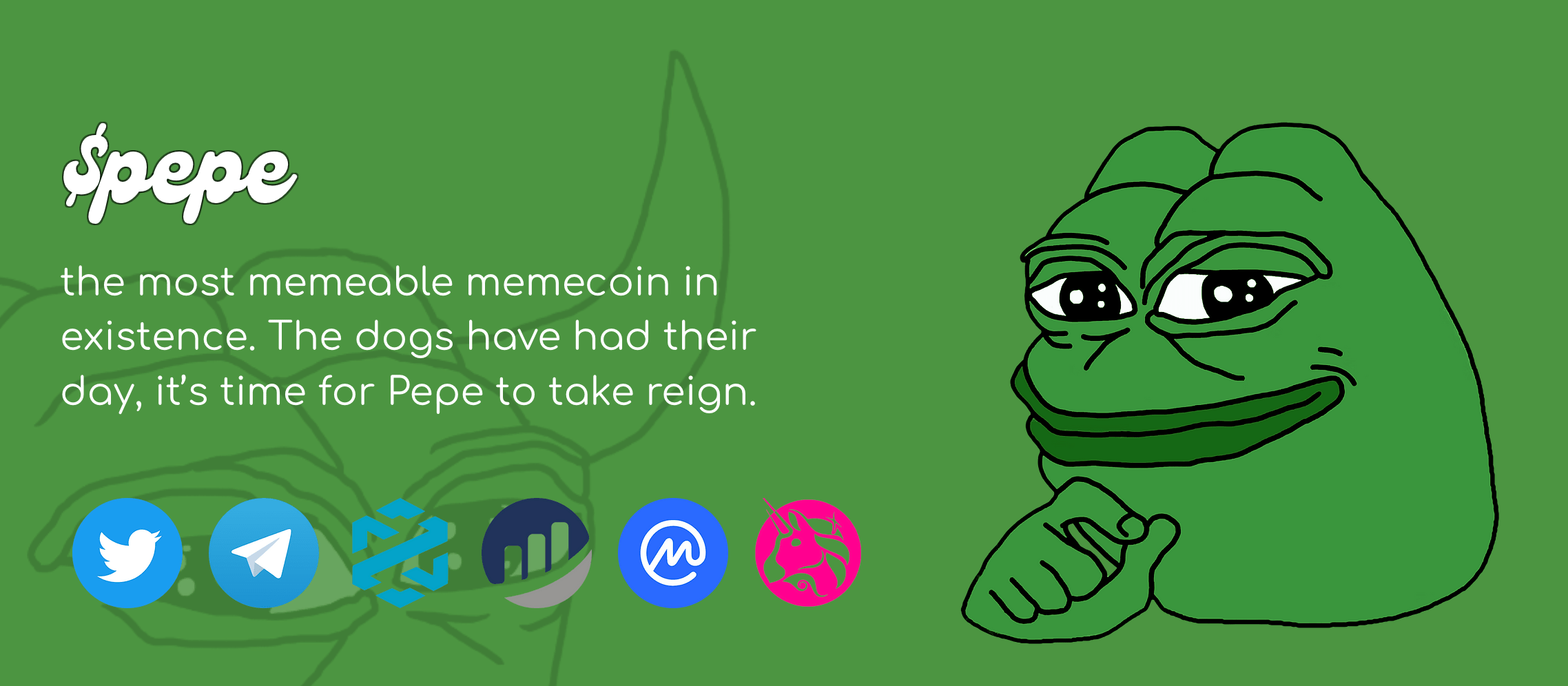 Per the official Pepe coin website, PEPE has "no intrinsic value or expectation of financial return." The website also notes that "the coin is completely useless and for entertainment purposes only."
Given this stark admission, it's fair to say that Pepe coin's sole reason for being is purely as a way for meme coin investors to generate returns whenever PEPE trends on social media channels. This is precisely what occurred in April 2023, when the price of Pepe coin skyrocketed over 1,170% in less than two weeks.
Like many of the best meme coins, Pepe coin's value isn't driven by real-world use cases. Instead, the project leans into the fact that there are no use cases – PEPE is simply a token used to pay homage to one of the world's most popular memes.
The only stand-out element of the Pepe coin project is that it is tax-free. This means there are no hefty fees whenever investors buy or sell PEPE. Moreover, over 93% of the total token supply was sent to the project's liquidity pool and then "burned" – permanently removing them from circulation and increasing the value of the remaining tokens.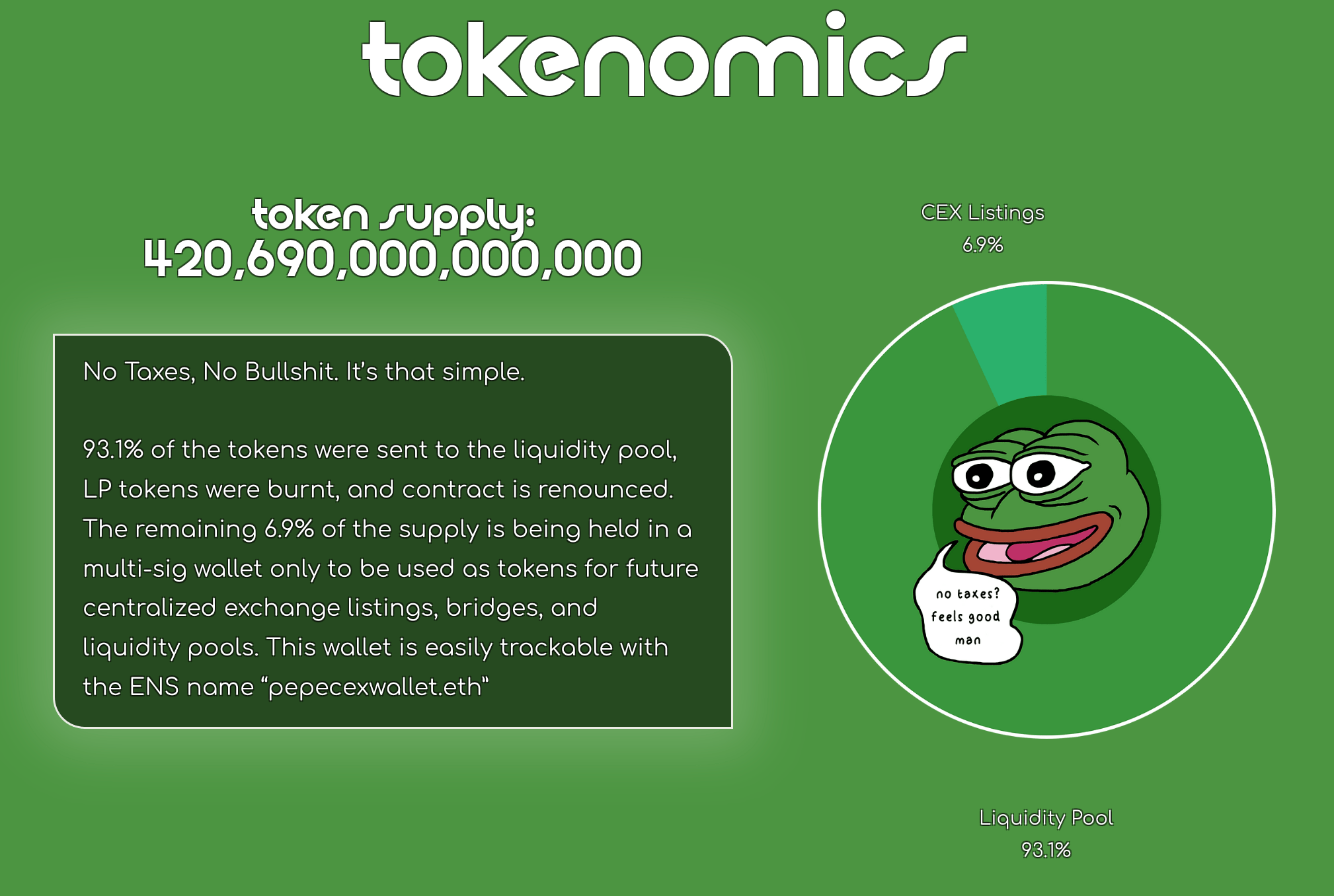 This latter aspect is one of the key reasons why the PEPE price has been rocketing since its launch. PEPE's low circulating supply, combined with the hype driven by retail traders, has helped push the coin's price up to $0.000001439 at the time of writing – an all-time high, according to CoinMarketCap.
Pepe Coin Price History – Key Points
Before diving into our Pepe token price prediction, here's a brief overview of some key points that investors must bear in mind:
The total supply of Pepe (PEPE) is 420,690,000,000,000
The Pepe market cap at the time of writing is just over $544 million, per CoinMarketCap
Pepe coin's website explicitly states that the coin has no intrinsic value or expectation of financial gain
There is no formal team or roadmap for the Pepe crypto project
Pepe coin's official Telegram channel grew to over 24,000 members in the first two weeks of the coin going live
Pepe Coin Price Prediction 2023
Pepe coin has been one of the stand-out performers in the crypto market since the beginning of 2023, producing quadruple-digit returns for investors in a matter of weeks. But can PEPE sustain this momentum throughout the remainder of the year?
As mentioned above, Pepe coin has no use cases – it can't be staked or used to access additional features. Due to this, the only reason investors are currently buying PEPE is because it has gone viral on social media channels. This is nothing new since a similar scenario has played out before with meme coins like DOGE and SHIB.
What are meme coins?
Meme coins are cryptocurrencies that gain popularity primarily from social media channels or online communities. These meme coins often begin as a joke yet end up trending on sites like Reddit and Twitter – leading to substantial price increases.

However, the difference between these coins and PEPE is that they took advantage of the spotlight that was shone on them and developed use cases that helped foster long-term demand. For Pepe coin to sustain its upward momentum, the community must adopt a similar approach.
Assuming this occurs, our Pepe coin crypto forecast sees the coin valued at $0.0000027 by the end of 2023 – representing a return of 115% from the price at the time of writing.
Pepe Coin Price Prediction 2024
Looking further ahead, our Pepe coin price forecast for 2024 considers the macroeconomic factors that will likely drive a broad resurgence in the crypto market. Although not directly related to PEPE, these factors contribute to a greater demand for crypto assets.
The most essential factor in this regard is interest rates. As noted by Bankrate, higher interest rates generally lower investors' appetite for "riskier" assets, like cryptocurrencies. However, the inverse is also true – lower interest rates will naturally prompt more investors to consider purchasing crypto.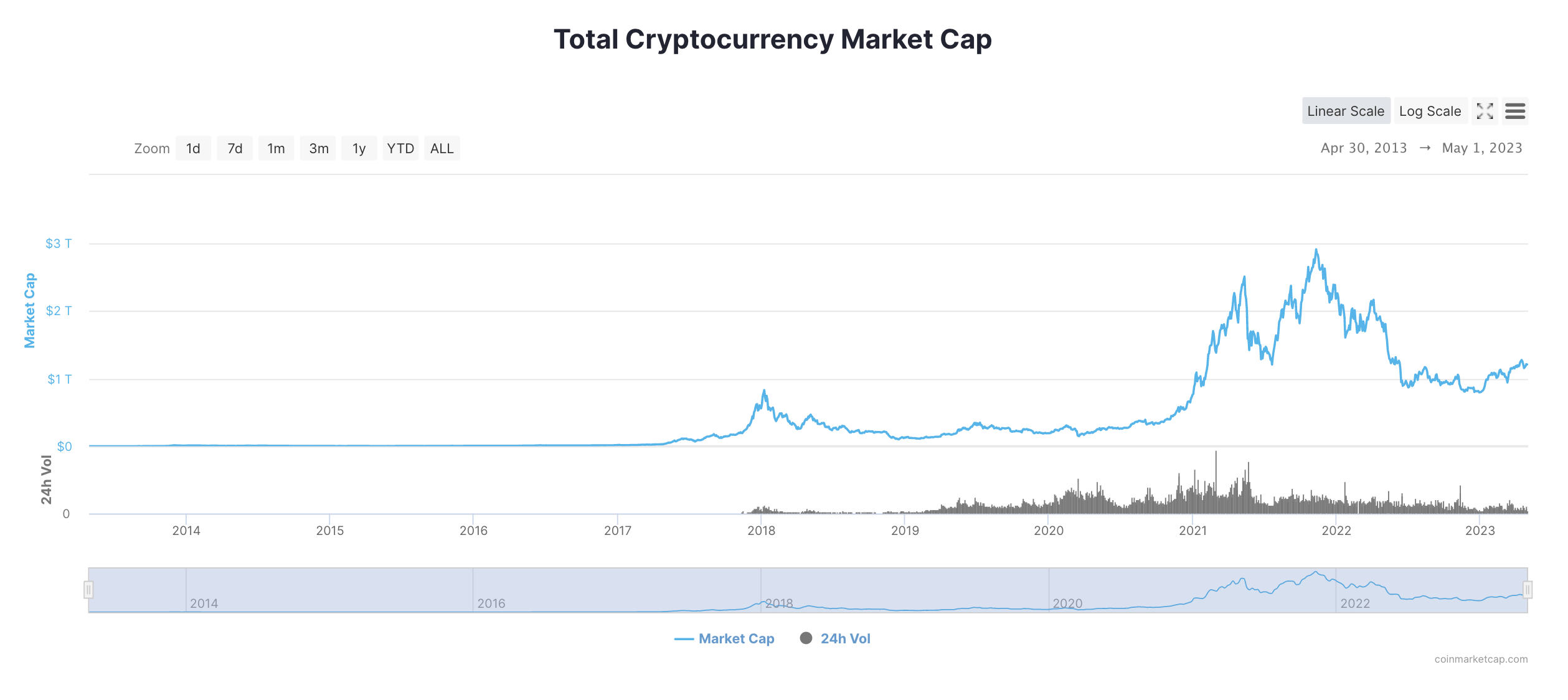 This is excellent news for Pepe coin since there will likely be a larger audience of potential investors once the Fed begins pausing rate hikes – or even cutting rates. The greater the demand for PEPE, the higher the likelihood that today's momentum will continue long-term.
Due to this, our PEPE crypto price prediction for 2024 estimates that the token could be valued at $0.0000065 – assuming that the Fed "pivots" before the end of the year.
Pepe Token Price Forecast Long-Term Outlook – 2025 Prediction
Many have understandably lauded Pepe coin as one of the best emerging cryptos in 2023. However, can PEPE maintain the current price momentum in the coming years?
For this to happen, we'd likely need to see the Pepe coin community create some valuable use cases for PEPE. Currently, PEPE holders can't do anything with their coins – apart from storing them in their crypto wallets and hoping that the price continues increasing.

Fortunately, PEPE uses the ERC-20 token standard. This means PEPE is compatible with the Ethereum blockchain, allowing it to seamlessly interact with decentralized applications (dApps), smart contracts, and other ERC-20 tokens.
If Pepe coin's community can leverage this setup and develop some uses for PEPE, such as a staking protocol or even a play-to-earn (P2E) game, then it would naturally increase the likelihood of further price increases. As such, our PEPE price forecast estimates that the coin could be valued at $0.0000089 by the end of 2025.
Pepe Crypto Price Prediction 2030
Pepe coin's price prospects over the next 5-7 years will be influenced by whether the coin becomes readily available on major CEXs and DEXs. When new coins become available on the best crypto exchanges, they become much more accessible to retail traders – thereby increasing demand.
At the time of writing, Pepe coin is only available on a few CEXs, such as MEXC, Gate.io, and Huobi. Moreover, experienced investors can also buy PEPE using Uniswap – one of the largest DEXs built on the Ethereum blockchain.

Exchanges like Binance and Coinbase have yet to list PEPE, although this is likely to change if the coin's price momentum continues at its current rate. Per CoinGecko, Binance and Coinbase attract over 113 million visitors per month, meaning this would be a massive coup if Pepe were listed on these platforms.
If this occurs, the increased demand from retail traders could push the Pepe coin price to $0.000054 by the end of 2030.
Pepe Price Prediction 2040
Finally, how does our Pepe coin price prediction for 2040 shape up? When looking this far ahead, providing an accurate price estimation is challenging since there's no way of anticipating "black swan" events or significant changes to Pepe coin's ecosystem.
However, we can look at some of the best long-term crypto investments to understand how Pepe coin can maintain its current trajectory. One common theme throughout these cryptos is that they can all be used as a way to exchange value – whether that be peer-to-peer (P2P) or when buying goods/services.

Naturally, Bitcoin and Ethereum are two of the "go-to" digital currencies in this regard. However, meme coins like Dogecoin and Shiba Inu have also emerged as viable options for crypto shoppers. In fact, according to the online crypto directory Cryptwerk.com, over 2,150 merchants now accept DOGE as a payment method.
If Pepe coin can follow a similar pathway, it'll provide a much-needed driver of demand. As such, our PEPE price prediction for 2040 estimates that the coin could reach $0.00012, assuming this occurs.
Potential Highs & Lows of Pepe (PEPE)
Now that we've covered our Pepe coin price prediction for the years ahead, the table below summarizes all of the potential highs and lows that investors may wish to bear in mind:
| | | |
| --- | --- | --- |
| Year | Potential High | Potential Low |
| 2023 | $0.0000027 | $0.00000021 |
| 2024 | $0.0000065 | $0.0000033 |
| 2025 | $0.0000089 | $0.0000070 |
| 2030 | $0.000054 | $0.000020 |
| 2040 | $0.00012 | $0.000090 |
What is Pepe coin Used For?
As mentioned earlier, Pepe coin lacks any notable real-world use cases. However, detailed below are some key reasons why investors may wish to hold PEPE over the longer term:
Speculative Investment
Right now, the main reason why investors may wish to hold PEPE is because it represents a speculative investment opportunity for those with a high degree of risk tolerance. As seen with other meme coins (e.g. DOGE, SHIB), price movements can often be explosive – even if the project doesn't yet have any use cases.
This has already been seen with PEPE, which has produced enormous returns for investors purely due to its "Pepe the Frog" design. Price movements with meme coins can often be illogical and seemingly random – which is a clear reason to hold PEPE for an extended period.
Community Building
Another potential use case for PEPE is as a way to build a strong community of like-minded people. As seen with the best penny cryptos, having a robust community can be the difference between success and failure.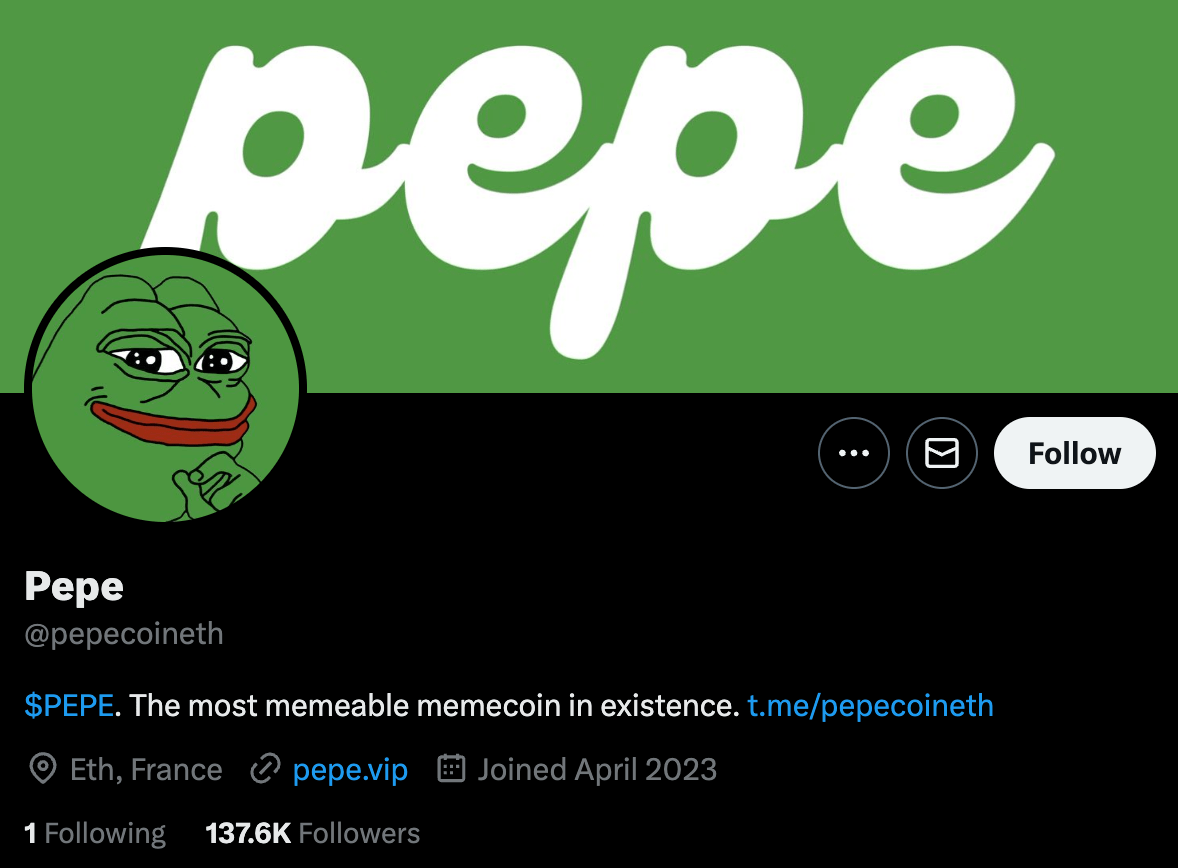 Fortunately for Pepe token holders, the project has already made headway in this regard. More than 136,000 people have followed the Pepe coin Twitter account in the first two weeks of its existence – highlighting the universal appeal of the project.
Scope for New Use Cases in the Future
Finally, even though Pepe coin will likely continue to be one of the most volatile cryptos on the market due to its meme coin design, there's still scope for the community to develop some much-needed use cases. There's no movement on this front yet; however, this is no different from the likes of Dogecoin and Shiba Inu when they were in their infancy.
If the community can develop concrete reasons for investors to hold PEPE, it would help the project's prospects. Some potential ideas could be structuring Pepe coin as a decentralized autonomous organization (DAO) or constructing a PEPE staking protocol.
How Could Pepe Coin's Future Utility Affect Price?
Adding utility to Pepe coin will likely be one of the main drivers of long-term price increases. By adding utility, Pepe coin's "intrinsic value" will increase. Moreover, further utility will also provide a reason for investors to buy PEPE, aside from simply wanting to benefit from price increases.
What does intrinsic value mean?
Intrinsic value refers to an asset's inherent, fundamental worth based on its characteristics. Importantly, intrinsic value is separate from the asset's current market value – which is why some assets are described as "undervalued" or "overvalued."
Ultimately, this topic all boils down to the "practicality" of holding PEPE. Not only does added utility help boost the coin's prospects, but it also serves to stabilize price. This latter aspect is crucial since meme coins are often more volatile than established cryptos – a characteristic that can be offputting to many in the investment community.
What Analysts Are Predicting for Pepe Coin
As is often the case with the top trending cryptos, analysts are already having their say on whether Pepe Coin can sustain its current momentum. Here's a summary of what five well-known crypto analysts have to say about PEPE's prospects:
What Drives the Price of Pepe Coin?
Listed below are three of the main factors that will likely shape Pepe coin's price over both the short and long term:
Social Media Influence
As evidenced by the best Reddit cryptos, the influence of social media platforms on a crypto's value cannot be understated. Platforms like Twitter, YouTube and Reddit are hotbeds for crypto discussions, often translating into price appreciation.
The good news for PEPE holders is that the project already has a significant following on Twitter. If the community can also launch a successful subreddit and Instagram page, it would increase the visibility of the project – leading to more investment.
Utility & Development
As noted earlier, Pepe coin's value will also be affected by the ongoing development of the ecosystem. Meme coins often start their lifecycle with no inherent value yet add features over time that increases their utility – and Pepe coin holders will be hoping a similar setup plays out for them.
One of the key things that Pepe coin's community could do is produce a clear roadmap with solid plans for the future. Right now, the roadmap on Pepe coin's website is vague and unspectacular; however, if this were amended, it'd provide an objective reason for investors to buy PEPE.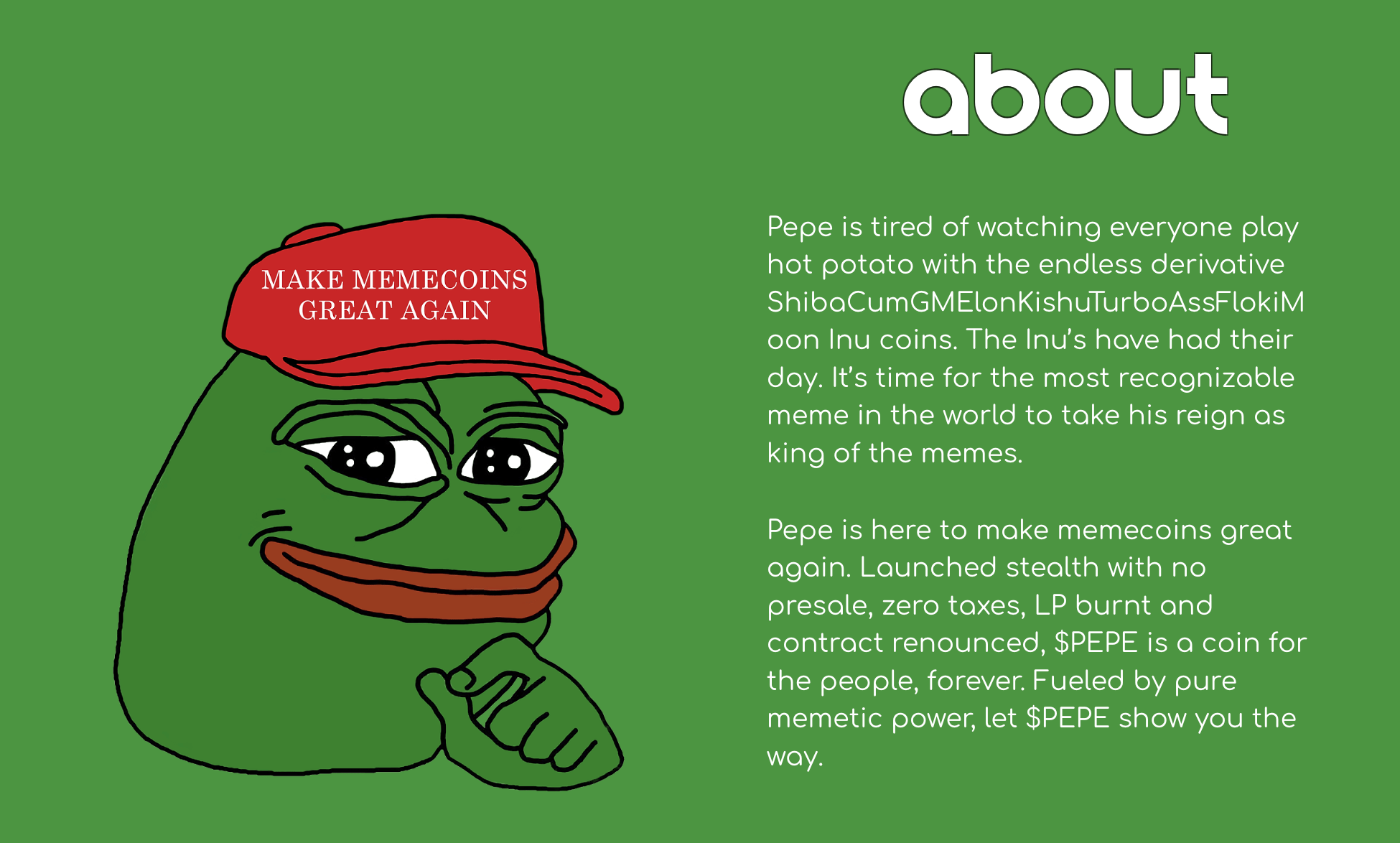 Broader Crypto Market Sentiment
Finally, general crypto market sentiment can dramatically influence the value of meme coin projects like Pepe coin. When the market is bearish, the value of these meme coins often goes down; however, the opposite is also true.
When investor confidence is high, and the overall sentiment is bullish, it can be excellent news for meme coin projects. Given that the Fed is widely expected to "pivot" before the end of 2023, there's a high chance that a scenario like this could occur.
Where to Buy Pepe Coin
According to the analytics platform Dextools.io, there are now over 64,000 Pepe coin holders – a remarkable feat considering the project only launched in mid-April 2023. This feat is even more impressive because PEPE is only available to buy on a select few platforms.
Here are the CEXs and DEXs that investors can currently use to buy Pepe coin:
Uniswap
Gate.io
Huobi
OKX
Bitget
MEXC
BitMart
BingX
CoinEx
Notably, leading exchanges like Binance, Coinbase, Kraken, and KuCoin are absent from this list. PEPE holders will be hoping that one (or more) of these exchanges will list the coin soon, which would dramatically increase accessibility.
Pepe Coin Price Prediction – Conclusion
In conclusion, this Pepe coin price prediction has taken an in-depth look at the coin's prospects before highlighting the key demand drivers that investors must be aware of going forward.
Ultimately, like all meme coins, Pepe coin's value will be inextricably linked to the hype from social media channels like Reddit and Twitter. If Pepe coin's developers can leverage this hype to create valuable use cases, then there's every chance PEPE could solidify itself as a top-five meme coin over the long term.
What's the Top Pepe Coin Alternative in 2023?
As shown throughout this article, Pepe coin undoubtedly has positive future potential. However, investors may wish to consider alternative coins to round out their crypto portfolio. With that in mind, here's one exciting presale project that is already attracting massive attention from the investment community:
AiDoge ($AI) – New Meme Coin Combining Artificial Intelligence with Uncapped Earnings Potential
AiDoge ($AI) is a brand-new Ethereum-based project that looks to capitalize on the considerable growth in artificial intelligence (AI) technology. As it combines AI elements with a meme coin style, the AiDoge presale could appeal to both beginner and advanced traders.
The main feature of the AiDoge ecosystem is a first-of-its-kind "meme generator" powered by AI. This meme generator takes text-based prompts, much like ChatGPT, and instantly transforms them into a unique meme image. Users can then save this image and post it on social media platforms like Twitter and Reddit.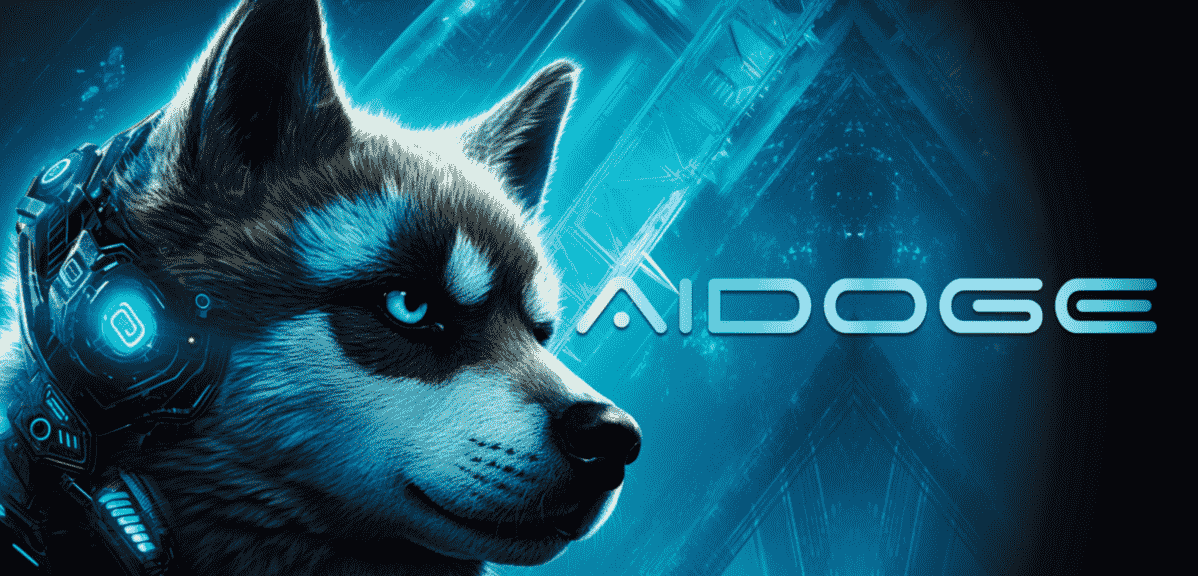 Per the AiDoge whitepaper, the project's meme generator has been trained on an extensive database of meme images and crypto news. This aspect is crucial since it ensures that generated memes are up-to-date and able to capitalize on current trends.
To use the meme generator, AiDoge users must own $AI – the project's native utility token. $AI's primary use case is as a way for users to buy credits required to create memes. However, in the future, $AI holders will also be able to stake their tokens to access exclusive perks, like limited-time meme templates.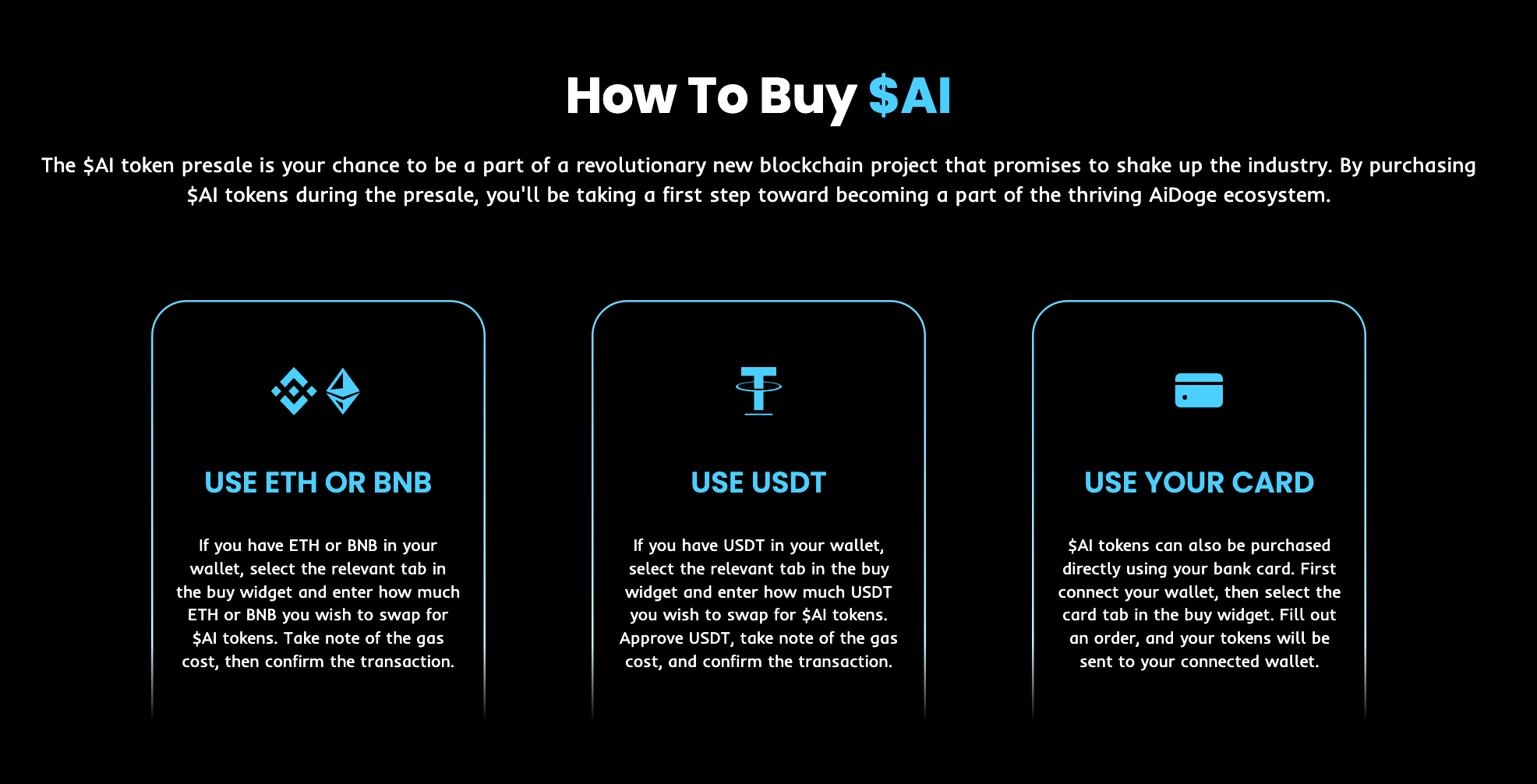 Excitingly, AiDoge users will also be able to earn $AI tokens by producing viral memes. This works through AiDoge's "public wall," which showcases all of the user-created memes produced by the meme generator. The more upvotes a specific meme receives, the higher its rank on the public wall – with the top meme creators receiving $AI token rewards each month.
At the time of writing, the AiDoge presale is underway at aidoge.com – and raised over $800,000 in its first week.
Early investors can buy AI tokens on presale at a discount relative to the intended listing price of $0.0000336.
Although this is undoubtedly an exciting period in AiDoge's lifecycle, investors do need to be wary of the dangers of purchasing presale cryptos. These cryptos are considered riskier than "established" cryptos like BTC and ETH, due to the fact they're just beginning their development. Note that the project is separate to another new project, ArbDoge AI (AIDOGE).
The AiDoge presale will have 20 total stages, each with a gradually increasing price point, meaning those who invest the earliest will benefit from a lower entry price. For more information, would-be investors can join the official AiDoge Telegram channel.
| | |
| --- | --- |
| Presale Started | April 26th, 2023 |
| Purchase Methods | ETH, USDT, BNB, Credit/Debit Card |
| Blockchain | Ethereum |
| Minimum Investment | N/A |
| Maximum Investment | N/A |
FAQs
How much will Pepe coin be worth in 2025?
Can you buy Pepe coin on Binance?
Is Pepe coin a good investment?
What was the starting price of Pepe token?
What will Pepe coin be worth in 2030?