After an unprecedented bull run, the infamous meme coin Pepe has slowed down recently. But despite the dip, whales continue scooping PEPE up. So the question becomes, is Pepe worth buying?
This Pepe price prediction forecasts the Pepe crypto price between 2023 and 2030, determining whether it will reach new all-time highs or if there are better alternatives to invest in.
Pepe Coin Price Prediction 2023-2030
Our short-term Pepe price prediction estimates the price could reach $0.0000043 by the end of 2023.
The Fibonacci retracement tool shows Pepe could reach $0.0000031728 in the immediate short term.
Pepe's price is down 11.27% in the last seven days but up 5.1% in the previous month.
Volatility has significantly reduced recently, signalling a breakout move could be on the horizon.
| | | | |
| --- | --- | --- | --- |
| Year | Minimum Price | Average Price | Maximum Price |
| 2023 | $0.00000055 | $0.00000242 | $0.0000043 |
| 2024 | $0.000002 | $0.00000425 | $0.0000065 |
| 2025 | $0.000004 | $0.000007 | $0.00001 |
| 2030 | $0.0000001 | $0.00001005 | $0.00002 |
Pepe Price History
Pepe rose to prominence days after its stealth launch in mid-April, with the first Etherscan entry point being 18 April.
The price got off to an explosive start, going from $0.00000006036 to $0.0000004002 in its first three days. This equated to a 563% gain and is when talks first began brewing about whether it could be one of the best meme coins.
After a minor correction and some consolidation, the Pepe price began to soar on 30 April, climbing 214% in two days to claim a new all-time high. According to Binance, the Pepe ATH was due to whales accumulating Pepe.
The Pepe run continued, with the meme coin reaching an astonishing $1.8 billion market cap and ATH of $0.000004354 following Binance announcing it would list Pepe on 5 May.
However, the run was short-lived as early investors aggressively took profits, causing the price to trend downwards since. Following the ATH, volatility has significantly reduced, with both bulls and bears seemingly exhausted.
Pepe is based on the Pepe the Frog cartoon character. Pepe the Frog became a popular meme on websites like 4chan and Twitter and has been circulating since 2005. However, the Pepe meme was later branded a hate symbol as media reporters discovered hate groups were using it.
The Pepe meme coin community hit out at this label, however, after Coinbase highlighted it in an email to its customers. Following the community's backlash, Coinbase apologised for its comments, with Coinbase Legal Officer Paul Grewall saying, "We screwed up".
Pepe's website references top meme coins like Dogecoin, Shiba Inu and Floki, yet it also says that Pepe will be "the most memeable memecoin in existence".
Pepe Price Prediction 2023
Pepe has outpaced many of the best cryptos since its launch, although it has slowed considerably in recent weeks. This has left many investors wondering whether Pepe will rise again or if there are other cryptos with higher upside potential.
There are 420,690,000,000,000 tokens in total, and the good thing about Pepe is that it has a 93.1% circulating supply, according to CoinMarketCap. The remaining 6.9% of Pepe tokens are held in a multi-signature wallet to assist with future CEX listing liquidity.
There are 1.1 million Pepe holders, and only two private wallets hold over 1% of the Pepe supply. Initially, Pepe was criticised as a handful of whales controlled a large portion of the supply, but the issue has now been resolved.
Looking at the chart below, we can see Pepe is in a downtrend on the hourly chart. The next key support level is $0.0000010481 and seems to be where Pepe is headed.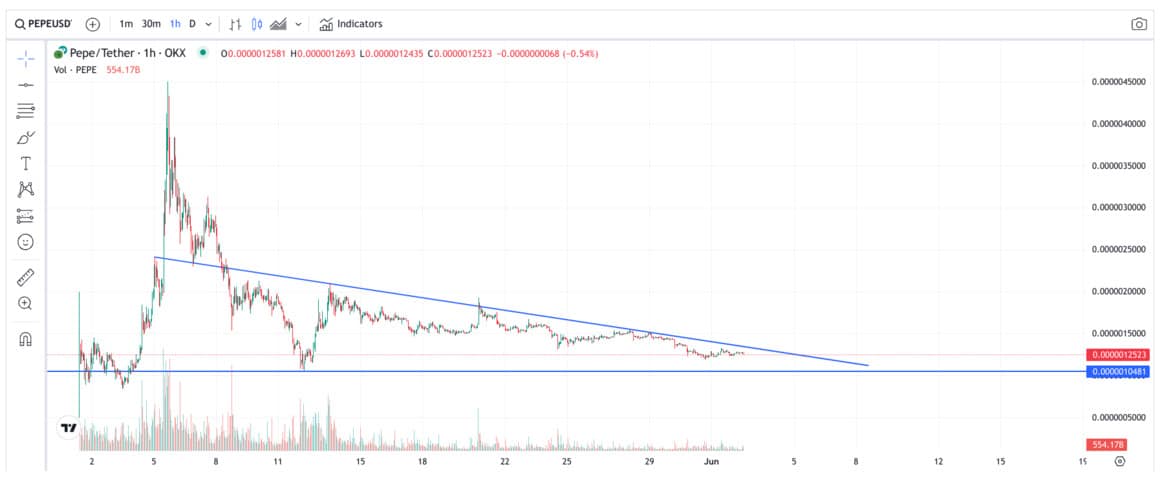 Whether Pepe will reverse at the support or continue its downward trajectory remains unclear.
So far, Pepe's price has grown most following its CEX listings. Currently, the main CEX yet to list the meme coin is Coinbase, and while unlikely, if Pepe eventually was listed on Coinbase, this could cause its price to pump significantly.
Considering Pepe's success so far and its massive community, a bounce from the next support level is likely.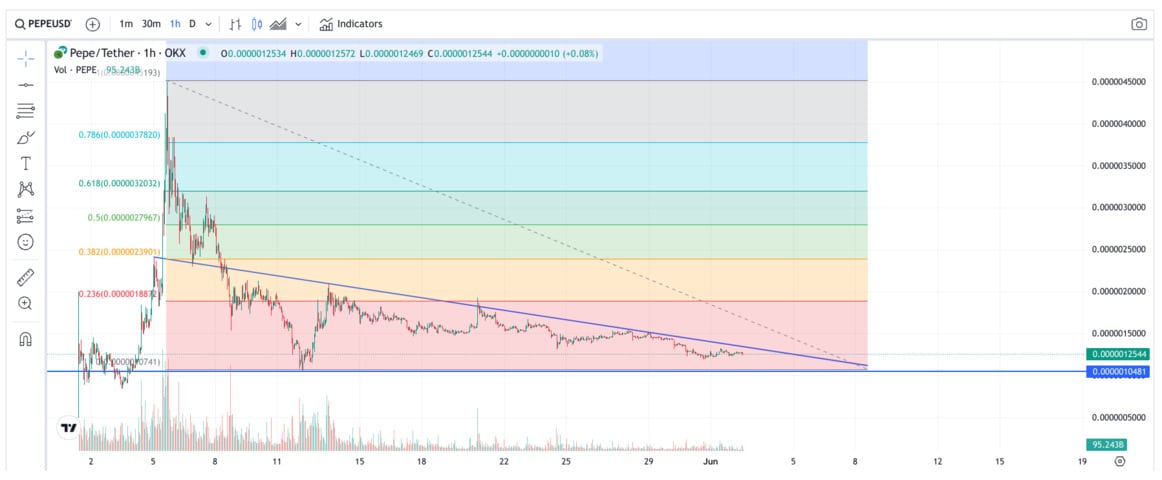 Based on the Fibonacci Retracement tool, we could expect the price to push to $0.0000031728 if the coin does bounce. However, we could then see Pepe reclaiming its all-time high of $0.0000043 by the end of 2023.
Pepe Price Prediction 2024
Looking at the Pepe roadmap, the project has already achieved most of its aims, ranging from getting $PEPE trending on Twitter to over amassing 100,000 holders and tier-one exchange listings.

With that in mind, there are no obvious next steps for the project, and considering it already has a vast community, this could limit its price potential.
Nevertheless, meme coins are known as some of the best cryptos to make you rich since the price can quickly explode when communities rally behind them.
As we saw with the Binance exchange listing, one major announcement in 2024 could see Pepe explode, achieving a new ATH.
However, it is also essential to consider that interest in Pepe has declined recently. According to LunarCrush, bearish sentiment is up 77.3% in the last month for Pepe, while social engagements are down 32% in the last week.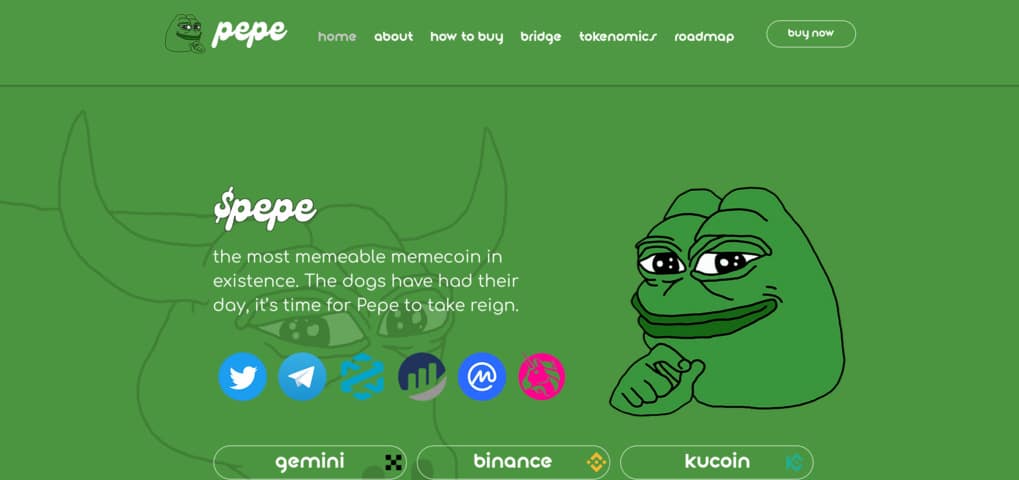 For Pepe to continue climbing, the project must begin to amass hype. While it massively succeeded following its launch, only time will tell whether it can become a long-term crypto.
Based on its earlier success and community size, it is likely that more major announcements will arise in 2024, causing a spike in the Pepe price. Provided this happens, our Pepe price prediction forecasts possible highs of $0.0000065 by the end of 2024.
Pepe Price Forecast Long-Term Outlook – 2025-2030 Predictions
Considering its large community and relatively small market cap, Pepe has the potential to be one of the most promising cryptos to buy.
To put it into perspective, Pepe has over 1.1 million holders and a current market cap of $527 million. Meanwhile, Shiba Inu has 1.3 million holders and a $8.4 billion market cap.
Shiba Inu has 18% more holders but a market cap 1500% larger. Considering this, Pepe could be deemed undervalued and have more room for growth looking ahead to 2025.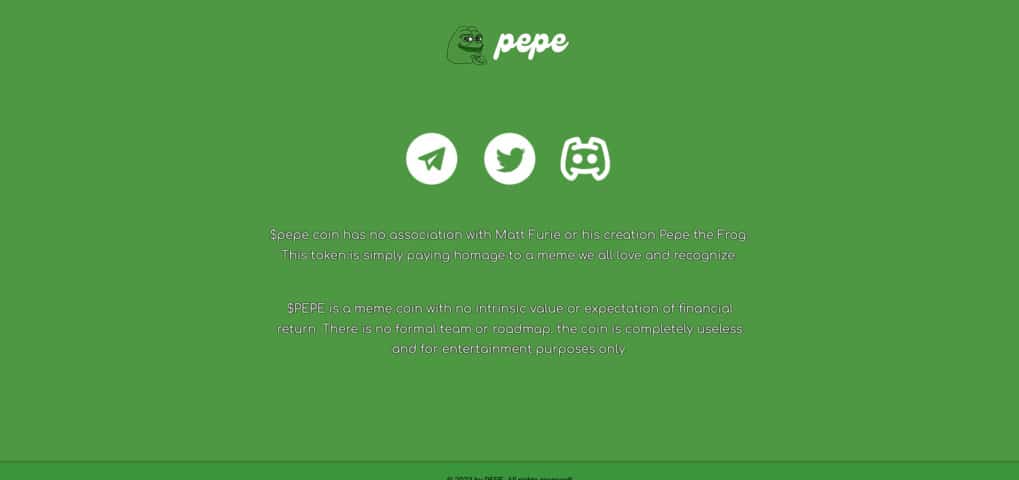 However, for Pepe to achieve a similar valuation to Shiba Inu, it must provide value. For example, Shiba Inu is releasing Shibarium, an Ethereum layer two scaling solution, along with various other protocols and tools for its community.
Based on its current community size compared to market cap and the fact meme coins are community-driven, our Pepe price forecast estimates Pepe could climb to potential highs of $0.00001 by the end of 2025.
Looking ahead long-term, the Pepe community must begin to implement real value to the ecosystem since hype alone is unsustainable long-term. Provided it can do so, we could see potential highs of $0.00002 by the end of 2030.
Potential Highs & Lows of Pepe Coin Price
It is still unclear if Pepe can become one of the top altcoins, but we have listed Pepe price prediction potential highs and lows below.
| | | |
| --- | --- | --- |
| Year | Potential Low | Potential High |
| 2023 | $0.00000055 | $0.0000043 |
| 2024 | $0.000002 | $0.0000065 |
| 2025 | $0.000004 | $0.00001 |
| 20230 | $0.0000001 | $0.00002 |
What do Other Analysts Predict for Pepe Coin?
To better understand the Pepe crypto price potential, we have summarised other analysts' predictions below.
According to the Priceprediction.net Pepe price forecast, Pepe could reach a minimum price of $0.00000148 or a maximum price of $0.00000176 by the end of 2023.
BTCC's Pepe coin Forecast estimates Pepe could reach a minimum price of $0.0000023 and a maximum price of $0.0000029 by the end of 2023.

Based on AMBCRYPTO's Pepe price prediction, Pepe will have a possible low of $0.0000017 and a possible high of $0.0000018 by the end of 2023.
CoinPedia's Pepe price forecast estimates that Pepe could reach potential lows of $0.00000080 and potential highs of $0.00000450 by the end of 2023.
According to CNN's Pepe coin prediction, Pepe could have a possible low of $0.00000080 and a possible high of $0.00000450 by the end of 2023.
What is Pepe Coin & What's it Used for?
Pepe is a meme coin created in April 2023 and issued as a stealth launch. According to the Pepe website, the coin has no utility and is only meant for entertainment.
While the Pepe website states "the coin is completely useless", there are still some use cases for it, although they may not attain a $500 million market cap.
Firstly, holders can earn interest on Pepe coins by providing liquidity on a DEX like Uniswap. This is ideal for those bullish on Pepe who speculate its price will increase over time.
Secondly, holding Pepe grants access to the gated Pepe Discord server, Pepe Palace. The Discord is a place for the community to discuss Pepe and its potential future developments.
Lastly, the Pepe roadmap says there will be Pepe merch, a Pepe Academy and Pepe Tools in the future. Users will likely pay with Pepe for these goods or services.
Pepe Coin Overview
Pepe quickly became one of the most exciting cryptos of 2023, with its price exploding quickly following its launch. Below we have listed Pepe's current price-related stats.
| | |
| --- | --- |
| Cryptocurrency | Pepe |
| Ticker Symbol | PEPE |
| Ranking | 82 |
| Price | $0.000001267 |
| 24H Price Change | 2.01% |
| Market Cap | $529,451,580 |
| Circulating Supply | 391,790,000,000,000 PEPE |
| 24H Trading Volume | $78,225,167 |
| All-Time High | $0.000004354 |
| All Time Low | $0.00000002764 |
What Influences the Price of Pepe?
For Pepe to pump as much as it did, several factors had to play out at the right time. We have listed the main ones below and some that could impact the Pepe price looking ahead.
Exchange Listings
Pepe boomed after the Binance exchange announced it would be listing. Pepe is now available on various tier-one exchanges, but if it secured a listing on Coinbase or another high-profile tier-one, the price could pump again.
Meme Coin Narratives
Pepe kickstarted the latest meme coin season. Once Pepe began to climb, many other newer meme coins did too. Looking ahead, Pepe could surge during the next meme coin mania.
On the other hand, as narratives around tokens with utility heat up, the Pepe price could be negatively affected.
Bitcoin Halving
A Bitcoin halving refers to an event where the amount of Bitcoin emissions given to miners is slashed in half; this occurs every four years and usually initiates a bull market. With the next one scheduled in April 2024, the Pepe price could rise leading up to and following the event.
Future Developments
As mentioned, Pepe must provide more value to its users to attain a valuation similar to Dogecoin or Shiba Inu. With this in mind, announcements regarding ecosystem developments could massively influence its price.
Conversely, if Pepe remains strictly a meme coin, it may be challenging to foster more demand, causing the price to decrease over time.
Is the Pepe Hype Over?
With over 1.1 million holders, Pepe has a thriving community. Currently, the meme coin narrative has quietened down, with investors looking for the best utility tokens instead. However, markets are cyclical, and liquidity often moves back and forth.
Considering Pepe's vast community, we will likely see exchange listings and ecosystem developments in the future, helping the price grow over time.
It is essential to remember that Pepe has pumped to over $500 million market cap and still provides no utility. The token holds no intrinsic value and is purely speculative, making it high risk.
Given the growth Pepe Coin has already seen, many investors are turning toward new early-stage alternatives like the Evil Pepe Coin.
Evil Pepe Coin: Hot New Meme Coin With 90% Tokens in Presale, Raised Over $130k in Two Days
Evil Pepe Coin ($EVILPEPE) is an upcoming meme crypto presale gaining traction amid the ongoing market recovery. The project offers 90% of its tokens in its presale while aiming to create a strong, engaged community. It has generated over $130K in just two days of its launch.
$EVILPEPE tokens are currently on sale for $0.000333 USDT, with ETH, BNB, USDT, and Card accepted as payment. Additionally, $EVILPEPE plans to debut on Decentralized Exchanges in the coming quarters to increase its reach.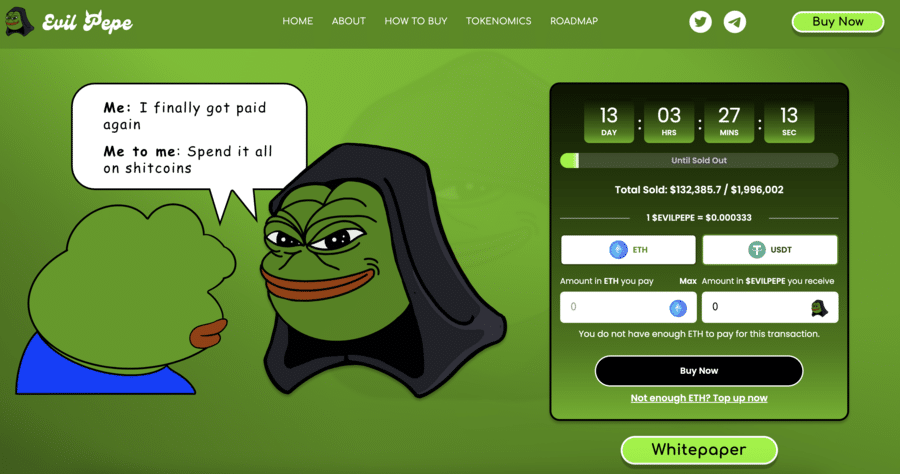 The platform's goal is to be more than just a meme coin to become a universal financial tool promoting inclusivity.
The whitepaper of Evil Pepe Coin outlines its appeal to the 'courageous,' inspiring them to disrupt the norm. This approach adds to the project's appeal, especially for those investors with a high-risk tolerance.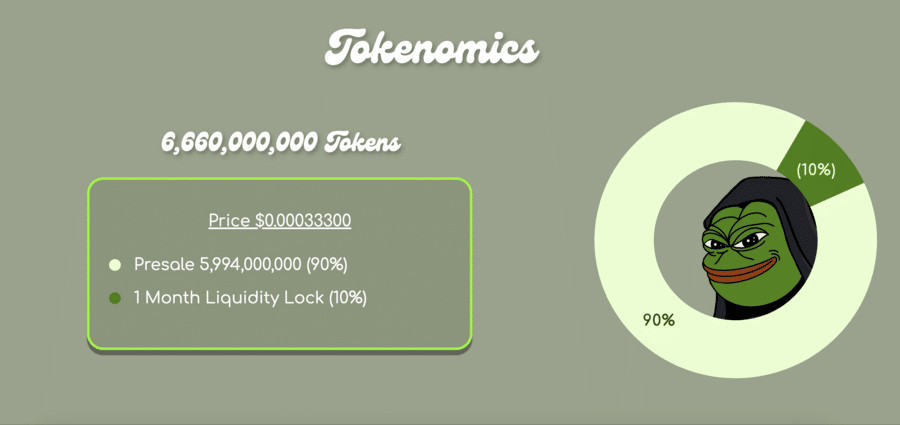 Out of a total supply cap of 6.66 billion tokens, 10% are set aside for a liquidity lock. While $EVILPEPE offers an upside opportunity, making decisions grounded in your financial objectives and risk comfort is crucial.
However, it's worth noting that platforms with robust community backing often show sustained success over time. Join the Evil Pepe Coin Telegram community to stay updated on the latest progress.
Conclusion
Pepe has had the most infamous run of all cryptocurrencies in 2023, and it has not been without controversy. Looking ahead, the coin is in a solid position to grow. However, its lack of utility, current downtrend and $500 million market cap means it also has downside risk.
While Pepe could perform well looking ahead, many other projects could offer better risk-to-reward ratios. Check out our list of the best cryptos to buy now and see a range of coins we think have better prospects than Pepe.
FAQs
What is the price of Pepe?
What is the Pepe price prediction for 2023?
Does Pepe crypto have a future?
What is the price prediction for Pepe token in 2030?
What is the best place to buy Pepe?