Pi coin is a decentralized cryptocurrency that powers the Pi Network. Its purpose is to encourage decentralized peer-to-peer transacting and enable users to mine crypto from their mobile phones.
This provided a much more accessible alternative to Bitcoin mining, generating significant interest with over 47 million users signing up so far. As a result, many investors are hopeful that Pi coin could be the next crypto to explode. This Pi coin price prediction provides forecasts for 2023 – 2030, considering factors like tokenomics, utility, and community.
Pi Coin Price Prediction Summary
Pi coin was created by Nicolas Kokkalis and Chengdiao Fan in 2018.
The project launched its pre-Mainnet in 2019.
It is currently in its closed-Mainnet, meaning it cannot interact with other blockchains.
Our Pi coin forecast estimates a price of $40 by the end of 2023.
Our 2030 Pi coin price prediction estimates a price of $1.05.
| | | | |
| --- | --- | --- | --- |
| Year | Minimum Price | Average Price | Maximum Price |
| 2023 | $20 | $40 | $60 |
| 2024 | $0.1 | $0.4 | $0.7 |
| 2025 | $0.4 | $0.8 | $1.2 |
| 2030 | $0.01 | $1.05 | $2 |
Pi Coin Price History
The Pi Network was created by Nicolas Kokkalis and Chengdiao Fan in 2018. The project was designed as a competitor to Bitcoin and other payment cryptocurrencies, enabling broader community participation through smartphone mining. In comparison, Bitcoin and many other Proof-of-Work blockchains support mining with powerful (and expensive) hardware like ASIC chips.
Pi Network's mining mechanism was split into the pre-Mainnet, the closed Mainnet, and the open Mainnet phases. It is currently in the closed Mainnet phase.
The pre-Mainnet phase began in 2019 and enabled users to earn PI by clicking a button on a mobile app every 24 hours to signal their participation in the network.
The mining rate of PI began at 1.6 PI per hour, then halved after the first 100,000 members, and then repeated twice until it reached a rate of 0.2 PI per hour.
CoinMarketCap data shows Pi coin price history beginning in December 2022. However, it also warns that the coin is not yet tradeable, and exchanges listing PI simply offer "IOUs" and not actual ownership of the Pi coin.
Nevertheless, the price reached an all-time high (ATH) of $330.65 on 30 December 2022. Following this, it embarked on a strong selloff, reaching lows of $19.7 on 14 July 2023.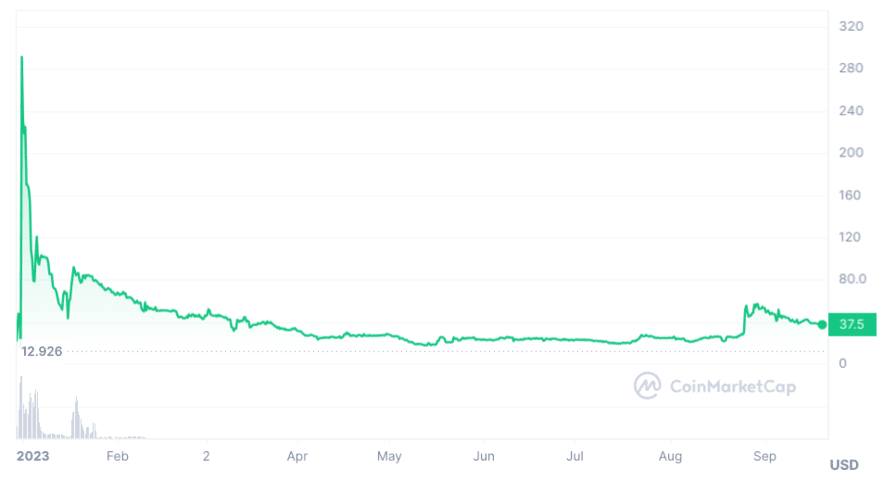 Since then, the price has recovered, reaching highs of $56 in August and currently trading at $38.7.
Currently, there is a 100 billion maximum supply of Pi coin, which will gradually be released as more participants join the network.
80% of the total supply has been allocated to the community, and the remaining 20% to the Pi team. Further breaking it down, 65% of tokens are earmarked for mining rewards, 10% for ecosystem expansion (which will be managed by the Pi Foundation), and 5% for exchange liquidity.
Pi Coin Price History Key Points
Trading data began in 2022, with the price reaching an ATH of $330.65 on 30 December 2022.
It is currently valued at $38.7.
CoinMarketCap warns that the Pi Network mainnet is not live, so the coin may not be tradeable between exchanges.
Pi Coin Price Prediction 2023
Pi coin is currently in its closed Mainnet stage. This means it is cut off from blockchains. This makes trading Pi coin difficult and high risk.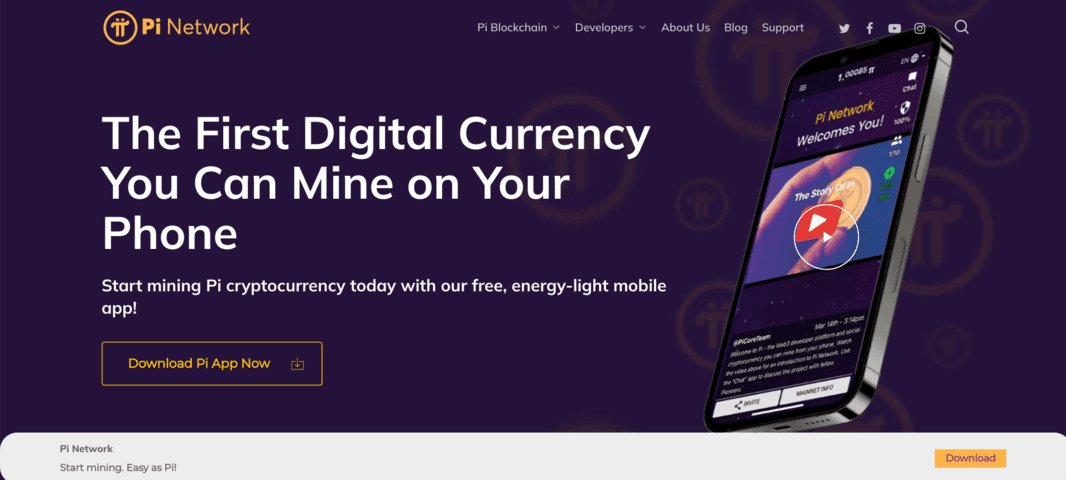 Still, Pi began migrating to the open Mainnet in August. One of the main issues in Pi Network migrating to its open mainnet is verifying its users' identity. Pi coin operates a know-your-customer (KYC) verification requirement for all participants, ensuring users have only one account and the network is decentralized.
In a recent interview, the Pi coin CEO stated that 5 million users have been verified. Considering there are 47 million users, Pi Network still has lots of work before it can launch its open Mainnet.
Furthermore, the current Pi coin price is unauthorized by the official Pi coin team since it remains in its closed Mainnet stage. Consequently, the Pi team has warned investors against buying the coin on exchanges, highlighting the exchanges do not yet hold the coins.
This means it is unlikely that Pi coin will see organic price action until the beginning of the open Mainnet launch.
However, with a maximum supply of 100 billion tokens and its current price of $38, the Pi coin's fully diluted market cap (FDV) stands at a grossly overvalued $3.8 trillion.
As a result, the price will inevitably collapse once the open Mainnet goes live and the project experiences sell pressure. Still, with the open mainnet unlikely to occur until 2024, this could enable Pi to push higher before a selloff.
With this in mind, we may see a pushback toward its yearly August 2023 high of around $60. On the other hand, investors may begin to liquidate their Pi holdings early as they understand the potential sell pressure ahead. If so, our Pi coin price prediction estimates a move towards the $20 mark. Therefore, we estimate an average price of $40 by the end of 2023.
| | | | |
| --- | --- | --- | --- |
| Month | Potential Low | Average Price | Potential High |
| October 2023 | $20 | $35 | $50 |
| November 2023 | $19 | $37 | $55 |
| December 2023 | $20 | $40 | $60 |
Pi Coin Price Prediction 2024
Considering the anticipated unlock of billions of Pi coin tokens, the project will undoubtedly experience mass sell pressure throughout 2024.

This selling pressure may only be offset by one of two events:
There is an equal or greater demand for Pi to match the sell pressure.
The token unlock is gradual, taking place over years rather than in a single day.
Regarding the demand for Pi, the project aims to provide utility within its ecosystem. The coin was designed to transfer value, enabling payments for a wide range of products and services.
Currently, Pi Network users can only trade and transfer tokens with each other. However, after the release of the open Mainnet, vendors and merchants will likely begin accepting the currency too.
Regarding the token unlock, a large portion of the 100 billion capped supply will still be locked at the beginning of the open Mainnet release. Nevertheless, according to the Pi coin whitepaper, users will already have mined an estimated 10-20 billion PI by the open Mainnet release. With a current price of over $38, this would immediately put Pi as one of the top cryptocurrencies by market cap.
Considering its current lack of utility and the likelihood that many holders will look to dump their tokens immediately, our Pi coin price prediction finds that Pi is likely to experience a significant selloff before achieving price stability.
Our recent Worldcoin price prediction noted a similar issue with that cryptocurrency. The circulating supply was vastly overvalued, with a fully diluted market cap of over $20 billion and an aggressive token unlock schedule. Due to these factors, the Worldcoin price has almost continually trended downward since its launch.
With this in mind, our Pi coin price prediction estimates a possible low of $0.1, a high of $0.7, and an average price of $0.4 by the end of 2024. That said, with 47 million users and massive anticipation for the open Mainnet release, we could see significant price volatility in both directions.
Pi Coin Price Prediction 2025
Provided that the Pi open Mainnet releases in 2024, the project may begin to experience price stability in 2025. The capped supply and formulated coin unlock mechanism provide a predictable supply, potentially making Pi coin attractive to developers and vendors looking for a thriving ecosystem.

As such, we could see growth in the coin's utility potential. This could help mitigate some selling pressure derived from mining Pi and potentially grow its demand. This is furthered by 10% of Pi coins allocated to ecosystem development.
Furthermore, its unique use case of a decentralized and distributed cryptocurrency may make it popular among speculative investors, furthering its demand.
Additionally, many experts forecast the next Bitcoin bull run to occur in 2025. This would likely bolster the prices of top altcoins, potentially including Pi coin, considering its massive community.
Therefore, our Pi coin price prediction estimates a possible low of $0.4, a high of $1.2, and an average price of $0.8 by the end of 2025. This would equate to a 100% increase from its average 2024 price.
Pi Coin Price Prediction 2030
Long-term price predictions can be challenging, particularly for projects as early and experimental as Pi coin. However, one primary consideration regarding the project is its network effect.
With 47 million users already using the closed-Mainnet, the ecosystem holds inherent value and could attract enterprises looking for new markets. This provides long-term potential, but the main determining factor will be whether Pi coin can recover from the supply shock following its open Mainnet launch.
Suppose buyers can absorb a significant portion of the dumping that is likely to occur. Pi coin will retain some value in that case, making the network attractive to companies and dApp developers. However, it cannot attract new development if value floods from the ecosystem, likely crushing its long-term potential.
With this in mind, and considering its 100 billion capped supply, our bear case scenario estimates a price of $0.01. This would occur if the project cannot recover the selling pressure following its open mainnet release.
Meanwhile, our bull case Pi forecast predicts a price of $2, likely to occur if the project finds price stability after its open Mainnet release.
This puts our average Pi coin price forecast estimate at $1.05 by the end of 2030. If correct, this would equate to a 26.625% increase from its 2025 price.
Possible Lows and Highs of the Pi Coin Price
Now that we have provided our Pi coin price analysis, here are our summarized lows and highs below.
| | | |
| --- | --- | --- |
| Year | Minimum Price | Maximum Price |
| 2023 | $20 | $60 |
| 2024 | $0.1 | $0.7 |
| 2025 | $0.4 | $1.2 |
| 2030 | $0.01 | $2 |
What Do Other Analysts Predict For Pi Coin Price
We have compiled other analysts' forecasts below to understand the Pi coin price potential better.
According to the CoinCodex Pi coin price forecast, the price could reach lows of $37.42 and highs of $305.86 by the end of 2024.
Based on the Crypto Bulls Club Pi coin forecast, PI could see lows of $22.384 and highs of $27.981 by the end of 2024.
The InvestingCube Pi price forecast predicts the price could reach lows of $1 and highs of $1.5 by the end of 2025.
MoneyBinds' 2025 Pi coin price prediction estimates lows of $3.48 and highs of $7.83.
According to Changelly, the price of Pi coin by the end of 2024 could reach a minimum of $40.87 and a maximum of $50.84.
What Is Pi Coin and What Is It Used For?
Pi coin is the cryptocurrency used to transfer value across the Pi Network.
Users can "mine" Pi coin by downloading the project's app and clicking a button daily, verifying that they are not robots.
Pi Network is a blockchain leveraging a "global trust graph" consensus mechanism, with nodes able to run the mining software on a laptop or PC.
The purpose of Pi coin's mobile mining mechanism is to distribute the Pi coin evenly and prevent the concentrated holdings seen with Bitcoin.
Despite its original aims, Bitcoin remains relatively centralized, with a small number of miners controlling most of the network, hashing power, and receiving most block rewards.
However, another way that Pi coin differentiates itself from Bitcoin is it aims to be more than a store-of-value like Bitcoin. Pi coin seeks to act as a means of payment within the Pi coin ecosystem.
Currently, users can only transfer tokens to other network participants. Still, the open Mainnet launch will likely attract developers to build on the Pi Network, providing holders with ways to spend their coins.
Pi Coin Overview
| | |
| --- | --- |
| Cryptocurrency | Pi |
| Ticker Symbol | PI |
| Rank | 2451 |
| Price | $37.53 |
| Price Change 24H | -2.66% |
| Market Cap | $0 |
| Circulating Supply | 0 |
| Trading Volume 24H | $340K |
| All Time High | $330.65 |
| All Time Low | $3.96 |
What Influences the Pi Coin Price?
As with all cryptocurrencies, supply and demand are the basic factors dictating the Pi coin price. As things stand, Pi Coin has significant supply and minimal demand drivers.
With over 47 million users unable to sell their Pl, a long queue of holders is waiting to finally lock in some profits. However, much of this sell pressure will likely come immediately after the open Mainnet release, potentially causing a significant selloff.
On the other hand, ecosystem developments or added incentives for long-term holders could counteract some of this selling pressure. Despite not being available to buy or sell except in the form of IOUs on some exchanges, the Pi coin team reported that a painting was sold in South Korea at $37.59 per PI.
This shows Pi coin's ability to transfer value and could bolster the coin's demand. Nevertheless, with a fully diluted market cap (based on the exchange-traded price of its IOUs) well over that of the entire global cryptocurrency market cap, it is almost impossible for this demand to absorb the incoming sell pressure.
Another factor to consider is the project's regulatory issues. In a recent event, the Vietnamese government launched an investigation into the Pi Network, referring to it as a multi-level marketing scheme.
While the outcome of the investigation remains to be seen, it does highlight the potential risk of Pi coin, mainly due to the referral-based system it uses.
Is Pi Coin a Buy?
Pi coin is a highly experimental project proving one of the most popular ways to earn free crypto. However, investors cannot buy PI, only IOUs on some exchanges. The Pi team has warned against buying these IOUs, and the price will likely crash following the open Mainnet release.
With this in mind, Pi coin is not a buy now, although it may still hold long-term potential once its price stabilizes in the future.
Conclusion
Overall, Pi Coin is a unique and innovative project that has done a fantastic job onboarding new users. That said, its vast token supply and largely anticipated coin unlock will drive mass sell pressure, causing its price to crash.
Therefore, investors may be better poised to identify alternative emerging cryptos with high potential. Click below to discover our picks for the best cryptos to buy now.
References
FAQs
What will the Pi coin price be in 2025?
How much will Pi coin be worth in 2030?