Polkadot is a "layer 0" blockchain focused on interoperability and scalability. It amassed significant hype during the last bull market and has undergone a long downtrend ever since.
Nevertheless, many analysts believe the project still holds massive potential. In this Polkadot price prediction, find out if those analysts are correct, as we predict DOT's short- and long-term price.
Polkadot Price Prediction Summary
Polkadot was founded in 2016, with the DOT coin going live in May 2020 for $2.8969.
DOT peaked at $55 in November 2021.
The Polkadot price is currently $5.17 with a $6.8 billion market cap.
According to our Polkadot price forecast, DOT could reach $5.95 by the end of 2023.
Our 2025 DOT price prediction estimates an average price of $33.65.
| | | | |
| --- | --- | --- | --- |
| Year | Minimum Price | Average Price | Maximum Price |
| 2023 | $5 | $5.95 | $6.9 |
| 2024 | $6.2 | $11.2 | $16 |
| 2025 | $23.3 | $33.65 | $44 |
| 2030 | $55 | $70 | $85 |
Polkadot Price History
Ethereum co-founder Dr Gavin Wood released a whitepaper in 2016 to create a "sharded version of Ethereum" – aiming to tackle Ethereum's scalability and interoperability issues.
However, the DOT token was a long time in the making, only released in 2020. However, starting in 2017, Dr Gavin Wood and the Polkadot team worked to raise funding in multiple presales rounds.
The initial ICO was launched in 2017 at $0.29 per dot. Following this, the team ran two private sale rounds, although they did not disclose how much was raised. However, the presale was estimated to raise over $300 million, and the funds were used to fund the project's initial development.
According to CoinMarketCap, following the launch in August 2020, the initial DOT price was $2.8969. The launch was very timely, with the crypto bull market just beginning. By January 2021, Polkadot had already started to experience massive bullish momentum, eventually reaching $45 in April of that year.
Following this, the price of Polkadot corrected to $10 before bouncing and creating a new all-time high (ATH) of $55 on 4 November 2022.
The most significant event on the Polkadot blockchain, the onboarding of "parachains", occurred in December 2021. However, the crypto market had begun crashing at this point, so the Polkadot parachain progress made little impact on the DOT price.
Since its ATH, the price has continued to trend downwards, reaching bear market lows of $4, and currently priced at $5.2.
The Polkadot price is up 13% in the last week but down 1.6% this month and 37% in the last year.
At the beginning of June, Polkadot was trading around $5.5. However, the SEC recently sued Binance and Coinbase for selling unregistered securities, causing crypto prices to plummet and DOT to drop to $4.2. That said, the lawsuit mentioned 13 cryptocurrencies it regarded as securities, and Polkdaot was not mentioned, enabling DOT to recover quickly.
Polkadot price history key points:
Polkadot initially launched as an ICO for $0.29 in 2017.
The coin went live on exchanges with an initial price of $2.8969.
DOT reached an ATH of $55 in November 2022.
After its ATH, the price trended downwards to a low of $4.
Recently, Polkadot has made a recovery, currently priced at $5.2.
Polkdaot Price Prediction 2023
It is widely known that despite Ethereum being the most popular altcoin, it also faces numerous issues regarding scalability, interoperability and composability.
Dr Gavin Wood's vision for Polkadot was for it to be a "layer zero" blockchain, providing the infrastructure to build multiple interconnected blockchains. This would enable each chain to be designed for a specific purpose. For example, a chain could be created for optimal security, speed, decentralisation, or anything else – all while being connected with other Polkadot chains.
These layer one blockchains on top of Polkadot are called "parachains", and the Polkadot blockchain is merely the relay chain used for consensus and cross-chain communication.
In essence, this makes it easy to transfer all forms of crypto assets and data between blockchains, providing a seamless user experience and improved liquidity.
Polkadot's blockchain design creates a vast range of use cases, giving it tremendous potential. Therefore, we expect Polkadot's price to quickly recover as the broader market recovers and Bitcoin climbs higher.
It remains to be seen if the markets will recover in 2023. Still, recent institutional interest from Blackrock, Fidelity and others means it is unlikely that we will revisit the bear market lows this year.
Considering our fundamental analysis, we have plotted our forecasted range for the remainder of 2023 on the Polkadot price chart below.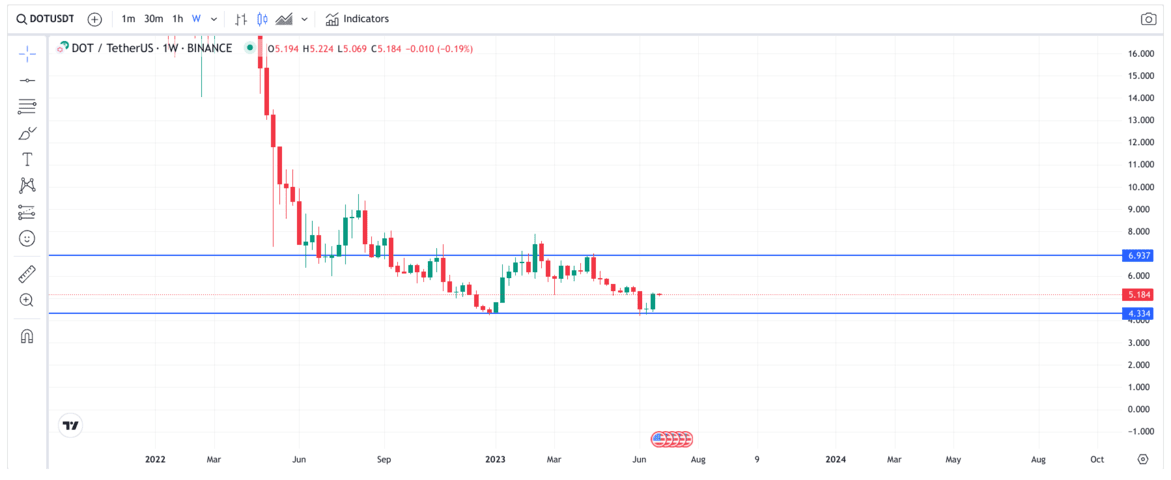 The recent sell-off has caused a double-bottom formation. This is often a positive signal, particularly considering the bullish sentiment regarding Polkadot.
With this in mind, our DOT price prediction estimates possible highs of $6.9, lows of $5 and an average price of $5.95 by the end of 2023.
| | | | |
| --- | --- | --- | --- |
| Month | Potential Low | Average Price | Potential High |
| July 2023 | $3.95 | $5 | $6.05 |
| August 2023 | $4.1 | $5.1 | $6.1 |
| September 2023 | $4.4 | $5.35 | $6.3 |
| October 2023 | $4.5 | $5.55 | $6.6 |
| November 2023 | $4.8 | $5.7 | $6.75 |
| December 2023 | $5 | $5.95 | $6.9 |
Cryptoassets are highly volatile and unregulated in most EU countries, Australia and the UK. No consumer protection. Tax on profits may apply. Your capital is at risk.
Polkadot Price Prediction 2024
It is estimated that Polkadot could reach up to 100,000 transactions per second and provide transaction finality in six seconds. This means Polkadot is fast and scalable, making it ideal for mass adoption.
Polkdaot recently announced Energy firm Energy Web would be building a blockchain using Polkadot's infrastructure. Energy Web is a global non-profit company which chose to build on Polkadot due to its "enterprise-grade security and seamless upgradeability", according to its CEO Jesse Morris.
Overall, Polkadot's customisability and composability make it an ideal solution for any project looking to build in crypto. However, only 100 Polkadot parachain slots are available, and projects must "bid" in auctions to win them.
Bidding is done using the DOT coin, and considering the scarcity of the parachains, this has the potential to boost its price significantly.
Polkadot has also recently upgraded an element of its governance system called the "The Technical Fellowship", enabling more scalable and decentralised change decision-making on the network.
Several studies have found that blockchain voting contains inefficiencies, so Polkadot's actions in solving these issues could significantly improve its chances of success in 2024.
Overall, Polkadot is poised for a strong year in 2024, and we expect a break out from its 2023 range to the upside.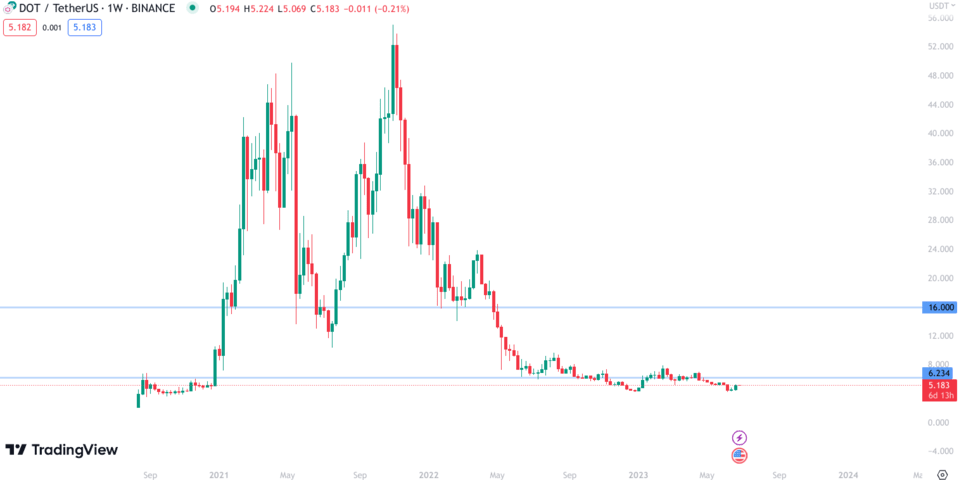 Therefore, our DOT price prediction estimates possible highs of $16, lows of $6.20, and an average price of $11.20 by the end of 2024.
Polkadot Price Prediction 2025
One of the main criticisms of Polkadot currently is that its community is relatively small. For example, according to CoinCarp, there are 1.1 million DOT holders.

In comparison, there are 236 million Ethereum holders and 9 million Solana holders. This could be because the Polkadot project remains in its development stages, with many parachains yet to be launched.
Another reason is that many users report that the Polkadot blockchain usability is more complicated than Ethereum's. This is likely because its interoperability and use of multiple blockchains are novel ideas, leading to a steeper learning curve.
Nevertheless, projects such as Moonbeam, Astar, Centrifuge and Efinity have already achieved considerable success building on Polkadot. Considering crypto has been in a bear market since the parachain release, the success is likely to amplify once the market picks up.
Another factor to consider is that since Polkadot parachains are connected via the main Polkadot relay chain, liquidity can be moved between chains securely and efficiently.
As well as the flexibility that Polkadot provides to design specialised blockchains, the benefit of easy movement of funds between parachains could prove a significant incentive for projects looking to build. This could lead to higher quality projects on Polkadot over time, attracting more users.
The main reason for the lack of adoption of the Polkadot so far is that its parachains were launched at the beginning of a bear market. However, we expect adoption to soar in the next bull market since its parachains are now live.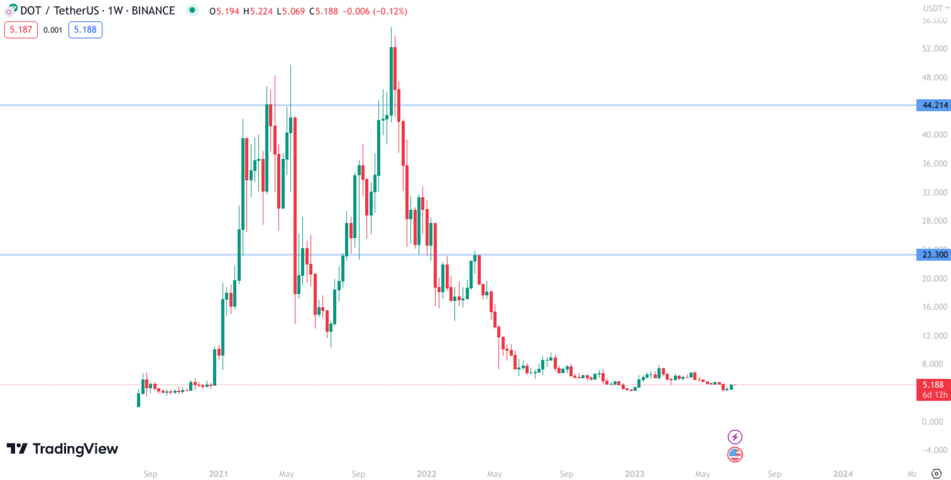 With this in mind, our 2025 Polkadot price prediction forecasts possible highs of $44, lows of $23.3 and an average price of $33.65.
Polkadot Price Prediction 2030
In the long term, Polkadots most significant advantages are its unique blockchain composability and demand drivers for the DOT token. These two factors could play a considerable role in bolstering the DOT price.
Also, according to developerreport.com, Polkadot has the second-highest number of active developers, following Ethereum. Consequently, we expect lots of future innovation on the Polkadot chain, potentially helping separate it from other layer-one alternatives like Cardano, Solana and Avalanche.
However, to determine a long-term DOT price, we must also consider its potential downfalls. One of the main drawbacks of Polkadot is its learning curve to use the network and wallet, which is much more complicated than using an Ethereum wallet like MetaMask.
Another possible risk for Polkadot is competition from Cosmos, another infrastructure blockchain that works similarly to Polkadot. Cosmos has a $3 billion market cap, whereas Polkadot's is $6 billion. However, Cosmos is proving very popular, and if it continues its trajectory, it could take some of Polkadot's market share.
That said, our long-term outlook remains bullish for Polkadot; it is a novel technology that approaches the issues faced in blockchain from an innovative perspective.
We have added the Fibonacci Retracement tool to the DOT price chart below to forecast possible long-term highs.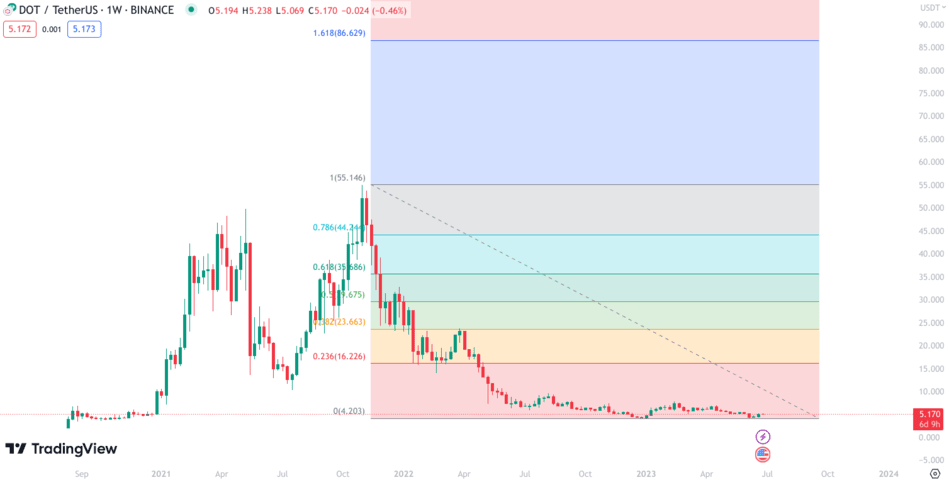 Considering this, our 2030 Polka dot cryptocurrency price prediction estimates possible highs of $85, lows of $55 and an average price of $70.
Depending on the projects that chose to build on Polkadot, we could see the price climb a lot higher than this. However, it would also be a lot more challenging to sustain a higher price long-term.
Possible Highs and Lows of Polkadot's Price
Despite being a newer project, Polkadot has already established itself as one of the most promising cryptos. The table below shows our predicted highs and lows for the DOT price between 2023 and 2030.
| | | |
| --- | --- | --- |
| Year | Minimum Price | Maximum Price |
| 2023 | $5 | $6.9 |
| 2024 | $6.2 | $16 |
| 2025 | $23.3 | $44 |
| 2030 | $55 | $85 |
What do Other Analysts Predict for Polkadot
Many analysts agree that Polkadot is one of the best altcoins. However, their price predictions differ regarding how far cold Polkadot go. We have summarised Polkadot price forecasts from a range of analysts below.
According to Changelly, the price of Polkadot will reach possible highs of $7.04, lows of $6.29 and an average price of $6.49 by the end of 2023.
The CryptoNewZ Polkadot price prediction expects a price between $11.37 and $4.68 by the end of 2023.
AMBCrypto's DOT forecast predicted a maximum price of $10.25, a minimum price of $6.83 and an average price of $8.54 by the end of 2023.
DigitalCoinPrice estimated the highest price of Polkadot by 2023 to be $11.23, with a minimum price of $4.60 and an average price of $10.59.
Based on the CoinPedia Polkadot price prediction, DOT's price could reach a possible high of $10.684, a low of $6.232 and an average price of $7.958 by the end of 2023.
What is Polkadot and What is it Used For?
Polkadot is a blockchain which focuses on interoperability and scalability. In other words, it aims to connect different blockchains and make transactions fast and cheap.
The main Polkadot blockchain is known as the "relay chain"; this is a consensus and communication layer connecting other blockchains. The connected blockchains are known as parachains, and there are only 100 spaces available.
Projects must partake in auctions to get a parachain slot, and the project that bids the most DOT wins the auction. Parachains slots are leased to the winner for up to 96 weeks at a time, after which, another auction will be held.
The primary purpose of the DOT coin is for staking, governance, parachain auctions and relay chain gas fees. Parachains can also choose to settle transaction fees in DOT too.
Polkadot Overview
| | |
| --- | --- |
| Cryptocurrency | Polkadot |
| Ticker Symbol | DOT |
| Rank | 12 |
| Price | $5.09 |
| Price Change 24H | -1.57% |
| Market Cap | $6,748,235,220 |
| Circulating Supply | 1,198,810,676.54 DOT |
| Trading Volume 24H | $160M |
| All Time High | $55 |
| All Time Low | $2.69 |
What Influences the Polkadot Price?
As with most cryptocurrencies, speculation plays a significant role in DOT's price. However, its tokenomics mean there are some less conventional price drivers that could also significantly impact its price.
The main driver is parachain auctions. Parachain auctions require projects to amass as much DOT as possible in an attempt to win. Therefore, as parachain slots grow in demand, the price of DOT will naturally increase.
On top of that, many Polkadot stakeholders may want to control the direction of the Polkadot network. These individuals will require DOT since it is Polkadot's governance token. This means the level of stakeholder interest in Polkadot will also significantly influence its price.
As mentioned, competition from other layer one cryptos like Cardano and Ethereum, as well as from other layer zero projects like Cosmos, will affect Polkadot's price. If Polkadot can capture more market share, it will likely grow quicker. On the other hand, if Cosmos or another layer of one coin grows quicker, it may reduce Polkadot's growth potential.
Finally, the broader crypto market's performance will also affect the Polkadot price. As we have seen throughout the last crypto bear market, DOT has followed the market downwards, despite significant progress in its parachain developments. Therefore, as the market shifts bullish, we will likely see Polkadot make a considerable recovery.
Is Polkadot a Buy?
While Polkadot is a powerful project with excellent fundamentals, it remains to be seen if it is one of the cryptos with the highest upside potential.
Having already generated a significant market cap of over $6 billion, even a 10X for Polkadot would mean a $60 billion market cap. This is unlikely in the near term without mass adoption.
Conclusion
Our Polkadot crypto price prediction found that DOT is a very strong crypto with room for growth. However, as mentioned, with a market cap of $6 billion, the upside remains limited compared to some other cryptos.
With that in mind, we have created a list containing our top picks for the best cryptos to buy now.
Cryptoassets are highly volatile and unregulated in most EU countries, Australia and the UK. No consumer protection. Tax on profits may apply. Your capital is at risk.
References
https://www.reuters.com/business/finance/us-sec-coinbase-binance-crackdown-puts-crypto-exchanges-notice-2023-06-08/
https://www.bloomberg.com/news/articles/2022-09-15/ethereum-faces-blockchain-trilemma-when-merge-mania-cools
https://www.reuters.com/technology/bitcoin-hits-1-year-high-amid-blackrock-etf-excitement-2023-06-23/
https://wiki.polkadot.network/docs/learn-polkadot-opengov
https://static1.squarespace.com/static/59aae5e9a803bb10bedeb03e/t/615c75f9eaae697e540f5c4f/1633449465655/VotingPaper-Rivest%2C+Narula%2C+Sunoo.pdf
https://www.bloomberg.com/news/articles/2022-06-26/crypto-winter-why-this-bitcoin-bear-market-is-different-from-the-past
FAQs
Is Polkadot worth buying?
Should I buy Polkadot or Cardano?