RenQ Finance (RENQ) is a new DeFi token currently in the last stage of its presale, and 90% through its final stage.
As the token is close to completing the last presale round, investors have started to speculate where the price of this asset is going to go after the Token Generation Event. In this guide we speculate on a possible RenQ Finance price prediction based on the token's fundamentals and wider crypto market activity.
RenQ Finance Price Prediction – Summary
Below we forecast a possible RENQ price prediction year by year:
End of 2023 – Once the RenQ Finance presale end, there could be a listing pump leading to a sell-off, pushing the price of RENQ to its initial highs then retesting demand at the early presale levels.
As the project starts to move forward and the concept of multi-chain DeFi becomes big, we might see the RENQ price again enter price discovery by the end of 2023. Our conservative estimate as to how well RenQ finance might perform by the end of 2023 points to around the $0.06 mark. A lot will depend on the project delivering on its roadmap.
There have been some concerns over images of the team appearing AI generated. Some investors may take profit on listing day, leading to high selling pressure.
In the most bullish case, our estimate is RenQ Finance could go up to $0.1 before a correction.
End of 2025 – Most of what RenQ Finance has sought to do should be rolled out by 2025. Bitcoin's halving the year prior may push the entire cryptocurrency market up, which will also funnel money into DeFi tokens like RenQ Finance.
Another positive for RENQ could be its NFT launchpad. If NFTs get the traction they once did back in 2021, RENQ might move up to $0.15. However, the token could have multiple competitors by then. In the bearish case, our low-end price prediction for RENQ token is $0.05.
End of 2030 – The entire crypto space may look wildly different than it is today in the future – altcoins can often be replaced by new rivals with the same use case.
Experts hope that there won't be too much ambiguity about regulations associated with DeFi however. If RenQ Finance is still around then, that bullishness could boost the token's price, which some investors hope will be around the $1 mark by the end of 2030. If the roadmap is not fully implemented however, or if competitors outpace RenQ Finance, its price may fail to break out.
RenQ Finance Price History
RenQ Finance is currently conducting a presale for early investors, so there isn't any technical analysis that can be performed or price charts to review.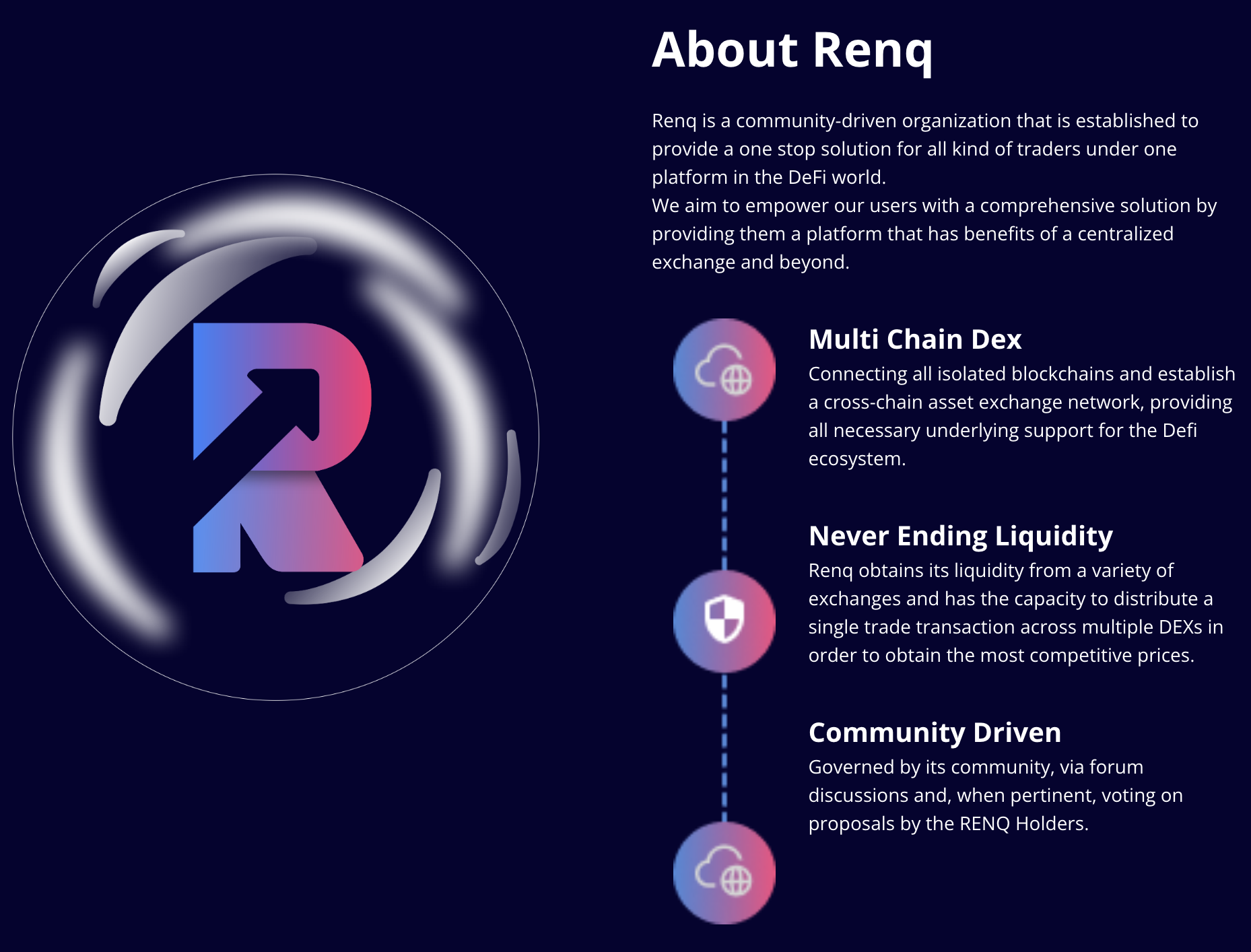 In terms of the RenQ Finance token price increments, those who bought the token during the first presale stage have already accumulated a profit of 175%.
Here are the RenQ Finance price stages that were in place during the presale:
| | | |
| --- | --- | --- |
| Stage | RenQ Finance Price | Cumulative Raise |
| 1 | $0.02 | $690k |
| 2 | $0.025 | $1.662M |
| 3 | $0.003 | $1.996M |
| 4 | $0.035 | $2.327M |
| 5 | $0.04 | $2.660M |
| 6 | $0.045 | $2.992M |
| 7 | $0.05 | $3.325M |
| 8 | $0.055 | $3.657M |
The listing price for RenQ Finance coin has been set at $0.070.
RenQ Finance Key Points
RenQ Finance has set up a fairly high but not unrealistic hard cap target, not uncommon for some DeFi token presales – $19.3 million.
| | |
| --- | --- |
| Presale Started | February 2023 |
| Purchase Methods | USDT, ETH |
| Chain | Ethereum |
| Hard Cap | $19.3 million |
| Listing Price | $0.070 |
RenQ Finance Price Prediction 2023
RenQ Finance's Performance in 2023 will be determined by two factors.
The macroeconomic activity of the market is slowly trying to distance itself from the crypto winter.
The pace at which the project evolves after the presale.
RenQ Finance is closer to ending the last stage of the presale. And its listing price has been set at $0.07. The market may witness some pumps when the first exchange listing comes, but stage-one investors would likely start dumping, which would have a negative impact on the price.
Much of the crypto market's attention in recent months has been focused on low-utility meme coins like Pepe (PEPE), which some investors may wish to divest into.
After an itnitial sell-off RENQ token may still find support around the listing price or just below. We predict that the RenQ Finance price could be somewhere around $0.06 by the end of 2023.
One positive catalyst could be the banking crisis. Recent events have driven many people away from traditional financial institutions, which led to Bitcoin taking back some of its lost value. And as RenQ Finance is focusing on multi-chain DeFi, our most bullish estimate for the RENQ price is $0.1.
RenQ Finance Price Prediction 2025
RenQ will have many contenders by the time 2025 arrives, which would push devs to make the ecosystem perform better. 2025 is also the year by which most of RENQ's development on the roadmap, including the metaverse project support and enhancement, will be completed.
The Launchpad will also play a role in rushing RenQ Finance's price further. So, by our estimate, the RenQ Finance price will reach $0.15 by the end of 2025.
However, if the project is not able to deliver on its promises – which is possible since RENQ is trying to attempt a multi-chain DeFi – investors may lose some faith in it. That may push the price of the RENQ token down to $0.05.
RenQ Finance Price Prediction 2030
2030 will see the consolidation of crypto laws related to DeFi. The topic of decentralized dinance won't be in the regulatory limbo as it is today. A more progressive and consolidated approach may help RenQ Finance to reach $1 by the end of 2030.
But the current market is volatile, and there are not many government agencies willing to give DeFi a fair shake. It means that if regressive regulations are introduced, RenQ finance may suffer and may only be able to reach $0.5.
Possible Highs and Lows for RenQ Finance
Here are some potential highs and lows of RenQ finance year on year:
| | | |
| --- | --- | --- |
| Year | Potential High | Potential Low |
| 2023 | $0.1 | $0.06 |
| 2025 | $0.16 | $0.05 |
| 2030 | $1 | $0.5 |
What is RenQ Finance?
RenQ Finance states that it is a "unified platform to a decengtralied world" where it aims to establish a cross-chain asset exchange network that supports DeFi in all ways.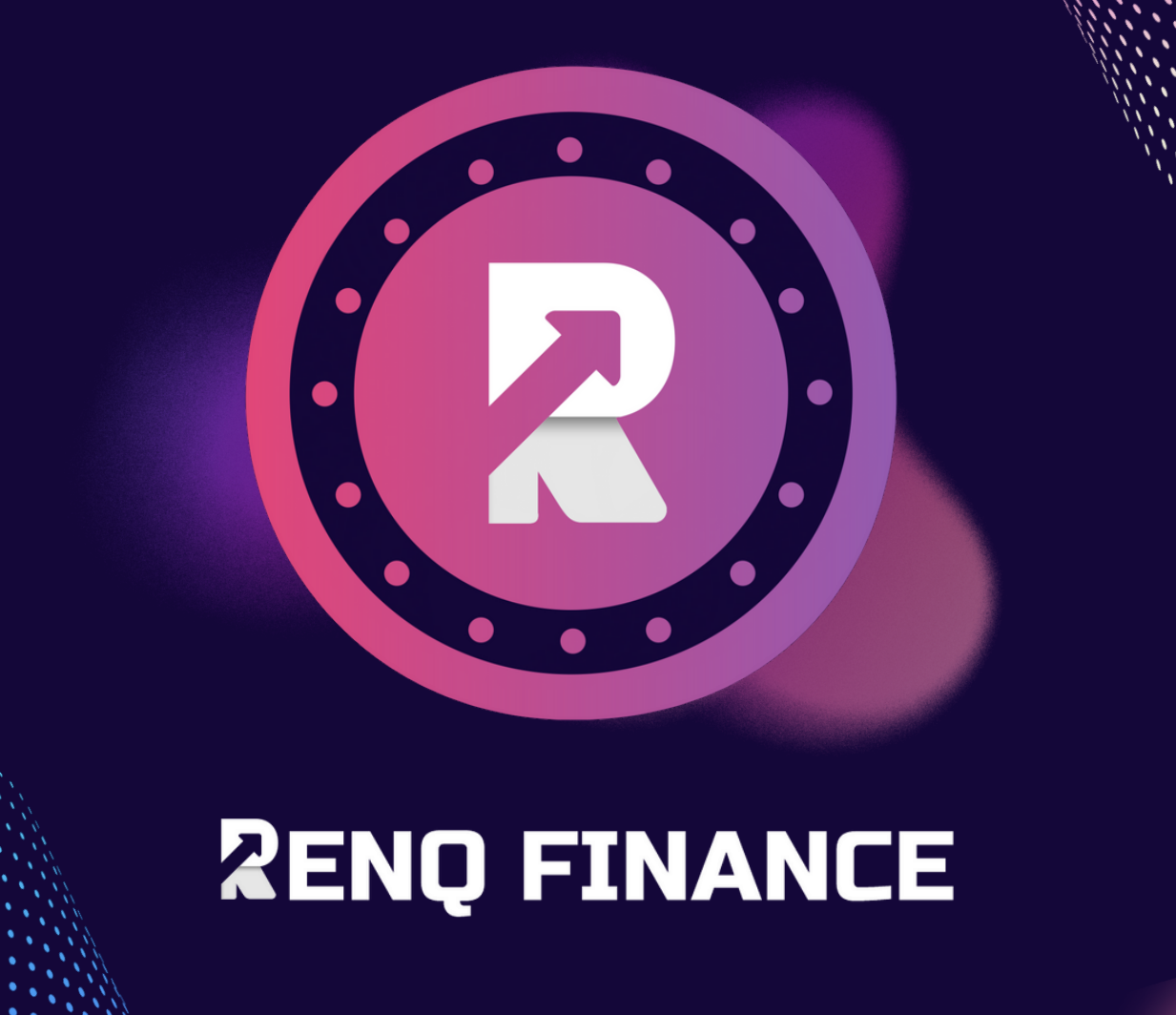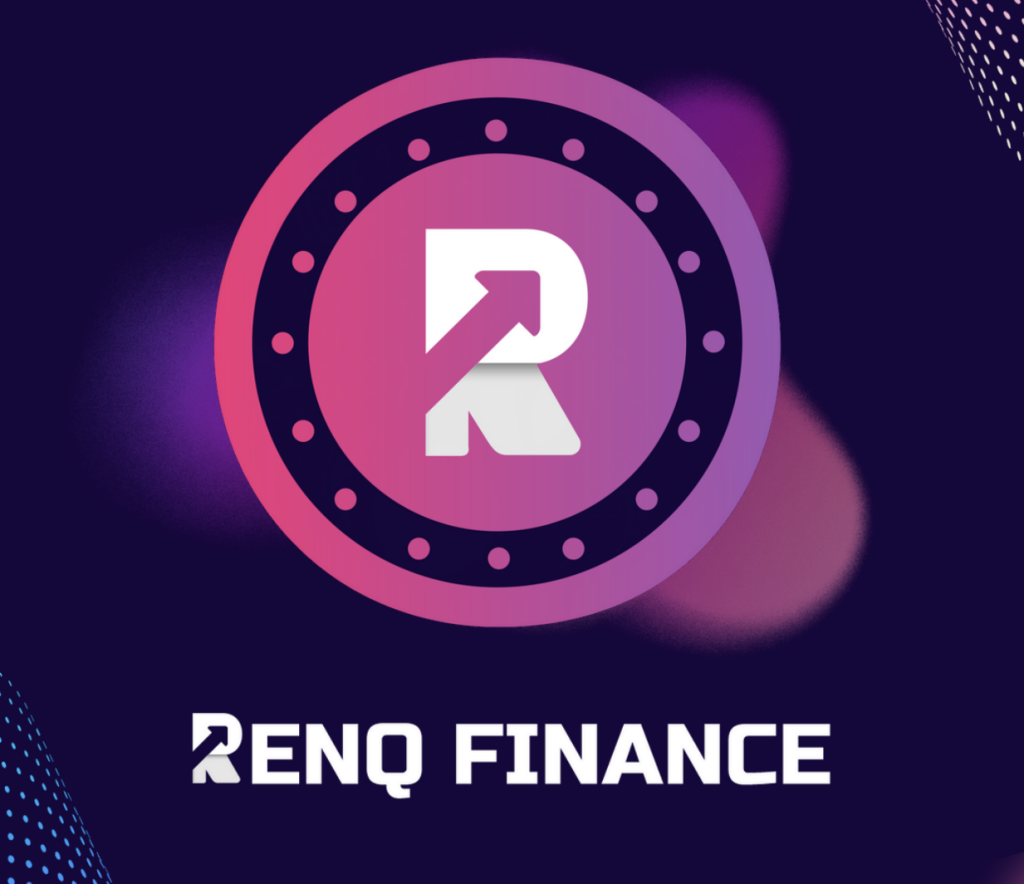 The project says that it is a community-driven organization wishing to provide an all-in-one solution for all DeFi needs, which would establish a:
Multi Chain DEX to support all types of cryptocurrencies.
Chain of pools with "never-ending liquidity" thanks to integration with multiple DEXs.
A lending protocol allowing users to lend and borrow crypto loans.
DeFi and NFT launchpad projects for all chains.
And forms where the community will be given the power to vote on different matters.
RenQ Finance is powered by the $RENQ token. It is an ERC-20 asset with a total supply of 1 billion, out of which 500 million has been dedicated to the presale.
Factors Influencing the RenQ Finance Price
The following aspects could be considered when making a RenQ Finance price prediction:
DeFi – The first factor that will influence the RenQ Finance price is DeFi. DeFi has many pursuits, but people have a hard time understanding it in the current stage. If RenQ Finance can make DeFi accessible, a major bullish move can be seen in the market.
Project's development – RenQ has promised a lot of new concepts for the crypto market. Multi-chain support is just the tip of the iceberg. Safety and security inside a decentralized protocol is something the blockchain crowd hasn't truly achieved yet. How quickly RENQ delivers on its promises will determine the project's price.
Macroeconomic Activity – The third critical factor to influence RENQ's price will be the macroeconomic activity. Bitcoin's performance throughout the course of the next few years would be a major determinant for other assets – including RenQ Finance.
Is RenQ Finance the Best Presale Crypto to Buy in 2023?
DeFi coins have started to make a comeback since people have started to look for more utility-based cryptos to add to their portfolios. Being one of them, RenQ can potentially be open to the best crypto presales in the market.
However, whether or not it will become the next crypto to explode is another issue. For one, many might say this token is a bit too nuanced and promises way too much. That means that the potential for under-delivery is high. But there are others saying that RenQ Finance's genuine roadmap and whitepaper may bring more gains for those who invest early.
That said, other crypto presales may offer a better opportunity. For instance, tokens like AiDoge are among the most trending crypto presales. This AI-driven meme-generating token has raised close to $5 million within 15 days, at a faster pace than the RENQ presale.
How to Buy $RENQ – Five-Step Guide
Here is a step-by-step guide to buying the RenQ Finance token.
Step 1 – Go to the Official Website
The first step to take is to go to the official website – renq.io – and click on the connect wallet button. It will prompt you to attach a wallet.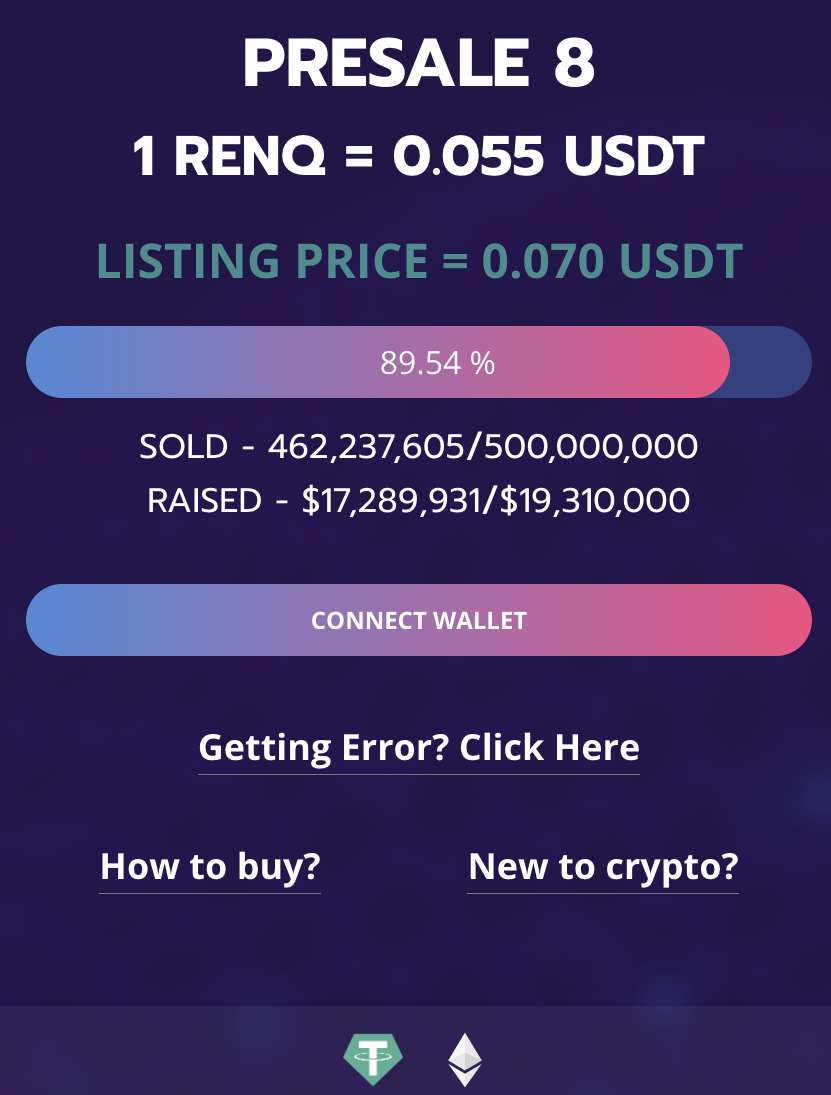 Step 2 – Acquire ETH/USDT
Ethereum or USDT is required to buy the RenQ Finance token. Go to a cryptocurrency exchange and buy ETH or USDT.
Step 3 – Swap ETH/USDT for RENQ
Enter the number of RENQ tokens you want to buy, and you will get info about how much ETH/USDT you must spend. Click the "Swap" button to complete the transaction. You will be able to get your tokens after the TGE – Token Generation Event.
RenQ Finance Price Prediction – The Verdict
RenQ Finance is a DeFi project that aims to create a multi-chain ecosystem for the DeFi space. That would allow more flexibility in DeFi – giving many entrants of DeFi a better chance at making gains. That said, many think that this token is trying to do too much through its roadmap.
For that reason, people are often looking at other spaces to find the best altcoins that have a realistic roadmap and can perform a bit stably as compared to the rest.
FAQs on RenQ Finance
Is RenQ Finance a good investment?
What is the total supply of RenQ Finance?