Over time, both gold and crypto trading have become incredibly popular, largely due to the rise of various trading platforms. One such platform, 1G Golden Profit, has gained quite a following, claiming to be a solid choice for gold traders with its array of features.
In this review, we'll take a close look at what 1G Golden Profit brings to the table. Read on to figure out if it's a trustworthy platform for gold trading.
1G Golden Profit Platform Overview
Here is a brief overview of 1G Golden Profit, which will help you get an idea about the platform before we get started with the complete review.
| | |
| --- | --- |
| Type of Platform | Gold Trading |
| Minimum Deposit | $250 |
| Claimed Success Rate | Not Stated |
| Asset Supported | Gold |
| Mobile App | None |
| Withdrawal or Deposit Fees | None |
| Customer Service | Not Stated |
Cryptocurrencies are unregulated. Trading with unregulated brokers will not qualify for investor protection.
What is 1G Golden Profit?
1G Golden Profit, true to its name, is purportedly a platform designed specifically for gold trading. In a time where trading platforms for stocks and cryptocurrencies have gained immense popularity, 1G Golden Profit stands out as one of the few platforms dedicated to gold trading that has garnered similar attention.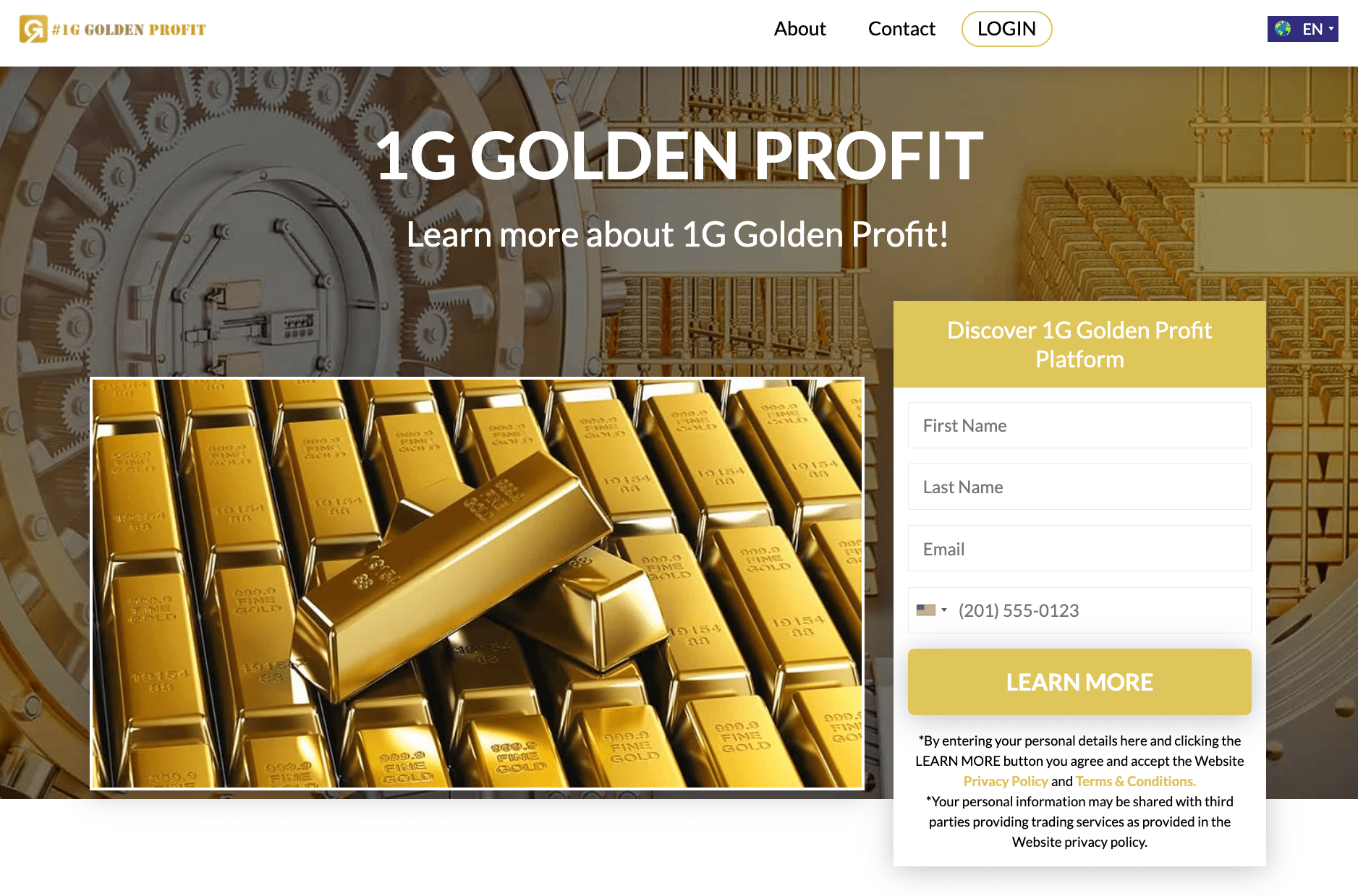 What sets this platform apart is that it doesn't solely function as a place for trading gold. It goes a step further by providing valuable insights to help traders make more informed decisions about their positions.
Essentially, the platform collects data from various exchanges and presents it to the trader. This, in turn, offers a clearer picture of the market conditions, enabling more strategic gold trading.
The platform boasts an attractive and user-friendly interface, offering a wealth of information on gold trading. This itself demonstrates the platform's commitment to educating and assisting traders throughout their gold trading journey.
In fact, the platform also asserts on its website that the developers and core team behind its creation have been continuously looking for ways to improve and build the platform to better suit potential users.
Positioned as a free trading platform suitable for traders of all experience levels, 1G Golden Profit, or simply Golden Profit as it's referred to on the website multiple times, claims to be the top choice for gold trading in today's market.
Who Created 1G Golden Profit?
When it comes to trading platforms, it's customary to provide details about the core team behind the scenes. However, there's been a recent trend in the trading space where creators prefer to remain anonymous. 1G Golden Profit follows this pattern, as it doesn't disclose any information about its founder, core developers, or their background experience.
The platform simply states that it was created with the involvement of professional traders and developers, a trend we've observed in other platforms we've reviewed in the past, such as Cryptosoft, Immediate Connect, Bitcoin Oracle AI, and Oil Zero.
1G Golden Profit Pros and Cons
Let us now understand some pros and cons of the platform that were revealed to us while reviewing the platform thoroughly.
Pros
Claims to be highly beginner-friendly
Fluid website interface
Claims to extract data from multiple sources
Claims to be created by an experienced team
Easy registration process
Cons
Hefty initial deposit fee
No specific information about the platform
Cryptocurrencies are unregulated. Trading with unregulated brokers will not qualify for investor protection.
How Does 1G Golden Profit Work?
1G Golden Profit is primarily a trading platform tailored for those interested in gold trading. It asserts that it aggregates information from various sources and markets to provide a comprehensive overview of the entire gold market right within its dashboard. However, it doesn't specify the specific tools or algorithms it employs to achieve this.
According to the website, using the platform involves users selecting their preferred market, examining available options, and then executing a buy or sell trade based on their decision.
The platform was designed with the aim of helping users discover suitable trades, making it user-friendly for both beginners and seasoned traders. Additionally, the platform claims it can assist traders in devising AI-driven trading strategies that align with their preferences.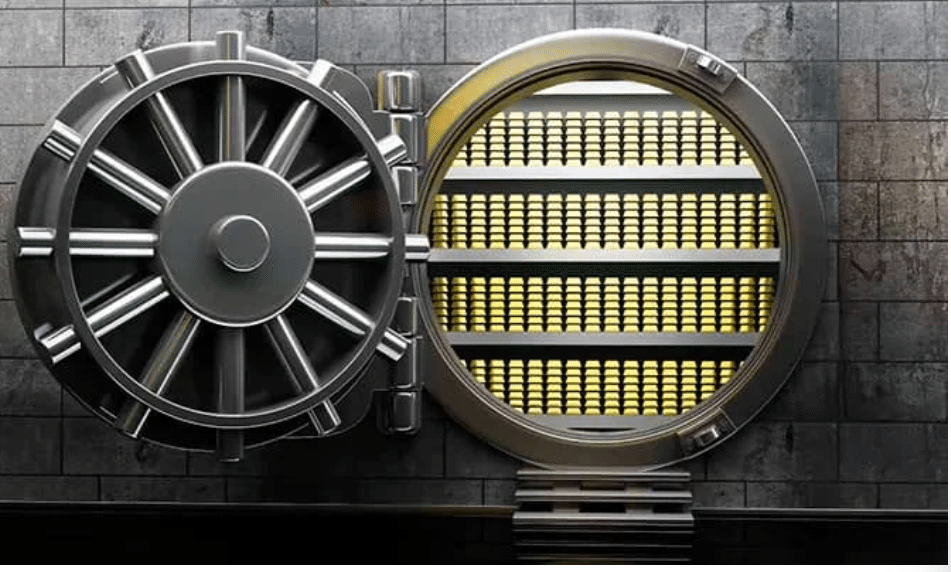 To be able to use the platform's claimed range of offerings, users must go through a registration process. The website appears to function primarily as an interface for user registration and gaining entry to the platform.
After registering, a trader can utilize the dashboard for trading, which supposedly houses the various features mentioned on the website. It might be reasonable to assume that any additional features not accessible through the website might become available once the dashboard is accessed, possibly after an initial deposit. However, these assumptions are made since the platform doesn't provide explicit clarification on this matter on the website.
What Devices Can be Used to Access 1G Golden Profit?
1G Golden Profit highlights device compatibility as a key feature on their website. However, they don't specify any particular types of devices that are supported or not supported. Therefore, it's reasonable to assume that the platform will likely work on all standard devices that typically support such trading platforms.
This encompasses mobile phones, tablets, iPads or iPhones, laptops, and PCs. Nevertheless, for a more precise understanding of compatibility, reaching out to customer support might be a prudent step.
1G Golden Profit – Supported Countries
There's not a lot of detailed information provided about which countries can access 1G Golden Profit. While the platform does state it has a global reach, it doesn't specify the exact list of countries it serves. However, there is a note at the bottom of the website indicating a restriction for the UK. It mentions "prohibiting the dissemination of marketing materials relating to distribution of CFDs and other financial products based on Cryptocurrencies and which are addressed to UK residents."
Since Golden Profit deals with gold as an asset and not cryptocurrencies, it's advisable to seek confirmation from customer support for more clarity on this matter.
1G Golden Profit – Top Features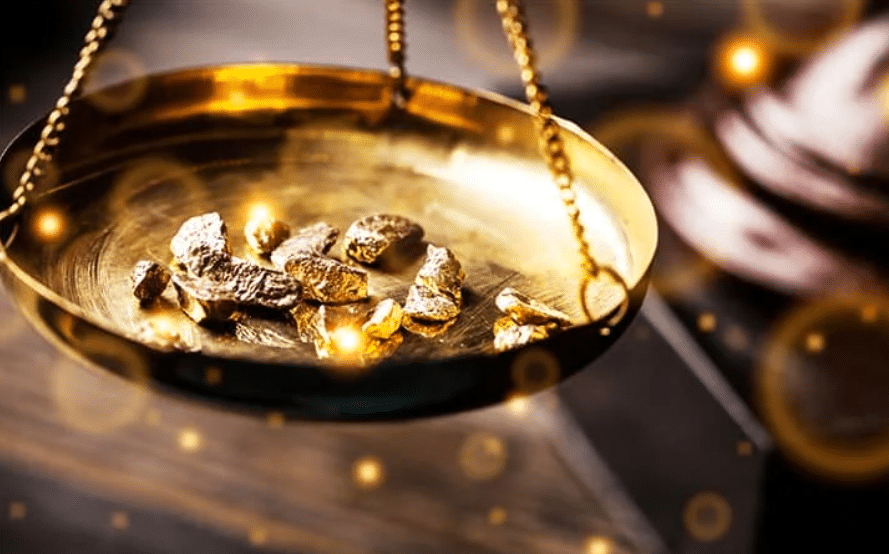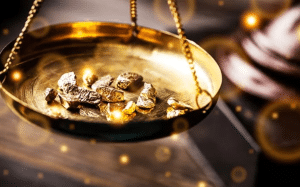 There are many claims that the 1G Golden Profit platform has mentioned across the website. Some of them, which they position to be the platform's top features, include:
Intuitive User Interface
The website features a user-friendly interface specifically designed with beginners in mind. It prioritizes providing traders with information about gold and the advantages of trading in this asset. On the homepage, you'll find a good amount of trading-related and platform-specific information, along with a single input box for registration. There are no additional elements that could overwhelm the platform's layout.
The platform also claims that once registered, the trading interface that one will gain access to is intuitive, aiming to enhance the excitement of the trading experience.
No Fee Structure
1G Golden Profit claims to operate on a fee-free model. This means that although traders have the potential to earn significant profits from their trades, they won't incur any trade fees or commissions. However, it's worth noting that there is a minimum deposit requirement that users must meet in order to commence trading on the platform.
Accumulation of Data
As mentioned earlier, a prominent feature of the platform is its purported ability to gather data from different exchanges and platforms. This data can then be utilized by traders to create personalized strategies for their trading decisions when they begin using the 1G Golden Profit platform.
Beginner Friendly
Golden Profit's primary objective is to offer a user-friendly environment for traders, especially beginners, to grasp the ins and outs of gold trading. This has been mentioned on the website multiple times, too. The platform claims that it aims to assist them in making informed decisions to potentially generate profits.
Is 1G Golden Profit a Scam?
During our review of the 1G Golden Profit platform, certain aspects raised some concerns. Notably, there are no reviews or mentions of the platform elsewhere online. Additionally, there's a lack of clear information about the team behind the platform. Furthermore, there seems to be some inaccurate information at the bottom of the website, referencing cryptocurrencies despite the platform exclusively dealing in gold.
However, we can't simply label it as a scam since the dashboard and its features are only available to those who have registered as users. Nevertheless, considering that it involves an initial deposit to gain access, we recommend users exercise caution and conduct thorough research before engaging with the platform.
What is the Minimum Deposit on 1G Golden Profit?
According to the website, the minimum deposit required on 1G Golden Profit is $250. This initial deposit is a prerequisite for gaining access to the platform's dashboard and using its features.
Cryptocurrencies are unregulated. Trading with unregulated brokers will not qualify for investor protection.
1G Golden Profit Customer Support
The website features a "Contact Us" section for inquiries. However, it doesn't offer explicit information about the range of support options available, such as a live chat feature. However, the platform does assure users that customer support is promptly available and responsive.
This can be reassuring for traders seeking assistance or clarification while using the platform. If this claim is true, then it indicates a commitment to addressing user queries in a timely manner, though specific support channels remain unspecified.
How to Get Started with 1G Golden Profit
Below are the steps that you can follow to start trading on Golden Profit –
Step 1: Register on the Platform
Start by registering on the official 1G Golden Profit website by filling out the given form at the top of the page. Provide your full name, email address, and phone number, and agree to the Privacy Policy and Terms & Conditions.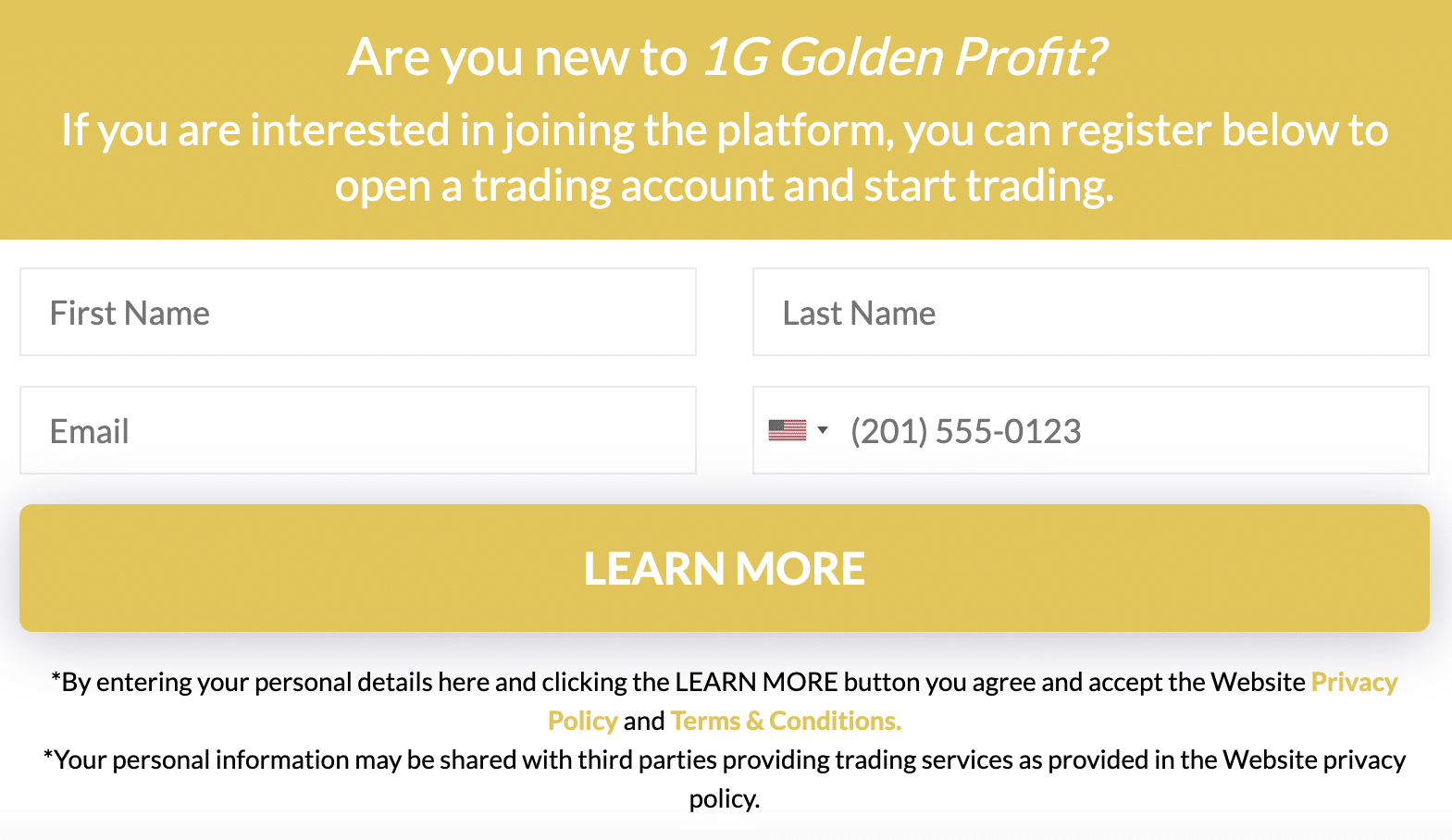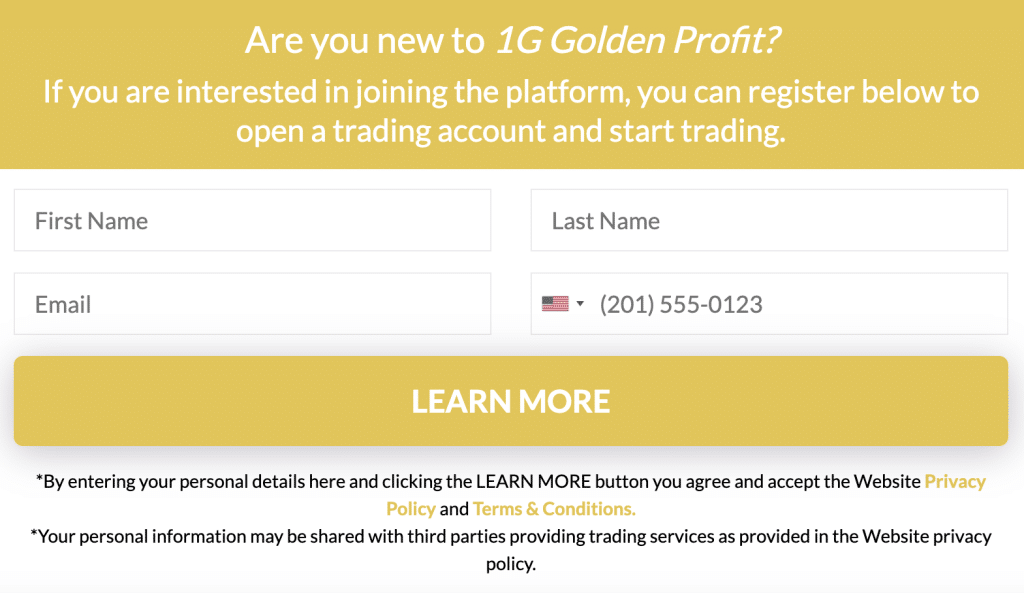 Once done, you'll receive a confirmation email to verify your account.
Step 2: Funding and Set-Up
After signing up, deposit the minimum amount of $250. These funds will be used for your trades. Once the account is funded, you can start exploring the various products offered by the platform.
Step 3: Trading on 1G Golden Profit
If you're confident in your strategy and knowledge, start your first trading session. Remember, trading carries risks, so be responsible and only invest what you can afford to lose.
How to Delete a 1G Golden Profit Account
To delete your 1G Golden Profit account, you may locate an option within the account settings or menu. However, the exact steps and details for permanently deleting the account are not provided on the website. This leaves our understanding to be speculative. It's advisable to contact the platform's customer support for guidance on this process.
Is 1G Golden Profit Account Legit? – The Verdict
During our review of 1G Golden Profit, we discovered several significant issues. Firstly, there is a substantial minimum deposit requirement of $250. This amount must be deposited upfront, even before gaining access to a preview of the actual dashboard where gold trading takes place. The information provided on the website is also quite limited. In fact, many of their claims lack supporting evidence such as audit-proof or similar features documents.
So, we would strongly advise you to thoroughly investigate every aspect of the platform before committing any funds and engaging in trading activities. This approach ensures a comprehensive understanding of the platform and its offerings, which could save you from any further troubles in your gold trading journey.
Cryptocurrencies are unregulated. Trading with unregulated brokers will not qualify for investor protection.
FAQs
Can you trade cryptocurrencies on 1G Golden Profit?
What are the charges involved with trading on 1G Golden Profit?
Is there a minimum deposit to access the 1G Golden Profit platform?