Altrix Edge describes itself as a tailored solution for navigating the ever-changing landscape of Bitcoin and digital asset trading. It claims to offer a plethora of tools and functionalities to make trading easier for all.
In this Altrix Edge review, we will look into these distinctive features and inform you whether this platform is legit or not.
Altrix Edge Overview
Here are some of the important platform-specific metrics that one must be aware of before getting started with the platform:
| | |
| --- | --- |
| Type of Platform | Crypto Trading |
| Minimum Deposit | Not specified |
| Advertised Success Rate | Not specified |
| Supported Cryptocurrencies | BTC and other altcoins |
| Mobile Application | No |
| Deposit or Withdrawal Fees | None |
| Customer Support Availability | 24/7 |
Cryptocurrencies are unregulated. Trading with unregulated brokers will not qualify for investor protection.
What is Altrix Edge?
Altrix Edge, states that its crypto trading platform is geared towards equipping traders with informed decision-making capabilities while also simplifying the trading process and potentially yielding profits. The platform apparently aims at simplifying crypto trading for newcomers while also offering advanced facilities to veterans.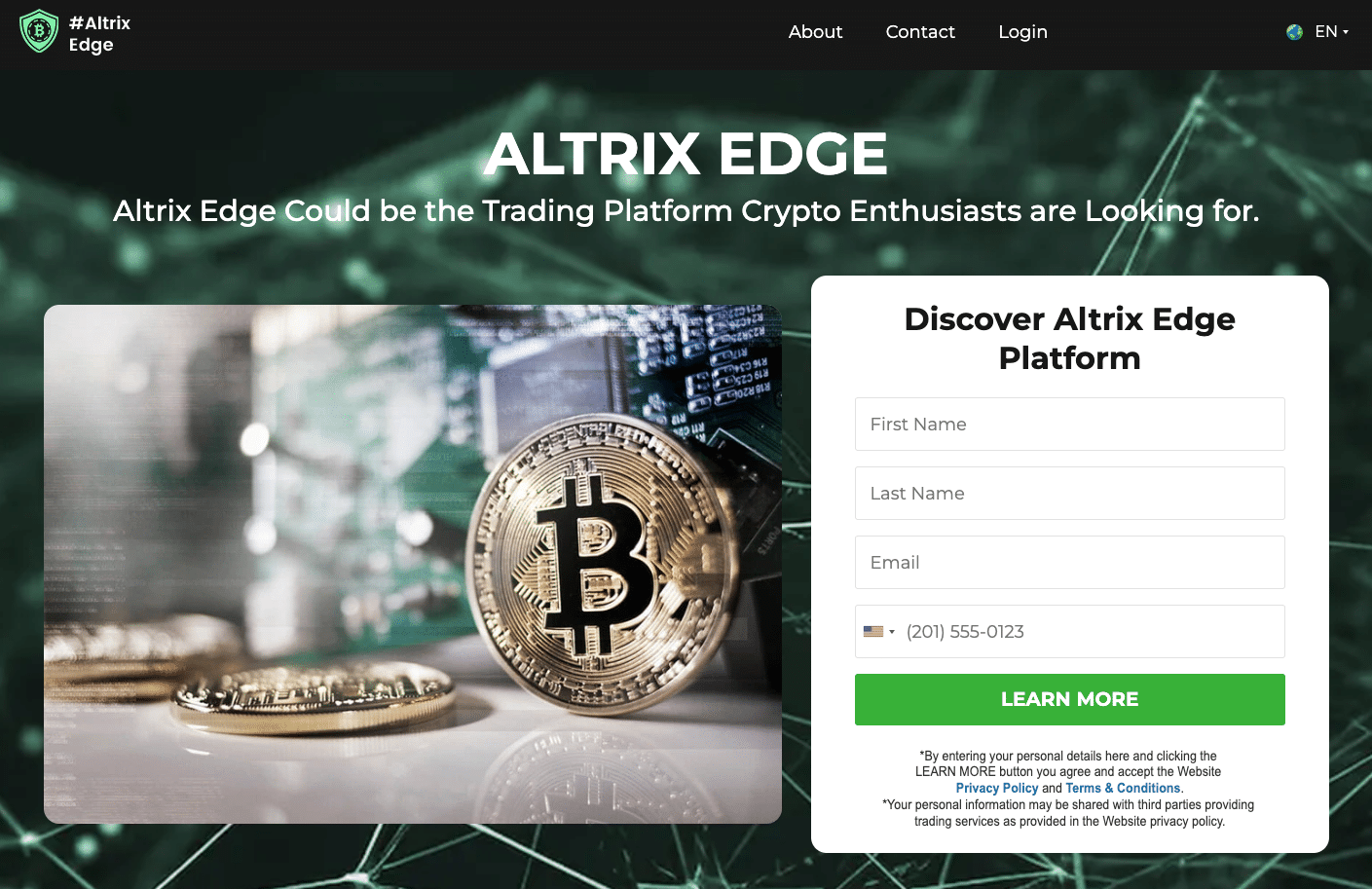 Through a user-friendly interface and robust toolset, Altrix Edge asserts its ability to empower traders to confidently navigate the complexities of the cryptocurrency market. It promises to offer real-time market data, comprehensive charting tools, and advanced analytics, enabling users to stay updated with market trends, identify patterns, and execute well-informed trades. The platform even emphasizes the extensive experience of its team in the cryptocurrency and finance sectors.
While it is common for recently launched trading platforms to integrate a trading robot, we noticed no such element was present anywhere across the website.
With a visually appealing green-themed homepage and a wealth of informative content about trading intricacies, the website appears to be informative. While we weren't able to verify it, the website assures potential users that they can expect an intuitive and seamless trading experience if they decide to join.
Who Created Altrix Edge?
As highlighted earlier, the website emphasizes that the platform has been developed by a team of experienced professionals in the sector. However, it's notable that nowhere on the website is there any indication or mention of the actual creators of the platform. Typically, one would anticipate finding this information prominently displayed on the homepage or About Us page inside the team section. None of those are present.
This absence, though somewhat unusual, shouldn't be entirely surprising considering the prevalent trend of developers choosing to remain anonymous, particularly in the context of the cryptocurrency domain. In fact, you may have also noticed that anonymity has become a common approach among developers in this realm for the past couple of years now.
Altrix Edge Pros and Cons
While Altrix Edge positions itself as one of the best platforms available for traders, like any other available option, we were able to identify some pros and cons during our research. Here are some of them:
Pros
Attractive website interface
Customer support available
Claims a high success rate
Suitable for traders of all levels
Informative avenue for traders
Cons
Limited information on the platform
High minimum deposit requirement
Cryptocurrencies are unregulated. Trading with unregulated brokers will not qualify for investor protection.
How Does Altrix Edge Work?
Altrix Edge prominently conveys on its homepage its role in equipping traders with essential tools to enhance their trading effectiveness and potentially achieve profits. However, it's important to note the absence of automated trading features, which means that the platform doesn't offer hands-off trading features. Instead, Altrix Edge places a strong emphasis on the study of trading principles, coupled with a comprehensive understanding of its features.
The platform underscores the synergy between these elements to empower traders to potentially execute successful trades. While the website doesn't talk about the effectiveness of these tools, you can say that Altrix Edge is similar operational to standard trading platforms. Users are required to initiate a necessary deposit, granting access to a range of featured tools. Subsequently, traders can engage in trades involving various cryptocurrencies, leveraging the provided tools such as indicators, diverse chart types, and educational written content.
Altrix Edge claims to offer a liquidity analysis tool, a feature designed to ensure the platform's resilience against liquidity challenges through continuous monitoring. Additionally, the platform pledges to provide users with updates on the latest innovations and government regulatory changes, thereby offering valuable resources to enhance traders' expertise and decision-making strategies further.
Which Devices Can be Used to Access Altrix Edge?
While the Altrix Edge platform doesn't make it clear which devices it can run on, our research suggests that it's reasonable to assume compatibility with a range of devices.
Similar to many other comparable platforms, Altrix Edge is likely accessible through various devices such as tablets, smartphones, laptops, and potentially more. This level of accessibility across different devices is a common feature among trading platforms, facilitating user convenience and flexibility in engaging with the platform's offerings.
Altrix Edge – Supported Countries
It appears that Altrix Edge could potentially be accessed using a Virtual Private Network (VPN), even in countries with restrictions. This suggests that the platform aims to accommodate traders from around the world. Notably, the website mentions its absence in the UK, where it states the platform is not available for use. This suggests a global outreach, although specific restrictions and accessibility may vary based on geographic locations.
What is the Success Rate of Altrix Edge?
Despite some claims of a high success rate, we didn't find any substantiating evidence to prove this, and neither did we find any information that indicates a specific number.
Altrix Edge – Top Features
Here are some interesting features that we found that the Altrix Edge platform boasts, other than the commonly found offerings like demo accounts or good customer support.
Market Sentiment Analysis
Market sentiment is a pivotal factor influencing crypto market movements. Altrix Edge acknowledges the impact of positive and negative news, regulatory developments, and mainstream adoption on market sentiment. The platform purportedly equips traders with sentiment analysis tools and news alerts to help gauge market sentiment accurately.
Economic Factors and Cryptocurrencies
Altrix Edge asserts that it keeps traders informed about how traditional economic factors, such as inflation, interest rates, and global economic conditions, can indirectly influence the crypto market.
Regulatory Landscape Awareness
The regulatory environment significantly shapes the cryptocurrency market. Altrix Edge claims to provide insights into varying regulatory actions and announcements from different jurisdictions. Traders can allegedly stay updated on positive regulatory developments, which can boost confidence and attract institutional participation.
Traders Insights

Understanding market participants' psychology is crucial in crypto trading. Altrix Edge states it offers educational resources and market sentiment analysis to help traders comprehend the impact of fear, greed, and speculative behavior on price volatility. The platform suggests that such understanding could lead to better-informed trading decisions.
Technological Advancements and Innovations
Altrix Edge highlights the importance of tracking blockchain advancements and innovative solutions within the crypto space. The platform claims to provide access to research and analysis on the latest developments, acknowledging the potential long-term implications for the value and viability of cryptocurrencies.
Market Liquidity Assessment
Liquidity, the ease of trading an asset, is crucial in maintaining smooth market operations. Altrix Edge asserts its provision of liquidity analysis tools and real-time market data to aid traders in assessing market liquidity. This feature can allegedly assist traders in making informed decisions while navigating varying liquidity levels across different cryptocurrencies, exchanges, and trading pairs.
Is Altrix Edge a Scam?
The features prominently displayed on Altrix Edge indeed highlight a substantial emphasis on trader education as a vital component prior to engaging in trading activities. These offerings, along with other insightful tools, would be appealing if genuine.
However, our investigation has uncovered a lack of concrete evidence to substantiate the platform's claims. So while it may be premature to categorically label it as a scam, exercising caution and conducting comprehensive personal research before committing funds becomes a prudent approach for potential traders.
What is the Minimum Deposit Amount for Altrix Edge?
Altrix Edge stipulates a minimum deposit of $250 during the account creation process. However, the platform also asserts that traders maintain the freedom to withdraw their account balance at any time, with no accompanying charges.
Altrix Edge Customer Support
Altrix Edge highlights its commitment to 24/7 customer care to assist with any inquiries pertaining to sign-up, trading, or deposit-related matters. The platform offers a range of customer support options, including a contact form on the website, a designated email address, and dedicated phone assistance. Furthermore, Altrix Edge affirms that registered users have access to continuous live chat support, ensuring real-time assistance at any time of the day.
How to Get Started with Altrix Edge
If you're intrigued by Altrix Edge and its potential, here's a simple walkthrough to help you embark on your trading journey:
Step 1: Account Creation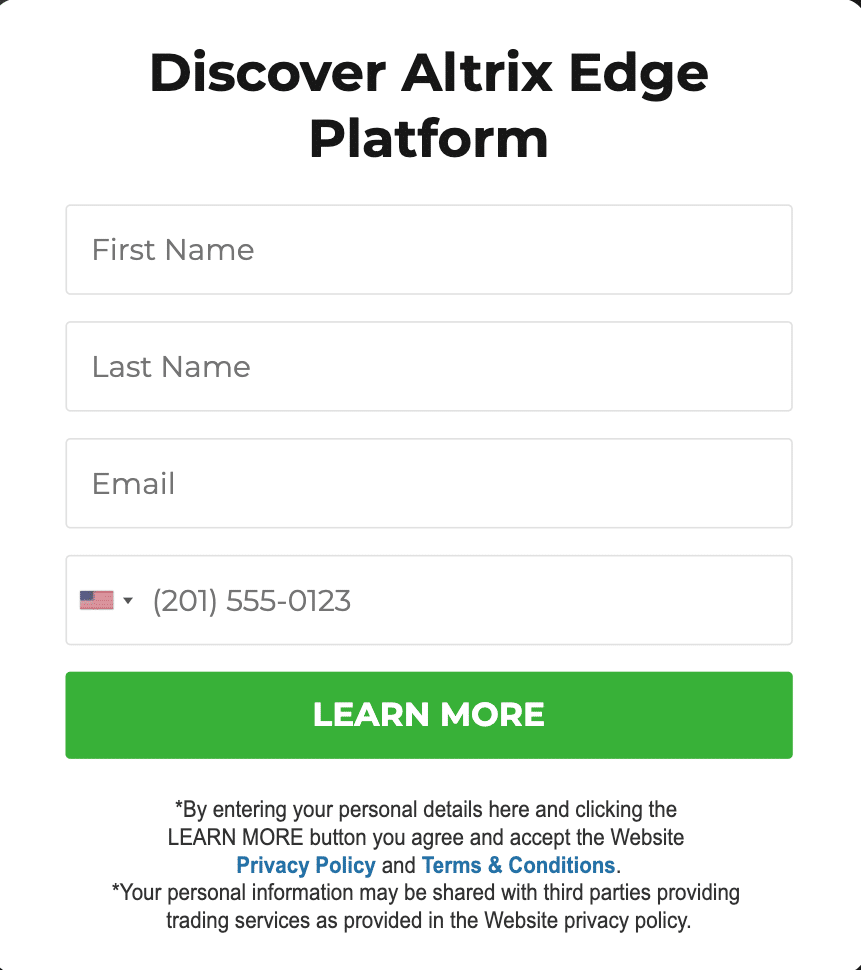 To initiate your trading experience, visit the official Altrix Edge website and locate the 'Discover Altrix Platform' section. Provide your first and last name in the designated fields. Subsequently, enter your email address and phone number. Click on 'Learn More' to proceed and create your Altrix Edge account.
Step 2: Depositing Funds
Altrix Edge establishes a minimum deposit requirement of $250. Funding your account is possible through wire transfers and credit/debit cards. The platform asserts that no deposit fees are incurred during this process.
Step 3: Commence Trading
Once you've completed the registration and deposited funds, you can gain access to commence trading and potentially enjoy the various features that the platform boasts.
How to Delete an Altrix Edge Account?
Traders who intend to close their Altrix Edge account can reach out to the customer support team for detailed guidance and step-by-step instructions.
Is Altrix Edge Legit? – The Verdict
While Altrix Edge's website may certainly ignite traders' enthusiasm with its array of advertised features and services, our exploration yielded limited specifics on the mentioned elements.
Given this, it's advisable for prospective users to approach their financial involvement prudently. Be careful, and only add more funds if you find the performance up to the mark.
Cryptocurrencies are unregulated. Trading with unregulated brokers will not qualify for investor protection.
FAQs
Is the Altrix Edge trading platform safe?
What is the minimum deposit on Altrix Edge?