BitAlpha AI claims to be a cryptocurrency trading platform through which investors can trade some of the top digital currencies, including Bitcoin and Ethereum. For those interested in trading some of these cryptos, this BitAlpha AI review will assess the available assets, the platform features, and the legitimacy of this trading platform.
BitAlpha AI Platform Overview
Before we learn more about the BitAlpha AI trading platform, the table below highlights some of the key attributes of this organization. From the available tokens to the minimum deposit and withdrawal speed, we have it all mentioned down below.
| | |
| --- | --- |
| Type of Trading | Crypto |
| Success Rate | Not Specified |
| Cryptocurrencies Available | BTC, ETH, ADA, XRP, and more |
| Available on Mobile? | No (But accessible via mobile browsers) |
| Withdrawal or Deposit Fees | None |
| Customer Support | Live Chat and Email |
| Withdrawal Speed | 24 hours |
| Minimum Deposit | $250 |
Cryptocurrencies are unregulated. Trading with unregulated brokers will not qualify for investor protection.
What is BitAlpha AI?
Are you looking to invest in some of the best cryptocurrency tokens of 2023? BitAlpha AI claims to give all users access to a trading dashboard that facilitates the buying and selling of the big caps like Bitcoin, Ethereum and more.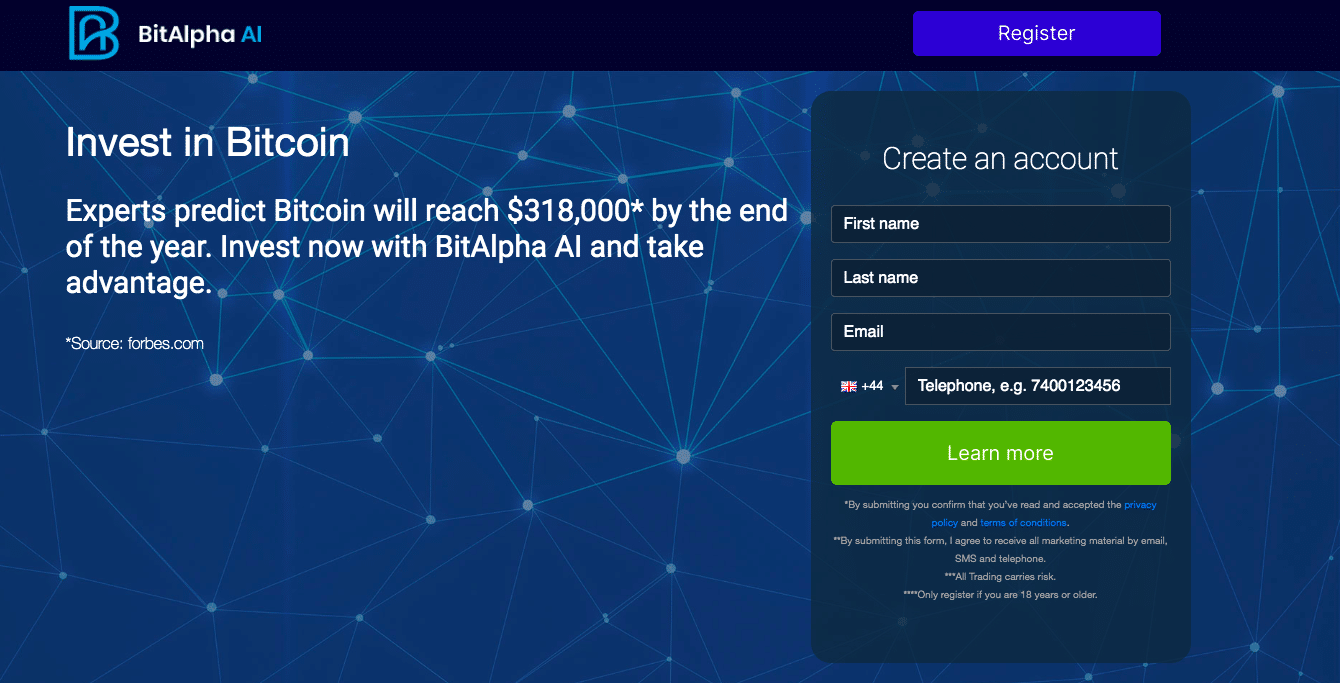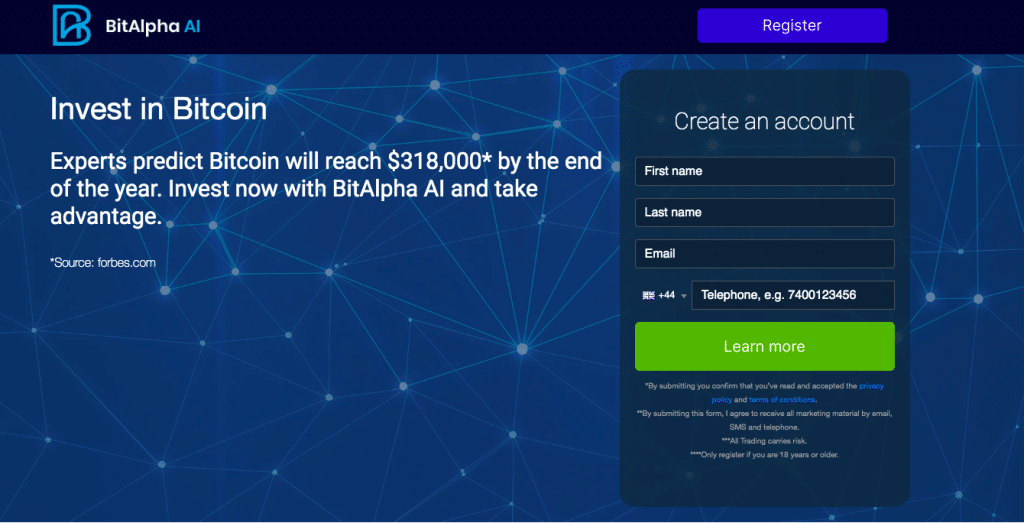 While there was a lot of uncertainty about the digital assets space in 2022, things are slowly beginning to change. For instance, Bitcoin, the largest crypto in terms of market capitalization, has already risen by more than 70% since the start of the year.
After Bitcoin's price gain, the top altcoins are also trading upwards. As a result, more and more investors are keen on getting their hands on digital assets from the best cryptocurrency trading platforms. According to the BitAlpha AI website, users can trade the most popular altcoins, including Ripple (XRP), Dash (DASH), Ethereum Classic (ETC), and Cardano (ADA).
To learn more about this organization, we have looked at some BitAlpha AI reviews, which suggest that the platform offers demo account features and customer support teams. BitAlpha AI also claims to charge no trading fees and offers fast withdrawal times.
However, the organization offers very limited information about its trading services. This organization has no known owners, making verifying any of its claims difficult. While many suggest the involvement of celebrities in the making of BitAlpha AI, these claims are purely speculative.
Moreover, very few client testimonials and user reviews are available on BitAlpha AI's trading platform. Thus, we recommend that users only invest in trading platforms after they are 100% sure of their authenticity.
Who Created BitAlpha AI?
The BitAlpha AI site offers no extra information on the creators of this trading platform. We could not find BitAlpha AI on any popular social media platforms either, making it difficult to find any concrete evidence about the team involved in creating this platform.
BitAlpha AI Pros & Cons
We will now discuss some of the advantages and disadvantages of the BitAlpha AI trading platform.
Pros
Claims to support multi-asset crypto trading
Does not charge extra fees or commissions
Fast withdrawal speed
Offers demo accounts
Cons
Does not offer a mobile app
The owners of the platform are anonymous
Cryptocurrencies are unregulated. Trading with unregulated brokers will not qualify for investor protection.
How Does BitAlpha AI Work?
The BitAlpha AI platform allows users to begin using the platform after they create a new account. Once an individual fills out the registration form and enters their personal information, they also need to make a minimum deposit of $250.
Notably, BitAlpha AI does not provide any details on the available features on its dashboard until the minimum deposit is processed. Therefore, we cannot comment on how the platform works or the available trading indicators or technical analysis tools one can leverage.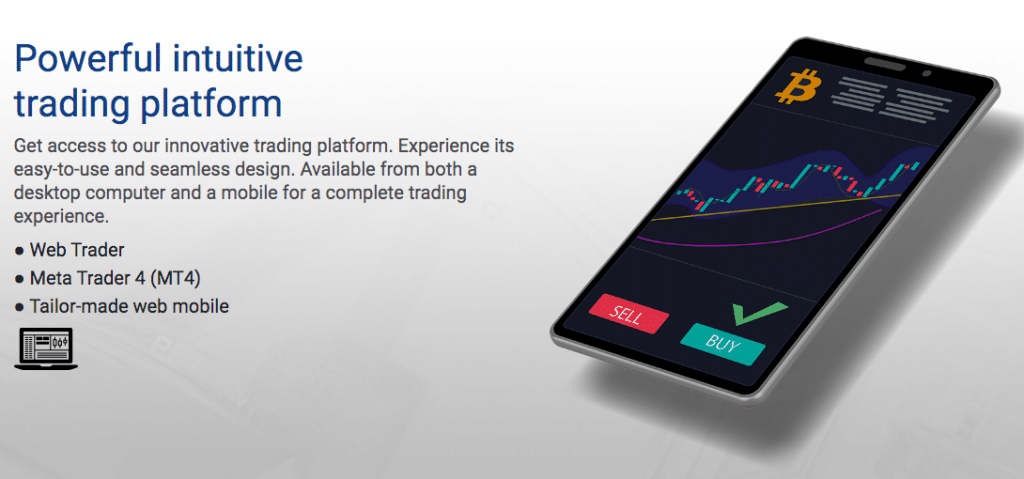 BitAlpha AI does state that this intuitive trading platform can be accessed via mobile devices but does not provide a separate mobile app. According to the website, users also have the opportunity to integrate BitAlpha AI's platform with other popular web-based platforms.
For instance, users can connect with Web Trader and Meta Trader 4. Both platforms offer investment opportunities in several asset classes, such as cryptos, stocks, and forex trading. Users can also access stop/loss indicators, price charts, alerts, and trading tools.
When trading digital assets, investing only what you can afford to lose is important. Make sure you properly analyze the trading platform and read through the terms and conditions before investing.
Which Devices can be Used to Access BitAlpha AI?
Here are some of the devices through which BitAlpha AI claims to be accessible:
Laptops and Desktops

Mobile phones through online browsing

iPads and other tablets
BitAlpha AI – Supported Countries
After reading other BitAlpha AI reviews, we have learned that the proprietary trading platform can be accessed from the following countries:
South Africa

Singapore

Mexico

United Kingdom

France

Germany

Canada

Brazil
Using a VPN device to access the site from the United States of America is possible, we found from BitAlpha AI testimonials.
BitAlpha AI – Top Features
Interested in trading with BitAlpha AI? Before you make an investment decision, let's look at some of the features the organization claims to provide:
Multi-Asset Cryptocurrency Trading
Firstly, BitAlpha AI claims to be a cryptocurrency trading platform.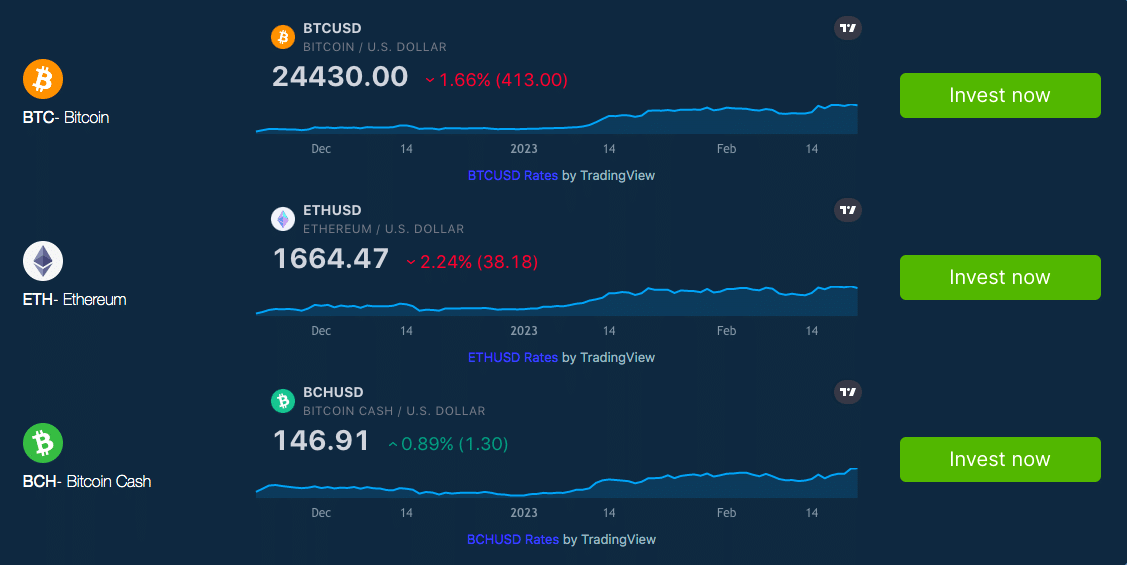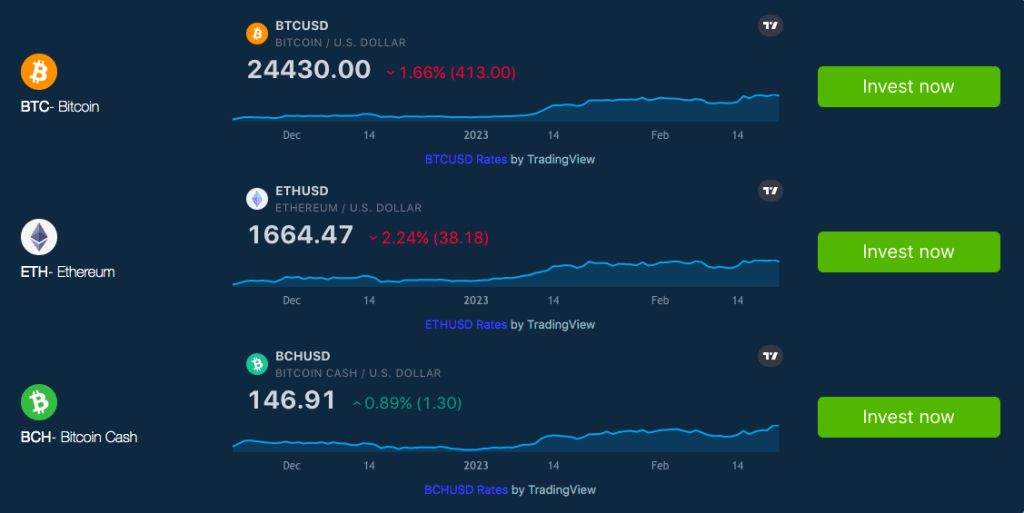 According to the website, one can open an account and then buy and sell some of the best altcoins and cryptos, including Bitcoin, Bitcoin Gold, Dash, Cardano, Binance Coin, and Neo.
There doesn't appear to be much support currently for low market cap cryptos that have recently launched.
Demo Account Trading
On BitAlpha AI, traders can apparently access a demo account. This feature allows one to practice investing strategies through an account that comes stocked with pre-loaded virtual funds. Thus, you can try out new strategies which require higher risk without worrying about losing your funds.
A demo account is also a great way for new users to understand the trading features and tools before utilizing their real resources.
Trade without Paying any Commission
On BitAlpha AI, one can supposedly trade completely commission-free. The platform claims to charge no additional fees, whether it be account-related or on individual trades. Normally, most of the top crypto exchanges take a certain fee, whether in the form of spreads or subscription costs.
That being said, we cannot confirm these claims made by BitAlpha AI.
Is BitAlpha AI Legit or a Scam?
Due to the lack of transparency about the offerings and services offered by BitAlpha AI, it is tough to confirm the legitimacy of this crypto trading platform. On the one hand, the platform claims to offer demo accounts, no fees, and multiple deposit options.
On the other, there is nothing known about the platform owners. Thus, no connected person to BitAlpha AI can confirm the rumors and what features we can expect from this platform.
Furthermore, there is a lack of public reviews and client testimonials. Thus, we could not estimate the public's opinion on this platform. The platform website itself offers very less information apart from the account creation process.
At this time, we recommend that readers conduct their own research and analysis on BitAlpha AI.
What is the Minimum Deposit on BitAlpha AI?
BitAlpha AI claims to charge a minimum deposit of $250 before one can start trading and buying assets. The payment options include debit/credit cards and e-wallets such as PayPal.
Due to the hefty minimum deposit, all users should identify their spending potential and risk appetite before depositing any funds.
BitAlpha AI Reviews
As discussed earlier, we have scanned through other BitAlpha AI reviews to learn more about this trading platform. We have noticed that the reviews offer a similar opinion to ours – while many features are being talked about, very few are actually being confirmed.
This goes back to the platform's lack of information, which makes it hard to confirm what is true and what is not. Therefore, all the reviews have a neutral opinion of BitAlpha AI at this time.
Cryptocurrencies are unregulated. Trading with unregulated brokers will not qualify for investor protection.
Do any Celebrities Endorse BitAlpha AI?
Since nothing is known about the founders of BitAlpha AI, many are speculating about the involvement of influential celebrities and businessmen in the making of this platform.
Some believe that Elon Musk, the CEO of Tesla, SpaceX, and Twitter, may endorse or use this cryptocurrency trading platform. After building several billion-dollar businesses, Elon Musk has made quite the name for himself. After he recently acquired Twitter in 2022, many also are talking about potential crypto payment services being added to this social media platform.
However, after going through Reddit crypto threads and other websites and journals, we found no evidence suggesting that Musk is related to the BitAlpha AI platform.
Other rumors suggest that Jeff Bezos may be involved with BitAlpha AI. Bezos has built a reputation as an avid businessman, being the founder and Executive Chairman of Amazon. For a man of his stature, being involved in a new business would definitely attract a whirlwind of attention.
But, we have found nothing to suggest that Jeff Bezos is involved or uses the BitAlpha AI platform.
BitAlpha AI Customer Support
According to this organization, users can access a customer support team should they face any issues or account-related queries. The customer support team can apparently be accessed through live chat and email options.
How to Get Started With BitAlpha AI
Interested in investing with BitAlpha AI? The steps below will show users how to create an account and use the trading dashboard:
Step 1: Visit the Website and Create a New Account
Firstly, interested parties are required to visit the BitAlpha AI website.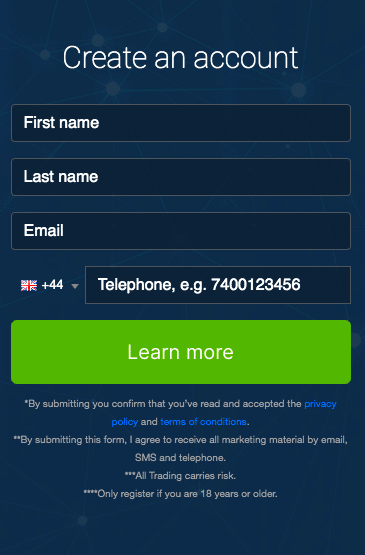 Once the page loads, you will see a registration box at the top of the home screen. Enter your first and last name, email address, and phone number to finish the registration.
Step 2: Make the Minimum Deposit
BitAlpha AI charges a $250 minimum deposit from all users. Choose your preferred payment options, enter your details and the transaction amount, and confirm the payment.
Step 3: Start Trading with BitAlpha AI
After the deposit has been processed, BitAlpha AI claims to give you trading access to the dashboard. Search for the crypto you wish to trade, enter the amount you wish to invest, and start trading.
How to Delete BitAlpha AI Account?
Users can apparently delete their BitAlpha AI accounts from the menu option. Nonetheless, the trading platform does not offer more information about the account closing procedure.
Latest Crypto News
Before you begin trading some of the best tokens, learning more about the latest trends in this space is important. Therefore, we have listed below some of the popular cryptocurrency news as of now:
The U.S. Commodity Futures Trading Commission (CFTC) sued Binance, the biggest crypto exchange in the world, and its founder, Changpeng Zhao. CFTC claims that the company was involved in an illegal exchange and a sham compliance program.

Bitcoin (BTC) is up by more than 15% in the past month and nearly 70% since the start of 2023.

Despite Bitcoin's price increase, the cryptocurrency is experiencing the lowest level of liquidity in nearly 10 months.
Is BitAlpha AI Legit? – The Verdict
The BitAlpha AI trading platform claims to offer multiple trading features and no trading fees but does not manage to provide enough information to the public. Due to this limited information on the platform founders, trading dashboard, and client reviews, it is difficult to confirm the authenticity of the organization.
Cryptocurrencies are unregulated. Trading with unregulated brokers will not qualify for investor protection.
FAQs
What is BitAlpha AI's minimum deposit?
Does Jeff Bezos endorse BitAlpha AI?