In today's crypto landscape, swing trading and scalping have become favoured avenues for generating profitable returns rather than a buy and hold strategy. The demand for better trading platforms that enhance traders' performance is therefore high – recently Bitapp24 has come onto the market, offering a wide array of features.
However, despite its growing popularity, there remains a level of uncertainty regarding the platform's authenticity. In this Bitapp24 review we examine the website's claims and its latest v2 upgrade, BTC Pro Air Trader.
Bitapp24 Platform Overview
For the BTC Pro Air Trader version of the platform, here's a quick summary:
| | |
| --- | --- |
| Type of Platform | Advanced crypto trading |
| Minimum Deposit | $250 |
| Claimed Success Rate | Not stated |
| Supported Cryptocurrencies | BTC, ETH, XRP, ADA, BNB and more altcoins |
| Mobile App | Unknown |
| Withdrawal or Deposit Fees | Not stated |
| Customer Service | 24/7 – after registration |
Cryptocurrencies are unregulated. Trading with unregulated brokers will not qualify for investor protection.
What is Bitapp24?
At one glance, a website visitor will be surprised to see many names used for the platform on the homepage itself. Claiming to be an intelligent AI auto-trading robot, this trading platform goes by several names like Bitcoin ProAir 24 and BTC ProAir 24, which we shall use in this review as well.
According to the Bitapp24 website, an AI-powered app is its flagship offering. Allegedly, the platform executes trades automatically, leveraging sophisticated mathematical algorithms and state-of-the-art software solutions to achieve this feat. The website also states that a range of intelligent trading strategies, including stop loss and copy trading, are at users' disposal, adding an intriguing dimension to the platform's utility.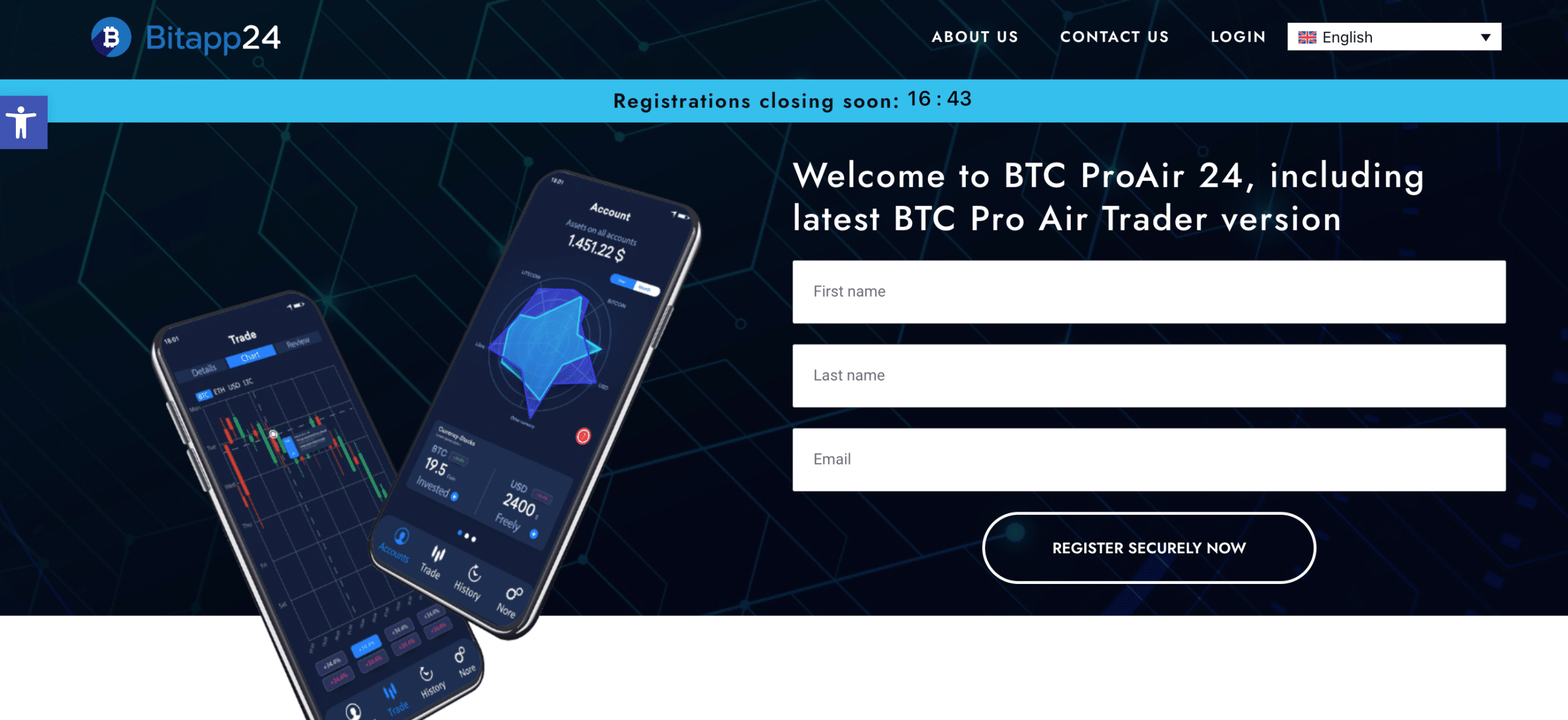 The website sets itself apart with an inviting interface that offers assistance through a section of frequently asked questions located at the bottom of the homepage, along with user testimonials. This approach distinguishes it from many other similar platforms in the market.
In terms of cryptocurrency trading, the website maintains that Bitapp24 caters to the needs of both novice and seasoned traders. As per the platform's claims on its homepage, beginners can purportedly grasp the mechanics of crypto markets, while experienced traders can achieve the highest level of automation. This is allegedly accomplished by removing emotional factors and saving time through the customization of preferred strategies, as well as setting specific entry and exit points.
Who Created Bitapp24?
Similar to other Bitcoin robots, the website does not provide details about the developers' location or their specific qualifications. The only information available on this matter was found in the 'About Us' section, which mentioned that the product was conceived by a collective of financial experts and developers with substantial experience in the field.
BTC ProAir 24 Pros and Cons
Below are some of the reported advantages and disadvantages of BTC ProAir 24, the site's latest dashboard version:
Pros
Claims to have an intelligent AI technology
Claims to detect market movements in milliseconds
Claims to offer multi-lingual customer support
Has an appealing website interface
Claims to have a high success rate
Easy registration process
Cons
A hefty minimum deposit is required to unlock features
No audit reports on the website
Cryptocurrencies are unregulated. Trading with unregulated brokers will not qualify for investor protection.
How Does Bitapp24 Work?
The Bitapp24 website provides limited information about the specific algorithms or products utilized in creating its new BTC ProAir 24 platform. It only asserts that its dedicated software incorporates 'innovative' features and advanced trading robots. This software continuously monitors the market, aiming to generate positive expectation trades through technical analysis, according to the site.
The platform also claims to employ a potent algorithm capable of swiftly detecting market movements in milliseconds, thereby executing trades at precisely opportune moments. If this feature holds true, it could potentially make the platform a highly valuable tool for traders of various backgrounds. Additionally, the platform emphasizes its unique 'intelligent AI technology' on the homepage, which purportedly conducts real-time scans of the crypto market, analyzing substantial volumes of data. By swiftly identifying market movements, the platform aims to empower users to make well-informed trading decisions and capitalize on lucrative opportunities.
However, it's important to note that there is no evidence provided by the platform to substantiate these claims, such as certifications or audit reports. In fact, the website lacks any information about auditing approvals, a factor that typically ensures the credible assessment of a certified entity.
What Devices Can be Used to Access the Bitapp24 Platform?
While the Bitapp24 platform does mention the availability of a dedicated mobile app, we were unable to locate such a product under that name or BTC Pro Air Trader, on either Android's Google Play Store or the iOS App Store.
We did find that the Bitapp24 website was mobile-responsive on various devices, such as mobile phones, tablets, or desktops.
Bitapp24 – Supported Countries
Bitapp24 does not provide specific information about its availability in particular regions where similar trading platforms are usually restricted. Instead, it simply claims that the platform is accessible worldwide, with notable users hailing from regions including Europe, Asia, Australia, and Africa.
Bitapp24 – Top Features
Here are some of the key features highlighted on the platform's website as its top offerings.
Support for Multiple Assets
While the platform doesn't explicitly state the exact number of cryptocurrencies it supports for trading, the content on the website strongly emphasizes trading in multiple cryptocurrencies. It is likely that the platform provides traders with access to a wide range of the most prominent cryptocurrencies, which may include options like Bitcoin, Ethereum, Litecoin, and more.
Reliable Trading Signals
Although there is no assurance of the absolute accuracy of these trading signals, the platform presents its trading signal functionality as a robust tool for traders to rely on. According to Bitapp24's claims, it can track prices within a matter of milliseconds, purportedly enabling traders to make more informed and strategic decisions while trading.
Easy Registration Process
Users generally prefer streamlined registration processes before they can commence trading. It appears that Bitapp24 recognizes this preference. Hence, the platform offers a registration process that is notably straightforward and quick to complete.
Innovative AI Technology
The platform lacks specific details on how AI assists users in trading beyond executing opening and closing trades. Nevertheless, it does highlight that its advanced AI technology can be a valuable feature, aiding traders in streamlining their processes. Additionally, it enables traders to receive and apply real-time market data to their trades, potentially enhancing their chances of profitability.
Is Bitapp24 Legit or a Scam?
Based on our investigation, which included examining various online reviews, the official website, and customer testimonials, we found that Bitapp24 exhibits a lack of transparency in explaining how it operates.
The website primarily provides guidance on creating a new account, but does not offer detailed information about the main trading dashboard or the features available for traders. Additionally, Bitapp24 does not maintain an online presence for interacting with its customer base, and the identities of the platform's founders remain completely undisclosed.
As a result, it is challenging to form a comprehensive assessment of this platform. We recommend only investing what you can afford to lose.
What is the Minimum Deposit of Bitapp24?
The Bitapp24 platform states that in order to gain access to the full platform after registering as a user, a deposit is required. At the time of writing that amount, as per the website, is $250.
Cryptocurrencies are unregulated. Trading with unregulated brokers will not qualify for investor protection.
Bitapp24 Customer Support
The website explicitly states that it offers 24/7 support for users, indicating that there are multiple avenues available to get in touch with the customer support team. Given its purported multi-lingual capability, users may also have the option to communicate and resolve issues in their native language. For those who have not registered as users, there is a 'Contact Us' form available. This allows them to pose their queries to the customer support team directly.
How to Get Started with Bitapp24?
The registration process, as mentioned above, is fairly simple to get started on Bitapp24. If you also wish to go forward with then here are the three simple steps that you need to follow:
Step 1 – Register an Account with Bitapp24
Initiate the process by visiting the Bitapp24 website. Upon arrival, you will be prompted to create a new account.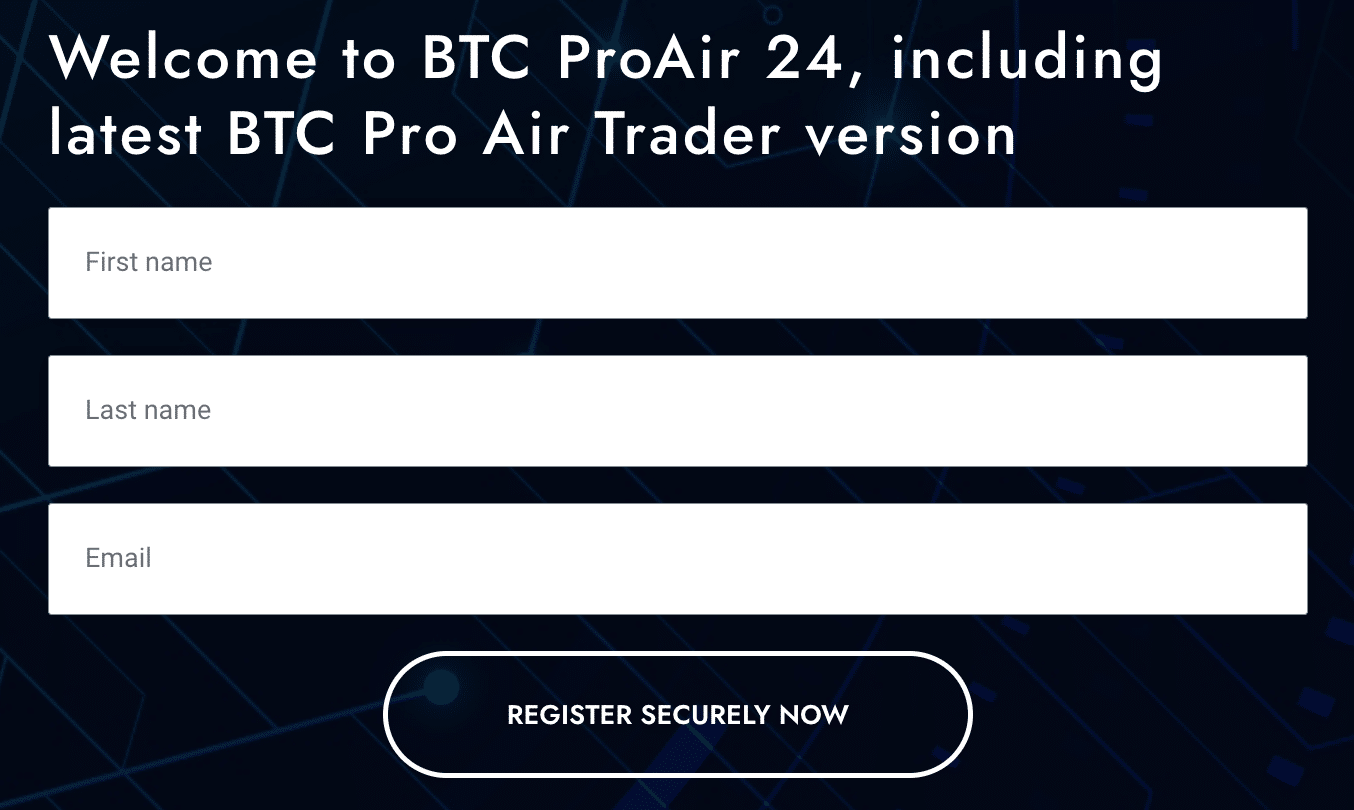 Simply provide your first and last name, phone number, and email address to complete the registration process.
Step 2 – Make a Deposit
Once your account registration is successful, proceed to fund it by making a deposit. You will be expected to deposit a minimum amount of $250 to get started. Bitapp24 offers a variety of payment methods to choose from.
Step 3 – Start Trading on Bitapp24
Once your deposit is processed, you're all set to begin trading on Bitapp24. Select your preferred cryptocurrency and kickstart your trading activities on the platform.
How to Delete a Bitapp24 Account?
If you wish to delete your Bitapp24 account, you may find an option to do so directly in the account settings or menu. However, the specific steps and details regarding the complete process for permanently deleting the account might not be explicitly provided. It's recommended to reach out to Bitapp24's customer support for assistance with this process.
Is Bitapp24 Legit? – The Verdict
Due to a lack of information on the Bitapp24 website, it is hard to confirm its authenticity. While the site indicates that one can trade a range of cryptos and access a variety of features that can help them to be more profitable, we have found no way to verify this.
This is because the trading platform is only accessible after one makes a minimum deposit of $250. Also few customer reviews of Bitapp24 are available online, particular for its latest BTC Pro Air Trader version. We recommend traders do their own due diligence and start out with a small deposit.
Cryptocurrencies are unregulated. Trading with unregulated brokers will not qualify for investor protection.
FAQs
Does Bitapp24 have a minimum deposit?
What cryptocurrencies does Bitapp24 support?
Is Bitapp24 available in the UK?
Does Bitapp24 provide customer support?