Bitcoin Apex claims to make users into more successful crypto traders by providing them with autonomous trading tools that allow hands-free trading and offer more precise price projections.
Through these tools, Bitcoin Apex claims that BTC and other crypto traders can achieve a high win rate, whether they are novices or veterans. But how many of these claims are genuine? This guide will give you our overall Bitcoin Apex review, in which we deconstruct the platform's claims to see if the features – if accurate – could help traders of today.
Bitcoin Apex Summary
The Bitcoin Apex site has a similar type of interface seen in other platforms we have reviewed. The only difference is that a Bitcoin live chart has been integrated at the top – allowing users to keep a constant eye on the BTC price.
This review will dive into features beyond the visuals to analyze Bitcoin Apex's worth.
| | |
| --- | --- |
| Type of Platform | Advanced cryptocurrency trading |
| Minimum Deposit | $250 |
| Claimed Success Rate | Not specified |
| Supported Cryptocurrencies | Bitcoin, Ethereum, Litecoin, Binance Coin, Dash, and other crypto assets |
| Mobile App | Not Available – but the web app is responsive |
| Withdrawal or Deposit Fees | Not specified |
| Customer Service | 24/7 |
Cryptocurrencies are unregulated. Trading with unregulated brokers will not qualify for investor protection.
What is Bitcoin Apex?
Bitcoin Apex, also known on some review sites as Bitcoin Apex AI, is a trading robot that claims to provide some AI-based autonomous trading tools that can search the market for profitable trading conditions and execute trades quickly to make intra-day gains.
The current crypto ecosystem is especially volatile, as evident by Bitcoin's recent failure to sustain itself above the $30k mark. Such conditions might make Bitcoin Apex a popular choice for traders who want to react to the market's volatility quickly and gain as much as they can within a short span of time.
However, how the platform works, or if it works – are questions that the website itself hasn't answered.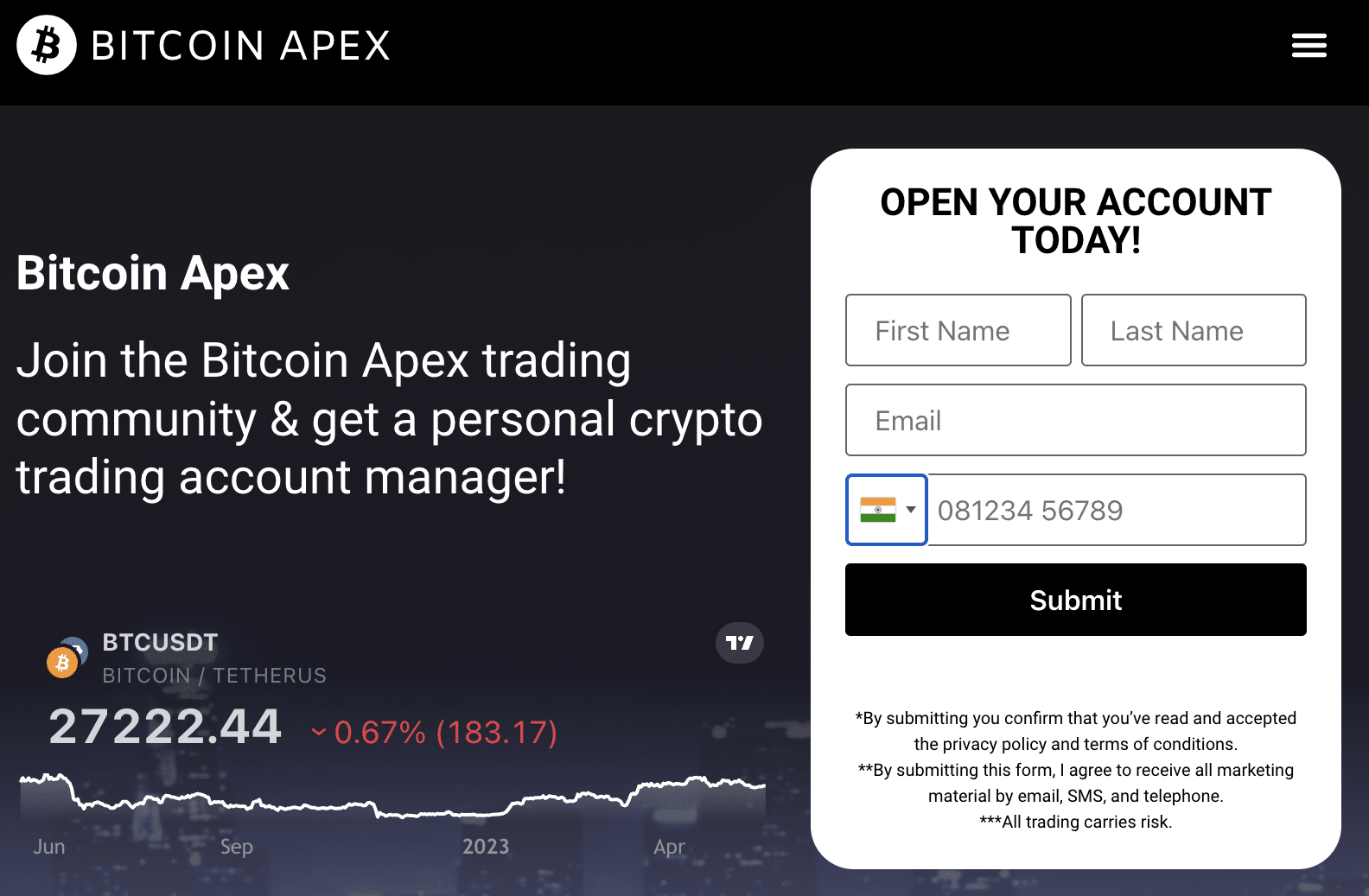 What we could see from the Bitcoin Apex website was that a Bitcoin price chart has been integrated into the banner, which allows users to monitor the BTC price. The sign-up process for this platform is also easy, and all the text can be clearly seen.
The platform states that multiple crypto assets, such as Bitcoin, Ethereum, Litecoin, and others, could be traded using the listed features – and all of them at a low fee.
The detail of the fee has not been given on the site. In order to find the fee amount, one has to talk to the account manager, which you do once you start the signup process.
Users don't need to jump into live trading directly, as Bitcoin Apex claims that a demo trading account is also available. However, that and customer support can only be accessed once the user deposits the required amount to start trading: $250.
These features sound attractive. However, other than what is written about them on the website, there are not many independent customer reviews that tell us how they work. That makes it risky to trade on Bitcoin Apex. Therefore, we recommend doing your due diligence before using Bitcoin Apex.
Who Created Bitcoin Apex?
There is no information about the makers of this website. Bitcoin Apex's advertising copy isn't clear on that. While there are hints that state that the developers are crypto traders and software specialists, we don't have any names to attach to them.
It is not uncommon for a crypto platform to not provide these details. However it may be considered a red flag for some investors.
Bitcoin Apex Pros and Cons
Bitcoin Apex claims to offer the same services as other trading platforms of the same nature, which will likely make it susceptible to the same strengths and weaknesses.
Pros
Claims to offer an autonomous trading system that is accessible to everyone
The trading systems run around the clock
No mention of any hidden fee and the fees themselves are claimed to be low
A demo trading account is available
Claims to have a high win rate
Cons
Not specific about the exact win rate
Platform's claims aren't verified – which may raise doubts among traders
Must start the registration process to learn more about the program
$250 is required to create an account, which may potentially be inaccessible to many novice traders
How Does Bitcoin Apex Work?
Bitcoin Apex claims to be an AI-powered trading platform that becomes active as soon as users create an account and switch to live trading.
That switch puts the trading tools into action and drives them to scan the live market for the right conditions. Its goal is to look for intra-day dips to execute buys and intra-day highs to execute sells, claiming to use automated projections.
After executing the trades, Bitcoin Apex transfers the profits into users' trading accounts after taking a commission. While we don't know the exact commission, it is likely around the ballpark of 1-2%. Also, there is no mention of whether commissions are only charged on profits or on trading cryptos as a whole.
Due to these unknown variables, we recommend doing complete research before using this platform. Invest only what you can afford to lose – and stick with only a minimum deposit until the site proves itself to be profitable.
Readers interested in AI crypto projects can also check out our top list of AI coins to watch.
Which Devices Can Access Bitcoin Apex?
We opened the official website of Bitcoin Apex through multiple devices and found the site to be responsive on all fronts. Even the smaller variants of smartphones showed us the site with fonts that we could clearly see and read.
However we can only make these comments about the official website as we didn't deposit to test out the Bitcoin Apex platform.
Bitcoin Apex Supported Countries
Bitcoin Apex hasn't explicitly stated in which countries it is usable and which countries have banned it. However, from what we could see from the sign-up page, names of over 150 countries were listed there. That could mean that Bitcoin Apex is available in all countries where crypto trading is relevant.
However, users must still check out the site for themselves before making that assessment.
What is the Success Rate of Bitcoin Apex?
Bitcoin Apex hasn't provided any information about the win-rate other than addressing that it is high. Third-party reviews have also not given us any information about the site's historical data.
That said, even if one finds a win rate, it is important to know that they are speculative. They often don't reflect the actual success rate of the website since the crypto market is volatile. Keep that in mind before investing.
Bitcoin Apex Key Features
Here are the key features that Bitcoin Apex claims it has.
Demo Trading Account
A demo trading account is a good way to assess the quality of the website and its offerings. In Bitcoin Apex's own words, it "offers an understanding of how it all functions.". Bitcoin Apex states that it offers a demo trading account for users to practice with. However, it hasn't specified how much virtual money it offers to facilitate trading.
Trading Monitoring
Bitcoin Apex claims that it holds the list of all active trades and uses it to teach the in-app trading tool to trade autonomously. The site says that the trading platform learns from historical data and implements it to forecast where an asset's price might go.
Support for Multiple Assets
For those looking to diversify their investments, Bitcoin Apex reportedly supports multiple cryptocurrencies. Those include Bitcoin, Ethereum, Litecoin, Bitcoin Cash, Litecoin, and more.
Low Fees For Service Usage
According to the official website, all the services that Bitcoin Apex hosts are available at a low fee. That affordable sentiment goes into the withdrawal and deposit fee. While there is no actual fee rate given, considering that Bitcoin Apex does ask for a withdrawal/deposit fee is novel.
Round-the-Clock Customer Support
Customer support is accessible to those who have created the account. And according to the website, the support is offered in multiple languages in order to provide agile assistance to traders who are looking for faster solutions during a rapidly changing cryptocurrency market.
Cryptocurrencies are unregulated. Trading with unregulated brokers will not qualify for investor protection.
Is Bitcoin Apex a Scam?
As we researched the different offerings of Bitcoin Apex, we found a lot of claims, many of which we were not able to confirm. The site claims to offer multiple crypto-trading facilities using a hands-free model. That approach seemingly allows users to attain a high win rate. However, the win rate itself hasn't been specified by the official website.
Furthermore, since all the trading features were locked behind the deposit requirement, we have no way to assess them other than relying on third-party reviews. And the number of third-party reviews this platform has are few.
And when it comes to customer reviews, we couldn't find anything. typing in "Bitcoin Apex Trustpilot" in the search bar showed us results but of a different app, Coin Trade Capex. Additionally, there is no detail about the makers of this website – which can potentially cast doubts over the platform's reliability.
These factors give us a mixed reaction toward Bitcoin Apex, not giving us a consolidated perspective to view Bitcoin Apex as a scam or not.
What is the Minimum Deposit on Bitcoin Apex
New investors of Bitcoin Apex must make a deposit of $250.
Doing so gives these investors access to the platform's facilities, which include an interface that allows users to customize the trading system before turning on the live trading.
Bitcoin Apex Customer Support
The platform does have a customer support team, but it is only accessible to those who have registered an account. That said, some review state that the support is available 24/7, and one can reach the account manager at any time.
How to Use Bitcoin ApeX
Here are the steps to take to create a Bitcoin Apex account
Step 1 – Visit the Bitcoin Apex Site
Head over to the Bitcoin Apex website and enter details in the registration form. Those include name, phone number, and e-mail. Click on the "Learn More" button to proceed. The site states it will create an account within 5 minutes.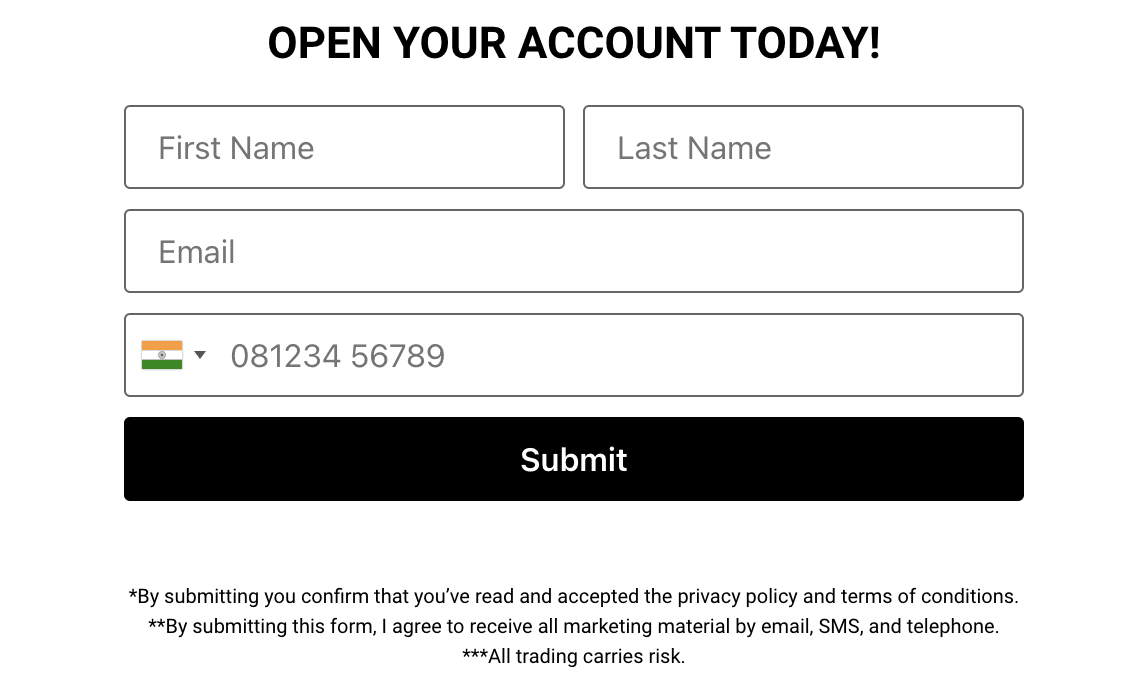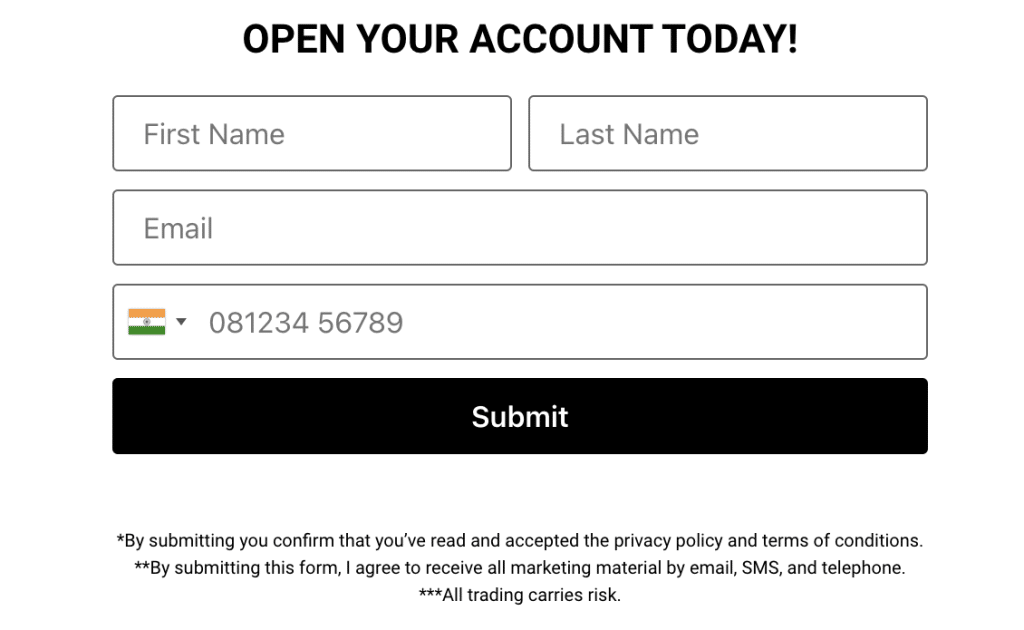 Step 2 – Deposit the Required Amount
Use many of the payment options available to make the deposit. Bitcoin Apex states that one needs to make a "capital commitment" of $250.
Step 3 – Start Trading on Bitcoin Apex
Check out the platform's functionality through the demo trading account and then start using live trading to use the autonomous trading systems available.
Is Bitcoin Apex Legit – The Verdict
Bitcoin Apex claims that users can buy and sell multiple cryptocurrencies using an autonomous system that offers a high supposed ROI. However, there is no information that supports the claims of this platform.
We recommend backtesting the site's tool and doing your own research before making any large deposits on the platform.
Cryptocurrencies are unregulated. Trading with unregulated brokers will not qualify for investor protection.
FAQs