Bitcoin Bank claims to be an intuitive crypto trading platform with in-built tools meant to make crypto trading easier for investors.
The platform is one of the many in a long line of trading technologies that allows traders to invest in crypto hands-free. Basically, the platform does the trade on the investor's behalf.
But how successful is it? In this Bitcoin Bank review, we dive into the different aspects of this crypto trading software to see if its offerings are exactly what investors need to win in the current volatile market.
Bitcoin Bank Platform Overview
Listed below is the key information about the platform in brief.
| | |
| --- | --- |
| Type of Platform | Advanced cryptocurrency trading |
| Minimum Deposit | $250 |
| Claimed Success Rate | 99% (not verified) |
| Supported Cryptocurrencies | BTC, ETH, LTC, DASH, BNB, and Others |
| Mobile App | Not Available |
| Withdrawal or Deposit Fees | None |
| Customer Service | 24/7 |
Cryptocurrencies are unregulated. Trading with unregulated brokers will not qualify for investor protection.
What is Bitcoin Bank?
Cryptocurrency trades have gotten a lot of traction in the past few years, and even the bear market hasn't put a dent in the people interested in buying or selling these assets.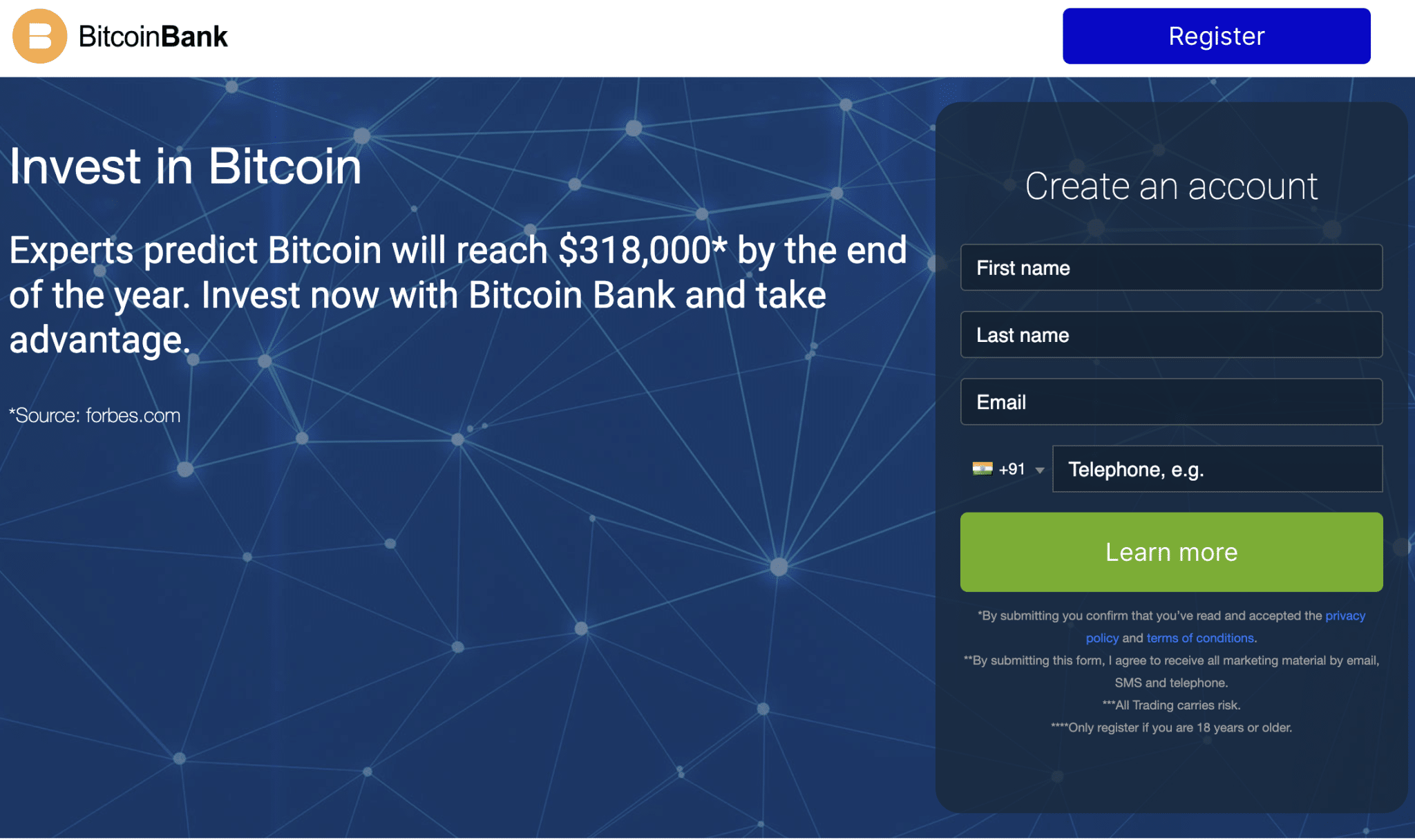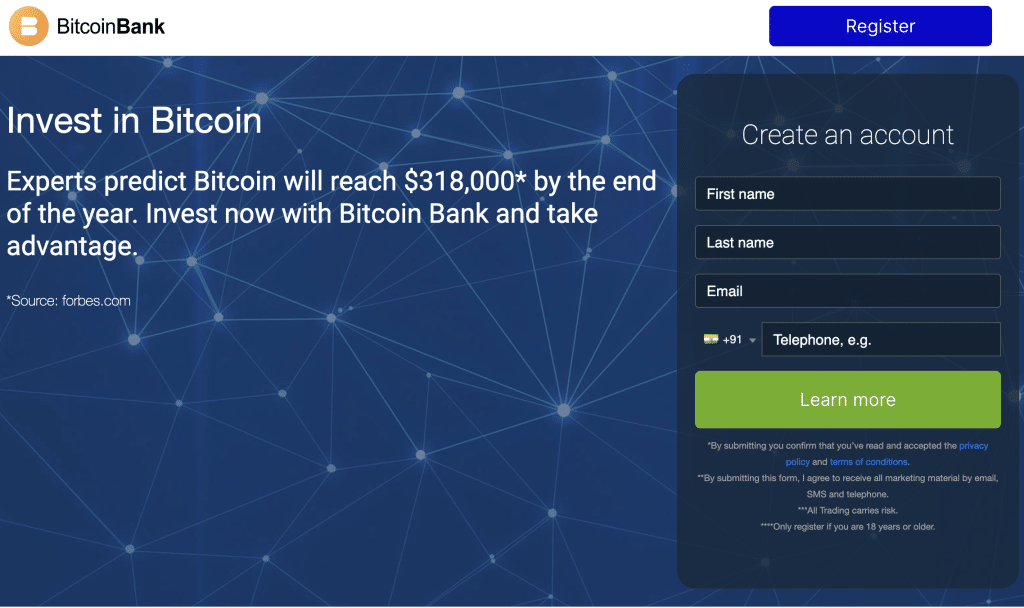 But the market still remains volatile, which calls for a tool that allows users to trade hands-free and make quick decisions based on the rapidly changing market conditions. Bitcoin Bank states it can cater to that crowd.
The platform claims that it makes use of ML (machine learning) enabled tools running in the background that assess the market 24/7, plot price charts, and use technical analysis patterns to predict price movement. Bitcoin Bank then conducts the trade on the investor's behalf based on the settings that the investor has set forth.
That is how Bitcoin Bank claims to make trading hands-free, easy, informed, and more profitable for investors.
However, investors should know that these are claims, and to test their veracity, due diligence must be conducted beforehand.
A lot of aspects are hidden from this crypto trading platform. In light of that, this review hopes to clear the mist and give you a better view of this platform's offerings.
Who Created Bitcoin Bank?
No information was given about the founders of Bitcoin Bank on the official website, and there was no about us page. The lack of social media channels around Bitcoin Bank also made it difficult for us to discern who made it.
That said, from what we got from the home page, we can safely say that professionals were involved in its development.
And some third-party websites say that this platform many high-ranked investors are involved with this project. However, we didn't find any evidence to attest to that claim. So, investors must be careful before engaging in crypto trading on this platform,
Bitcoin Bank Pros & Cons
Pros
Allows users to do trades without manual intervention.
Great looking UI and the platform claims to be working around the clock.
Claims to not ask for any deposit and withdrawal fee.
Claims a 99% success rate.
The platform says that 24/7 customer support is available.
Cons
High minimum deposit requirement – $250
No information is given about the founders
Cryptocurrencies are unregulated. Trading with unregulated brokers will not qualify for investor protection.
How Does Bitcoin Bank Work?
The Bitcoin Bank website doesn't discuss much about the precise workings of the platform. Most of the content written is with respect to Bitcoin trading and its benefits. All it states is that it runs a technologically advanced program that helps it accurately predict the crypto price moments.
Furthermore, looking at the interface, we noticed that it is similar to most of the other crypto trading platforms of the same nature. W can draw two conclusions from it.
The platform may use advanced trading techniques to make quick buying and selling decisions.

There might be some commission involved from the profits to mitigate any risk that comes from the in-house strategy that the platform implements.
While a lot of things when it comes to the working of the website are quite similar to what we have covered in the past, we advise our readers to do their own research before proceeding.
Which Devices can be Used to Access Bitcoin Bank?
As we conducted our Bitcoin Bank review, we found that the platform is available on most divides. Desktop, laptops, Android, iOs, and even Windows smartphones show all the components of the website.
The mobile version has been optimized to ensure that none of the icons and texts are missing from the smaller screens. Upon scrolling further down the homepage, we found that the platform has been tailor-made for web mobile.
Bitcoin Bank – Supported Countries
Bitcoin Bank is accessible across the globe, and other than the standard email registration, there might not be other requirements. That said, users based in some jurisidictions may need to use VPN to access the website.
What is the Success Rate of Bitcoin Bank?
While the win rate of Bitcoin Bank is not published on the website, we did find some third-party reviews claiming that the website has a 99% success rate.
But since crypto trading is volatile and often can extremely unpredictable, investors are advised to only take risks if they are financially capable of it.
Since we couldn't find any other text or use case that supports the claims made by Bitcoin Bank on sites like Trustpilot or Reddit crypto subs, investors are advised to proceed with caution.
Bitcoin Bank – Top Features
Now that we have touched on the claims made by Bitcoin Bank about the site's efficacy in predicting price movements, it is time that we look into its unique features.
Affordable platform
Bitcoin Bank claims that there are no charges involved when trading on the platform. Also, it claims also says that it doesn't take any commission from the profits that investors earn using it.
That said, the partner brokers might charge for the services, including account management and other services. Thus, make sure that all the things are understood from the get-go before you choose a broker.
Demo Account
Bitcoin Bank claims that it provides a demo account to make traders understand the lay of the land before proceeding. The demo account offers paper trading services through which you can test the internal mechanics of the platform before trading using real money. That said, the demo account is walled behind the deposit requirement of $250 to start trading.
Supported Cryptocurrencies
Bitcoin Bank claims that nearly all major cryptocurrencies are supported on the platform. These include Bitcoin, Bitcoin Cash, ZCash, Ethereum, Ethereum Classic, Binance Coin, and more. That aspect allows users to diversify their profiles to mitigate investment risks.
Is Bitcoin Bank Legit or a Scam?
After checking out the information provided on the website and the info given by third-party providers, we couldn't find anything that would definitively show Bitcoin Bank is a scam.
That said, Bitcoin Bank is a bit less transparent than some of its peers, with a majority of these features only accessible after depositing the amount.
Also, much of the information that we could find about the success rate of this platform is hearsay – covered by third-party platforms. It means that investors must do their homework before getting started.
For alternatives to Bitcoin Bank see our recent guide to the 12 cryptocurrencies to watch in 2023.
What is the Minimum Deposit on Bitcoin Bank?
To gain access to any of the features of the platform and trading, investors need to deposit $250 in Bitcoin bank. All the services are apparently locked behind this amount.
However, since the site is still not much transparent, we recommend only putting money in Bitcoin Bank if investors can afford the financial risks that come with it.
Bitcoin Bank Reviews
In order to give our readers a better view of all the offerings of Bitcoin Bank, we went through every corner of the website and also looked into third-party reviews of the same. We also looked into customer feedback for details that we otherwise wouldn't have access to.
That said, most of the reactions about this platform are mixed. Some are too bullish about this platform's offerings, claiming for it to be 100% legitimate and most of its users being millionaires.
However, there are others that are quick to brush off this platform's offerings as a scam or fraudulent. With that in mind, investors must do their own research carefully before making up their own minds about Bitcoin Bank's efficacy.
Also bear in mind some reviews confuse the site with a similar but unrelated platform, Bitcoin Bank Breaker.
Cryptocurrencies are unregulated. Trading with unregulated brokers will not qualify for investor protection.
Do any Celebrities Endorse Bitcoin Bank?
There are some rumors on social media and some third-party outlets that the likes of Jeff Bezos, Elon Musk, Doug Ford, and other celebrities might be using Bitcoin Bank to compound their crypto gains.
However, we couldn't find any evidence to support these claims.
Bitcoin Bank Customer Support
Bitcoin Bank claims that registered users will have access to customer support via email. However, that facility is only available for registered users. Those who want to inquire about the platform have no way to reach out to the support team.
How to Get Started With Bitcoin Bank
Those who want to take advantage of Bitcoin Bank's advanced trading mechanics can create an account by using the steps below.
Step 1: Create an Account
The first step is to go to the official Bitcoin Bank website and create an account.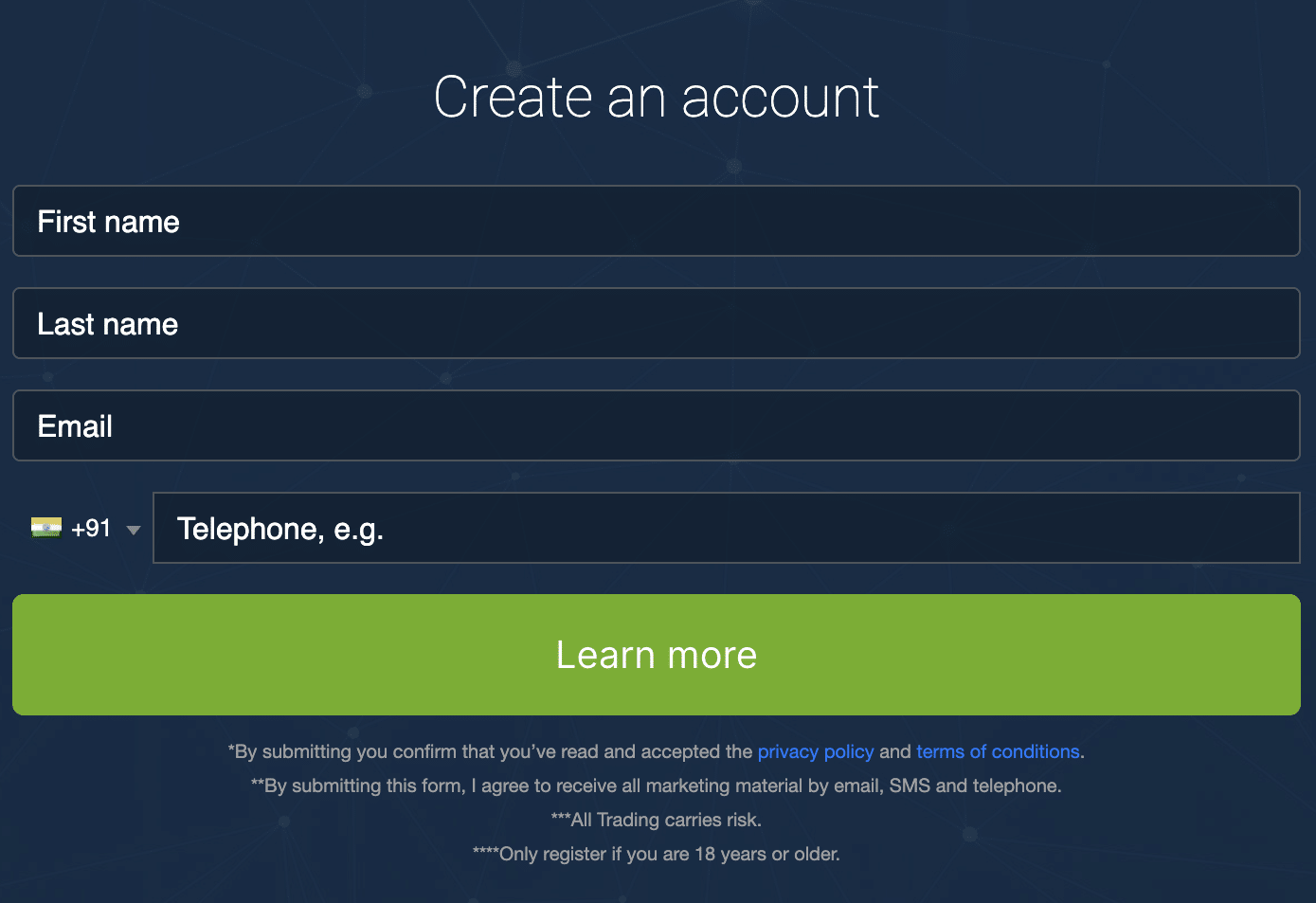 The process doesn't have any KYC requirements. Only email, full name, and phone number are required. You will not receive an email upon starting the process but rather receive a call from the support team, who will tell you more about the platform and get you going.
Step 2: Deposit Funds
The next step is to deposit $250 to start trading on the platform. Bitcoin Bank offers multiple payment options to choose from.
Step 3: Start Trading
After the account has been funded, Bitcoin Bank starts using its internal mechanics to scan the markets and provide trading suggestions.
We recommend that investors first pick the demo account to understand how things work first.
Bitcoin Bank doesn't impose any restrictions to when to withdraw the balance; investors can do so at any time.
The process of cashing out entails logging in, going to the official account, and clicking on the "Withdraw" button. Bitcoin Bank says that it may take up to 24 hours for the withdrawal request to be processed.
How to Delete Bitcoin Bank Account?
Those who want to delete the account can follow the onscreen instructions after logging in, go to the settings menu and delete their accounts. However, it is recommended that users only delete the account after they have withdrawn their amounts since account deletion also removes the money.
Latest Bitcoin News
Want to learn about the latest happenings in the Bitcoin space? Here is a summary of the main events surrounding Bitcoin right now.
Bitcoin is slowly coming out of its 2022 bear market as its current price has exceeded $28k. Bank intervention is likely to blame for the recent rally.

The entire cryptocurrency market is now worth over $1 trillion, thanks to the recent upswing.

Bitcoin believers are having an "I told you so" moment thanks to the dissipation of Silicon Valley Bank and Signature Banks.
Is Bitcoin Bank Legit? – The Verdict
To conclude, Bitcoin Bank claims to have many advantages. The platform states that its advanced trading mechanics are fit for all types of traders – whether beginners or veterans.
However, much of the information about the operations of the platform isn't available on its home page. We had to rely on third-party reviews and information centers to understand many of Bitcoin Bank's offerings.
Investors must therefore do their own research before investing and must be aware of all the risks involved with crypto trading.
Click the link below to visit Bitcoin Bank and learn more about what this platform has to offer.
Cryptocurrencies are unregulated. Trading with unregulated brokers will not qualify for investor protection.
FAQs
Is Bitcoin Bank a legitimate platform?
How to get started with Bitcoin Bank?