Bitcoin Code portrays itself as an "official cryptocurrency trading software developed to enhance profitability and your trading experience".
The platform claims to generate accurate trading signals and offers autonomous trading systems that allow users of any level of experience to generate profit during a volatile crypto market.
How much truth is there to these claims? The answer to that question is the subject of this Bitcoin Code review.
Bitcoin Code Summary
Bitcoin Code apparently has everything that a trader of any caliber could ask for when trading crypto assets during a particularly volatile season. But before we discuss those features, here are the key points to keep in mind about this platform:
| | |
| --- | --- |
| Type of Platform | Advanced cryptocurrency trading |
| Minimum Deposit | $250 |
| Claimed Success Rate | Not specified |
| Supported Cryptocurrencies | Bitcoin, Ethereum, Litecoin, Binance Coin, Dash, Bitcoin Cash, Ripple. |
| Mobile App | No mobile application is available |
| Withdrawal or Deposit Fees | Not specified |
| Customer Service | 24/7 |
Cryptocurrencies are unregulated. Trading with unregulated brokers will not qualify for investor protection.
What is Bitcoin Code?
Bitcoin Code is a crypto trading platform that claims to provide a trading system that simplifies buying and selling crypto assets enough so that even novices who are trading for the first time can generate profits. According to the website, the platform supports two modes – live trading and autonomous trading.
With live trading, Bitcoin Code claims that users will get access to highly accurate analysis of the market. According to the website, the programming language used to create allows it to stay ahead of the market by 0.01 seconds. This feature, according to the claims, also plays in the platform's autonomous trading facilities.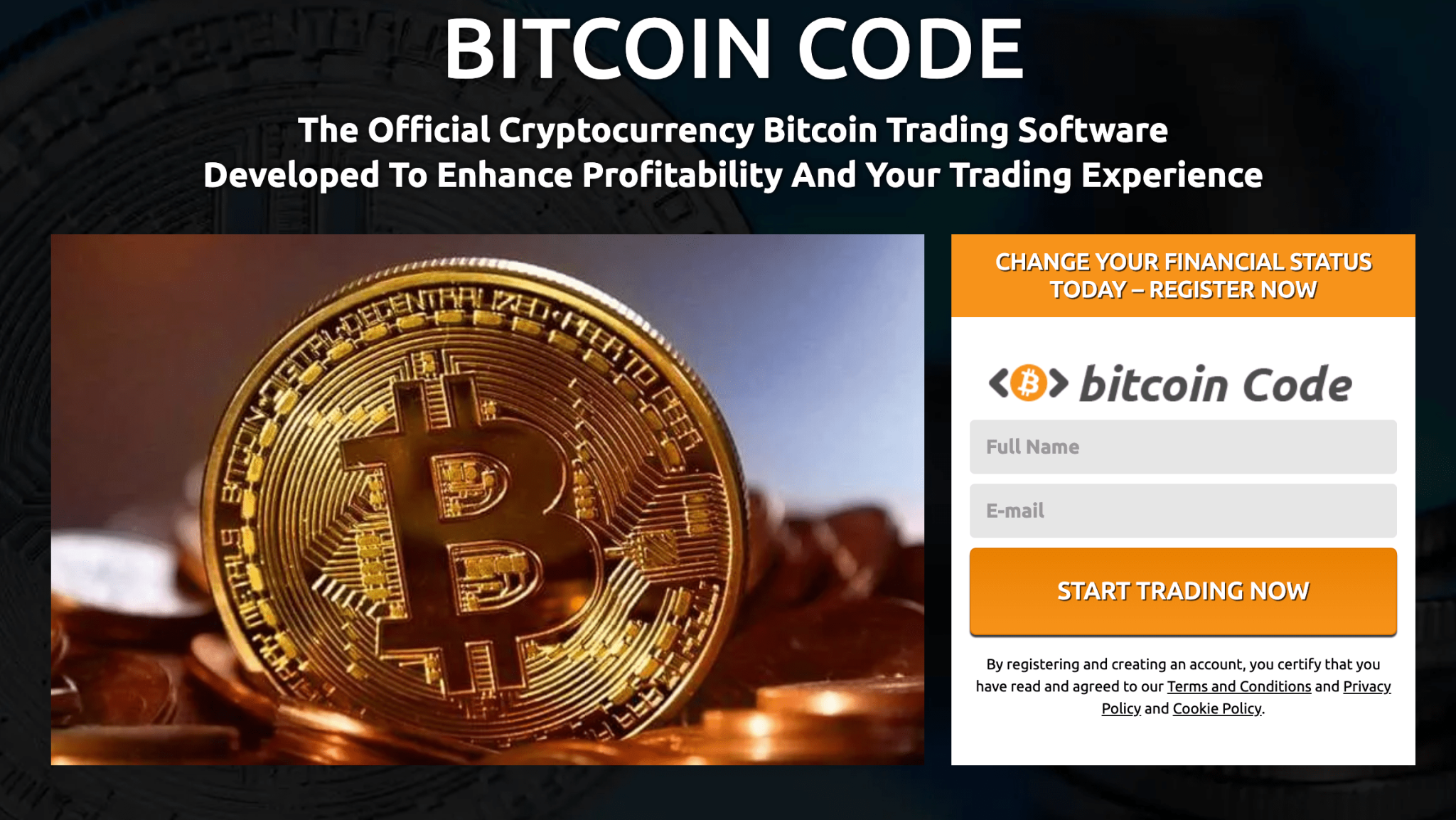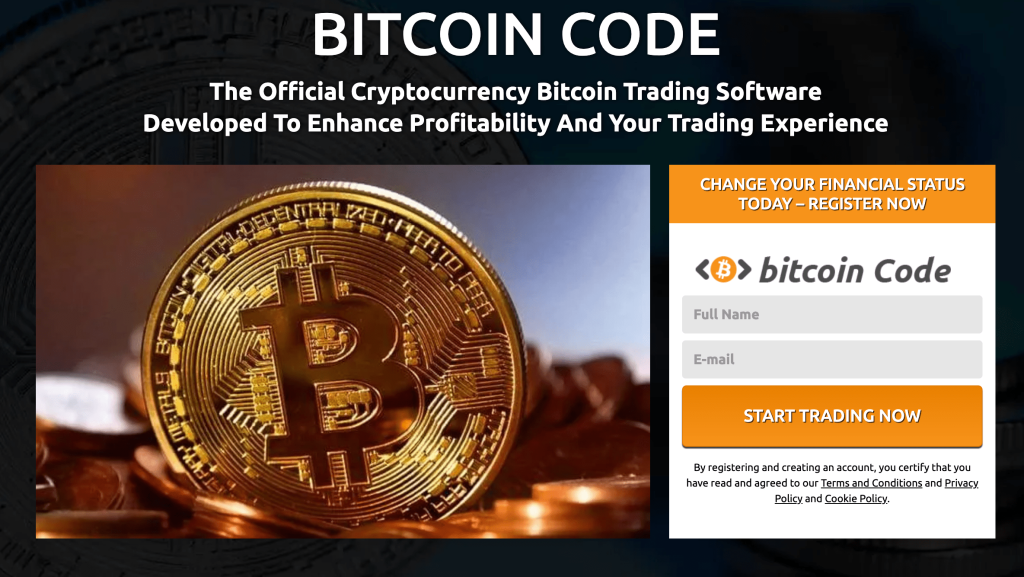 Bitcoin Code says that its Bitcoin robot is designed to enter and exit profitable trades using preset trading parameters like stop loss and take profit. The trading platform promises that users can also customize these parameters for a trading experience tailored to their requirements.
The platform has also stated that it has integrated privacy regulations and security protocols. It claims that each broker attached to Bitcoin Code has been vetted so that users can get access to the best services they can.
These features apparently help with trading multiple cryptocurrencies, including Bitcoin, Ethereum, Bitcoin Cash, XRP, Litecoin, and others. The site also claims to support fiat trading facilities for currencies including USD, Euro, GBP, Swiss Franc, and more.
While the platform claims that these features are provided "free of cost", accessing them is only possible after creating an account. And one of the critical steps of account creation is depositing the minimum amount – $250.
These features, although attractive, don't have a lot of information surrounding them. Third-party sites have also merely hinted at the facilities available, and there is a lot of contextual information missing from the website. Therefore, we recommend that our readers only check out this platform after thorough research.
Who Created Bitcoin Code?
While the Bitcoin Code has said via its content that a team of crypto traders and software specialists are responsible for its creation, it has not dived into this matter further. We also tried to find information about the makers of this platform on third-party websites, and even they were not able to provide us with an acceptable answer.
The lack of information about founders is common with cryptocurrency projects. But Bitcoin Code doesn't bill itself as such. It claims to be a crypto trading app that apparently supports both fiat and crypto trading, which means providing key details about the team through policy details or other means should be important. The absence of that answer can be considered a red flag.
Bitcoin Code Pros and Cons
Pros
Claims to offer live trading and hands-free trading facilities
Says that the live trading systems predict market movements 0.01 seconds ahead of time
No mention of any hidden fee to access the platform
Offers backstaging features and demo trading account
Cons
Has no information about the win rate
No details about the founders of the platform
While the website is information-heavy, critical details are missing
$250 is required to create an account
How Does Bitcoin Code Work?
Bitcoin Code claims to utilize a combination of live trading and autonomous trading features.
With live trading, users apparently get access to trading signals that, according to Bitcoin Code, are accurate. The website claims that it uses a "superior" algorithm to analyze the market with speed and efficiency, bringing profits to both seasoned and new traders.
The platform also utilizes an autonomous trading mode that scans the market looking for conducive trading conditions. And when it does, the site claims to enter and exit the trades using preset conditions that users can customize.
After executing these trades, the site claims that it transfers profits to the user's trading account. While there is no mention of commissions on the website, Bitcoin Code may take 1-2% since that's common with platforms like these.
However, while the platform has explained quite a bit about how some of its trading features work, no customer reviews online have been able to confirm their success rate. We recommend exercising caution and only depositing the minimum amount when trading.
Which Devices Can Access Bitcoin Code?
After opening the website on the desktop, we opened it on laptops, smartphones, as well as tablets. We could see the entire website properly through these devices. The buttons were clickable, and we didn't have any issues reading the content – the site is responsive.
Now, whether or not the trading platform that this website provides access to has the same level of flexibility is a different story. We weren't able to test out the trading utilities.
Bitcoin Code Supported Countries
While Bitcoin Code hasn't provided any information on the official page to highlight the countries it supports, we can confirm that the site supports multiple languages. They include English, Arabic, Bulgarian, Chinese, Croatian, Czech, Filipino, Dutch, and more. Overall, we could see that the platform supports 34 languages, which is likely equivalent to the number of countries it supports.
What is the Success Rate of Bitcoin Code?
Bitcoin Code has not provided any information that could give a hint about its success rate. Additionally, there is no historical data available for us to calculate this information.

However, the site does claim to be profitable and to have a high win rate. Even if these claims are true, it's important to understand that this success rate might not be sustained during live trading. The cryptocurrency market has been highly volatile since the crypto winter of 2022. Therefore, it would be unwise to assume that using this platform would guarantee success.
Bitcoin Code Key Features
Listed below are the key features that Bitcoin Code claims it has.
Free Software
Bitcoin Code claims that it is free to use. It states that users aren't charged any fee or commission for using this platform. According to the website, the earnings and the initial capital only belong to the investor. While this sounds enticing, note that talking to the account manager who would explain to you the mechanics of the platform might give you different information.
Supports Multiple Cryptocurrencies
Bitcoin Code claims that it supports multiple cryptocurrencies, including Bitcoin, Litecoin, Ethereum, XRP, Dogecoin, Bitcoin Cash, Dash, and more. The site says that it doesn't limit itself to crypto and also supports fiat currency trading for USD, EUR, and other assets.
See our list of the best cryptos to trade.
Offering a Web-Based Interface
According to the Bitcoin Code website, users don't need to download anything. The platform itself is a web app that doesn't need any regular updates, according to the claims. All users need is an internet connection to start trading.
Quick Account Verification
Bitcoin Code claims that users don't need to wait for days to get their accounts verified. According to the website, users can get access to their trading accounts within a few minutes.
Demo Trading Account
Bitcoin Code claims that users can get access to a demo trading account, which they can use right after signing up. According to the website, this tool helps users get familiar with the platform's features.
24/7 Customer Support
Bitcoin Code claims that users will be able to assess a customer support team once they sign up. According to the website, the support team is well acquainted with crypto trading and can assist users with setting up strategies and resolving any issues.
Backstaging
Bitcoin Code claims that it has backstaging features that allow users to backtest their trading strategy based on the market's historical performance. According to the website, this attribute would help users fine-tune their trading parameters.
Autonomous Trading
Bitcoin Code says that its automated broker software can trade on the user's behalf.
The website claims that this system does a complete market analysis and has a high accuracy rate when it comes to pattern trading and executing orders.
Cryptocurrencies are unregulated. Trading with unregulated brokers will not qualify for investor protection.
Is Bitcoin Code a Scam?
Bitcoin Code has a lot more information than a few other trading systems that we have covered in the past. It has, to a degree, stated the types of trading utilities it provides. It also has explained its trading features and what it can do for traders. However, the information to back these claims up is low.
We found some crucial information to be missing from this website – like the win rate or the names of the trading utilities. While the site says that it offers live trading facilities, it doesn't tell if it provides charting tools. And while the platform has explained a lot about its features, the information it provided seems to be generic at best.
And the fact that it offers no information on the founders is a reason that many might be doubtful about the legitimacy of the website.
Another factor that we would like to point out about this platform is the reviews. Customer reviews are available, but not on Trustpilot. And the reviews on Sitejabber are either overly positive or overly critical. The overly critical review of this platform is the only one that has been marked "helpful".
On the positive side, however, the site is responsive. The details are clear, and the platform is accessible through multiple devices. But that might not be enough for some to not doubt Bitcoin Code's features.
Due to these varying factors, we can't say whether Bitcoin Code is a scam or it is a legitimate trading platform. We recommend that our readers check the site for themselves and only invest the minimum amount when starting.
What is the Minimum Deposit on Bitcoin Code?
The minimum amount that one is required to deposit on Bitcoin Code is $250. That's equal to other platforms we've reviewed such as Bitcoin Revolution and Crypto Code.
Depositing this amount will reportedly give users access to all the platform's facilities, including live trading and autonomous trading features.
Bitcoin Code Customer Support
The platform claims that there is a customer support team available round-the-clock for investors who have registered on this website. According to the website, users can reach the team via live chat or email.
How to use Bitcoin Code?
The following steps can be followed to start trading on Bitcoin Code, if you decide to sign up:
Step 1 – Visit the Bitcoin Code Website
Head over to the official website of Bitcoin Code. Enter your full name and email before clicking the "Start Trading Now" button.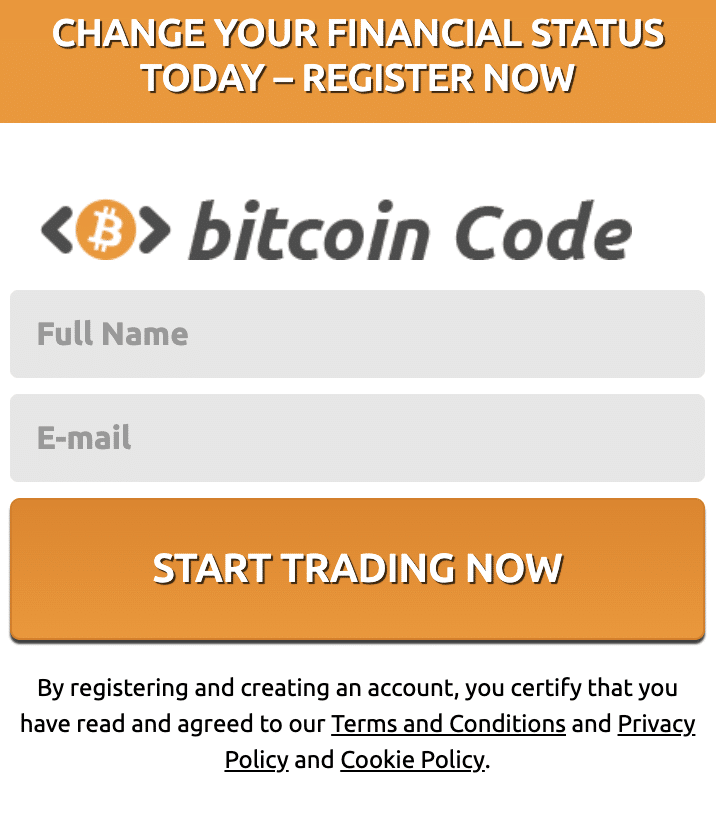 Step 2 – Make a Deposit
The first step will be followed by an account verification process. Once that is done, you must make a deposit of $250. According to Bitcoin Code, that amount will serve as your trading capital.
Step 3 – Start Trading
After funding your account, you can either try out the demo trading feature to familiarize yourself with the platform, or you can set up your trading parameters to start the autonomous trading systems. Switch to live trading if that option is available for a more hands-on experience.
Is Bitcoin Code Legit – The Verdict?
Bitcoin Code's official website is full of information. It states that it supports both live trading as well as autonomous trading features that make trading simple. While the website has provided a lot of information about what those features might be, there is no proof that these features are, indeed, available.
There are not many reviews available, and the ones that are, paint a very unbalanced image of this platform. Therefore, we recommend thoroughly researching the platform's offerings before considering it for your crypto trading needs.
Cryptocurrencies are unregulated. Trading with unregulated brokers will not qualify for investor protection.
FAQ